Carbon fibres are a kind of magical material. I really love the texture and the looks of pure carbon since I used to be a bike racer in my youth years and up until now I thought that the most beautiful thing I´ve ever seen made of carbon was the Cervélo P5 time trial and triathlon race bike. Well, I was taught a lesson when Hallberg-Rassy posted an absolutely stunning picture of … a spreader. That part belongs to the all-carbon rig for the inmast furling that is an option to the recently launched boat by the Swedish brand.
The new HR 50 is – like all boats launched since the HR 44, which marked a kind of re-imagining of the brand – a fantastic looking German Frers-beauty: I´ve had the pleasure to talk to both of them on their gentle but boldly taken steps to modernize the blue water brand and haul these cruisers into a new century. Quicker, more modern, more appealing on the one hand – but staying true to the principles and strengths the brand was built upon and still thrives of. The new Hallberg-Rassy 50 is worth an own article and I am sure there will be a chance to enjoy one of Magnus´ private tours, but this time I asked him to tell me more on this amazing new rig-option the 50 offers.
Talking to Magnus Rassy on Seldén
Looking at the pictures one notices the exceptional craftmanship and know-how that was put into the rig by Seldén: It´s not just a mast with some spreaders to hold the shrouds, it´s a piece of art. Hallberg-Rassy´s new 50 feet cruising yacht may be fitted with that option by sailors who seek the special sensation of adding this extra-bit of cherries on top of the already very delicious cake the new yacht already is. Let´s ask Magnus a few questions on this subject.
Lars Reisberg | NO FRILLS SAILING.com: "Hi there Magnus, I hope you and your family did enjoy some smooth days off between the years. Glad you´ve found some time to talk about this amazing feat on the new HR 50. How was the idea conceived to fit a full carbon rigging to the new boat?"
Magnus Rassy: "Thanks Lars. Well, carbon in-mast furling has been on my wish list for quite many years but for a long time it was said that it is technically not possible to build a carbon furling mast in serial production. Now this is solved: And we have a furling mast, boom and spreaders in carbon. The standing rigging is rod and running rigging hi-tech ropes. We offer all electric furling and hydraulic adjustment of the mast jack, the halyard tension, the backstay, vang and outhaul as well. We extended it also to the sails where we have better fibers, a full roach and a big headboard. I would say that this is taking a major leap forward for in-mast furling. A leap to a level no one thought ever would be possible. And as we can see it, this concept is very well received."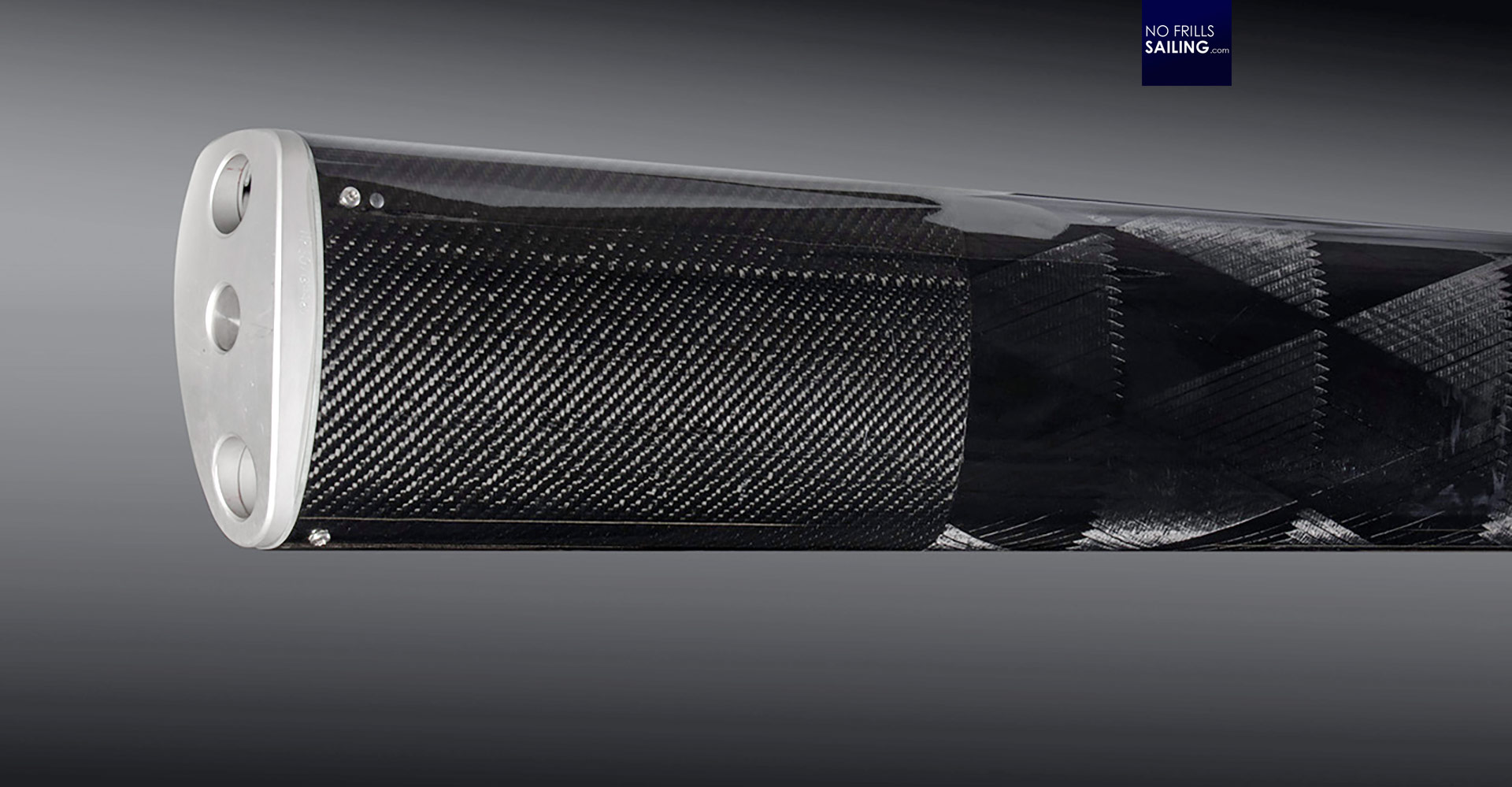 NO FRILLS SAILING.com: "Indeed, the announcement created quite some response so far as I can say. Why did you opt for Seldén as partner for that project?"
Magnus Rassy: "In my eyes Seldén is the clear world leader when it comes to making reliable mast furling. They have all the know-how about in-mast furling on the one hand – but they are also making traditional carbon masts for a long time now. The tricky thing regarding the project was to combine these two in serial production. That is now all solved."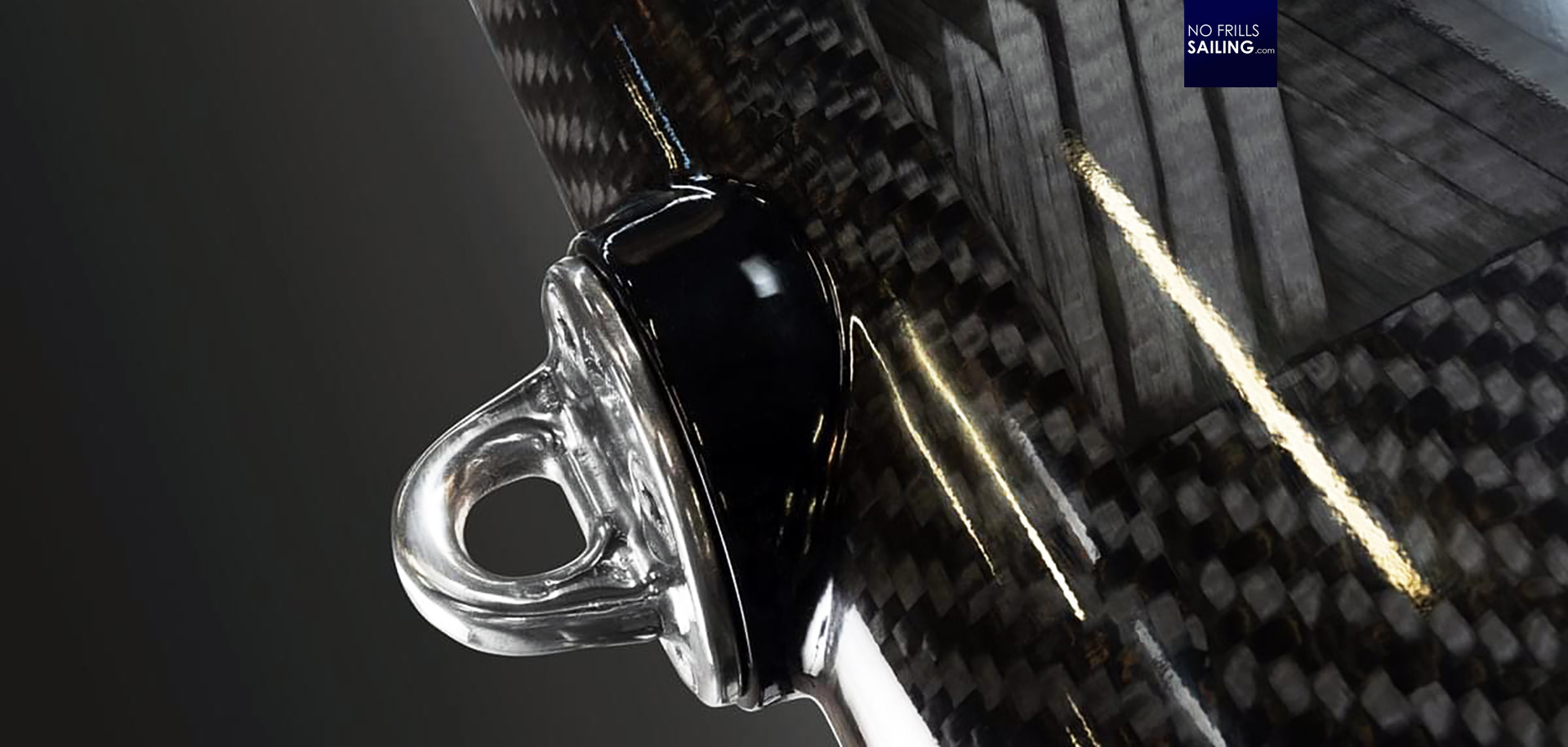 NO FRILLS SAILING.com: "This is one of the most beautifully crafted carbon-parts I´ve ever seen: Why did this project turn out so beautiful?"
Magnus Rassy: "Thanks for the compliment. I would say that the explanation is rather simple: Good know-how is one aspect. I´d say that both Seldén and Hallberg-Rassy also share the same values, especially when it comes to reliability and aesthetics …"
NO FRILLS SAILING.com: "… so that the outcome was quite natural in a way. I understand."
On weight-saving and performance-increase
NO FRILLS SAILING.com: "The new all-carbon rig is an option and upgrade to the standard boat offer. What are the differences to the HR 50 aluminium rigging?"
Magnus Rassy: "The differences are quite remarkable indeed: The carbon mast section of the furling mast is 39 % lighter than the equivalent in alloy. This figure is even more astonishing when you bare in mind that the carbon mast keeps the the same safety margins as the aluminium mast. But on the other hand carbon is also stiffer. All that means that in the end, on the water, the boat heels less, it is easier to steer, there is less pitching, less rolling and less pumping. I´d say that this is possibly even more important for a cruising sailor than for a racing sailor. It simply gives a richer sailing experience."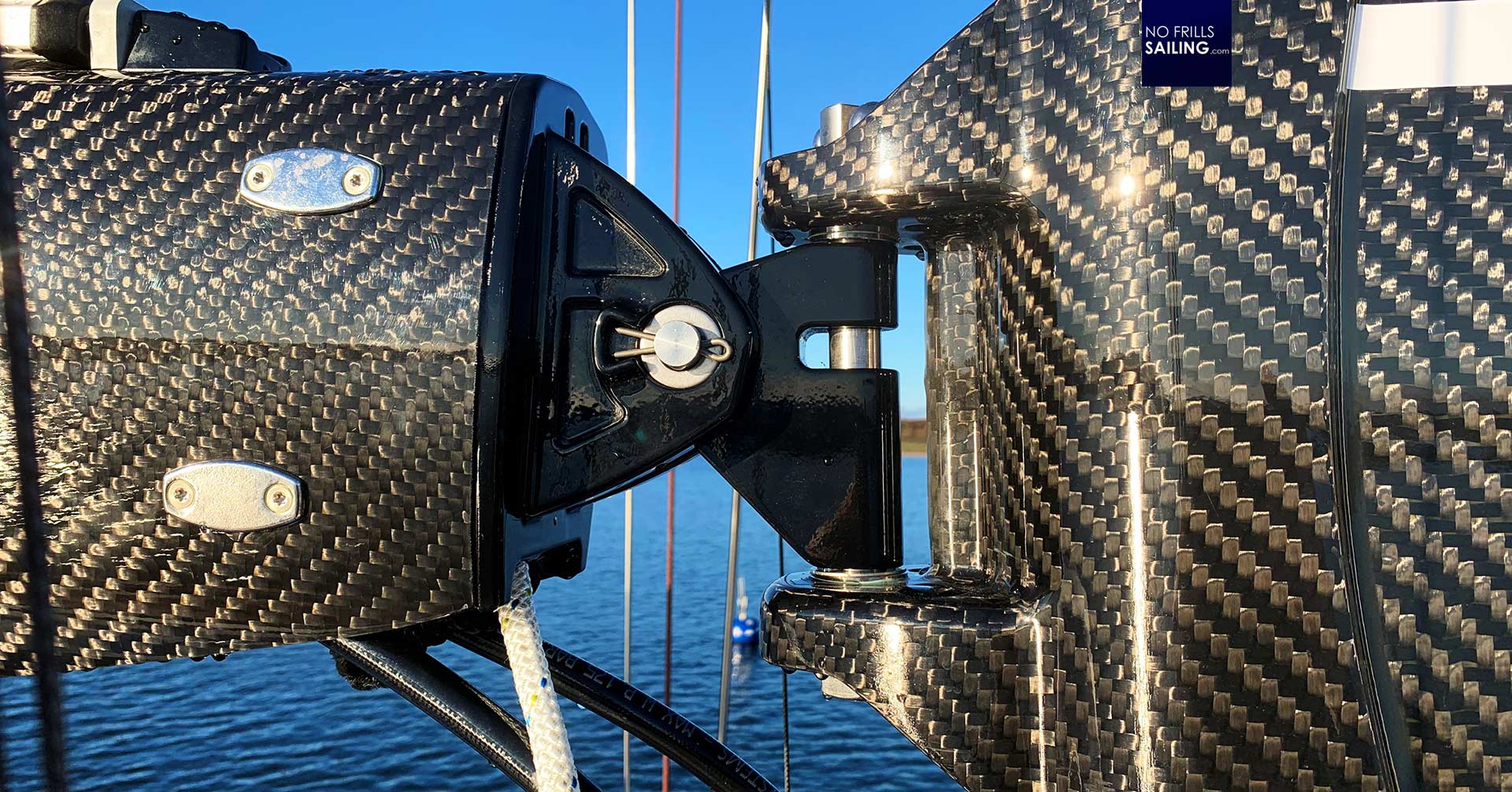 NO FRILLS SAILING.com: "Will you go on provide full carbon in mast furling-solutions for the other sizes in your range too?"
Magnus Rassy: "Yes we will. Right now we have carbon in-mast furling for two sizes of boats and more will follow. Traditional carbon masts, where you fold the main sail on the boom, are available for all sizes of boats, in theory, but in reality everybody wants in-mast furling from 40 feet and up. Regarding the yachts smaller than 40 feet, carbon masts are usually out of budget for most buyers."
Carbon-rig as a role-model for cruisers?
Which brings us from the clouds to reality: Carbon rig has still a hefty price tag attached. The level of craftsmanship, the material itself and the production methods add up. In the end – that´s my personal opinion – carbon will always remain a specialty, something that most of us will just see, dream of and admire. Honestly, for most of the cruising sailors, even those who choose quick boats for good performance, full carbon-rigging makes little sense. In a way, the new Hallberg-Rassy and her carbon in-mast furling in carbon is a showcase of what is possible and very well-timed statement by the Swedish brand too: Those new boats made in Ellös/Sweden are much more than comfortable, safe long-haul mile-eaters.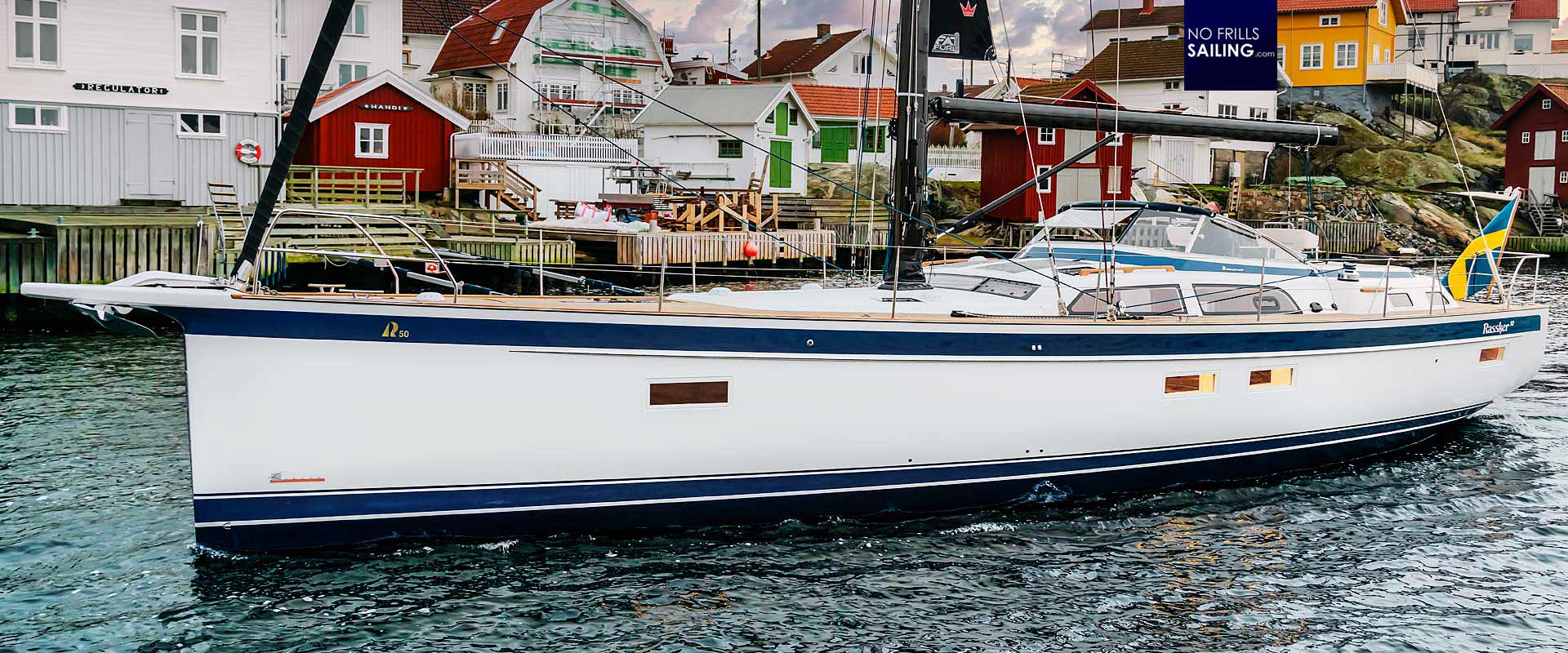 It´s a pretty boat, as expected: An addictive sheer line, a long, long bow. The integrated bowsprit looks amazing, well proportioned windows and the new wide-stern modern hull. Classy, timeless. The carbon rig adds to the attractiveness: One could easily frame those pictures, hang them into the living room and they´d still be great in a twenty years timeframe. Well done, Seldén and Hallberg-Rassy! Which, by the way, makes me crave for my own new boat even more – and, lucky me – with the First 27 SE the carbon rig with laminate sails is standard indeed. Keeping carbon where it makes sense: Up in the mast.
Thanks again, Magnus, for sharing this insight.
Pictures with kind permisson of Magnus Rassy and Hallberg-Rassy varvs AB
More on Hallberg-Rassy: Articles you might find interesting:
Magnus Rassy shows the HR 64 flagship
Running into Magnus aboard the new HR 57
Talking to German Frers on his collaboration with Hallberg-Rassy