The Vendeé Globe is rightfully one of the few prestigious and exciting sailing races of the world. Far more complex, it´s not even comparable to the Formular 1 circus. Vendeé Globe gathers the toughest, craziest, most daring sailors alive to make them chasing each other in a brutal race around the world, taking them on an 80 to 120 days long ordeal. No sleep, no mercy, no spare time. With the first boats dropping out, one of the sailors narrowly escaping catastrophy and the toughest parts of the route still ahead, one question arises: When is on the edge … over the edge?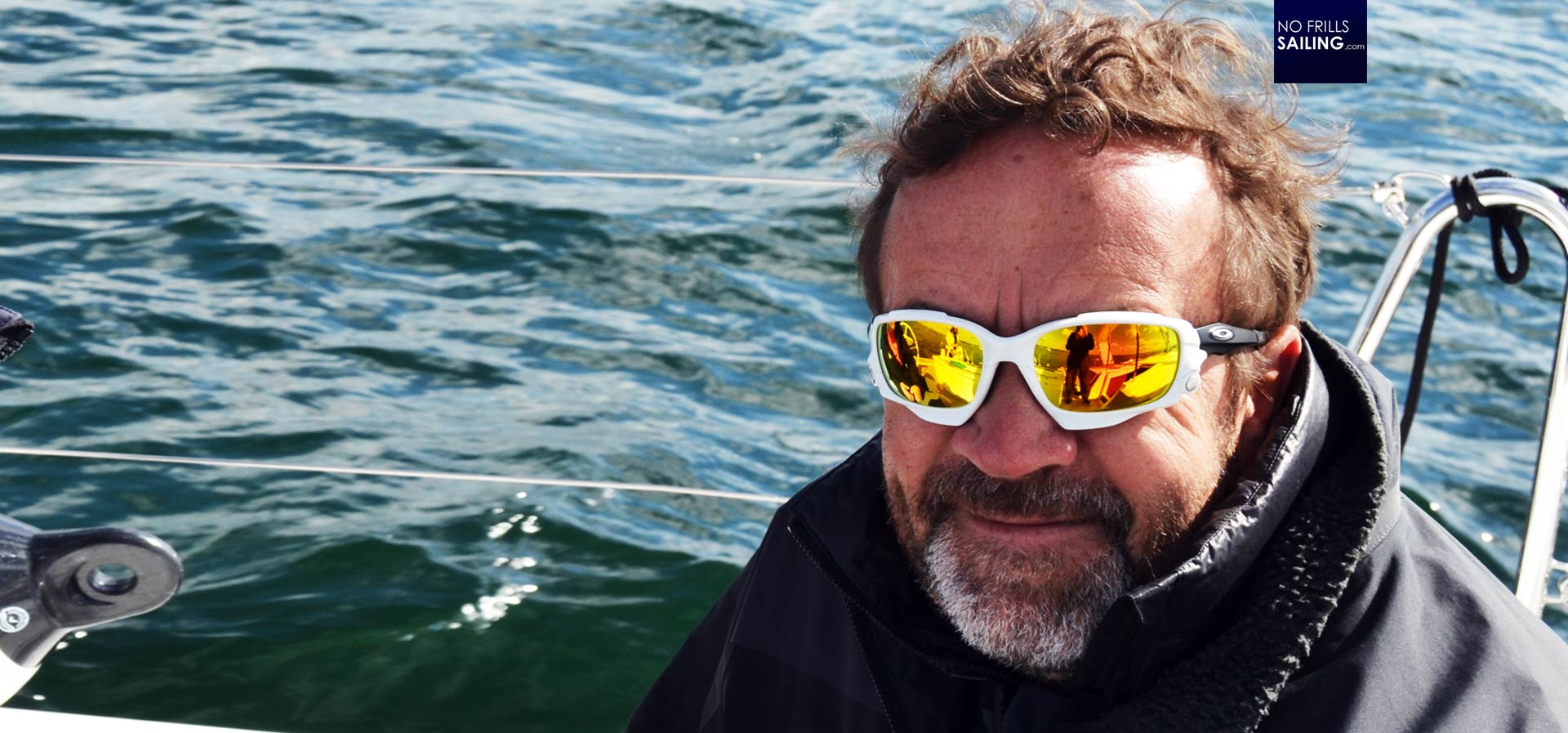 I´ve met professional sailor Tim Kroeger, whom I consider just the right man to talk about this topic. Tim is a two time Whitbread Around the World-veteran, World Champion in the Admiral´s Cup Class Mumm 36, crew member of the respected Shosholoza-Team for the 32nd America´s Cup, race crew manager and crew member on one of the adorable J-Class yachts – to name just a few out of his glittering racing-palmarés. Currently Tim has taken on the task as the coach for the new Olympic discipline Doublehand Mixed Offshore for the German Sailing Association  – forming a new breed of young offshore sailors. We´ve met virtually onscreen as it is unfortunately custom nowadays in Covid-times. Here´s what we´ve talked about.
"The Vendeé Globe race is a question about where you draw a line."
NO FRILLS SAILING.com | Lars Reisberg: "Tim, as one follows the Vendeé Globe race – which by the way is most exciting thanks to modern streaming technology – we notice that skippers nowadays must exert not just sailing skills but also skills of craftmanship. Did you guys back then during your Whitbread-times have craftsmen and equipment aboard to have cracks and holes and other damage repaired?"
Tim Kroeger: "Oh yes of course we did have specialized crewmembers. I´ve sailed in fully crewed races and that´s definitely an advantage over the Vendeé Globe-sailors as we could split responsibilities and skills. Back in our Whitbread-time we´ve had a minimum of supplies onboard. You see, weight-saving always was and still is a big issue in racing. No matter if then or today, these boats always take on damage so you have to be prepared. I was lucky, in my two Whitbreads we did not have real big issues to deal with, but I can say that serious delamination, cutting spinnaker poles to splice them or use them with floorboards as support for a bow section were and are unique, but not uncommon. They are part of the game, I would say. But, asking for repair tools and equipment: It all has its limits. You simply can´t have everything on board. Sometimes the boat as such also becomes the spare part kit. For example, if you need a bolt, take it off the main engine you don't use or find it somewhere else. It's a give and take. Now, seeing the solo-skippers obviously their craftsmanship level must – and surely is – very high. We know that during the Vendeé Globe the guys do get some advise from their shore teams which is not regarded as outside assistance. The shoreteam knows what is stored on board and what can be used for the specific repairjob."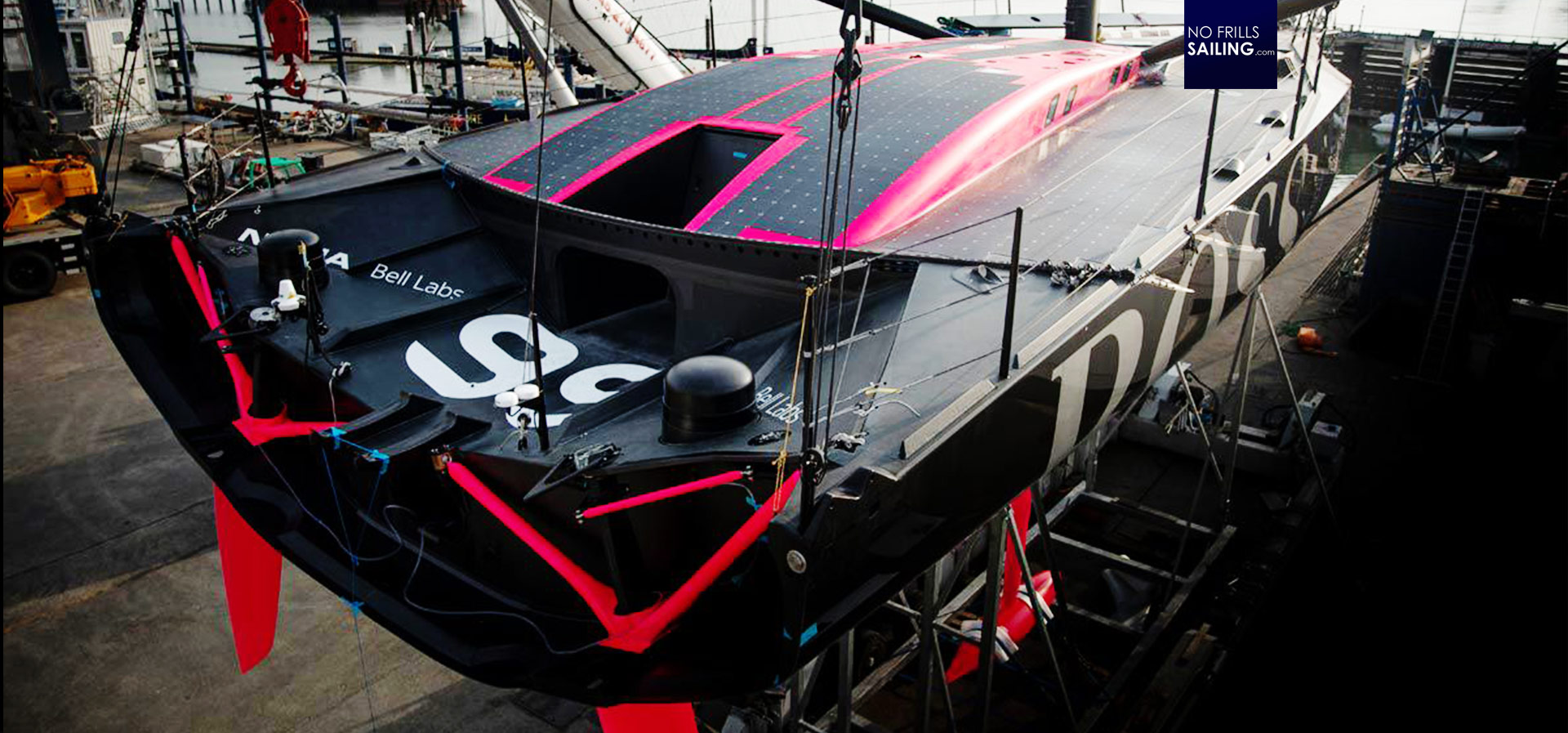 NO FRILLS SAILING.com: "Alex Thompson allowed us a pretty detailed look on the damaged bow section of his HUGO BOSS. What have your thoughts been when you saw it for the first time?"
Tim Kroeger: "Yes of course I saw the video posted by the HUGO BOSS-team and I must say I was literally quite shocked. You see, on paper the boat should be strong enough, definitely. But the forces induced on the boat in real life – especially whilst foiling – are so enormous, that even the best computers with the smartest guys behind the screens cannot calculate it. I mean, you can simulate almost everything but … it is and will always be just an assumption for specific conditions. Like in merchant ship building: The designers come up with a set of calculations verified by the Germanische Lloyd for example – and by adding the safety margin it will be built three times stronger. But within the world of high-tech boats where they try to push boundaries and build as light as possible, well, I guess the safety margin must be smaller here. Yes, these IMOCAs are strong enough on paper – but the problem are the incalculable forces of the oceans. Especially forces which work on the bows. The boats are constantly moving at high speeds. They regularly fall off the foils due to cavitation which mounts to enormous slamming on the bow sections. The Carbon and the laminates don't like that very much and over time are becoming soft. Which we call delamination. Or cracks. And that is very likely what has happened to Alex Thompson in HUGO BOSS on it's longitudinal stringers. So, when designing these racing boats the people behind the concepts want them to be strong enough, but also as light as possible. Now, where do you draw the line? That´s the problem everyone faces."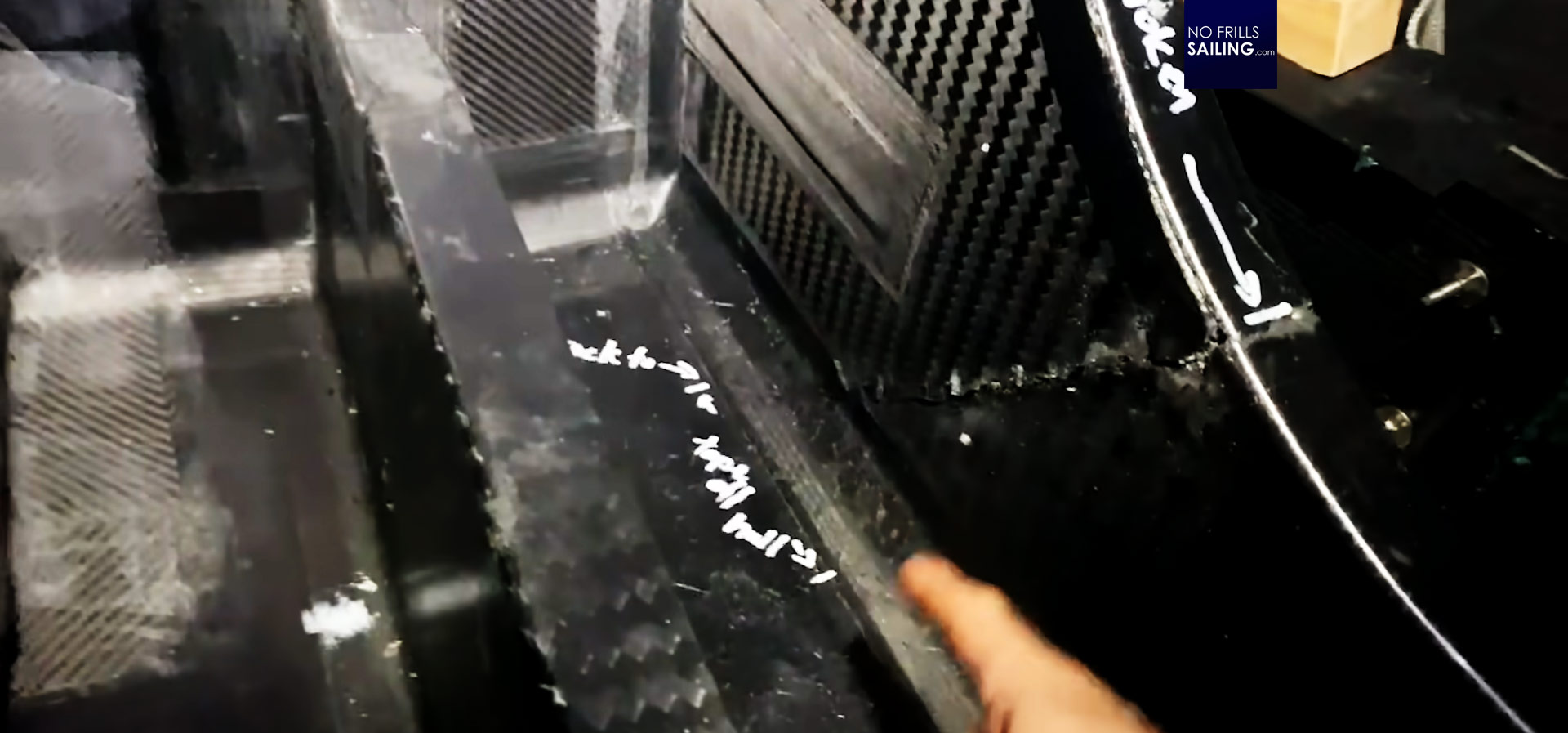 NO FRILLS SAILING.com: "Most "common" sailors do not have any first-hand experience what Southern Ocean waves and a "real" storm in this area is like. Can you describe from your own experience how the forces of the water and the wind are feeling like down there? I think this is crucial to understanding which stresses these boats are built for and must withstand …"
Tim Kroeger: "I would say in this case the trick lies in the combination of high speed and dealing with the wave pattern. Take a cruiser. It´s kind of wobbling along in big waves. It´s a voluminous seagoing cruising boat – and maybe he manages to surf down the waves every now and then. It´s fun – and mostly somehow in conjunction with the pattern of the waves. The motion of the yacht somehow fits the state of the seas and thus it does not become all-too dramatic – unless it becomes so hairy that you will be rolled over by the waves and then you might have to drag a drouge. It´s different on boats which are fast. To be precise: Boats which are faster than the waves. I still very vividly remember my second Whitbread where we´ve had 34 knots SOG on the GPS. I can tell you, that was pretty fast and noisy inside! And as a helmsman driving the boat, it´s a hell of an intense experience. The boat might take off on the next wavetop. You have to manage the correct angle in which to take it. That´s not sailing anymore, it´s more like wave riding. It´s pretty complicated and challenging to negotiate waves and the overall pattern, which by the way is constantly changing and varying. In the Vendeé Globe it´s even more complicated. But here the work is basically done by the autopilot and that one you have to trust and fine tune it. These machines are very sensitive, highly refined high tech equipment. Their systems can measure pitch and roll – down and side movements – and adjust the steering in a matter of split-seconds. They also consider the strength of the wind and the angle and deal with that. Fast boats in the Southern Ocean are a huge challenge. And now with those foilers … they are so fast, in very strong winds, huge waves. For many foilers too much stress and no option to use those foils under these circumstances – that is why non-foiling IMOCAs are still capable of competing in these conditions."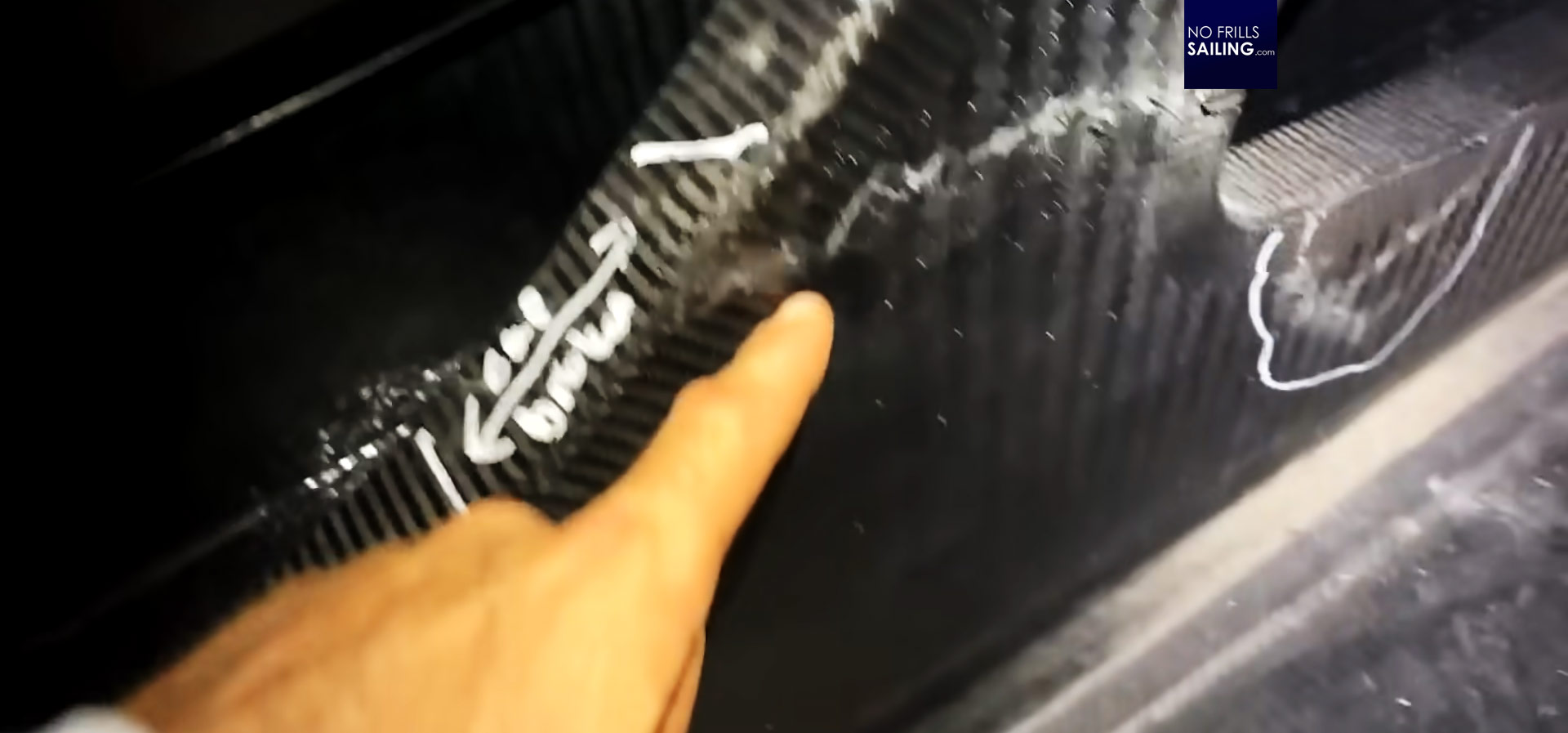 NO FRILLS SAILING.com: "The power of the sea could be seen in the horrendous account of PRB skipper Kevin Escoffier, who told us that his boat "folded 90 degrees up" after nosediving a wave – are these multimillion euro high-tech carbon-constructed wonder-boats maybe a little bit over the edge?"
Tim Kroeger: "Now, let me tell you something: One of the most funniest things regarding the Vendeé Globe is something virtually nobody is mentioning but everyone will find on the official website: Most of those IMOCA-boats are quite old and are on their second or third lap around the planet. Refined, re-done and overhauled of course, but still old. Take Kevin Escoffier … his boat was built in 2009. Boris Hermann as well, MALIZIA is 6 years old – and still regarded "new". His boat has been refined with foils, a thing this boat originally wasn´t designed for. Back then Escouffier´s IMOCA was the lightest boat at that time, built for daggerboards. His team reinforced it with around 200 kilogram of carbon in the highly loaded areas– is this the right way? I don´t know. But I see that most of these boats aren´t built and designed from the beginning to have foils and withstand the forces connected with foiling. So maybe there will be a weak spot. Ask yourself: Is this the right direction? This, I would say, is very much a "French" style – it's an artistic thrive for development. It´s the same with their Ultime-trimarans – they are also hacked, renewed and refined. From time to time they break. Pip hare, who is currently competing in the Vendeé Globe, is racing a boat that is 20 years old – built back in 1999. Would you go with a 20 year old race car on a race track? I'm not so sure! Again, the question is where do you draw a line? We are mainly looking at the few shiny new boats, like CHARAL or HUGO BOSS. But they are very special: Those concepts are pushed very, very hard towards the ultimate victory. With HUGO BOSS the concept was "Victory – or going down in flames!" Well, now they have gone down in flames …"
"The technology in this high-level sailing is breathtaking."
NO FRILLS SAILING.com: "Regarding the foiling and flying of these fantastic boats: I´ve talked to Marc Lombard two years ago why he did not wanted to participate in the call for bids for the new FIGARO III and he told me that he found it too dangerous to sell foil-driven boats to "everyone". Now we see the foils of more and more Vendeé Globe-IMOCA 60 boats being damaged by UFOs and heavy seas – how would you judge the risk vs. usage of foils in racing and sailing in general?"
Tim Kroeger: "I would reckon that Marc Lombard is not completely wrong with his attitude and I can see his point. But also, if you go in the direction of high performance sailing it quickly becomes complicated. If a technology is out there and ready to use, more and more people will pick it up and learn to master it. Same with foils. But of course, safe foiling is tricky. Even for skilled sailors: Its hard and very exhausting to keep the boat stable on foils. In the Vendeé Globe we all can see that even these top notch pros require an absolute expert level and skillset to deal with it. Of course you can learn it. Look at the Olympics: When the Nacra appeared, people where capszing left and right. But it over time became a common practice and the teams mastered the challenge. I would say that this kind of technique is not for the faint hearted. It´s for the skilled sailors. There will always be people who want to step out. A cruising sailor wouldn't do it and there is absolutely no point in doing it. Most of the yachties are not driving around in a F1 car. Going back to Marc Lombard and the Figaro 3, well, if you get the offer to design a boat for the public, no problem, not everyone will buy it. The market will sort it out – based on the sales figures. Baltic Yachts, for example, have a 142 feet cruising maxi, CANOVA with a DSS-system built. It´s not real foiling, it works like horizontal daggerboard that can be extended and pushed from side to side which improves the righting moment, like on a Figaro 3. The IMOCAs have another problem based on their design rule: As no T-foils on rudders are allowed, they do not really "fly" or lift the hull out of the water. They will always have a strong tendency of bow up and resting on the leeward stern section. That can – and is constantly – causing serious slamming into waves once the flow on the lifting foils breaks off. See, back then, Francois Gabart sailed around the world on his fabulous record-circumnavigation in his Ultimé most of the time out of the water on his foils. Because his trimaran was designed for "real" foiling with a rudder that also created lift. In my opinion, IMOCA-foiling is not ideal. On these boats the bow section is slamming easily and the forces on the foils itself are fairly high which sooner or later is breaking the boat or parts to bits if you are not cautious."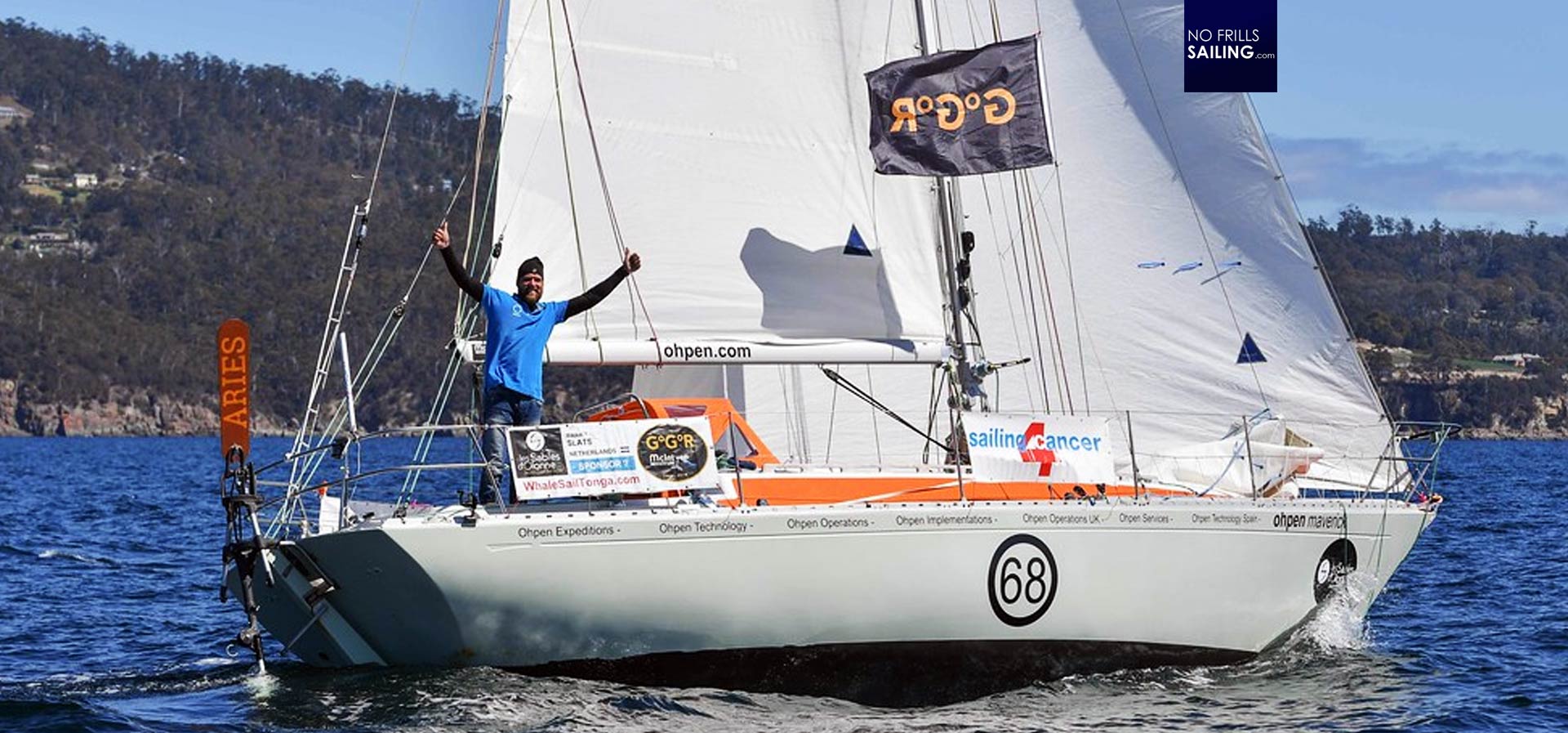 NO FRILLS SAILING.com: "The Vendeé Globe is a showcase of the créme-de-la-créme in sailing technology – be it hull design, foiling and hydrodynamics, new materials, sails and sail-technology … name it one of the "Formula Ones of Sailing". On the other hand we have the "Golden Globe"-revival where solo sailors go round in 45 years old long-keeled classic boats and former Whitbread competitors. If you´d have the choice, which one would you attend and why?"
Tim Kroeger: "That´s an easy one for me: I would definitely go for the modern high performance boat. I don´t see a point in racing with a slug around the world. Don´t get me wrong here: It´s a wonderful thing seeing these veterans to battle it out. And it is surely a wonderful challenge and experience for those who are doing it. I mean, it´s kind of "history in the making". But personally, I´ve already done it. I don't regard this as too exciting. I would rather go on a high-tech trimaran. I think this would be cool and a bigger challenge for myself. The problem with these new races I find in my opinion, is that there are far too many events, so many races and regattas are kicking off. So many "ultimate"-things. It´s irritating and diluting. For me there are just a few classic cornerstones of outstanding races as pinnacles of sailing to me: Fully crewed we´d have the Ocean Race, then of course the Vendeé Globe, the Olympic Games and the America´s Cup. For me, that´s the real stuff. Fine and nice that so many other races that want to compete with the classic events do exist – but what´s the intention? What do you want to create? But sailors have to decide that for themselves, what is the right thing for them. But anyway, people can do whatever they like."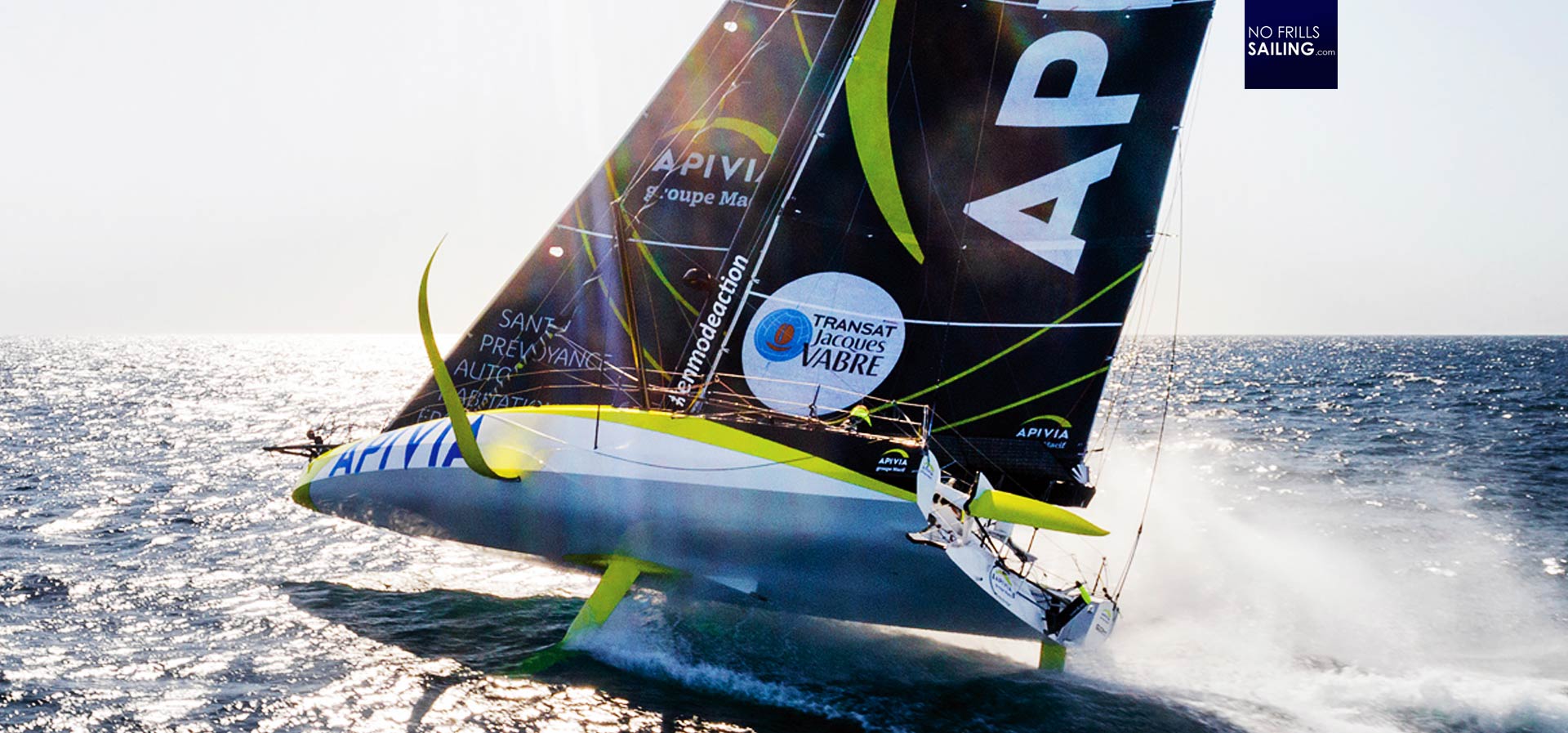 NO FRILLS SAILING.com: "Comparing your time at the pinnacle of pro-racing and present-day racing – what has changed in terms of navigation, weather routing, real time land-based counselling?"
Tim Kroeger: "Clearly, there are different levels of it. First of all: Communication as such. Nowadays the guys out there are getting virtually pretty close to us. We can hear them, see them and talk to them – in real time. We can send a whatsapp message and they can answer almost immediately if they are not busy doing a sail change or having a kip. It´s a little bit irritating, for me. The level and extent of communication is quite high. What gets me maybe is that it takes something away from the magic as such. And it´s strange too: You maybe think as a spectator that you are so close. But you´re not. Maybe it also gives you the impression that it is a walk in the park and you should do it too. As well for the participant: This virtual proximity may give him the impression that he isn't alone and lures him into a false sense of security. But if drama unfolds he of course is on his own! We can watch him racing his boat – which is exciting and attracts audience, but you have to be aware that there are two sides of the coin. It´s surely nice to share and communicate – but don't make the wrong assumptions for yourself out of it."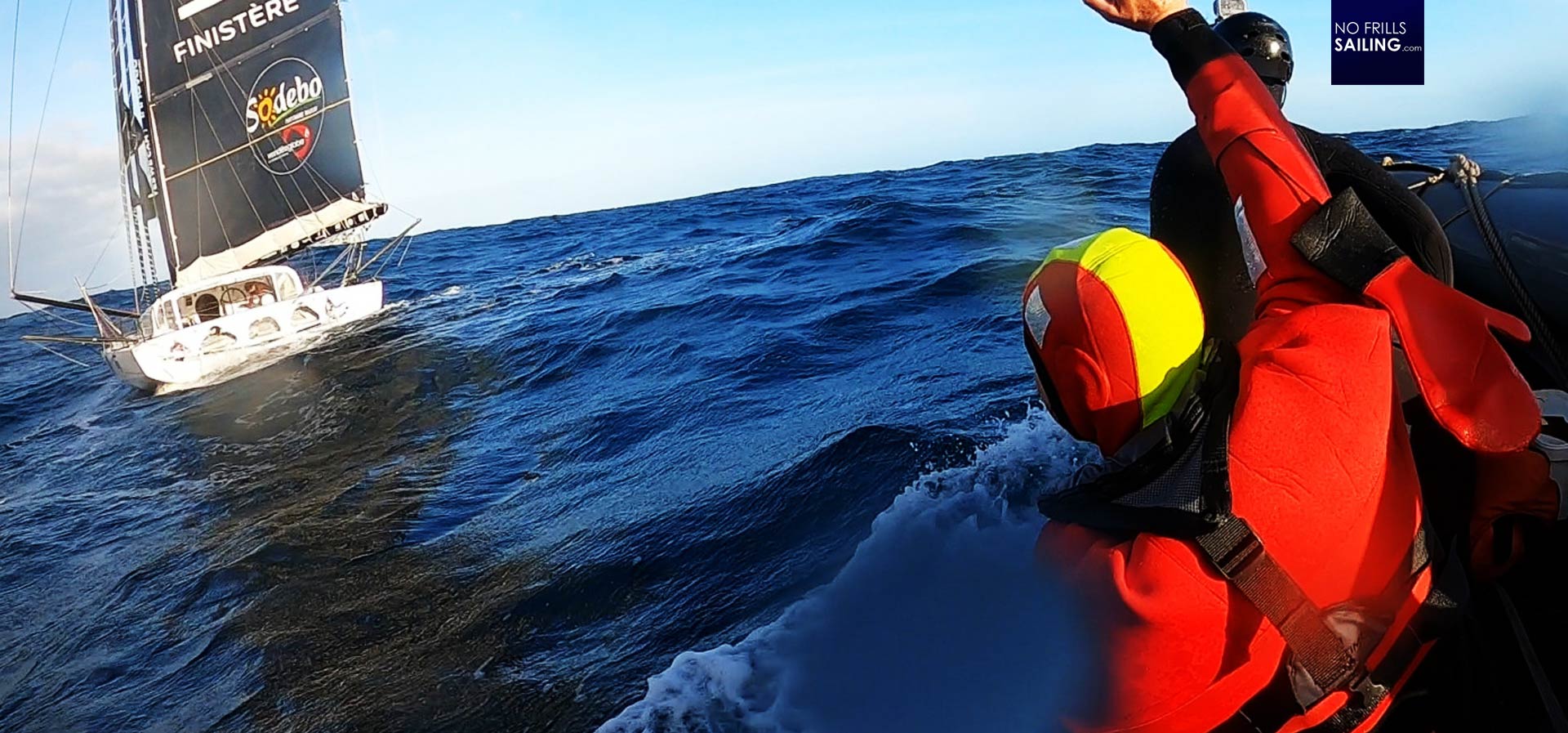 NO FRILLS SAILING.com: "Seeing the footage of the Vendeé Globe-skippers and the hard rocking, hearing the loud noise – imagining the high velocity of the boats and virtually no roundsight at all, the all too obvious presence of hitting an object of something breaking – how do these guys find sleep or recreation? I can imagine that sleep management, replenishing of nutrients and simply "staying alive" must be true hardship in these boats?"
Tim Kroeger: "The guys and girls in this race know what they are facing and have prepped themselves for that. It has a lot to do with self-discipline. You simply cannot run away from that, nor can´t you rely on outside help. Discipline yourself! Force yourself to get a rest when chances are there, learn to manage these precious minutes – and we can see that the Vendeé racers are doing exactly that. I wouldn´t call it "sleep" in the sense of the word, it´s more kind of a recharge. And it´s a wide field as well. That´s because every individual will react differently to sleep deprivation. Some guys can take it without any problem, some have serious trouble getting used to it. They are also trained on that matter. Back in the Whitbread, as a fully crewed race, we divided the 12 strong crew in three watches with 4 hours on, 4 hours on standby and 4 hours off. With this beautiful system you have always enough people on deck. Together with the standby-watch you can do any sail-change or generally race the boat on top level. The on-watch is driving the boat, the standby guys assist. Quite a nice system. You obviously get a lot of sleep when you are off, without much disturbance – unless you go upwind, tack and have to change to the bunk on the high side. When it´s a smooth ride and not much is happening, besides going straight in constant conditions, even the standby crew can take a nap. For the solo-sailors – it´s on, standby and off 24/7 though …"
"I am looking for a complex Sailor – the Allround Performer"
NO FRILLS SAILING.com: "You are currently heading the German Mixed Offshore program as coach for the German Sailing Federation and you are building and supporting a new breed of young racing talents. What can you incorporate from the Vendeé Globe into your teaching- and training strategy of these youngsters? Is there anything to learn from Beyou, Thompson & Co?"
Tim Kroeger: "Well, I would say that for the double mixed-teams there is not so much to learn from the Vendeé Globe and their players – this is a different game and the guys doing it are very special. Single handed racing is so much different than crewed, which double handed indeed is. Although, on the other hand, if one rests in double handed sailing – you become a single handed sailor for a short period. For me it comes down to general experience in offshore sailing. The main thing I try to enforce is that everyone onboard needs to be as good as the other one. Sure, in a doublehanded team one person will always be more experienced in specific areas than the other. In a good team, they have to complement each other. My main goal is to synchronize them. The aim is that both can push their boat for as long as required on the highest level possible. Now, during this winter season we try to bring across more knowledge in meteorology, strategic routing and decision making. The important components for the level we are thriving for. It starts with looking at clouds and leads to manage an overall picture and making the right calls based on the observations."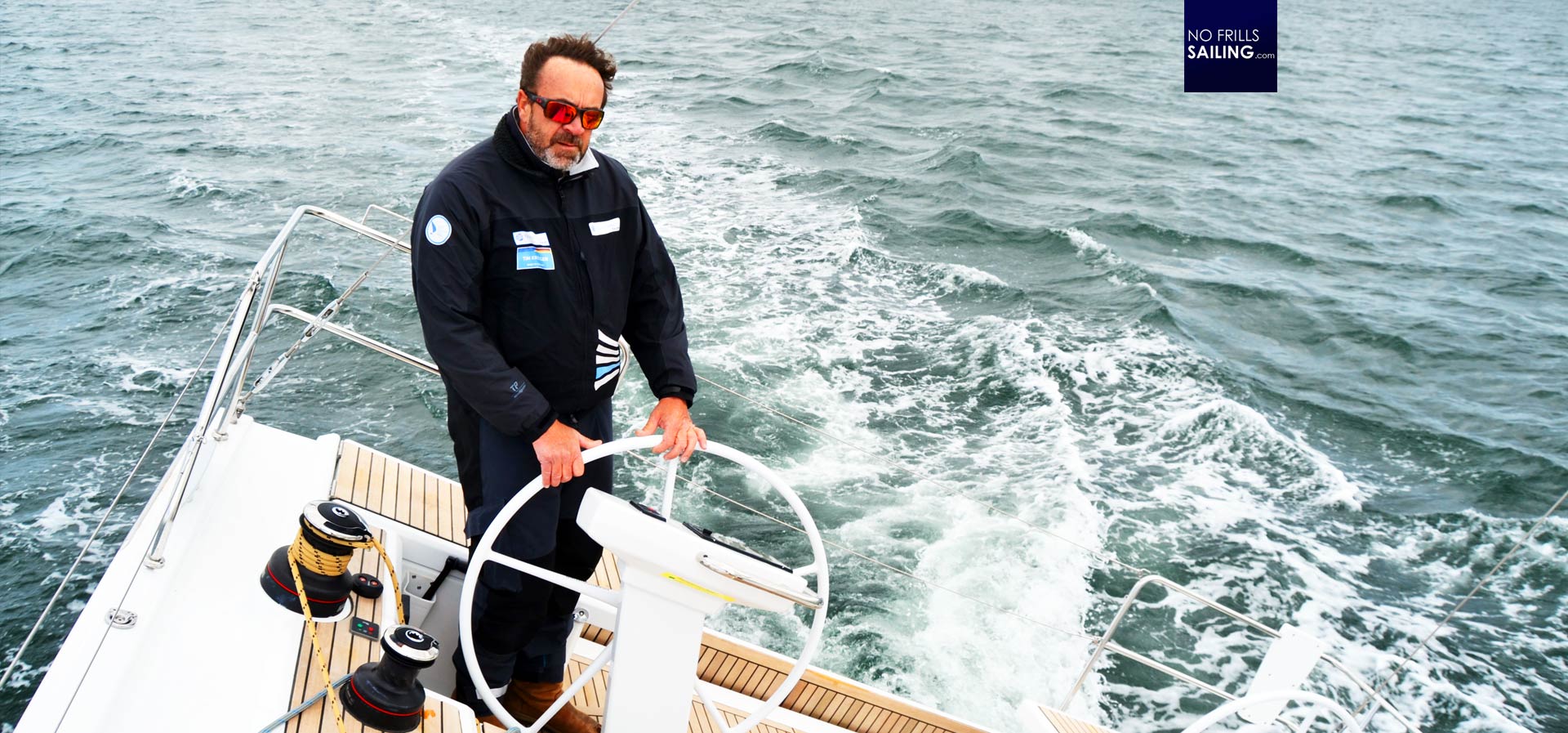 Tim Kroeger: "For the discipline mixed offshore the requirements are high, in my mind, even more complex than in the other Olympic classes. You have to learn and understand so much more in so many fields: Meteorology, boat performance, strategy and tactics, adjusting yourself to the conditions as such, sail trim and making the right decisions based on it. A very wide field – which makes it so exciting and interesting. Olympic sailing has become so much more challenging and understandable by this new concept. The great thing about this discipline is – it brings across what most people do in yachting – sailing with the wife our partner from A to B, into the Olympic arena. That makes it easy to follow and to understand and to get exited. Well, we will see. We train hard for the upcoming Olympic Games taking place in the 2024 – although IOC has to ratify this new Olympic discipline which is scheduled for May next year. We hope it sorts itself out, would be a shame if not – in the meantime, we hone our skills with high ambitions."
Tim, thanks so much again for your time. Sharing your experience and knowledge with us is always a great pleasure: Have a great Christmas-time and for 2021 all the best.
Pictures © Copyright by Vendeé Globe, Hugo Boss, Apivia, Golden Globe Race
You might also be interested in reading these articles:
At Lorient´s "La Base" – IMOCA, Trimaran & Co, France´s heart of pro-sailing
Talking to Jeremy Beyou about his – then – brand new IMOCA 60 "CHARAL"
Tim Kroeger on his experience at the toughest Baltic Sea-race: The Nord Stream Race