I´ve chosen the title of this article with care: "Corona? Lockdown? Happy owners!" might have made you raise your eyebrows and ask yourself what the heck would make people happy during these crazy times with restricted travel, all those rules imposed and for many of you guys making it impossible to reach your own boats? Well, I try to show a different perspective and spread some good news in all this Covid 19-overkill. Two days ago we´ve managed to make two of our customers happy – I think, it's a story worth telling.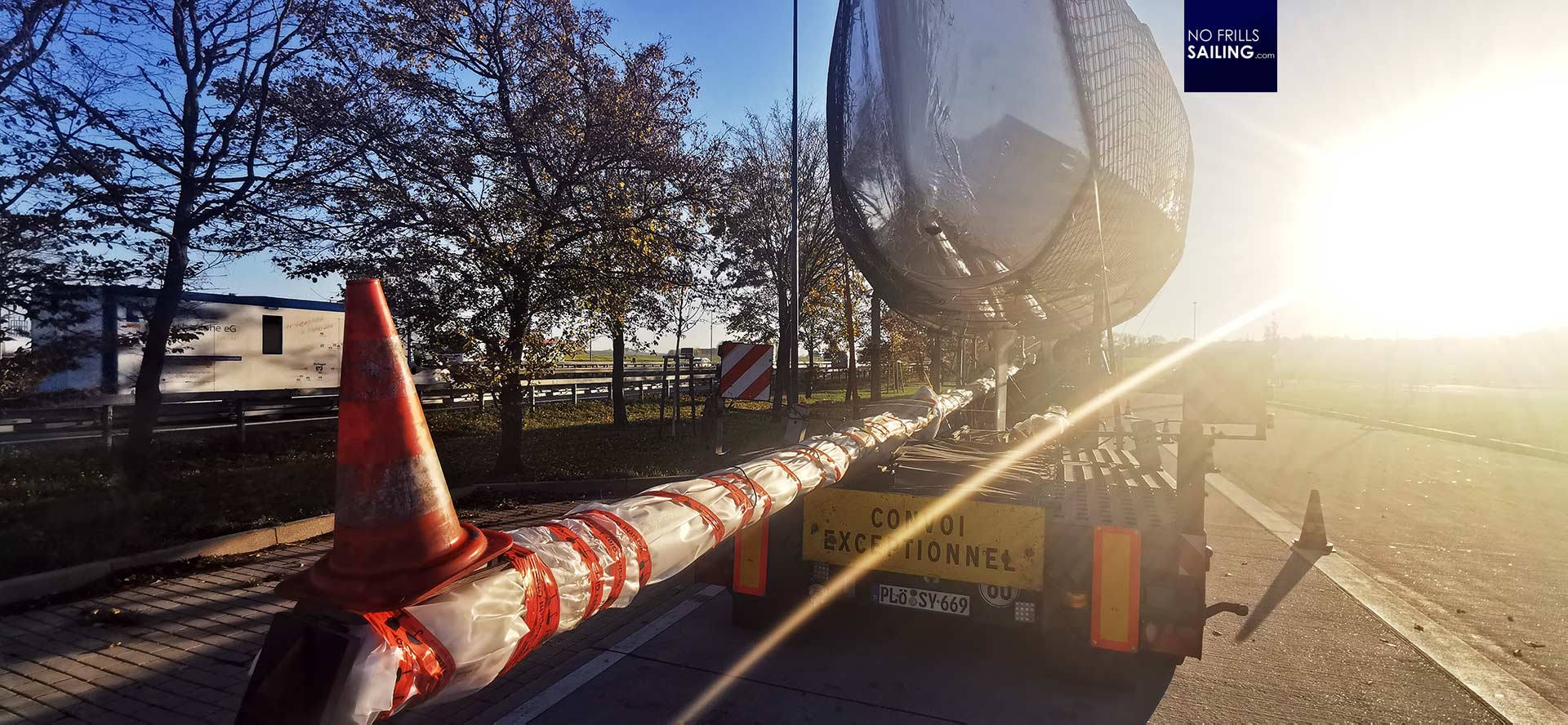 Normally, after a yacht´s building process is finished in the yard, the dealer receives a message, relaying it to the truck company. The guys will load the boat and bring it wherever the new owner wants to get his boat commissioned and handed over. Usually, that´s where we come into play again, meeting with the customers and handing over the boats. Well, usually. In the case of these two fantastic brand-new Oceanis 46.1 we thought we´d do something special …
Unusual times – unusual measures
Silke, Volker and Joachim are not only very enthusiastic about their boats, they are also very, very sympathetic clients. Joachim has ordered his yacht during the last BOOT Duesseldorf boat show making it a mere one year waiting time, Silke and Volker were lucky after ordering in May this year to receive a faster slot. Both were of course a bit insecure when Corona struck: Will my boat be finished? Will I be able to receive it? I mean, that´s understandable: A 46 feet yacht is nearly worth half a million Euro and honestly it would make me unnerved as well. So, here was our idea: If we cannot reach the boats in their new home ports in the Adriatic to hand them over properly, what about a short drive-by-meeting?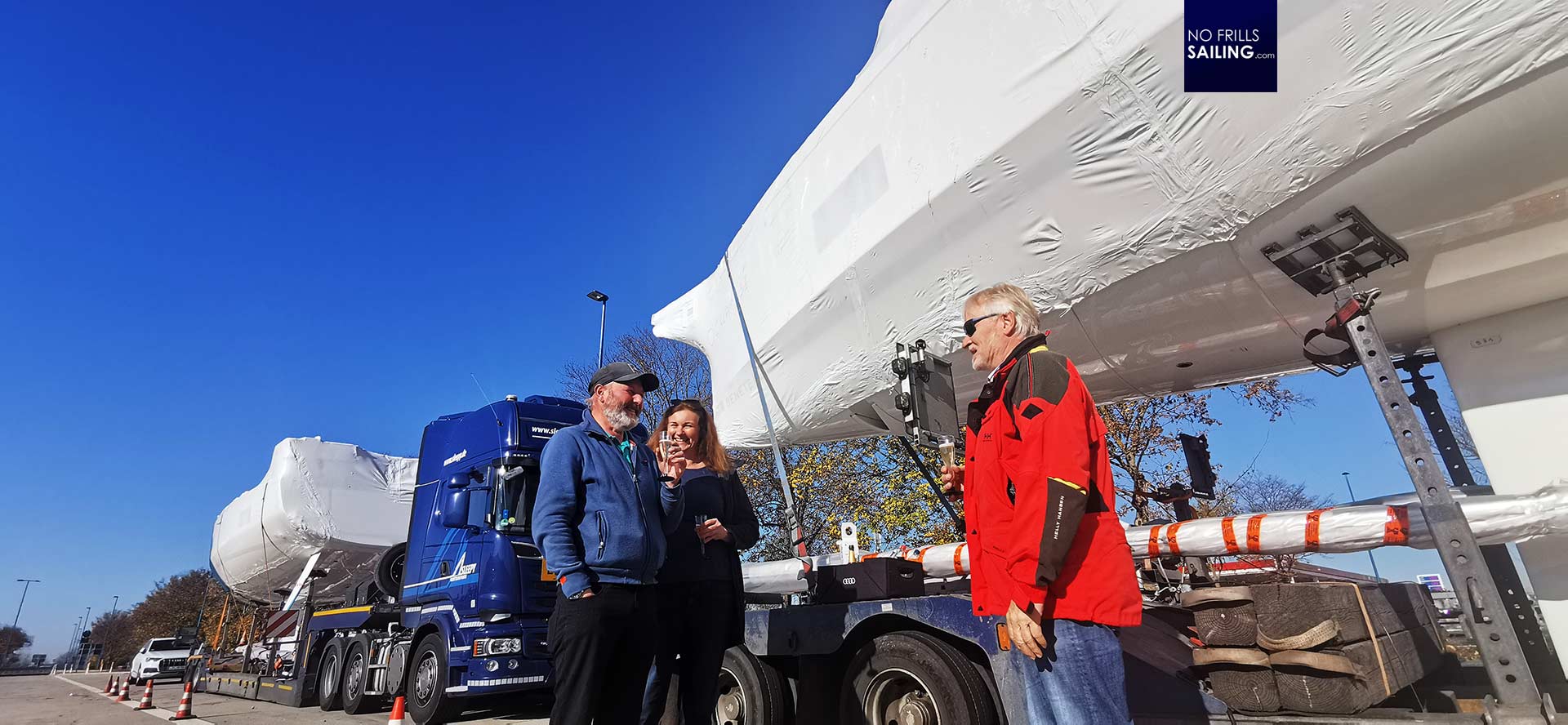 We are happy to working together with professional partners, such as our transportation company. They agreed to have re-scheduled the route of both trucks so that they would be travelling trough Germany. Well, the way from Beneteau in France to the Adriatic Sea leads their route via Germany anyways but we´ve made them going through a bit more northerly. Both clients and myself jumped into our cars and on the Autobahn – for me it was a trip of 9 hours from Luebeck to the deepest South of Bavaria. On a roadhouse service area both transports have arrived deep that same night with all the crew being at sleep: Clients arrived some minutes later. Here we were, celebrating at least a touch of the Gelcoat with their own fingers and a "Cheers", like a small pre-christening, with a glass of Champaign. What a great, emotional occasion for all of us!
Useful effects: What it takes to transport a sailing yacht
Apart from the fact that it was a very emotional and for sure a deciding day for our clients, it was also an occasion to point to different things connected to buying a boat which normally go unnoticed by the customers. For them it was very interesting to finally see how a large sailing yacht is transported, all those details and procedures which in normal times will never be acknowledged by the new owners. Take the wrapping of a boat: It´s reassuring to see that (at least with Beneteau) the yachts are plastic-wrapped completely, protecting the yachts from scratches made by trees for example.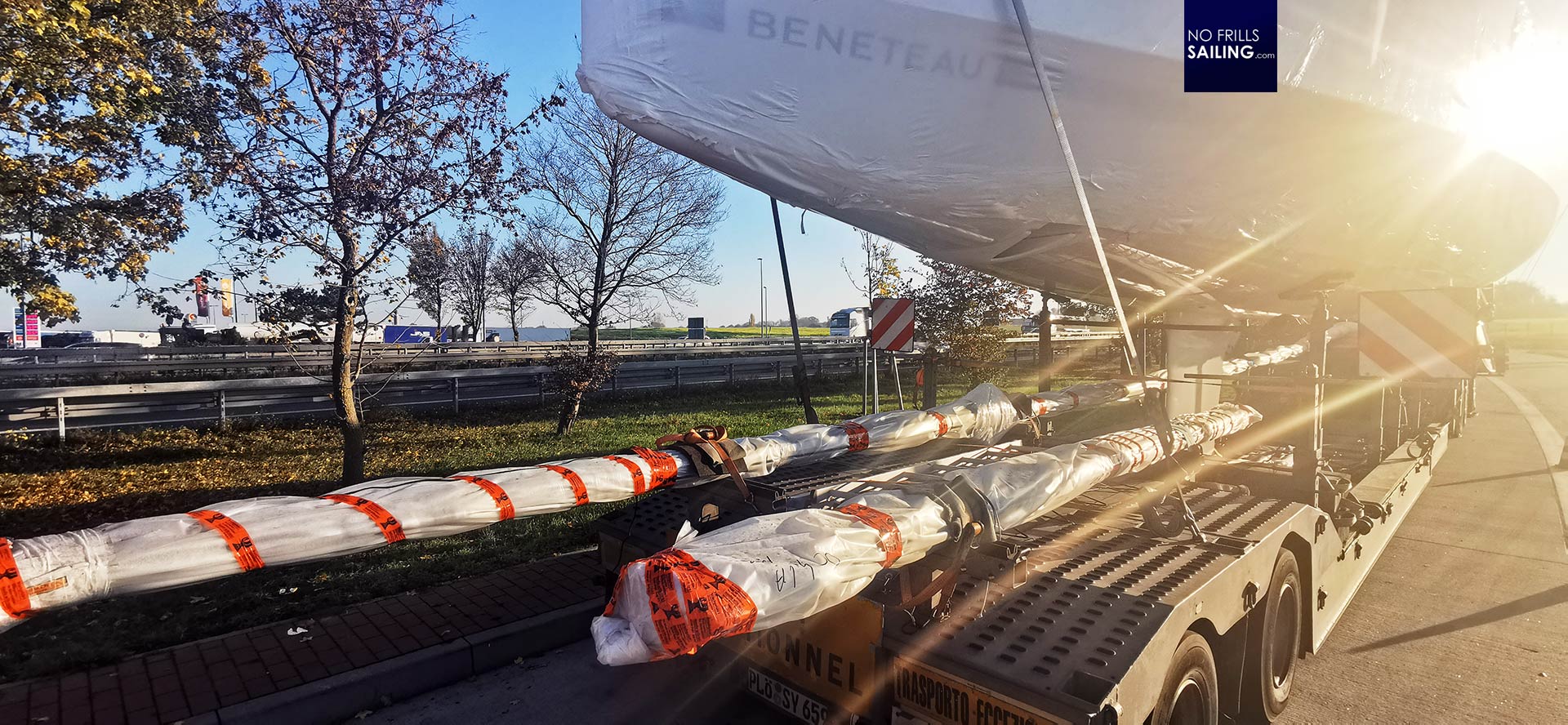 The "boat" is not only a boat: On the truck there´s already everything packed that the boat needs to be commissioned and readied to sail. Joachim, who ordered his Oceanis 46.1 as the performance "First Line"-version, was stunned by the length of his mast. Boom, rodkicker and all equipment for the boat are either stored inside or – if too big in their size – strapped to the truck as well. All the precautions and measurements taken to insure a safe transport free of damage can be seen by our new owners in real life: Including meeting the men responsible for delivering their precious boats.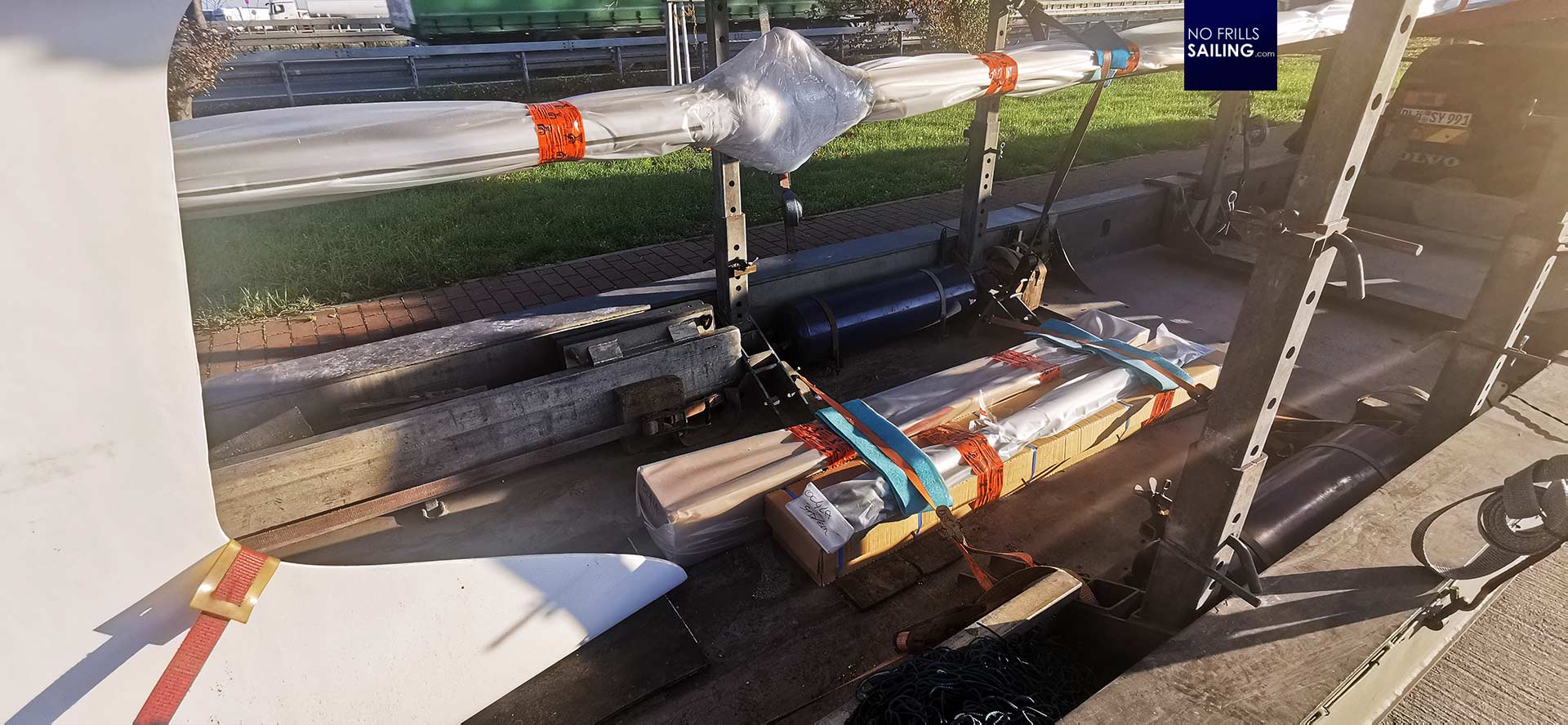 As Silke opens a bottle of Champaign to at least pre-celebrate their boats, we invite the truck-drivers and the escort drivers to share a glass with us. Seeing that it is not only the truck drivers but also the drivers of the small transporters making sure that the road ahead is free of cars and other obstacles was something our clients didn´t had on their mind when initially talking about "boat transport". Our short tete-a-tete and drive-by of the boats became a two-hour meet and chat. As I said, the best we could make out of it in these crazy times.
Owning a yacht in Covid-times
Joachim, who went for the Oceanis 46.1 Performance, couldn´t have thought of these crazy times when he put his signature under the sales agreement some nine months ago. He currently owns a 44 feet Jeanneau DS, moored in Croatia, up for sale. "having two boats now is a bit of a strange situation", he says: "Even stranger the fact that I am not able to sail either of them." Slovenia is currently in lockdown, almost all European countries designated "risk areas" and travel is restricted to business-only. Well, here we are: "At least I can see her now.", says Joachim and takes tons of pictures with his smartphone.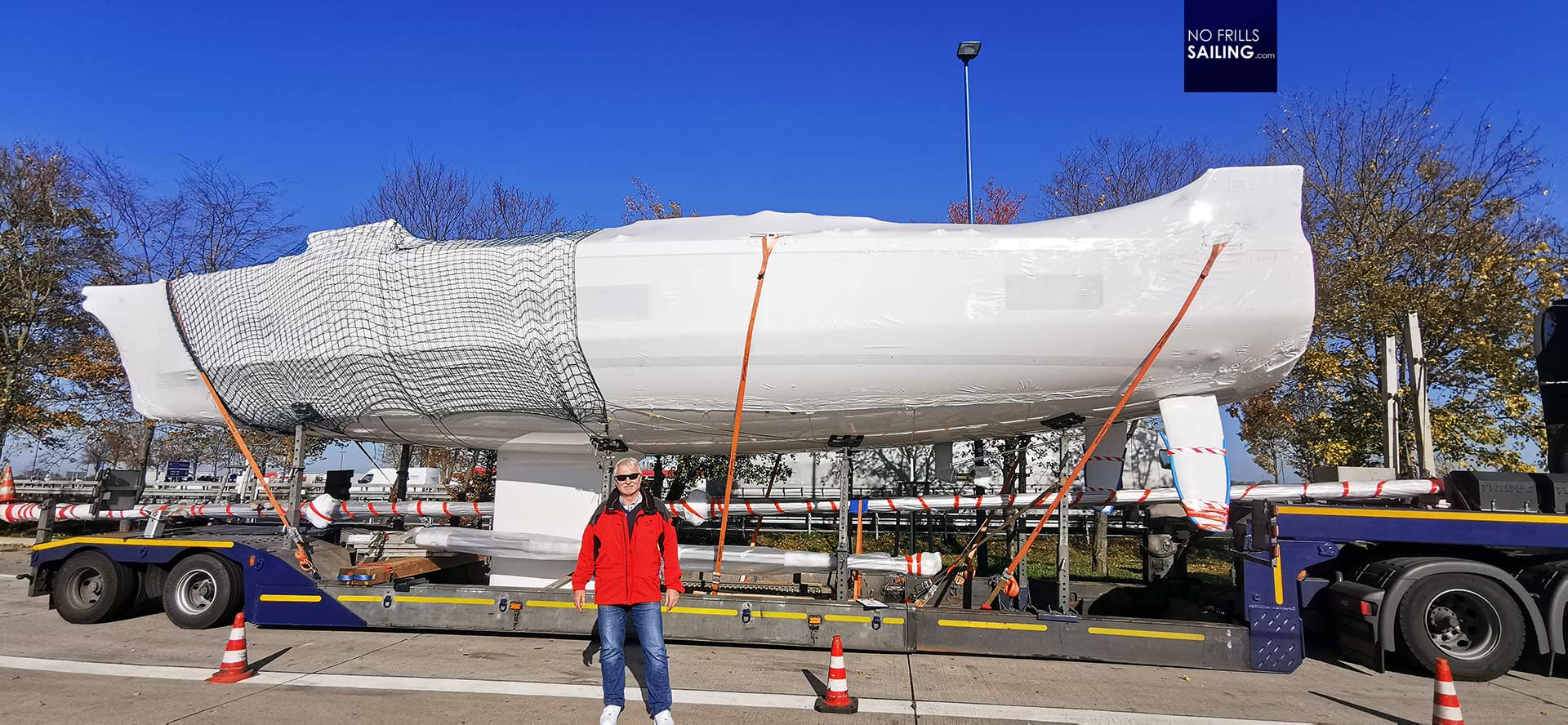 Same goes for Silke and her husband Volker: For them, the Oceanis 46.1 is their first ever own yacht: "We are on our journey to buying a boat for some two years now", says Silke: "At first we wanted a Beneteau Sense – but right when we were ready to sign, the yard announced phasing out the Sense-line. Then we went over to Bavaria: One day after visiting the yard it went bankrupt. Kind of bad luck here … now, when Corona struck in March this year, I said to my man – come on, let´s go. Now or never!" Both smile: After such an odyssey nothing can quite really shock them for sure.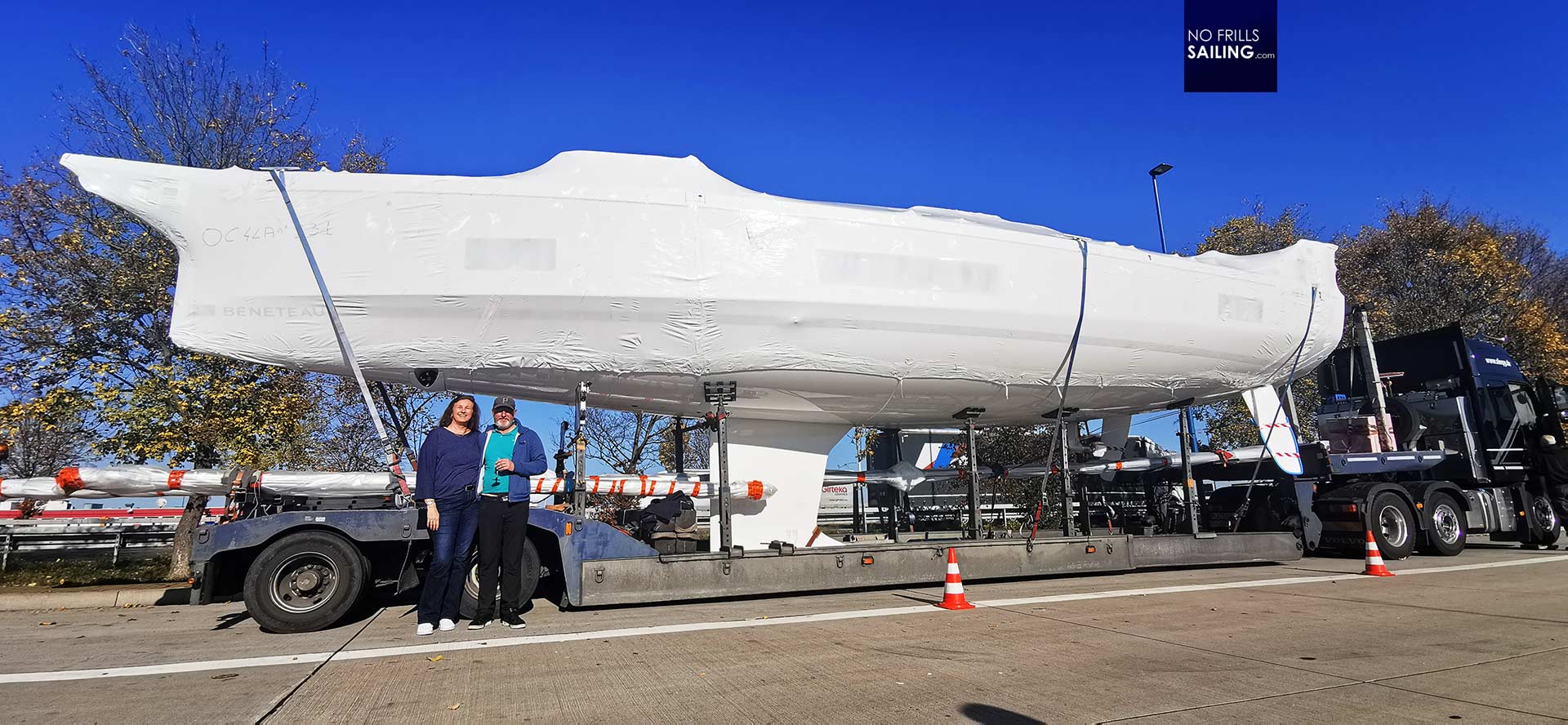 We are standing next to the boats in this silly-awkward scene, having a couple of drinks and chatting. About their plans, their dreams and hopes. We all agree that the situation will ease over time. No matter what this all Corona-thing is about, no matter if the virus will stay and life will change: They are sure that they will be able to travel free some time soon: "Maybe December, maybe March – we will see." They smile – nothing can darken their happy mood today.
Pleasant anticipation: Waiting for the re-opening
There they are: Two proud yachts. An impressive convoy ready to be back on the road soon. I say goodbye, well aware of another 9 hours car drive back home to the Baltic sea. Volker and Silke are busy taking some more pictures of their beloved boat. The truckers wave as I hit the accelerator leaving the scene. A day I will be remembering for a long time: Crazy Corona-times.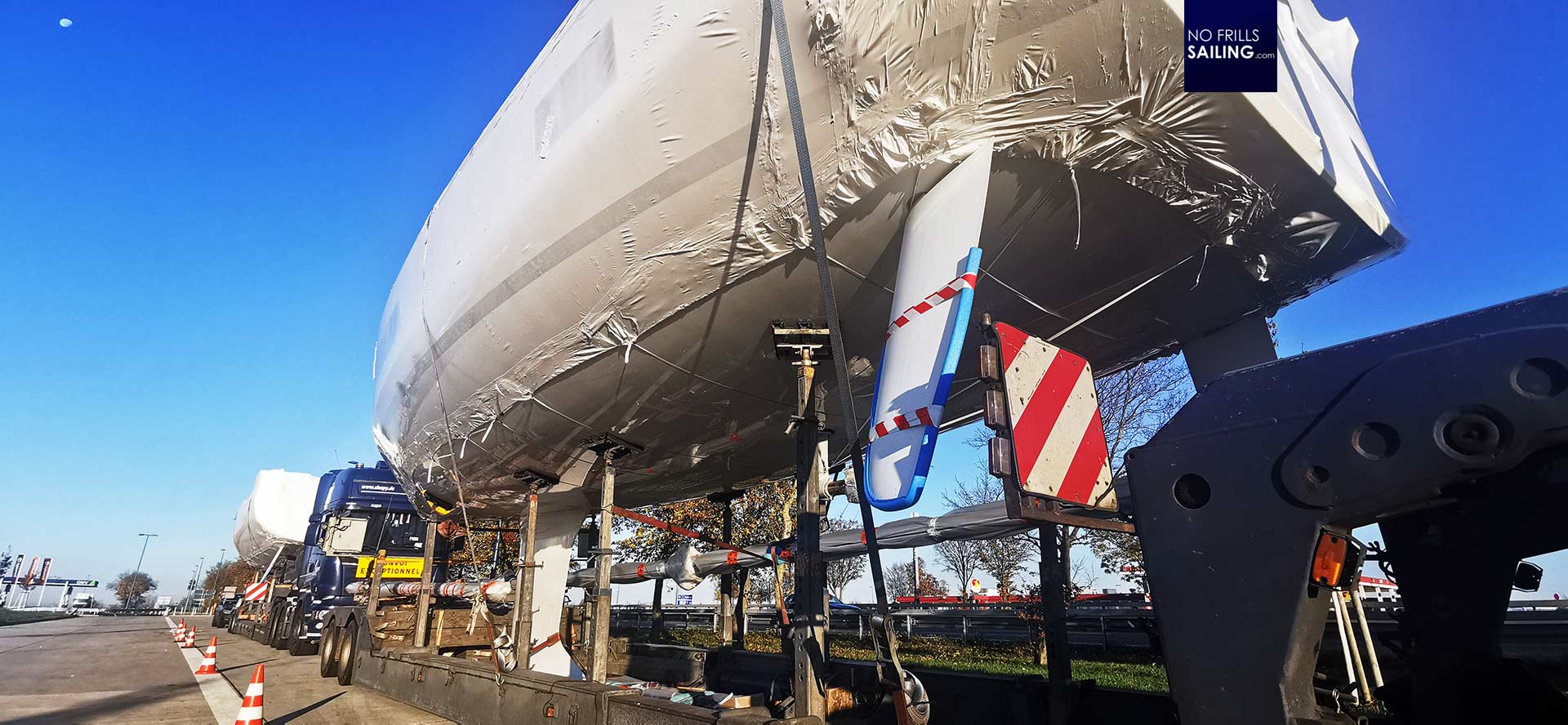 Two days later I receive some pictures from Slovenia. The trucks have arrived safely, our rigger at the scene is busy unloading and unpacking the boats. From now on the yachts will receive their antifouling coating and will be commissioned to a point at which – upon the day when restrictions are lifted again – we only have to put them to the water and have the mast stepped. Until then the boats will be put on dry stand being guarded safely in the marina. I pity this fact, because originally it was planned that after handing over the boats to their owners I would have picked up my own new boat to bring her to Germany. Well, that´s a thing of the past now.
But what a project! In my job re-scheduling and override of already finished plans is a daily routine. But during Covid-times it seems that, from a logistical standpoint, we all have to adapt even quicker. Like this example which is showing how the business has changed and the need for coming up with creative solutions. I personally hope that the situation will calm down soon: Handing over yachts in Slovenia is a joy and especially this type, which is a beloved boat of mine, will be a pleasure handing over twice with twice the joy.
You might also be interested to reading these articles:
Yacht transport for mid-sized boats: How it´s done
Delivery process of a 46 feet sailing yacht
Inshore boat delivery – a whole new world