She was the most interesting boat of last edition of Dusseldorf Boat Show (in my opinion) and most certainly my favorite boat of all yachts shown. The all-new Allures 40.9 marks the starting point for "real" sailors as a blue water go-anywhere boat and is the new entry-level yacht into the world of aluminium yachts of the French brand Allures. "But why?", may you ask: Her hull is not really a "hot" head-turner, the design not a revolutionary highlight – well, maybe that is exactly why I love this boat.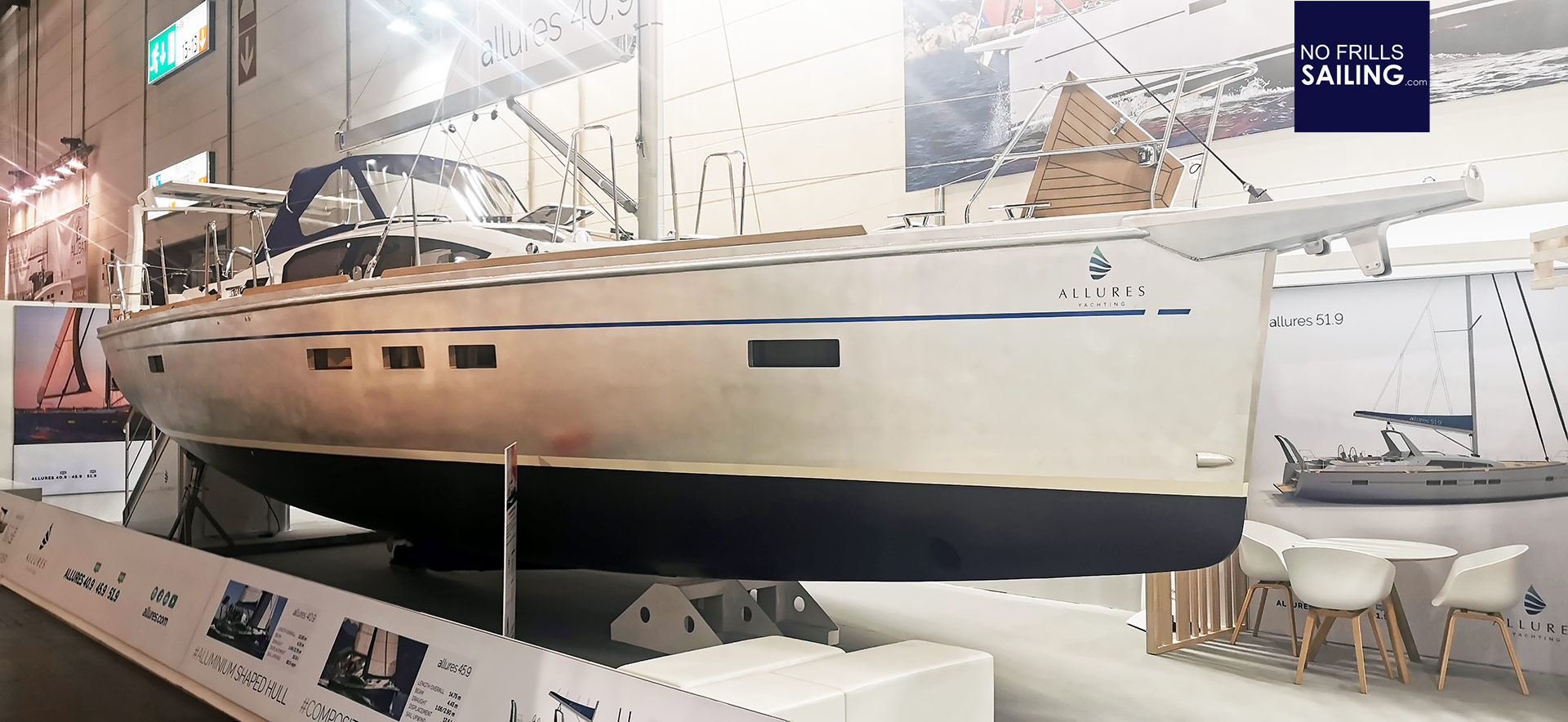 I was happy to having the chance to talk to the happy owners, who bought the boat and sat aboard to help visitors answering questions (and most certainly keen an eye on their boat just in case …) The Allures 40.9 comes in the very handy 40-feet size. With her overall length of 12.65 metres and a max width of 4.15 metres she is certainly not a cost driver when underway. Small enough to be mastered by a two-person couple crew and big enough to offer enough space for a long trip. But what makes the Allures a perfect ship for the long trip?
One go-anywhere boat for sailors
You all know that I would always prefer a "real" ship made of aluminium over a GRP-made boat when it comes to sailing adventures off the classic vacation-scheme. Leaving the Med, crossing oceans and entering areas which are not equipped with all the holiday-amenities we all love when chartering a boat, having the re-assurance of being aboard a sturdy, durable metal-ship is priceless – just think of impact resistance of metal vs. GRP.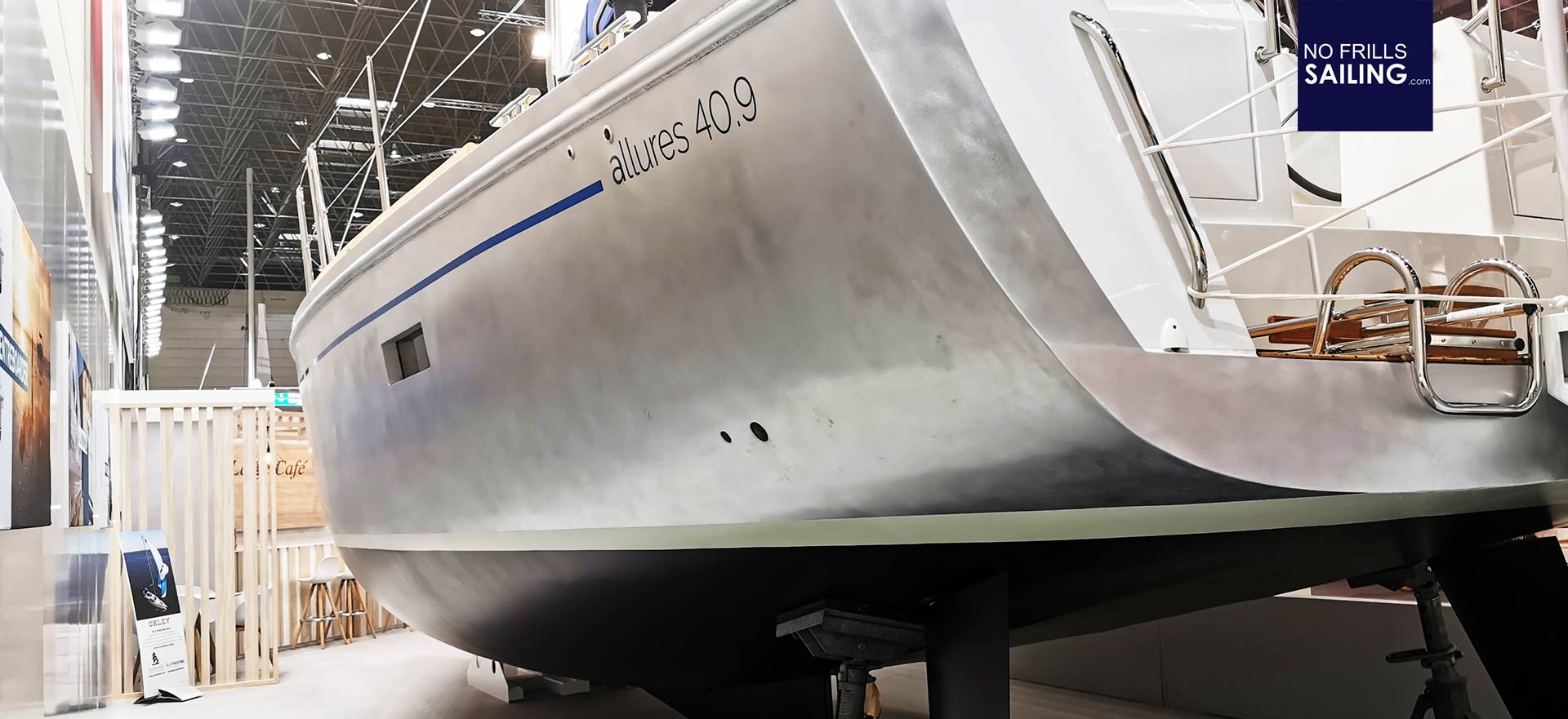 The Allures 40.9 is a round-chine hull which is more expensive to be made in the yard but offers the best performance when sailing. Like previous models the new 40.9 is a Berret-Racoupeau design that has proven its capabilities and a well-balanced character. When sailing on long trips, you want to be quick for sure, but also experience a certain level of comfort at sea with the hull going through the waves. Allures yachts are known for doing exactly this.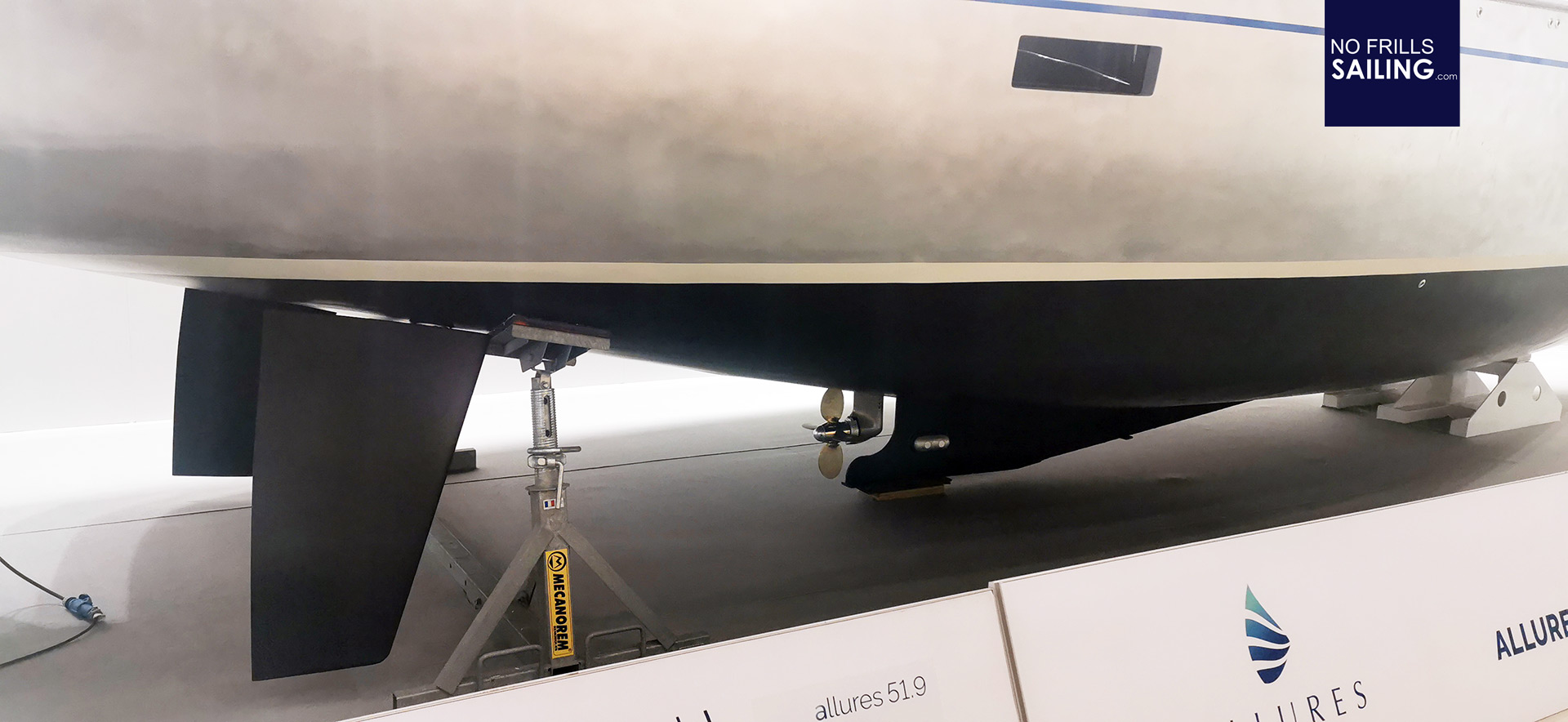 As a go-anywhere boat the Allures will almost certainly be bought by classic owner-couples. Offering the most freedom in their choices where to go with their boat, the Allures 40.9 (as all other models) comes with a centerboard that can be retracted to reduce the full 2.75 metres draft to just 1.06 metres. Thus making entering shallow hidden bays or rivers a no-brainer, as well as falling dry (most preferred for checking the hull and small maintenance at the hull).
Interiors made for the long voyage
Smaller yards focused on owners do not feel the pressure of the big market that much. Or let´s put it this way: They are kind of disconnected from the market of the big series production companies like Beneteau or Hanse which are competing against each other mainly to acquire the huge fleet orders of the charter companies – small brands feel another pressure for sure, but they seem to be more free from the cost pressure. You can see and touch it, for example, in the Allures 40.9.
When you enter the boat´s saloon the first thing you notice is that it is narrow. In a very good sense: The wide, open, airy saloons in the series production boats are conceived mainly for usage when at anchor or moored, not when underway. Lots of free space make it hard to be traversed when the boat sails heeled – not so in the Allures 40.9. There is always a grab, a piece of furniture, at least something in range to get hold. Even in severe foul weather you can go down under and be safe.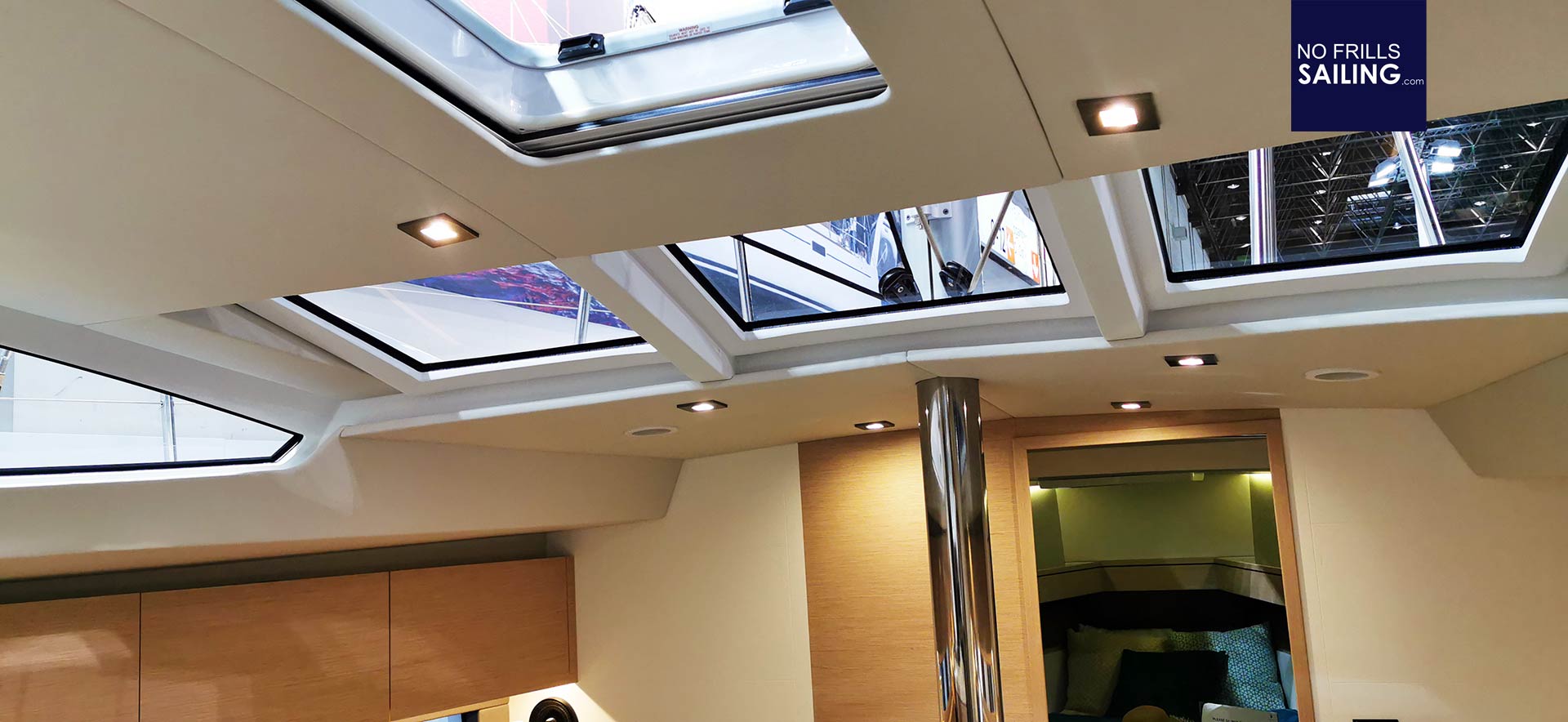 What I always like on Allures boats is the amount of natural light. That´s partially the windows in the hull but mostly the large skylights right behind the mast stand in the coach roof of the boat. These windows, together with one extra hatch in the roof, will add so much sun and blue sky into the saloon that is unseen in other boats. With an Allures, just the hull is made of aluminium, the deck and coachroof is made of GRP.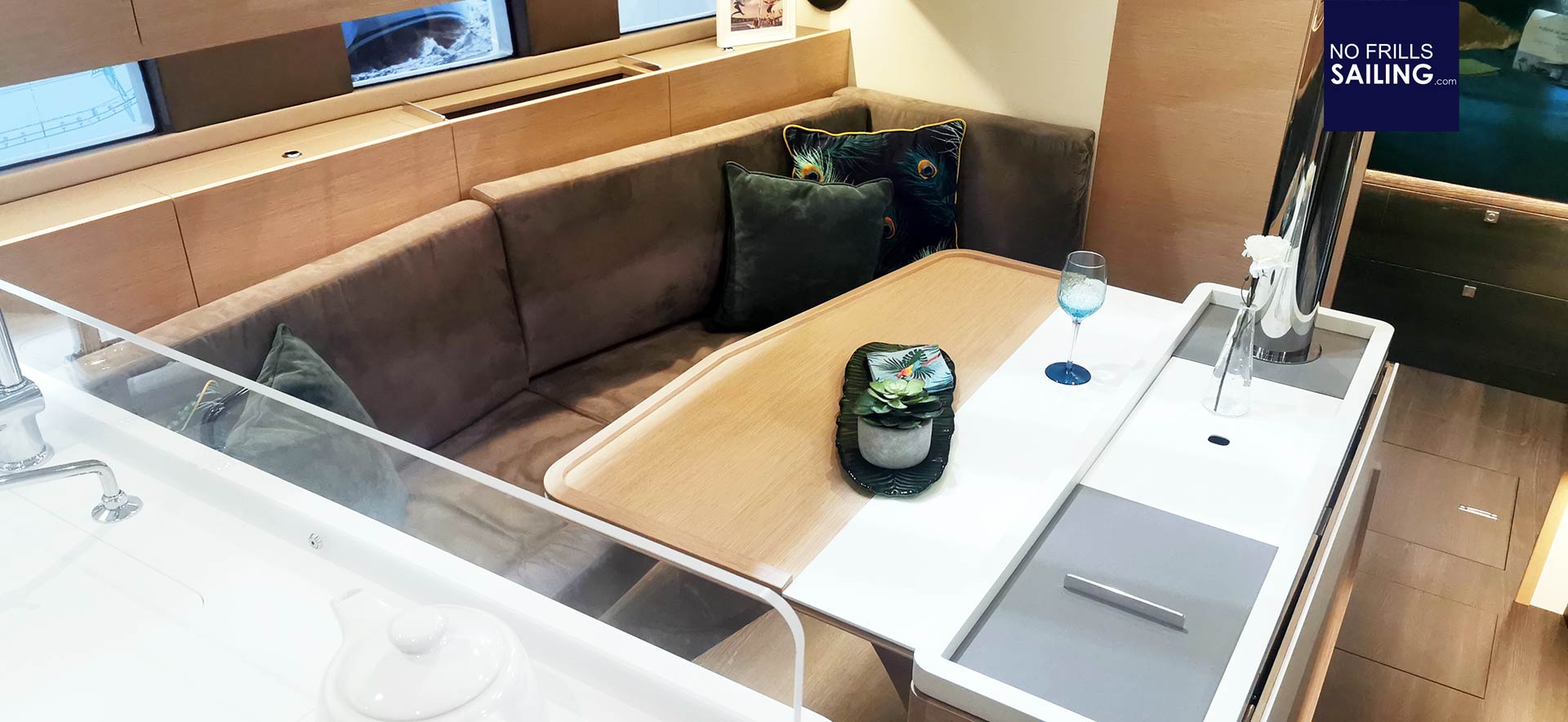 Of course, you cannot do too many fancy things inside a 40-feet yacht and I am glad that the interior designer Isabelle Racoupeau chose the classic layout with a large U-shaped settee vis-à-vis a 3-seater, centered by a folding dining table that as well houses the centerboard lowering mechanism. As this area of the boat is "one step down" from the galley-nav-station-level, it adds some coziness and comfort. Sitting here you can enjoy the natural light or peek out through the windows in the hull.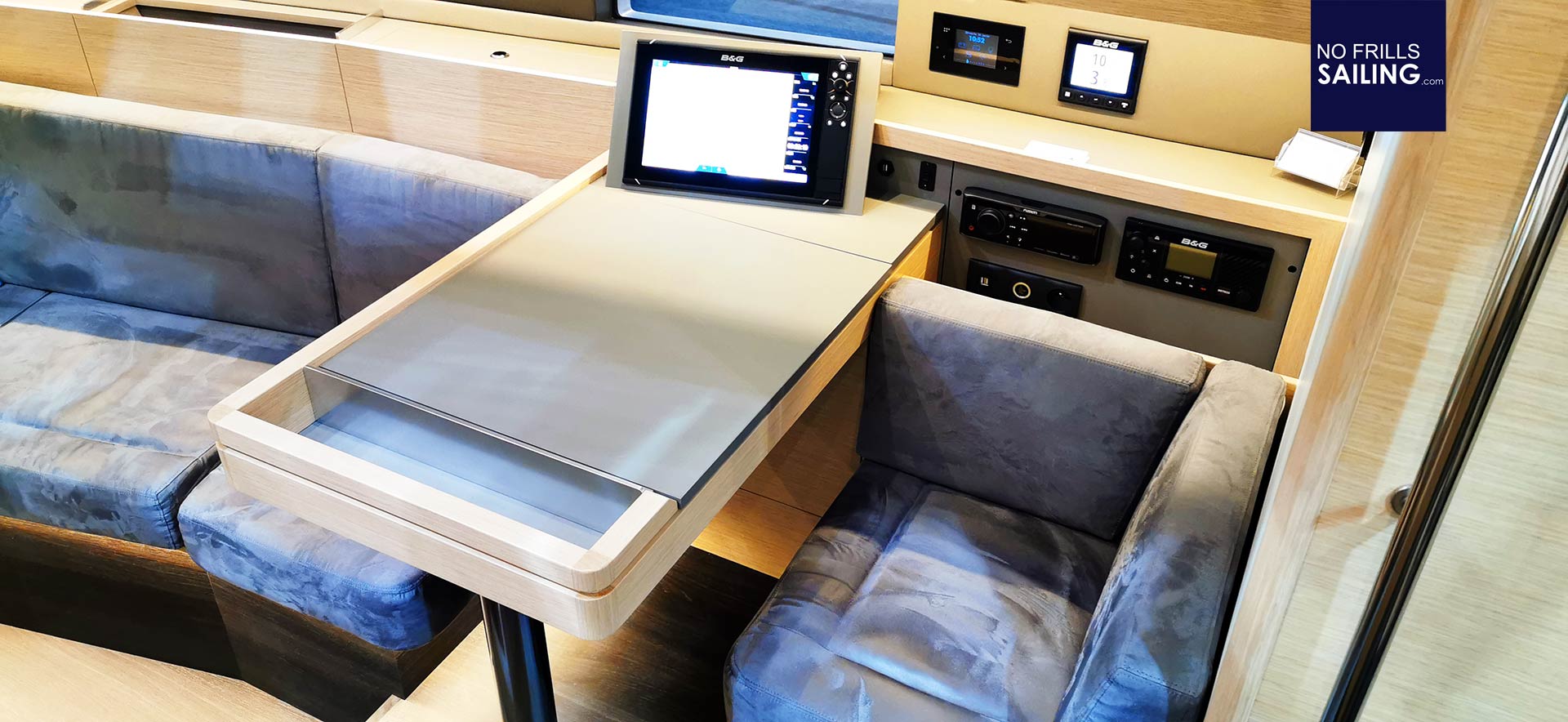 Speaking of the nav-station: In times when the big series production companies are more and more reducing the good old chart table to minimalistic sizes as (charter crew-)skippers are using tablet of laptop PCs for passage planning or weather, Allures offers a full-fledged nav-station with a reasonable sized chart table. It is situated where it should be: Near the switch panel and on starboard side. Here, near the companionway, the three most important areas for skipper and crew are placed where they should be.
First the galley, which is L-shaped and as well "narrow" in the best sense of the word. I´ve tested it and I can assure you that even in heavy heeling cooking offshore can be done here without risking to fly away in a wave – lots of corners to be cramped into. To the starboard side the only bathroom – huge! – is situated which can act both for taking a quick pee when sailing or performing the big cleansing at anchor.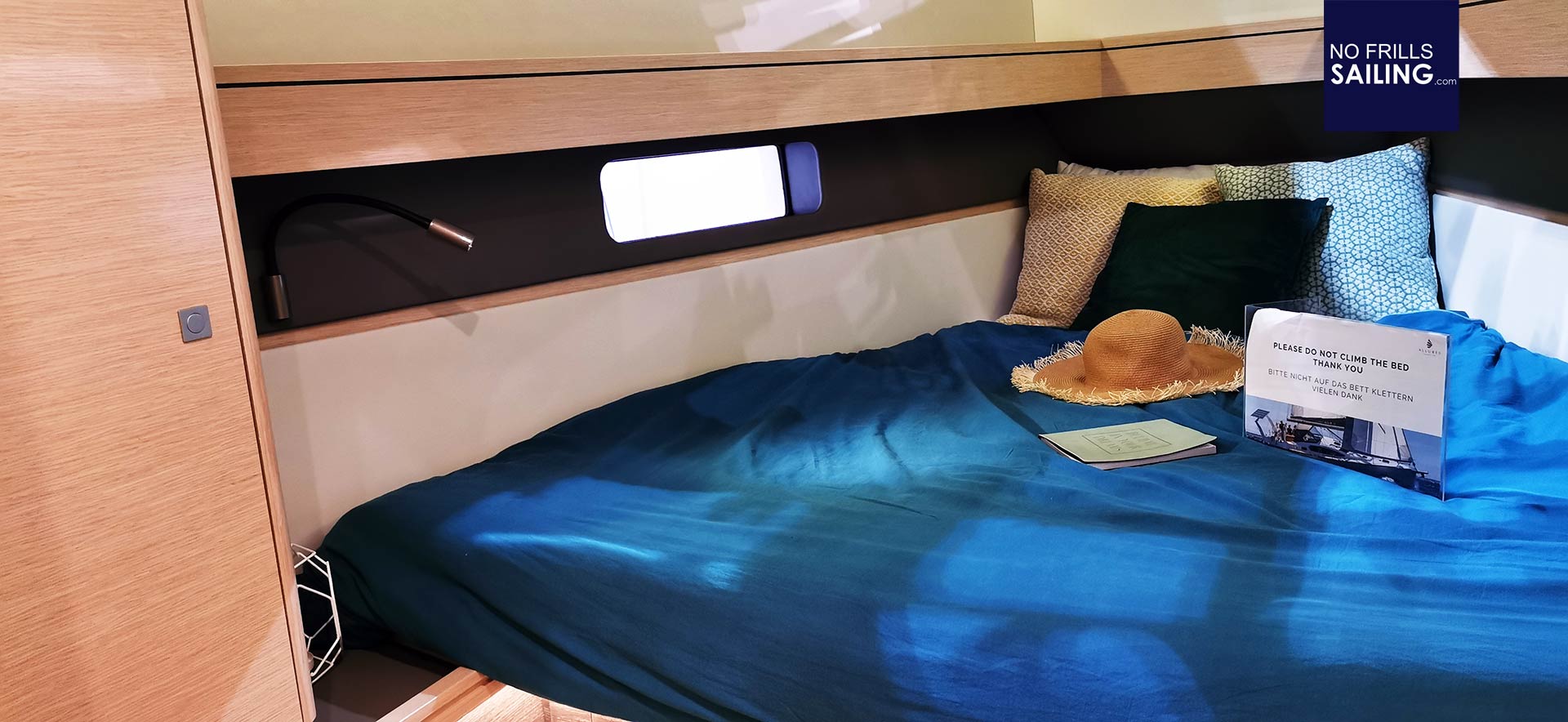 Speaking of "at anchor", the Allures 40.9 can be ordered in two layouts as a 2-cabin boat (which would act as the classic boat for the sailing couple) or with three cabins. I´ve seen the standard 2-cab layout and I loved it. In the bow a reasonably sized for cabin with a V-shaped berth and good stowage will act as the owner´s suite when moored. Back in the stern part of the boat a nice cabin offers a large bed when at sea, stowage again and of course a small window in the hull to enjoy the glittering of the sun on the water surface.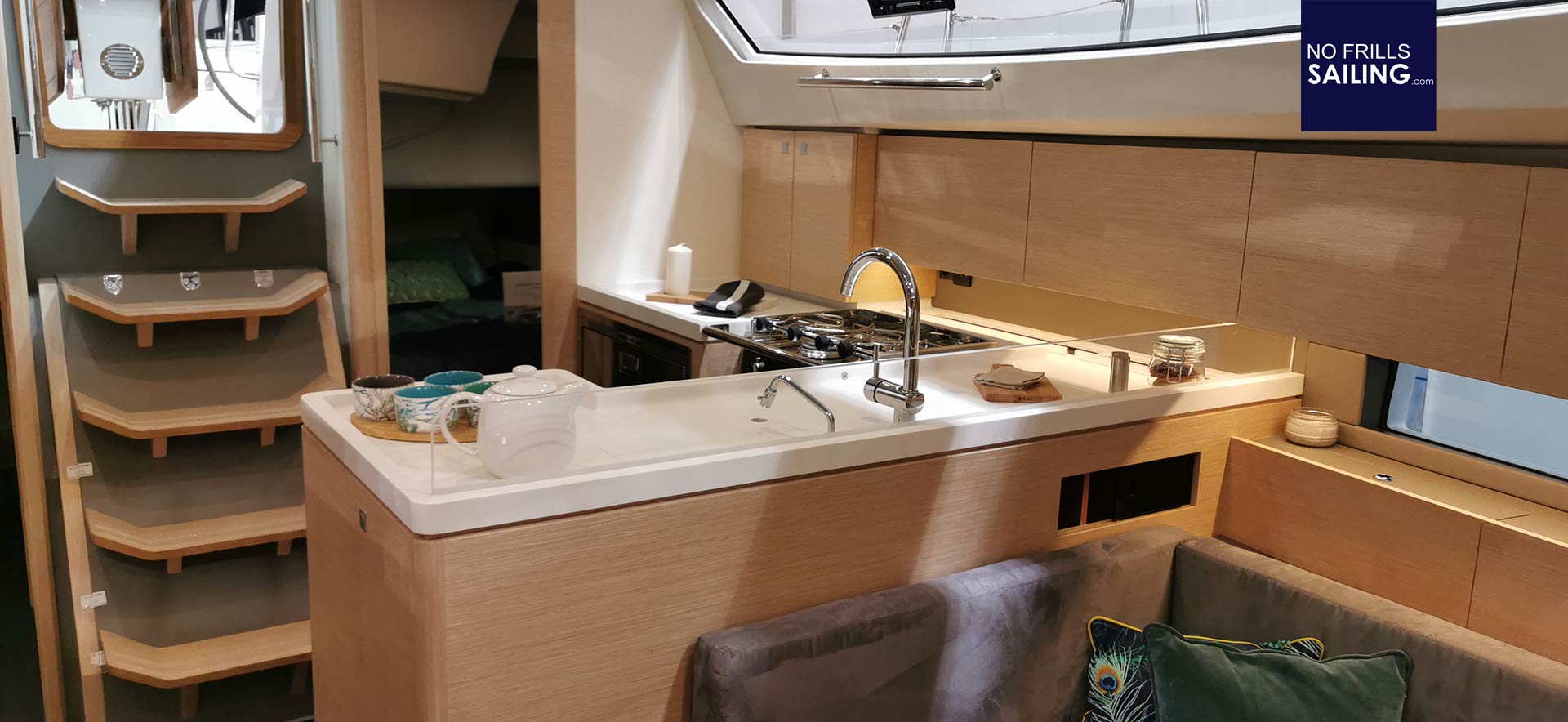 I must say that I like the interiors very much. Allures managed to connect to the current style seen in so many yachts today by maintaining a high level of manufacturing quality. Of course, they as well go for pre-fab furniture modules and square shaped parts avoiding labour- and money-intensive round shapes. In this, of course, Allures must as well adapt to a clientele that is keen on saving money but I would say they do find a good compromise.
Easy to maintain
Apart from being a nice ship offering at-home feeling and coziness, the Allures is a real around the world sailboat. For skippers this means being able to do most of the maintenance and some of the repair works by themselves. The Allures 40.9 2-cabin version offers a great amenity in this respect: Another door behind the bathroom opens to a large "workshop" (as I call it) with loads of stowage and a large work bench. Great!
Also from here you have a great big, big opening into the engine room. Right behind the Diesel engine there´s loads of space for additional equipment (if needed) like a water maker, generator and other technical accessories. There is an integrated light and I can imagine how thankful the skipper of a ship like this might be in case a major repair must be done and he can reign over such a thought through workshop.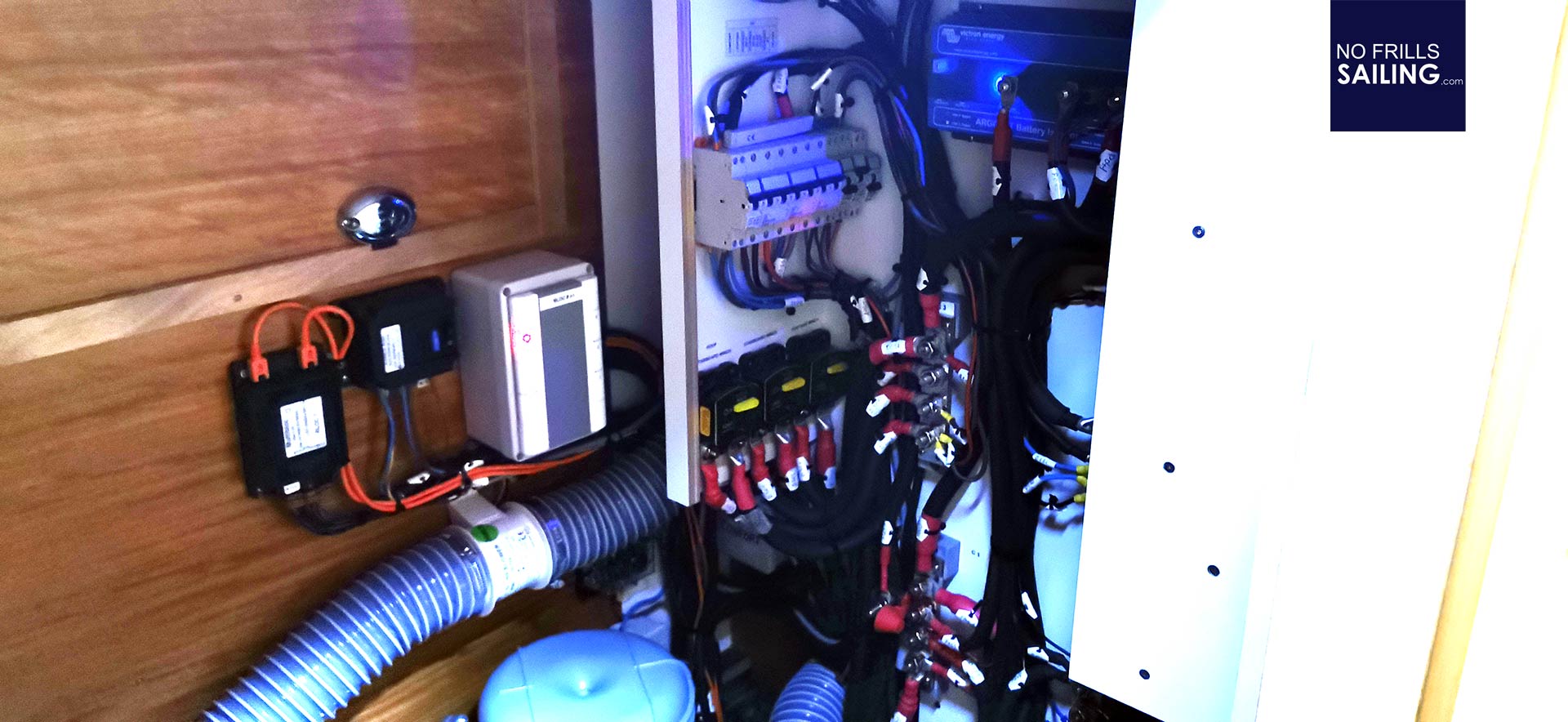 It´s these details which make the Allures 40.9 stand out for me. She might not be the fastest, she might not be the most fanciest of all hulls on the market but she most certainly is a boat for a real sailor indeed, conceived for a long trip, for entering uncharted areas, for providing a stable and safe platform even in the remotest areas of the world. A point I am making here is that this boat in standard comes with a level of craftsmanship and richness of details not to be found in today´s series production cruisers.
No plywood, please!
And – oh god, what a pleasure – the woodworks on this boat! Of course Allures will use veneered marine plywood but not on the exposed and most used-parts of the furniture. Just look at this awesome cockpit table that is so massive and rigid. But also beautiful and a feast to look at. After all these cheap plastic tables, loveless optimized mass-production equipment it´s a real treat for the eyes.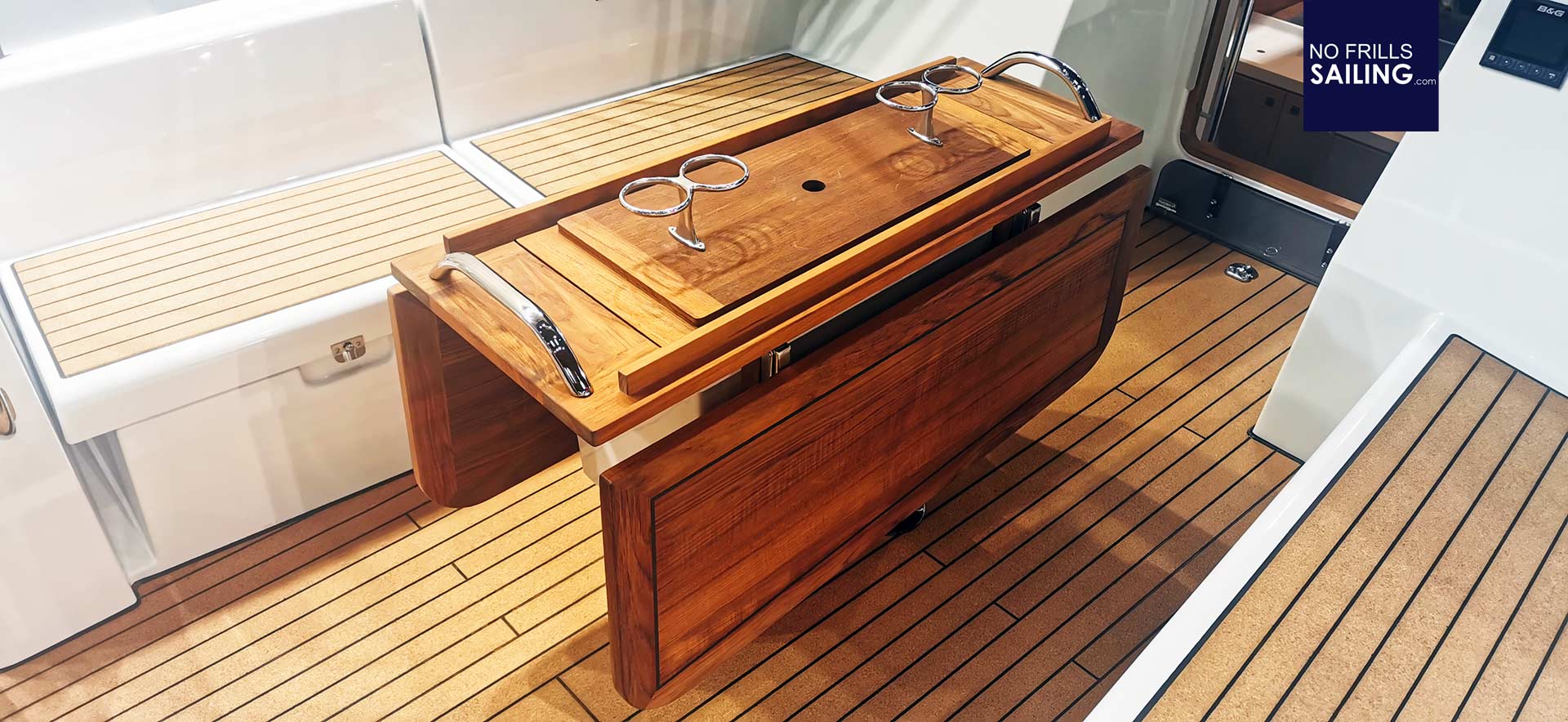 Looking at the entry down the companionway, it´s not cheap plastic covering the hatch but a massive chunk of wood. Long lasting, nice to be looking at and most certainly longer lasting in the course of the boat´s live. Which is an important detail when it comes to re-selling the boat after a few years of sailing: Aluminium yachts are rare on the market thus keeping value much longer than mass-produced boats.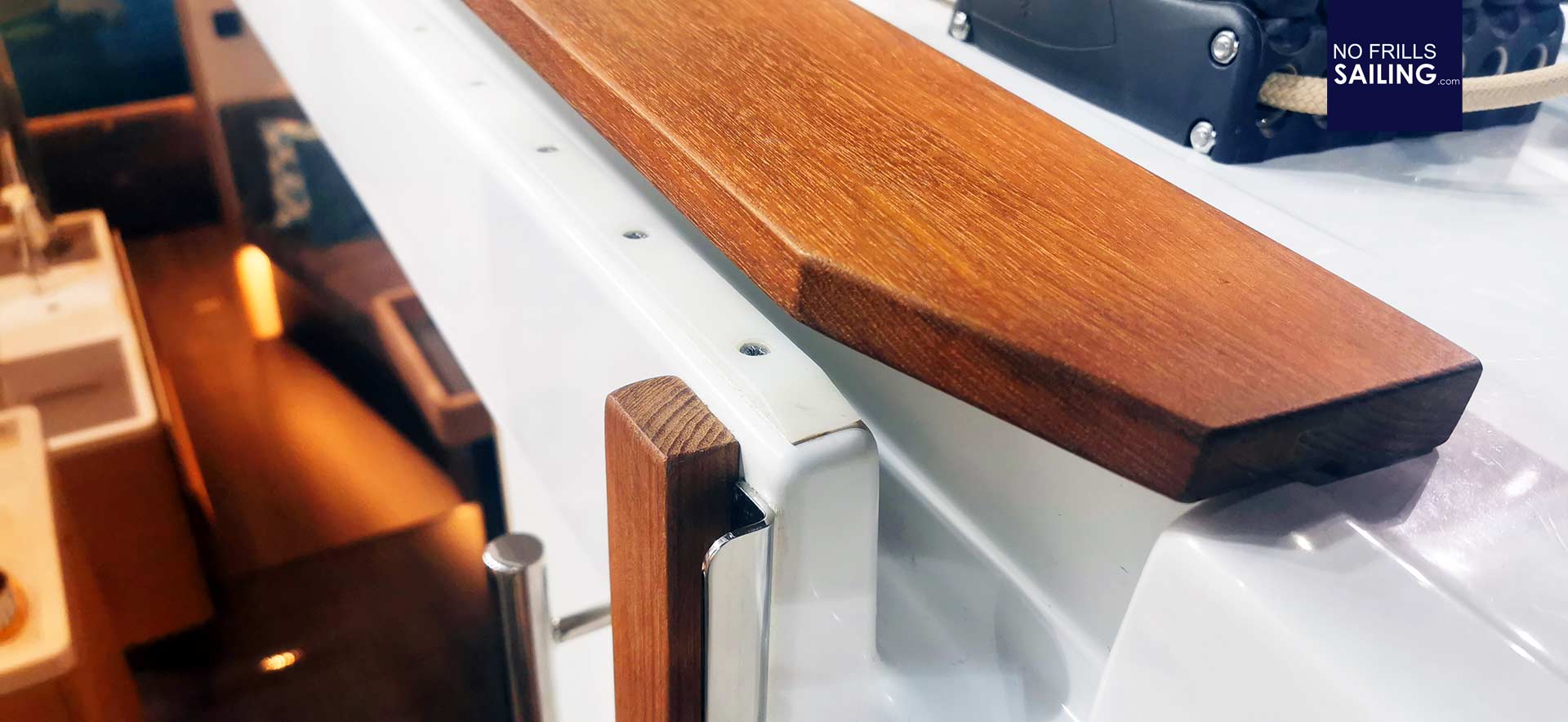 It´s just great to see that so much effort is put into a boat yard-wise with thoughts going into utilization of the boat, not just thinking of how it might be looking when moored stern first in a Med-marina. Allures is a boat of details.
Deciding details
When you buy a big brand boat you will have a long way to go to get the boat right for the long haul trip. With the Allures, most of the infrastructure is already there: Let´s take the aft arch that is standard on the boat. The rigid piece of aluminium acts as davits for the dinghy, as an equipment rack for all sorts of accessories like solar panel, wind generator and other surplus equipment.
The stern section offers a dedicated watertight compartment for the outboard engine of the dinghy: Secured and safe from water spray (and theft) the engine is stowed away and locked. The whole cockpit by the way is carefully conceived and thought through: High coamings will offer protection in heavy weather situations as well as a nice place to enjoy when the sun is out and the crew pours in the traditional sundowner at anchor.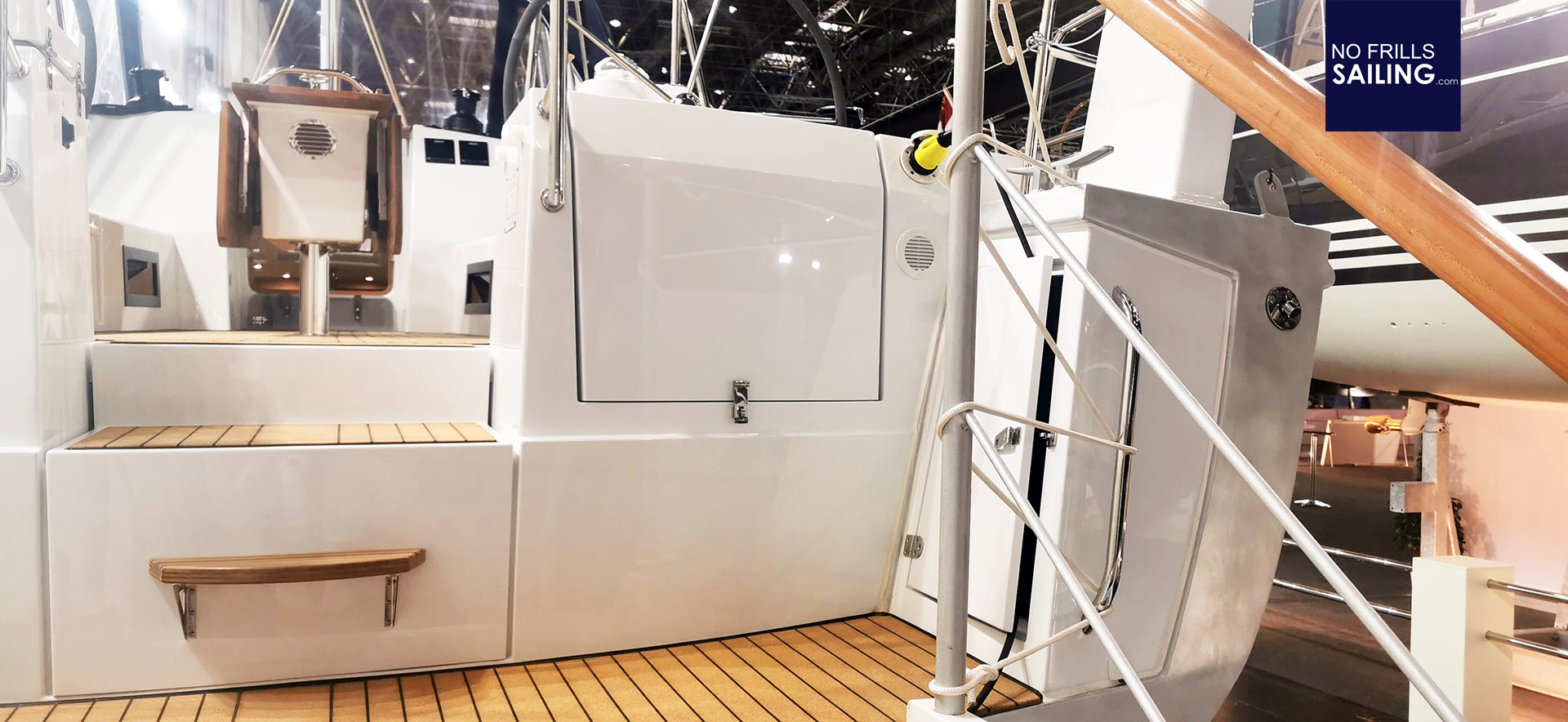 The whole boat bears more details, especially in the bow compartment where the anchor and windlass is situated – for me, it was a sheer pleasure roaming this boat and crossing off item by item in my head, things I didn´t had in mind belonging on board an oceangoing boat for so long. For me it is clear that if a skipper seeds to by a boat suitable for "real" sailing adventures off usual tracks – invest a little more in a boat made for these kinds of voyages and be sure, most of all, be safe.
So, when can we cast off?
Yeah, that´s exactly what I though leaving the Allures 40.9 after my 30 minute visit during the show. She is so lovely, yet so strong. Seeing the owners so proud and full of pleasant anticipation, not really knowing what will come but being sure that no matter where they go, they´ll reach their destination safely and relaxed.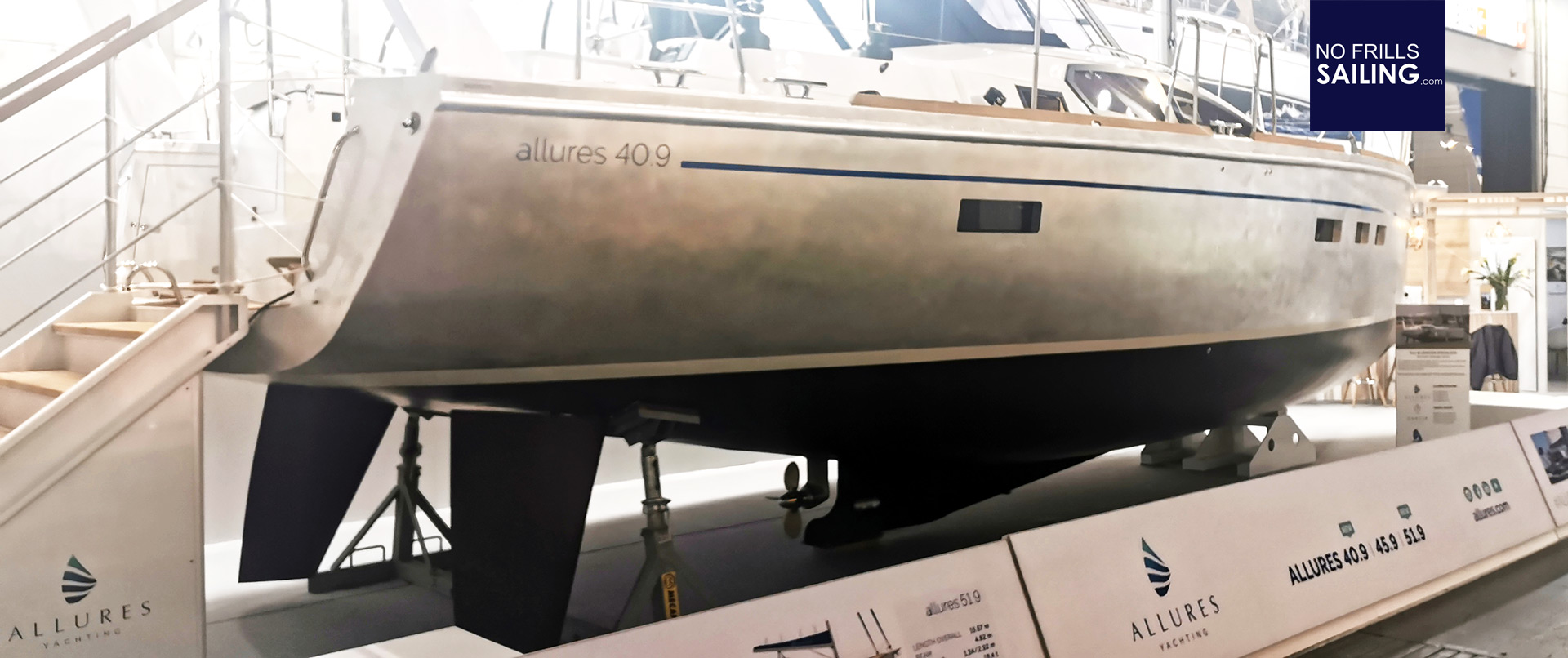 The all new Allures 40.9 comes with a price-tag of course. The average budget needed for a 40-footer production cruiser would be around 160.000 Euros base price ex works – much more indeed needed for the Allures: Some 100.000 Euros more. But that´s worth it by far: Last year I´ve had the pleasure to take a look at the building quality visiting the Cherbourg-yard, which I reckon should everybody do planning to buy a boat (no matter which brand of course).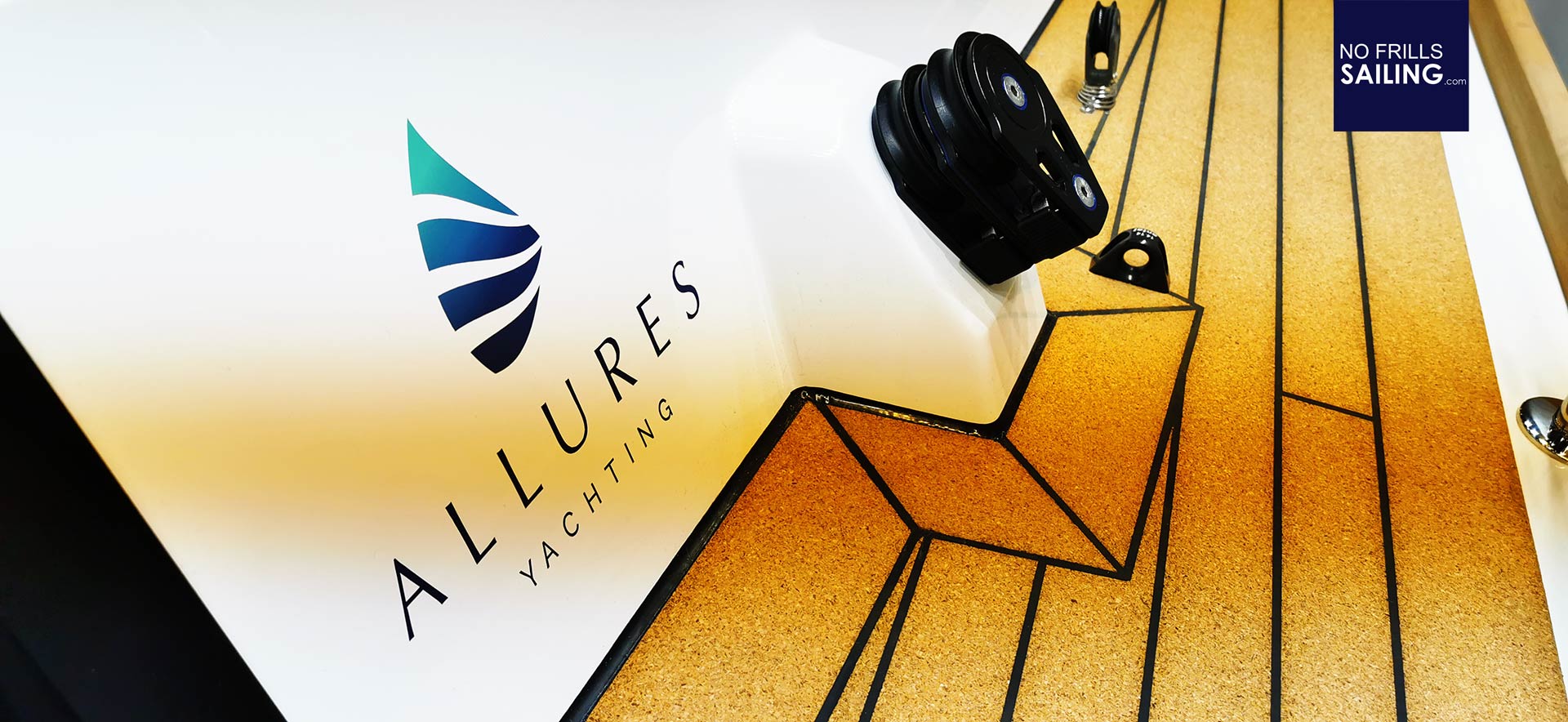 So, as I mentioned before, for myself it seemed that a journey is completed. For years I was roaming the boat shows and visiting literally dozens of boats, falling in love with big yachts, smaller boats, fast and slow boats, long and short. But now, it seems, I see the world clearer, have an eye for the things that matter and being able to make a judgement for what is necessary and what´s not. The new Allures 40.9 is a boat I would say would almost 100 per cent perfectly suiting my highest expectations. Bon bateau!
You may also like to read:
At the Allures and Garcia yard in Cherbourg
Talking to Jimmy Cornell on cruising boats
Aluminium or GRP?