What do you think of when you come upon the name of the country Slovenia? For most part, you might think of the Adriatic Sea and a nice spot for vacation, many will consider Slovenia a mere transit-country for going down to Croatia. But did you know that this little country in wonderful Istria is indeed a hidden gem? Loads of unspoiled forests, hills and mountains which allow for skiing in winter time and a short but stunningly beautiful coast line? Slovenians are a proud breed, sports fanatics indeed! Walking around you´ll see Tennis courts and other sport facilities everywhere – always occupied by people of all ages.
Slovenia has the highest numbers of Olympic winners and World- and European Champions per capita, a Slovenian race bike champion currently holds second place in prestigious Tour de France. It is a wonderful and amazing country: Perfect road conditions, LTE high speed internet, flawless housing and low rate of unemployment. Well, I know this because I love Slovenia and if there is a boat bound for the Adriatic, be sure, I will hand over her here.
At the Seascape venue near Ljubljana
This is exactly what happened last week: I´ve had an Oceanis 46.1 ready for handing over to her new owners and so it was time again to drive down. This time one day earlier as I was happy that our fellow friends at Seascape agreed to show me around in the production. So I stopped at Seascape HQ near the country´s capital city, Ljubljana, and pushed a little door bell-button at an industrial facility just south of Ljubljana.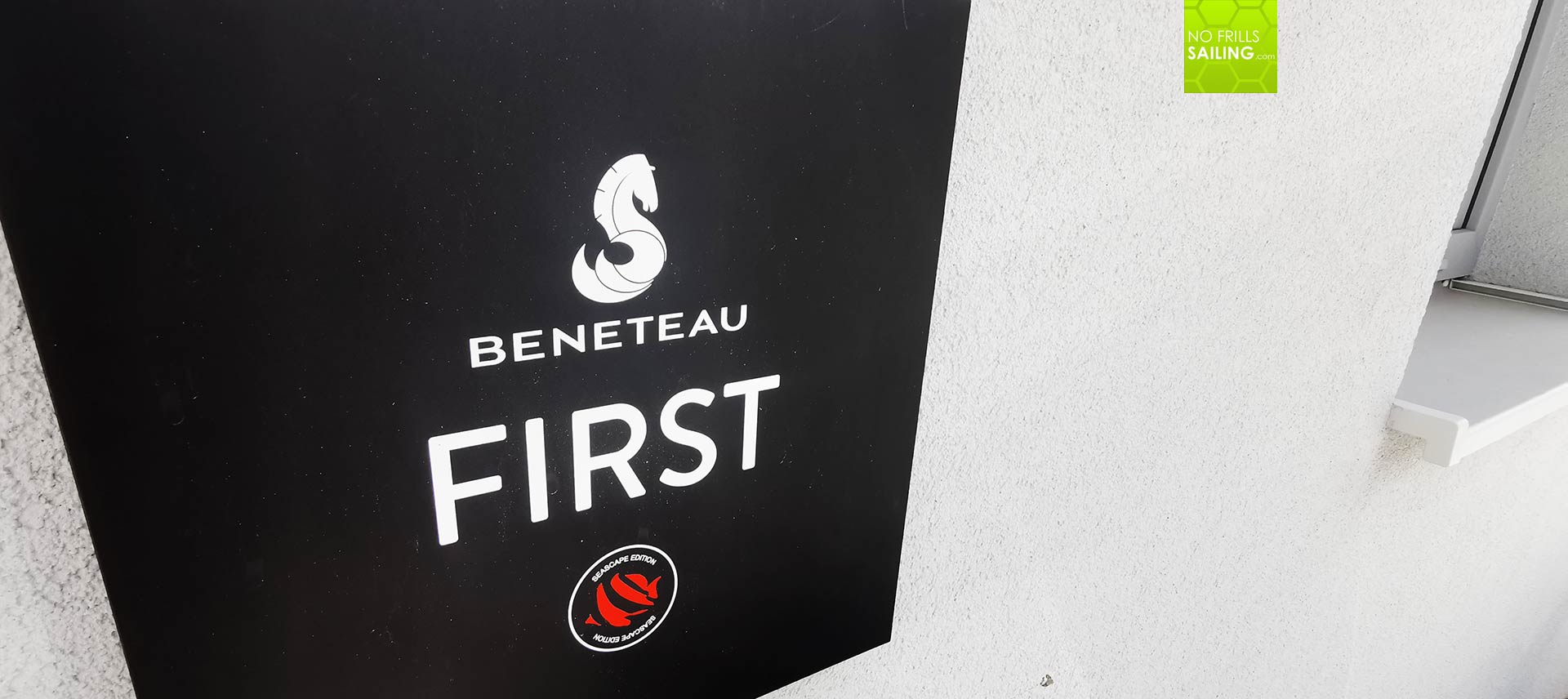 I was greeted by Femke, After Sales and Logistics Manager of Seascape who smiled brightly: "Perfect timing, Lars, we are currently loading a truck with another delivery of boats for you." And right she was: A First 24 SE and two 18s hung from a crane whilst carefully loaded onto their transport racks. I shot a pic and sent it to the three respective owners as a happy message and peeked into the openings of the big manufacturing halls which are the yard: As much as I like the small 24s, I was here to see a different boat …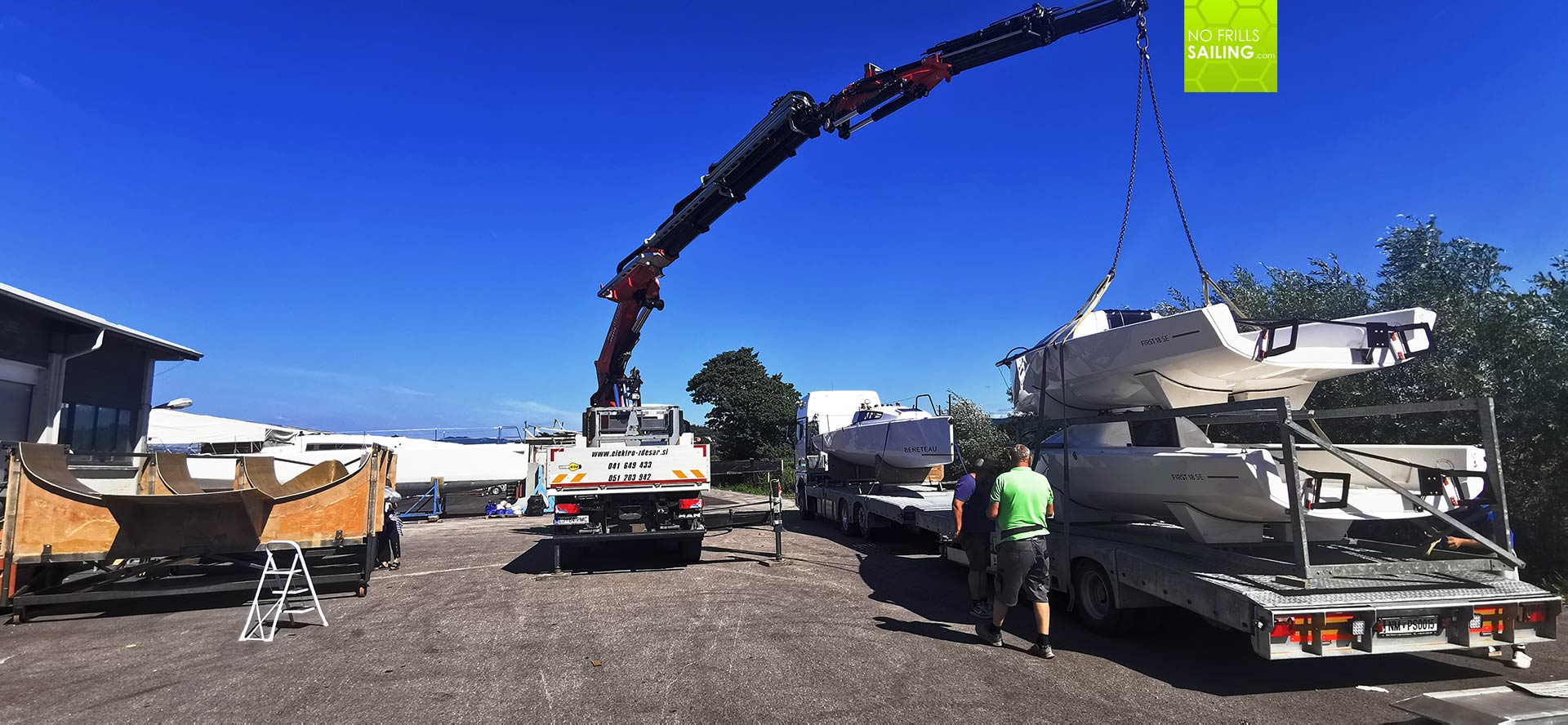 With the new First 36 already out and in the water, a highly interesting boat is now available on the market. She had long been awaited for, not just by the Seascape community but – even more – by Beneteau. This boat may be the most important launch of the French brand in 2022 as she is the first true "First" in decades. After launching the First 53 some years ago Beneteau re-vitalized the range again, by striking a deal with Seascape for labelling their 14, 18, 24 and 27 feet boats "First" the French immediately had a foot in the small boat-market and, I shall say, I cannot imagine a better product than these little, quick and fun Sloevnian boats to are the name "First". Now, with the 36, it is a bit different.
A giant leap
As I walk by a set of First 14s I take a look at two Fins and keel bombs of First 36 boats: These are big! I already realized that the jump from 27 feet to 36 is mind blowing when I boarded hull #1 some weeks ago in Germany, that´s the first point to acknowledge: Making a 36 footer is a whole different story than producing a sub-9-meter! Seascape manufactures the First 36 solely by own staff whereas some of the other boats are laminated by subcontractors. Not the 36.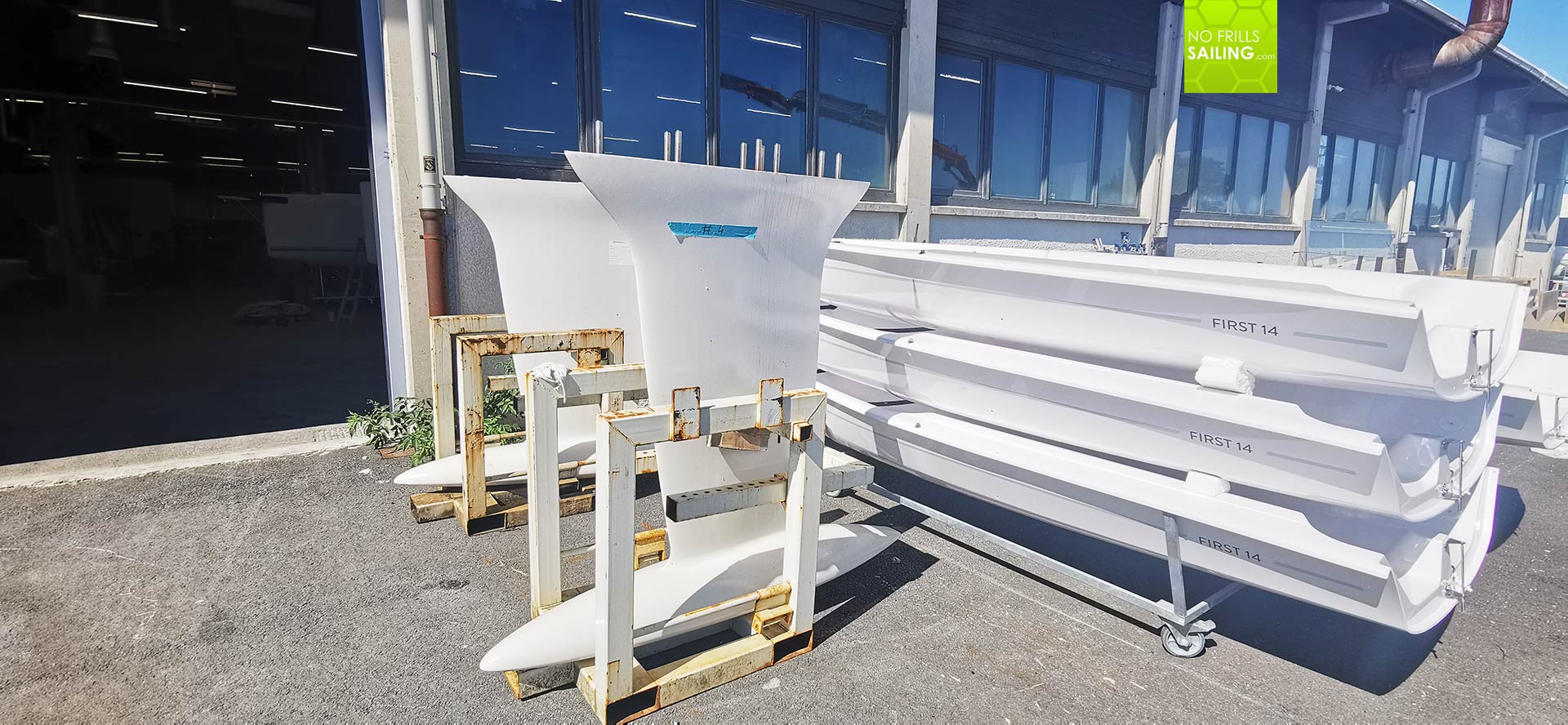 An own team of a skilled and trained people are exclusively working on the First 36: From layup placement and vacuum infusion to lamination of secondary parts, making the furniture and assembly of course, everything is done inhouse. By that, the guys control the whole process and can refine working steps, look for mishaps both in cycle flow and quality management and by thus bring down working hours. "Currently the working hours per unit are very high – naturally. We just start series production and also have to work out flaws in the boat itself but also in our management." By that, teams have visited the most productive production plants of Beneteau in France and also welcomed their professionals who constantly help to re-design assembly lines, processes and level of education of the team. "We hired guys from the automotive sector who completely re-designed our parts-department which also improves delivery times of parts and the whole process as well", Femke tells me.
The First 36 is a huge boat by all means. A yard that up until then had only made 27-footers does have to step up a notch in order to tackle this: "It´s not just the size itself, it is also the level of production techniques, the share of vacuum laminated parts increased sufficiently and also the complexity of the boat is another level." All the guys I encounter during our walkaround look at me, they smile and nod, some say hello. A calm, nice and relaxed atmosphere, but also I can sense some tension and pride in their appearance.
Controlling the whole production
We walk the production from A to Z. Femke shows me the earlier mentioned newly setup warehouse where all parts for all boats are kept in perfect shape and order. Modern logistical equipment like QR-scanners and software-based storage management makes it easy to keep a close look on stockpile, availability and delivery times when re-ordered. As currently markets go haywire over destroyed delivery chains, this is certainly an invest worth Gold!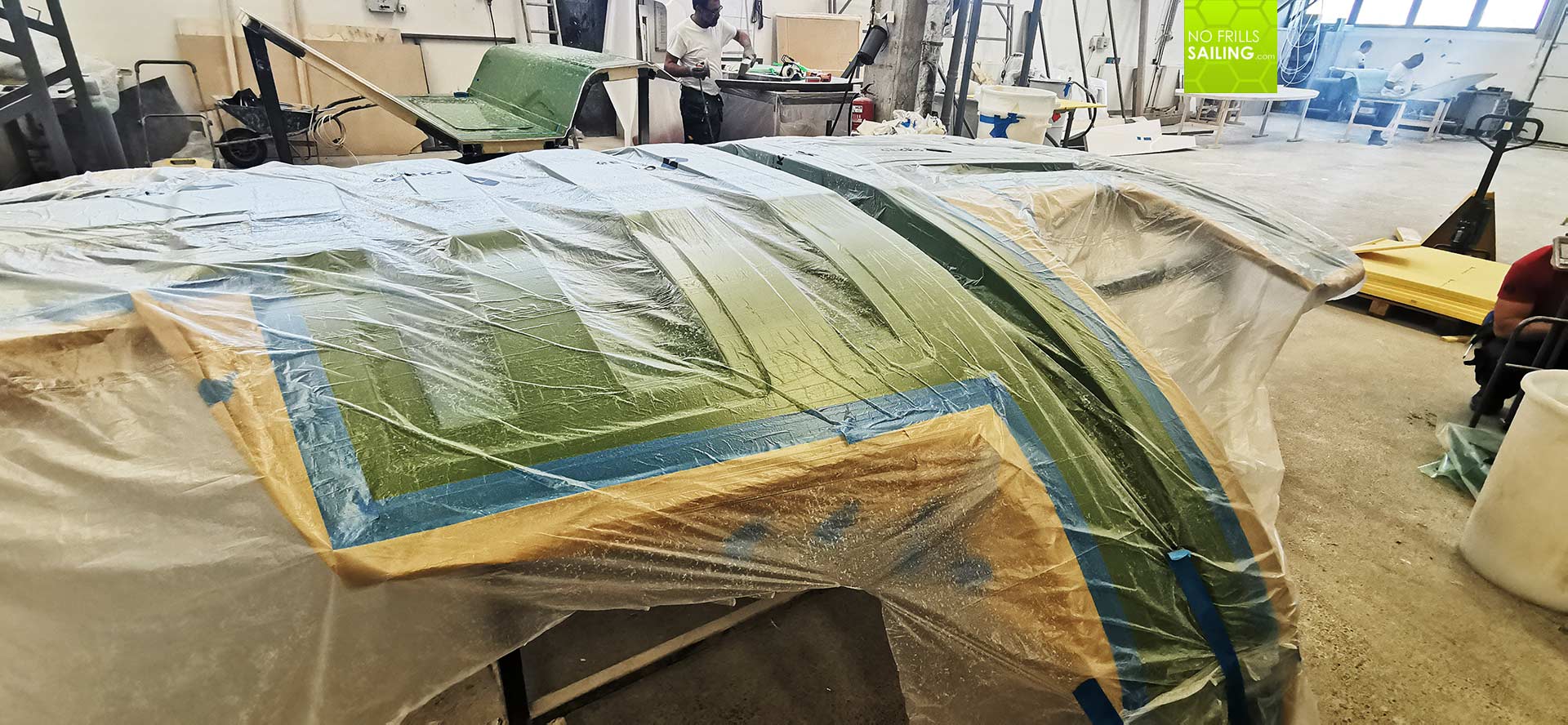 For the First 36 these guys are controlling the whole production and keep everything they can inhouse: "When we make it, we have control", Femke says. As we stand between two halls, an all-too familiar face shows up: Andraz Mihelin, one of the two founders of Seascape greets me, asks if he could join the tour. Of course we agree and so Andraz takes enormous pride in showing the 36-setup. "First is something very, very special to Beneteau", he explains: "This brand was there long, long before "Oceanis" was invented, so it may be like the Carrera to Porsche. It has a certain sound to it and I cannot tell you how proud we all are that we had been chosen to be the makers of the new generation of small First boats!"
First 36 – a legend going on
As we finally enter the assembly hall of the First 36 I can see two of them. Big boats indeed! Up until now, Beneteau has built more than 25.000 units bearing the name "First" and after years of not launching a new boat (Juan K´s First 30 was the last launch, more than a decade ago), the brand is now revived. "We took great care and empathy, not to just come up with a quick, high-performant and exciting boat", Andraz explains, "But also with a boat that can proudly queueing itself into the list of such exquisite sailing boats like the First 36.7 or the legendary 40.7."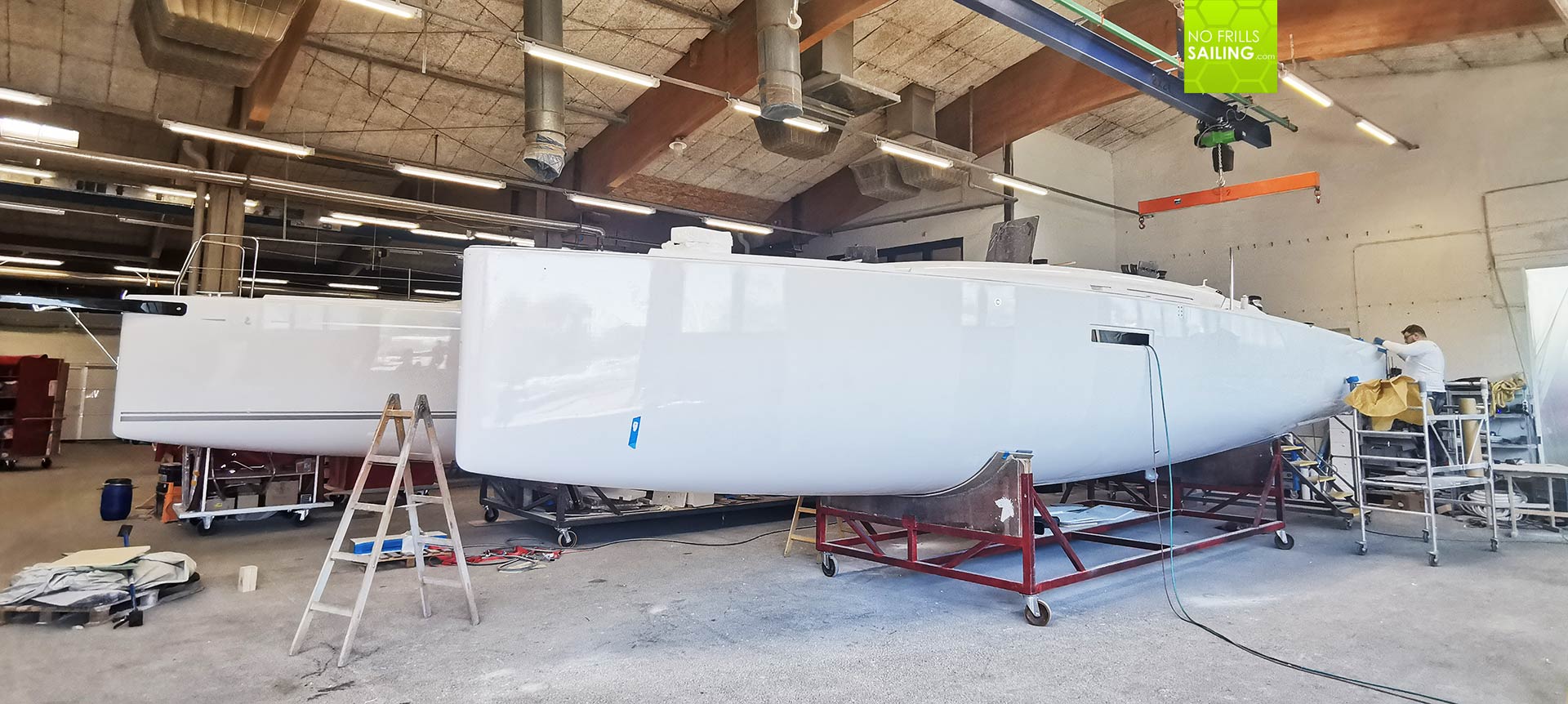 As the partnership between Seascape as principal manufacturer or the small Firsts is meant to last for a long, long time, Andraz insists that it was much, much more than just making a quick boat from the beginning: "In France, the guys in the yard and in the Group are looking very closely what we do. A boat that wants to call itself a First needs to tick very specific boxes to get approval by Beneteau." Getting that approval for the already developed and available Seascape boats from 14 to 27 feet was an accolade in itself: Getting greenlit for the 36-project even more!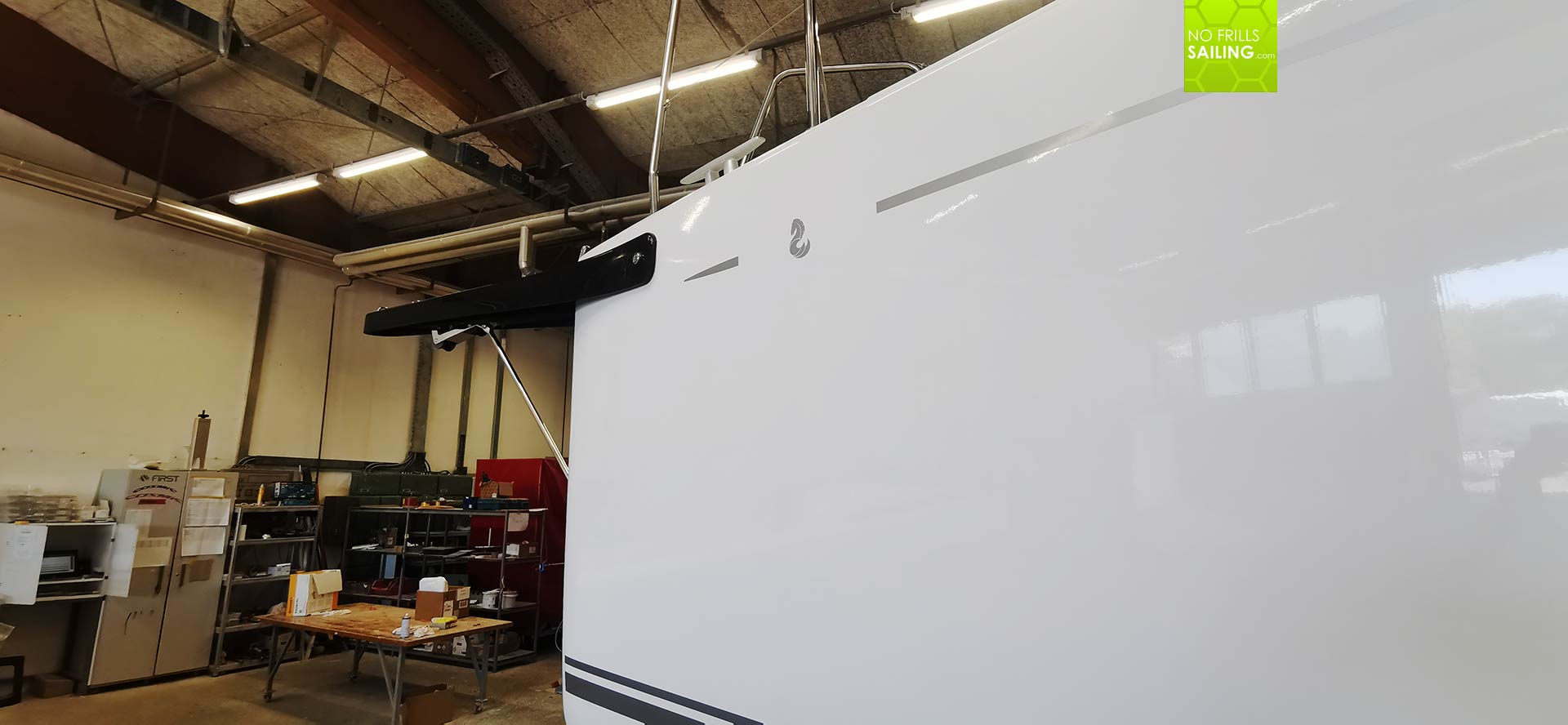 "Working with Sam Manuard as naval architect is top notch, as you can imagine. But then getting to work with Lorenzo Argento who did a marvelous job in designing the appearance of the First 53 and people like Pure Design and Gigodesign who made a fantastic effort in structural engineering, was truly amazing! It shows the determination of Beneteau to really deliver. We take much pride here at Seascape to be part of this adventure.", Andraz smiles. Receiving the first reports from the sea trials confirm these efforts: The First 36 is a rocket!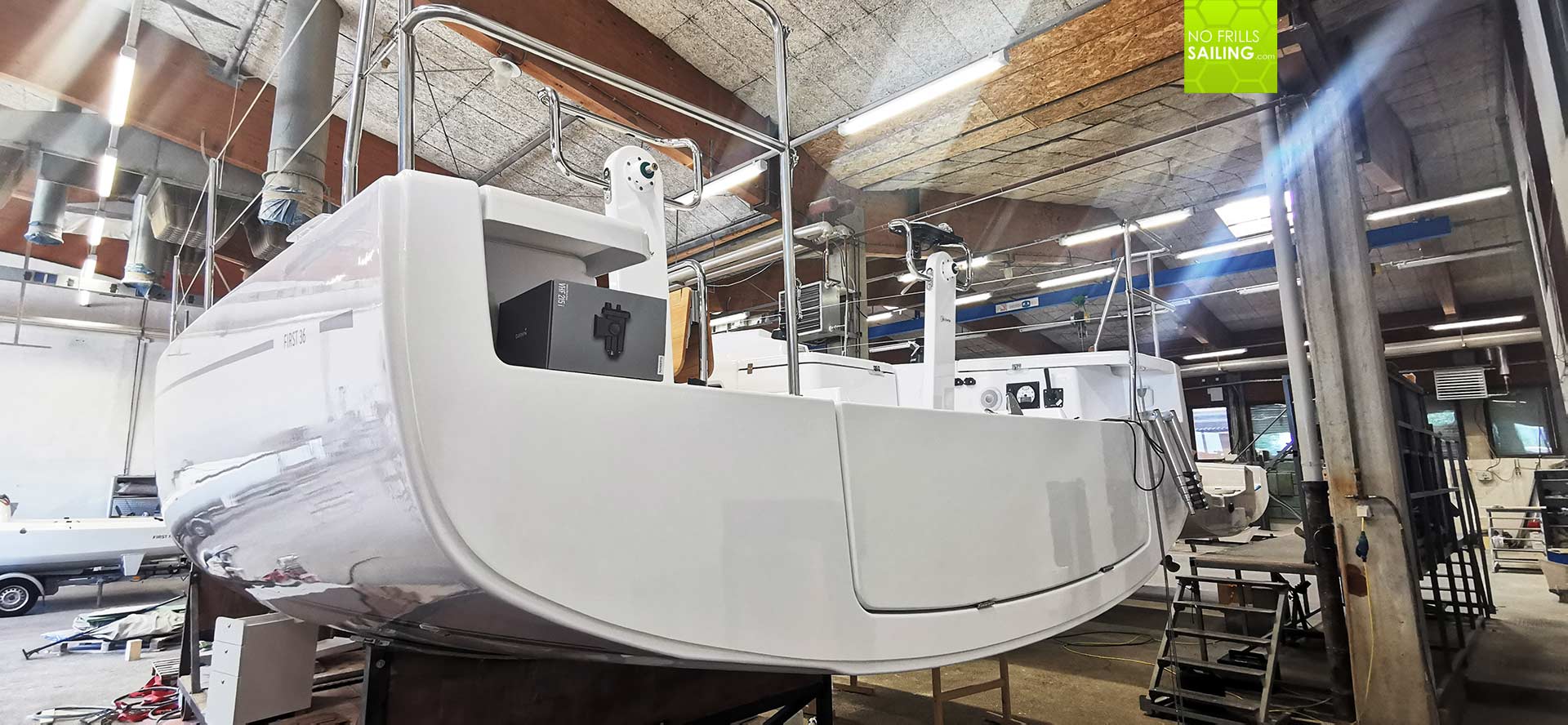 "You know me," Andraz says, "I do have this little project in my mind to come up with labels for boats. Just like the ones you know from household appliaces – Green A to red D – or nutrition labels on food. I want this for boats as well. Like, for example: Is it an exciting boat or not? I mean, there are good boats out there, lots of them. But are they exciting? Many boats call themselves being performant. But is there a label? A clear indication? What means "Performance"? For us, speed, lightness, the capability to reach planning mode easily, safe and easy sailing and – yes – excitement is the number one to describe our boats. I´d really love to see it happen, the label. And be sure, the 36 will receive her green A for "massively exciting"!"
Highlighting the interior
I already know the 36 from her inside but I would never waste a chance to see a boat completely, so I asked if I could board the finished one that was currently on exhibition. "Sure", they said and organized a ladder. Standing in the cockpit of the First 36 quickly reminded me of how big the boat in reality was: At 11 meters length she sports a width of 3.80 meters, a truly big boat. Which quickly reminded me of one funny fact I often see in boats: The feet-deception. First 36 is a boat that finds her competition in an illustrious setup of other boats made by big brands.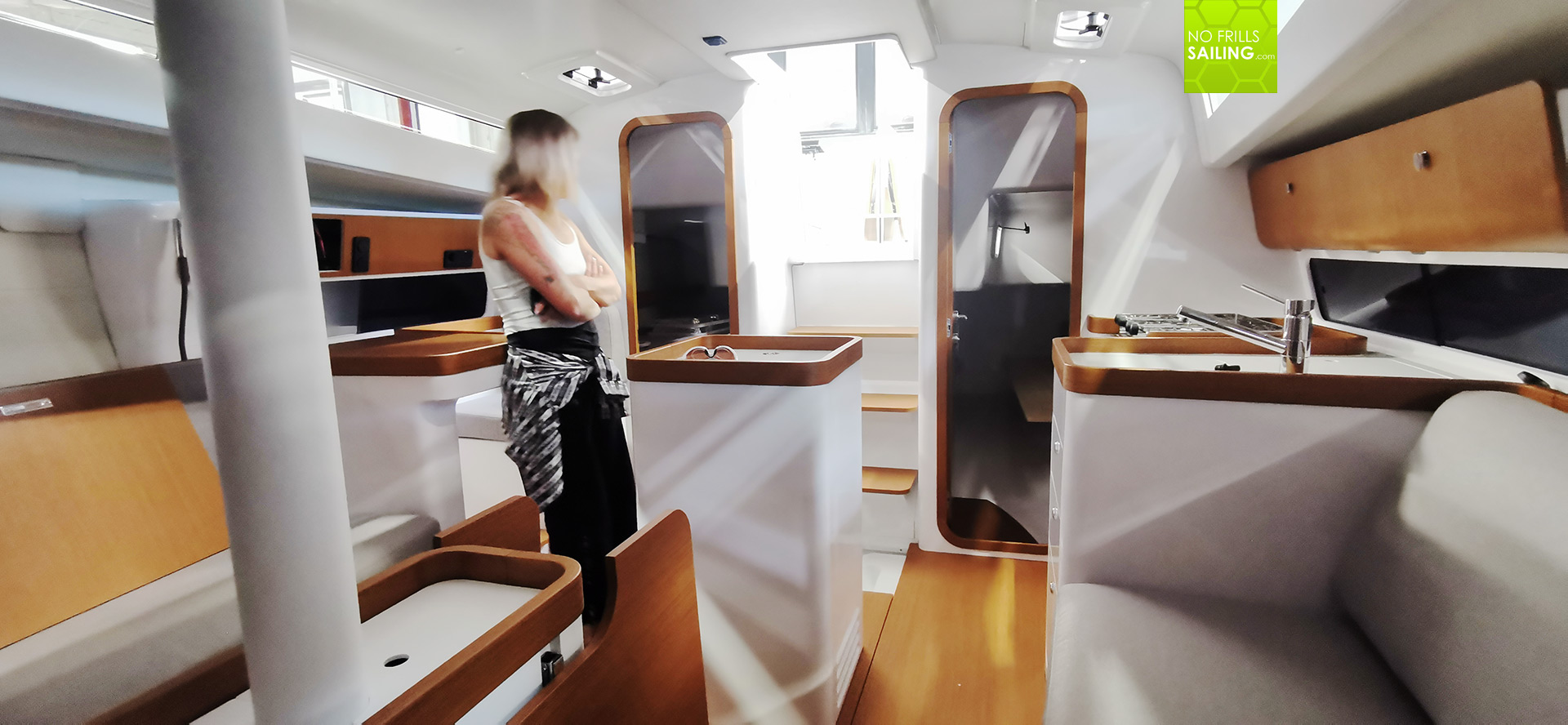 German "Yacht" magazine recently tested the 11 m performance cruisers and here it was again, the little nasty marketing trick with avoiding metric numbers. The Dehler 38 SQ "sounds" like 38 feet. Well, she is a 36 footer. The Arcona 385 is indeed a 36-footer, not as long as 38 feet. The X-Yachts X 4.0 is not 40 feet long but, you already guess it, 11 metres. Andraz doesn´t like it at all: "Well, our boat sounds like she is the smallest but by checking the numbers and also by seeing her spacious interior we can say … she is the biggest fur sure!"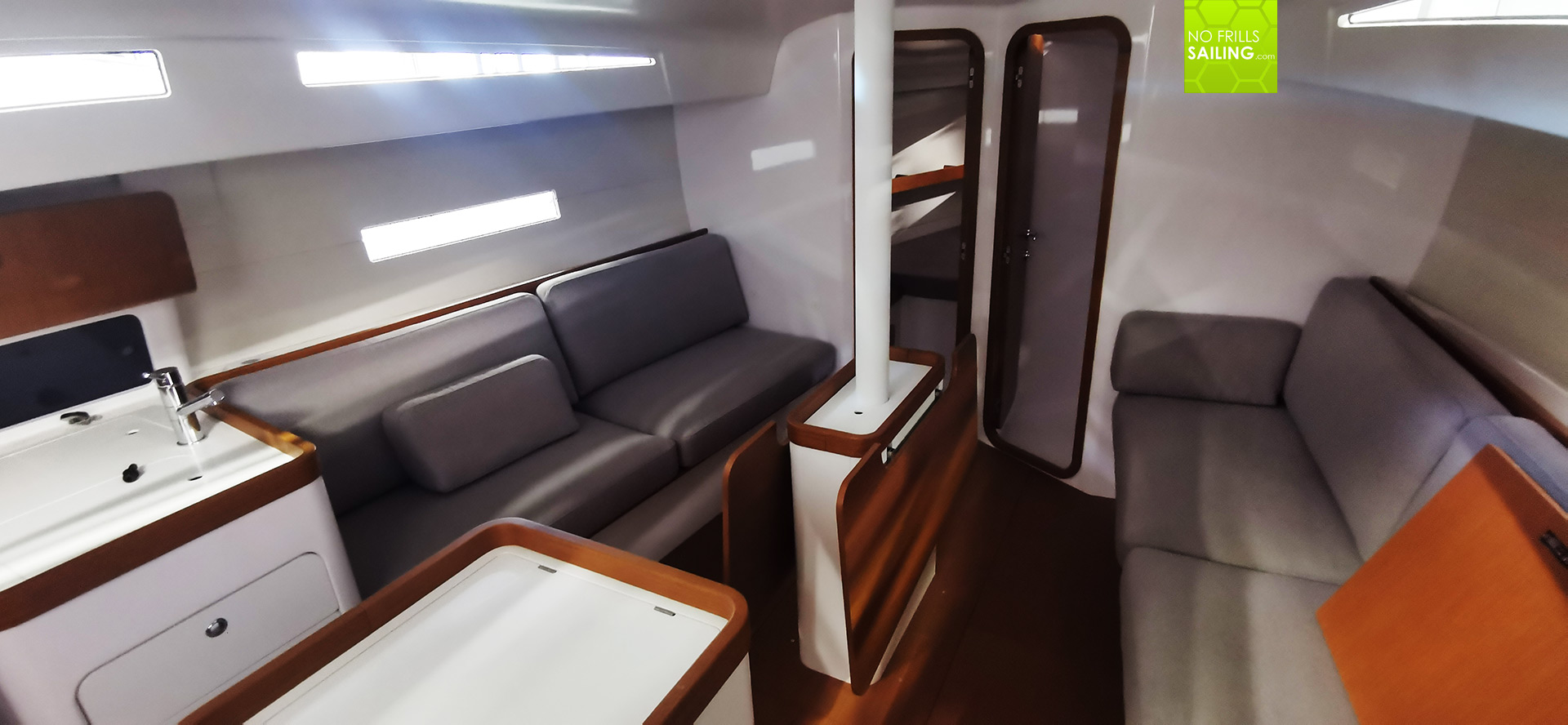 Isn´t that a bit of annoying, I ask myself? But well, maybe buyers willing to invest a budget of around 350.000 to 400.000 Euros all inclusive might be able to do the intellectual trick and not fall for the feet deception. I for myself was again astonished how wonderfully refreshing the interior of the First 36 looked like: Lots of room, accentuated design, practical solutions. Staying true to Seascape virtues by also sticking to the Beneteau tradition. "Wanna see something special?", they asked. Well, of course!
A very special mock-up
Right out of the new First 36 we rounded the big production facility and approached a kind of familiar looking although somehow alien appearing boat. Apparently a big one too, most certainly not a First. I knew this shape but as there were no markings on the outside, I couldn´t identify the boat. A ladder was organized and I climbed aboard. The cockpit was very racy, tiller steering and no cruising comforts, so that´s a serious racer. "Go below, have a look!", Andraz said and I followed suit.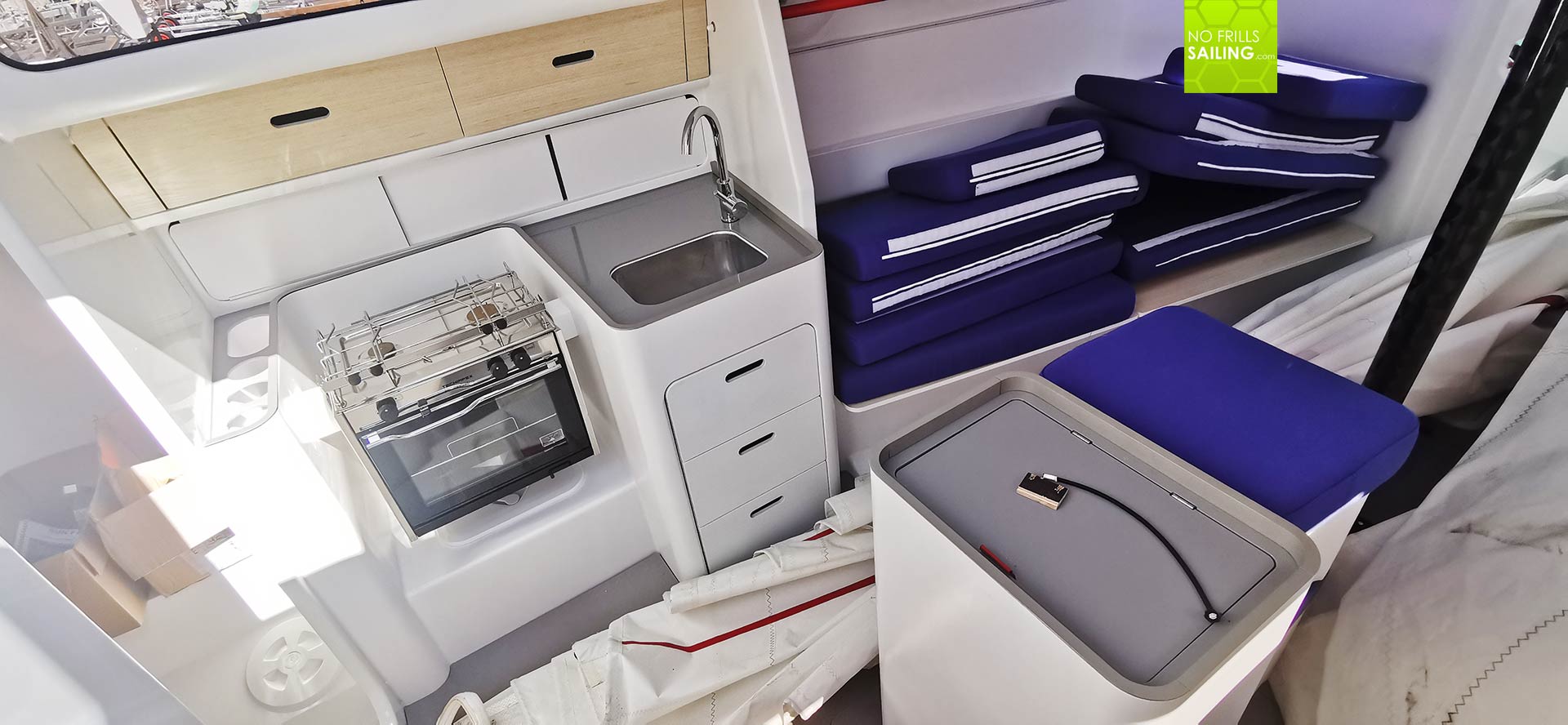 Down below it looked all too familiar, though unknown. I identified roughly the same layout, the ingenious central column housing the fridge of the boat. Wait … wait … "could that be a … mock-up?", I asked. Both nodded. Apparently, these guys managed to get the hand on a Sun Fast 3600 which has roughly the same dimensions as the First 36. "It helped a lot", Andraz discloses: "We of course work with CAD and virtual designs, we also had cardboard and plywood mock-ups, but it turned out that we needed a real boat to test some of our ideas." Beneteau´s sister brand in the Group was of good help: From big ideas like the central column to several details and solutions this pre-36 may rightfully named as conceptual progenitor of the later brand new First 36.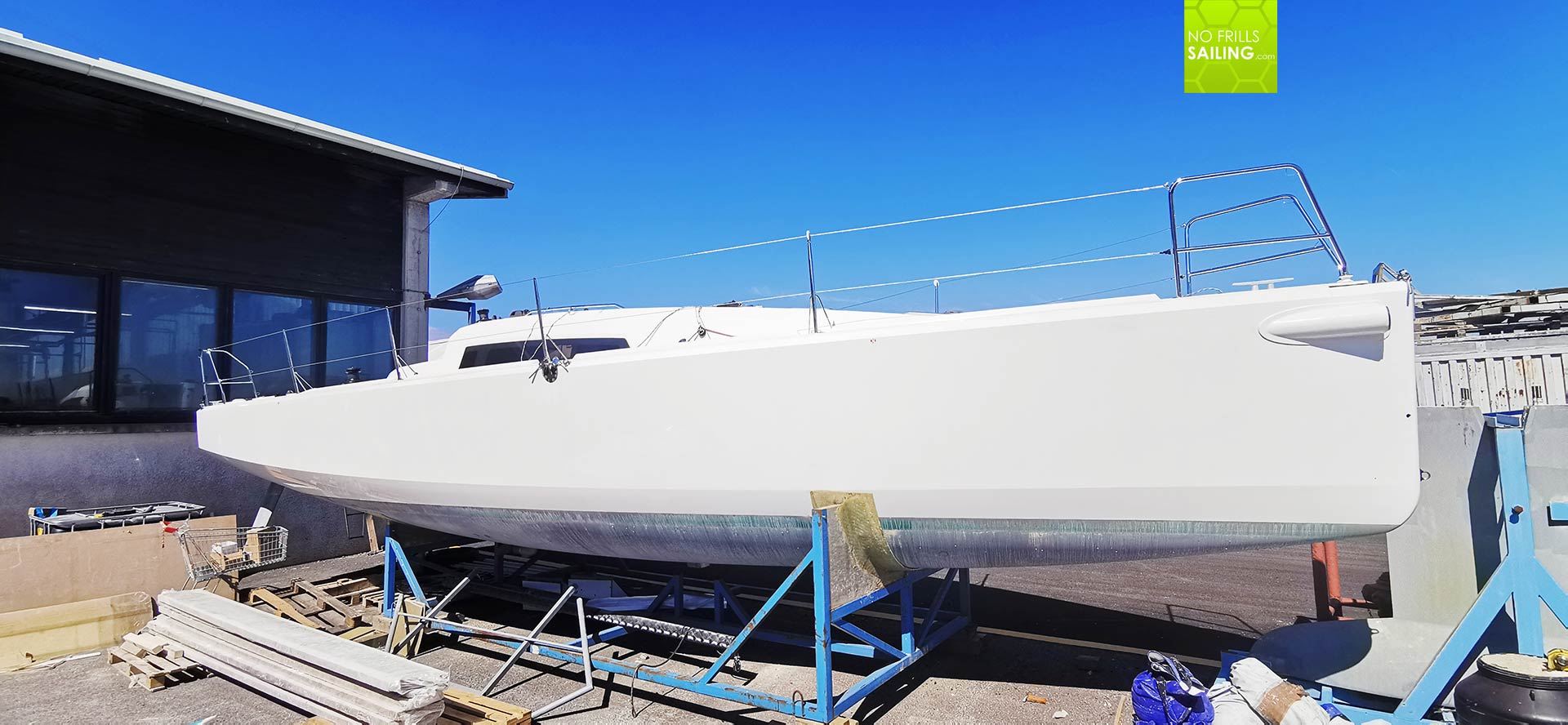 Interesting to see and really amazing to look behind these curtains, all the time: Visiting a yard and talking to the very people who build the boats is much more fruitful than anything. Andraz talks very openly about his vision, the next months and years to come, as we walk back into the production. The finished boat on expedition will shortly be packed and readied to be shipped to the US, her sistership next to her just received her deck and will be finished in the coming weeks. "We have lots to do …", Andraz says.
Finetuning production
"We will further optimize our production here to decrease working hours per unit. We already achieved quite enormous efforts and we get better with each boat we make. Also, quality of all work performed in this facility is going up as our measures begin to have effects. I am sure we will soon reach our projected output target of 3 units per months – three First 36, note well, in the meantime our production of the smaller boats goes on and will be increased slightly as well." In this, Andraz says, the company is planning to invest in a new production site that will be made from scratch to fit latest series production requirements.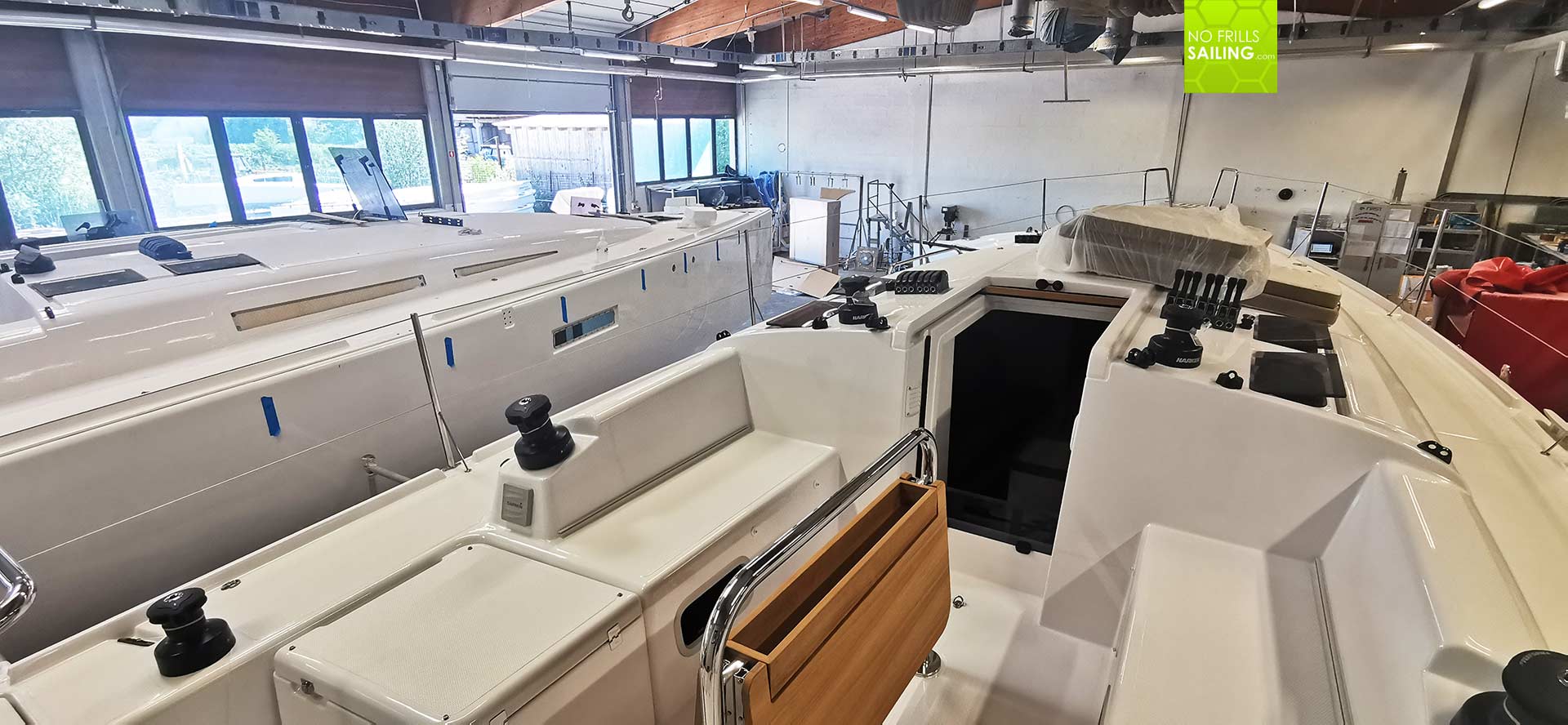 We sit down in the office building. A large central meeting point with adjoining offices, all doors open, people behind multiple screens. I wave to Tit Plevnik, who briefly joins our talk. The atmosphere is relaxed, jokes fly around but I notice that very soon people return to their work stations to resume their proceedings. It´s serious business here, besides all the refreshing start-up feeling this company still conveys.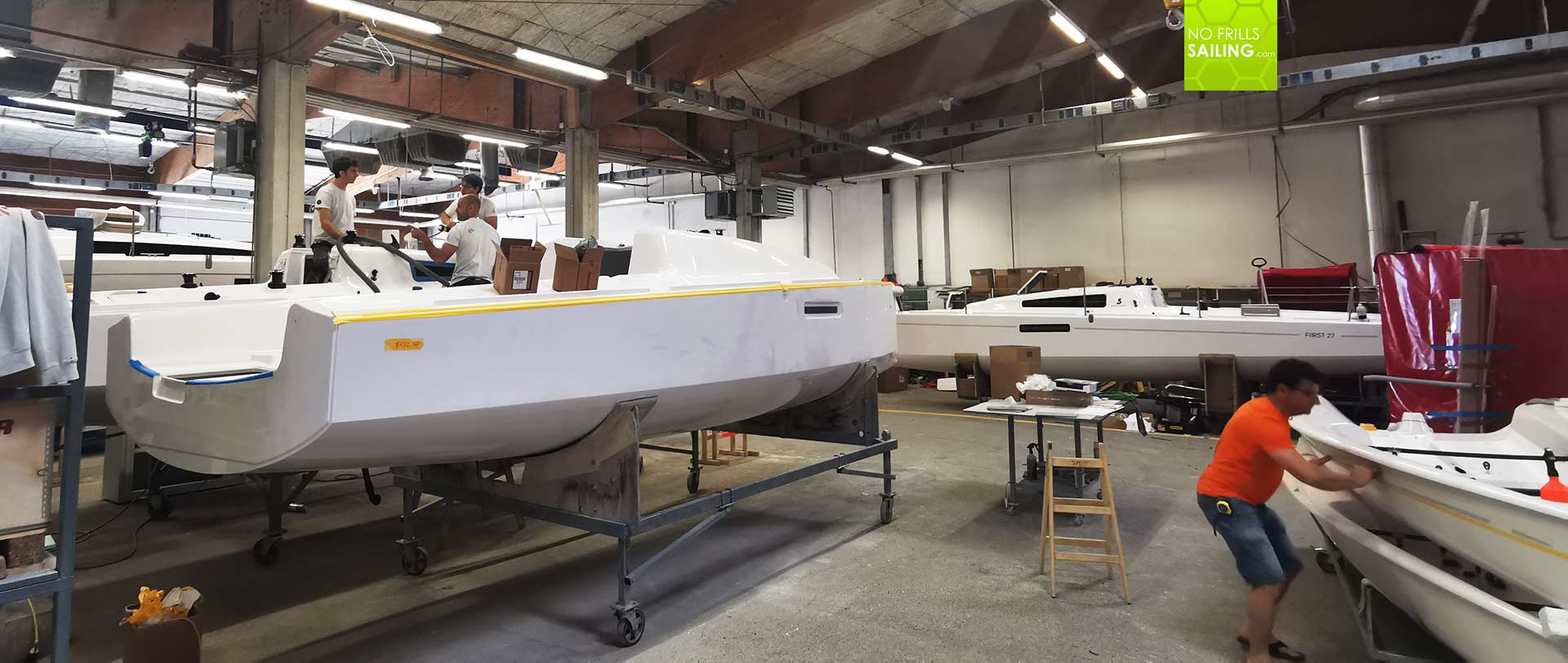 The trucker from outside finished securing his load and says Goodbye. He leaves with our three new boats and will reach Germany one day later. Our first First 36 is scheduled for coming spring – having seen how this boat is made, I have a good feeling about her. Frankly, this place is the birthplace of GEKKO, my own boat, too and it feels special to think of my boat materializing in this very place one year ago. I leave Ljubljana for a 115 km tour to the Slovenian coast. I am smiling: "A green A-label for a maximum excitement boat!", I mumble to myself. How cool would that be?
Also interesting articles regarding this topic:
Talking the First 36.7 – and what she means for the brand new boat
First 36 complete walkthrough
First 500 miles on GEKKO