One Island or Port I´ve visited during the last edition of Pelorus Jack Ocean Trophy was Poros. Again: It´s the third time our fleet reached this little precious location and this time it all was so perfect that I decided to write a standalone article about Poros Old Town harbor. You may come here with your family or friends and I am sure you will find a place to land your boat, spend on or two days in Poros and have a great time – for sure!
Poros is situated just south of Athens and the Island of Aegina. It´s a classic sailing and boating destination for Greek families and skippers as well. Just like Hydra, Poros is not a secret to anyone anymore and you may encounter dozens, if not hundreds, of offer crews. But – Poros can take it! Unlike Hydra, that will quickly become congested and filled to the limit, Poros can take on a very large amount of sailing crews without reaching its limits. Yes, its that big.
How to sail to Poros
Most people enter Poros via the Western Channel. Poros is an island that is separated from mainland Greece via a narrow channel. The Old town is occupying a small hill. I´d say that there are four general places you could go when coming to Poros: Russian Bay (only anchorage), where I´ve been last time with the fleet, a nice natural bay; the Poros "port" that is in the Northern Part of the Old Town, I´ve been here four years ago. Then the Old Town waterfront in the channel – this article is about this area; and last not least a buoy field in the channel itself.
Russian Bay is a classic, just drop your anchor, cast some land lines and enjoy a night listening to cicadas under a clear stary sky. The proper harbor is a big pontoon where, I´d guess, some 30 to 50 yachts may land stern first (at anchor, no moorings). I do not really like this part of Poros as it is a bit off. Better: Enter the channel and try to moor stern first directly at the Old Town waterfront. This is where you want to be.
Mooring in Poros
As simple as it sounds: You just go there, best time would be around 11 a.m. when most of the crews will be casting off heading towards new locations but still no ay tourist oats have arrived. Check for a free berth and go there. As far as I know, reserving a berth is possible but not for "normal" skippers. You´d be dropping your anchor some 3-5 boat lengths just in front of the berth, go stern first and moor your boat. No marineros available, but there is seldom strong wind. Beware of ship traffic, there are bigger ferryboats as well as a big high speed catamaran travelling the narrow channel as well – they do not stop.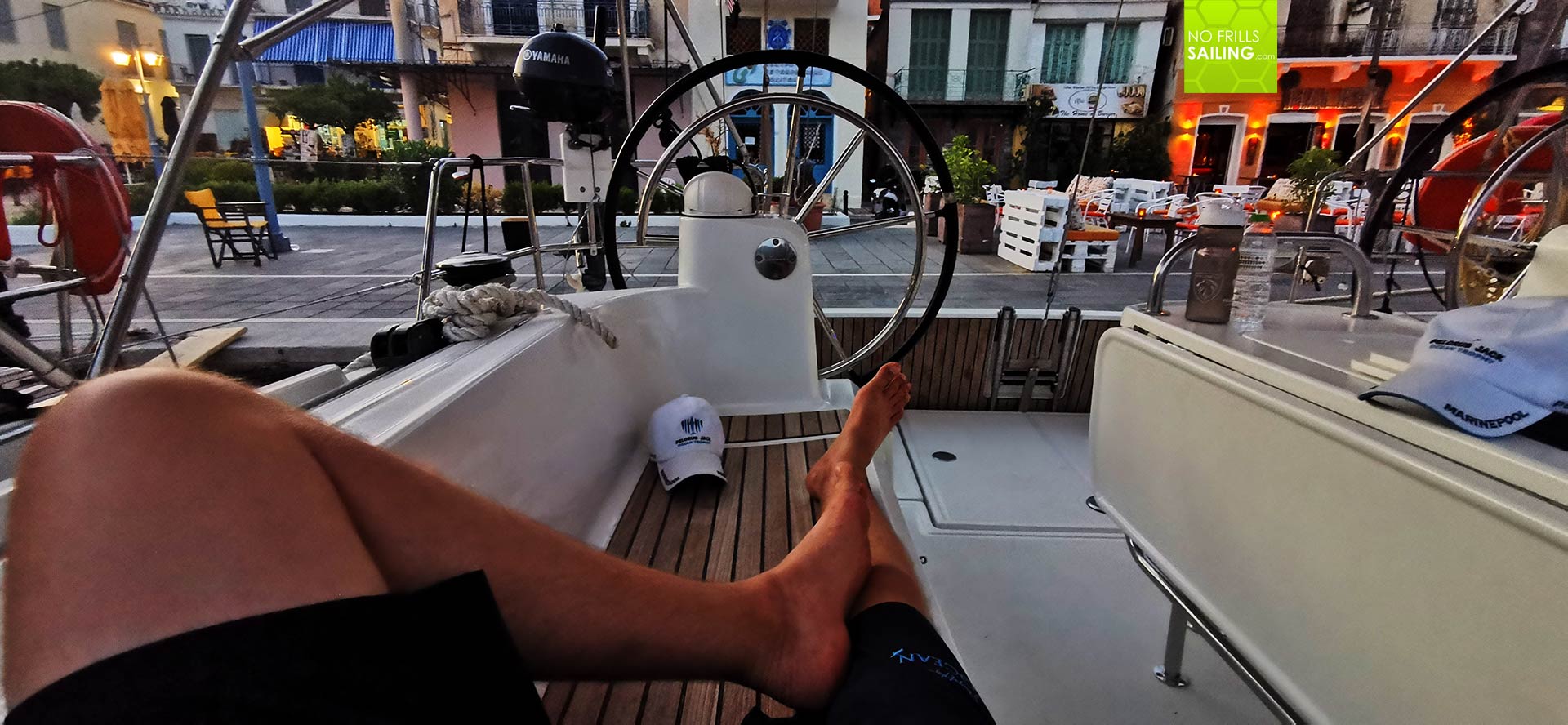 Ladies on bicycles will come by on an hourly, but irregular, basis to check and collect demurrage. I cannot say how much demurrage was this year, I guess still a reasonable price. But as inflation is rising the prices also go up here. There are shore power connectors (sporting a kind of flawed system of cards, codes and whatnot), but you will receive help upon connecting your boat. Fresh water as well, bring your own hose. Now, relax, moored at the best place in Poros to be!
Amenities and Highlights in Poros
Poros is a bristling Old Town where you will find anything you need: Grocery store, supermarket, even a boating shop with a limited amount of spare parts and yacht-related products. Gelato-shops, loads of nice bars and absolutely tasty restaurants. Check out the inner town on the hill where small Tavernas serve an exquisite ice-cold red wine, that is absolutely delightful when enjoyed around noon sitting in the shadow.
The Old Town of Poros is a touristic magnet but I haven´t seen is really that digsted. It seems that Poros is not as spoiled as Hydra, which is much much prettier and more exclusive, but frequently stuffed with people to the brim. I loved sitting in the cockpit of our boat, enjoying a cold drink and just watching the ongoers passing by.
Dining out and resting one´s Oars
There are as many Greek restaurants as there are meters alongside the waterfront. The choice is yours. I absolutely loved the Taverna Oasis where I had amongst the best food of all Greece so far, try the Stifada and of course, the all time classic, Greek Salad. People are always friendly and will be of great help if asked. At night time there are a handful of bars and discos, I moored just in front of Malibu Bar and discovered that they serve fine cocktails (great Mojito!) directly to your cockpit.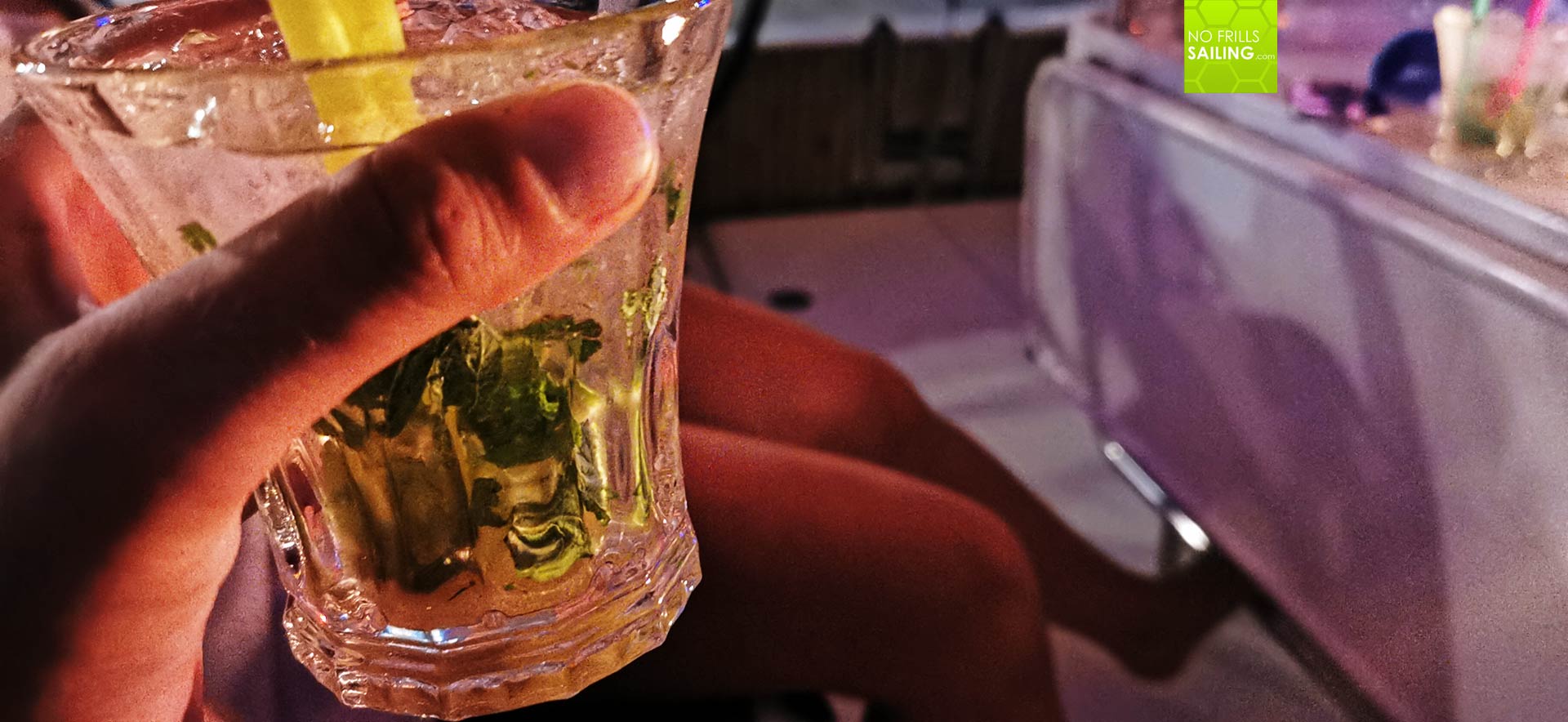 If you happen to be sailing around in the vicinity of Athens, give Poros a try. Being here the third time, I time and again enjoy the hospitality and friendliness of the people. A great place to combine bristling land life and party-time with nature: The Northern shore of Poros Island offers some very nice bays to anchor (apart from Russian Bay) and even small caves and "private" anchorages where you can have a very different experience: No people at all, just nature.
My overall assessment of Poros Harbour is 9 out of 10 points
Link to Poros-Website here
You may read all Marina Reviews by clicking here