Anytime you happen to be in Les Sables d´Olonne you will surely find something amazing taking place – assured! I wrote about this beautiful place in one of my previous articles and if you be in France, take your time to visit the Vendeé. This is where the heart of French (if not worldwide) sailing beats the loudest: Les Sables d´Olonne (Vendee Globe), La Rochelle of course, Lorient´s "La Base" or Brest to name just a few places worth to see.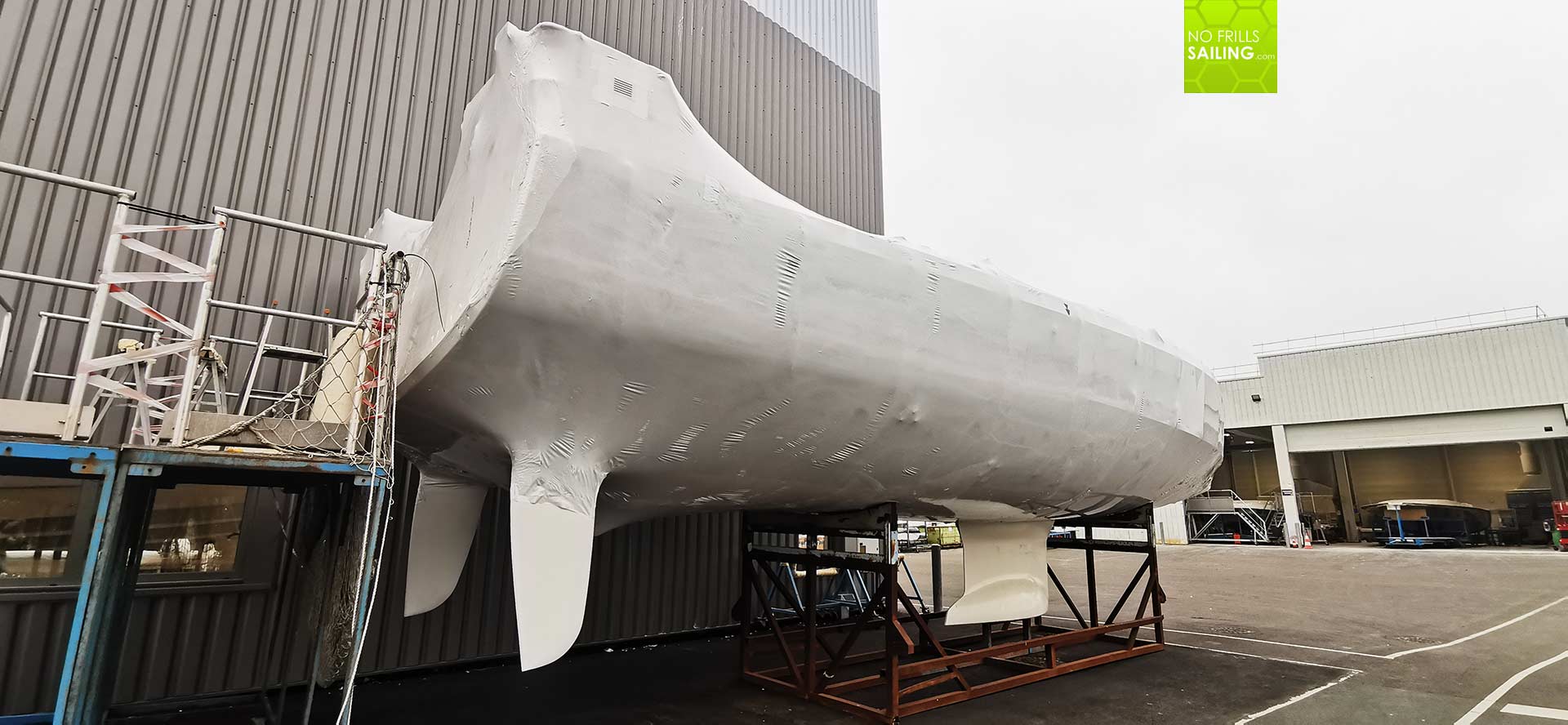 This time I drove all the way to France´s Atlantic coast to meet up with some clients who I showed the Beneteau yard and finally their brand new Oceanis 51.1 ready to be delivered. In this, an already exciting trip was about to become even greater: Next to finally seeing their new boat for the first time, I took the guys to the best restaurants (I love the small venues specialized in making delicious fish dishes). And what did we see whilst roaming the Les Sables pierside? A forest of masts garnished with colorful flags. This could only mean one thing: Race time again in Les Sables!
Who is who in Classe Mini
As much as I love the IMOCA 60-series, it´s the small boats which are so much more frequently used. A fleet of more than 70 Classe Mini 6.50 boats gathered this morning at Vendee Globe-pontoon and so we approached this exciting hustle taking place before our eyes. And guess what? We are lucky people: The racers were just about to ready their boats and leave for this year´s edition of Les Sables-Azores race.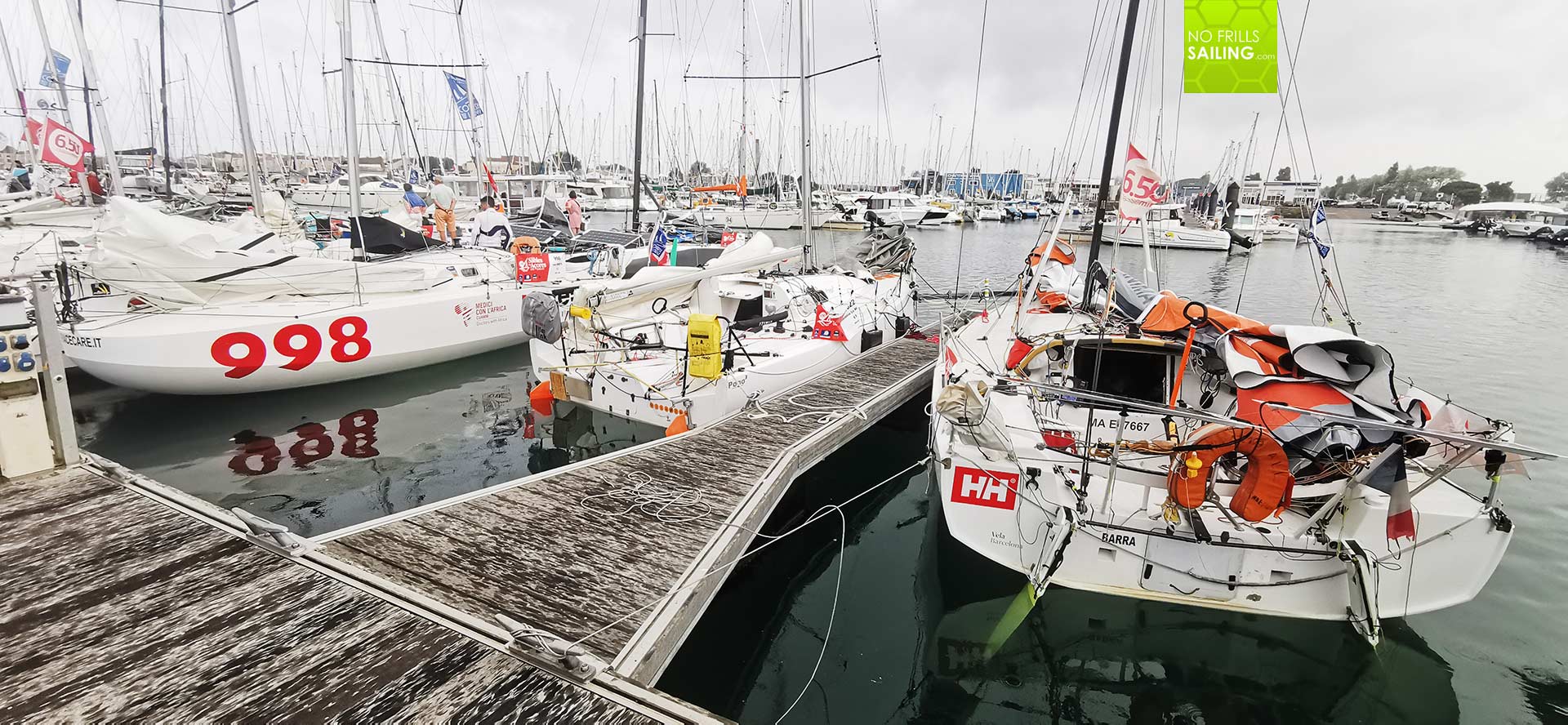 We roamed the jetty and it was amazing! Breathing this extraordinary atmosphere of skippers readying their boats, young and older sailors, was just awesome! A scent of excitement was in the air, a bustling activity here and there. Sails tweaked, autopilots adjusted. Some changed their race clothing and some just chilled in the summer sun, channeling their inner calm before the start.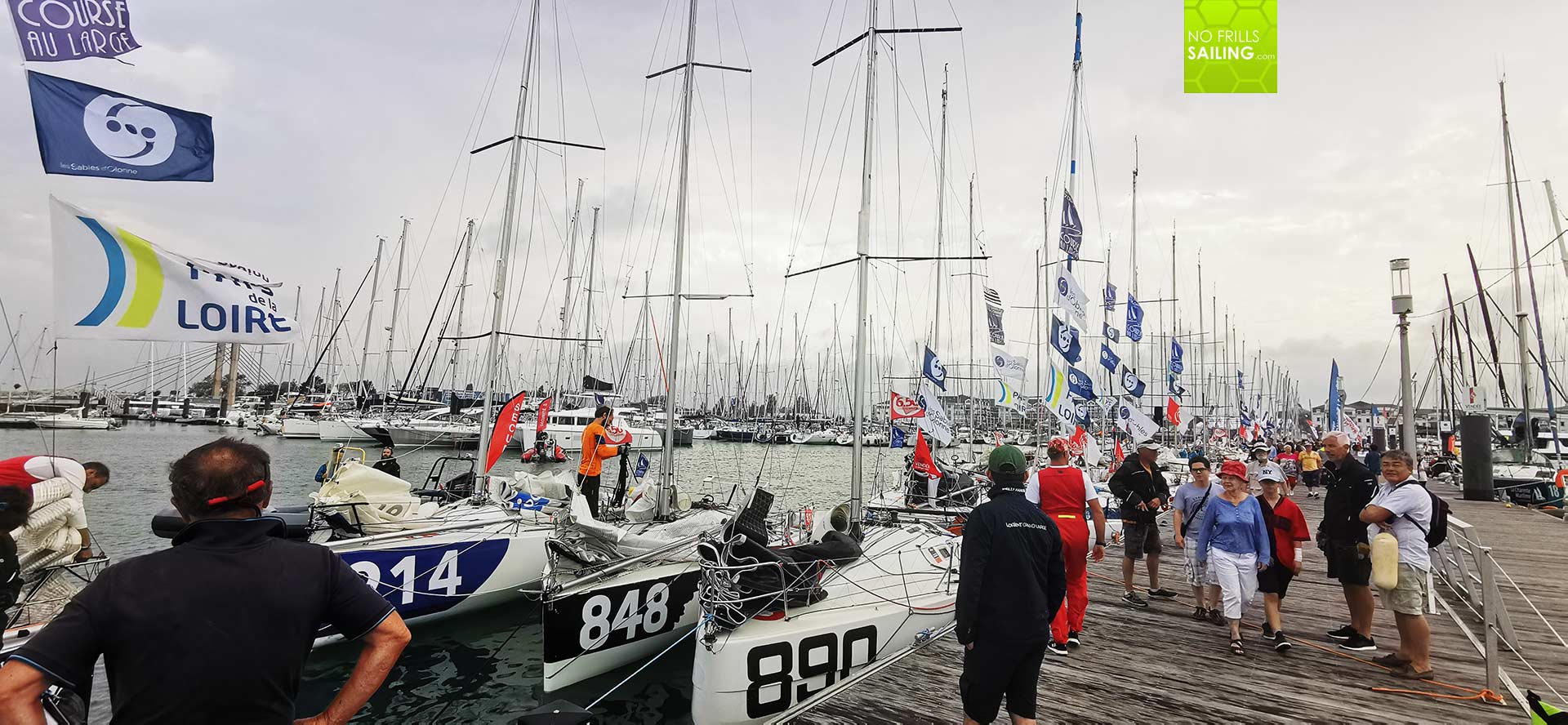 We saw the whole variety of Minis: Series boats from dated designs, kind of worn out but well kept and the latest Scow-bow Minis. Some very special prototypes, like one with daggerboards and even foils. 72 attendants inscribed to the race according to the website, but many more present, like shore crews and families of the skippers.
Familiar faces …
Unfortunately no German starter, but among the hurly-burly I located a very friendly and familiar face: Lisa Berger. This is an Austrian skipper and sailing lady who´s career I closely follow. I approached her, didn´t want to interrupt her from getting ready as she was just fine tuning the shrouds tension of her MOJO, but she noticed me and spare a few minutes for a small jetty talk.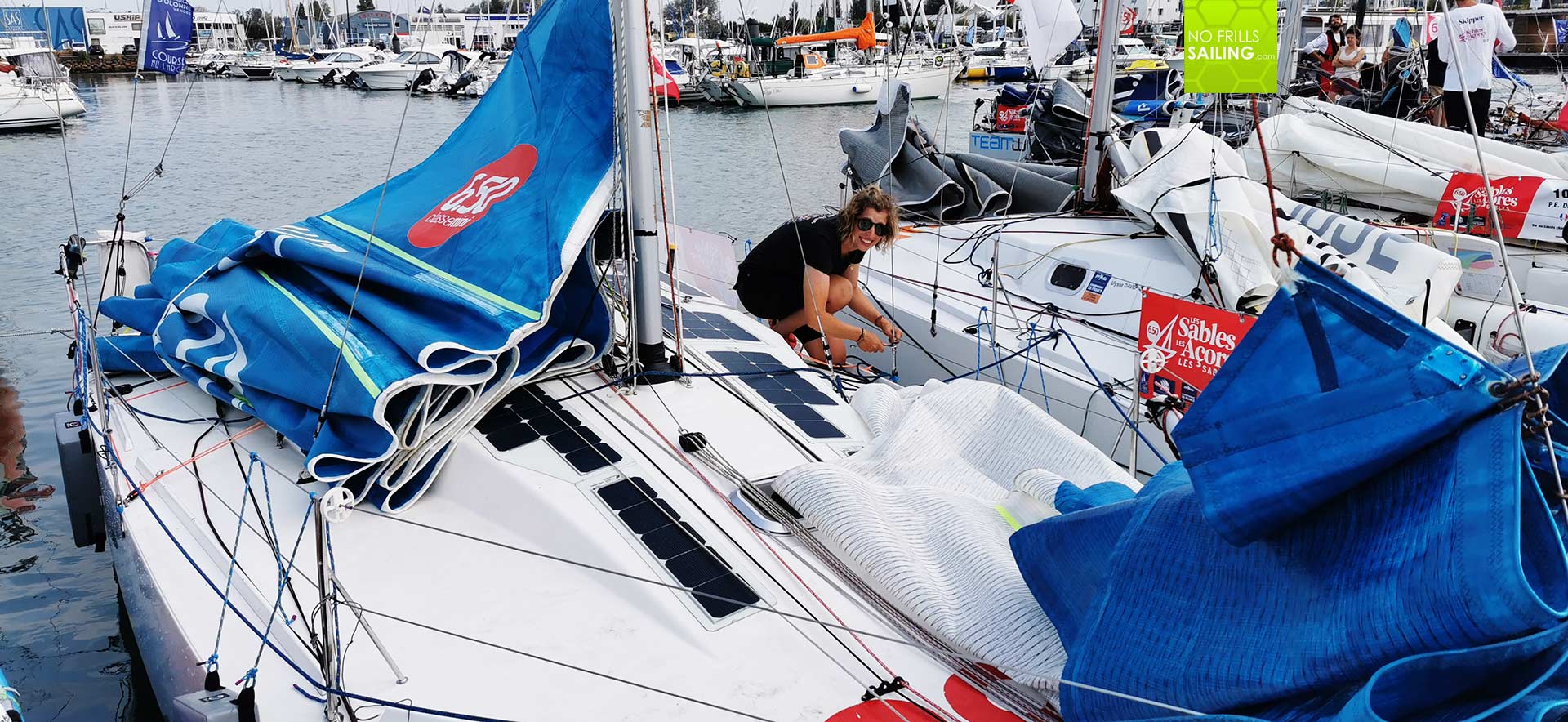 I wish her all the best for this amazing ride: Le Sables – Azores is a 1.300 mile nonstop solo race that will last for about about one week. One week of solitary confinement in a tiny boat, beaten up by large Atlantic swell, fighting fatigue and sleep deprivation and getting to eat strange Space-food. Well, I absolutely bow to the racers who tackle these harsh conditions and go out in these mini boats to go full speed. Absolutely amazing.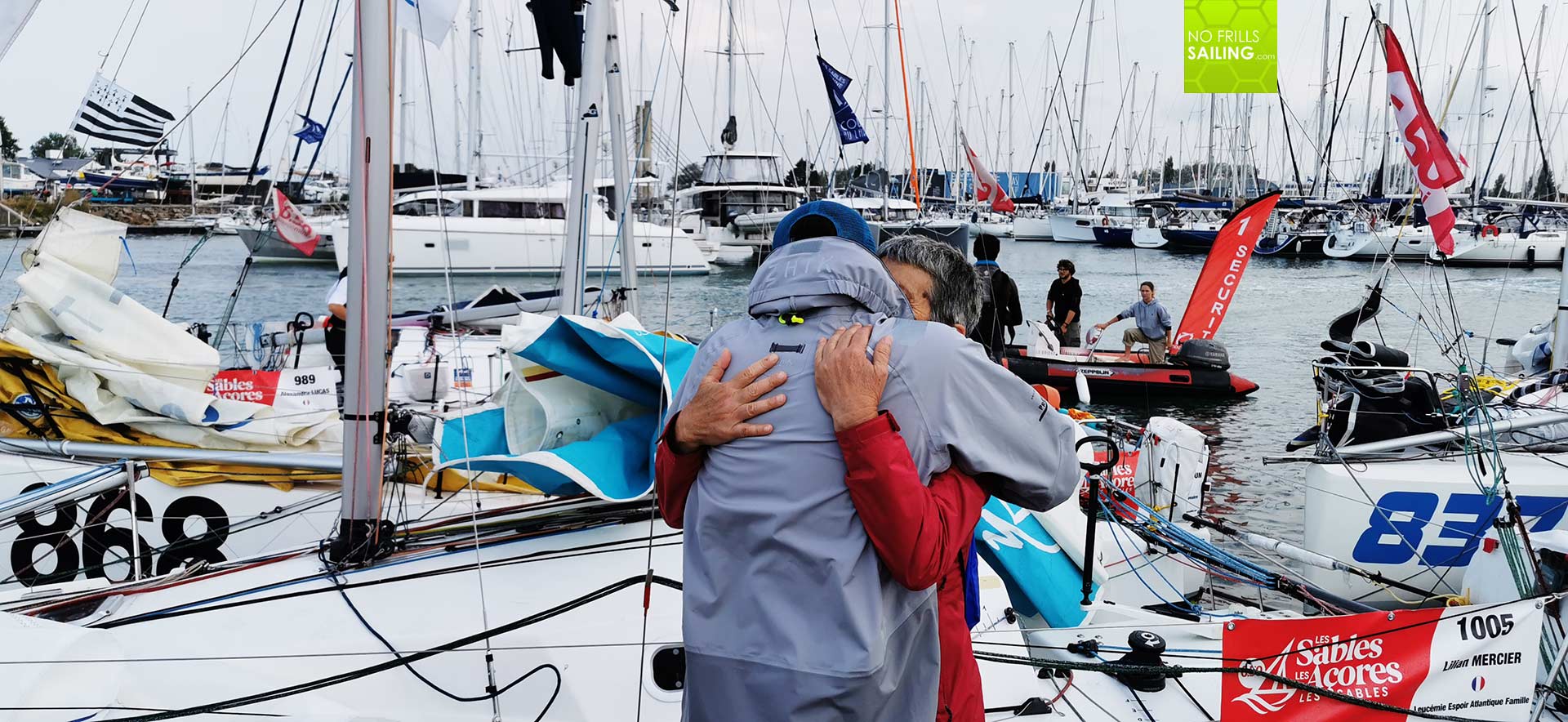 Emotions go high as we can witness friends saying Goodbye to their buddies, Mothers with tears in their eyes, telling their boys to take good care or boyfriends aspirating a love-tainted "Bon courage" to their girls. Which, by the way, I found absolutely enlightening to see, among all these old-salts and full-bearded sailing guys, how many sailing girls – and young ones! – were apparently among the racers. Hats off, ladies, this is amazing!
And off they go …
And just as it came, half a dozen ribs with flags appeared and the hustle began to get serious. The first skippers attached towing lines to the bows and tossed them to the crews. Landlines got casted off and all in pairs of two boats got towed away from the pier. We shouted "Bon courage!" and "Bon course" as one by one got taken by a rib. 70 boats, that takes some time, but it was amazing to see how the guys and ladies eventually started their big adventure.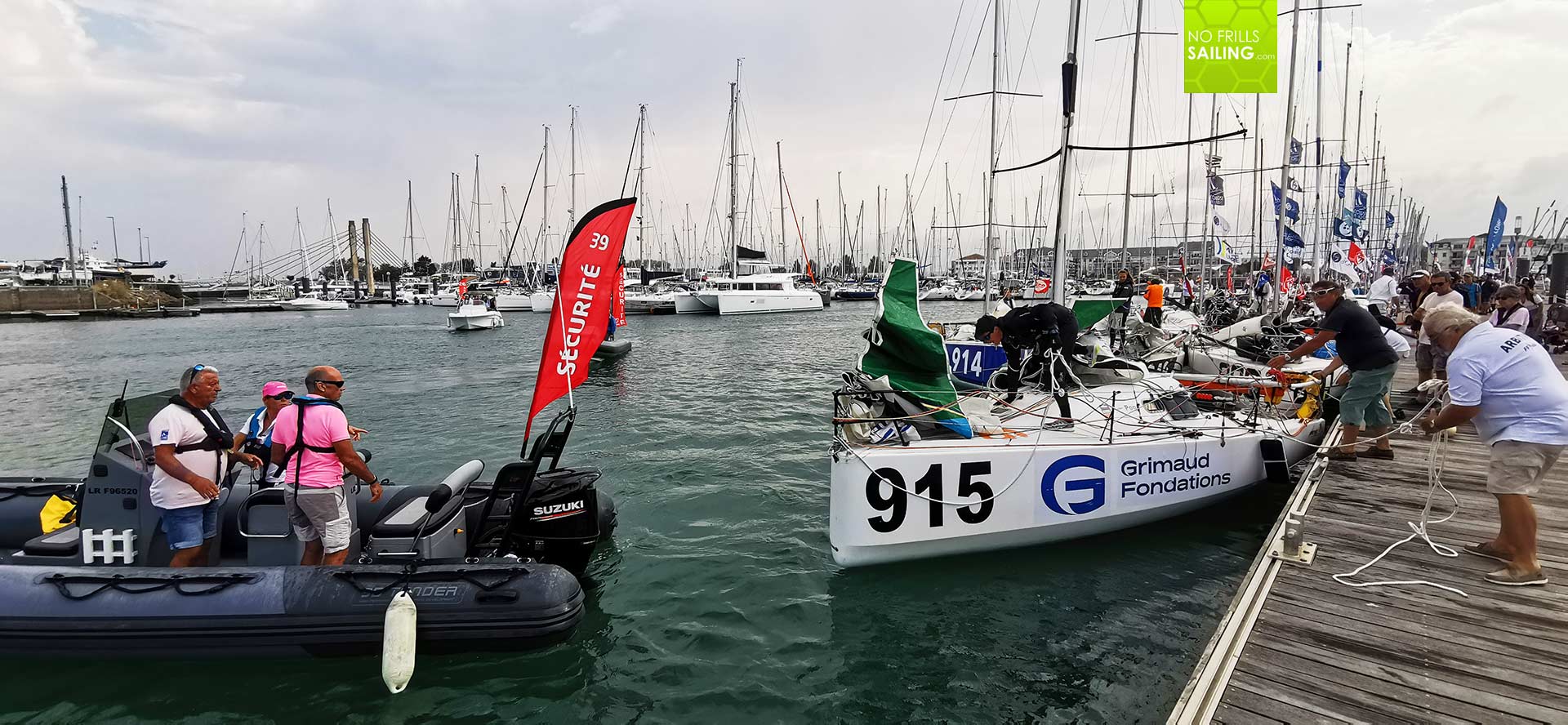 I waved and shouted, pictures taken and videos filmed. Les Sables – Azores (I guess they sail to Horta) is a huge event as it is a big step for the racers to qualify and train for the Queen of Mini Racing that is the Mini Transat. We spend some more minutes on the pontoon and watch the boats leave. The fleet will have to tack some time in front of Les Sables until all of the boats will have reached the starting lines.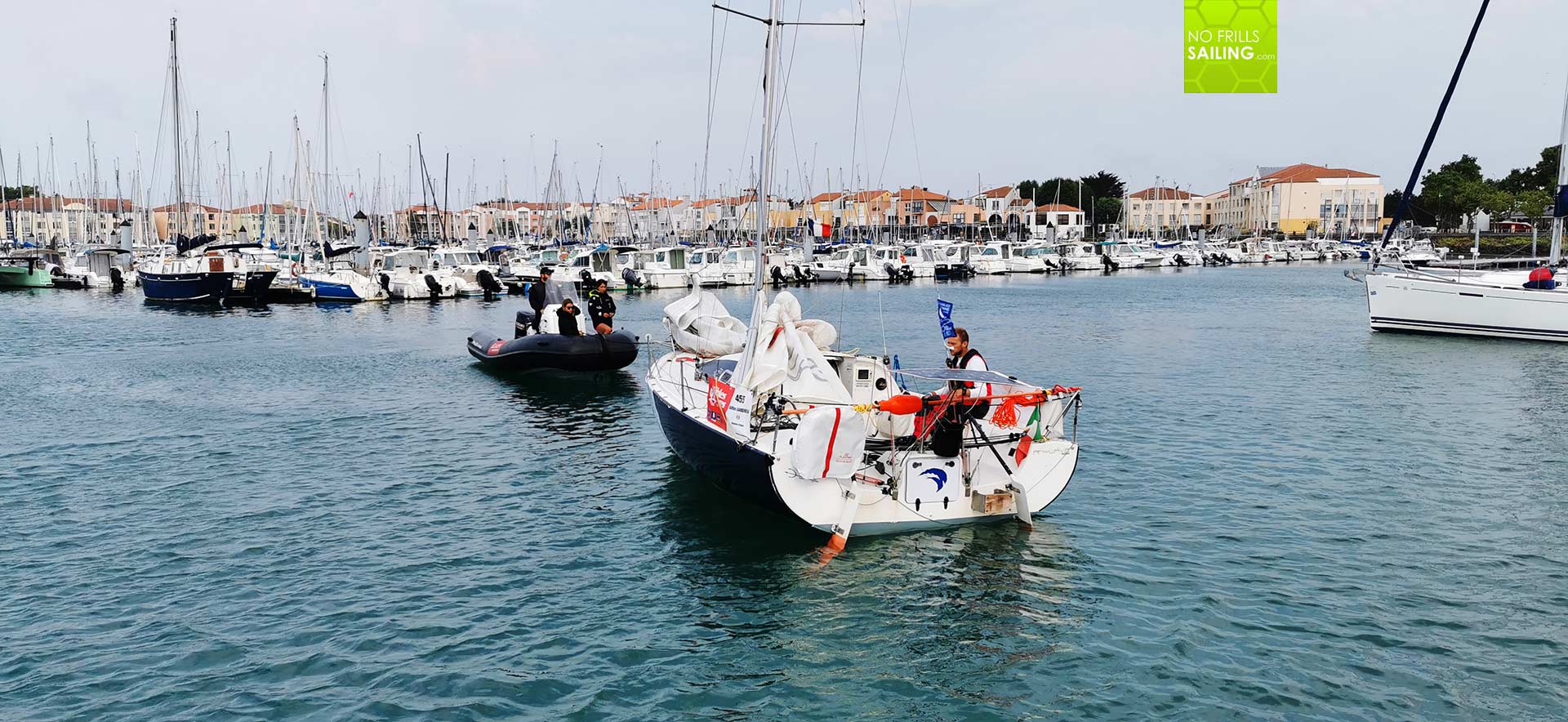 Wishing all participants a safe journey and exciting race, we conclude our little excursion into the world of sailboat racing: My clients are so happy, as the choice for a French boat is always a choice for French sailing tradition as well. Sailing is a part of France´s culture, it is not just a product they make for earning money. The people here are living their destiny, sailing is part of their DNA. And it doesn´t matter if you happen to be a crazy French guy embarking on an epic high seas-journey on a 6.50 metres nutshell or working for one of the dozen French brands manufacturing such a great variety of sailing yachts: Being here in Les Sables and breathing this unique atmosphere is much more than reassuring that your decision was absolutely right. Be safe, Mini-racers!
You may also like to read Mini 650 related articles:
Lizzy Foreman on solo Mini 650 racing
Lisa Berger and her brand new MOJO
Hendrik´s new Mini 650 PLAYGIRL