Brest is a unique Northern French city with some 140.000 inhabitants located at the most Northwestern spot of France, a rugged, rough but charming region called Brittany. As you may know, I would call myself being a Francophile, which means that I am truly a fan by heart of our neighbours. I just love that country. It is so diversified, bristling with a myriad places to visit, high mountains, thick forests, beautiful rivers, towns, diverse regional highlights, the food, the wine, the girls and … France is the epicentre of sailing indeed. Brest used to be one of the most important naval bases of the country and has preserved a lot of its naval heritage although one can clearly see a certain decline of Brest´s role.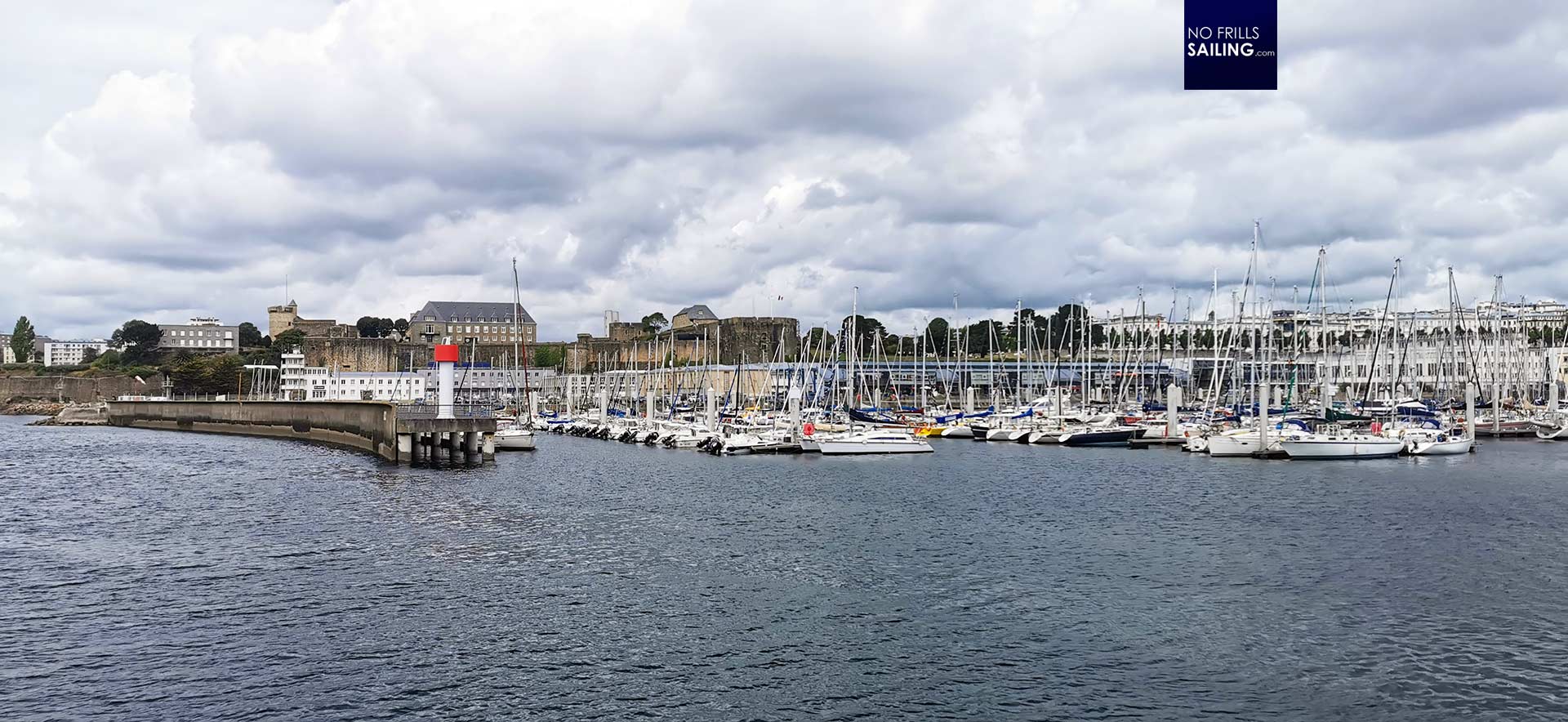 Nevertheless, there is still a huge navy base (right next to the German U-Boat bunkers) and lively commercial fishing activity going on. Large trawlers depart and arrive, most of the charm of Brest I would say is derived from its character as a working harbour for real working fishermen setting out to the Atlantic Ocean. Arriving here by boat was a true adventure and Brest is indeed unique in its approach – paired with strong tidal activities it poses a certain challenge to a sailboat´s skipper willing to visit.
How to sail to Brest Marina du Chateau
We arrived in the middle of the night at Brest. Coming from the Southwest after traversing the Bay of Biscay wind calmed down and died out completely some 7 hours to go so that we had to start the engine. Approaching Brest means first and foremost to steer clear of the rocks off Ile de Sein some 40 miles before arriving at Brest approach buoy. Keeping clear of these rocks reminded me of the hundreds of ships which might had been shipwrecked over the centuries here – luckily, the rocks are clearly marked by light signals.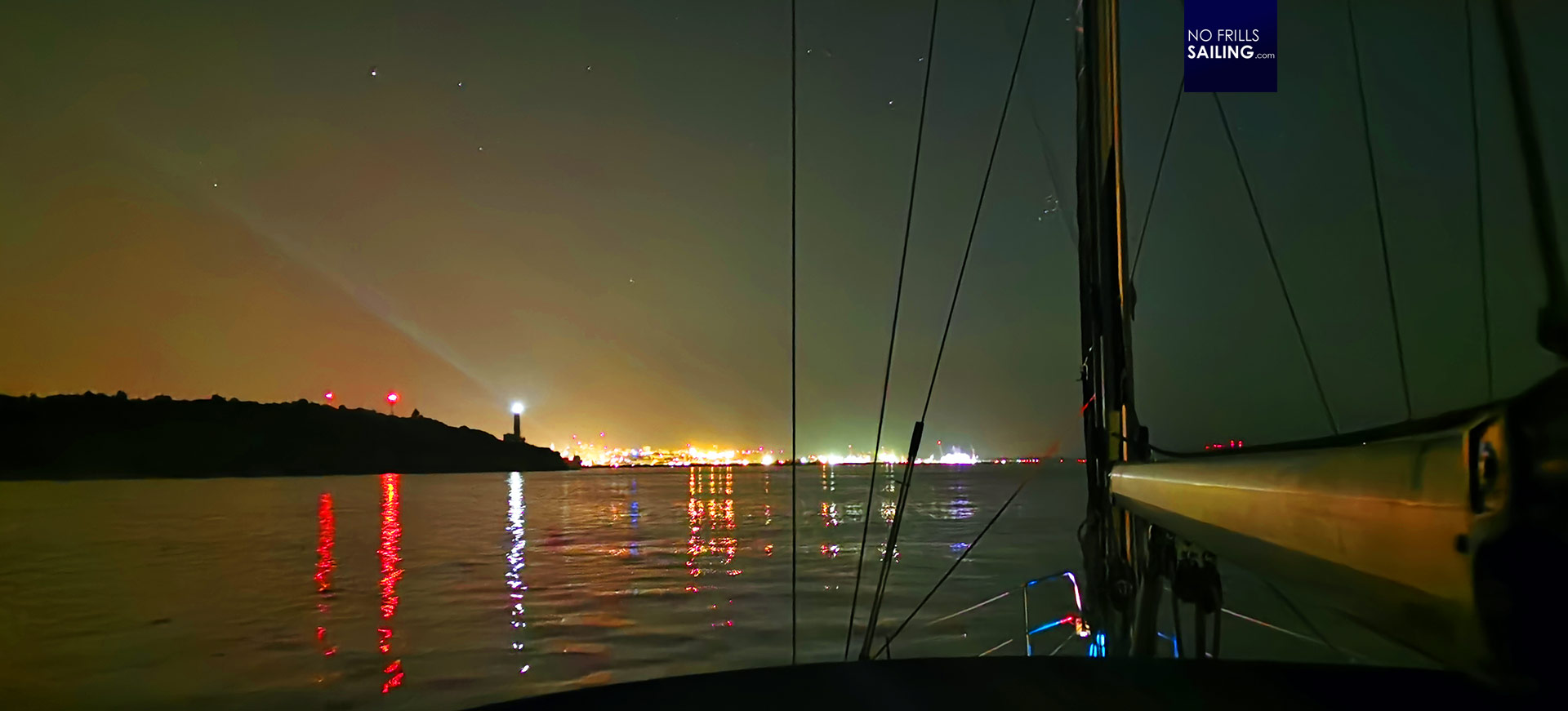 Entering the small channel that leads into the larger Brest Bay, a sound called Goulet de Brest, should be en lieu with the tides as strong currents could seriously delay the time of arrival and add unnecessary stress to the crew. After passing a 2 mile long concrete breakwater which marks the pontoon and security line for the naval base (entering prohibited) the Chateau will be visible. On starboard side the marina is opening up, entry is possible at all tides and 24 hours in any weather condition.
Mooring in Brest
The marina is a big one with a clever architecture: Visiting boats are guided to right hand side to two pontoons dedicated to short term stays. Big yachts will moor alongside, boats up to 40 to 42 feet use finger-pontoons. At the end of one jetty the fuel station is situated where remotely controlled by CCTV refuelling can be done all day and night. We found it easy to land and berth the boat here.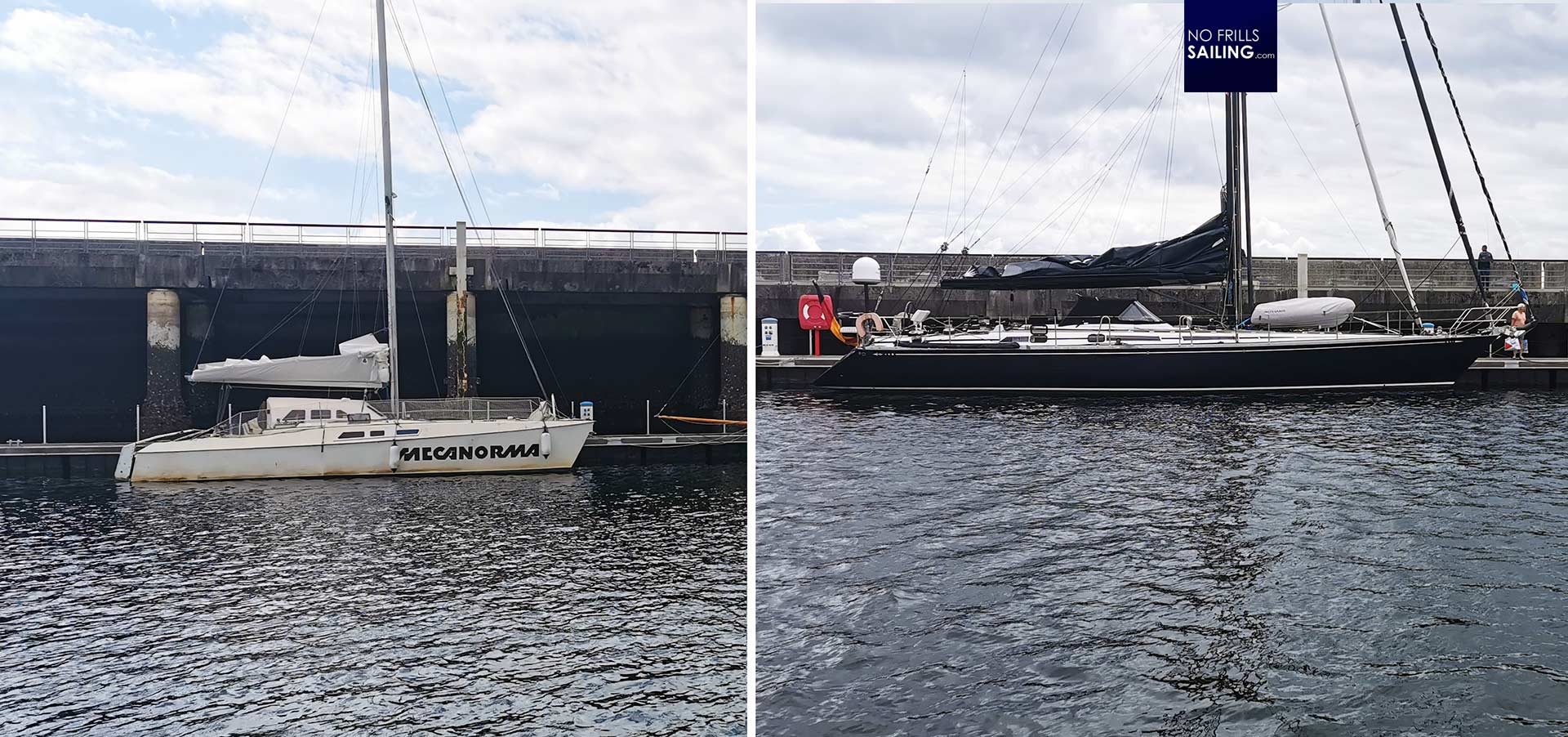 Ways are long in such a huge marina, it is a nice walk all around the harbour to reach the office building where demurrage is paid and the crew will receive the code that opens all access to the amenities. What I found particularly nice was the great mixture of residential sailors and visitors from all of Europe with a focus on British and Dutch crews but as well a good portion of crews – like us – having just crossed the Bay of Biscay or leaving to do so.
Demurrage at Marina du Chateau in Brest
Prices are reasonable although not as low as expected. During high season a 12 metre boat will be carged 36 Euros per night for a stay, 224 Euros per week. A 46 feet boat is 42 Euros per night or 270 Euros for one full week. In the price included is fresh water supply, shore power and access to the bathrooms. There is also a very good (!) free WiFi-connection available throughout the marina which of course becomes more and more important for sailors and crews.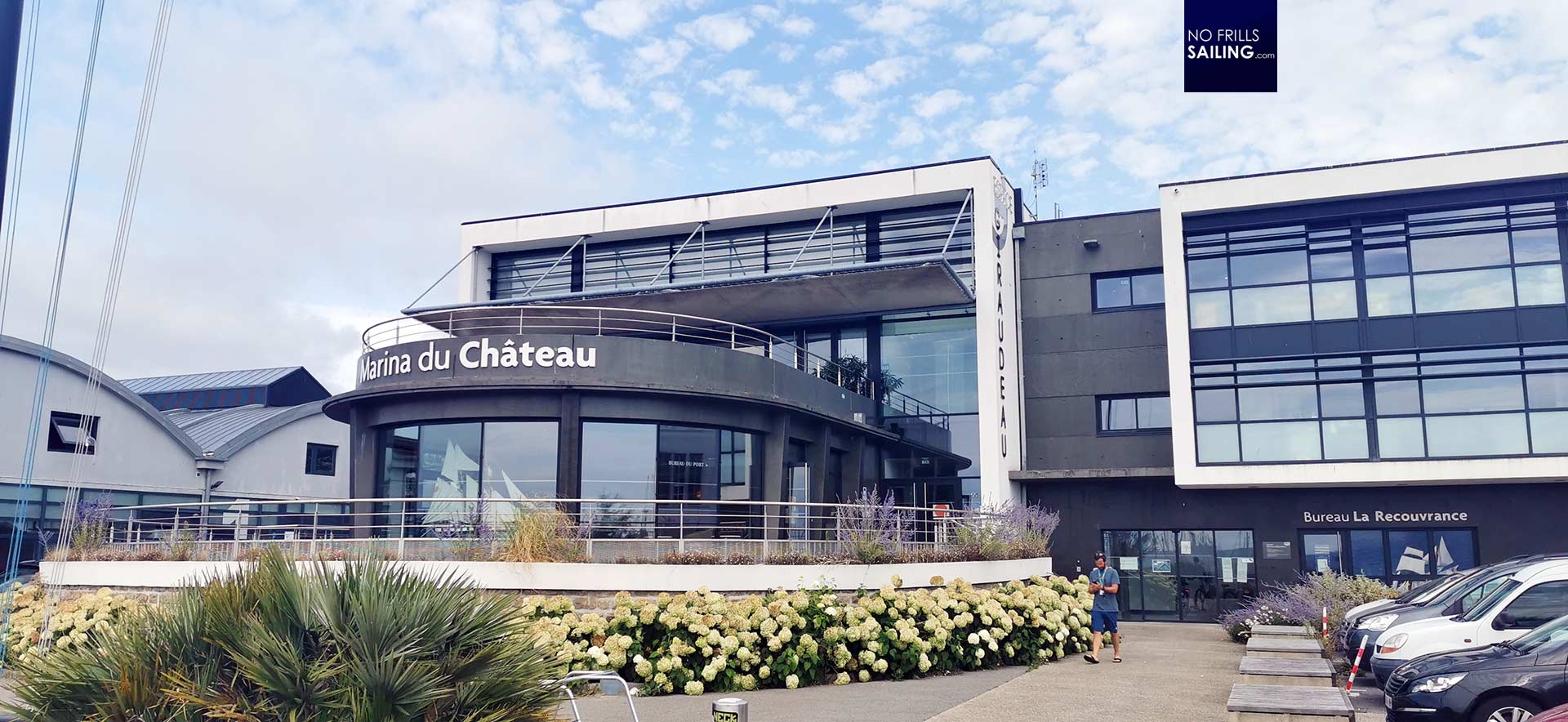 What I particularly liked was the full set of services available in Brest, starting from travel-lift, cradles, a pollutant working area (if you have to redo your antifouling) to a full service yard capable of doing GRP-repair, engine and technical support. The marina also sports partnerships with local shops selling all sorts of spare parts and marine equipment. In this, Brest offers almost everything a serious sailor might be in need of.
Bathroom facilities & Amenities
I am honest: I simply forgot to take some pictures of the bathrooms. The marina offers two sanitary blocks of which one is situated close to the visitor´s pontoon and one is at the shore not far from the harbourmaster´s office. I´ve checked and used extensively the one close to our boat. The bathrooms are separated by sexes and secured by access code although the WC-section for men was open all day/night without the need to put in the code.
There are two shower-chambers available per sex. It all was very simple and functional, no fancy stuff, no frills. I found both toilets/washing room and showers being clean every time I went there and saw frequently cleansing personnel working the place. You should not expect a big place, it´s all kind of cramped but it suits well, it´s clean and does it´s job. All fine.
Dining out and resting one´s Oars
Eating out is a different level in Brest. One of the websites of the town I´ve visited looking for sights to see stated that Brest is a "city without a city centre" which – after a 3 hour walk through Brest – I can only confirm. The city is bristling with life but it lacks a decent center or a "theme". It feels that it is a huge mixture of everything – in turn, it feels overwhelming and I didn´t liked it all too much. Quite contrary to the immediate vicinity and surrounding area of the marina. It was just awesome!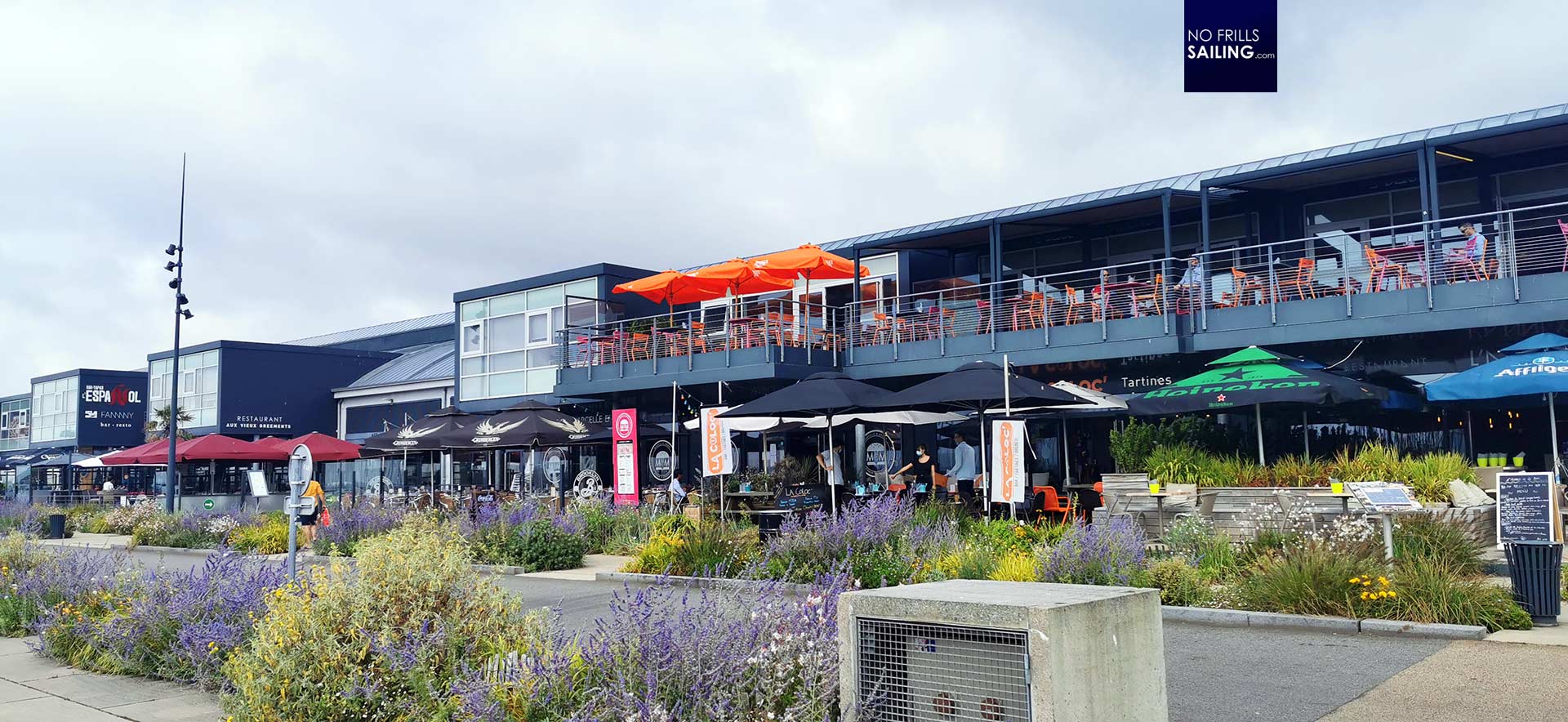 Brest still is a working harbour with loads of charme. You´ll see big fishing trawlers being unloaded, lots of shops – but not for tourists. Strolling the waterfront is a quite short-whiled, interesting and exciting thing. All along the quayside dozens of restaurants – mostly fish – invite for a stay. Dishes looked interesting and tasty, bad luck, we were there when all restaurants had their day off. Lucky us: The eatery in the marina was open and we enjoyed a good-sized meal decently priced before finally setting out to sea again. Brest: Definitely a marina to go for, for sure!
My overall assessment of Brest Harbour is 9 out of 10 points
Link to Marina du Chateau Brest-Website here
You may read all articles related to Biscay- and English Channel-sailing by clicking of the hashtag #biscaysailing