I came to Methana by chance – it was during the last edition of "Pelorus Jack Ocean Trophy 2022" when our original destination turned out to be full of tourist´s boats we´ve had to come up with an alternative harbor quickly to house a fleet of 15 boats. Methana, a 2 hour sail away from our abandoned destination of Moni Beach, turned out not to be just a place for mooring overnight but a hidden gem and interesting location too.
Methana, first of all, is located on the island Methana. It is a volcano which can be clearly seen, although it is not active anymore. The last documented eruption took place some 240 before Christ, in the Eighties an undersea volcano has been detected but it is also not very active. However, it is said that the island "stinks like rotten eggs", which is from the sulfuric odors the volcano is still evaporating. There ar also some hot springs. During the 18th Century Methana became a hotspot for rich Atheans who loved to travel here for the hot springs – it became the Spa of Athens. The name "Methana" derives from one of the gases of the volcano: Methane. Well, of course, the past glory is all gone, apparently.
How to sail to and to moor in Methana
Nevertheless, I found it highly interesting to come here: Most yachts will sail by to Poros and on a first glance there isn´t much to see here, for sure. But it is worth a stopover. Methana harbor consists of an old harbor which is located to the south. The depth is not very deep so it shall not be entered by bigger boats, unfortunately I have no information on max draft here. If you want to go there, you apparently need to have a reservation. Go to the "new harbor" instead.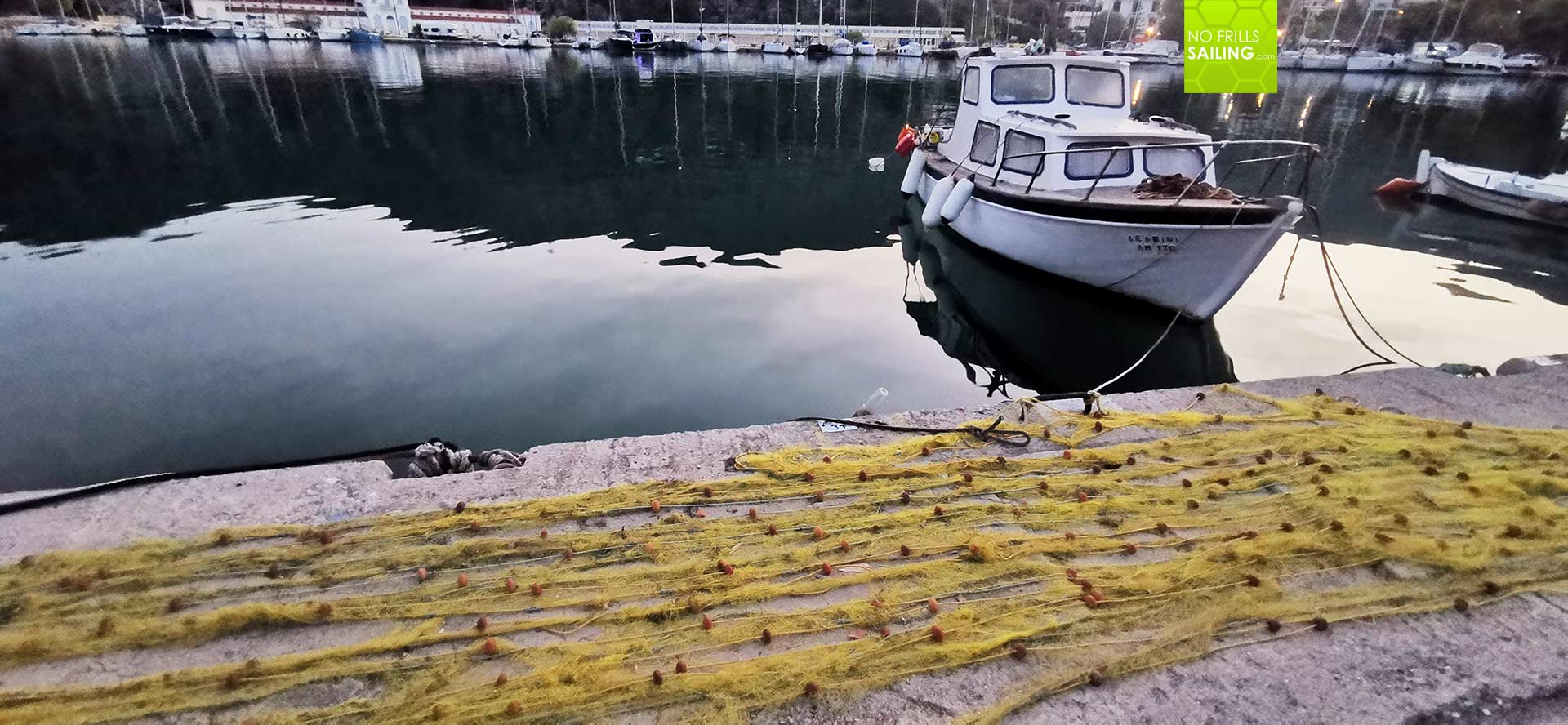 There is a very long pier where approximately 40 boats can find a berth. Berthing is done at anchor (no moorings) and stern first. Whilst in old harbor there are moorings, there is no shore power and no amenities at all. Same goes for the pier side although shore power is available. I recommend to pre-reserve a berth here as well as there are some reports of boats being kicked out.
Why come to Methana?
Well, once tied up you will start to appreciate this very special atmosphere of this place. Methana received some funding as part of the Marshal rebuilding plan after World War II and as such it was tried to revive its old glory as a Spa. A waterfront with some nice representative buildings had been made, hotels and other amenities for pleasure. Well, it all went down, there is nothing really working out here, no one exploiting the hot springs, no spa. But … well, but …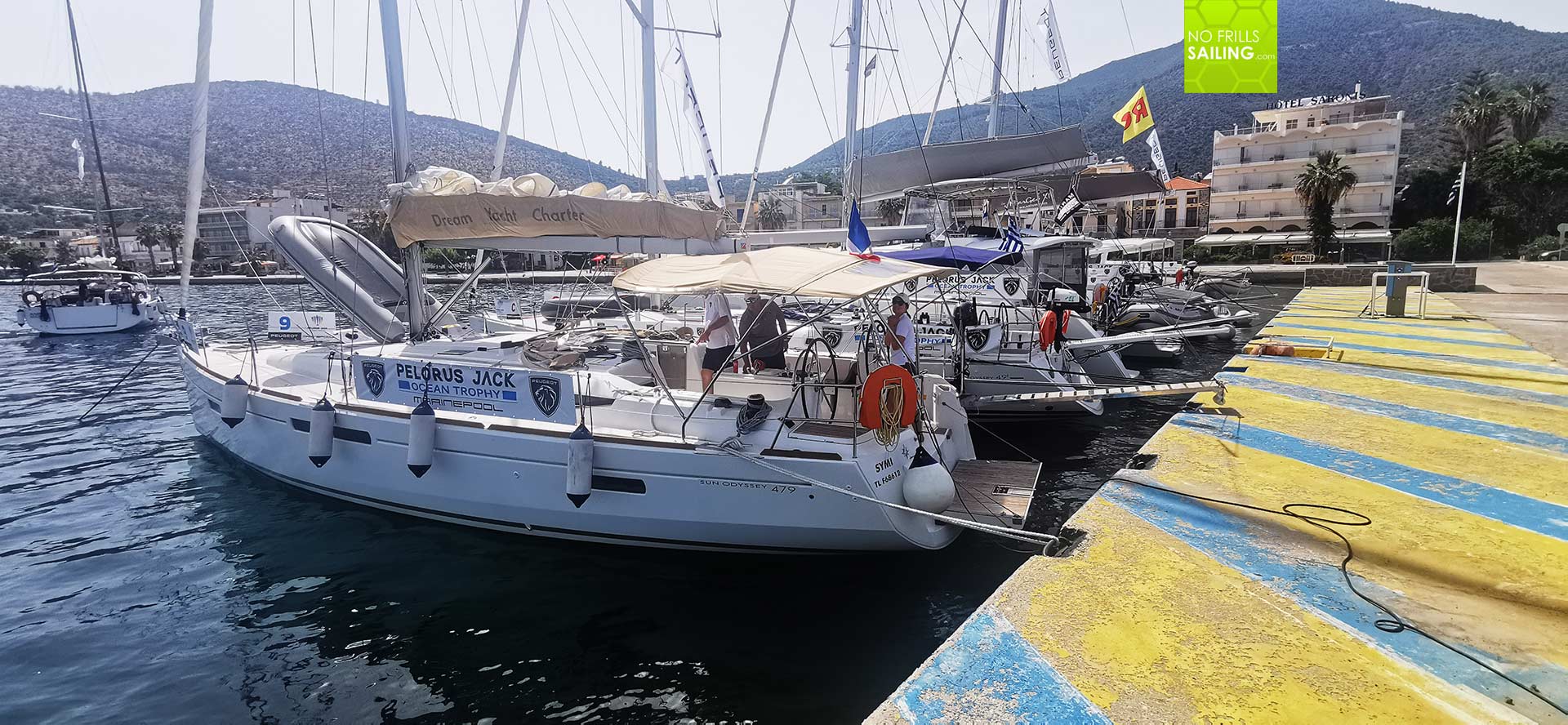 I loved walking the almost empty streets. It reminded me of Havanna in Cuba. The village is still occupied by people, there is a supermarket, a handful of (really good!) restaurants, some bars and Gelato parlors. The whole waterfront is one big strip to take a seat and feast, have a long drink and enjoy the wonderful view over the fine mint-blue tainted Ocean that is colored by the vulcano´s breath.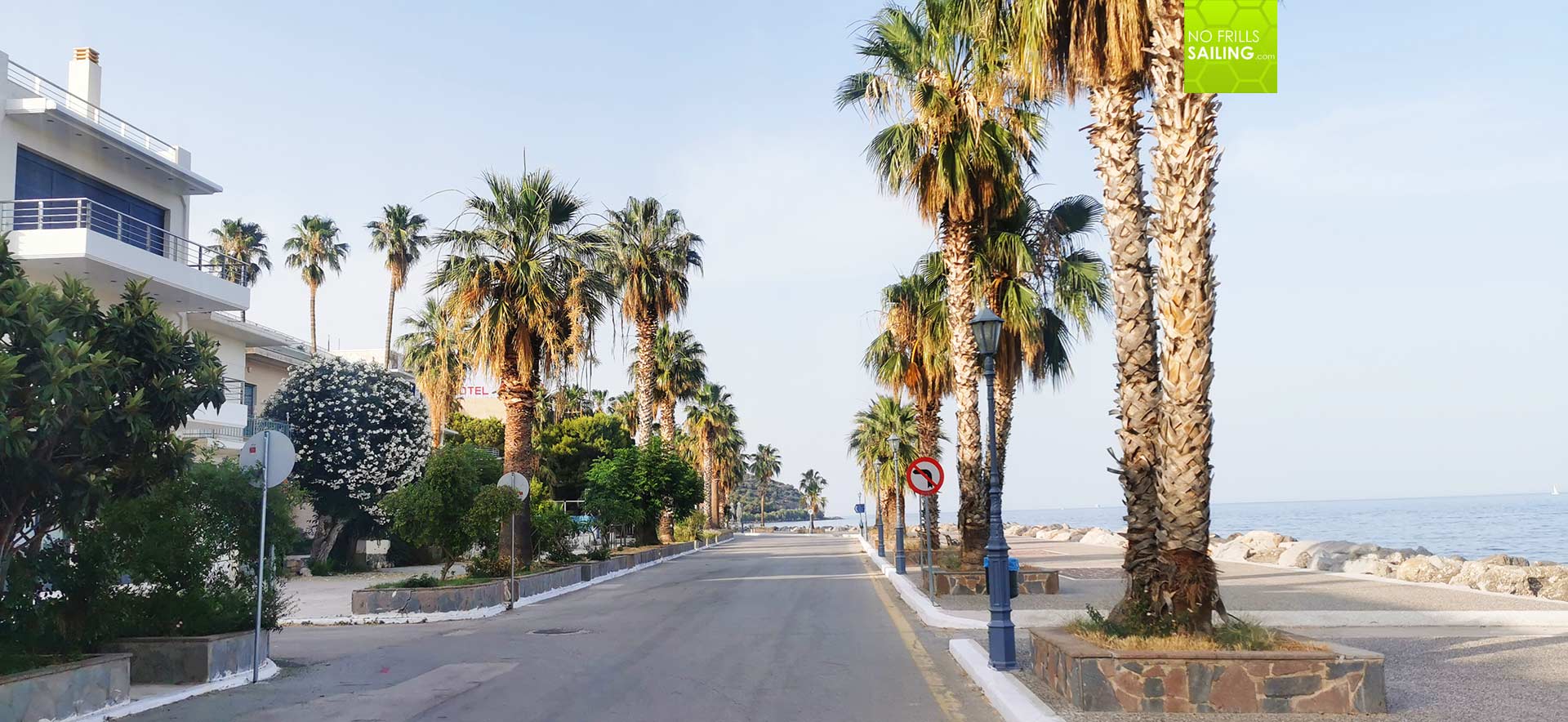 I strolled around and also visited the old marina which was full of boats, mostly old worn out GRP-classics, but also some touristical boats or owner-yachts. No fancy yachts, of course, but real old salts. I enjoyed to see some fishermen preparing their nets and climbed around in a ridiculously big oil-rig platform that is tied up semi-permanently at the harbors entrance. A place full of contrast.
I liked it here very much
Rounding a southern land tip that has a beautiful and tidy chapel on it – it must be a dream to marry here, by the way – I came across a concrete-made ruins of a public swimming bath which cannot be very old. Nature is slowly taking back this place, the wind and salty Ocean eating away the concrete. A further 200 metres the waterfront is full of joy and live. Contrasts everywhere. Also cats. There are lots of them. Nice wild strolling cats, all well fed but not fat. One of them kind of liked me and I gave it some leftovers of my tasty food. Somehow the cat knew which of the 40 boats was mine as, the next morning, she was sitting right there on the pontoon, waiting for me come out with my morning coffee. Although most certainly by chance, it´s a nice story to tell, certainly something for the superstitious seafarer.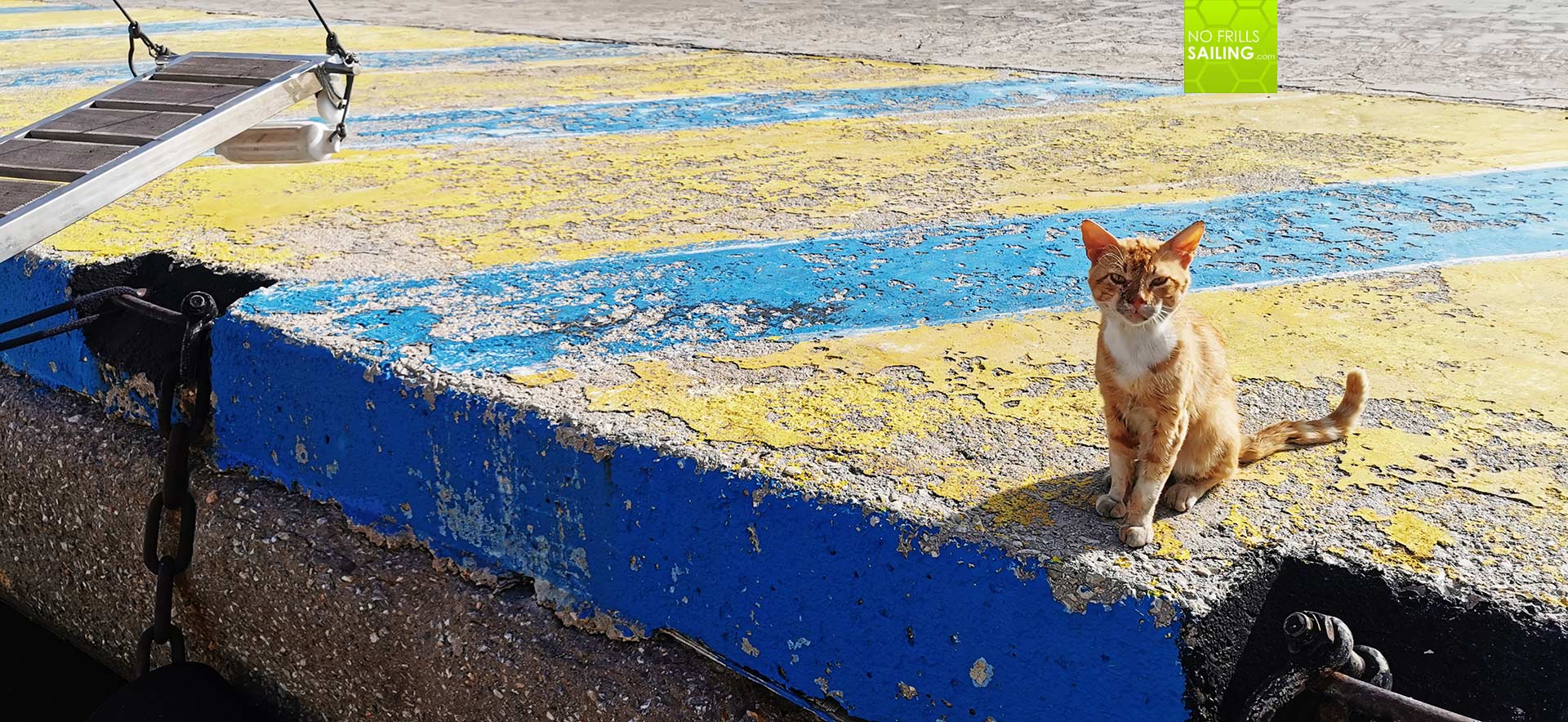 I liked it here very much: Raw, rough, withered but also full of life, great people and certainly lots of nature to see. I guess if you have some more time you may climb up the Methana volcano on an adventurous mountain day and may have a reminder of them good ol´ times in relaxing your body in those hot sulfuric springs which might be there somewhere on the island. It is a wonderful contrast to the bristling hustle of Hydra or Poros, worn out but alive and kicking.
My overall assessment of Methana Harbour is 6 out of 10 points