I cannot say that I was overly excited nor happy all along. Yesterday on the occasion of taking GEKKO out of the water, the bad weather behaved accordingly to my emotions. It was dark, grey, completely overcast with a fierce gusty cold wind and showers. A sad day, to be honest. This year´s sailing season ended in mid-August for me, at least when it comes to my new boat: As I will have to finish the catamaran transfer trip the next 2 weeks and September will be filled with boat shows, taking her out of the water was the best decision.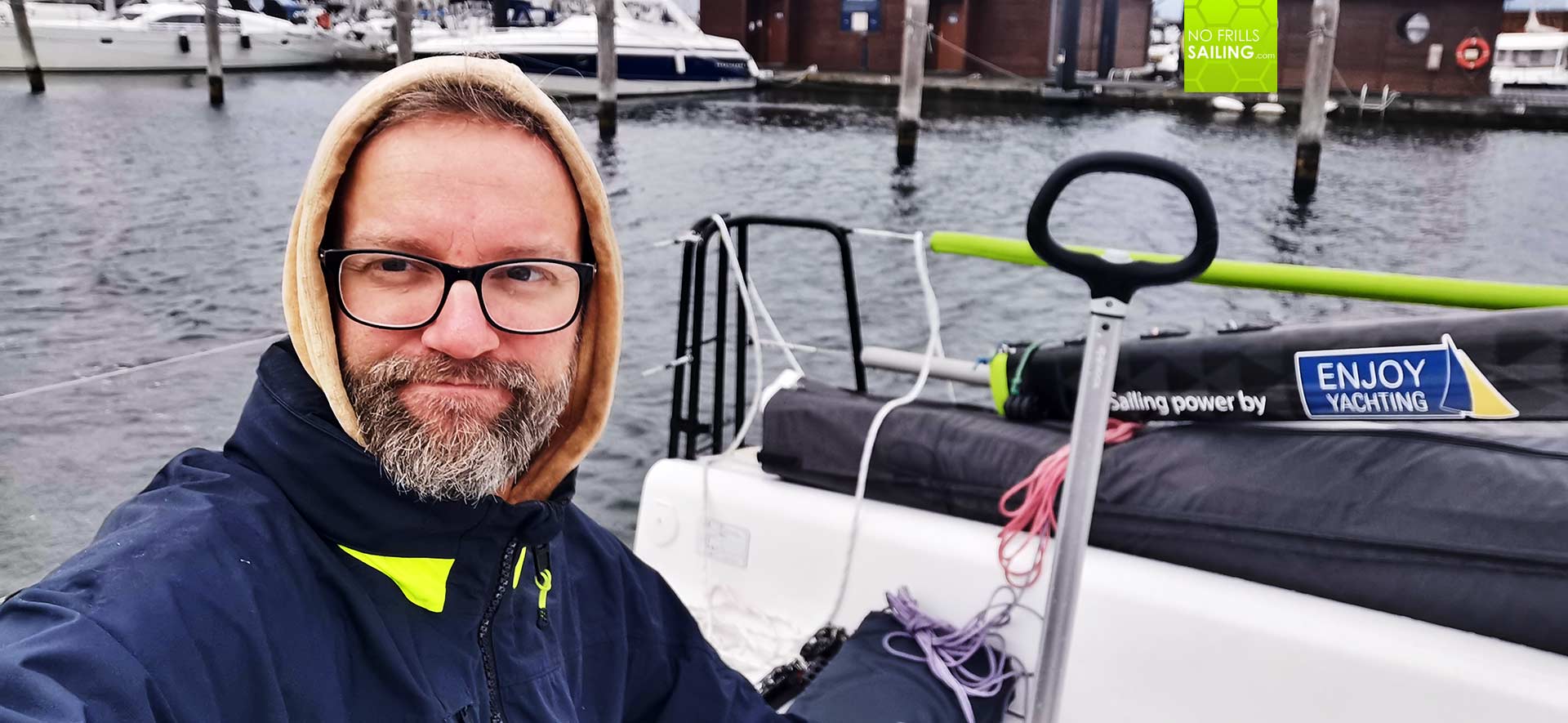 As sad as it felt when I steered the boat to the crane, it was the best decision. So, I thought it might be time to look back on the nevertheless exciting 500 first miles with GEKKO. As a very excited new owner of this boat, my expectations and plans had been high and plentiful and I reckon it might be interesting for you if I share my ideas and thoughts on this fast boat. Now, let´s start.
Fast Boat – fast setup
Again, I was astonished how fast the First 27 SE can be set up – or at the same time taken down. As I was working with my colleague Finn, it took is some 45 minutes to take off the sails and most of the running rigging. It´s always amazing to see how easy and convenient the handling of the rigg was indeed – the more often done the more experienced and fast it gets. After we had taken off the mast, it took us 1.5 more hours to completely unmount and ready the boat for transport. That´s roughly 2 hours for rigging. Amazing!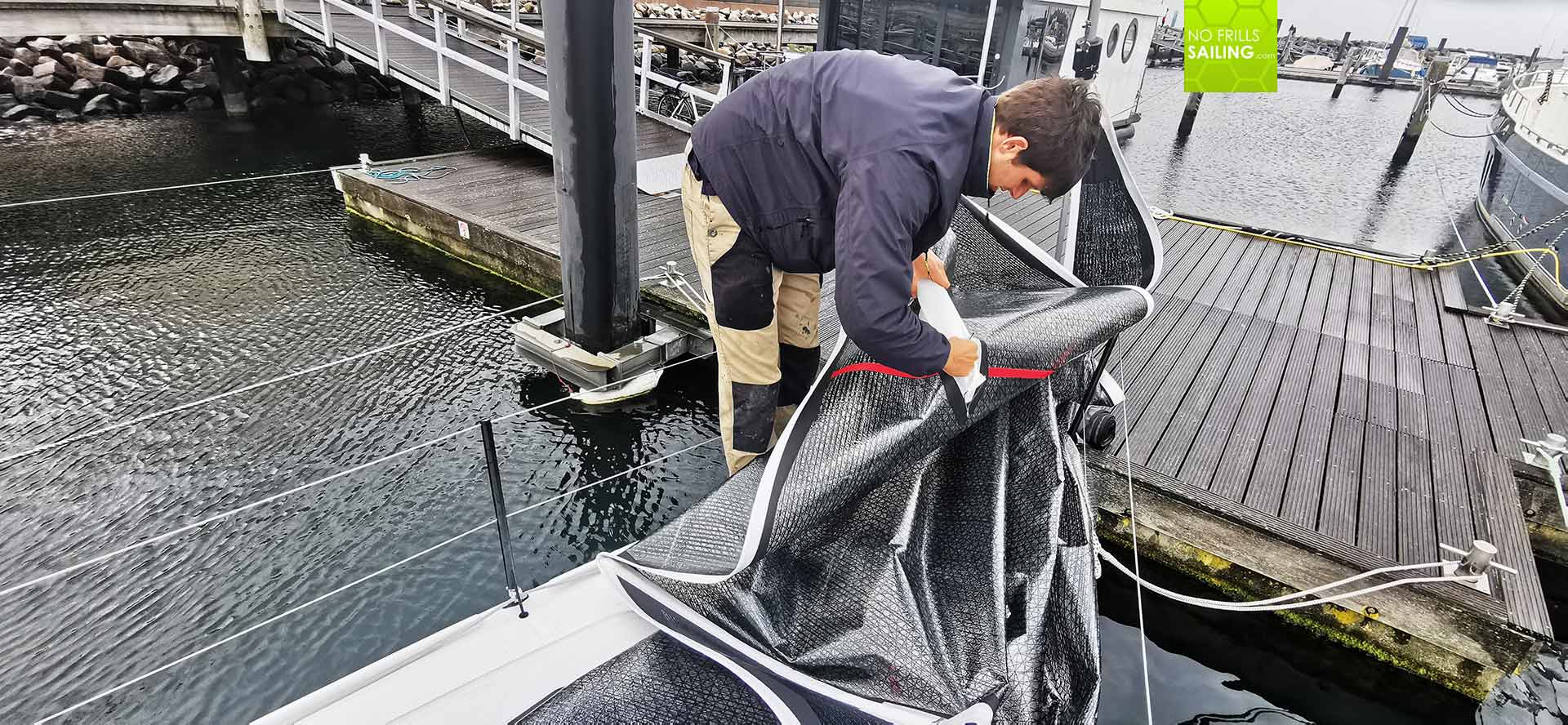 Looking back to my first sailing attempts and the three weeks of fast cruising, either alone or with my family, I can say that this boat lives up to my expectations full extent! She is easy to sail and can be mastered completely single handed with ease. She is darn fast, seldom below 7 knots, a two-digit SOG is easily achievable. In this, the boat sails always safe and stable and I did never have even the slightest feeling of being unsecure. The Seascape 27 / First 27 SE is indeed a very, very powerful sailboat, a quick passage maker and exciting to sail. Not to mention her modern and beautiful exterior: There is not an hour that not a bypasser will stop and take a picture of the boat.
Torqeedo and electric propulsion
I did had many expectations regarding the electric propulsion system by Torqeedo. Now I can look back onto many, many hours (unfortunately, I shall add) of driving the boat powered by electric energy. First of all, it works flawless. If utilized accordingly, the propulsion unit is reliable. Driving the boat with 1.5 knots, the WH 48-5000 lithium-ion battery will last some 65 miles, accelerating to 3.5 knots that still a 35 mile range. It also has significant power: I once had to drive the boat in +24 knots gusts in a marina and it mastered the headwind perfectly. I do not miss a combustion engine at all: No gasoline-stench, no loud noise, no ignition problems. Nice!
But (there´s always a "but") one might know that the engine shaft of the First 27 SE is originally made for a Tohatsu inboard engine. The Torqeedo Cruise will fit, but by a very, very narrow margin. That means that I do have some kinks and scratches in the trailing edges of the screw (look closely at the picture) and scratchmarks on the prop unit. Another enervating thing is that the Torqeedo´s screw cannot be stopped in the water. So, when having your sails up and powered by wind, the screw will be rapidly turning when taking in the prop-unit. Meaning that the blades almost inevitably will hit the ship´s bottom (causing the kinks in the blades and possibly damaging the ship´s underbody). I solved that problem as following: When outside of the marinas, I first take out the Jib, but just a bit. Going on an upwind point of sail, that sail area is just enough to power the boat, but not fast. That will make the screw turn just slowly enough so that I can stop it with my bare hands. After retrieving the prop unit, I will unfurl the Jib fully only to hoist mainsail in the second step. Proofs to be best code of conduct.
A rather short but very instructive season
As we prepared the boat for craning, I recapitulate the sailing season. First of all I can say that if you go for a First 27, you can be looking forward to receiving a boat that is both aggressive and forgiving. I cannot remember a single situation when I felt overpowered or not in control of the boat, even in in a stronger breeze. Also, the complete running rigging is not complicated to work through: You will be quickly trimming your sails like a pro. I took my time, when taking her out the first couple of times, to test boat and myself in low winds. Especially when working the Gennaker that is good advise.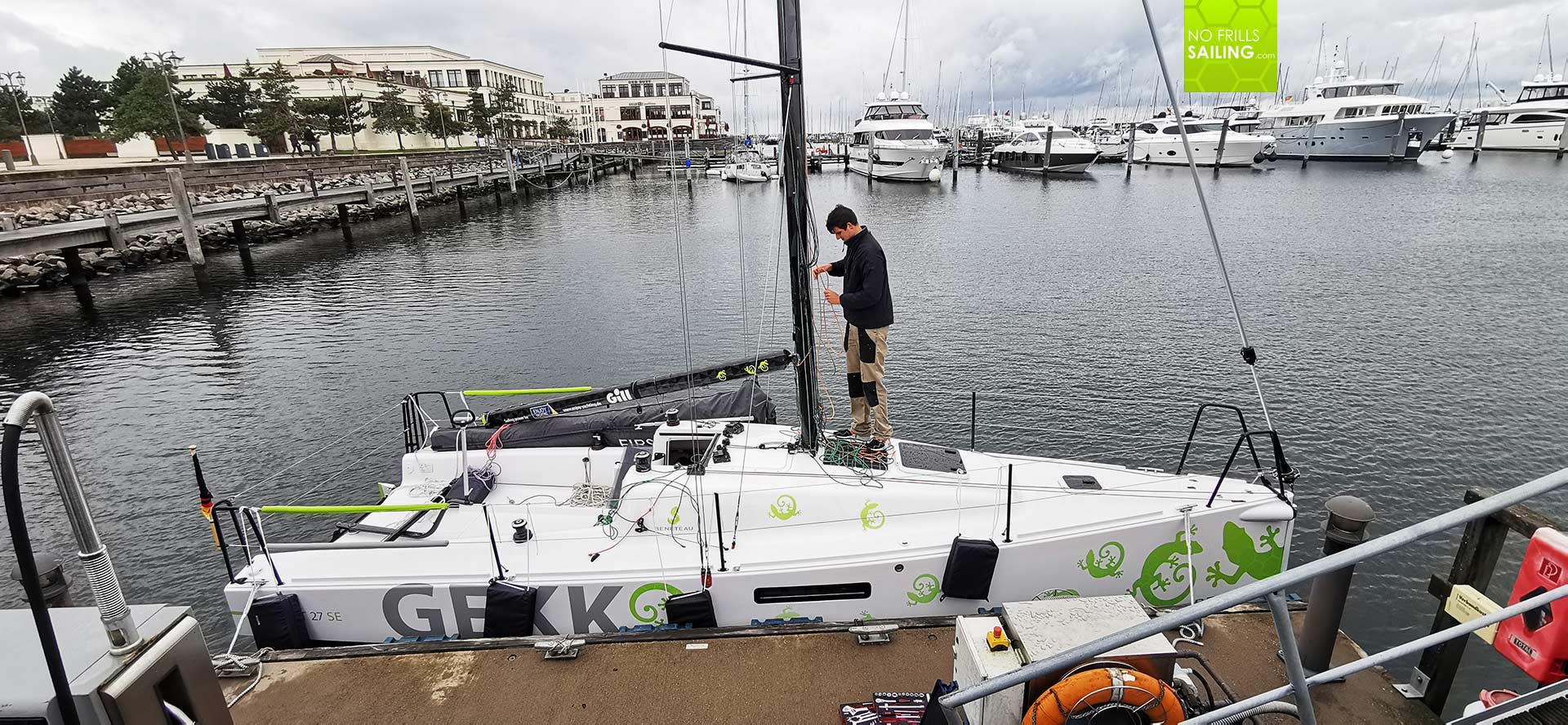 My first cruises, either alone (read the article here) or together with my kids and family (read the amazing cruise report here) this small, very versatile boat proved to be the ideal platform for offering cruising comfort. That said, "comfort" is of course meant in a reduced form, I call it "micro cruising". Reduced to the max, one might say: Sleeping is a treat aboard, although I will "tune" a bit the matrasses. They are definitely too thin for a, let´s say, 2-week cruise. Perfect on the other hand is the WC aboard, I just love the clever concept. Skip unnecessary weight and free yourself from nonsense stuff – change your mind to clever, practical solutions, opening up your mind and perception towards pure nature.
Mobile, small and versatile
Best about the First 27 SE is her versatility in terms of being mobile. After 2 hours we had the boat transport-ready and had been back on the road. That said, no matter if you are a racer-oriented sailor, you will have a boat that can easily be brought to races all over the country whilst reducing times needed for setting it up. It also reduced costs: Winter storage can be done on one´s own lawn or more inland (for example on a farmer´s property) by saving high costs cashed in by the marinas.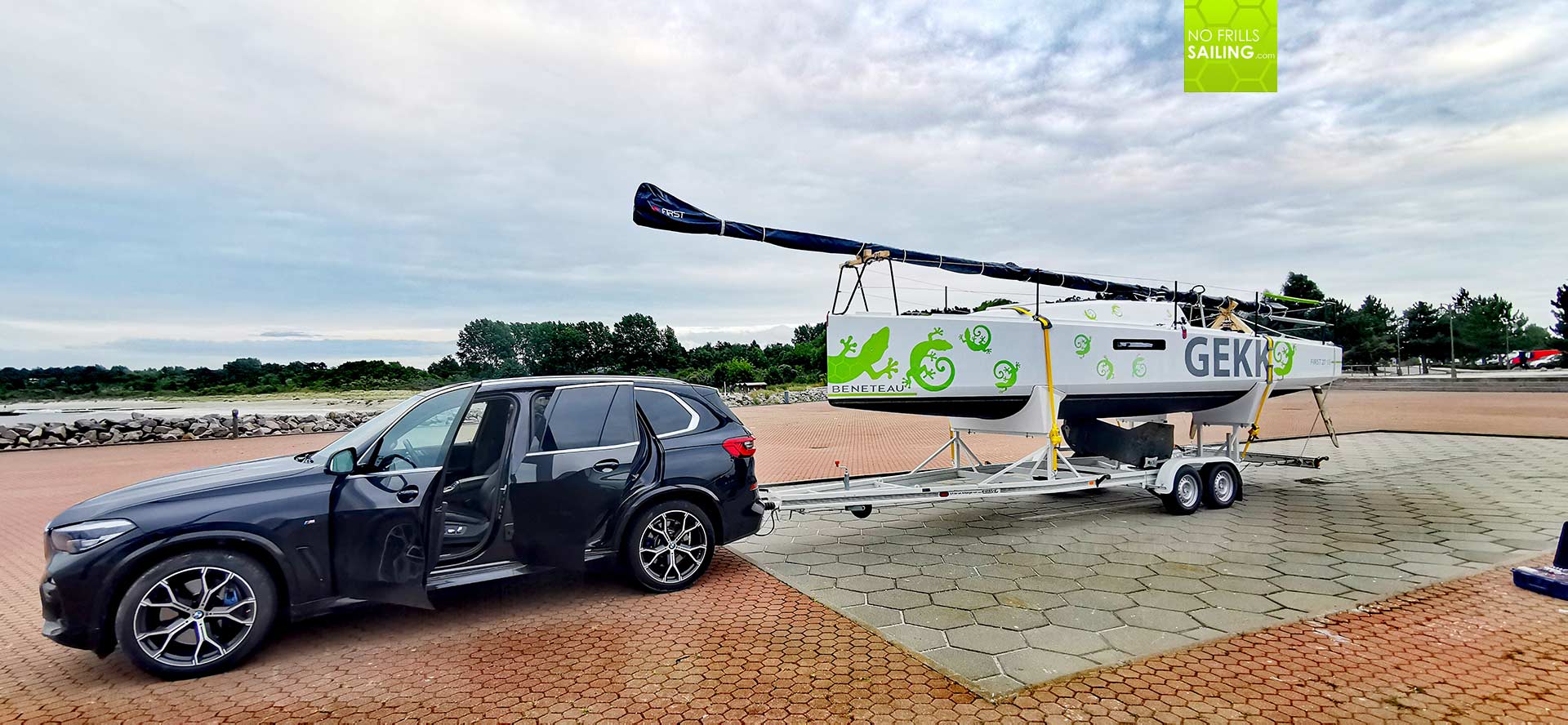 It also opens up a whole new perspective on your sailing area – it´s in fact so amazing that I am right now indeed thinking of maybe changing principal sailing area next year. The boat is transported easily by road to, let´s say a different ocean or distant sailing area where you can start to discover sailing zones a classic big yacht could never reach: For example, traditionally, boats in the Baltic Sea will never go to the Mediterranean as this would mean a very long transfer all around Europe (or an even more expensive transport by heavy goods transport).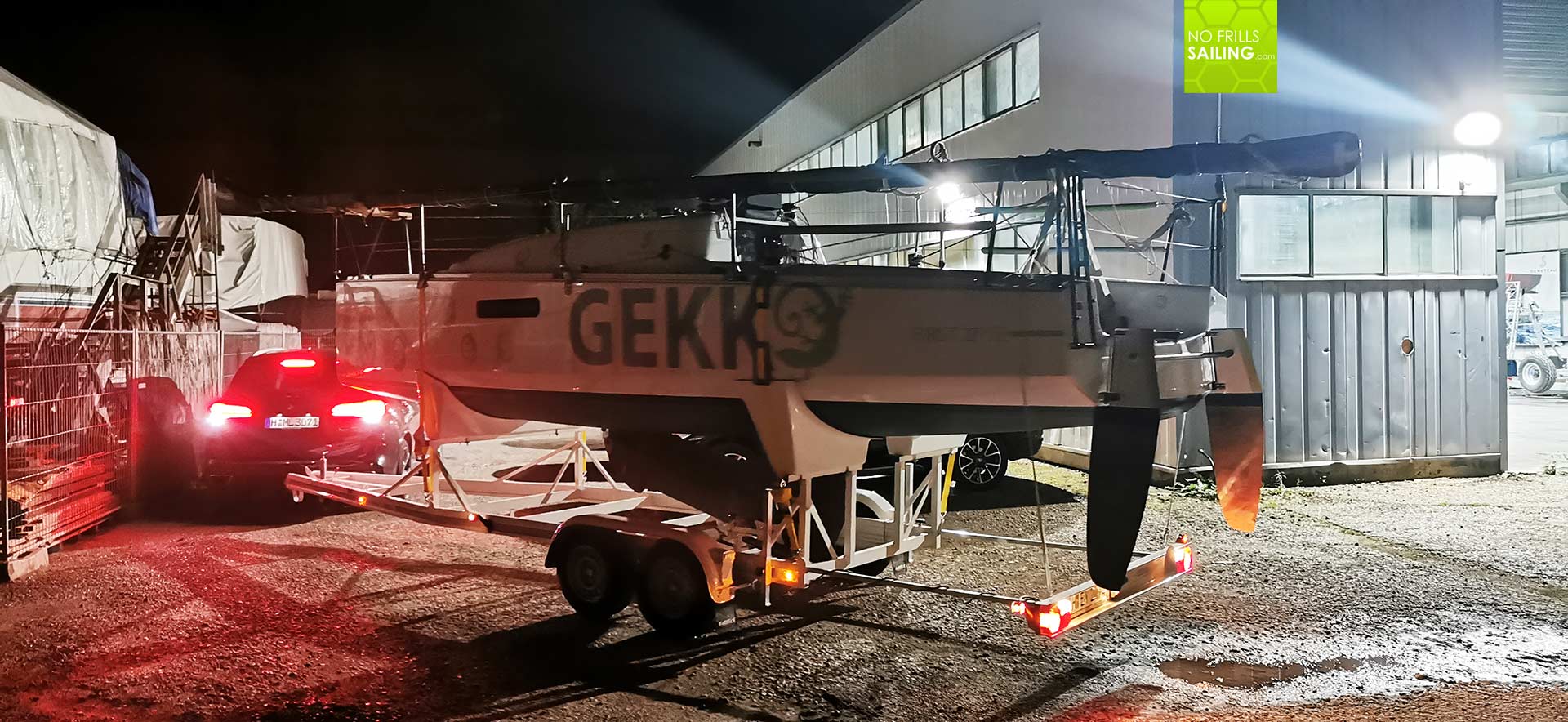 So, maybe I will put GEKKO into the Med next year? Or bring her to Stockholm in Sweden to discover the Swedish Skerries? Or bring her to our charter base in Greece to sail around in the Peloponnesos? I don´t know, but what I know, only your imagination is the limit. Go small – go now, best embodied by the First 27 SE, I am deeply in love with that boat and I can only congratulate myself for that purchase!
Quality is worthwhile
Also, seeing her lateral hull after one full season in the water, of which sadly most of the time she wasn´t moving, made me also think about the antifouling. I had opted for a high quality (and rather expensive) professionally applied coat. You may have read my article on this and this is also a topic frequently discussed with my clients: Why pay so much for antifouling? Well, look at my boat after almost one full season in the water. The antifouling coat looks almost as new. No scaling, no crustation. Perfect!
X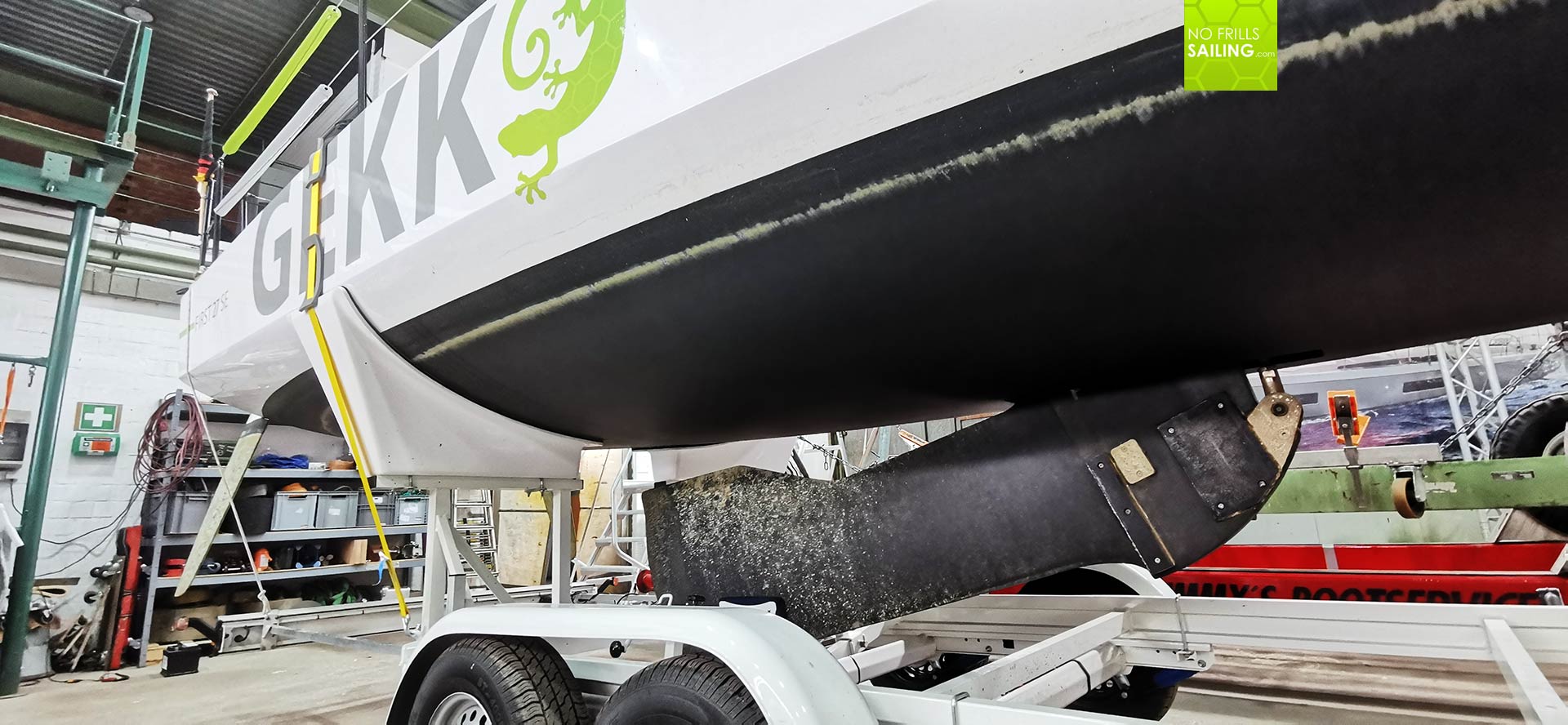 Quality is not often seen at the first glance and the almost 5.000 Euros exVAT for the antifouling was definitely worth it! Same goes for the boat as a whole. Of course, the end-budget of some 110.000 Euros exVAT for this boat is a huge bill and chunk to swallow. But, you will get a vacuum infused hull, a fill carbon rigg, laminate sails, high quality fittings by Ronstan, running rigging by Robline, accessories by Outils Oceans … the list is long. Yes, it´s a big bill, but it´s also superior quality to other other boats in the same size.
More learnings
I also learned many other things. For example, talking of my micro cruising galley, I have mixed feelings (and I will spare you the pictures). You may have read my article about car trunk organizers I utilized for stowing away the crookery and kitchen equipment? Well, clearing the boat completely for winter storage, I noticed in disgust that many plates, especially the bamboo-made stuff, were covered in mildew. I will have to work out a better system, probably better vented, for next season.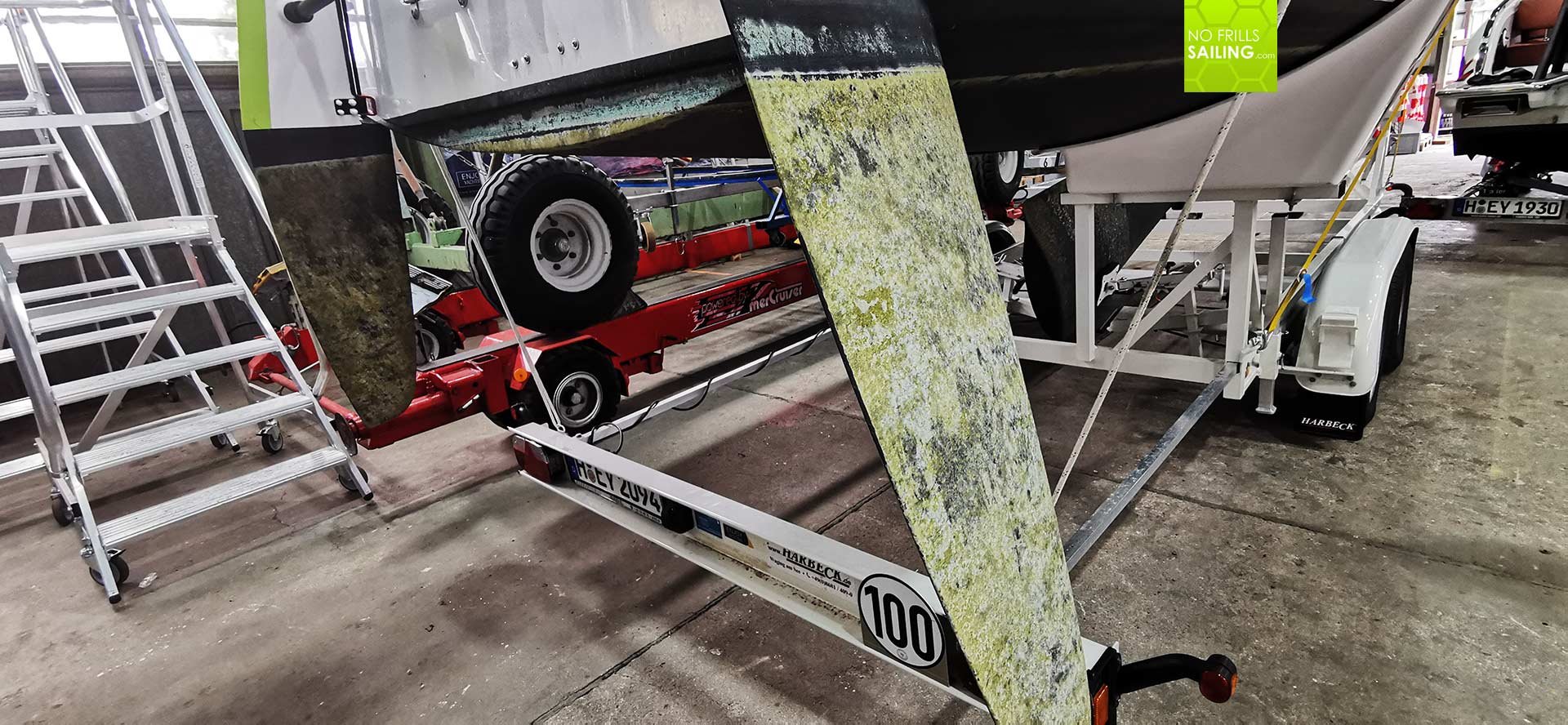 One of the best parts of my boat´s equipment was the battery-powered handheld vacuum cleaner. It´s fast and convenient and the main reason why my boat still after my two kids munched away tons of cookies and sweets all the time looks like new: There is no better way to keep your boat clean than utilizing a handstick vacuum.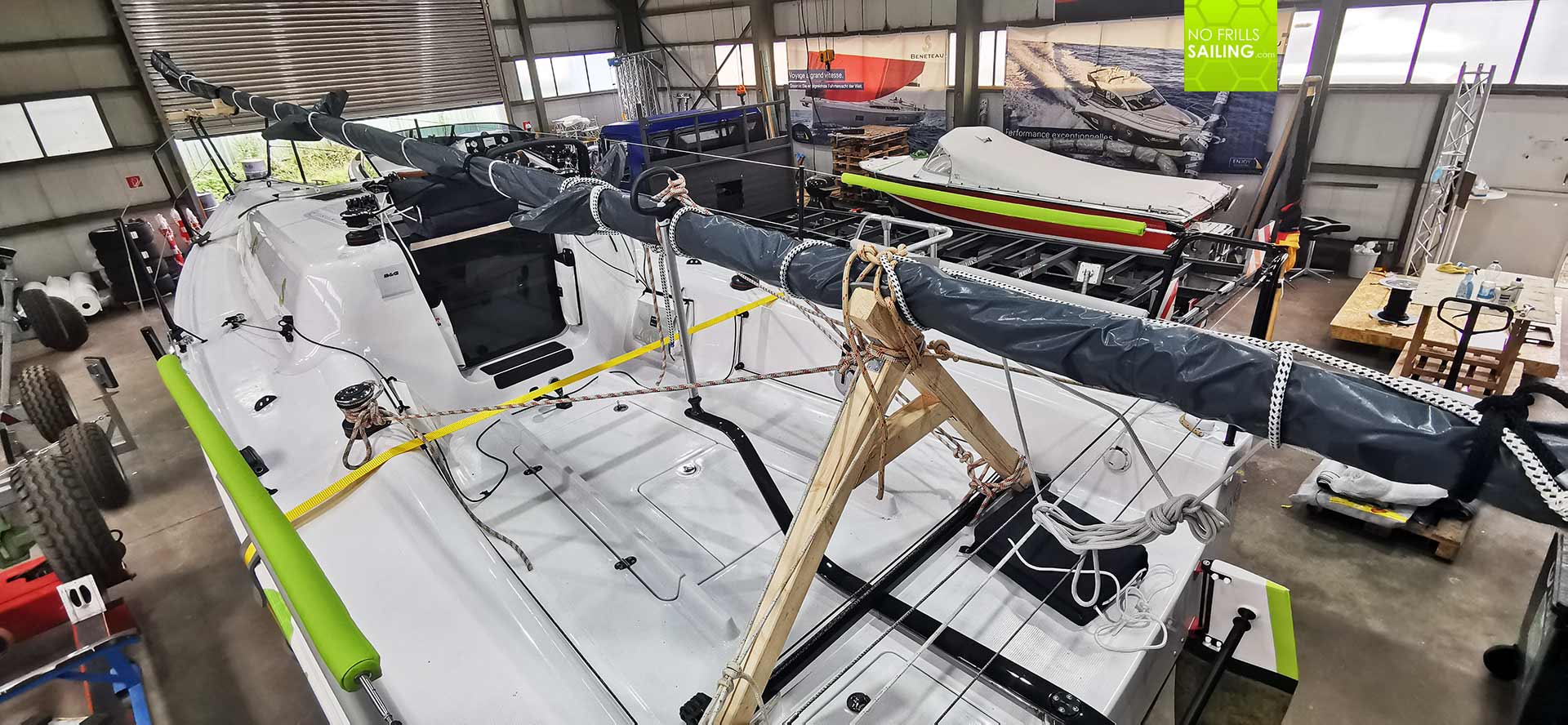 We also perfected packing and stacking of the boat for transport. For example, the tuff luff forestay and Jib-furling unit. Originally, this part is dismounted and transported in pieces. We tried – and succeeded – in just tying it up in once piece (no disassembly needed!) to the mast itself. It proved to work just as perfect, as you may see in the picture above. All in all, besides the fact that a mere 500 miles is way less than I had hoped for, the first season with GEKKO was a complete success. I now know the boat more intimately, know her strengths and points to improve and I guess that is exactly what you do in your first season with a new boat.
Projects till season 2022
So, what will I be doing in the coming months? Well, there´s plenty of work coming up and in this some interesting projects. After refreshing of the antifouling and cleaning the boat completely, I am going to install the Solbian solar array at last. This 144 Wp-unit will exclusively charge the WH 48-5000 battery unit that powers the Torqeedo engine. If I can manage to relocate and keep on using the smaller 50 Wp-solar unit that charges the domestic battery will be one big question. Next will be the installation of EVO-foam in the cockpit, all panels are pre-cut and just need to be put on the deck.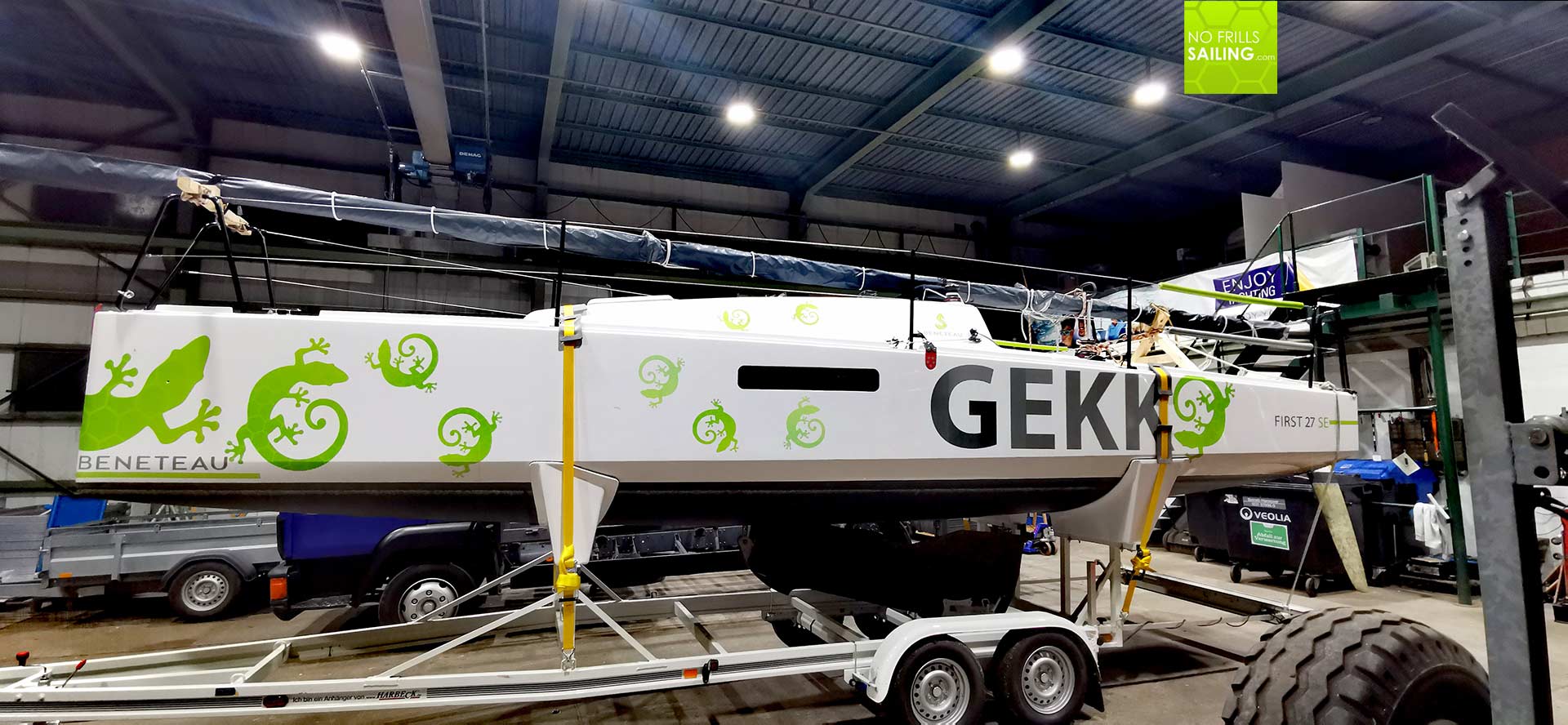 In this, back in the water in 2022, I will also install the Inner-Jib already bought for stronger wind-sailing and also invest in a Code 0 sail to complete the sails setup of GEKKO. One of my clients, who also bought an F27 SE, want to replace the steps of the entryway and the folding table by custom made carbon parts – I will take a close look onto these and maybe upgrade my boat too. But no matter what comes, 2022 is definitely a year that will see more, many more!, miles on GEKKO. Because that is why I bought her in the first place: Less refitting, more sailing.
You may as well be interested in reading these articles:
Go small – go now!
Jetboil small cooker