Oh, what an awful night this has been! After arriving to the Italian port of Brindisi, mastering hours of strong winds of continuous 35 knots of TWS with gusts even more, steep short waves of up to 6 metres height and even worsening, I made the mistake of landing the boat the fastest and easiest possible way: I let her drift onto the jetty alongside by the wind. The problem was now, that in Brindisi Marina there is no wind protection at all. So the storm kept pushing the boat onto the jetty, made her heel and I feared that at some point the fenders – squeezed to being absolutely flat – would explode, exposing the boat´s bare GRP-surface to the pontoon.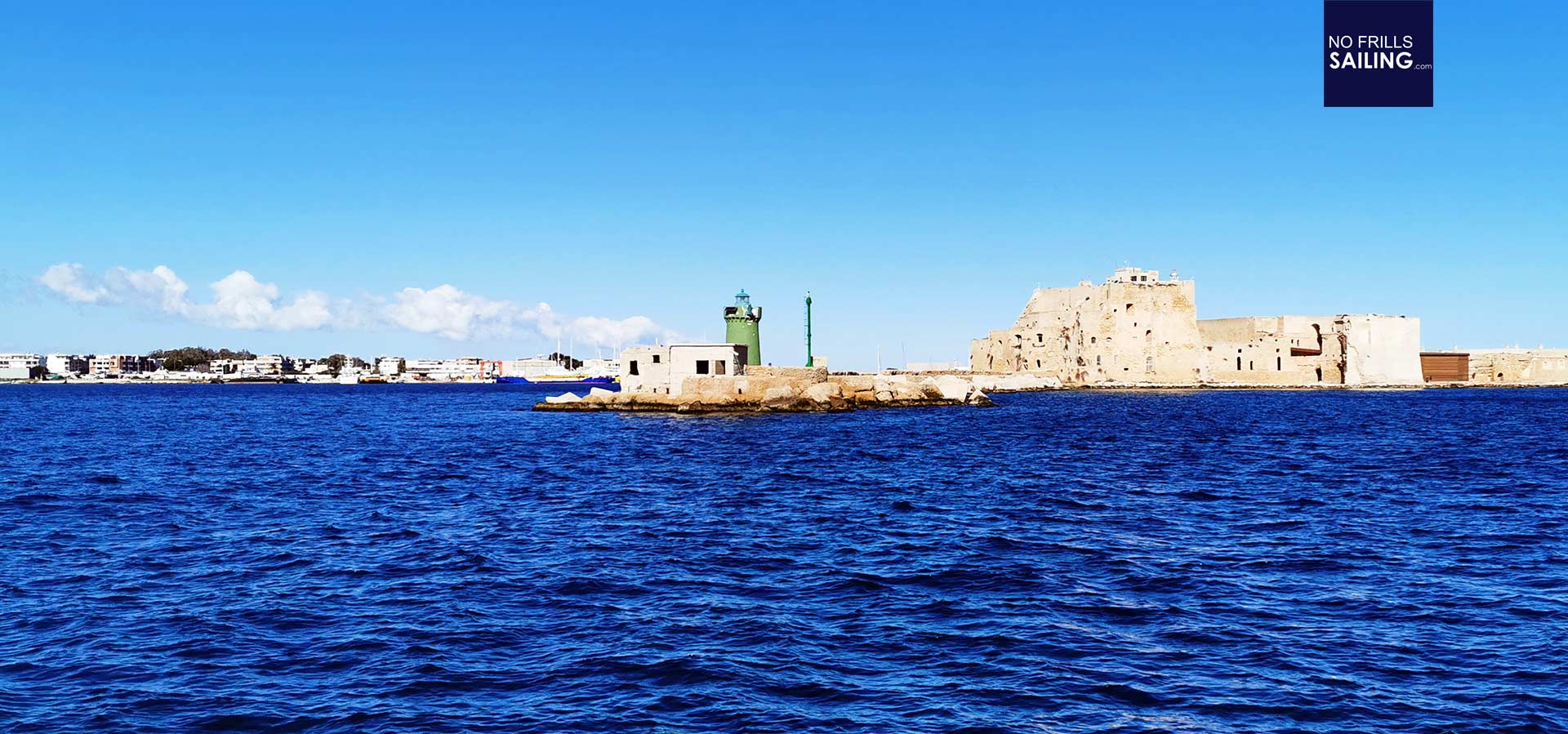 Well, when sun was up after that night and we left Brindisi, winds had eased to 15 knots, but I was tired as hell: During the night I had to get up multiple times, get dressed and go out in the roaring winds to heck for the fenders. The storm was still barraging the boat and every now and then one or two of the fenders had worked their way up to the jetty and slipped onto the pontoon: I had to take on all of my strength to get them back between boat and jetty.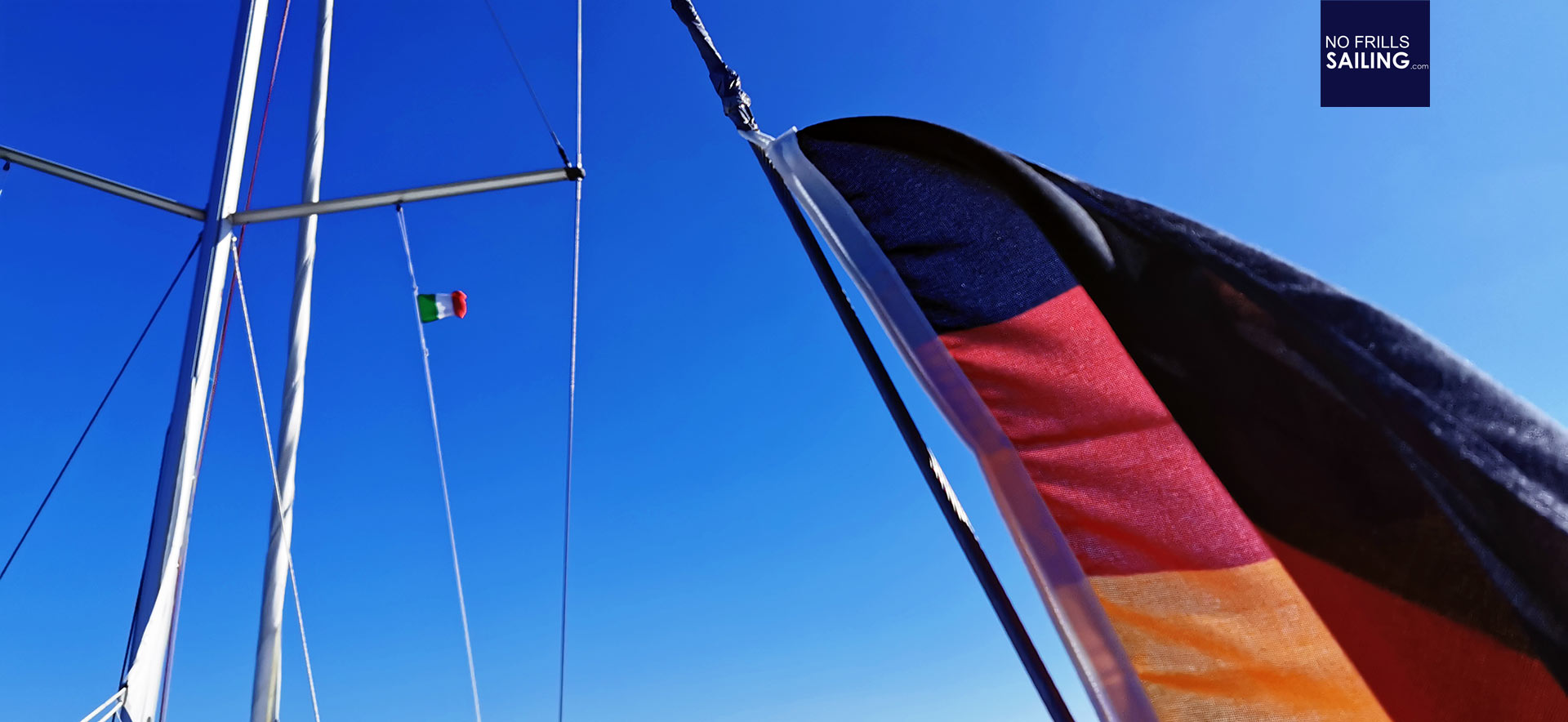 So, after all, nothing happened and there was no damage to the boat – but I was so tired and worn out, even the clear blue skies and the steady nice winds couldn´t make up for it. Logbook of that day says: "1000 casting off,13 knots winds from NNW: I am tiiiired!!!" Nevertheless, for all the hardship of that night which added to the some 200 stressful miles of the two days before, I was happy again to be out. What would that new sailing day bring for us?
Restitution: What a lovely day down to Otranto!
At first: Another slow start, which was a good thing. We took out the whole sails area and set a course more southerly along the Italian coast line. My partner had checked the weather sources and suggested moving along Italy down to Otranto because this was where most of the wind would be according to the sources. I agreed and we set a course 135 degrees.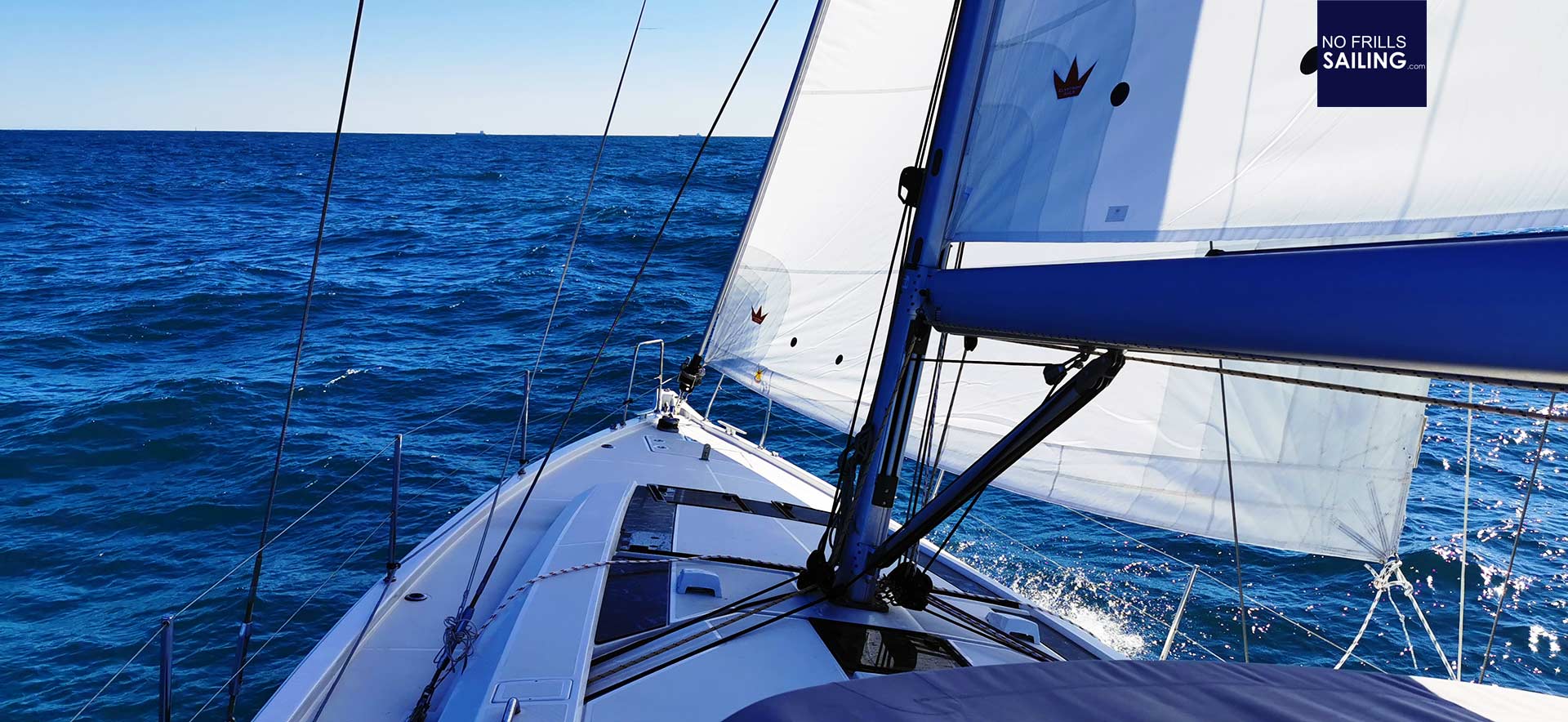 The boat jumped to live. Even though there wasn´t much wind, the Oceanis 46.1 made steady 5 to 7 knots upwind with a slight heeling. All of the waves from the night before had been gone: I find it always so fascinating how fast the power of the wind makes the waves come – and how fast these powerful seas disappear (literally in a matter of a few hours) when wind eases or ceases. We checked the safety gear again as we expected some more winds to come later during the night again but then switched to recovery-mode again: Napping, taking a sunbath, rarely talking.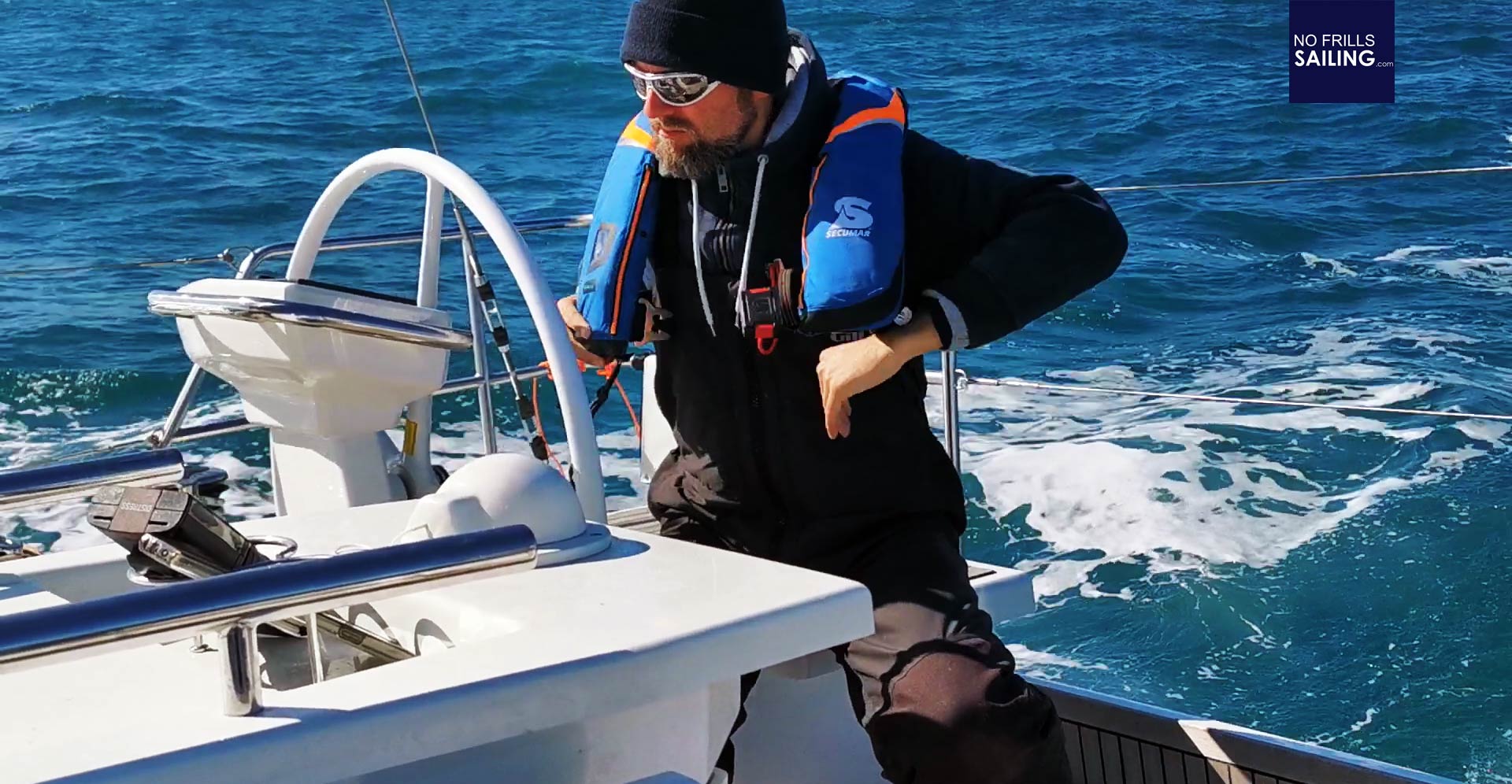 We managed to sail exquisitely for some 20 miles when finally the wind broke down again and I had to turn on the engine. Changing course to 115 degrees to cross the Otranto Straight towards the Island of Corfu, my girlfriend assured me that wind will soon re-appear, so I used that time to refill my body-stock: A whole pot of baked beans, tuned with Manchego cheese and Bacon, steamed hot on the stove and it was pure bliss filling myself up to the limits again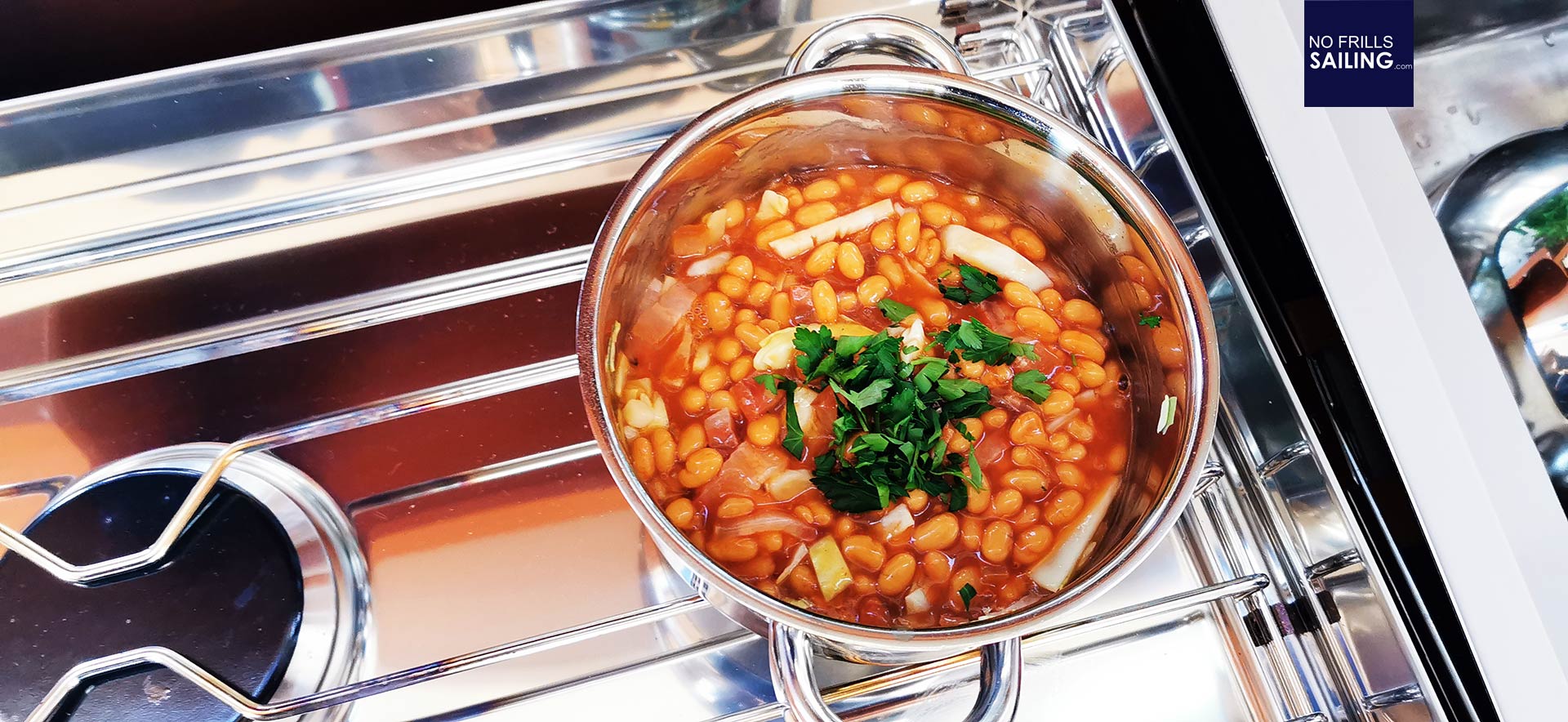 Crossing Otranto Straight, which marks the end of the Adriatic Sea and the start of the Ionian Sea, was a no-brainer this time: Being here yesterday night surely was something different. The strait between Italy and Albania is just some 40 miles wide, a bottle neck through which the Northwesterly storm winds of yesterday had to squeeze through – the result had been very high wind speeds, violent gusts and a wild-boiling sea. Not today: A calm breeze of 13-15 knots re-appeared around 3 o´clock in the afternoon so that we were able to set sails again.
It was so much fun that I used the occasion, switched off the auto pilot and had the boat steering by hand for some miles. As a matter of fact, I realized that somehow on longer trips you do not really helm the boat all too often by hand. Most time steering manually is just maneuvering in harbors, that´s it. In this, I enjoyed the fun of searching for the best angle to the wind, trying to feel the feedback of the twin rudders of our boat and optimize sails trim accordingly.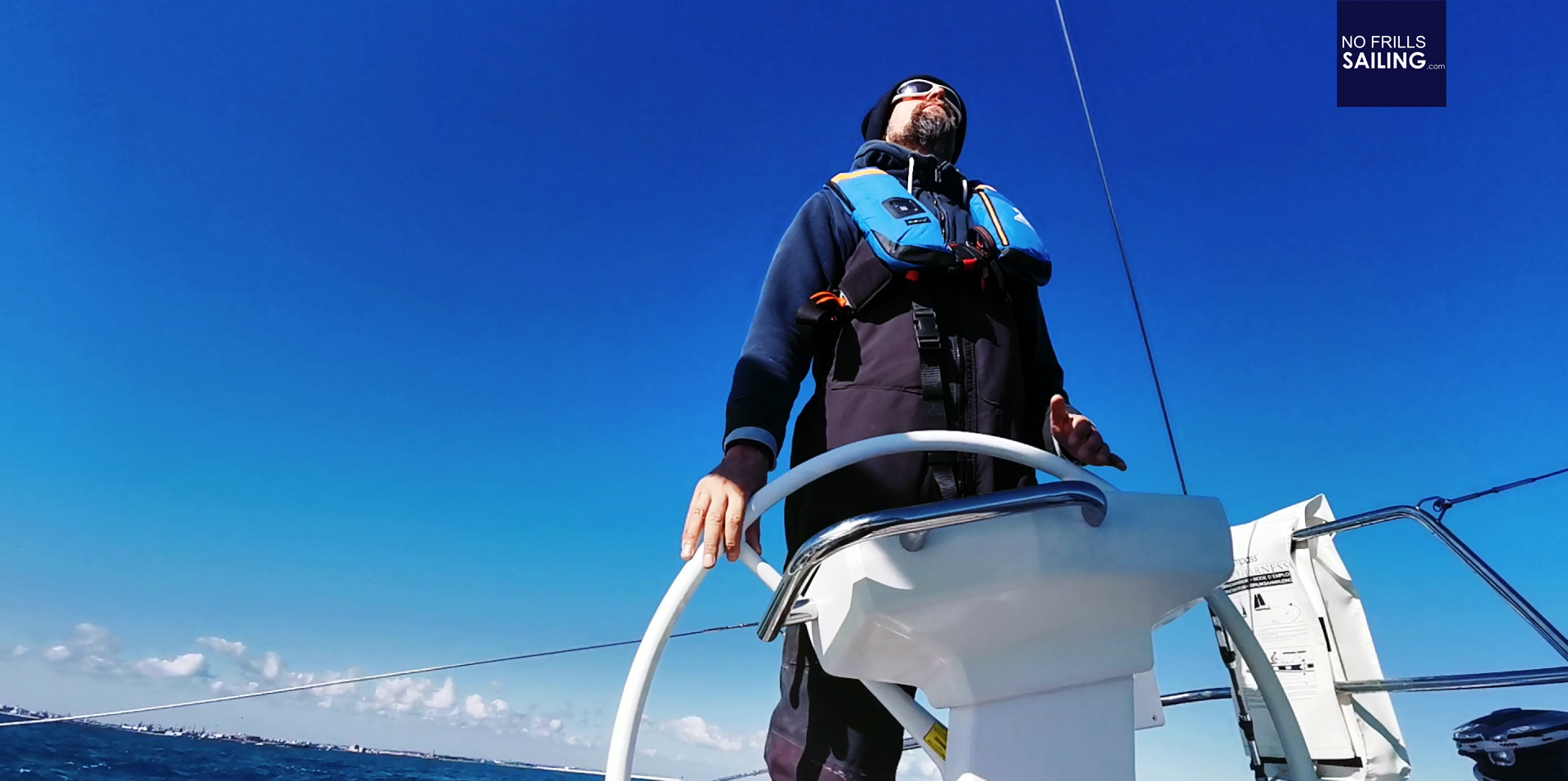 It worked. As wind speed increased slightly to the afternoon averaging 17, 18 knots true, the boat was on an upwind point of sail clocking more than 8 knots regularly. What a joy! On the other hand, we understood perfectly that these hours of fun of course had been a harbinger for what would be awaiting us later that night: Even stronger winds!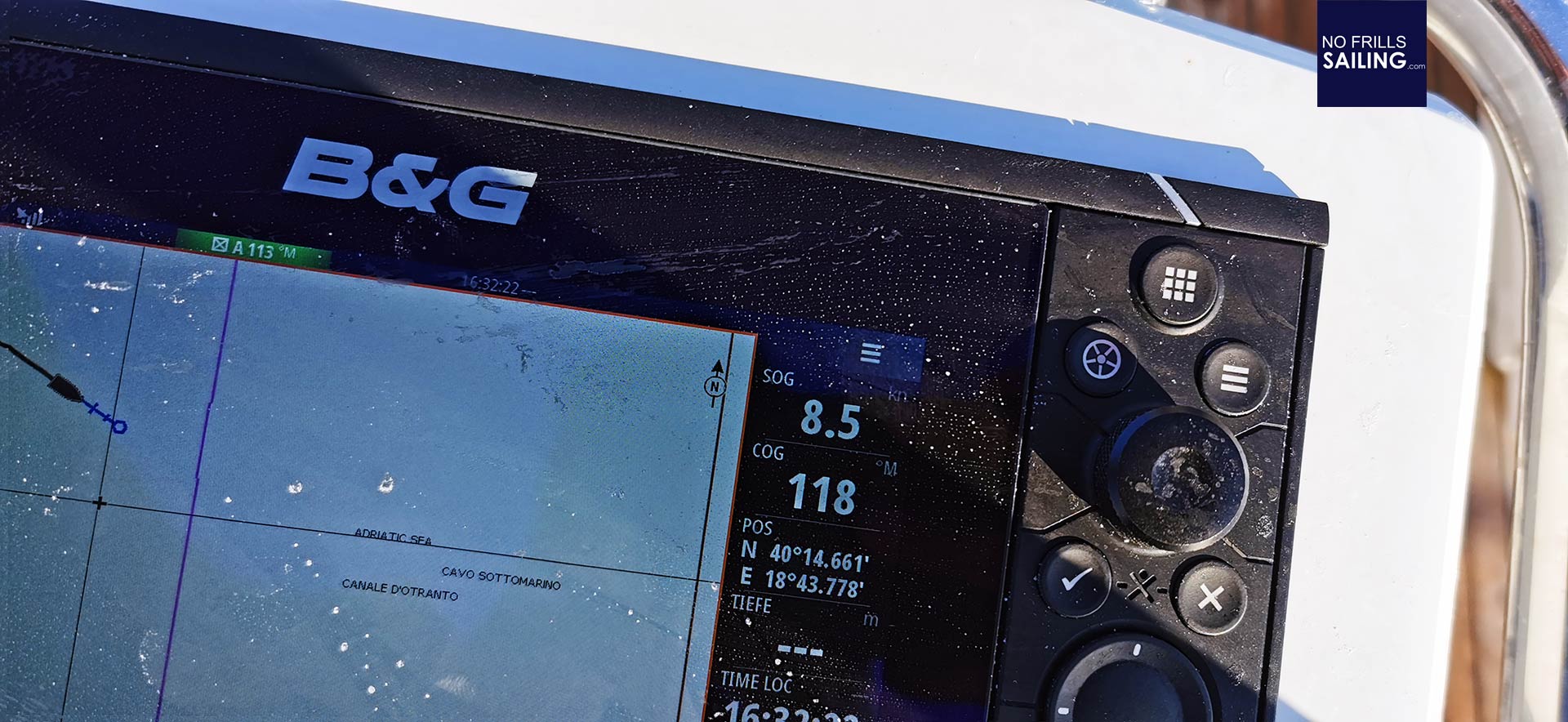 But for the time being, it was just pure sailing joy and we embraced it. We talked about the trip so far: Originally planned to last longer, we had to adjust our plans and skip some of the destinations we wanted to visit. The wonderful town of Dubrovnik wasn´t possible due to the Bora that was now blowing hard there and I feared that another destination, Paxos, wouldn´t be possible as well. On the other hand, we were so incredibly fast that instead of 7 days we would be arriving to Preveza 2 days earlier.
Off Albania: The Breath of the Gods
As the whole Mediterranean is an area full of human history where Phoenicians, the Greek and the Romans had been building the foundations of our civilization, the Otranto straight always was a deciding spot in the Med. Here for example, Roman Legions sent to the far away provinces of the Middle East, Palistine or Egypt, had been marching south to Brindisi (called "Brundisium"), took a one-day trip on a galley to Vlora in Albania and resumed marching south. During First World War, this strait was hard-fought and it´s still a bottle neck for all marine traffic in an out of the Adriatic.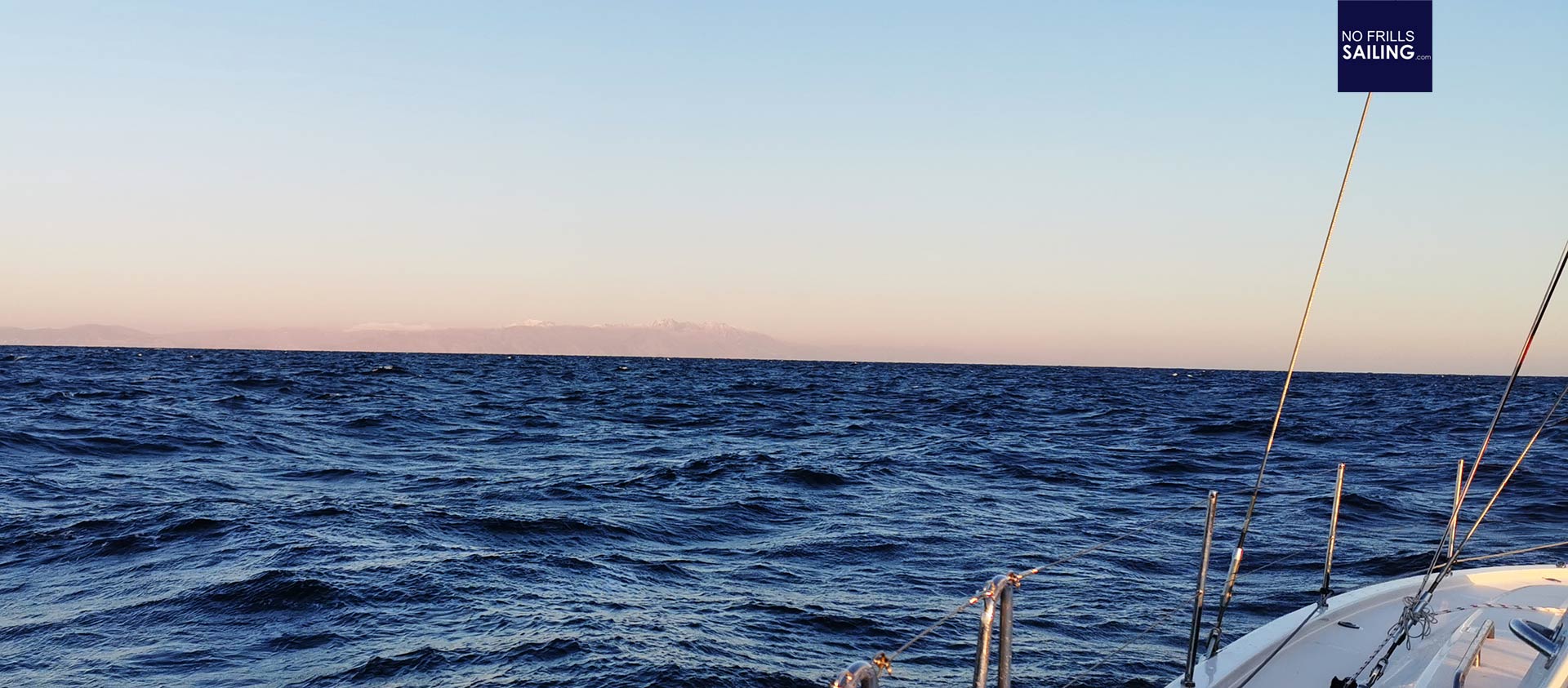 We´ve had Albania in sight very early on in the voyage: I saw the distinct white snow-covered tips of the Ceraunian Mountains from far away. A breathtaking view for sure! These mountain range is part of a big National Park of Albania, covering a 15 miles long uninhabited peninsula, behind which – much protected by the up to 2.000 metres high mountains – the two cities Vlora and Orikum could be found. I was fascinated by this view, even more attractive by the sun that was going down every so slightly hour by hour. We sailed quickly, but these mountains did not seem to grow higher. Unreachable …
As we closed in on the Albanian territorial waters, still course 115 degrees towards Corfu, winds increased to 22 knots and so did our speed. The Ceraunian Mountains are also called "thunder split peaks" and as we re-gained GSM-connection my partner checked for the latest weather forecast: String winds expected, so the God of Thunder was night-active, apparently. We would have had time visiting Vlora and Albania in general but I must admit that I skipped this idea. Which is a shame because as a European I know nothing at all about Albania, except for prejudice and common ghost stories: I promise I will return, because I am sure that this country can offer far more than dated stupid prejudice.
35 Knots TWS: It´s here again!
As sun went down, wind was up at 25 knots. We were still under full canvas and the boat made good a lot of miles. I wanted to reef as late as possible because forecast said that after a string wind night it was to drop to zero, so, running fast under sails to avoid annoying engine hours. Nevertheless, we prepared for another bumpy night.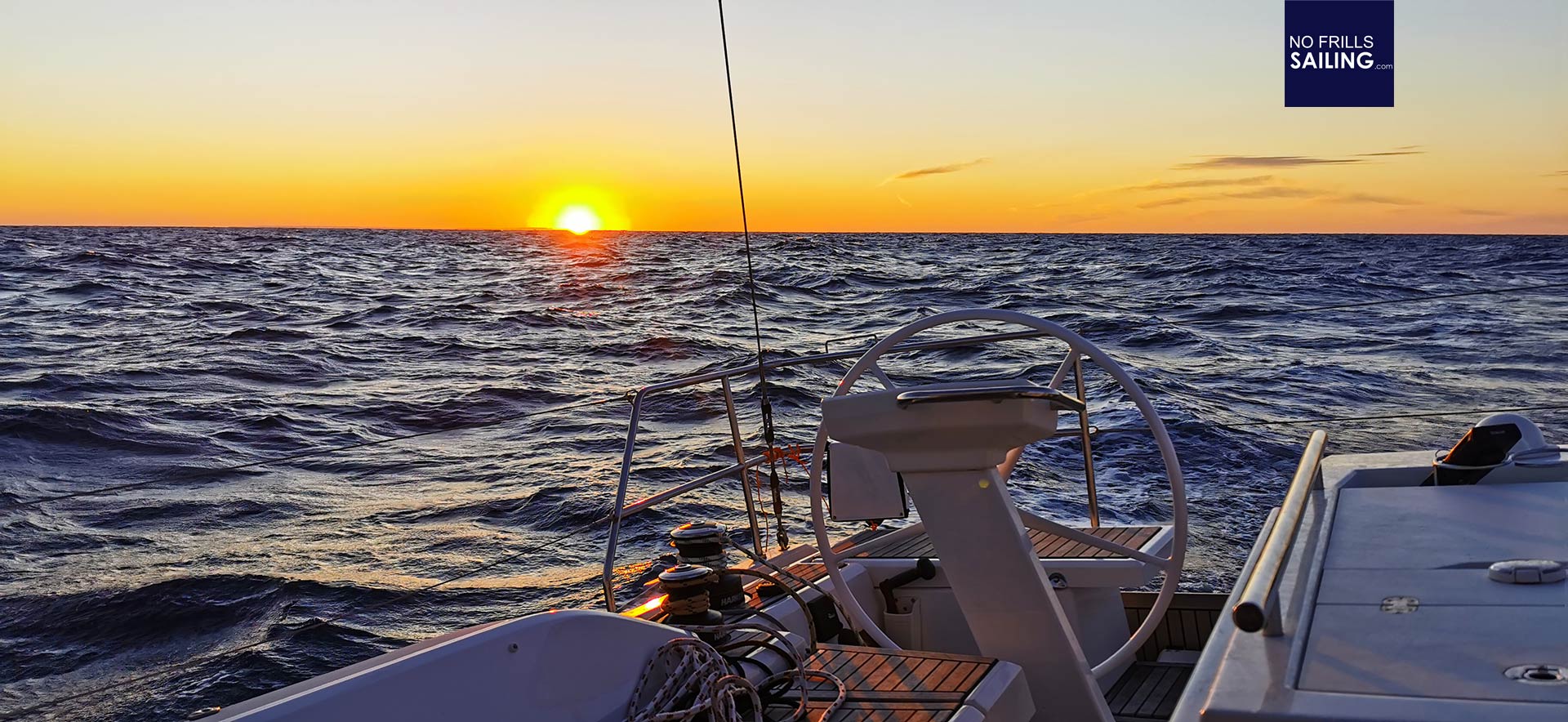 Wind shifted to North, making it a fast beam reach. The boat sailed quickly and nicely, the auto pilot managing to master the incoming waves with exquisite precision. I was able to have myself reclined on the coach roof under the sprayhood and enjoy a masterly colored sunset. Nevertheless, hell broke loose an hour later: "Get up!", I yelled down the companionway at around 7 p.m. to have a reef put into both sails, wind was up at 28 knots with regular gusts in the thirties. Another reef was put in just 50 minutes later when winds roared at 30 knots true with gusts even higher. To my excitement, the boat managed to sail even better than two nights before, even when wind direction shifted more to a broad reach: A shoutout to modern hull design!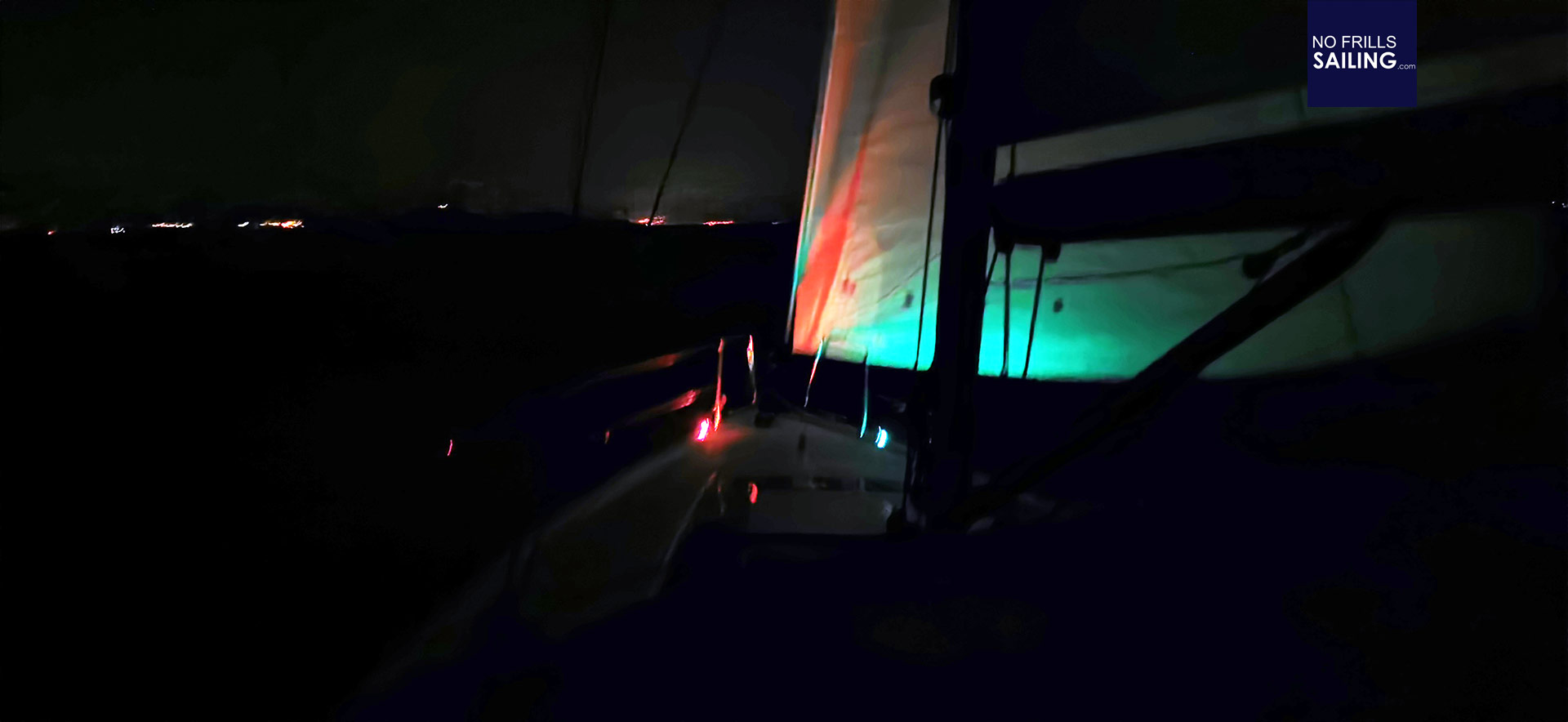 The night was very hefty. As the logbook confirms, up until 10 p.m. windspeeds grew by the minute and so did wave heights. The "thunder split mountains" sent down gusty, stormy winds – but temperatures were warmer. A silly situation. Hours before, shortly  past 5 p.m. I could see the Islands of Othonoi and Erikusa, two smaller Islands off the coast of Corfu. Now, deep in the dark, it wasn´t just the near Albanian coastline that was lit up but as well these two islands with Corfu shortly joining in. Marine traffic, especially the big Superfast-ferries, increased which made maneuvering in the dark tricky, accompanying the demanding sailing conditions.
Then something strange happened: At 2125 wind had dropped to 15 knots minute by minute and I took out full canvas again to maintain our speed. At 2140, just 20 minutes later, wind ceased to blow. So, like a fan being switched on and off, the breath of the mountains suddenly stopped and half an hour later waves were down to half their size. Switching on the engine, we had to work against a 1 knot current, which was a bit frustrating – the night stretched like never ending. I hate running the Diesel engine and so it too the boat 4 hours straight to reach the narrow passage between Corfu Island on starboard side and the southernmost tip of Albania to port side, just barely one mile apart.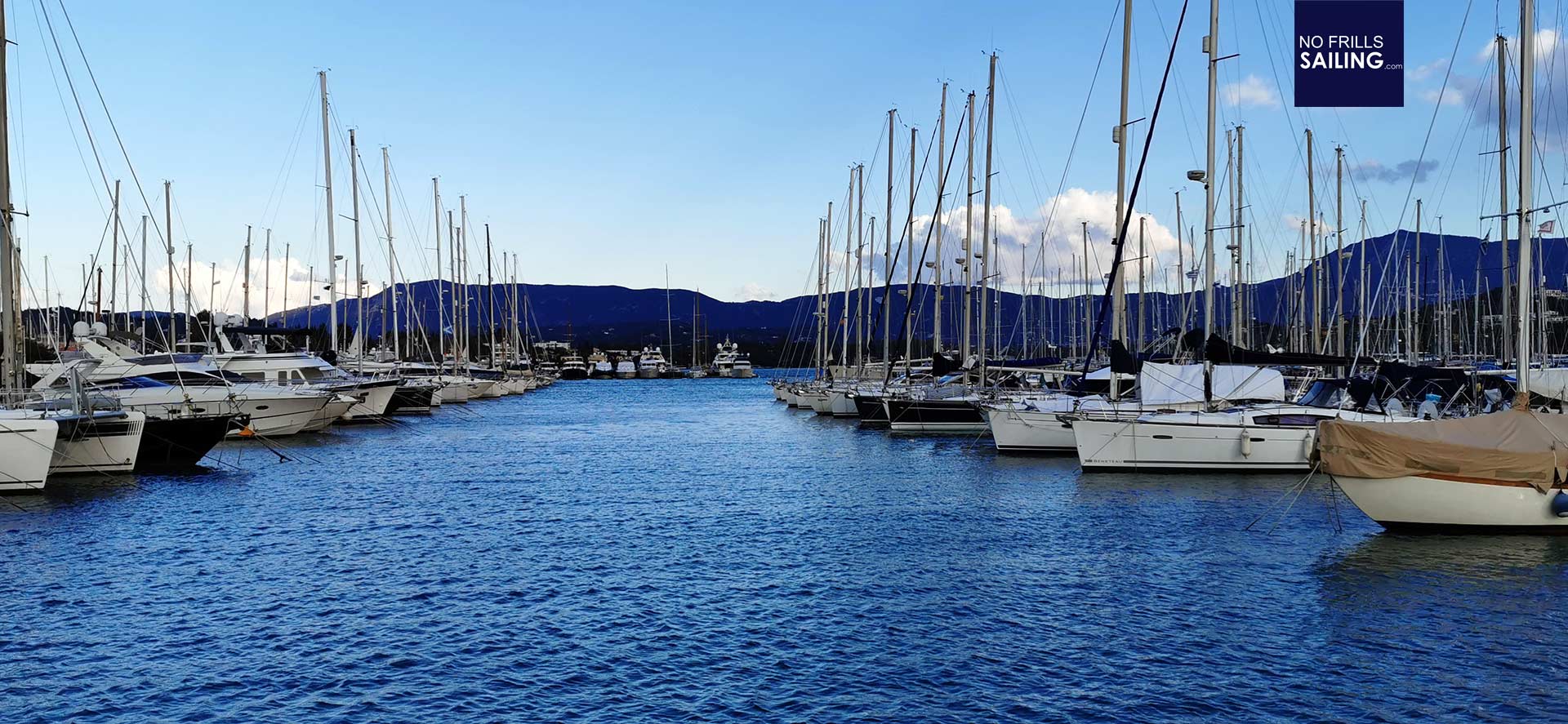 Next day, after getting up, we found ourselves in Corfu´s big marina Gouvia. We arrived as early as 0320 a.m. and I was pleased to see that the Marinero of Gouvia Marina answered my VHF-call and helped us safely mooring the boat that night. Welcome to Greece: Sailing paradise! I do not know if it was just the late/early arrival of our boat and the desire of the Marinero to have us moored as fast as possible to get back to his warm office, but our berth was right at the entrance at the superyacht-jetty. When I texted my family that we had arrived safely, I sent a picture, showing our boat in between 70, 80 or 100-footer power boats, I wrote: "I feel dirt-poor with my 46 feet here among these guys …"
A day off in Korfu
"This is the first day of this whole trip so far I really feel being on a vacation", I said to my partner when she got up. I couldn´t find too much sleep that night and got up very early, embracing the slightly warmer temperatures outside and enjoyed one or two freshly brewed morning coffees. For the first time since 4 days I felt relaxed.
Since we left Trogir the boat carried a good chunk of breakfast cereals which I couldn´t eat because we were always underway and I didn´t feel like "breakfast", more like "Baked Beans with loads of Bacon". Now, I laid back, enjoyed a proper "real" breakfast and was able to let go of it all. For this vavcation, this was to be my first day off. We decided to stay in Corfu that whole day and leave the island a day later. So, let´s discover the island.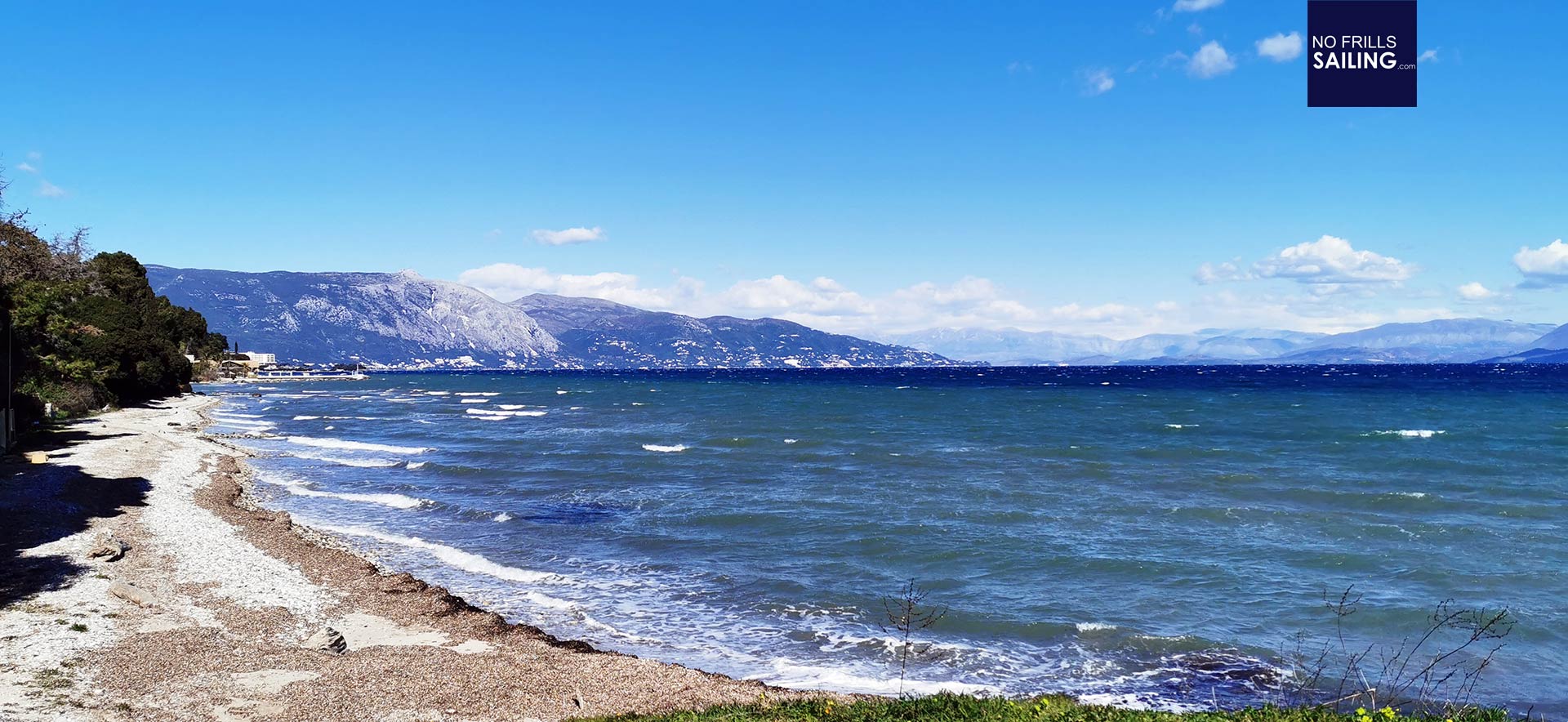 Well, we can get better at this: Although Corfu is bristling with ancient history and lots of sites to see, like the famous Mountain Pantokrator, highest elevation of Corfu, the Achilleion Palace or the most beautiful beach of Sidari, we decided to simply go for a walk. Being on a sailboat means being confined to a very small space. Although whilst sailing the whole body is working to counter the movements and constant heeling of the yacht, you do not really walk that much. Marina Gouvia is some 5 kilometres North of Corfu City, so we thought it might be a good idea to walk along the coast to town. Well, it was a good idea, body-wise, but not so nice walking along a densely used main traffic road. Nevertheless, we went strolling picturesque Corfu City, had a wonderful lunch and took a Taxi back to the boat.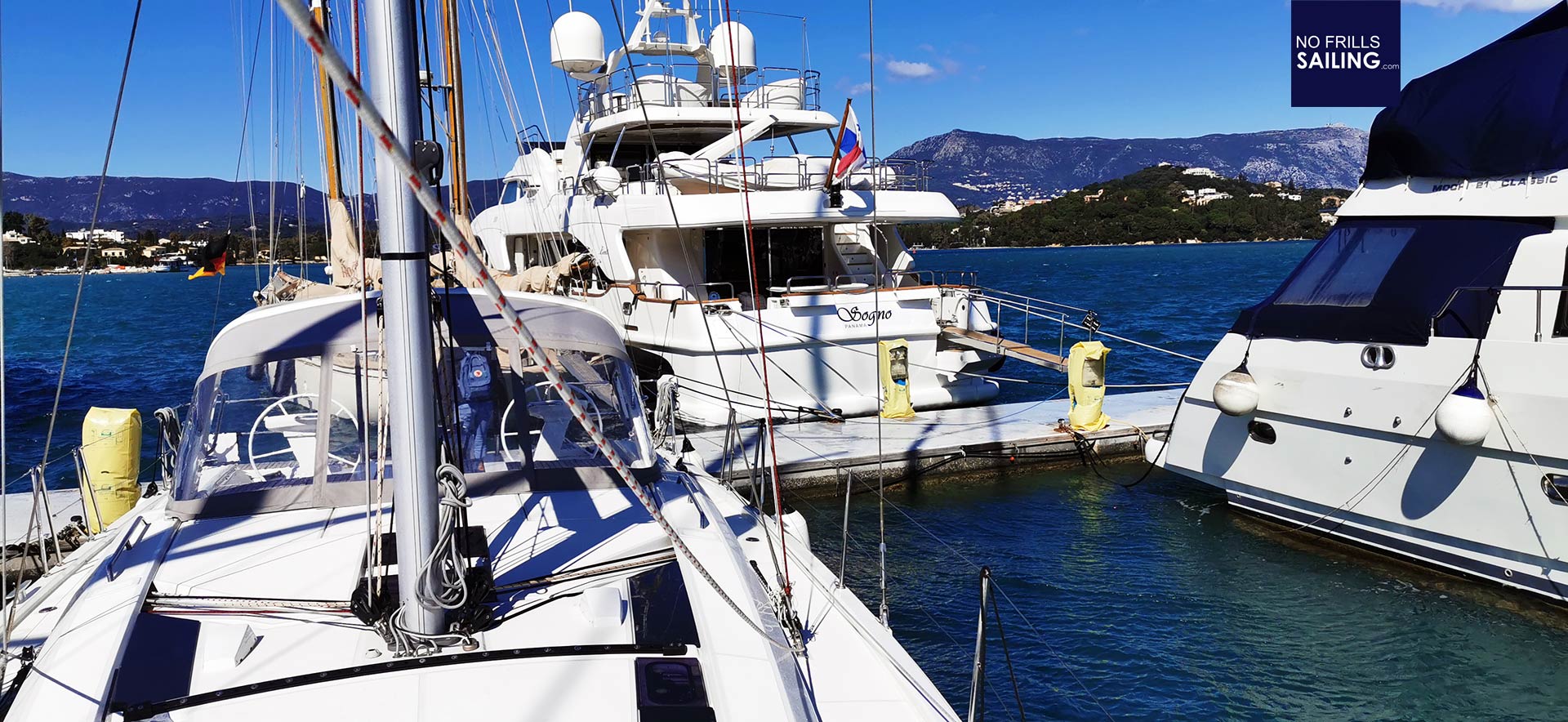 The day went by just as fast. Enjoying a nice dinner with a couple of tasty Croatian beers, we went to bed very early: The plan was to cast off and drop the mooring lines as early as 0400 the other day to be able to reach our final destination in daylight. As there was no wind predicted for the coming two days, we knew the last 60 or-so miles would be boring. So let´s not waste a beautiful day under Diesel engine.
An early start
"Early" that morning meant that our phones rang at 0300 a.m. as it was in the middle of the night and still dark. I am a morning starter and had not such a big problem with shoving away my warm blanket and had switched on the heating system, preparing a jug of strong coffee. At exactly 0400 mooring lines went into the water and the Oceanis was on her way to master the last and final leg to Preveza.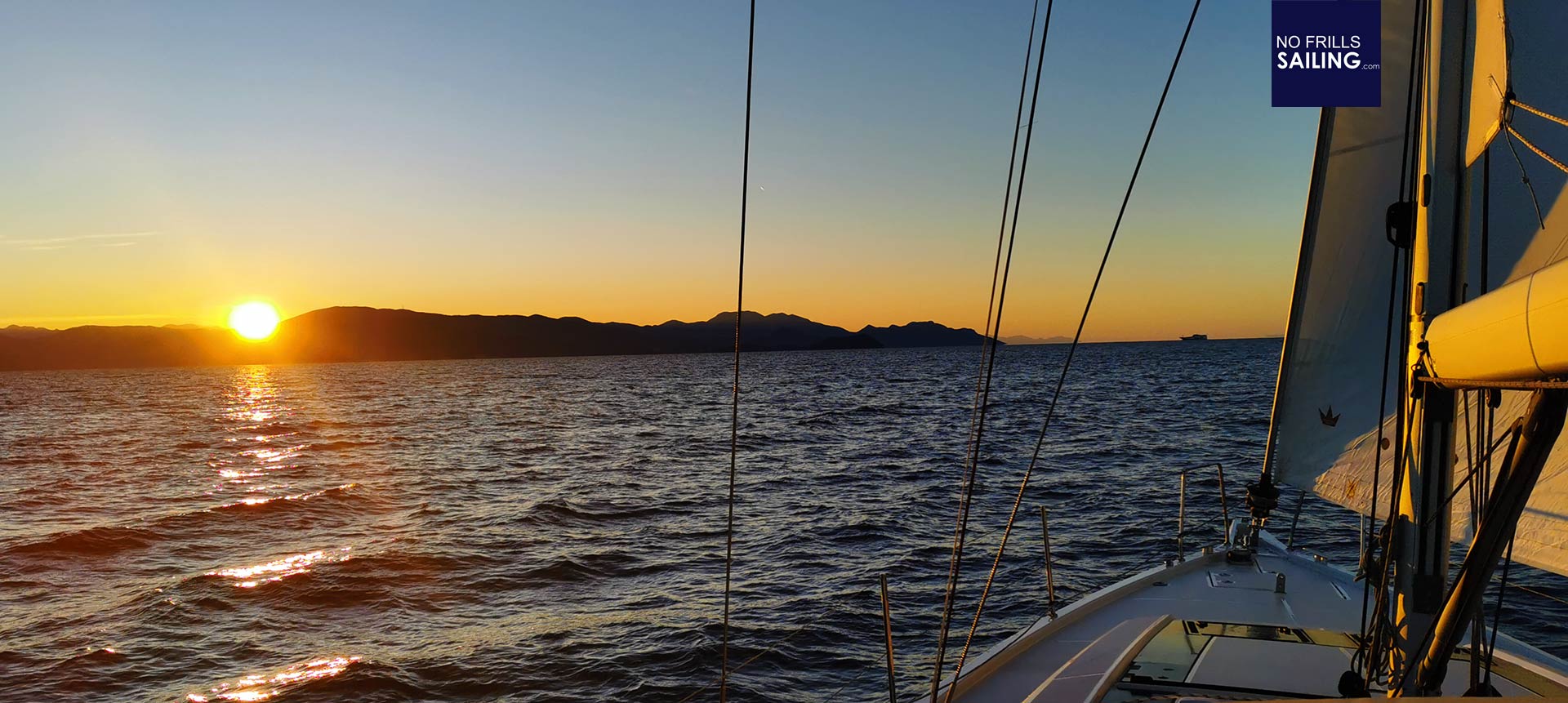 I was able to have the Genoa unfurled for a couple of miles as some wind (9 knots TWS) was coming at us from NW, the boat sailed with Genoa and engine on 1.700 revolution at 8 knots over ground, which was nice. But as soon as 0500 wind disappeared, only to return briefly at 0700. Starting 0730 up until we reached Preveza at 1415 we had to use our engine as there was no wind at all.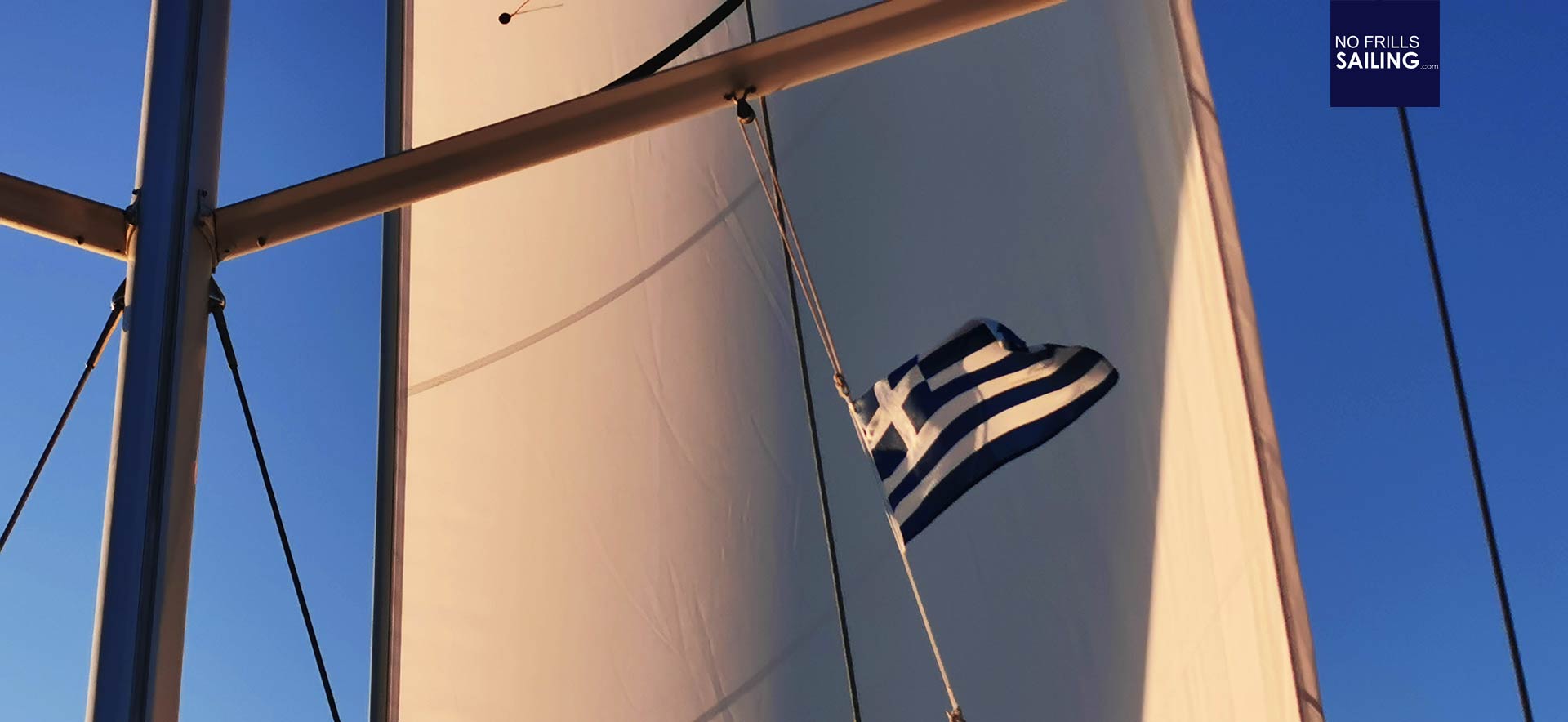 Life on board slowed down: My girlfriend spent almost all of the time laying on the coachroof under the sprayhood taking in as much sun and UV-light as she could, I remained mostly quiet and enjoyed the view on the Greek coastline. There isn´t much population south of Corfu, just a few coastal villages, some hotel resorts but mostly the rugged coast appeared to be forested and deserted. I liked it very much and occasionally took on the binoculars to sport for points of interest.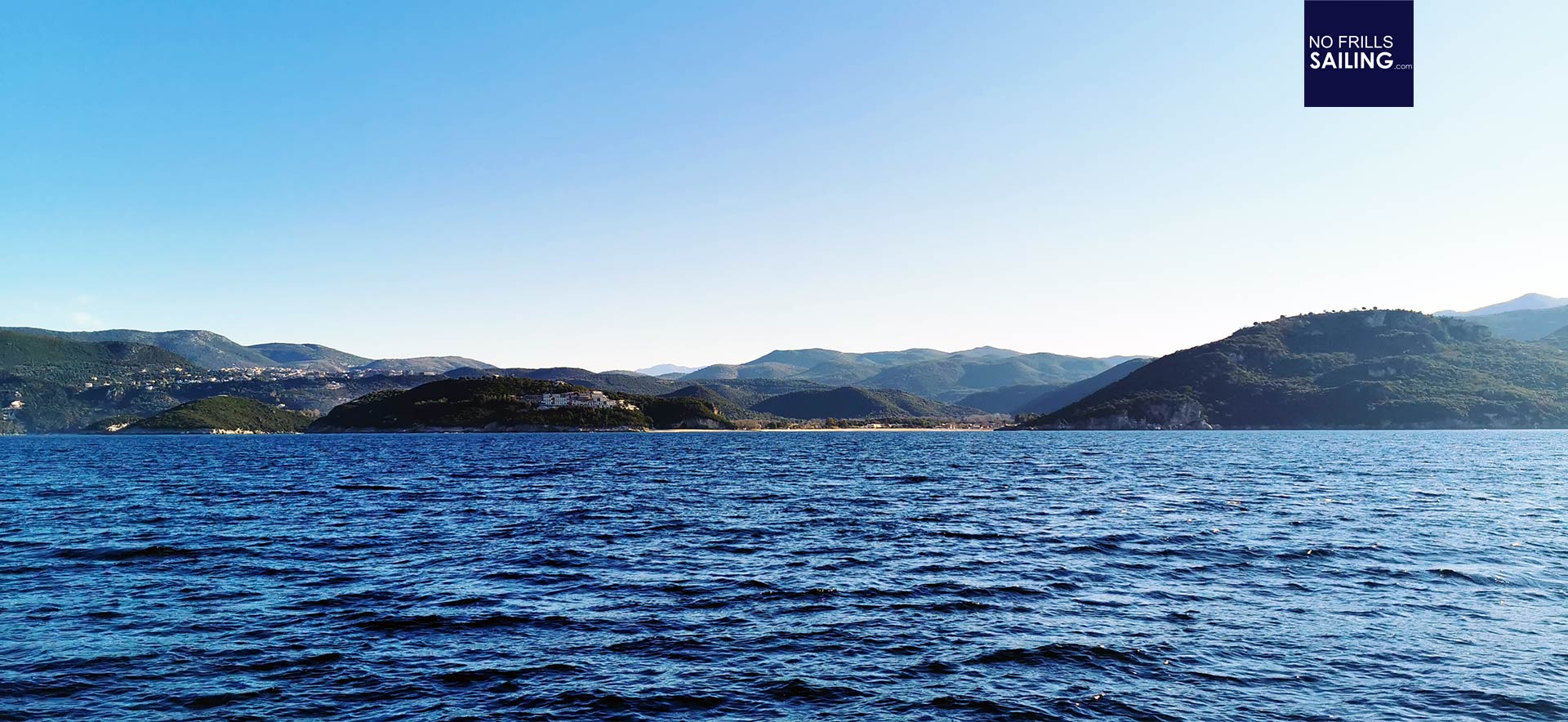 What was rather astonishing (by the way this is true for all of the trip, starting in Croatia, down to Italy, Albania and now Greece) was the high quality and wide range of GSM-connection, thus high-speed internet. Foreigners to Germany do not believe me when I tell them, that my country apparently has the shittiest GSM- and internet-availability in the world, but it´s the truth. Now, here, seemingly far away from population, I regularly spotted antenna-poles and rejoiced over a flawless internet connection.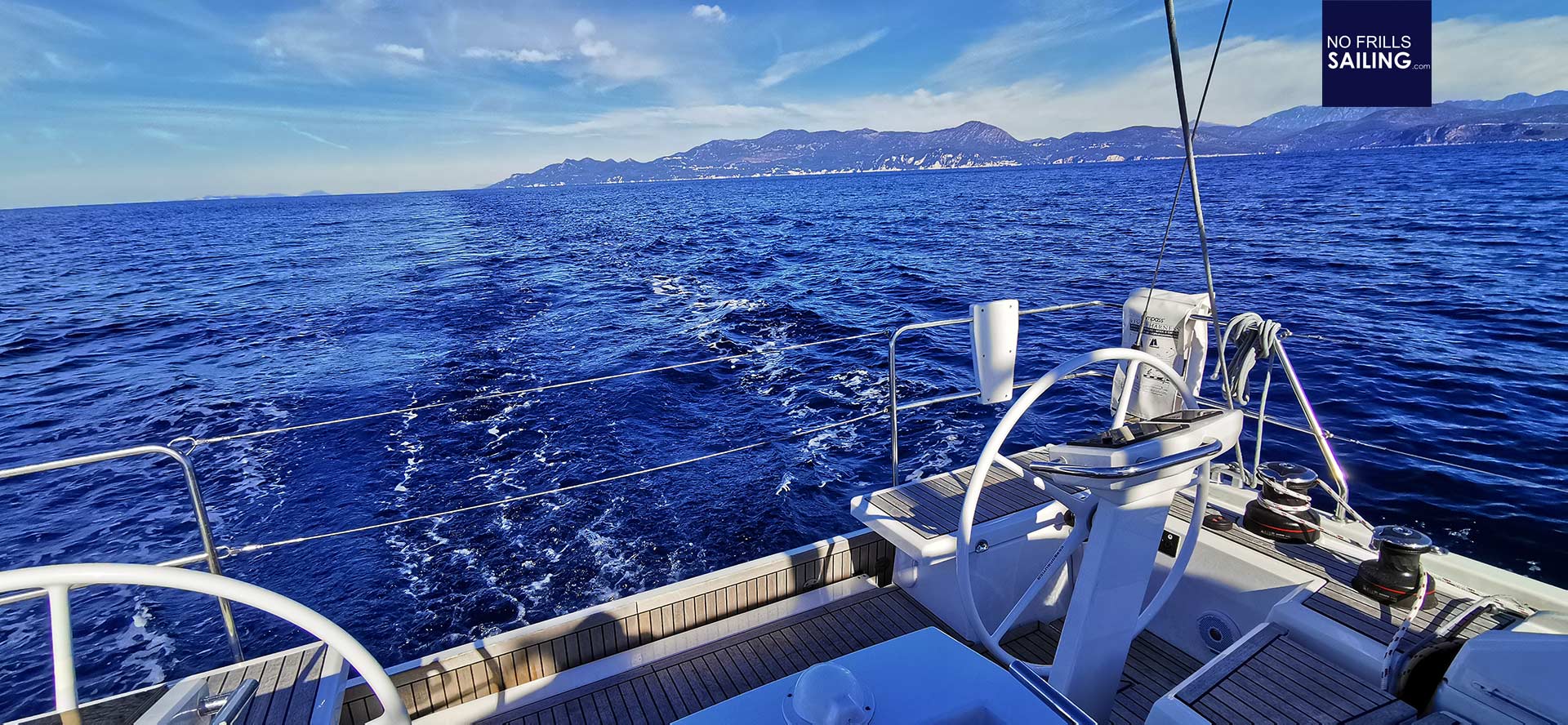 We passed the Islands of Paxos and Antipaxos, one of the sailing hot spots in the Northern Ionian Sea: The day before I made my final attempt to find out whether we can go there or not. Just some 20 miles south of Corfu, Paxos is a small, picturesque harbor and touristic attraction. What made me skip this idea have been conflicting informations on the draft of the harbor (our Oceanis has a 2.35 m draft) and the uncertainty of the anchorage. So, no experiments, let´s be safe and move on. Bye, bye, Paxos!
New Sheets on the Block
Spending some time on getting the boat ready, I thoroughly inspected the old sheets of our yacht. As you may have read my article on her transport from Northern Germany by cargo ship all the way down to Croatia you may now, that this trip involved the infamous North Sea, the English Channel, the even more infamous Gulf of Biscay and the whole traversing of the Med. In order to secure all sails, I had to sheet in the furler tightly, so here´s what happens to a high-quality rope that is exposed to constant heavy rubbing at the shrouds: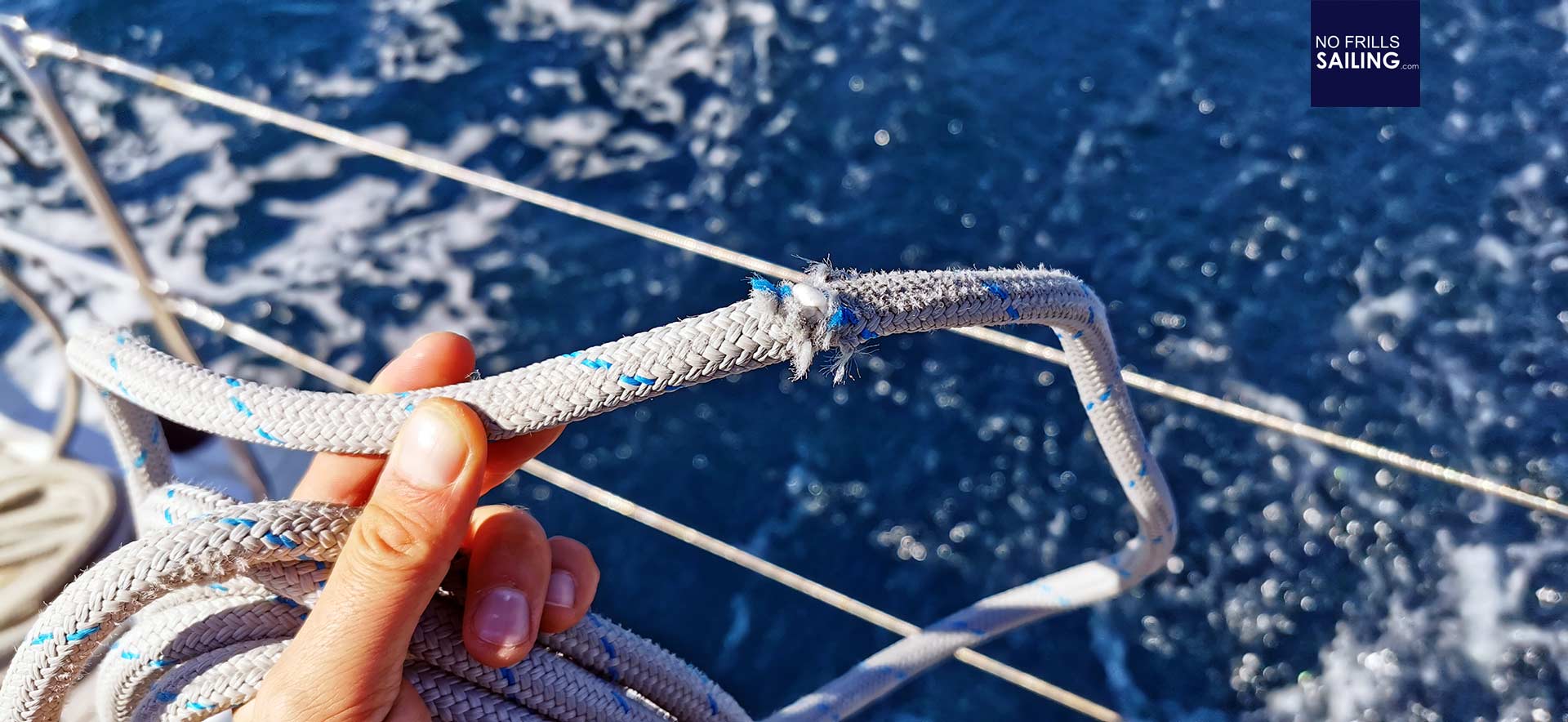 "No way are we going to sail with these lines!", I decided a day before casting off in Trogir and got rid of the old sheets, buying a set of new ones. Of course, red is for port, green is for starboard. A wise decision: I am sure that the lines would have given up under the heavy loads and stresses of our two nights out in heavy stormy winds. Checking the running rigging should be a matter of course as it is to check for fuel and coolant.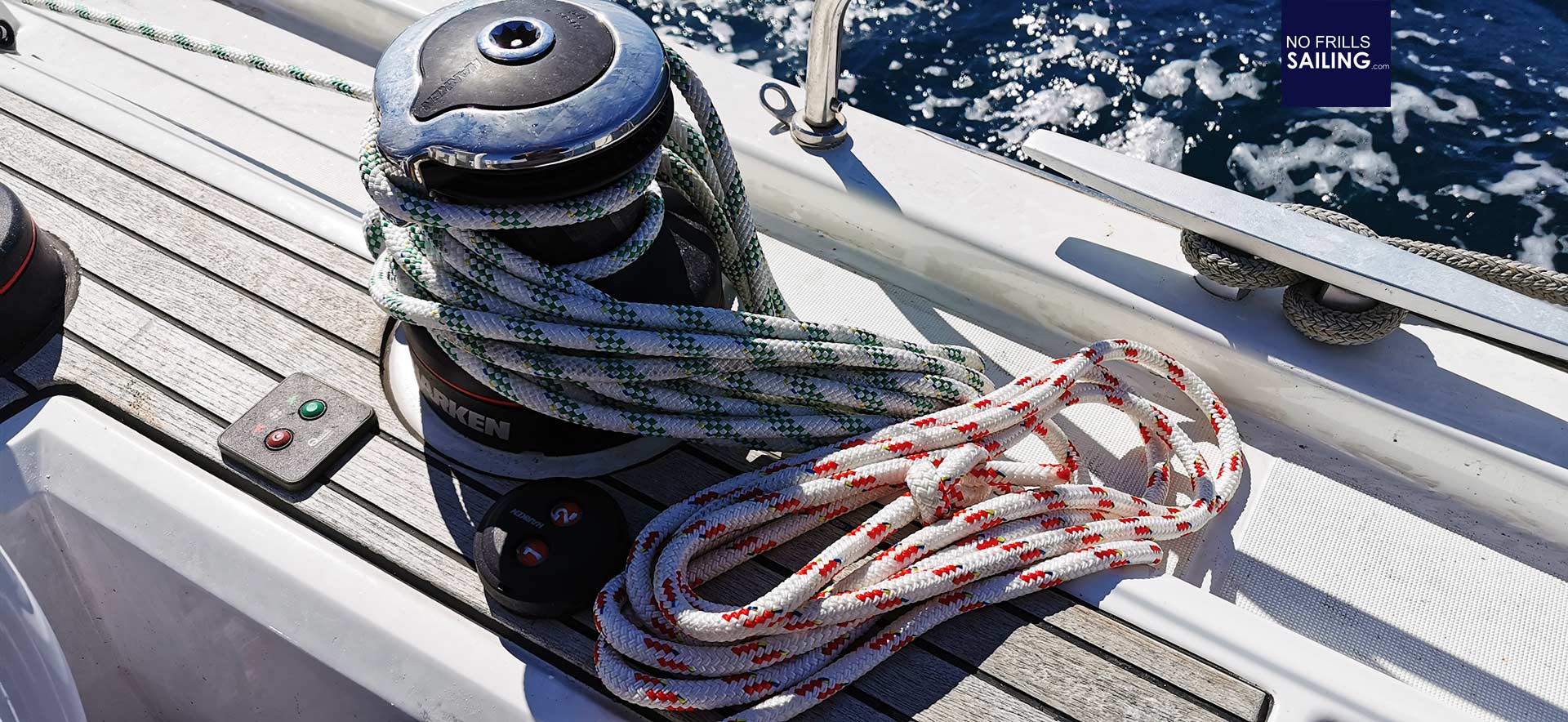 As you will always need some shorter ropes here and there to secure things on a yacht, I used the boring spare time to cut the old sheets and heat-seal the tips. Now I was able to securely fasten the moving boom, the outboard engine deep down in the big lazerette and some other moving items. Serious recycling, I would say. We tried to spot Dolphins but there was no apparent marine life. The Ionian Sea is home even to whales, but although weather was perfect and water deep blue, we couldn´t catch the attention of a single animal.
Preveza in sight!
At last, around noon, we had the big Island of Levkada in sight, right next to it at the Northern tip was Preveza, the final destination. I already had devoured my daily can of baked beans with tons of bacon and felt great. The sun was up, it was hot – reaching 17 degrees Celsius, out in the sun it felt like 25. Perfect! I called the Marina and – again, great service here in Greece – a Marinero awaited me and helped catching the mooring lines and land the boat.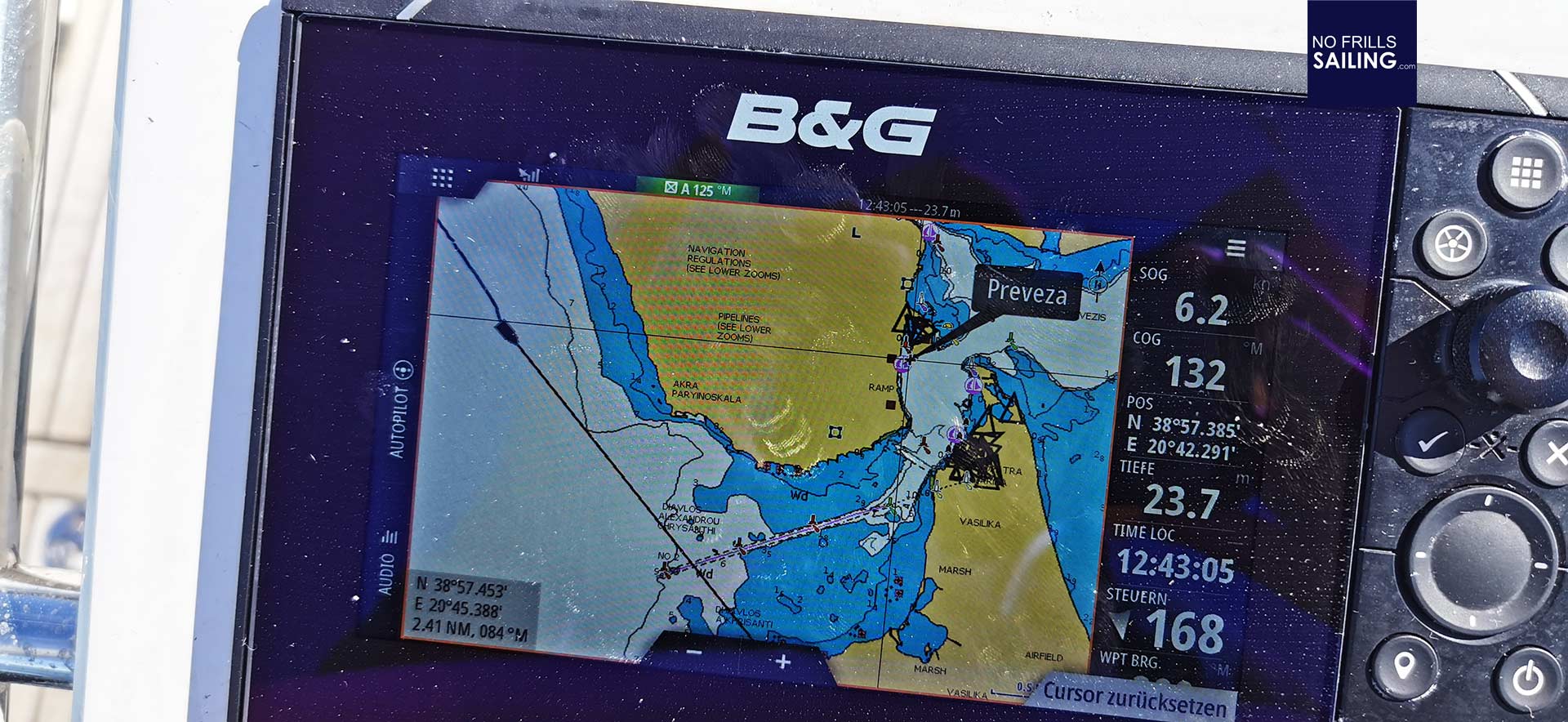 Finally, we had arrived in Preveza. My company sold the Oceanis to an owner who wanted to have the boat here. That´s the sunny side of me working in the marine industry: You occasionally get to sail the nicest boats to the nicest destinations where other have to pay charter fees. Of course, the downside is that this is not vacation, but work with some kind of pressure dictated by a specific time window when a boat is due to be delivered.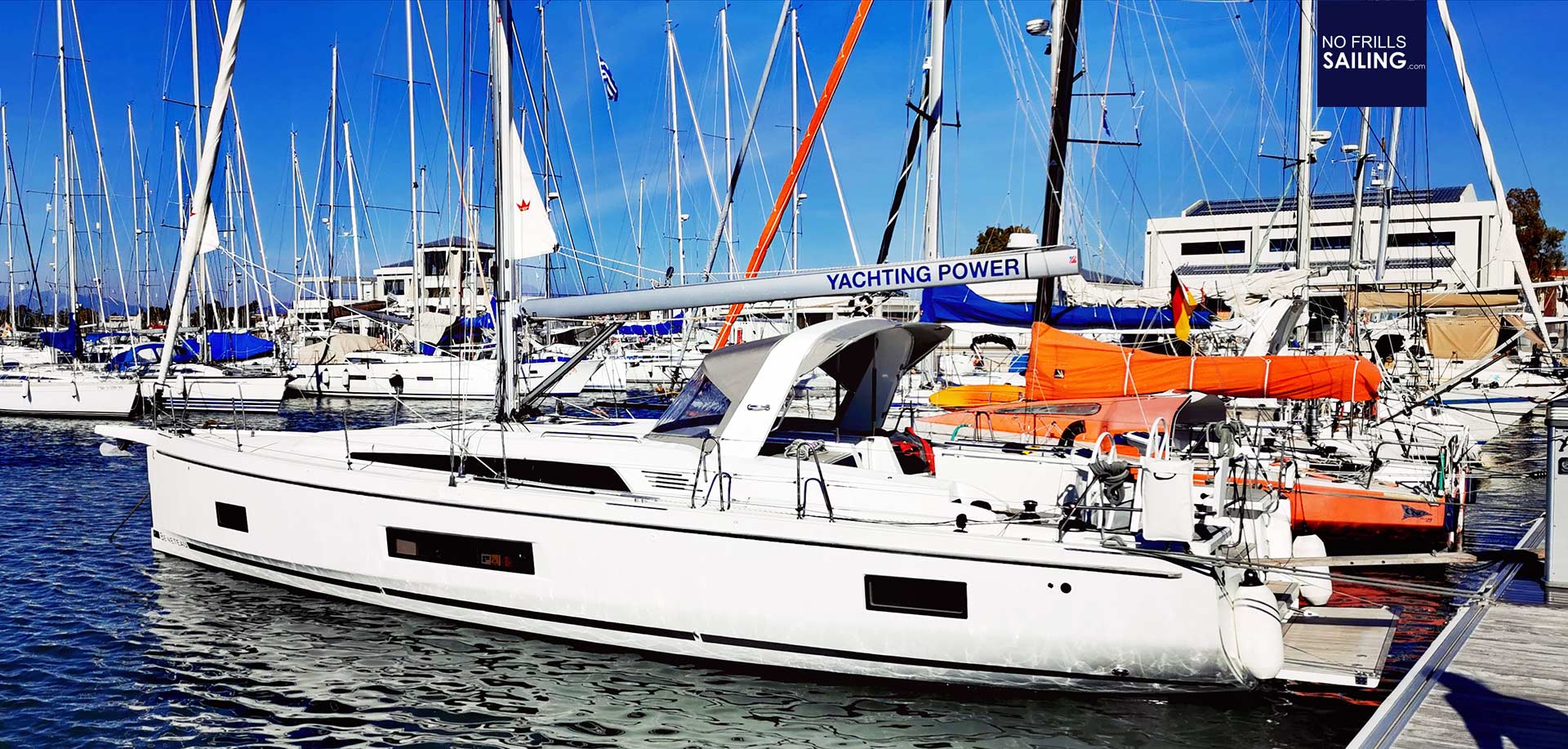 Nevertheless, this Adriatic Winter Sailing trip was pure bliss: All in all the Oceanis 46.1 sailed 5 days. That´s 388 nautical miles. I couldn´t pull off the originally planned route and missed two destinations I wanted to visit, on the other hand we´ve sailed a rather economic course with utilizing the almost shortest way possible. Closing the logbook on that fifth and last day of the trip, I wrote: "1411 – moored – boat delivered safe & sound." And isn´t this the one sentence any skipper loves to write down after a sailing trip?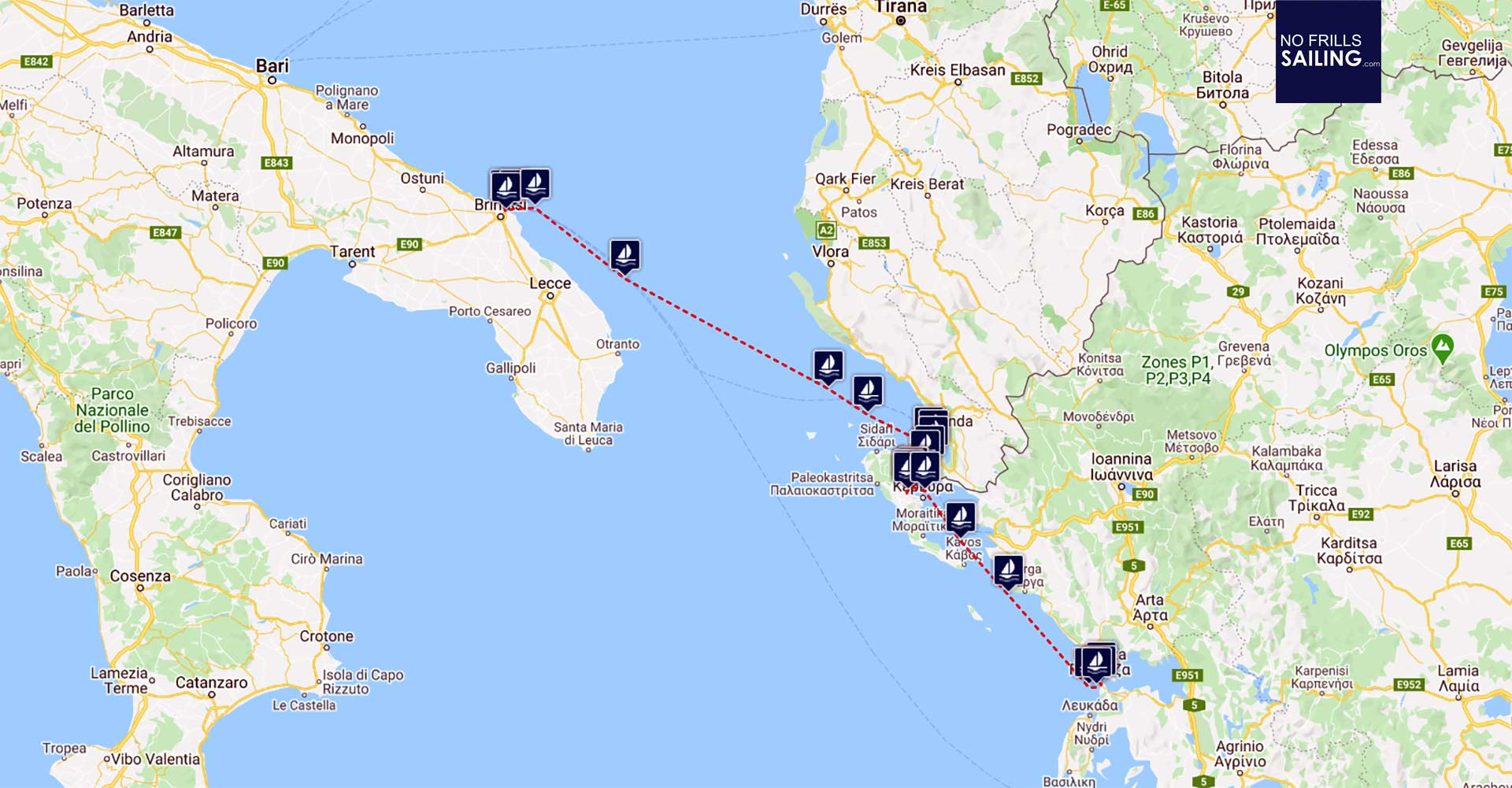 We were very happy. It´s not an easy task to sail a boat that big double handed through conditions like these. The pride of having delivered the yacht without a scratch grew the more pictures and smartphone-videos we showed to ourselves during the traditional landing beer drinking ceremony. For now, the day was over.
Readying the Boat for final handover
Well, not quite. Preveza is a port of entrance so – like in every new marina – I did have to clear inward the yacht. In Preveza, time kind of stands still. This town is rather untouched by mass tourism and is oozing with the charm of being rather undiscovered. In this, not everything is shiny new here, as I had to learn when looking for the offices of the Hellenic Coast Guard – located right behind a building of questionable building fabric and a half-finished deserted ruin.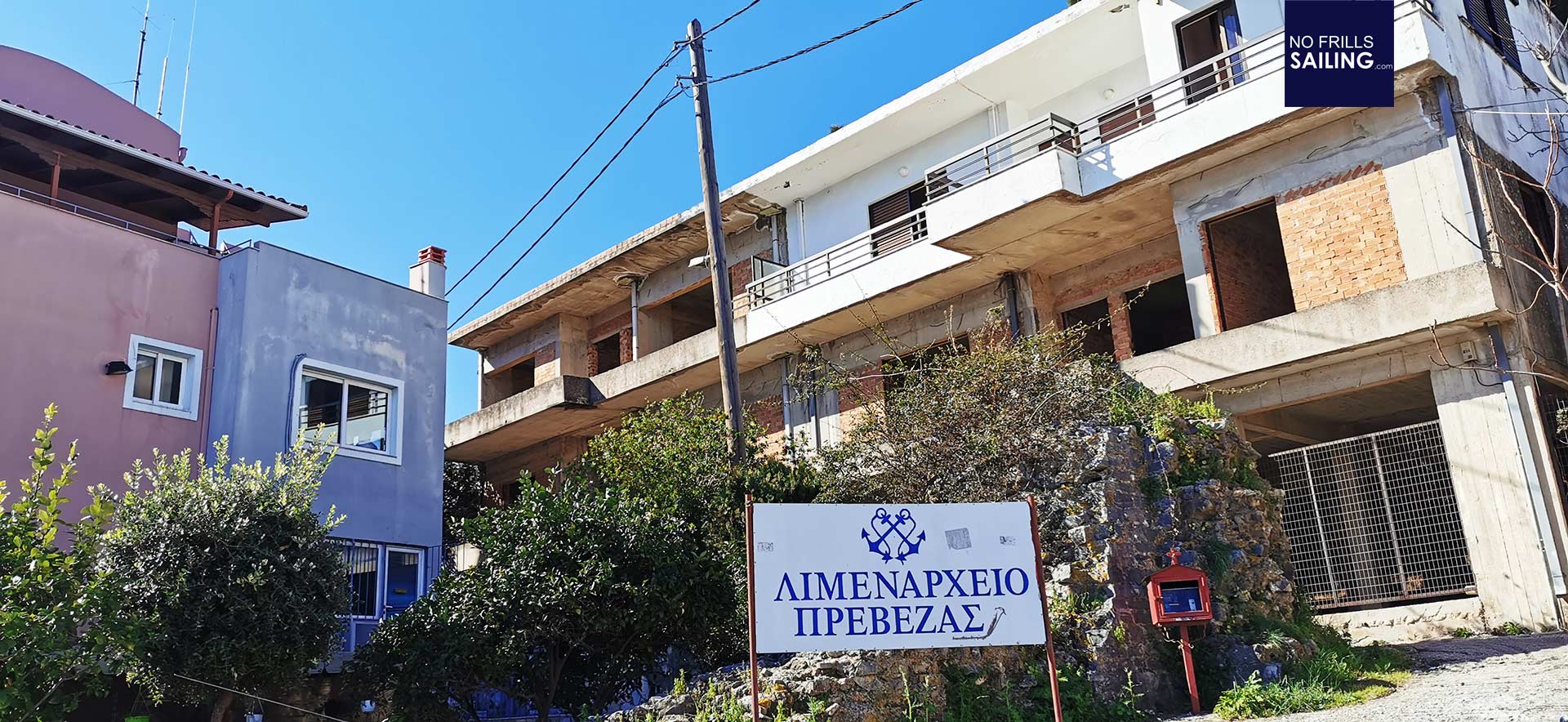 Coming back, we enjoyed the perfect Greek food, slept and had two days to spend – as we have been arriving here too early. So, what to do? Well, let´s clean the boat, we thought and began to work. The first day it was the hull and the outside. The yacht was covered in a smeary salty crust which took a whole day of scrubbing with fresh water and polishing to get rid of.
I went down on my knees and worked a solid brush with fresh water on the cockpit Teak to clean it. Of course, no detergents were used! Rather astonishing how easy it is to bring back the wooden "bling" of Teak with some work and clean water. The boat was shining afterwards, we even polished the sprayhood windows and the hull. Like new, I would say.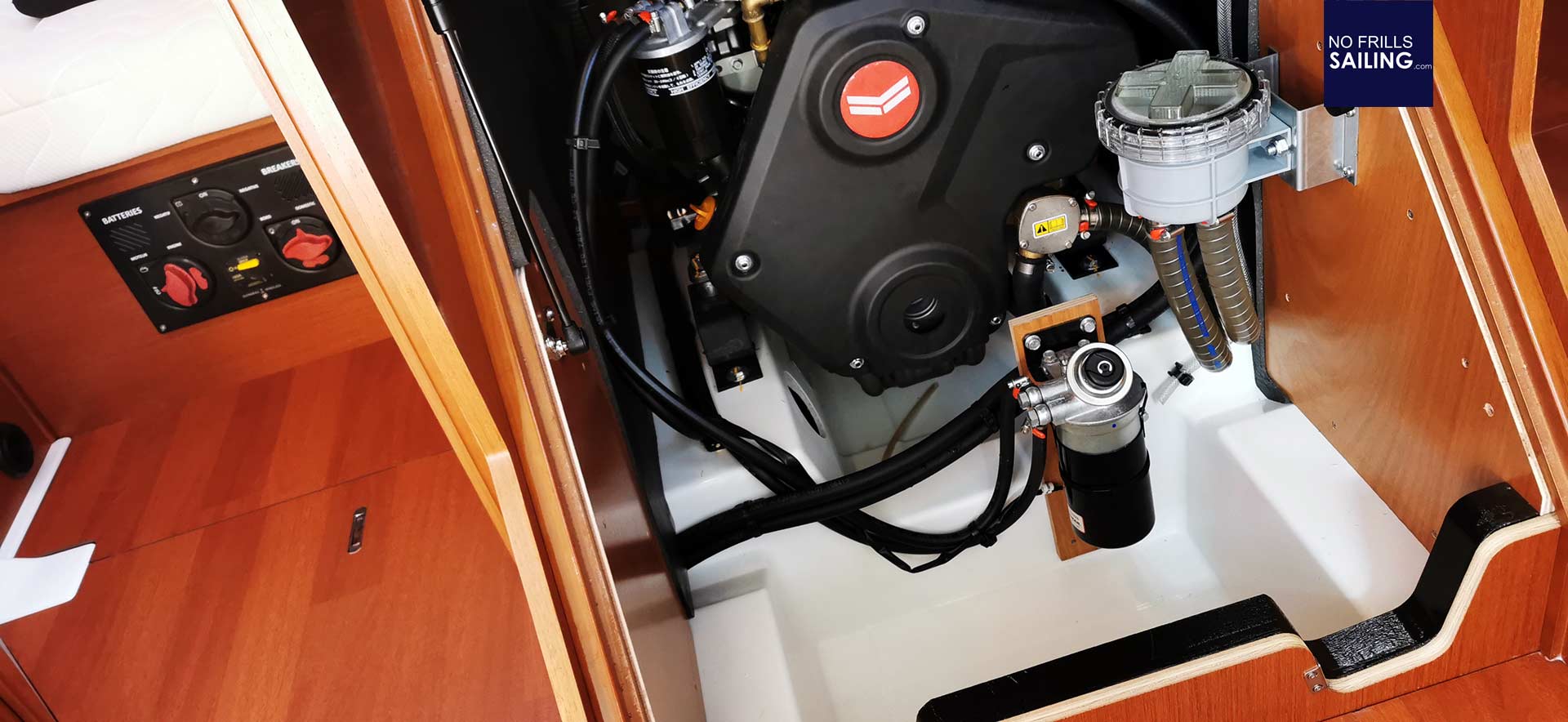 Second day we dedicated ourselves to have the boat´s interior cleaned. The Oceanis 46.1 is a big boat so this took us a whole day too. Every corner, every stowage, every window and door handle was washed and polished. In the end, you could have eaten out of the engine bilge. If you could smell this new-boat-smell! A pure bliss. I hope that the guys we handed over the boat to have been satisfied and they appreciated our efforts.
What I´ve learned
Now that this trip is over since one week and I am back in my office and a normal life´s job, I am thinking back to this one exciting week and try to sum up my experiences, my learnings, my things to keep and things not to repeat. At first: It was a great trip! Much more stressful and tiring than I would have thought, much less vocational and "nice". On the other hand, the transfer of this 46 feet yacht from the Baltic Sea via North Sea and now the Adriatic Sea has taught me a lot.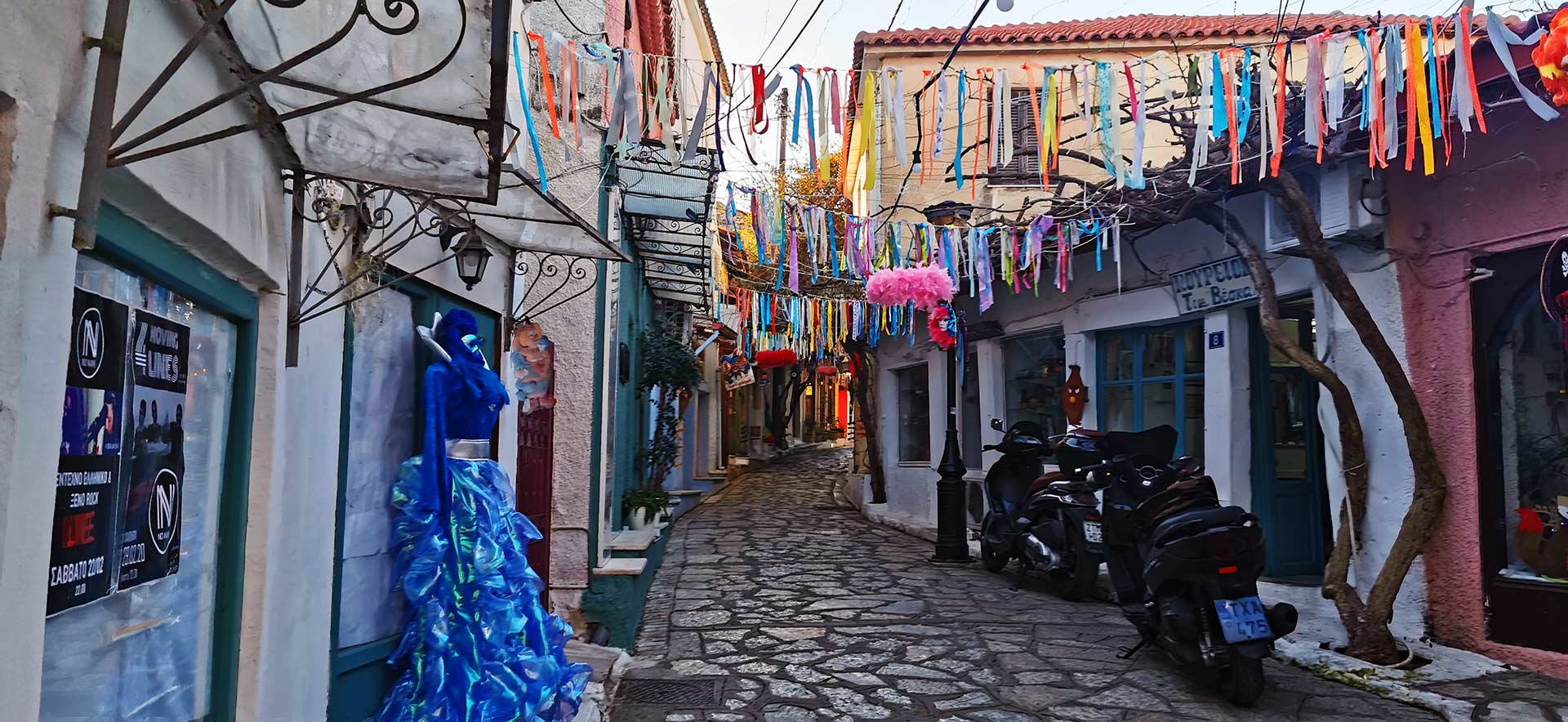 I am astonished how great the boat managed to master the high seas and the heavy winds: I wouldn´t have thought that a the Oceanis would be that superior and elegant in these seas. My trust in modern hull design and foul weather capabilities grew a lot – these boat really can cope with harsh conditions, the Oceanis 46.1 behaved just wonderfully within the roaring winds and the boiling seas. Even those, by some disrespectfully called "not sufficient" auto pilots (in our case the NAC3 by B&G) was able to steer the boat like a master and hold due course just fine.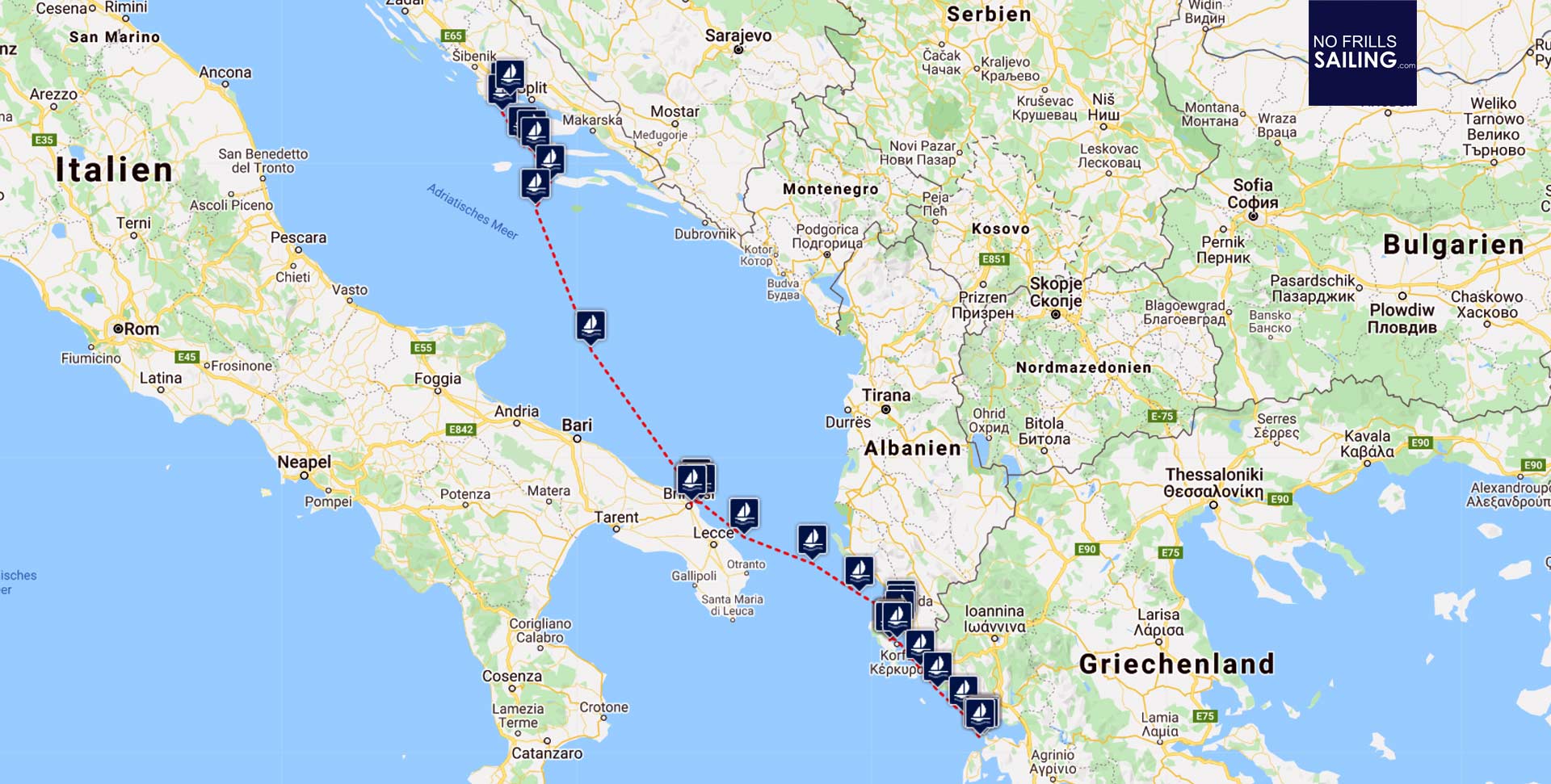 I was taught a major lesson in weather again. First of all: The digital weather forecast apps we were using (Windy, Windfinder et cetera) all failed to predict wind speeds and sometimes as well the timing. They failed completely: On the first day, wind set in the right moment, but wind speeds were much, much higher than forecasted, 8 to 10 knots more. On the second night, timing was fairly right, but as well, the power of the wind was much greater. I don´t know yet how to circumvent this, maybe you, dearest reader, have a hint which models to use, maybe I will switch back to raw GRIB-files and weather routing like I did before.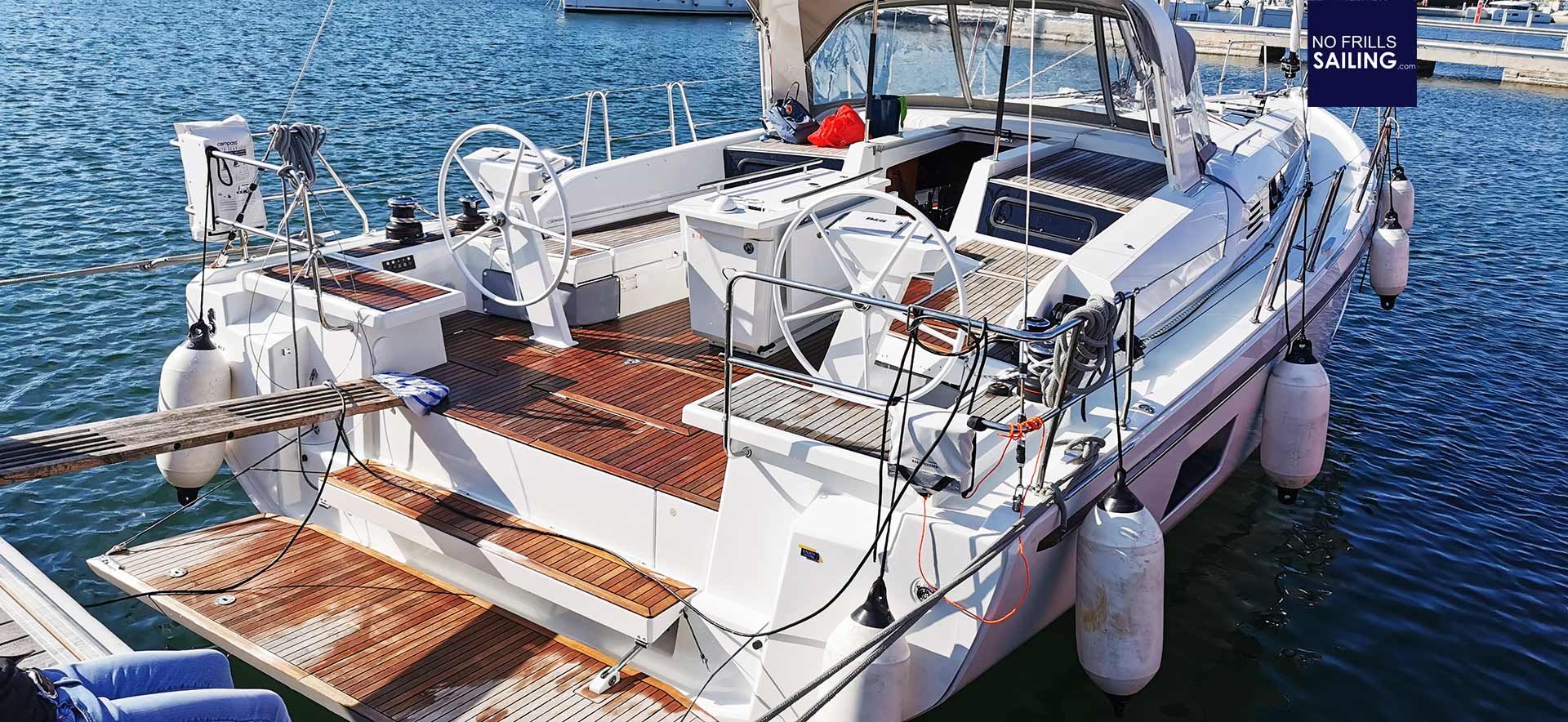 Secondly, when it comes to weather, I am thankful that this trip made me improve my foul weather sailing skills. Mastering a boat in high wind speed and high wave-conditions is a very different thing and I´ve learned a lot, especially when it comes to daily routine during events like these (watch-system, eating and drinking, being tired, keeping the crew motivated, prevent fatigue and mistakes and so on). Last, not least, I was taught a different face of the Mediterranean. It´s not solely the deep blue, Dolphin-dance easy light wind sailing area like I´ve experienced last year, this ocean can and will change face dramatically and will demand the best a sailor can give for sure.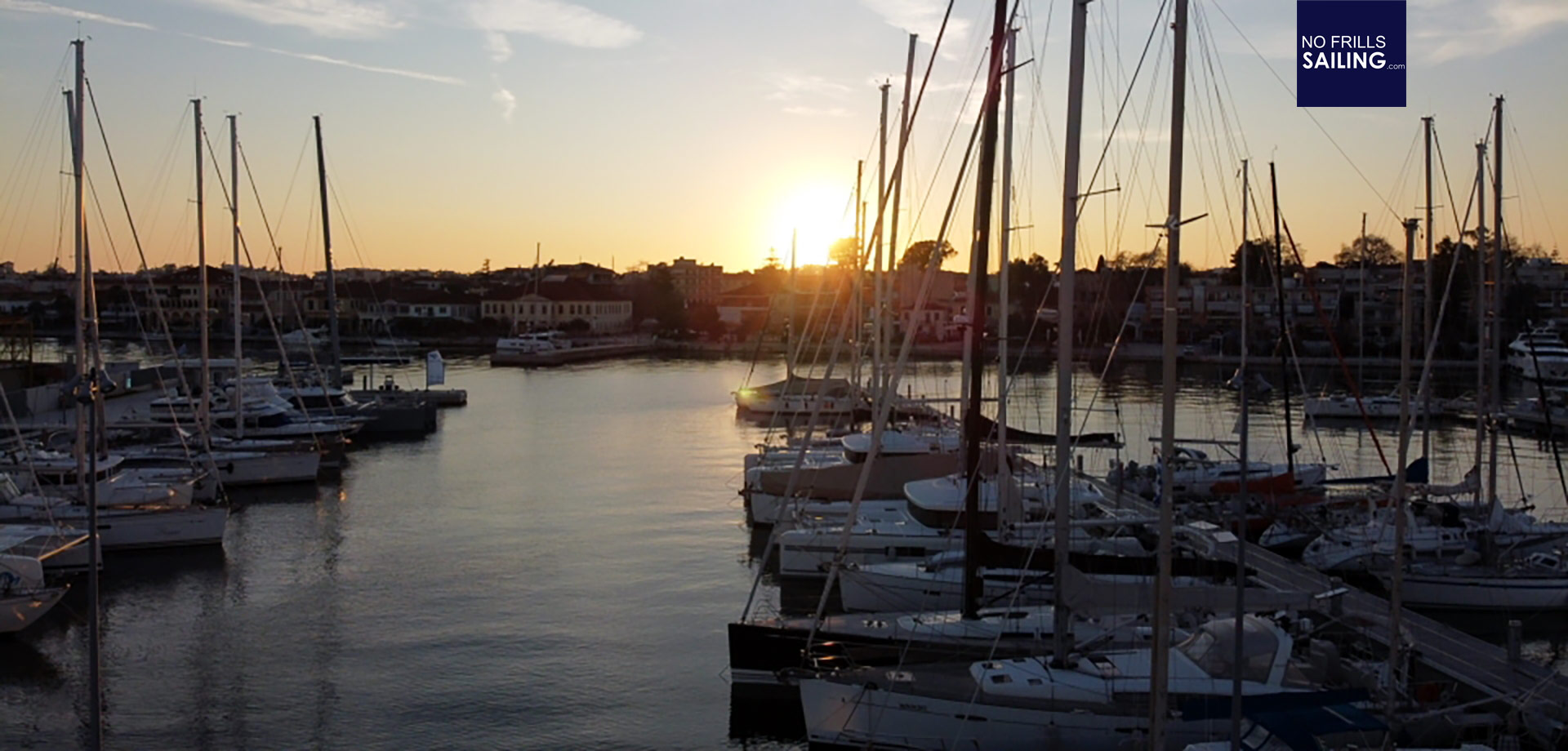 Now, "our" Oceanis 46.1 has safely arrived to Preveza and is awaiting her new owner. I am proud and a bit sad letting her go. The whole trip from Germany to Greece, sailing-wise, has comprised a total distance of 645 miles, happy, adventurous, crazy, quick, exciting miles.  What a great boat this Oceanis is indeed – I wish her all the best, many, many more exciting miles to come and hopefully a reunion soon.
You may browse all Adriatic Sailing-articles by clicking on the hashtag #adriaticsailing
Interesting related articles:
In the Beneteau Yard
Mediterranean Sailing Book Review: "The Golden Fleece"
Sailing Skills: Light Winds Sailing: Code 0