Another chapter in the life of our Beneteau Oceanis 46.1 has begun: The boat now arrived safely to Split in Croatia by ship transport – thanks to our friends of the commercial shipping company JBS. You may have read about the first leg of her journey in my previous posts, sailing the Baltic Sea through Kiel Canal into the North Sea to Bremerhaven where the boat was loaded, safely strapped and shipped out of Germany.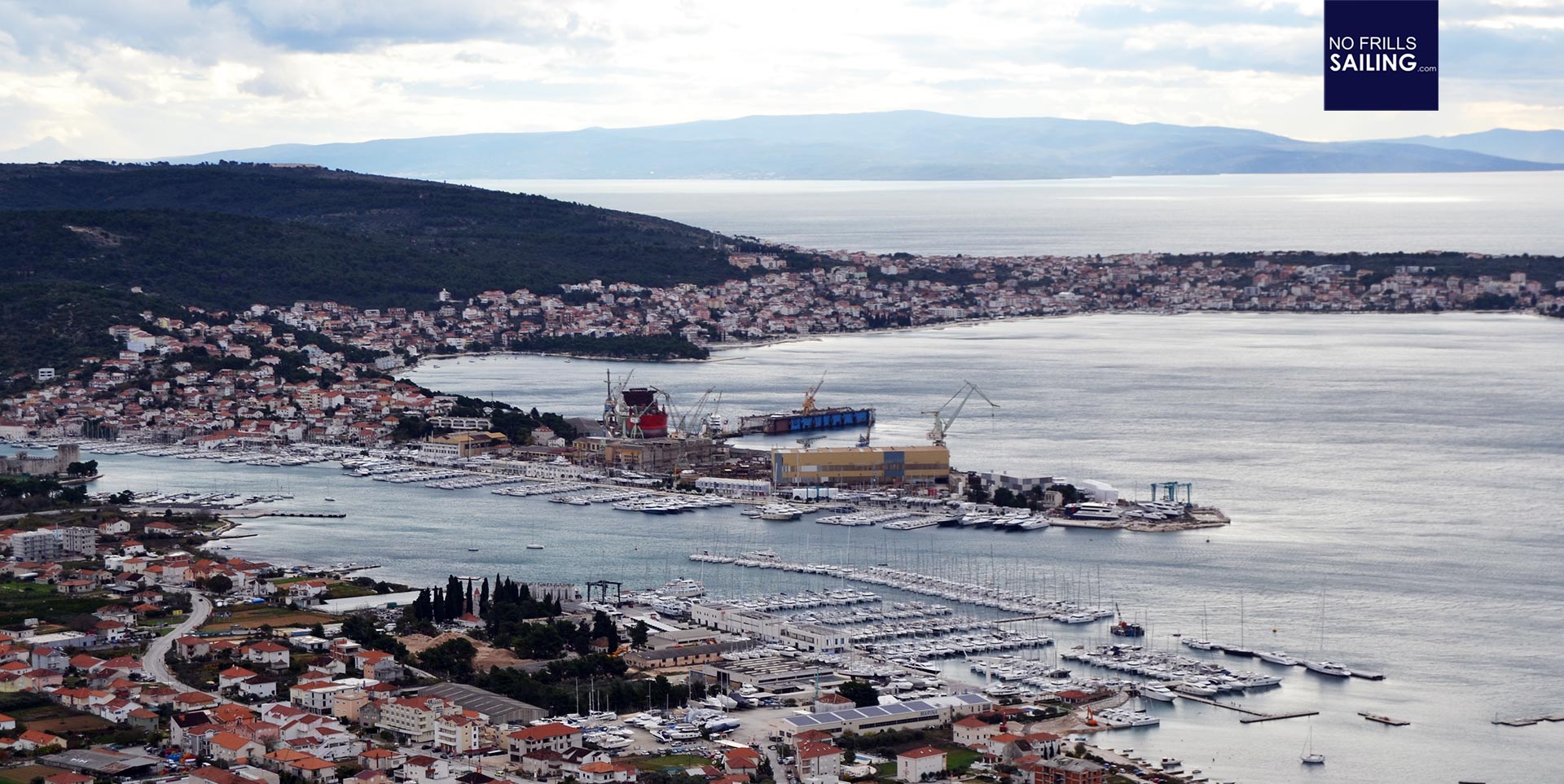 After arriving to Split and unloading of the vessel, the yacht was brought to the Boatic Marina of the beautiful town of Trogir, where she now awaits the start of the second and last leg of her transfer – the Adriatic sailing cruise to Greece. Well, before this adventure can start, the boat is due to some major works to be completed. In her current state I wouldn´t dare to set out to an offshore trip of some 500 miles.
Preparing the Yacht
As the boat is now sold to an owner and is to be integrated into a charter fleet, she needs all the equipment and stuff that is necessary to run a ship with three cabins and six berths. That´s the complete outfit of a galley: Forks, knives, spoons, pans, plates, bowls and all the other 1.000 small bits and pieces. That´s also the fitting of the cabins with blankets, sheets, pillows and more. Before I could drive down in our transporter to Croatia, days of wild shopping preceded this trip.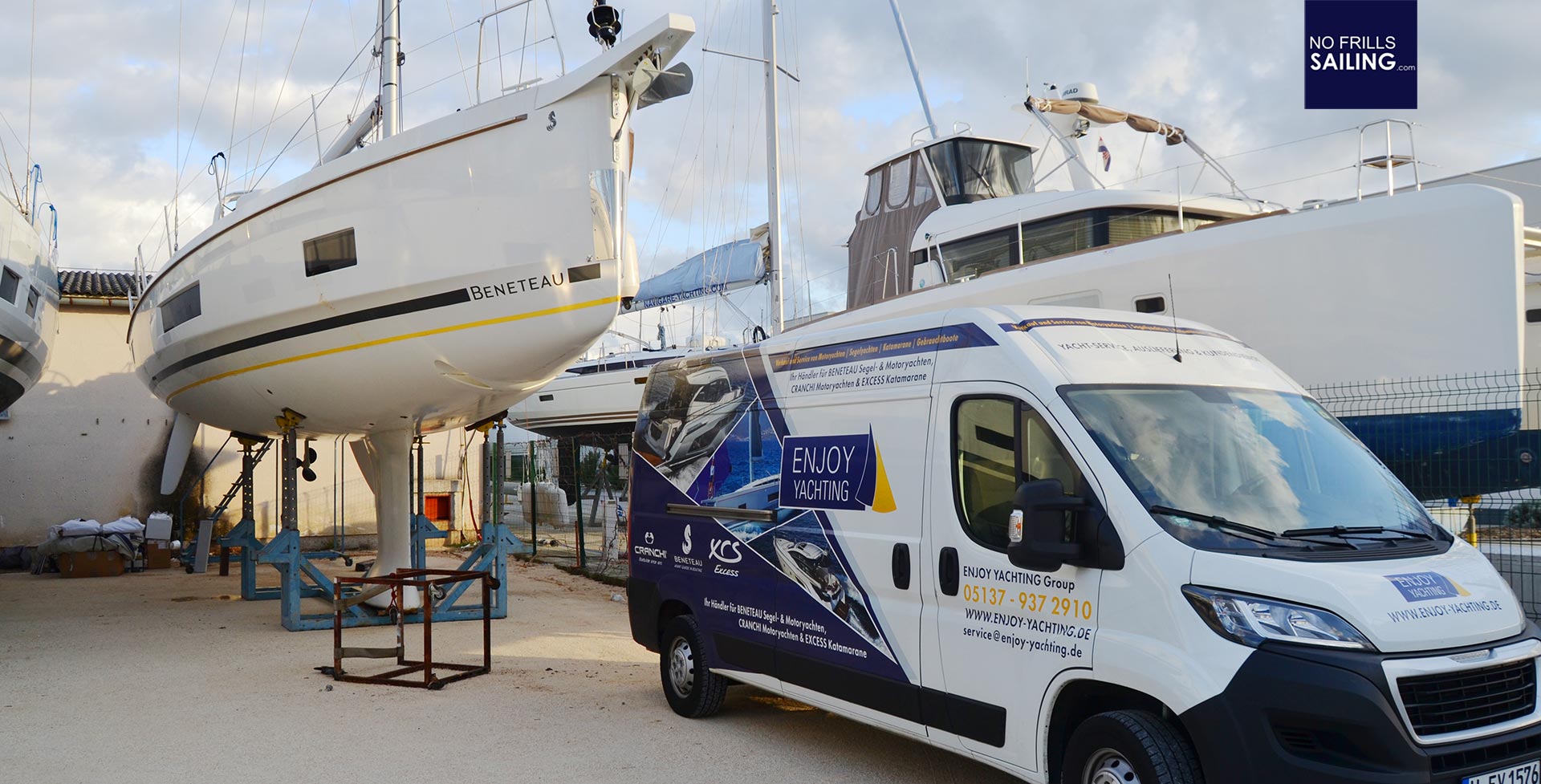 Of course the boat is also to be loaded with a complete set of safety and rescue equipment, starting with the normal navigational stuff like charts, books, rulers, dividers, a logbook and more to a drogue, distress equipment, a shroud cutter and so forth. In the end, the complete big transporter was fully loaded when I set off to drive down the 1.500 kilometers from Germany.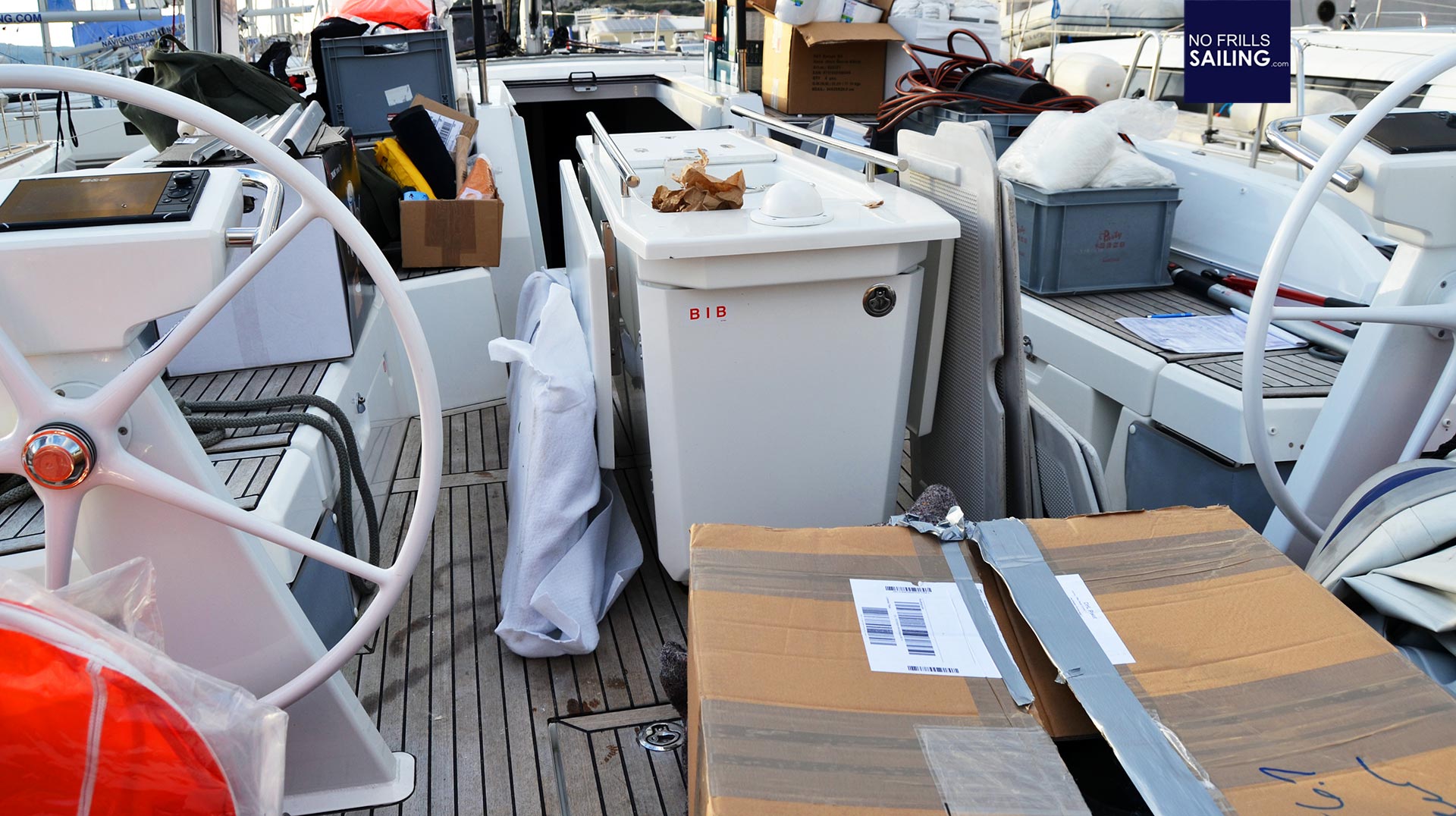 It took us hours to unload the truck and bring the hundreds of cardboard boxes aboard the boat: In this, some "organized chaos" developed outside the car, in the cockpit and further down below as I had the job to cross off each individual item from my 5 pages (!) equipment list. Are there really 10 or 8 knives? Do we have all 3 WC-buckets? Where is the second spatula? I refrained from unboxing of this cardboard-chaos since the boat will need to be cleaned thoroughly anyway before entering regular charter service – but it was interesting anyway to really see how many things a boat this size has on board …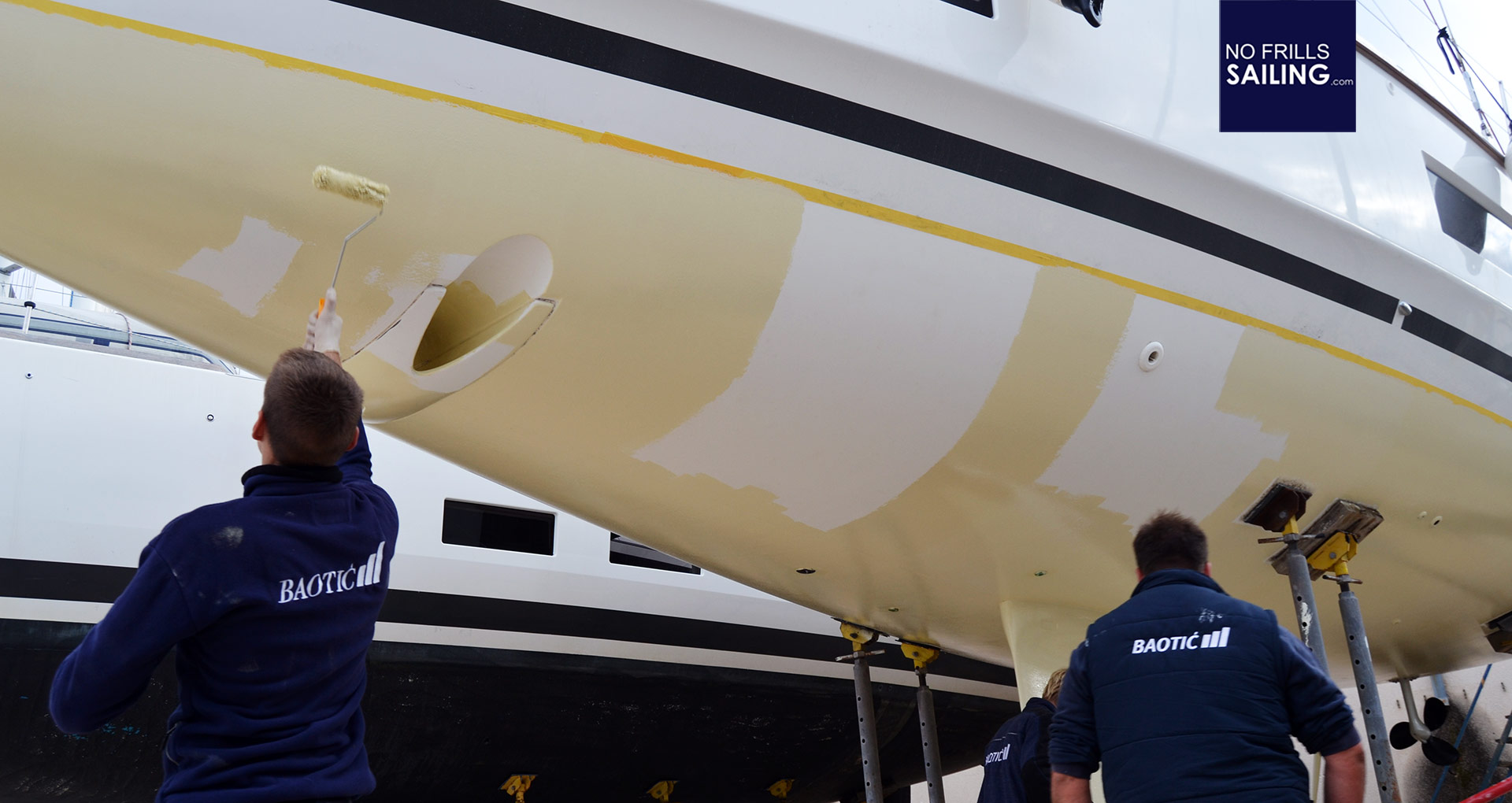 One thing is also added in Croatia and that´s the professional antifouling. You may have read my article on this particular boat when I took her out of water after five months without an antifouling cover. Removing the encrustation alone brought a plus of some 2 knots of speed, now the professionals of Baotic Marina sanded the hull smoothly and began to build up a proper antifouling cover of which you will be able to read more in a following article.
Planning the sailing trip to Greece
At home I am right now planning the trip to Greece. For me as skipper this trip won´t be the longest of them all (some 400 miles) but most certainly it will be the most complex. At first I plan to follow Croatia´s stunning coast line down south to Korcula or Dubrovnik, a sailing area I know a little from a regatta I was attending two years ago. Then, if winds let us, it´s a dash down south crossing the Adriatic to Italy, maybe Brindisi, whereas after this another long leg to Greece, namely the Island of Korfu, is planned. After this it´s just "around the corner" to our final destination: Preveza near Lefkada.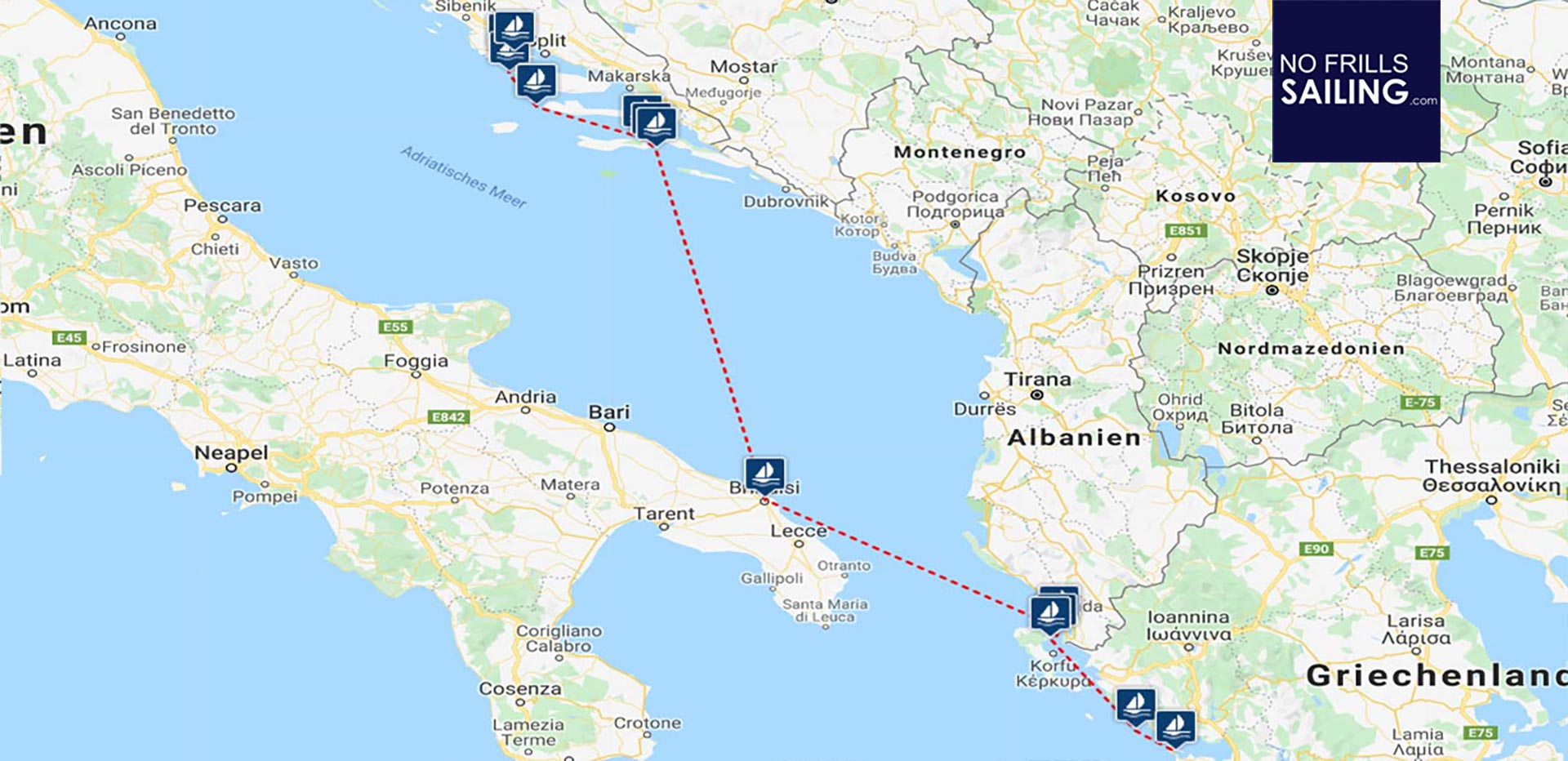 The trip may be complex because of the fact that weather conditions in December can change very quickly. If we get a Northerly, Westerly of Easterly, everything will be fine – but if the wind blows from the South, it may get nasty. Same goes for commercial traffic, especially fishing vessels which are known to be plenty of here (possibly not showing proper lights at night). And finally, although a faint chance I hope, I will enter the waters where the migrant-streams enter Europe and human trafficking takes place. So, as I said, it is a complex trip and adds certainly a load of new experience and skills.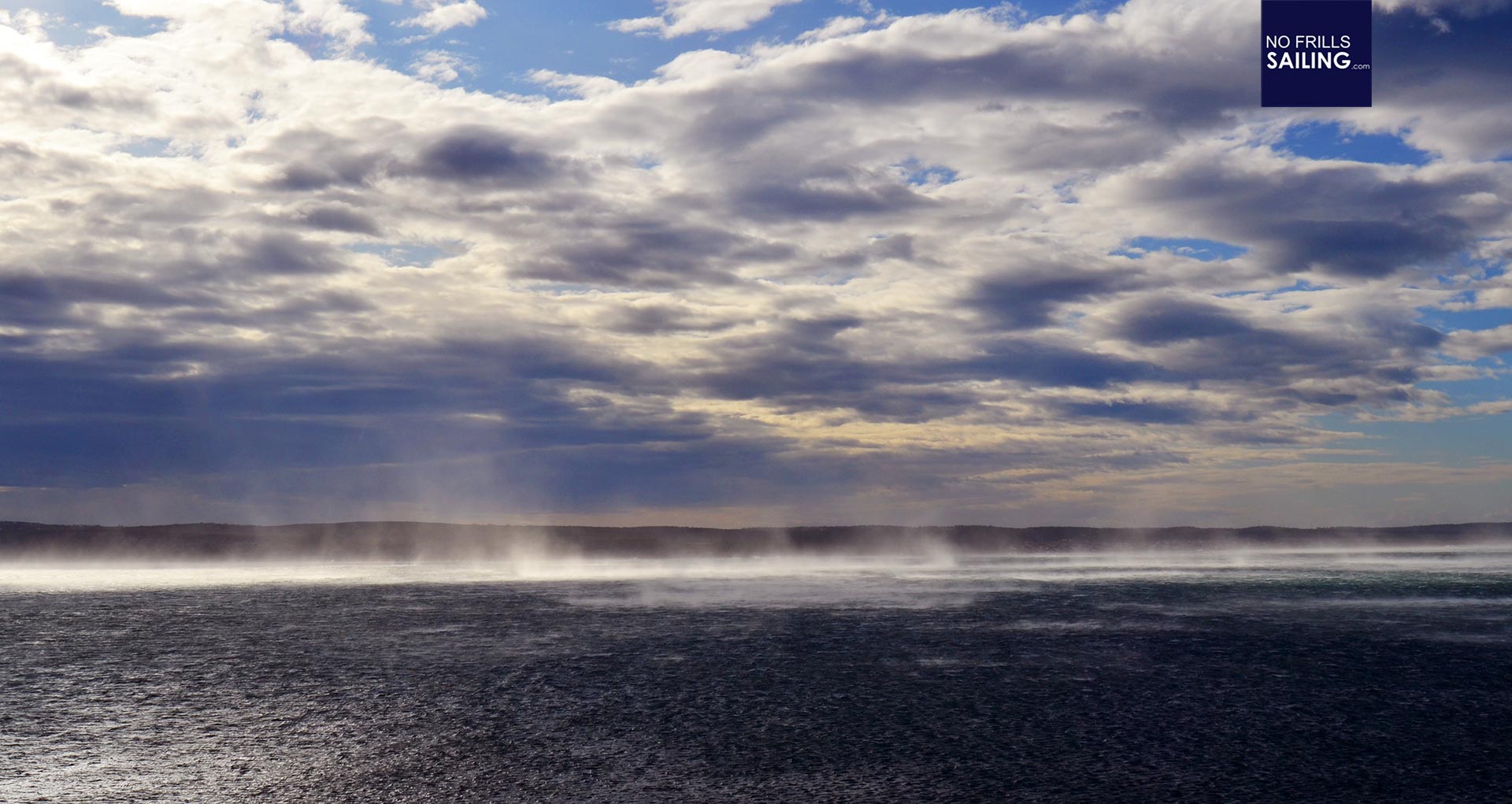 Finishing the job in Trogir and setting off to drive back to Germany for Christmas, suddenly a very strong wind sets in. Digital traffic system on the highway limits speed to 60 kilometers per hour, finally shutting down the highway. I had to drive home using the normal country roads. Winds with up to 90 km/h shaking the transporter heavily. Refuelling at a station I asked the service guy if this was the famous Bora. He nodded and smiled: "Just a Baby-Bora. That´s nothing – wait until Mother-Bora comes!" Oh, okay: So please, no Bora in two weeks, when we finally cast off our lines to sail the Adriatic Sea in winter.
You may later browse all related article by clicking the hashtag #adriaticsailing
Also interesting:
Planning a sailing trip old school
Planning a sailing trip with free weather routing software
Foul weather sailing, best practice