You may have read the first part of this maiden voyage of GEKKO, my new boat which I am taking out on a 10 day shakedown cruise. The idea is to sail her "just around the block", which in my case means crossing the Baltic Sea from North to South a couple of times (no more than 50 miles in this stretch) and try to do some 300 miles all in all. The idea is, apart from the fact that I want to spend some 10 days on vacation without any work, to getting to know this boat intimately on longer sailing legs and to find her teething problems. The first three days took me to Warnemuende where I spent one day without sailing die to very string and unfavourable winds. At dusk of the fourth day of my trip I cast off the lines and started again.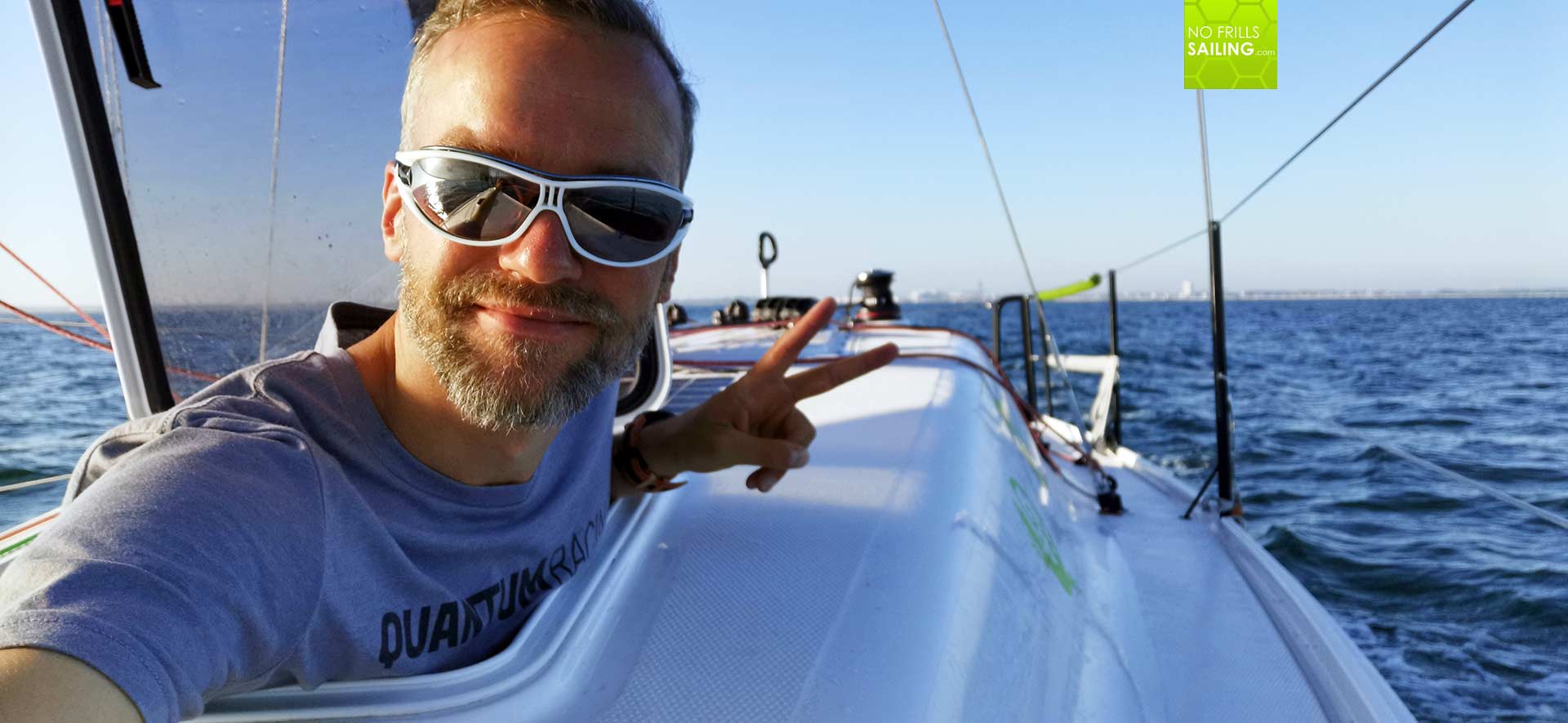 It has been a very loud night with constant rocking of the boat. The wind eased just around 0400 in the morning so that I was able to at least catch one or two hours of deep, recreative sleep and getting up wasn´t that problem. After leaving the harbor I hoisted main and Genoa full extend as wind was around 10 to 11 knots true, on a broad reach the First 27 SE made some 6.5 to 7.5 knots, occasionally slowed down by the waves which had a height of 1 to 1.20 metres. It was great sailing though and my mood was absolutely high.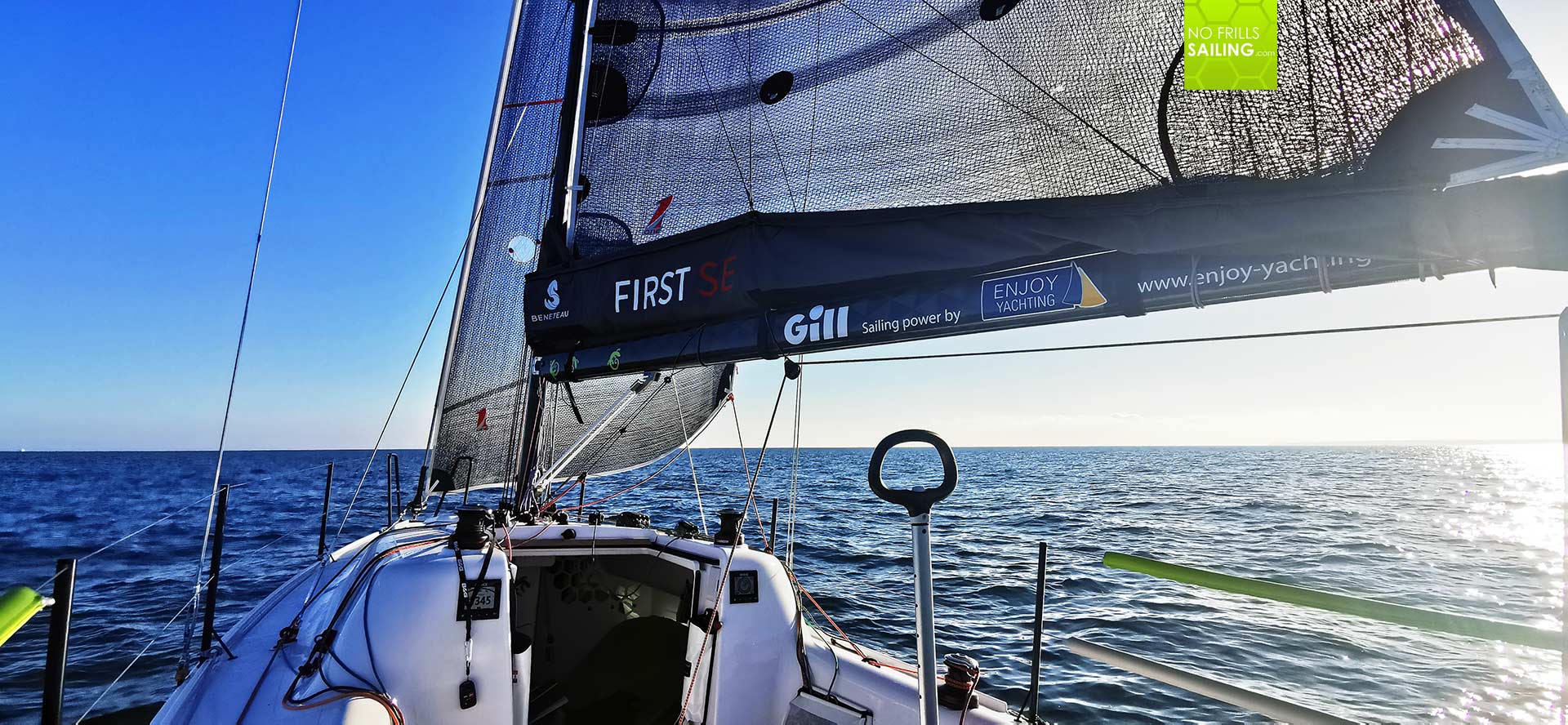 I took a dumb, the remote control of the autopilot readily at hand whilst using the onboard bathroom of my boat. Most people, upon seeing this toilet first time, are laughing and cannot imaging sitting here. I must say it is a wonderful place, very relaxing, very – much more! – spacious than it may look like at first glance and I am definitely going to do an article about this amenity of the Seascape 27/First 27 SE in the future.
A quick dash to Denmark
After finishing morning toilet, brushing my teeth and having a bowl of cereals in the cockpit for breakfast (I usually only have a cup of coffee right after getting up, cannot dine full breakfast so early), I went midship to attach the Danish flag, the "Danebro", to the starboard shrouds to be flown as courtesy ensign. What a great deal this meant to me! After being "imprisoned" due to Covid-19 lockdown measures for almost 1.5 years not being able to travel abroad, this meant a lot to me.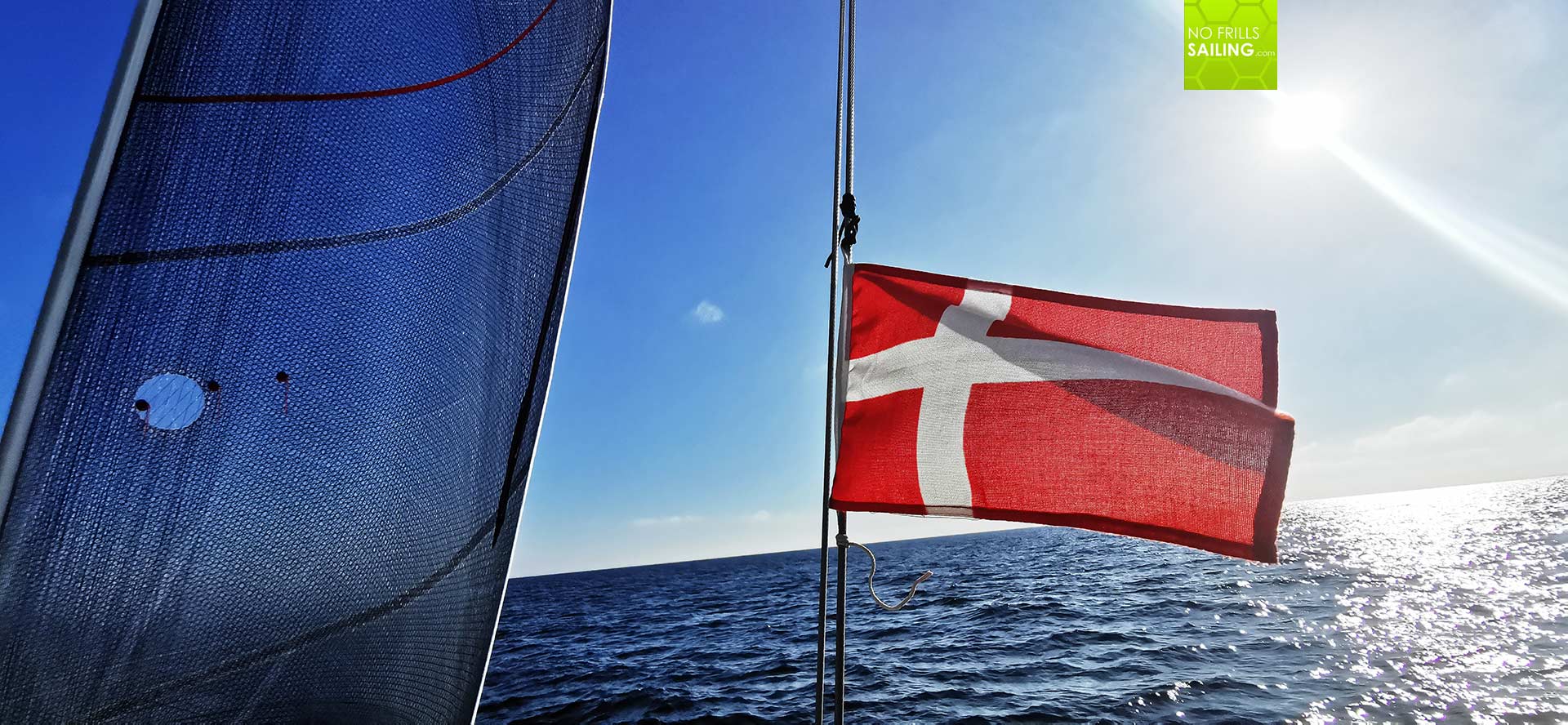 The boat was planning all the time and looking at the stern part of the boat watching her taking off and gliding over the water instead of ploughing her way through it will never fail to amaze me. The sharp rudder blades cutting the water, stern wave trying to grab us but eventually left behind. The First 27 SE takes off at speeds exceeding 6.5 to 6.8 knots, flying fully over 7 knots SOG. Although, I started to notice some disturbing noise. A groaning at first, becoming louder and harder the faster the boat sailed. After investigating I located the noise was due to heavy vibrations of the rudder blades, with starboard side blade being the loudest. Over 7 knots SOG the groan was unbearably loud, over 8.5 knots it was so brutal that I had to slow down the boat, fearing the blade will hit resonance frequency and explode to pieces. Well, that is teething trouble #1.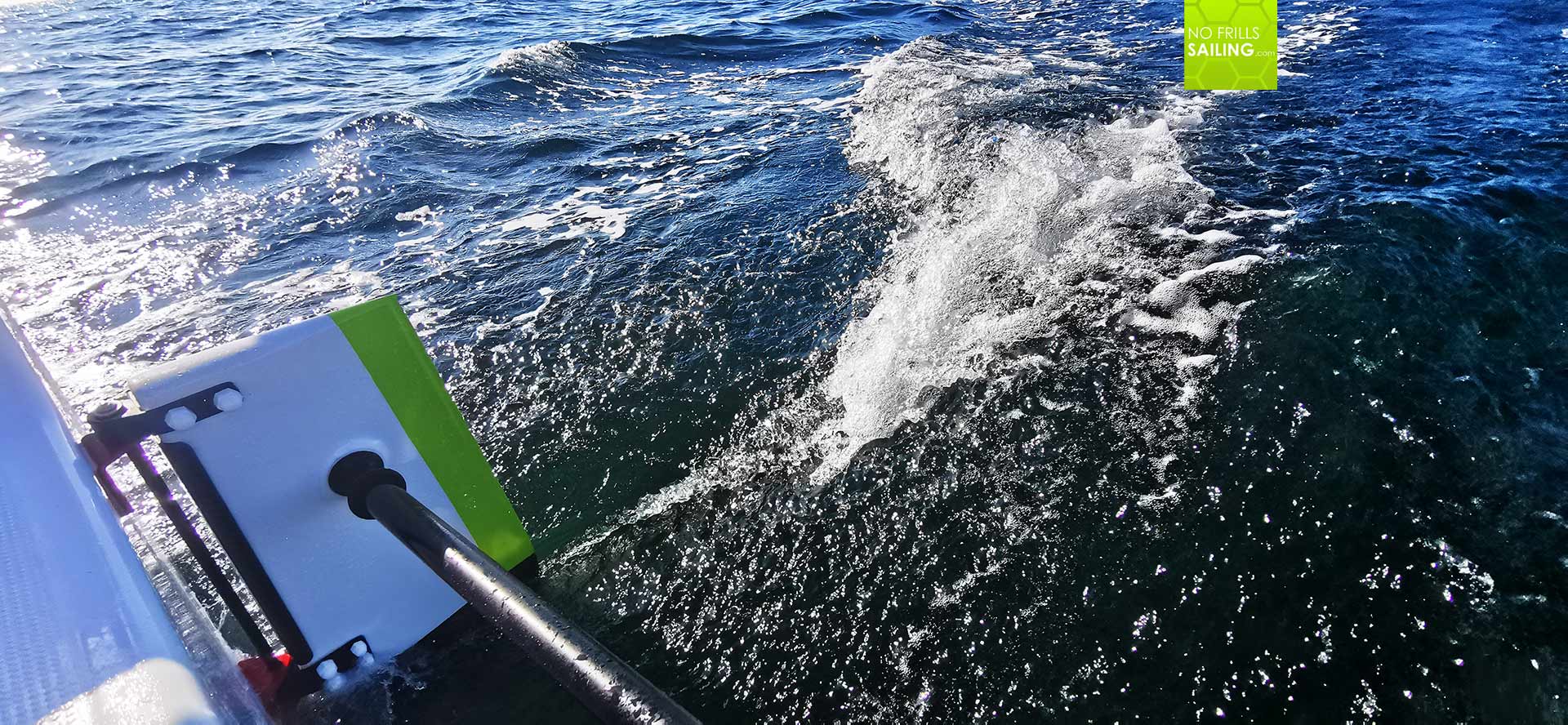 Other than that the boat boat behaved just beautifully. Even in those – compared to the short hull and small size of my boat – big waves the motion of the boat was fluent, pleasant and I didn´t had the feeling that the hull produced any problems. Well, the noise of the vibrations was enervating, so that I altered course a bit in hope it would ease, but apparently the rudders don´t care for the point of sail, it is simply a misalignment of the blades in relation to the boat´s longitudinal axis.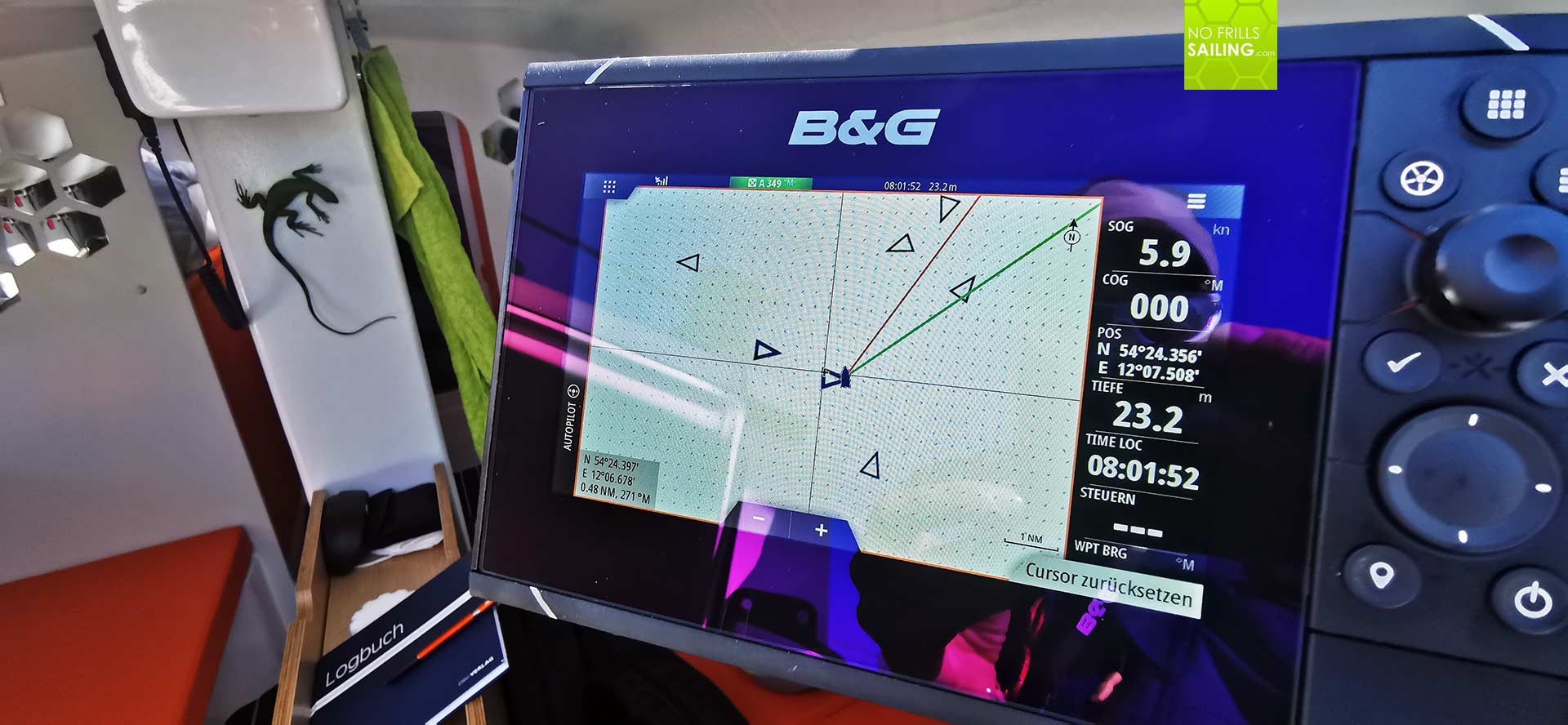 Crossing the Baltic Sea almost inevitably means crossing Traffic Separation Schemes as well, which after two hours was coming up. On the plotter I could see the commercial shipping freighters coming in on their fast lanes from both sides. It´s always fascinating and exciting to interact with professional shipping. As, by the book, crossing a TSS is meant to be done in a 90 degree angle, I of course complied and checked CPAs and TCPAs to the vessels which may come close to my boat. As usual, we passed each other in safe distance and I had the impression that two of the four vessels I encountered – although not being obliged to do it – altered their course a bit to keep distance. I thanked them by waving and hat crossed this shipping Autobahn within less than an exciting hour.
Single handed lessons: Gennaker
After being on course 000 degrees due North for almost 25 miles I had Gedser, the southernmost tip of Denmark, right there in sight in port. Gedser is one of the beads harbors, a set of 3 Danish marinas mostly fancied by German sailors on their traditional summer vacation trips to the Island of Bornholm and beyond. I avoided going there as the day was still young, so I altered course by veering off to starboard side. My destination for today was Klintholm, also one of the beads-harbours and a place I very much love.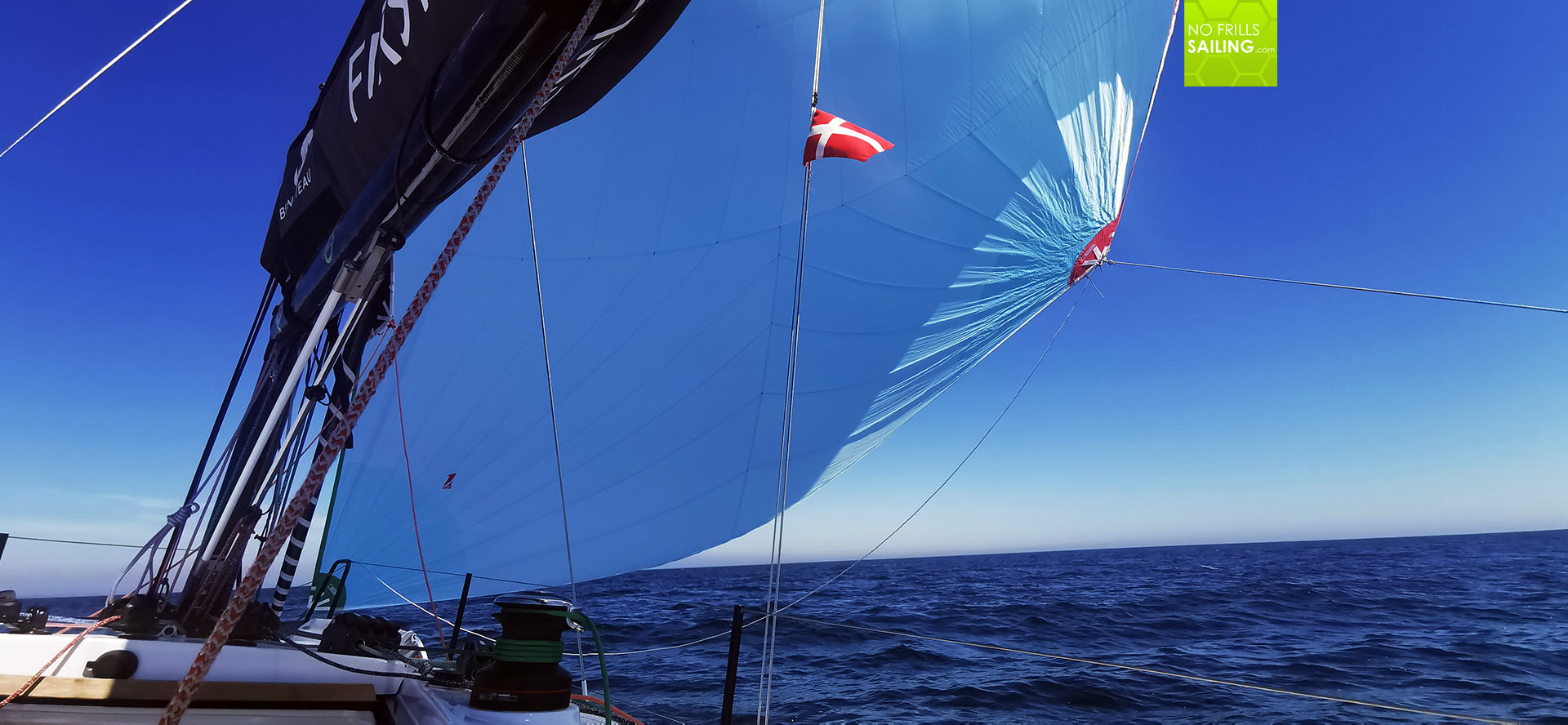 Wind eased (as predicted) to 9-10 knots true and after GEKKO just made around 4.5 knots I prepared the Gennaker, hoisted it and … produced an hourglass. No problem, going to the forestay and somehow taming the thrashing light wind sail, I untied one sheet after another and re-attached them. Letting the kite fly, it unfolded to full glory and after sheeting it in the big blue bubble produced the desired drive.
Unfortunately the wind was blowing exactly into to the direction I wanted to go: It´s sailor´s luck, like always, that the wind seldom blows in a perfect angle. I took it as a challenge and a welcome training session to improve my Gennaker skills. How deep can I sail a Gennaker, maybe on a running point of sail flat downwind, before it collapses? Well, not as deep as I wished for. Like going upwind, you can sail it on a running point of sail but it will produce less and less propulsion. So I luffed again and prepared myself for gybing action.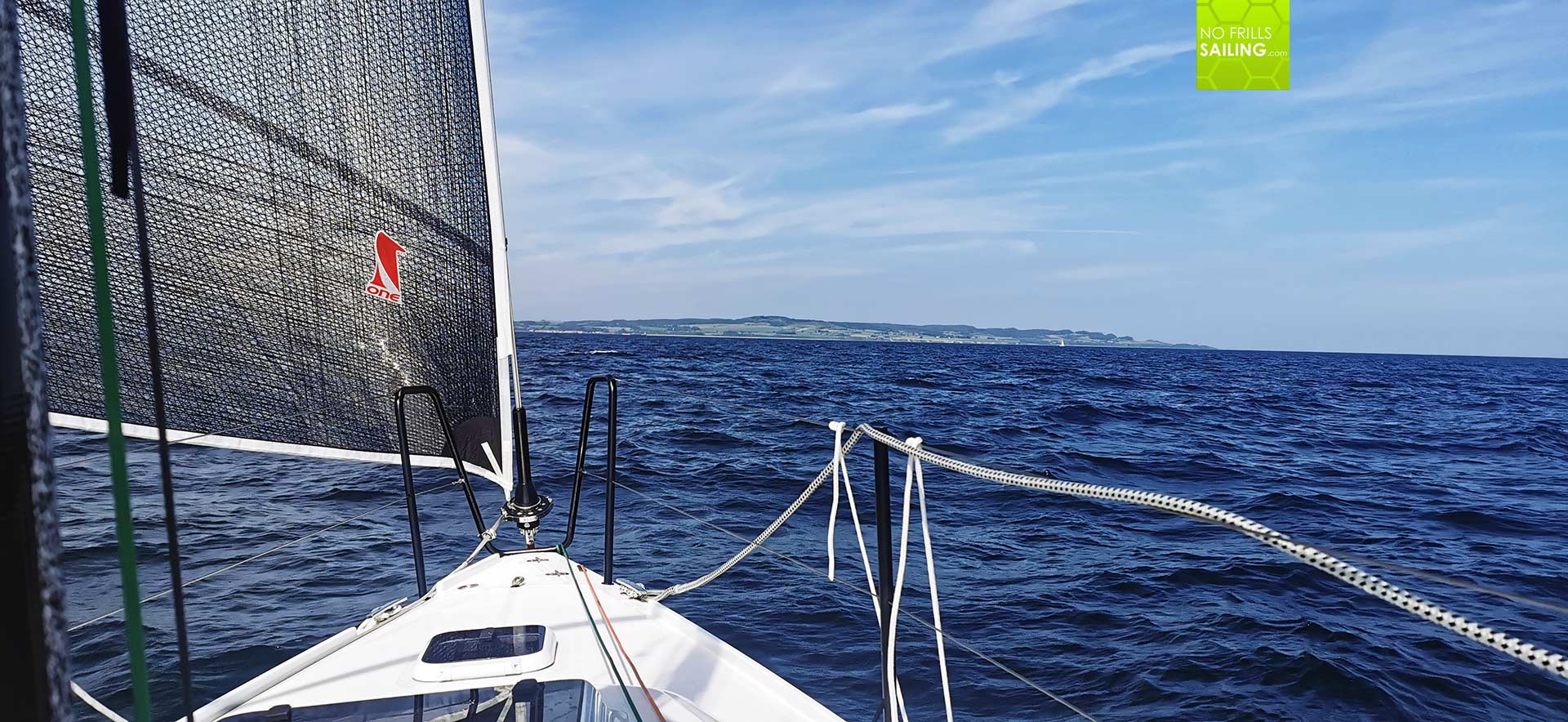 The race was on. Literally. Behind my boat, I´d say in 1-2 miles distance, no less than 3 yachts – apparently much bigger boats, came up. The seemed to be heading for Klintholm as well. Two of them flew colorful kites as well. Challenge accepted, I thought and from that moment on I was in a little regatta. I gybed three times which was no problem at all and the procedure went without a single hustle. Apparently, one boat (the one without a light wind sail, stayed behind quickly, the other two followed me. Looking at the wind speeds, which went down by the minute, I decided not to sail near the coastline anymore but to gybe once more, taking the boat out to the open sea again hoping for more wind there. The other two stayed in course and tried their luck near land. I was right – there was more wind and so quickly the two boats vanished to small dots in my binoculars.
Berthing single handed: Some thoughts
Wind freshened up towards the end and since I came nearer and nearer to this day´s destination I decided to take down the Gennaker and sail onwards under standard canvas. After my first attempt of flying the Gennaker single handedly was – mildly spoken – a semi-successful venture with retrieving the sail being the most tricky part, I had watched some video tutorials and read several "how to"-articles on how to tackle this. One of them, narrated and demonstrated by Class 40 sailor Henrik Masekowitz, a man I visited on his racing boat prior to his circumnavigatiuon-attempt some years ago, impressed me that much that I simply copied his technique: It work just perfect and I had the Gennaker down in a safe and convenient manner – in seconds! I will definitely write an article about this as well in the coming future.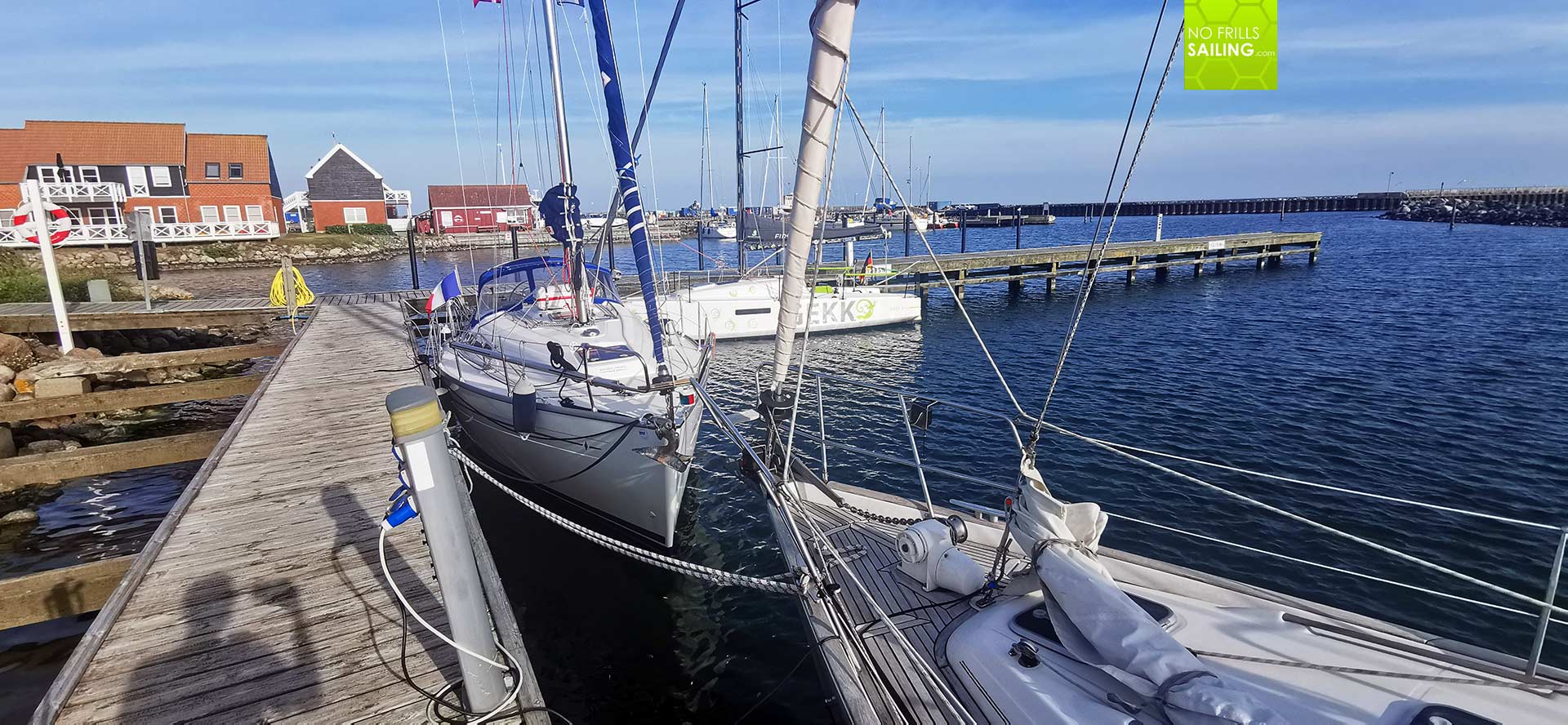 Landing a boat is always, at least for me, the most challenging and exciting part of a sailing leg (heavy weather set aside). I reminded myself of the very harsh conditions two days before in Warnemuende when I had to land the boat alone in the midst of a +20 knots gusty thunderstorm, I decided to rather prepare even better for landing this time. So I took down mainsail well before harbor, still 3 miles to go. But anyway, this time I wanted everything to be rightly prepared. Attaching the fenders: Three on the chocolate side (starboard) of the boat, two to port side, just in case I´d have to use this side for berthing. I also prepared all four land lines although I knew that I would be going alongside: Just in case, I don´t want to run around on my boat attaching lines in a narrow harbor! So, the two big, strong and thick lines to starboard, the thinner lines to port. In this, I was perfectly prepared. Entering Klintholm my work was honored: As expected I was able to tie her up on her starboard side along the jetty. Nevertheless, port side and even berthing a box would have been possible – without stress.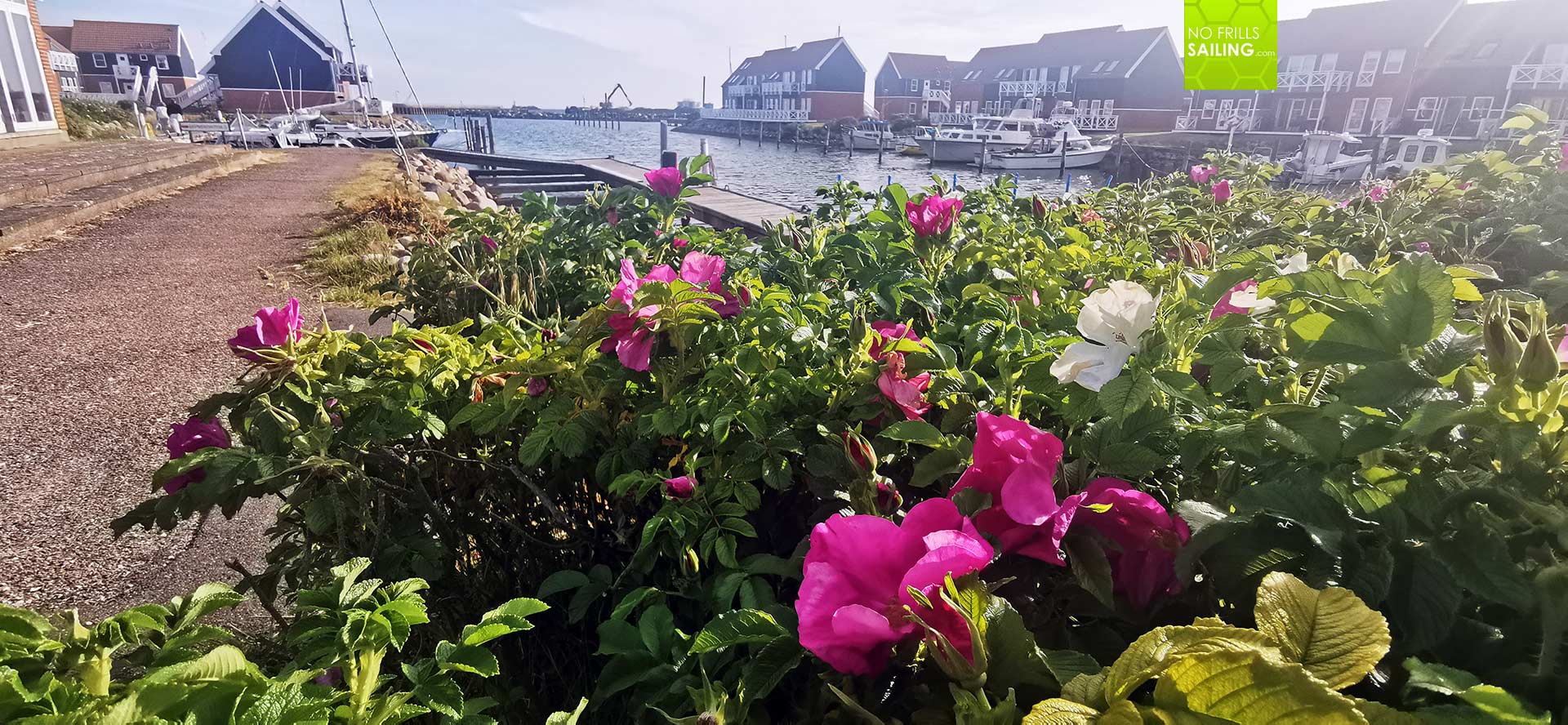 The boat was moored and the same minute two other skippers came strolling along. Admiring the nice friendly Gecko-design of my boat, they asked whether I was sailing alone. I affirmed and judging by their approving nods it seemed that this information caused them to being amazed. I thought – and answered to them – that sailing single handed is a very, very intense experience and that, in essence, being prepared for everything at all times for me is the key. Looking at my landing manoeuvre in retrospective, that is essentially what I mean: Think through the situation well in advance, decide for the most safe and convenient reaction, getting prepared for pulling this manoeuvre off and at the same time have at least one Plan B ready if conditions on the spot turn out not to be aligning with one´s expectations. Avoiding stress is the absolute motto #1.
A normal day in the Baltic Sea
I stayed for just one night in Klintholm, enjoying a really tasty, simple but overwhelmingly good Barbeque the evening before, I got up very early and left harbor soon at first light. Die to the fact that the marina was currently receiving a new breakwater – with work going on 24 hours a day – the noise of the power shovel pushing huge stones into the seas was unbearable. I couldn´t sleep as tight and recreational as I had hoped, so there was no use in staying.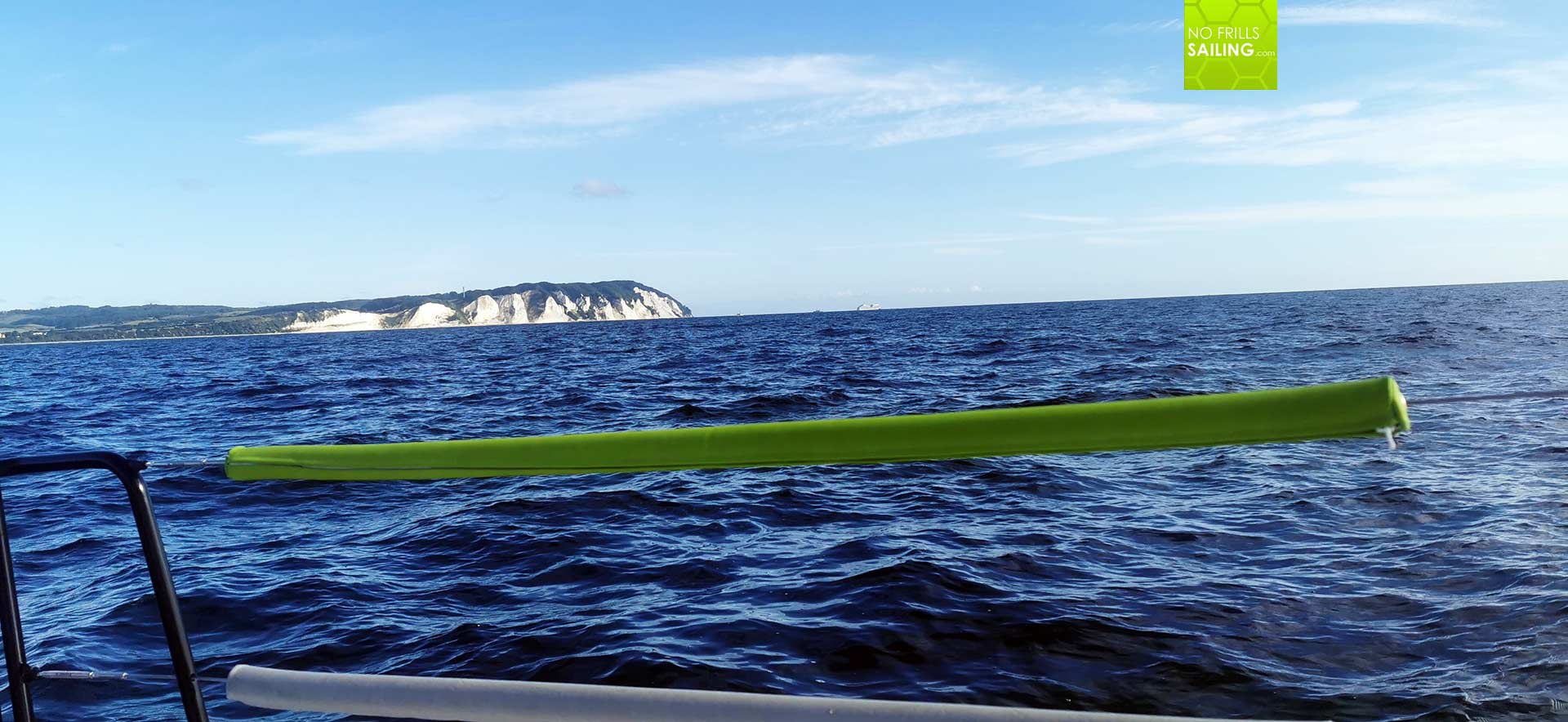 Shortly after leaving harbor, the wind behaved like forecasted and I was able to sail at 5 to 6.5 knots. Still in an almost-running point of sail, but with higher waves and much, much more motion in the boat. That knowing I decided not to fly the Gennaker as I feared that the slow wind speed together with the very violent rocking of the boat would cause the Gennaker to inflate and deflate all the time, creating more stirrup than anything else. Additionally, a wind gap of some 3-4 hours was predicted, so I spared myself the hustle and tried to get as southerly I could go before the calm would arrive.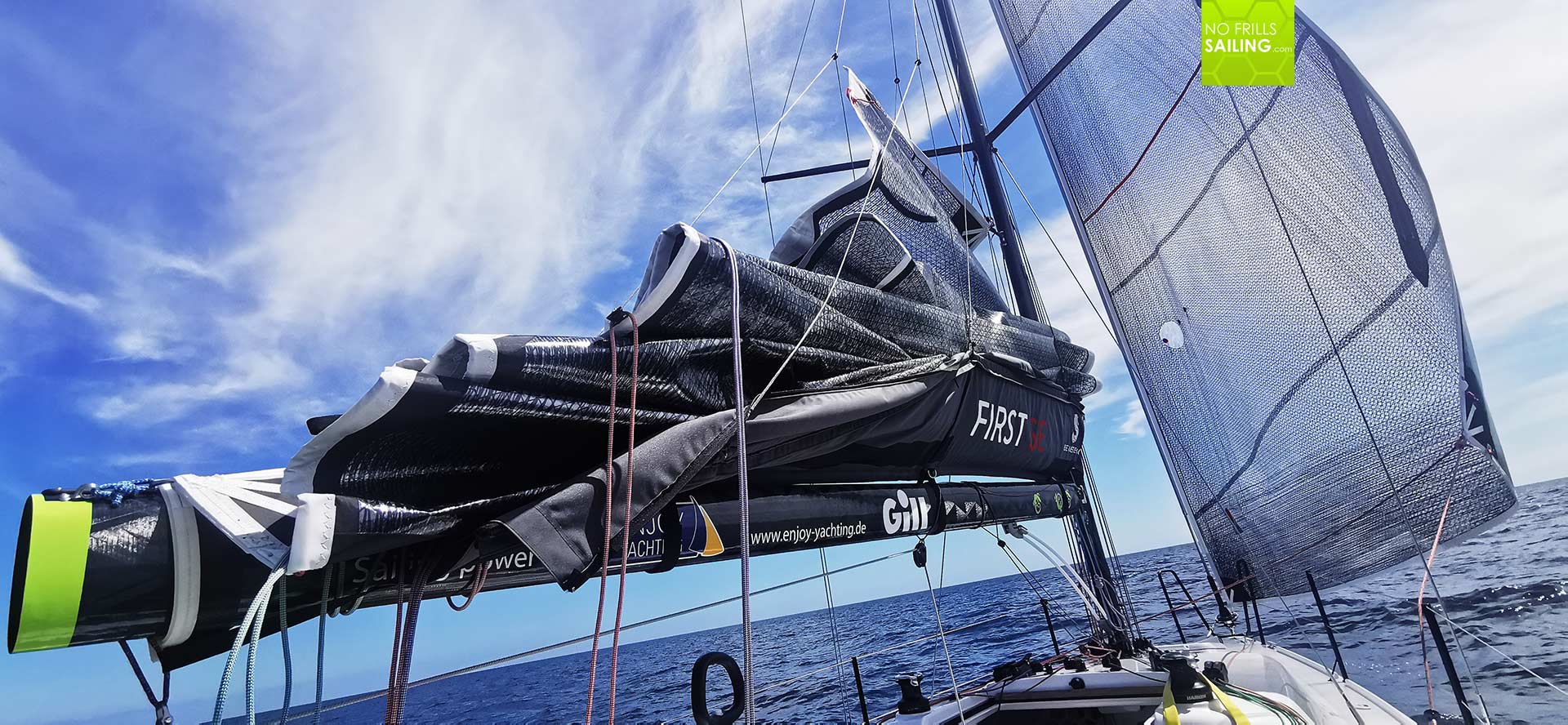 Which it did like predicted. At first the tottering of the mainsail was so enervating that I took it down. With waves coming in still higher than 1 meter, wind speed down to 5 knots, the boat still made some headway, but the noise and the stress in the rigging became unbearable so that I eventually took in the Genoa as well after 20 minutes and activated the Torqeedo engine.
Having an electric boat means that the range is heavily limited to the power of the battery. Now, by boat boasts Torqeedo´s biggest available Lithium-Ion-Battery, the WH 48-5000, but of course, this one cannot keep up to the range provided by a combustion engine using much more energy-dense carbohydrate-fuel. With my throttle setting of 2.000 rpm at the prop and 3.5 to hardly 4 knots SOG the display indicated a "remaining range" of 70 kilometres. Which is some 30 miles. A fairly good range, but at an awfully slow pace. Nevertheless, true to my motto "A safe sailor is a good sailor" I utilize my Torqeedo electric engine always under the pretense to being able to reach a harbor without sails (just in case). In this, I´d had to accept the slow speed. That said, I was laying in the cockpit, listening to the high pitched sound of the engine and observed the sky: When will the windshift arrive?
After two hours very high flying thin icy clouds came up from the expected direction, indication of a new wind system arriving. It took the wind more than one hour more to be present down at sea level and – like predicted – I was able to shake out the sails again, take in the engine and start being a sailboat again. What a relieve that was! The wind was blowing at some 9 to 11 knots true, which was perfect for the Gennaker, so, let´s hoist the big blue bubble, ho!
Some more Gennaker training
Like the day before, wind this time was again not blowing from the right direction – again it should have been some 30 to 40 degrees off. But now it blew exactly in the direction I was going so I hade to veer oof course a bit and start another gybing action. Which I took in a sportive manner and welcomed the occasion: Training under these mild conditions is a good way to get accustomed to the demands of boat and sails.
The boat was taking off again and it never fails to amaze me how easily a well-shaped hull will take off and just fly! In this, the boat sailed very stable and I seldom had to trim the sail. Although rudder vibrations again began to worry me when boat speed neared and exceeded 8 knots, so I better slowed down by using the mainsail to take away some of the wind and block the Gennaker. Nevertheless, even with "only" sub-8-knots the boat was gliding over the water – leaving all other sailboats around me behind as they were standing still. Amazing!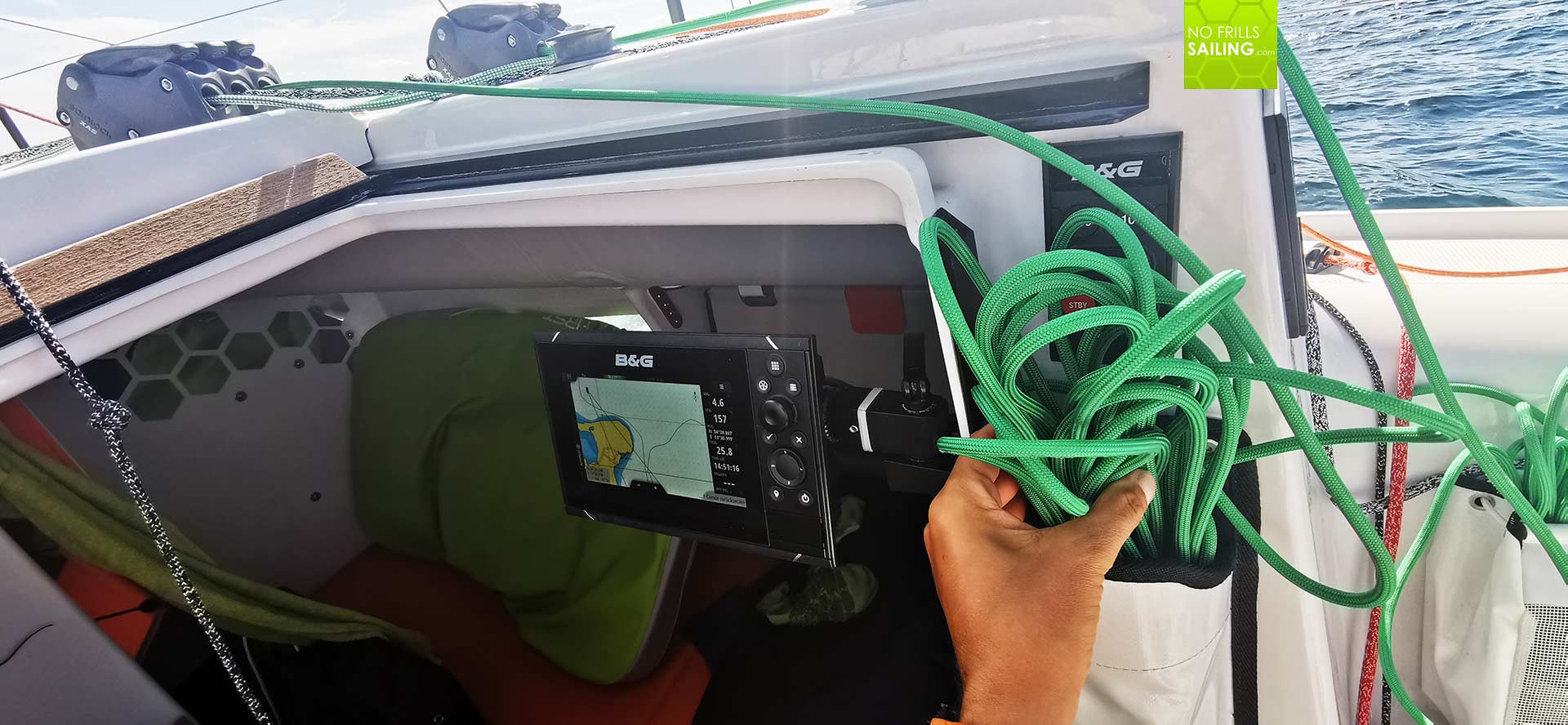 Wind was freshening up after one hour and two more gybes and – as I had seen in the video tutorials – I prepared the lines of the Gennaker in a way so that I could take it in any second if a gust would be overpowering the boat (well, it would overpower my sailing skills way first, I´d reckon). The halyard was ready to be dropped to be dragged behind so that it would be running freely without knots or hustle if the cleat would be released. I also prepared the sails bag and instantly felt better.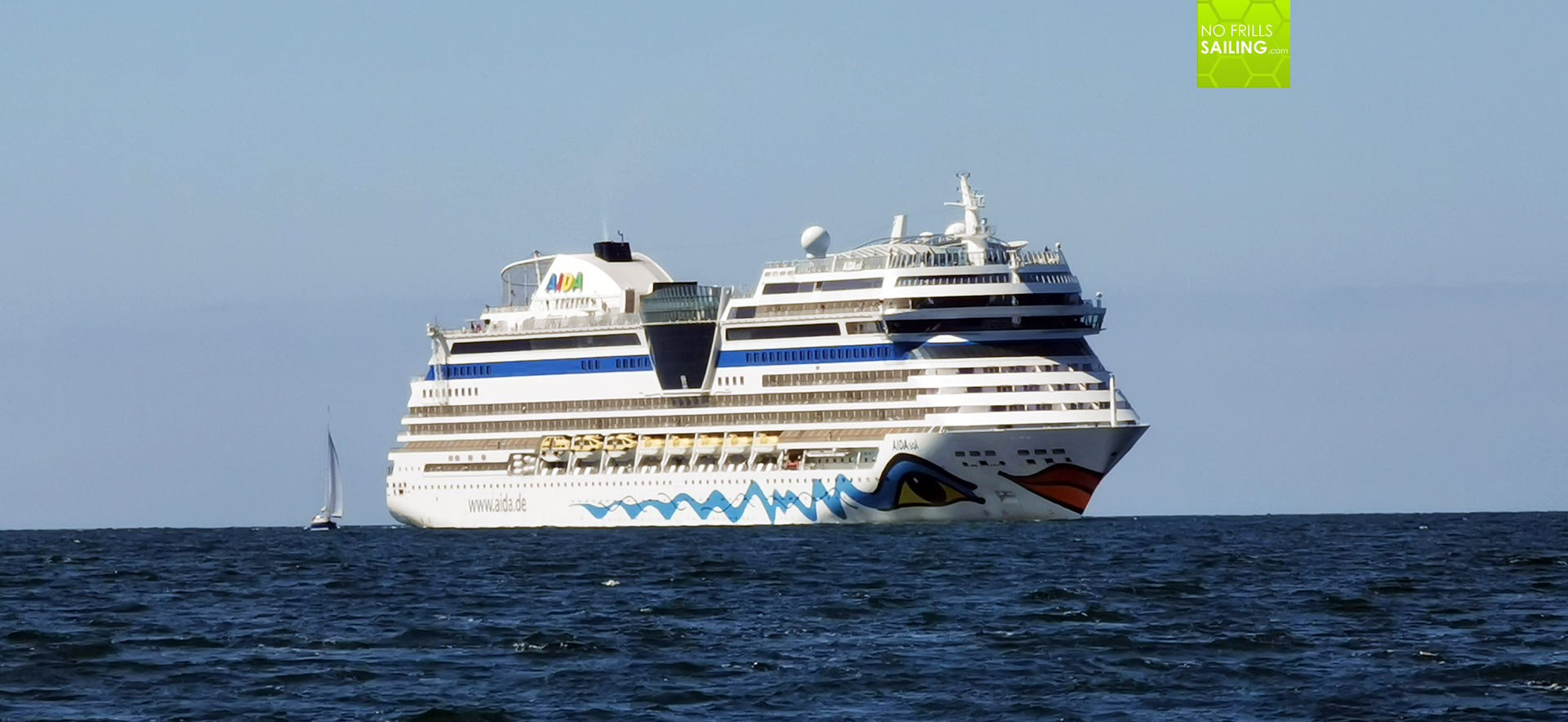 As Corona seemed to untighten its grab, one big ship returned to the seas I had seldom seen before: The cruise liner. The day before one of those huge hulks came into sight, now an AIDA cruise ship came up from behind. I have never sailed on a cruise ship and I will never do that, both because of ecological concerns, working conditions for the crews and the fact that I fancy being "alone" on the seas rather than fighting with 3.000 other people over the evening buffet. Nevertheless, the looks of these big ships are impressive.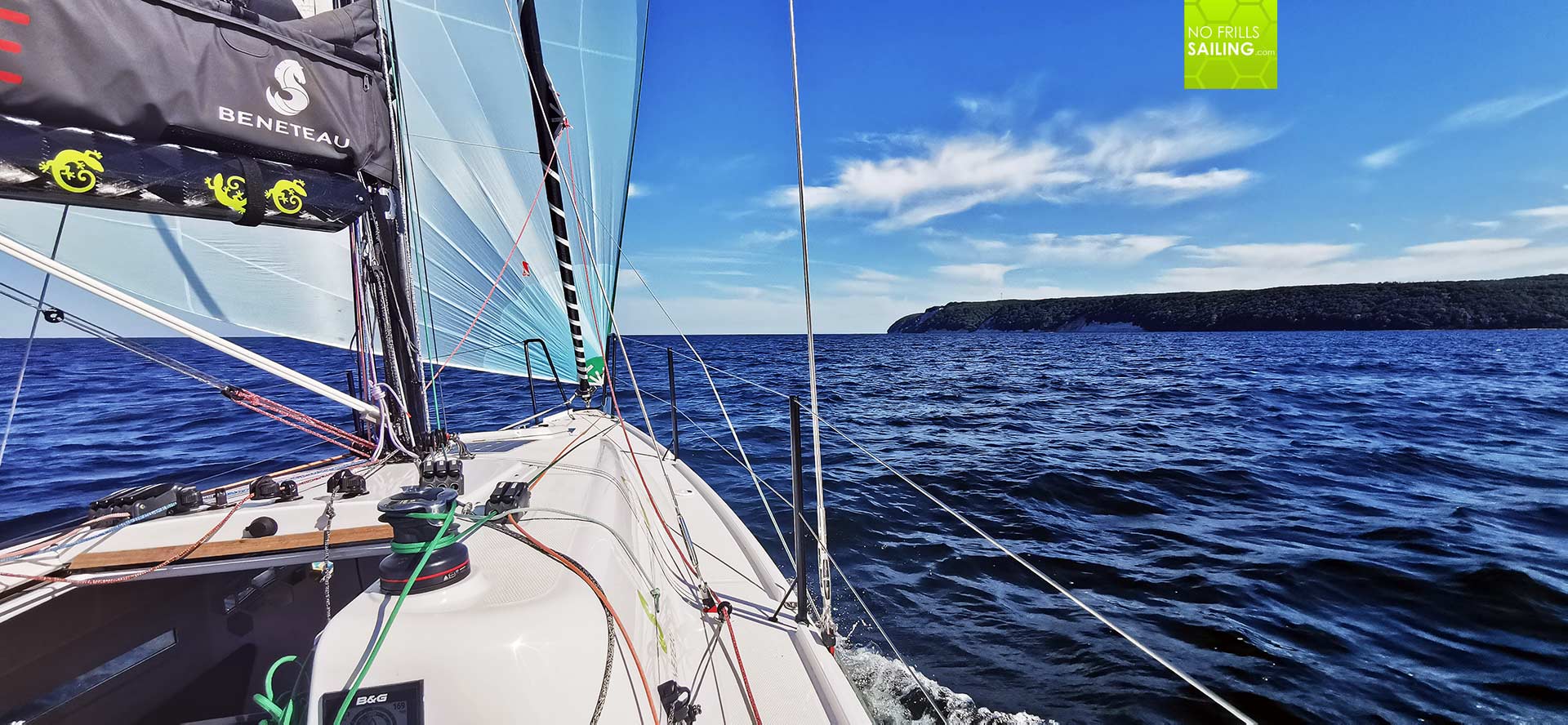 As I sailed past Cape Arcona, which is the first of two Capes of Germany´s biggest island, Ruegen, Wind started too freshen up. 12 to 13 knots true were the new average and she simply flew. The Gennaker took it perfectly and apart from the mind-breaking noise of the rudder vibrations it was great fun. Dashing past this Cape, I guess due to the effect of the landmass, the wind direction changed to a more Northerly so I had to veer off much more than hoped. I crossed the last bay of Ruegen before my destination with three more Gennaker gybes and took down the light wind sail when wind speeds reached 15 knots, fearing that I´d damage my rudder-equipment.
Arriving at Sassnitz again: A day off
I readied the boat and there it was, Sassnitz, the destination for today. That is a small fishing town with a still very active fleet of seafood gatherers. Sassnitz also boasts a fairly good equipped harbor for pleasure craft and is known for a very relaxed and lush atmosphere. Ruegen, especially this northernmost spot, is kind of untroubled by too much mass tourism, unlike the southern parts of the island. I looked so much forward mooring here again as I still have very good memories of Sassnitz from a past sailing trip here.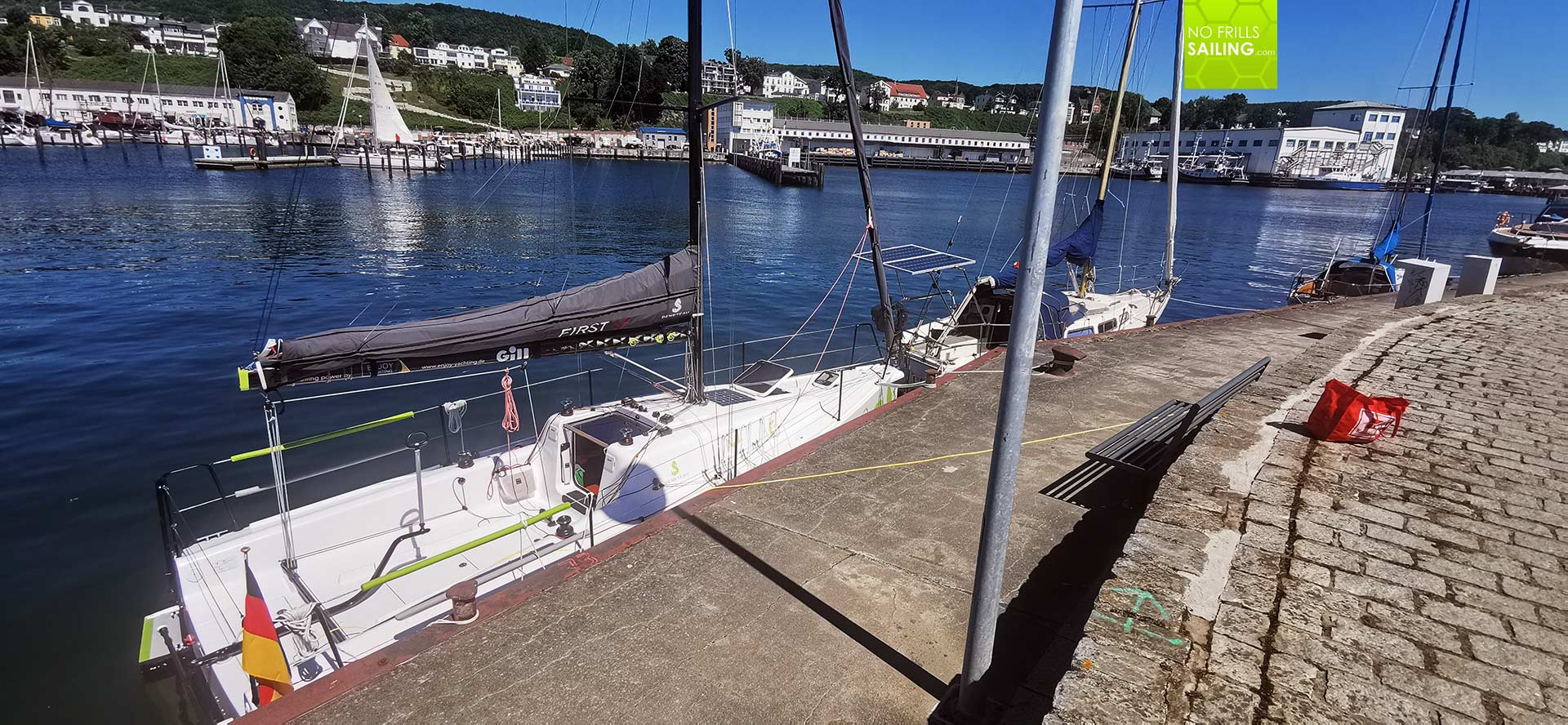 One good thing about Sassnitz is also the fact that you can decide whether to go into a box in the harbor, standard mooring, or find a berth alongside the very, very long quay that is behind the some 2 kilometres long breakwater. As berthing alongside is the easiest way for me to tie up my boat single handed (and I do not like very much being in a regular berth between all those other crews with their talk, noise, music, smell and stuff) I looked for a nice place not too far from the amenities and landed GEKKO without any problems.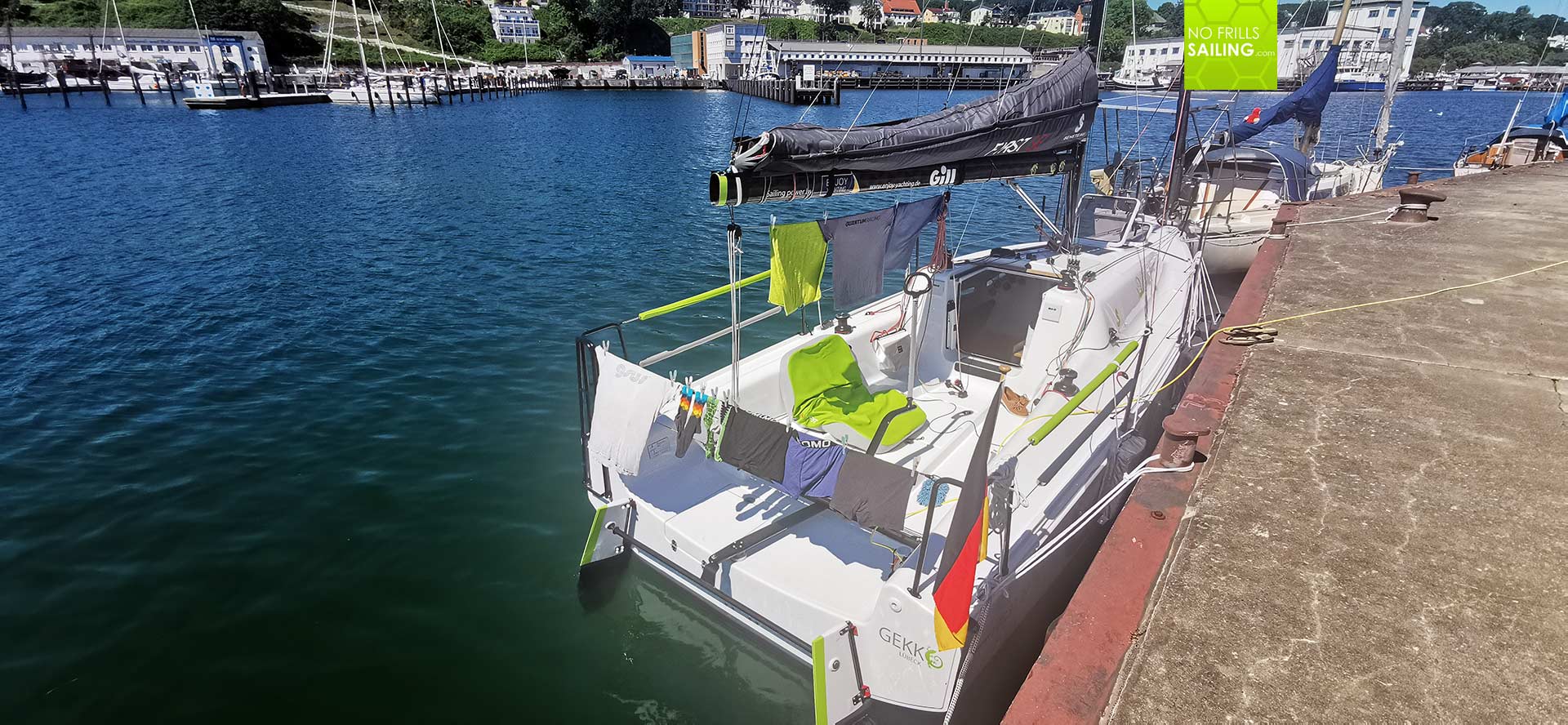 One boat before me a young man named Jacques lived on a 27 feet Catalina. He greeted me instantly upon landing and offered his help. A very nice guy and an interesting individual too, as he reminded me of a sailor I met in Porto Santo writing an article about him called "Moitessier Reloaded". Jacques helped me find the plug for recharging the batteries and fresh water. As weather forecast predicted very, very low winds – from the wrong direction – for the following day, I decided to stay a full day here. A decision that, in retrospective, wasn´t that clever indeed. Not knowing that I should have left the following day, I began to clean my worn clothing and turned GEKKO into a drying stand. I also cleaned the boat´s exterior from the salt crust of the seas and even tidied up her interior.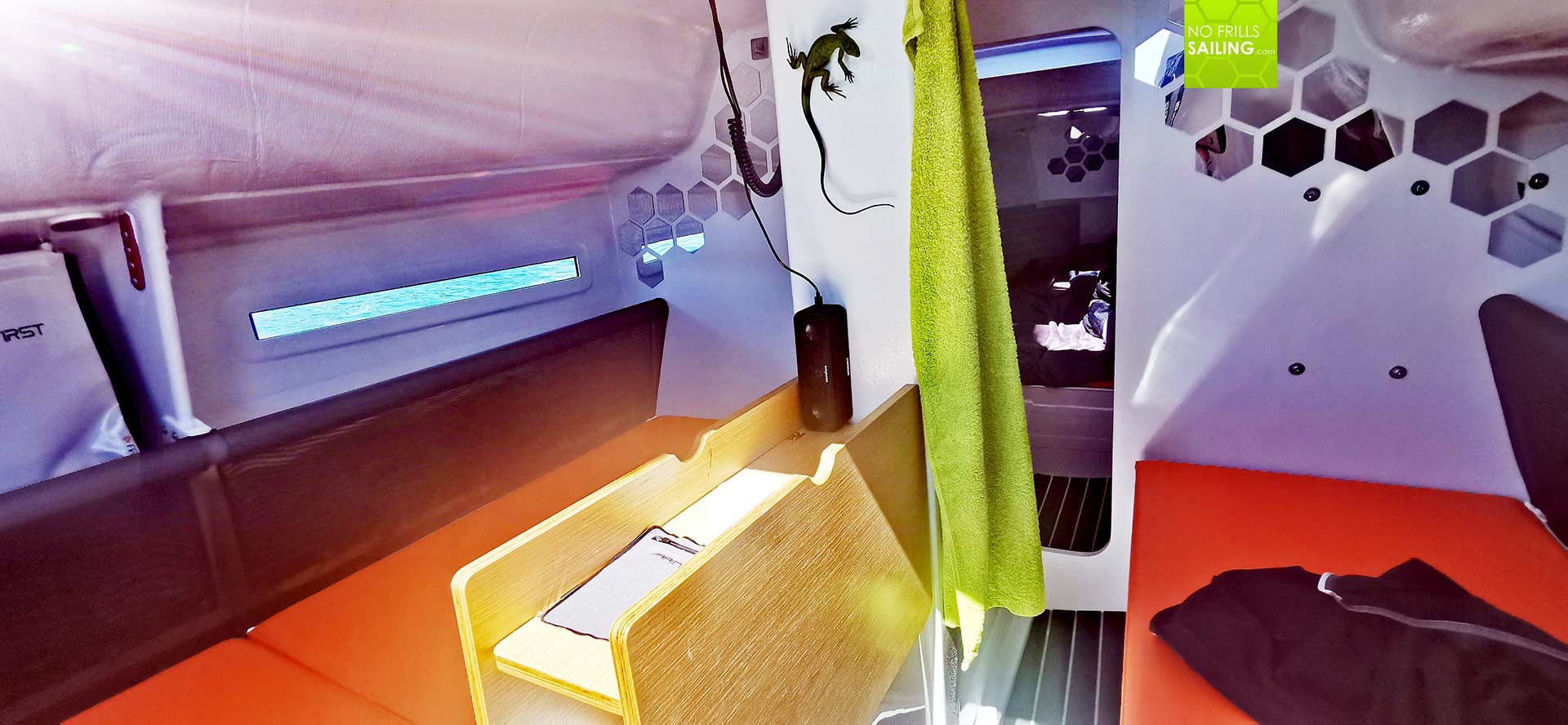 One big pro of a layover day in harbor is that you can re-stock your boat´s provisions and skip dining aboard for a day. I enjoyed a big fishy dish for lunch the following day, devoured a grilled mix fish plate and two big locally crafted beers: That´s your holiday, I thought and felt good in letting myself go that day and simply do nothing.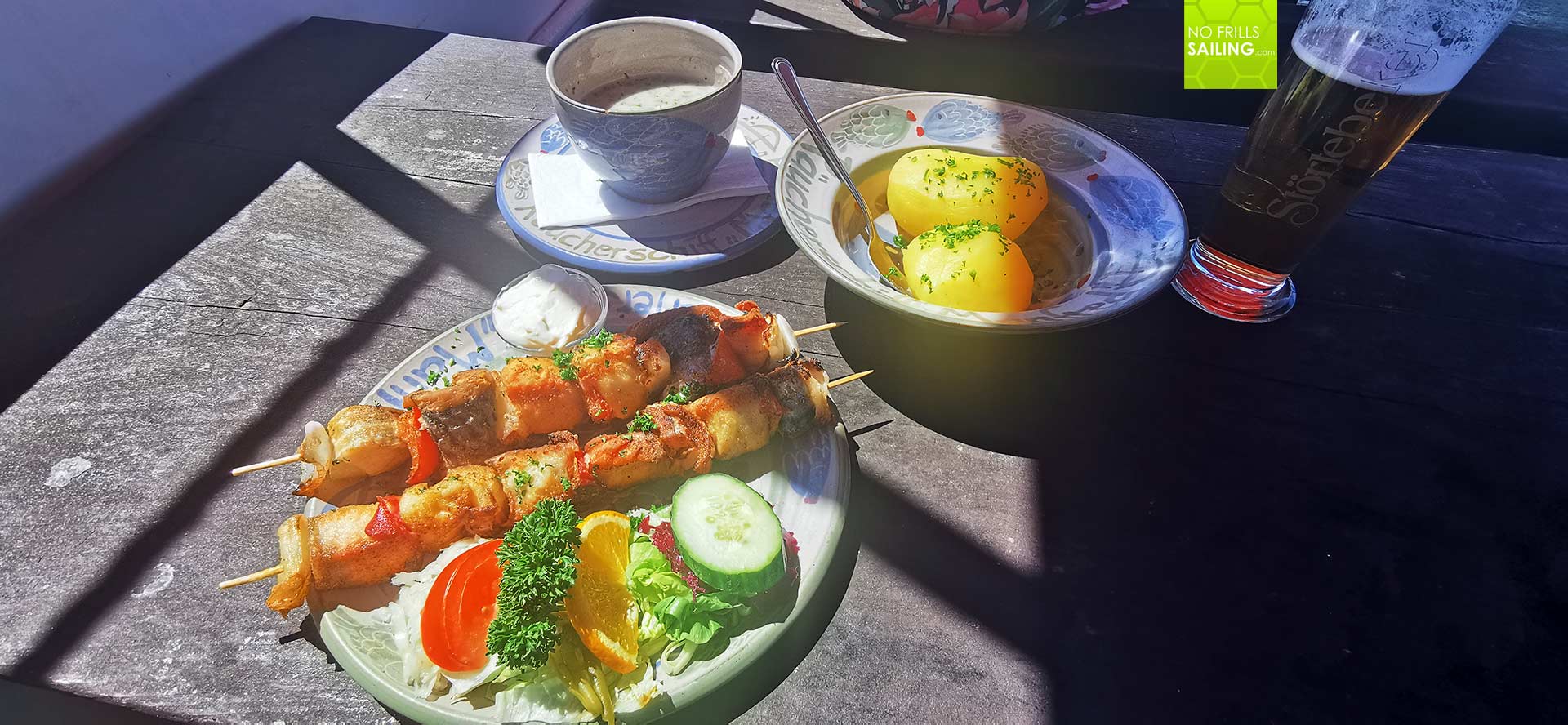 Well, "nothing" is a bit understated. I deiscovered a second teething trouble on GEKKO. I always wondered why there was a bit of water in the toilet´s bilge apparent. Not much during the first weeks of her being in the water, so that I thought it might be condensed water. But now, checking the bilge whilst I was cleaning the boat, the amount of water was bigger. Much bigger. I concluded that this must come from using the toilet now even more. Oh boy, toilet repair, one of the best jobs aboard! But the bug was discovered quickly: Every stroke of fresh water was producing a small waterfall at the connection between hose and bowl. I couldn´t fix it properly so that I decided to have a towel soaking in this water an get the WC repaired when I would be back.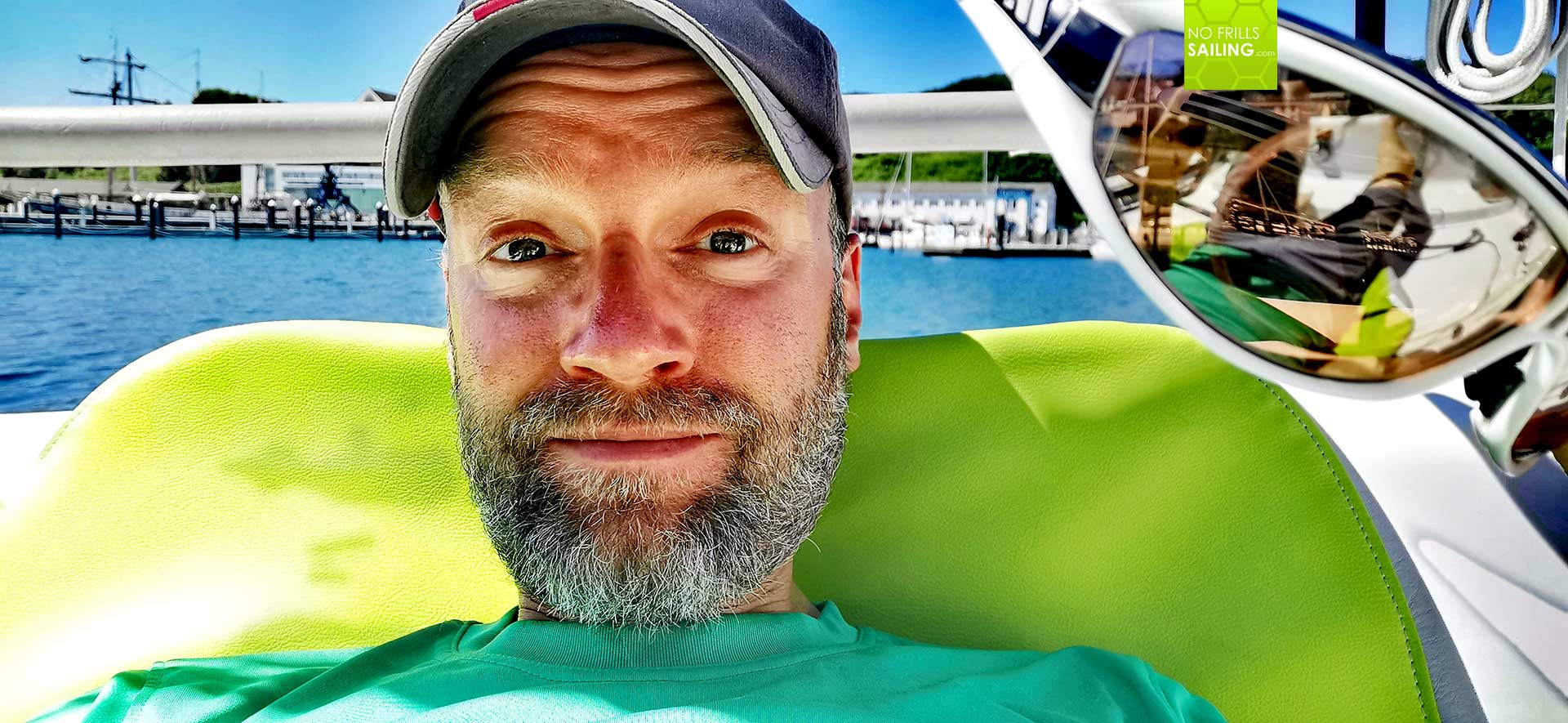 Other than that, I relaxed, had a couple of ice cream cones and enjoyed my cozy cockpit tanning my body. GEKKO produced a lot of small-talks with passbyers and strolling tourists. It amazed me how easy it is to make people smile by just adding a green Gecko to the hull. Some sailors dropped by and asked about the boat, other people nodded and wished a good holiday. I would say that if I´d arrived here in a big cruiser, nobody would have talked to me like this. Again, another pro of owning a small boat: It´s more lovable. Anyway, things changed quickly – and not for the good.
An awful last day
First of all I had to learn the hard way that the decision not to berth in a box vis-à-vis was a mistake. Fishermen and the excursion boats simply do not seem to care for good seamanship as they race in and out of Sassnitz harbour at flank speed. Not one and no expcetion, all do it. These boats are so fast that they create a huge bow wave: Simply not giving a damn of what their wake would do. Wrecking havoc among the boats moored alongside! Every 10 minutes or so a big one would be racing by, making be jump to the stern line and try to hold GEKKO so that she wouldn´t be thrown about all too hard. What a mess! I couldn´t  believe it and god very mad and angry. But that wasn´t all.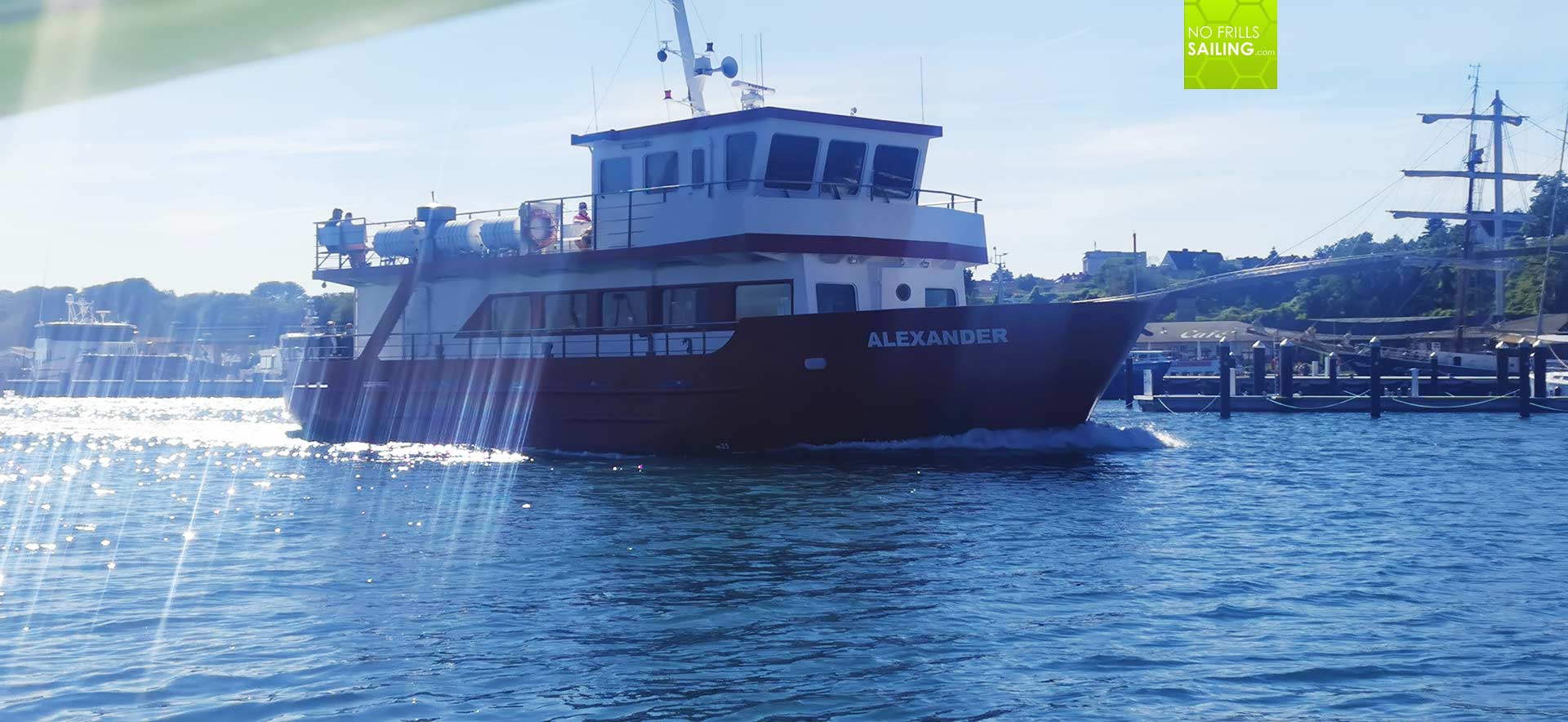 As I calculated and planned the next day out sailing, I saw that the trip back to Warnemuende all around Ruegen would be as long as some 95 to 105 miles. That made me go to bed very early as I would be getting up at 0330 a.m. next morning, casting off at 0400 a.m. to reach Warnemuende before 2100 when a new strong wind system would be arriving. Now, I went to bed at 2000 and thought it would be good – but another ordeal started. Swell in the harbor!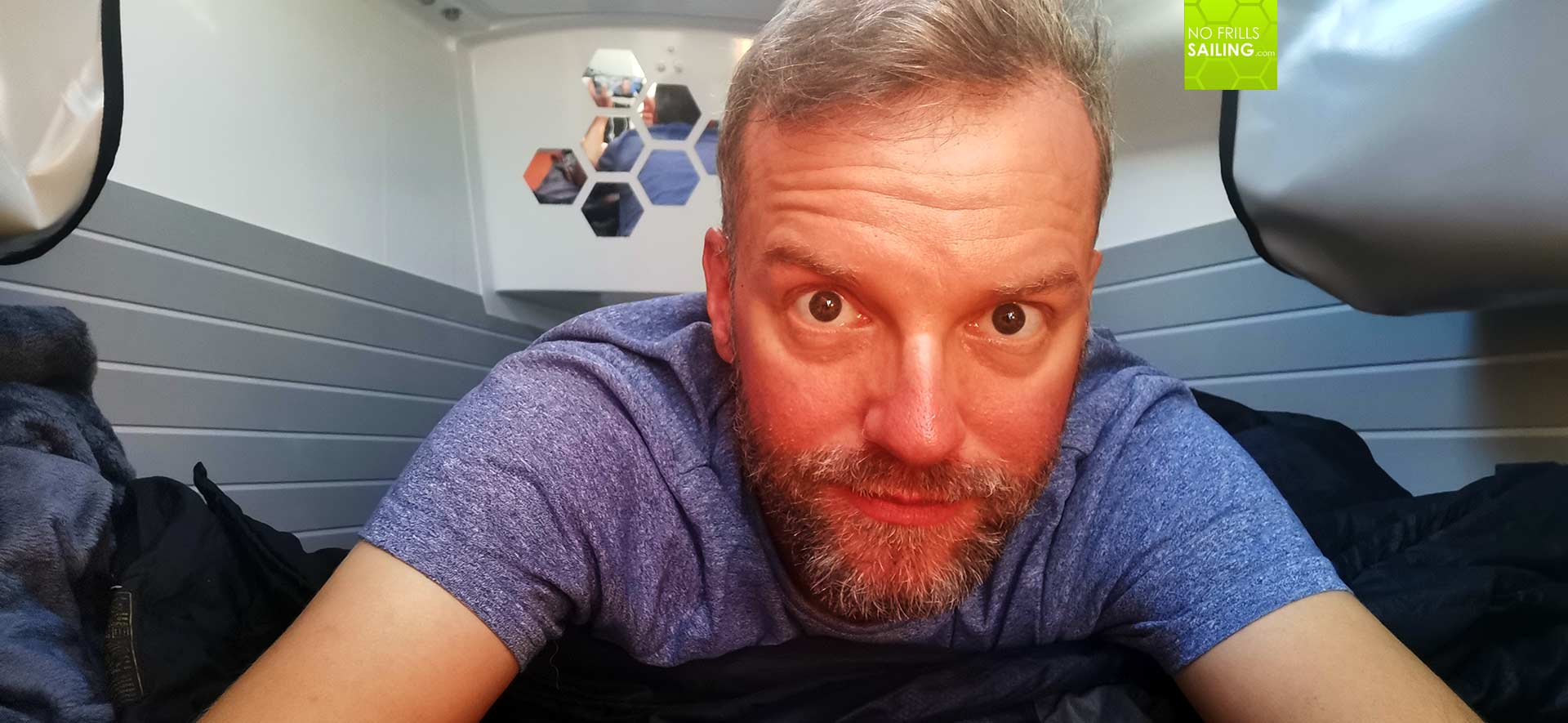 As I could see by watching the seas outside, a huge leftover swell from North-Northeast arrived at Sassnitz, sloshing into the harbor. It somehow passed the breakwater and sent a 60 centimetre-swell deep into the marina. The result was – paired with a 10 knot wind from the North – a very violent rocking of my boat and slamming into the lines. No joke, I got thrown about in my fore cabin with every fifth wave or so being double the size, making the whole boat appear as she would be taken apart any minute now. I re-checked the lines and tried to ease here, tighten there but there was no way to end the violent motion. The whole harbor was rocking up and down.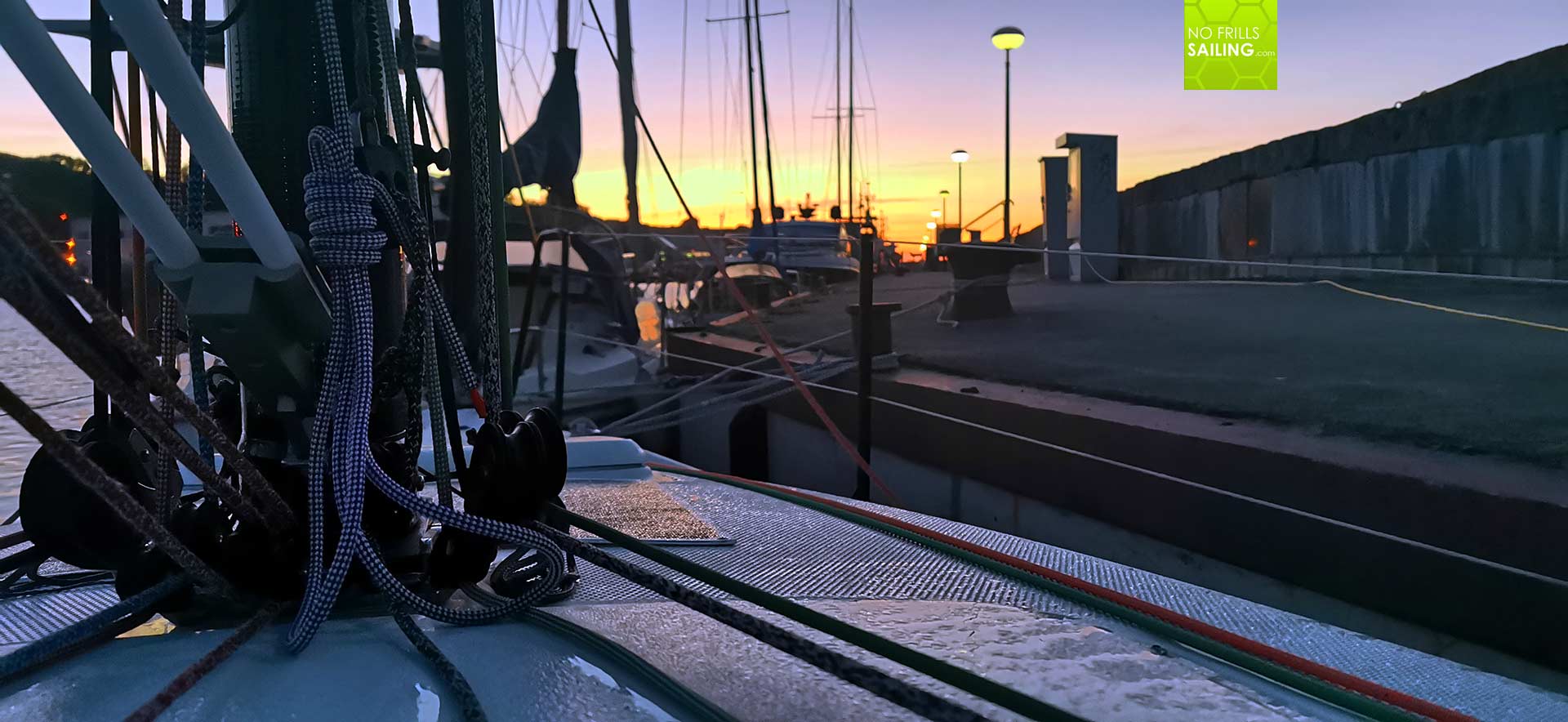 Sleep? Not a single minute! When my smartphone rang at 0330 I thanked got I was allowed to get up now and be able to leave this harbor. It has been the most awful night aboard a boat of my whole sailing career and I will never ever moor alongside in this harbor again, perhaps never even return again, which is a shame because apart from the speeding fishermen and the unfortunate setup of the harbor letting in that big amount of swell, Sassnitz is a great place to be.
Anyway, I was out even earlier than planned and it felt quite good. Instantly my good spirit got shattered again as I realized that the weather forecast (and I´ve checked three sources!) was all but off completely! Instead of a 12-14 knot wind from Sourth-So´west blowing me quickly around Ruegen and later on a broad reach towards Warnemuende, there just was a low 4-5 knot puff from the North. Well. No wind. I hoisted the sails nevertheless and thought the wind system may arrive later, hoping for better wind, and went North-East upwind. Which was a struggle for the boat: 3 knot SOG against this 1.5 to 2 metres high waves which have been a leftover swell coming in. No headway. At all! After 2 hours beating I had not made good a single mile at all – I was at the same position as my berth some 1 mile next to me behind the breakwater!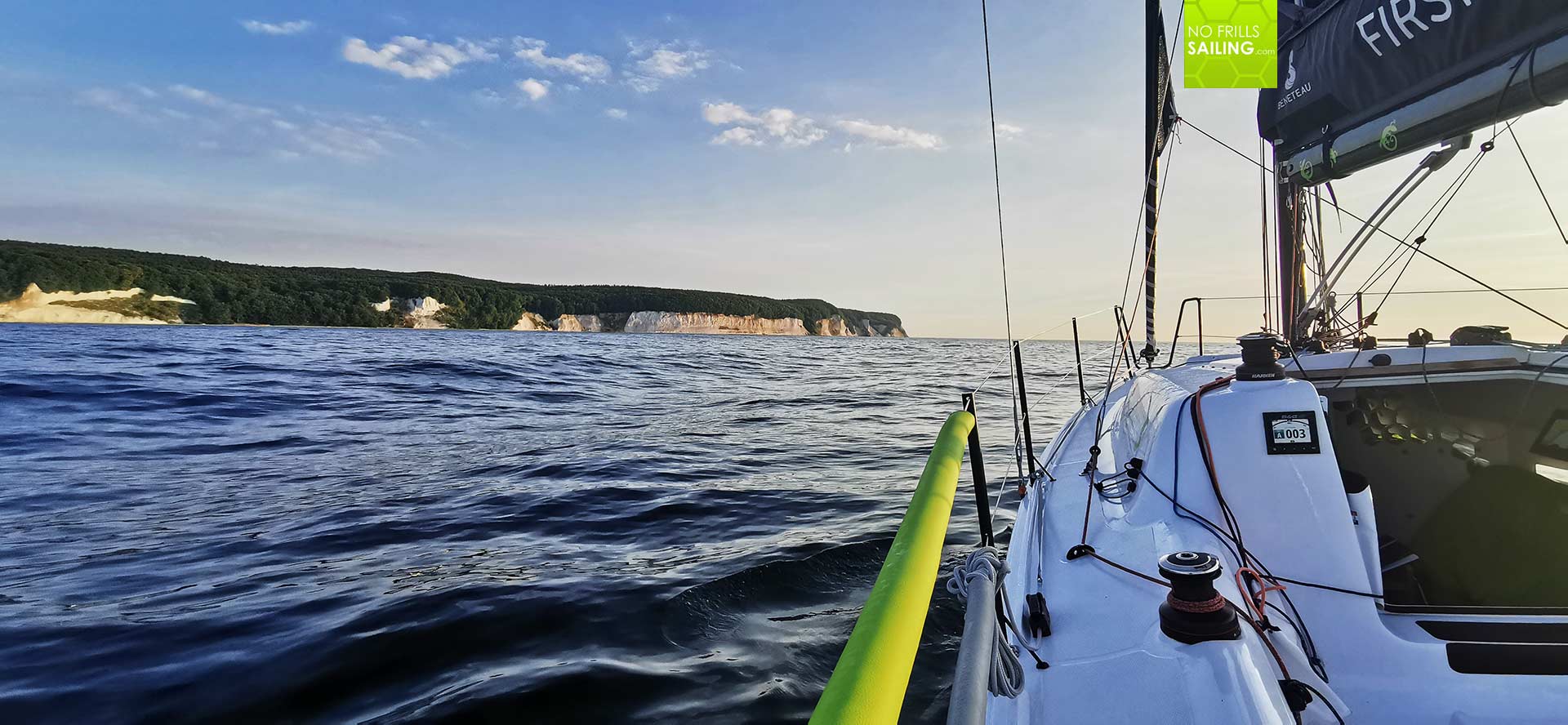 Taking down mainsail and later Genoa as well, I activated the Torqeedo again and steamed towards Ruegen´s famous chalk cliffs. Another two hours later I realized that the wind system I was waiting for seemed to have failed to arrive. I re-calculated the plan for today and the outcome was that – even if it arrived – I would not be able to reach Warnemuende before 2100 hours that same day. If I carried on I would have to perform another landing at the marina in pitch black darkness and in winds exceeding 24 knots. Well, not so good. Also, Torqeedo was down to 80 per cent and I didn´t knew how long I would have to go on by engine until wind would freshen up. So I had to make a decision …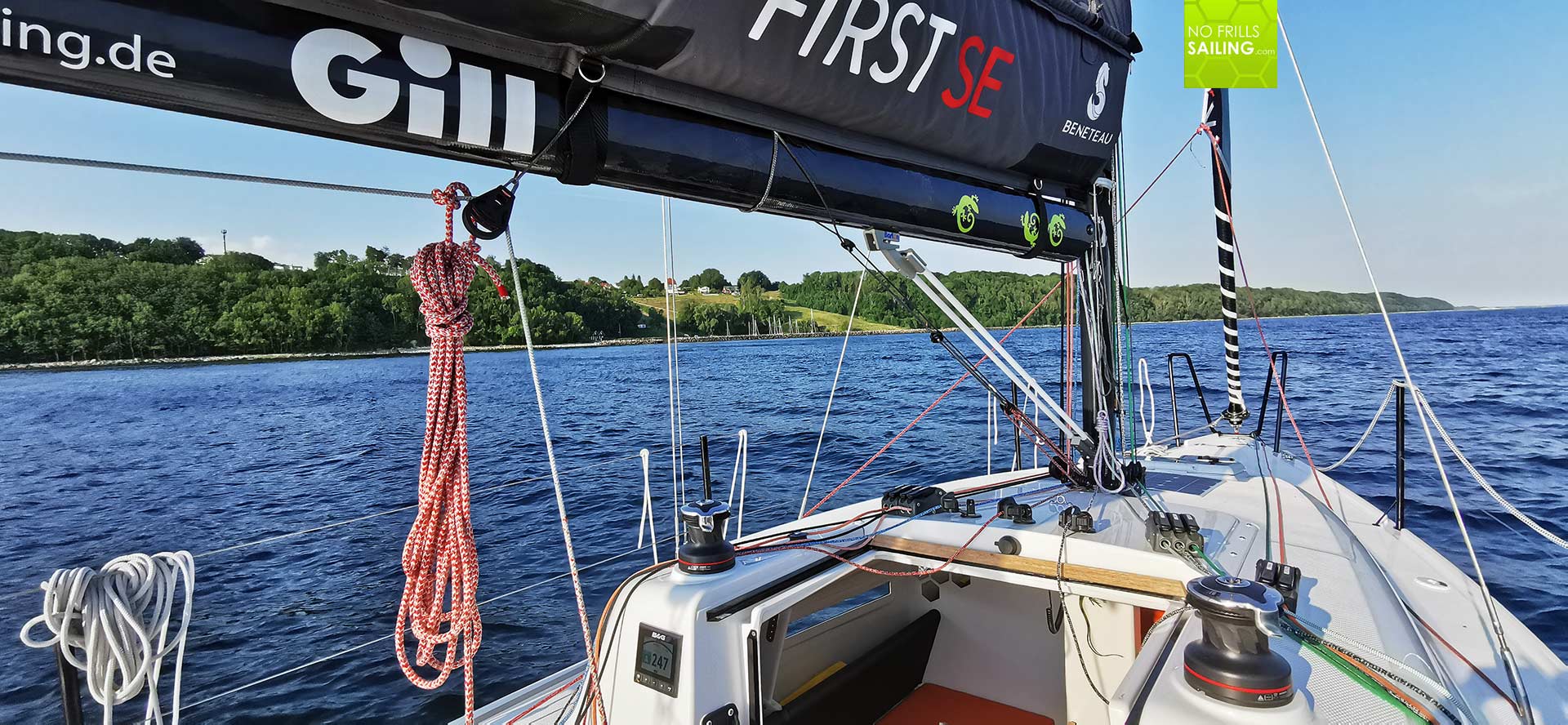 Taking into consideration that at this moment I already had lost 4 hours and arriving to my destination before 2100 (when the strong winds would be there, according to the forecast) wasn´t possible anymore; judging that I also had drained the battery for almost 3 hours (of 10); that I hadn´t slept the night before and felt terrible as a whole AND most of all that I wanted to start from Lohme anyway for my next trip to Denmark and Sweden in a 3-week-time, it seemed the best option at this moment to berth here. Which I did.
What a maiden voyage is good for
So now I left the boat for 3 weeks in the Island of Ruegen, sparing me a two day trip in the coming weeks (but also spending a load full of money for the demurrage). Nevertheless, it was very practical and will turn out to be the best decision in this case. To sum this shakedown cruise up: I´ve made some 160 miles in 3 "real" legs and was able to experience the boat under high seas real life conditions.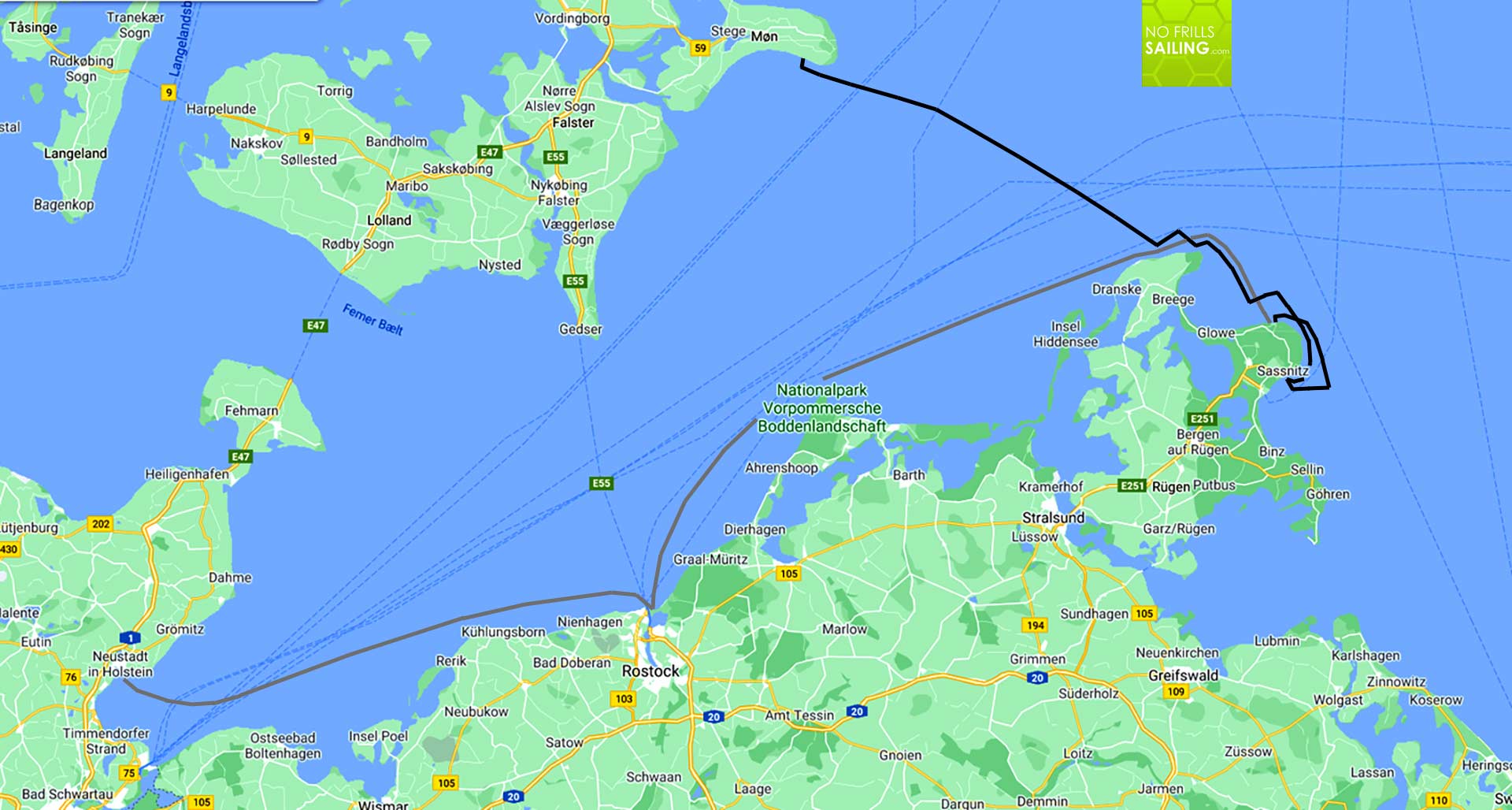 I learned a lot about her sailing capabilities and her daily use as a cruiser with all her comforts but also challenges she poses in comparison to real cruising yachts. Identifying some teething troubles which I will have to tackle now and get repaired of which the huge vibration on the rudders appear to be the most urgent ones. Lots to do, but also I am happy having undertaking this small sailing venture. Being a single-hand sailor is far less stressful that I had imagined but on the other hand I discovered two or three topics which emerged I hadn´t on the Radar before this trip.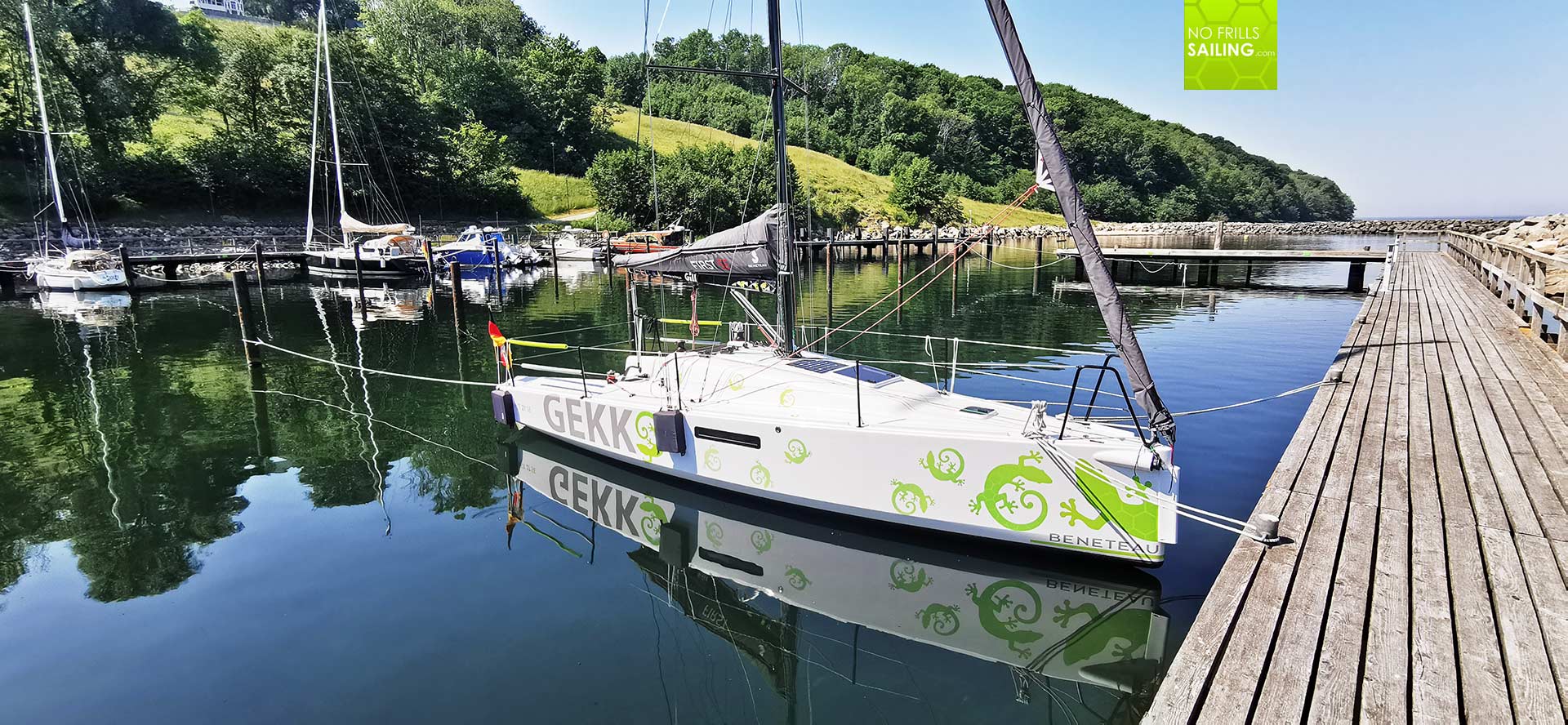 Now the boat is moored and she looks as beautiful as ever. Her green Gecko-design seems to blend into the picturesque scenery of the marina. She is a true beauty, a sturdy, fast little boat that comes with such a great variety of sailing fun. Easy to handle, always controllable, much more well-mannered that I thought she would be and most certainly the best boat for a keen sailor to start a solo sailing career and single hand sailing practice. I never have left a boat that happy: Knowing, that I will return very soon to start a new adventure.
You may also like to read these related articles:
A pretty perfect Baltic summer sailing trip
All #thinkseascape articles
Voyage and weather planning the pro way