GEKKO is now three weeks in the water and besides the fact that we have high season in the company with boat deliveries every week, I have nearly completed the commissioning. There are only a few items on the list left to tackle before I´d call her "ready to go out" and one of these was the initializing of the B&G network. My First 27 SE is equipped with instruments and gauges by B&G. Other than with the big Oceanis boats, the Seascape does not come pre-commissioned which means that the instruments are not "talking" with each other.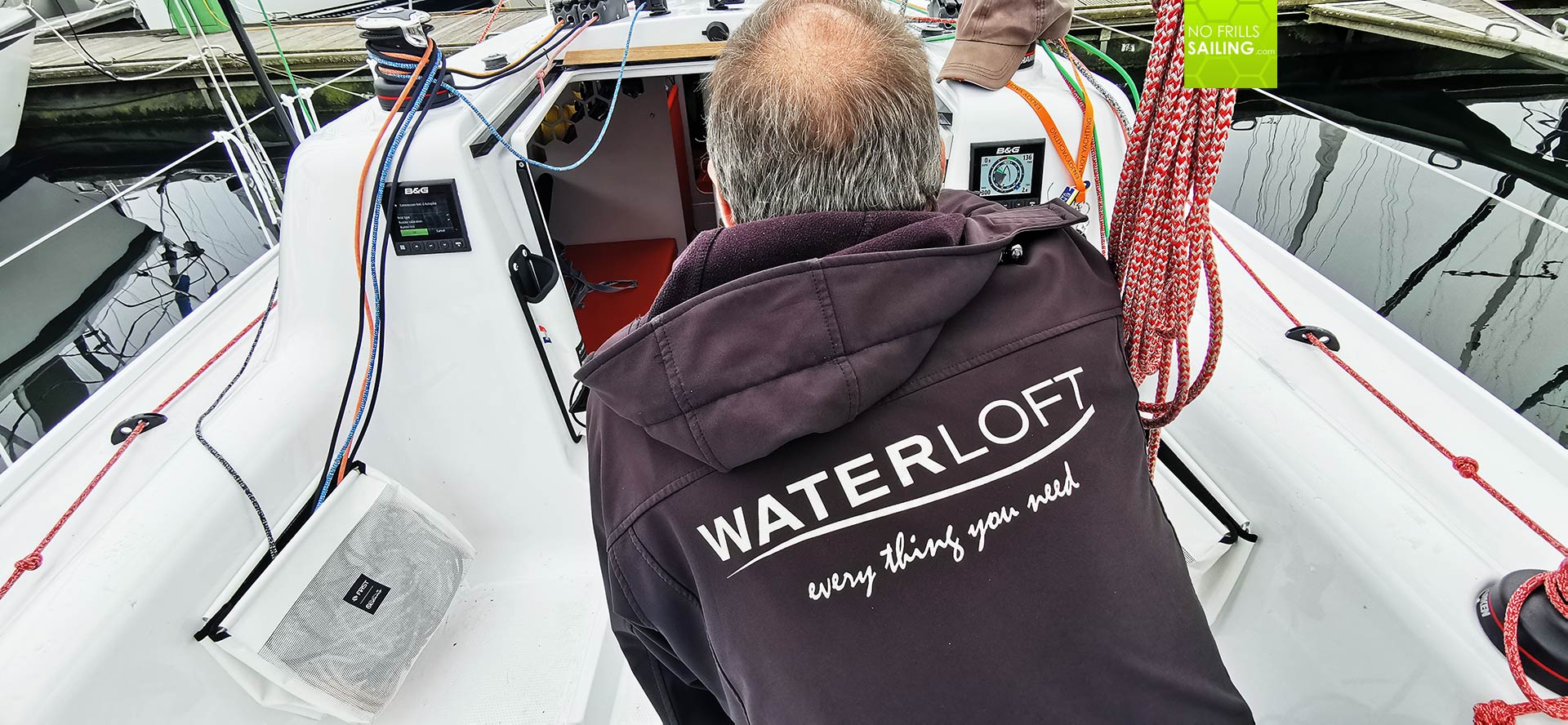 That means that the chart plotter does not come with an actual set of charts (this one must tackle by oneself and purchase the set, which I have done), the wind- and sea-gauges do send their data to the small Triton 4-instruments in the cockpit but not to the plotter and – most important for me – the autopilot is completely offline. Well, let´s tackle this! I do have a lot contact with B&G equipment (which I fancy over Ray and Garmin) but I wouldn´t say that I am a professional when it comes to a boat-network to the full extent: Time for a professional to call in for help.
Learning from a pro: Navico Boss aboard!
Lucky for me I am acquainted to Joerg Tapken, which is the German Navico-boss. Navico, in turn, is the owner of the brands B&G, Simrad, Lowrance, C-Map and so forth. I gave him a call a few days before and asked if he could come in and help me initializing the boat´s network: Good for me, apart from the fact that it was Sunday (!), Joerg arrived at the berth just on time. What a service indeed!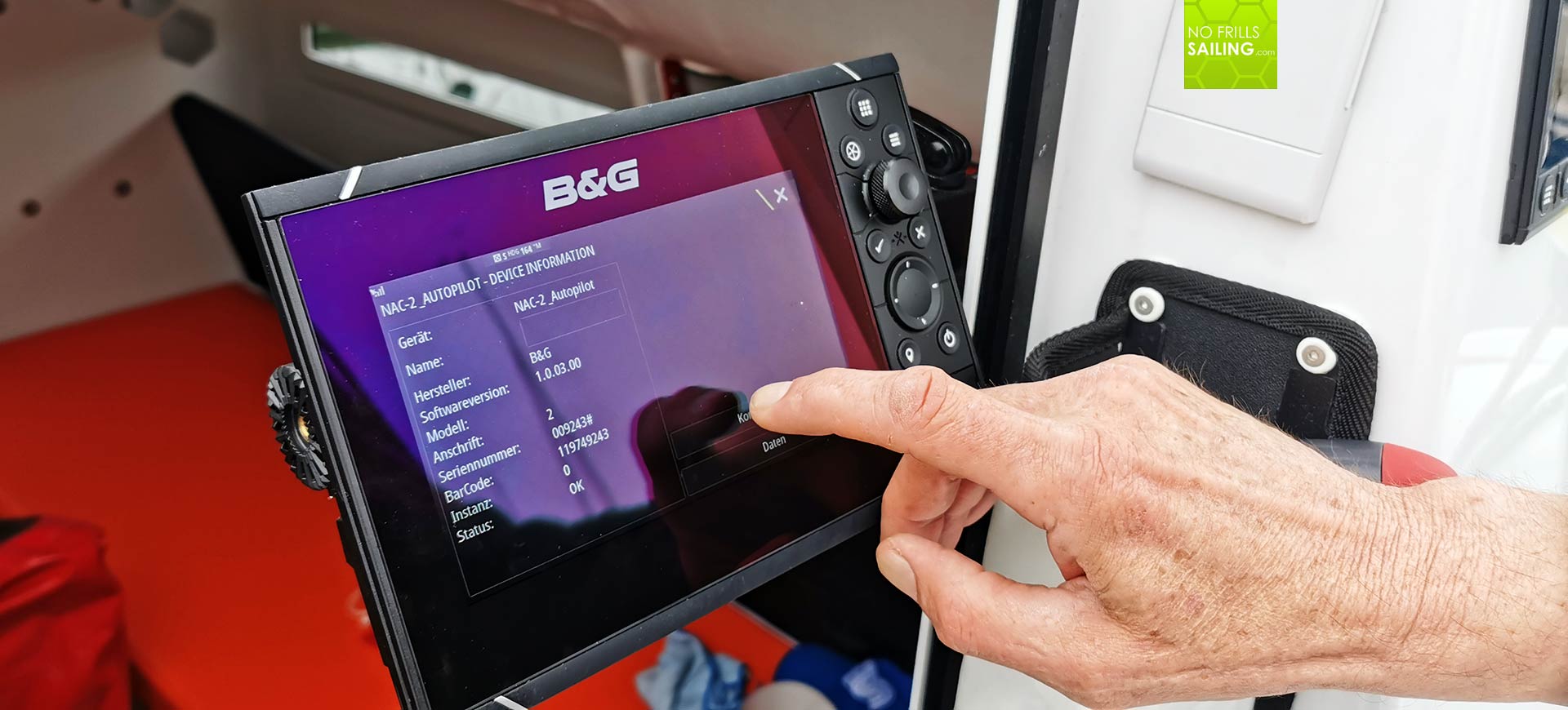 First of all, if you do not install a completely new network of equipment in your boat, mostly your boat dealer (when it is a new yacht) or the workman installing new parts will initialize equipment and calibrate this. You should insist on this service when placing an order in the first place. Due to the fact that nowadays all instruments are based on NMEA 2000-standard, this shouldn´t be a big problem. NMEW 2000 basically means that all instruments "speak the same language" and should be connected with a "plug and play"-mentality. Nevertheless, a tiny bit rest of work remains.
Bringing the Network into Service: Simple Steps
As far as I have learned from watching what Joerg Tapken was doing on my boat, there are 3 simple steps for initializing the network. "The first step always is to make all members of the family know each other", he said and went to the menue of the chart plotter. By checking "settings" and "network" he chose an option which automatically detects all parts connected to the NMEW 2000 backbone: The log, the compass, the windex and so forth. This takes a few seconds and a complete list is displayed on the monitor.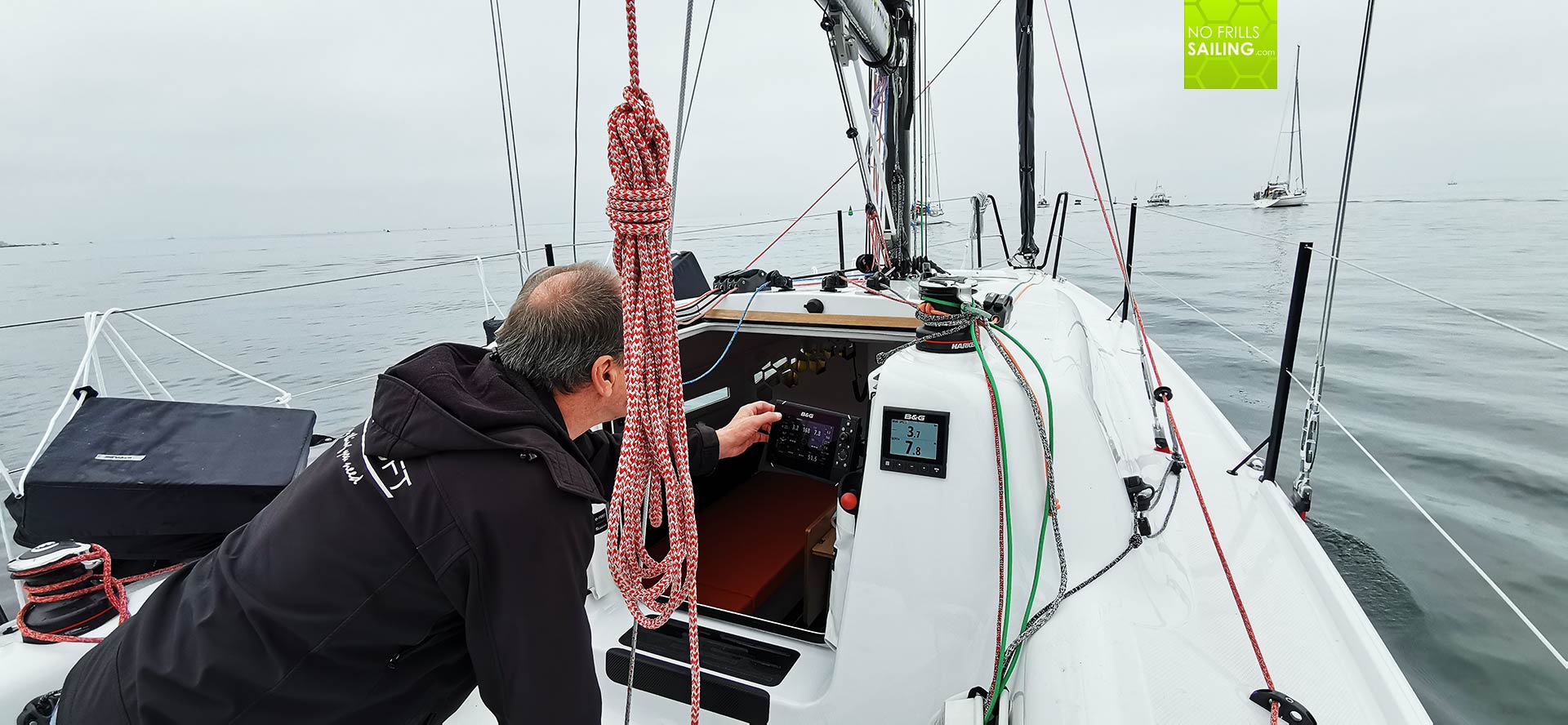 The second step is to check for each part if it sends data properly. Meaning, a windex might be connected and identified by the network but it may not be sending data (due to a problem with the part itself, low battery and so forth). He checked the list and all was fine. Next was a check from the other side: For each kind of data we want to see displayed – be it position, speed, wind and so on – is there the right instrument connected? Meaning, for position for example, we could choose either the normal compass or the precision compass aboard. We chose latter, of course. "Now, that is something we do at first at the jetty. It takes some 15 minutes and is the basic groundwork for setting up the boat´s instruments network." Let´s start to make the instruments work. Some of the calibrating-action takes place in the harbor, most of it will be done outside when underway. As I will be sailing mostly single handed, for me the autopilot is the single most important part of the equipment on board. Joerg started the calibration dialogue on the plotter, "berth side operations" and the monitor talked us through a set of actions, of which the rudder stop was one. I casted off the mooring lines and we effortlessly and silently left the harbor.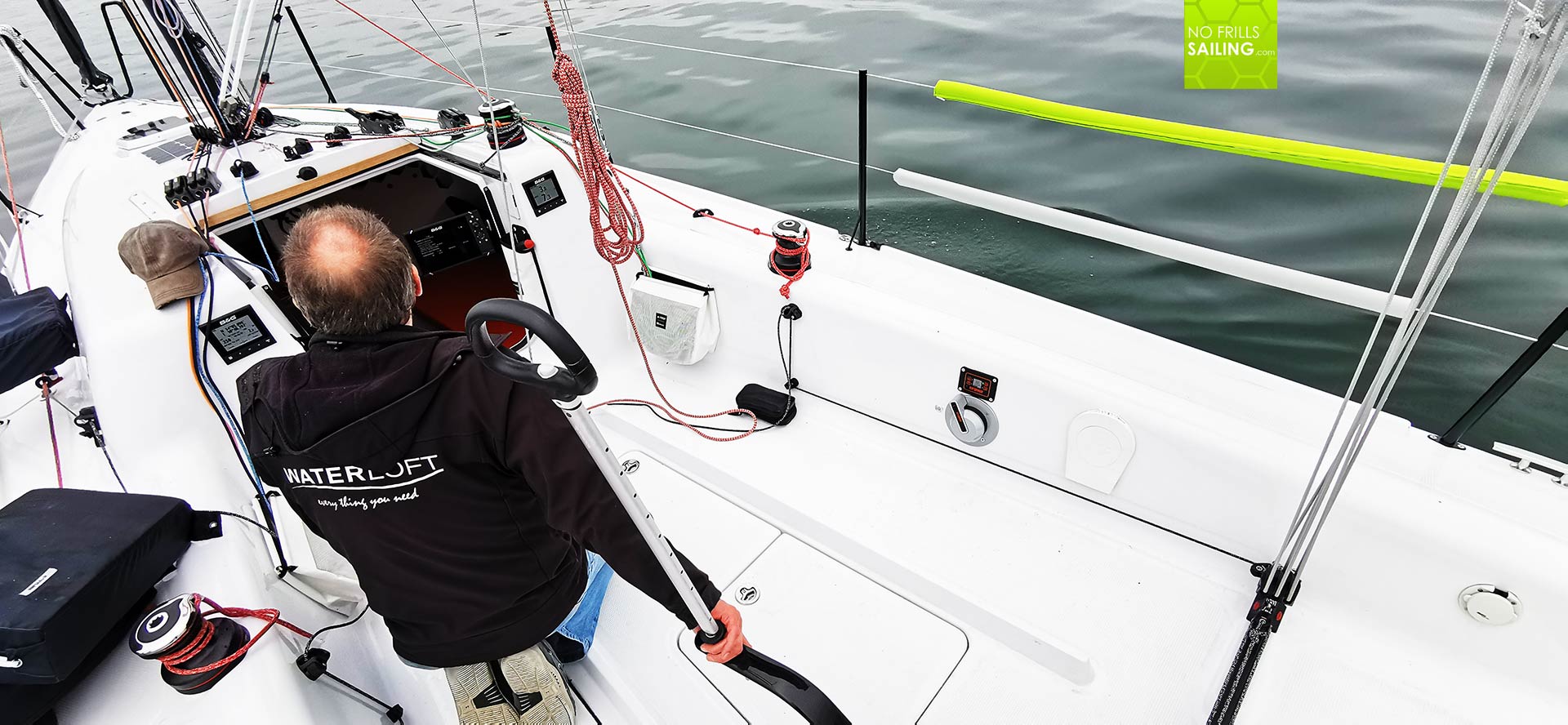 It was a very foggy morning, no wind and no waves – which was just fine – but also no sight. As this weather did not draw all too many other sailors to cast off, we had the sea for us alone which was a good thing, as initializing the instruments also means to drive around in circles. That was a no-brainer, I thought afterwards, because Joerg initiated the compass calibration program and the plotter simply told him what to do. We completed nearly two full circles in a slow manner and that was it. Okay, what´s next?
Most important part: The NAC2 Autopilot
As I will be out sailing single handed most of the time, the autopilot for me is the single most important technical part of the boat when it comes to "surplus" options. Be it for holding a due course when setting sails or reefing, having a reliable helmsman on long haul trips of several hours or just a pause for using the toilet or preparing a meal: Mr. Robot-Helmsman is indispensable.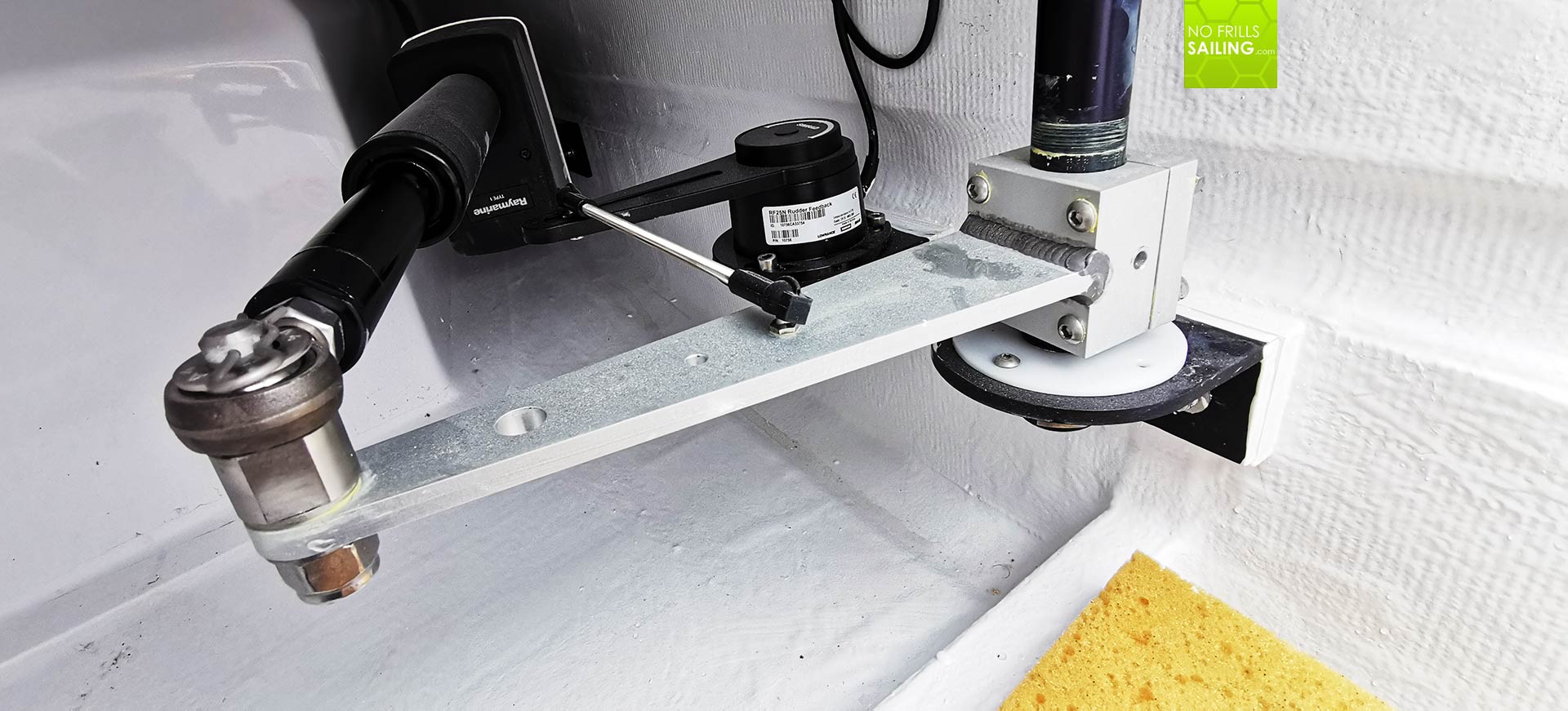 Now, what did we do? There is also a dialogue in the plotter when calibrating the self-steering system, first thing you check is maximum rudder stop. Mostly the yards will have set this already, with my boat it hasn't. If triggered, the system simply asks you to put the tiller to max starboard and port side stop so that the powerful lever pulling and pushing the rudder won´t damage the boat. Once outside, you switch to "sea trial" calibration mode and the plotter talks you through as well.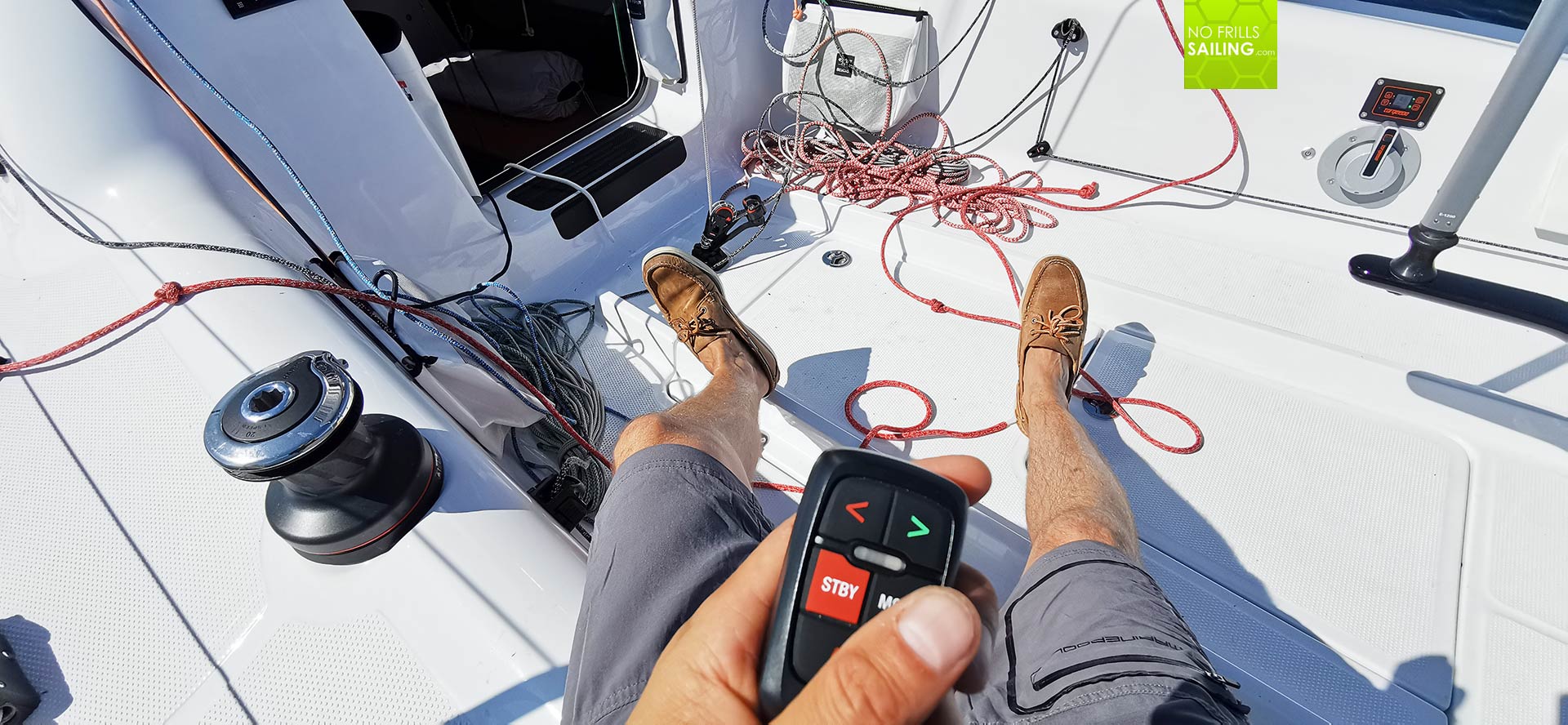 This is also a matter of a few minutes, if not a single minute alone. First slowly, then more rigid, the autopilot will begin to zig-zag its way through the water, adjusting course and position, speed or rotation and so forth. This is amazing to see how the robot "learns" and – I am a father of two kids – it somehow reminded me of a birth. No, really, a modern autopilot is kind of intelligent. Here it really came to life and I was fascinated. We checked everything, controlling the pilot by remote, by plotter and by the mounted panel and it all worked just fine. That´s it!
Live Test – perfect!
The following day I was first to arrive at the jetty: Checking forecast it seemed just perfect for a smooth live test. 3 to 4 knots of wind, no waves at all. But I needed to be fast as the wind was to die out around noon. So I went out and it right away was a brand new – and much better! – feeling. Having the B&G autopilot remote control hanging around my neck I was able to initiate and kill self-steering at all time and to apply course changes at will. So, after hoisting the main the boat held a steady course and by pressing a button it veered off to catch some wind. Nice!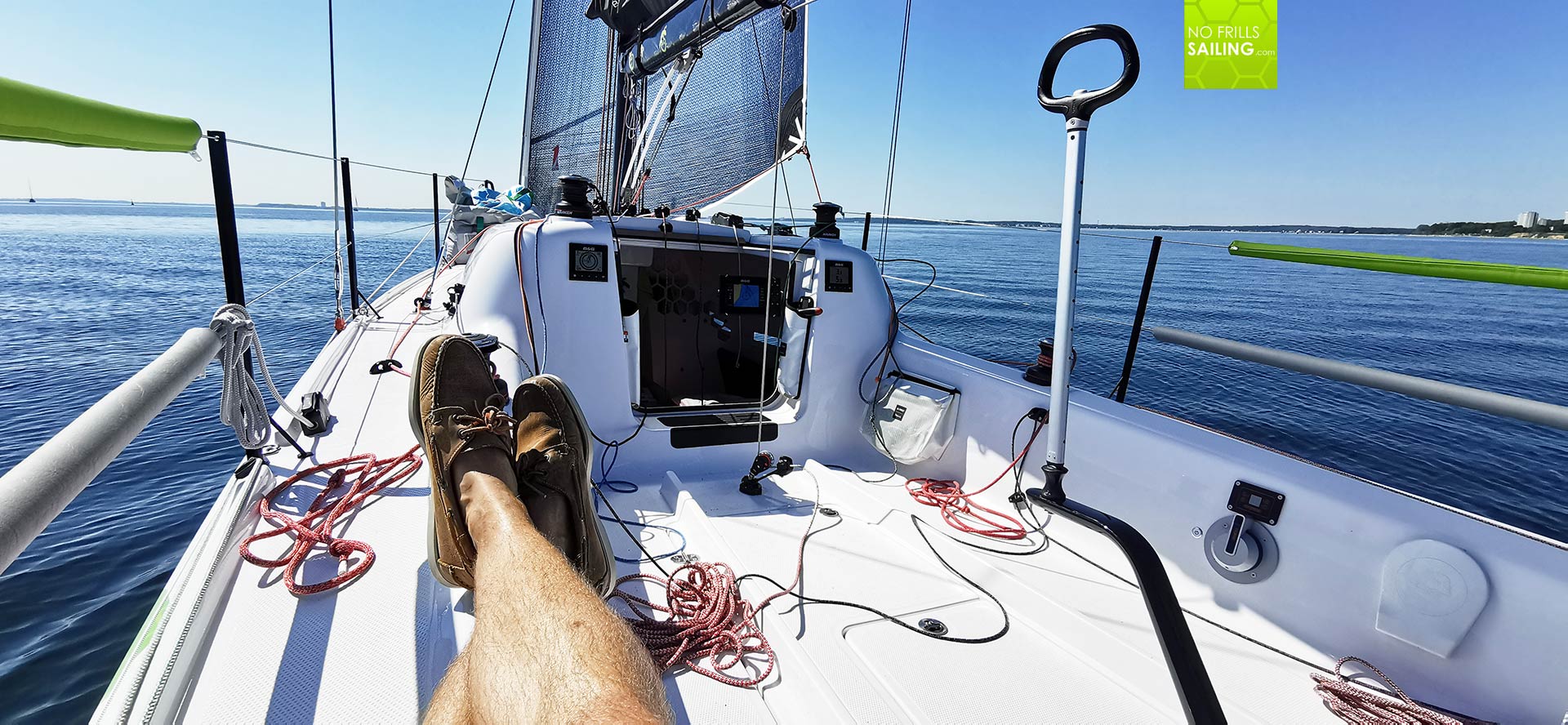 As both sails stood up proud in the – admittedly – very low puff, I  retreated to the back of the cockpit, curled myself up against the aft pulpit and switched to "follow wind angle" mode. The instruments showed a true wind speed of 3.4 knots with a slight tide on the nose – and the First 27 SE made a speed of 3.0 knots over ground. Upwind! Isn´t that a wow?!? I followed upwind course for one hour do gain some distance. Never touched the tiller once. As wind began to die out, it was already down to 2 knots, I made a U-turn, prepared the Gennaker, furled in the Jib and hoisted the big blue bubble.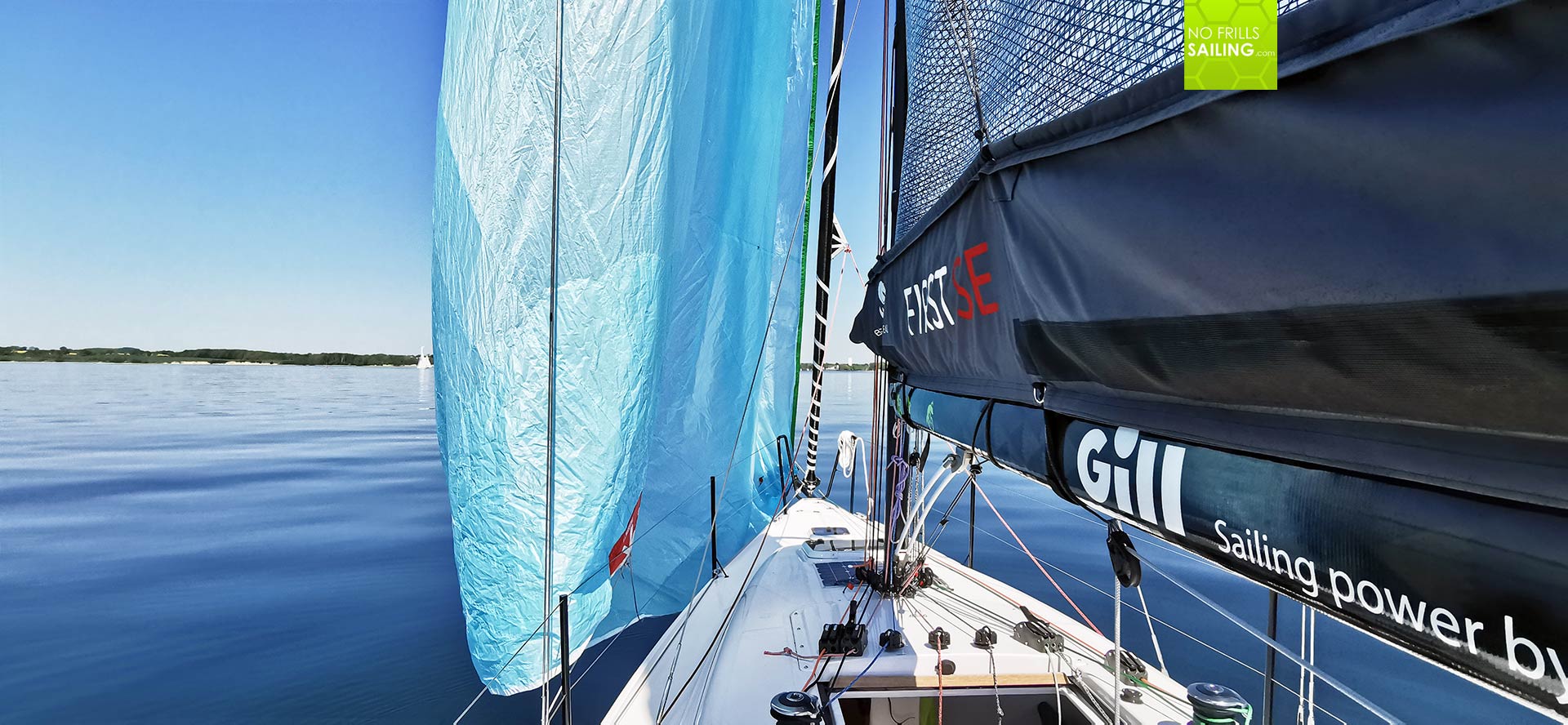 Well, too late. The wind just completey went down that moment so that the nice sail hung down like an exploded kid´s balloon. Sad thung to watch. Anyway, I used this opportunity to get it down very slowly and in a controlled manner to pack it even better into its sails bag, ready for next trial with hopefully more wind. Getting down all sails and switching to e-prop mode, I went back to the berth and docked the boat safely.
What I´ve learned
Well, of course I´ve learned that one can absolutely do this calibration thing by self-studying, watching tutorials and trial-and-error. But what Joerg has shown me is that a guy who does this for years and years will have a modern NMEA 2000-network like this with multiple gauges and instruments collecting data and sending them to each other set up much faster. And much better than I ever would have made it. Best thing about this: When an official B&G guy does that, the owner receives a special 1 (or was it two?) year onboard warranty, which is great. In case something happens, you won´t have to uninstall and send in the parts, somebody will come and visit you in your berth.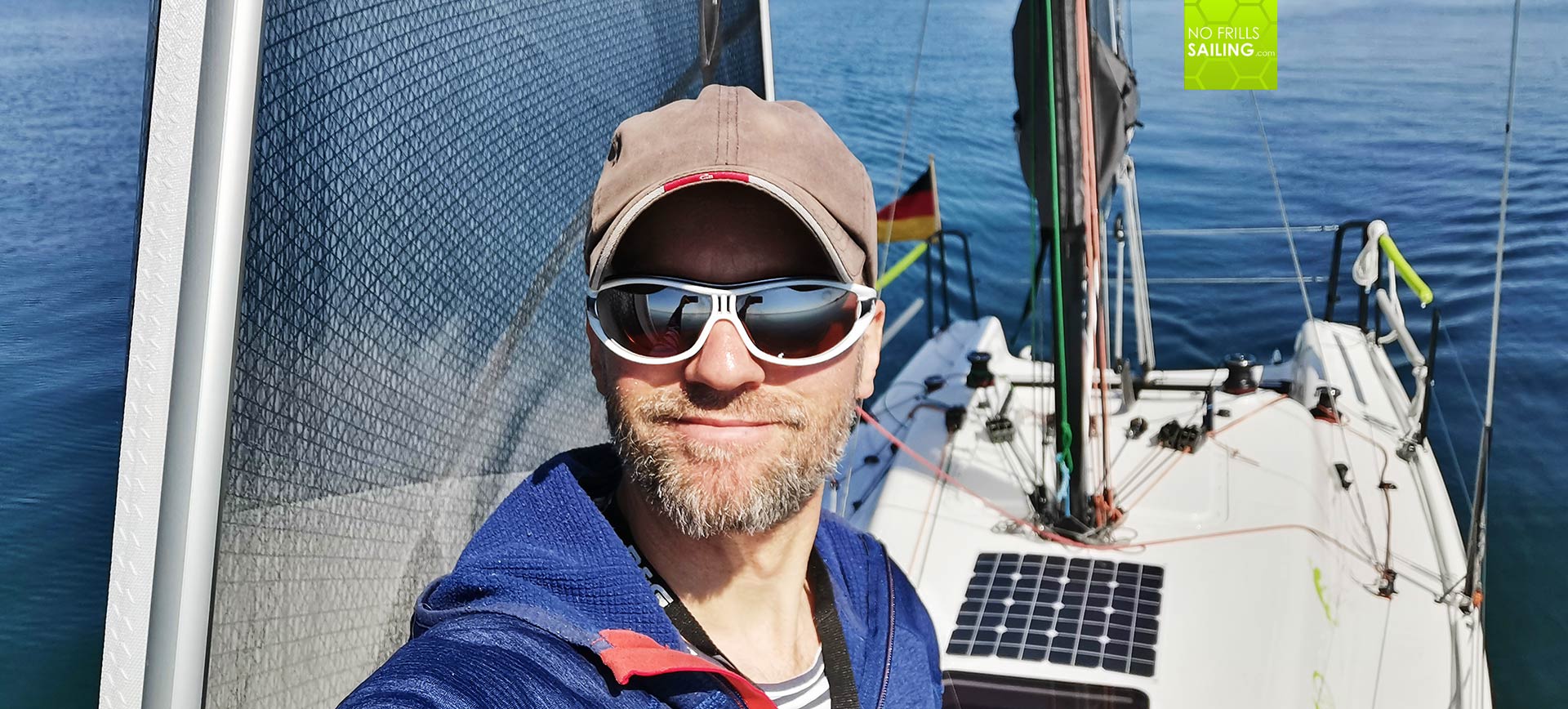 Secondly I – again – learned that modern equipment is something nobody should be afraid of or too proud to use. I know many who state that these "modern gadgets are too expensive and will eventually fail". Well, that may be, but before they do they will make sailing so much easier and more convenient. I am happy having decided to opt for the NAC2 autopilot (the more expensive one) as I am sure this crew member will have to fulfil many, many more hours on duty aboard GEKKO than any other will.
Thanks to Joerg Tapken of Waterloft/Navico for sacrificing your Sunday.
You may also like to read these articles:
What I´ve learned from my first Atlantic Ocean sailing trip: Technical Equipment
Night sailing & crew shifts, how to