There´s a huge trend currently in boating – "Getting rid of the middle", I shall call it. Mainly that´s the loss of the mid-size yacht owners in the former bread-and-butter size market from 38 to 42 feet. These people, the new middle class, are obviously more into charter than actually owning a boat  which means that for boat dealers the focus now has shifted to the big boats and the small boats. The trend towards smaller boats is clear: You do not have the hustle with a berth, marina, club and stuff. You just have a small boat, keep cost low and fun-level high. This is where a new breed of "pocket racers" kicks in.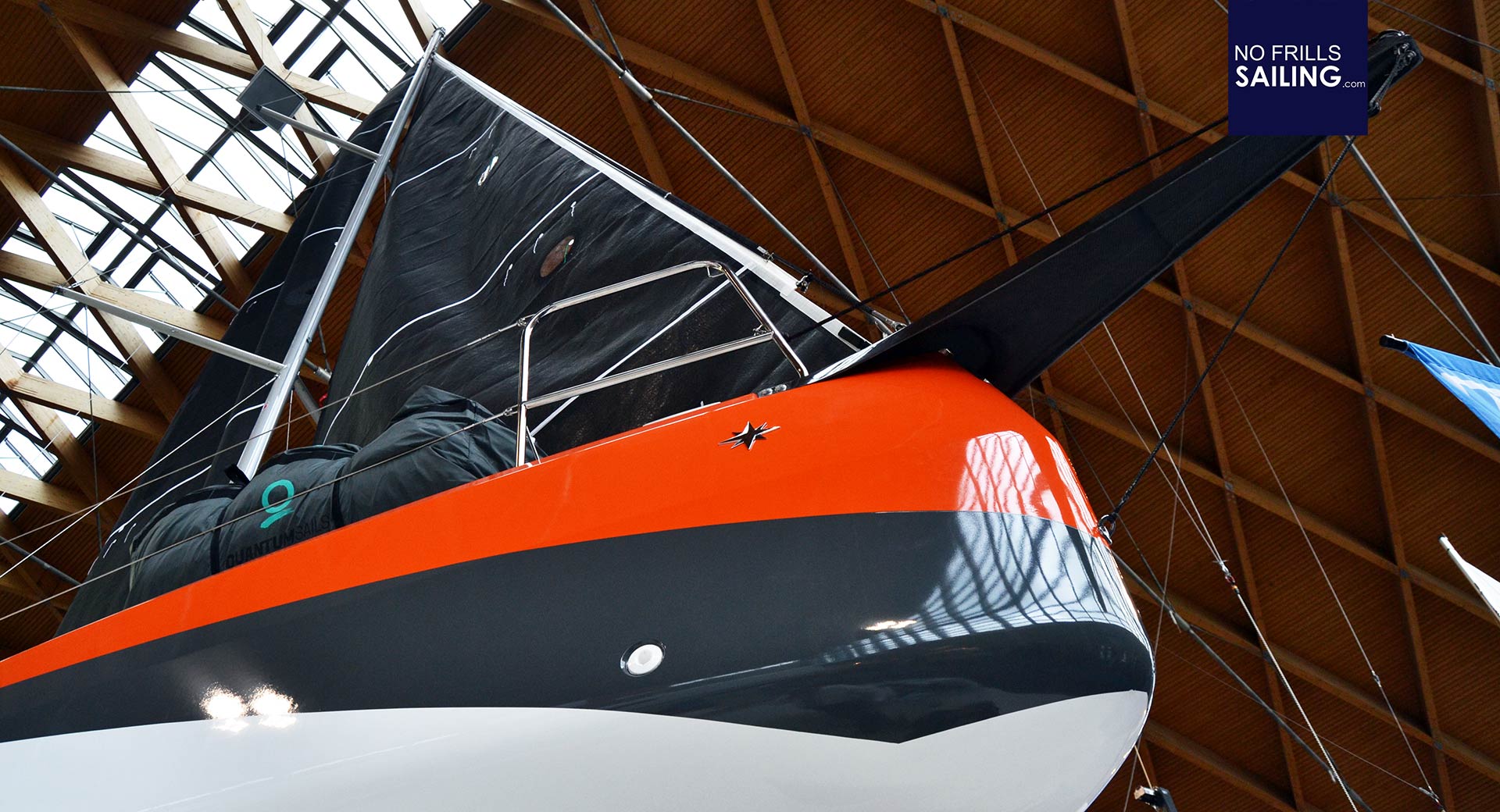 Right on spot together with Beneteau´s new Figaro 3, the new First-boats (ex-Seascapes) and Dehler´s new 30 OD, Jeanneau´s SunFast 3300 is one of them. I saw her during Lake Constance boat show this year and I was excited to seeing one of these boats exhibited. Grabbing the chance for a walkthrough, I was glad meeting the Jeanneau guys who showed me around and instantly offered a sea trial. But first things first …
A new French pocket racer
Jeanneau has a long and prosperous tradition in offering small-size racing yachts of the SunFast brand. Her latest 3300 has been designed by renowned naval architect Guillaume Verdier and Laurent last year the new yacht has been stirring up the racing scene ever since – all the new small pocket racers have the upcoming Olympic Games of 2024 in France in mind. As of now, no decision has been made on which boats the Games will be sailed. The SunFast 3300 might be one of them.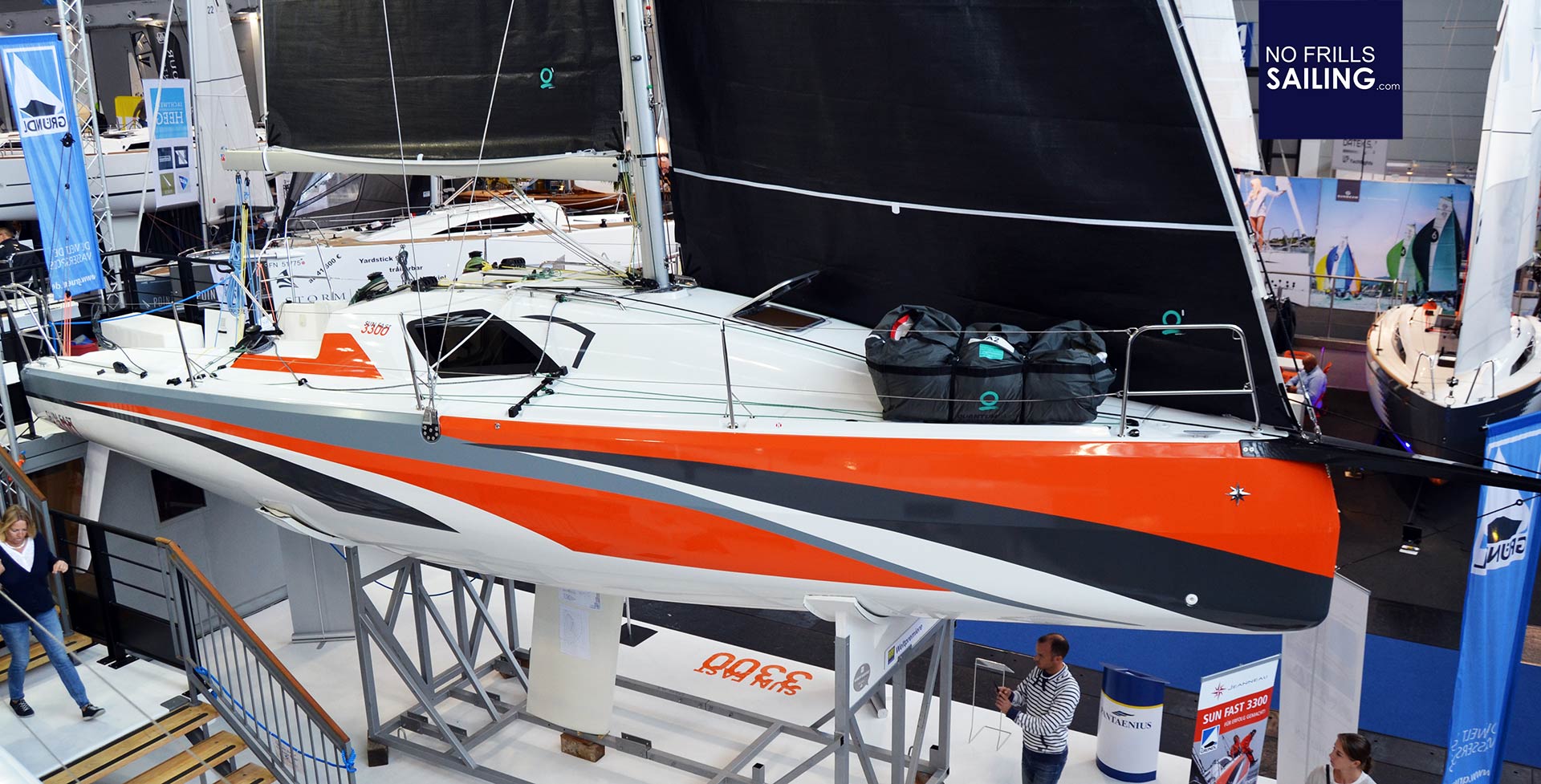 Her technical specifications are promising: With a length overall of 10.11 metres (8.90 metres waterline) and a max beam of 3.40 metres she is a small boat made to be managed by a single or double handed crew. Boasting 61.9 square metres of upwind sail area she has just 1 square metre less sail area. Weighing in some 3.5 tons, she is also a bit heavier than the new German racer (2.8 tons). Promising numbers nevertheless.
Verdier´s idea of fast racing
She will be a reaching boat for sure. Looking at her hull shape one takes notices of her voluminous rounded bow that is more comparable to the scow bow than to a classic boat (as seen in Marc Lombard´s last Class 40 design, the LIFT 40). Her stern is getting slightly slimmer not carrying the full beam to the transom, which is strange to see in a modern boat at first. But the concept is clear: Low planning speeds, highest possible speeds on TWD-courses greater than 90 degrees true.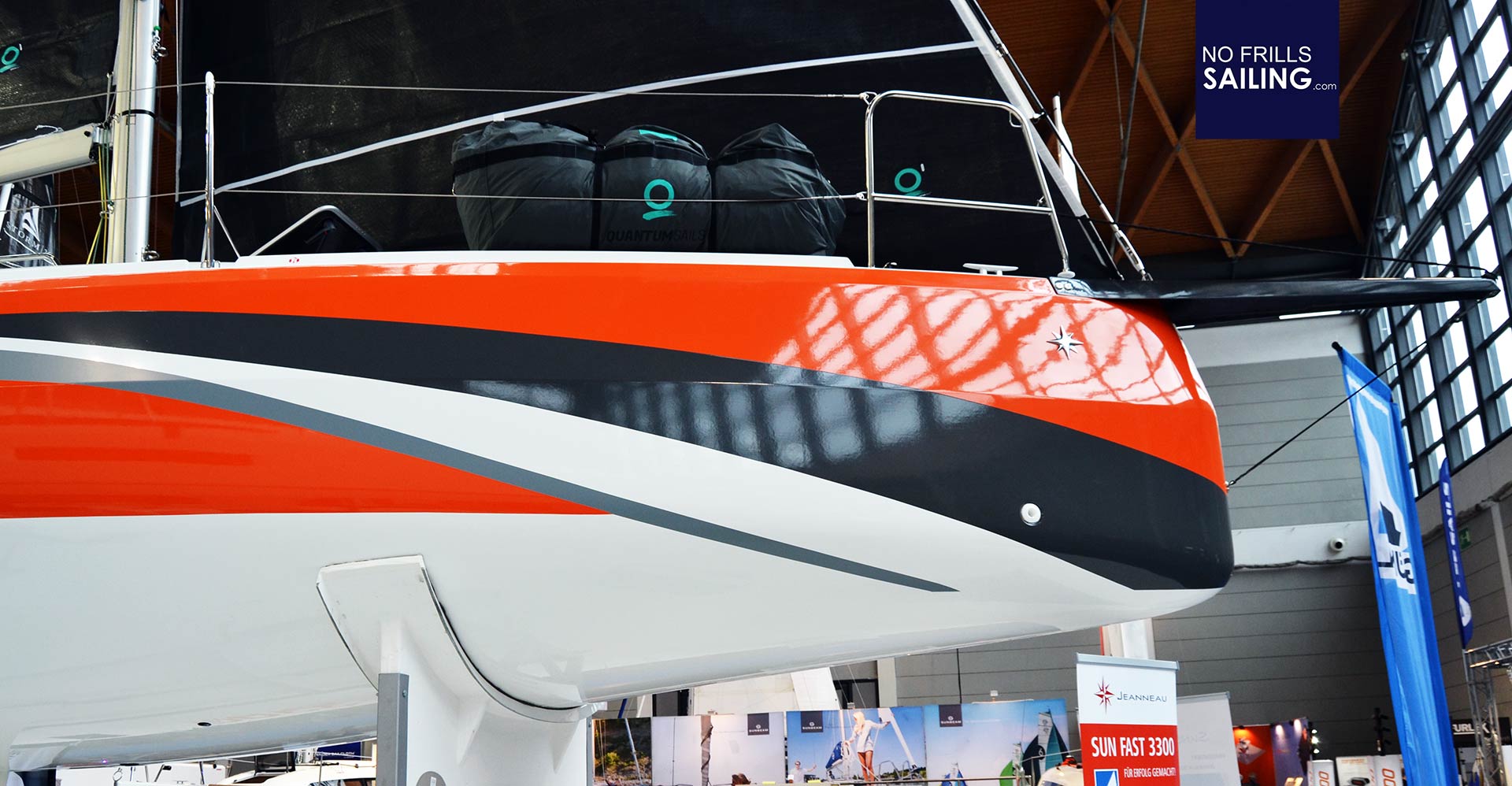 Another remarkable detail on the SunFast 3300 might be the hull in the stern section. It was very hard to photograph this but maybe you can spot a rather concave shape of the stern section at the rudder blades: This new shape was invented by Laurent and Verdier to increase lift effects of the stern and help getting the hull to take off to planning mode earlier.
Of course the new SunFast 3300 is a reaching boat. She will probably feel not very comfortable on upwind courses and especially in rougher weather conditions with higher waves. But that´s just an educated guess by looking at her hull shapes. A sea trial under real conditions will make things clearer in this regard.
Running rigging in the SunFast 3300
The SunFast 3300 is made to be raced by a single or double racing crew. Although being CE-certified fpr A with 6 people, I don´t think that having the full complement of crew will be than fun on this small boat: She is made for the lone fighter or a dedicated couple taking on the race and hunt down the pack. Let´s look at her layout in terms of running rigging.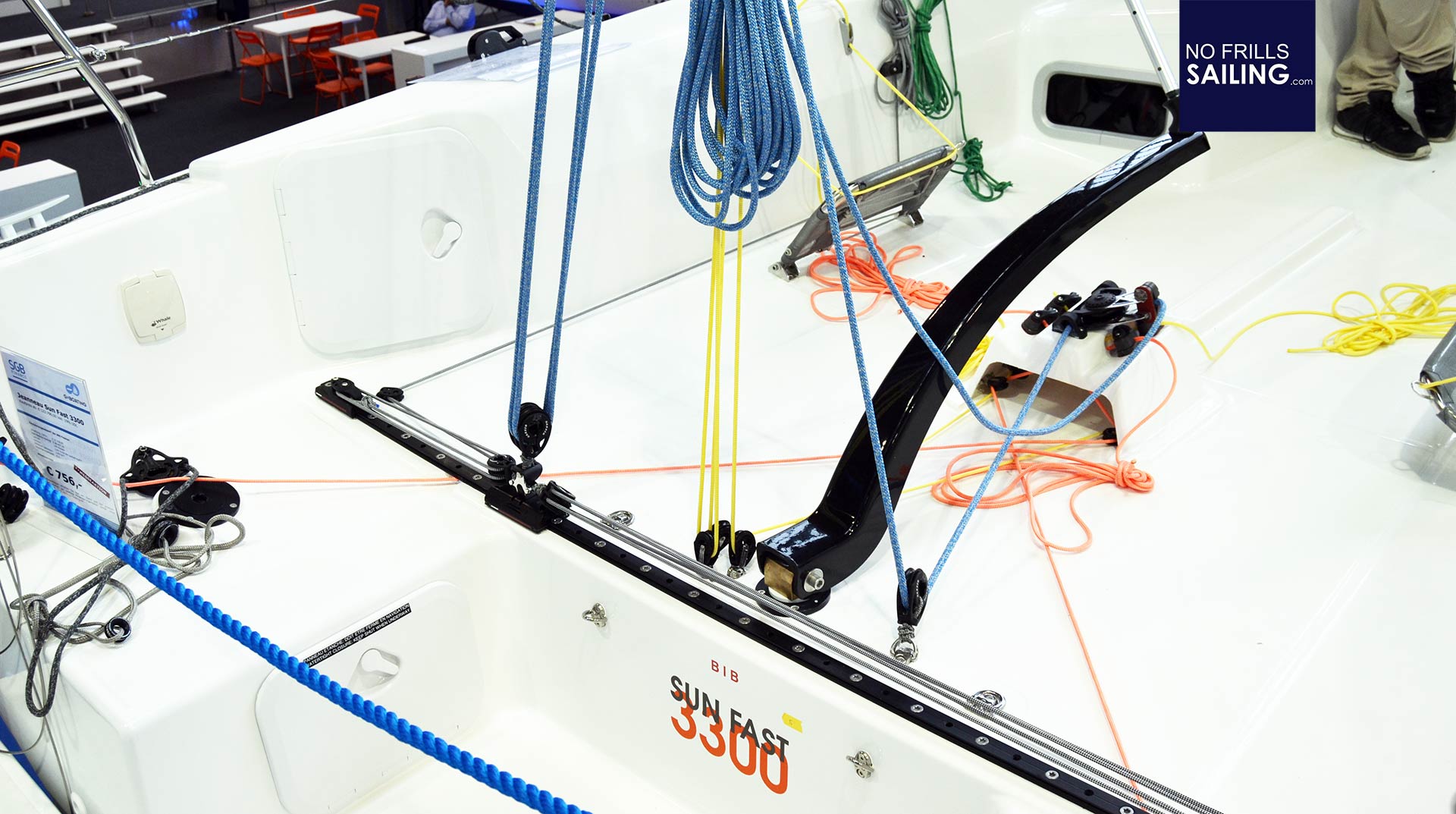 The double rudder blades are controlled by a single tiller mounted in the longitudinal axis of the boat. A tiller extension may be used by the helmsman to steer the boat when sitting on the coamings. I like the idea of reducing mechanical parts and having just one instead of two tillers. There is a small erected post right in front of the tiller where the mainsheet is rigged – typical for boats this size the mainsheet is just put into a curry clamp.
A large, extra-wide mainsheet traveler with an extra boom trim allows fine tuning of the mainsail and will be fun to ride for the experienced skipper. Adjustable backstays is a matter of course. When it comes to halyards, reefing lines and Jib sheets the SunFast 3300 offers the full complement of varieties, also jib will be trimmed by transversal travelers and may be fitted to a 3D-barberhauler system.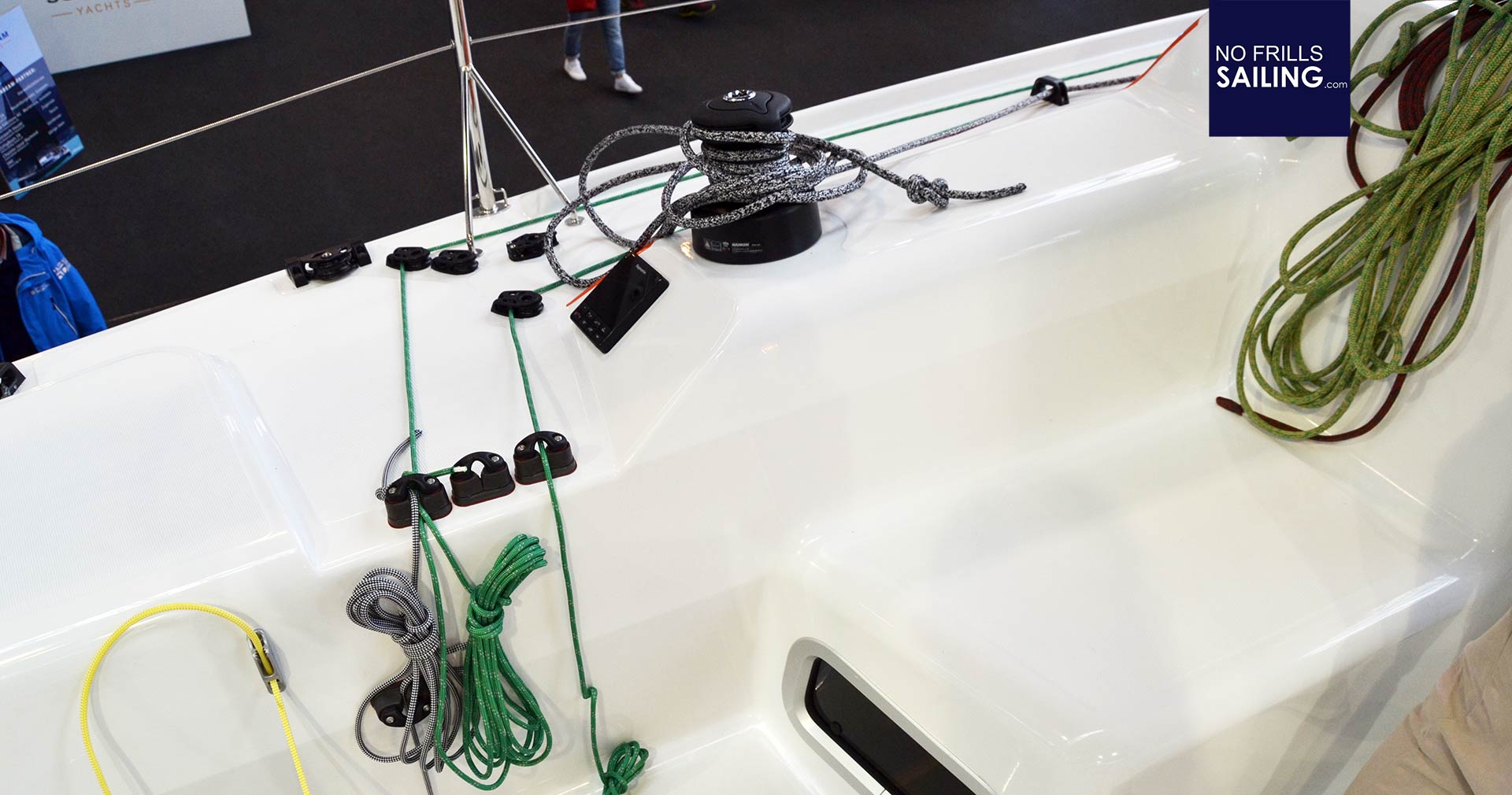 I likes the seating position in the new SunFast 3300 which near all winches and trim lines and is kind of protected by the superstructure of the boat. There are also fittings to have the feet wedged in when sailing extremely heeled but with the SunFast 3300 clearly being a reaching boat seemingly more suited for the running and reaching skippers won´t have much spray upcoming, I guess.
Serious racing – some comforts
Being a serious racer – as we have seen in the new Dehler 30 OD – must not necessarily mean that there shouldn´t be any comfort for the crew. The new Jeanneau SunFast 3300 was surprisingly welcoming and well thought through in this respect: Taking a look down below into the salon I was excited to see a very nice internal setup – much warmer than expected. In this the design is kept classy: Galley to port side, a large nav station to starboard side and two settees facing each other with a folding dinner table in the middle.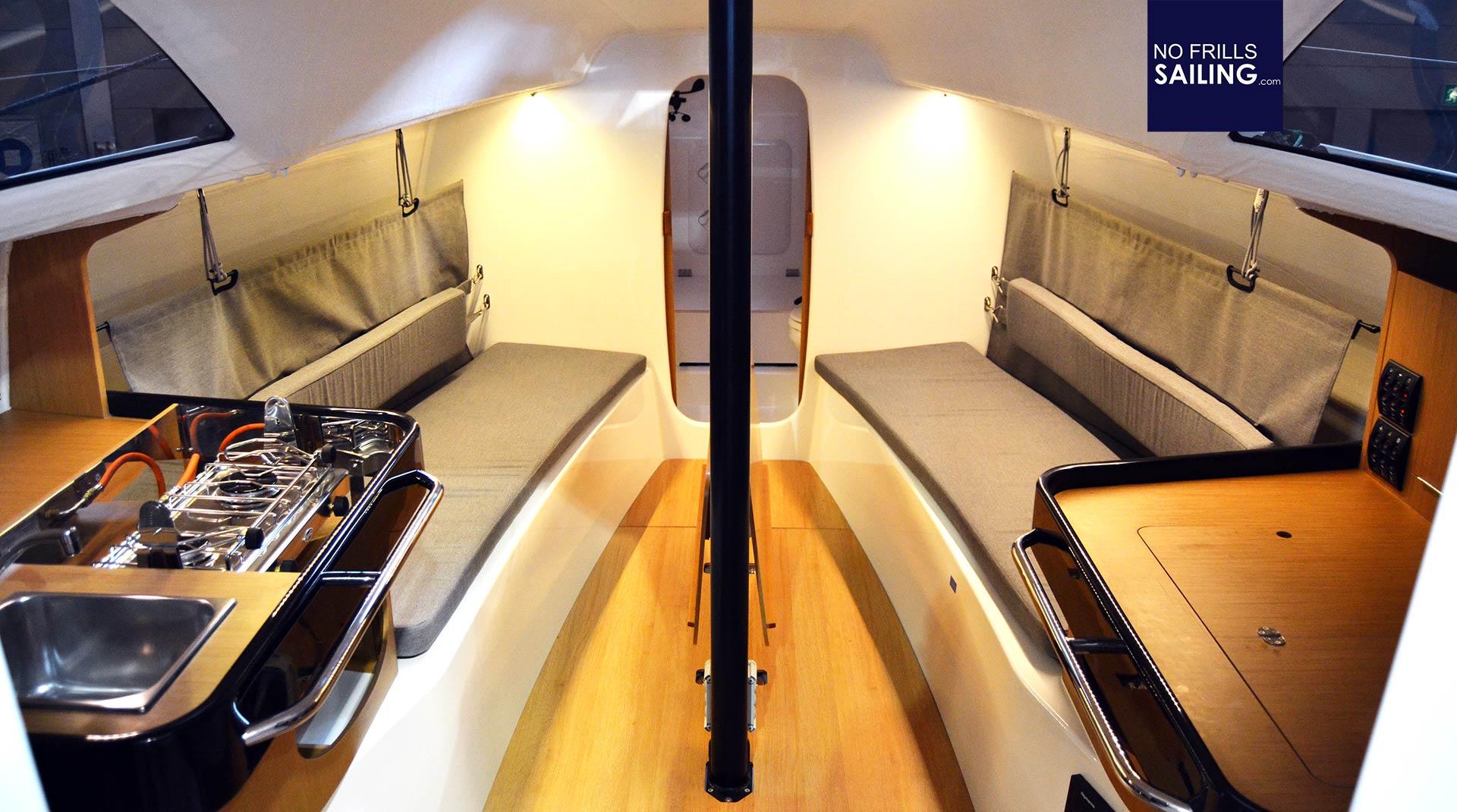 Other than the bare, I should say "professional", racing looks for example in a Pogo the new SunFast 3300 conveys a certain atmosphere of coziness. The wooden floorboards and the black GRP-parts (Carbon-looks) together with the white bare GRP on the walls do match very well and can create a sense of relaxation, although the SunFast is far from being called a "cruiser".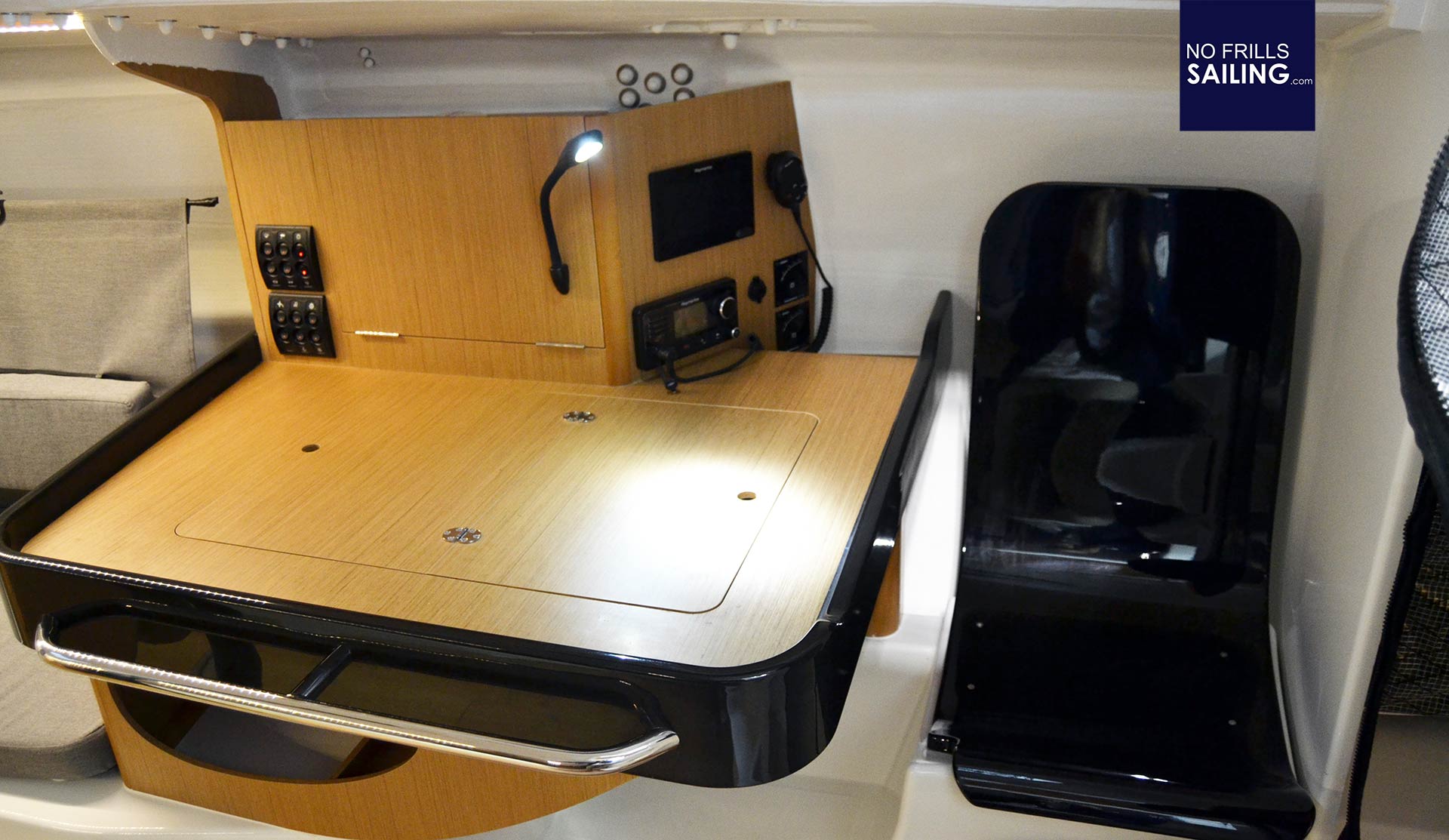 Kind of surprising to me was the big chart table and the nav station overall which I shall say is a fantastic feat in the small quick Jeanneau. This nav station features all controls of the boat electrical-wise in the main switch panel as well as a big, big chart table which – against the common trend in cruising yachts – can be used for real chart plotting and race strategy planning.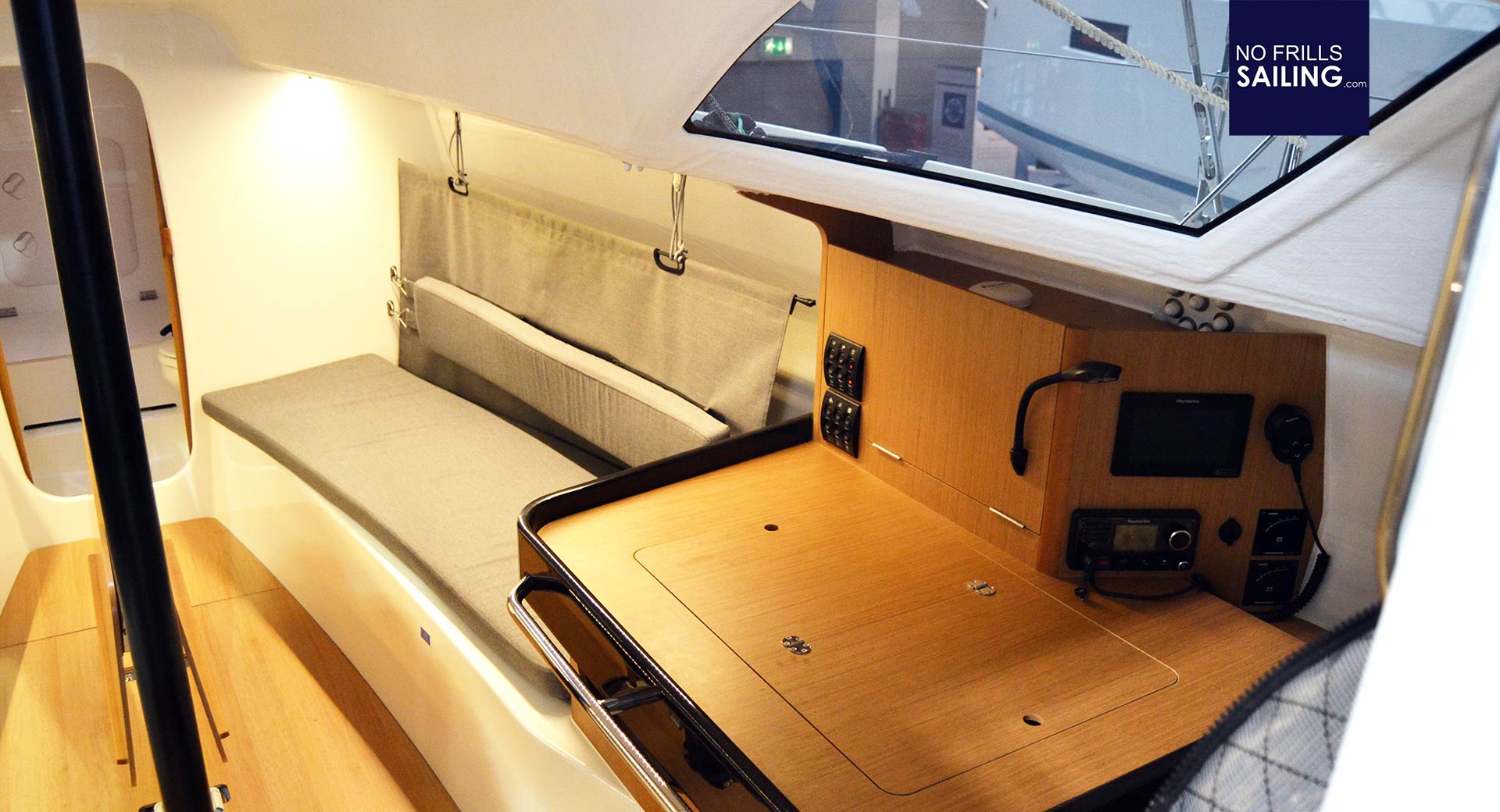 There´s a well curved very pro-like seat at the nav station that offers a safe a cozy position even in heavy seas or when sailing heeled. I as well loved the big coach roof windows which will let in loads of natural light and are placed in a way that a skipper can see a great portion of what´s going on in front of the boat.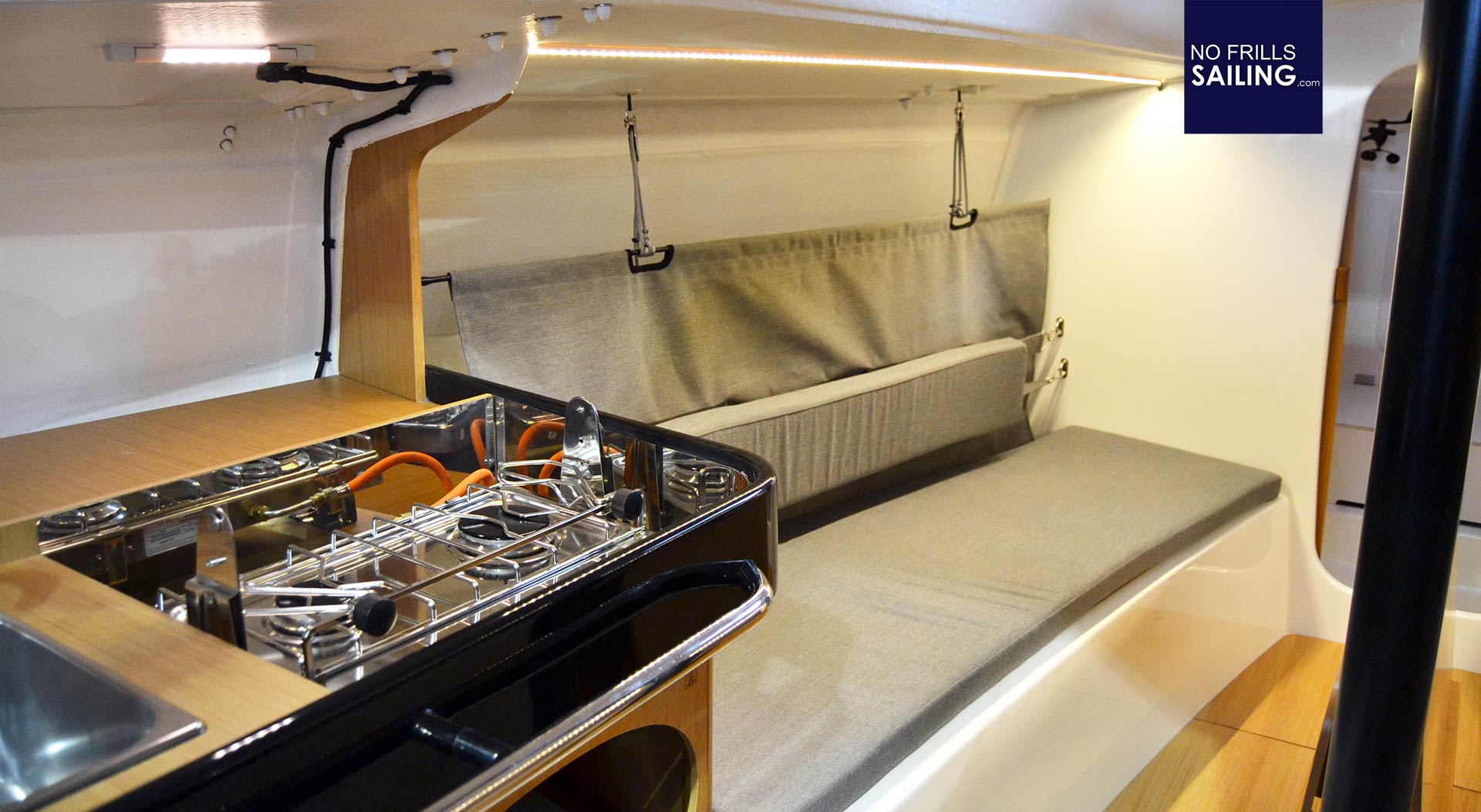 Vis-à-vis on port side the skipper will find a small galley that covers almost the same area as the nav station. The galley has everything a ship´s cook will need to prepare a small, simple meal for the crew: There´s a two flame burner – just the stove, not the oven – for cooking and frying, a sink that can also utilized as a work top and underneath some stowage for pans and cutlery. That will do, I shall say.
Cabins aboard the SunFast 3300
The boat has a Cat A certification and thus the SunFast 3300 needs to offer a handful of berths, which she does. Looking back there are two well-sized aft cabins. For a boat that size I was again astonished of how big these cabins really are. No closing doors, of course, we want to save weight: A large zipper will close a round shaped canvas to create at least visual privacy.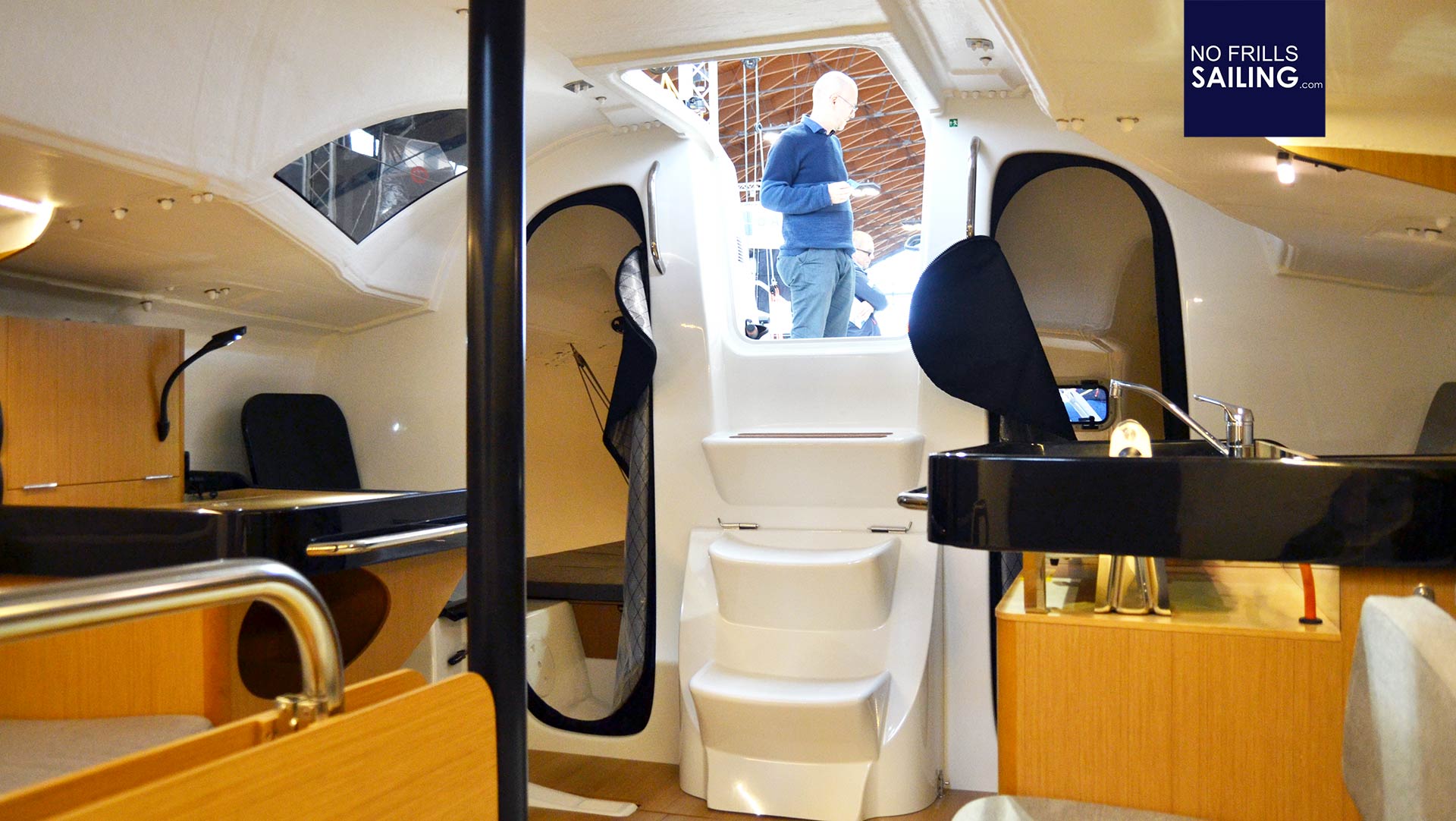 Surprisingly well executed these cabins feature some wooden panels to cover most of the bare GRP leaving free access to all screws and bolts of the winches, clamps and installations above. The hulls-facing matrasses can be lashed up to the boat leaving open even more stowage for spare sails or provisioning underneath.
Ventilation will be a problem since both cabins offer just one porthole that can be opened, since these boats will mostly be bought by racing skippers and people interested in real quick sailing I would assume that this minor inconvenience will be of no importance to owners of a SunFast 3300.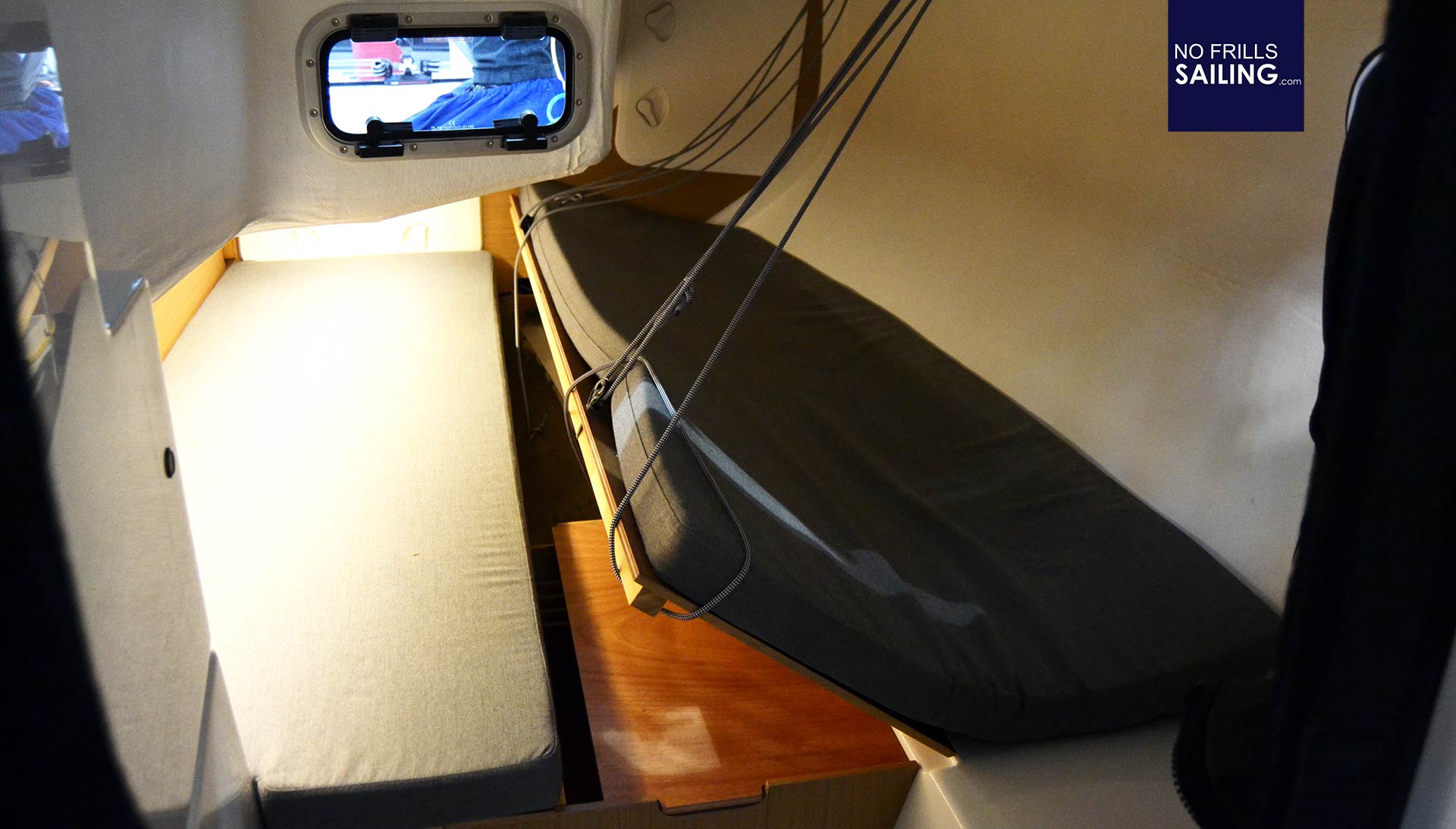 In the saloon there are two additional bunks long enough to be used by adult grown ups. Six people may fit in here and find a place to sleep, but again, I think best complement of a SunFast 3300 is four people maximum, two or single handed preferred – 10 metres is just 10 metres. And regarding this fact, it´s amazing how much volume the Jeanneau really offers!
Looking at personal hygiene, the SunFast 3300 of course has a head which for me might be the biggest problem of the boat. The head is situated in the bow compartment of the racing boat, featuring a small sink and a toilet. Of course there wasn´t any space to put the bathroom more aft to the drehpunkt of the boat, I can still very vividly remember my "storm sailing"-session in a Beneteau First 30R two years ago with a similar WC-location, making it very, very hard to take a pee in rough conditions because of constant rocking and up and down. That will be fun on the SunFast 3300 too …
Let´s go sailing!
Allright, I am thinking to myself, that´s one piece of a nice-looking small boat. The price starting at some 110.000 Euros is very interesting for amateur racing skippers and together with a set of good canvas (of course not included in the base price) the SunFast 3300 might be a perfect boat for fun as well as for serious regatta-racing in ORC-regattas.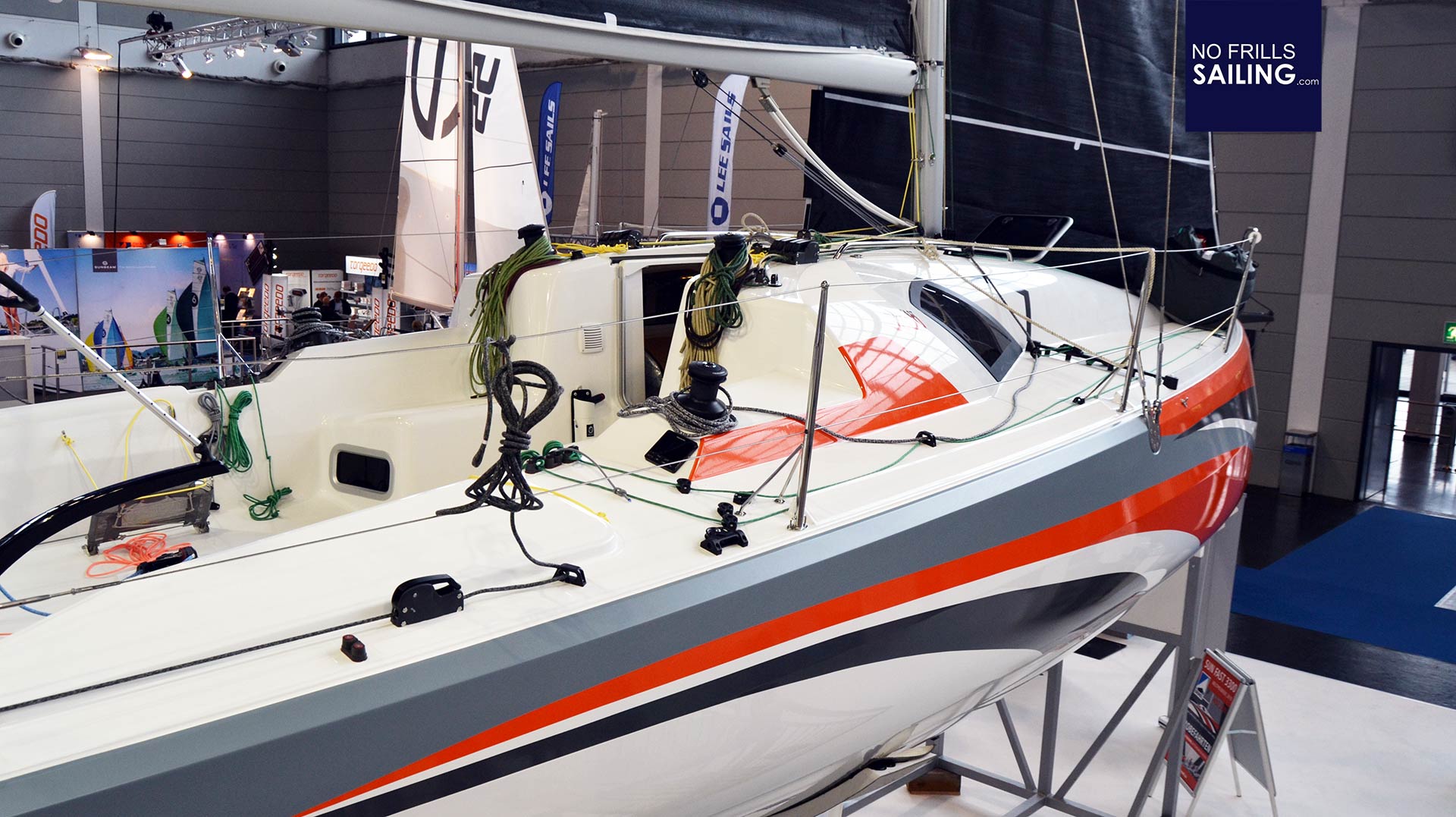 So I am looking very much forward to meeting the guys from Jeanneau – I hope later this year – to take at least a small round "around the block" under sails in this pocket racer. Especially together with another sailing trial on the new Dehler 30 OD and hopefully one of the Figaro 3 which in my mind are the three most exciting small-sized amateur/pro racing boats currently on the market.
You might also like to read these articles about racing yachts:
Gianguido Girotti shows the Figaro 3 production in Nantes
Marc Lombard about the Figaro-myth
Meet Jeremy Bayou and his all-new CHARAL Imoca 60 racer