Welcome aboard the all new First 44, dear readers. You might have read the external walkthrough of this new boat already and you are keen on seeing how this new yacht looks from the inside. So let´s not wait any longer and dash down the companionway into the wide saloon of the boat.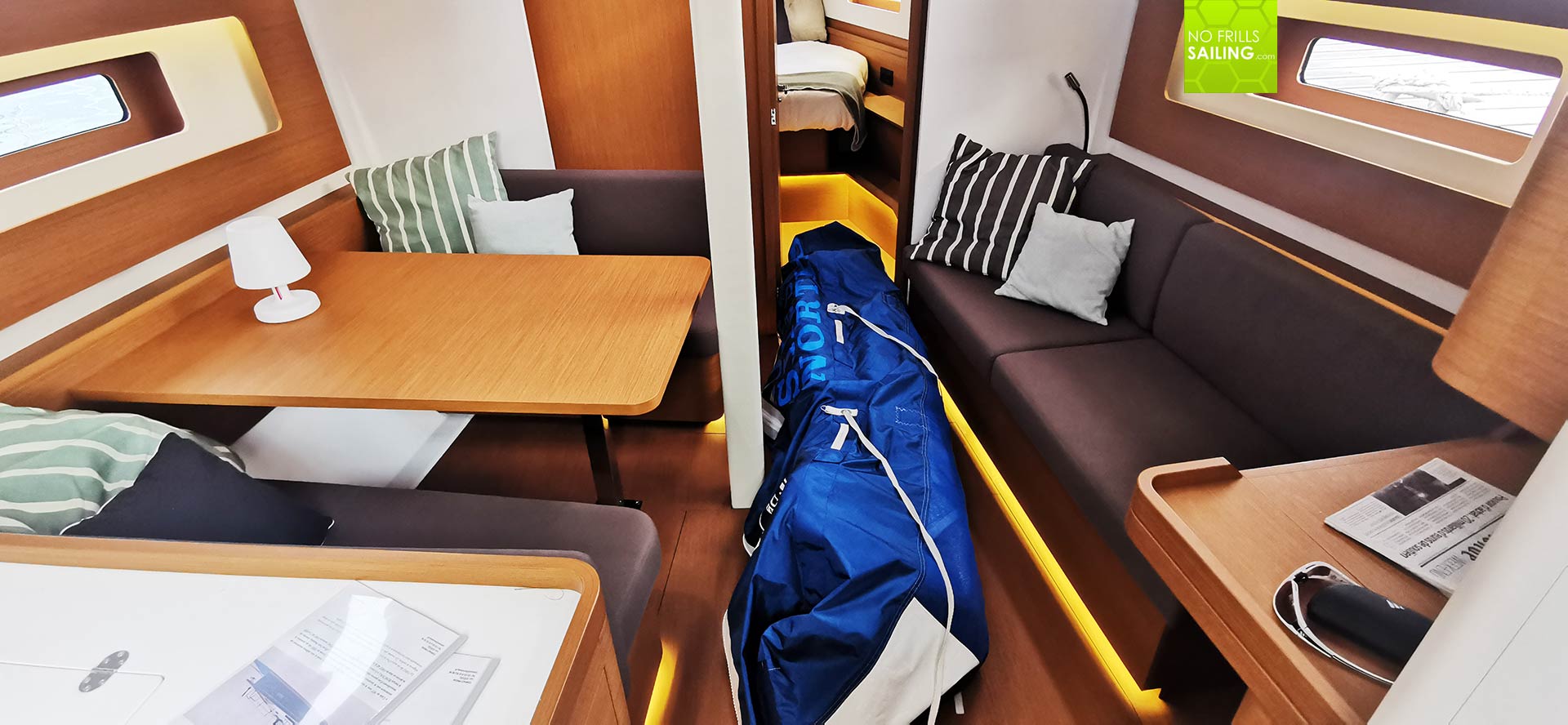 As I had the pleasure to take a thorough look at this boat, she had been just arriving. It was a fresh morning after a pretty harsh summer´s rain shower, the boat was wet, the cleaning crew had´t arrived yet. I suppose I saw the boat just the same way the delivery crew left her: A large Code 0 laying in the salon, both aft cabins full of equipment, cushions and stud and therefore no pics from there. But she was fairly pretty so I went on to take pics. Here´s my walkthrough.
Not a classic layout
First of all, a nice surprise, Beneteau had given free hand to interior designer Lorenzo Argento. The First 44´s interior dies not follow suit to present a classic layout. Instead, Argento rather tried to take on the revolutionary interior design of the flagship, the wonderful First 53. The outcome is a scaled down version of the First 53 inside: It really works for the most part.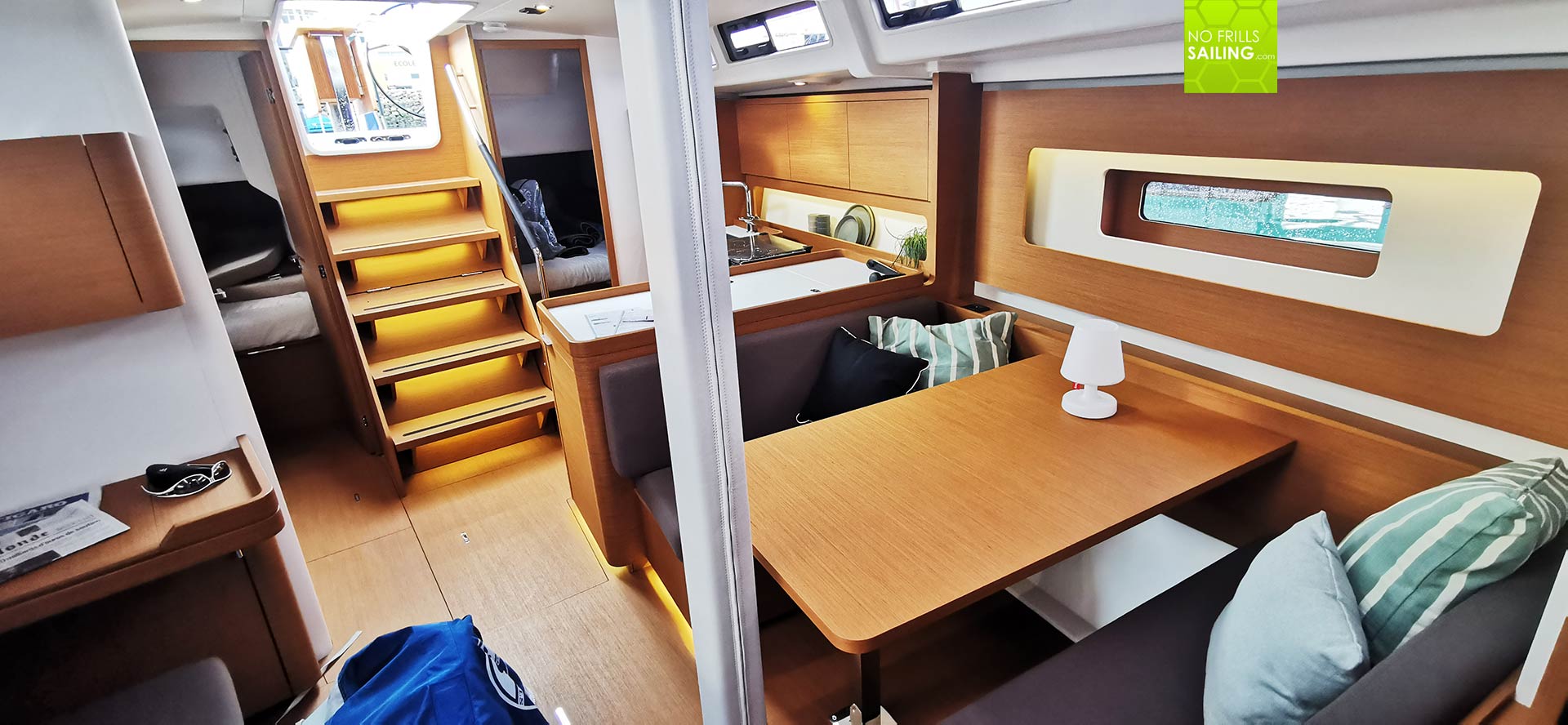 The first thing you´ll notice is that there is no classic table in the middle and settees to both sides of the saloon. Instead, we get – in general – the First 53 layout: Coming down, galley to the left, before it, a "breakfast table", as I call it. Two mid-sized settees facing each other, in between, a table large enough to house two persons in luxury way, four persons if needed.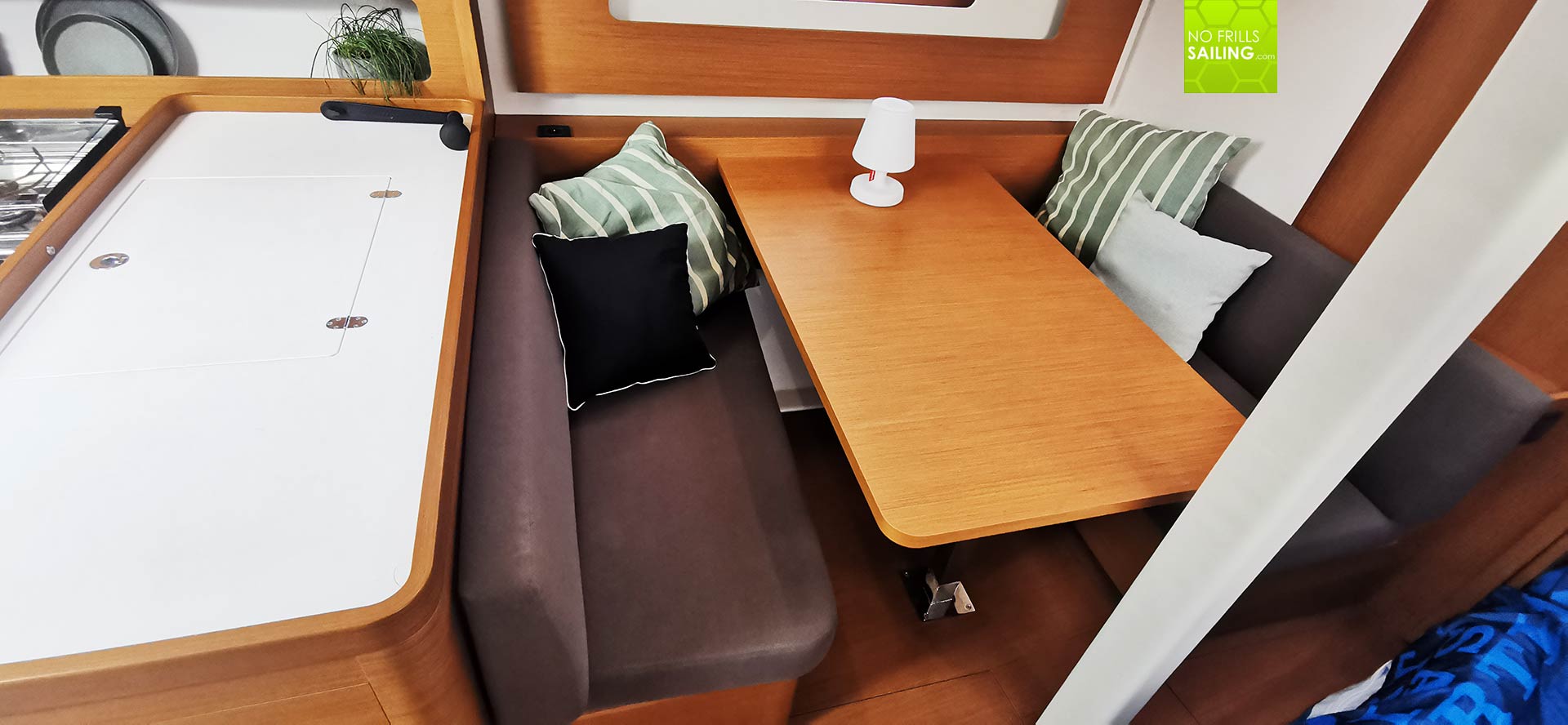 I like this configuration because it enables basically two things: First, the way in middle along the longitudinal axis of the boat remains obstacle free. You can walk freely from stern to bow and at the same time have the crew enjoying a full-sized meal, placed around the table. Secondly, this configuration allows for new perspectives for anyone seated at the table: Normally you´d sit there and face the broad side of the boat, now it´s more like dining in a plane or a train, looking outside the large hull window next to you. I like it pretty much!
Skipper´s Place
Vis-à-vis the "breakfast table" – at least inside the wonderful First 53 – you´ll find a reclining sofa and the chart table. Argento tried to recreate this situation in the First 44. Well, this yacht is much smaller and not as wide as her bigger sister (4.25 metres to 5.00 metres at their widest point) and so there is a significant portion of volume less inside the First 44. In this, we don´t have this great sofa-landscape as in 53 bit a simple settee at starboard side.
Which is not a minus: The sofa is long enough for an average adult to lay down and sleep. I personally love these locations for spending my watch below because you can place yourself exquisitely, find a good sleep but also be awake with one eye and fast up again in case needed in the cockpit. I´d call this sofa "skipper´s place", crewmen welcome.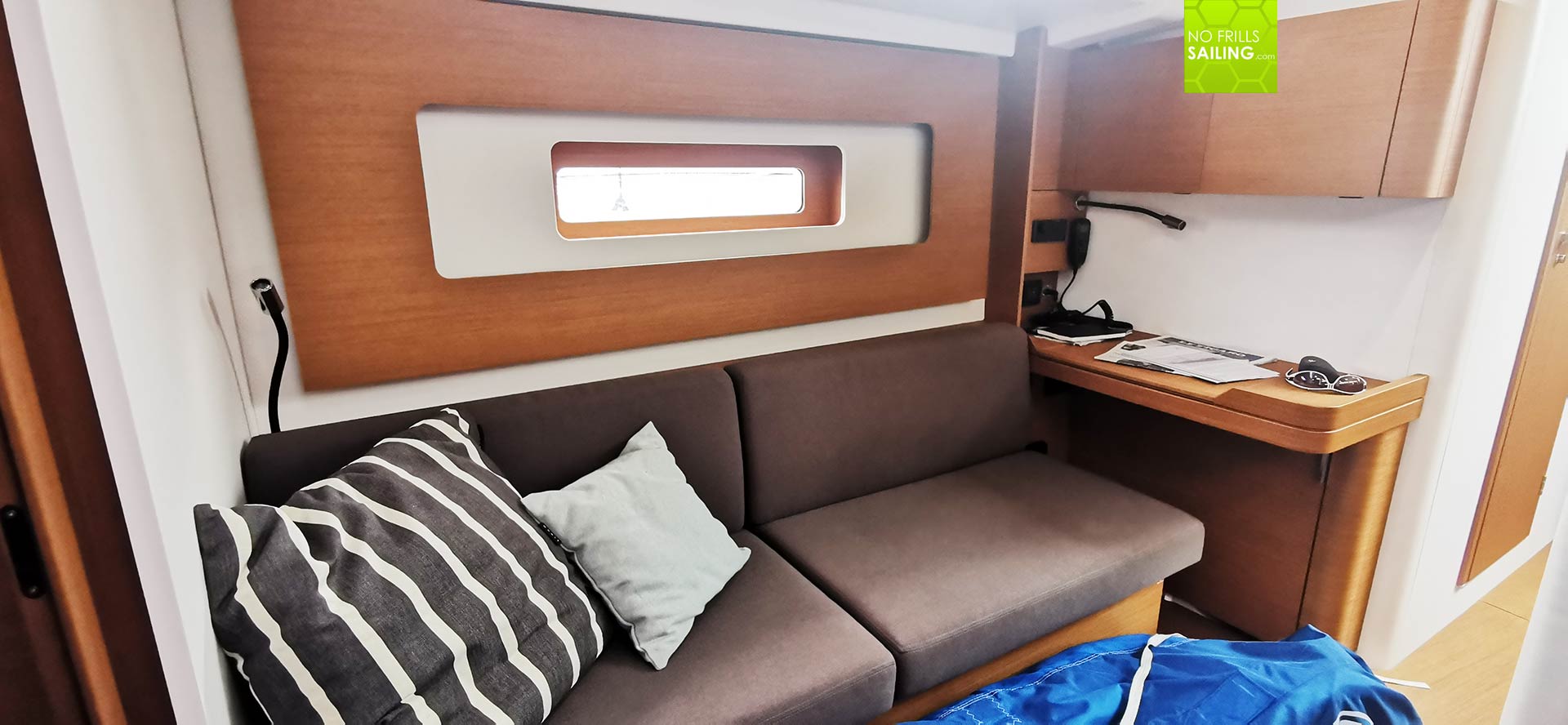 Facing backwards at the aft bathroom´s bulkhead is the control center of the boat. Just as it is fashionable in interior design now, everything is covered behind panels. Main switch panel is inside a wall cupboard. This I personally find an odd decision: I know normally you do not need these switches on an hourly basis, but on the other hand, for every knob pressed and every status checked, you will have to open a cabinet door on the First 44 now. Kind of weird.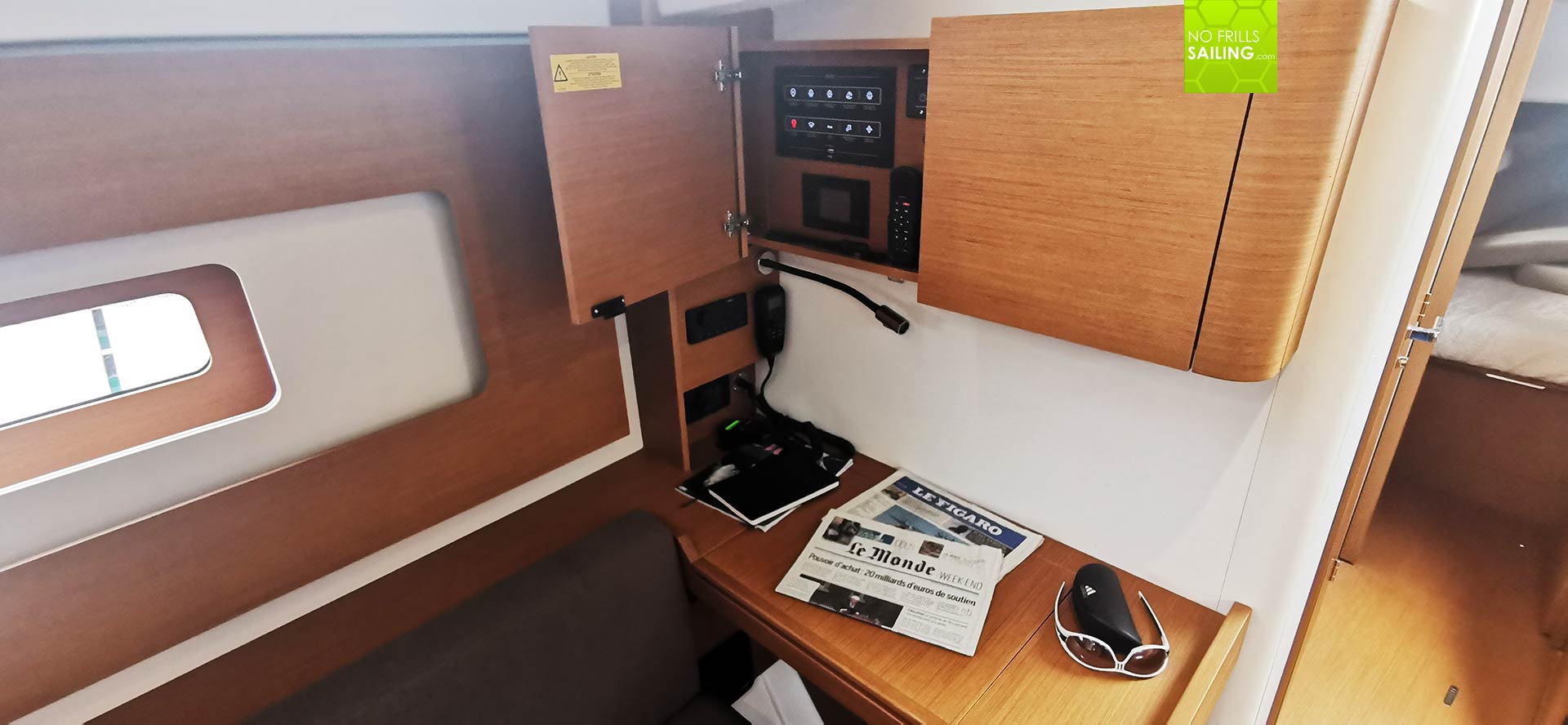 Of the other hand – it looks nice. Clean. There is a small navigation station with a small chart table. This is also a bit odd. Some of you, dear readers, may remember how I was applauding the designers of the First 5 for their decision to fully kick out the chart table. Since virtually nobody is really working printed charts anymore (and now printing of those has stopped as well) the need for s full sized nav-station is questionable. I personally prefer sitting on the dining tables, so why "waste" space for this? Well, I don´t know, but here we are and there´s a small chart table on the 44 as well.
Dining out on the new First 44
On my first article on the exterior of the First 44 I pointed out that there will be two principle versions available of the new boat. The fast-cruising optimized boat (we are inside one now) and a race-optimized version for crewed regatta racing. Both feature the same interior layout and both, maybe even more on the performance-version, will have the need for a galley to feed a hungry crew.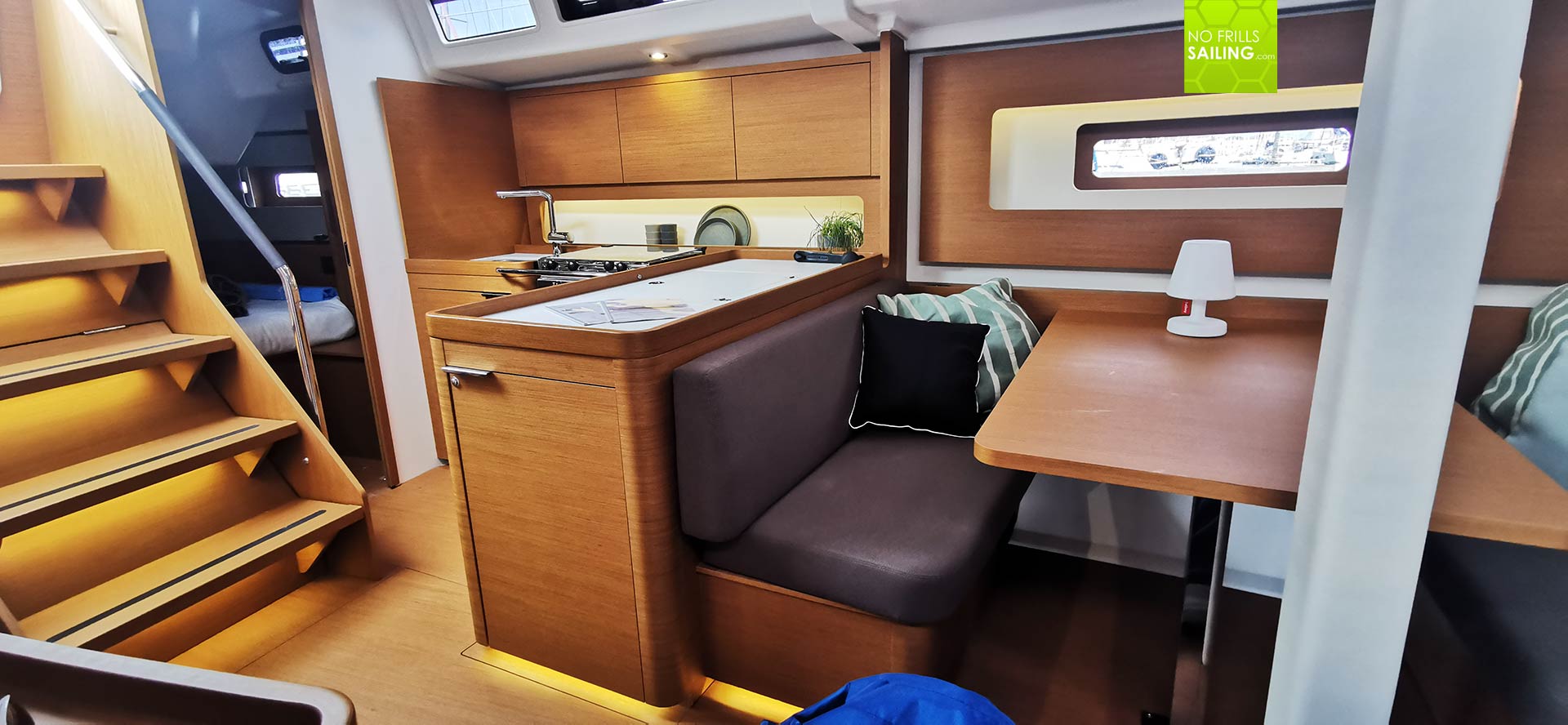 Inside First 44, contrary to the not-so-classy layout, the galley configuration is pretty standard. An L-shaped galley with a nice, big fridge (top and front doors), some drawers and stowage for cutlery, cockery and cooking stuff. A big one-piece sink (some would prefer a partitioned sink) and the classic two-flame stove with oven.
Standing here cooking will be a nice occupation: Fresh air coming down from the entry, which, in rough seas could be a hazard since there is no safety backwards, just free room, the stairs of the companionway and vis-à-vis the bathroom. That´s the hazard of them wide, voluptuous boats – they are so wide that in foul weather or high seas this all becomes a safety concern. Otherwise, the galley will be a nice working place for every ship´s cook.
Cabins and bathrooms
As I pointed out at the start of this article, both aft cabins have been full of equipment at the time I was allowed aboard. So I am sorry, no pics available for them: Judging from my peeks into these, they are pretty roomy: As the First 44 carries her maximum width all back to the stern, the aft cabins are roomy. The pig and wide hull windows grant for natural light and a spectacular view outside. Well, just on the cruising version: According to the renderings, there are just the saloon-windows apparent on the performance version, no windows in fore- and aft cabins.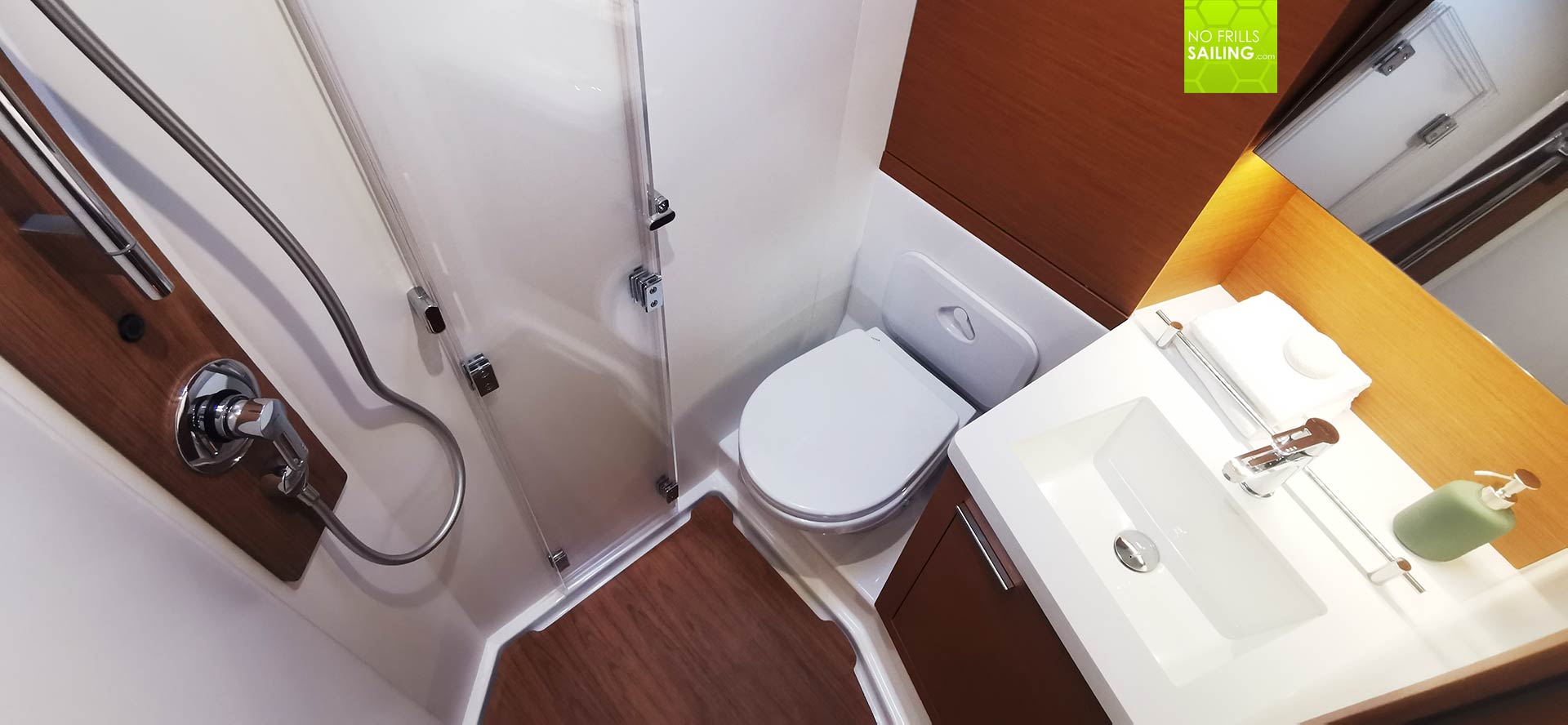 The bathrooms over quite enough space. This is a relief since it personally found that the bathroom available on the new First 36 is in my view too less and feels cramped. Not so on the First 44: Both bathrooms feature an electric WC, shower, nice sink and some stowage. On the front bathroom the width of the WC-part my not suit bigger guys. I also applaud Beneteau that we now have one bathroom on either side: I never understood why the flagship First 53 has both bathrooms on one side (starboard).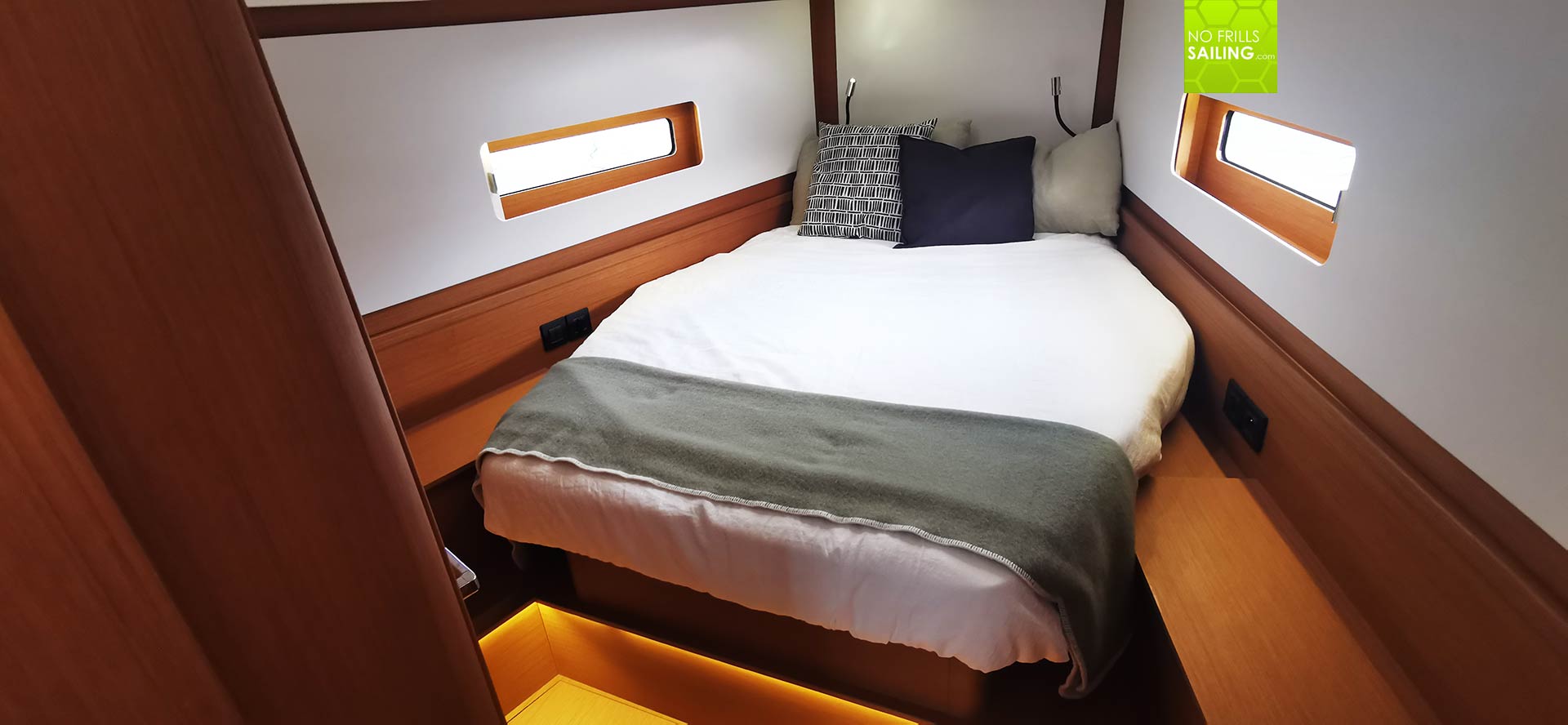 Fore cabin or owner´s refuge was pretty roomy. Again, I must say, I would have expected "a bit more". This cabin features an island bed, some drawers, big hull windows and all amenities you´d expect, but it appeared a bit soul-less to me. I missed a certain "wow-effect", such as on the Solaris 40 for example. But maybe that was just my first impression: I will take more time in Cannes next week to have a more thorough inspection, maybe the second impression is different here.
Some waiting time
So, what´s my general feeling about the First 44? Predominantly positive. The exterior design and appearance of the boat is impressive. She carries a distinct First-Look and is unmistakably recognizable as part of the Beneteau-stable. Her lines, especially when seen on the dry, are classy, timeless and tempting. I love the flat coach and the nice sheerline. Especially the taller mast will make her carry much sails area and make her a fierce competitor on the racing course.
Her interior is a nice interpretation and scaling of her sexy bigger sister First 53, classic elements mixed with new approaches. I think Beneteau offers a great boat that will develop a similar repute as her great predecessor, the timeless First 40.6. People wanting to get one shall bring some patience: Checking order system now (September 2022) I cannot even give a prediction when yours will be finished for collection. But the crazy situation on the boat market – and markets in general – is a different article though. I look forward now to a reunion, seeing First 44 in Cannes, to maybe check out some details I have missed in Les Sables.
You might be interested to read these articles too:
Exterior walkthrough of the new First 44
Damien Jacob on the First 44-concept
The revolutionary interior design of the First 53