If you´ve read my last article on this year´s edition of the Cannes Yachting Festival you might have in mind that I am about to publish no less than seven articles on boats I was able to shot and walk through thoroughly. In this, I was thinking hard about which boat to start this series. Well, I went for the Solaris obviously and this is because I am a huge Solaris-fan. Who is not? The Italian yard is one of the very, very few that manage to create an iconic product and brand.
You may mistake a Discovery for an Oyster, you may think the X-Yacht is an Arcona or even get it wrong to distinguish between a Beneteau and a Grand Soleil … but there is no way you won´t be able to instantly recognize a Solaris. These boats just stand out, unmistakably, iconic: There is nothing like a Solaris.
The tempting lines of Acebal
Why is that? Well, I´d say the Italians managed not only to brief their principal designer in a way that in the end those great products come out. They managed to find a designer who is able to come up with inventing and creating such iconic lines in the first place. This is no other than Javier Soto-Acebal, a man to whom I´ve had the pleasure to talk to several times. A genius who is refreshingly humbe, friendly and open.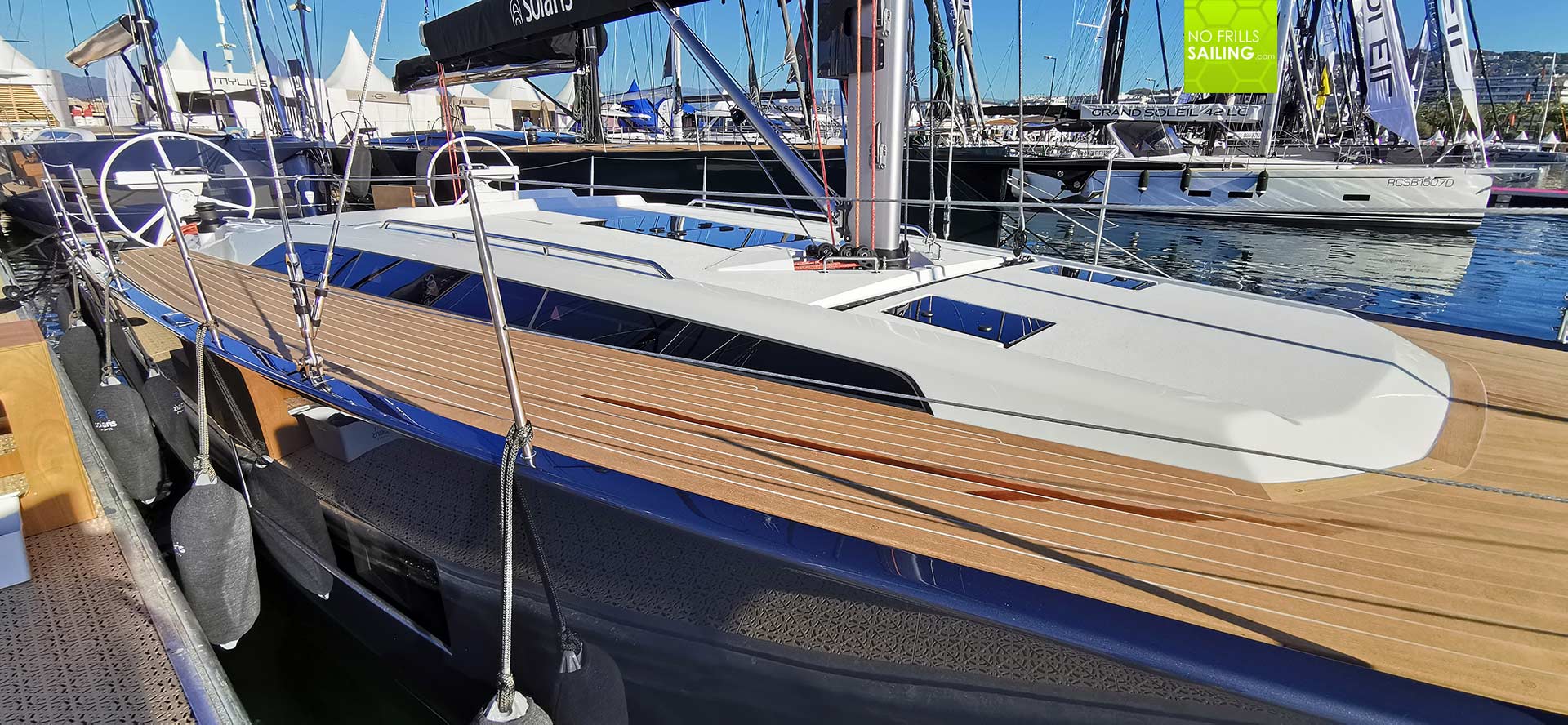 Who ever at Solaris had the idea to ask for a collaboration with the Argentinian designer should have given a great reward for it! Just like German Frers working for Hallberg-Rassy and greatly define the looks of the boats for decades, Javier´s influence on Solaris is defining. In this, I went to the booth and asked for a visit on the smallest boat at display. The yard had a full setup of four boats moored to the pontoon but it was the 40-footer which interested me most.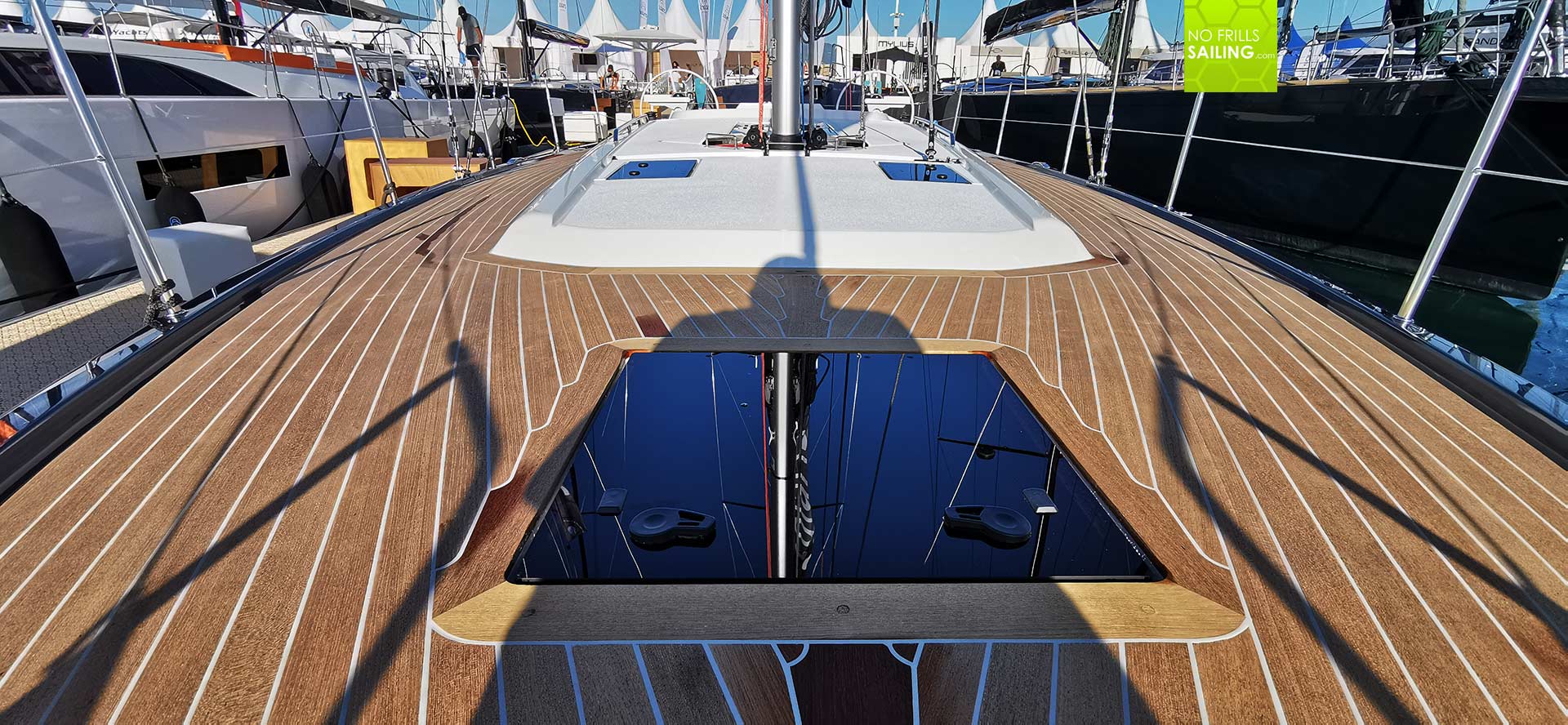 As much as I admire the big 70, 80 or +100 feet yachts, I know that these boats are simply unattainable for ordinary folks like me and – most probably – you. Even the +500.000 Euros you´d need to acquire a Solaris 40 may be too much of a budget. But 40 feet is a relatable size, a boat we all have sailed with so many times and a yacht we all could imagine ourselves being skippers or owners of.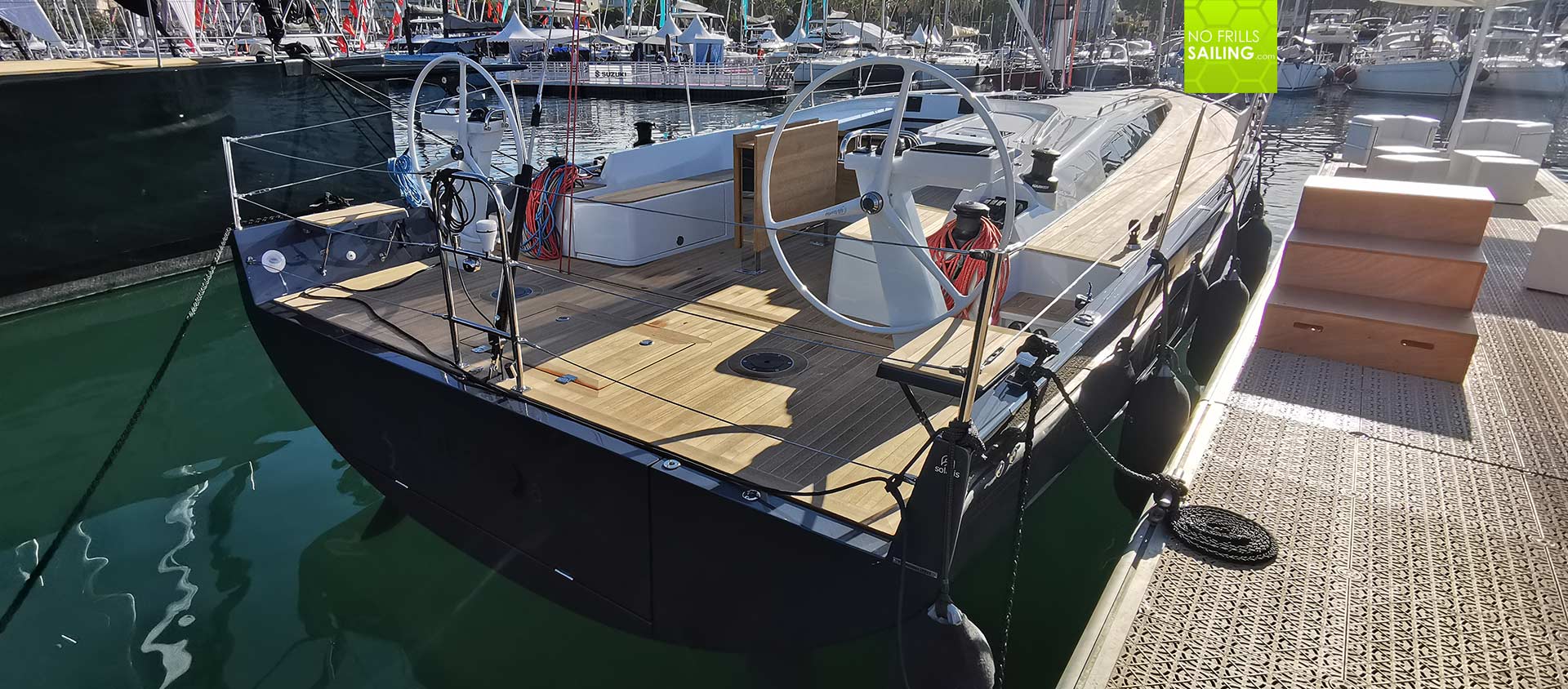 Soto Acebal managed to shrink the Soaris-concept masterfully. The 40 looks just amazing! Back in the day when the yard published the first renderings of the boat and I spoke to him about the new boat it was nice, but seeing her now in full bloom was a big highlight. Now you understand why I chose the Solaris 40 to start my walkthrough series with. So, let´s board this great sailboat and have a look at her details …
More than design
Of course, Solaris isn´t just a nice gem to look at. One of my sailing friends once said, referring to some of the high class ultra-expensive sailing yachts: "It´s like being married to a Playmate – she looks awesome, but can she cook?" This may not very PR but refers to a very real problem: If form and not function is priority, you will end up with a particularly beautiful boat but you can´t do anything with it except, well, just looking nice. Not so with Solaris.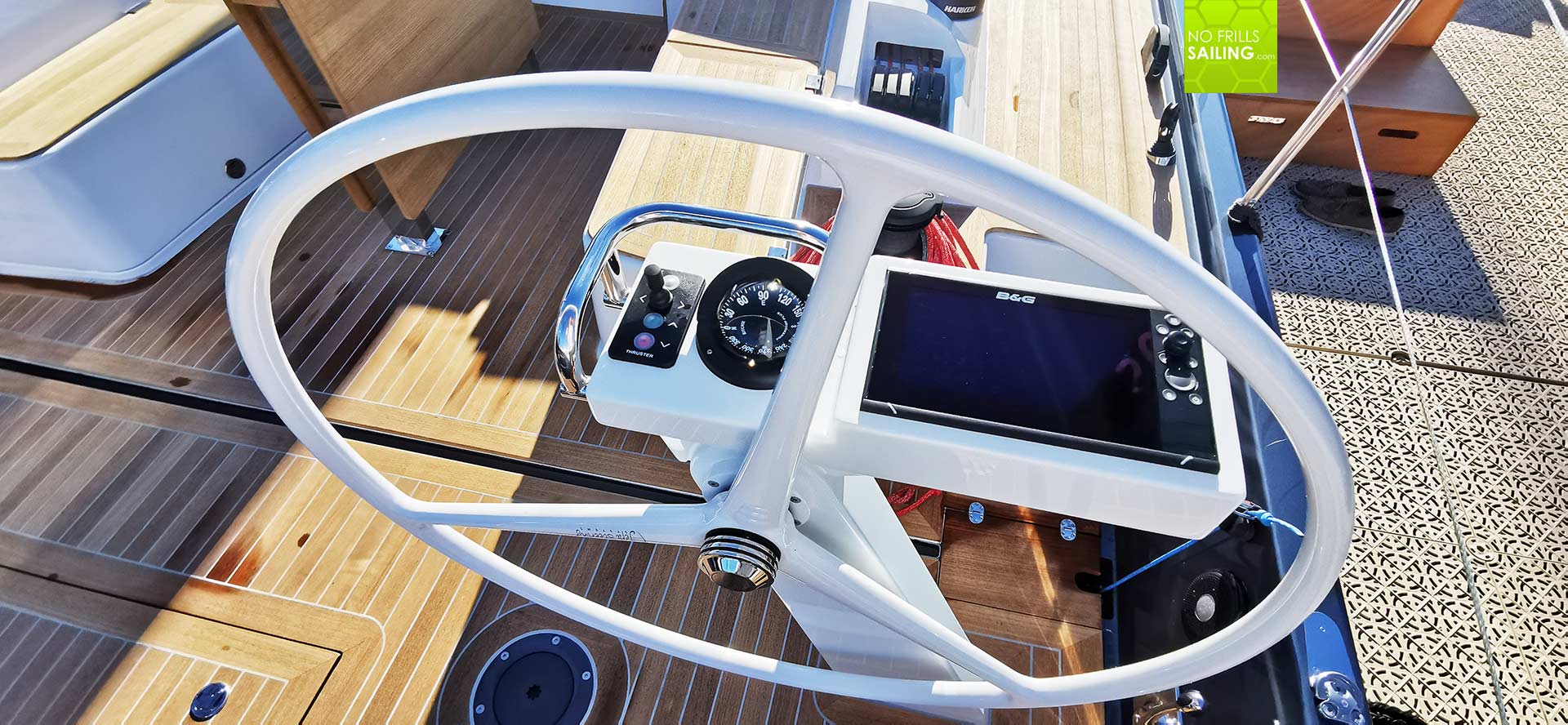 These boats do sail very well. Some of them perform nicely in races, some sail to very distance shores. Most of them, of course, are used by sailors, sailing families and in luxury charter by people not different from us. The Solaris 40 sports a surprisingly classy and pretty basic setup when it comes to steering: B&G electronics, plotter, a compass. That´s it. Pretty easy and simple.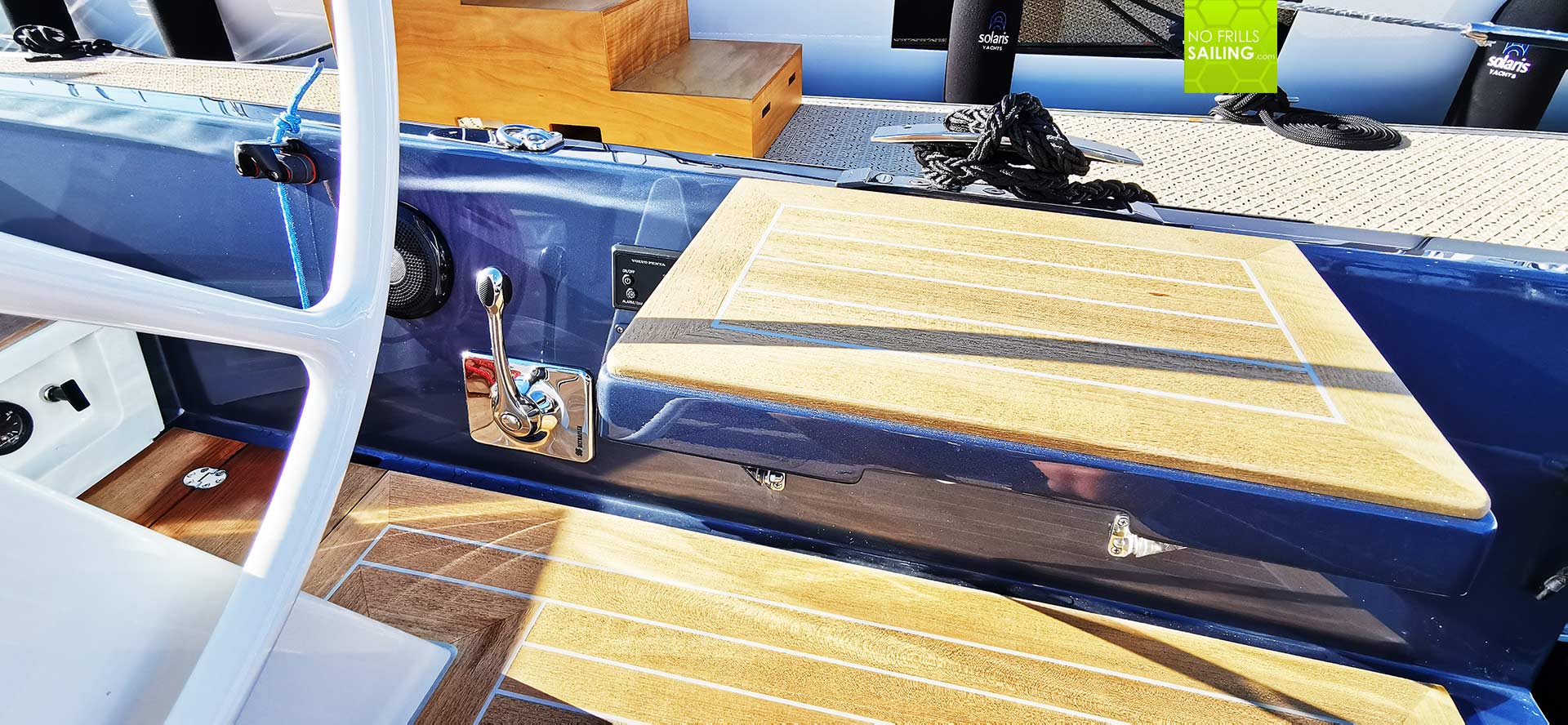 What I liked was the choice for the fittings: There are those and those throttles. Solaris went for an axtra-nice throttle by Ultraflex. Well, every detail sums up to a whole and it is so good to see that the eye on the big has been focused onto the small details with the same dedication and care. The cockpit of the Solaris 40 is made for the single handed sailor, everything is in reach and fits just nicely.
Grandmaster Flush
I can´t help myself by swing back to design again: Soto-Acebal is indeed the master of making things flush. It is the main theme of a Solaris. One of my all-time favorite boats is indeed the marvelous Solaris 50 (the old one, there is a new one out I reckon). This boat bears in my view the best lines, the best ratio of size and is just a beautiful boat. Like a huge surf board, everything is kept low and flush. Same on the Solaris 40.
On many boats you can see the lines and cleats, not so on the Solaris 40. All lines are diverted underneath the deck or inside the coamings. It´s just the last bits of centimeters they will come out of the boat and end in the clamps. Seen from the side not a single line is visible – everything is kept clean for the eyes.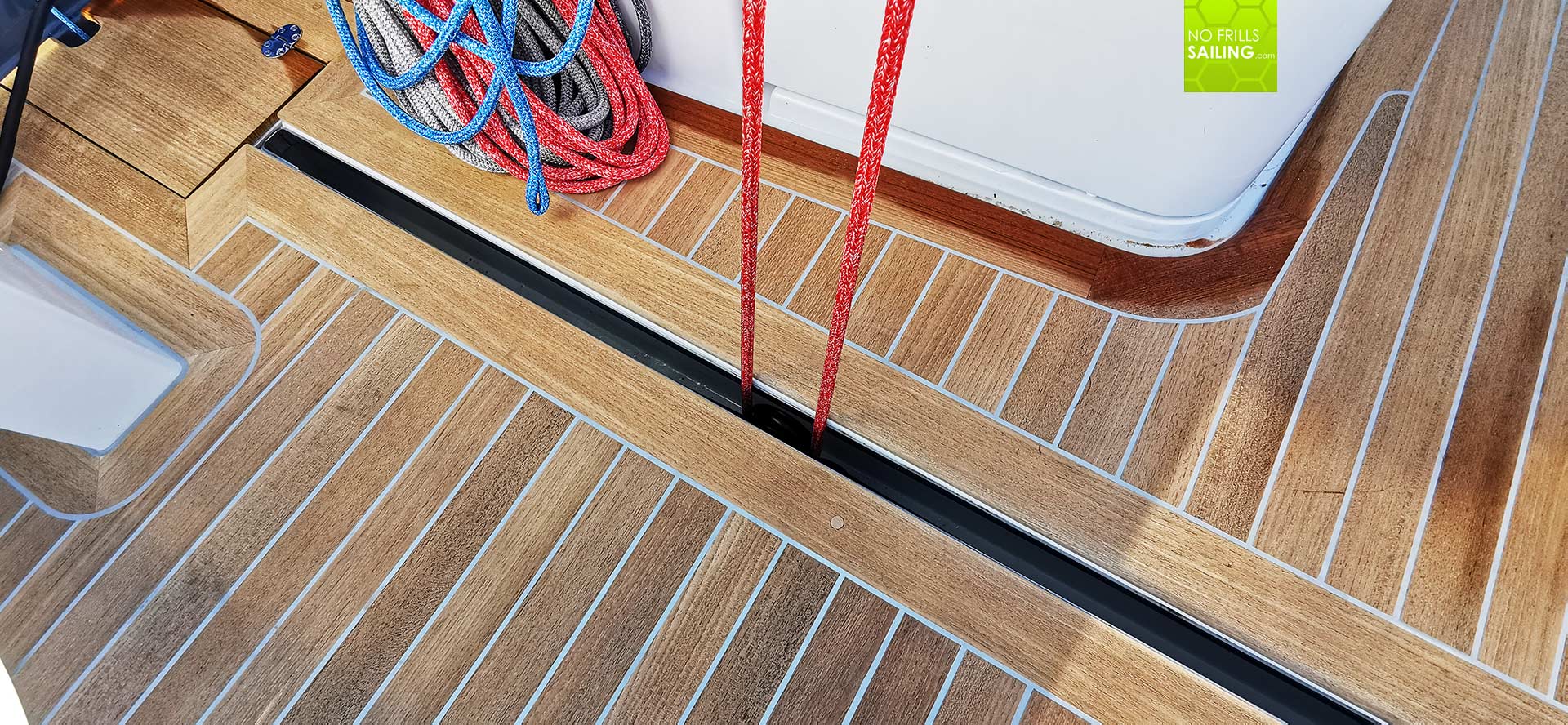 Same for the mainsheet. The Solaris 40 sports a true traveler which is a detail not very often seen on boats these times. The traveler sheet track is underneath the deck and the mainsheet itself is visible. Justa small slit through which the rope will go in and come out, again, a nice detail that is contributing so much to the overall looks of the boat. Also, it increases the safety (ow many times have I hurt my feet stumbling over the sheet track?!?).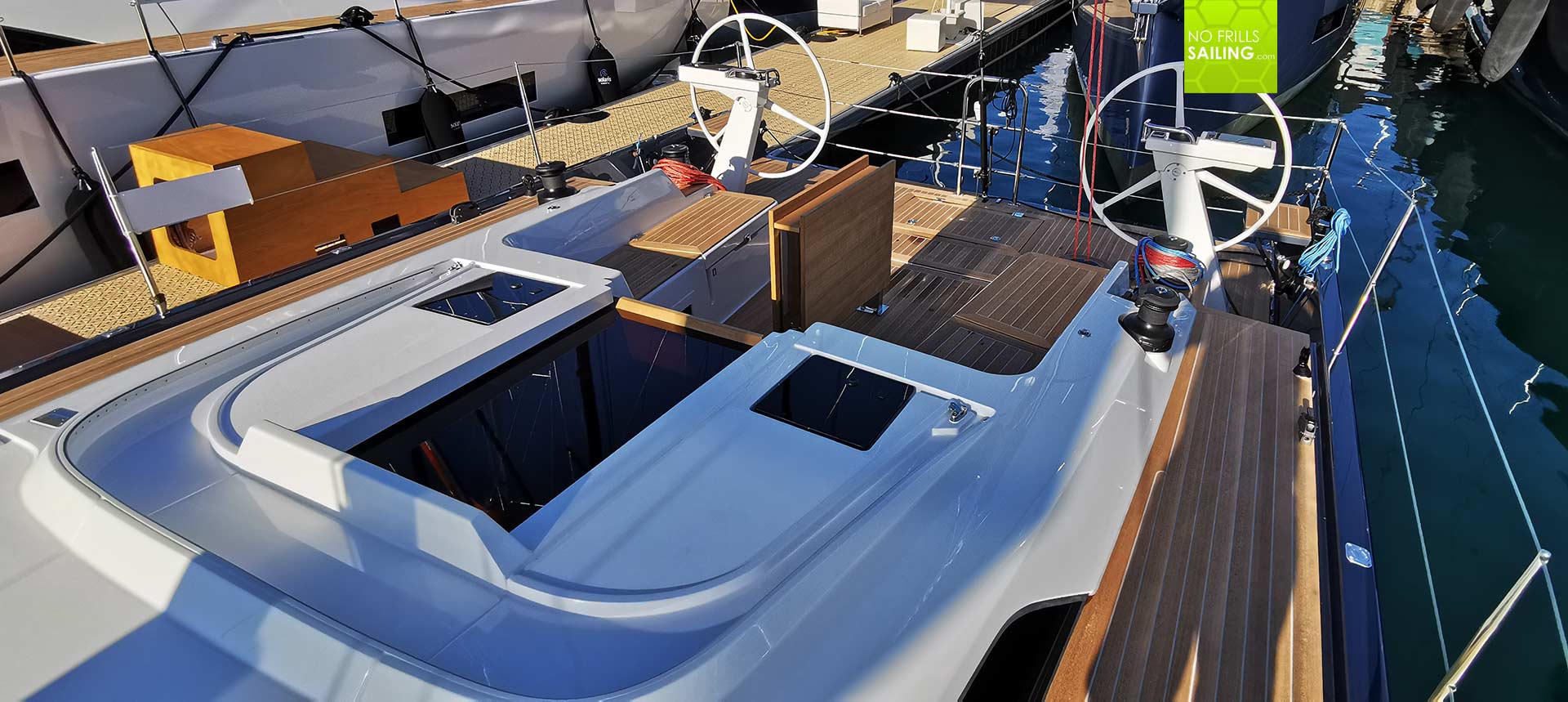 Other details are pure luxury: Such as the dedicated flush sprayhood. There are very few boats on which a sprayhood looks nice. But it hurts even more the looks on boats when the sprayhood is folded down for sailing. This won´t happen on the Solaris 40 as the canvas will be stored away in a slightly counter-sunk stowage and closed by a tarp. Nice!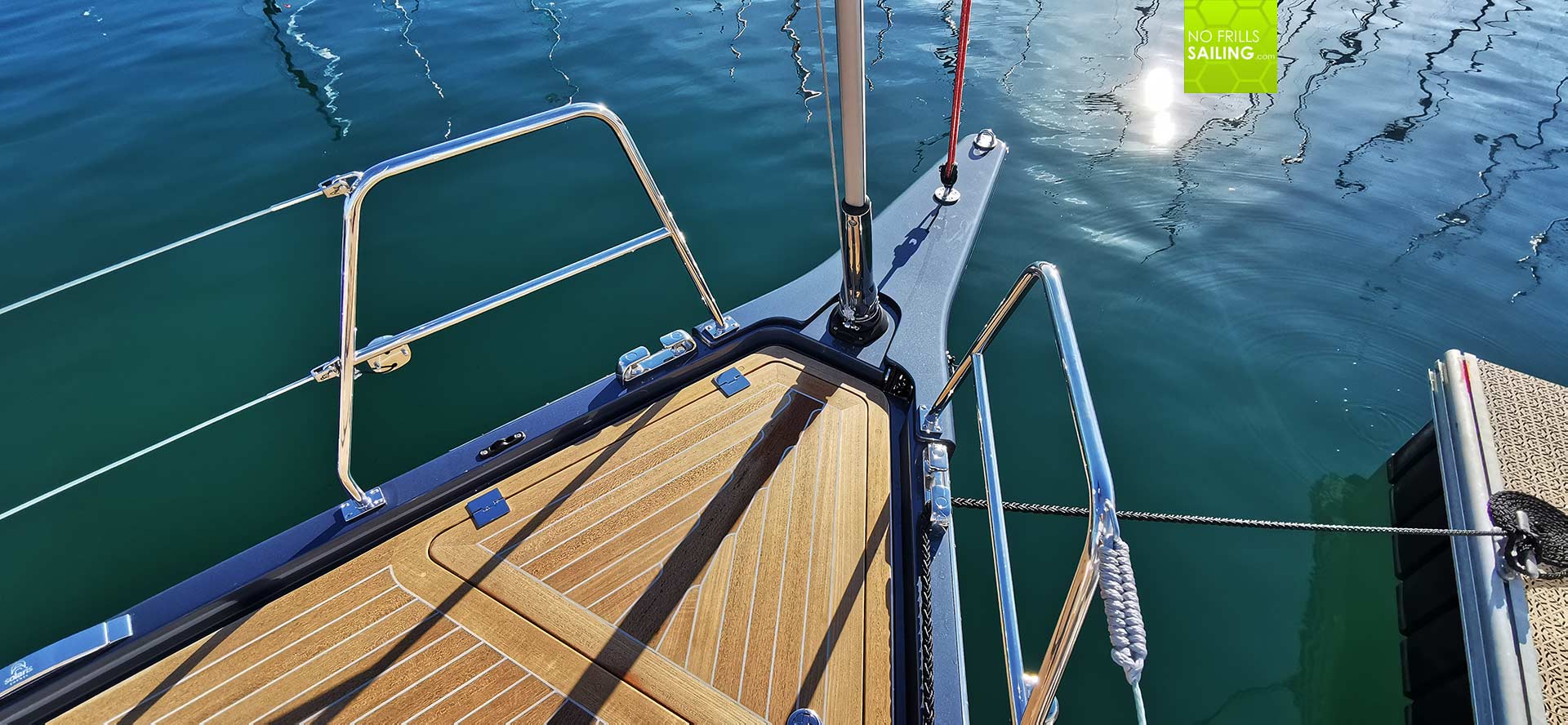 Looking at some more details, like the flush mounted bow sprit, I even more realize what the spirit of this brand is really like. These boats are not made to earn money in their 5-7 years of service live in a charter company. These yachts are not made to please a short-lived changeable minded customer base that flips brands like underpants. These are boats made to inspire, made to be loved. Just like a Ferrari: The big picture, multiplied by the small details.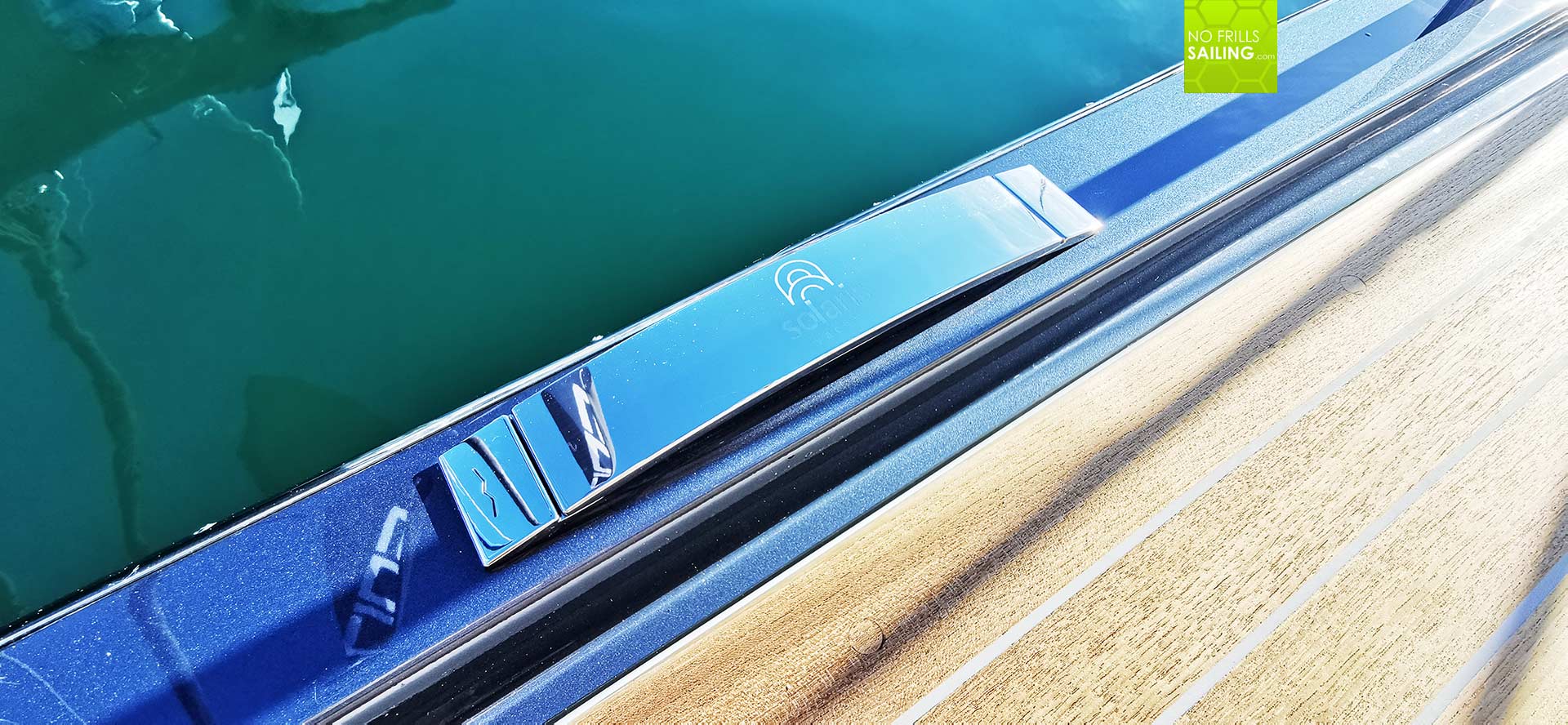 Of course, retractable mooring cleats are neither practicable nor necessary in any way. They do not contribute to the sailing capabilities of the boat nor do they enhance it´s power. But a product so beautiful like the Solaris must have those cleats, don´t you agree? You simply cannot fit an ordinary door handle from a Fiat to a Ferrari …
Stunning beauty inside
But the Solaris 40 is not just a beautiful boat seen from the pontoon or the jetty. As much as I adored her outward appearance, as much was I pleased to see that the level of perfection and dedication was taken on by her interior. The craftmanship of the Solaris carpenters and joiners is breathtaking! But first things first …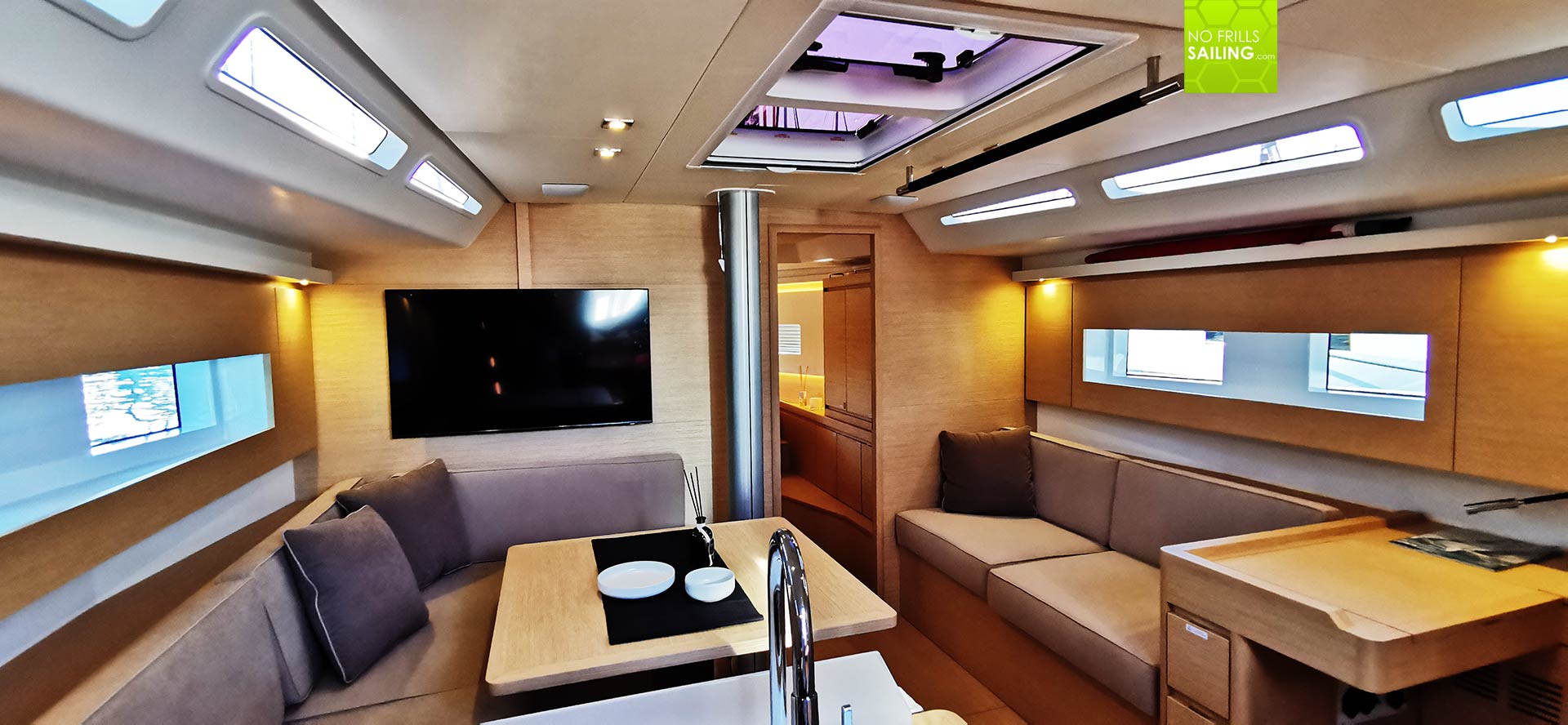 Coming down you may be surprise to see a pretty standard and classic layout. The Solaris 40 is a two or three cabin boat. There is a longitudinal walkway all the way to the bow where the owner´s cabin is located. By the way, her mast is not stepped but goes through the coach roof directly onto the keel-cage in the boat´s deck. But the very first thing I noticed had been a tiny detail …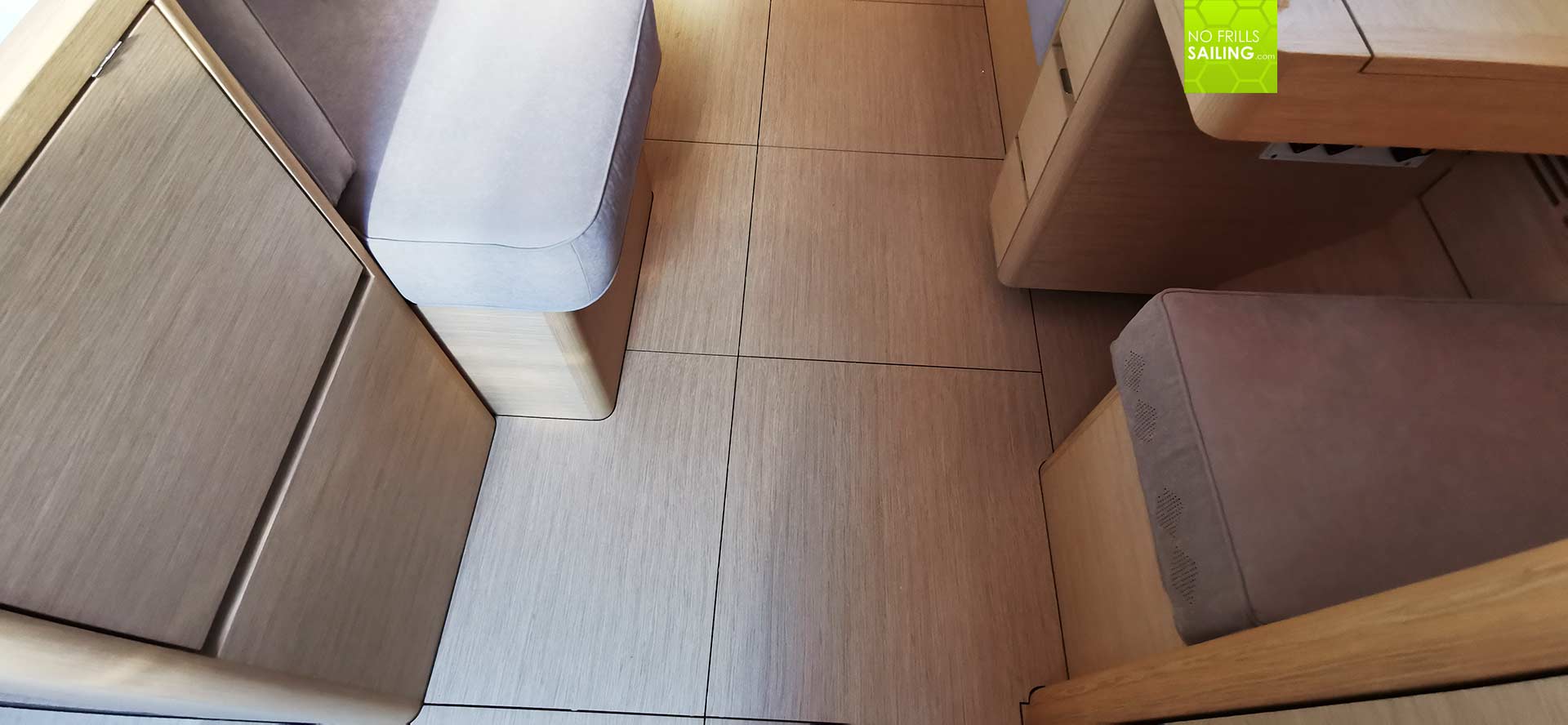 Look at the clearance between the deck floorboards! This is not just precision, this is perfection. I know what I talk about since I deal with big production boat brands and although the big names in the industry as well use CNC-milling and laser-guided robots, especially in furniture making, we simply do not achieve this level of precision. Wow!
Pretty classic for an icon
Same is mentioned before on deck happens down here: The Solaris may look like she is a freakishly different boat. But in fact she is not. She is pretty ordinary and basic: In the best sense of the word. No fancy styling, no trying to be deliberately different – you can admire her outstanding beauty but also feel at home instantly. This is also what makes great design so much better than just being "beautiful".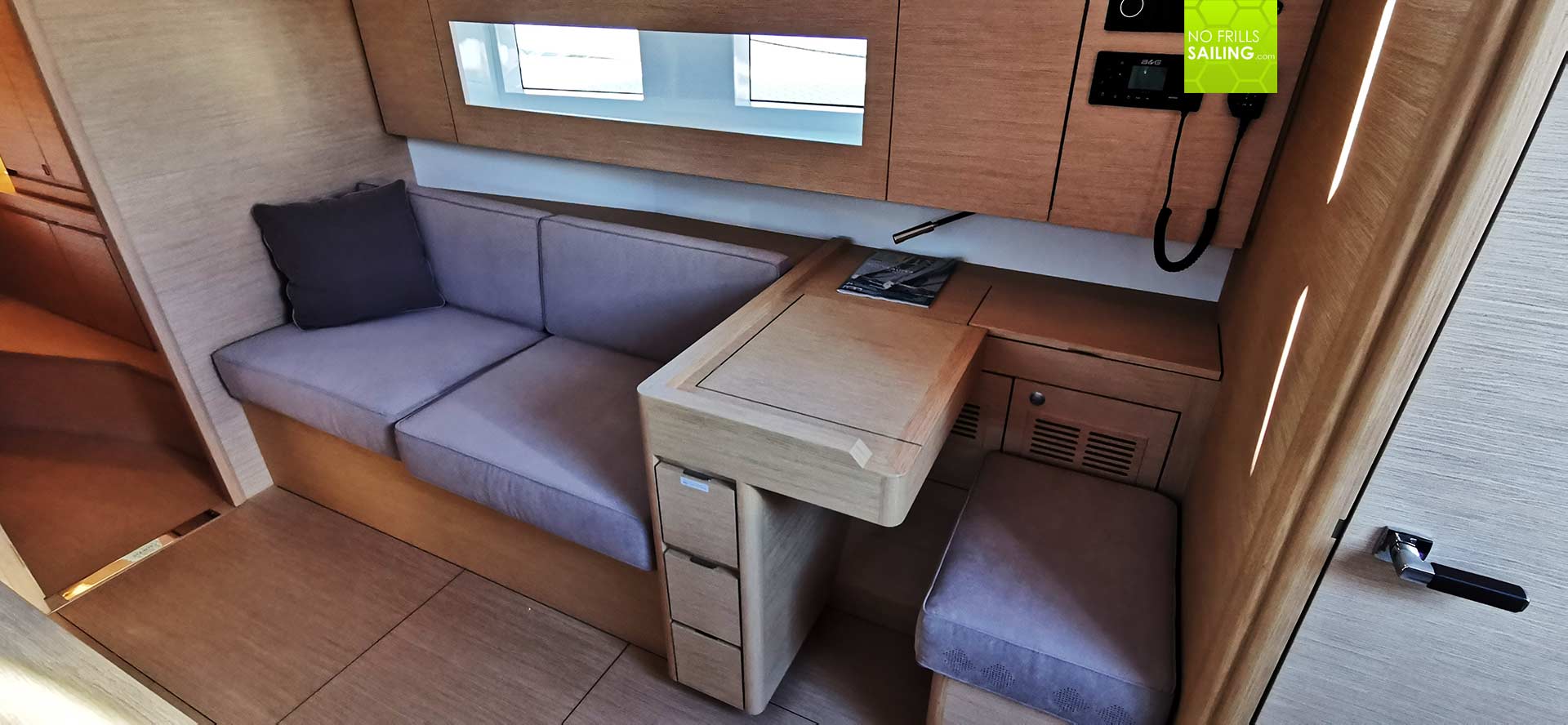 On her starboard side she sports a very cosy 2-seater and a classic nav-station. The chart table (LINK) is sufficiently sized and will be housing more than just a laptop, which is the case with so many current mini-chart tables on other boats. I liked the position here and the ergonomics of the main switch board where all knobs are well within reach.
On port side a nice well-proportioned galley will produce some tasty food to be served right next to it on a U-shaped settee around a big dinner table. Up to four persons can sit down and eat with sufficient room, I can imagine a total of six people could be fitted here too. Looking into the cabins, the Solaris 40 again surprises.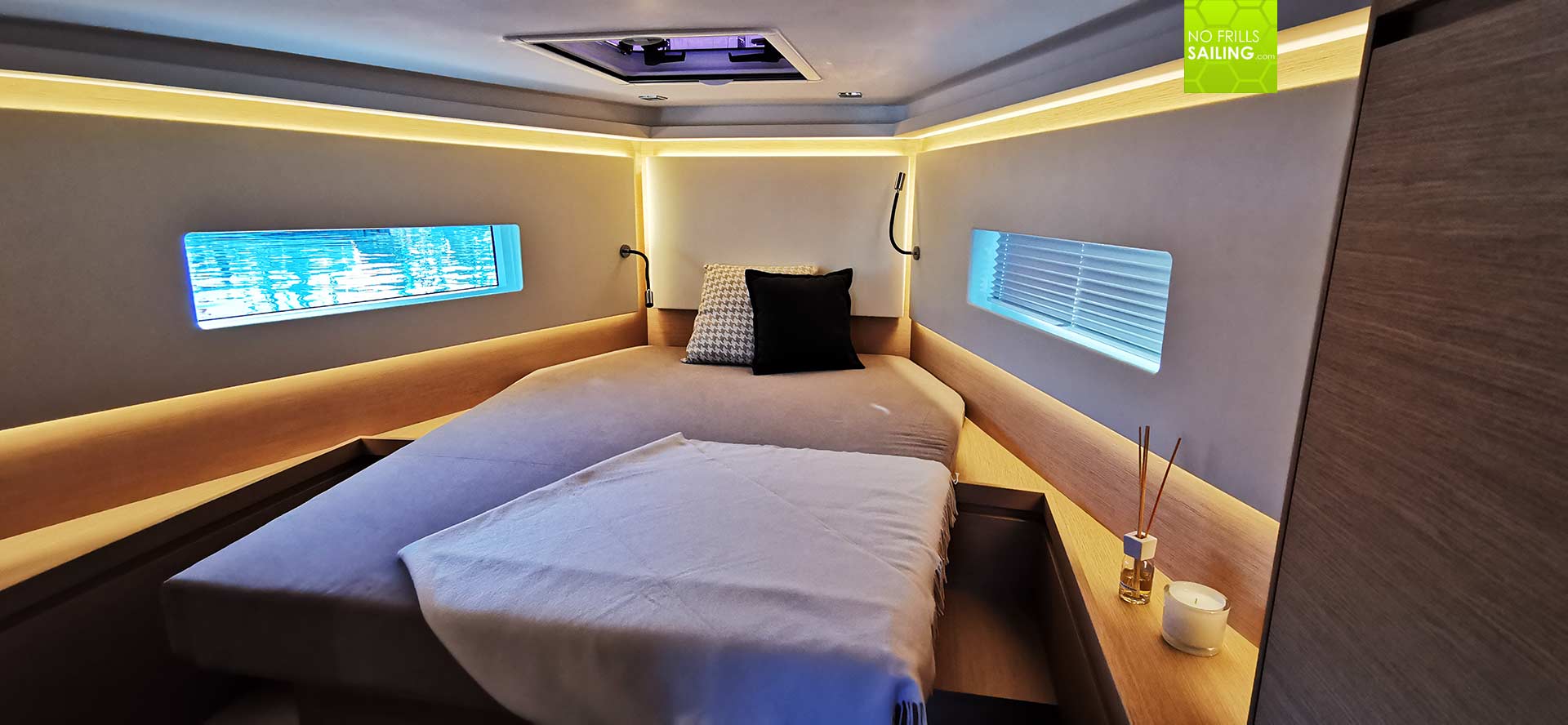 Making an owner´s cabin that is both inviting and beautiful is a big task. I know it from talking to the designers. I´ve seen so many nice boats where I disliked the owner´s cabins. It often seems as if those were made without a sense of what the owners want: So many boats, also big boats, don´t offer for example a nice view out when laying in bed. So often the windows are placed too high: This might seem nice from outside but what use has a window that shows just the sky?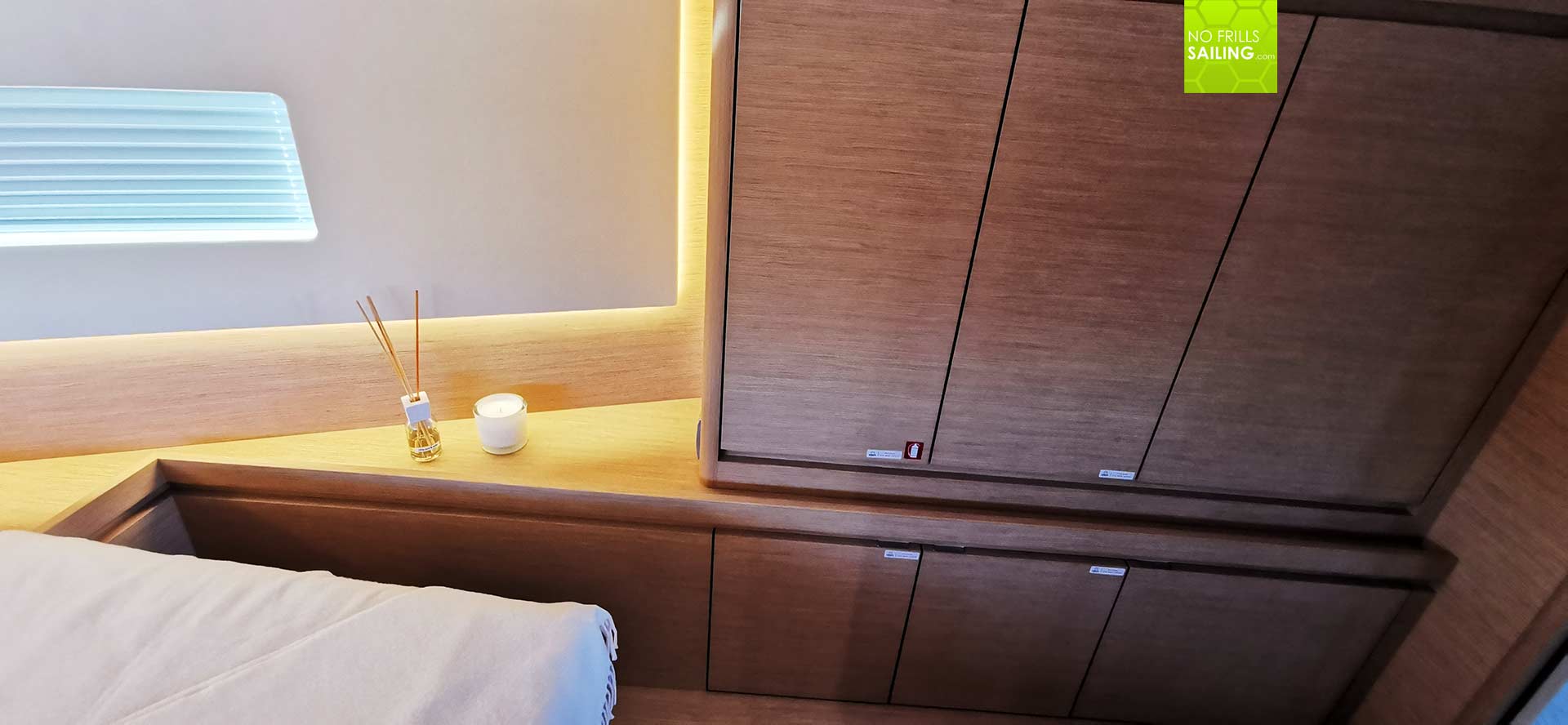 I adored the hanging lockers and cupboards, again, superior craftsmanship that will make your heart beat faster. Everything feels heavy, quality is omnipresent: The veneered heavy plywood furniture, the fittings, the inside of the locker. And again the exact clearance. No matter which seam you take a look at, everything seems perfect in line. Candy for the eyes.
Making a master cabin nice is ne thing but keeping up this high level of dedication for the aft cabins is another thing. Often the guest-cabins are seen as secondary. Where the owners are pleased and excited, so often the aft cabins are a bit neglected. Not so on the Solaris 40: Big headroom, nice big windows, much natural light. You rarely see bare GRP, big lockers take on much stuff. I´d love to be a guest in one of these aft cabins!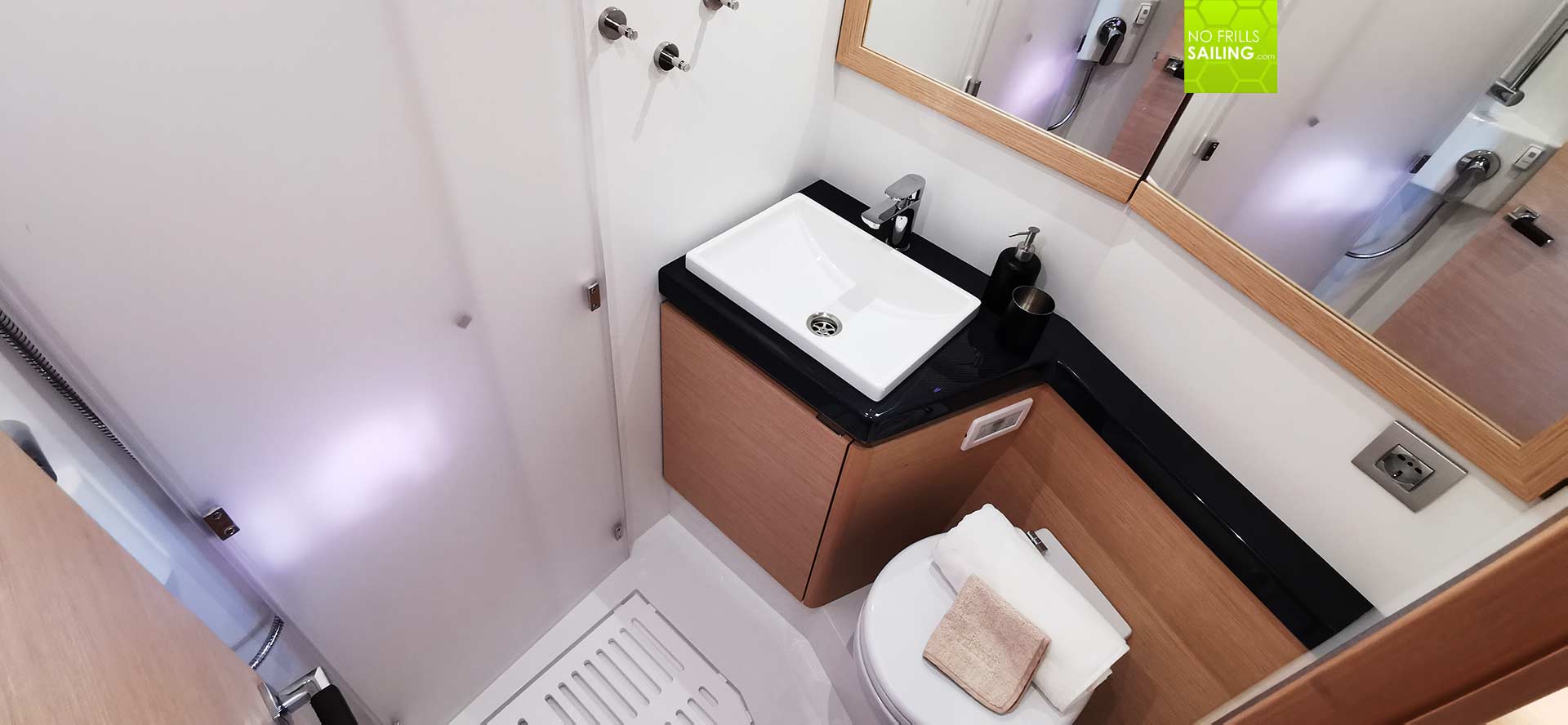 The bathroom is sufficiently sized and well fitted: Electronic WC (LINK) is a matter of fact and there is much room to wash or take a shower. It was only this little detail that bothered me: Why not making a Teak grating for the shower sink? Instead, a plastic one may be more practical and hygienical, but Teak would suit so much better here!
Solaris Yachts on their way to perfected iconography
So, here we are: The Solaris 40 on the jetty was pure joy! This yacht is a perfect boat for warm sailing areas. She is the perfect companion for short-handed sailing and will most certainly draw all eyes on her when mooring or in approach. Inside, the Solaris 40 is a true cruiser: She offers all the amenities needed by a travelling family or a crew of maters having a blast. Her finishing quality is superior and indeed she bears her name with proud.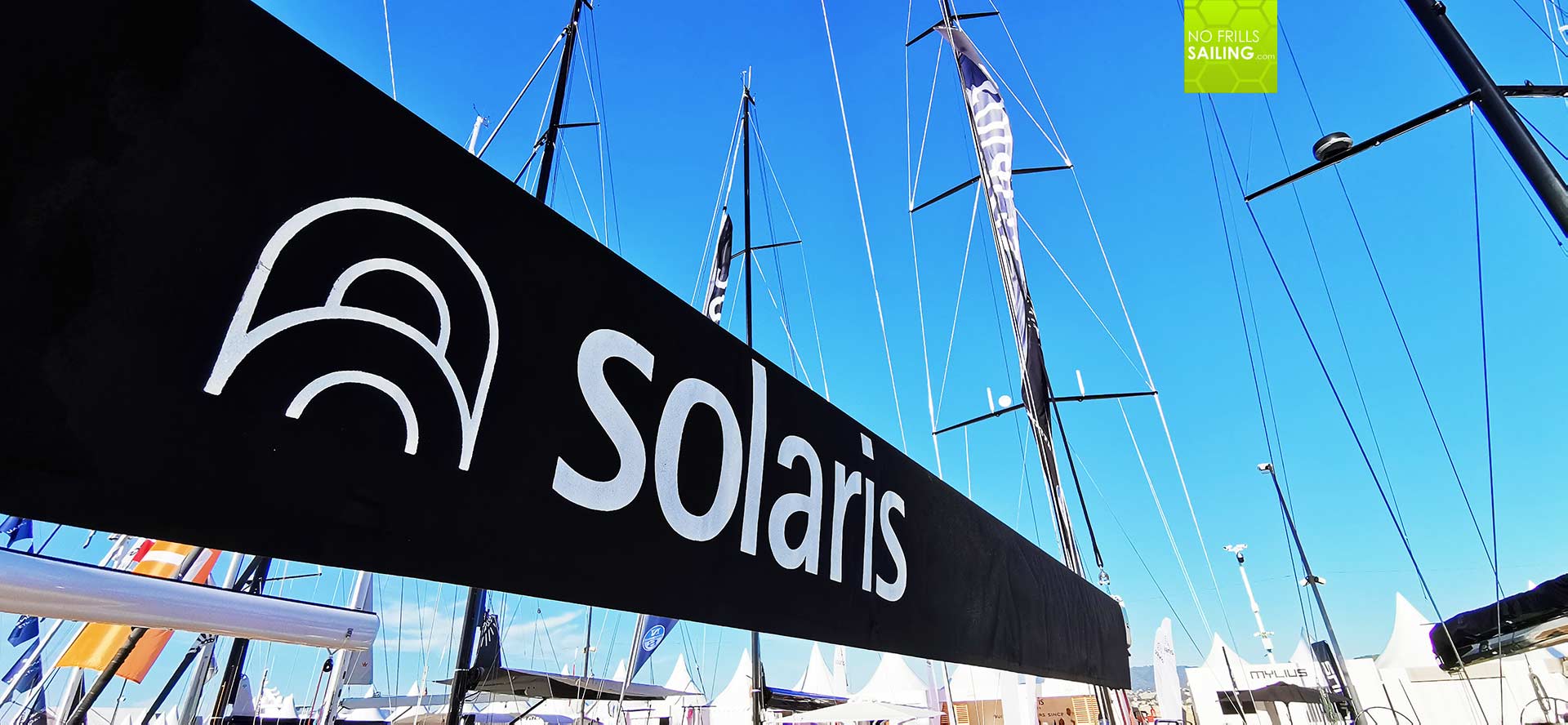 This boat was a joy to see. I could have boarded her much bigger sisters moored right next to her, but I loved the idea to imagining being able to sail one of these. As prices soar and even on the low end of the cruiser-range a 40 footer reaches budgets from 350.000 to 400.000 Euros, it might be a thought worth while to think about taking it a notch up and invest in a boat like this: I am sure this iconic boat will be stable in value over a long period of time. This is, indeed, what icons do.
All articles about the Cannes Yachting Festival by clicking on the hashtag #cannesyachtingfestival
Related articles you might want to read:
Acebal´s concept with the new small Solaris 40
From mock-up to reality: Solaris yachts
At the Solaris yard in Aquileia