It has been a shock and caused devastation when the so-called "Operation Paukenschlag" started in 1942, German U-boats surfaced along the American East Coast and caught a whole country by surprise. The rest is history. Well, I admit this analogy may be a bit too blatant, but in its essence it describes kind of well the impression Hanse´s new 460 made when she had been announced a few months ago: A Paukenschlag for sure.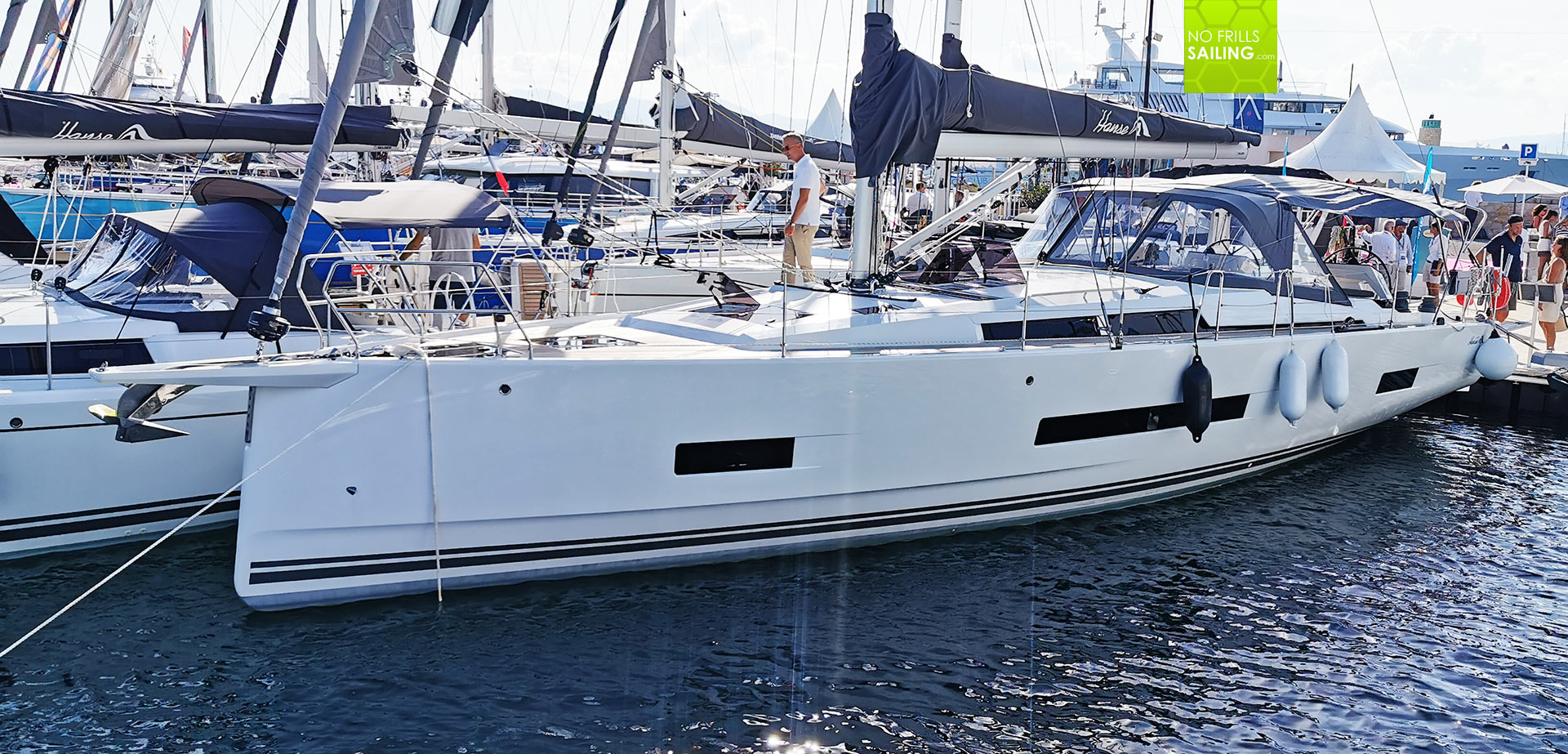 Up until then Hanse was indeed one of the big production boat names but they never really came up with new boats. Instead of developing and constructing brand new hulls, they used to take the – admittedly very well performing – hulls, splashed out a new deck, tweaked the interior layout and styling a bit and … voilá … new boat. Not so with the Hanse 460. She is a completely new boat from keel to mast top. And what a yacht she is!
A giant leap for Hanse
I´ve managed to receive some great pictures exclusively from the sea trials of hull #1 which earned me some not so nice phone calls, but apart from a Marketing department who was caught a bit off-guard and saw their campaign partially spoiled, I was amazed by this new boat. First of all, Hanse skipped their long standing traditional design bureau of choice, Judel/Vrolijk and switched – next Boom! – to a French company. And here we are, no less than Berret-Racoupeau received the honor to take Hanse into a new chapter.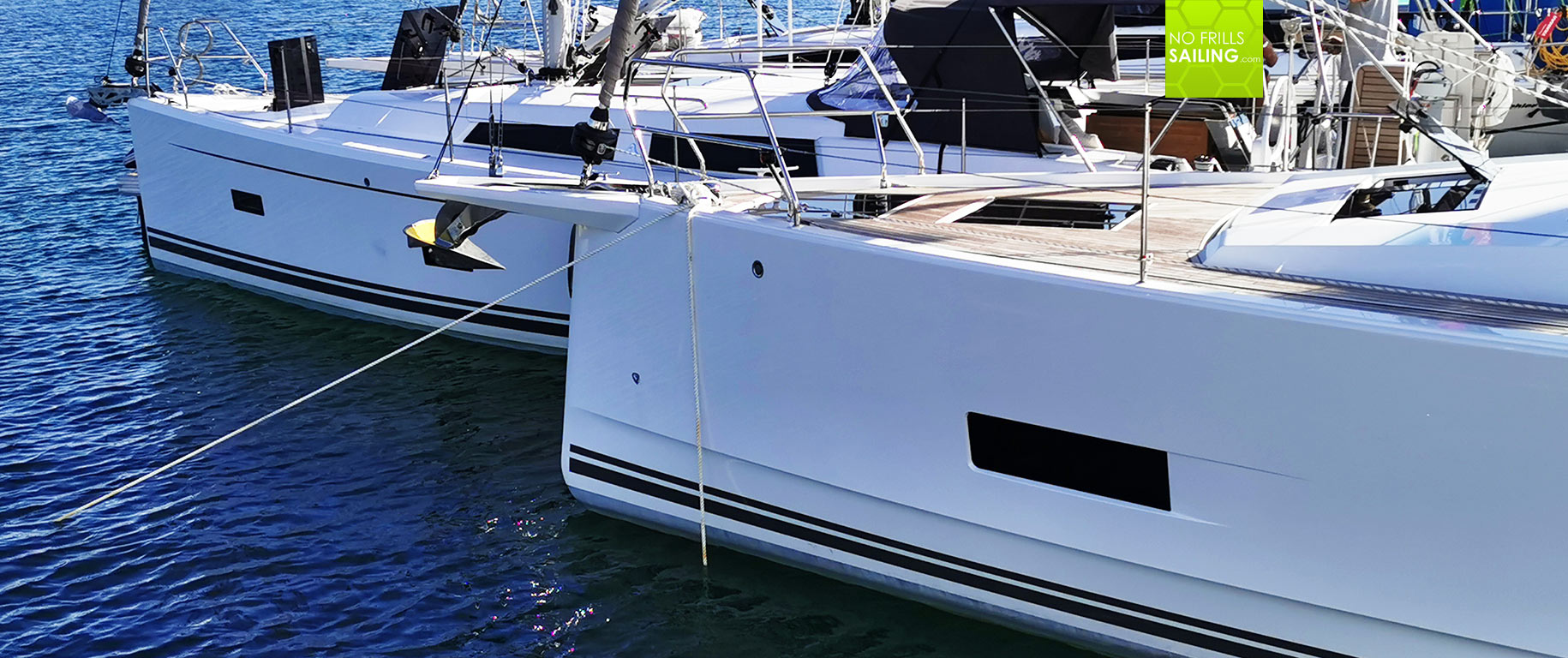 This boat is a true leap forward. A "French Hanse", if you want: Designed to fit the demands of modern cruising skippers and charter companies at the same time (this is what the production boats do) and incorporating the latest developments of modern hull design. Such as inverted bow, a modern sailplan, wide aft sections carrying the max beam to the stern, chines and alike. But Berret-Racoupeau also preserved some details typical for Hanse, like the single rudder configuration, the principal design of the windows. She faintly reminds of a Hanse – but she is a giant leap ahead from the old designs. When I saw her in Cannes, I instantly new I´d have to see her interior!
A modern sailing Loft
And what an interior she sports! Holy moly, I was amazed of how modern and fresh the 460 looks! For a cruiser that is competing in the same lower price range as Jeanneau, Dufour and my brand, Beneteau. Coming down the companionway I was expecting the already well-known Hanse-style which used to be practical and – for my taste – a bit "cold". Not so in the new boat: Chapeau, Racoupeau, this is just swesome!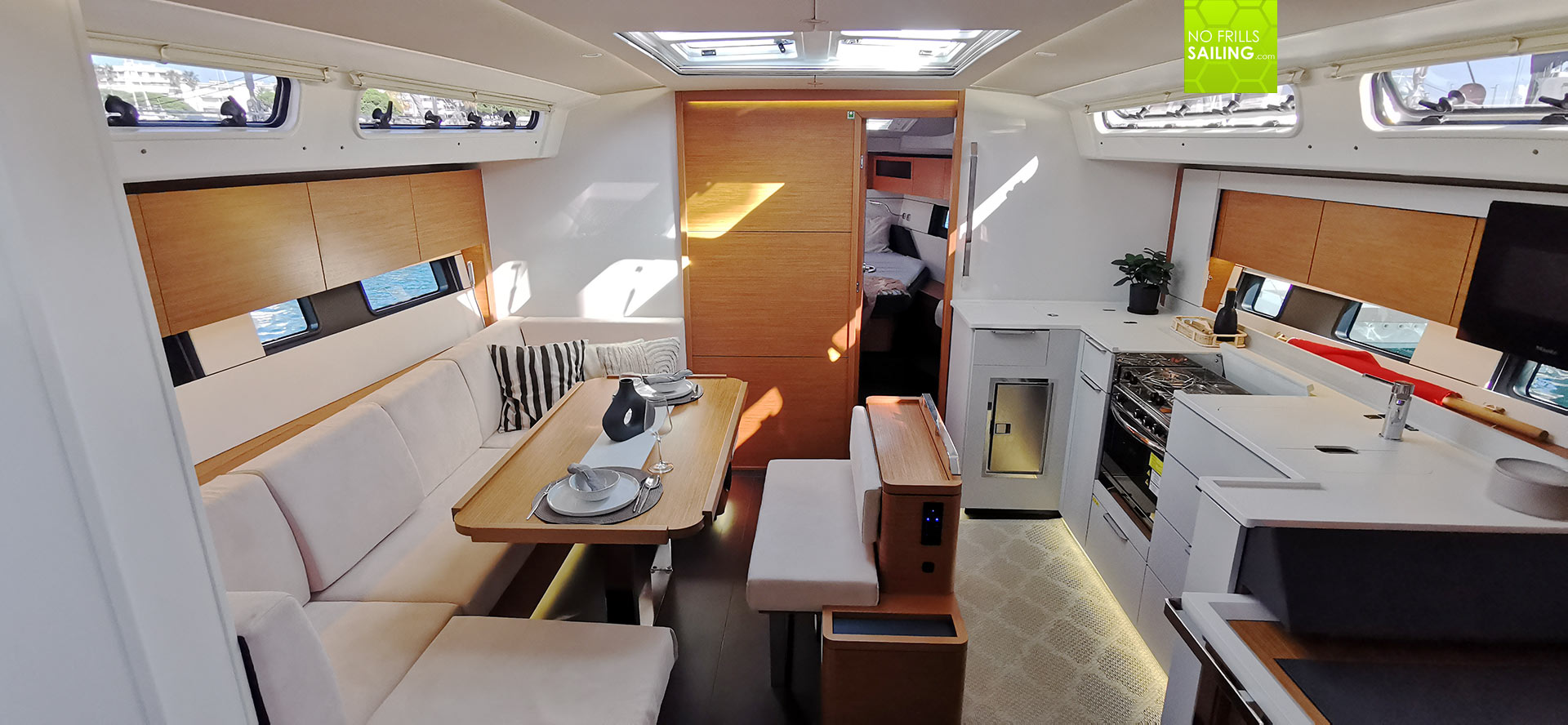 The layout of the saloon is classy: Port side placed along the windows a U-settee around a dinner table. I think that 6 to 8 people could sit down here and share a good meal easily. I particularly liked the middle bench which also functions as a backrest for the ship´s coop. A large longitudinal galley in white, loads of cupboards and storage. Bulkheads are painted/lacquered in white, just partially veneered wooden accessories remind of classic boat building.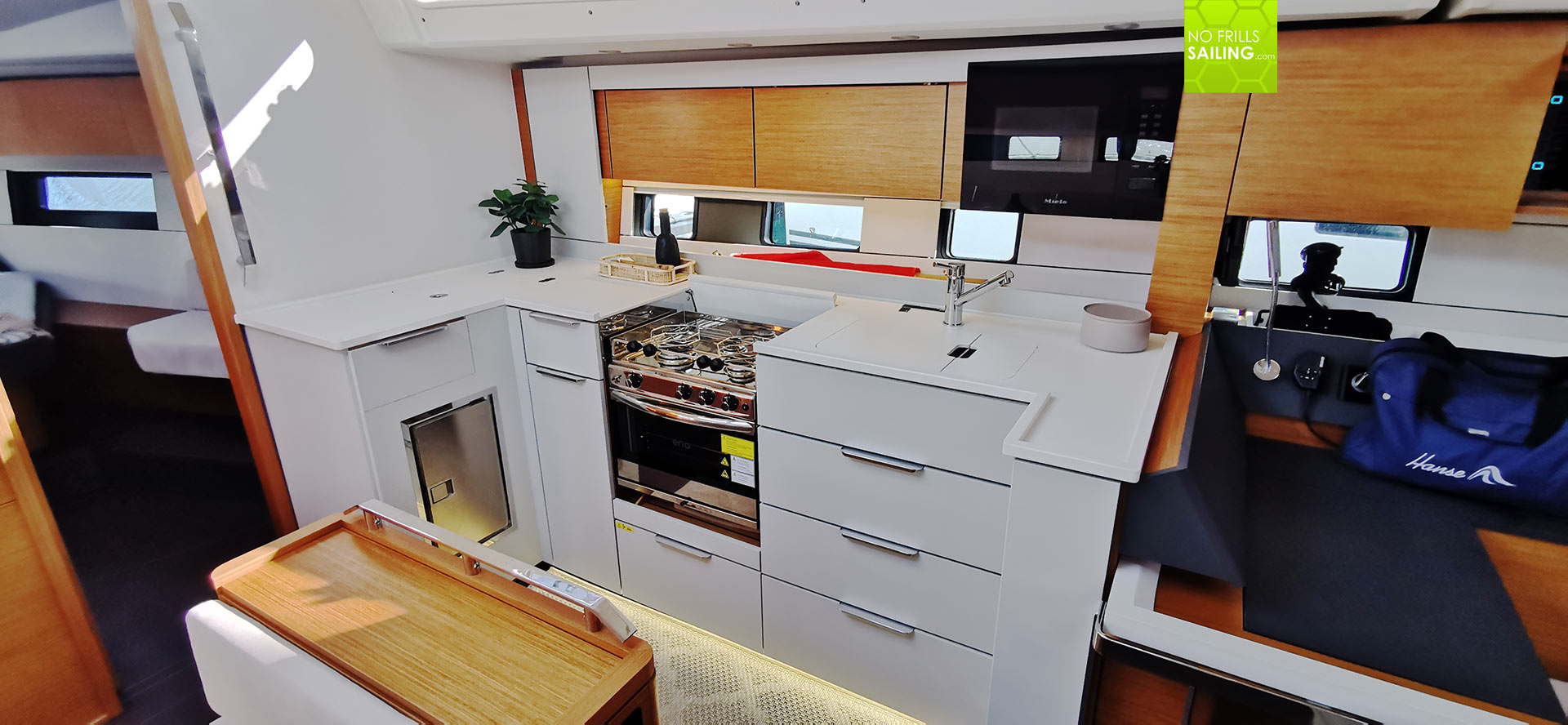 Lacquered surfaces of furniture dominate the room. The lofty character of this arrangement is underlined by a lot of skylights (four big skylights in the roof alone) and lighten up the room very much. Hanse took apparently great care to come up with an ergonomic solution for the galley: Center placed standard 2-flame stove, a combined top- and front-loading fridge to the left, sink and stowage to the right. Everything is light and fresh, you do not feel being in a boat actually.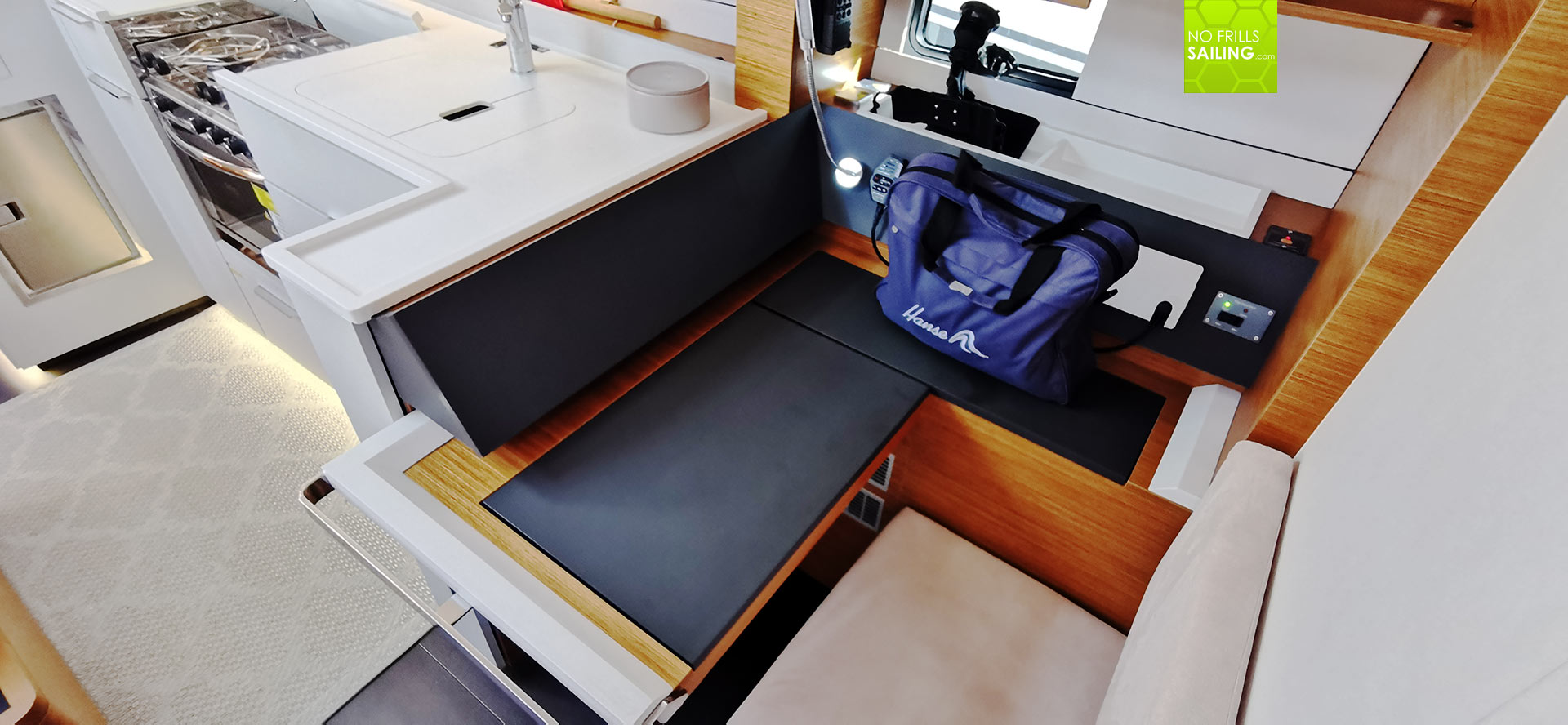 Well, that is until you see the chart table. Hanse – contrary to the current trend in production cruising boats to ever so slightly make the chart tables smaller and smaller and eventually, as seen on the First 53, getting rid of it altogether – offers not just a chart table but a classic, large, dedicated full-sized nav-station for the committed skipper. The chart table is sufficiently sized, a nice seat, enough free space to mount surplus equipment, screens and useful gadgets. I liked this very much!
Cruising in style
As Hanse is as well building a large chunk of their production for the charter fleets of the world, the main focus of these boats of course lies in their attractiveness to the charter-clients. Those are mainly families who seek to have a great holiday, two or three weeks of easy summer sailing in the most beautiful places of the world. In this, comfort of living is a main feat of these boats. So let´s take a look at the cabins.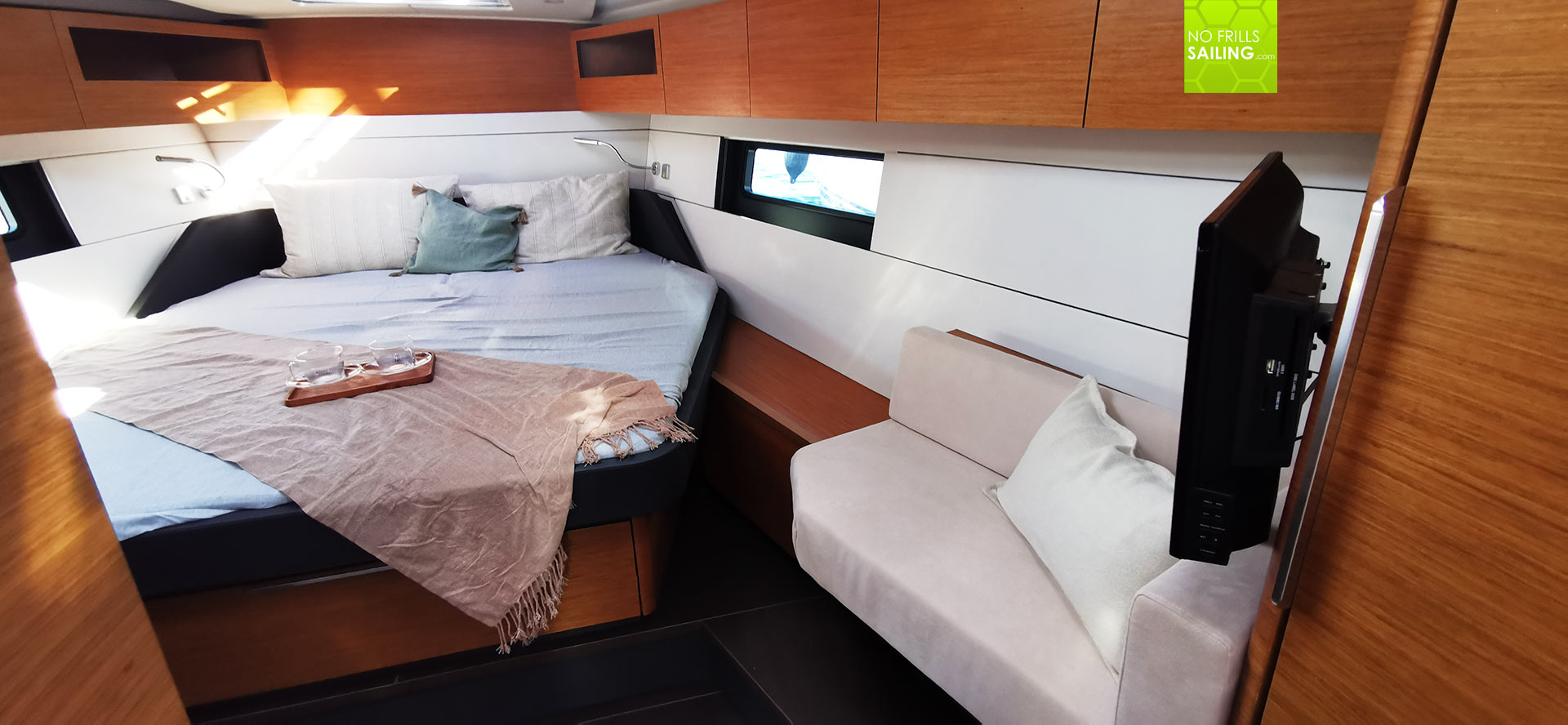 Hanse 460 offers a nice owner´s suite: Large island bed, even larger hull windows which, I am sure, will offer an unforgettable view over the anchorage when waking up. There is a lot of overhead storage cupboards and lockers, so even owner-skippers will find sufficient stowage here. For my taste this stowage above head was designed a bit too big as I felt kind of "smothered" or "pressed down" visually, but that is just my personal taste.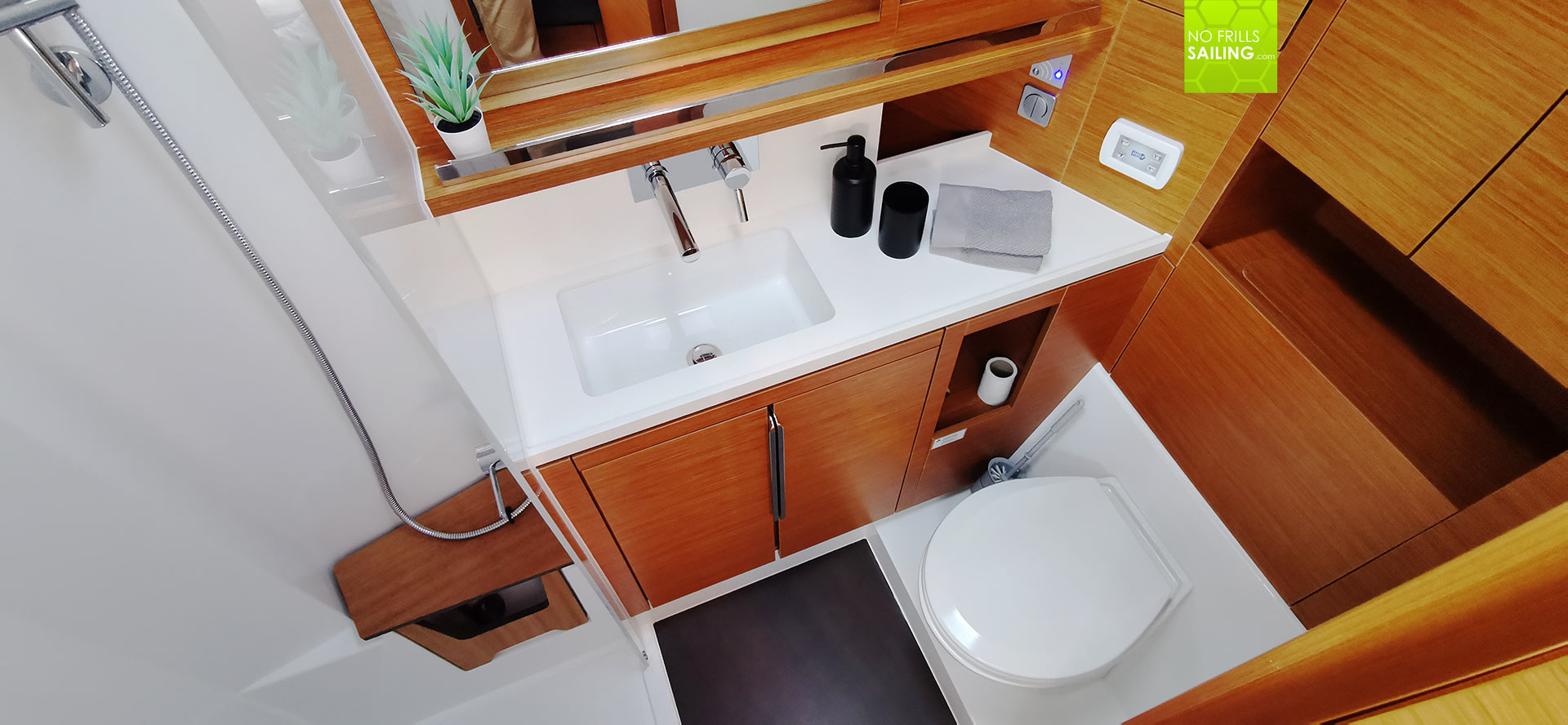 I liked the small sofa on starboard side just behind the door: A great feat to sit down, get dressed or undressed before or after your shifts. The bathroom is en-suite and well-sized. There is also a separated shower so that only the shower-sink will get wet and you don´t have to get dry the whole bathroom including toilet. Again, the choice of material, surface and colors in this boat (I am sure that there are some more choices of how your Hanse 460 will look like in design-terms) was modern and lofty. I liked the details like fittings, closing mechanisms of the lockers, leather around bed. But the big surprise wasn´t the owner´s suite …
A wow-effect at the end
The real big surprise came at the very other end of the boat, namely in the aft cabins. Usually they are a bit neglected as there "only" the guests and kids are sleeping or some leftover guests from the evening party are placed here for a sleepover. Also, the volume, especially the headroom, of aft cabins is given by the design of the cockpit above. Large cockpit, deep lockers usually means a smaller aft cabin underneath. Not so on the new Hanse 460 though.
These aft cabins are just wow! Hats off to Racoupeau for coming up with a perfectly sized aft cabin. I was amazed of how light-suffused, tastefully designed and fitted these are. Big island-like beds (not bunks!) invitingly designed. Wooden veneered panels and linen-covered panels make most of the bare GRP disappear. The same modern color code as seen in saloon is presented here and the highlight are the big aft windows which lighten up the scene. That´s a real wow.
Some thoughts on Hanse vs. Beneteau
And here we are: As a Beneteau dealer I see that boat of course with different eyes. Will she be able to attract some of "my" clients? She certainly will! The good thing about the major production boat brand is that all boats are profoundly different: From priceworthy (don´t want to use the word "cheap") to high volume boats, from lofty vacation bases to long haul cruisers. So where is the new Hanse 460 compared to our Oceanis 46.1?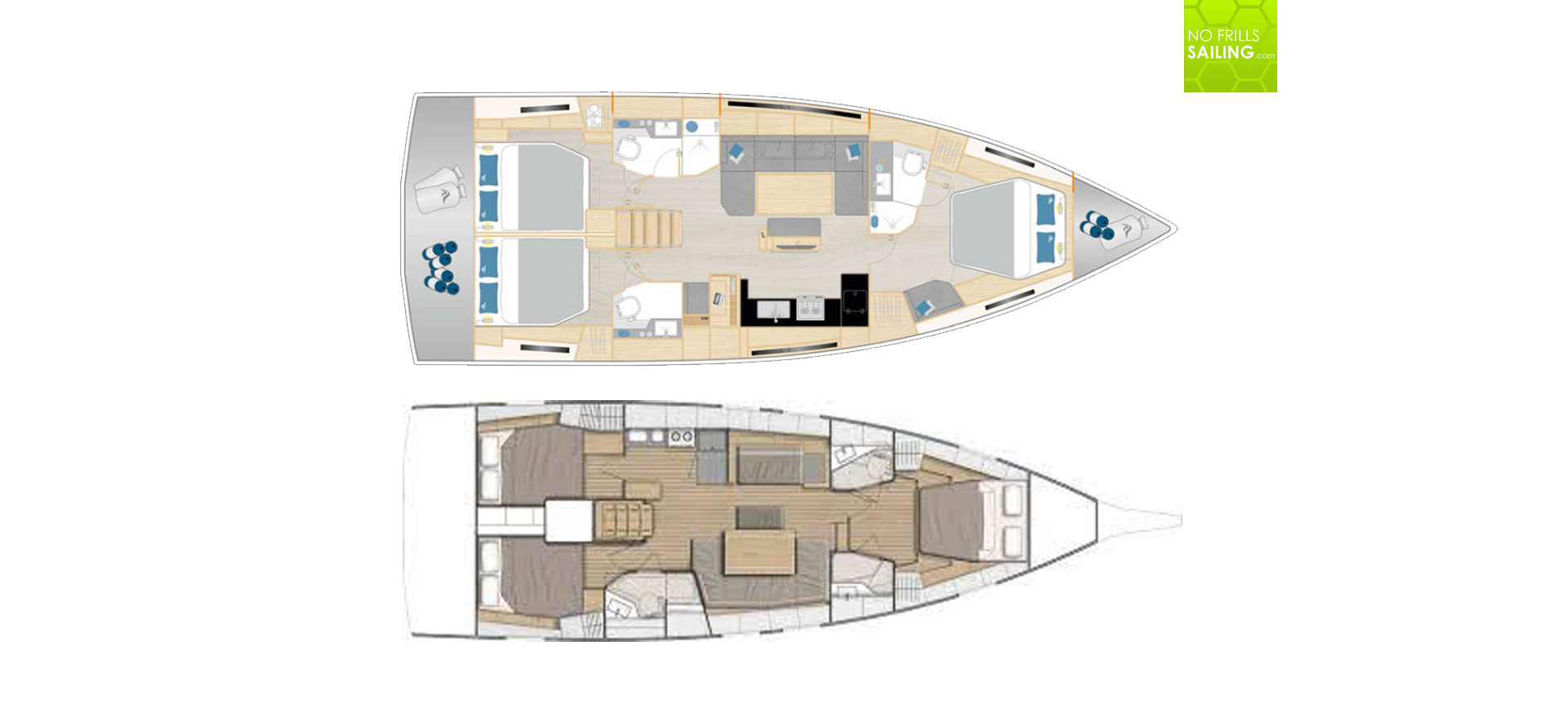 Looking at the pure data, the Hanse 460 weighs 12.6 tons according to their data sheet, the Oceanis 46.1 clocks in at 10.6 tons. That is significantly heavier for the French-German cruiser. Upwind sails area comes at 114 square meters against 97 square meters, which is more. But both boats can be equipped with much more sail area of course.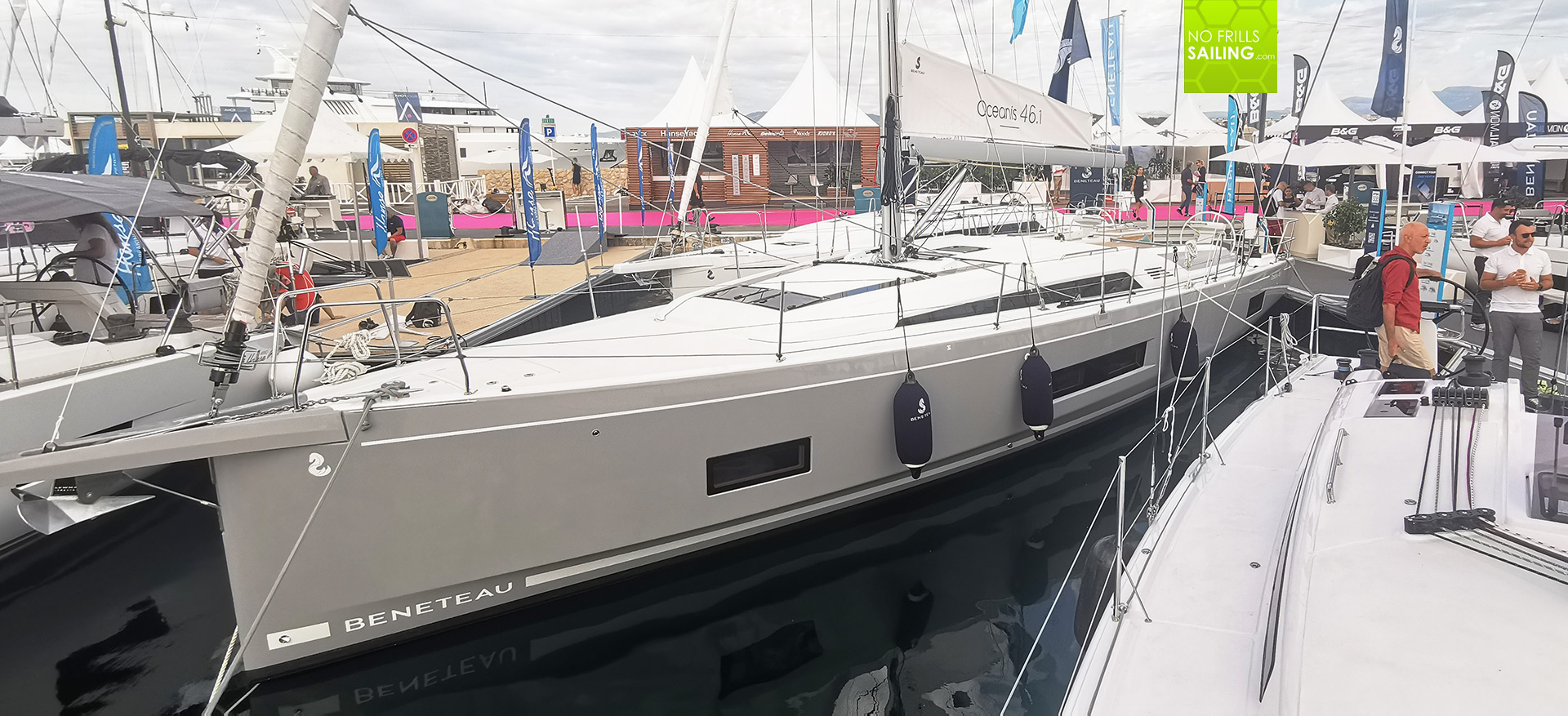 The Beneteau is narrower and lighter and sports a modern hard chined stern with double rudders whereas the Hanse comes with apparently less "aggressive" chines and a single rudder. I haven´t sailed the Hanse yet and I hope I´ll get the chance soon but from talking to both Beneteau insiders and some skippers I trust the assumption is that the Oceanis will have slightly better sailing capabilities. But time will tell. What I can say is this: We have the new flagship out and in the water, the new Oceanis Yacht 60 (about which I will post soon as well) and this boat is 5 tons lighter than her predecessor: She sails like hell!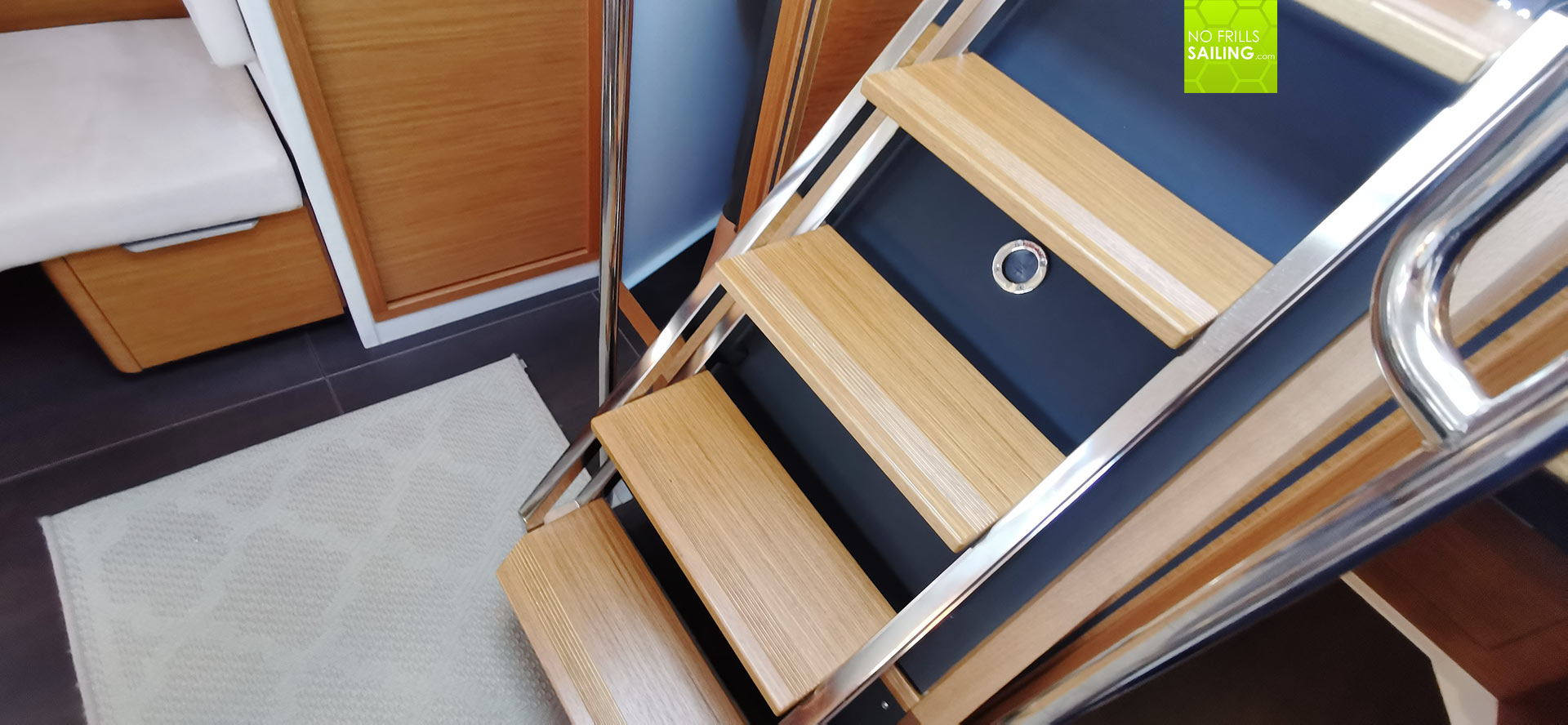 Anyway, most buyers of the Hanse 460 (and also of most production boats) don't really care all too much about sailing capabilities. They want to have comfort, a taste of luxury. They seek volume, a nice interior, nice cabins and want to have a platform to spend the best time of the year on it. If it sails well and is fun to steer, that´s all fine too. The new Hanse delivers all this, passing the test with flying colors. She is a beautiful, well designed boat – which is true for the big picture as well as for the details, look at the entryway for example.
A new generation coming up
In this I am happy for Hanse: With a brand new 510 coming up, the renovation of their cruiser-range goes on and from what I can see this new boat will be as well a great success. Continuing this effort, renewing the whole range, Hanse will have a great program and an extremely attractive range of products. I am sure it will be harder for us competitors to find arguments against these beautiful boats.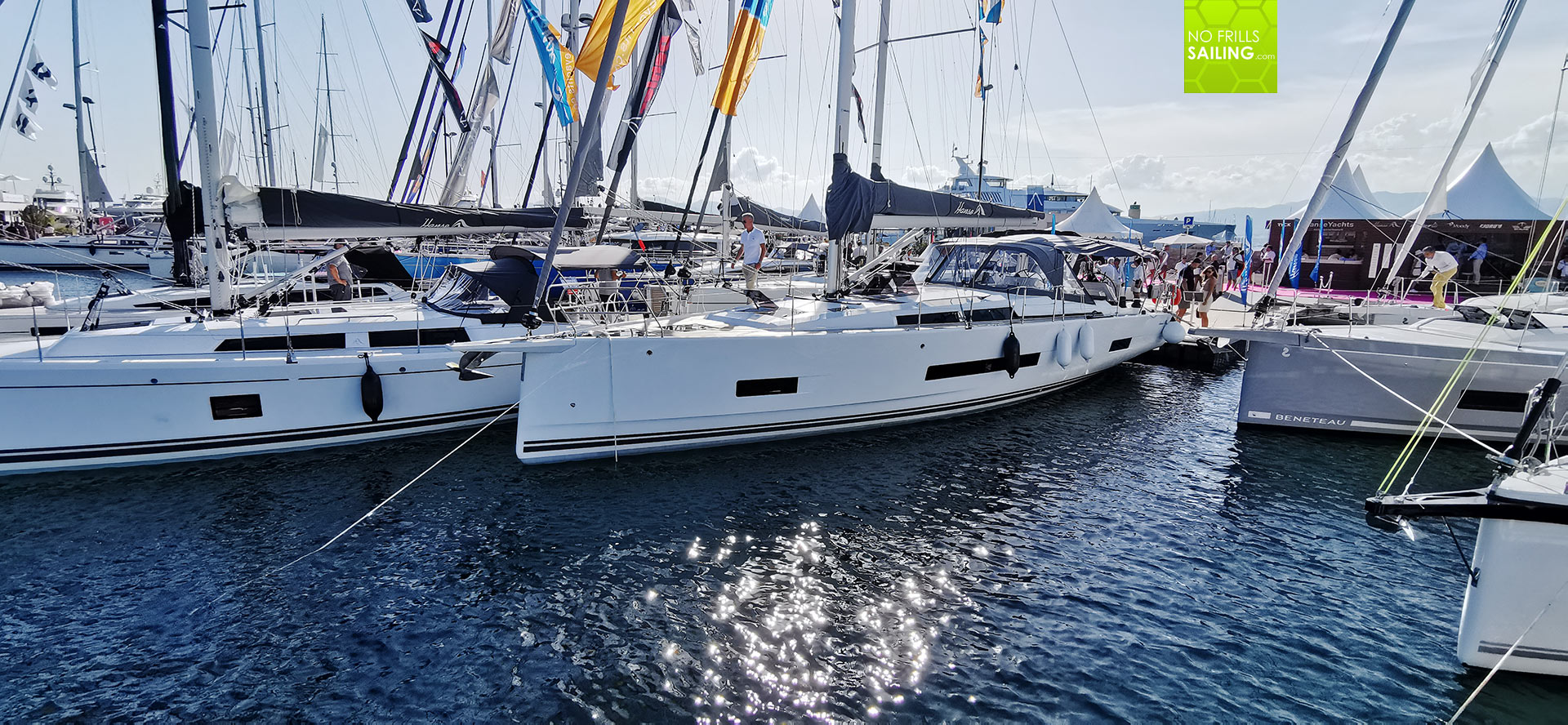 So I leave the new Hanse 460 in Cannes, truly impressed and honestly happy for the brand. Time will tell, the experience of the buyers will tell and sales number will tell. You never know how good or bad your product will be accepted: Look at Bavaria and their new C-line. Rectangular, edgy shapes, extremely wide boats, a radical new design. These boats find their lovers too, but many Bavaria-aficionados told me that they cannot follow their brand due to the brutal break. I guess, this won´t happen for Hanse as well. From my point of view, they´ve done a good job together with Berret-Racoupeau. Chapeau!
All articles on walkthroughs during Cannes Yachting Festival by clicking the hashtag #cannesyachtingfestival
You might also find interesting to read:
Exclusive pictures of the new Hanse 460 prototype 
Handing over a Beneteau 46.1 performance-version