When sailing enfant terrible Hans Genthe, best known as an all-out racer, announced that he is willing and going to build the ultimate pocket racing machine, many people may have laughed. But Hans was dead serious: Founded his own company in Dubai and gathered a team of highly sophisticated and specialized developers, engineers and designers to come together turning his vision into reality. I´ve had the pleasure to talk to him a few weeks ago on the project itself.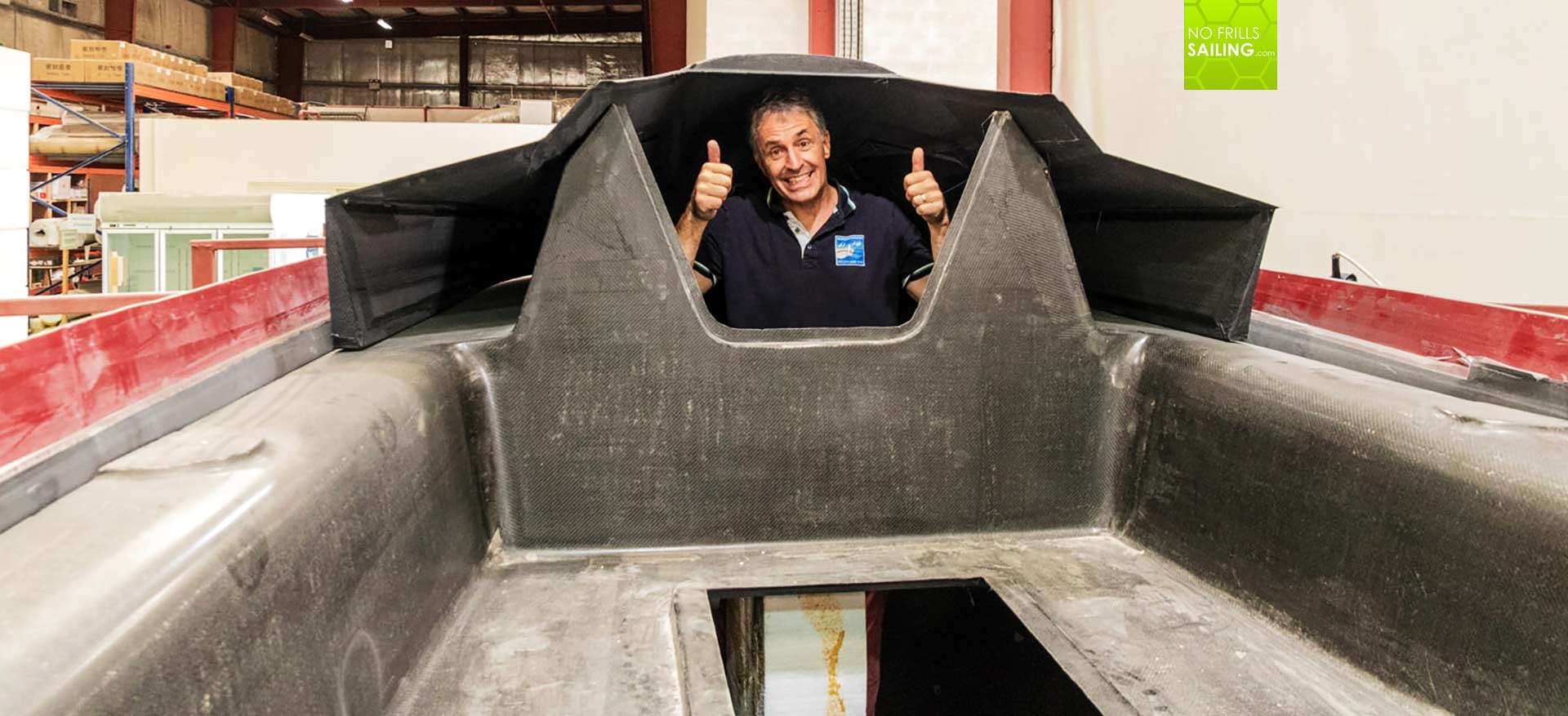 Now that the project has been set up, a production facility has been opened, skilled personnel has been hired and trained, machines and tools have been acquired and the whole chain of supplies set up it was time to contact Hans for a second time: Astonished of how fast he was able not only to turn his ideas into a real project with hard numbers but also had he managed to build up a yard from scratch in the mere dust of the desert – to step up a notch: His first Aeolos all-carbon hull neared completion. Wow!
Jumpstart of a Project
Lars Reisberg | NO FRILLS SAILING.com: "Hans, it have been just a few weeks since our last chat – judging by the pictures one can see on facebook the Aeolos-project has taken major leaps forward. Tell me about the current status of the build."
Hans Genthe | Aeolos Composites: "Yes, pretty fast indeed! We have finished bonding deck and hull of our first boat now. It was fast, but we also took our time with it: With ever step completed paused, retrieved to meetings and spent a lot of recalling, analyzing and improving our methods, checking quality and so forth. We had our focus on the production of the templates. To be honest, this effort has been a little underestimated by us. But investing here will save a lot of time with the next upcoming boats."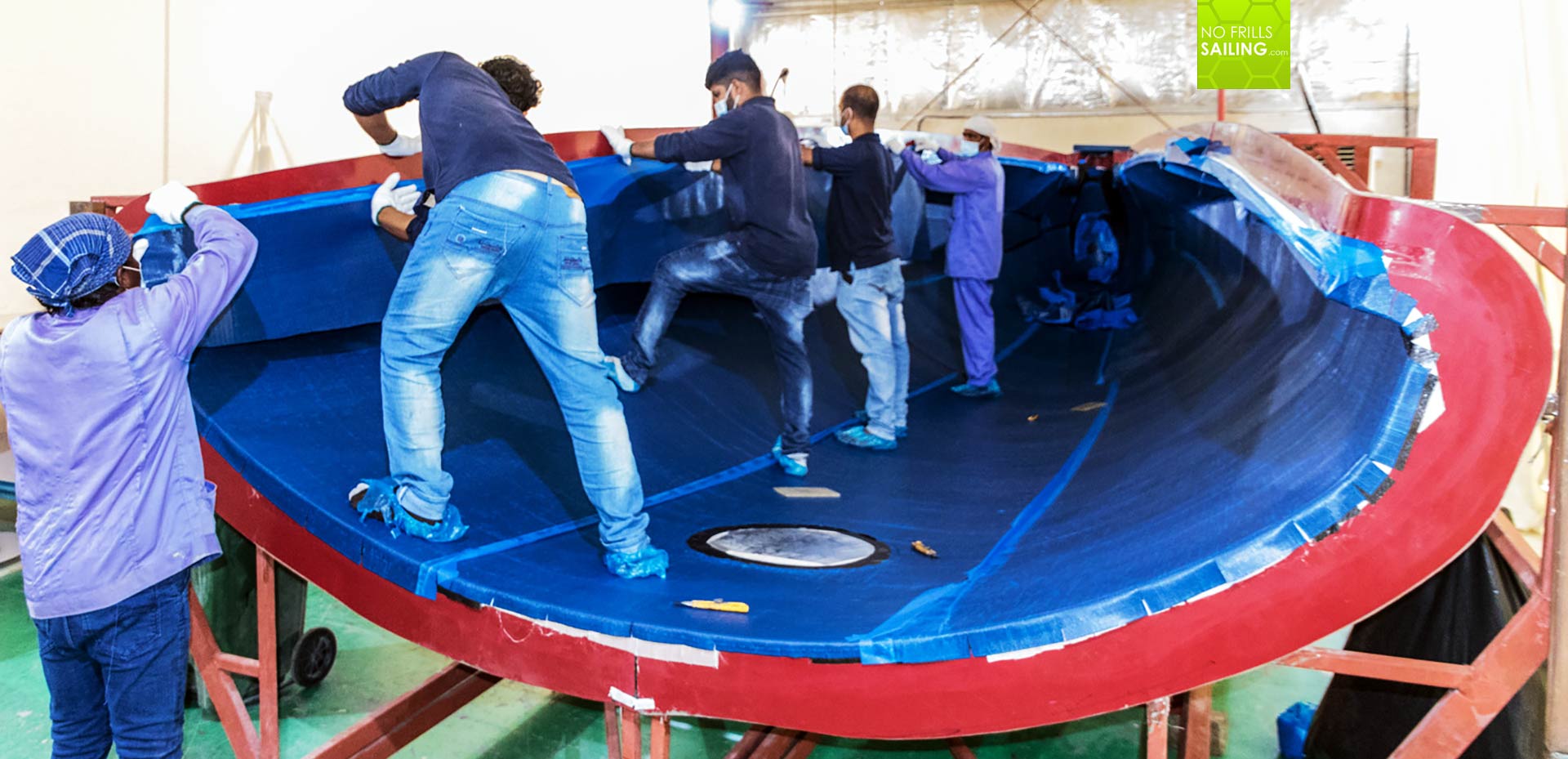 NO FRILLS SAILING.com: "Speaking of the other boats: What is the current status of orders and dealers?"
Hans Genthe: "I am overwhelmed, honestly: We have so many orders and requests, not just people interested, but real orders. It enables us to go forward and set up a toughly organized series production."
NO FRILLS SAILING.com: "Wow, congratulations! I´ve seen on facebook that some of the major parts of the boat have already been produced: When do you think will be be able to see the first hull married to the first deck?"
Hans Genthe: "As I said, that has been done now."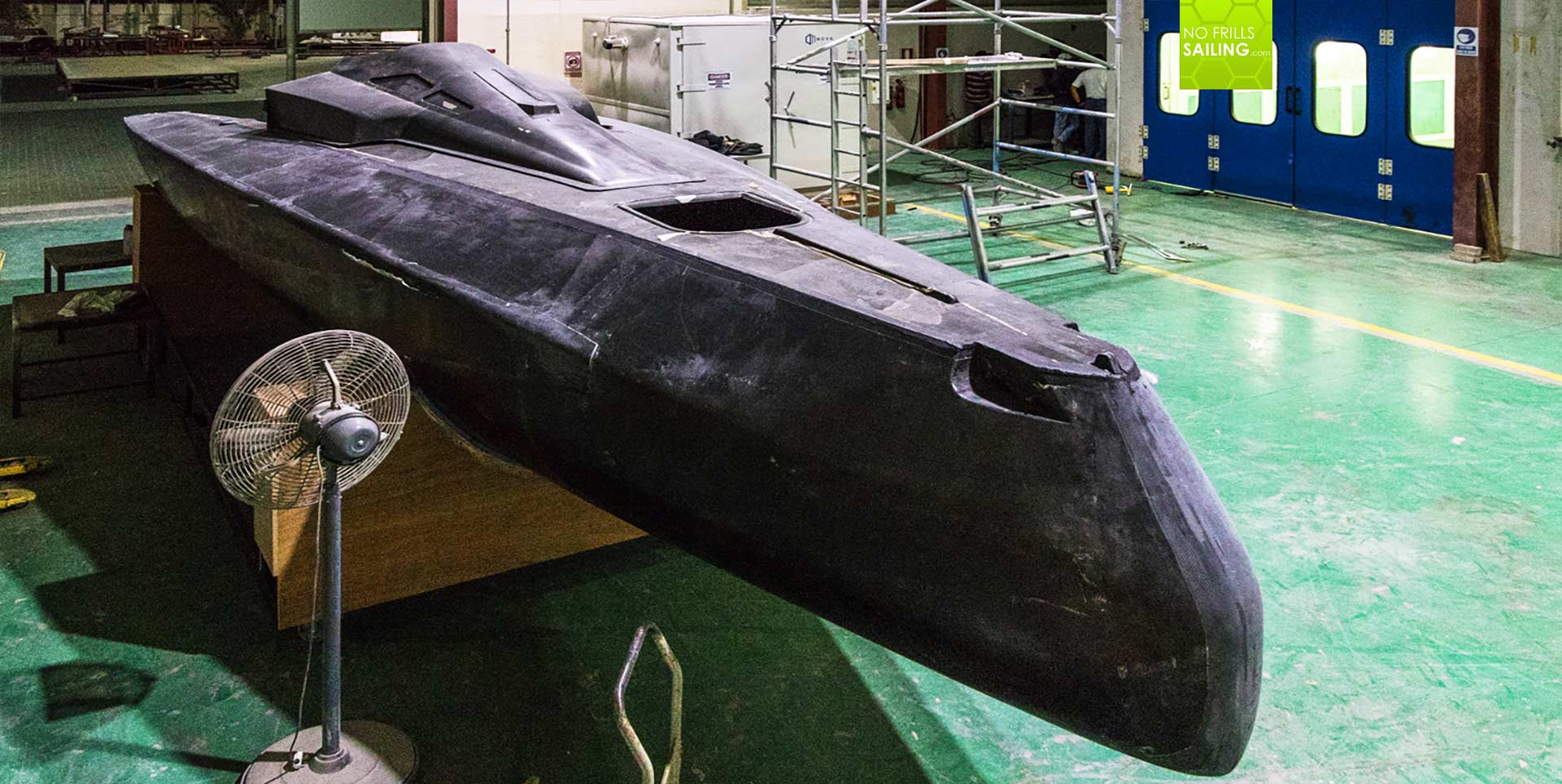 NO FRILLS SAILING.com: "Let´s dive a bit deeper into material and production. Aeolos is a carbon-fibre boat: Why Carbon in the first place?"
Hans Genthe: "I´d say that carbon fibres save a lot of weight in the first place. That means that a lot of energy otherwise wasted to accelerate the weight can now be turned into a lot of extra speed. Besides: There simply isn´t any carbon-made production boat for double handed racing on the market available, despite the fact that I´d say that there is demand indeed. Here is our gap and the chance for Aeolos to find a customers."
NO FRILLS SAILING.com: "Apart from carbon´s lightweight properties, which characteristics of this material are also important for Aeolos? Why do you think carbon fibre makes the best material of choice in boat building?"
Hans Genthe: "For me it´s all about weight. Less weight means less forces. Means less material. Means less cost. Means more customer value. I´d say that it is important that the boat is well engineered. Our stuctural engineering partner Solico is specialized in composite construction and brings in a huge expertise, more than a sole boat design office can offer. Solico is working in a lot of markets, and they have a great overview. Due to that we have been able to save more and more weight time and again in every iteration of the project due to the clever engineering. So, to answer your question in short: It´s all about weight for me."
Diving into Carbon material characteristics and production
NO FRILLS SAILING.com: "I guess the boat won´t be baked as a monolithic hull: Can you dive deeper into the different properties of sandwich-construction and baking process?"
Hans Genthe: "We have a mix of monolithic and sandwich areas, depending on the requirements of the structural analysis. In some areas sandwich is not useful, more flexibility and monolithic laminate prevents the foam from shearing. The keel area on the other hand bears more than two centimetres of solid laminate. All areas with fittings have solid laminate too. For the sandwich we use also different thicknesses. All foam boarders are tapered to provide a soft transition of forces."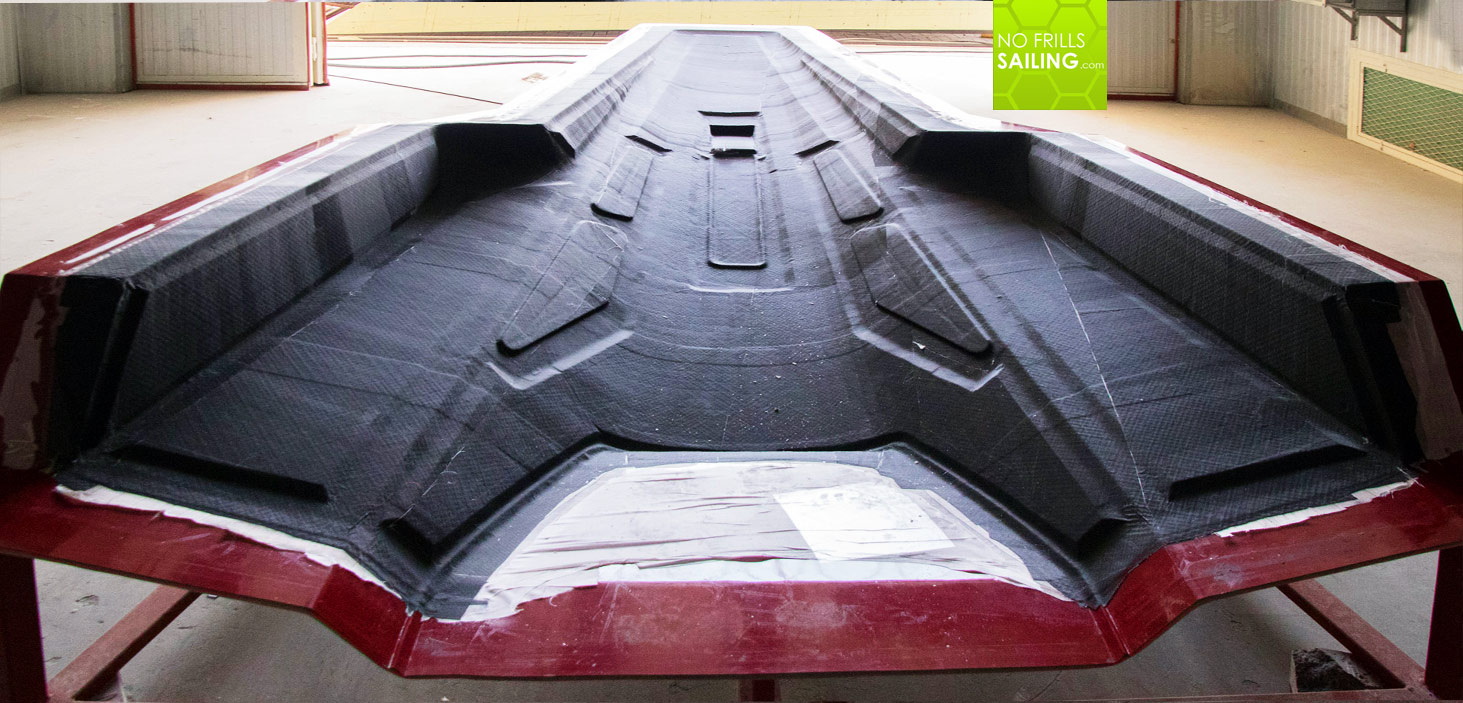 NO FRILLS SAILING.com: "In which other areas, material-wise, will Aeolos make a difference compared to other boats?"
Hans Genthe: "I know a lot of production boats and pure racers. I have sailed more than a hundred boats myself and I´ve tuned a lot, too. If I compare our boat with these yachts, I am pretty sure we spent a lot more time in the development and laminate plans."
NO FRILLS SAILING.com: "You are using (at at least writing about a lot) prepreg carbon as principal material. Can you dive deeper into this topic?"
Hans Genthe: "Our big advantage in production is the use of special made prepregs, this is, fibers with resign applied. Thanks to this material you can control the weight of the laminate exactly. With very, very little tolerance. We are using carbon prepregs made by Notus Composites here in the UAE. They develop special materials which we can use more than five days at room temperature before they start curing. That means we have a lot of time to apply the prepregs and the foam very accurately. With pure resin films we can apply additional resin to the foam/carbon connection, which fills the pores of the sandwich and gives enormous strength. All material combinations are tested before in the Notus laboratory."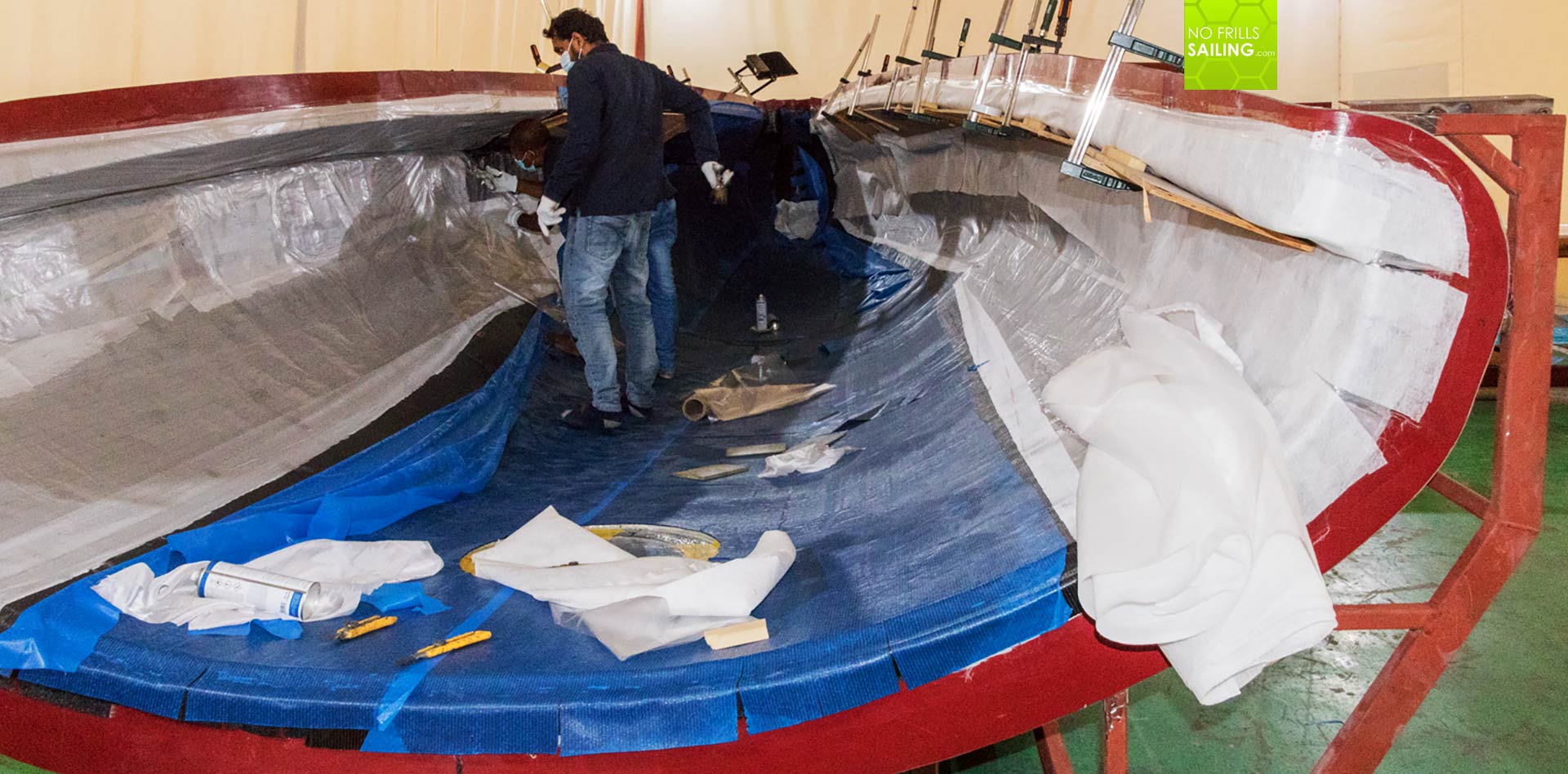 NO FRILLS SAILING.com: "After hull and deck have been baked and checked, I guess, the boat will be fitted with equipment, winches and all the bits and pieces: How will the trial program and possible certification processes be like and what is your schedule for this?"
Hans Genthe: "First we will do the painting: Our Production Partner Nova Composites has installed a huge paint booth for this undertaking to which I am very much looking forward to. Thanks to nearly 20 years of experience and collaboration with the German paint brand Alexseal we will achieve a stunning surface quality. The paint process will take approximately two weeks. Fitting the boat another two. We will do a lot of testing on the water, for sure, too. The certification-process on the other hand has started weeks ago. By the way, our production partner Nova Composites is certified according to ISO 9001:2015. To give you a short overview, let me tell you the quality standards under which Aeolos is produced: Classed as a racing boat, OSR Class B rules to be followed, World Sailing Offshore Special Regulations 2019 Category 2, EC Certification KAT A/B, SWISS LLOYD for design and design pressures, ISO 12215-5, Design category A rules will be followed, means update to Class A is simple. We also have ISO 12215-1 for laminate and adhesive material properties 2000, ISO 12215-2 Core material properties 2002, ISO 12215-5 Design pressures, stresses, scantlings 2019, ISO 12215-8 Rudders 2012, ISO 12215-9 Appendages 2012, ISO 12215-10 Rig loads and rig attachments 2020, EC Certification KAT A/B, SWISS LLOYD EN ISP 12212-2 Stability, EN ISO 11812 water pump out, waterproofness, EN ISO 12216 Windows, doors, openings, EN ISO 14945, 14946 badge, payloads and finally the EN ISO 20240 for the skipper manual. Now, that´s some bureaucracy, I´d say …"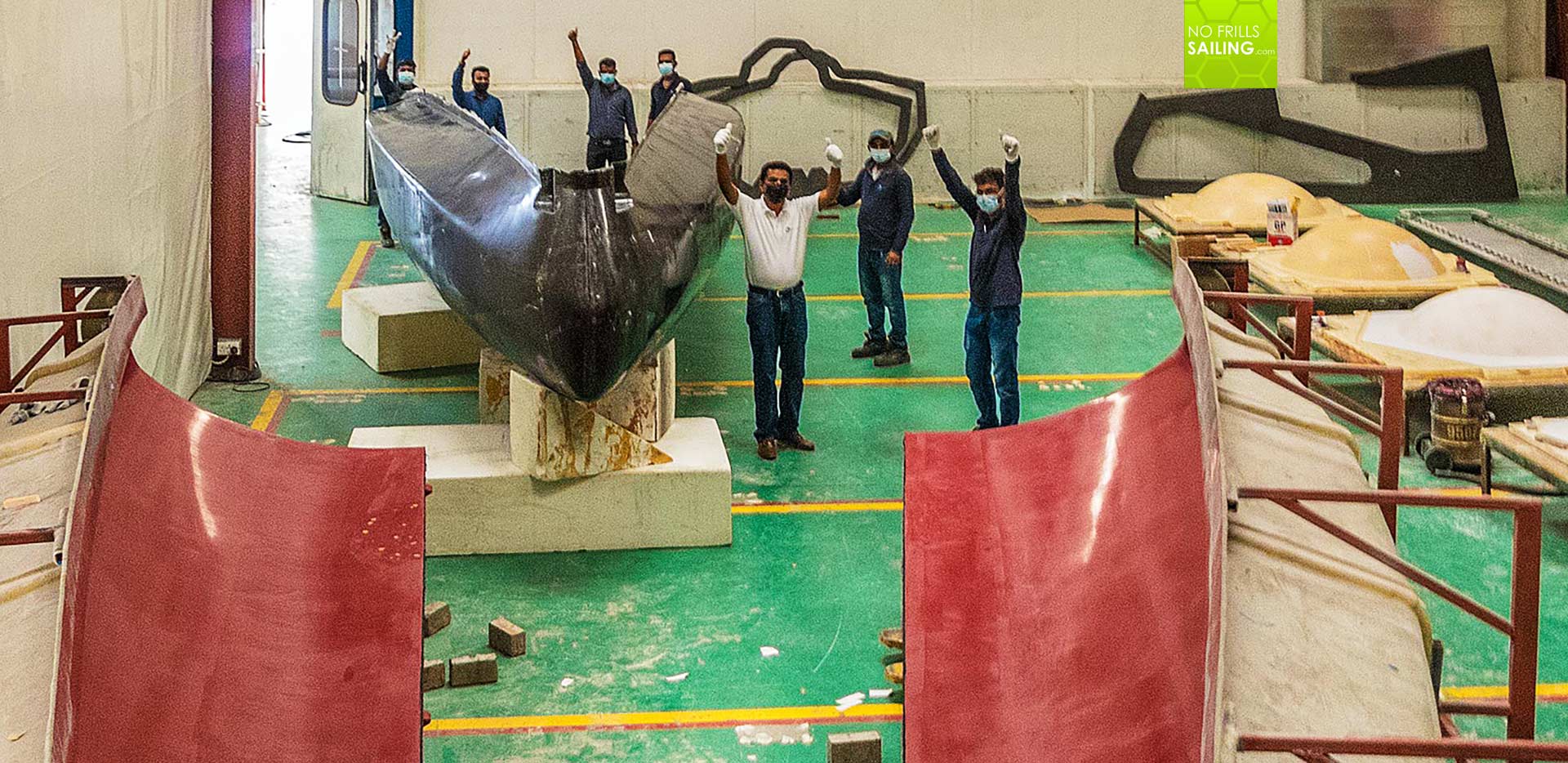 NO FRILLS SAILING.com: "Wow. Indeed … You stated that five Aeolos units are already sold off the drawing boards and lately announced the start of an Aeolos 45 footer project: How come? What is the timeline for this big boat?"
Hans Genthe: "Well, the feedback on the Aeolos P30 has been absolutely amazing. Some clients booked building slots already. But the design for the AP30 is finished. We defined a boat development and production process, which we apply for our company AEOLOS as standard. Now our marketing and design team is looking for new tasks, of course. The 45-footer is the logical consequence of a market research. There is no light Racer/Cruiser on the market. Handling a boat that is weighing in just 4 tons is as easy as a normal 35-feet boat. That said, bear in mind that most of the 35-feet Cruiser/Racers are heavier than our carbon rocket will be. We want to get the first AP45 sailing in spring 2022."
Now, that is quite a task and truly an amazing story to follow: I am very much excited to see the first Aeolos AP30 in the water and under sails, showing her projected capabilities in real life. The pictures look promising, the renderings Hans is posting on facebook on the interior are as well worth at least four more articles on this amazing project. Now, let´s see how Aeolos is doing – looking at the staggering speed at which Hans has come up with this breathtaking project, it won´t take too long, I guess.
You may also find interesting to read:
Hans Genthe on his Aeolos AP30 project
The new Figaro 3, Interview with (sadly gone) Eric Ingouf
Looking at the Dehler 30 OD