The Name Vrolijk does have a very special sound in itself: The naval architecture design bureau Judel & Vrolijk is one of the most renown yacht design companies in Germany. Big brands such as Hanse and Dehler have their boats designed in Bremerhaven, super brands like Baltic Yachts rely on the art of yacht design by Judel/Vrolijk and some of the fastest racing yachts in the world from smaller yachts, to Maxi Yachts, TP52´s and the most "bling" of the all, Wally Yachts, have their one-offs drawn here. But there is one Vrolijk-offspring who managed to make a name for himself: Alexander.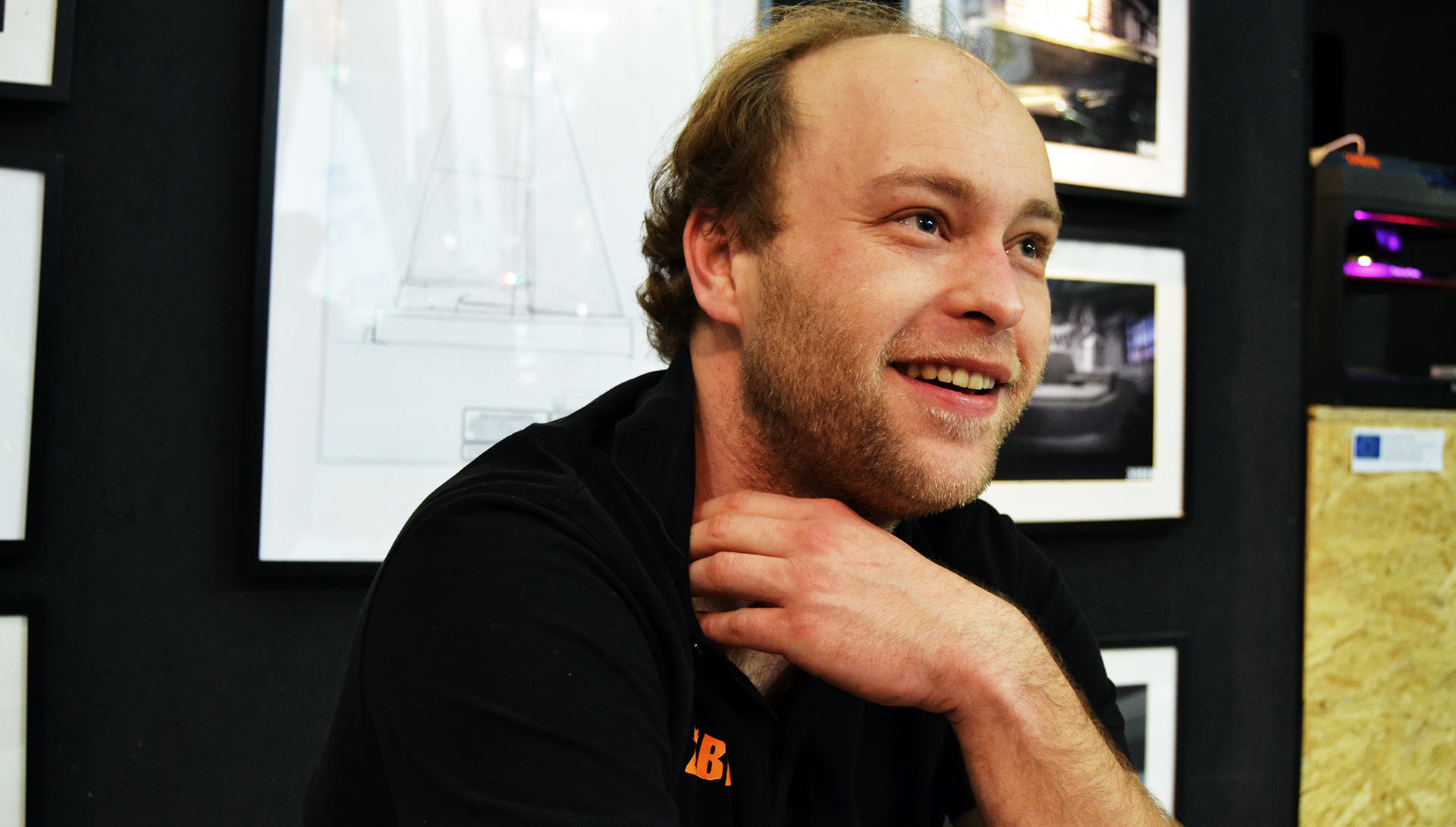 I met Alexander Vrolijk in front of his booth at Boot boatshow Duesseldorf 2018 looking a bit destroyed (Boot boat show is hard work. Plus 10 days of constant party), waving and inviting me to a Vitamin-drink and a hot coffee. I like him very much. Not because I know him so well, but because of his work. Years ago he started something that changed the sailing business. Not a revolution indeed, but it changed German business very much. The Bente-project. I also don´t like the boat itself, the Bente 24 very much, but I loved the new, fresh approach to sailing, to look at sailing and to market the product very, very much. Bente achieved what most of the big brands cannot: It is appealing and attractive to an aver shrinking count of customers and it fits to an ever changing style of consumption of leisure-time.
The all new Bente 39
The Bente 24 – thy signed their 100st boat contract during the show – was a fun-boat: Small, affordable, young and sexy. It could be loaded easily to a trailer and be transported to other sailing areas. It was colourful, in its own way simple and appealed to owners who don´t want the bling but the fun. "Bente 24 is going just fine", tells me Alex as I was sitting down with him, some 30 minutes prior to the opening of the show: "And we constantly improve the product. But for me personally, I wanted to start something new. Something bigger." I laugh: It´s always the 10 feet missing, eh? "No, it´s not because of that. You see, Bente was started to bring back the fun to sailing. Just plain and simple sailing. It was a personal wish, so in a way, Bente 24 is a very personal boat. Now, you see, I´ve grown a bit further since then and my focus in life happened to change as well. At least a bit. So the way I see sailing changed with it. That's why Bente 39."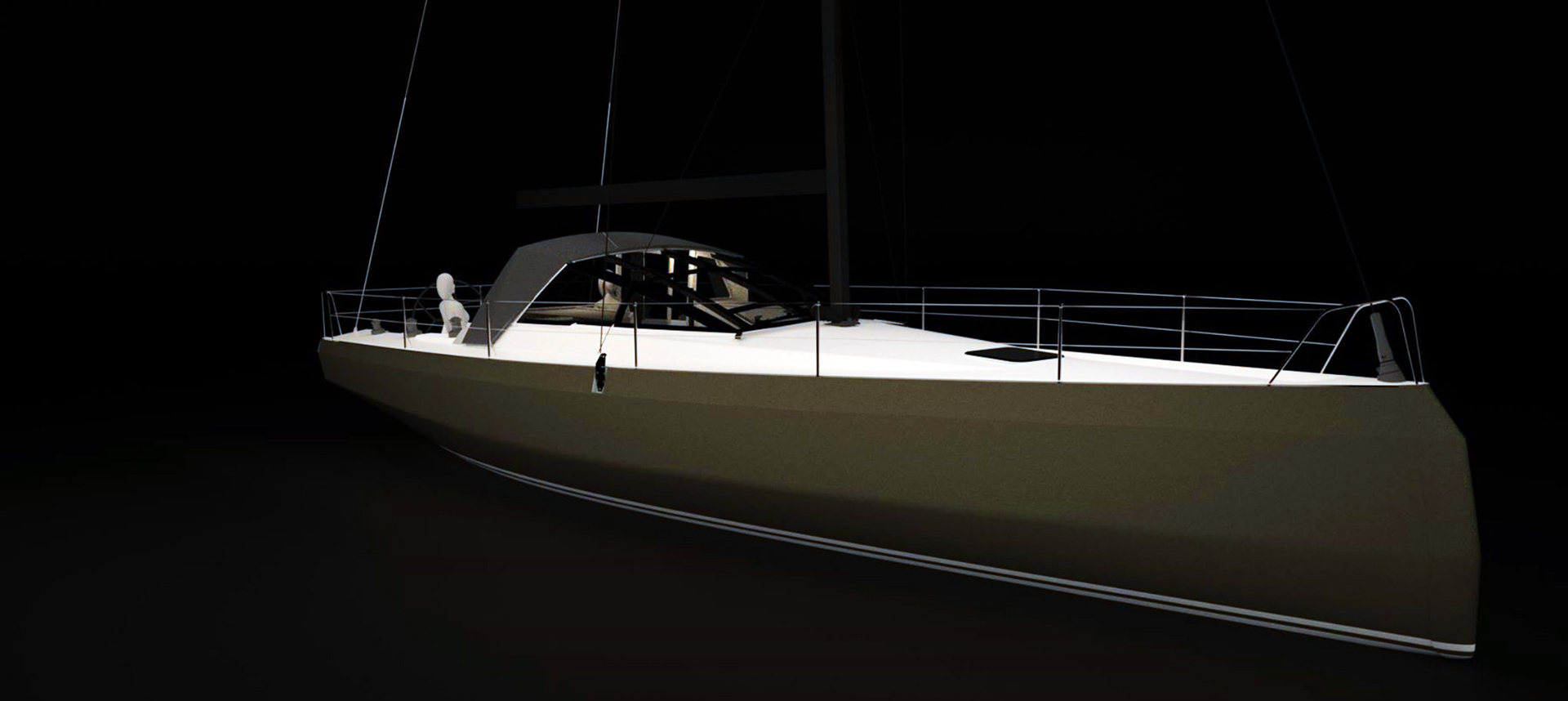 Alex tells me that the new Bente is bigger simply because Alex plans have grown bigger: "Bente was always my boat in a way. And now, my wife and me, we want to start the next chapter. That´s ocean sailing." Simple as that: To cross the oceans, you need a bigger boat: "Exactly. I want a boat that is capable of safely sailing across an ocean. It should be able to house four persons sufficiently. It should be safe, fast and easy manageable." He activates his iPad and shows some slides. These renderings on the first glimpse are easily recognizable as a Bente indeed: "We kept the overall design to have a familiarity within the range.", says Alex. "The boat will measure some 40 feet. For me that´s the ideal size for a yacht. We´ll keep the straight, edgy design, the wide stern for dynamic stability and good sailing properties. But also our signature, the coachroof – which is by the way sledge hammer-proof and will allow for a 360 degrees sight and never before seen amount of natural light inside."
I see the all-too familiar arch that is the colourful sign of the smaller Bente boats as well. "The arch double-functions as a dodger as well", tells me Alex: "You can pull out an extension to further increase the protected area. There are no plotters installed aboard – everything´s running on iPads here, so we will laminate some holding mounts both under the dodger and inside as well." Interesting: Bente reacts to the changing market demands: Why pay thousands of Euros for big expensive plotters when Navionics is running smoothly on my Tablet PC for far less? "The rigging had been reduced to "fast cruising" after I was talking to some people, even to Charly Fernbach from Pogo Structures who recommended to scale down her properties and make her less aggressive – Bente 39 will be a fast sailing yacht anyway. There is a classic tiller steering available, but my boat, hull number 1, will be fitted with double steering wheels as well by intervention of my wife.", says Alex with a smile. The boat is due to hit water later this spring. Alex tells me that he wants to leave for the Caribbean coming winter. "Together with the first 5 owners and their boats. That´s part of the building process."
BENTE – the idea powerhouse of sailing
And here it is again, the reason why I like Bente so much: They come up with so many nice ideas. The first 5 owners of the boat are invited to develop the boat during building process from hull 1 to 5. They can incorporate their ideas and thus make their boat being "their" boats ever more. The idea to sail over to the Azores and then cross the Atlantic Ocean in a Bente 39 fleet is a brilliant marketing strategy. Alex smiles and points to the mock-up bow of the boat: "You see, when your company, Beneteau, published the first pictures of the new Figaro 3, I was shocked. Our bow came out of the CFD-calculation looking exactly the same. So we changed it. Slightly." Yes, the Bente 39 is going to sail well.
Bente is also known for steps taken to reduce carbon footprint and the utilization of crude-oil-based materials. There is a "Green Bente" out on the market, solely done in fully recycling-capable materials such as flax instead of glass fibers, non-oil resin and alike: "As a foam core material we used recycled glass. The Bente 39 will be done in "green" materials too as much as we can", says Alex and I believe him: The Bente project is a multiple eco-prize winner. We also have some very nice ideas for the interior design, promises Alex and folds down the magnetic cover of his iPad: "See this? That brilliant, don´t you think? We are working on a light, easy to use cover for shelves and cupboards based on this technique." Alex´ wife is an interior designer – she is incorporating so much into the new boat.
"She is gorgeous and brilliant", says Alex: "She came up with an idea for the flooring boards. When mooring in harbour, we have the nicely herringbone-styled wooden surface up. When sailing – mostly heeled and in motion – we just flip the boards around and will have an anti-slip surface up." The boat will have a "Gekko-Seat" on the righthand side next to the entryway down to the saloon: "It´s slightly raised to offer a 360 degrees panorama view." That will be a hell of a navigation station here under the fully permeable roofing. "There is so much coming up … Bente 39 is for me the perfect offshore yacht and I am thrilled to see her in the water!", Alex says excitedly.
The boat´s hull number 1 is currently leaving her mould in one of the Judel/Vrolijk-associated Polish production facilities. No official pictures are out yet but of course I tried to get myself invited to the venue. Alex sticks to his plan: "The boat will be fitted and brought to water this spring. Then we will combine her transfer to Germany with first sea trials and sail her all the way along the Baltic Sea over to Heiligenhafen, where the final building stages are completed.", says Alex. Finally he looks at me and invites me to see Bente 39 there at last. "She will have her big World Premier at la Rochelle Boat Show this year and I hope people will like her the way I, my wife and the dedicated team likes her." I´m sure they will. All the best to the new, big Bente and Alex – see you in spring.
You can read all articles on BOOT Duesseldorf by clicking on the hashtag #duesseldorfboatshow
Interesting to read as well:
Marc Lombard on designing a sailing yacht
Sailing classic and French Extravaganza: Jean-Marie Finot´s Alubat Cigale 14
Germán Frers talks yacht design and Swan yachts