Sometimes it is the smallest things which are producing the nicest stories. Those rare chances, opportunities taken or not. People and their fates interwoven by these fascinating threads which lead through our lives, connects them, drawing us together, sometimes even so we don´t know each other. This is such a nice little story and it evolves around Femke Köster, who I had the pleasure to welcome at our store this weekend.
Femke is a German living and working in Slovenia for decades now. She is well known in the Kayak and wild water scene being a talented canoeist herself since she was a girl. She went full watersports being the girlfriend of a quite successful Slovenian canoeist who was part of the national team. Starting as product manager and designer in a Slovenian company which made Neoprene clothing and accessories for the Canoe and Kayak guys, she quickly made herself a name in the business.
A jump back in time
We sit in our store and she has this particular look in her eyes. Just as if she sees me but inside the view is filled with a nice memory: "I remember that Andraz and Kristian, it must have been just around that time when Seascape was still a little start-up, recently founded, asked for an appointment in my office." It was the time when Seascape began operations with launching the Seascape 18.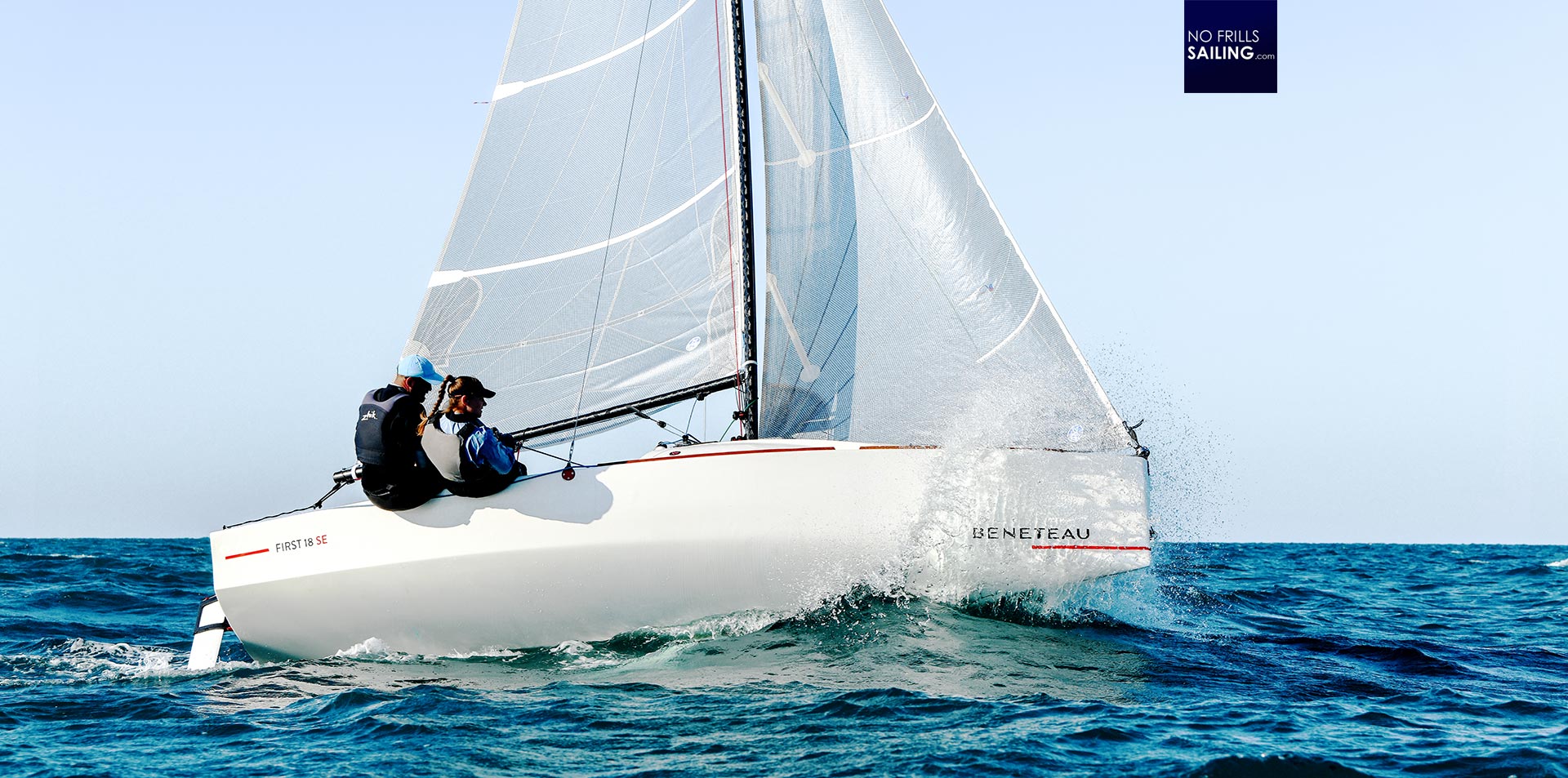 Femke smiles: " Andraz seemed full of ideas, glazing and shining, about his little new boat, the first product of his new found company ready to go. But there was one detail missing." Since the Seascape 18 was intended to be an all-out racing boat, sailed hard and fast, with the idea to lay the foundation for a one-design regatta class, the boat was a true performer: Sailing wet. "They needed something to cover the entryway down to the small cabin. Something light, waterproof and safe. Something to be fit nicely, easily and fast."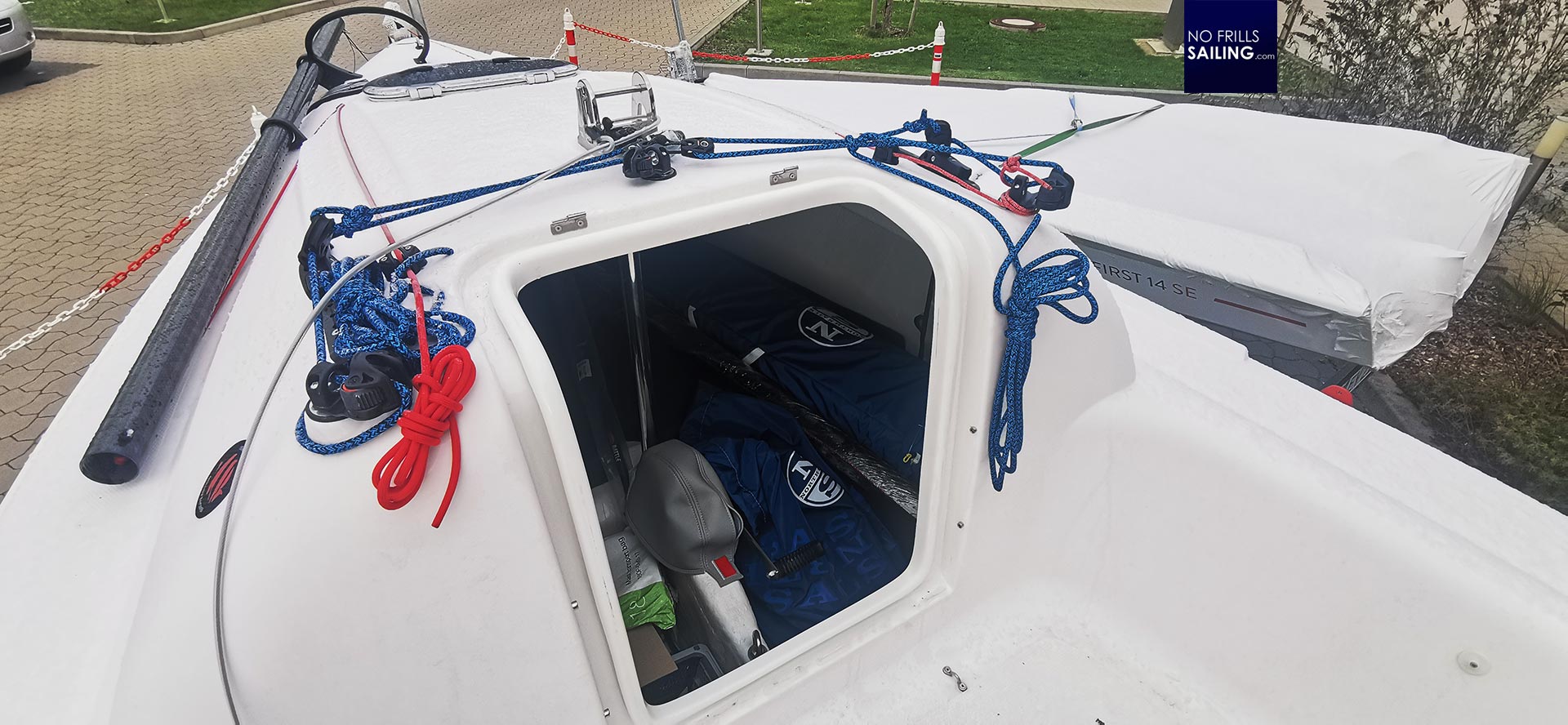 Since the entryway down is a bent shape and the rigid GRP made hard parts o close the boat when not sailing, this new part could not have been made with rigid materials. The solution was Neoprene. "In a Kayak you will have a spraydeck that is put around the canoeist´s waist, closing watertight. The outer edge is put to the Kayak, closing off the boat from spray.", Femke tells me: "This is what they wanted for their new boat."
The solution: A spraydeck of Neoprene
Femke tells me, that spraydeckin English means "Krovnica". At the time Andraz and Kristian knocked at her door, she was in the middle of high season production, barely having 15 minutes to spare: "I remember that I loosely scribbled something and showed it to them, a work of 5 minutes or so." A bright smile and a mock-up working model later she got the job.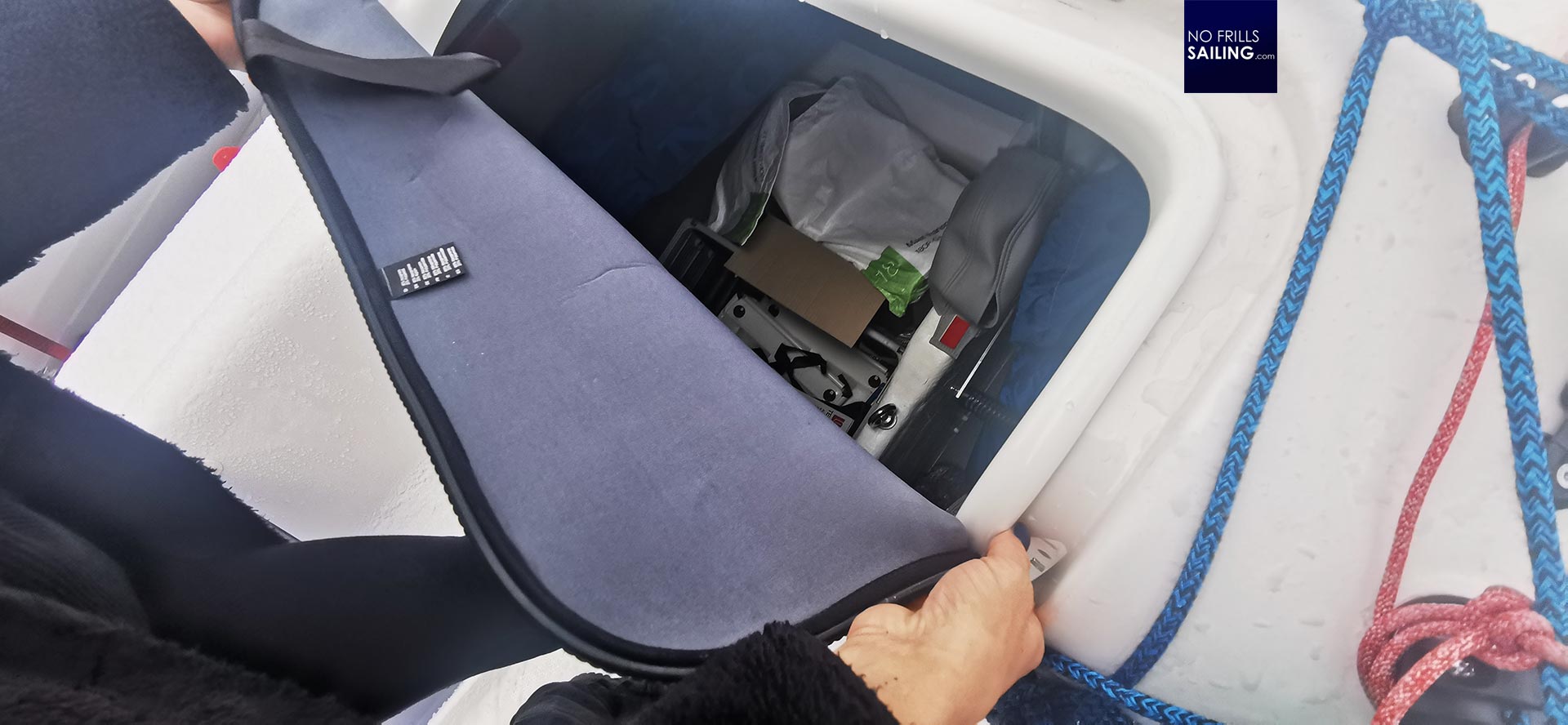 "In the end this Krovnica – spraydeck– is a nice little piece: The Neoprene-material is absolutely waterproof. Into the outside edge of the cap we incorporated a strong rubber-cable so that it may work as an elastic strap." Femke demonstrates how her cap works: Putting the rubber edge around the GRP gutter, fitting the black Neoprene part all around the entryway. "It won´t hold back the water when the boat capsizes, but it is made to sit as tight as it could to hold back spray and even waves." She smiles.
There is also – typical for Seascape – a nice bag stitched onto the cap: "Skippers can put in charts, racing instructions or weather notes", she says. The Seascape fish logo was also something special: "I did iron the first 100 or so myself onto the spraydecks. What a nice memory."
The best application
We close off the boat and I take a picture of the spraydeck fitted. Such a small part of the equipment, such a lovely story. "The funny thing is that this spraydeck is even today, a decade later, made by my old company and it wasn´t even necessary to change something. The pattern and style is still the same, just as I had scribbled it when the guys knocked at my office door." As we step from the boat to go inside where it is warm, it seems as if she caresses the cap.
But that is just the first half of the story. Many years later, Femke decided to change her working life. Just so as many of us do or will do. Seeking new horizons, looking for a new adventure and some new challenges for herself, she remembered that start-up in Ljubljana. "Well, despite the fact that I wasn´t into boat sailing I thought that this may be a new step for me. I have many years of experience in the watersports industry, customer service, marketing and sales, so I gave it a try." Her application to Seascape: The Krovnica.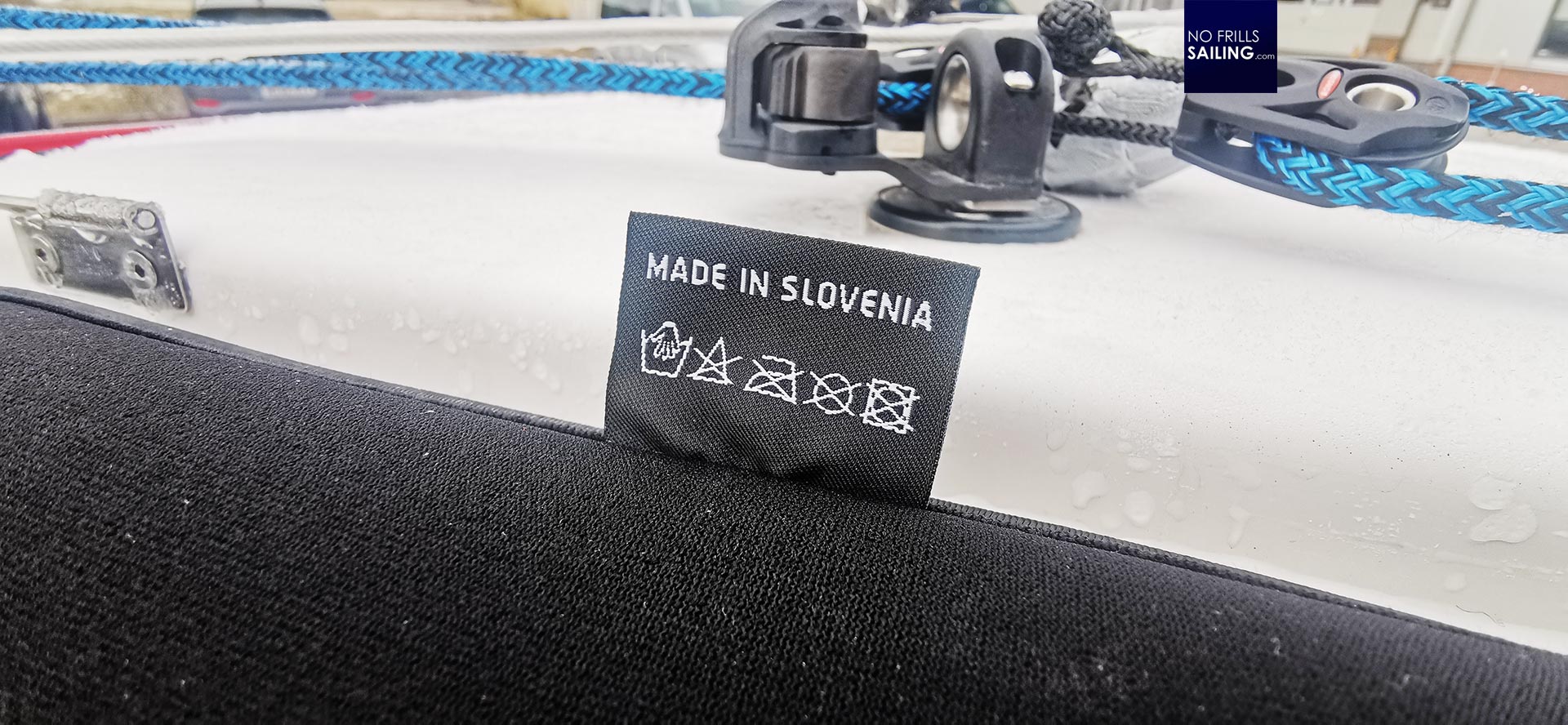 Of course did Andraz and Kristian remember. Femke´s Krovnica was still a deciding part of their successful first boat, the Seascape 18 and they were so happy with her fast, creative idea, the high quality product and service that she might not have even send a written application with her spraydeck. She got hired roughly one year ago and joined the Seascape team in the after sales department. "From one "Made in Slovenia"-brand to the next", she says. "And I am absolutely happy with that decision!"
Being happy at Seascape
Many, if not all, Seascape- and First-owners know Femke or will in some way or another get in touch with her: "Sooner or later you will ask for a spare part and this is where my department comes into play." But she does more than that: Processing orders, checking finished boat before they go out to the dealers, planning and attending those great events Seascape and the community is so well known for, Femke´s bright smile and infectious laugh is seen, heard and appreciated seemingly everywhere the red fish appears.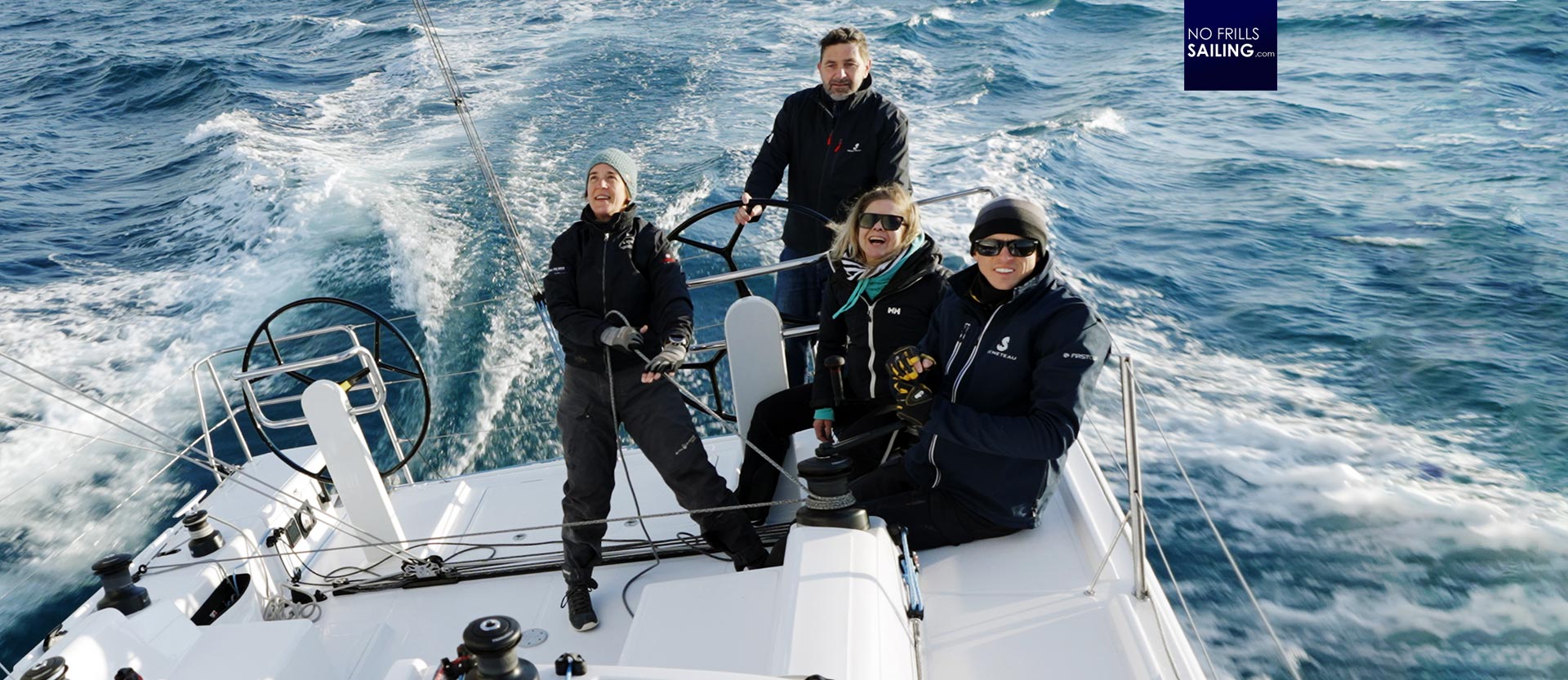 "I love it and I am not finished yet", she says: "With our new First 36 out at last the whole company has made a huge step forward. Being part of this amazing project, actively, able to being part of those who decide about the shape of Seascape is crazy and unbelievable!" And thus, Femke smiles from every marketing-picture taken from the new First 36, just like her passion is woven into the Neoprene-fabric of the – now re-named – First 18 SE´s spraydeck.
Also interesting to read:
At the Seascape yard: Massively exciting