The boating industry is, unlike other business, a branch that lives off of constant change. A flow of new ideas proposed and a every ongoing development. Some (if not most) of which are purely marketing or cosmetics but some are solid and real progress. Last year we learned during Beneteau´s dealer meeting that something big was going to happen, a major change, impossible to deny and surely not a shortlived PR-gag. They meant the introduction of Seanapps.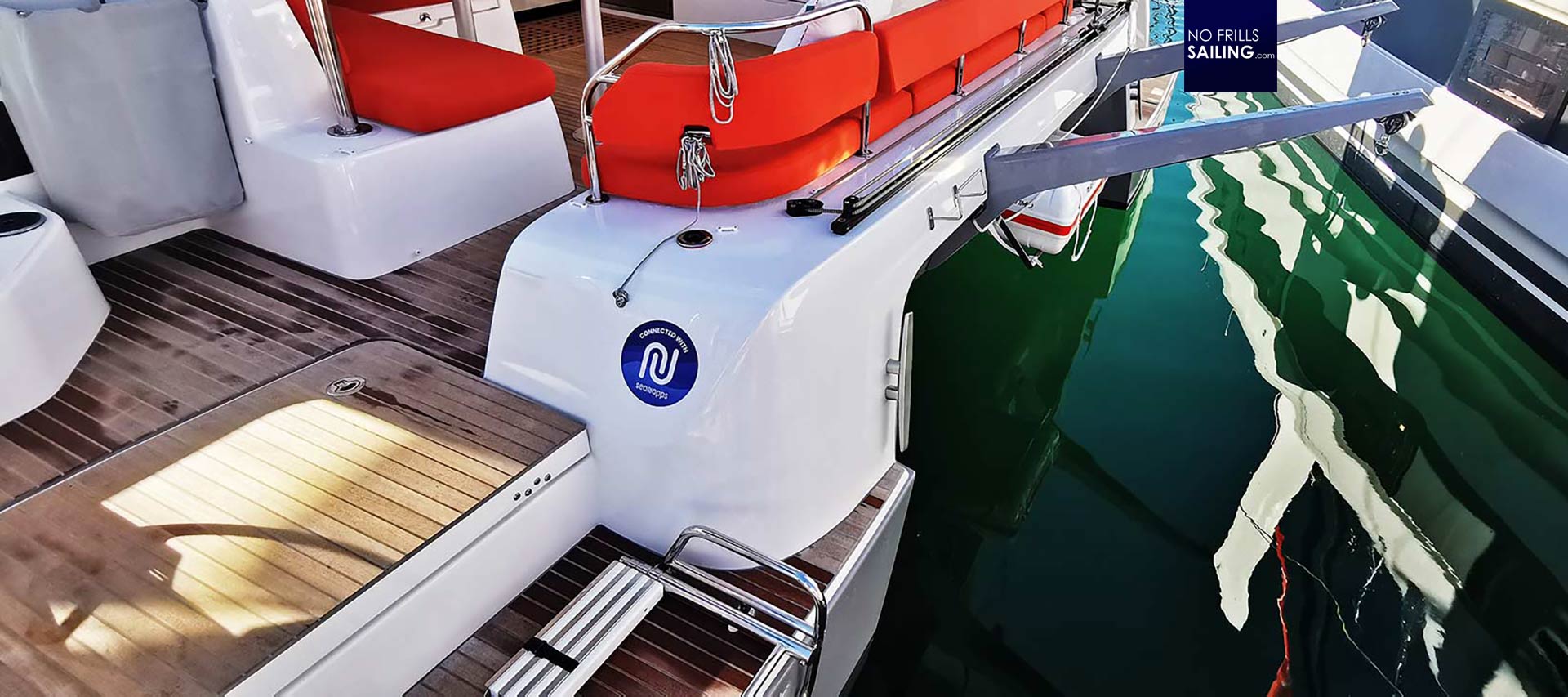 During Cannes Yachting Festival this year you may have noticed those little blue stickers, have you? "Seanapps" is a pretty good name and a clever neologism. A nice symbiosis of the word "sea", "synapse" – the very part of a nerve cell connecting to another – and "app", the very technical description of what it is in the end. So, starting with Beneteau boats with delivery from June 2022, in every boat, be it a sailing boat, a bigger yacht or power boats, the new Seanapps-system is installed. This week we started to work ourselves into this topic with our first "real" boats already handed over to their clients.
A Black box installed in every boat
Now, what is it? Well, in the end, Seanapps can be compared to the car-app you get with your new Tesla, BMW, Peugeot or whatever brand you prefer to drive: An application that collects, bundles and visualizes all data input generated by sensors aboard. Just like your car, your boat can tell you where it is, if it is moving and if so where, how different components are performing and if everything is allright.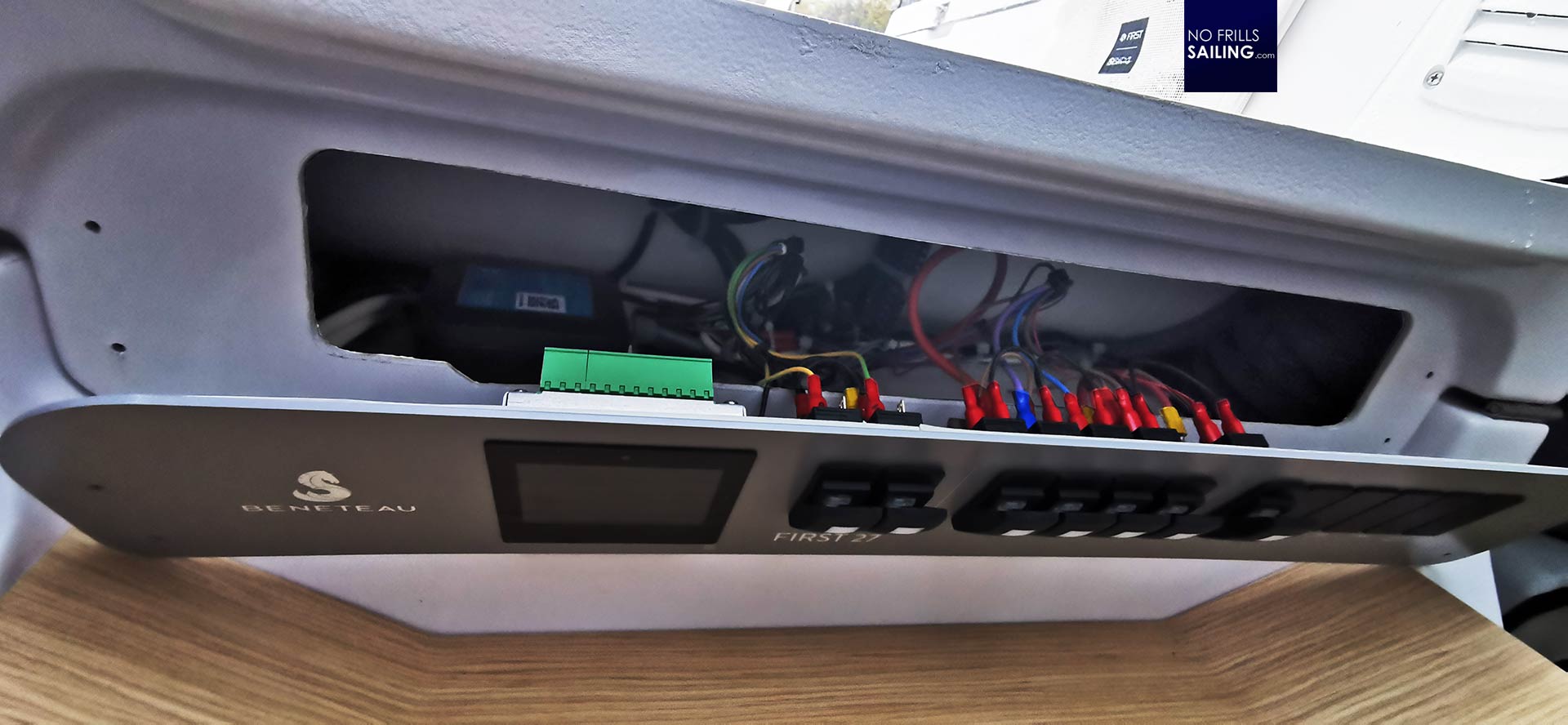 For that, just like with this First 27, Beneteau installs a little "Black box". This is where all data arrive via data-wire. It is also a GSM-module that transfers the data digitally over cell phone network to the main servers where the live data, which in essence are telemetric, are combined with static data saved on the servers. We will dive into this later. Some of you may know its under its beta name: Sentinel.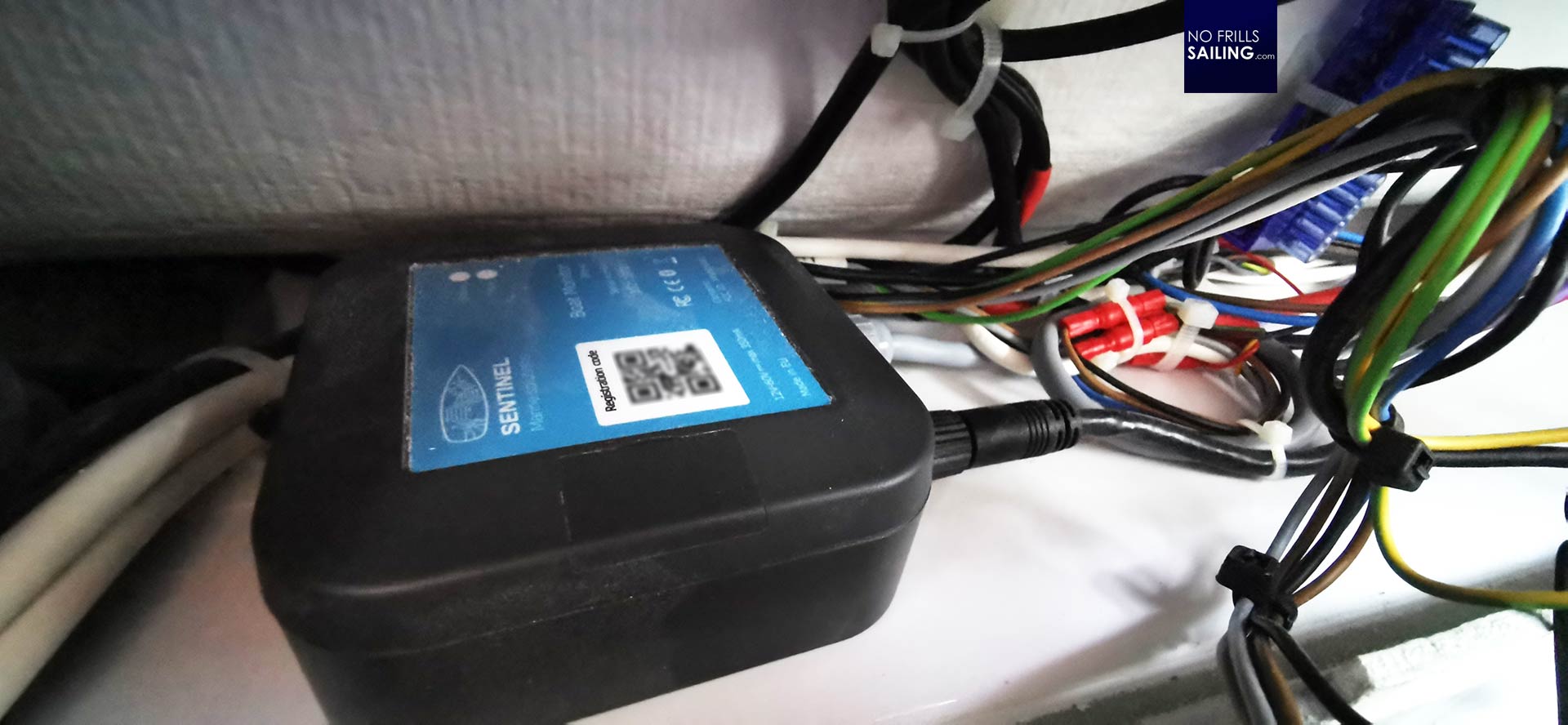 Now the "Black box" arrives with every boat produced by Groupe Beneteau. Be it your little fast First, your Oceanis cruising yacht, your small outboard powered fishing vessel or the Swift Trawler. Be it your Lagoon catamaran, the Excess multihull or Jeanneau. Every new boat since roughly June 2022 has its Black box installed. Why is this?
A chance for professional boat dealers
The core strength of the big production boat brands from my point of view is that they can focus on what they do best: Making the best boat for the money. Affordable mainstream yachts fitting both the needs of the charter market and the average owner skipper as well. Service is maintained by a network of dedicated and specialized dealers. That´s the difference between production boat companies and the smaller brands: They combine making and maintaining the boats. I know from our daily live that after sales, spare parts, warranty and all that is a hell lot of work and it is clever to outsource this to the dealers.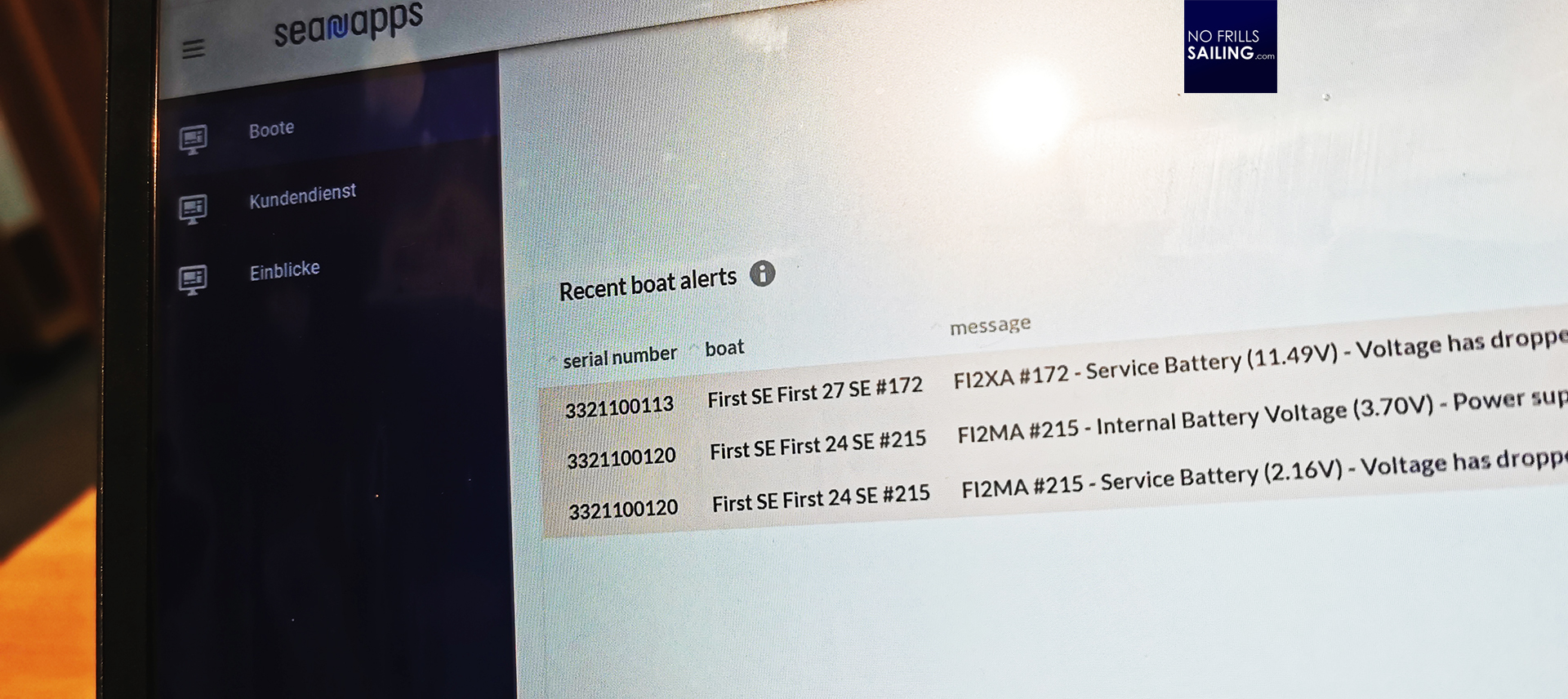 So, first, thanks to Seanapps, we as dealers now have access to every boat we delivered. We can see what the owner can see. As shown on the picture, for example, we receive alerts. In this case – this week winter came over Germany – we received two alerts of two First boats where apparently battery voltage dropped and there was the danger of permanent damage to the batteries. So – we can react fast, direct and efficient, give them a call or send an email to notify. More over, we can offer a solution, meaning service, which not just generates more turnover but real a real plus of service and thus satisfaction.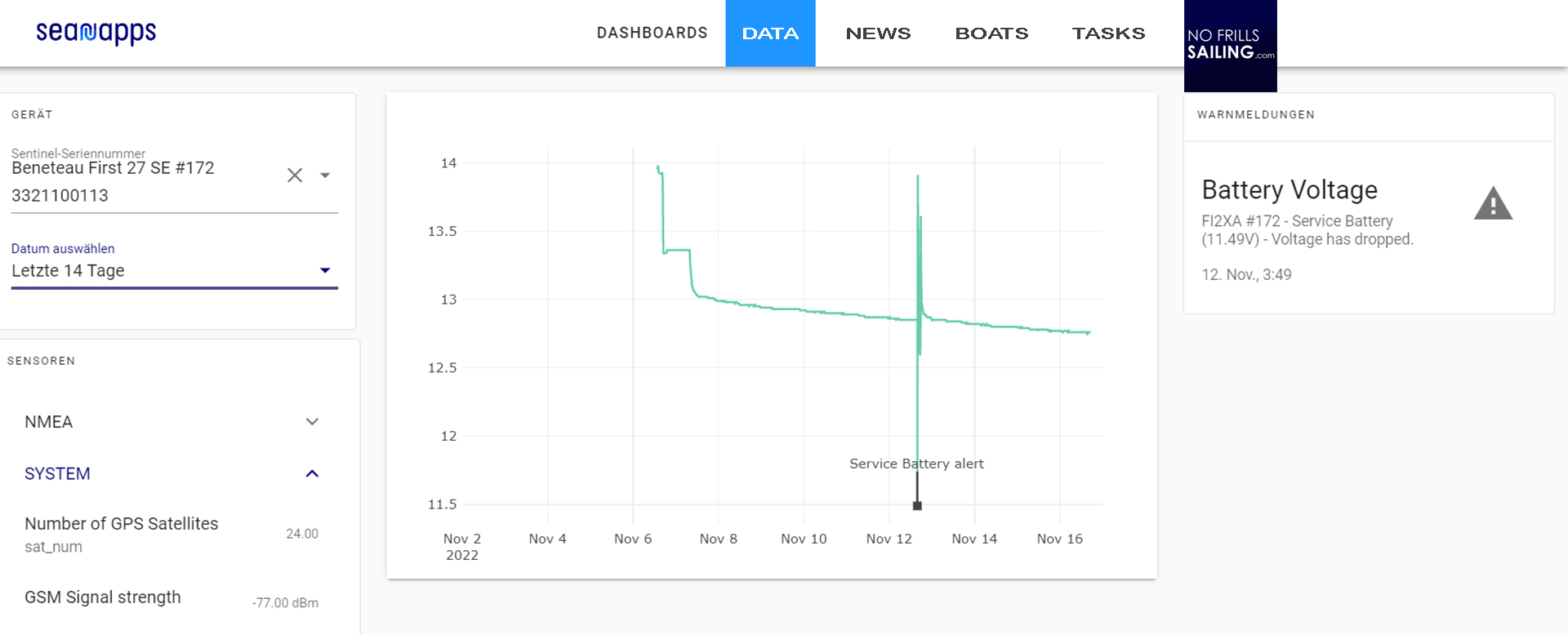 As I said, the same data is available to the client as well. Of course. But maybe the owners don´t want to install the app, don´t want to configure it or learn how to use it. Either way, we get the info, we can act. I mentioned live data – like the battery alert – and static data. This is, for example, the complete maintenance-schedule of the boat. These milestones are connected to each boat. So, for example, if the first 100 engine hours have been reached, a service is due. So we again can notify our owners just in time, make the aware of this fact and again, offer this service. It is indeed a powerful tool for the dealers to generate money, but it would be unjust to see it as just this. There´s more to this.
Over-digitalization or giant leap forward?
Seen from the owner´s perspective, the easiness of the app is truly a good step forward. If you are an owner and have ever sold your boat or bought a used boat you will know that a flawless record of maintenance done by professionals will not only prolong the life of the boat but will increase the value of the boat, or, other way round, make the loss in value much less steep than a boat without a record.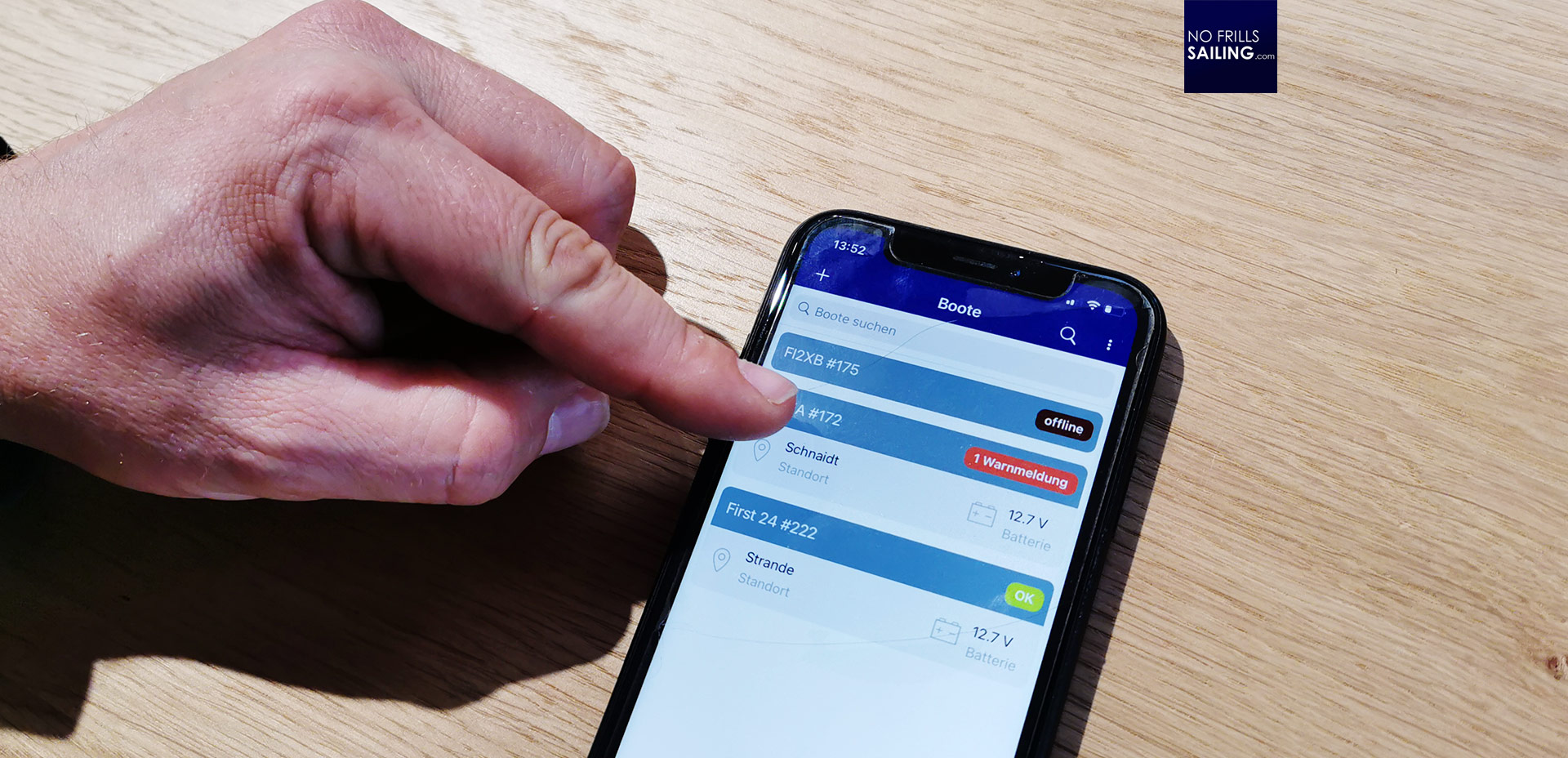 With Seanapps, you will have to actively ignore maintenance. You will never miss a milestone and you will later have a spotless and complete gallery of the service done on your boat. This is a definitive plus and much better than the good old stamp-books and filthy, hackneyed user-manuals of the good old days. But there´s more to the app still.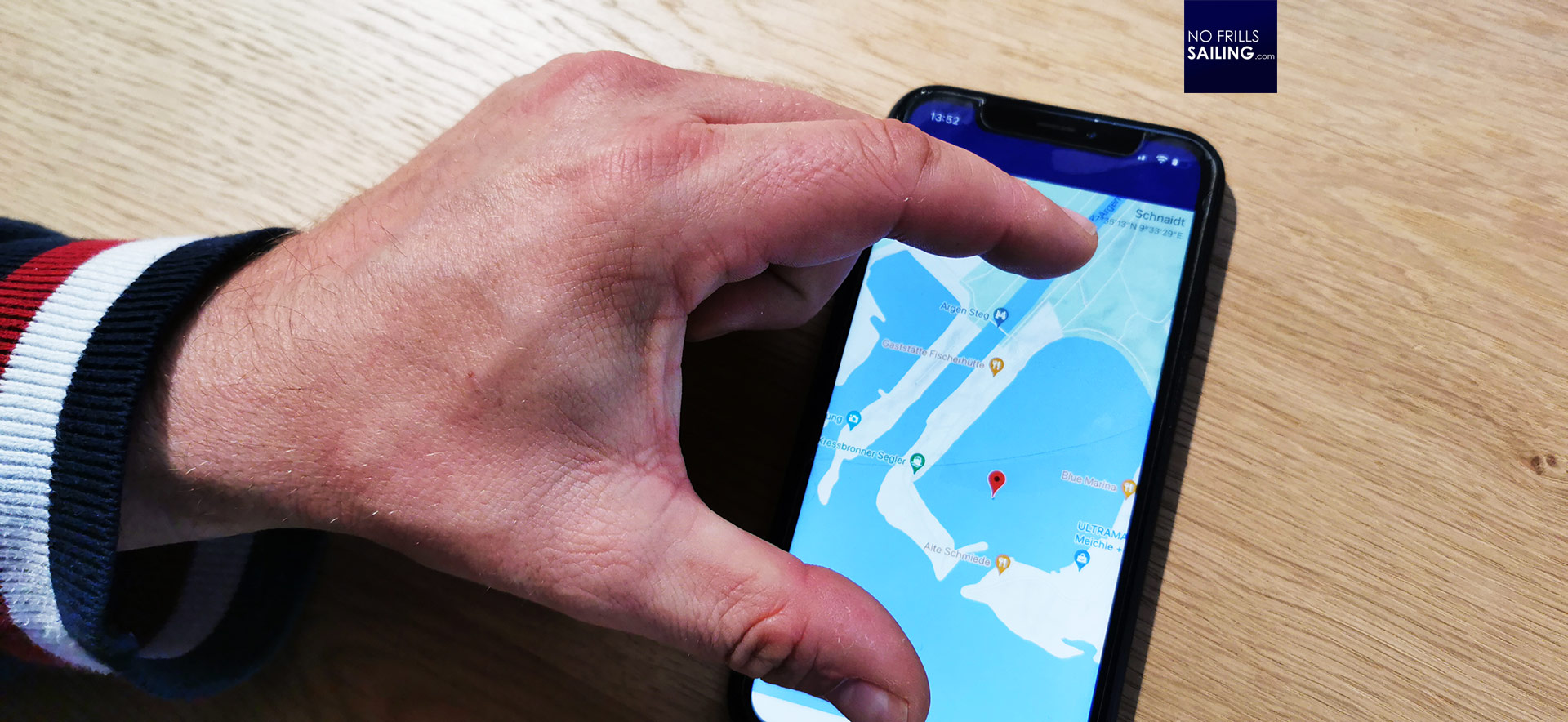 Geofencing is one example: Of course you as owner know where your boat is located. You leave it alone for a couple of weeks? No problem, activate geofencing and there it is, your anti-theft-protection. You borrow the boat to a friend or family? No problem, widen the perimeter and have full control of no-sail-zones (interesting for charter fleet operators). I´ve mentioned the alerts which extend from battery to fuel or other things – as long as digital sensor data can be fed to the system.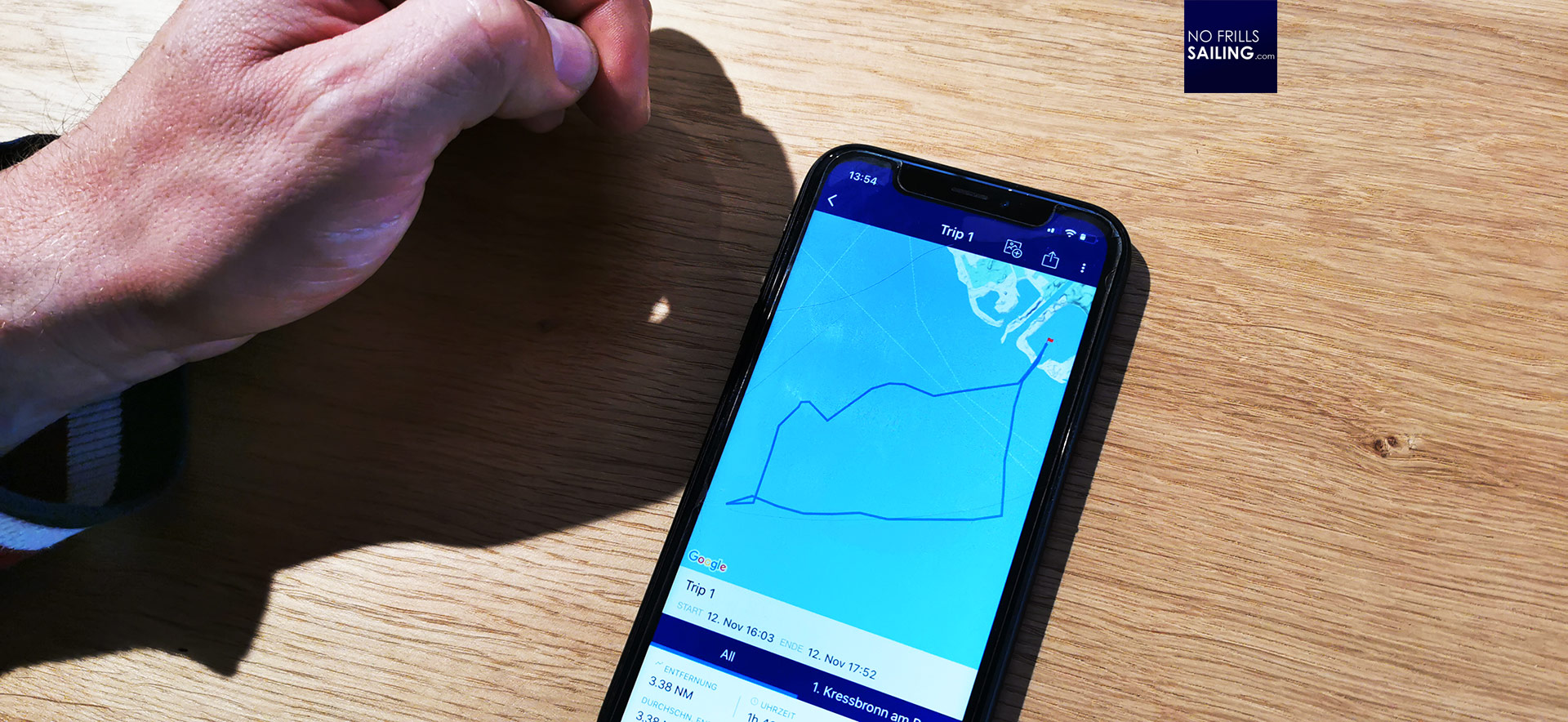 So, is there just good in Seanapps? Well, the medal always has two sides. We see the good things are by far outweighing the downsides, but there are some, of course. Digital always means it can be manipulated. It always means that there is nothing "real" to touch and repair if broken – just with your car. The guys in the garage have once been called mechanics. Nowadays they are system administrators plugging in your car to a server. We as dealers will have to adopt and become sysadmins by ourselves. And to a degree our owners as well. And it is here, no chance to neglect it or have it without. We have to adopt it. I personally see the chances and the pros. We work with it already and I guess in 2 or 3 years it will be common sense – more so if hybrid or all-electric yachting is the next big bang that is already on the agenda.
Other related articles of interest:
Digital weather routing tools
Good old analogue logbook
Programming and calibrating a B&G network