It was a hot summer´s day back in June this year when I visited Oliver Schmidt-Rybandt in Rostock at his "Speedsailing"-base near the city center. I went there to take a closer look at Dehler´s new 30 OD One Design which had already caught my imagination back in Cannes on her world premiere. Upon walking along the pontoon I noticed three large sailing yacht. True racers for which Speedsailing initially was best know for: Prior to becoming a Sales Agent for Dehler 30 OD this company was founded to keeping alive legendary racing yachts and offer a true racing experience to people. Their crow jewel of course is the GLASHÄGER, better know under her previous name, ILLBRUCK.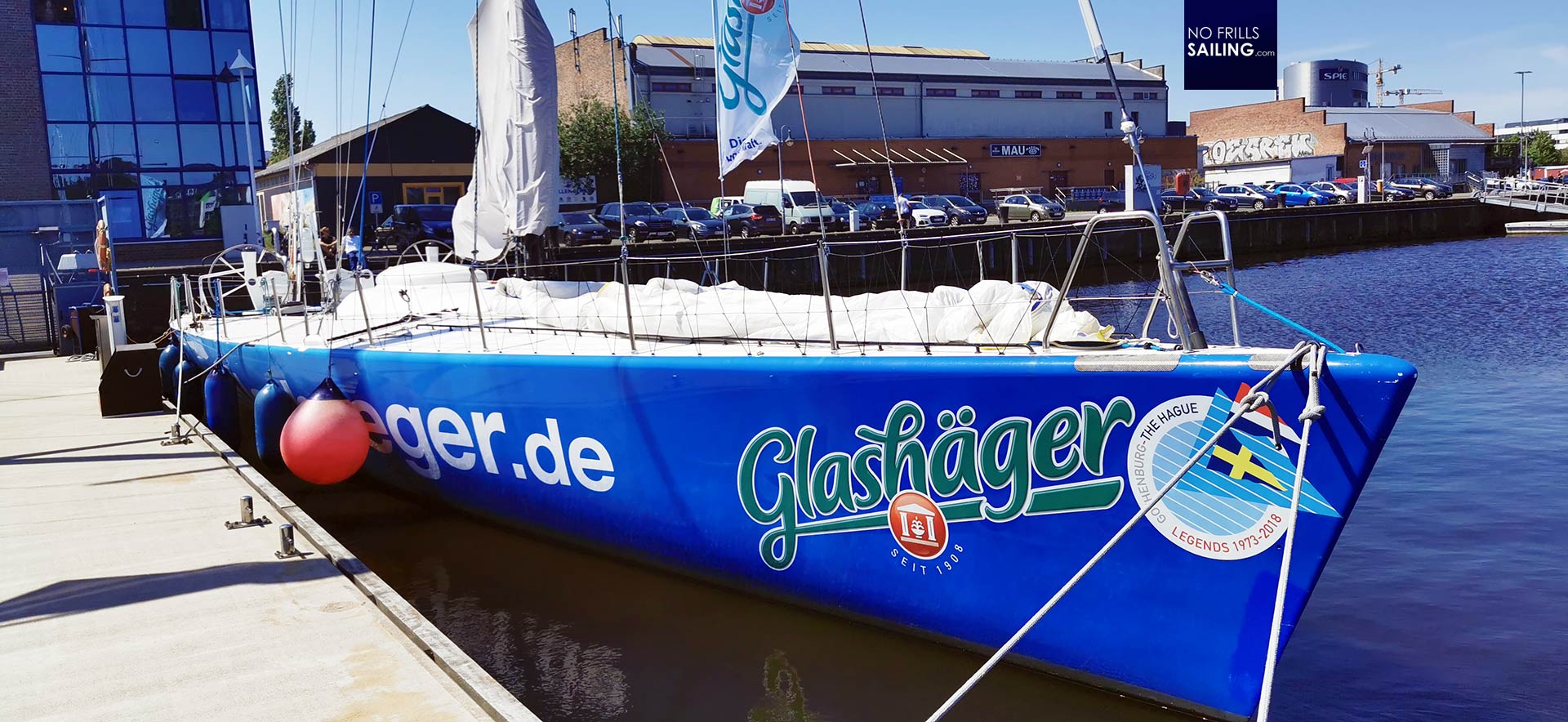 After Oliver showed me around on the Dehler 30 OD for more than two hours in detail, we walked back to the shore and came by the yacht. "Wanna take a look inside?", he offered. Well, what a question? Of course I wanted! So I climbed aboard that 60 feet behemoth and instantly felt kind of being drawn into the amazing story of that yacht. For me as a German the name ILLBRUCK has a very special tone to it: She is the first, one and to date only German boat to ever win the Volvo Ocean Race. As I said: A true legend.
Inside ex-ILLBRUCK
The boat has been drawn as part of the one-design V.O.60-class and was built prior to the 2001 race. The campaign however was financed by German businessman Michael Illbruck who in turn is the son of Wilhelm Gustav Illbruck, a sailing legend and sponsor of Admiral´s Cupper PINTA who won the race in 1983. So, here we are aboard that classic. When I went down into what on other yachts is called the "saloon" it was almost like a magic moment: How many hundred times must have the crew of 2001/2002 Volvo Ocean Race come down and up the Kevlar-made "steps" of the companionway?
Down below the boat shines in yellow. The unmistakable hint of the boat´s prime material: Kevlar. Before the Carbon fibres became common sense in boat building it was a class rule of the V.O.60-boats to be built with Kevlar. This was the state-of-the-art stuff as it had a much higher impact resistance – back in those days there haven´t been any route-limitations for the crews, called "ice gates", and so the boats were made as strong as possible to withstand possible impacts with growlers. The ex-ILLBRUCK weighs in 13.5 tons which is half the displacement of the Oceanis Yacht 62! Her bulkheads cling, making a strange sound when I knocked on it. Like being under some kind of tension. The strange yellow color of the unpainted, bare material instills a feeling of raw, naked power. Made for one sole purpose: Going fast.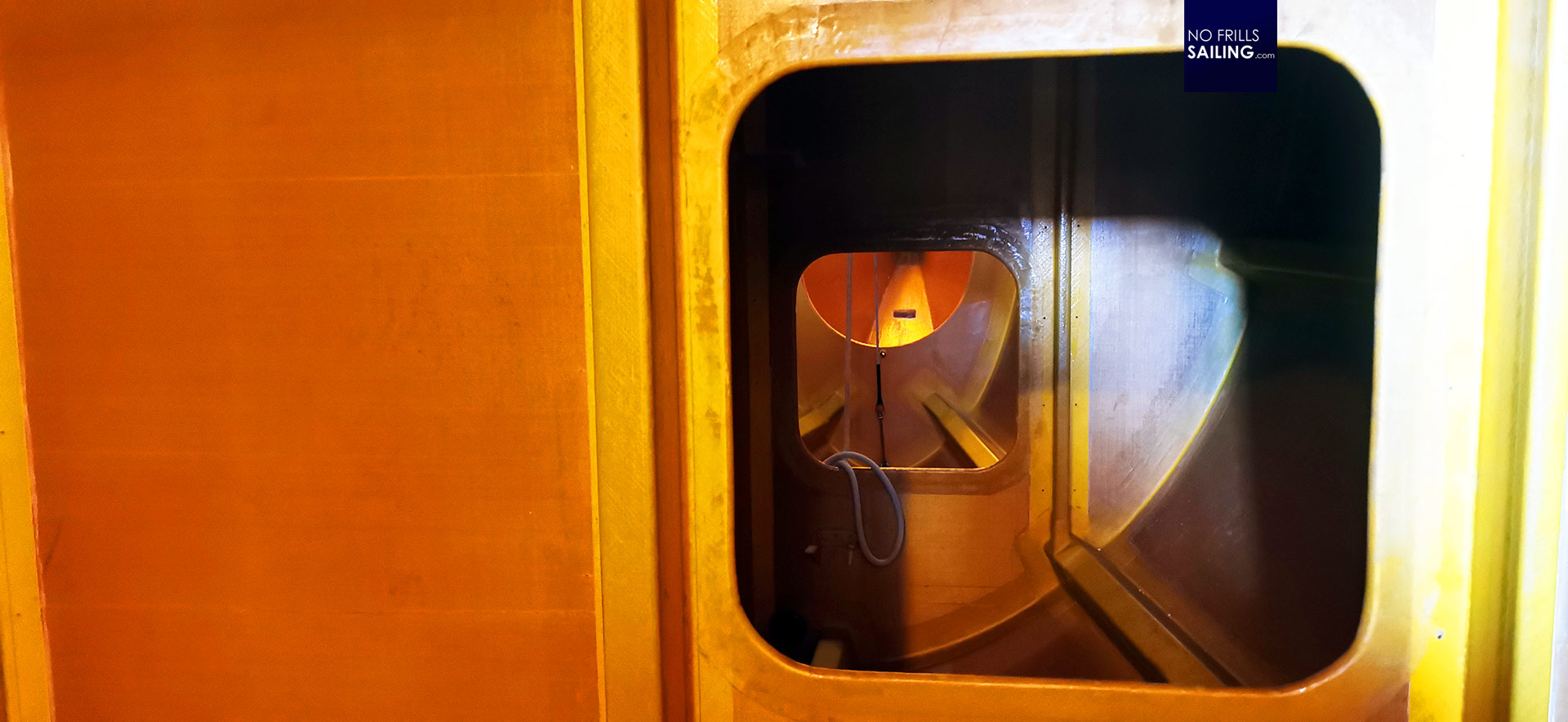 The ILLBRUCK – now re-christened GLASHÄGER in honor for her new sponsor, a German mineral water brand – had the top-equipment available back in the days. The early 2000 years, sounds as if they had been passed by just the other day, in reality, that´s twenty years ago. In 5 years that will be a quarter century! A modern boat of her time, the pinnacle of yacht design and materials, today a slight scent of being antiquated – in the best sense of the word!
Unimaginable living conditions
Just like humans in a WW2 uboat, the crew of ILLBRUCK was not the primary concern when the yacht had been conceived. Everything on this boat seems to be envisioned and then made to make her go fast. Living conditions, human demands, comfort – these are words which did not play a single role in construction phase. Simple lightweight, slim and most certainly uncozy berths made of pipes plaster the hull walls.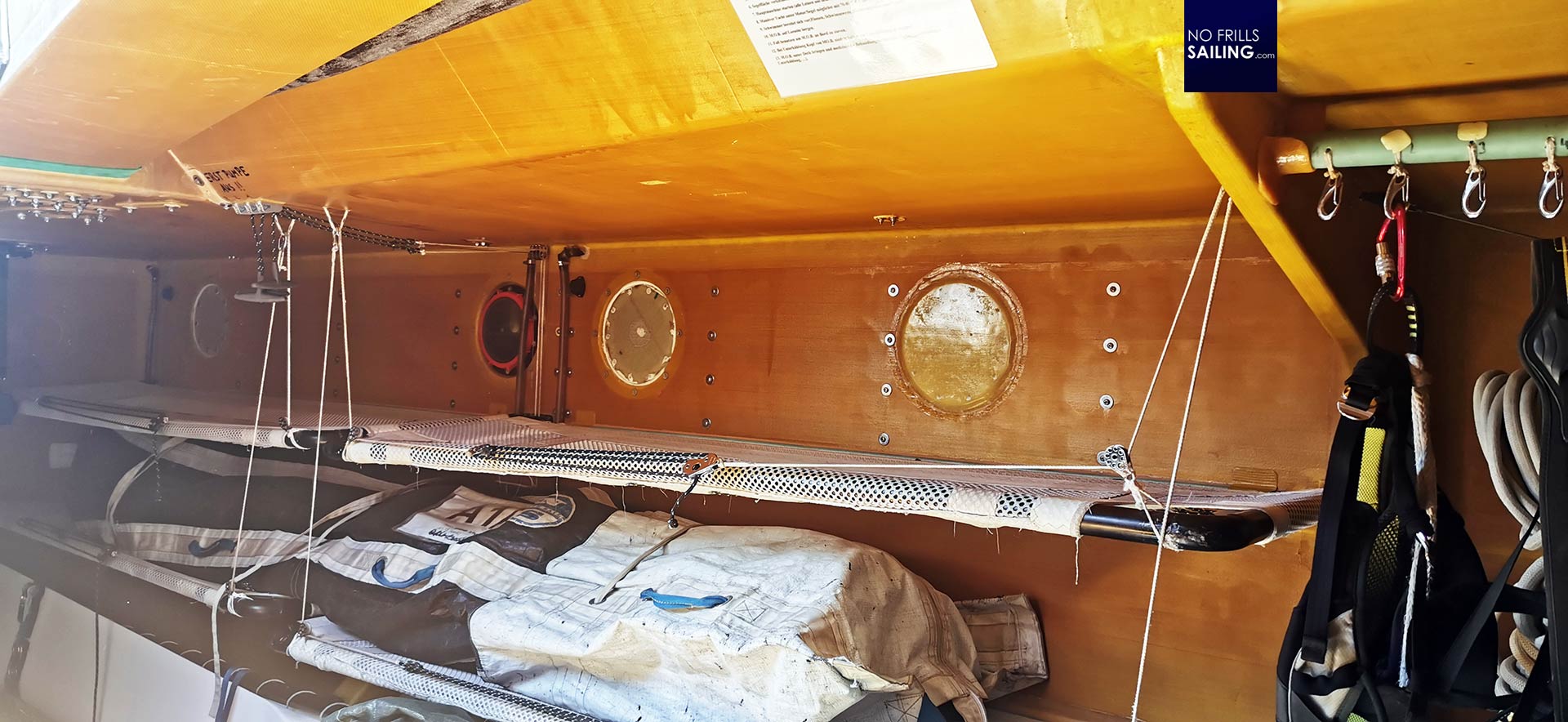 A net makes the mattress. That´s it. A simple lashing can adjust the berth to the heeling and tack of the boat, that´s it. The crew probably had simple sleeping bags, most certainly wet and cold, a makeshift pillow, maybe the oilskin. There is no privacy here whatsoever, no cabins nor simple curtains or blankets. It must have been a hard trial being part of ILLBRUCK´s crew for sure.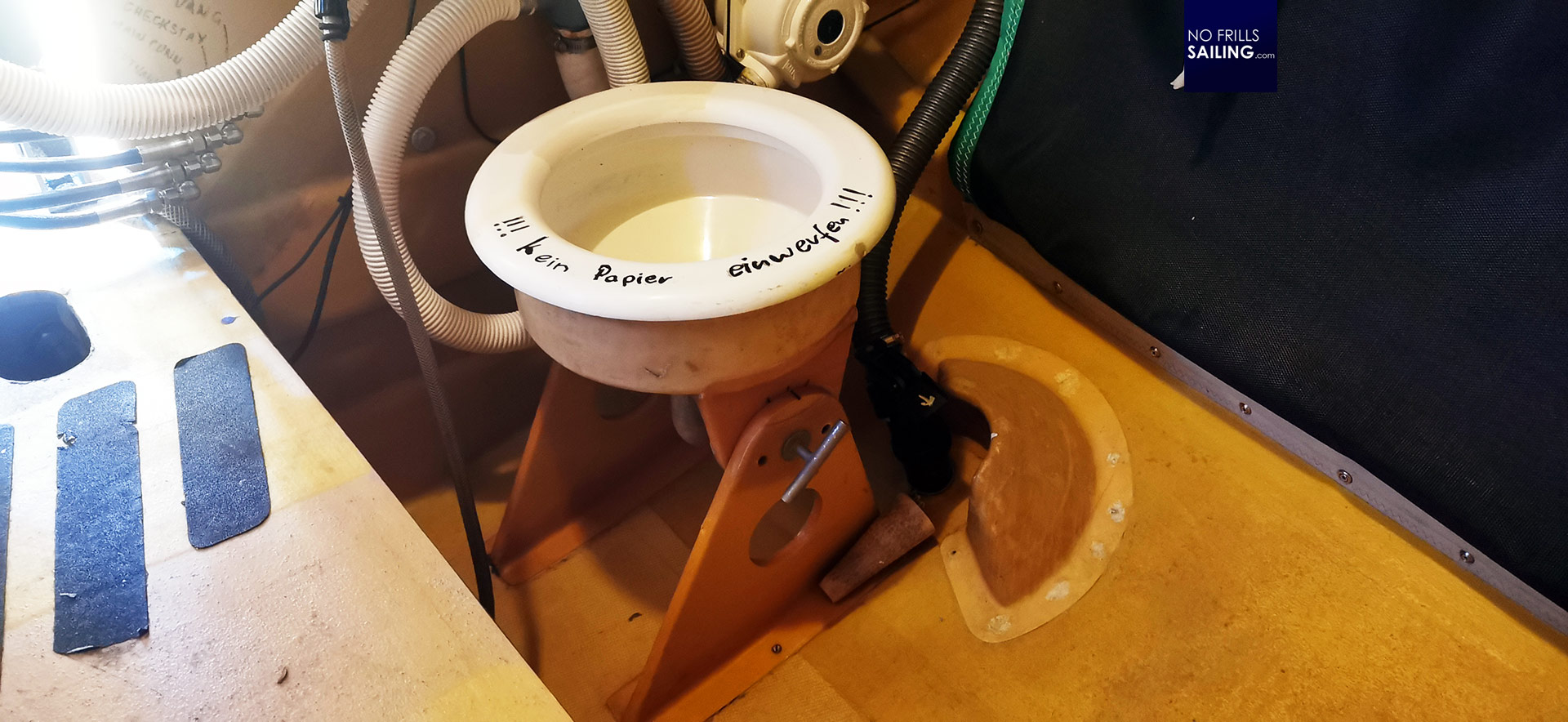 I contemplate the water closet, cramped in a somewhat shadowy corner, half shadowed by a bulkhead, recessed into the hull. The ceramics would have been adjusted to counter the heeling as well and – although I cannot see one – I hope the crew would had made up for a blind, a curtain or something: As a guy obsessed with having at least two closed doors between me and civilization when taking a dump, this WC would most certainly have been my "Nope, thanks!" when being asked to join the crew.
A racing veteran
Apart from that, the ILLBRUCK has some pretty impressive features still valid. The nav station for example. Navigation back in the day already had been satellite-driven and digital, weather routing and evaluating weather data the digital way by means of a computer was available. So the navigator had his dedicated "nav station" in front of a screen rather than sitting on an old-fashioned chart table.
The Diesel-tank which makes up for the seating of the navigator are tilted in a way that when sailing heeled the navigator would sit upright. I took the seat and closed my eyes for a short minute: I tried to imagine the sound of the waves smashing against the hull, the flow of water alongside – ILLBRUCK´s speed record still stays at whopping 39 knots, which is 72 kilometres per hour. Just try to imagine the sound, roaring winds in the rigging from above, crashing waters from below. Around the world!
Carbon indeed was part of the boat. I spotted the typical matte-black color in form of the power train from the huge grinders to the winches. Again I tried to imagine the sound when two people turn the winches with full power and the clacking and cracking noise of the tubes transmit throughout the boat. It´s a loud awkward sound in normal cruising yachts, just think of it manyfold stranger on this racing machine!
Keeping the legend alive
Oliver is seemingly proud: Along with ex-ILLBRUCK the company owns two more V.O.60, which is ex-SEB (now OSPA) and ex-TOSHIBA (which is now ROSTOCKER). Three V.O.60 yachts identical in construction: The boats can be chartered and match raced under real conditions, skippered by the Speedsailing team. The spirit of racing lives inside the boats, the team around Oliver is creating this worldwide unique atmosphere of high-class offshore racing – and it´s just a one hour drive from my home town!
When I left Oliver after thanking him for his time, I looked back onto this proud fleet. Well maintained and often raced, these veterans of offshore racing are not rusting on a pier or being put on dry stand, de-masted, de-capitated. They keep the spirit alive and – by judging from the atmosphere I was able to grasp there among the Speedsailing-staff – they all love what they do in providing a unique experience. Sitting in my car, driving back home I make a not to myself: "Ask the boss if we could do a match race on these as a big event for our staff." Maybe as a company´s birthday present.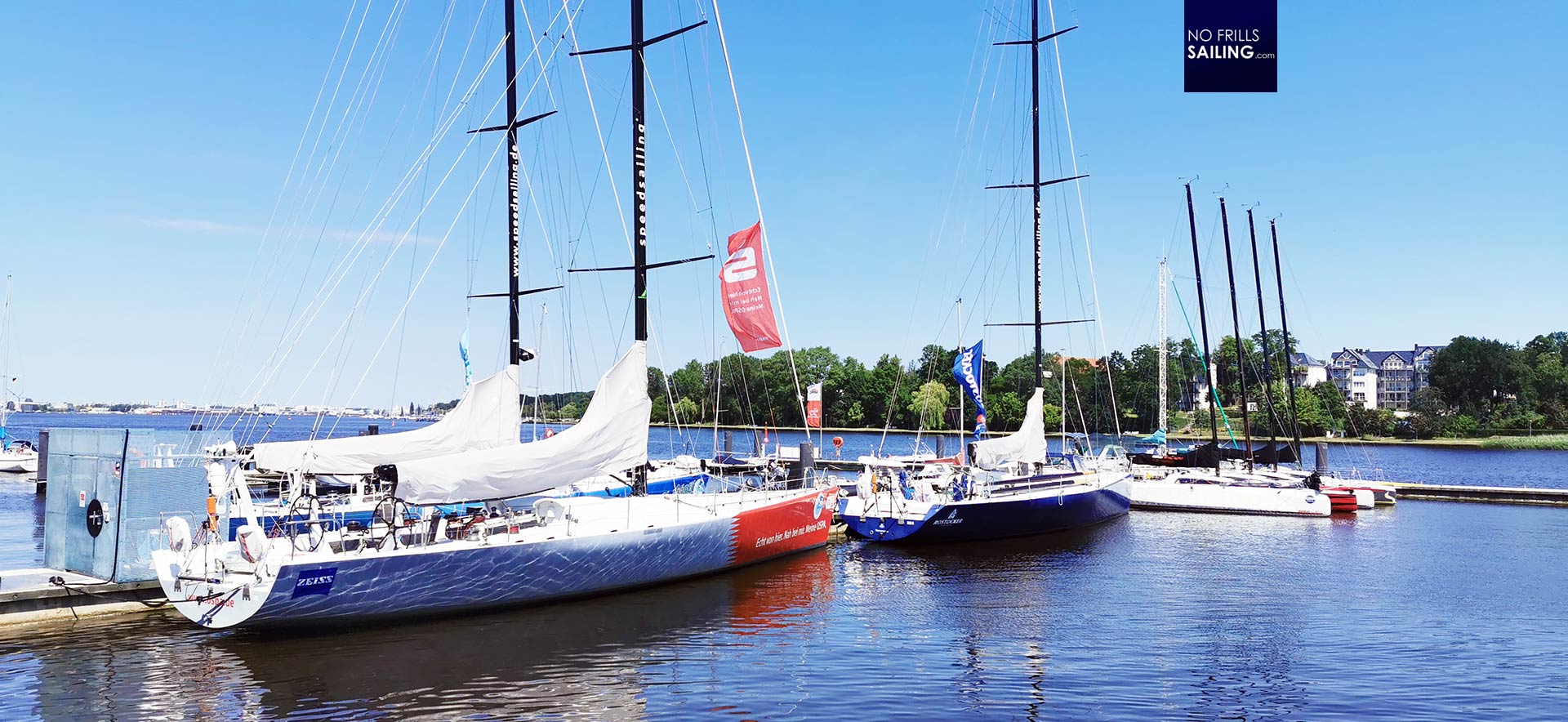 ILLBRUCK at her big time has been under the command of legendary U.S.-skipper John Kostecki. The first, one and only German boat to ever win this highly well endowed race sported a crew of 12 people of which just one had been German. Nobody cared whatsoever: After setting up a world record of 484 miles in 24 hours and winning the toughest offshore race to date, the boat arrived in Kiel in 2002, being frantically greeted by a fascinated nation. I thought I had heard an echo of this down in her hull. What a chilling cool experience!
Thanks for the tour, Oli!
You might as well be interested in these articles:
Jeremy Beyou on his new CHARAL Open 60 racing yacht
Visiting a giant: Multiplast in Vannes
Merfyn Owen, Britton Ward & Marc Lombard on Class 40 designs