The small Danish yard in Lunderskov not far from the small town of Kolding is what we call a "nice and small" brand: Faurby Yachts, that´s a name that has a certain sound to it and wherever a boat made by Faurby is entering a harbour you can be sure that there will be quite a number of people instantly falling in love with these boats. I would consider myself one of these: Faurby is a classic, a wonderful example of Baltic Sea boat building in the finest sense of Scandinavian design tradition. And it is so much more – as I could see during ancora boat show 2018 where two Faurby yachts, the 36 feet and the 40 feet boat, had been exhibited.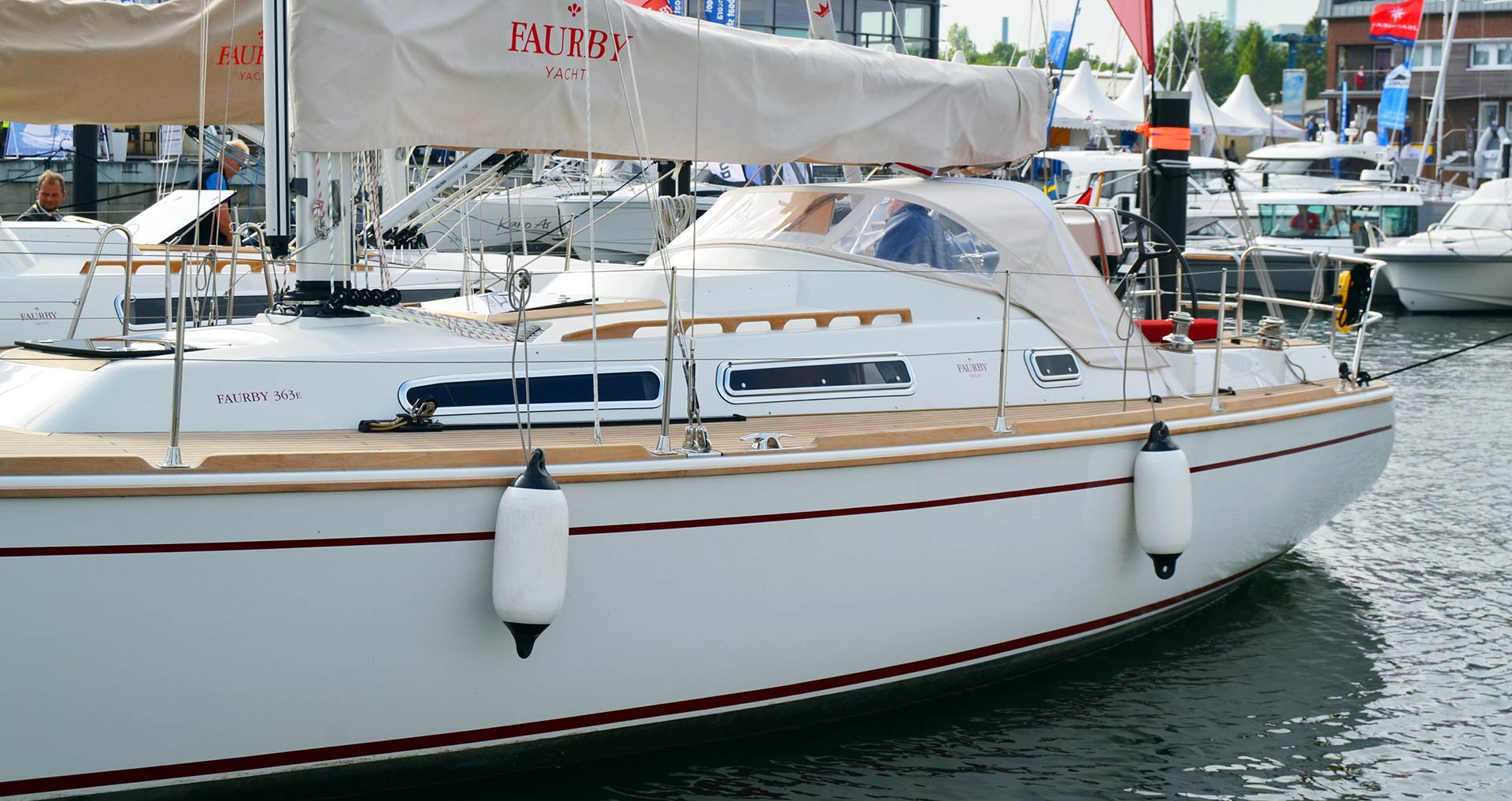 The boats are a sweet-talk for the eyes of everyone who loves fine lines of sailing yachts. They are sleek, low freeboarded with a nice, sharp and steep-angled bow. They follow the design principles of yachts which have a low centre of gravity with a high ballast ratio. The rigg is tall and powerful, these boats are made to sail. And sailing fast is the main priority. The Faurby 396E follows a tradition that seems long gone in big production boats and this is what appeals to so many fans – I could witness this attraction with my own eyes.
A GTO with WiFi
Faurby yachts, a small yard though, makes boats since 1976 (that´s one year after my own boat, the King´s Cruiser 33 was built in Finland) and they are producing not more than 10 to 15 yachts all in all. The process of building boats is purely handmade work by professionals with a big emphasis on making rock solid, lightweight fast boats – Faurby´s specialty though is the excellent craftsmanship of their carpentry on which we will have a thorough detailed look later.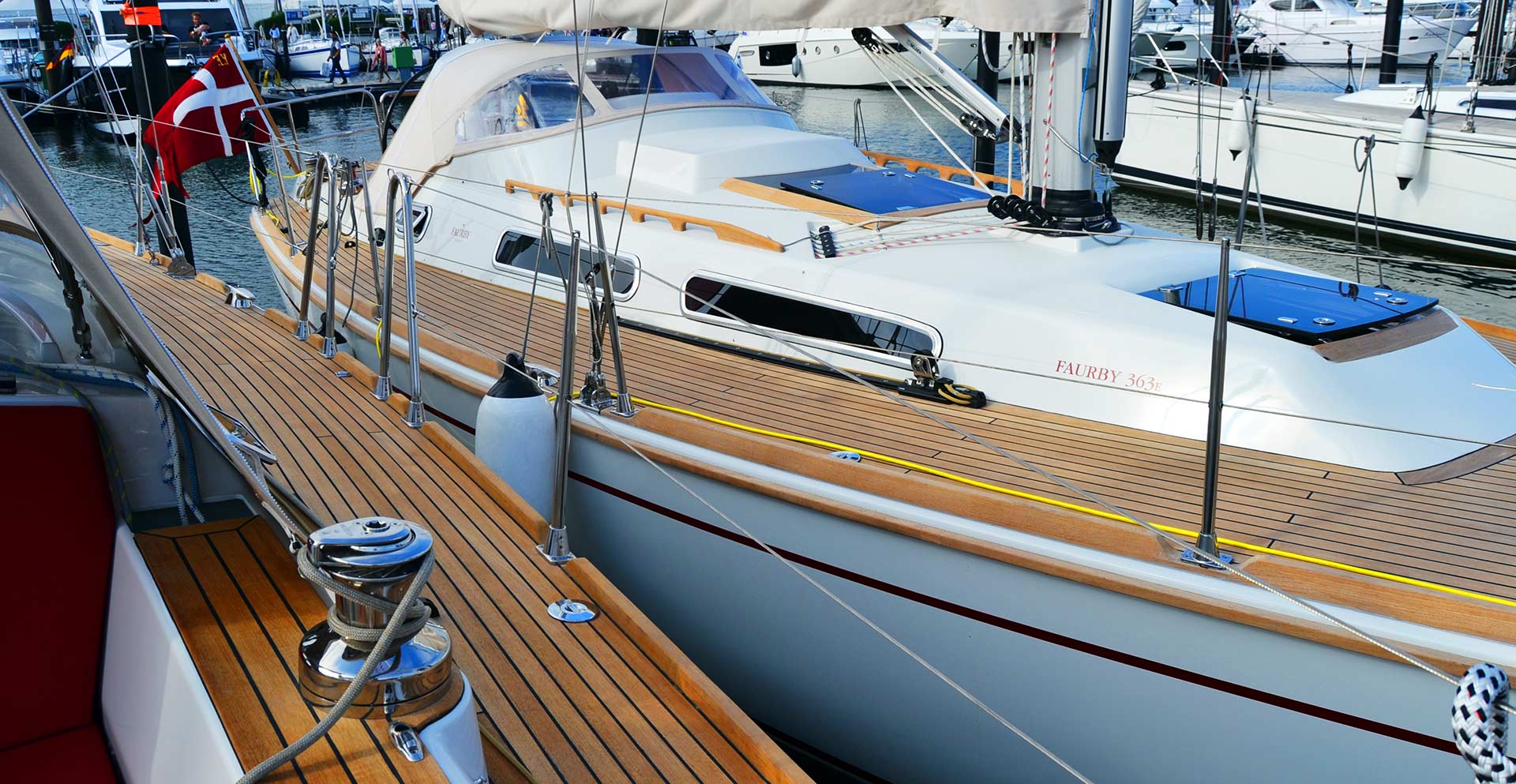 The boat´s hulls haven´t changed in decades. The proven concept of the hull design needs no change: The yachts have excellent sailing properties on every point of sail. Optimized for going fast upwind, the Faurby is a typical Baltic Sea-boat that can sail on any direction to the wind or vice-versa, can cope with the ever-changing wind directions of the Baltic Sea. In this, the boat is a powerful sailing machine more than capable of taking on the big Oceans as well. Faurby yachts have crossed Oceans and circumnavigated the planet with ease.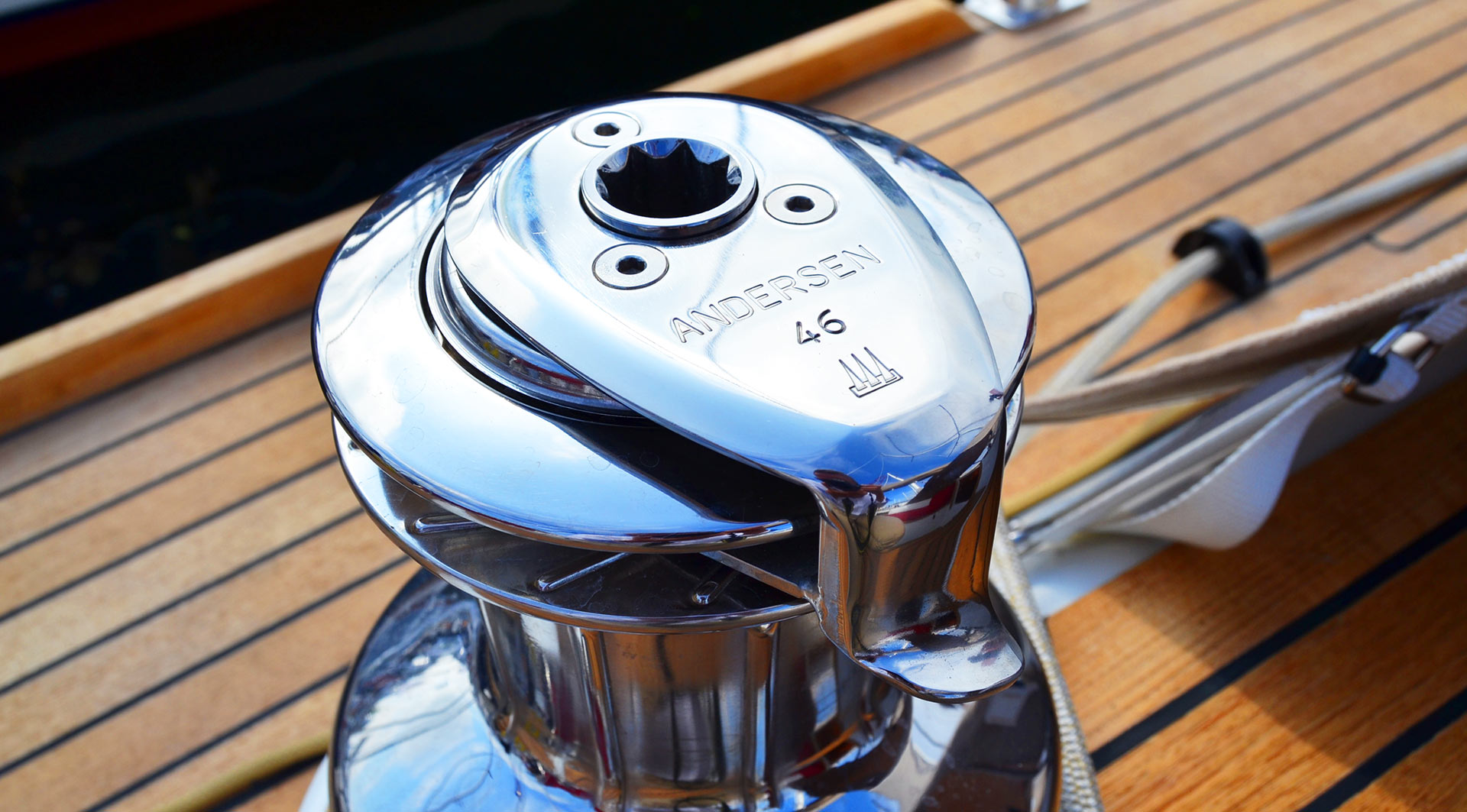 It´s a GTO with WiFi one could say: Faurby yachts are equipped with just the best that is available on the market. The Anderson winch is a standard. Subtle changes have been applied to the Faurby. In this, the boat isn´t just a modern day made classic boat. Flush hatches, contemporary technical equipment, a powerful autopilot and a handful more (mostly subtly hidden) pieces of technology will make the owner of a Faurby not missing anything of the 21st Century. But Faurby´s main asset is the interior building quality that can be dubbed unprecedented …
A role model of interior building quality
In a Faurby the joinery is made entirely of massive wood. There is no plywood. The style of the carpentry is reminiscent of the classic boating era so entering the salon is like a time travel trip back to the good old times. Everything is rock solid in here: When you touch a closet´s door and open/close it, you will feel the heavy quality in the woodworks. Salon layout is classy too: This 396E is a 12.14 metre long boat with a maximum beam of 3.40 metres – that´s narrow in "modern day" terms.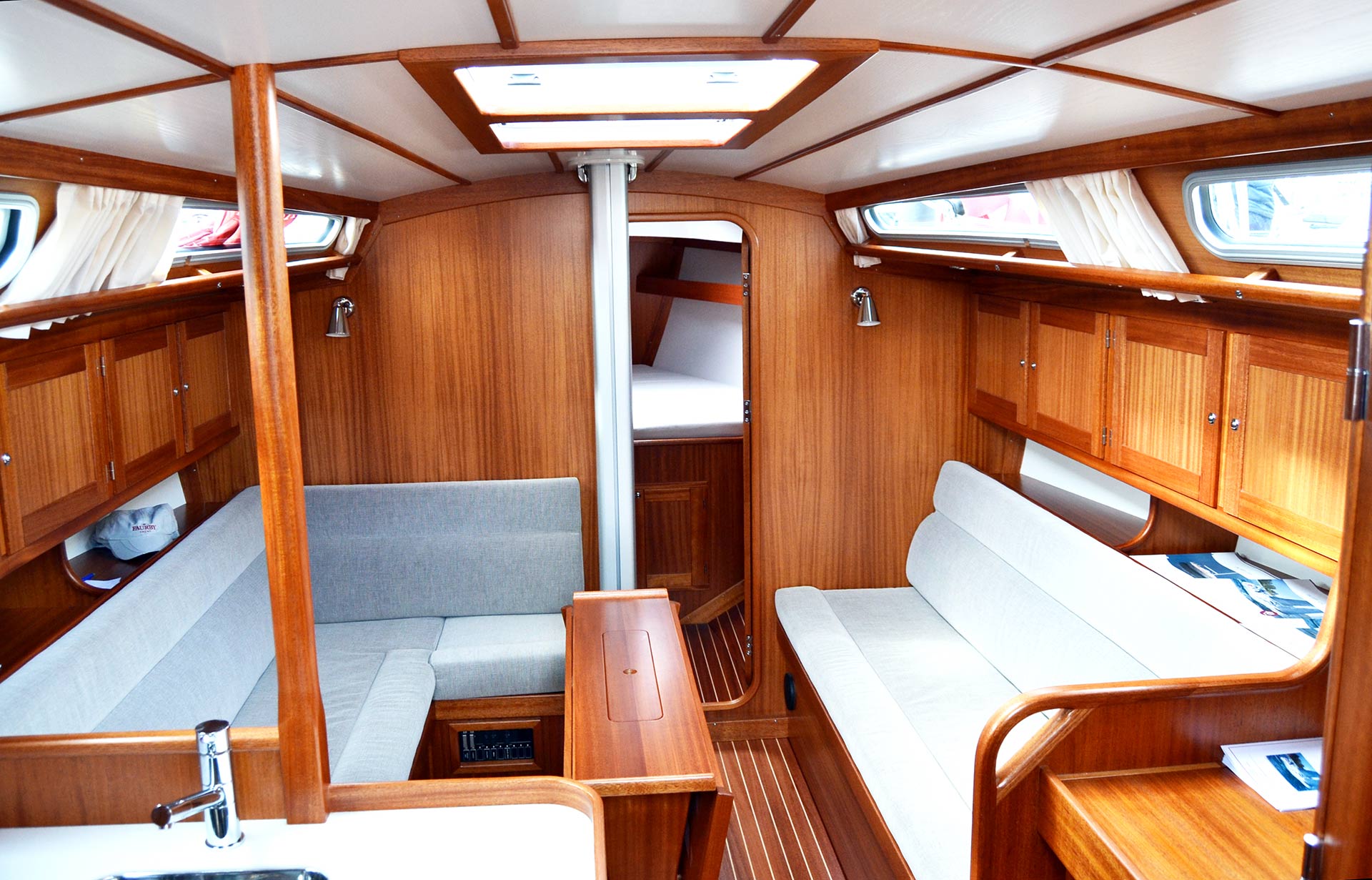 So there is a central foldable dining table with a 3-seater settee on starboard side and a U-settee facing it on port. Some stowage overhead and that´s it. No portholes in the hull, just some hatches and nice sleek windows in the coachroof. The pantry is small when one would compare it to a modern production boat 40 footer – but it´s sufficient. There´s a stove, a fridge and a worktop. What more would you need here?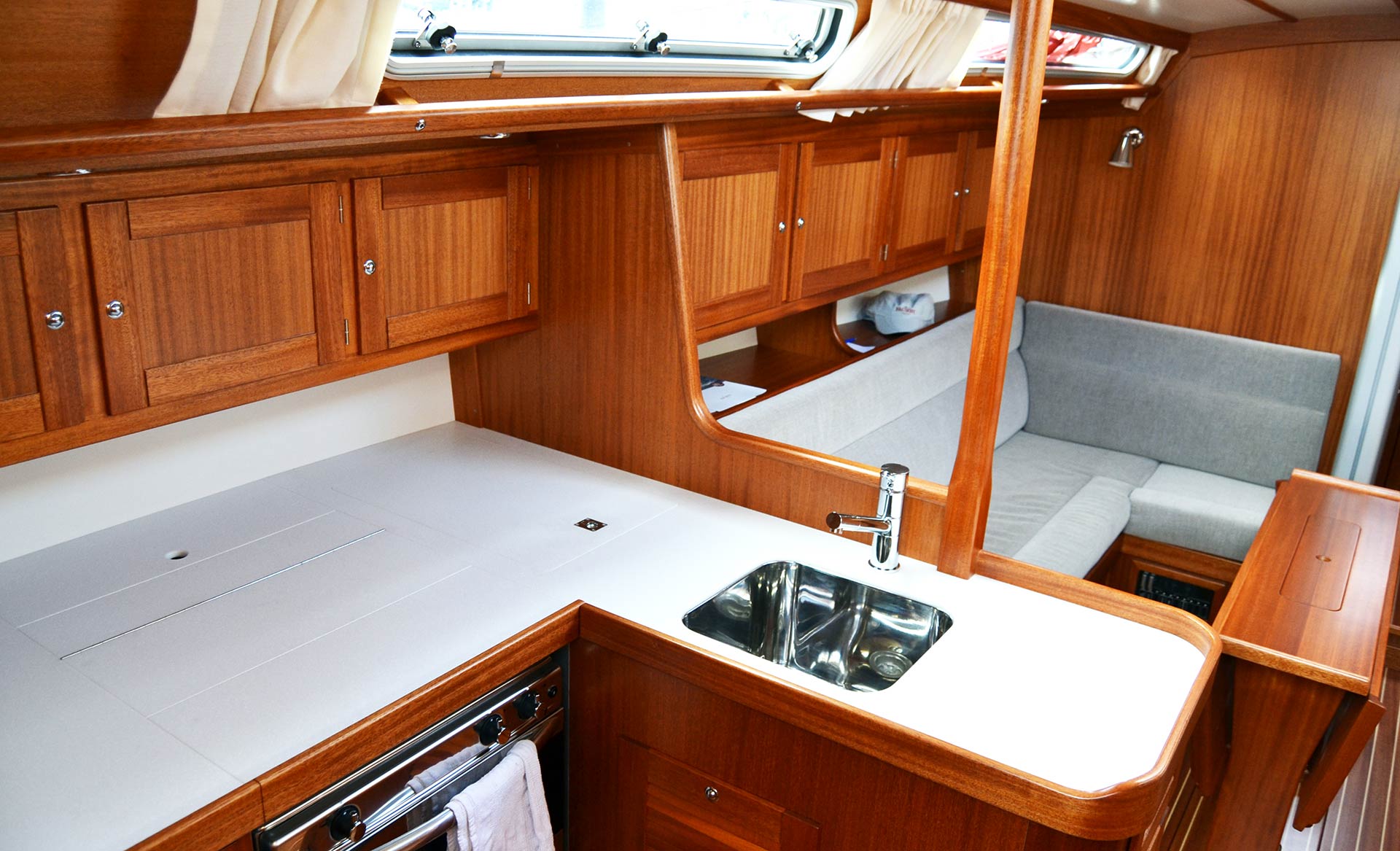 The aft part of the boat features a small navigation station to starboard side with the heads. Again, the bathroom must be considered small in modern terms but I´m asking myself: What do I need in a boat´s head? More space? For what? I am down here to empty myself. That´s basically it. Brushing teeth, getting shaved or whatever is done outside anyway. To port side is the door to the aft cabin. That´s it.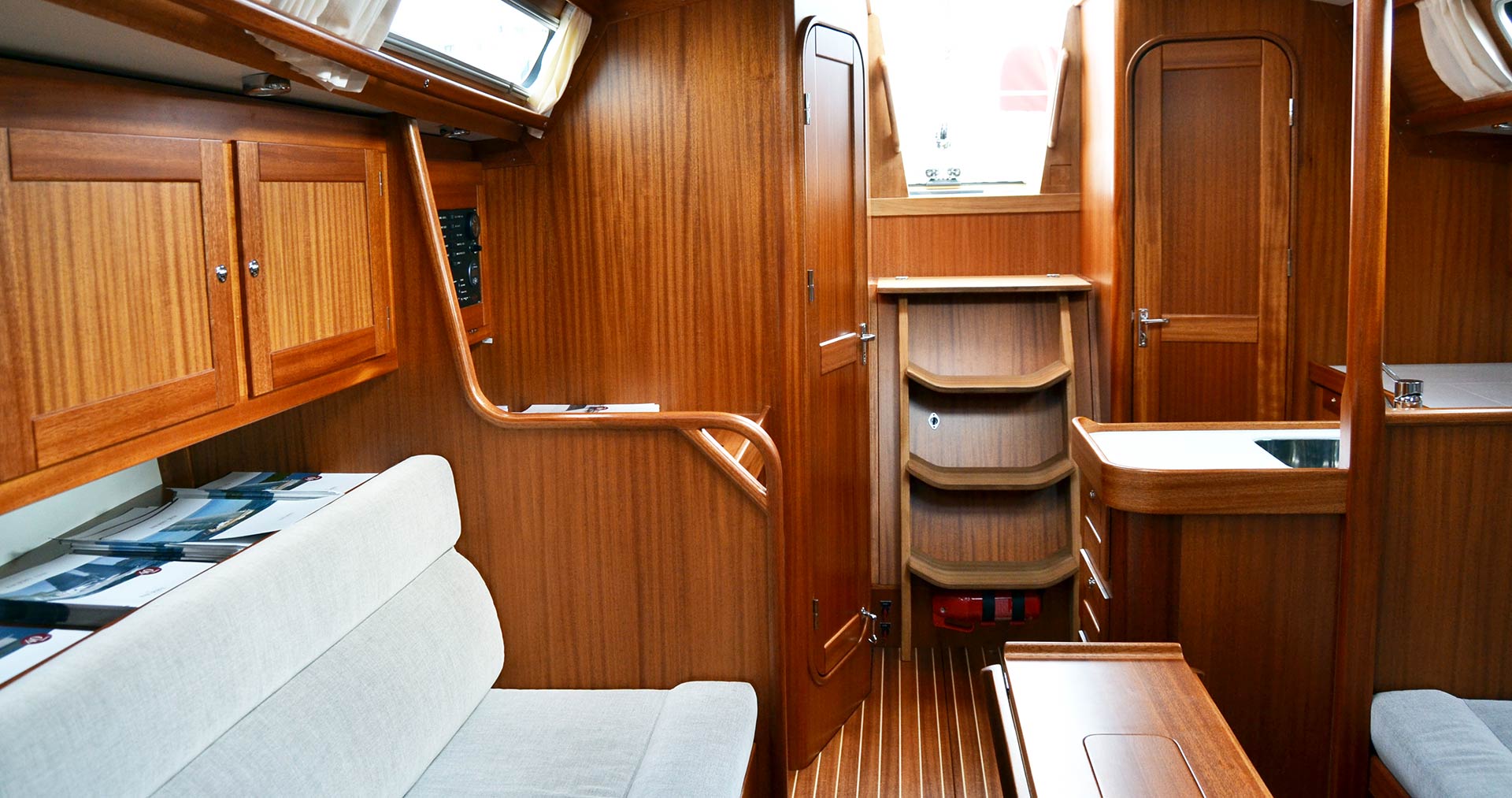 All is done in nice, classy glossy painted Mahogany. It smells awesome. Not the Styrolene-stenches of mass production boats but the fine odour of so much wooden pieces. Faurby takes pride in their woodworks and from what I have seen upon inspecting this yacht they do it rightfully: I´ve seldom seen such a high quality interior building quality on a yacht before. Every single detail is a work of art, is made in heavy, long lasting quality. Getting a Faurby is acquiring a sailing diamond for sure.
A boat concept of past times
She is a modern boat made with modern production techniques on the one hand, but also a boat of a past concept. The Faurby is a sailing machine and made to do so solely. She is not appealing to too many guests keen on having a sundowner drink party and lounge around in a wide open cockpit – you won´t see a Faurby mooring in Saint Tropez with a bunch of Bikini-girls having a good time. She is made to sail. Made to heel. Made to eat miles. And so are her cabins made to … host a good night´s sleep.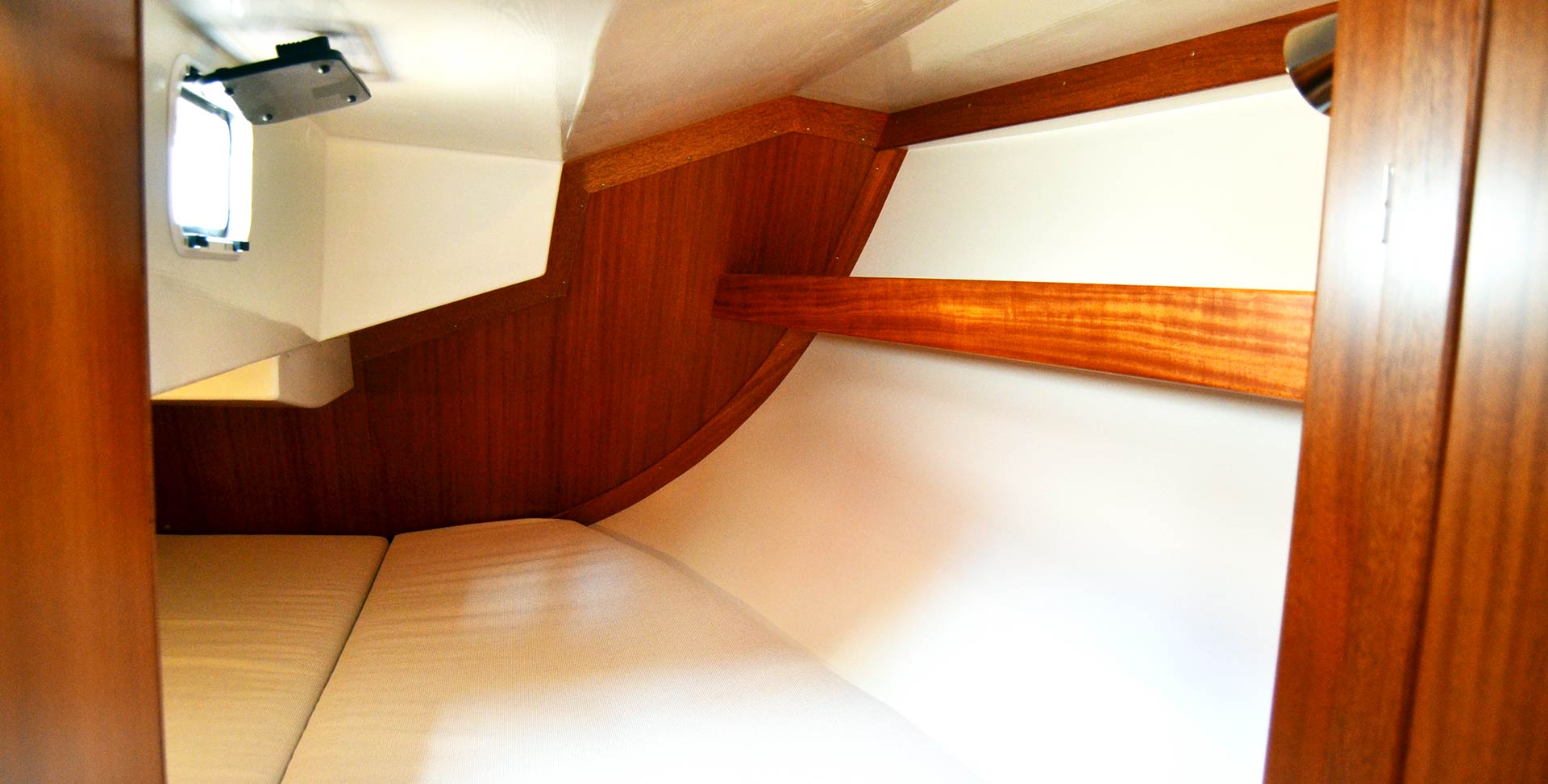 The aft cabin could be dubbed "big quarter berth" as the dimensions are narrow compared to a modern day 40 feet cruiser. But again: How much space in a cabin do you need? You need a bed to crawl into your sleeping bag, find a good shoring in heeled sailing and, well, sleep. That´s what you can surely do in the Faurby´s aft cabin. There´s a closet and a shelf, a small opening window for fresh air. That´s all. Same with the fore cabin.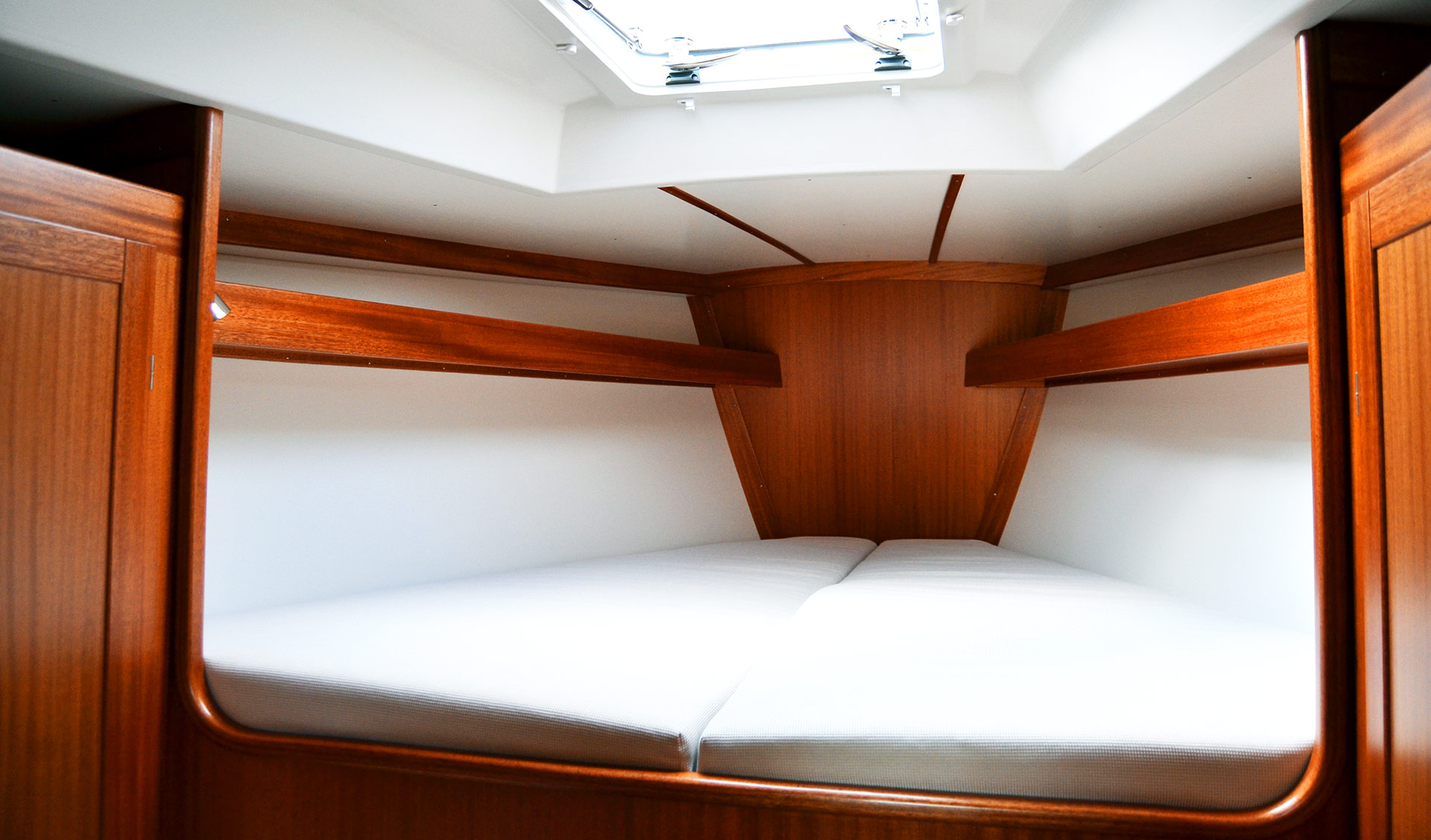 Two lockers to both sides of the cabin, a big V-berth that has enough space for two adults. That´s it. Plain and simple, these are berths. Cabins made to welcome the tired sailor and offer a nice cosy place to find a good night´s sleep. No frills. No shenanigans. No bling. But everything is made well and without any flaws. The Faurby is beautiful craftmanship through and through.
Combining 21st Century with the good old times
As I re-emerge in the cockpit I understand this boat. With so many other yachts I have visited so far I sat down in the cockpit area and imagined myself underway. In not less of these boats my imagination was putting me at anchor or in a harbour. I didn´t imagine myself actually sailing in these yachts. That´s different with the Faurby. Standing in her narrow – thus safe – cockpit, everything in her seems to scream: "Ready to casting off! Get the sails up!"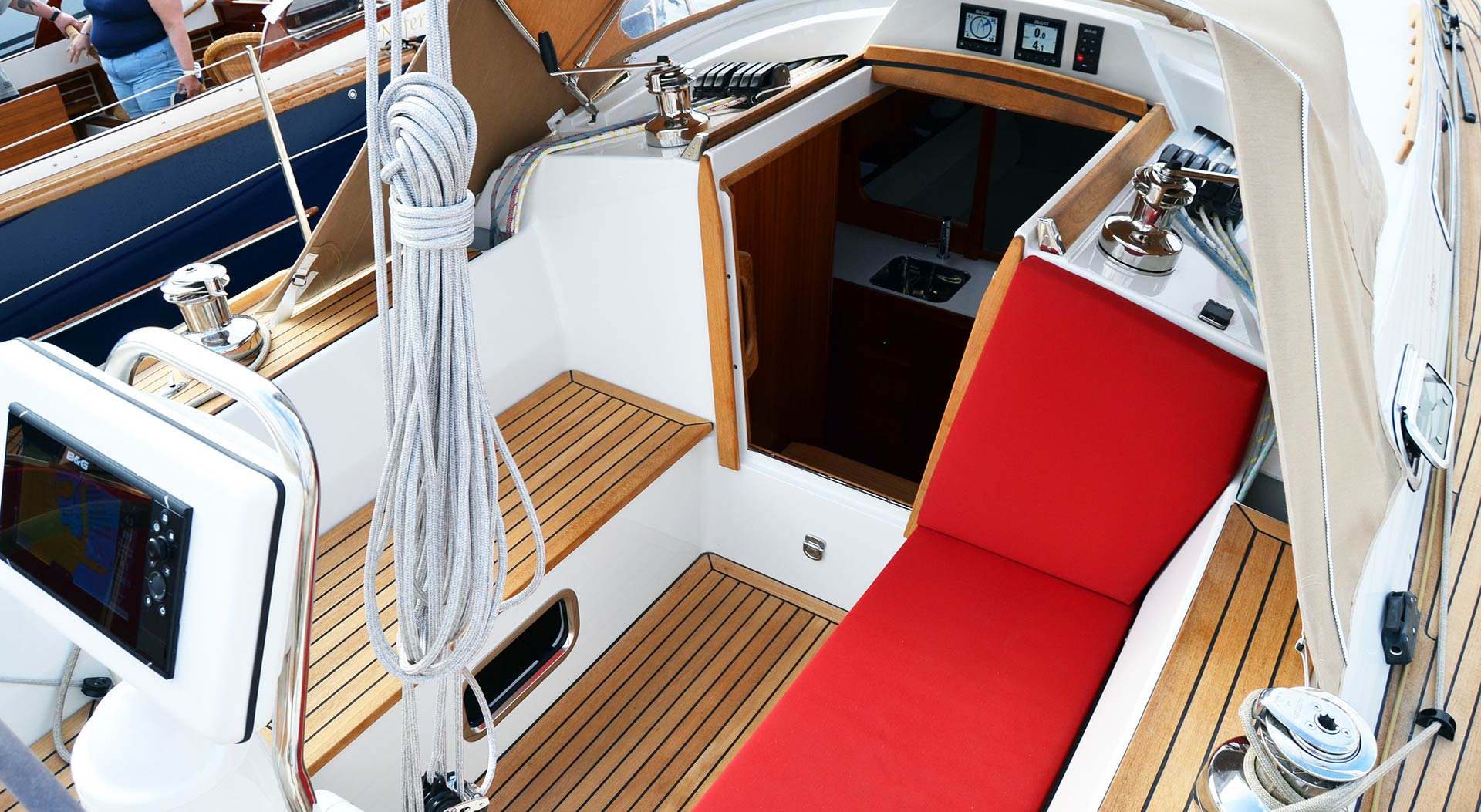 The layout of the lines is classy too: On the one hand all lines are diverted into the cockpit, but there is no such thing as German mainsheet system. The halyard winch and mainsheet winch are mounted where they are supposed to be: On the coachroof next to the entryway down. This is where the mainsheeter used to have his position. Two more jib sheet winches are mounted aft on the coamings next to the massive central steering wheel. The boat is made to be sailed by a couple.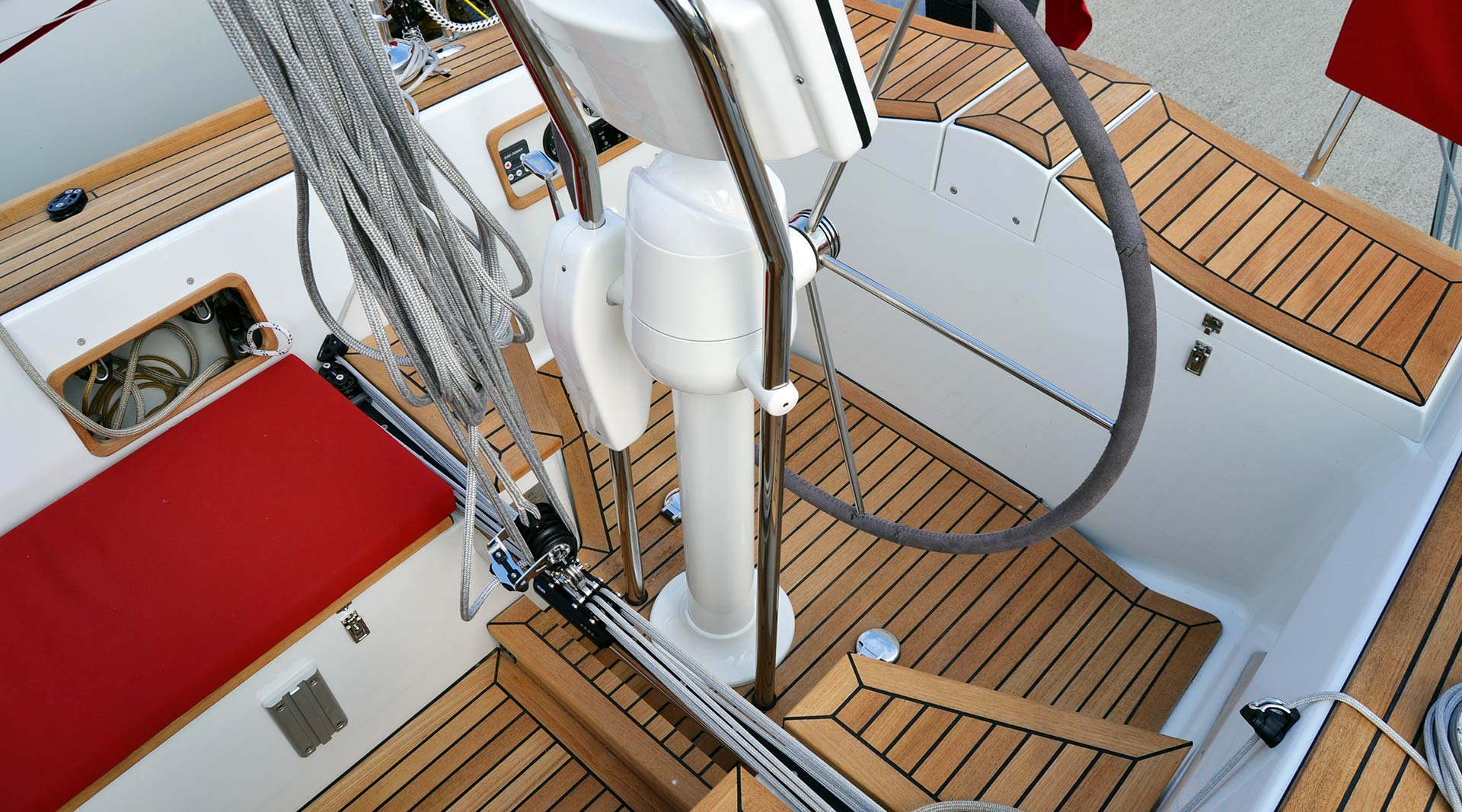 The central steering wheel is mounted on a post. The design is reminiscent of classic steering posts, but again, combined with a modern day multi-functional panel that has a big plotter and secondary displays. I´ve taken a look into the big lockers and the lazarette aft where a massive autopilot is mounted. Again, the Faurby combines modern day techniques with a classic touch masterly. She is a true beauty and certainly not a boat for the everyday ordinary sailor. She is a fine example of a true yacht – and great piece of handbuilt quality.
You may also like to read:
Classic boats of Denmark: A day at Luffe yachts
Interior design concepts of sailing yachts Part 1 and 2
Making the perfect chart table from Teak