It is time for another Cannes Yachting Festival boat walkthrough. This time I´ve brought another Beneteau. Well, you might be bored because "he is again posting just his own brands", but I can tell you, if any other brand than Beneteau would have launched this ship, I´d be writing about it too, just as I did with the new Hanse 460 recently. She is a very interesting ship and in my ways groundbreaking, defining for the yard´s future years.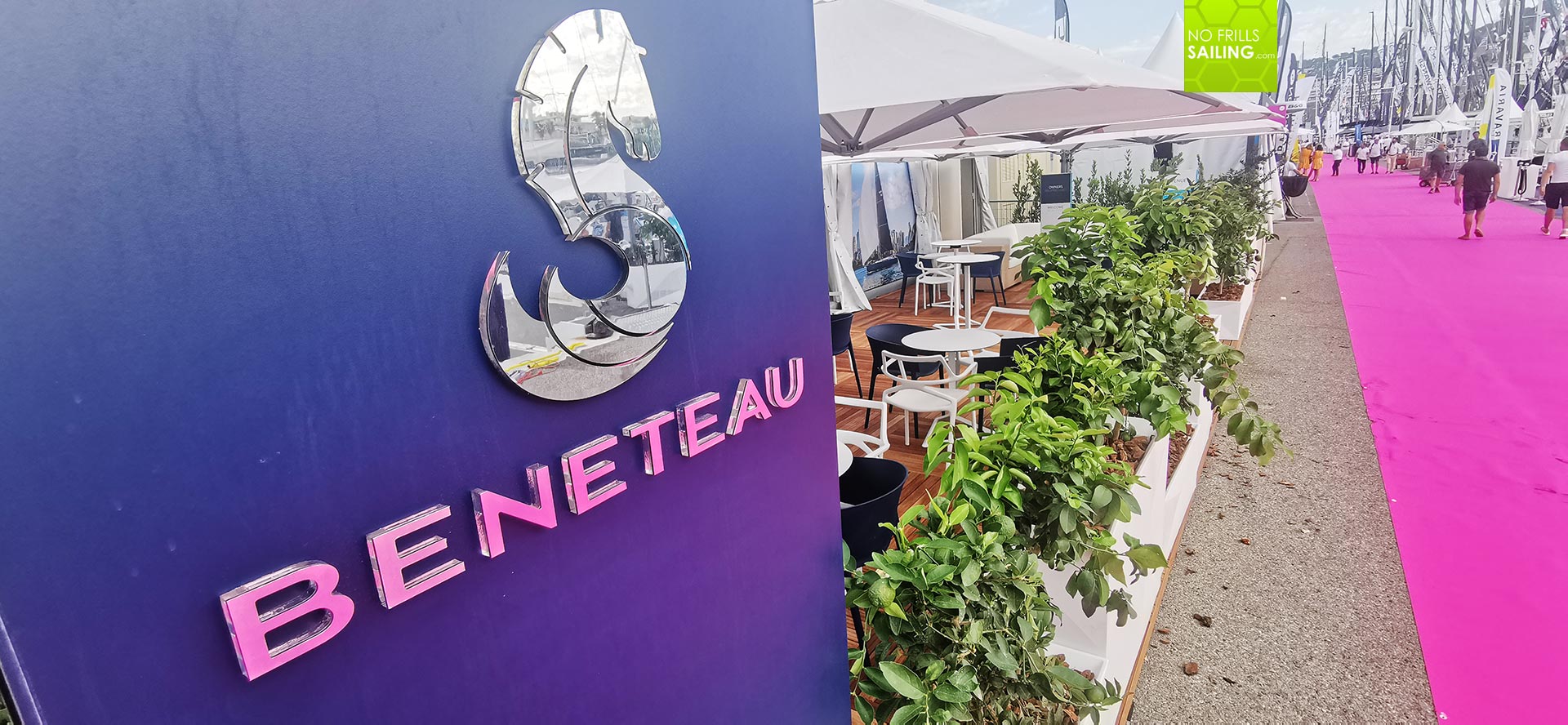 As the French yard is constantly renewing it´s very successful sailboat range since 2018 with the launch of the new Oceanis 51.1, which by the way is still one of the best selling 50-footers in the production cruiser market, there aren´t many boats left to be renewed: Just the old Oceanis 38.1 needs a successor, and the flagship. Well, did the old Oceanis Yacht 62 really needed to be replaced?
A new Grand Dame of the fleet
Beneteau did spend a lot of money and resources on the big names of naval architecture to re-define everything for their seventh generation of Oceanis cruising boats. Easy sailing, safe passage and quick sailing have always been the defining pillars of an Oceanis. In this, one year ago the new Oceanis Yacht 54 building up on the fast hull of the First 53 was launched, foreshadowing exactly what the yard was intended to do.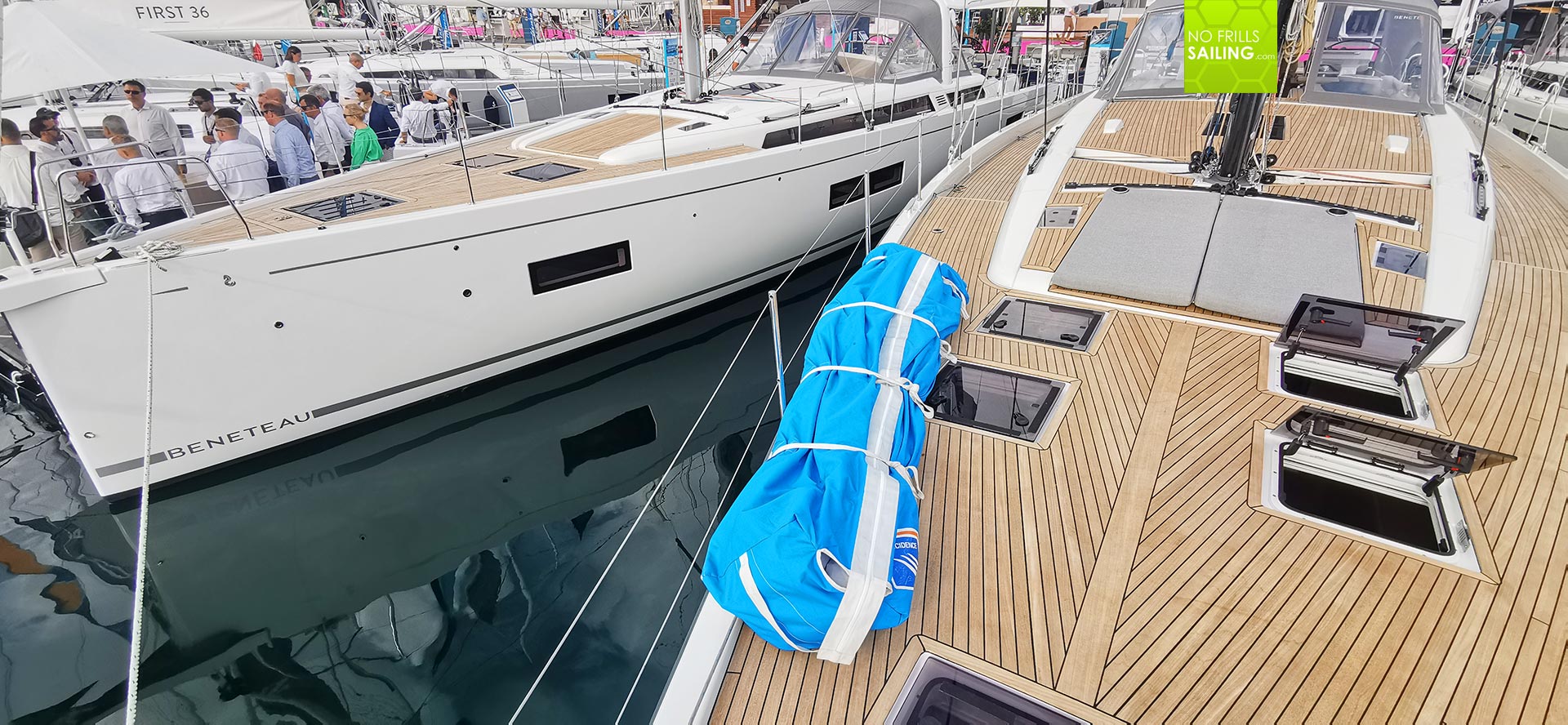 The Oceanis Yacht 54 is since then sold many, many times and sailors, owners alike, report back to the company that the wonderful sailing properties of that boat combined with luxury and volume make it an ideal passage maker, a true Oceanis blue water cruiser and a beautiful eyecatcher boat in every marina. It was just the old Queen, Oceanis Yacht 62, which was sticking out of the fleet. A boat which refused to be integrated into the common design language of Oceanis.
Groundbreaking for a new era
In many ways, the old Oceanis Yacht 62 was a true flagship: So bold, so different, so categorically breaking with everything "below" her, that many owners chose her because of this brutal cut. But, apparently, the company didn´t like this lone wolf attitude and wanted the new flagship be taken back into a coherent style. A true Oceanis, a boat, every skipper of any smaller boat would be wanting to sail.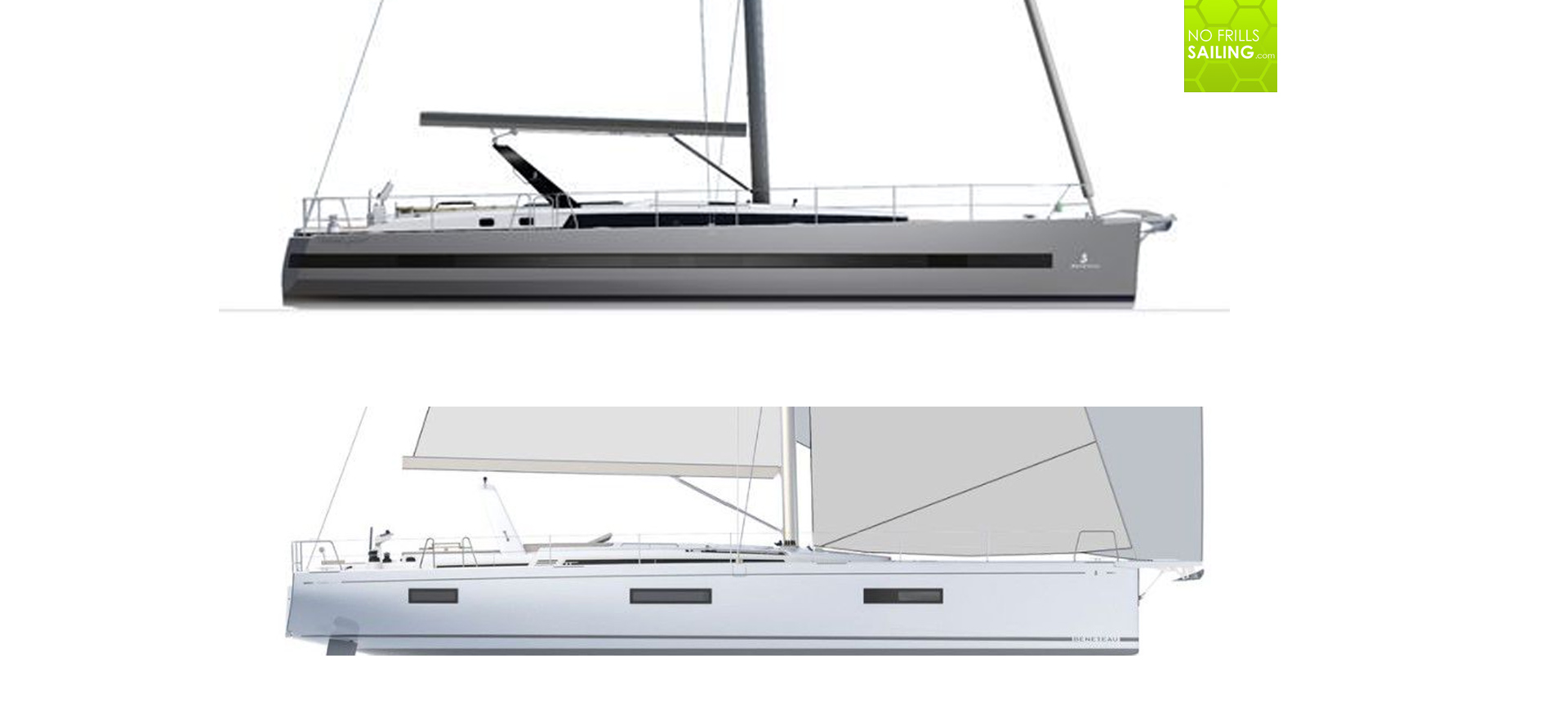 So, the new Oceanis Yacht 60 in general comes up with nearly the same external measurements as her predecessor: 19.16 meters for the old boat versus 18.80 meters in length, some 50 centimeters shorter. 5.30 respective 5.33 meters width, that´s nearly the same berth for any sailor wanting to renew his boat. Both come as 3 cabin versions for the ordinary owner, a skipper´s suite in the bow.
Many fancy the old Oceanis Yacht 62 for Pierrangelo Andreani´s iconic design. And I must admit, I personally liked the "out of this world" looks of the old flagship quite much. Lorenzo Argento however, the guy who in collaboration with Roberto Biscontini already sported a revolutionary First 53-design and her derivate, the Oceanis Yacht 54, came up with a very, very beautiful design for the new Oceanis Yacht 60.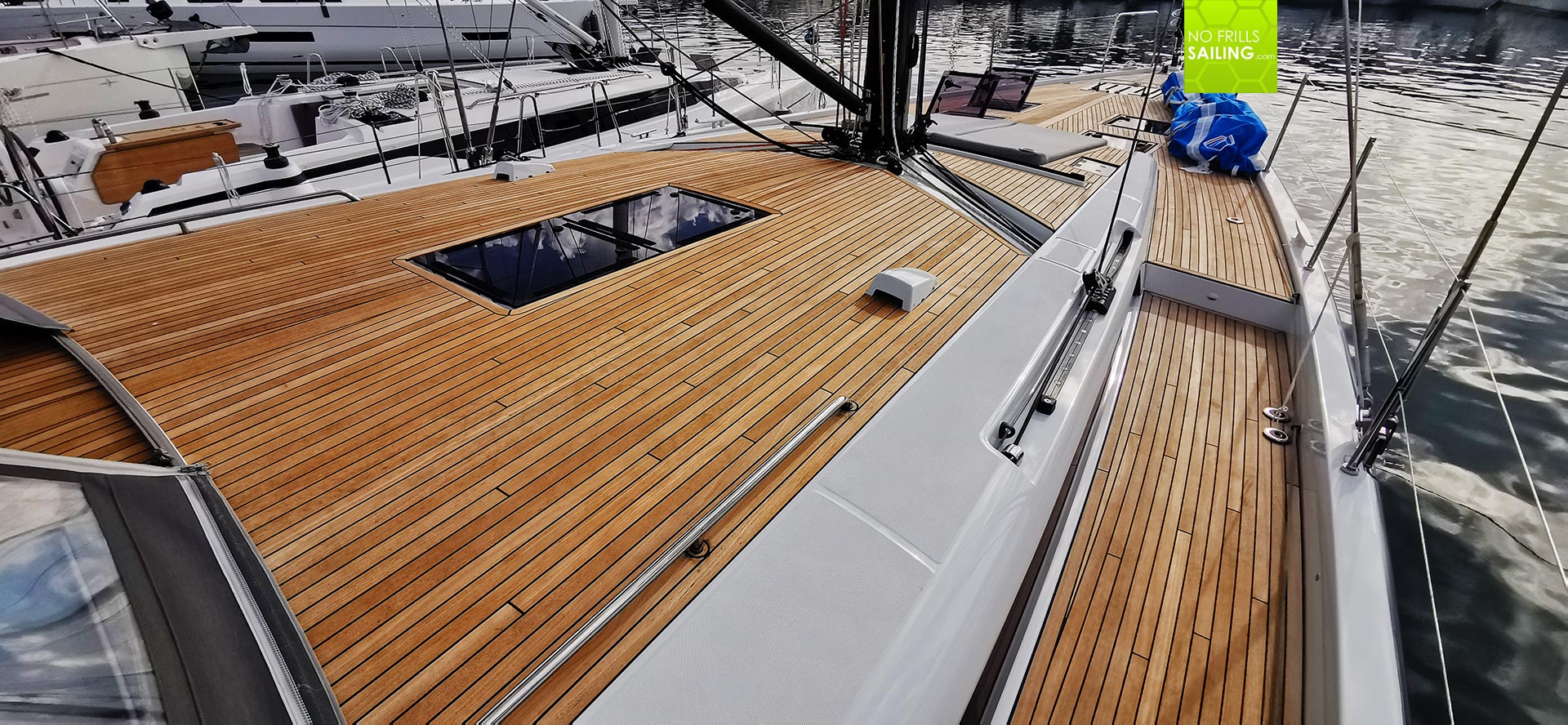 One eye is crying since the old 62 was in every sense a unique boat, the Oceanis Yacht 60 now is the pinnacle of the whole fleet for sure, but lost the extravaganza. It´s like your new girlfriend is a super beautiful, wonderful woman who looks just gorgeous and adorable. But your ex-girl friend was Lady Gaga. It´s just something very special that is gone now. Well, but let´s look at the laughing eye. And there is much to cheer about indeed!
More, better, faster
The new Oceanis Yacht 60 is designed and constructed following the latest hydrodynamical approaches in modern hull design. As I talked to the guys of the yard in Cannes who just came in after a side-by side shooting and sea trial which had been done together with the new First 44, the said, that in comparison, the First 44 performance yacht did quite struggle to keep up the pace of the new 60!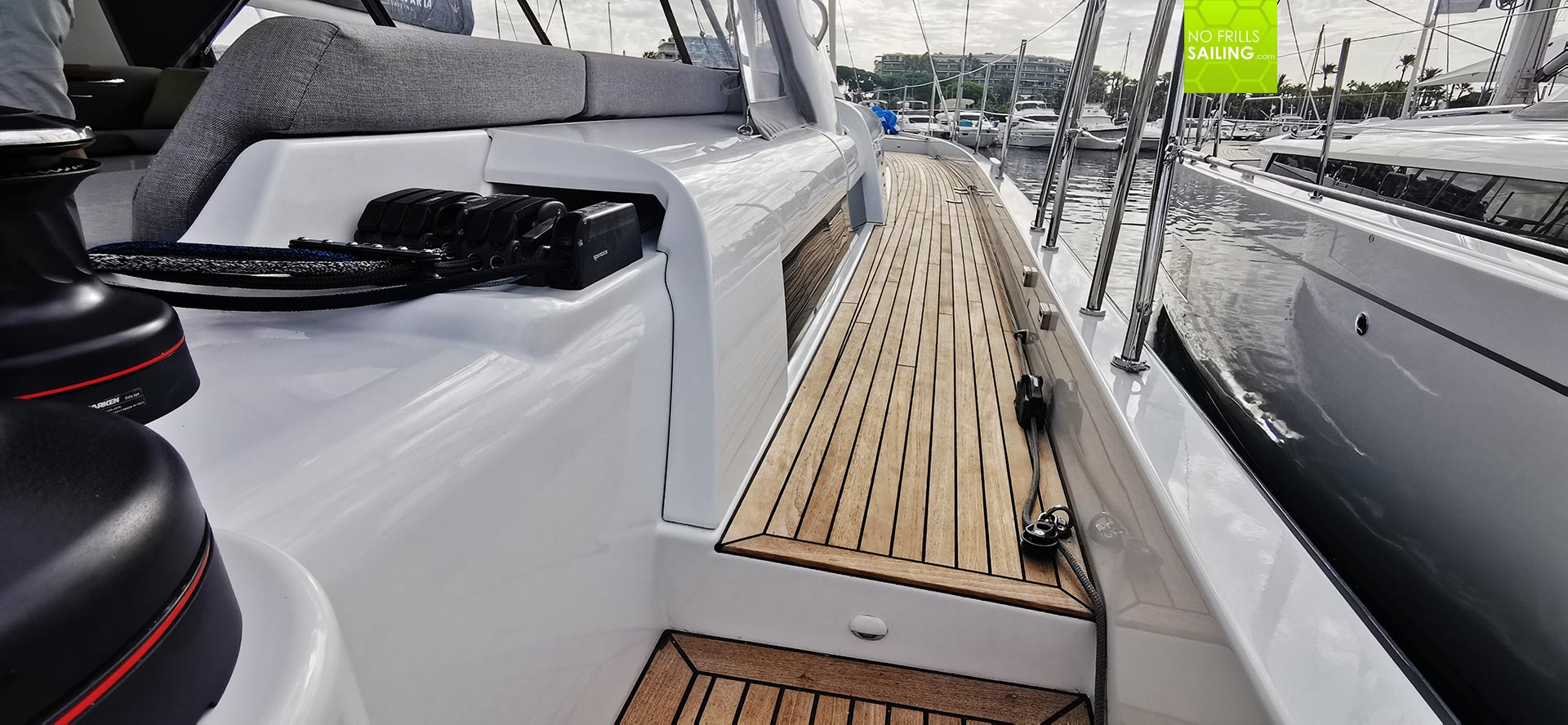 That is because the new boat weighs in at 21.5 tons, which is a wow! less than the Oceanis Yacht 62, which displaced a staggering 26.1 tons. In fully laden and equipped mode that is 5 tons less for the new kid on the block, 5 tons, that´s an Oceanis 34.1 sailing yacht´s weight. So, definitely, the new flagship is worth her name: Oceanis. Fast, nimble sailing.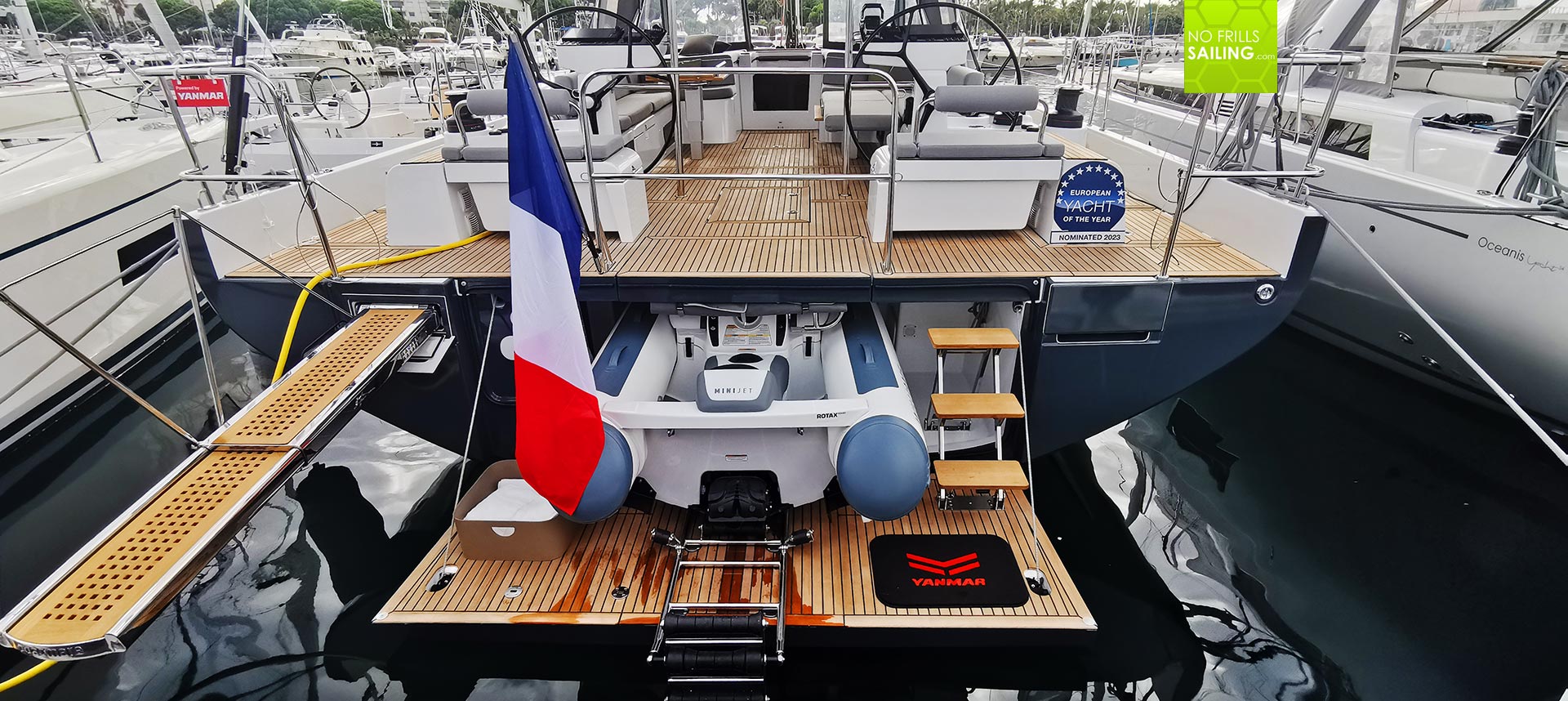 But not just performance-wise the new boat is an eyecatcher. She delivers. A flagship must do the extra-mile, must be better in each and every category. A flagship sets the benchmark, makes the standard. So there are many boxes that need to be ticked: Like a proper dinghy garage, which she of course has, and some many more amenities, she certainly also offers along the voyage a buyer will have to make through the 6 page options list. Let´s board the boat and see what she´s like.
Big time lounging
Sailing in this category is for the most part spending free time relaxing. Sailing smoothly in nice weather, preferably the Mediterranean, Caribbean or other warm areas. In this, most of the onboard life will take place in the cockpit. The new Oceanis Yacht 60 delivers full force: A huge cockpit area is solely dedicated to lounging.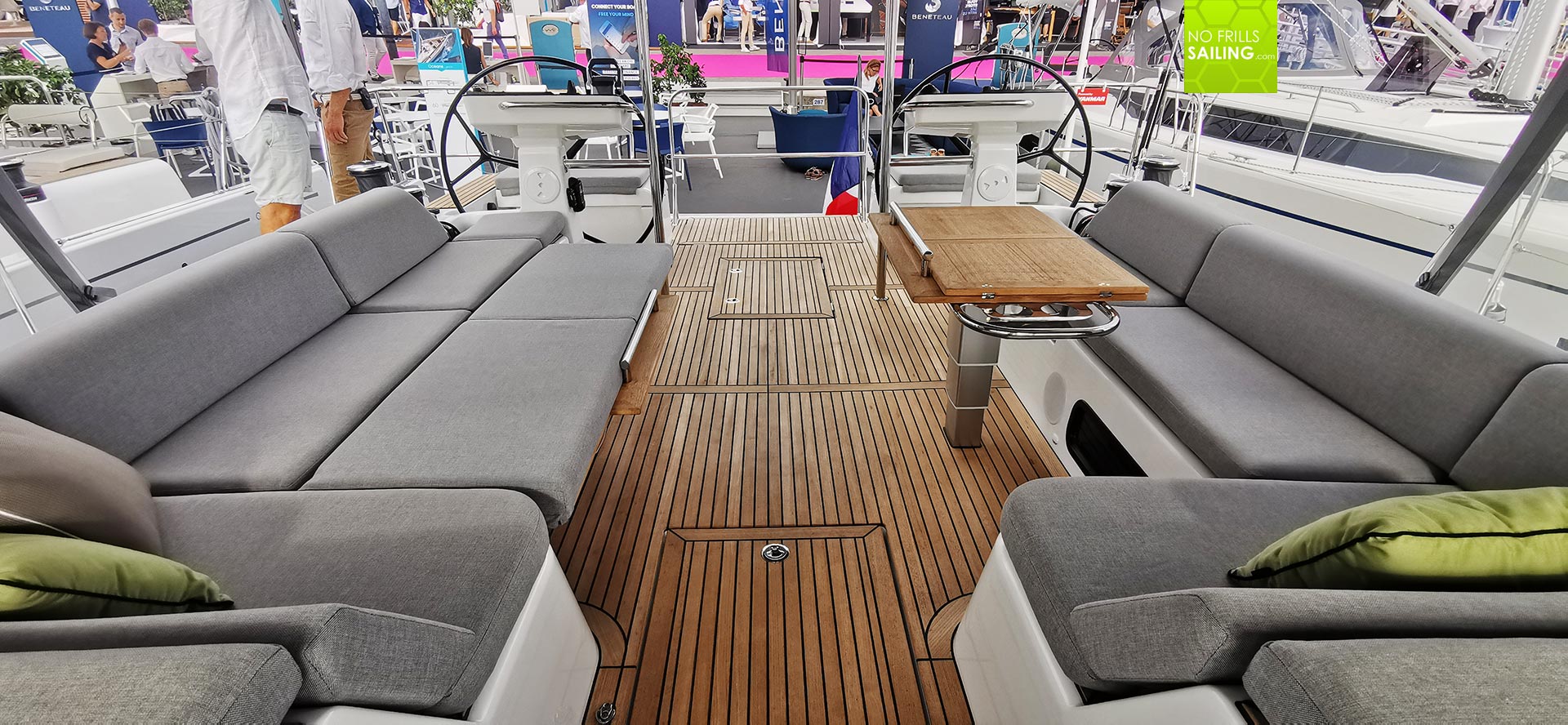 You can have the classic settee arrangement, two large cockpit tables which can be small or big: Coffee-time with your darling or big-time lunch with 10 guests. Those tables can go up and down electronically and are turned into lounge settees with extra cushions in a matter of minutes. By that, the whole cockpit sports two huge playgrounds for relaxing, sleeping or partying.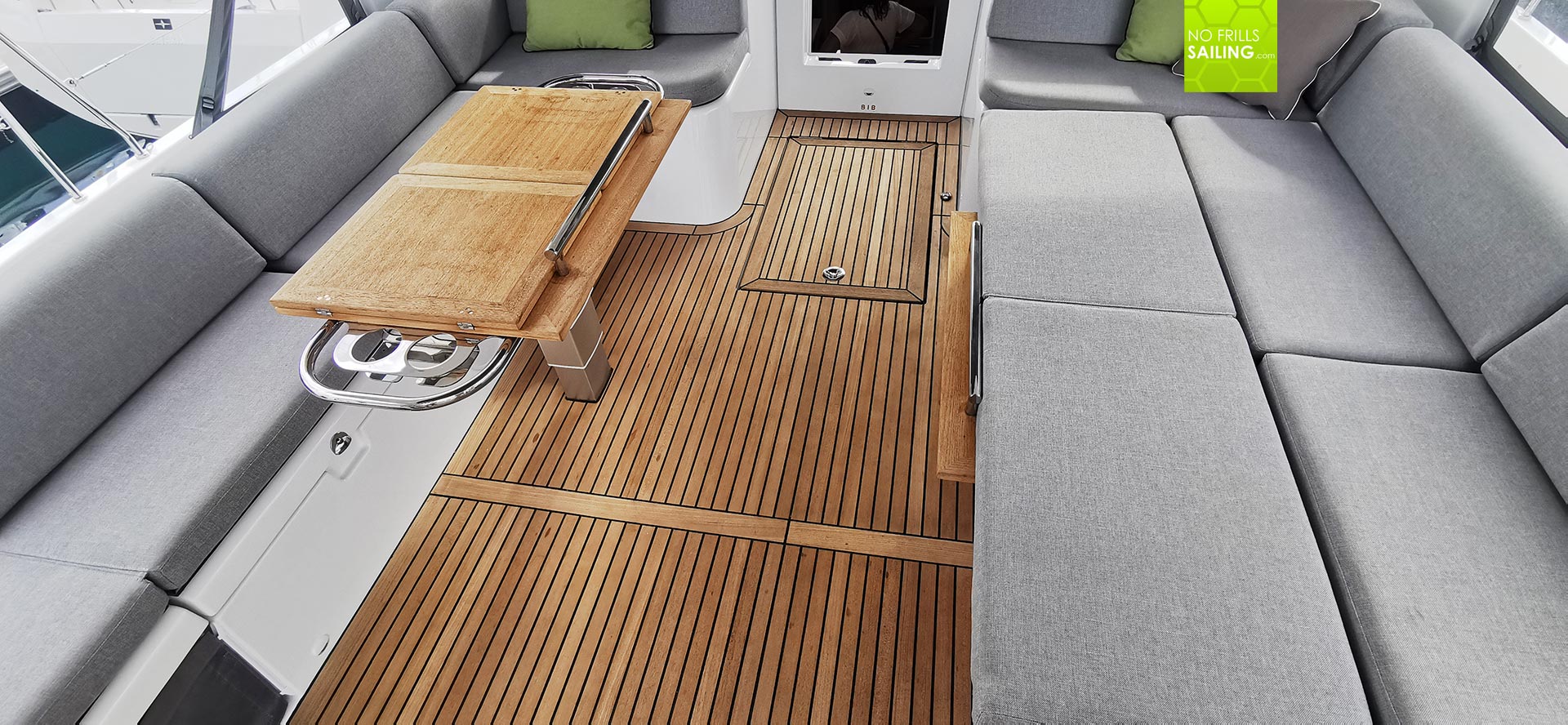 I particularly liked the "sprayhood-lounge" under the front sprayhood. Since no winch is located here anymore and the boat is of such huge measurements, the lounge area created down under here is just amazing. I remember sailing an Oceanis 46.1 to Greece, a big nice boat in herself, we barely couldn´t fit underneath here, we´d had to snug in fetal curl. Well, aboard the Oceanis Yacht 60, fully grown individuals can lay down here and relax full time.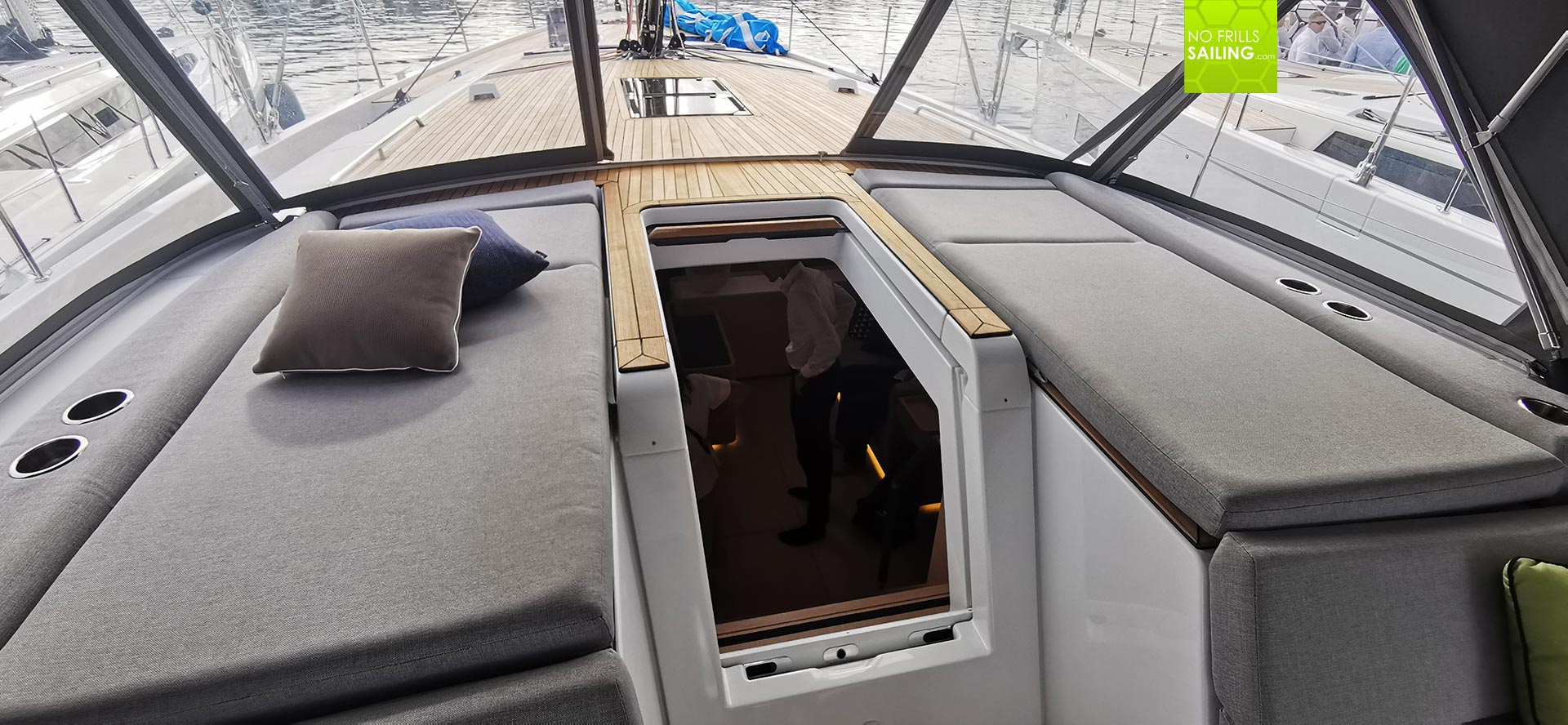 The Oceanis Yacht 60, like so many of her competing boats, can be ordered with a "hard-top" bimini, a permanent GRP-made rooftop over the lounge. Hanse, to my knowledge, had been the first to equip their bigger boats with these hard tops, the old Sense-range by Beneteau had them as standard and now, several years later we regularly see them on big boats. I personally do not like them, but arguably, they are very practical.
At least, Beneteau offers the hard top with a sliding rooftop that is made of canvas and opens easily. You can now enjoy the full sun protection or have it opened, giving free sight onto the rigging and the sails or a fantastic stary sky during the night at anchor. Speaking of free sight onto the Windex …
Proper big boat & easy handling
The new Oceanis Yacht 60 brings a nice 162 square meters upwind sails area in standard aluminium mast configuration, some 183 square meters with performance-rigging to the wind. A Jib with 62 or 77 square meters in a self tacking track can also be hoisted in heavier winds, as can be a 250/270 square meters Gennaker in light wind conditions. This is quite some power. Nevertheless, the boat can be sailed by a single person.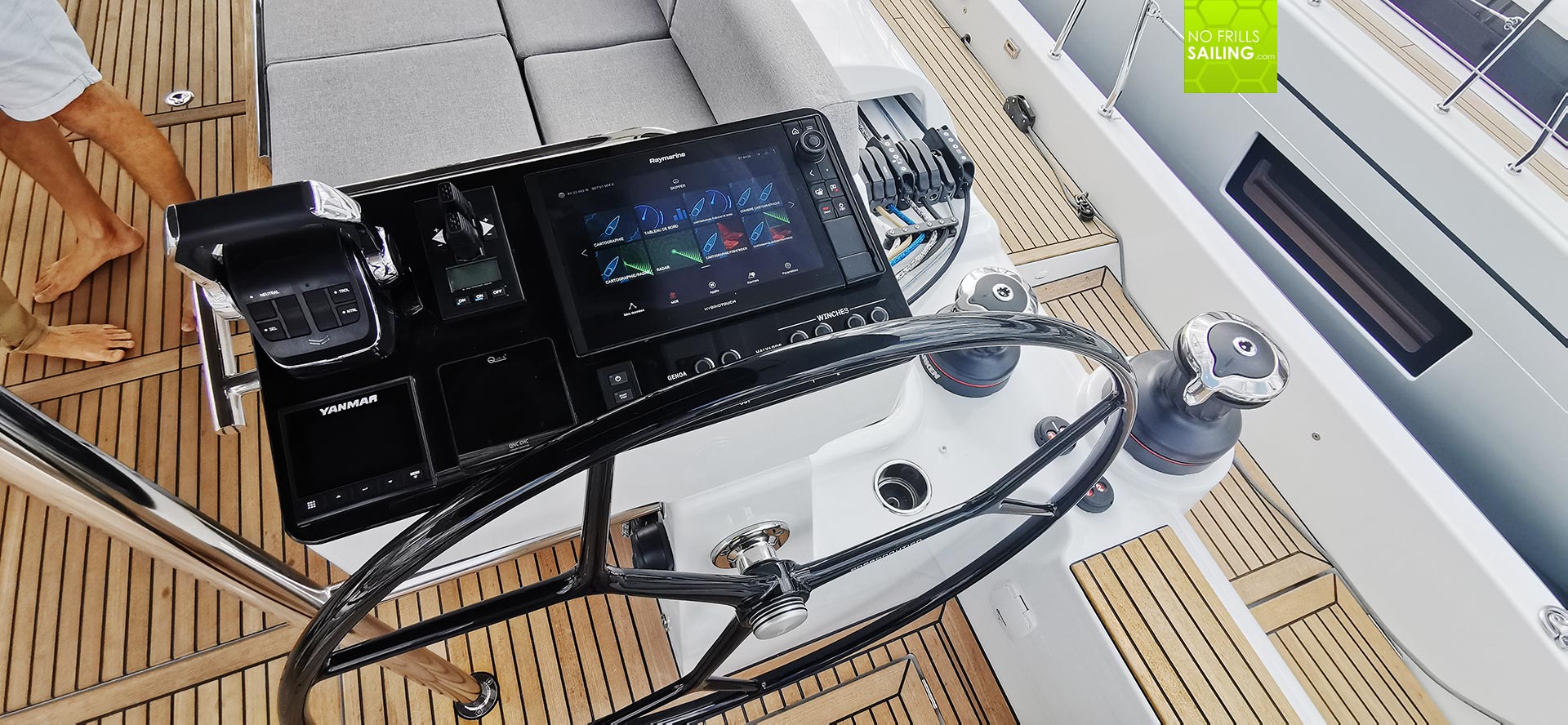 Thanks to "push button sailing" and my electric devices, control of this huge sail area is easy and effective. As much as I loved sailing the old 62, which was inside the marina controlled by a powerful combination of bow- and stern-thrusters, the same is available on the new 60. Underway at sea, sheeting, inhauling and outhauling of the sails is maintained by powerful electric winches which are controlled from the steering posts at either side of the aft cockpits.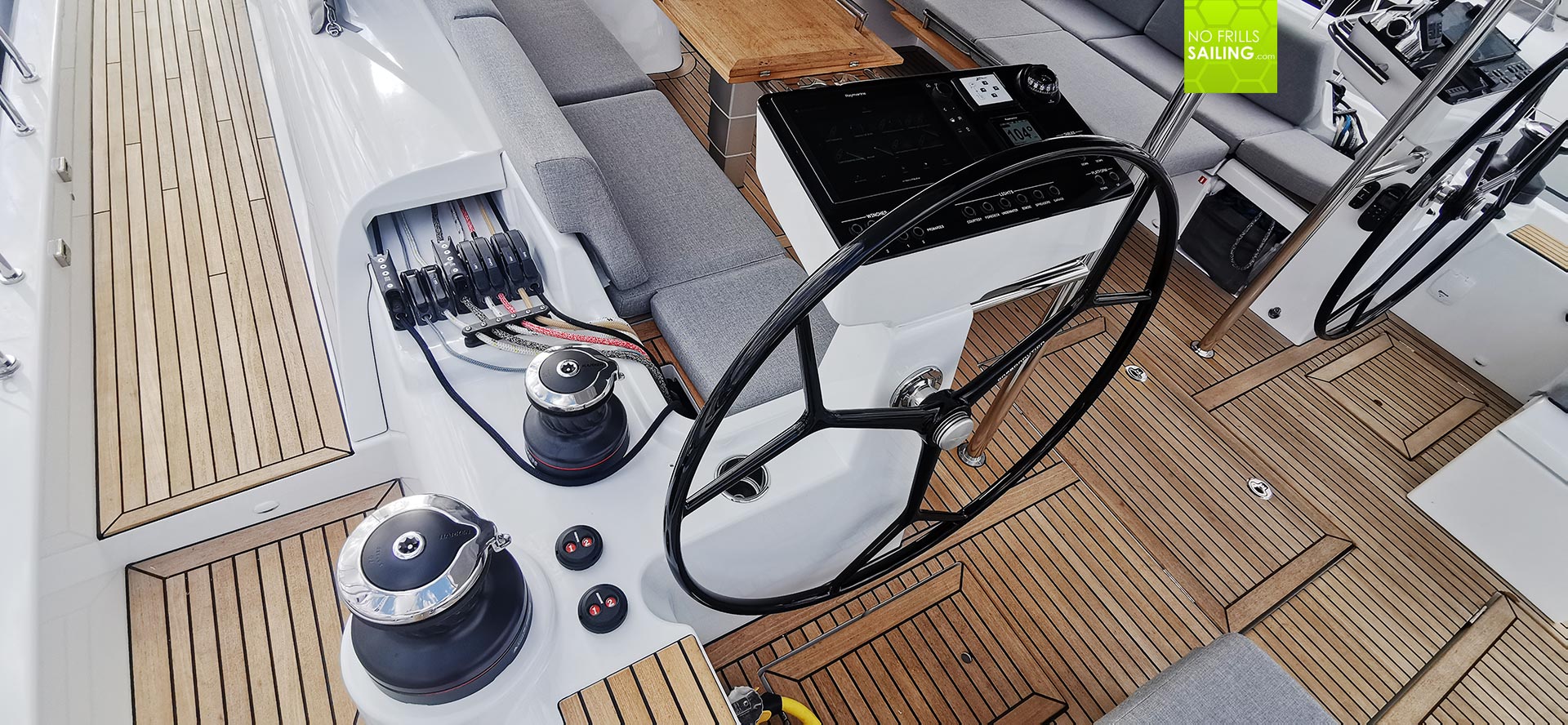 The winch positions are perfect: Whereas on the 46.1 or 51.1 the winches may be within reach of the helmsman (who mostly is the skipper and only sailor onboard), the positions right in front of the wheel often meant to engage auto-pilot, go around in front of the wheel and work the winches from there. Well, not so on the new Oceanis Yacht 60: The winches are positioned well beside the wheel and can be worked on from behind the steering. Well done!
Your 5 star-hotel suite
I hope I will be able to write a follow-up article on how she actually sails soon: The boat is moored in Ginesta and can be sailed here by owners-to-be and dealers. Let´s see when I can go here. What I have been able in Cannes though was to fully inspect her interiors, of which, for a flagship, I had quite high expectations. And I haven´t been disappointed.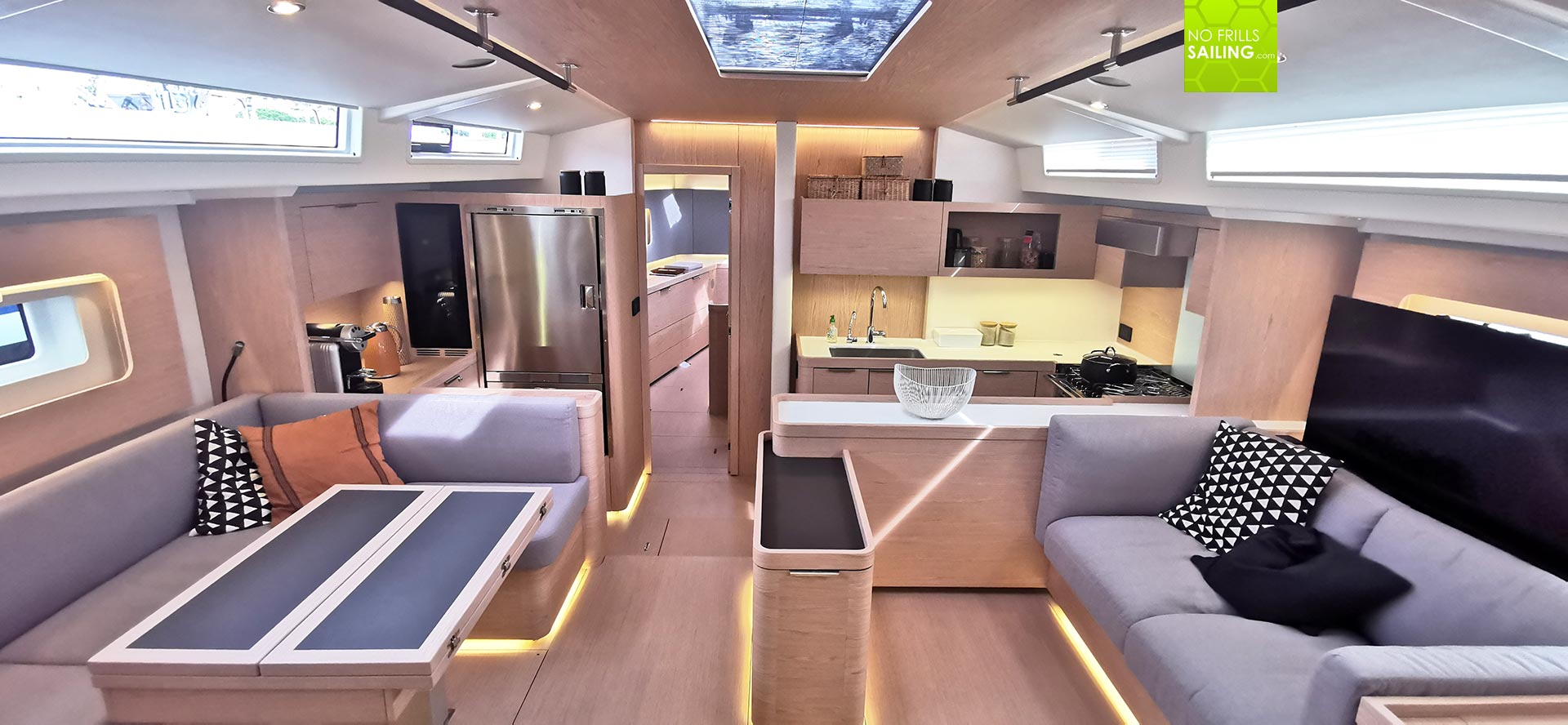 The saloon is extra wide and spacious. Like with her exterior appearance, the interior design of the boat clearly seeks to continue the style of the Oceanis-line rather than to come up with a radical and outstanding own one, like her predecessor did. We are inside a Beneteau, you clearly and instantly understand upon coming down the wide long entryway. The layout seems to be classy, but it only seems that way …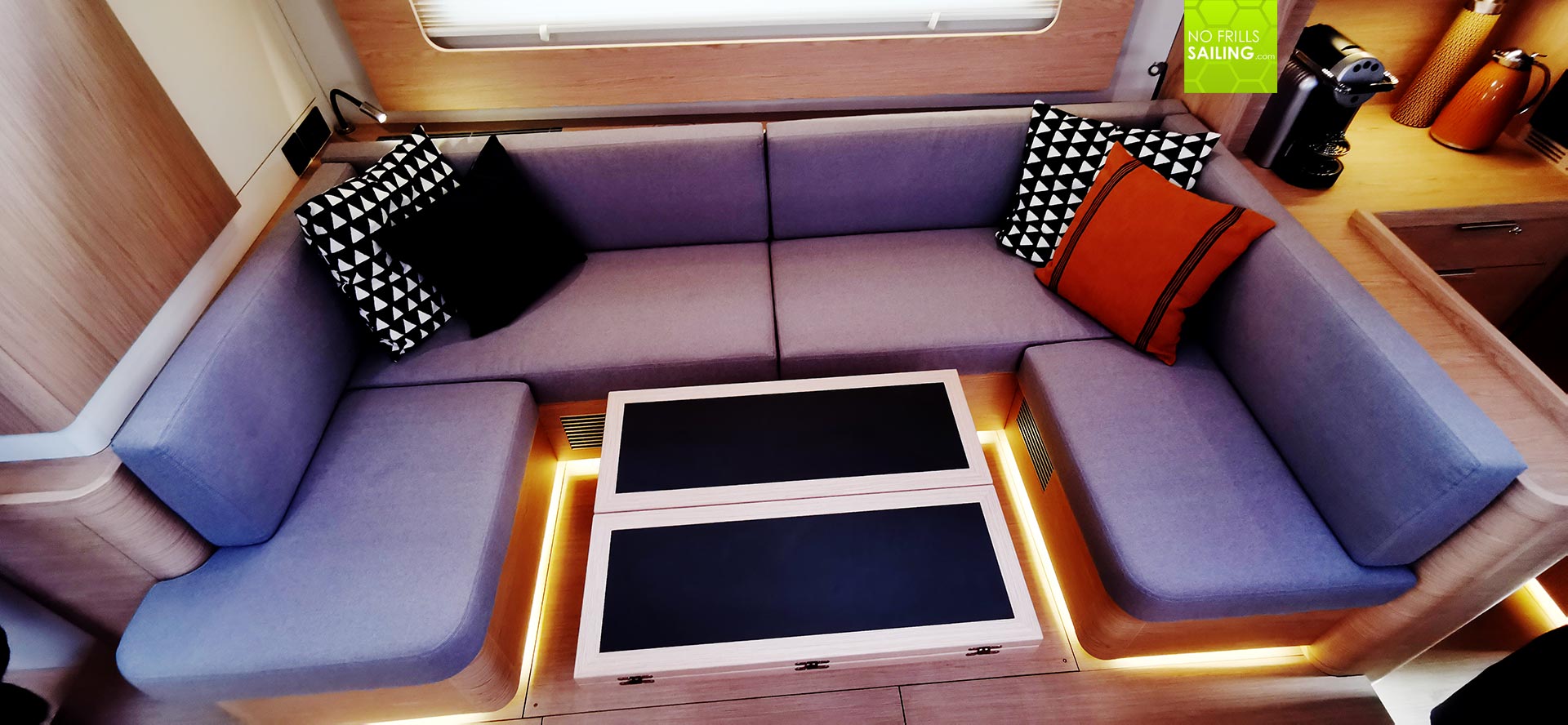 To port side the large dining area sports an XXL-U-settee with a table that can also go down and up and may be widened to accommodate a large number of guests. The cushions are very cosy and reminded me of the lovely lounge sofa inside First 53, though not as big. Vis-à-vis a 2-seater settee with a small coffee table (hidden stowage!) is placed, clearly this would be my favorite spot to relax, have a drink or read a good book when weather up there would be bad.
There is also a small bow to her predecessor: The Captain´s area is clearly taken out from the old 62. The chair, the round-styles chart table and the main switch panel are nod to Pierrangelo Andreani. I liked it very much!
Entrez s´il vous plait
Following the logic, the second most important room of the boat is the owner´s cabin. Here the Oceanis Yacht 60 has a new concept which I liked very much. The cabin is "disconnected" from the rest of the boat by the owner´s bathroom. This creates a kind of "buffer zone" between the adjoining bulkhead where the owners rest their heads in the bed and the rest of the boat.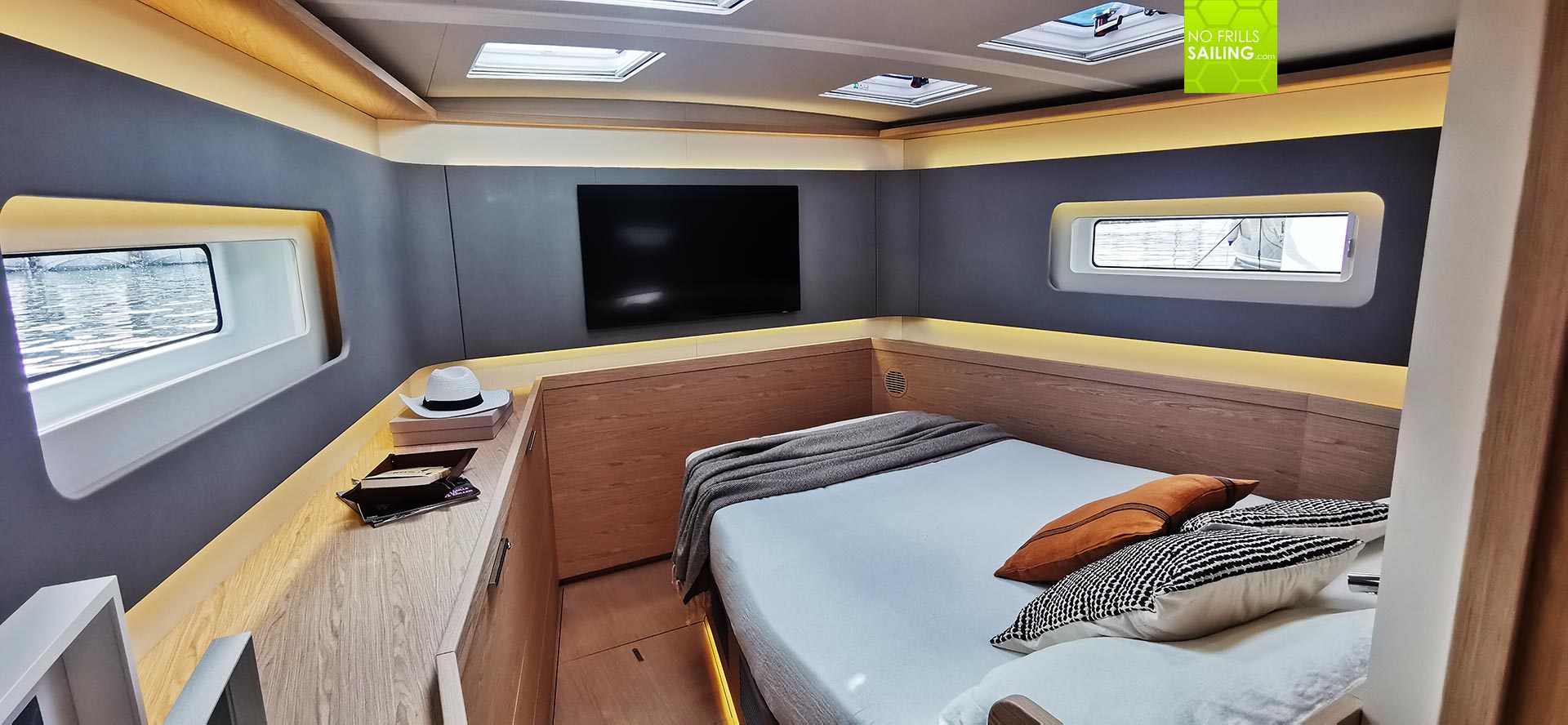 On the other hand, the large island bed inside the owner´s cabin is placed facing in the direction of sailing. That means that the owners won´t sleep having their ears at the bulkhead to the skipper´s cabin in the front. Totally disconnected from any source of sounds to the bow and aft, this new island bed literally creates a peaceful island of a good night´s sleep.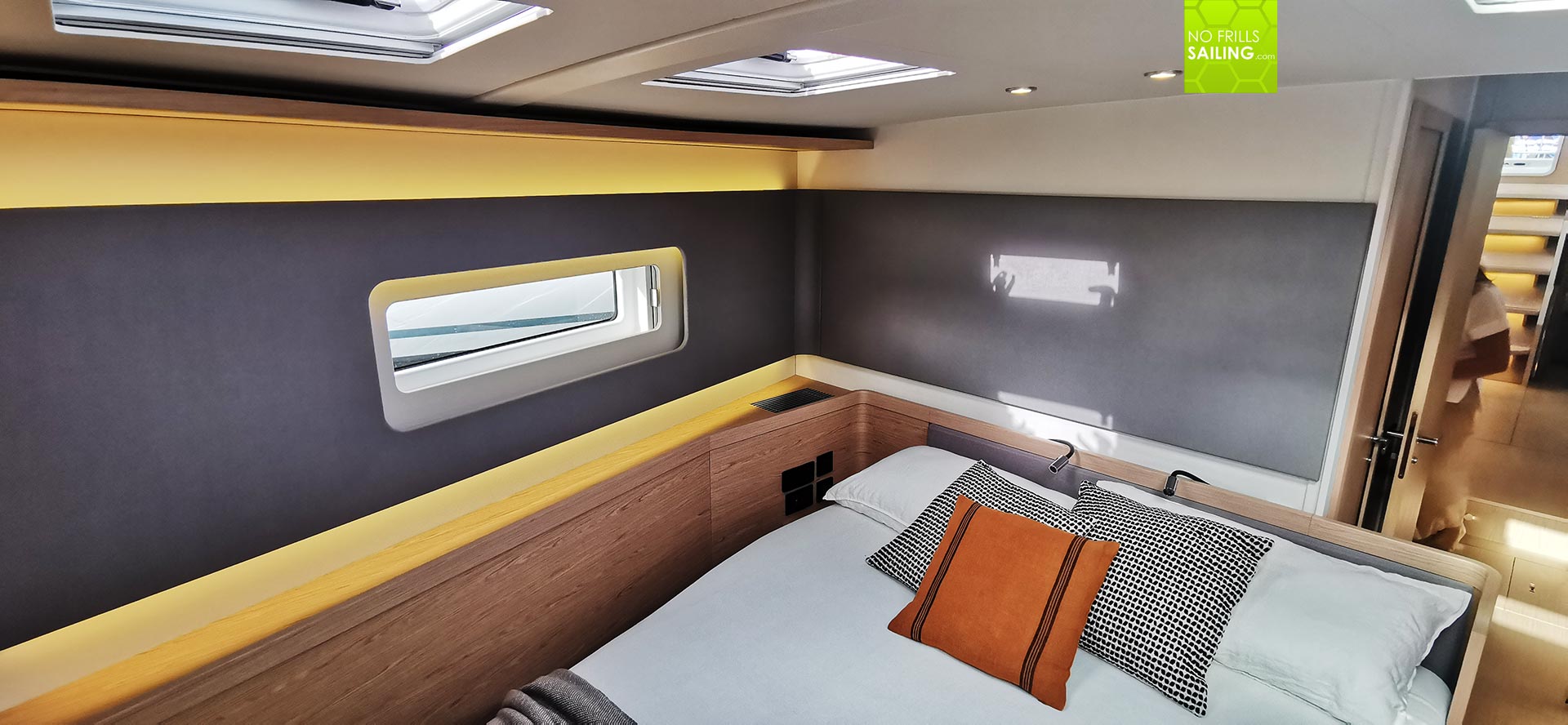 Typical for the seventh generation Oceanis, large windows in the hull (together with skylights above) create a light-suffused cabin and spectacular views on the raging ocean outside or a quite dream-anchorage. I liked the use of material, the choice of colors and haptics. Real wooden veneers (no Alpi) and massive wooden frames convey an atmosphere of richness and sturdiness. Although owners can choose from a range of colors and fabrics, I liked the combination on display in Cannes.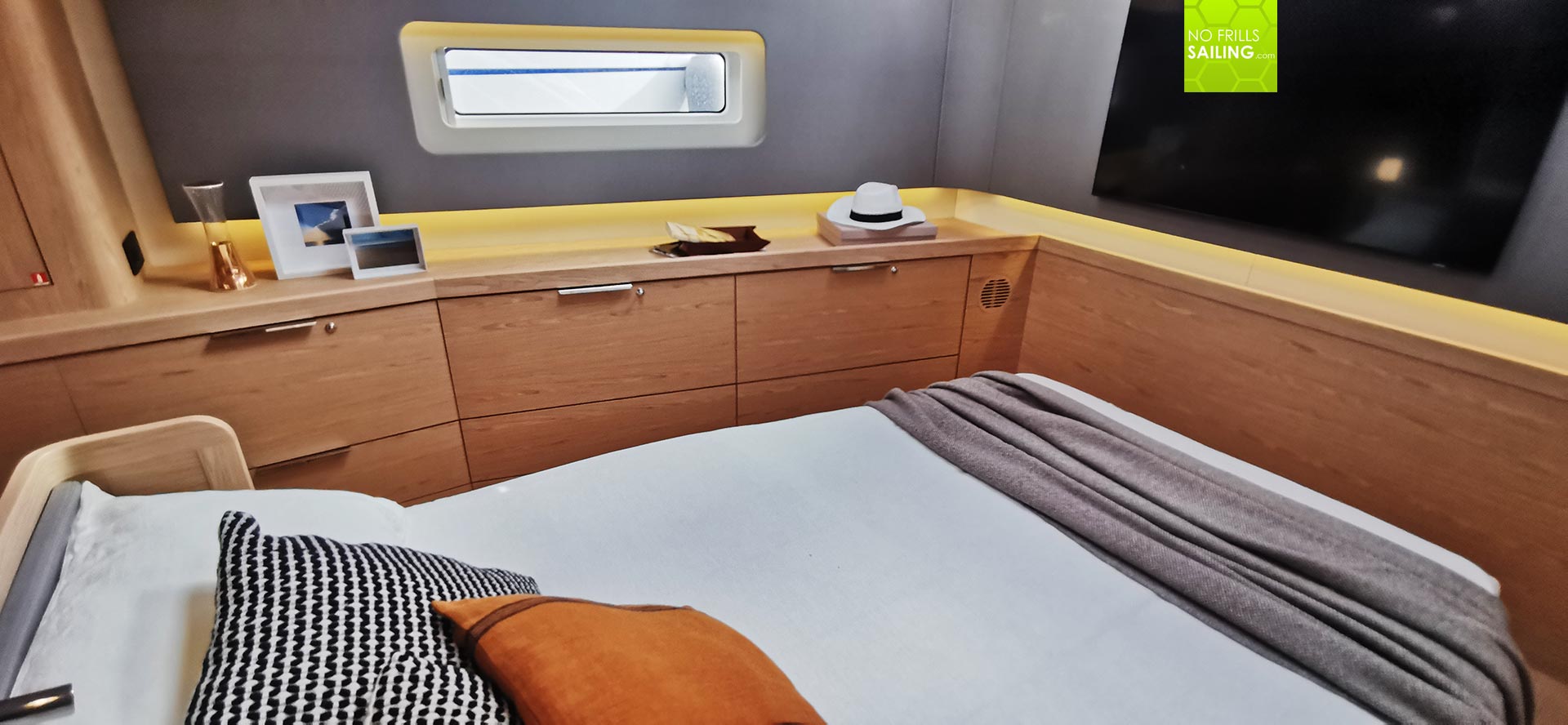 The new Oceanis Yacht 60 is clearly a huge step-up in material quality and superior to the smaller sized Oceanis. These boats will not go into charter too many as most will be bought by real sailing owners, the yard fancies a higher quality in every detail. Charter boats need to be maintained and repaired fast and cheap, which mostly goes for furniture. This is different on boats like the 60.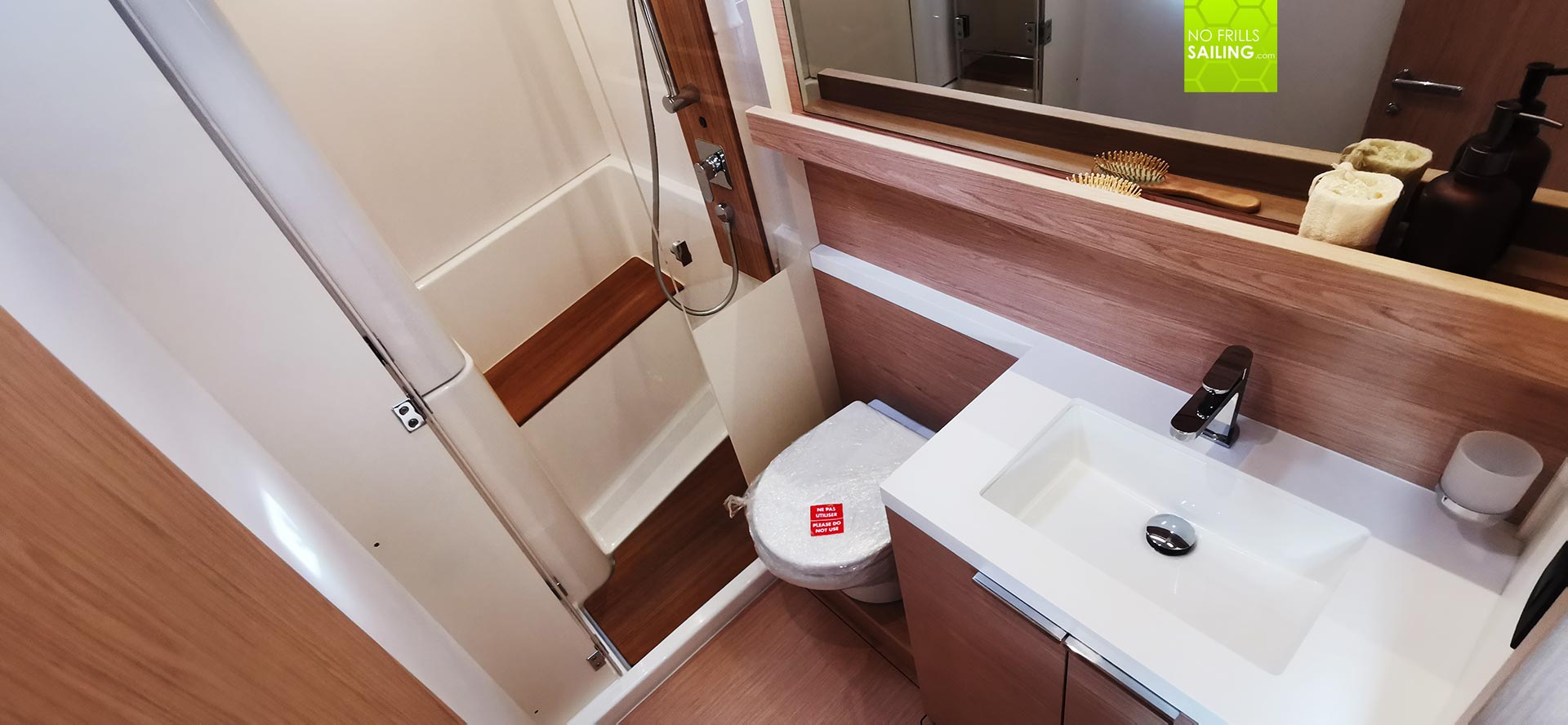 Th owner´s bathroom is roomy and offers a real dedicated shower to starboard side, an electric WC, sink and stowage. Although I like the idea of the "disconnected" owner´s suite, I must say, I liked the two-bathroom-solution in Oceanis 46.1 or 51.1 more: A smaller WC to starboard and a smaller shower to port side, both completely separated rooms. Well, you can´t have everything all together, I guess.
Guests are welcome
Although sailing alone is my personal favorite way of experiencing the seas, there will be guests aboard the 60 as well. The aft cabins are in any way big, inviting and equally lighty. Large hull windows create a nice, lofty character, the cockpit-floor above is not too low so that there is enough headroom even when laying in bed.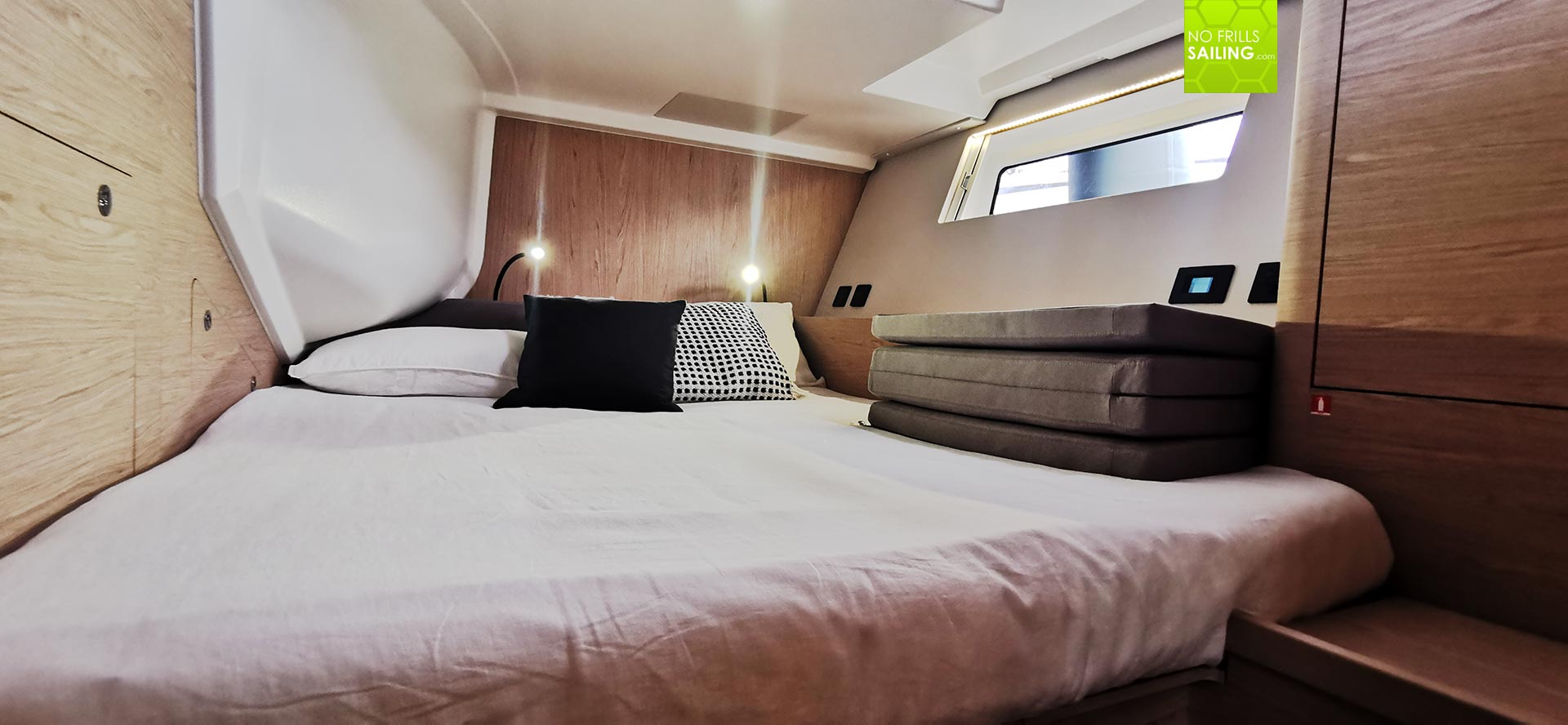 There is also real veneer panels on the wall and a nice selection of fabric-covered panels, nice colors and a large locker in each guest cabin. Both aft cabins have their dedicated bathrooms, which are standard-equipped, sport slightly less wooden luxury than the bath in the bow but offer sufficient space to move about.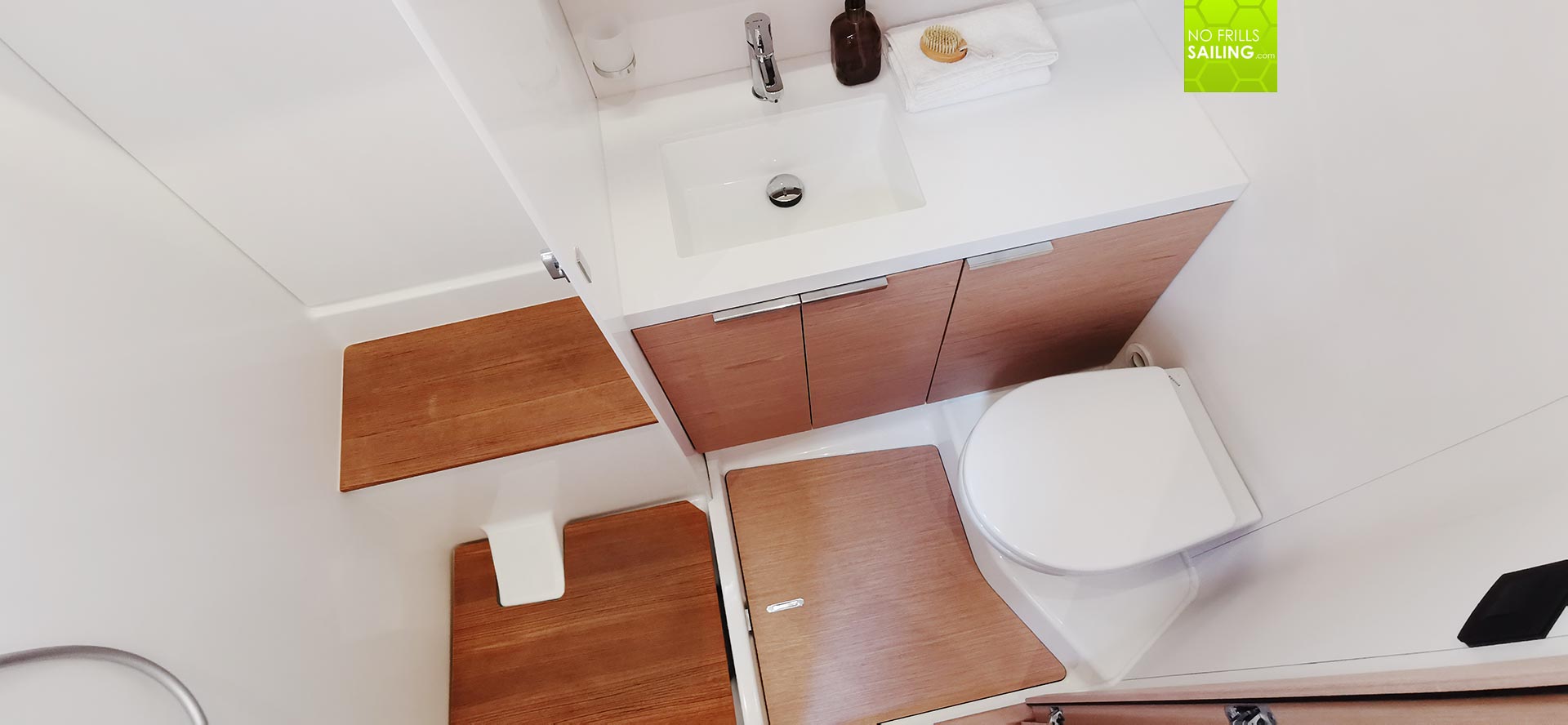 Port side guest cabin has a double bed serving as full-berth, starboard side cabin beds can either be turned into single butterfly berths or a full double berth when needed. Also, port side bathroom´s entry is en-suite through the cabin whereas starboard side bathroom is entered from the saloon, meaning this will also function as day-bathroom when sailing.
A new galley approach
I know, I know, many of you guys may say that this "new galley approach" is an old hat. And you are right: Umberto Felci uses the front bulkhead galley design in his Dufour designs since many years. As I have sailed and sold a lot of Grand Large yachts back in the days when we used to be importers of this brand for Northern Europe, I know that this setup is just gorgeous. Now, big news: We have it on the new Oceanis Yacht 60 as well, and I applaud it!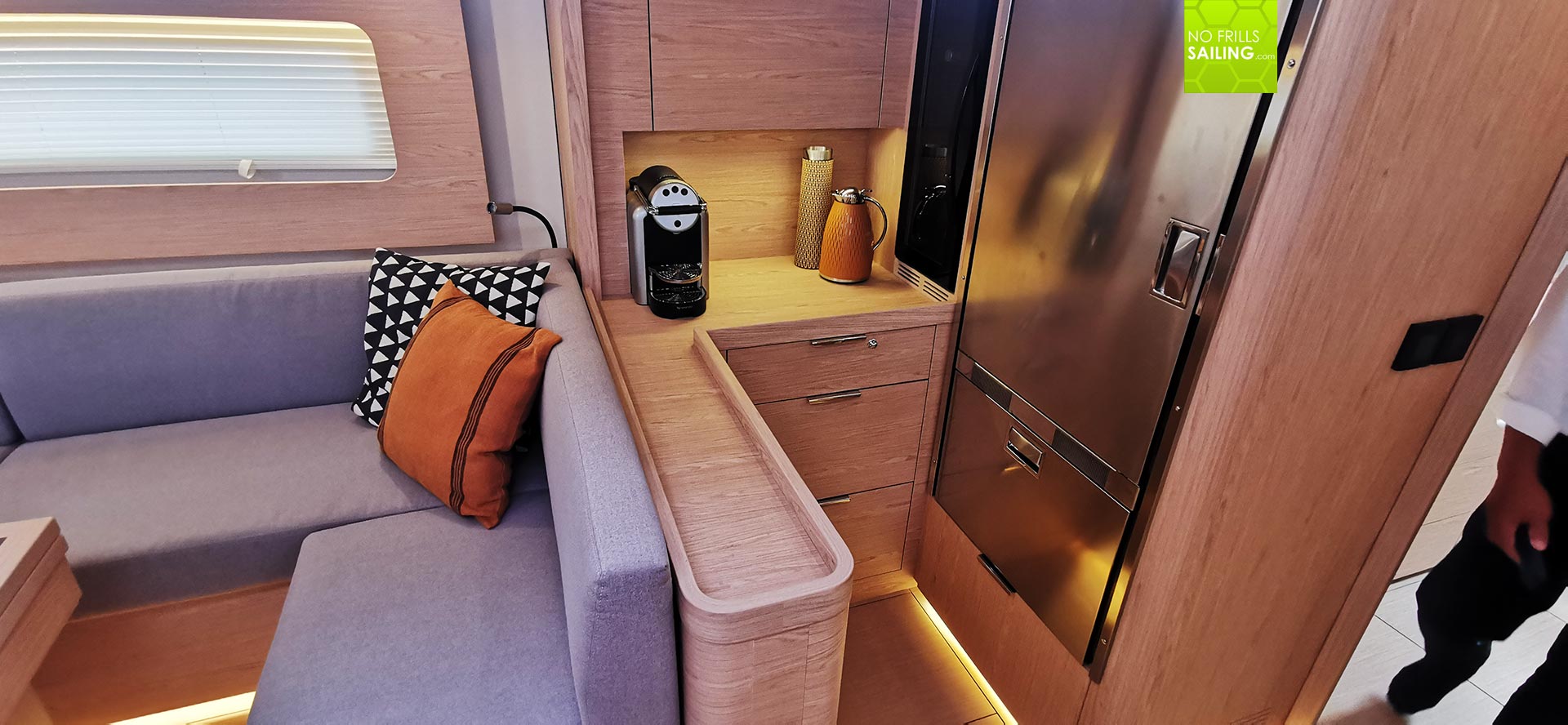 To port side (shorther measurements) all fridges, freezers and lots of stowage are located. For any owner and crew seeking to buy a long haul boat, this galley´s bowels can take on many, many days and weeks worth of food rations. Owners can freely spec their galley, choosing between fridges, freezers, a wine-fridge or more stowage. Vis-à-vis the galley is situated.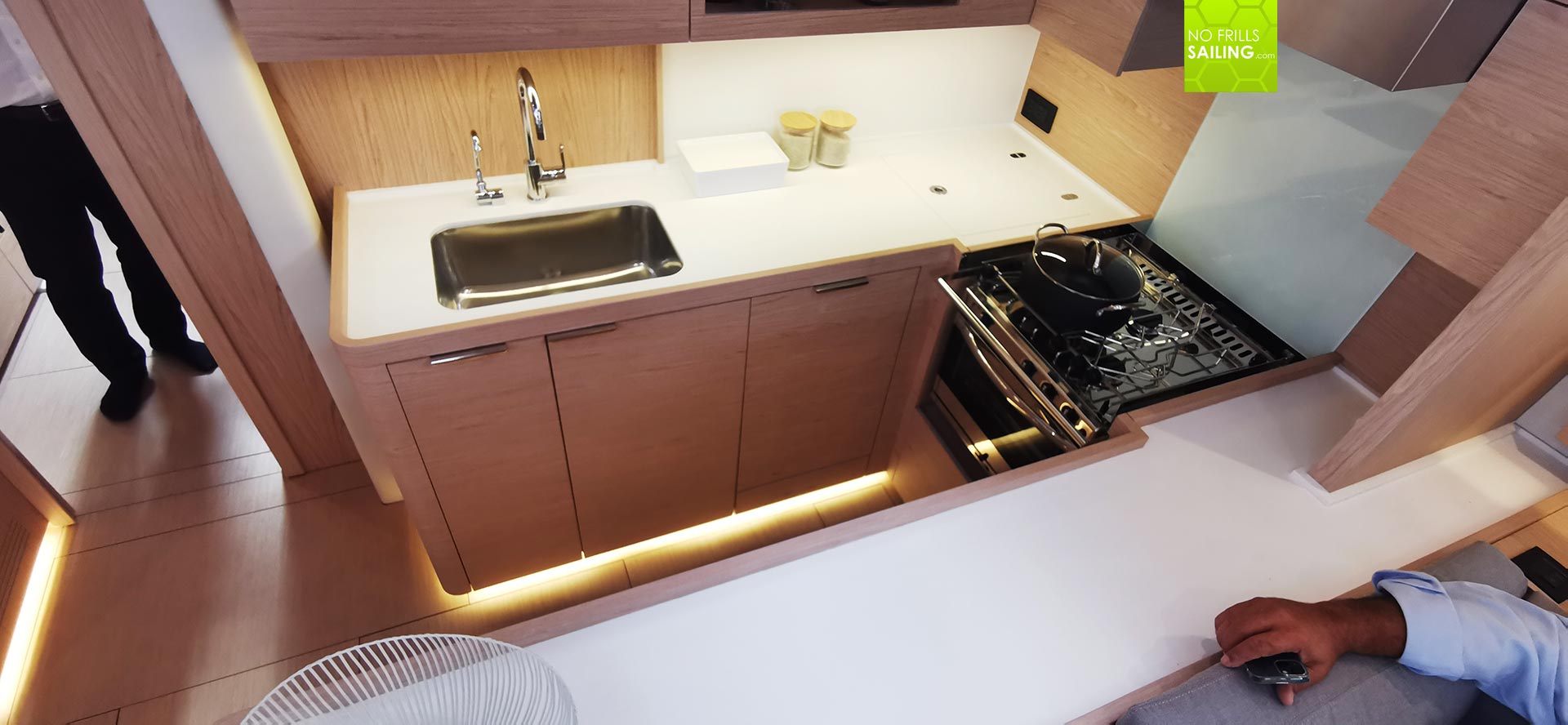 Again, much stowage for cutlery and stuff, a gimbaled 3-flame stove and oven (with grill), sink and huge worktop. This also serves as a kind of bar to the 2-seater settee. I like this setup. First, a classic U-shaped galley in classy designs right next to the entryway kind of destroys a grand entry into a boat: You instantly have your first look into the galley when coming down. A classy longitudinal galley on the other hand makes you look onto the used dishes all the time when sitting down here. This is all eliminated by the galley-location on the from bulkhead. Nice!
The wifi-fleet: Seanapps
Lastly, I want to mention a little known revolution: Seanapps. With every boat launched starting June/July 2022 Beneteau delivers a little black box mounted inside, well hidden from any open views. This little box is a paradigm shift, nothing less that the fully integrated, digital boat. Seanapps, a nice neologism of "synapse", "sea" and "app" for the first time in maritime technology collects all digital available from all onboard and external sensors, bundles them and displays them in one principal app.
Geo-data, engine, tankage, electronic and electrics … warnings, maintenance intervals, messages of suppliers (Raymarine, Yanmar et cetera) but also messages by the yard and alarms are delivered via Seanapps. This gives full control of every technical aspect of the boat: Both on board and away. The owners have all aspects of their yachts real-time available at any place. This technology is not limited to the flagship or upper-range boats, this is build in starting from First 24 up until Oceanis Yacht 60. I am sure I will write in more detail about this in months to come.
How will the new Queen reign?
Right from her start in Cannes a handful of new 60s have been sold on the stand. I must say, from the appointments with clients and interested persons that I had as well as from my own impression that this new flagship is indeed a true success: She surpasses her predecessor brilliantly in power and sailing capabilities, she is indeed a flagship that can proudly stand representing the best of her yard. She is a true blue water cruiser and holds up the principles of an Oceanis, principles every Oceanis must have. In this, she is nearer to her smaller sisters and gives up some of the high-class attitude which was so nicely displayed by the old 62.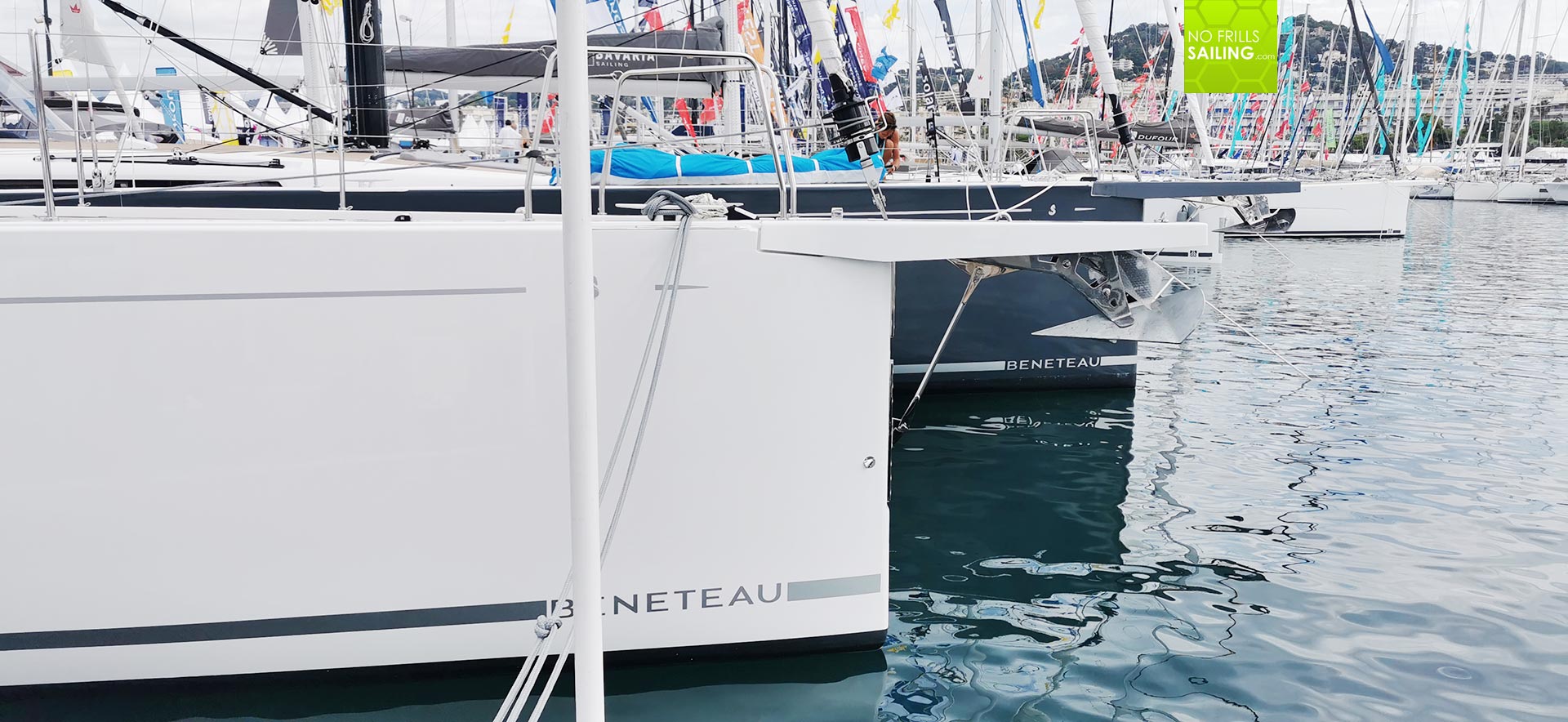 Of course, only time – and in this commercial success – will tell of Argento and Biscontini were right in their ideas. For now I must say the Oceanis Yacht 60 is a real eye catcher and catched my imagination much, much more than new new Briand-designed Jeanneau 60, which I skipped due to lack of time in Cannes.
You might also be interested in these articles:
Sailing the (now old) flagship: Oceanis Yacht 62
At the Beneteau yard
Queen from the North: Hallberg-Rassy 64