Following my facebook- and Instagram-Pages you may have noticed that last weekend I´ve had the pleasure to travel to Spain for the worldwide dealer meeting of Beneteau. That, by the way, was a great and truly eagerly awaited occasion since due to Covid we haven´t had the chance to meet both the people from the yard nor our dear colleagues from around the world in two years. Man is a social being and we need to meet, seeing each other and share proximity. Apart from this emotional aspect, dealer meetings are always a rich source for news, upcoming new products (of which sailing-wise Beneteau will have no less than two really big things coming up very soon) and of course a chance to really see new boats. Like the Oceanis Yacht 54.
Travelling to Port Ginesta, which is a mid-sized marina south of Barcelona near Castelldefels, Beneteau has a sea trial base there where over the year most of the yard´s fleet is displayed and may be visited by clients and prospects for sailing and trying out the boats in live action. It´s a full pontoon with a small lounge, cold beverages and snacks and the proud fleet moored at the jetty. To my joy I saw the new Oceanis Yacht 54 tied up at the pier and since this boat marks the second generation of the Oceanis Yacht-style boats (next to the flagship, the 62 I couldn´t resist but to take a closer look.
Sister Ships Literally: First Yacht 53 and Oceanis Yacht 54
First of all one must know that the new Oceanis Yacht 54 shares the same hull and nearly the same deck mould with the sexy, darn fast First Yacht 53 which was launched in 2019 and has since then become an iconic cruiser-racer and the topic of so many wet dreams of keen sailors. That is a definitive pro for the Oceanis Yacht 54 since the fast hull of designer Roberto Biscontini is by all means a high-tech modern hull optimized for quick sailing. The Oceanis Yacht 54 is a true leisure-optimized cruising yacht fir sure, but incorporating the First Yacht hull, an owner will receive literally a wolf in sheep´s clothing …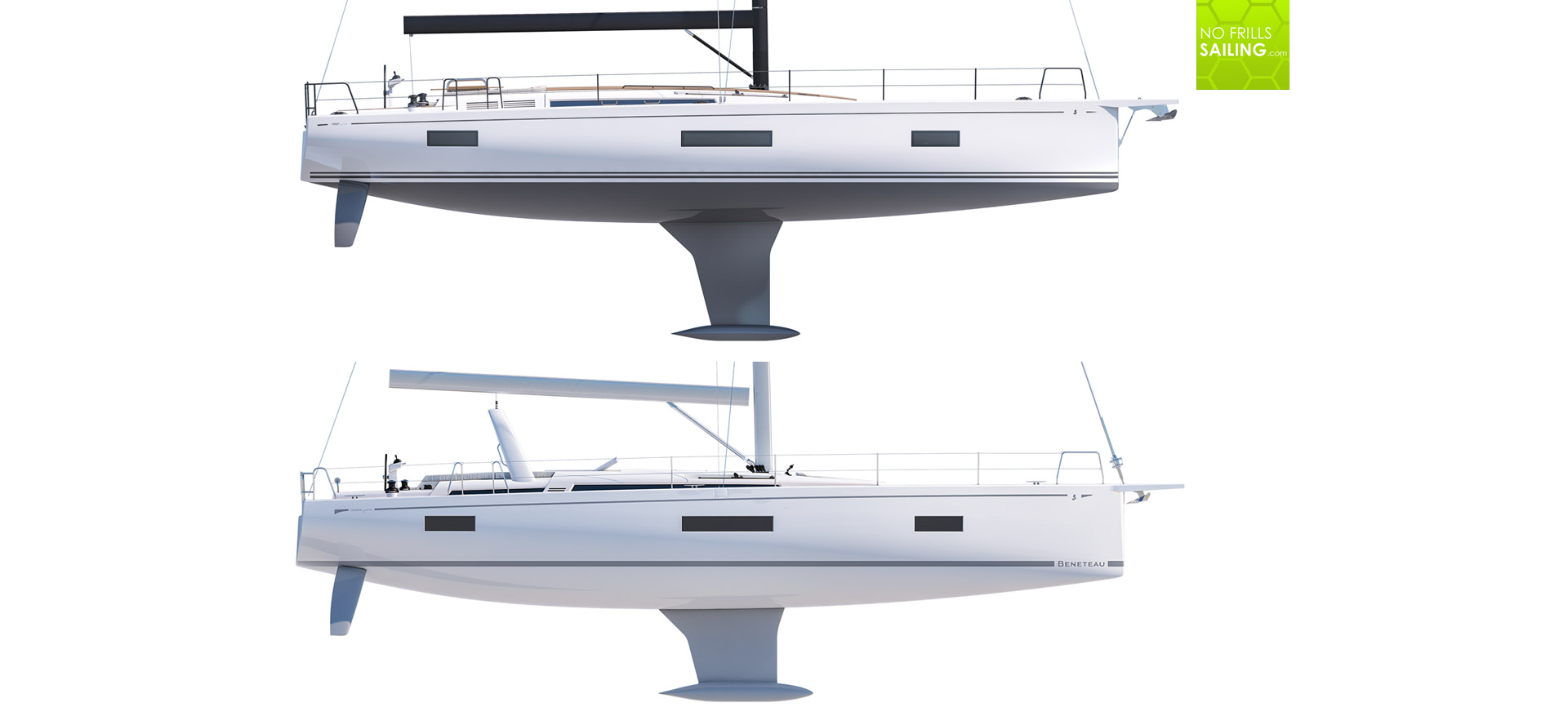 Of course, it´s no racer: Weighing in some 1.000 kilograms (at least) more than her fast sister, the Oceanis Yacht 54 will at the same time bring 51 squaremetres less sails area to the wind – that´s 166 sqm for the First Yacht 53 and 114 sqm for the cruiser in standard configurations. Nevertheless, the blue water-version of Biscontini´s hull (which one could call the boat as well) can be upgraded with Code 0, Gennaker and a Genoa as well to boost sails area. Most interesting, besides bare data, I found how the yard managed to "blow" up the rather race-orented, simplistic (though still luxurious) cockpit layout of the First Yacht 53 to fit a cruising sailor´s needs.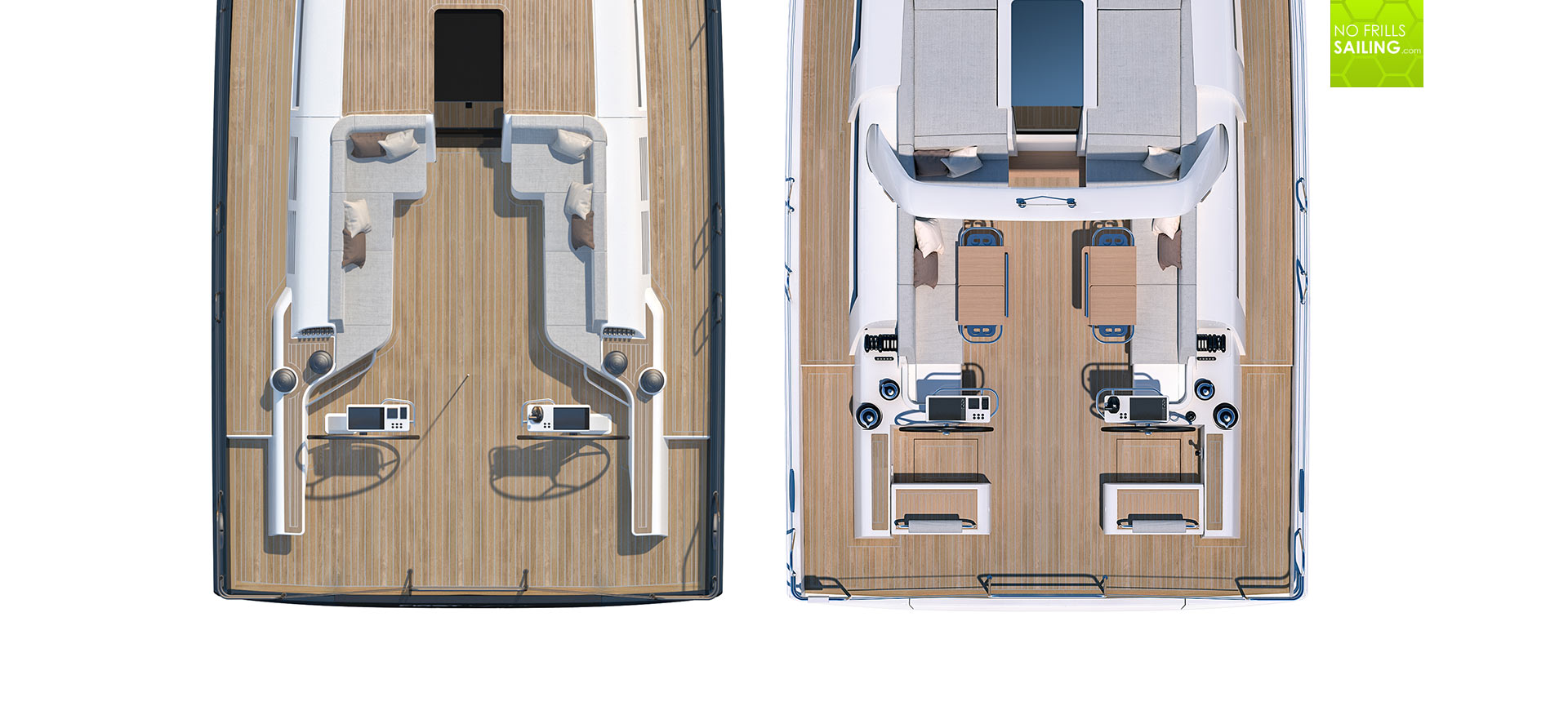 Looking at the renderings, one might easily see that dimensions are absolutely the same. Width, height and all measurements are taken over. But it´s in the details. For example, the deck-step on the gallery is positioned much more forward on the Oceanis Yacht 54, allowing for a feel of a higher coaming aft. The cruiser also comes with a full stationary helmsman´s seating (with some stowage underneath) which I tried out and found that this position is perfect for long haul trips and watches, something, an Oyster for example offers in standard and that is absolutely needed for a boat that size. Most noticeable is the longer cockpit bench seating which now adjoins the steering posts, on the First Yacht 53 there is free space allowing for multiple crew members working the winches: Something that won´t happen on a cruiser.
Blue Water Quality: Oceanis Yacht 54´s Cockpit
Also, on the Oceanis Yacht 54 of course the luxurious aspects of sailing with a big emphasis on cockpit life whilst moored or at anchor has been tackled much more intense. Looking at the thickness, height and quality of the cockpit cushion for example reveals that the yard intents to offer a truly luxurious sensation. Heavy automatic cockpit tables will go up and down by the push of a button and can be turned into two separated coffee-tables, big dinner tables and, set to "couch mode" with surplus cushion may turn the cockpit seating into a huge cockpit lounge. That´s an aspect the owner of this boat will love for sure.
Starting at 46 feet the yard has these boats built with a single handed-optimized running rigging layout. That means that all winches are put abaft. The classic position of the working winches which operate the halyards, reefing lines and other trimming lines which was next to the entryway are now right at the helm station. The now freed space is utilized by big cushions which may serve as a wonderful sun-bathing area. Even during night sailing one can cuddle here under the sprayhood to catch a bit of sleep – already tested for you.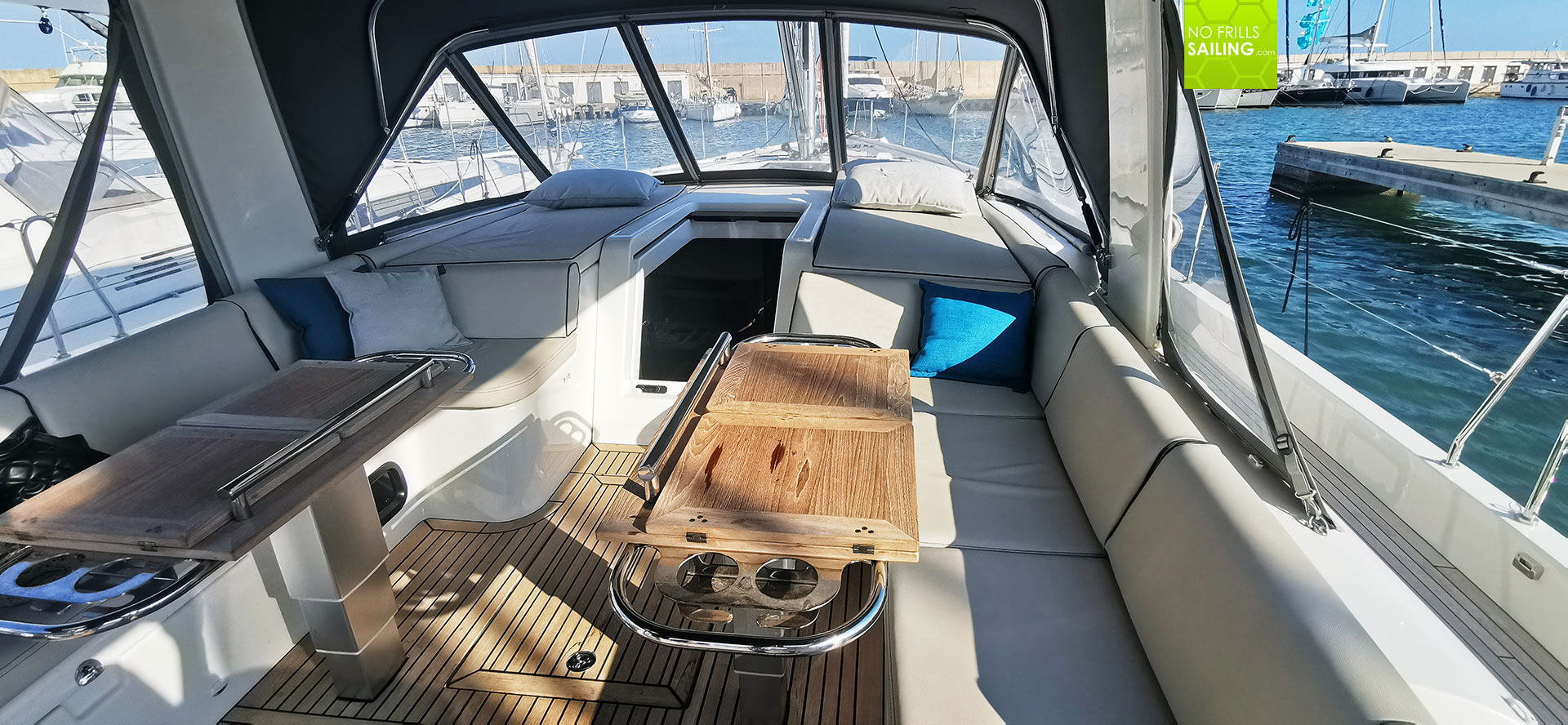 Whereas the First Yacht 53 clearly has her emphasis on sporty, fast sailing, stylish and practical layout optimized for a "Gentlemen´s Race", the Oceanis Yacht 54 intents to offer maximum space and recreation for her owners, crew and guests. Sitting here and there, spending some time trying out the different spots I envisioned myself out on the big blue, sailing long legs on a downwind course and I must say it felt quite good: Together with the large sprayhood, the mainsheet arch and Bimini the cockpit creates not only a nice, stylish recreational space but also one that feels safe – the First Yacht was more open, more connected to the outside and thus more prone to the natural elements. Something a skipper on a circumnavigation might want to limit a bit to create a sensation of safety.
Design as a Co-Skipper
Being an Oceanis Yacht the boat of course has a big emphasis on design. No wonder, leisure sailing yachts above 50 feet are worth a treasure and these clients demand for style. That is of course something the classic high-grade brands like Solaris for example master perfectly, offering true gems of boat design. Beneteau, as world´s leader in sailing boat manufacturing, is a production boat builder. In this, these people have to design boats which appeal to a broad range of people: Polarizing and niches are not the market for a large production boat company. Which does not mean that a Beneteau is not stylish.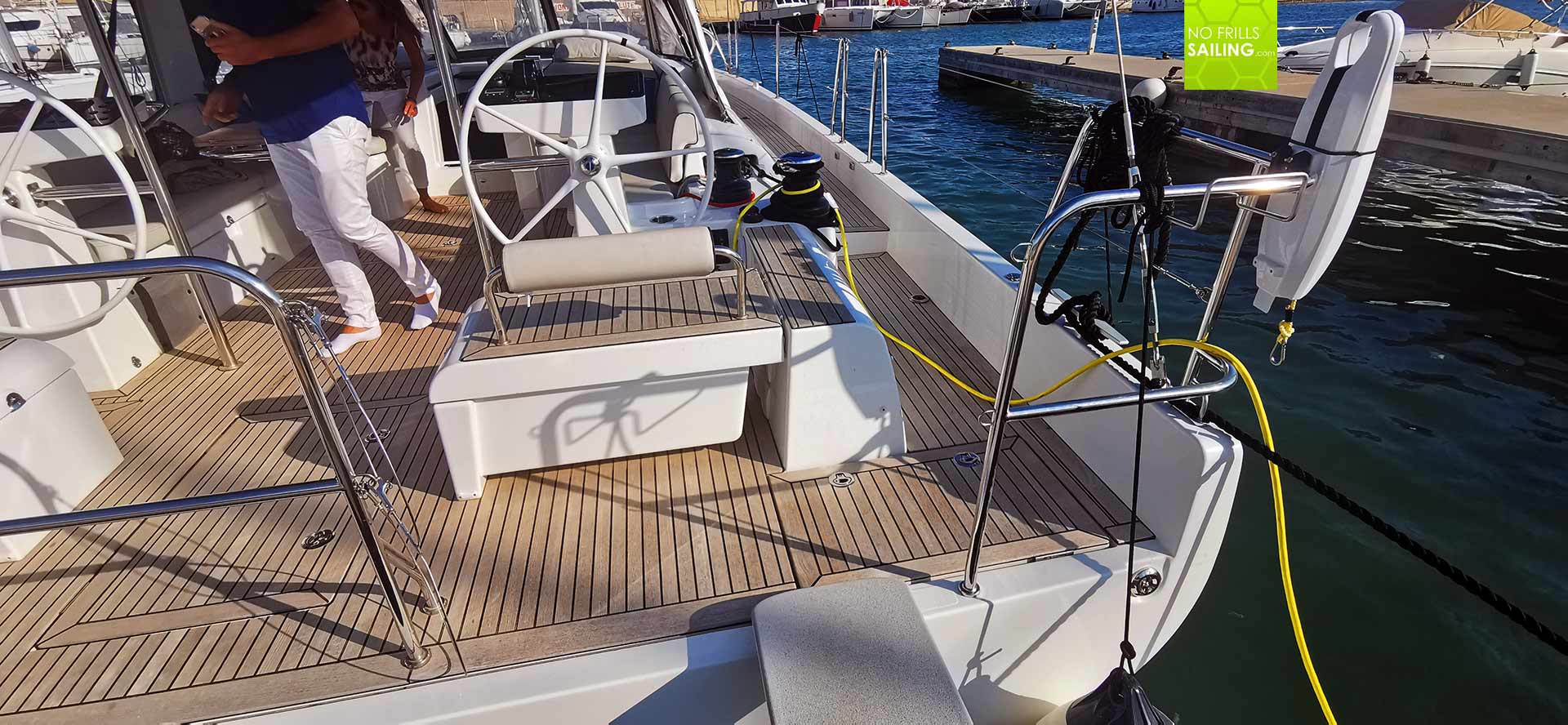 Look at her stern section: That´s the most beautifully crafted and designed part of the First Yacht 53 in my eyes and I am happy that the yard kept most of the "open design" feel in the cruiser as well. A bit of the huge aft deck space of the performance First Yacht is lost due to the big helm station right after the entry opening in reeling at the stern, but the boat still has this wide, flat, sporty, sexy aft section which makes her an attraction in every harbour. Since the hull is 1:1 the First yacht, her side view is amazing, keeping the great sheer line and low profile deck.
X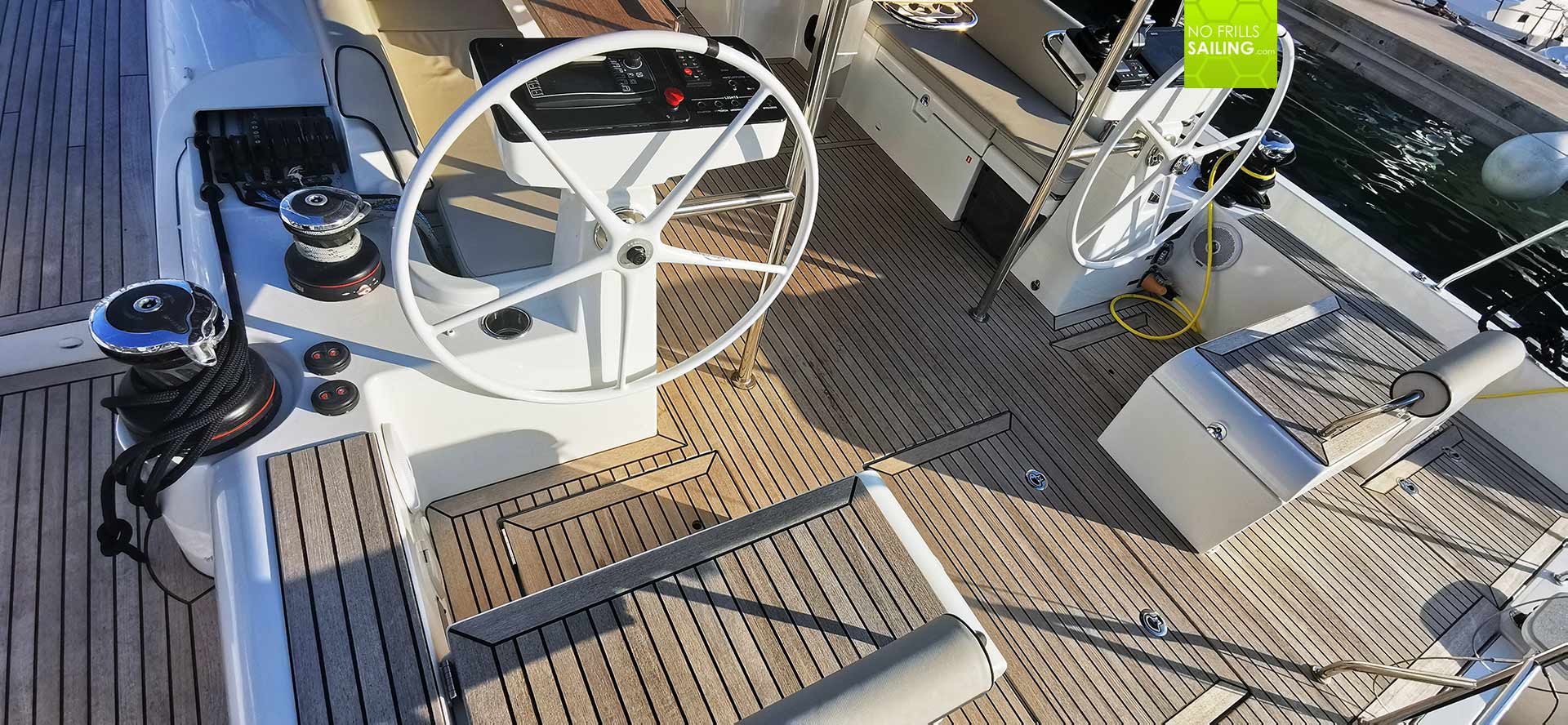 I proceed to the helm stations and look at them more closely. These boats, although very big unites in terms of their sizes, are – besides in charter – mostly sailed by a small family, a party of two people. That means that everything will have to be ergonomically perfect positioned to be worked by the helmsman. On the Oceanis Yacht 54 that ergonomic pretense has been fulfilled nicely: All winches (electric of course) can be reached by the helmsman just nicely. More than that, the Oceanis Yacht 54 is equipped with Harken´s AST system, which in essence enables the helmsman to trim the boat and drive it completely by pushing buttons.
Full Electronic Push-Button Sailing
As the boat – in the version I visited – was equipped with a Genoa, both sheets can be left on both Genoa winches when sailing. Much easier would be the standard version that comes with a self-tacking jib, which in regions with moderate and strong winds may be as well the better solution. Also, the in-mast furling main sail´s sheet is worked with a German system, the sheet may remain on one dedicated working winch as well. The rest is done by the electronics.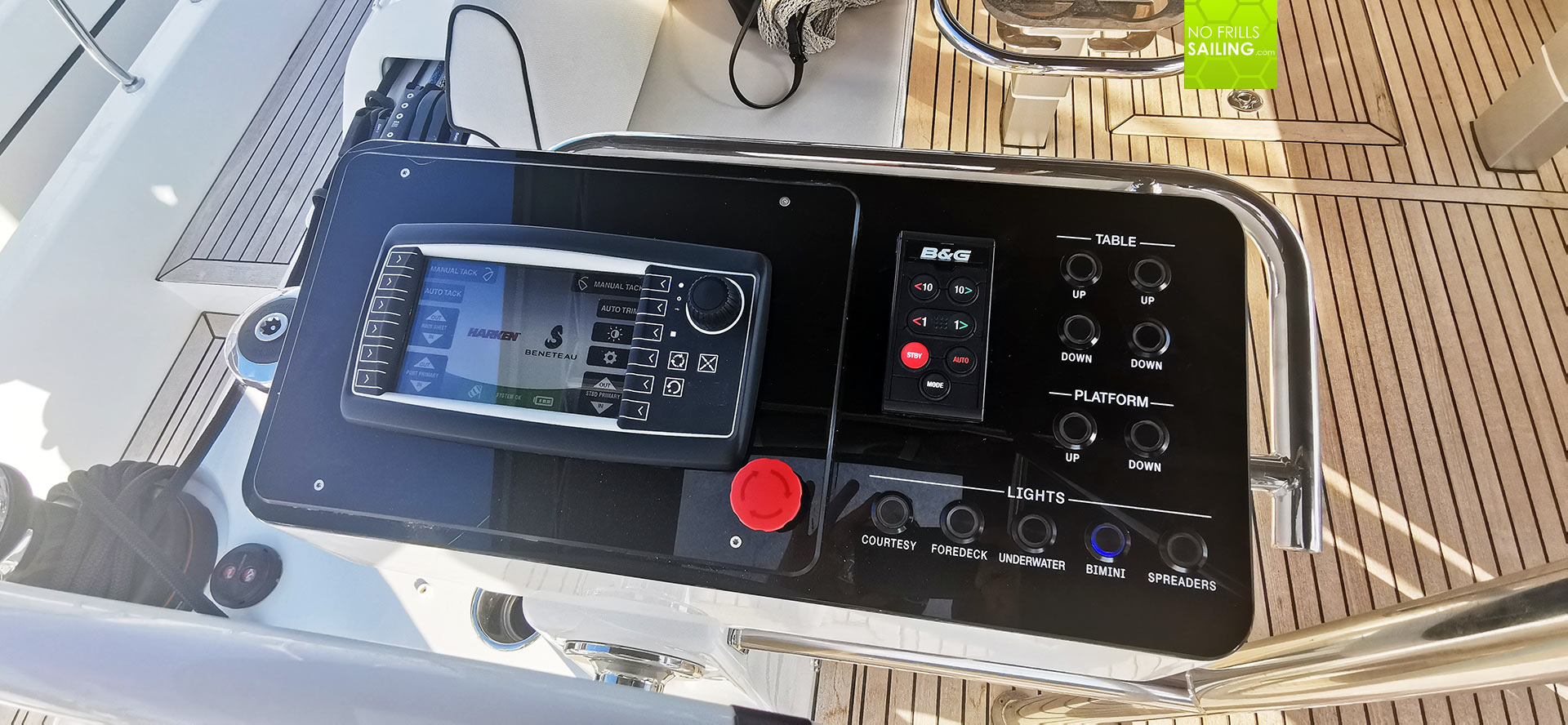 The AST system allows for auto tacking and gybing as well as for push-button fine trimming of both sails. A skipper does not have to work the winches anymore. This boosts convenience very much and reduces stress for the crew dramatically. I, but that´s just a personal opinion, wouldn´t choose this system as I love working the winches, trimming by hand and even some time grinding on a winch handle, but that´s just my personal style. As leading brands in this automation sector like Hallberg-Rassy have been done and refining in years, Beneteau now offers this proven technology and I might say I can be a big plus for owners, since most people being able to come up with the budget needed to affords buying and maintaining such a big unit are, admittedly, older.
Besides the Harken AST, which I´d like to test live out sailing (not possible during the meeting), the yacht as well comes with all the latest gems and amenities, such as Dock&Go which – also my personal opinion – I wouldn´t choose and trade for a classic bow- and stern-thruster combination, electronic engine controls, which are nice, and – very, very useful and essential on a boat this size, a retractable bow winch for tightening mooring lines. Lots of electric and electronic stuff, I know …
A true Blue Water Passagemaker?
So, has the Oceanis Yacht 54 the potential to be a successful passagemaker? Well, the numbers say yes. Beneteau and their Oceanis-range are both in sold units as well in sailed miles by far the most successful boats when it comes to cruising and long-range sailing. Comparing prices and budgets needed to finance a circumnavigation, still most people go for a production boat which is then equipped to fit the needs of a long haul trip rather than going for the "true" long haul-brands like Oyster, Discovery, Allures or alike.
I would say that I can easily envision myself on this boat doing the big circle, although I might say that the Beneteau clearly sits at the "comfort"-side of long range sailing. She is certainly not a "go anywhere"-boat for entering the remote and still wild regions of our planet: Anyone seeking this kind of adventure certainly is better off with a Boreal or the classy Ovni by Alubat. But going on the Coconut Route, putting the spot on reaching the "holiday" destinations – the Oceanis Yacht 54 will do the job just as fine. She is a quick passage maker for sure.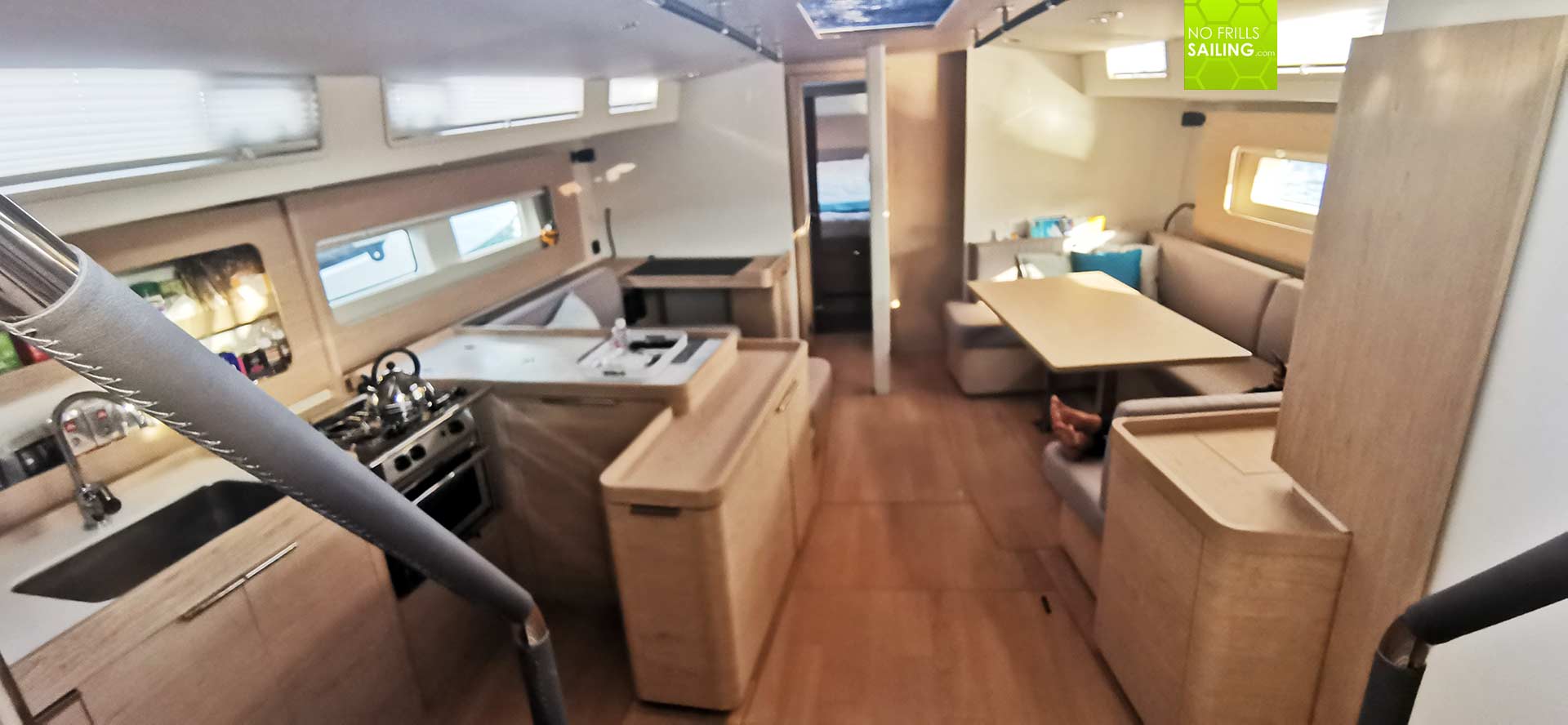 Going down to the saloon the principal layout of this boat is absolutely similar to that of the First Yacht 53. Except for one – big – detail: Looking to starboard side the yard has replaced the ingenious lounge-cocktail-couch-combination in the First Yacht 52 with a classic big dining table centering a large U-shaped seating bench. This is imperative for a cruiser as sometimes meals must be enjoyed down in the saloon when weather up there does not allow for a dinner in the cockpit.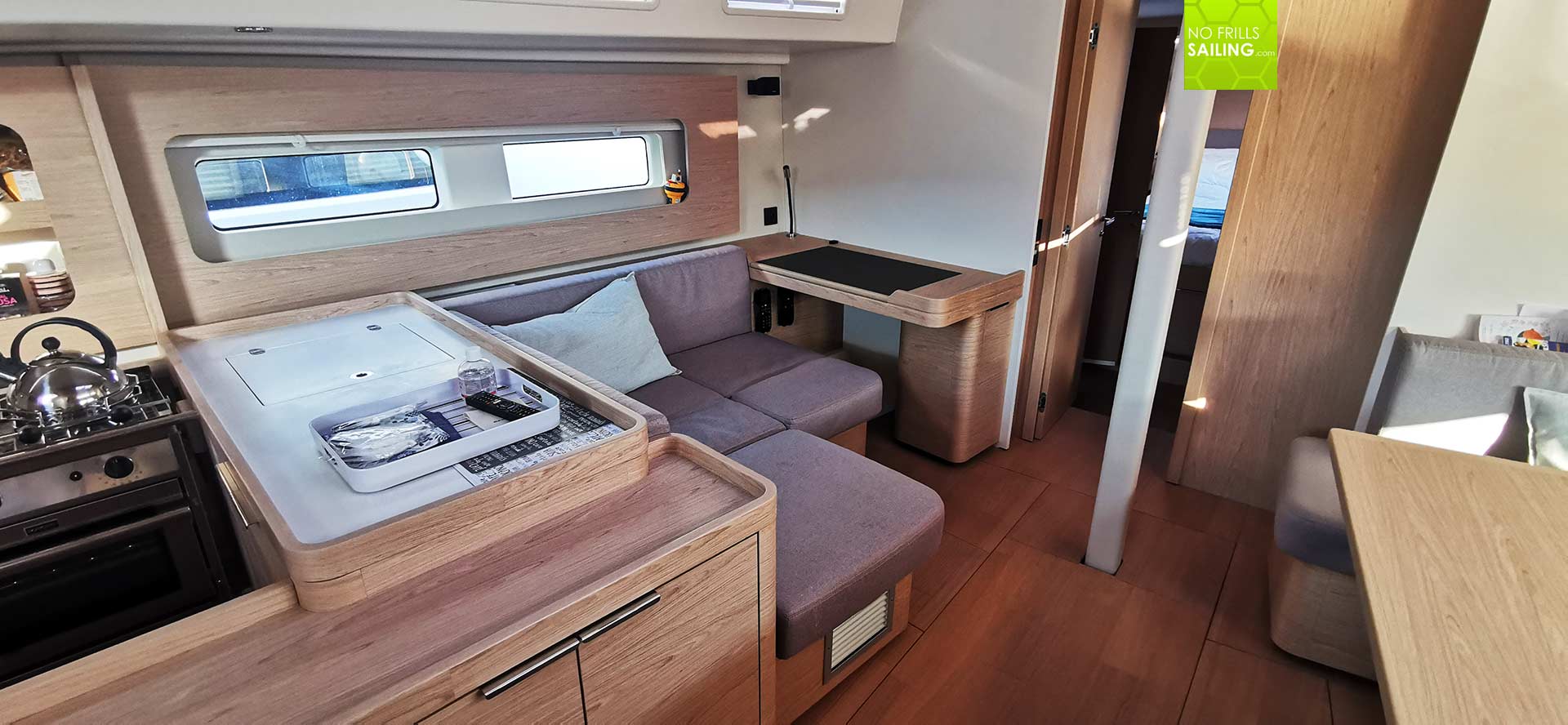 Other than that, the Oceanis Yacht 54 offers the same wooden elements, moule boulé, which are a trademark of the First-Range and a wide selection of fine veneered wooden furniture, upgraded cushion garments and elements. In this particular boat I kind of did not like the colors these owners chose but beauty, as always, lies in the eyes of the beholder. As the Oceanis Yacht is build on separate production lines the material-quality, the selection of fittings and the production quality is noticeable better than in the Oceanis, but this is also mirrored of course in the price tag.
A big, big Boat indeed!
So, who needs such a boat? I took the picture below to show the difference in size between the Oceanis 51.1 and the new Oceanis Yacht 54. She definitely is a big, big, big ass sailing yacht! "Just" 3 feet more is much more volume that can easily be noticed when looking at the picture.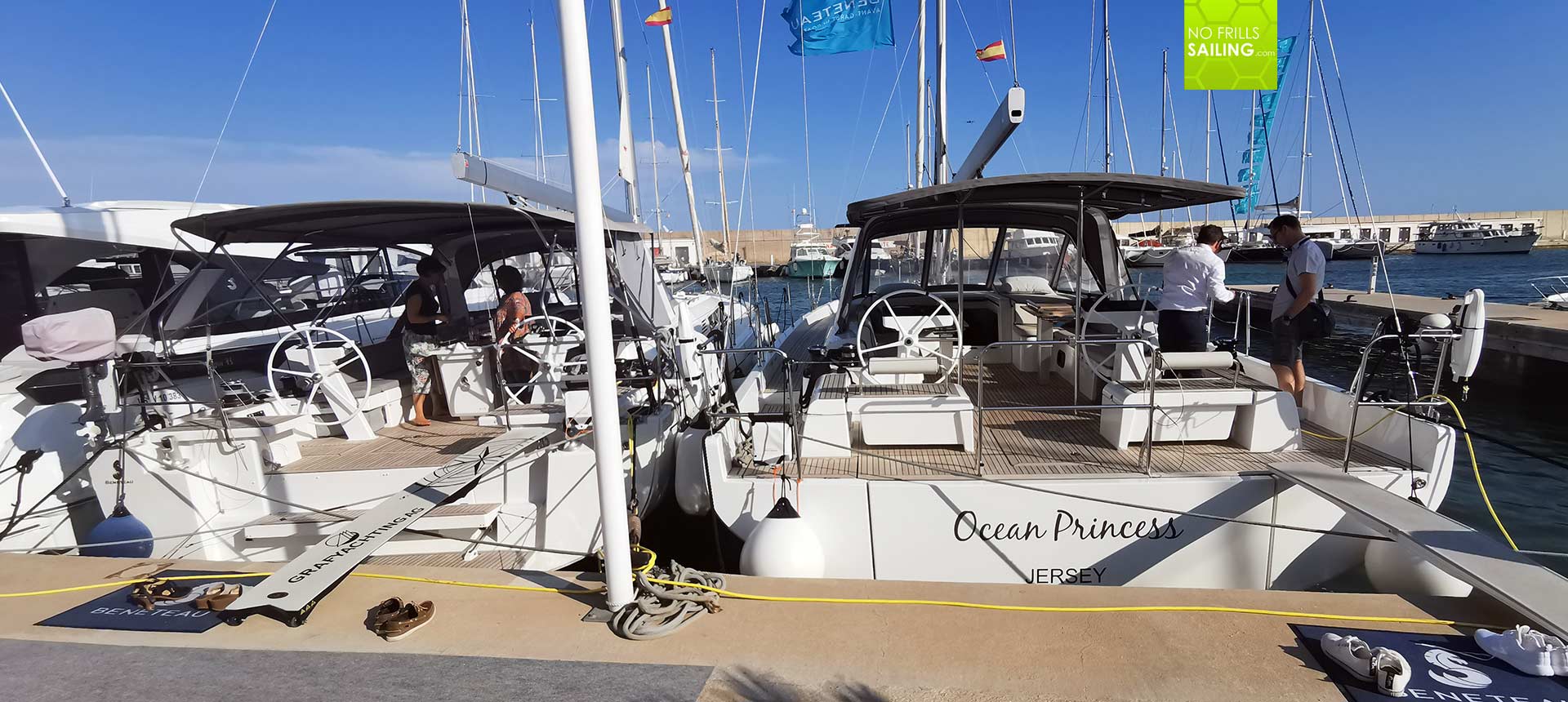 The Oceanis 51.1 already is a big boat that, from my point of view, will fulfill all the needs an owner might have when going on a long cruise, start the circumnavigation or begin a "life aboard" travelling around. The 54 is not just another size up, she is a different category. With all her electronics, auxiliary systems, demand for electric power and complex computer-systems managing the boat in the background her complexity is a notch up too. Who buys a 54? Well, people who can, of course. Do you need it, even when you can afford it? I don´t know. I really don´t know.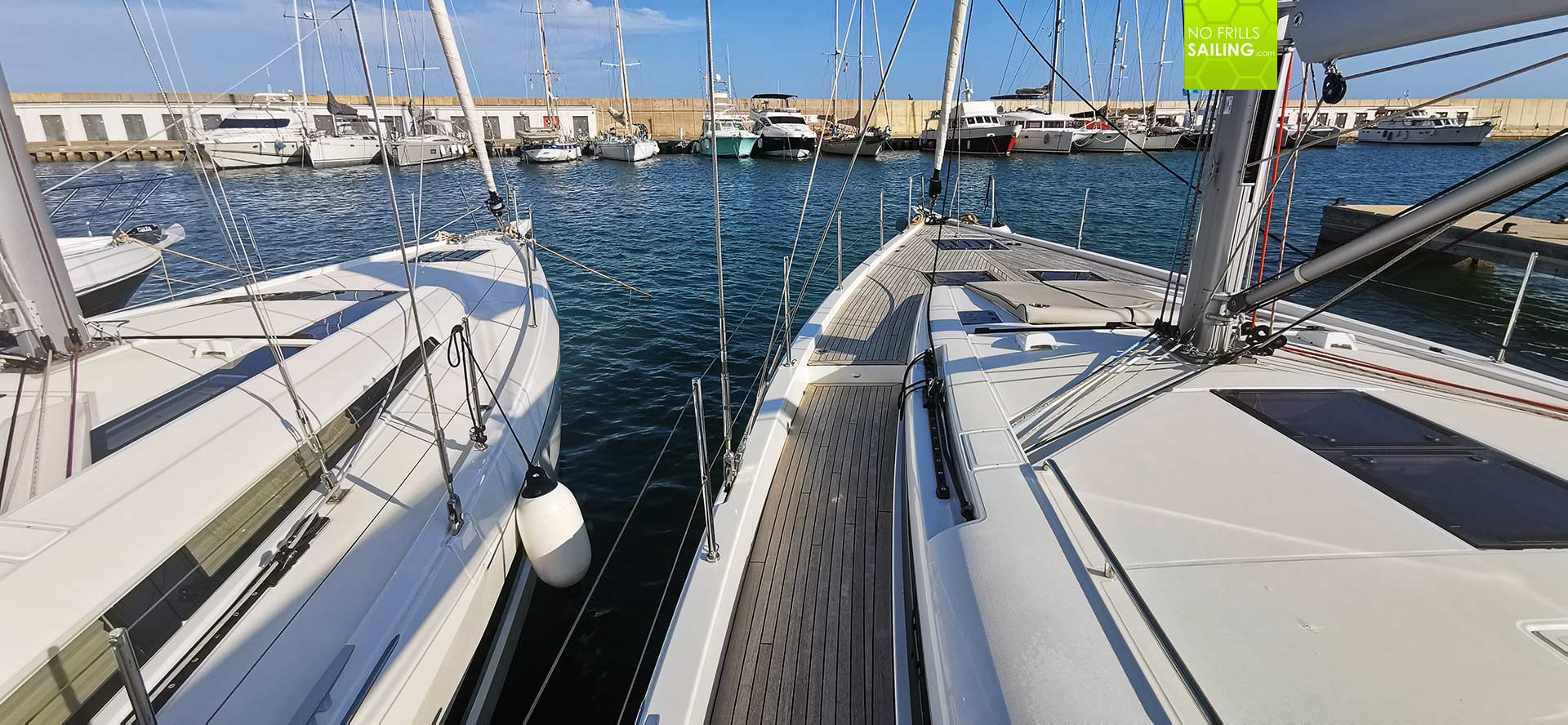 She is a very, very beautiful boat. The hull-design (and I do not mean performance-wise but aesthetically) by Biscontini is timelessly beautiful. Much less "aggressive" looking than the exciting, edgy and racy lines of Berret-Recoupeau in the 51.1. In this, she might appeal much better to more people as she is slightly less "exciting". The Oceanis Yacht 54, I am sure, will be regarded as a beautiful boat in a 10, 15 or even 20 years time. Where Solaris or other smaller brands offer very specific, distinct and maybe polarizing design approaches, this ship has the potential to turn into a classic – together with the First Yacht 53 which already has the attribute "iconic" for her timeless beauty.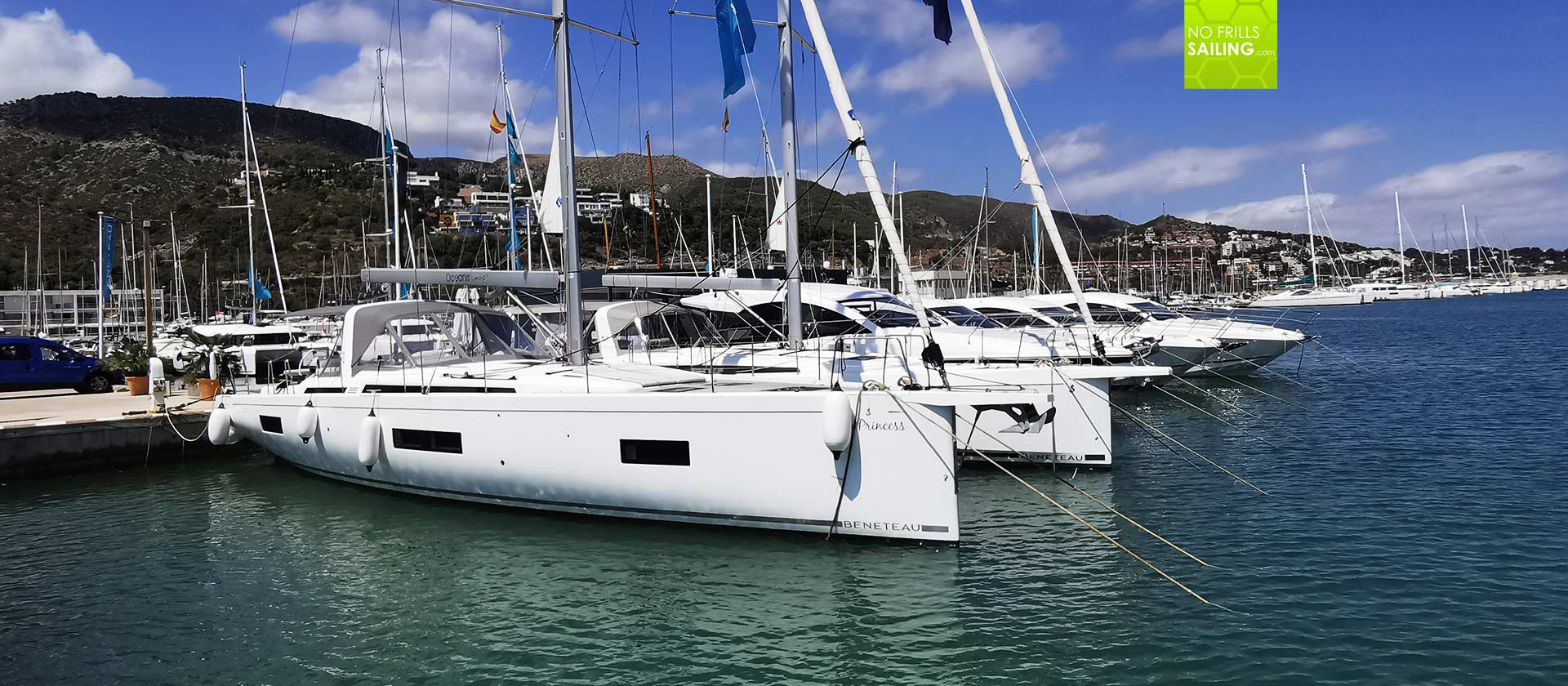 It was very interesting and educative to see the new Oceanis Yacht 54 – how the yard managed to make two very, very different products suited for two diametrically opposing target groups of buyers out of one basic platform is astonishing. It fits the brand´s approach and business model as a large production company but at the same time shows the knowledge and dedication to offer their clients the best product possible. I guess the Oceanis Yacht 54 will find her fans – leaving this big cruiser I liked her, but honestly, I can´t wait to get back to my little 27 feet racer where there is no AST, huge gen-set, auto-tack and big-block electronically controlled Diesel engine … but who knows.
You may also love to read:
New Cruising Yacht Generation: Oceanis 46.1
At Beneteau Shipyard, building the Oceanis 51.1
Sailing the Oceanis Yacht 62