I do have a very special relationship to Allures boats, I must confess. First of all, these are aluminium yachts (in Allure´s case that´s valid at least for the hull) which I fancy as being the "real" material of choice when it comes to serious sailing offshore to remote areas, secondly, since my visit to the yard in Cherbourg where I saw the efforts and quality that goes into making one of these, I consider those boats being "ships" rather than "boats". Who would disagree in view of such a rugged, solid and well-made hull?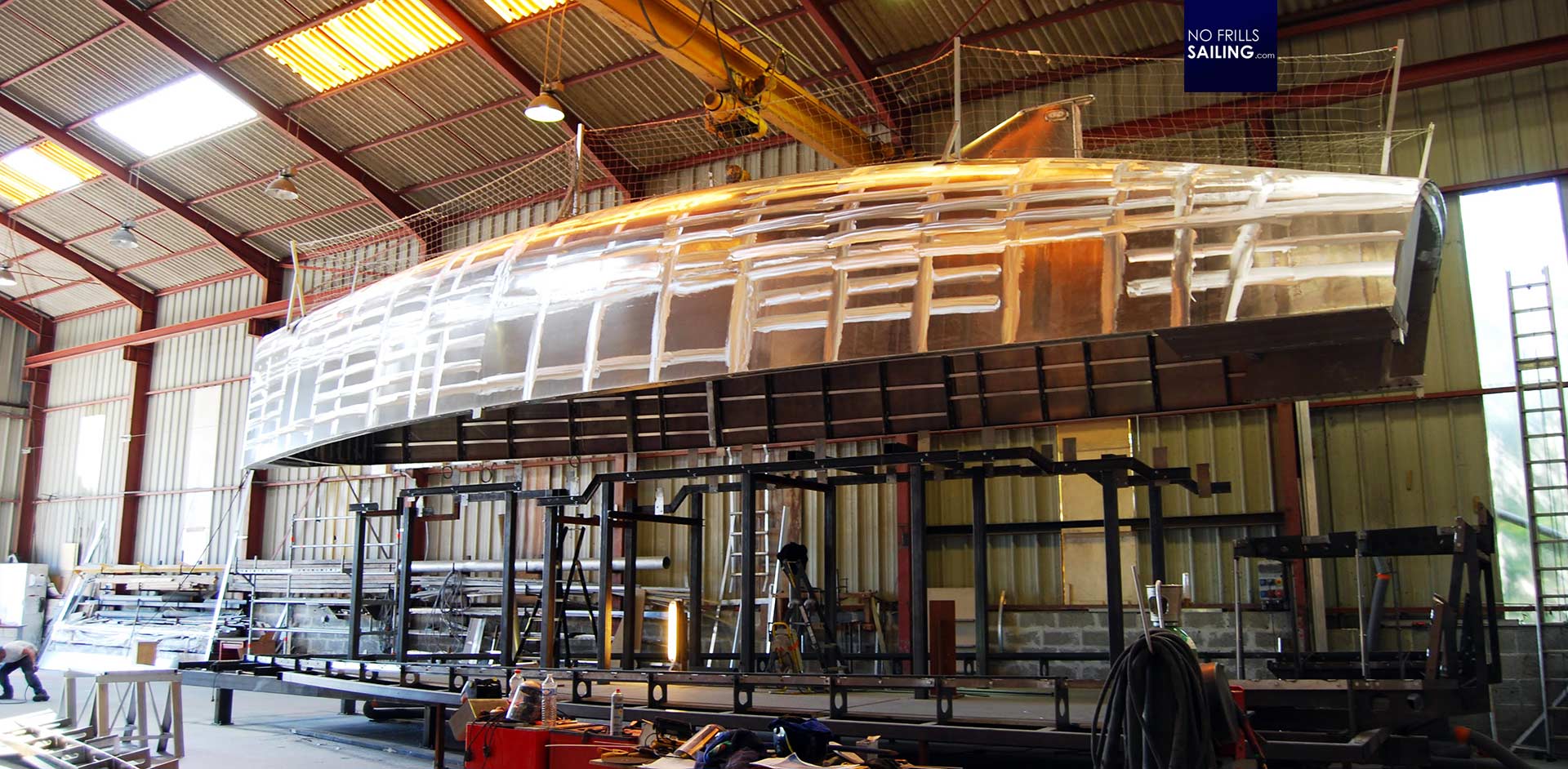 It was during the last months of the year 2019, when I persued a bigger project which would have potentially made me able to start such "serious" sailing for a couple of years – the advent of Covid-19 tragically killed off all our hopes and wishes for this project by the way. But just before the pandemic hit with full force, during our "shopping tour" in France to look for a boat, in the end, it was an Allures 44 that captured my imagination and made it to the top of the "wanted"-list. I would say, travelling in an Allures on the long haul is – for many reasons – something worth striving for.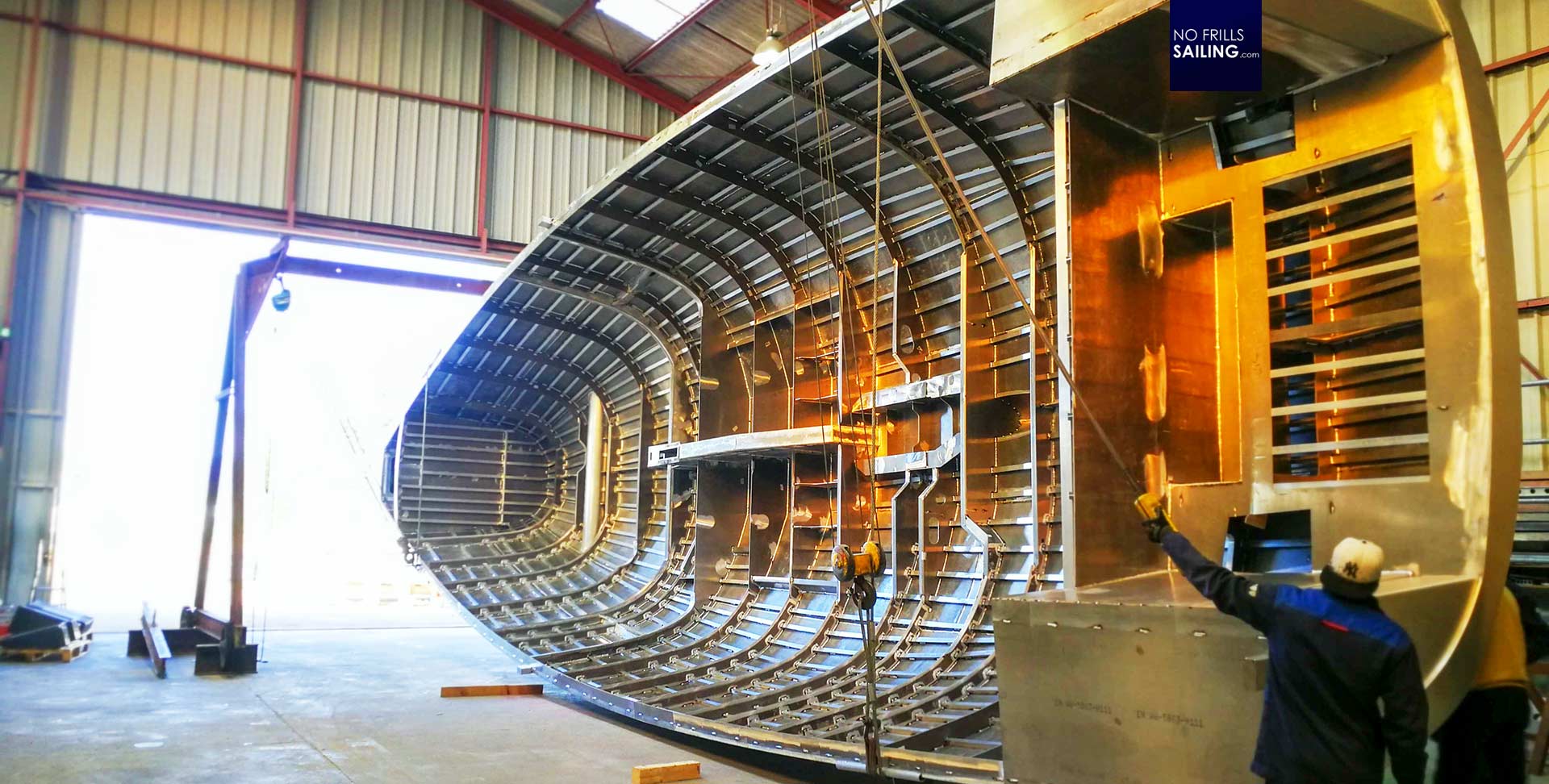 Two years ago the yard announced a new flagship. Their Racaupeau-designed 45.9 is a more than worthy successor to the famous Allures 44 (which is yearned for so much) and if I´d had the budget she most certainly would be the boat I´d seriously consider buying. The entry-level 40.9 is more than sufficient for a couple or a small family for the "big circle" and is also an absolute fantastic yacht. But here she comes: The all-new flagship, the queen: Allures 51.9. I am very happy that I am exclusively provided with these fantastic pictures from the building process of that boat and I hope you enjoy watching the first 51.9 come to life.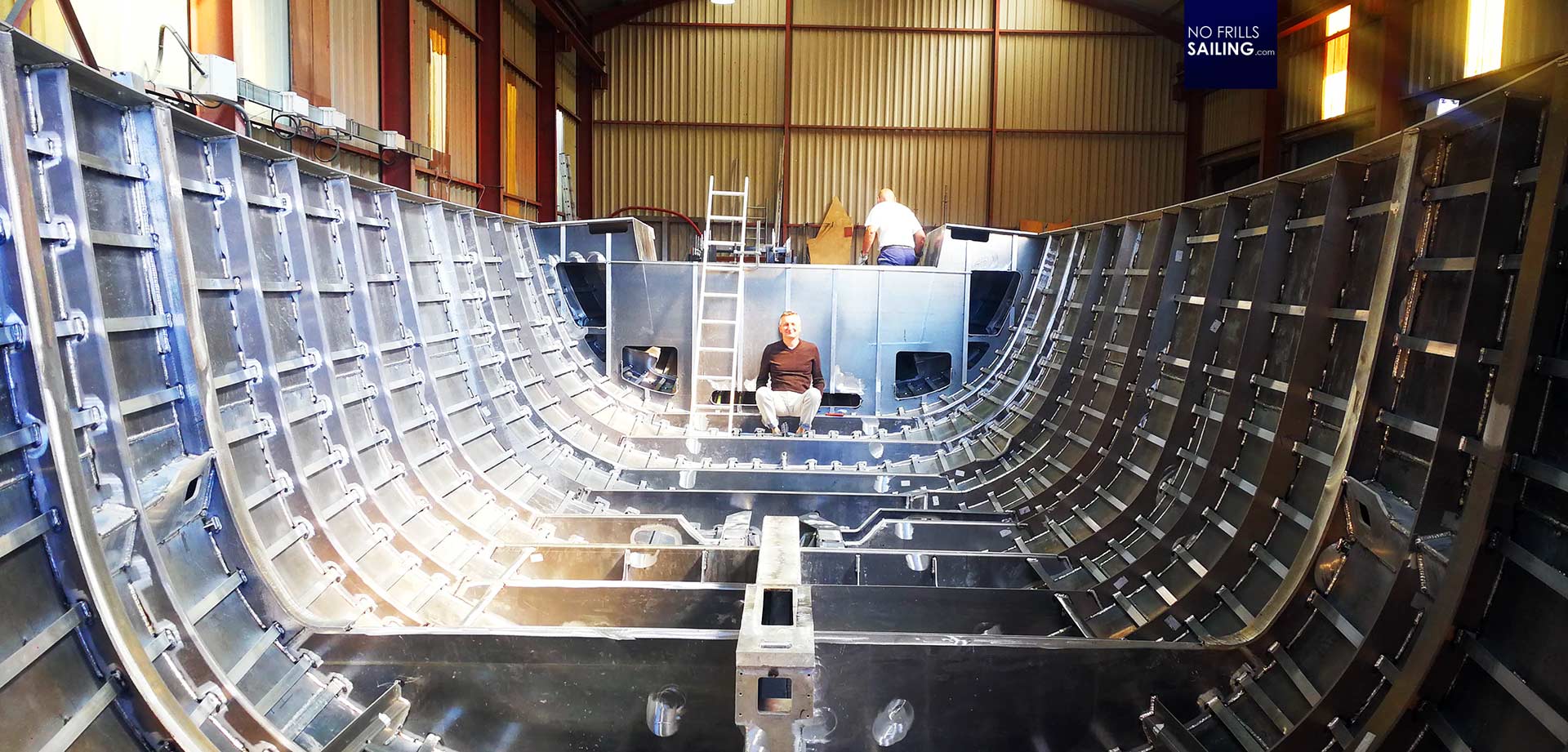 This brand-new Allures 51.9 marks the current pinnacle of the yard´s offer and I´ve had the pleasure to gain some more and detailed insight to the build of their first ship by talking to Cyrille Corlay who is in charge of Marketing and Sales at Grand Large Yachting, the yard which bundles the brands Garcia and Allures.
Talking to Cyrille Corlay of Grand Large Yachting
Lars Reisberg | NO FRILLS SAILING.com: "Tell me a bit about yourself: Your position in Allures, your (sailing) background, a short introduction to you as a person."
Cyrille Corlay: "Hi there Lars. Good to have you "back" – although it´s just virtual. Well, I began my career in the boating industry as a trainee at a Beneteau dealer: This gave me an apprenticeship of the trade and customer contact but also the sense of service. I also was Director of the Harbour of Cherbourg, Port Chantereyne, for 5 years. And I've joined Grand Large Yachting as a sales manager for Allures Yachting and Garcia Yachts three years ago. On a personal basis, I usually cruise in the Mediterranean Sea every summer with family. I also crossed the Atlantic and regularly practice regatta in Open 750 with 3 co-owners."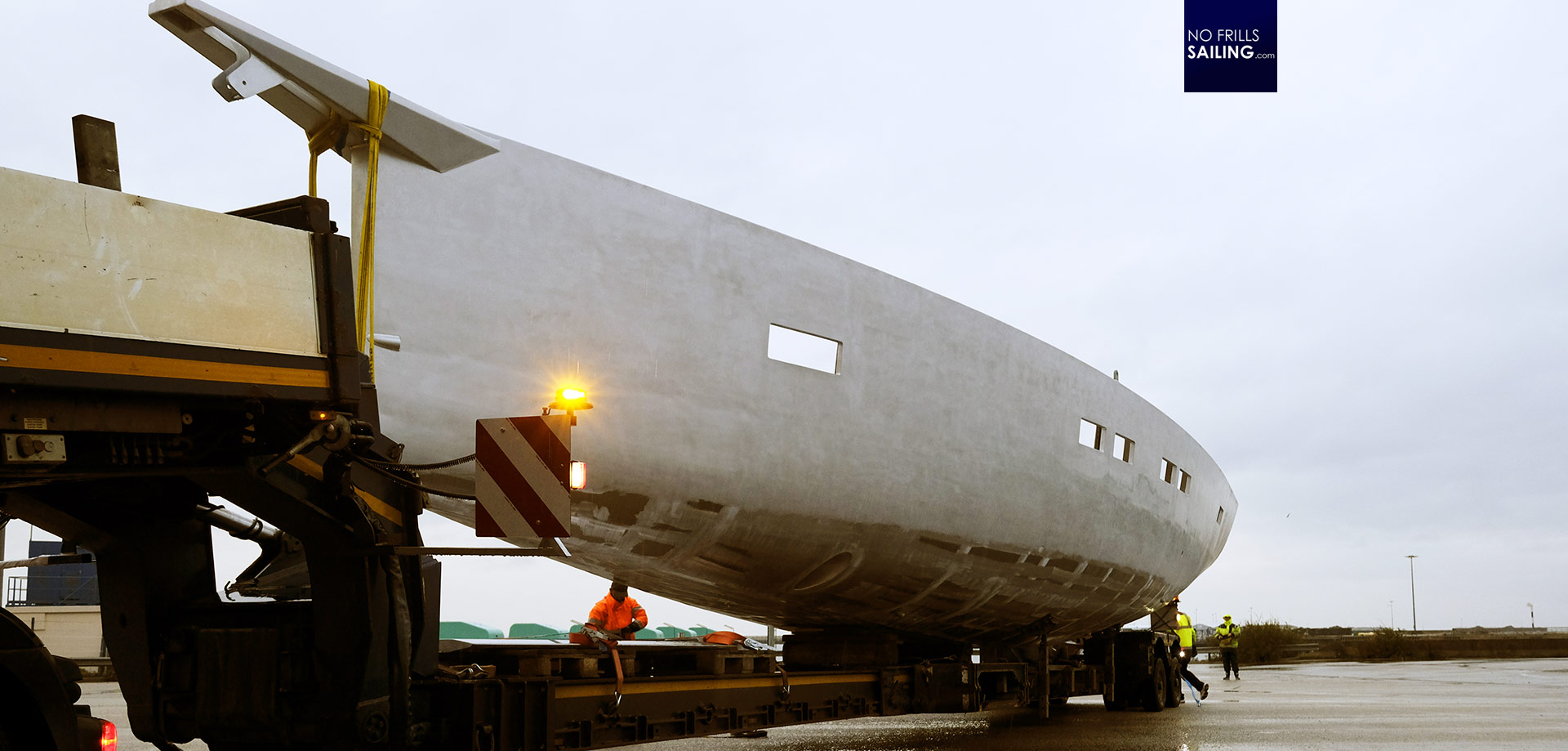 Lars Reisberg: "So you are definitely an insider and keen sailor. Cyrille Corlay, we have talked about this very same time one year ago on the new flagship of Allures when I wrote my article "Boats to look forward to" in anticipation of BOOT Duesseldorf 2020 – first of all, how is Allures yard doing in the Covid-19 craze?"
Cyrille Corlay: "Well, speaking of special times: Like everyone else, we were stunned in March 2020 and of course worried about the consequences of this pandemic crisis. But against all expectations, we have lived one positive effect of the Covid-19 – there has to be one, right? – and confinements: These conditions have permitted potential customers to find time they could allow to consider their choices, to think and rethink their life plan and their projects. Some of them wanted to go "green", to revisit their professional plans, others wanted to acknowledge the fact that their, maybe beforehand considered as being "distant" boat trip project had to become a reality. And they acknowledged this by buying a boat. That of course means that, from now, we at Allures have really suffered a very minimal effect of the Covid-19 crisis. That means minimal supply chain issues. Instead we´ve seen huge involvement of our workers an and incredible interest shown by our customers. Just consider that, due to Covid-19 crisis, some of them have bought a new boat despite they never come to visit us at the yard! That means they made their decision, in a hardly competitive sector, just by navigating on the web, tagging Instagram posts, reading reviews and watching videos! That absolutely s incredible, and it helps us learning much in terms of digital presence and customer experience."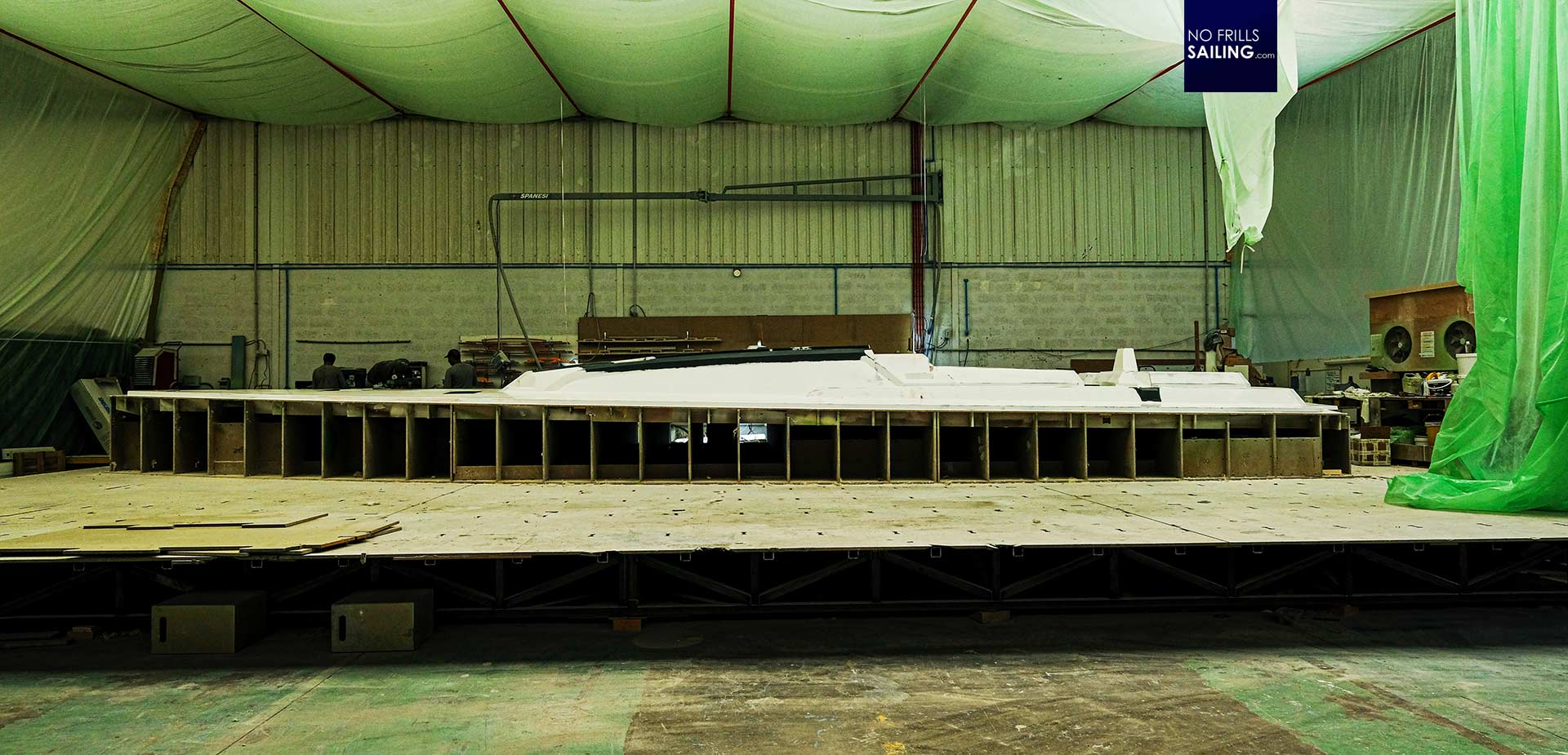 NO FRILLS SAILING.com: "Will Grand Large Yachting with its brands attend BOOT Duesseldorf on its new date in late April? As far as I collect opinions, the business is not happy with that new date as it falls exactly in the high-season of delivery. How is your company thinking about that new date?"
Cyrille Corlay: "Well, the final decision of coming to Duesseldorf in April is not taken yet at the Group's scale. What I can say is: If we go there with Allures, we probably won't be able to show a boat, for the exact reason you mention: As we always display owner's boats at shows, sending a boat to Germany makes it unavailable for sailing to her owners for one month at least."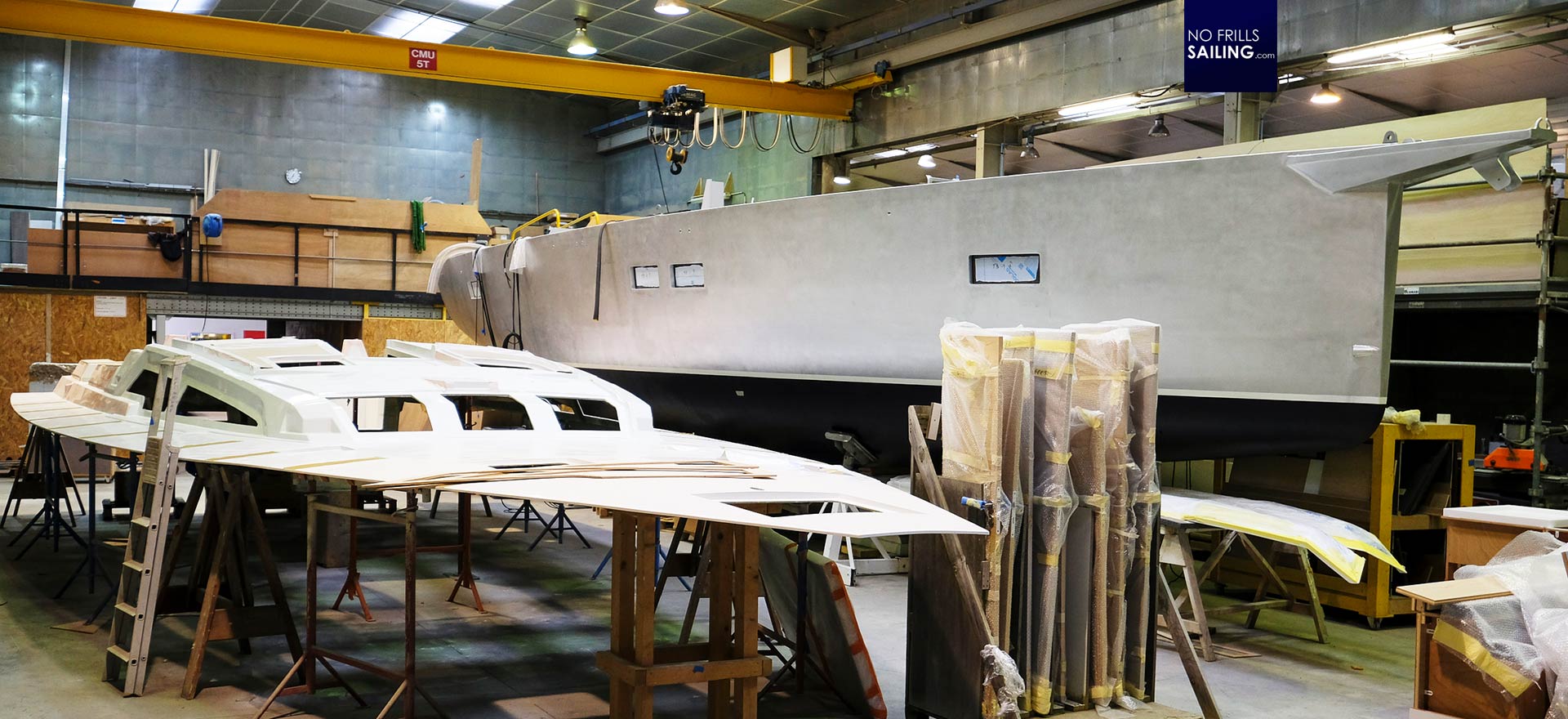 NO FRILLS SAILING.com: "So, when Allures attends the show, which boat are we going to see?"
Cyrille Corlay: "None, I am afraid. Because, the boat we are actually awaiting the most at the yard is exactly this very Allures 51.9. Just because that she will be the new flagship of Allures Yachting. If conditions were more favorable, that would of course be the model we would show on boot trade fair. In the meantime, and as many yards do, we'll organize some dedicated low dimension customers events at the yard, and will propose some sea trials on board the 51.9 in Cherbourg during Spring 2021."
On the new Allures flagship 51.9
NO FRILLS SAILING.com: "Back to the flagship: How is general work on the Allures 51.9 going on?"
Cyrille Corlay: "Everyone as an individual is highly committed on the 51.9 project and every department of the yard is actively working on the achievement that this model represents. You have noticed how far Allures sailboats are engineered with precise industrial processes, but this comes with a strong human touch. This begins at the design office, if we consider that Allures boats are fully designed with advanced 3D-programmes. That means hundreds hours of computing, driven by our talented design teams. This way, we can say Allures prototypes are 3D-files, if you will. The building by itself is closely committed with this and everything is running in sort that the delivery of hull #1 will take place at the end of March this year – scheduled fully on time. In the same time the metal work of hull #2 is actually in progress and this unit will be delivered at the end of May. The building of boat #3 is starting very soon and everyone at the yard is highly committed to this boat project."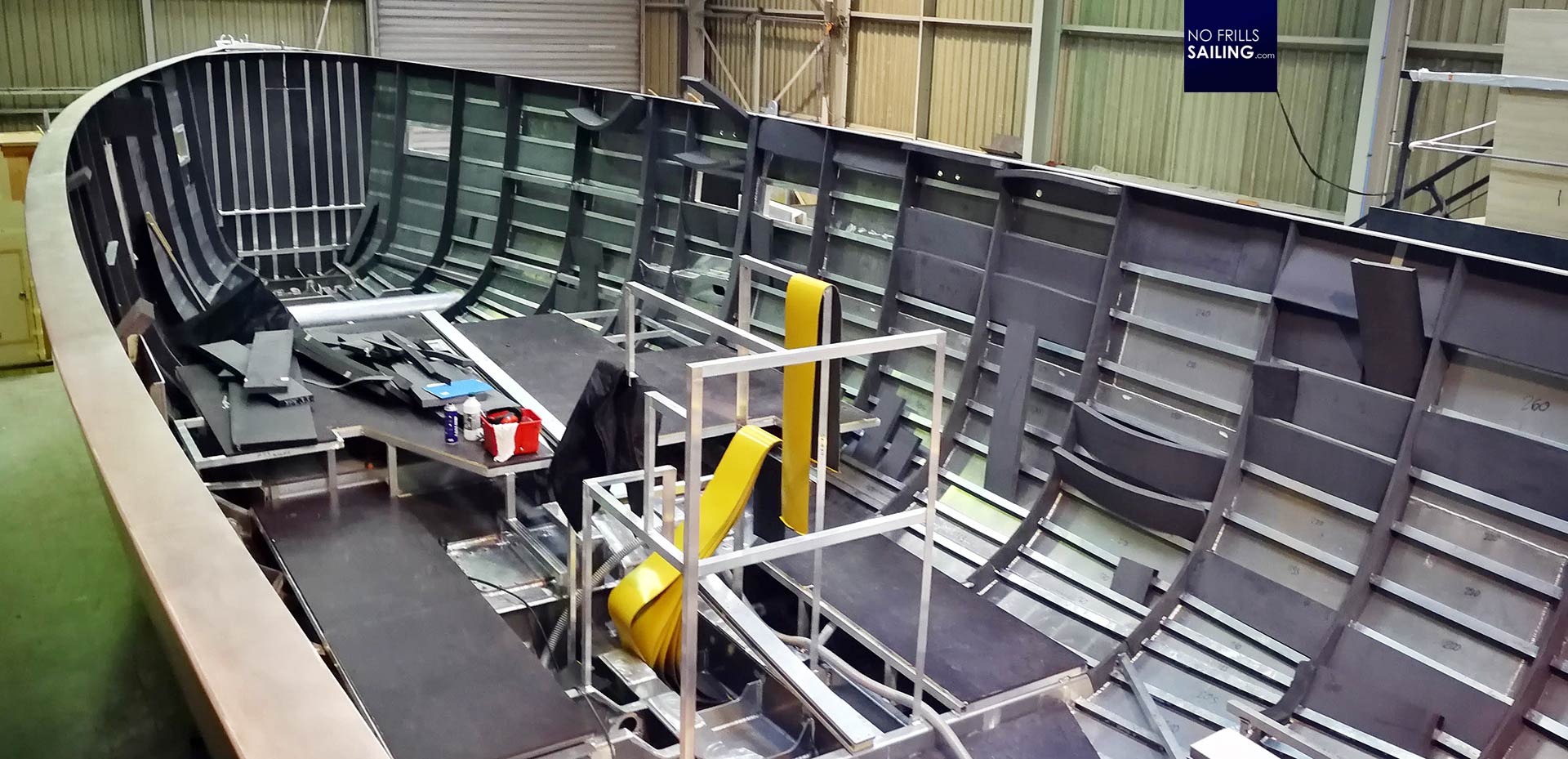 NO FRILLS SAILING.com: "Can you specify some top-points most noticeable about the new 51.9 in terms of uniqueness or special things, like hull construction, details of the boat´s properties, specialties in layout or equipment?"
Cyrille Corlay: "As all Allures models and as its predecessors in the 50 feet range, Allures 51.9 was first of all conceived as a true blue water sailing boat. That is a very strong aluminum hull, and a centerboard to enjoy shallow places as lagoons and to permit a very well sheltered anchorage. The Allures 51.9 was thought and made differently to previous Allures 51 and 52 models in the sense that it is indeed made for people demanding more than just an excellent blue water cruising boat. This is right both for interior and exterior design."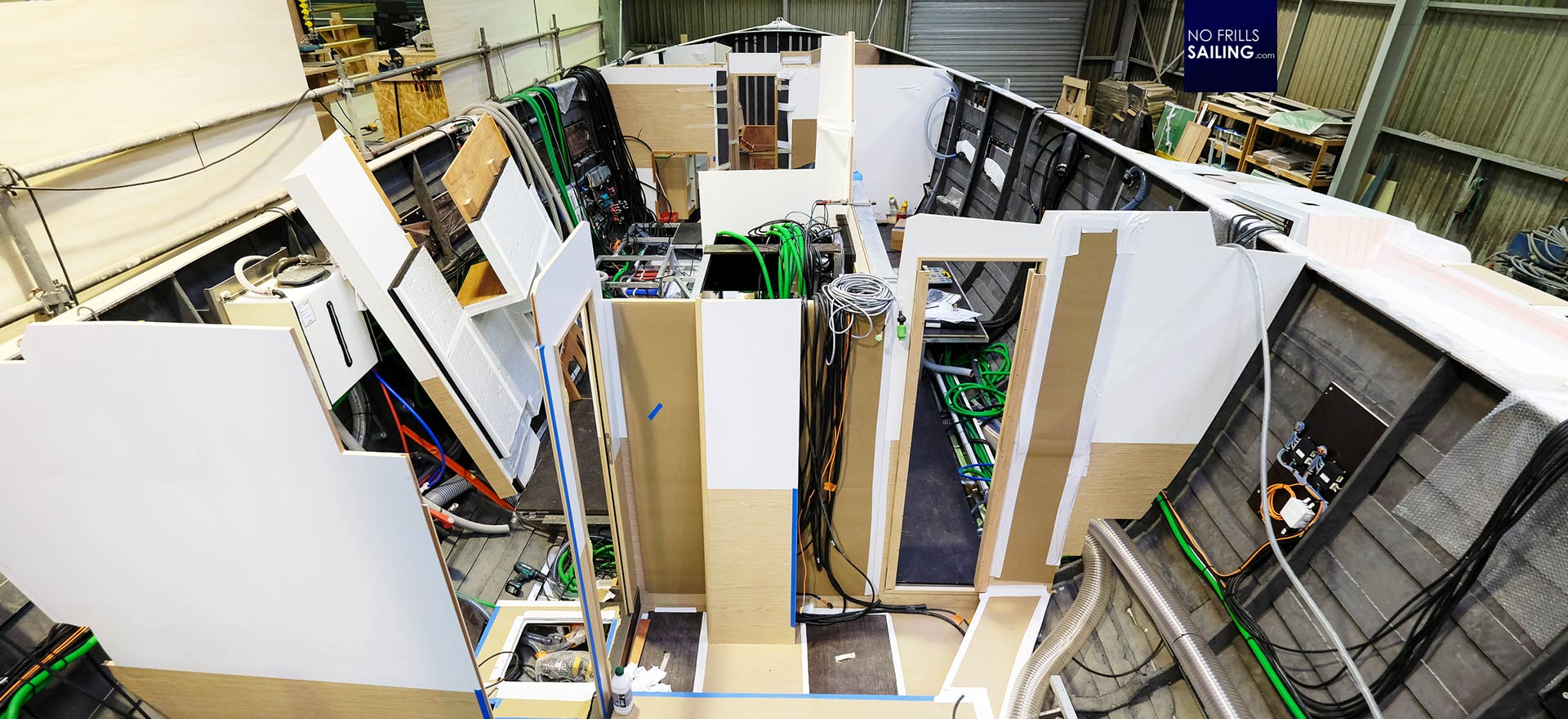 NO FRILLS SAILING.com: "… you have some details on this?"
Cyrille Corlay: "Let me explain: For example, in terms of interior design, you´ll notice the full-beam aft owner's cabin, made to deliver unmatched comfort. We offer a large saloon communicating directly with the chart table, a U-shaped galley open to the saloon, or even its dedicated and isolated engine room. Let's also mention its high standard interior design with dedicated colors patterns, materials, woods, fittings and so on. This new model also disrupts the codes of the yard by its outside design, with its large, 6 meters long cockpit. This includes a dedicated sunbathing area and a big swimming platform. Its cockpit saloon offers comfort to large crews in all circumstances, and the navigation space in this cockpit can be protected by a hard top, in order to navigate in fully secure conditions. All this makes the Allures 51.9 a very welcoming and performant blue water cruising unit, with of course a large capacity and autonomy, that make it usable for long term sailing projects, with reduced crews as well as large ones."
"Allures-sailors have always been unique and very special people."
NO FRILLS SAILING.com: "How would you generalize the owners – who is buying a 51.9 and what are these people wanting to do with their boats?"
Cyrille Corlay: "Speaking of the new 51.9 I can say that we to this date have actually sold three units to owners in three different countries and professional contexts. So it's not that easy to generalize here. Let me put it this way: The first common point between these owners is their attempt for owning a high-end boat with a high level of requirement regarding criteria such as performance, design, comfort and capacity. All of these owners mentioned they would run a really intense sailing program with their 51.9, of course including a circumnavigation. As an example, the French owner of Allures 51.9 #1 will take place in our Grand Large Yachting World Odyssey, the forthcoming group's round the world rally, starting in September 2021. And he intends to take the Southern route via the Magellan Strait and Patagonia. A demanding cruising program for sure!"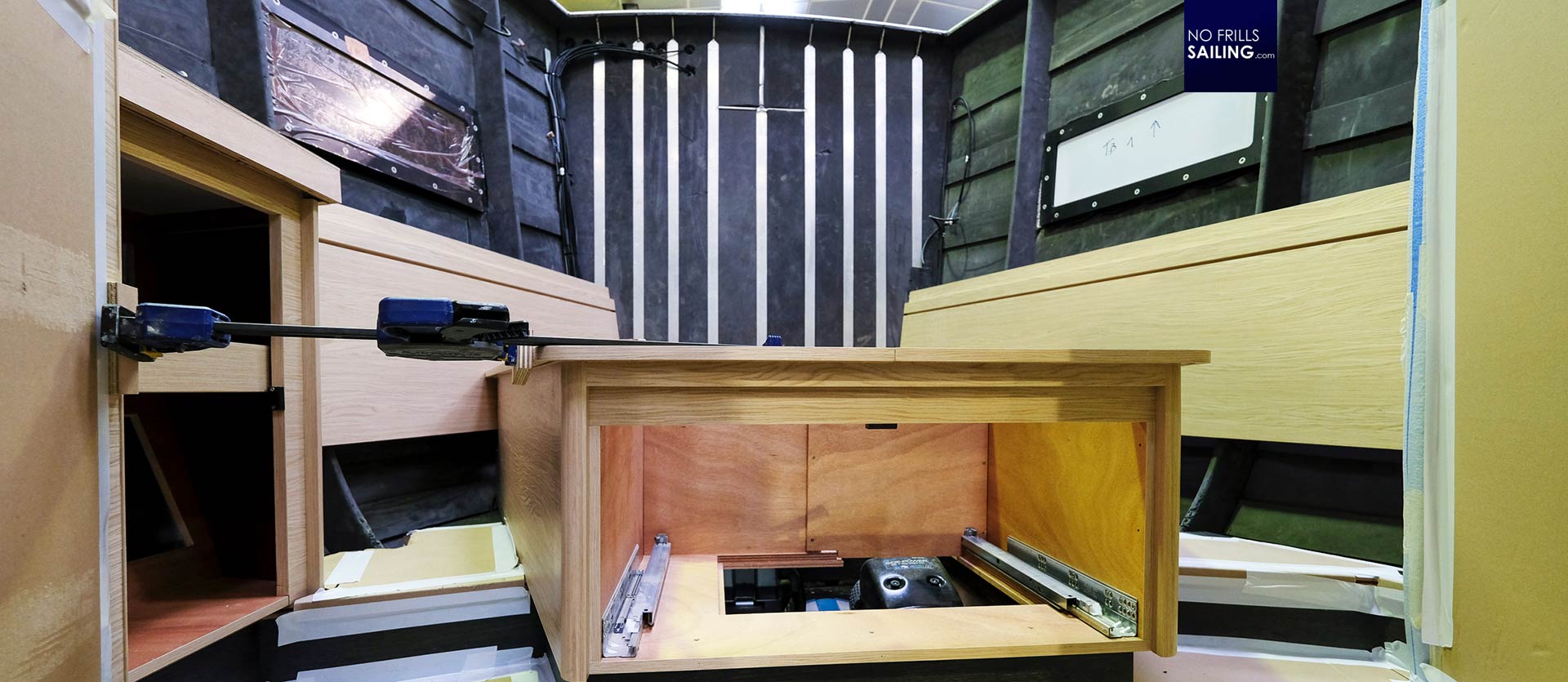 NO FRILLS SAILING.com: "Are Allures-owners stepping up the ladder, meaning, going for bigger units after some time? Maybe, past 45.9-owners going a notch up in the 51.9?"
Cyrille Corlay: "Yes, of course. This happens sometimes, but not yet for this model. We had recently the example of an Allures 45.9 owner who was not able to have and sail his boat in Europe because of the current situation woth Covid 19. He consulted us with the project of ordering the same boat and have it delivered as new, instead of bringing back the previous one he had owned for a few years, shipped from New Zealand on a cargo! He finally opted for this last solution, but the simple fact he had this idea shows how strong he feels confident in Allures Yachting brand, for sure."
Plans of the Grand Large Group with the Allures brand
NO FRILLS SAILING.com: "What are the plans with the prototype of the 51.9? When will we get to see the first pictures of the boat in the water and under full sails?"
Cyrille Corlay: "Well, you see, building quality boats is a matter of details. This is why I am not able to tell how many hours are still necessary before we can launch the Allures 51.9 boat #1. However, this very boat will be splashed at the end of March and from there on we will wait for the first good weather window to take the best pictures of her under full sails."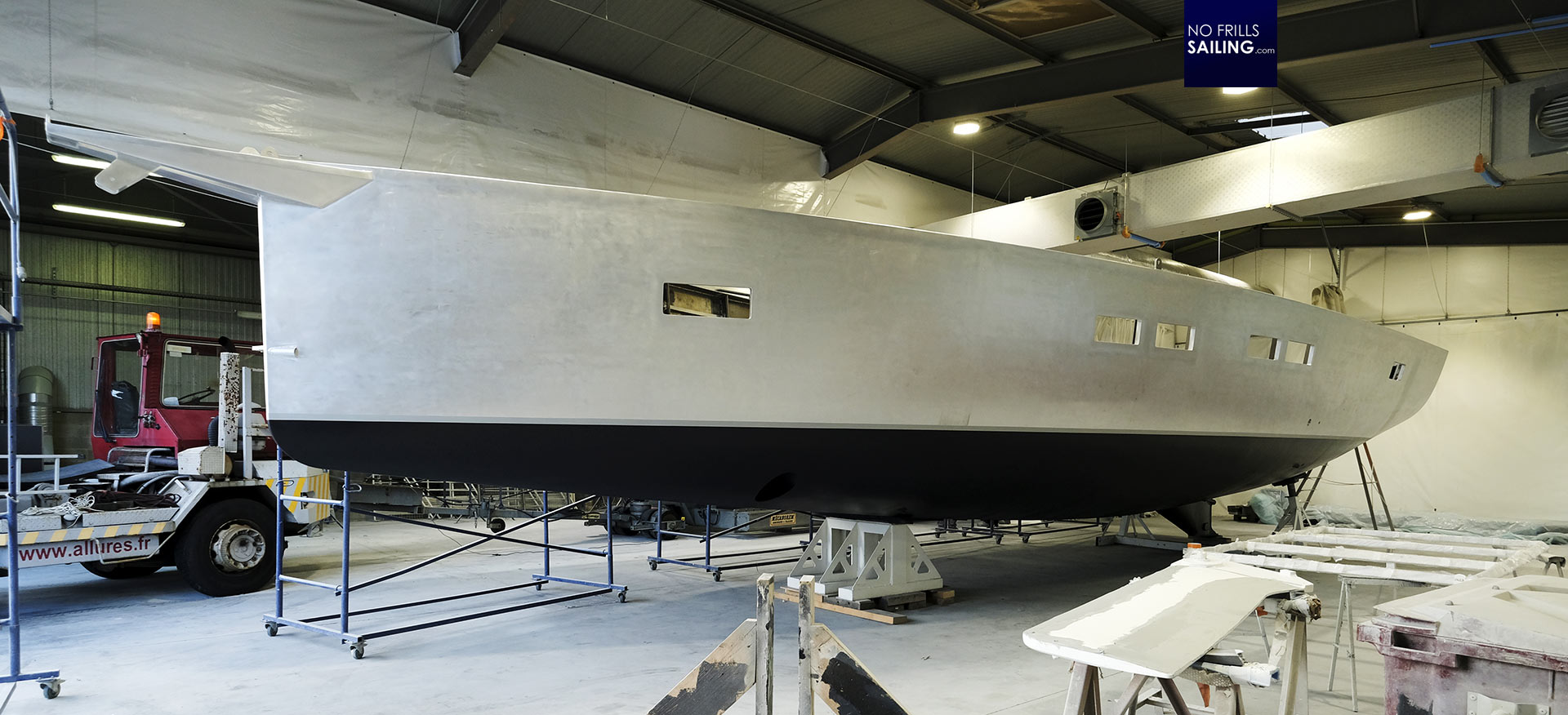 NO FRILLS SAILING.com: "After launching the 51.9 Allures has now a completely renewed fleet from 40 to 50 feet: What can we expect from Allures in the coming years? Any new models, sizes – or any trends you follow, like hybrid engines, e-mobility, power management et cetera?"
Cyrille Corlay: "We are thinking of new models and new developments or call it options for existing models for sure. Let's say, we will provide dedicated news when these points are mature enough to be shared. In the meantime, we of course consider innovation a large way and this includes many aspects such as the active part taken by Allures to a Grand Large Yachting Group project that is dedicated to provide more sustainable boating. This covers different topics such as, for example, mastering life-cycle analysis for our models, initiating actions to reduce the carbon footprint of our boats or integrate bio-materials in building processes. A huge and complex challenge we have to answer to! Hybrid engines are also a strong point of interest for which we have the chance to have the direct feedback of sister brands as Garcia Yachts or Outremer, so we closely follow these trends and evolutions."
Thanks so much, Cyrille Corlay – all the best for the prototype and I am looking forward to seeing her in the water soon.
All pictures with kind permission by Allures Yachts/Grand Large Yachting
You might as well be interested in reading these related articles:
A trip to France: Why I fell in love with Allures
Aluminium marvel in the making: Berckemeyer BM 49, parts 1 and 2
Another masterpiece of aluminium: The Gulliver 57