Lockdown hits me hard, as well as most of you, dear readers, I guess. And so, as I am not allowed to roam freely and collect content for exciting articles, I am dependent from interview partners – of which I have a lot and am thankful for their time being shared with me – or "homemade" content that I can produce here in my flat. Fitting to my ongoing Jetboil test, which essentially is the heart of the #microcruising galley of my new boat, I thought it was time to try for the first time to get some edible food. And here we go: I went to my local Aldi market and found some cheap ingredients for the first trial.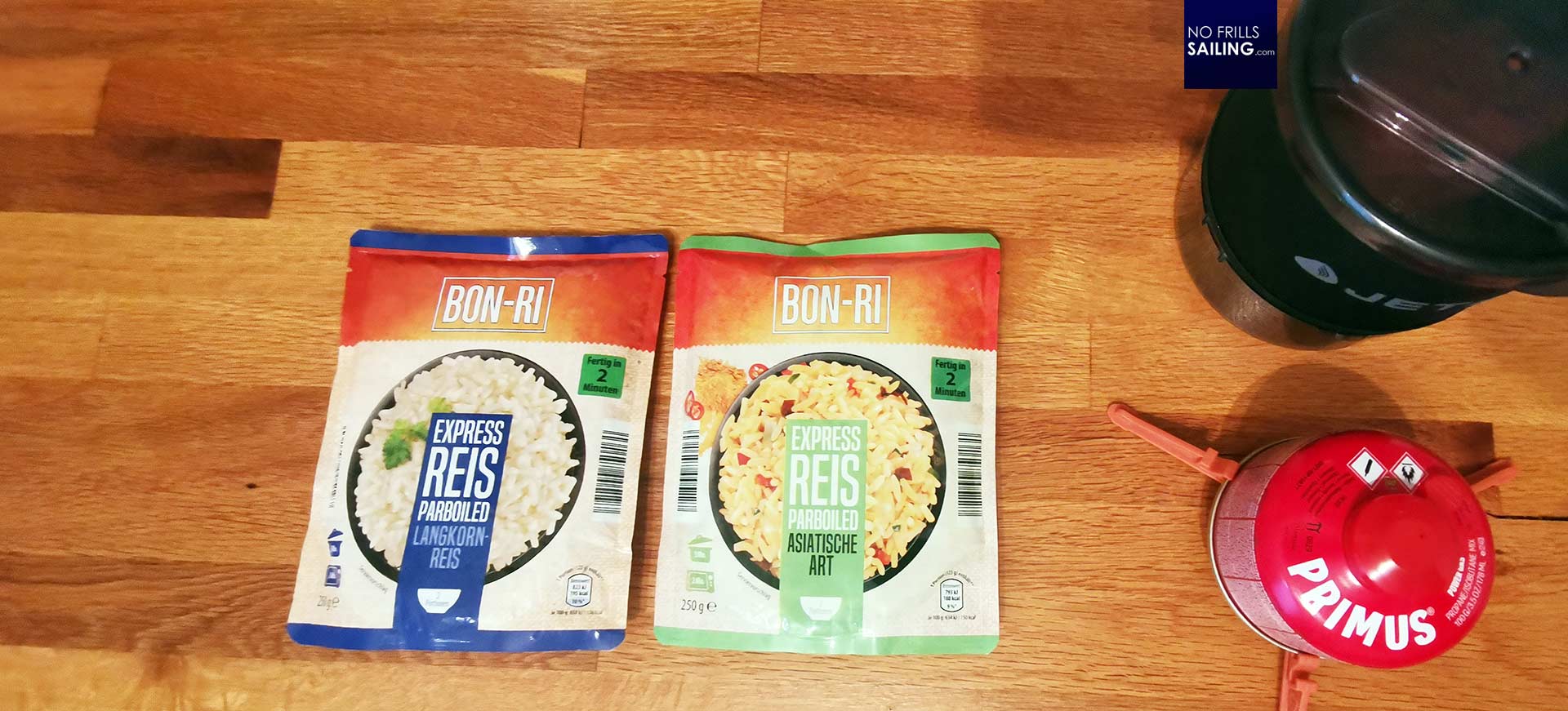 A vacuum-sealed bag filled with 250 grams of pre-cooked rice would be the base of my meal. Rice is a nice companion to so many recipes and as it is pre-cooked I will just have to warm it up for having it ready to eat. At Aldi´s the price for the rice is nice (oh boy, that´s the lockdown …) with a single Euro for one bag that´s 50 Cent per person. I bought one bag of plain rice and one with seasoned rice that went by the name "Asia Style". Let´s see what we can squeeze out.
Firing up the Jetboil for a quick budget food
I fire up the Jetboil for the sixth time now. That´s an important number since am eager to know how many times I can utilize the cooking system until the gas-tank is empty. For my initial testing period I opted for the smallest cartridge filled with 100 grams of a propane/butane-mixture. Already 5 times used to heat up the pot with water for coffee, now it´s time to heat up the rice.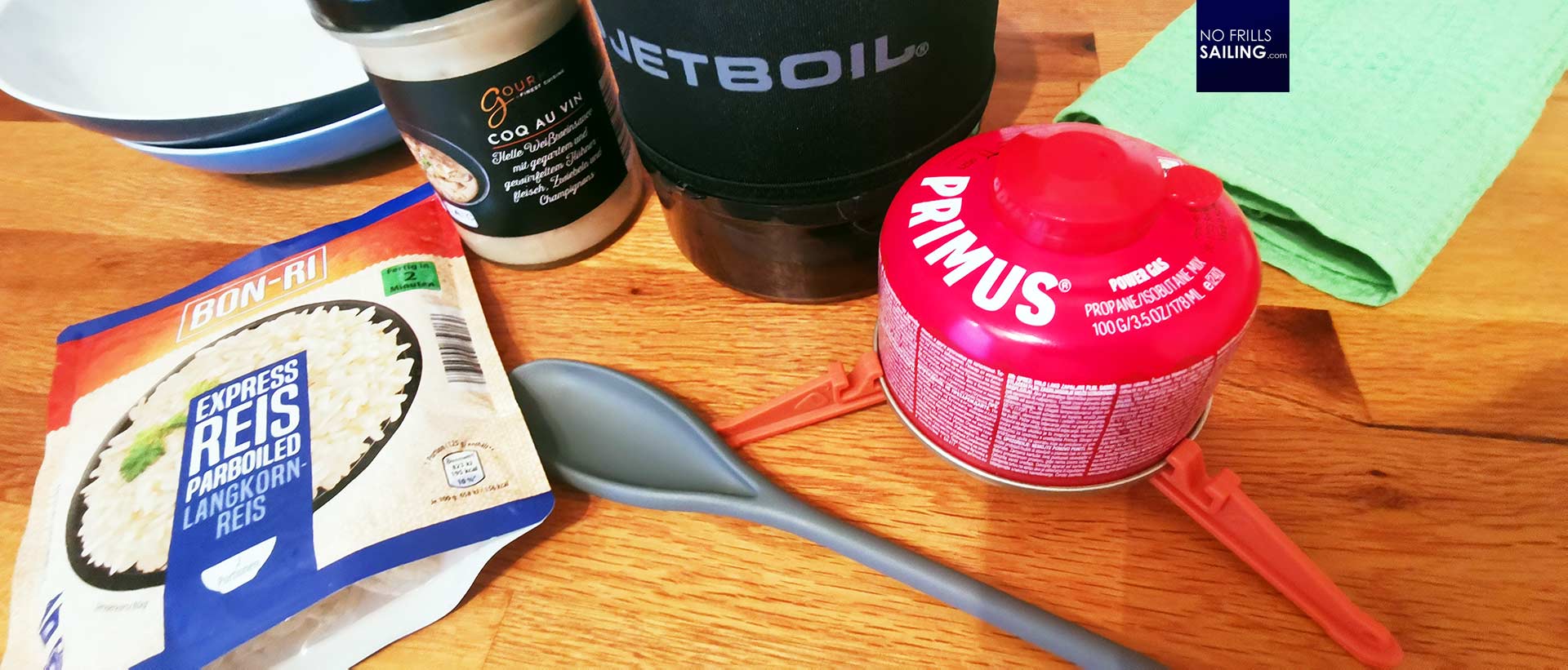 It takes exactly 4 minutes – I am not on full throttle since I don´t want the rice to get burned and stuck to the bottom of the kettle – to have the rice and some water boiling. I use a plastic spoon to stir the contents constantly and I am surprised that even without opening the gas-valve to full power the Jetboil cooker is so darn fast.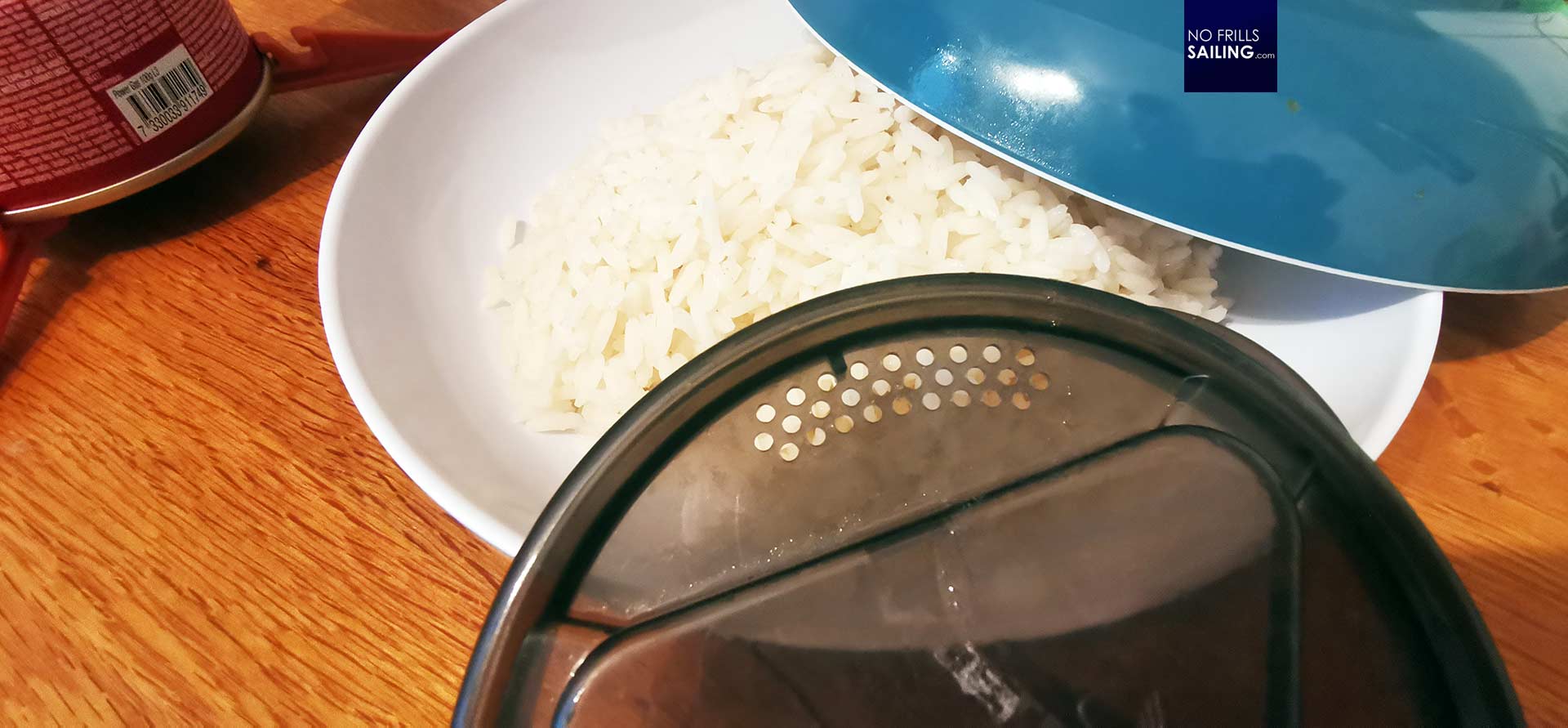 Pretty convenient is the soft-plastic cap for the kettle which has on one side a multi-punctured area that can be used as a sifter: I can very easily get rid of the boiling hot water and the steaming rice remains conveniently inside the pot. Now I pour out the rice into one plate and have it sealed with a second plate – for staying hot. And I pour in a ready-made convenience product of Aldi, 400 grams of Coque au vin, a French classic and national dish.
I also stir with my non-scratching plastic spoon whilst heating up the contents. This is much more interesting than the rise/water-mix because the Coque au vin-sauce is much thicker, flour-rich and prone to burn to the kettle´s bottom. As you may imagine, on a boat, you are going to utilize the kettle for everything hot: Be it clear water for coffee or tea, a complete hot dish like I was preparing now, a sweet desert or anything else. It is absolutely essential that the kettle is not taking on the smell or the taste of any of the ingredients – I would be absolutely shocked if my beloved morning coffee would come with a smack of Coque au vin …
My first cooking experience with the Jetboil
Speaking of which: After just 3 minutes the contents was boiling hot and ready for eating. As I said, this will most certainly not be a culinary moment of glory for sure, but pretty fitting to my current mood during lockdown. 400 grams of Coque au vin and 250 grams of rice: That makes easy two portions for adults. As the sauce with some chunks of poultry together with the rice was split onto two plates I could see that it was not only a very fast dish to prepare (all in all 7 minutes to get it ready to eat) but also cheap: 2 Euros per person for the ingredients and some gas.
The taste was pretty okay for convenience food. With some splashes of Worcestershire-sauce and some salt added it did what it was supposed to do: Fill my stomach with hot food. This test most certainly demonstrated how quick and easy preparing a meal with the Jetboil cooking system is: I find that those pre-cooked rice-bags are pretty nice and to some extend having canned food aboard may save the day. Actually, of course, it cannot substitute for a healthy, vitamin-rich diet prepared with fresh ingredients, of course. But that´s another test: Hopefully aboard the boat which is awaited here in a 2-week time frame.
You might also be interested to read these articles:
Microcruising equipment for a small boat´s galley: The Lotus Grill BBQ
Small boat comforts: A live test of #microcuising