It´s Sunday today and we all hopefully appreciate our well-deserved day off. My freshly brewed coffee next to mine, laptop before me: I´m going to write about a nice little "adventure" I´ve had yesterday. This standup-paddleboard product review you are about to read is also a nice little demonstration of the practical reasons and fun-part that such a board brings. As I mentioned in an article some weeks ago: Every sailor should have one aboard.
But let´s start at the beginning: It was a gorgeous sunny and warm day yesterday, so I shouldered the large transport bag in which my new SUP was densely packed and walked to the nearby river. Luckily I live in one of Germany´s most beautiful coastal towns, Luebeck, and there is water literally everywhere. The rucksack weighs in some 10 kilograms, but the large and wide, soft cushioned straps made the 10 minute-walk easy.
How much should a stand-up paddle board cost?
I bought my paddleboard on amazon.com – I know, there´s always an aftertaste associated, but as I am underway most of the time, I simply do not have the motivation to drive to a spezialized stationary dealer in my spare time. So, I ordered the board via amazon.com. Since there is a load full of cheap Chinese crap, I did a thorough research (within amazon.com as well as on the internet) and ended up with a brand called "Beyond Marina". It´s an American brand founded in 2018, as they say "by sports adventurers". Well, I guess the board is Chinese made too, but at least the brand sounds legit …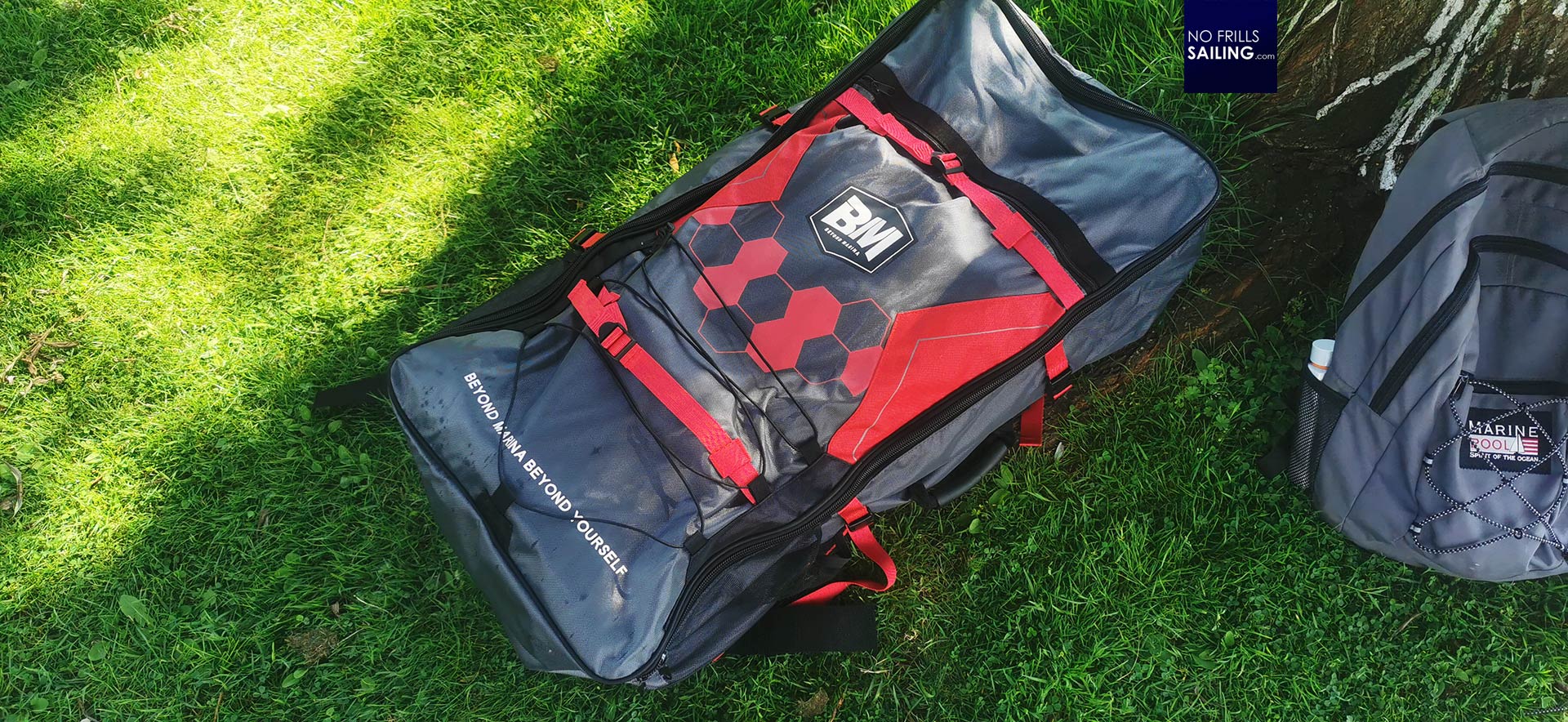 The decision which board is suitable and which budget might ensure a certain quality is a tough one. We have a saying here: "Buy cheap – buy twice!" and I´d say this is valid for any product you can imagine. My board did cost 300 Euros in the end, but I also saw boards for under 200 and for budgets exceeding the 1.000 Euros threshold. Well, I thought, the lower middle-class should be good for a less-than-frequent user like myself.
Weal and woe of amazon purchases
Having walked down to the river, right vis-à-vis the famous Old Town of Luebeck, I started to assemble the paddleboard. Which is as easy as ABC: The big double action pump is ready to blow in a second and it takes around two to three minutes to blow up the board. My first disappointment: The manometer on the pump was defective so that there was no chance to check if the suggested pressure was achieved (something I will later be confronted with). Here we go … buy cheap …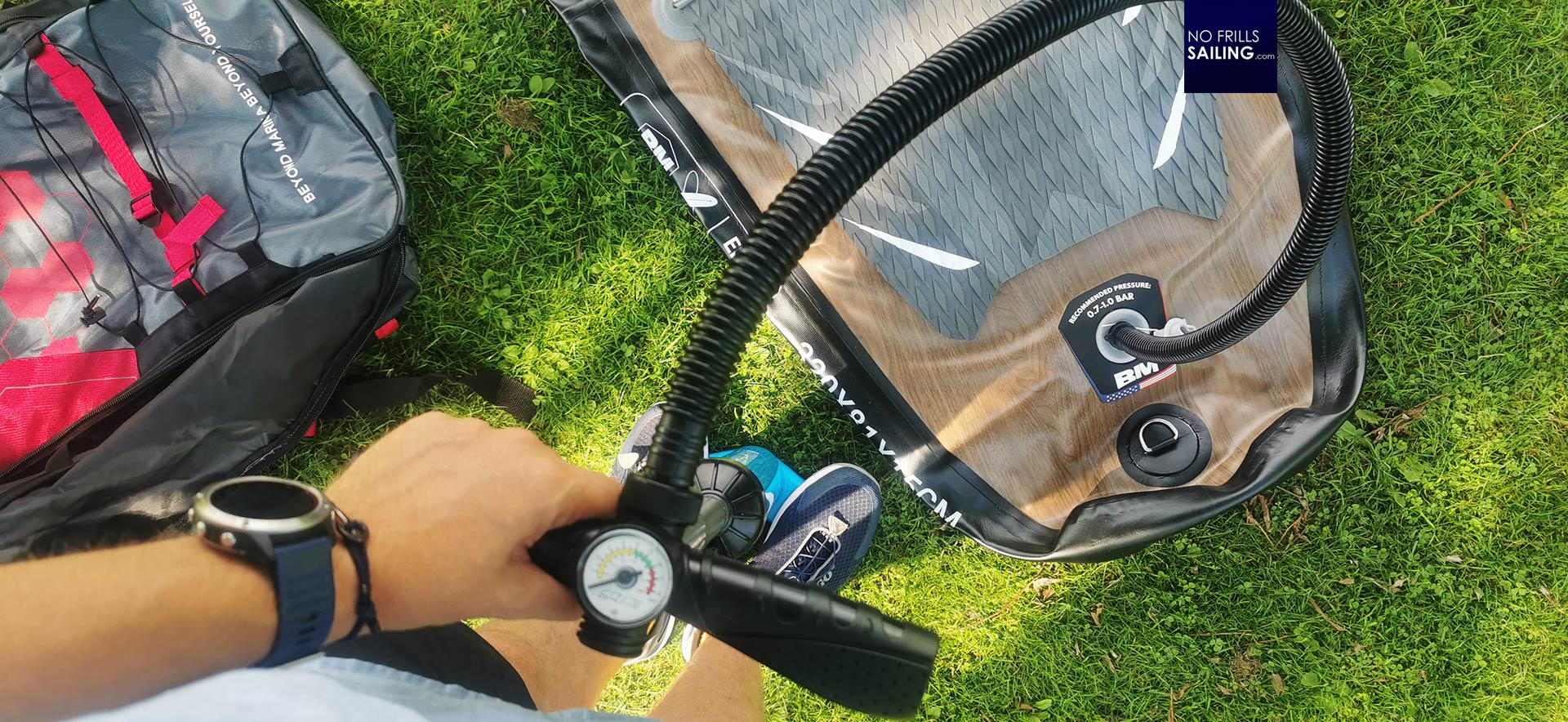 On amazon.com some of the reviewers mention the defective manometer, so I guess that is something "built in" with this particular product. Other than that I couldn´t find any other downsides: On the contrary, I´d say that for this budget the offer is more than adequate. Along with the board and the pump (and the rucksack, of course), the set includes also the paddle itself. And this is not so common!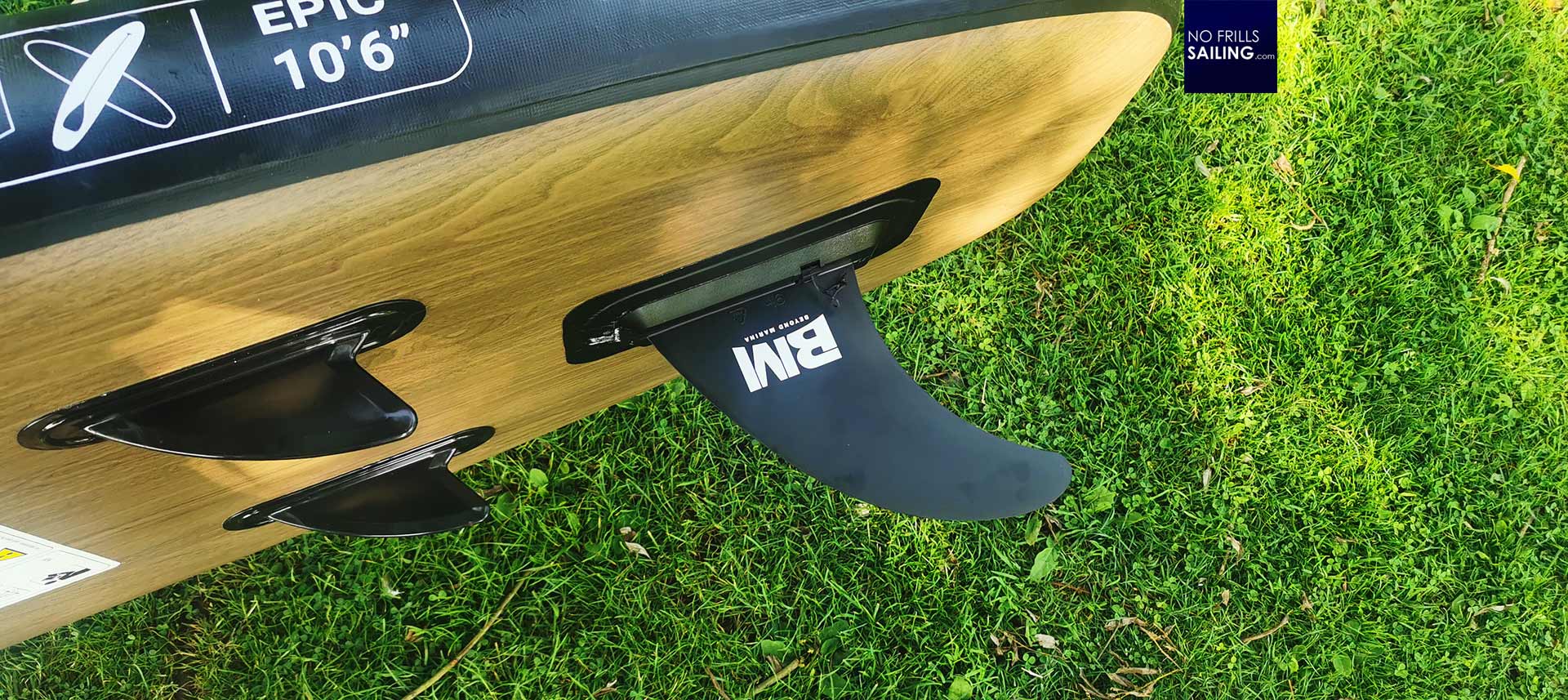 Many SUP-offers do not include a paddle. With my "Beyond Marina" board the paddle is a three-part ultralight paddle that is made of composite, the grip-part is adjustable to the body-height of the paddler. Nice! There´s also a watertight bag for your smartphone (I know what it means to lose your phone to Poseidon!), a safety strap for connecting your foot to the board and a repair set. Allright then … let´s go!
Stand-up paddling for the first time
Stand-up paddling for the first time (and even more so afterwards) requires some skills in terms of balance and body control. Standing upright on the board is at first a shaky task and I would recommend anybody starting his first excursions on the board to do it ready for some nice splashes to the water. Since I´ve had my phone and some other stuff with me in my rucksack (not waterproof) I refrained from paddling standing upright but started by just sitting down and paddle like it was a Kayak.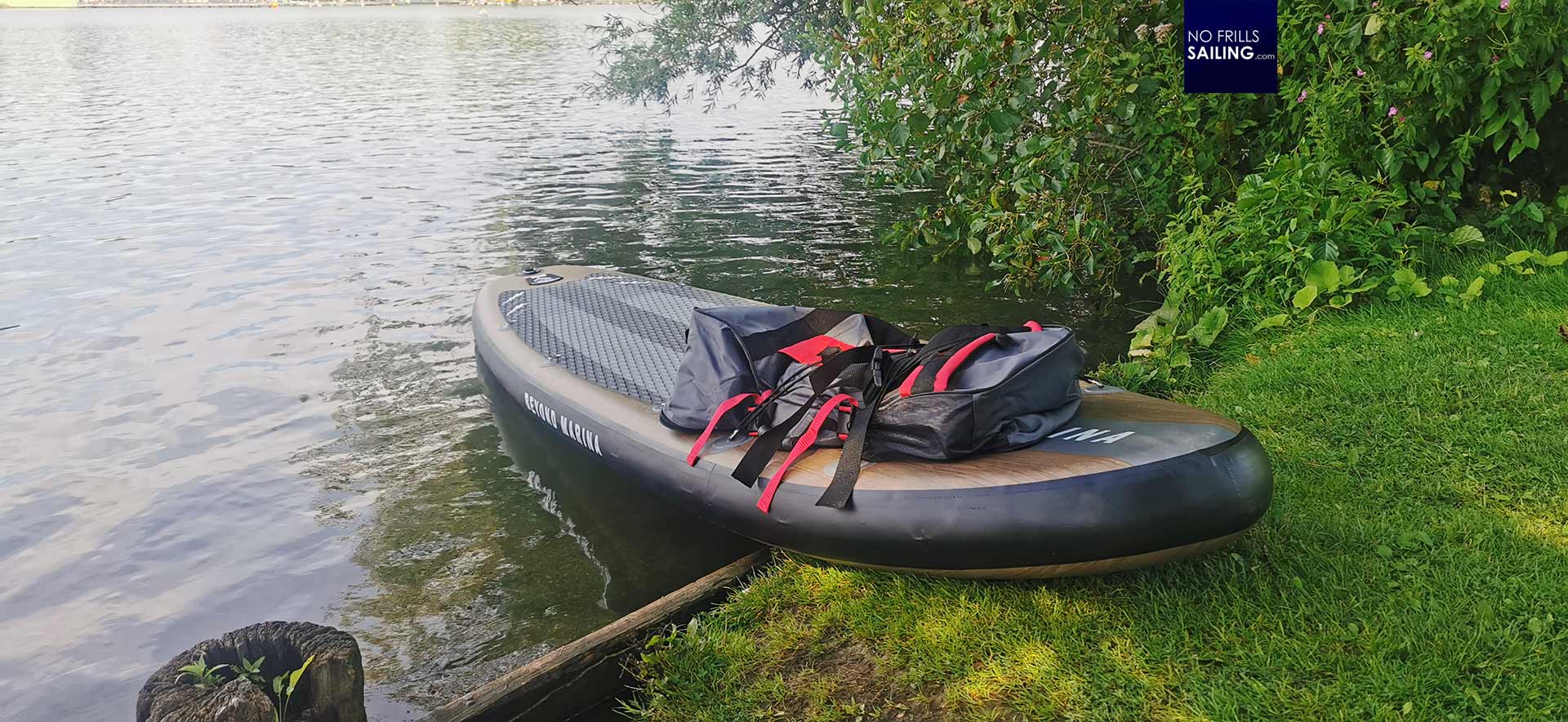 This works absolutely fine: Most "cruising" paddle boards (yes, there are also "compact" boards and "speedboards" for competition) are wide enough and long enough to support a grown-up man sitting down. Crossing your legs may hurt after a while, so you can change positions, let your legs hang outside into the water (refreshing but taking away speed) or you kneel, which produced quite some speed when paddling. You can upgrade your board to feature an electric motor too, but that is maybe step 2 …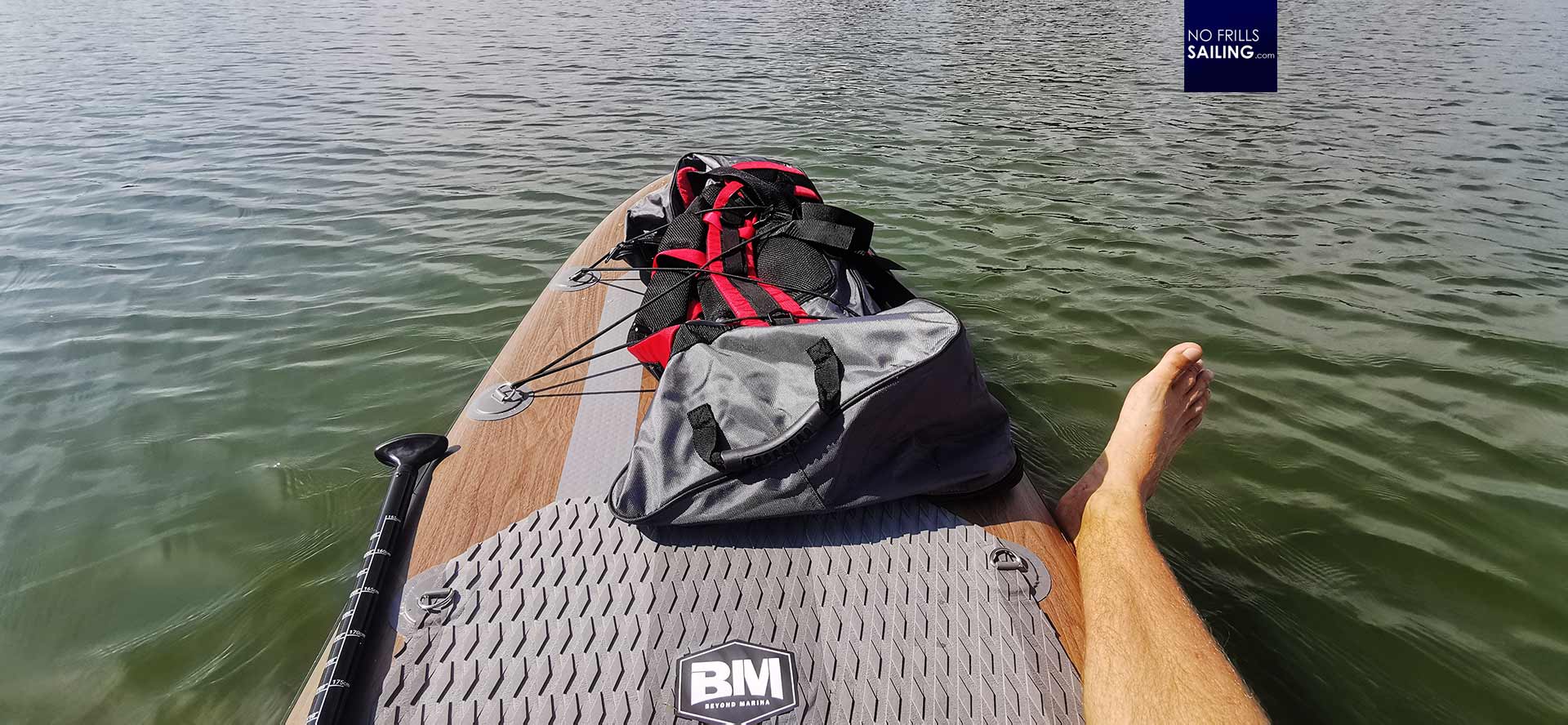 Luebeck´s Old Town is an island, so I thought it may be cool to paddle around it all the way. I know the route from lush afternoon strolls with my partner, but never went around looking at the city from the water. The average speed when paddling is mostly slightly slower than somebody walking alongside, I´d say not faster than 5 kilometers an hour (normal paddling, no hurry). It took me some 2.5 hours to paddle all around Luebeck, 3.3 nautical miles in total. I decided to pump some more air inside half way around since I had the feeling that the board could be a bit stiffer – just five minutes ashore, no big deal, but this would not work when "offshore" (referring to the defective manometer in the first place).
You should get yours
Arriving back where I started, I was soaked wet in my own sweat since it was noon and really hot yesterday. My arms, especially the shoulder and neck parts, are sore today: A sign of a good workout. I find that the sportive and health-aspect of standup-paddling is enormous. Either way, standing up or sitting down, the fitness part of this this makes you use a variety of muscles and it´s a good training for your arms, muscles or the trunk and especially the abs. Even more so when standing up.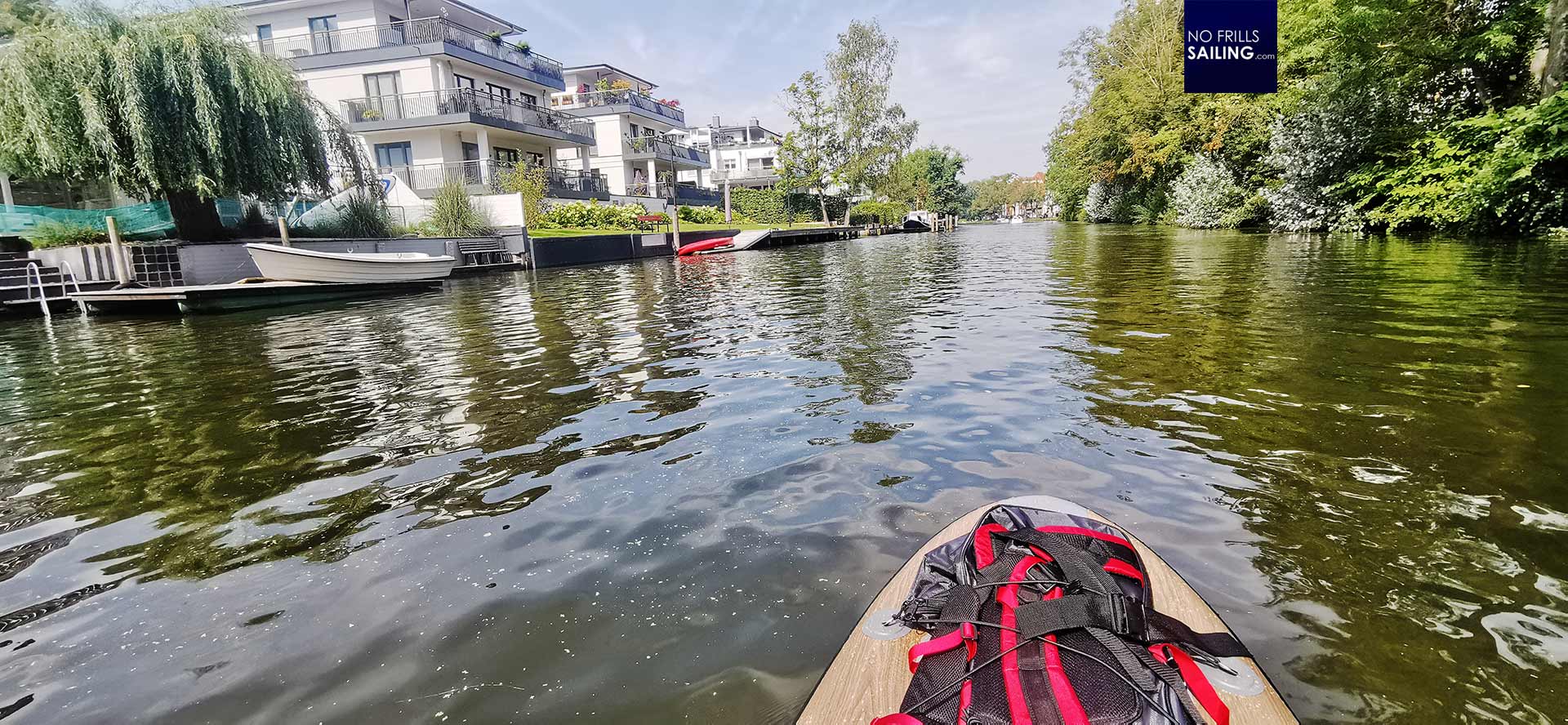 I also love the easiness of the SUP: Thinking of my boat´s equipment and the decision between a full-fledged dinghy or a SUP, my decision is easy. The SUP is way easier to maintain, to set up and stow away. It will take only a fraction of storage volume compared to a dinghy, let alone that there is no engine, no smelly gas tank. Of course, this is valid for the average cruising boat: I don´t think that a SUP can be used to ferry groceries and large quantities of provisions between the shore and your anchorage.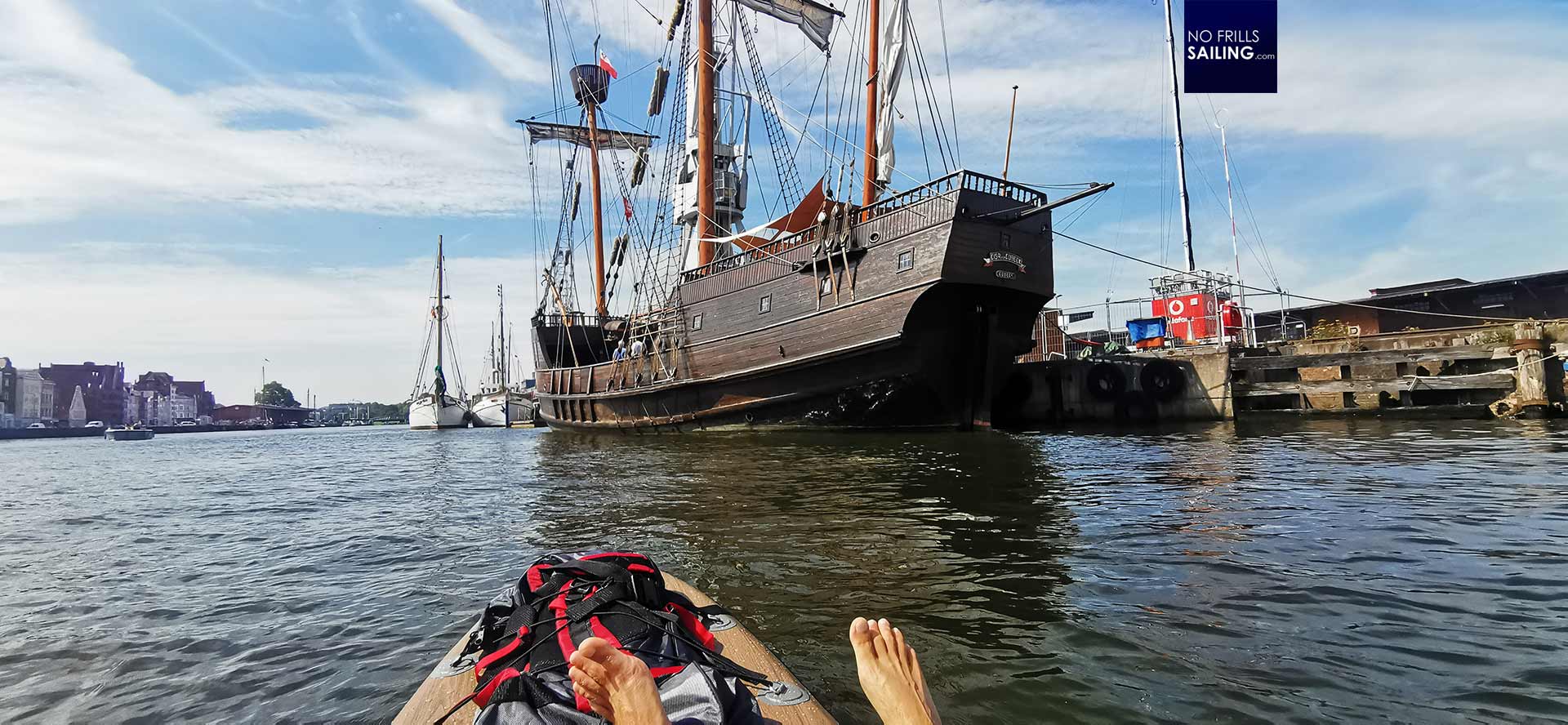 I also love the SUP for that it is a great tool and toy to entertain your kids. I´ve delivered quite a few boats now with a standup paddleboard to my clients and the feedback (after a few days as fresh owners) always includes some pictures showing the children of my clients enjoying a splash playing with the SUP. My new boat is far from finished, but anyway, one crucial part of equipment is ready – and my own kids love it too!
My overall assessment for the Beyond Marina SUP: 8 out of 10 points
If it wasn´t for the defective manometer, it would have been a 9
You might find as well interesting to read:
Why I think an SUP should be aboard every sailboat
Great fun with a use: A life jacket "drill" with your sailing kids
How a watch changed my (sailing) life