This is something that really touches me since owning a watch really changed my life. I had worn my last watch back in the Nineties when I was a teenager but quickly realized that there is always a clock around somewhere so I skipped wearing one. With the advent of smartphones in the early 2000 years the necessity to buy a watch further diminished so I never got one again. Well, that changed recently when I realized that it was not only impractical but also a bit annoying (especially in foul weather) to always squeeze out my smartphone just to check for the time.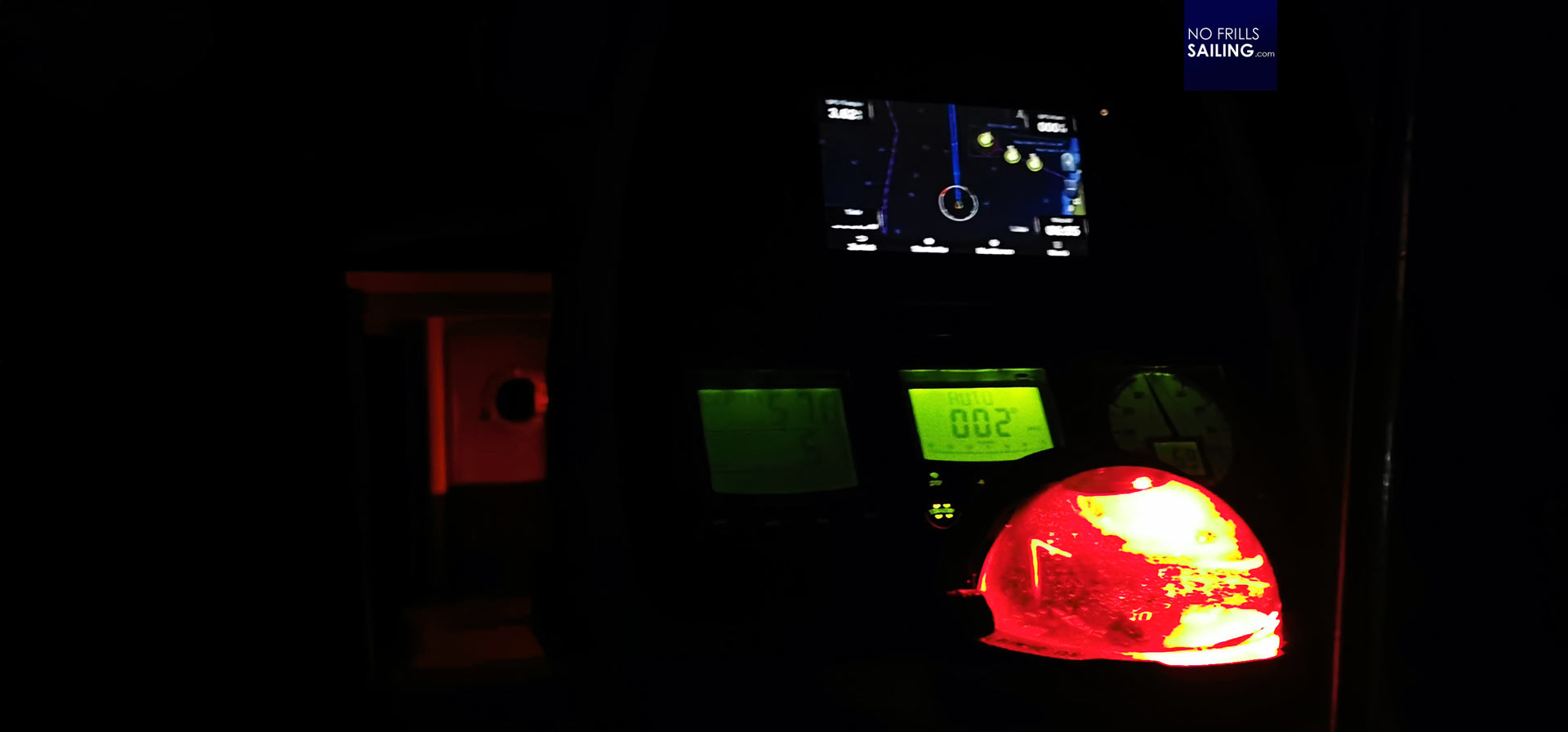 So I decided to again try to wear an ordinary watch whilst sailing and got me one on amazon. It´s not a fancy watch nor is it a "proper" sailing watch. The Festina Unisex Chronograph costs some150 Euros and I thought this might be a proper brand and a good price-value product. Here´s what I experienced in my first year wearing the new sailing watch.
Most precious during night sailing
It no less than changed how I sail. The convenience of a wrist watch is undeniable. Just a quick turn of the hand, a short look and you instantly know what time it is. Sounds strange and a bit crazy but if you realize that normally I would open my watertight pocket of the oilskin sailing jacket, take out the smartphone (which is very laborious especially when wearing a life jacket), deactivate the screensave mode (a pain in the ass when its raining!) just to have a quick time check, you understand why I am so excited about an ordinary wrist watch!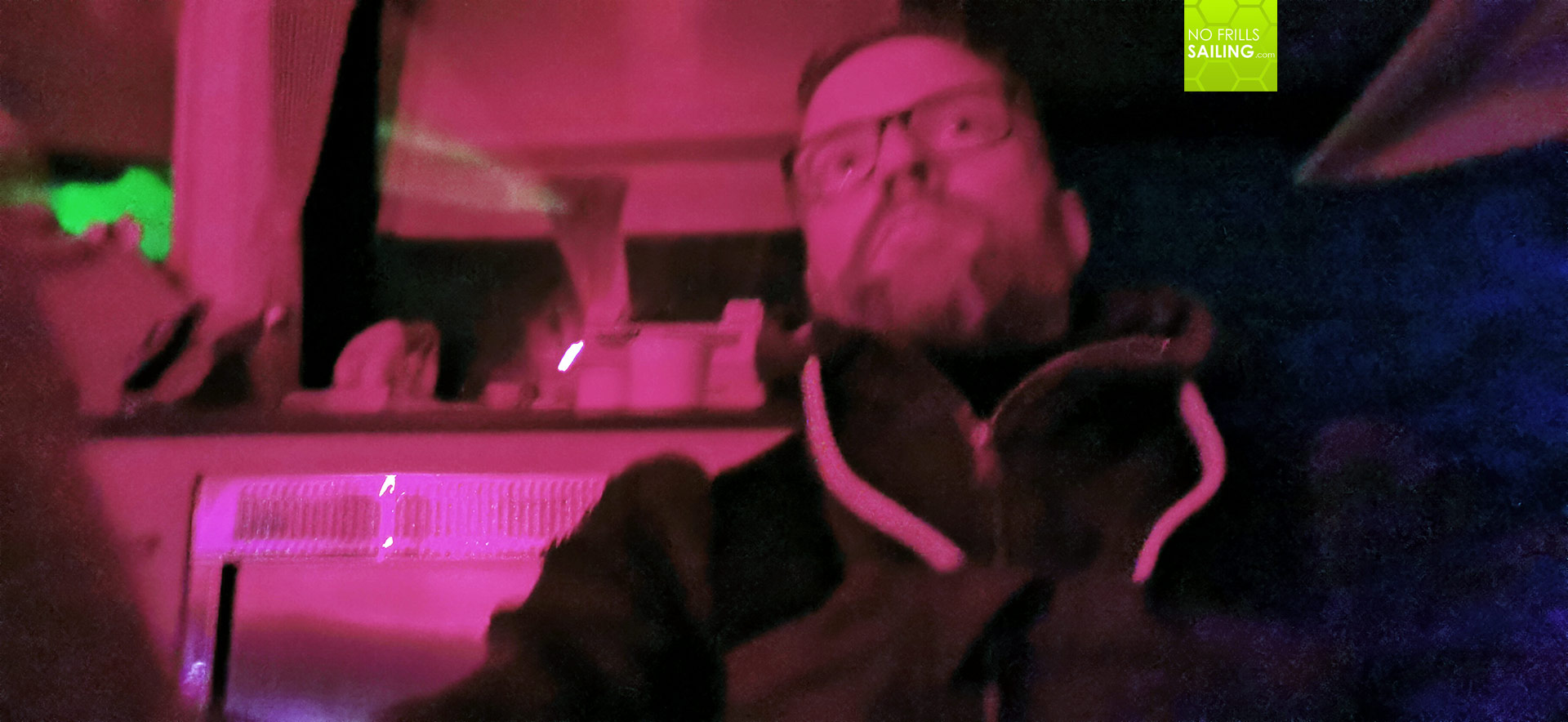 Next thing is night sailing. Usually it is dark, of course, during the night and all plotters and other screens are dimmed to minimum light emanation. You simply do not want to have your smartphone lit up to full blowing light just for a 4-digit information. I love my watch for its fluorescent clock face which really works fine. That would be also my recommendation for any watches you may look at: Ask the seller to provide for a dark room to check if the face is clearly lit up face of the clock.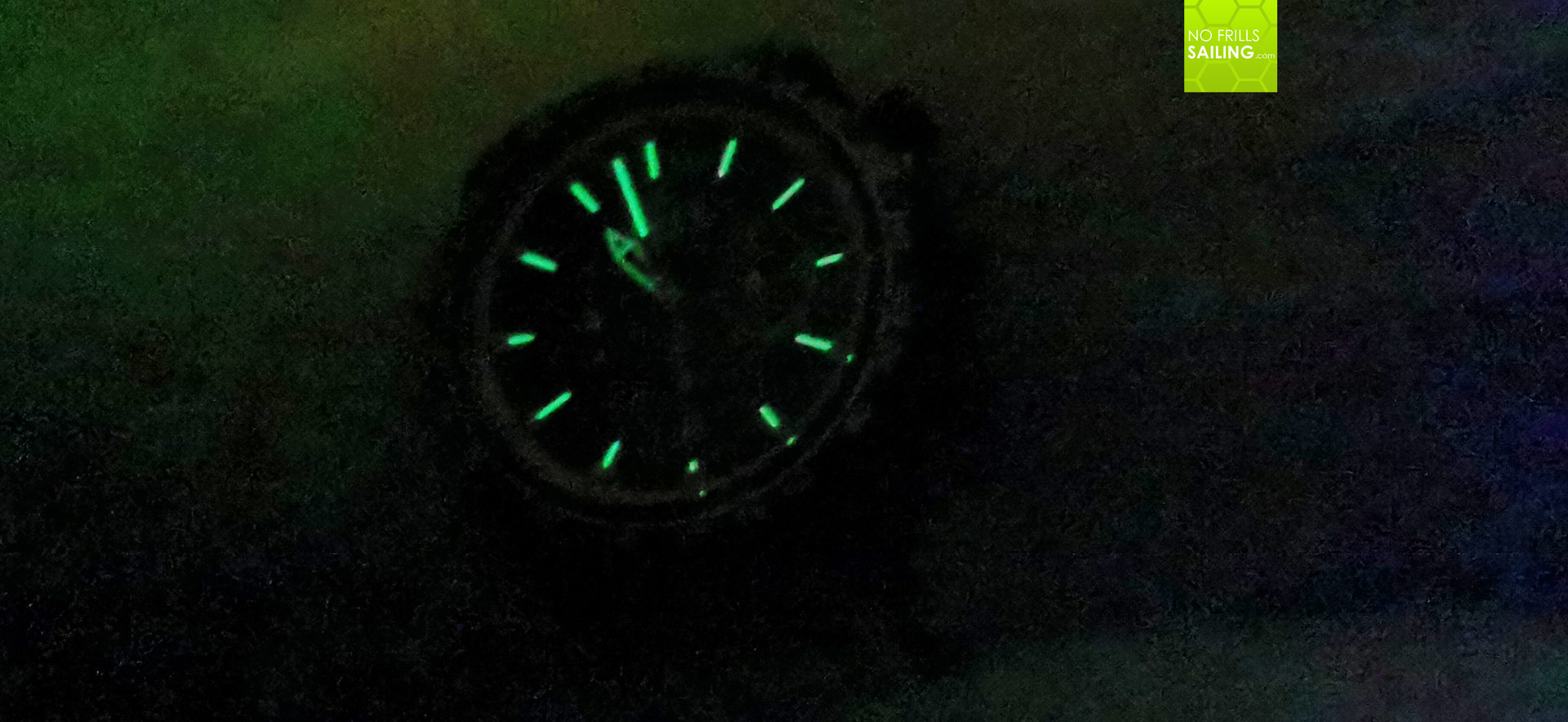 So, I am now sailing for some 1.000 miles with my Festina and I am really surprise how it changed everything. "Time to distance" is a new quality in sailing tactics for me, so, for example, when tacking upwind I can now much quicker determine when best to tack. Before I used the watch I clicked on the plotter to mark a position in the water (hence: the distance) where to tack – now it´s a quick thing of mental arithmetic. I now do not determine where but when to tack. Much easier to instruct a crew by telling them "We are going to starboard tack in 30 minutes" than to tell them to look out for a mark in the middle of the blue screen on a plotter.
Festina Unisex Chronograph: Smart Watch?
Now, what about my Festina Unisex Chronograph Smart Watch? Well, the name is a bit misleading. This watch isn´t smart nor has it any "smart" features. There´s a stopwatch and a calendar, but that is all. The watch is also water proof, which is a good thing when sailing of course, but in essence, it just displays the time – and that it does very well.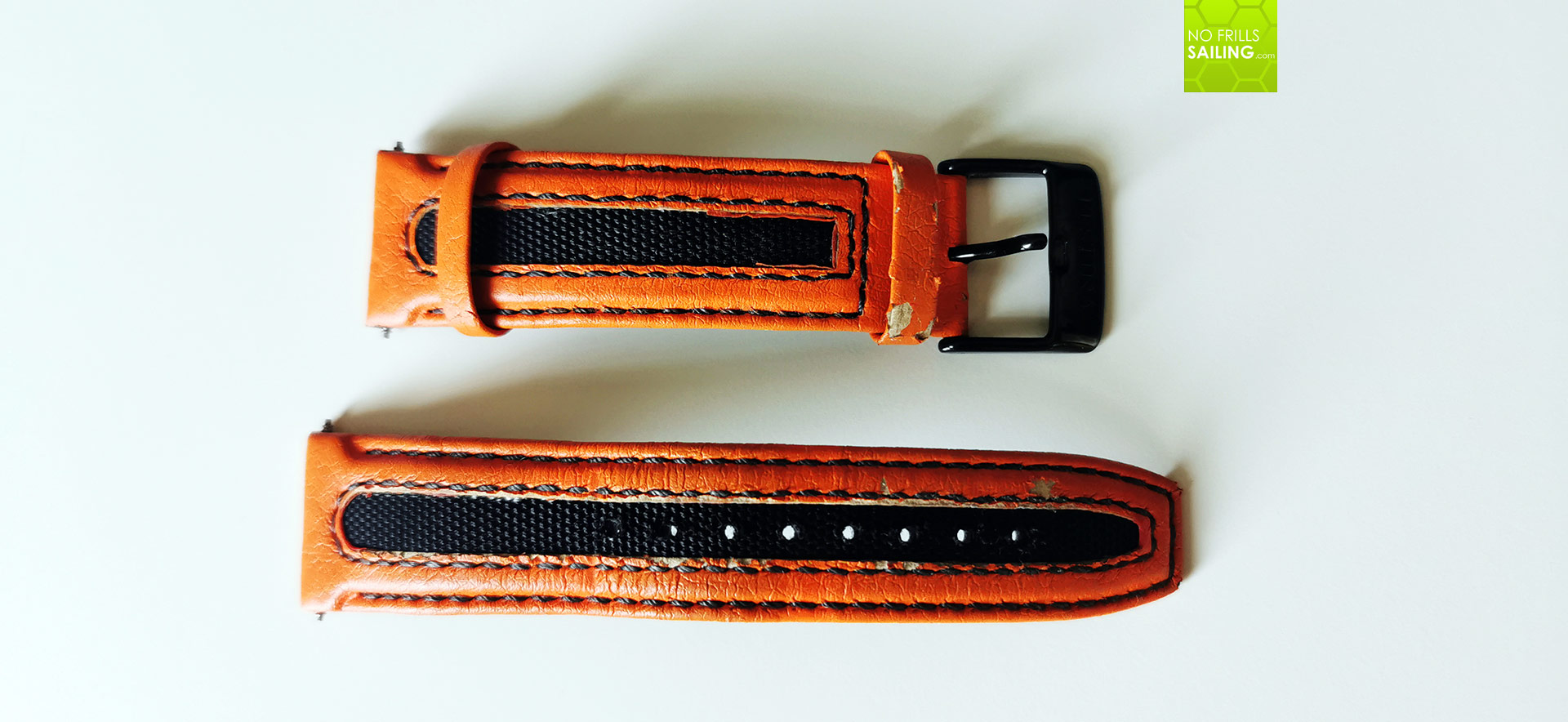 Something that is clearly not good about this Festina watch is the quality of the wrist straps. They are made from leather (faux leather I´d suppose but nicely to look at). These straps disintegrate and loose their "leathery" surface quickly . That is annoying since the colors of this watch are a USP as Festina offers a great variety of these watches in your favourite colors.
Well, in addition to my 150 Euros spent initially on the watch itself, I recently bought a high quality wrist wrap in France worth another 40 Euros. This time it´s real thick leather and strongly stitched sews. This raises the budget to mere 200 Euros and that would be the threshold I´d recommend when thinking of investing into a watch as the minimum amount you should be willing to pay.
What is the best sailing wrist watch?
Now, what is the best watch? I don´t know – as always this depends on what you want to achieve. If you are a keen racer and regatta-sailor you might look for a really smart watch. Garmin offers a variety of sailing dedicated watched with great functions: GPS, speedometer and a load of load full of functions. The Quatix watch starts at some 450-500 Euros, topping out the range with a budget around 1.500 Euros.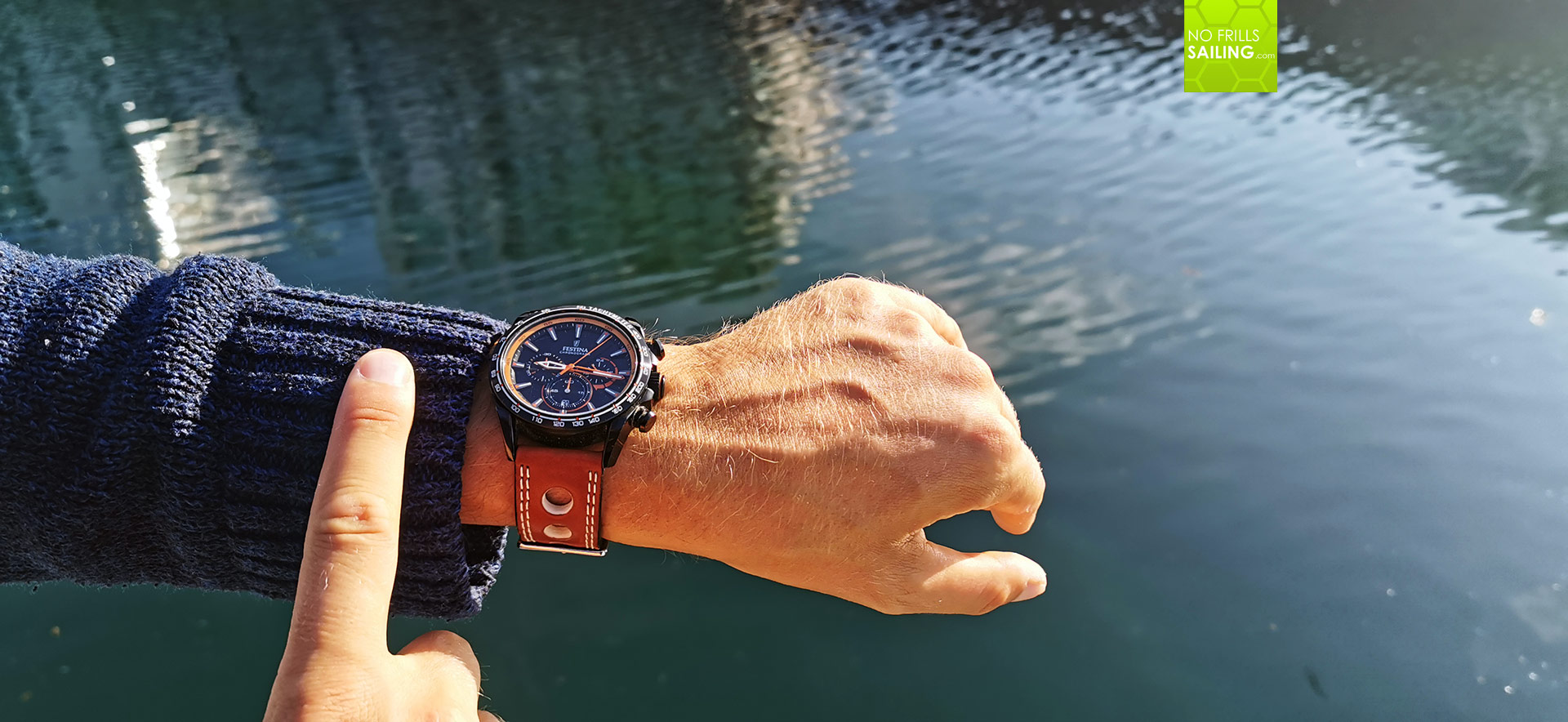 Well, as for me, I am for now happy with my entry-level wrist watch. I wear it all the time, not just whilst sailing and every time I take a look onto it I am really happy to have it. What are your experiences with watches, how do you tackle the time-question on board and do you have any experience with real high-class sailing watches? Looking forward to your comments.
You may as well like to read:
Product test: The Ibberson sailing knife
Sailing tool box, all a skipper might need: Kraftwerk!
Sailing boots fail: Gotop