Istvan Kopar is one of the 18 contenders who signed up for one of the greatest adventures – the new Golden Globe Race of 2018/19, which started last year after a somewhat troubled initial period and – again, like the original event from 1968/69 – showed the world what kind of men and boats it takes, to circumvent the earth alone in a boat. I´ve had the pleasure to talk to Istvan just days into his start from Les Sables d´Olonne (read my first interview here) and nw that he is back I grabbed the chance and called him again.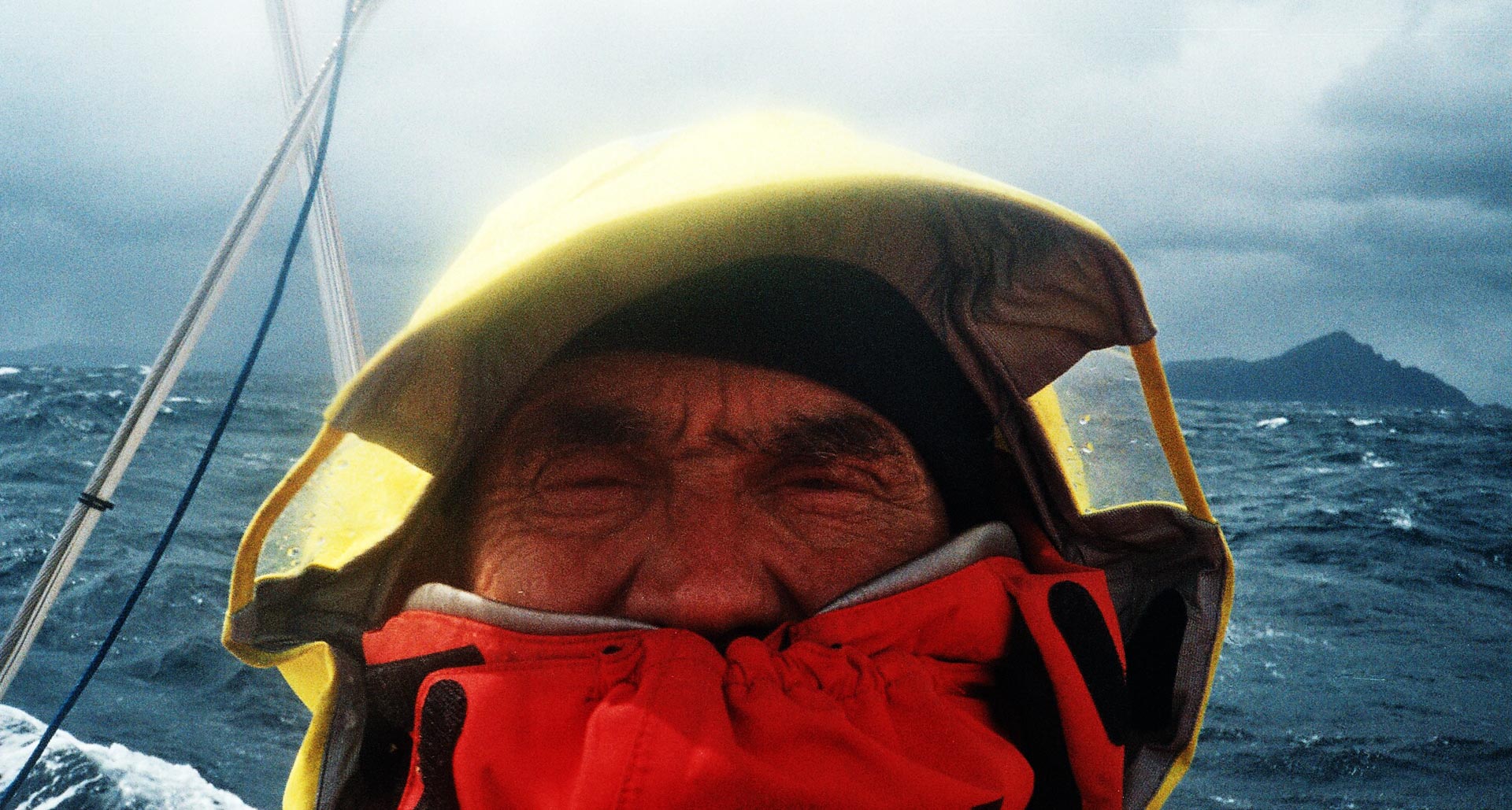 Istvan came in fourth place in his sturdy PUFFIN, one of just five skippers to actually conclude the circumnavigation. 13 entrants didn´t made it back to Les Sables d´Olonne for various reasons, so finishing alone is a big success here, no matter which place. Let´s talk to Istvan.
Lars Reisberg | NO FRILLS SAILING.com: "Istvan, first of all welcome home! What was the first thing that you did when arrived in Les Sables after you had been able to close the hotel room door behind you for the first time?"
Istvan Kopar: "Well, there was not much privacy because my wife and I shared a B&B apartment with close friends who travelled from different countries to welcome me at the finish. I was able to enjoy my first fresh water shower just after a delicious home-made dinner in the company of a dozen. But I could not really enjoy the dry and motionless bed due to frequent leg cramps caused by 30 something hours long sleepless sailing before the finish."
NFS.com: "You came third out of 18. Congrats for that: During the live stream after landing in Les Sables I've had the impression that you had been disappointed, why is that?"
Istvan Kopar: "I finished as fourth, not third and that was the main reason of my disappointment. I had almost zero chance to finish in the first 2 places but a good one to be the third."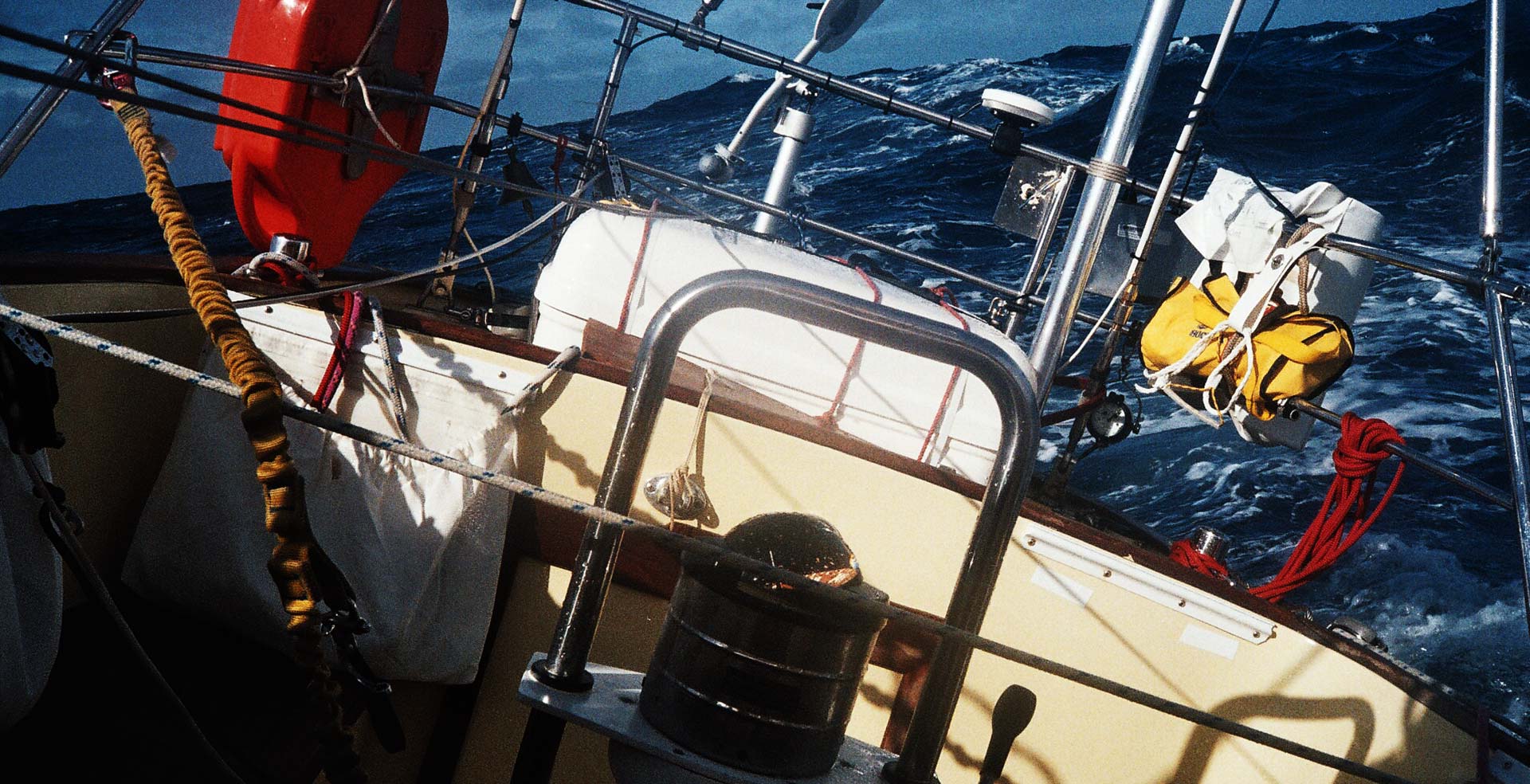 NFS.com: "Reviewing our first interview just before you departed on that voyage I asked what would be the toughest thing and you expected it to be the psychological side of the voyage. Now, what was the hardest thing during the voyage now you've returned?"
Istvan Kopar: "My answer did not change much. I said that the length and the duration of the race would be inflicting the most stresses on body and soul. But in my case, it changed. The reason for the phycological burden was not the mere scope of the voyage but the race itself. I knew before the start that the Rustlers were faster than my TW 35 but did not foresee the ongoing trouble with my wind vane which slowed me down big time. The poorly functioning self-steering ruined my race in the end – right from the start – and put me in the fourth place when I came in."
"Constant trouble with the wind vane!"
NFS.com: "That´s right: At the beginning of the race you´ve reported that you had been plagued by a failure in the self-steering gear. Can you explain what happened and how you adjusted to this malaise. How have you been able to circumvent the whole planet although the wind vane never worked to the full extend?"
Istvan Kopar: "Well, the first step was to identify the problem because the designer and manufacturer of the wind vane equipment had been on the boat right before the start and so we believed that he fixed the problem in the steering wheel adopter. Consequently, I skipped that area for a while in my troubleshooting efforts. I steered by hand most of the time till I reached the Cape Verde Islands. In this, of course, I had less and less time for navigation, less time for sleeping and no time at all for radio communication. I slipped back in the fleet ever so slightly and got very frustrated. Also, serious exhaustion accumulated after a couple weeks. I called Don on the hot line, which was "legal" by the rules, considering to move down into the Chichester-class by replacing my inoperative wind vane with a good one. He directed me to the island where the replacement wind vane might be picked up and installed. I sailed there and anchored in the bay's anchorage. I explored the area by my binocluar after a good sleep and saw very poor conditions on land regarding a successful replacement, so I pulled out my spare wind vane and started to compare it with the installed one. And here I finally found no less than five missing bolts in the wheel drum. I reinstalled everything and kept sailing after a sea trial. I claimed back my GGR status since I did not use outside aid or help, did not stop in the suggested marina and touch any land or vessel. Of course I´ve got a 24 hour time penalty which has been questionable after learning about the other sailors' incidents later, but, well …"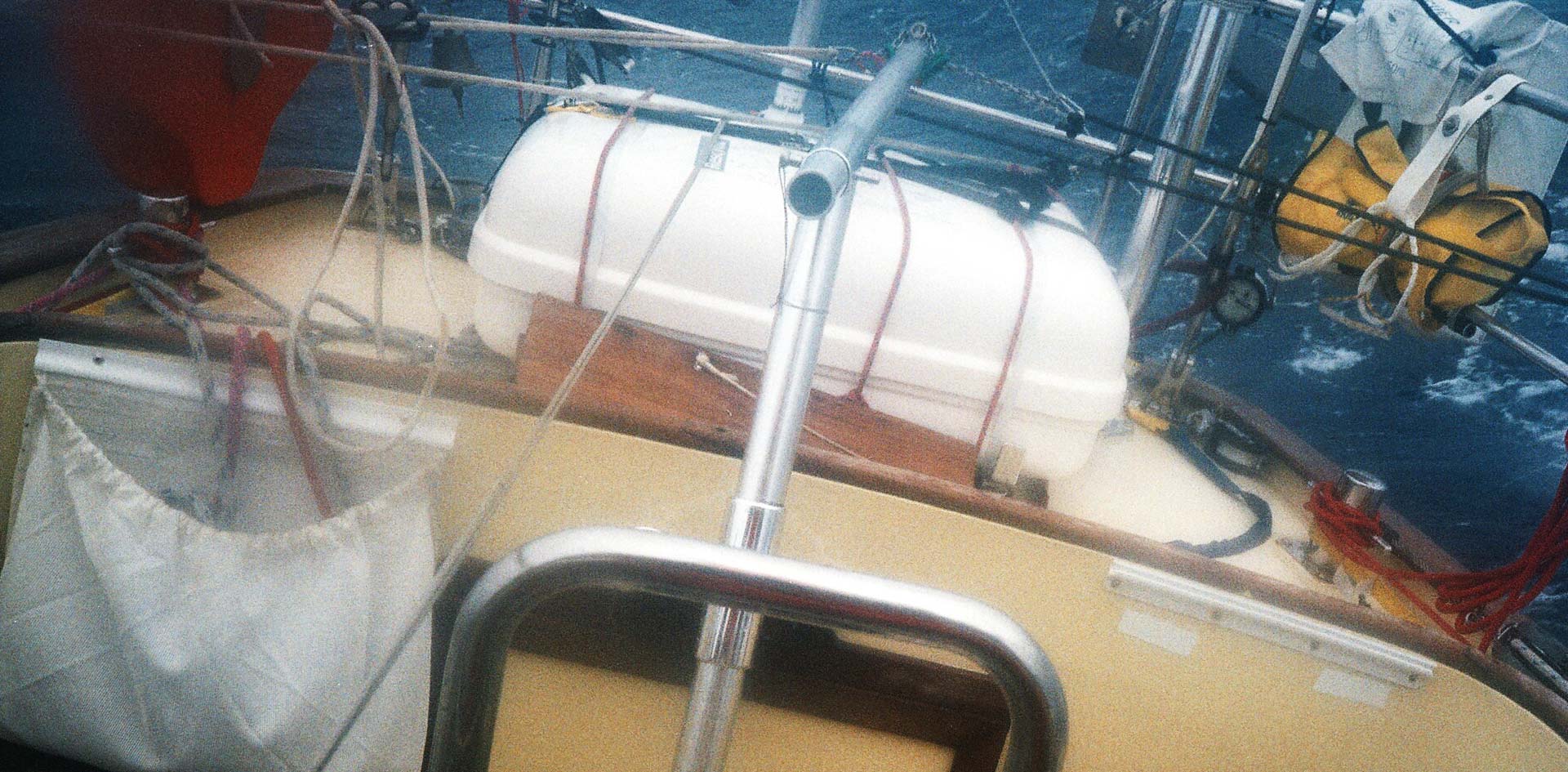 Istvan Kopar: "Anyway, the wheel drum's working life span was max 3 to 4 weeks without replacing the plastic "brake pads" and so I did had to find unique solutions after I ran out the spare "pads" to maintain its function. So I came up with a jury rigged-solution: I had to lash together its discs or use a wise grip to lock them together. The constant repair and the "jury rig" solutions impacted my sail performance both mentally and physically. Other things didn´t run smoothly as well: In addition, my Whitlock Cobra 4 rod steering got damaged by the wind vane, so I had to steer by my emergency tiller more than 1.600 nautical miles. Finally, just 600 miles before the finish the main unit of the wind vane also broke and had to replace it with the spare unit which was smaller than the original one. I did steer a lot manually and often sailed PUFFIN as Joshua Slocum sailed SPRAY with sail trim and balance. But it worked …"
"Storms with 55 knots."
NFS.com: "What was it like to see so many of your contenders leaving the race? A total of 13 dropped out the race, some of them severely wounded or punished by extreme weather."
Istvan Kopar: "Well, see, the numbers are still better than in the original Golden Globe Race in 1968. I am not among them because I prepared my boat properly and have more than 50 years of sailing experience, I would say."
NFS.com: "Speaking of weather, where did you experience the most outstanding conditions, be it waves, storms, winds, high or low temperatures?"
Istvan Kopar: "We got to the Southern Atlantic and into the Indian Oceans too early, well before the Southern summer. Consequently, the weather was more challenging there. But I met very confused, lumpy sea with scary waves even alongside the Argentine coastline. The Southern Oceans were the coldest and the doldrum was the hottest region, obviously. There were at least a dozen storms with wind well above 55 knots and big waves but the most challenging ones were when PUFFIN was close to land. I am far more comfortable with offshore storms, I must admit."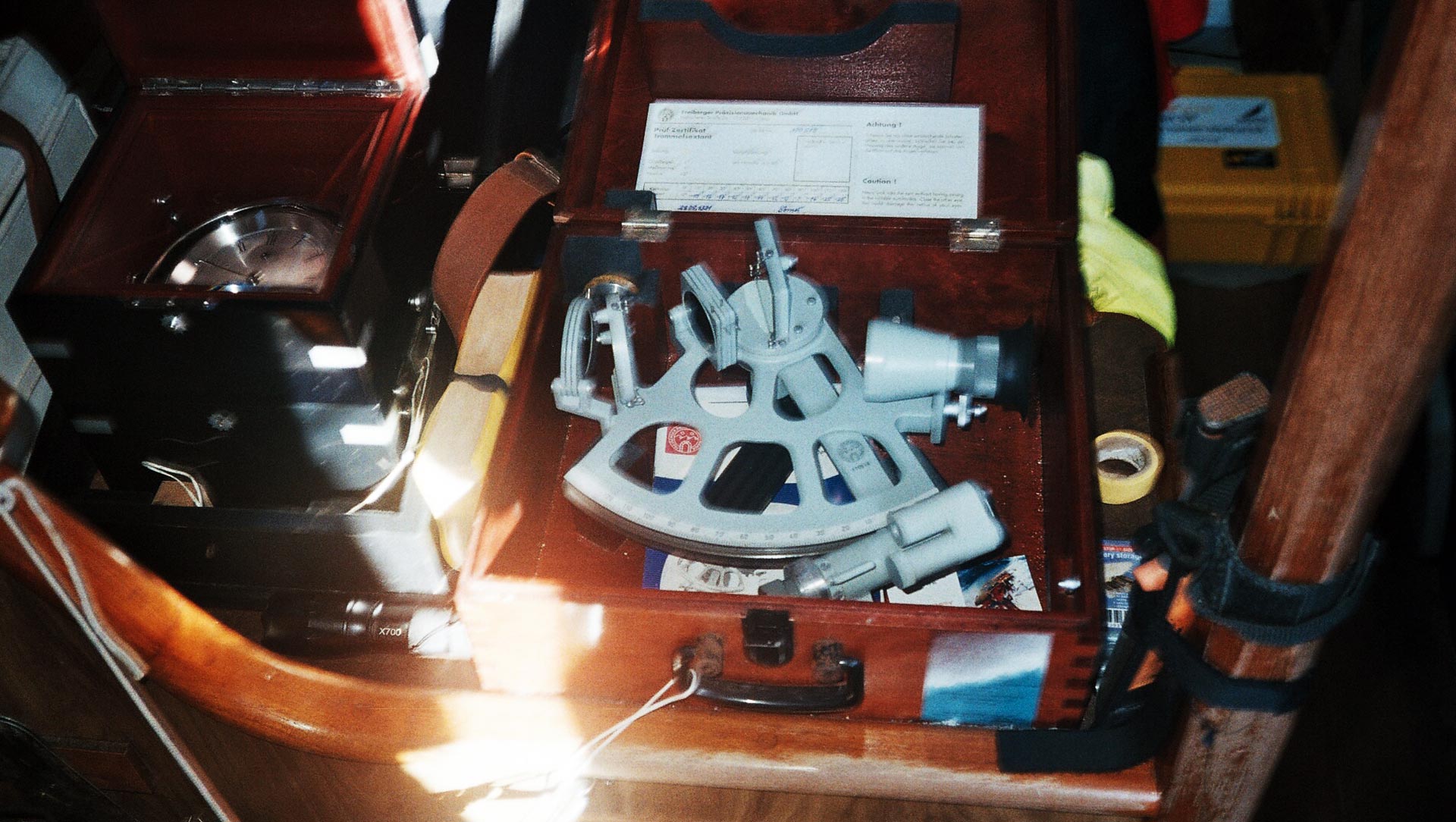 NFS.com: "Did you have regular contact to your wife, family or friends or was the weekly satellite call everything that kept you connected to the outside world?"
Istvan Kopar: "No and yes since my short wave radio got flooded after my knock down and I had no time and even less energy for radio communication before the capsize, well, due to the wind vane trouble. I was the only finisher without radio communication."
NFS.com: "How did you cope with celestial navigation, which has been done with Sextant and two brand new Wempe-chronometers, was it a bliss or burden?"
Istvan Kopar: "I did a one stop solo circumnavigation before this one without GPS, Radar, autopilot, watermaker, EPIRB, AIS, Radar transponder or anything like this so this race was not a challenge for me in this respect at all I must admit."
"I share a vision."
NFS.com: "You gave PUFFIN away. What is your motivation to have the ship that brought you around the globe passed to another guy? Can you give some insights to what was it like sailing the Tradewind-boat and where her good and maybe not so good sides are?"
Istvan Kopar: "I did restore PUFFIN from an abandoned stage into a very seaworthy stage giving purpose to her existence. She became my partner in the Golden Globe Race and I am responsible for her future. Ian, the new owner, loves Tradewind-yachts and entered in the upcoming edition of the race in 2022 with PUFFIN. He does not change her name, he does not remove Johanna's Cross, the first owner's widow, from the cabin and wants to keep the boat after the race.
I cannot imagine a better future for PUFFIN and I will help Ian in the next Golden Globe Race as much as I can."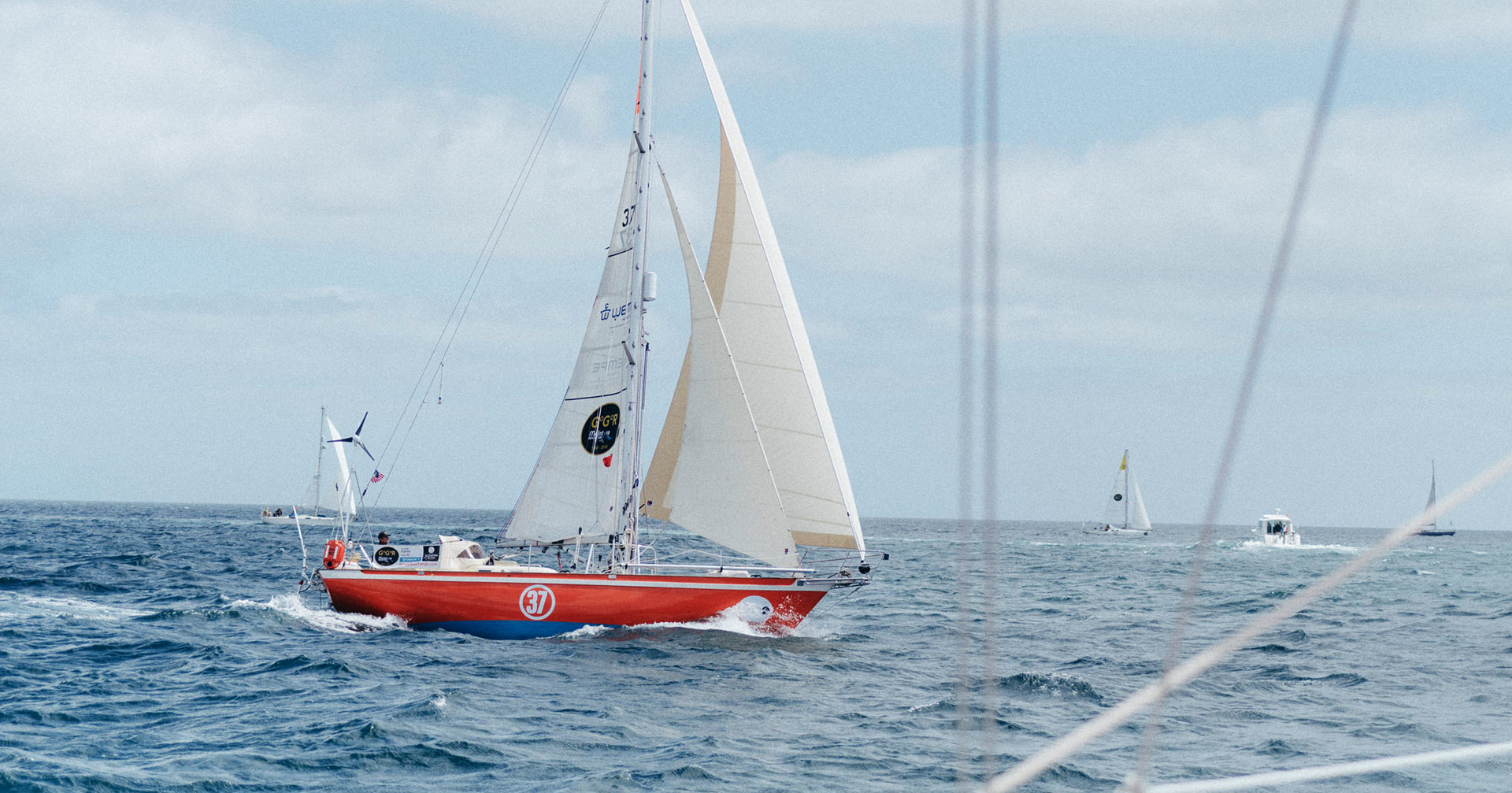 NFS.com: "Last but at least-what are your next plans? Any more sailing or some other things on the horizon?"
Istvan Kopar: "Let´s have me answered like this: Although I couldn´t achieve Arnold Schwarzenegger's success I do honestly share 100% of his recipe to success: First is to find your vision, second would be to never think small. Third: Ignore the Naysayers and fourth would be to work your ass off. The fifth step is to don't just take but to give back something. Well, I am at number 5 stage and try to save the Hungarian Sea "Balaton" for our grandchildren. The largest lake in Central Europe will disappear if we do not dredge it constantly and I think that I have a blueprint of the solution. This lake is a perfect sailing cradle and I try to save it for the future generation."
Istvan, thanks so much for sharing this exclusive insight into your Golden Globe Race. All the best for your future and your projects! Pictures Copyright © by Istvan Kopar, with his kind permission
You might also like to read about these topics:
The strange voyage of Donald Crowhurst: Reviews of the book and the motion picture
Skipper´s essentials: Offshore racing. Parts 1, 2 and 3
What is a perfect blue water sailing yacht? Here´s a role model