It was a great occasion: Sven, owner of the boat, sent me a quick short message if it would suit me well if we´d go out for a quick dash on his Archambault A35 racer-cruiser, as he was putting it in the text: "No weather for family sailing. Wind for adults. Want to go out?" Indeed, of course I wanted to! Next day early noon I arrived in the marina and there she was: The French racer-cruiser ARTISAN, ready to casting off.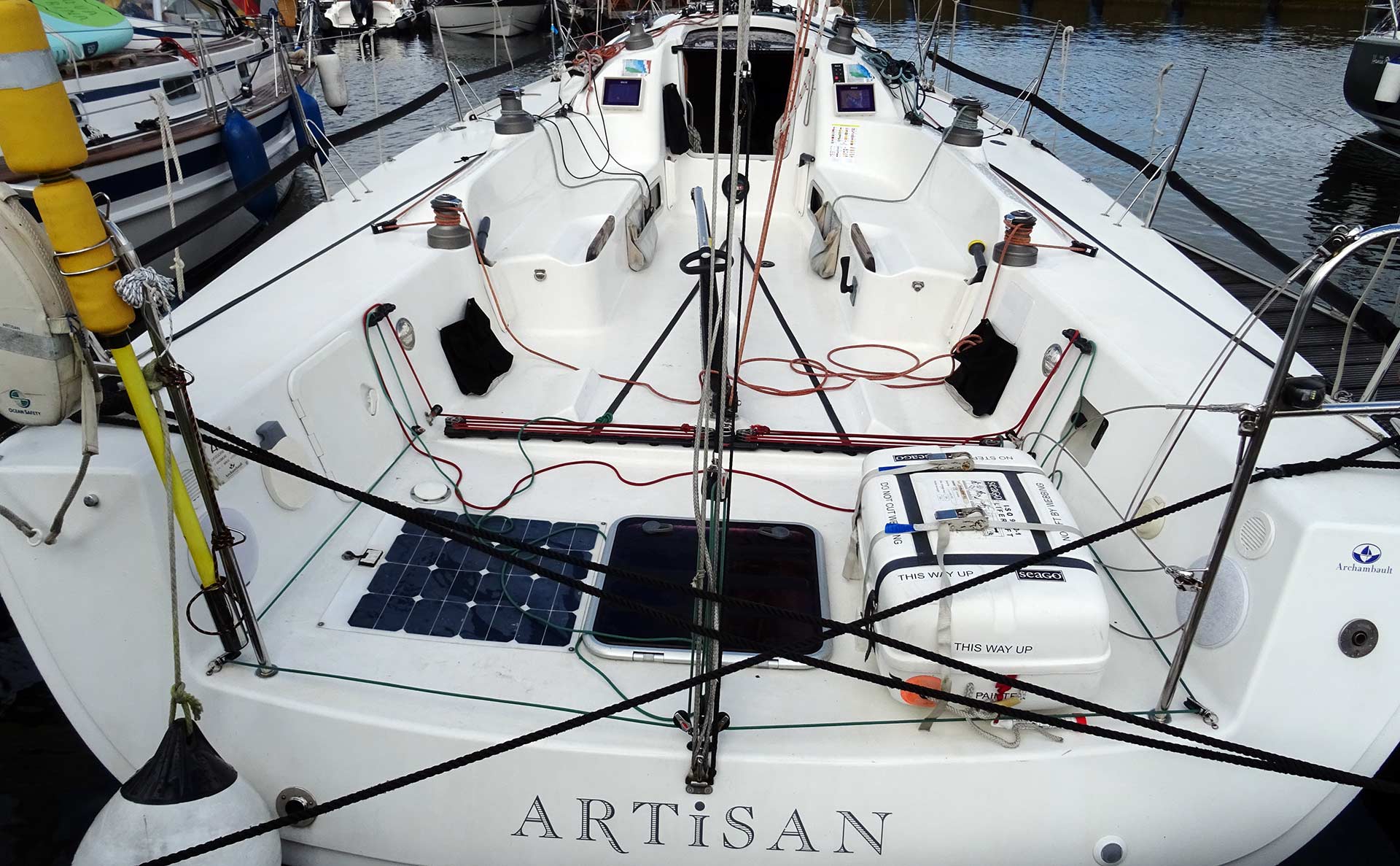 I did had an eye on Archambault-boats for quite some time now, especially on the A40, and so I was happy finding an owner here in Northern Germany who had one of these boats – French sailing culture is rarely appreciated as Germany is merely a volume-cruiser land. But Sven and his wife were different: Although having three small kids aboard, they embrace the no-frills-approach of this French boat and love her characteristics. A character I was about to experience by myself soon.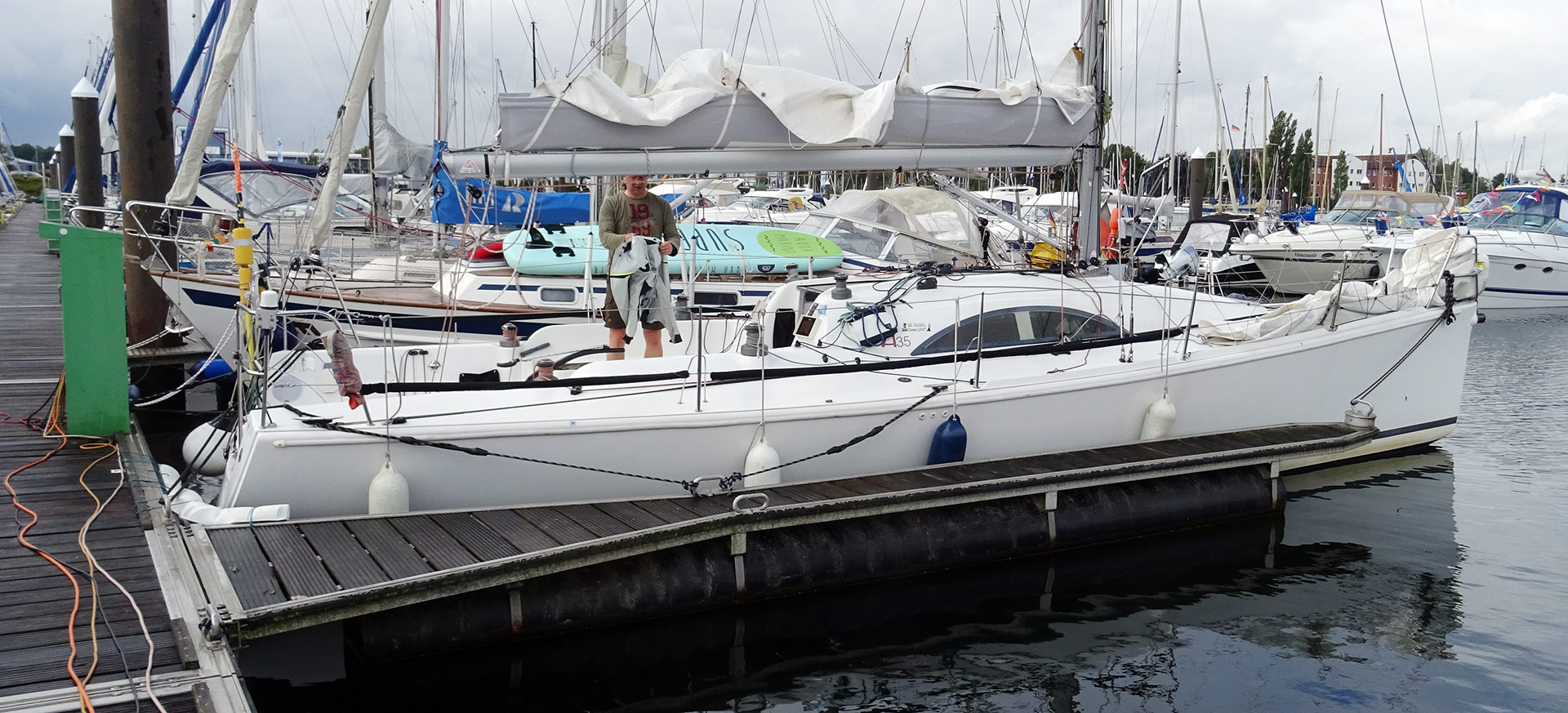 She is a nice, sleek and flat appearance. With a length over all of 10.59 metres (that's 36 feet) and a max beam of 3.55 she hasn´t got the widest stern imaginable – current downwind-optimized designs can be even wider. This, I would call it, moderate wide-stern will later be responsible for the nice sailing characteristics of the A35 I was about to experience by myself. Saying hello to the family I boarded the boat and got myself acquainted with the roping-layout. She is indeed a thoroughbred sailing machine with an emphasis on racing, not cruising.
The interior of the Archambault A35
Which, first of all, is most present when going down the three-step entryway to see her interiors. We would rate the Archambault A35 a racer-cruiser and indeed her internal set-up promises all the amenities needed for full fledged cruising: There is a galley stacked with everything you need from stove to fridge, an aft-cabin (with a proper door) and a forward "cabin" (without door) and a salon.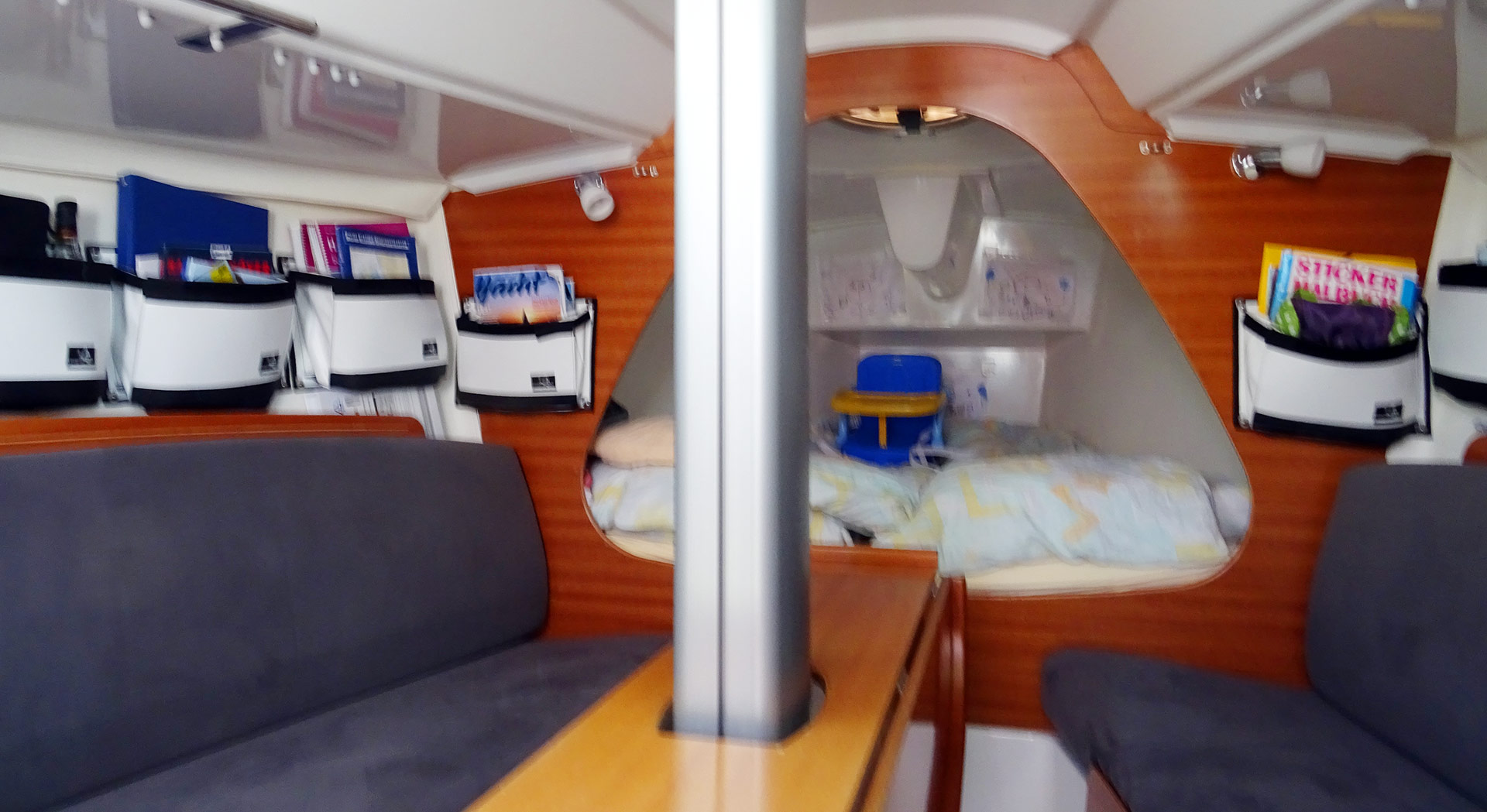 It´s "French Sailing Philosophy", I would say: No Teak outside whatsoever and just some (apparently nice) touches of wooden fittings inside. The rest is subdued to practicality. On the other hand one can find a sufficient amount of coziness in her salon: The two 4-seater settees facing each other bear some nice comfy cushion. When the dining table is fully folded out a set of four persons will dine in style down here – if folded away two surplus berths will emerge.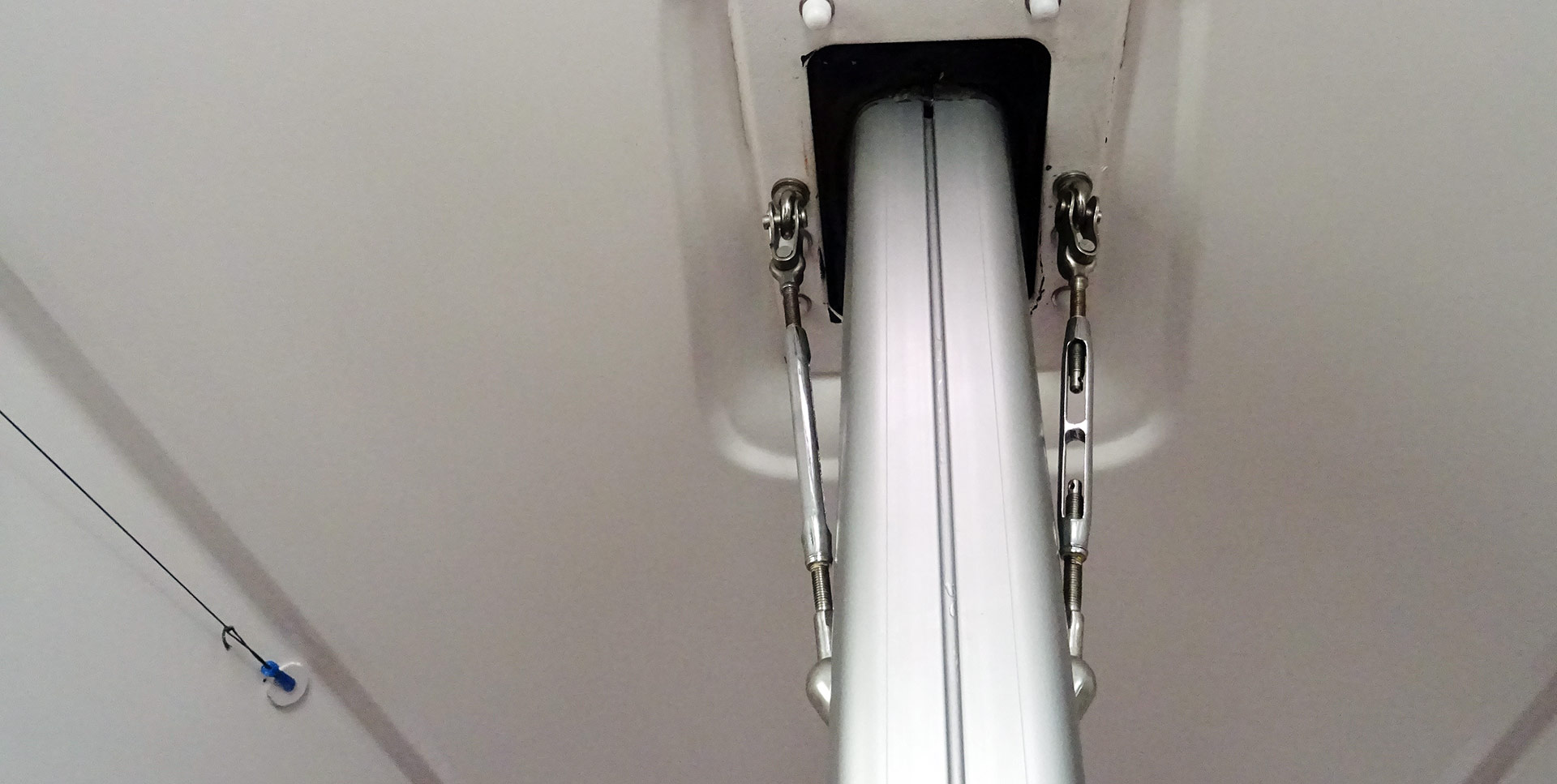 But you will always be re-assured by the boat that she is not made for smooth gammy sailing – she is made to be raced down the regatta-course: The stepped mast had a nice detail at where it is piercing through the cabin-roof: Two "shrouds" are forcing the roofing structure down. Sven, the owner, says: "When sailing, especially in harsh conditions, the deck will rise more than one centimetre down here at the sheet leads at the walkway. You ought to have this mechanism to keep the deck down and prevent it from being pushed up too hard." Never seen something like this on a boat.
So, she´s a racing kind of yacht. Nevertheless I was taken by the level of cruising-interior. The galley is absolutely sufficient to cook a decent meal, there is a proper nav-station bearing all kinds of equipment and a large enough chart table. To port side a proper cabin with a double berth and stowage is situated vis-à-vis the head on starboard side adjoining a large locker room for spare parts and other stuff. Outside in the cockpit behind the steering mechanism a large stern lazarette for fenders and ropes offers plenty of stowage too.
I was again surprised by the thought through concept of this boat which was really, really "French" at times: These boats are made for sailing, machines to go through the water, that´s their first and foremost purpose. Form follows functions and apparently the interior has been fitted after her main sailing characteristics had been incorporated first and foremost. That´s what I love about French-made boats: They are made for sailing. But now … let´s go out and get up the canvas!
Time to hoist the sails and go out
So we did it. I put on the foul weather gear as for the first time since weeks temperatures dropped from 35 degrees Celsius to a chilly 15 and the sky was completely overcast with some thick clouds passing by fast apparently carrying some rain. The forecast was right: There was a stiff breeze to be expected outside and that would be just perfect to do a sea trial with a boat like the Archambault A35.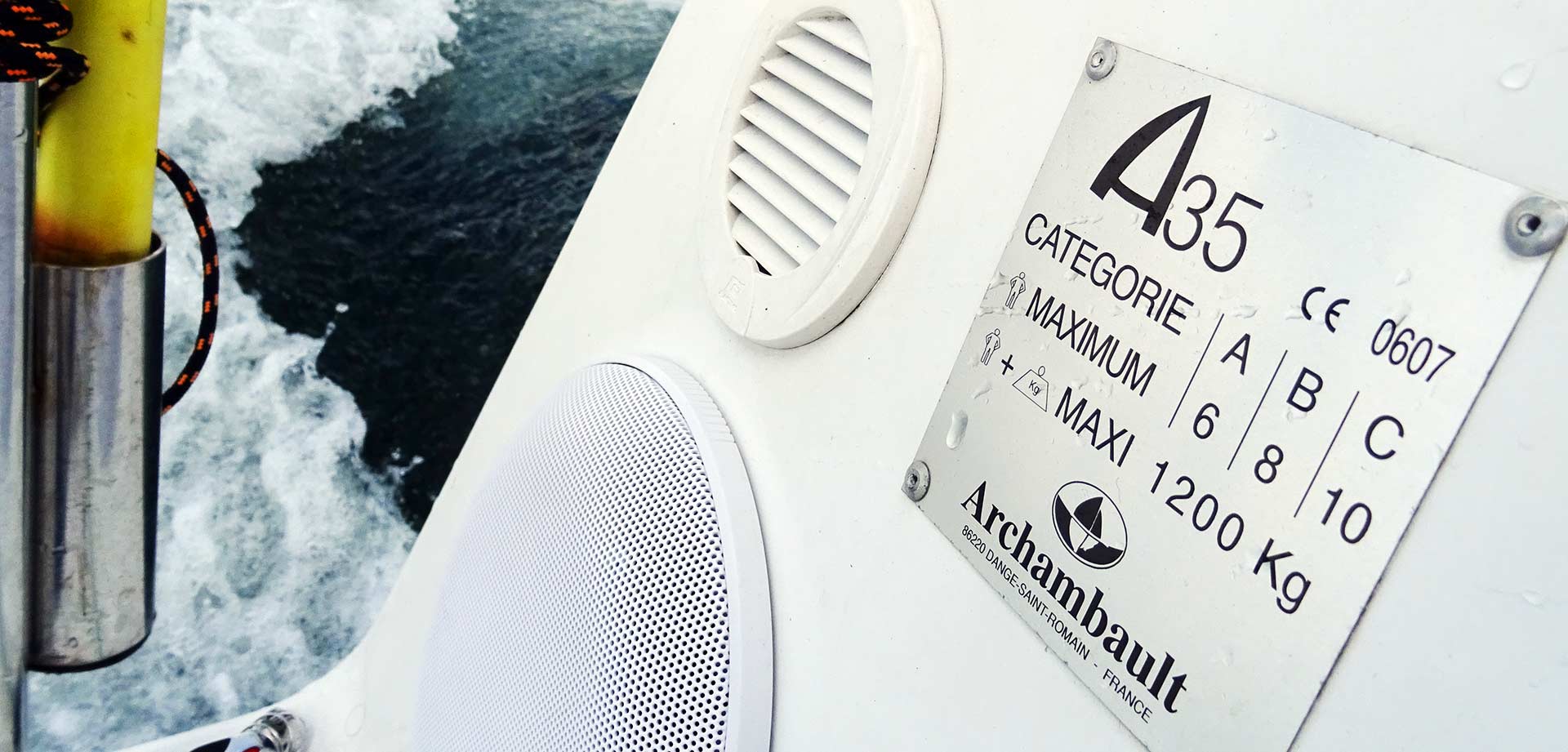 It´s a shame that this fine brand is gone since a handful of years after it went bankrupt and was bought by another investor. This articular Archambault was built in 2011 in France and as Sven told me, she had a very colourful history: Once belonging to a British guy named Bill Caldwell, who is a renown cartoonist for The Sun in Britain. Before that the boat also was co-owned by Etienne Lefort, a female French sailor who wanted to participate in some crazy single handed sailing race in the boat but eventually fell ill to cancer, which was atragedy. Sven bought the boat from the Englishman and didn´t rename it: ARTISAN is French for "craftsman", and this is what the Archambault A35 really is.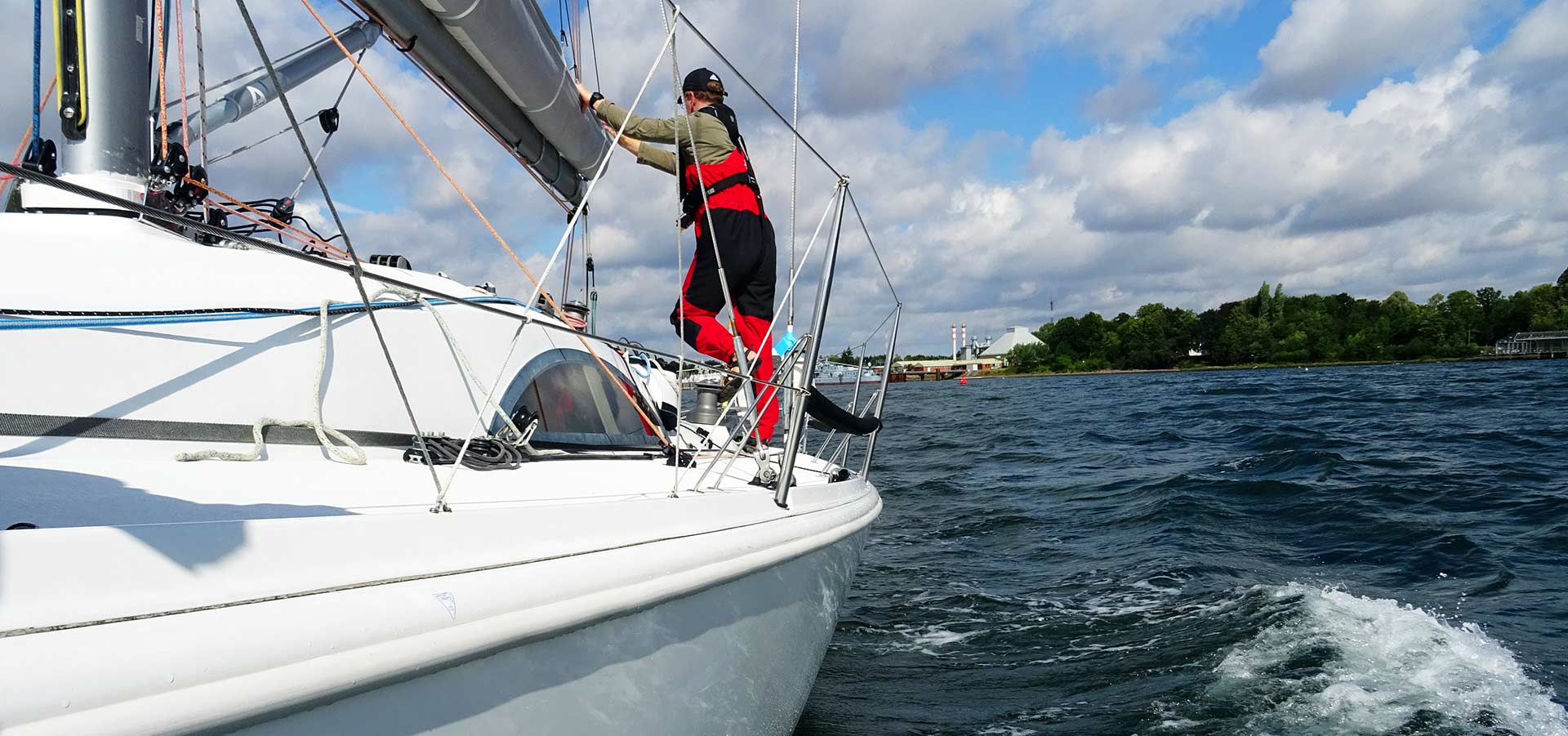 Getting up the mainsail by hand was a no brainer. With Sven at the mast shoe pulling the halyard and me on the winch we did have the 38 sq metres of canvas up and in the wind within a few minutes. Sven beared away and the sail filled with air, immediately forming the desired profile and the boat jumped to life. We killed the engine and I was amazed to watch the speedometer showing a steady 6.5 knots SOG in some 20 knots true wind. Wow.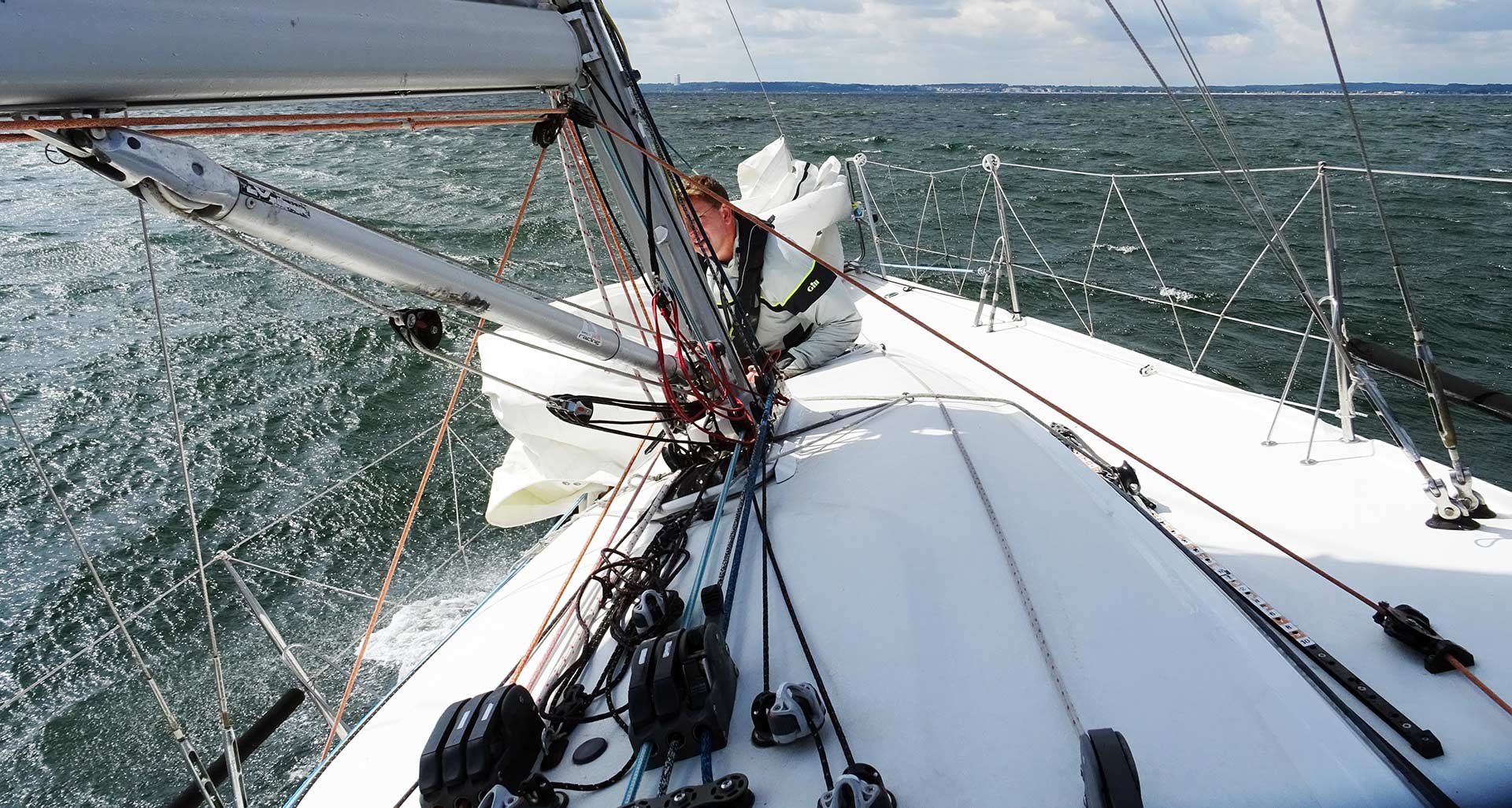 Next was the jib. The sails on this A35 are driven without any compromise to furling mechanisms and so the jib is rigged with means of runner ties. Again, just a dozen quick pulls at the halyard and the canvas was up. I trimmed the jib to fit the close reach point of sail and again, another boost of speed grabbed the boat and we dashed with two more knots through the waves. Sven beared away once more to a clear beam reach and I watched the log with excitement.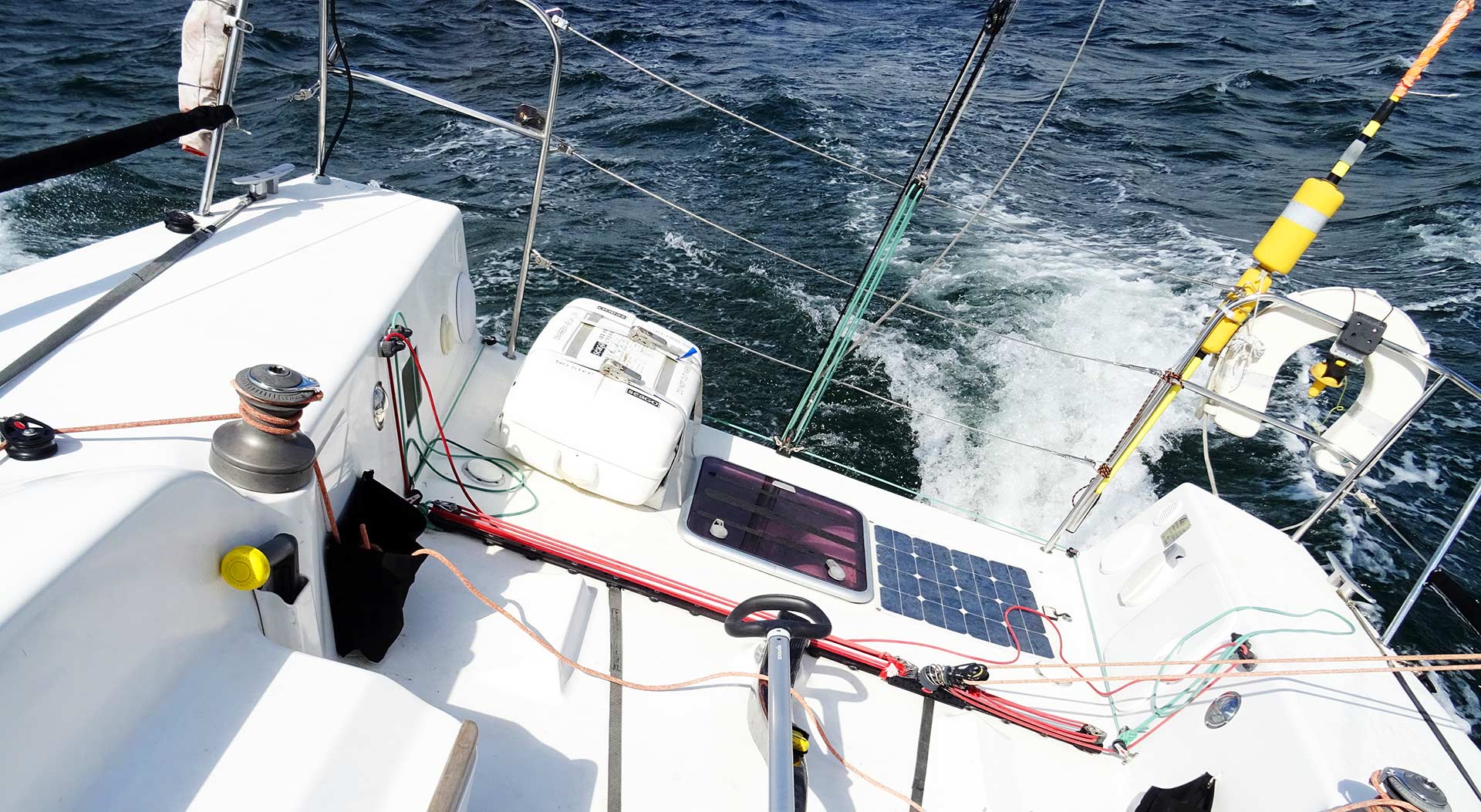 The boat had a nice heel of some 20 to 25 degrees, was making a nice fluent motion through the steep, choppy Baltic waves and easily began to plane from time to time with the wake being detached from the stern. It was a nice, effortless and graceful motion and Sven confirmed: "I do have the greatest of trust in this boat. She is very sturdy, well-tempered and can take a lot of wind before she´s hard to be controlled." He tells me of races where he witnessed lots of other performance cruisers suffering from broaches – but not ARTISAN, the brave Archambault!
Sailing the Archambault A35 on different points of sail
I was interested in her potential and asked Sven to bring her through the main points of sail once more. The sailing conditions had been almost perfect: Wind was steady above 20 knots, hardening up a bit with gusts coming in of 24 knots but that was cool. The waves reached a height of no more than 80 centimetres in average, maybe 1 metre at best, but – as usual in the Baltic Sea – short, steep and choppy. Nevertheless, best conditions for a thoroughbred racer-cruiser, I thought.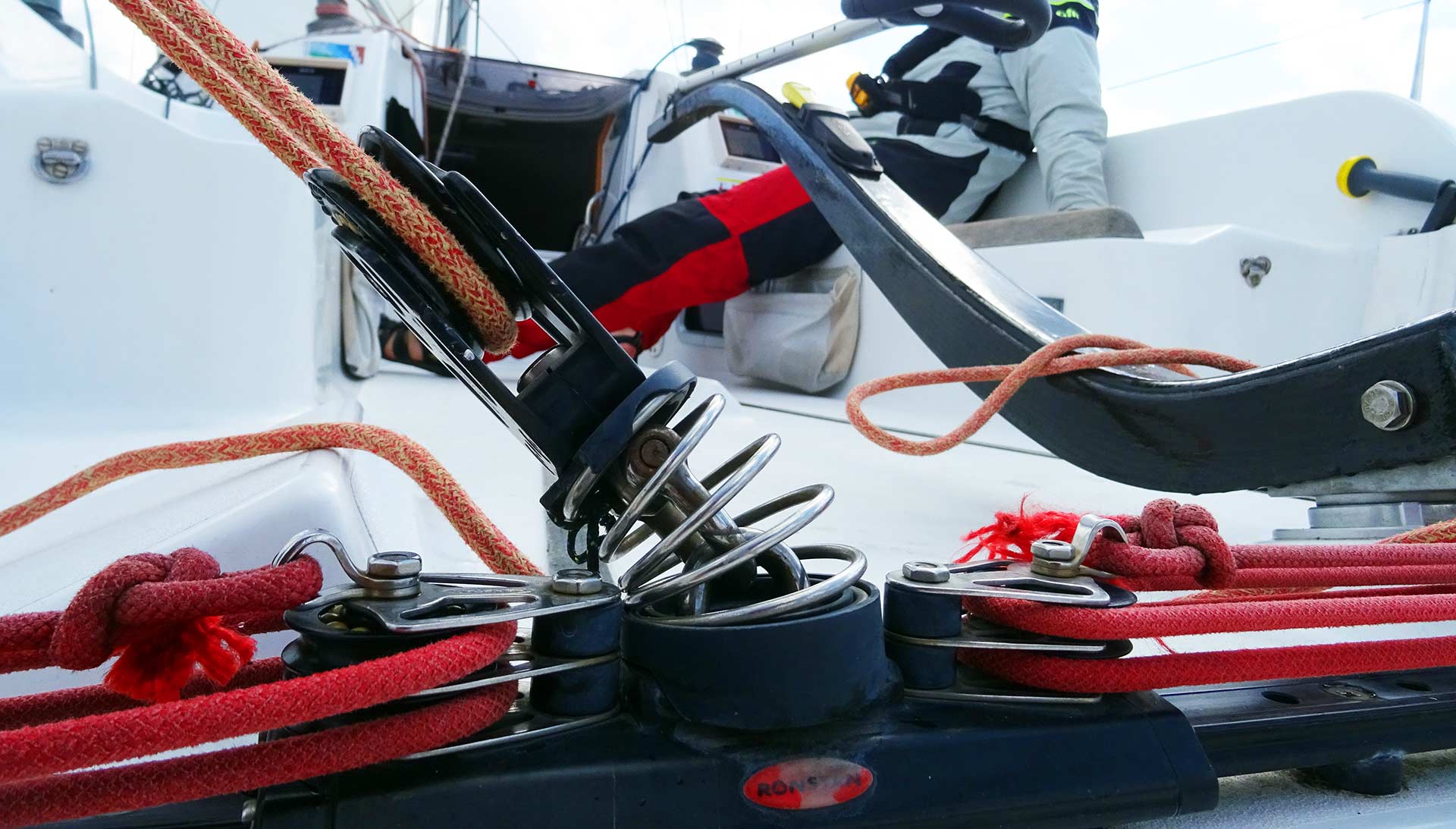 The Archambault has a racing-layout when it comes to her running rigging: A nice wide mainsheet traveller, German mainsheet system permanently on the aft two winches to either side of the cockpit. The primary winches were occupied by the jib sheets – anabling the helmsmen to operate both sheets at once from his steering position at the tiller. As we´ve had the boat on a beam reach SOG settled down at 7.7 to 8.2 knots which was due to the waves I guess. I noticed the autopilot did an amazing job to hold the boat on track with ease.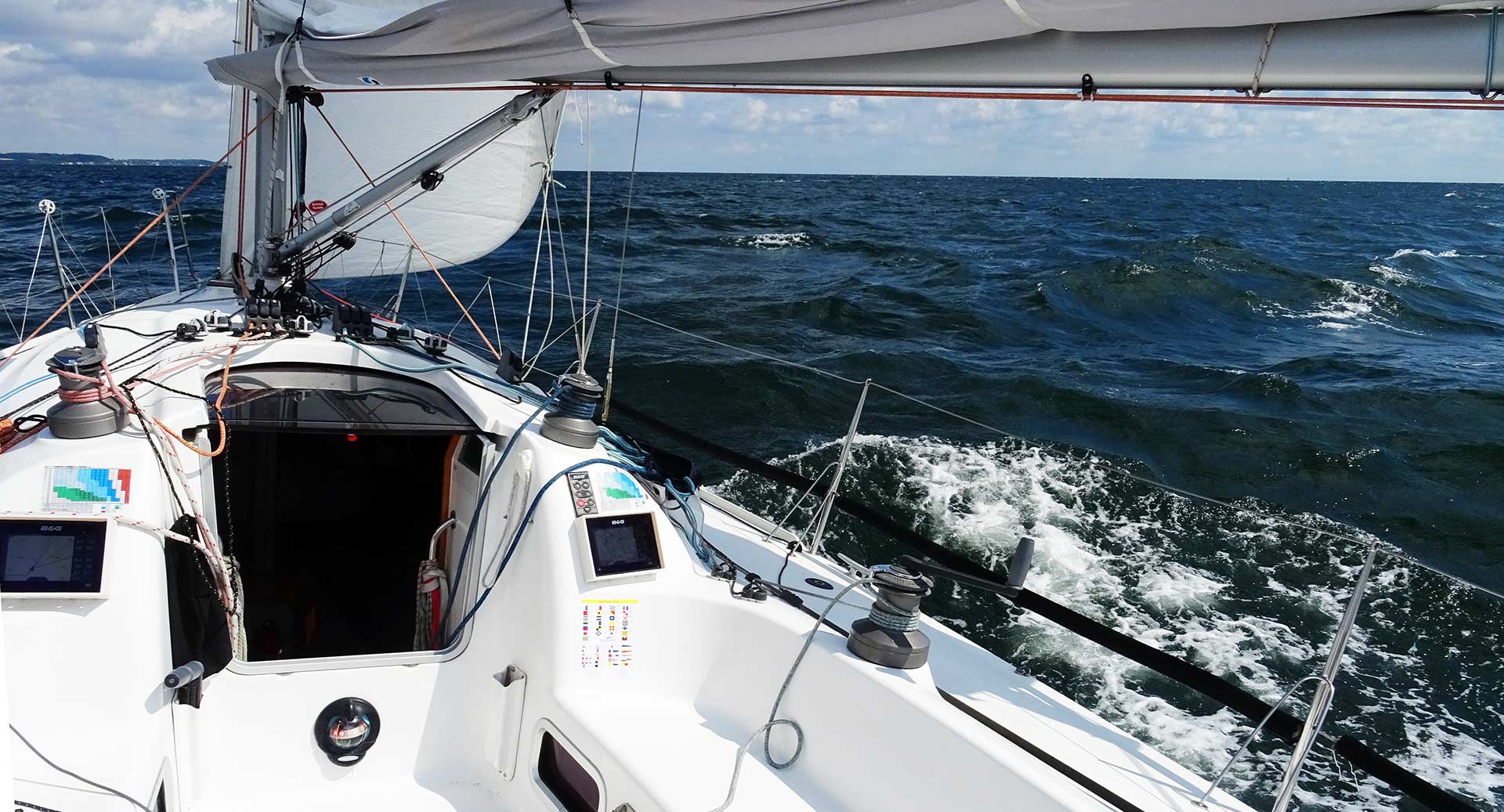 We beared away to a running point of sail flat before the wind and – surfing down the waves – the boat´s speed over ground reached a peak of 10.2 knots, which was truly amazing for a yacht barely 11 metres long! Sven apologized for having hoisted, as he was putting it, the "tarpaulins" – he also has a very nice set of carbon fibre laminate sails as his primary wardrobe for participating in races and he promised me an even better performance. I didn´t question this statement, but again I was amazed by the performance of this boat.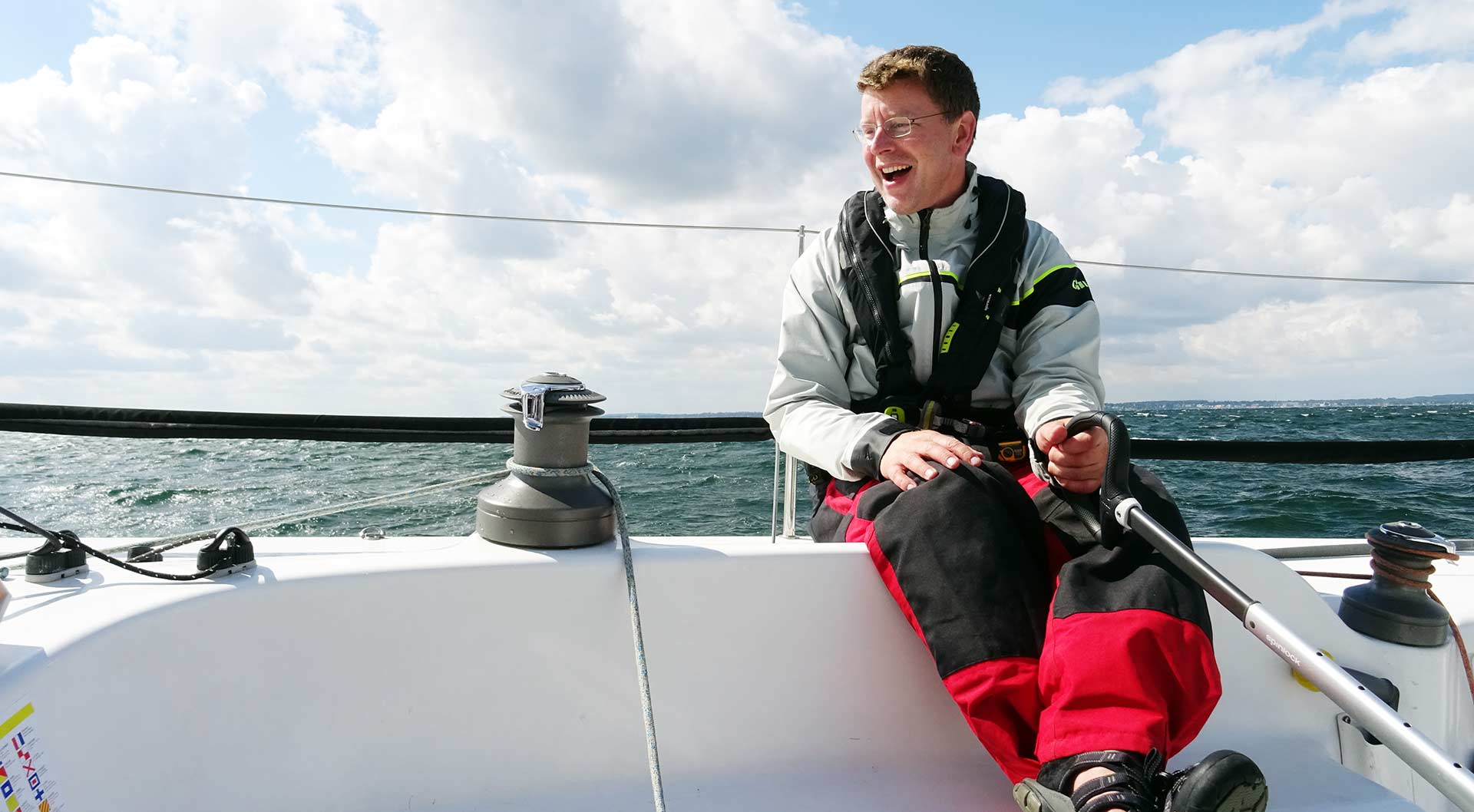 But it wasn´t just the speed. It was the overall feel of the yacht. How she was taking the gusts – just heeling only a bit more, the rest was instantly translated into lift and hence more speed. Also, when we put the boat´s bow right into the wind and luffed to a close hauled point of sail, she dashed right into the angry waves and behaved so perfect that I was amazed how a performance-oriented boat like this Archambault could have such a seakind motion!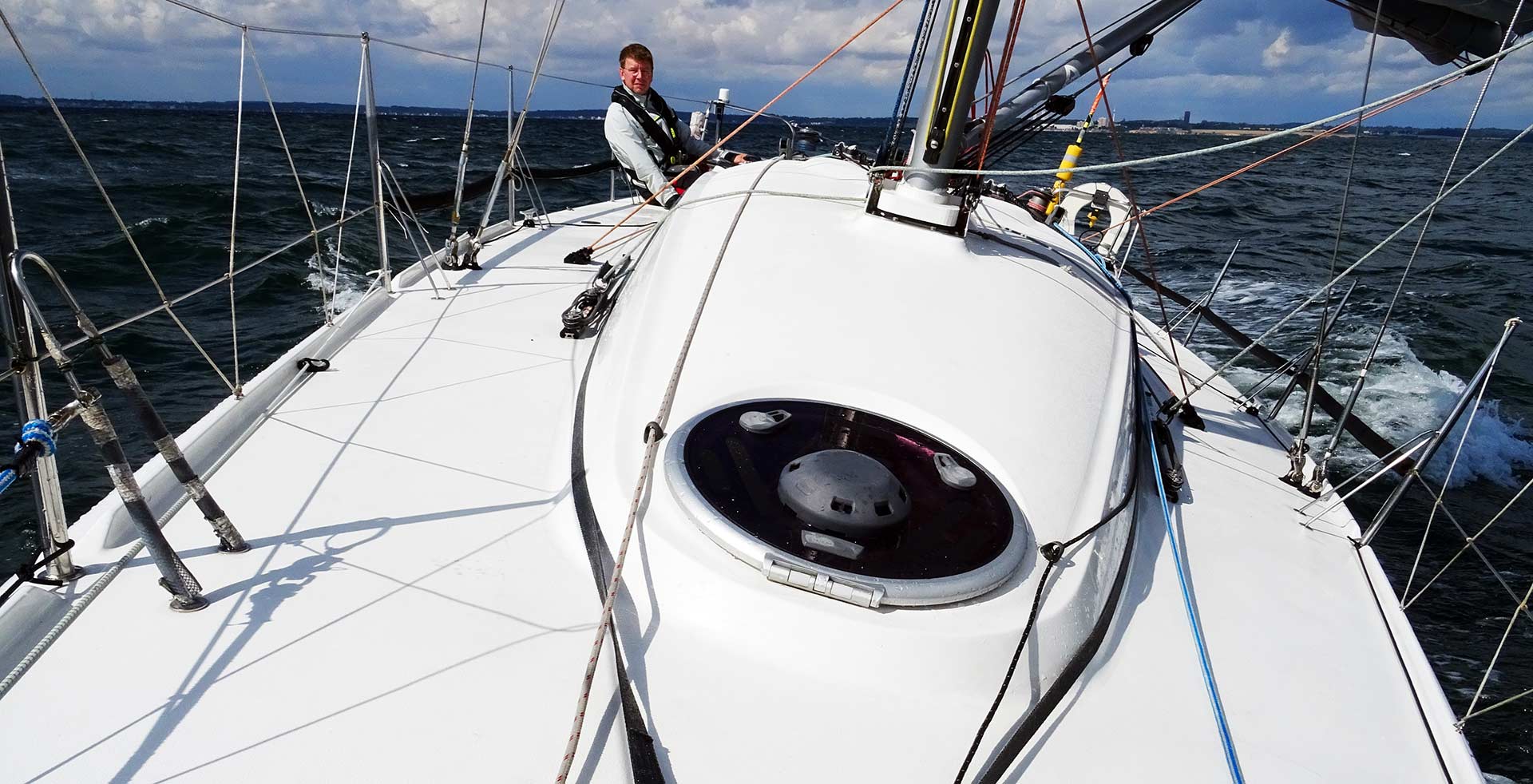 She was riding gently the waves, no jumping up and down and not at all this brutal pounding of falling down flat into the sea after flying over the crest of a wave – even when I went down to the cabin to listen to the sounds and feel the boat´s motion upwind I was surprised of how silent actually she was taking the waves: What a difference to, let´s say, the Pogo 40 – that was knocking the sh*** out of you if you´d put her straight upwind!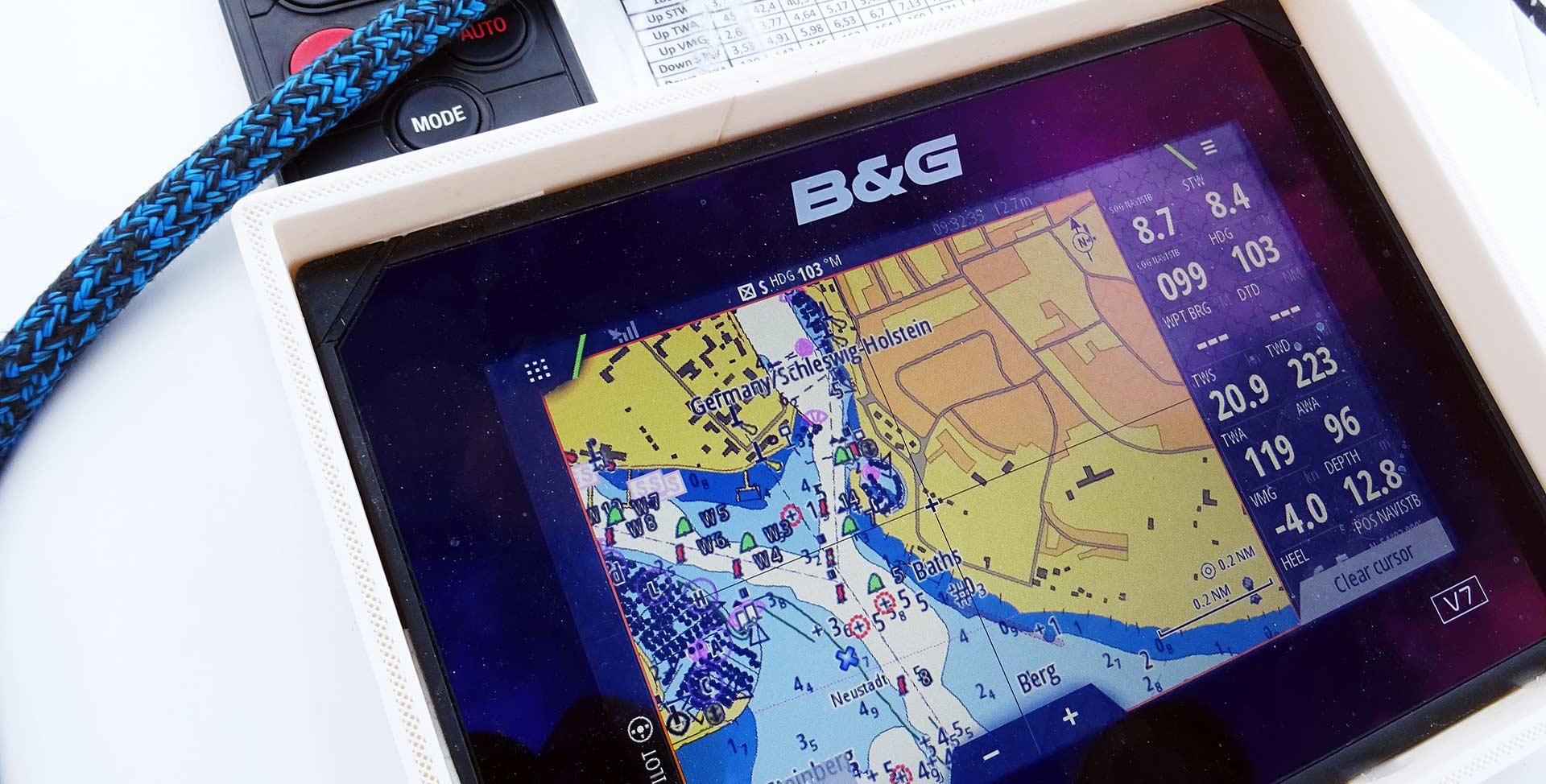 Coming up again we ran beating upwind and I wasn´t sure if I was taking the numbers right: 8.4 knots speed over ground upwind. Upwind! The theoretical hull speed of the Archambault A35 – with a waterline length of 9.22 metres is some 7.4 knots. Yet we here and now made one knot more worth of speed. In a small 35 feet yacht! What a great boat indeed!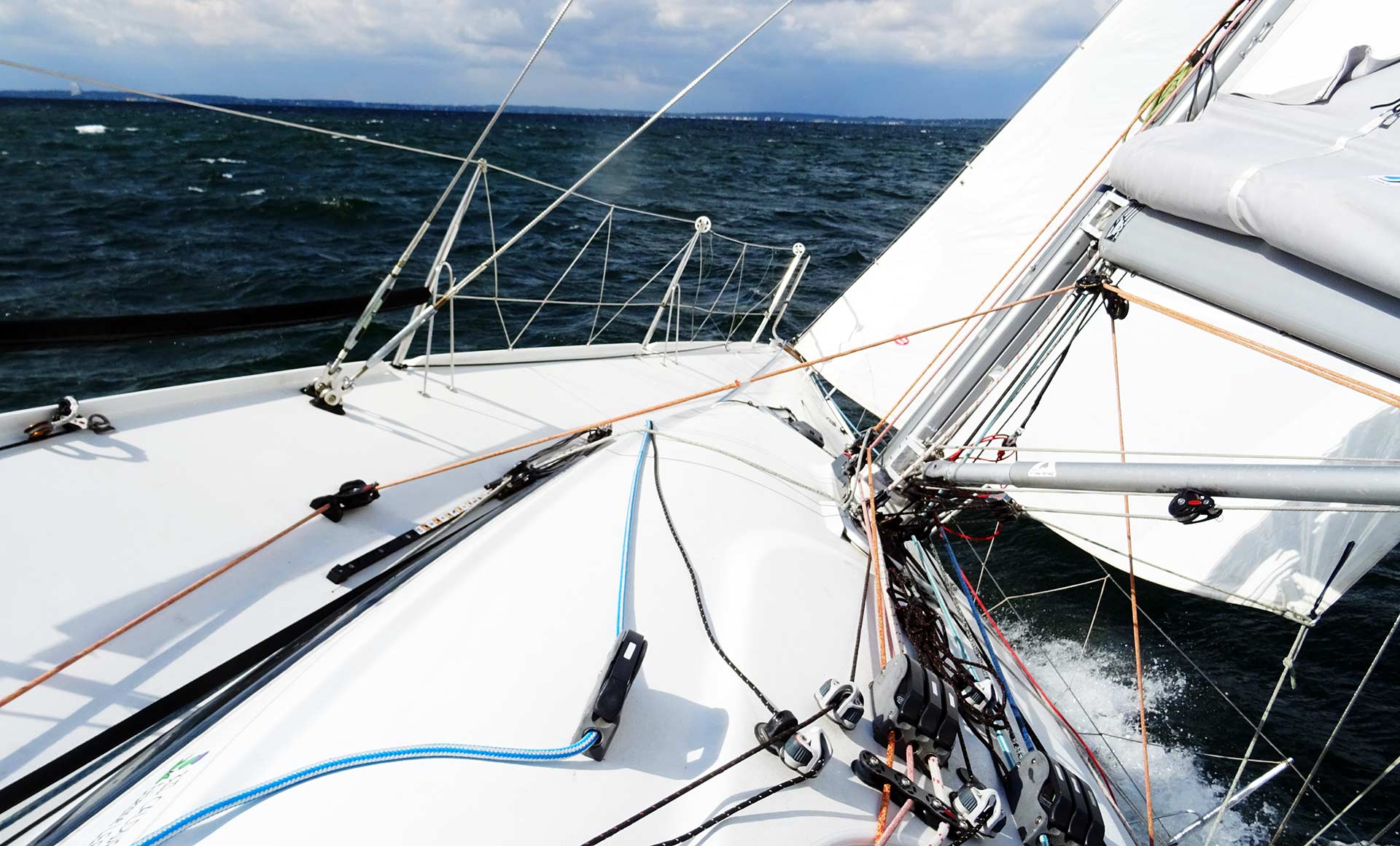 The yacht was behaving superior even as the weather more and more worsened and thick dark clouds began being pushed rapidly over the horizon towards us. If there were boats out with us here – only three I could see in our vicinity – all of them heeled seriously, two began taking down sails and steamed back to the marina. After taking on the steering by myself for a couple of minutes and receiving the first shower of rain we as well decided to start heading back to the harbour.
Brilliant performance and the only downside (I noticed) to the Archambault A35
Wearing a bright smile of satisfaction about these nearly two hours of quick, effortless and fun sailing I must say that I am fully convinced with everything this Archambault A35 was offering: Lots of strength, power, stiffness and a very, very solid feeling of safety. The boat´s 35 per cent ballast ratio is 1.600 kilograms of lead in the 2.1 metre deep keel, adding to a total displacement of just 4.600 kilograms, which is a featherweight boat indeed.
The only real downside I discovered in my eyes had been the forward jammers for the halyard and reefing lines. The are positioned right at the end of the entryway down (because there is too less space for having them mounted left and right of the entryway I guess. Even I, a considerably long armed guy, had my problems reaching for the jammers. When the sliding cap of the entryway is closed, one has to open it and step down to the first stair of the entryway to work the jammers. I guess one can get used to it, I found it was a not very well chosen place to have them mounted.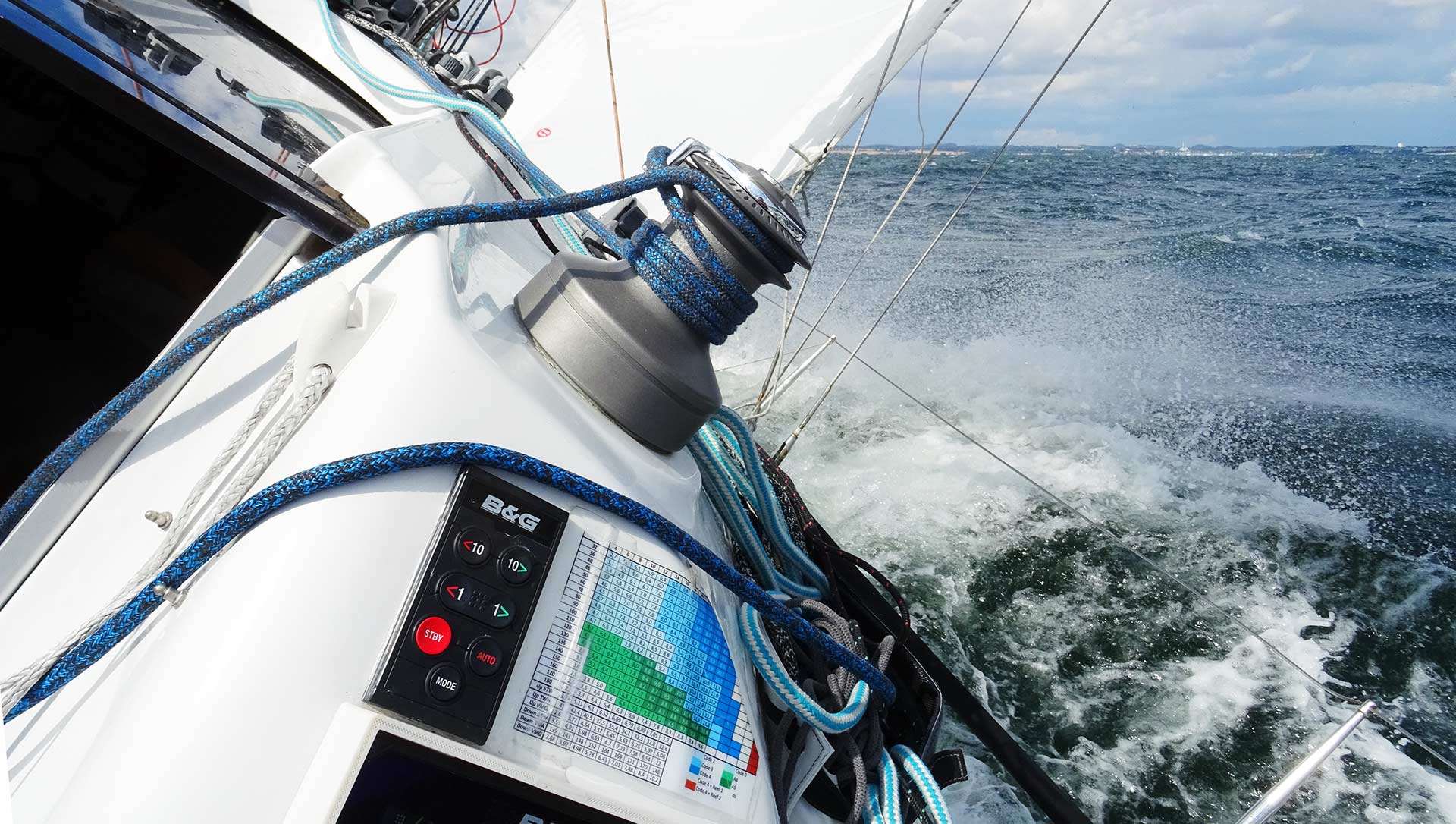 Nevertheless, this has been the only downside. All other aspects of the layout were very thoughtful: Beginning at the footrests laminated into the cockpit´s floor, perfectly chosen height of the coaming and – again – the position of the sheet winches. Secondary lines for hauling in and out main an jibs were all running well within reach – and qualify the Archambault A35 for a serious contender in races. Which A35´s regularly do.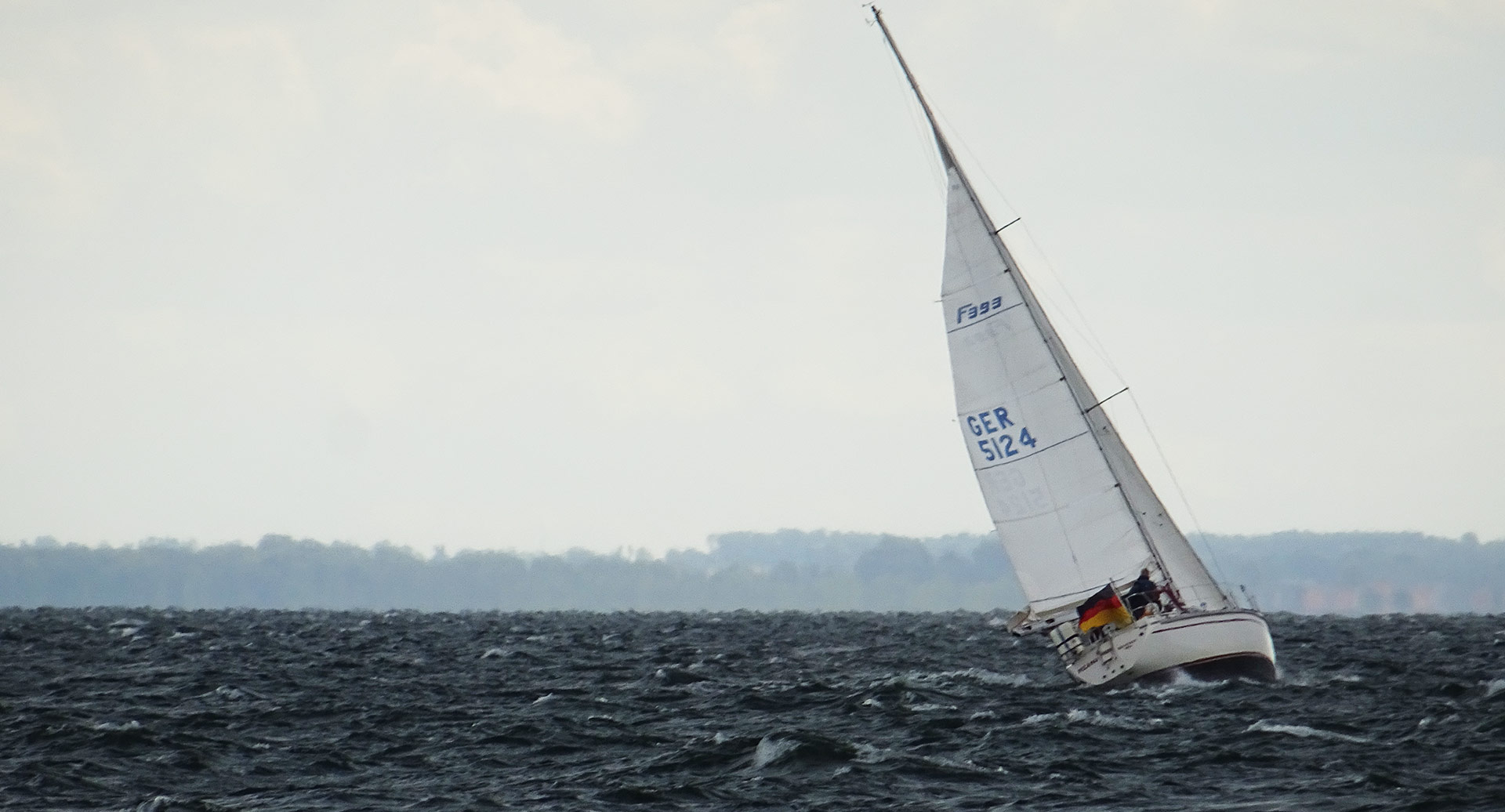 As the waves began having blown away their white caps ever more and the one and only other remaining boat out with us was even taking in her second reef and taking down the sails Sven told me about his last entrance in an offshore race, which was famous "Round Bornholm" non-stop race being started in Rostock/Warnemunde. They did race well and came in 11th overall, being 4th place in their category: "I think the boat has potential the wind the class but for this … it also takes a racing-hardened crew as well."
Final review of the Archambault A35
We landed the boat in her berth in the midst of a wild rain shower, sat down below decks to discuss some matters of the boat and waited for the bad weather to settle a bit furthermore. In the end, I was amazed by the power and performance, the light effortless steering and the seakind motion of the Archambault A35. The speed was tremendous and I think the boat still has lots of potential to be driven fast in races and to seriously contend with newer yachts for sure.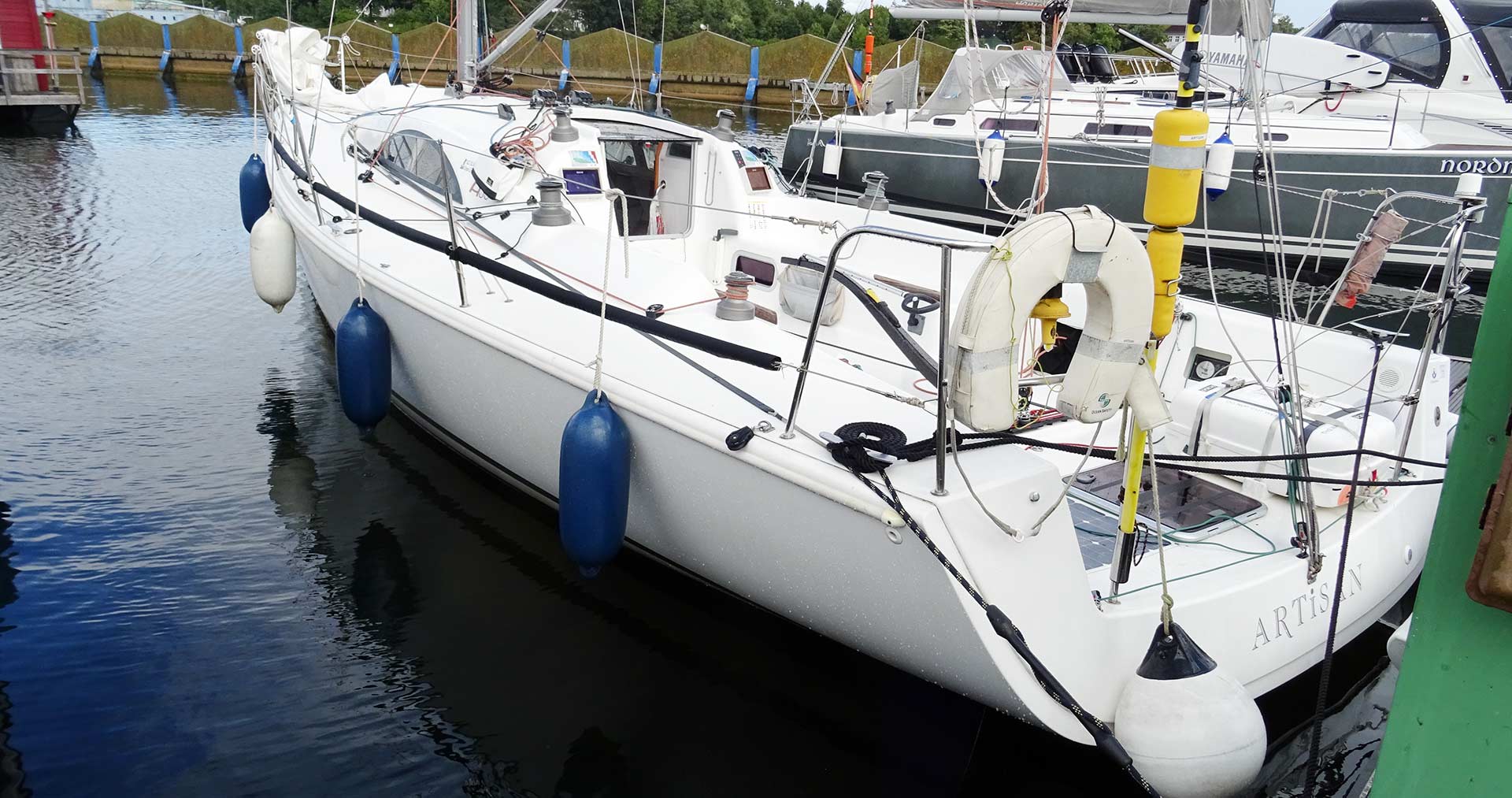 These beautiful yachts had been built between the years 2006 and 2013 with dozens of boats being built. There are quite some models still available as used boats on the market – but as Sven was putting it: "You should take a close look at the boat´s condition as these are sailing machines and therefore may be used excessively in hard racing." Certainly a rewarding prospect to look at the Archambault A35 – she belongs to the race course, that´s for sure.
Love French Sailing Culture? Try these Articles too:
Marc Lombard & Charly Fernbach discuss French Sailing Philosophy
At the heartbeat of French Sailing: Lorient´s "La Base"
Meeting Jean-Pierre Kelbert and his all-new JPK 45