This is a small article. It´s not merely focused on the actual recipe itself – it still is – but I want you to understand this article more as a pledge for stockpile cooking on board your sailing yacht. As we left Madeira on our sailing trip to the Canary Islands with our brand new Dufour Grandlarge 460 some weeks ago I was anticipating two days of sailing – yet we knew that waves will be high and so spirits comparatively down for the crew members to be down below deck to perform acrobatics in order to get a hot meal prepared. So I´ve decided to pre-cook a large portion of food. A stockpile. Here´s how I did it.
Ingredients for Boeuf a la Grand Large
Essentially, the recipe is a very simple one since it almost solely relies on one particular kind of product: Teriyaki Sauce. Oh, how I love the taste of this fine brown sweet tasty salty Asian stuff! It´s tasting like soy sauce though its more. It has this distinct feature of alcohol, but there isn´t any. It will make this dish taste like it is: Great.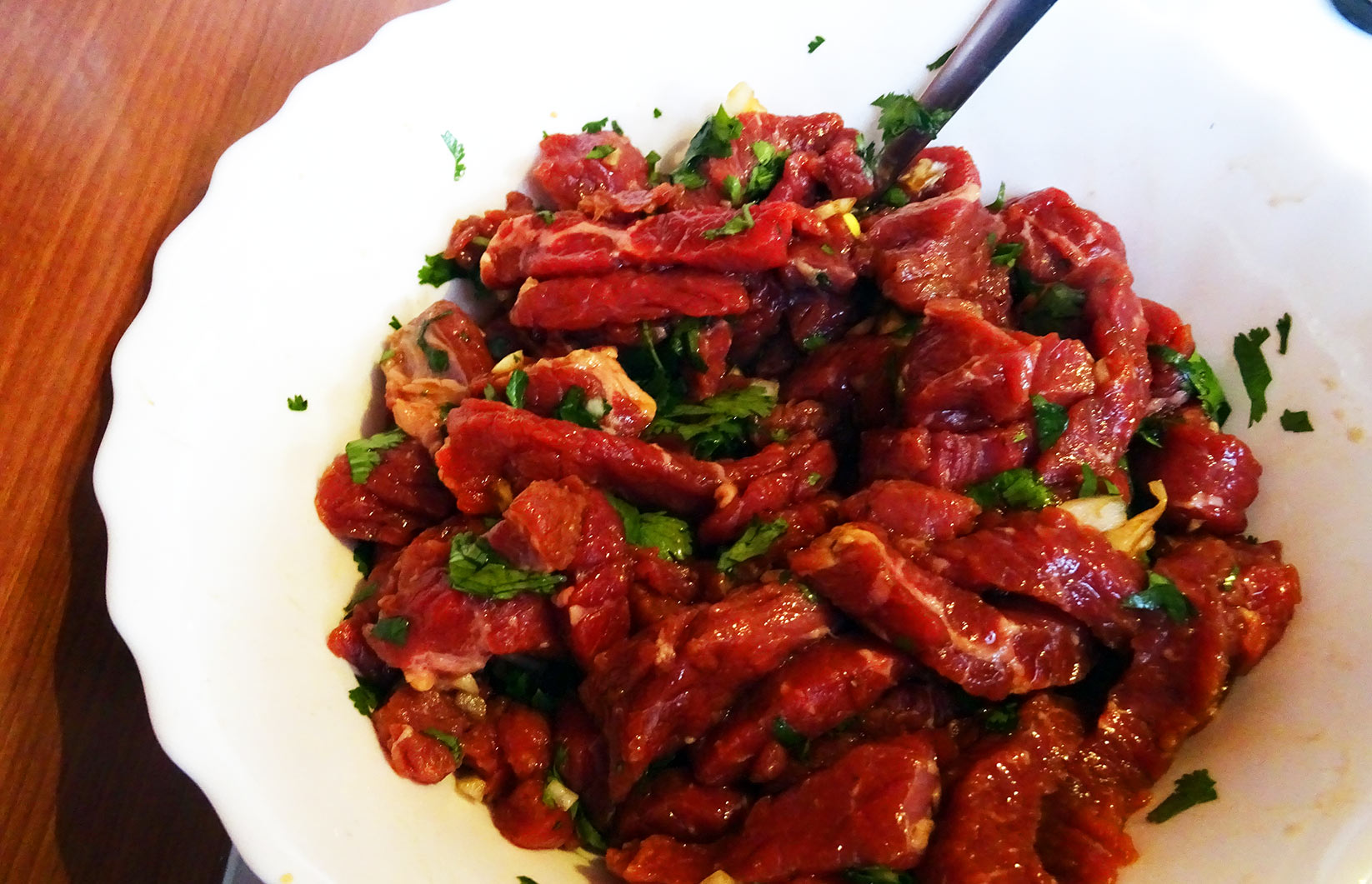 At first I take a chunk of fine beef and cut it to thin slices. Thinner than the smallest finger because I later want the meat to be soaked with Teriyaki. Having done so, it´s two hands full of Cilantro I am now chopping up. No need to do it accurately, you just want to add this particular flavour. Everything will be mixed together and now the tasty magic sauce is poured onto the meat. Have it mixed up, covered and let the ingredients interact, exchanging their rich flavours.
Preparing and Cooking
In the meantime take a seat in the saloon and get a sharp knife. It´s veggie chopping time! You can take almost every vegetable you wish, for my recipe, I´ve chosen to have carrots, green pepper and garden leek. You can also add every vegetable you like, but after some 10 days on the ocean these have been the three only available foods of this kind on board.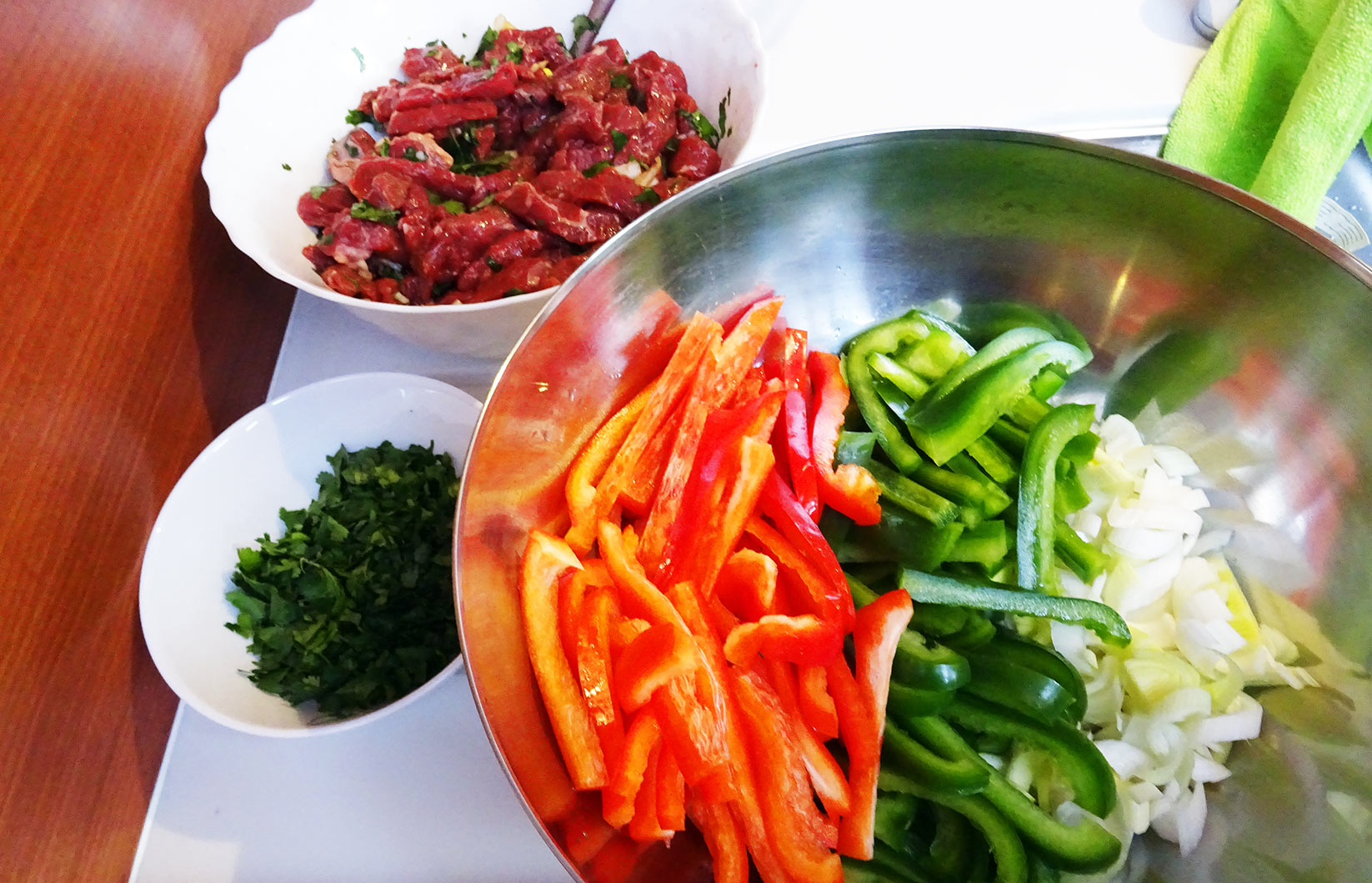 Parallel to this I took a large pot to the stove and prepared a nice chunk of Basmati rice. The nice thing about rice is that you can keep it fresh for several days after cooking without any refrigeration – though I wouldn´t recommend that in particularly hot areas of our planet. As for our trip just north of the Canary Islands temperatures had been sufficient enough. Be aware when cooking rice: Spend last minutes at the stove with a spoon keeping the rice moved to prevent it from baking to the pot.
A tasty Stockpile of Food for a long Night
Now, after some 2 hours of letting the meat be soaked by the Teriyaki, it´s time to fire up the pan. Just pour the whole meat-Teriyaki-Cilantro-mixture into the frying pan and have it stirred thoroughly until it´s well done. Now add a kind of sauce you like: This can be one or two cans of Coconut Milk, another splash (ah, just add the whole rest of the bottle!) of Teriyaki sauce or just water.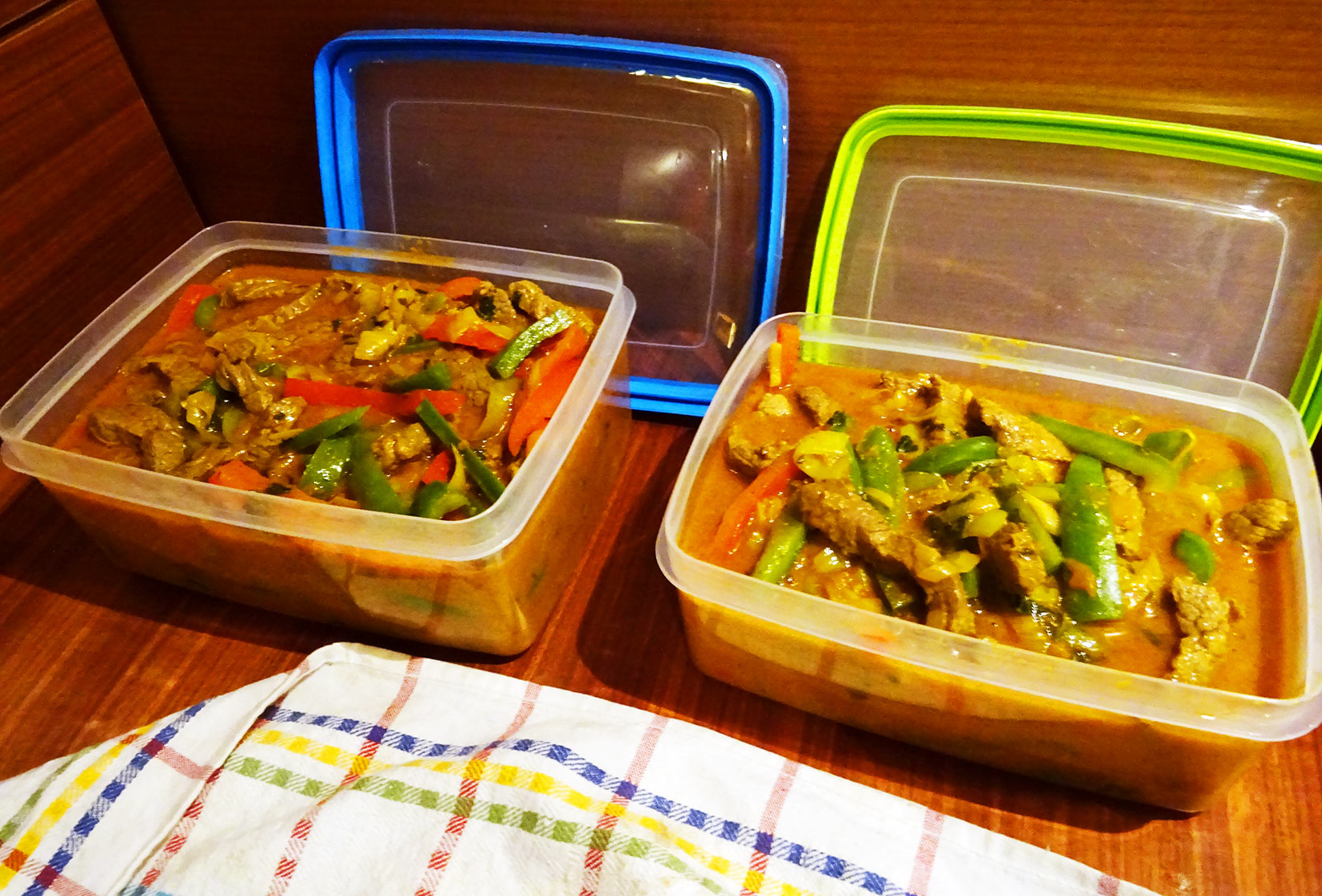 Let it cook for a while. You don´t need any salt (Teriyaki will do), but maybe some fresh garlic and black pepper. That´s it. Now, Bon Appetit! The rest, upon getting cold, can be put in those small plastic containers and stored to a cold place. It´s the best after some 4 hours of night watch to come down below deck with n ever-aching stomach, crazy because of hunger: Just a quick dash of rice and some spoons of Boeuf a la Grand Large in a smaller pot, have it just some minutes on the flame of the stove and get your belly filled with this awesome dish. Cooking in advance this easy will have a great effect on the morale of a hungry midnight-crew for sure!
Other interesting articles on that topic
See all other Onboard Cuising Recipes here
Galley Ballet – Cooking offshore
Marine Aplliances by Dometic: Gone shopping