This is a line of articles discussing a sailing trip from Lisbon in Portugal to Arrecife on Lanzarote. Six new yachts manufactured by Dufour of France had to be delivered to LAVA CHARTER, a charter-company with German roots operating from Arrecife. This fleet of six brand new Grandlarge sailing yachts ranging from 38 to 51 feet has been sailed by dedicated skippers well known to the company who recruited their respective crews amongst friends and committed sailors. I was offered the chance to be part of one of this crews, manning a Dufour Grandlarge 460, the SY MOJITO. 
As our sailing yacht was finally tied up at the jetty of Arrecife harbour and the crews dissolved of being seafarers into being tourists first and after some days upon flying home being normal people again (which was going to break my heart as I desperately wanted to sail on … to the Cape Verdes for example), I still had some days to spend on Lanzarote. And as it is a tradition and maybe human nature to bring something home for the loved ones (and maybe for oneself) I was searching for a little nice souvenir.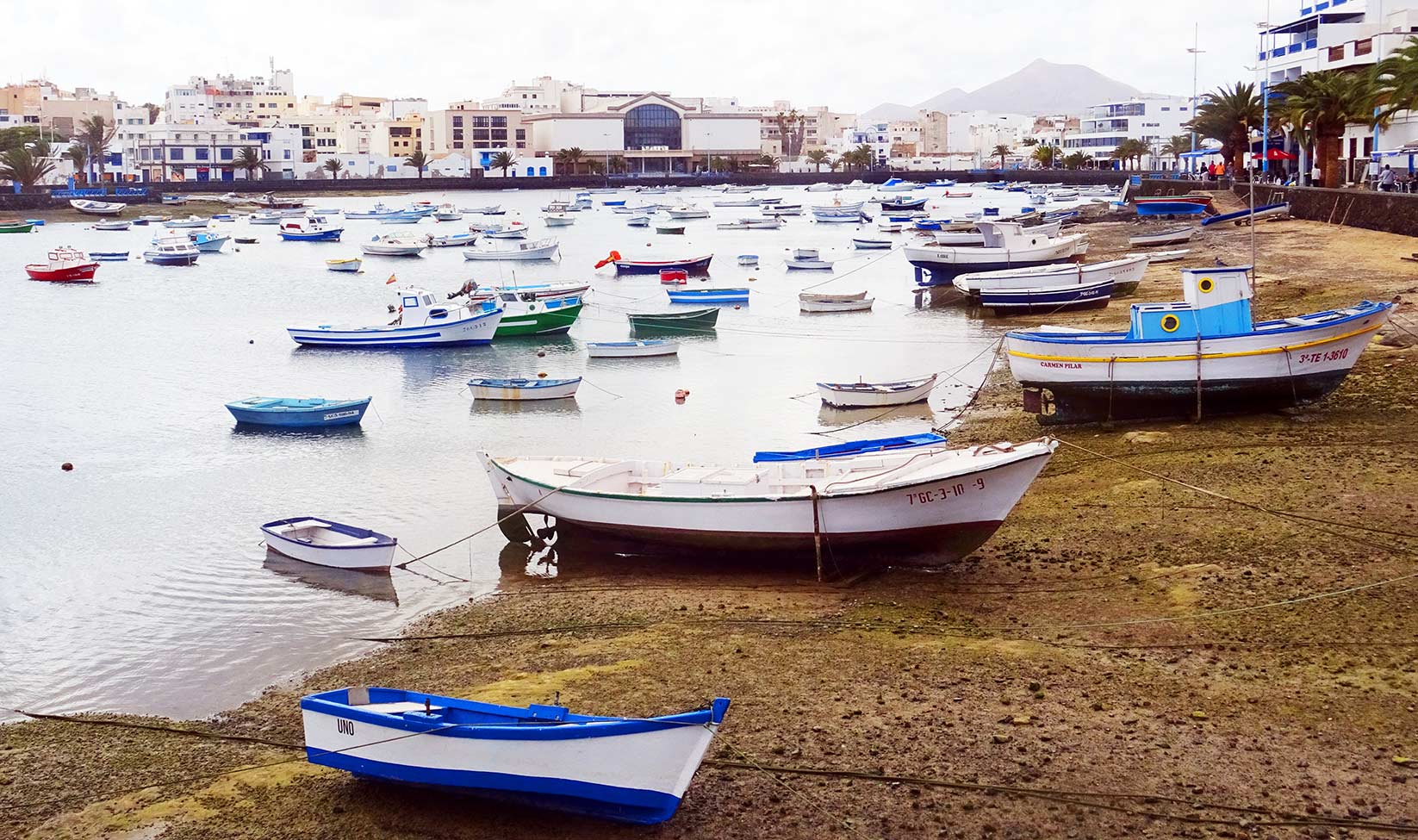 Of course, there are a lot of shops offering this and that from "funny" Lanzarote T-shirts to vulcanos in a snowdome to even funnier coffee mugs. All made in China. Nothing unique. Nothing special. But then, during the Welcome-Party made by Lava Charter for the six new Dufour yachts we transferred to the Canaries, it struck me: I learned of the Jolatero-tradition. And this was so touching that I had to grab my camera the next day to see it with my own eyes. Here´s the story of the Jolatero.
Meet the "Jolatero"
"Jolatero" means is a small boat more known nowadays as being a small fun boat with which young Lanzarote kids use to race each other. But there´s more to it: As Lanzarote always was and still is a very, very dry land, offering strictly limited amounts of resources, especially water, the economy of this island was heavily dependent from importing all kinds of stuff. In the early days of Lanzarote´s "civilized" process of settlement these goods have been transported to the island hundreds of thousands of millions of barrels made of tin sheets. The island was thus quickly literally littered with emptied barrels. Nobody had a useful employment for the mountains of barrels. No one but the poorest citizen of Lanzarote themselves: As nowadays El Charco is the party hot spot of Arrecife, back in those days it has been a harbour for the local fishermen.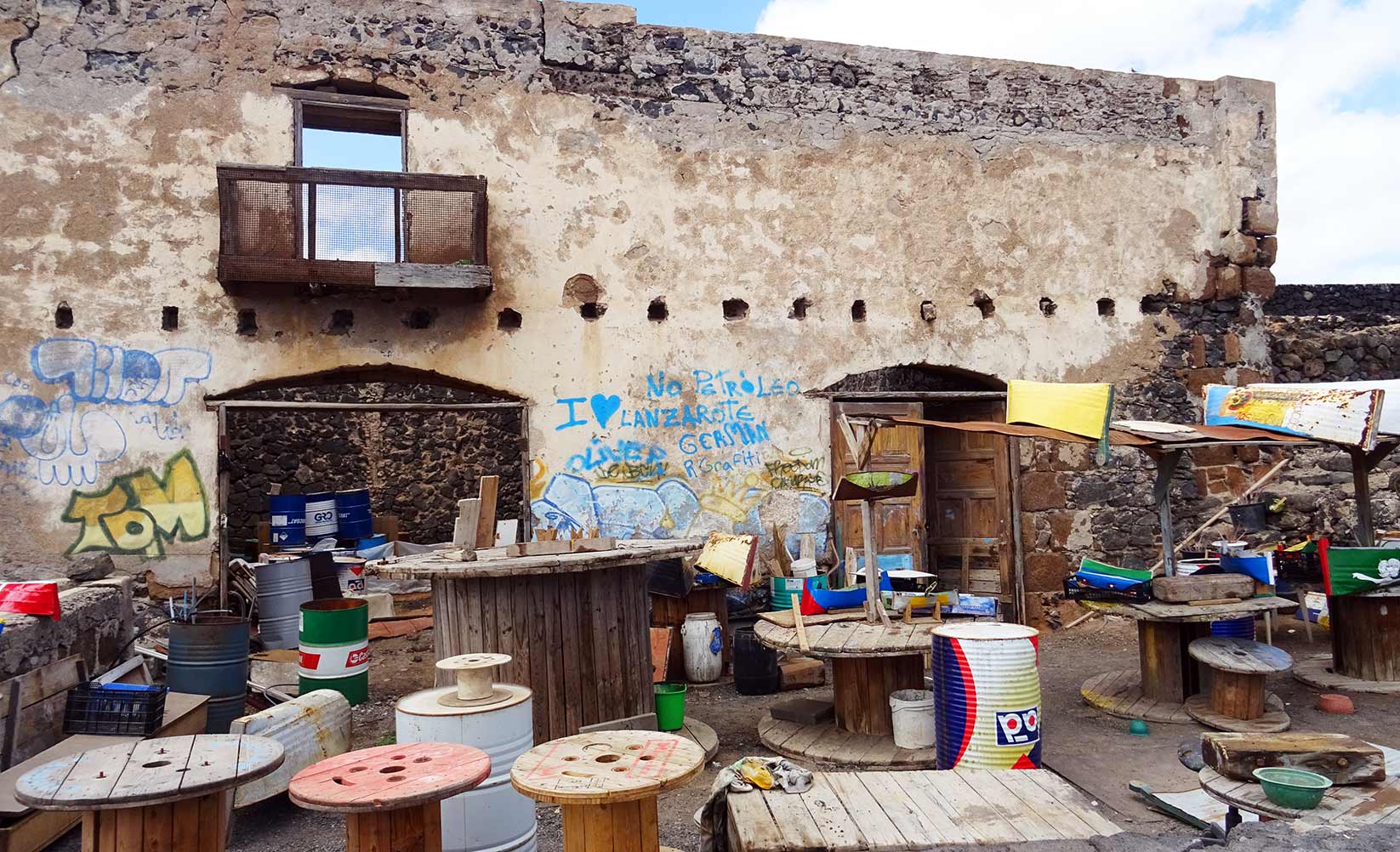 To own a boat is not just a necessity for being able to catch fish but – as today – it was expensive to get one. Clever craftsmen put a use to them empty barrels: With very limited tools, they began to make boats out of the barrels. They cut the tin sheet off the bottom and cap of the barrel, added a wooden stern and bow and shape-bent the sheet in a way that a hull is formed. Then they hammered with a handful of nails the sheet to the wooden parts – a makeshift boat was made. The Jolatero. The originaly sized Jolatero could host added weight of up to 150 kilograms. El Charco was soon bristling with these makeshift boats.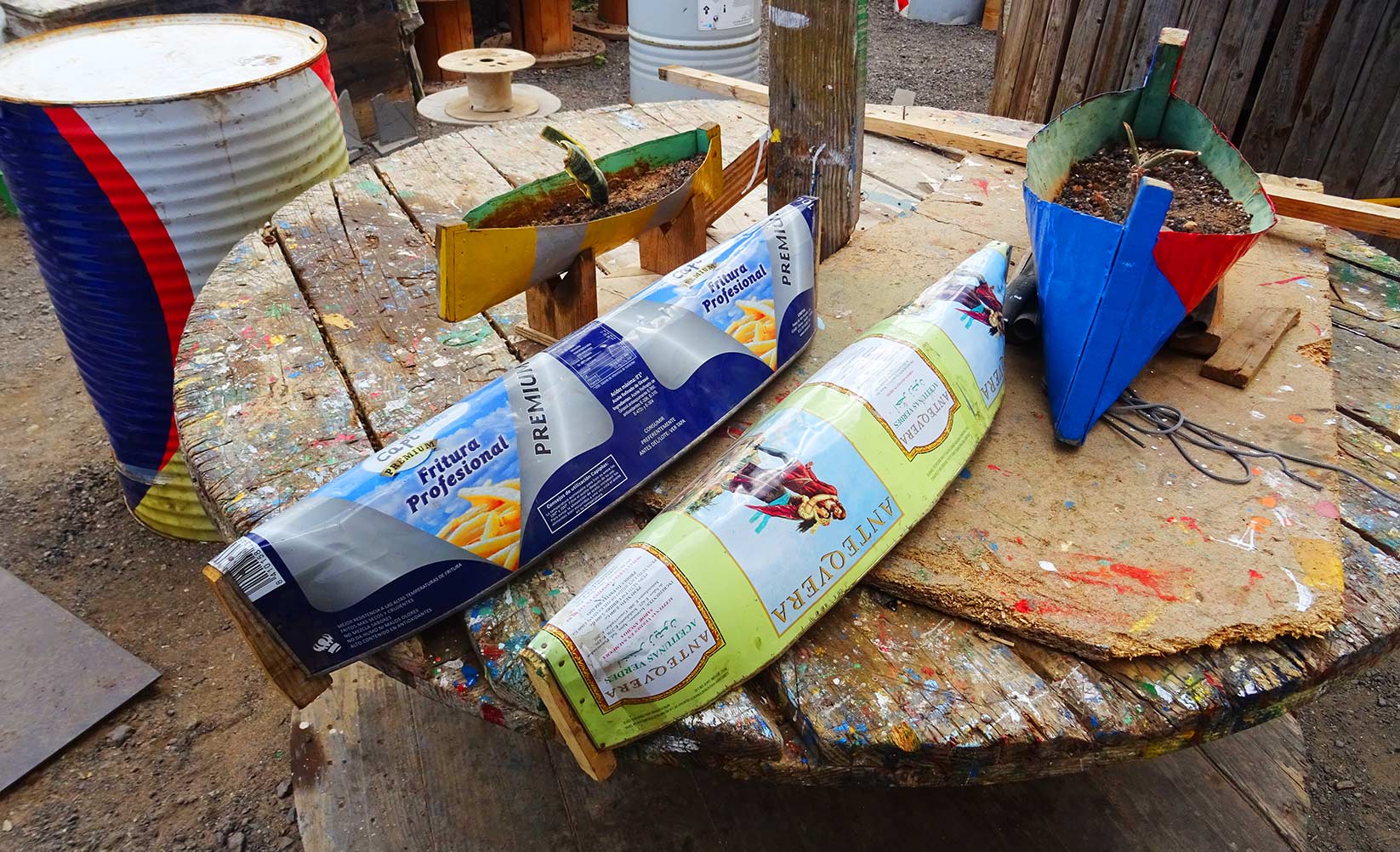 It was kind of a boom to local economy as this solid, simple but very effective boat enabled even the poorest of Lanzarote´s people to go out on the Ocean to catch fish or to transport good from the harbour to other places. A little industry was born, putting a use to the once garbage-piled tin barrels. As those barrels had been painted by the companies owning them, the Jolatero was colourful from it´s earliest days. Later, the owners themselves began to paint their boats with fantasy. Not just to recognize them from other Jolateros, but to show with pride what has become of them.
Doing Good as a Tourist
When I first heard that story I was fascinated. It shows how people – the poorest class of people who would normally not be preferred by colonization and industrialization struggled and finally succeeded in taking their fates into their own hands and make the best of it. The Jolatero is not just a fascinating local tradition but a part of history. A very touching part indeed.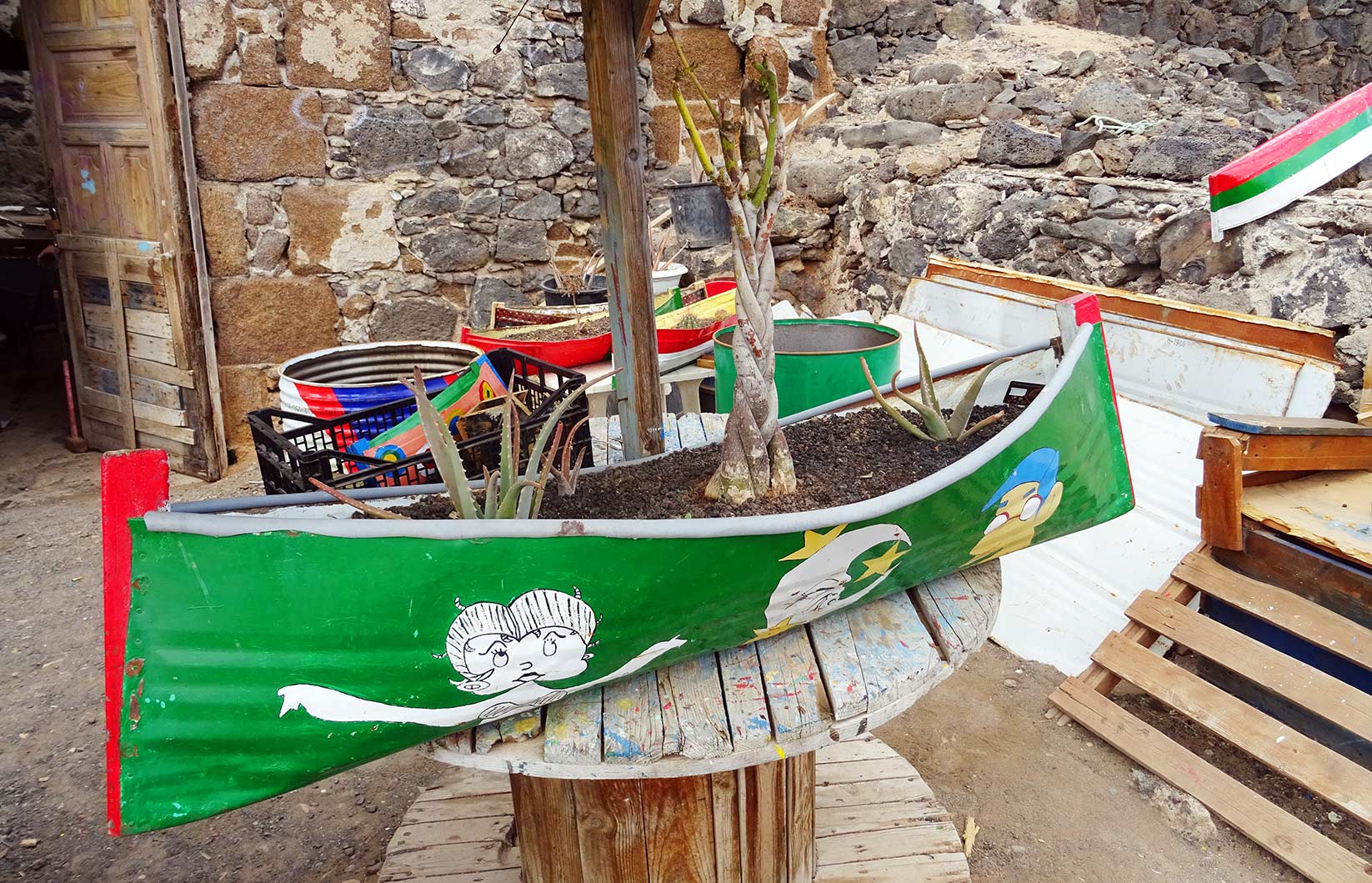 There is a project in Arrecife where this tradition is kept alive. It´s not just a China-made factory exploiting this historical locality, but a social project. Locals opened a makeshift factory in one of the worn and basically torn houses behind the port destrict of Arrecife. One will have to walk for 20 minutes to reach the workshop. But it´s really a fantastic, credible place. Here, youngsters from Arrecife can spend their time with a cause, learn how to use tools and to put a use to their spare time: Making Jolateros.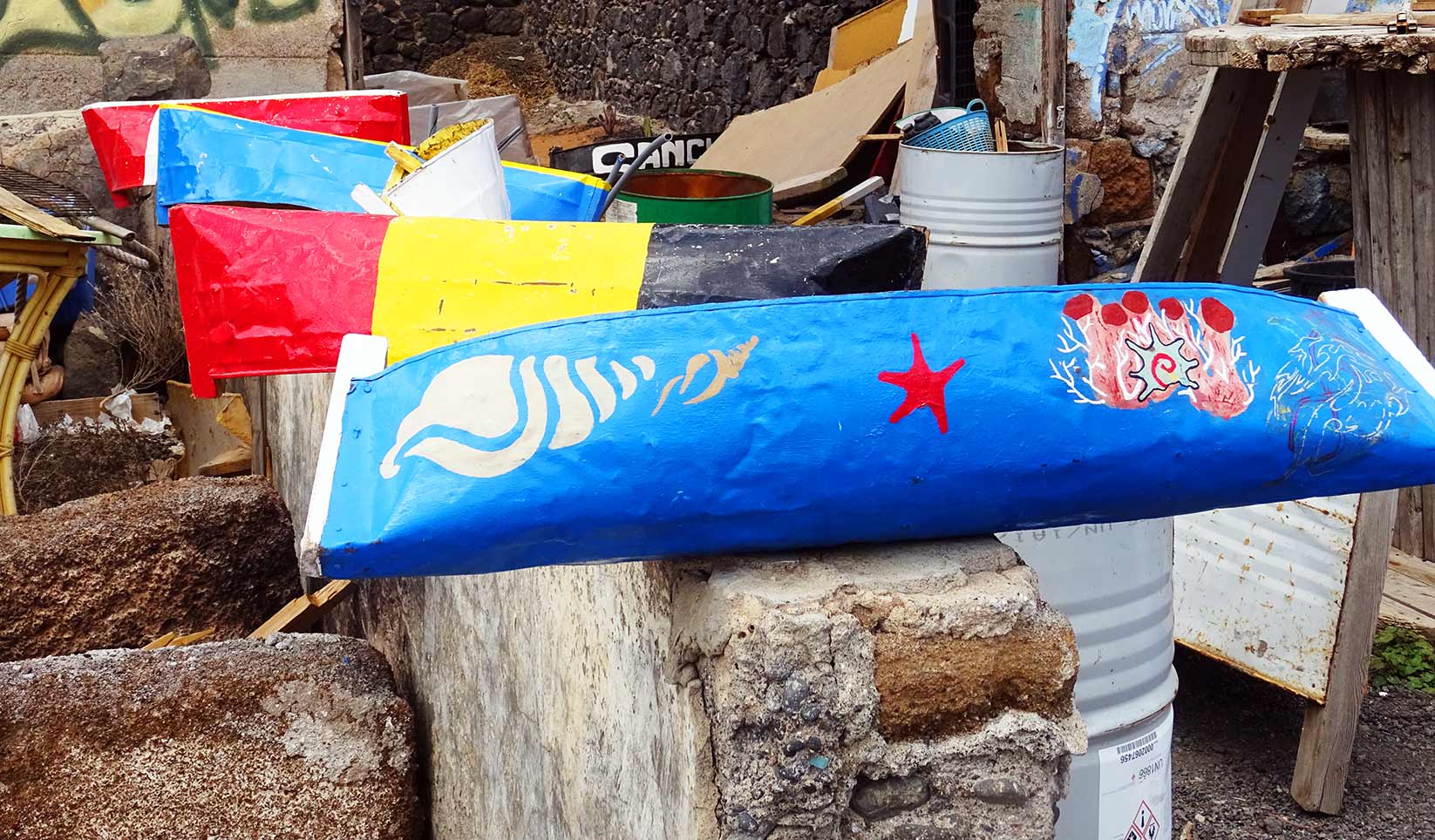 Even today nothing has changed the way they make the Jolatero. Tin sheet, bent into hull shape, hammered to wooden stern and bow. Then there´s no limit to the fantasy in painting the boats. The very, very few tourists making the way back here can get their souvenir Jolatero in various sizes from the very tiny one (as a key fob) to a length of up to 50 centimeters which can be used as a flower pot. Locals use to have cactuses growing in them. I took three little Jolateros with me to Germany. The craftsman I met there was full of joy and very proud to show me around in his shop. And this is what matters most to me – upon visiting foreign countries, we as tourists have a responsibility.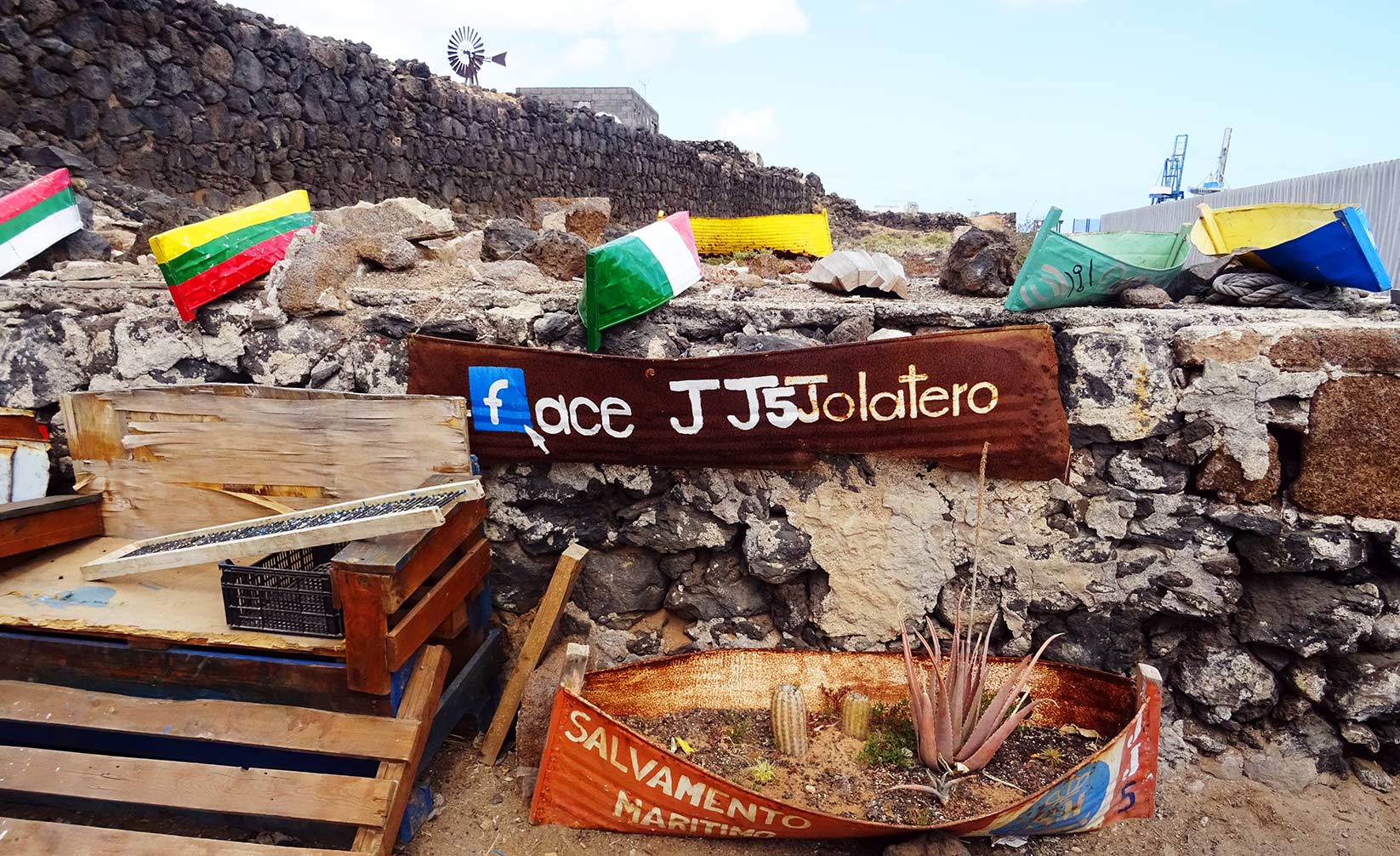 We shouldn´t keep ourselves restricted to the glamorous and shiny polished Disneyland-resorts where everything is made to appeal, but we should go out to meet the very people trying to make a living, maybe suffering from our luxurious lifestyle. We should try to share some of our wealth and keep our eyes open for the greater context, for the history and for the rich traditions of the people. That small Jolatero I´ve bought for one single Euro can finally do more for the locals than dining out in a fancy restaurant and buying a tax-free iPhone. If you ever come to Lanzarote, please make this 20 minute walk to the shattered workshop where the brave people of Arrecife make their proud little colourful Jolatero the way they´ve always made it. You will do good.
Please check out the Jolatero facebook-page and like it.
All previous and the upcoming articles on this sailing trip from Lisbon to Lanzarote can be browsed by clicking on this hashtag #dufourcanaries
Special Thanks to LAVA CHARTER for the chance to sail on one of their boats. For information and offers on charter trips on the Canaries on these Dufour Yachts please visit www.lavacharter.com  A unique and special discount for my readers of 1.5% on all LAVA CHARTER bookings may be acquired by stating web code NOFRILLSSAILING along with your booking.