After nearly 1.000 miles our brand new Dufour Grandlarge 460 SY MOJITO was landing at its final destination: Charter base of Lava Charter in Arrecife. We had been greeted by the staff with very high emotions and it was a very moving moment indeed. For them as another of their fleet of six new boats arrived, for us as a wonderful sailing trip from Lisbon via Madeira and Salvagem Islands was drawn to an end. This is finally what many sailors might feel upon reaching the Canary Islands: After a long stretch of sailing the Atlantic Ocean: Civilization. A place to stay and rest for a while. And the Port of Arrecife is one of the harbors you might reach.
How to sail to Arrecife Marina
The Port of Arrecife is situated right in the middle of the Island of Lanzarote, depending which way you decide to sail to Arrecife coming from Europe – mostly from the North-West or North-East, you will round La Graciosa to the North or Costa de Papagayo between Lanzarote and Fuerteventura to the South. Coming here from the South (like we did) bear in mind that between the Canary Islands strong winds, and gusts caused by the cape effects can be very punishing – reefing early and reefing hard is the only solution here. Entering harbor has been kind of tricky for us because there has been made a brand new mole in the entrance that wasn´t in our (as well brand new) charts. So we were looking for a buoy that wasn´t there anymore substituted by a large wall. Also, we´ve had strong williwaws in the harbor (just like in Porto Santo) which had been made necessary all hands on deck the docking. Nevertheless, the harbor offers plenty of maneuvering space, size of the berths is standard.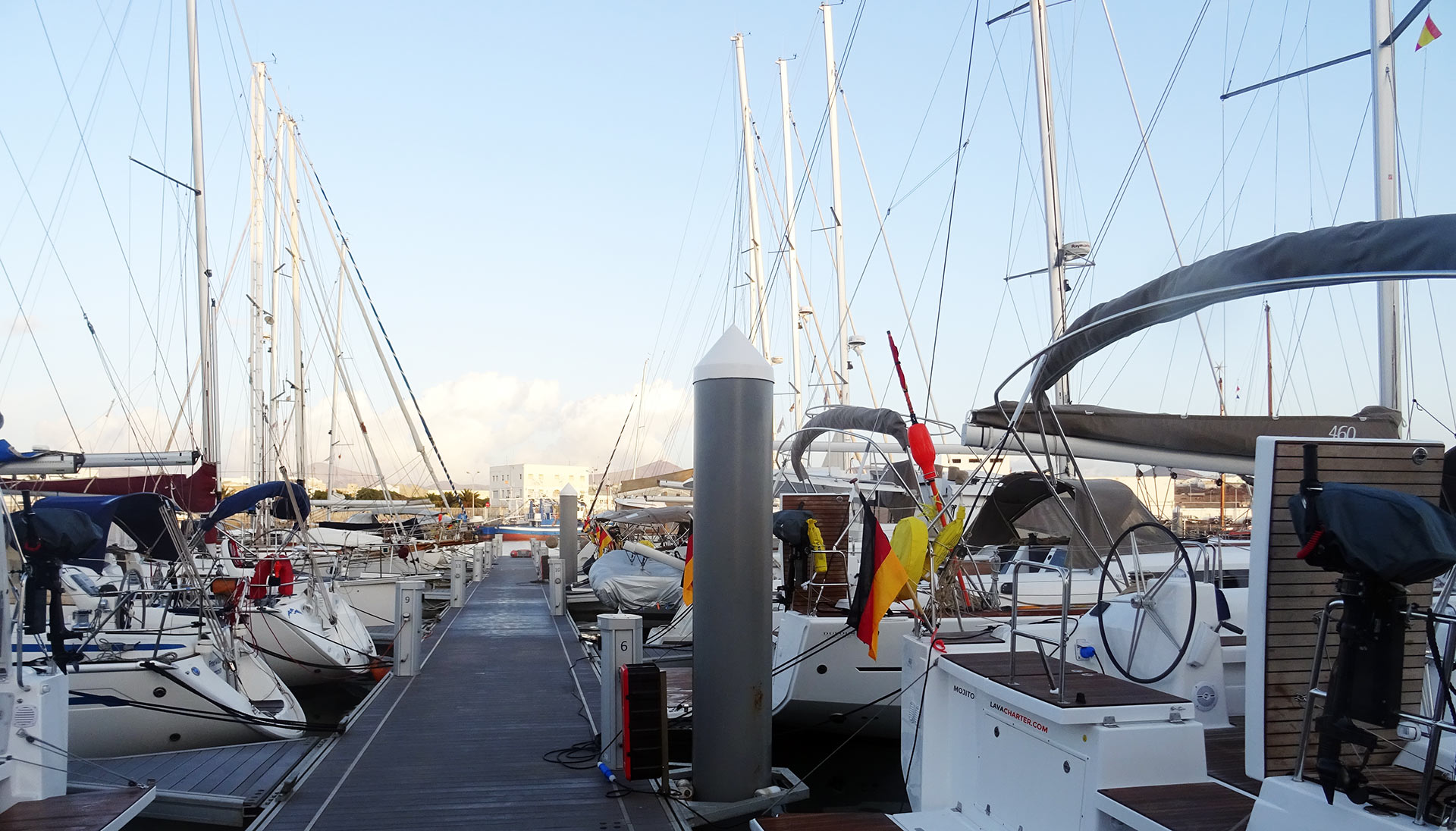 Arrecife Marina offers some 430 berths at modern standard floating jetties for yachts of up to 80 meters length overall with a draft of up to 4 meters. So there´s plenty of space here. The marina has been modernized in 2015 with a lot of money at hand and the whole waterfront got a huge makeover in order to attract people. Though it´s not the pleasure craft sailors the City of Arrecife had in mind but the huge cruise ships which ought to be attracted by the facilities. The plan is working since Arrecife is regularly run to by cruise ships, flooding harbor and city with thousands of American and European tourists.
Mooring in Arrecife Marina
Coming to Arrecife is nice as well. People are very friendly and welcoming. I´ve had the impression that – although Arrecife is the largest city of Lanzarote – everything was very smooth and calm. The harbor had been virtually empty offering a large number of free berths though that might change during high season. I nevertheless could imagine that most sailors would prefer Marina Rubicon in the South of Lanzarote over Arrecife for its picturesque appearance. It´s some 200 meters to the harbor office and registration to this Spanish Island took less than 10 minutes.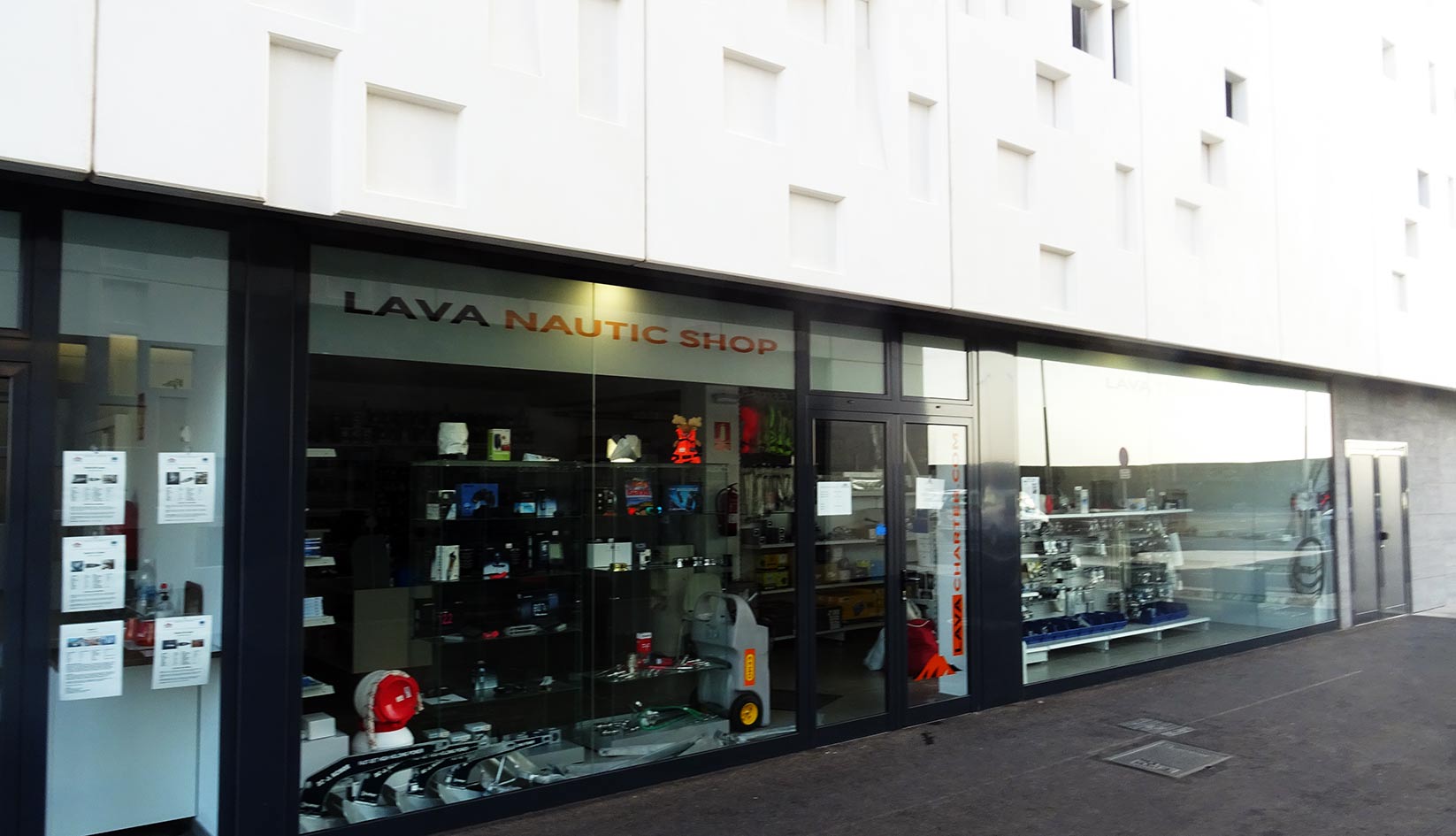 Within the marina there´s a shop offering a quite well organized line-up of spare parts, sailing accessories and products needed aboard from charts to life vests, from shackles to ropes and from mechanical to electronic parts. The shop by the way belongs to Lava Charter, the very German-rooted company we transferred the Dufour yachts for. There are also a number of very well equipped shops in the harbor-destrict of Arrecife in case Lava Nautik Shop doesn´t have the product you search for: From paint to anti-fouling and Volvo Penta-spares. Since Arrecife has also all the facilities to get the boat out of the water and on dry stand this is the definitive advantage of Arrecife over other, more pleasure related marinas on this Island: You can do repair and maintenance work from light to heavy duty here without problems.
Demurrage in Arrecife Harbour
Demurrage is average priced in Arrecife marina: A boat like our Dufour 460 with 14.15 meters length and a beam of max 4.50 will pay 24.20 Euros per day. A discount of 10 per cent for 15 days and a further discount of 20 per cent for the whole month. It´s not cheap but I would consider pricing as fair. As I was talking to some sailors mooring at Arrecife as well as to people living here, I often heard the story that the Port was heavily subsidized by the Spanish state and the local government to get the marina full of sailors to create a "nice maritime atmosphere" for the cruise ship passengers. That might be the truth because looking at the shops on the waterfront that´s definitely nothing for the common sailing yacht crew: Lingerie, leatherwear and the usual suspects like electronics, high priced restaurants and stuff for the "modern" westerner.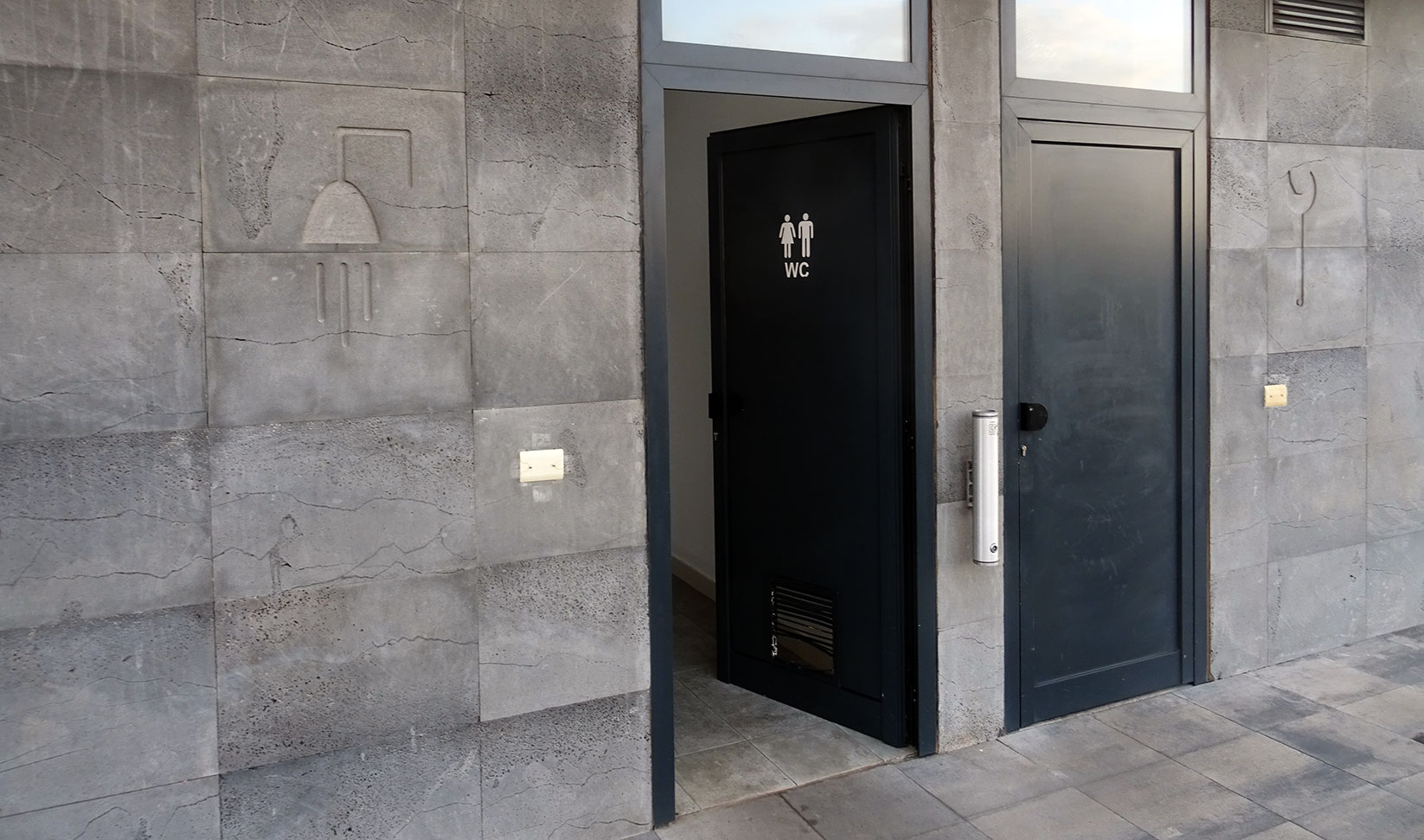 The marina nevertheless offers all amenities a sailor needs to have his boat safely tied up: Floating pontoons, electric current well within reach, fresh water the same. There´s a very exemplary solution for getting rid of one´s waste as there are large trash bins for every single jetty – no more wandering through all of the harbor. We felt no swell at all although there was quite some heavy noise coming from the fishermen´s docks vis-à-vis the pleasure craft area. Northern winds might also cause williwaws and waves within the otherwise well protected marina to reach annoying levels.
Bathroom Facilities
As everything is brand new here so has been the bathroom facilities as well. Very modern designed the sailor desperately in need for a hot long shower will find it very welcoming to bring his towel and shower gels to these rooms. It´s all very tidy and will be cleaned at least twice a day including over the weekend. The interior design is of superior quality, no ice-cold tiles – everything very inviting.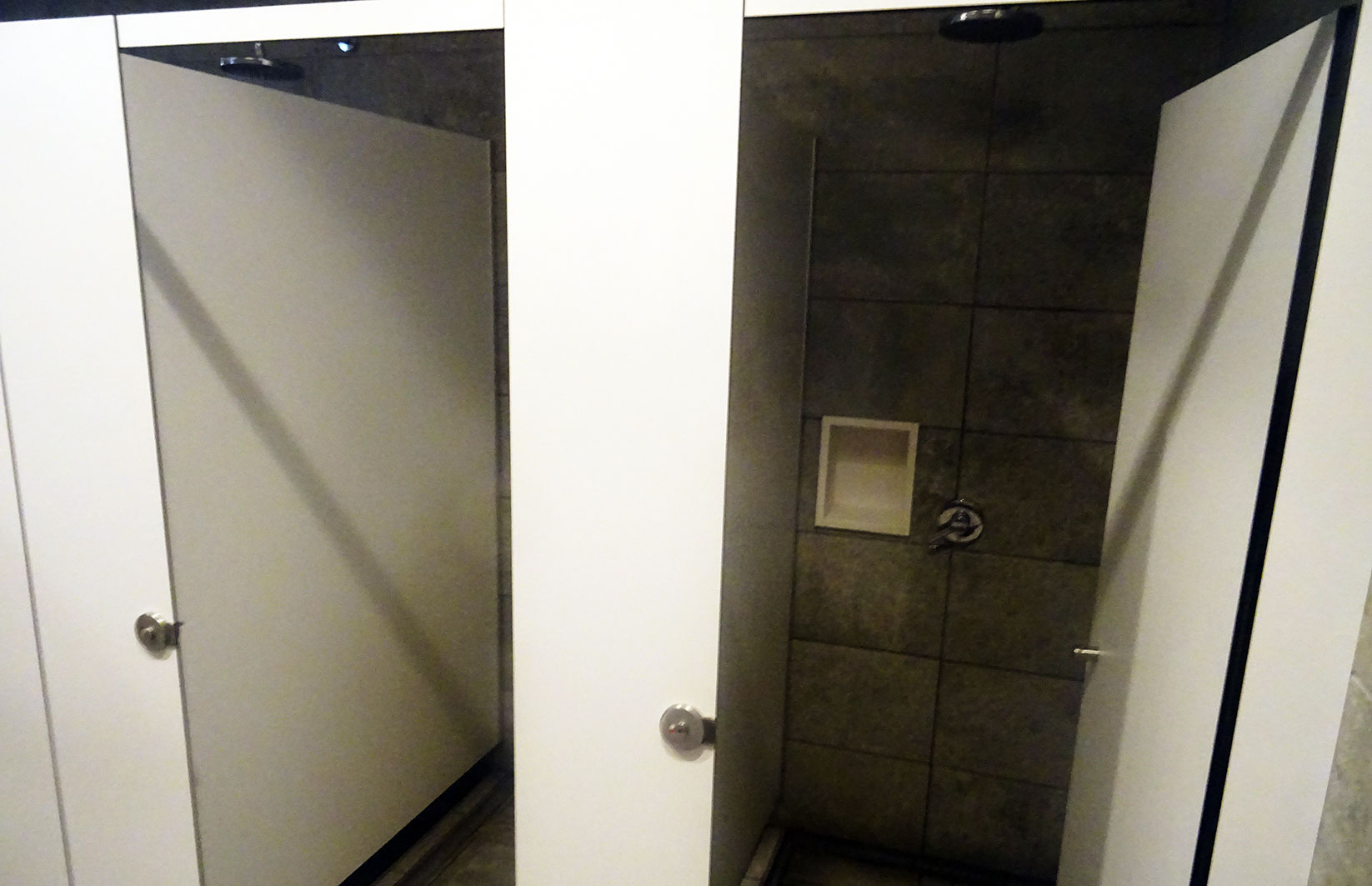 The downside is that there is only limited amount of space available which inevitably leads to queues in the morning and evening hours. There are just three shower booths, three sinks and two toilets per bathroom. That´s far too less for the most frequented times per day. Also, showers and toilets are next to each other just separated by thin partitions not sealing the toilets. So if a sailor suffers from digestive problems, your fresh morning shower gel will have to work hard against the smells …
Eating and Resting One´s Oars
Arrecife is not a true beauty nor is it a touristy Disneyland with too much make-up for the paying guests. It´s a lively town bristling with locals making business. There´s a large fishing harbor and a very nice (though shabby) port district. Also, Arrecife features the usual shopping areas with large and small shops. Center of social life especially in the evening hours and at night is the area around the El Charco, a basin of water with a lot of restaurants and bars around it.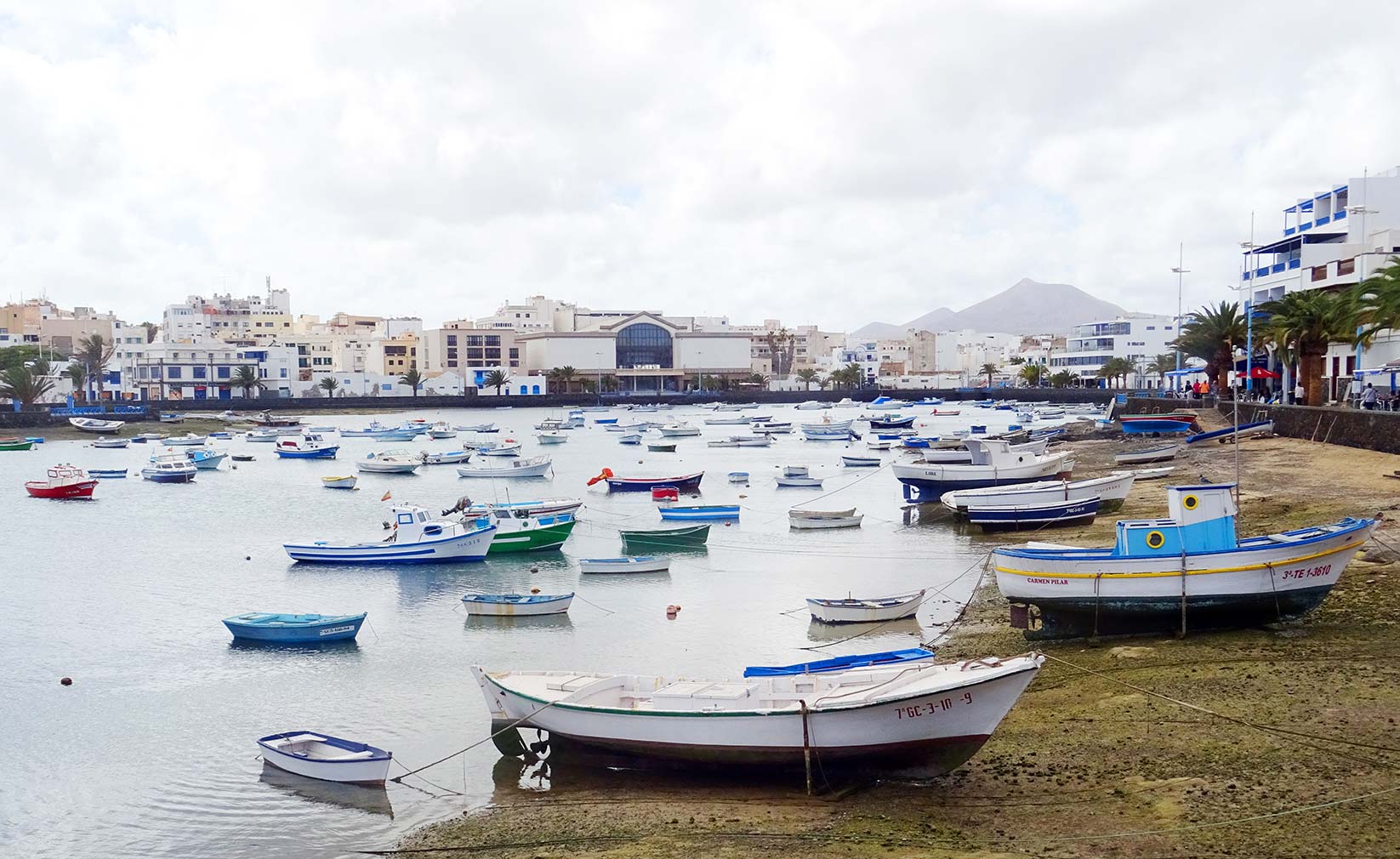 As with every town, just take a look where the locals are dining out, that´s usually where you´ll get the best food for reasonable prices. The beaches of Arrecife are quite nice though palm-lined by not so nice concrete hotels. Due to the prevailing winds you´ll have a fantastic view to the landing aircraft heading for the nearby airport.
Arrecife Marina: My Overall Assessment
I like it in Arrecife for the credible Spanish feeling, the real life atmosphere and especially for the nice local people living their lives here. It´s great to roam the port, especially the lively fishing harbor. Though entrance is prohibited, nobody was bothering as I was going inside to watch the fishermen preparing their ships or unloading their precious catch. The marina is of good standard although one might find the occasional flood of cruise ship passengers a bit annoying.
My overall rating for Arrecife Marina would be 7 of 10
Link to the Marina Website here 
Other interesting articles on that topic:
Read all Marina Reviews here
Essential maneuvers for Landing and Casting Off
Porto Santo Marina: What a dream!