Now that it is certain that by external circumstances I will not be able to sail the catamaran any further back to Germany, which makes me sad of course, I want to share my knowledge about a specific harbour with you dear reader, the final destination of my multihull transfer cruise and one of the most interesting and surprising marinas I´ve been to so far: Le Havre in the French Normandy. Why is that so? Well, Le Havre is indeed not a "five star" destination as it is one of France´s biggest industrial harbours and a big production site of the French petro-chemical industry. Approaching Le Havre you will instantly notice the countless smokestacks and facilities.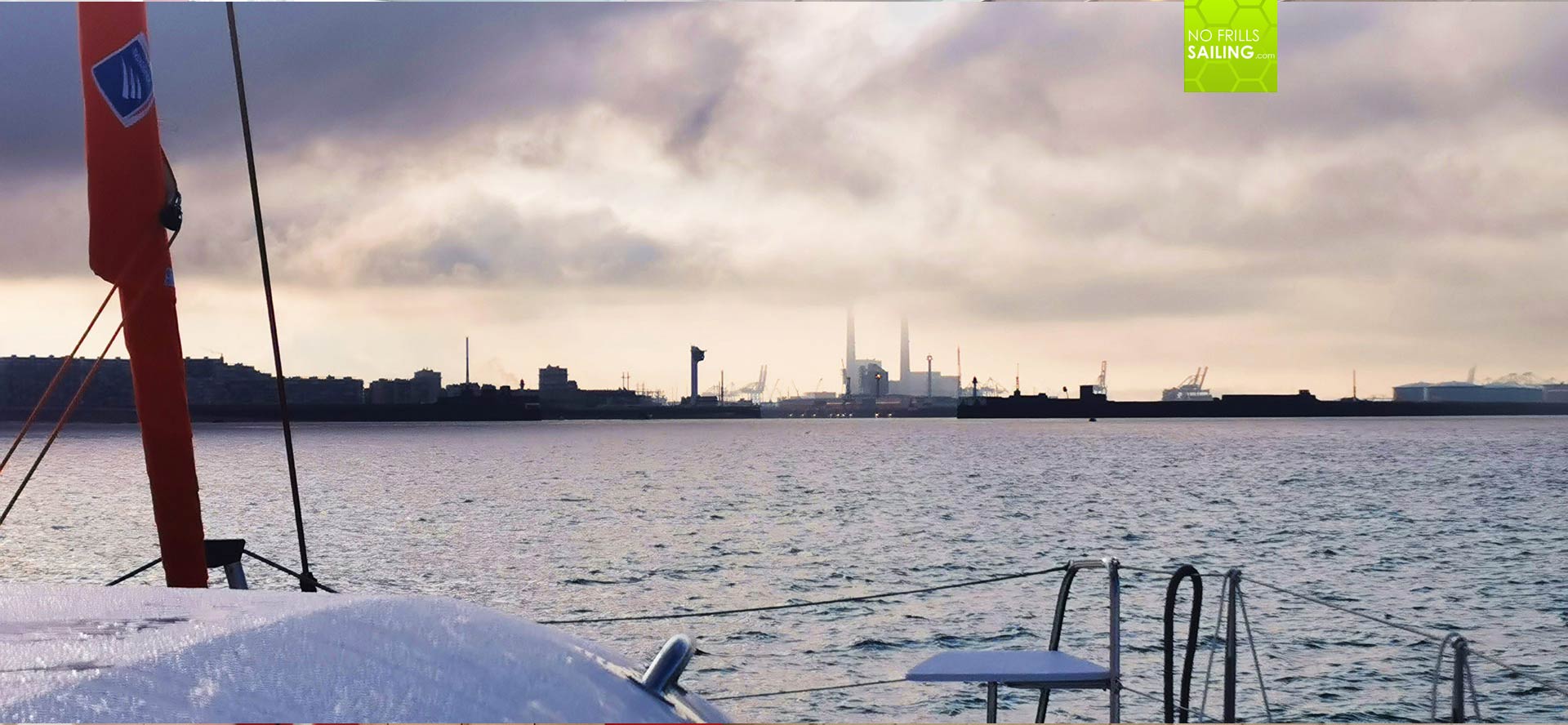 On the other hand, Le Havre´s position is slightly off the classic Channel-crossing courses, therefore it also is a very protected position and might perfectly serve as a vanishing point if you want to escape bad weather. Most sailors I know will traverse the English Channel to the North, near the British Island to circumvent the extreme tidal influences and heavy currents. That means, for the most part, Le Havre serves as a kind of "insider´s tip" for sailors. And believe me, it is much, much more than just a place to be safe in heavy weather.
How to sail to Le Havre
Le Havre is situated approximately halfway into the English Channel – some 100 miles Southwest of Dover/Calais, the narrowest point of the Channel. It´s a bit recessed inland (a reason for the protected position) but also very open which accounts for an easy approach day and night for a sailor. French waters in the English Channel are prone to heavy tidal currents of up to 5 knots (and more – read my article on the "Black Hole", the Race of Alderney, here) and so it is absolutely necessary as a skipper to keep an eye on time and currents.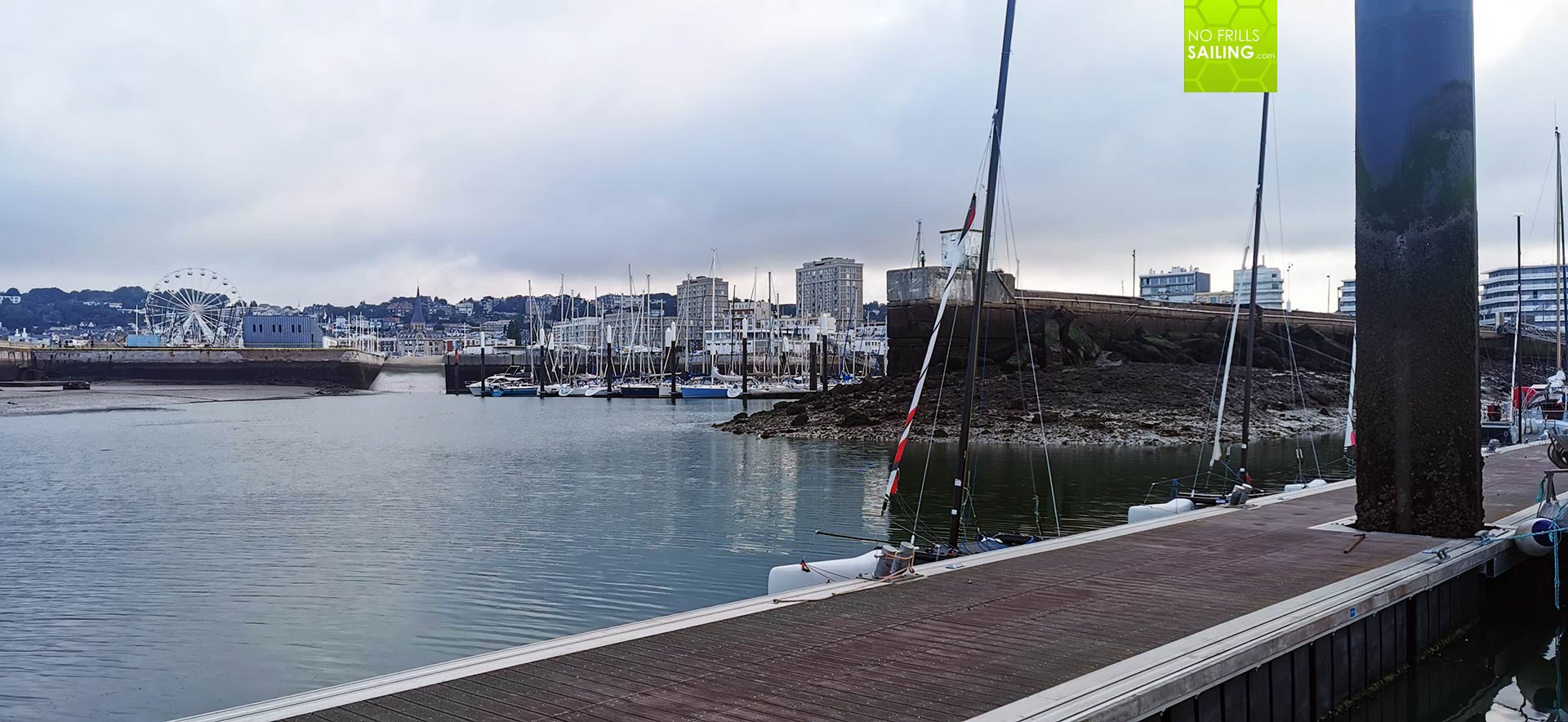 Nearing Le Havre means to have a good eye for other ships. The port is still vivid and one of France´s most busiest ports, so you will encounter big freighters, mostly tankers. There are also many big ships at anchor in designated areas you will have to look out for. Also, it seems that the waters around Le Havre are rich in fish, many, many fishing vessels of all sizes will be buzzing around. The bigger ones are utilizing their Class A AIS and be perfectly visible on your plotter, the small boats will only be visible by using Radar. Entering Le Havre you´ll have to follow a buoyed waterway, keep a lookout for the big ships and try to avoid meeting them near the breakwater, it´s narrow.
Mooring and Demurrage in Le Havre Habour
Le Havre Port de Plaisance is situated to the lefthand side right after clearing the big breakwater. Be aware of the up to 5 metres in depth change due to the tides. When I arrived we´ve had low water and there wasn´t any clearance to left and right at all within the narrow channel leading into the harbour. Chart says 4 metres draft every where but it felt less. There are over 1.100 berths available in Le Havre of which 60 are reserved for visiting vessels. Arriving around midday is a good time to get one free berth – visitors will have to land at pontoon "P" first, which is very practical as this is the very first pontoon you encounter.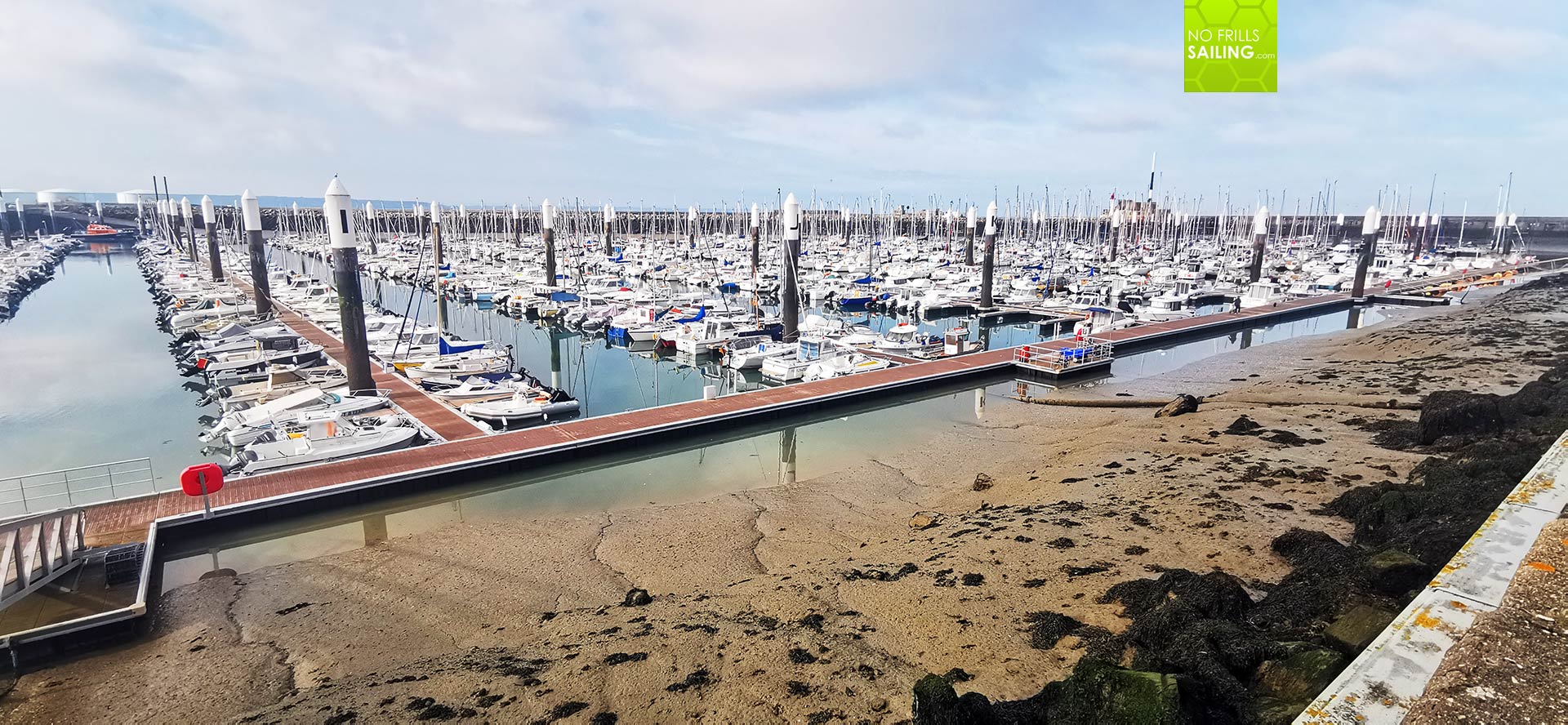 The tide is breathtaking: Once the basin looks "normal" and is filled with water, 6 hours later the breakwaters and walls have been grown hugely overhead, much of the brown mud is visible and you are hanging very low in the water. Visiting the Capitainerie upon arrival you will meet very friendly personnel and pay your demurrage. Prices include a chip card which will start the shore power, open doors and access to the bathrooms. The demurrage is reasonable and I felt a bit under-priced compared to other marinas along the coast, which was a nice surprise.
Bathrooms and amenities in Le Havre Marina
Le Havre is a huge Marina. At the time of my visit there was quite some construction works going on which meant that "our" bathrooms currently underwent a renovation. We had to walk all around to the other side of the harbour to use the showers of the sailing club. There are two WCs vis-à-vis the showers (as well all in one room, which I personally do not like, smelling the poop of other sailors whilst showering) but anyway, it was clean and nice. Shower-time is included in the demurrage and no extra pay needed, no time-limit to the water.
During rush hours – as always – it might be cramped in here and you do not want to wait 20 minutes or so to take a dump, so check your time and get clean anti-cyclical. I hope that the guys will finish construction works soon so that you will be spared from the long walks. Other than that there is a fuel station where you may fill up your boat´s tanks, a big travel lift if maintenance or repairwork is necessary and the city centre of Le Havre is right behind the guarded entry-doors to the marina, which is kind of great!
Resting one´s oars and dining out in Le Havre
The harbour itself features a small restaurant/bistro on top of the clubhouse, but we did not check it out. We rather left the marina to see a bit of Le Havre. Waterfront and city centre are just a couple of minutes walking time away. Le Havre, almost destroyed in WW2, has been rebuilt as a modern city. Many of the old port basins, like in so many other coastal towns, have been converted to living areas, featuring modern, cubistic architecture, colorful facades. In fact, Le Havre is the one and only city who´s 20iest century city centre is protected by the UNESCO.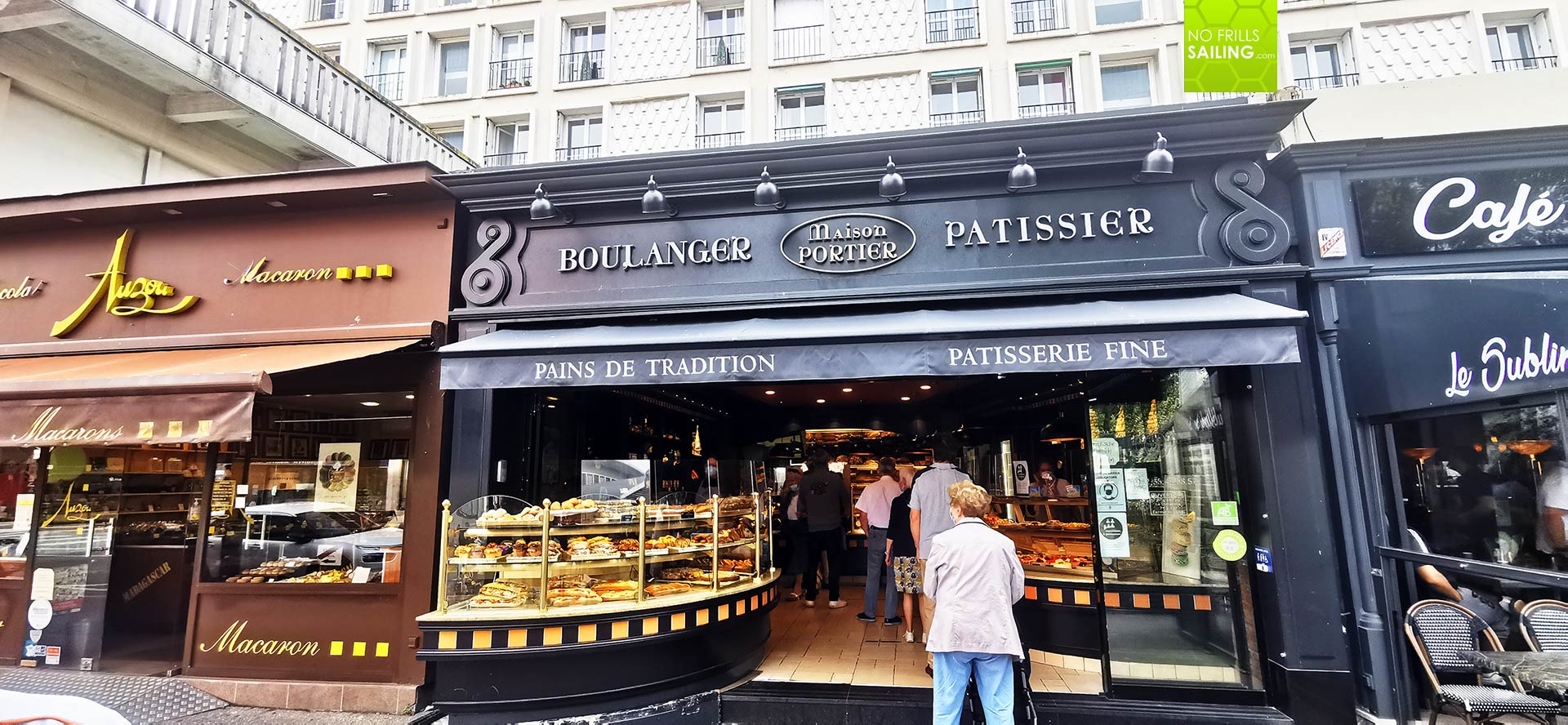 As you are in France now. You will surely find a boulanger offering tasty pastry, baguettes and crocques. Numerous cafés and restaurants of all coleur are inviting to rest your oars. We indulged in tasteful small cookies and Eclairs while we have been here and enjoyed a wonderful breakfast sitting in a park. There is always wind apparent, calms are seldom, so the city felt fresh and vidid.
Le Havre is not a pretty French city in the sense of old buildings. It´s rather modernistic and kind of hectic. You will seldom encounter tourists and enjoy a truly "French" experience here. If you have read my last article on the IMOCA paper-racing boat you might have learned that Le Havre hosts the famous double handed sailboat race "Transat Jacques Vabre", reminding of the glorious past of the city as the first French harbour to handle coffee beans coming from the "New World".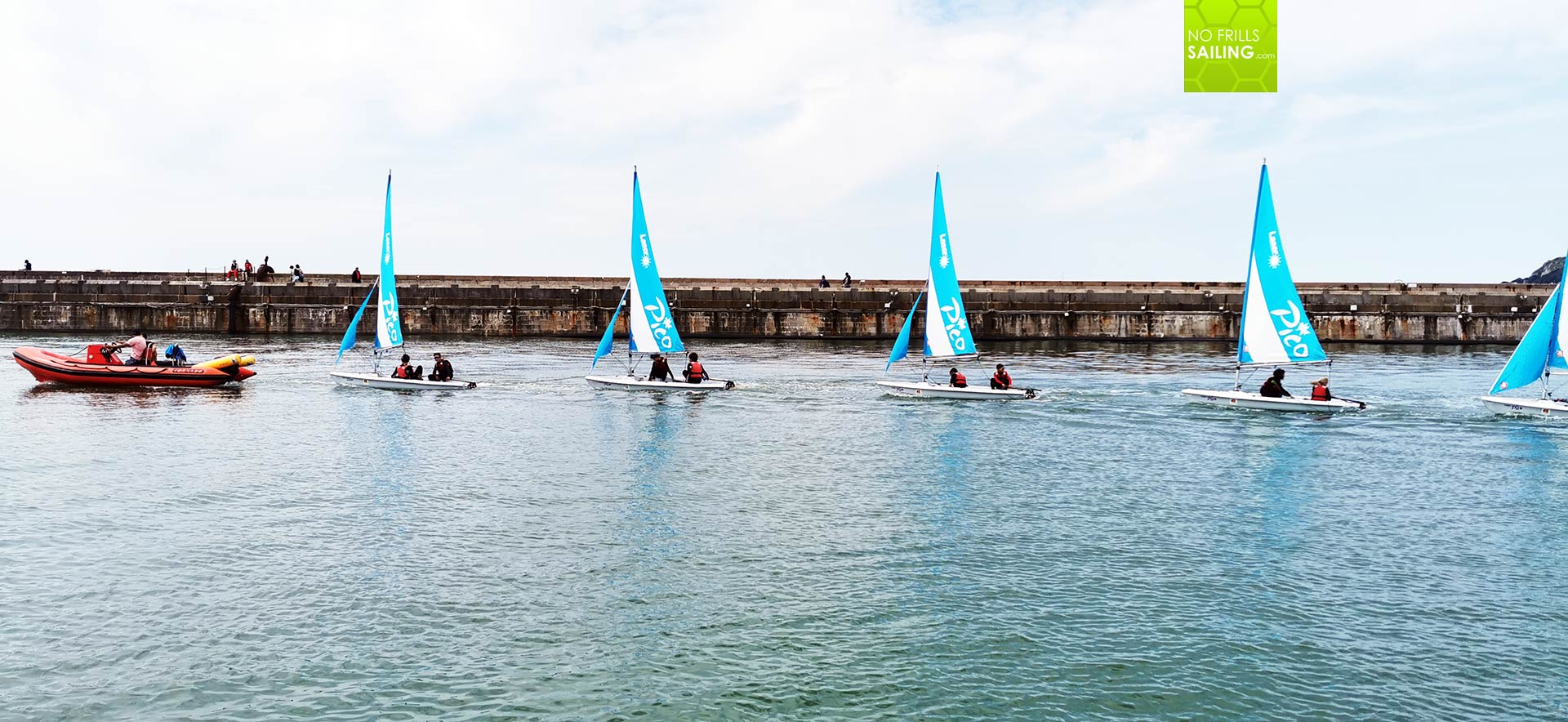 I loved it here: Something very different and not comparable to the rest of France I´ve seen so far. People are very friendly here and I felt welcome at all times. Although I personally do not fancy tidal calculations, it was very, very interesting and insightful to handle the extreme tides apparent here, certainly a good entrance into the world of "tidal-sailing" for beginners. Very sweet to see the sailing youth going out in their tiny boats by an hourly schedule, a vivid, lively city and certainly a port worth visiting when you cross the Channel.
My overall assessment for Le Havre marina: 7 out of 10 points
Also interesting to read:
All Marina Reviews here
Sailing the English Channel to Ijmuiden
Welcome to the Race of Alderney