I cannot say that I regretted the decision to change course due East to find a berth in Brest again. It is certainly not the prettiest of all French coastal towns, but apparently there are many nice corners and "secrets" to encounter here and besides the fact that my crew mate Andi needed one or two days to recover from his severe sea sickness the weather outside "around the corner" in the English Channel was awful: Waves of up to 4 to 5 metres with wind speeds significantly over 25 knots, peaking at over 30 knots with gusts around +50 did not appeal too much to us. So we used the three days in Brest as best as we could.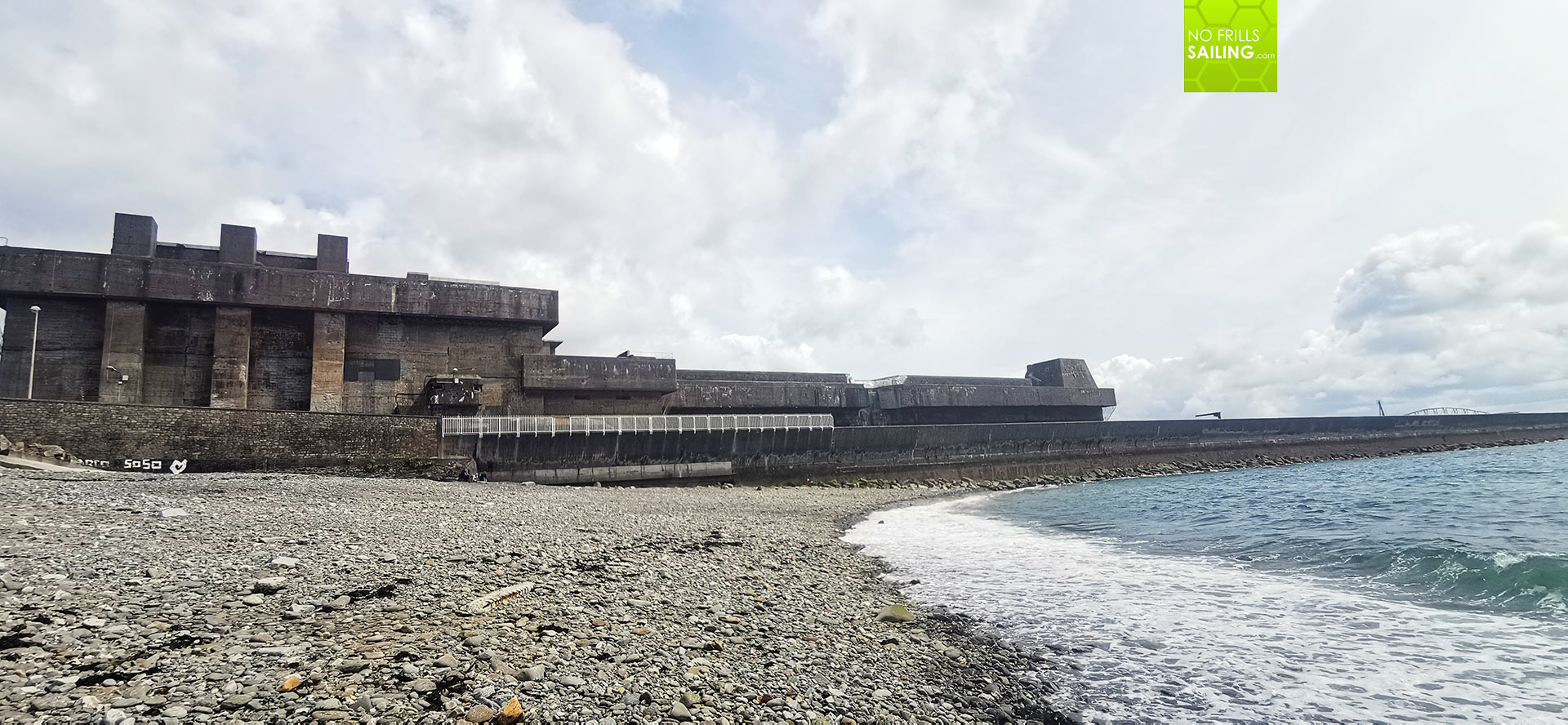 First of all, I wanted to visit the old German U-Boat bunker from World War 2. That is because since I was a boy I fancied Navy-life, submarines in particular and the Second World War specifically. Secondly, my crew mate Martin May is as a professional actor the cast member of the best U-boat-movie of all times, "Das Boot". The original U-96 was stationed here, in Brest, and not as in the movie in La Rochelle. So we walked up to 10 km daily and used the time as best as we could. Brest, I can now say, on the second blink offers much, much more than originally thought.
Making a plan
But, as this wasn´t a vocational trip but mere business, I always had an eye on the weather forecast. After our first attempt did not work out very well, I checked weather conditions in the English Channel on a daily basis. I saw a new window of opportunity arising for the 9th of August. Comparing the tide charts for that day I figured that casting off at high tide would be best scheduled for 0500 a.m. and planned the journey onwards. As always, I am more of a "paper guy" and as such I drew up a new masterplan-sketch.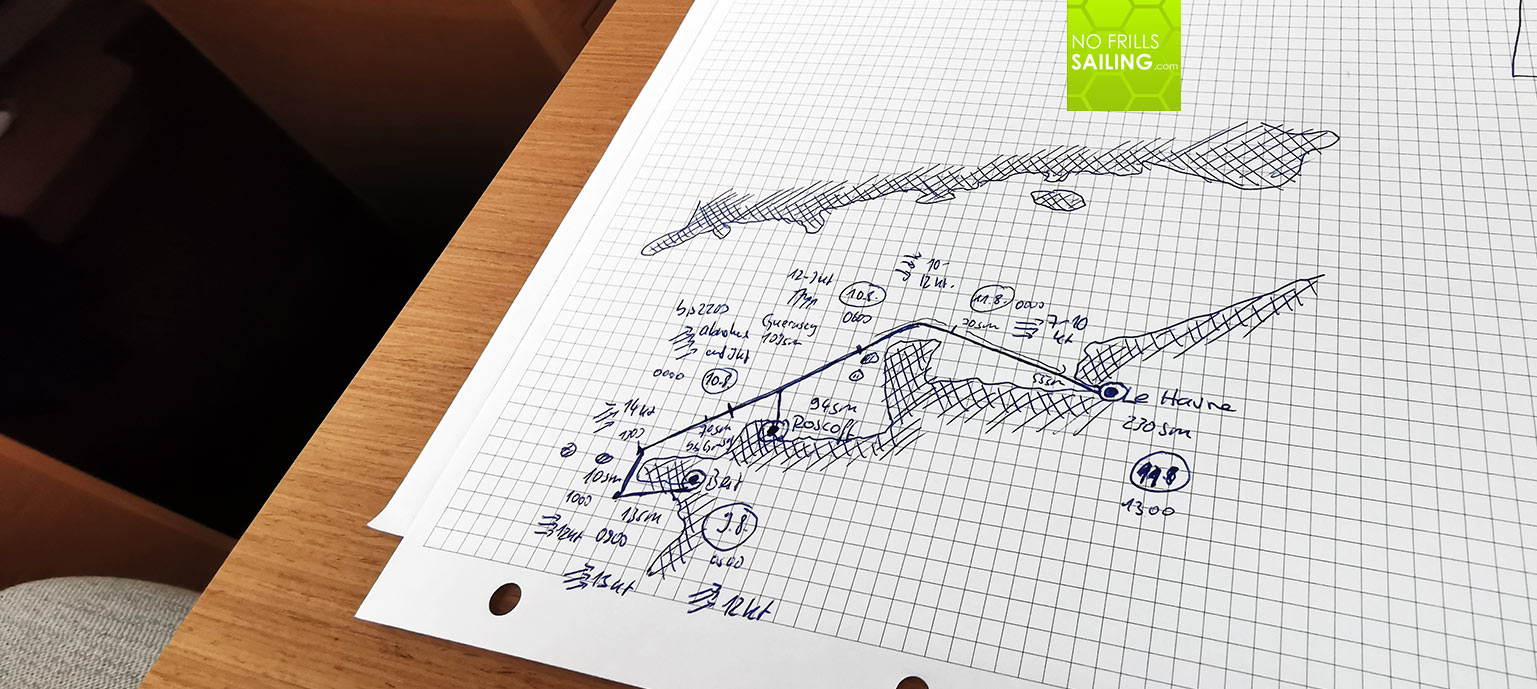 The idea was to leave Brest one hour before the tide would change to be subsiding, being flushed through the Goulet du Brest. There would still be a wind of 11-13 knots from due West outside Brest, probably creating a enervating swell which we would be having to cope with upwind for some 15 miles until we would turn northwards to creep through France and Ile Ouessant for another 10 miles – finally turning to starboard into the English Channel and eventually being on a running course that would suit our catamaran more. Now, let´s go!
Catamaran manoeuvering – shitting my pants
Getting up that early is always a mess, especially when it is cold and rainy. "Where the hell is the summer gone?", I sweared whilst putting on my waterproof sailing gear, drinking a hot coffee an swearing even more: Instead of the projected 7-10 knots a strong 14 to 17 knots-breeze was making the riggings whistle. "Dammit! Strong wind!", my knees already shaking. Why that? Well, let´s put it this way: Manoeuvering this property-sized catamaran in a high wind speed-situation is tricky by itself, but with boats as near as 2 metres it is more a stunt for the sea-circus.
Right at our stern, no 2 metres away, the racing trimaran ARKEMA 4 was parked. I do not know what a boat like this is worth, but I guess Multiplast won´t sell such a machine in under 5 million Euros. Well, that was our one neighbor. In front of us a Dragonfly trimaran was moored, as well 3 metres away. Wedged. The best word to describe our situation.
With wind now pushing very hard, my biggest concern was that once I would have turned the cat away from the quay side, the wind would grab us and push us into the tri before I could have the boat set to stern full to take it out of the parking lot. As we do not have a keel but a very high freeboard, we are easy game for the wind. We went outside, in the rain, assessing the situation. My heart already pounding and my guts telling me to abort. But, we couldn´t! We had to cast off as time was running out. I decided to have a fore-spring and try to have the catamaran turn forward to get her out of the lot stern-ahead. To counter-balance (at least try to) the force of the pushing wind, we had a stern line which I hoped my mate Andi cold hold against the wind. "Let´s try it, but only try first!", I shouted, willing to test the idea. The boat turned away from the jetty as planned. Martin in the bow shouted the distance to the tri: "2 metres." "1 metre!" now … well, my heart was at 250 bpm at least, behind me Andi was groaning and moaning, having a hard time to hold the stern via line against the wind. That was up to 15 knots already. "Now, Lars, or never!", he scremed, I yelled "All lines away!" and rushed in both engines full astern. The cat sprung to life and dashed out of the lot. Taking out the port-side engine I put her on the right course. "Watch out behind!", Martin yelled, as we raced towards the opposite jetty where a yacht came quickly very close. Both engines to flank ahead, boat stopped. Both engines to full counter-rotatin and the cat turned, 3 seconds later both to flank ahead again. With no 50 centimetres left to the boats around us, I quickly loosened the steering wheel to take rudder-helm and finally had the boat free.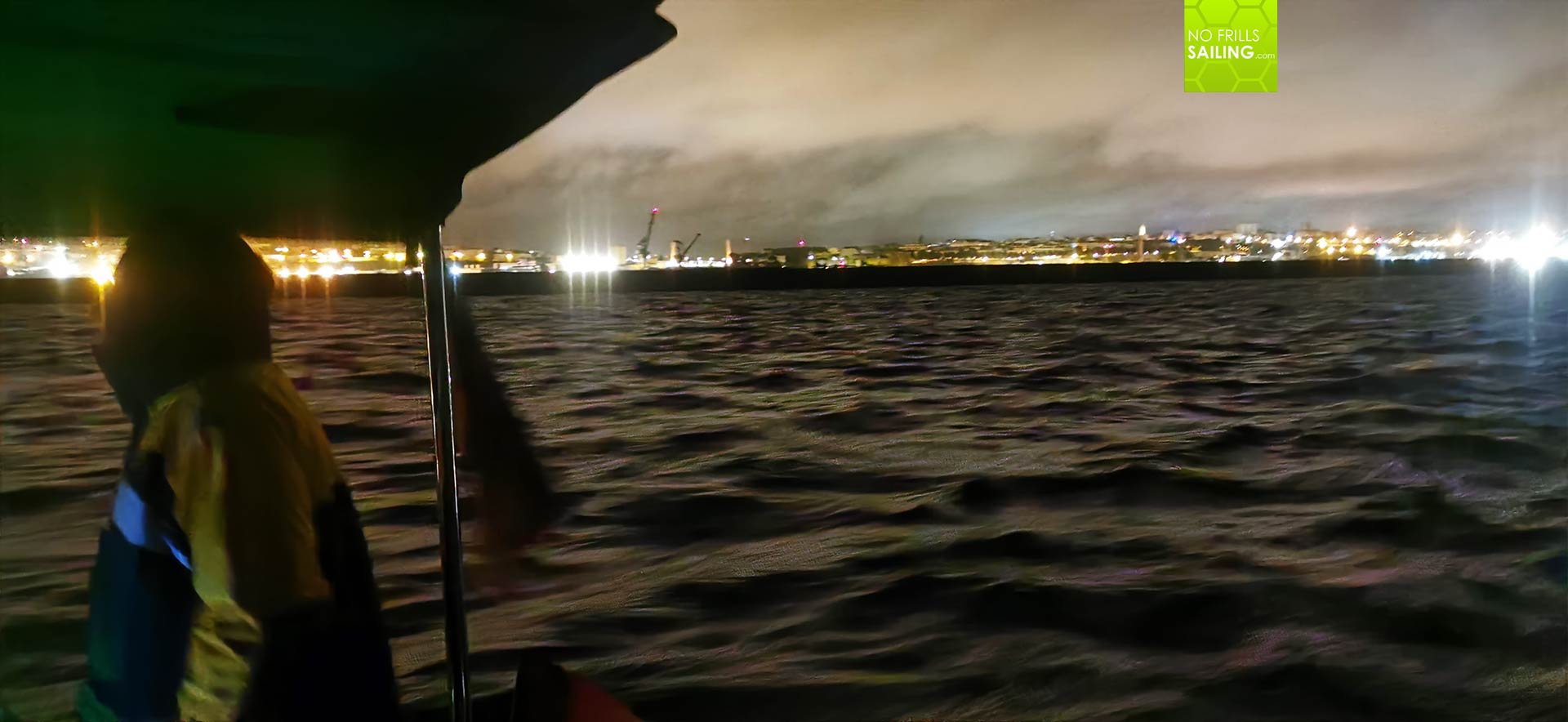 You cannot imagine how my heart way beating. I screamed "Whooooa!" and one of the guys yelled a "FUCK!" through the sleeping marina as we left Brest. That, honestly, has been the most complex, most dangerous and most risky manoeuvre of my whole sailing career and it still gives me shivers like hell thinking back to it! Just wow. Without the great line-work of my crew I most certainly would have crashed at least one of the trimarans and maybe the other boat vis-à-vis as well. Just wow.
Going with the flow, leaving Brest
We left the Brest basin and out into the channel, where I activate the autopilot and went inside the boat. A new cup of hot coffee was needed desperately to calm down my body. All three of us were excited and proud of this manoeuvre and congratulated each other. What an exciting start of this new leg of the transfer cruise!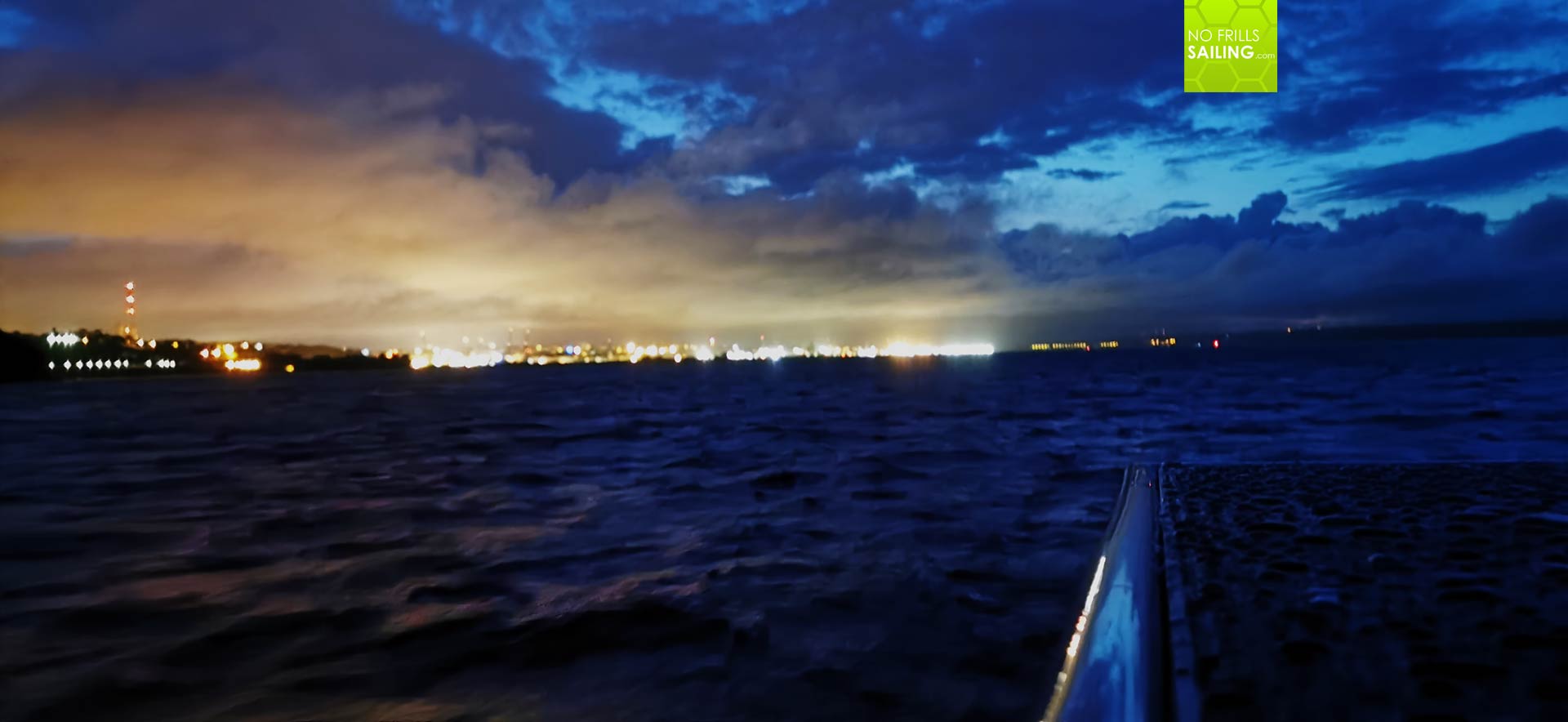 Looking back onto nightly illuminated Brest naval base we cheered this friendly, rough, beautiful, ugly city, that has so much more to offer than once thought. Handing over the rudders to one of the mates I went down to my bunk to catch on to missed sleep, honestly, I couldn't concentrate very much after that exciting casting off and fell asleep deeply for one or two hours.
As I waked up and entered the cockpit we already have been turning North and steamed through the narrow waterway between continental France. The beautiful islands of Beniguet, Quemenes and Ouessant on port side offered a tremendous view, as well as the spectacular lighthouses to starboard side. Tide was pushing a bit but soon changed so that we decelerated again from 7 knots SOG to a meager 3. Anyways, wind came in a bit more southerly than predicted and that was a good sign.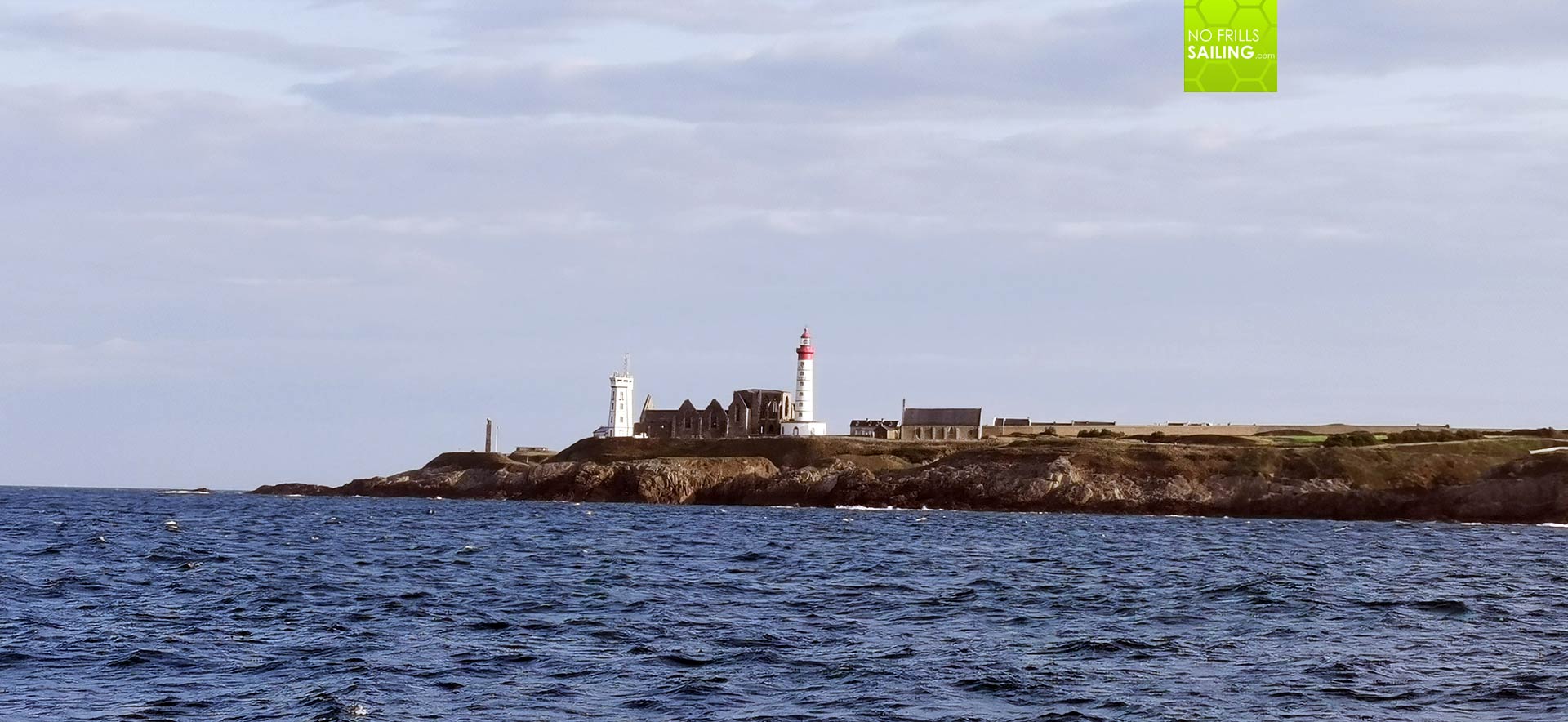 As we rounded the last of the lighthouses and turned to a northerly course, waves had a height of some 2 metres which was already much more than expected. The catamaran was steaming against the swell and we all took a deep sigh of relief when veering off and finally getting the boat to a more fortunate course which calmed down the whole situation. It was 1130, 6 hours into the trip and mood was very high: "Sails up, ho, comrades!", I shouted, full of pleasant anticipation that we might be rewarded with a great day under sails.
Sailing at last
What a great decision this was, to cast off at last, I thought as the canvas was all up and we could kill the engines. Wind filled the sails and the cat sailed solely propelled by clean, silent energy. But we made just 3 knots over ground so I quickly decided to have the Diesels back up and running again. Not because we had to, but because our tight schedule made us to: I would have to be back in Germany for the weekend, my crew as well had appointments without any margin for being late. We put the throttle up just as high as we needed to reach 5 knots SOG.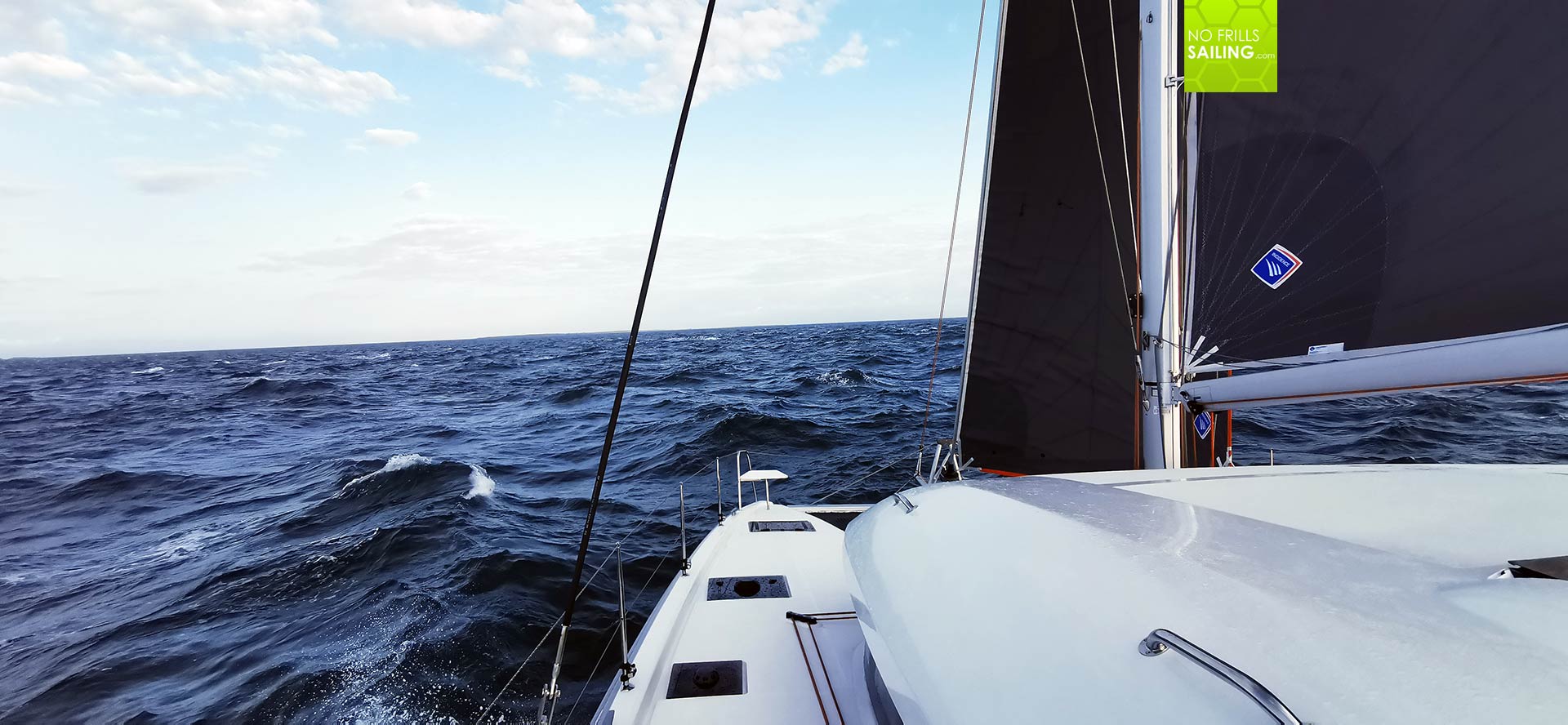 Of course, the constant humming of the Yanmar engines was a bit annoying, especially during the watch below when we tried to catch some sleep in our bunks. Martin did not find that annoying at all and always came up after his sleep-ins as fresh as a young Greek statue, Andi and I had problems finding a deep, recreative sleep. Nevertheless, we made good progress and that was the most most important thing. Weather seemed good and stable: Sun was up and wind was just as enough as to have the cat stable in the swell and partially sailing.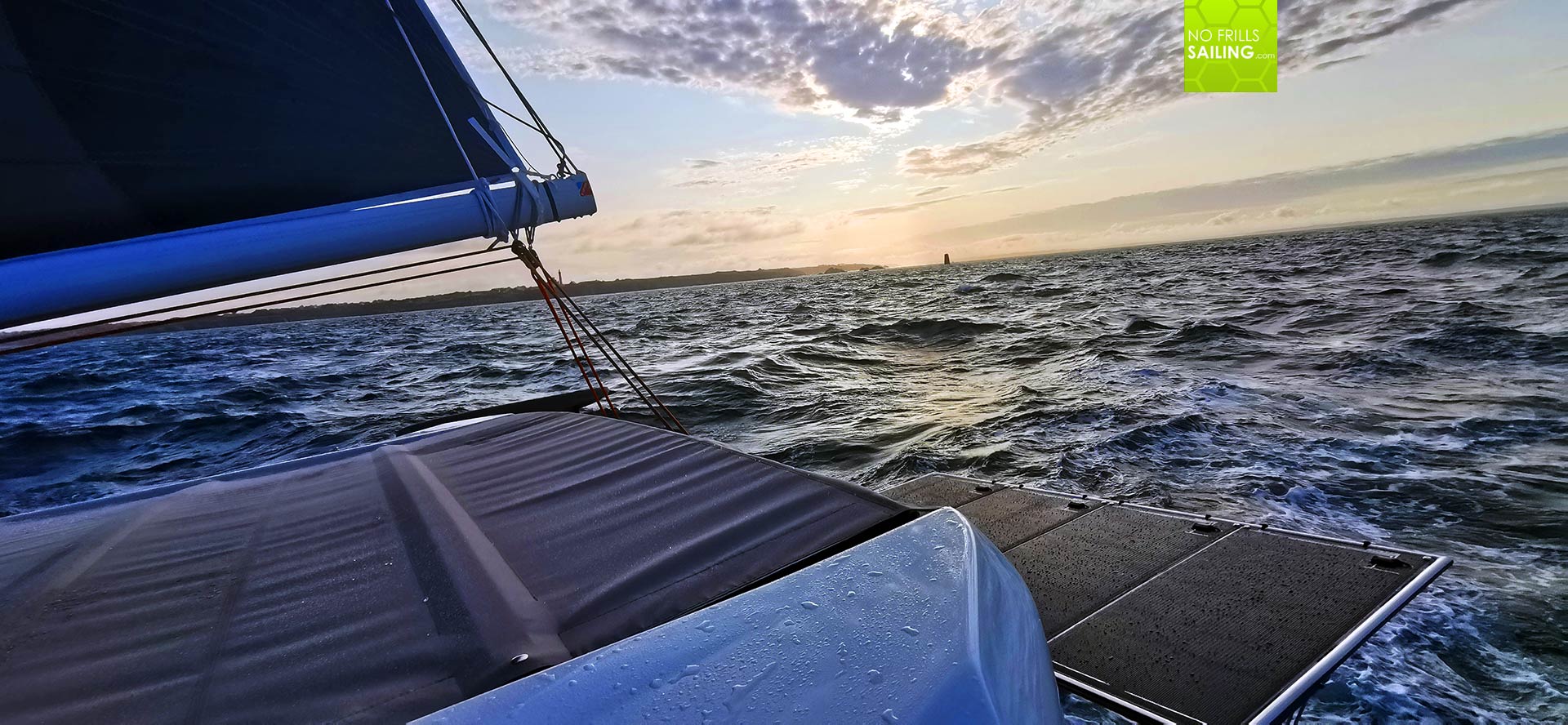 I prepared a nice breakfast, first solid food in our stomachs since our fantastic farewell-dinner in Brest´s awesome steak house "du Quay" which was the best food I would say we´ve had on the whole trip so far. Fresh Avocado, just salt and freshly grinded pepper. Nice. I hoped we would be seeing Dolphins again as last time on exactly this position we had an encounter with these marvellous animals which were hunting in liaison with birds. But nothing at all.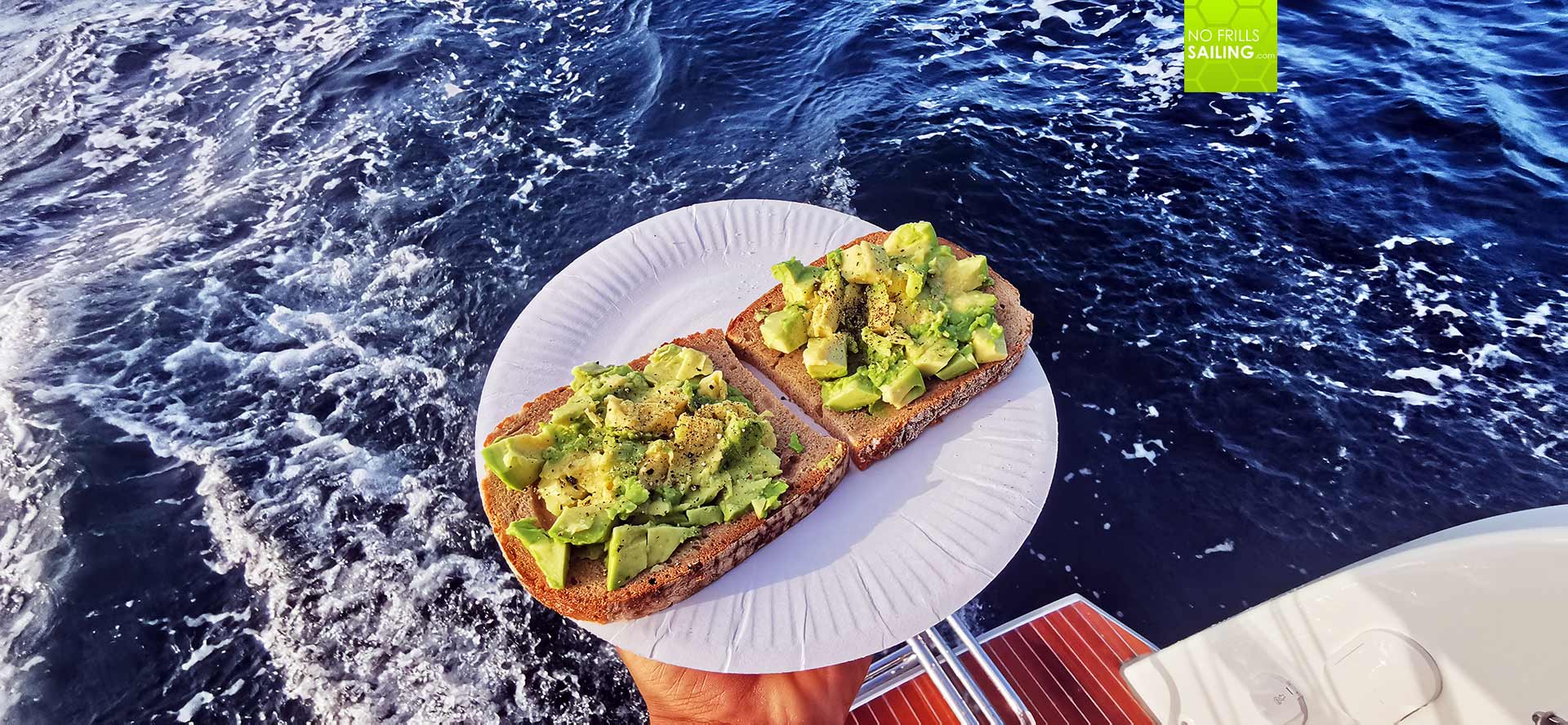 Instead we met a German sailing yacht coming towards us. I called on the VHF but they did not answer, I guess this crew has also been battered by the past los pressure system and they anxiously headed fast down south hoping to reach these waters asap, leaving the treacherous English Channel behind.
Catamaran sailing routine
Routine kicked in, which was a treat. Sun was up, the cockpit cushions dry again and so we could, for the first time in days, utilize the immense lush offer of seating in the large cockpit. I also opened the ingenious sliding roof for the first time as no rain was pouring down on us, opening up a nice view onto the main sail. Our noses in the sun, we enjoyed a very laid-back cat sailing.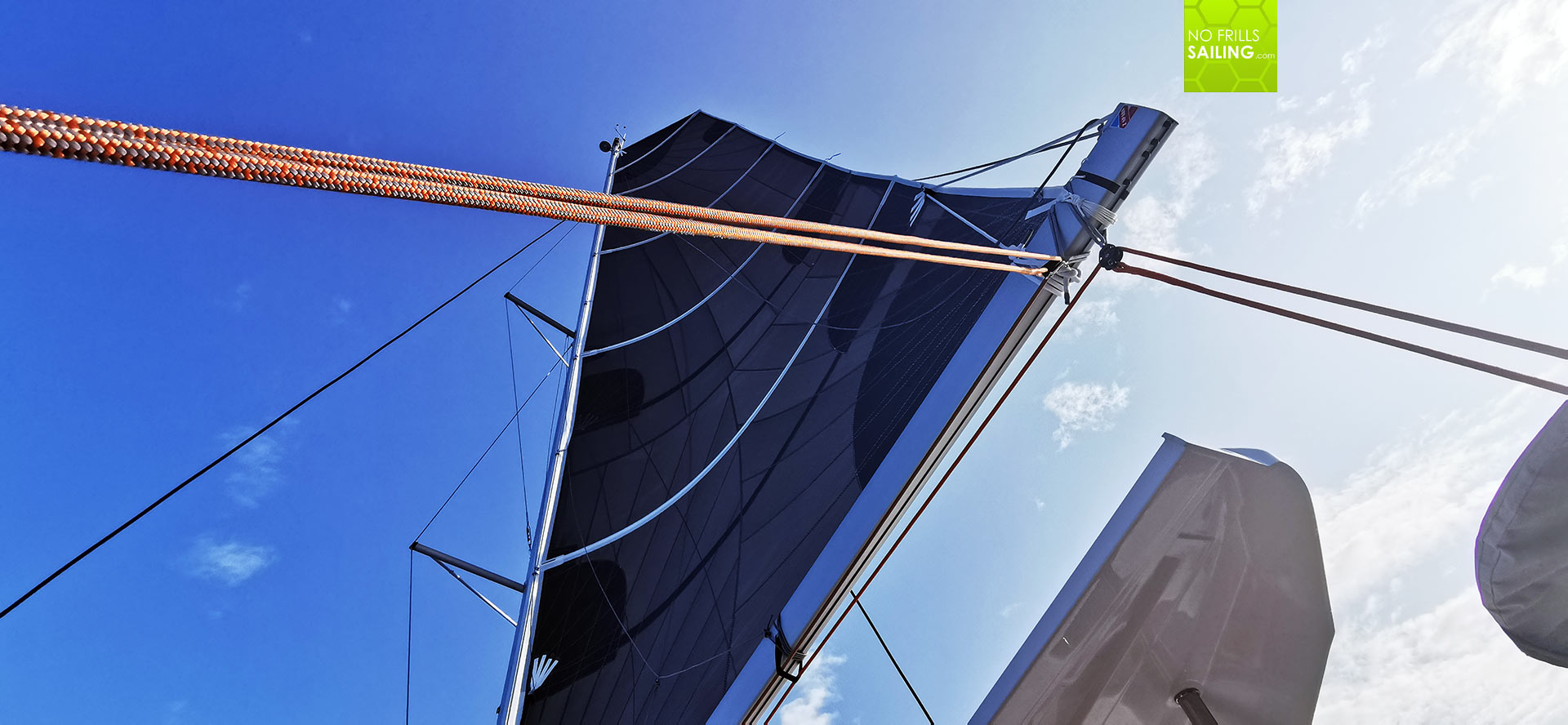 Tide was pushing again and we reached speeds of between 7.6 and 10 (!) knots. A rush. A true rush. We quickly had Roscoff, one of the northern French Channel harbors, left behind and luffed to North to gain some height in the Channel. Ours later Andi laid in course for Guernsey, the first Channel island to be sighted to starboard sight in a matter of hours. What a pity we could not land here – neither because of those damn Covid 19-restrictions, partially because of the silly Brexit-regulations. Suddenly I remembered a classic TV-series, called "Jim Bergerac" taking place on Jersey, something I loved as a child. A quick search on Google (yepp, perfect LTE-quality internet connection out here!) showed that Jim Bergerac is also Inspector Barnaby. Amazing.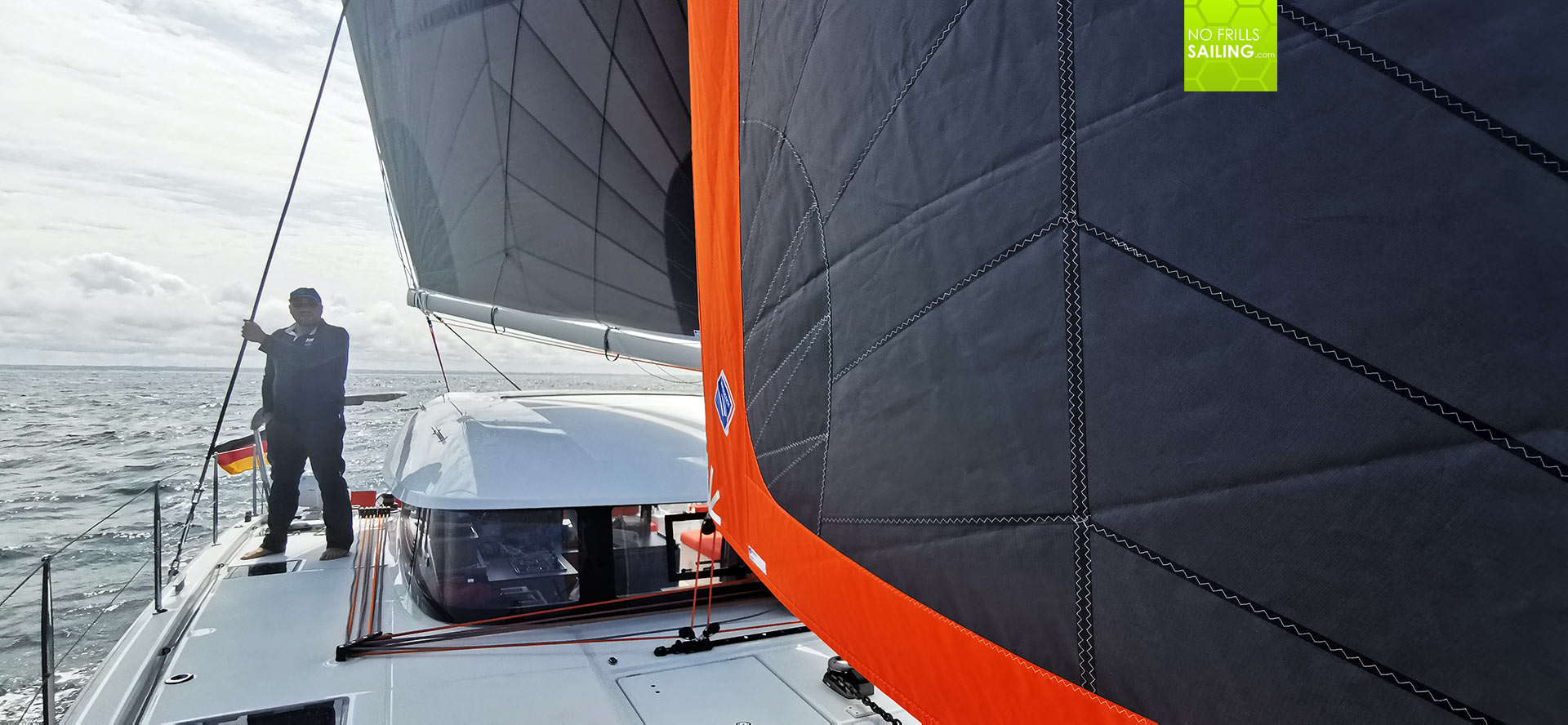 As I went down after my watch ended, I told Andi that I did not wanted us to go near Alderney. There are one of the strongest currents in the world and as such this is an adventure I gladly would like to postpone to another trip. He agreed and went to sleep. Getting up again after 6 hours to take helm again, weather had deteriorated massively: A heavy, cold drizzle coming in from abaft. What a mess. The whole cockpit was drowned in water, outside, Martin was dripping wet and freezing. I went down below again to take on some more warming clothing layers and joined him for the watch takeover.
"All is well", he said: "besides this awful weather and this AIS-signal …", he showed me on the plotter. A blimp, designated as "sailing boat" without any further explanations, coming up quickly. Very quickly: Plotter said this boat had an SOG of fantastic 26.6 knots over ground. "Impossible!", I said. Maybe the transmitter was defunct or the data feed was fed with wrong sensorics? Anyways, that "sailing boat" crossed out wake in some 3 miles distance and so everything was fine. Other than that, it was a very hard dog´s watch and I was yawning so hard every minute or so that I nearly kissed Andi who eventually relieved me at 0300.
Channel Islands abeam!
For the first time of the whole trip I fell asleep virtually the minute I had taken off the wet clothing and rolled myself into the sleeping bag. Completely unconscious I slept for a full 5 hours before my bladder woke me up again. When I entered the cockpit – it was broad midday daylight – I was relieved the bad weather was over apparently. And guess what – Guernsey on our starboard side.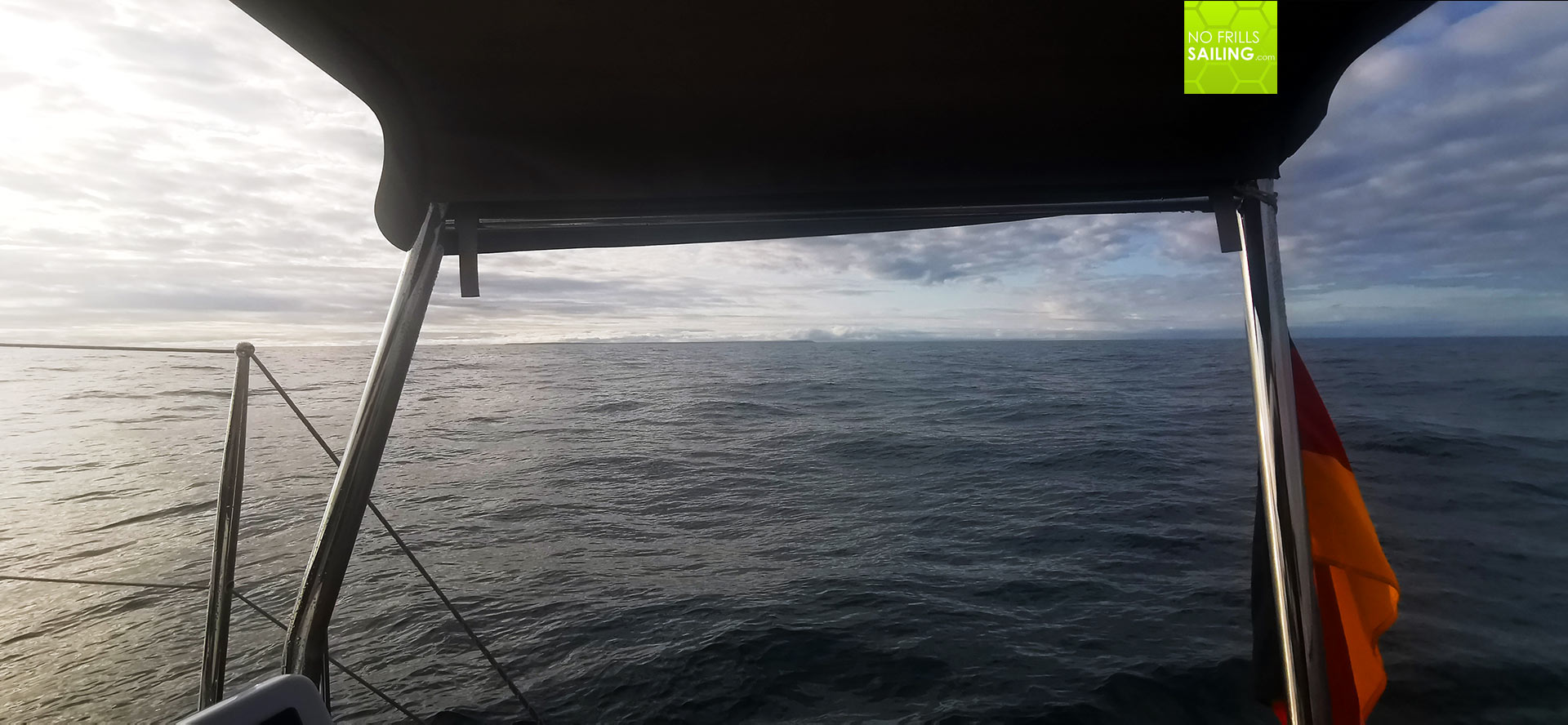 As wished by me we had a 5 mile distance to the shore line and apparently tide was on our side this morning. A lush morning, some 7.5 knots over ground and still both Diesels with some 1.900 rpm running. A comfortable course and great sight. Mood was high and up and when Martin got up too I prepared for a tasty, early lunch: "German Night", we called it. Sauerkraut, a variety of sausages, mustard and of course cooked potatoes. That our "German Night" took place in broad daylight did not bother anyone of us, we devoured the tasty food and thought of our homes to which we constantly so fast shrunk the distance by the minute.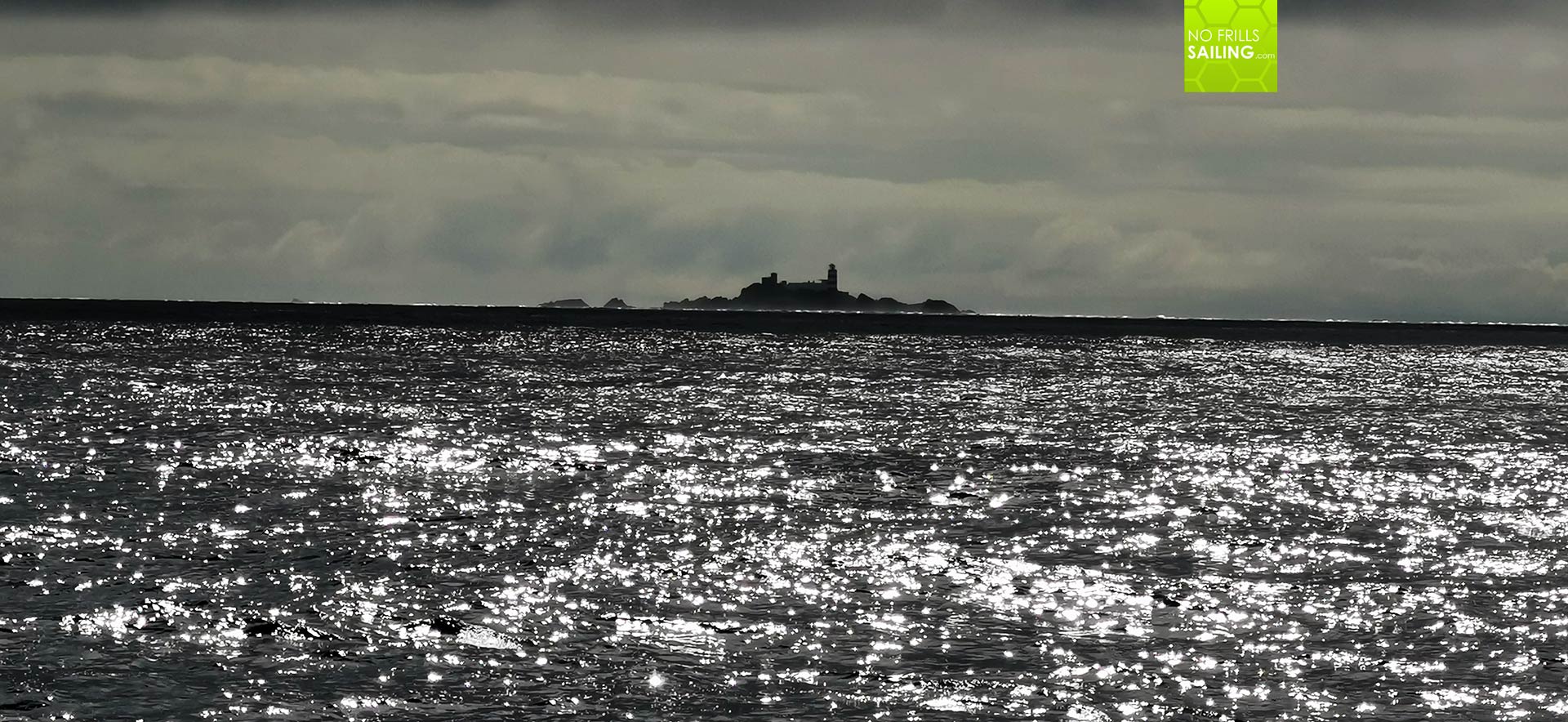 Some hours later we saw Alderney at last. "Very near", I said but both nodded: All is fine, don´t worry. Well. I worried: Remembering the words of my friend and skipper Wilfried last year, he said that traversing the English Channel should best be done under the UK-coastline as currents and tidal effects way in much less than on the French side. Now that we´ve had not a comfortable amount of time to be spent, we had no other choice than to go the Southern way. But I also remember his warnings (and the books I read about the Channel), warning intensively.
Wishful thinking
"Now you will get your show", I initially joked around as we dashed past Guernsey. Tide was pushing and we flew by. I prepared a nice hot fresh jug of coffee and took out some sweets, we sat together at the table and had a good time. Nobody of us thought just a minute that tide will eventually will turn and that the current, no pushing us so nicely past by the islands, will inevitably call in the due for the push. We just had a great time in the sun, like rookies.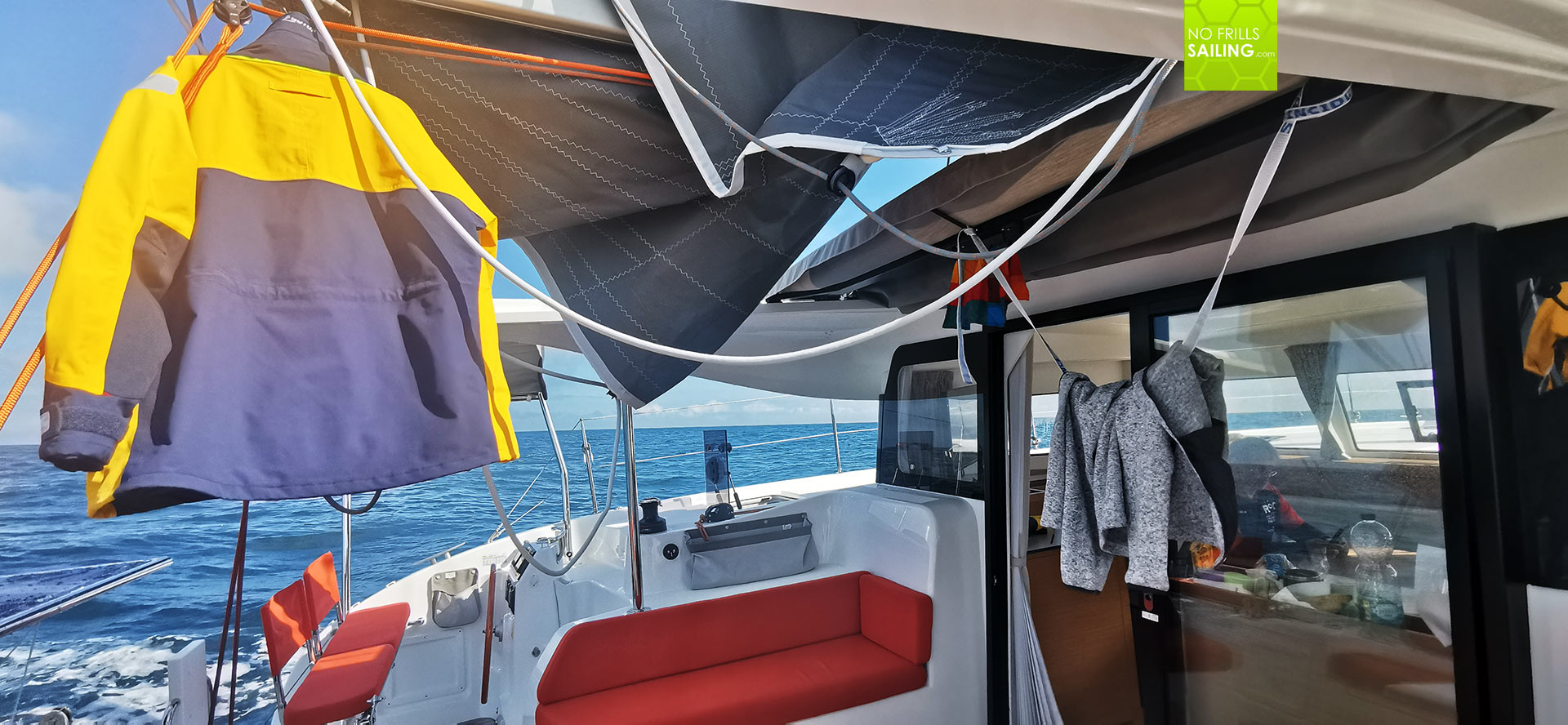 More than that, I began to wash my clothing and my fellow crew members followed suit. Quickly all our pegs were in used, the whole length of the reeling filled with dripping wet T-shirts, underpants, socks and oilskin to be dried by the lovable sun and the salty, fresh breeze. Nobody would have thought that the situation would be tilting in a matter of minutes.
Right as we had the Cape La Hague off to starboard side, we sat in the saloon, probably for another cup of coffee and some sweets, it quickly escalated. Sitting down before my cup, I had taken a quick checkup-look onto the plotter. It said "5.4 knots boat speed", meaning the cat made 5.4 knots through the water. I nodded and did not check for the SOG nor did I take a look at the chart-track as well. I guess, the scent of fresh coffee was too alluring.
Trapped! Welcome to the Race of Alderney …
As wes at there, Martin was the one who first realized that something was wrong. With a deep frown on his face and eyebrows raised, he pointed towards the land and said: "Are … we … going … backwards?" We laughed at first, but he insisted. Andi checked on the plotter. And with some stutter he agreed. "What the …?! Look at this!", he said.
Well, apparently the Race of Alderney, one of the strongest currents in the world, had us. The catamaran, although still making more than 5 knots through the water, was literally sucked in to the passage between Alderney and France quickly. Very quickly. It was amazing and frightening at the same time to see that we went backwards, literally, at exactly the same speed (even a bit higher) than we went through the water. I was instantly reminded of the term "Black Hole" as this described most fittingly what was happening. Dammit! I cursed and was disappointed, haven´t I said that we should be passing Alderney in a comfortable distance?! But what was a "comfortable distance"? Not 5 miles, apparently.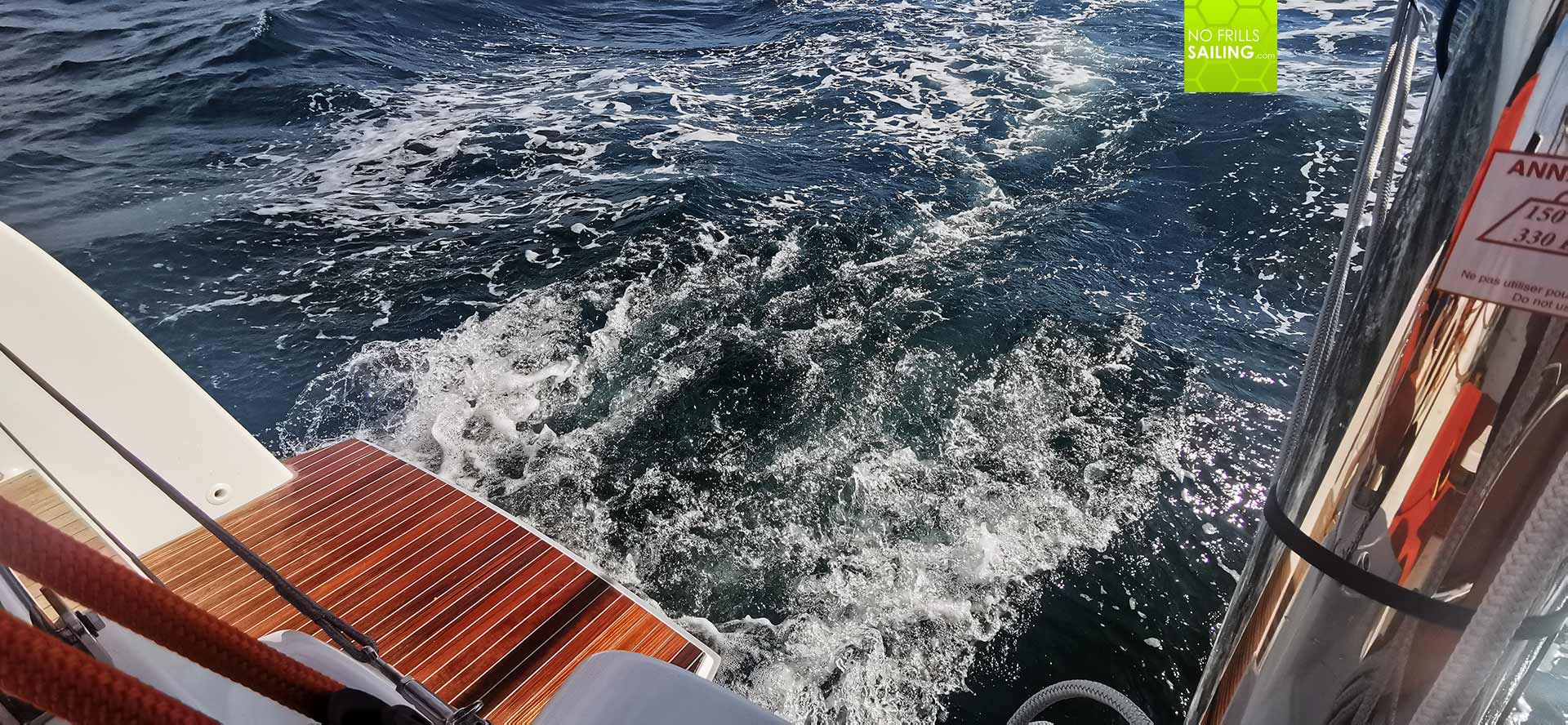 Now, what to do? I ordered flank ahead and said curse due North-East. The cat was pushing hard, making a meager 2.3 knots over ground and slowly, very, very, very slowly gaining some headway over Alderney. Although steering North-East, the cat was pushed to a due North-course, the first hour even North-West. My plan was to bring as much distance between us and the land, hoping for a less strong tidal current out there where the commercial traffic goes by. Which in itself was a risk as the English Channel is one of the most frequented waterways in the world. We certainly did not want to enter the rope of pearls that was pro-traffic in a limping catamaran.
Hour after hour passed and just very slowly we gained distance. I heard the Diesels running at nearly full speed, our wake gurgling massively with a ridiculous speed through water – but apparently we just made good 2 miles per hour! What a mess. I cursed myself for not having checked our course more thoroughly and having corrected for a bigger distance. Into the logbook I entered a note to myself to better prepare in sailing areas like the Channel (regarding tidal streams and times of turning tides) and more thoroughly check for course and distance when sailing with crew. In the end, this Black Hole-incident was my fault as I failed as skipper to make sure everything was in order. The depressing part was, that we now lost hours and hours in out otherwise rare timeframe and burned litre after litre of precious fuel to escape the Black Hole Alderney.
To our amazement suddenly IMOCA-racing yachts and even Ultime-class trimarans dashed by. This year´s edition of the Fastnet Race starting in Plymouth found its finish on the French side of the Channel, namely in Cherbourg. Right as we were battling to gain at least some distance to land – 2 to 3 knots over ground – we saw the Edmond de Rothschild trimaran flying past us at 16 knots SOG! Amazing. I suddenly realized that the ominous sailboat of last night, making some 26 knots, may have been – and most certainly was – one of the participants as well.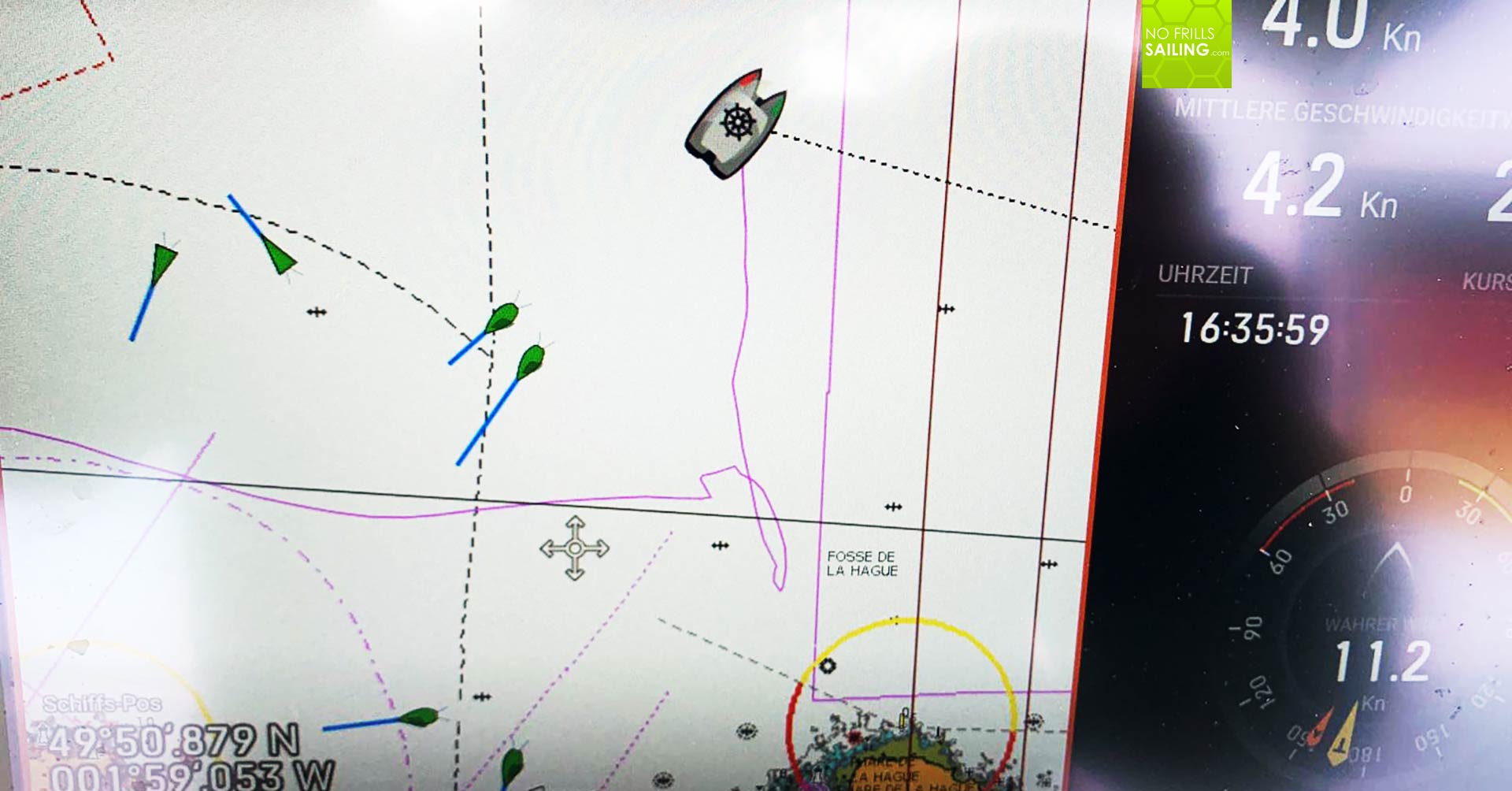 At last! 3 hours after the Race of Alderney had us pulling in so brutally and seemingly unescapable we had brought enough distance between us and the cursed tidal stream so that we could veer off to an Easterly course. Tide hasn´t turned yet but at least we were not getting sucked in anymore. I left the cockpit, Cherbourg still ahead. For five hours we hadn´t gained a single meter eastward, but now we started to do so. I was exhausted so I tried to find some sleep.
Night negotiating Le Havre
Getting up again, it was dark. Tide has turned and the catamaran was racing eastward with more than 10 knots SOG. Amazing how this works! My biggest concern was to be as far away from Barfleur Cape as possible to avoid tidal currents there. Our course was good and we managed to fly past. As the tide turned again our position was well within the Bayeux/Le Havre-bay and it just took off some 3 knots. Diesels still running, we reduced to 1.900 rpm again and as wind died down in the middle of the night I took in all the sails.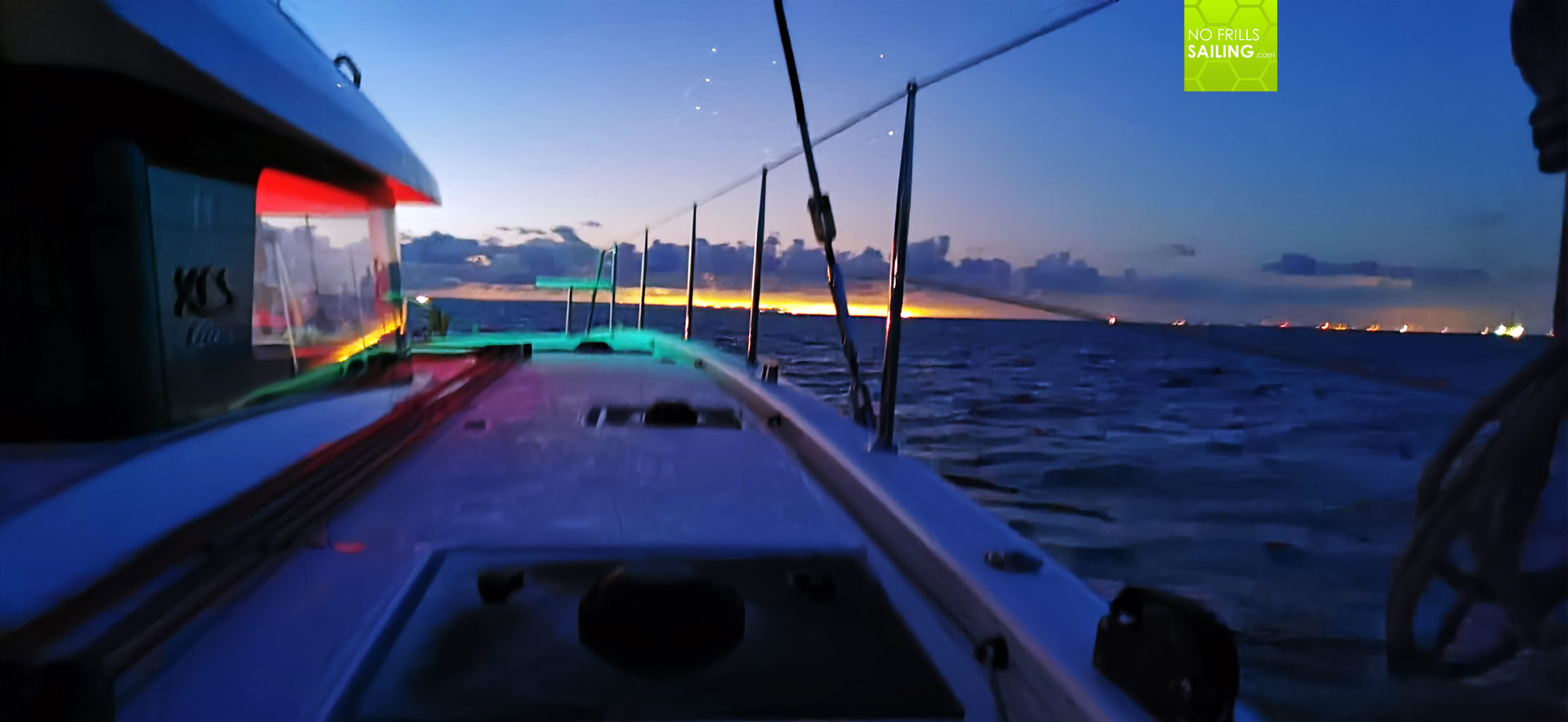 I decided that this trip might be ending in Le Havre. That decision was based on the fact that – although there was still time frame available of some 48 hours since Cape La Hague. Within that range there would have been Nieuwpoort harbour in Belgium – much, much better than Le Havre and preferrable. But. Well, but: That would have meant another 140 miles to go. With an average speed of 4 knots that´s a 35 hours trip. With virtually all planning on this very Channel trip torpedoed by the ever changing weather I could not risk another delay so I opted for the safest option: Le Havre.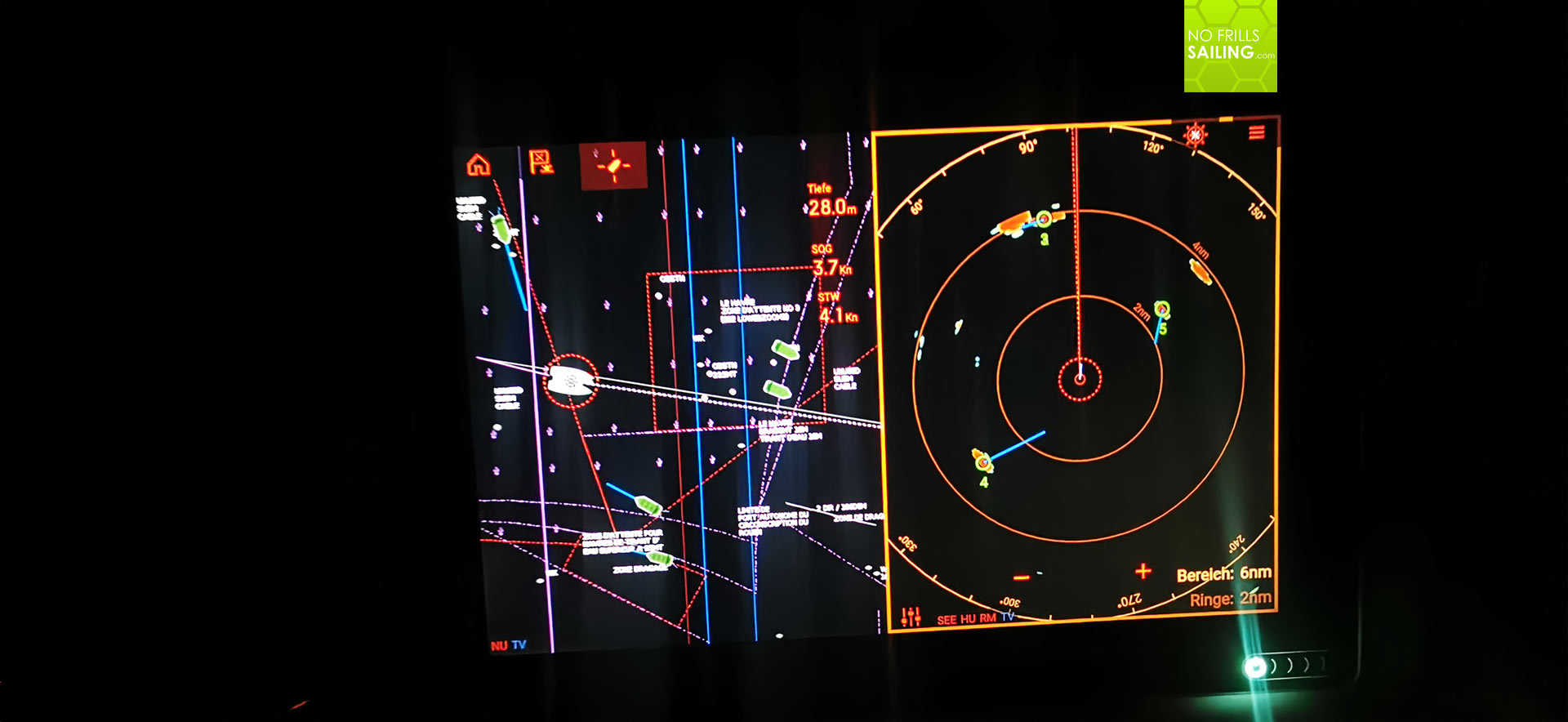 During my night watch I was rewarded by Neptune by the brightest starlit sky I have seen in years. Crystal clear Milky Way, literally a dozen shooting stars per hour, which now I know is due to the annual passing of the Perseides, and a lesson in night navigation. Our catamaran was equipped with the latest 4G Quantum radar which we activated surplus to the AIS-plotting. Interestingly and for the first time in my sailing career, I saw all those very small fishing boat on the radar screen which had no AIS-transmitter and their position lights being just a fain single white light. Amazing. I found this technology really helpful to give a certain reassurance to the helmsman, my crew mates indeed affirmed this experience.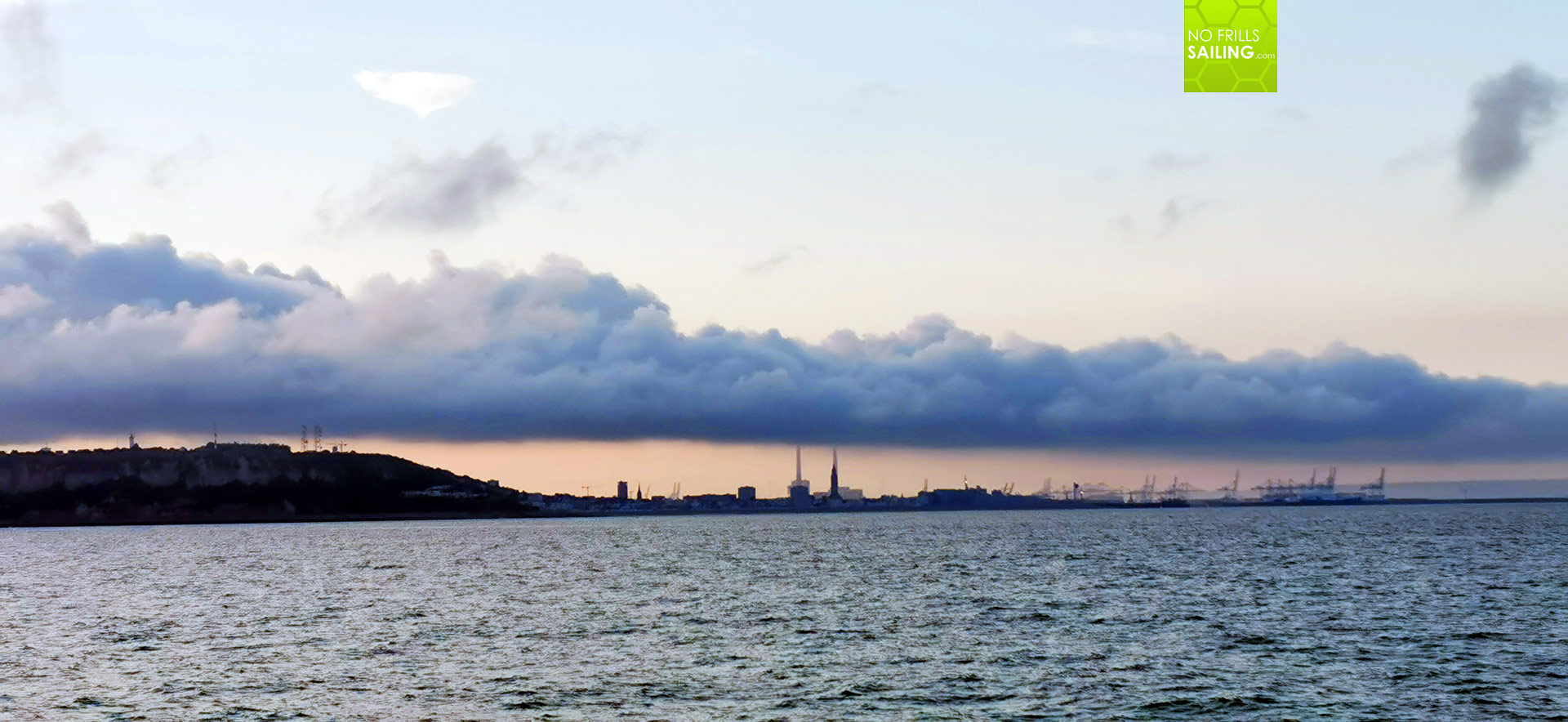 When I handed over the helm at 0600 to Martin it was still some 15 miles to go, I went down in the sunrise to find some sleep again but was awake very soon after: Too excited for the landing ahead. It is a specialty of catamarans too that you should not ever enter a marina with a cat before getting a Go! by the harbor master. In Europe, still most marinas do not have sufficient space for the big multihulls and before counting on a certain harbor and worst case having to leave – give them a call, write an email and pre-register your arrival. Which I had made and got a positive answer.
Sailing the English Channel: What I´ve learned
We arrived to Le Havre at 0848 after sailing some 261 miles from Brest in 28 hours. Including the Black Hole-incident at the Race of Alderney that was still an amazing average of 9.32 knots. Owing this to the amazing pushing effects of the tidal currents of course, it nearly doubled the normal average of 4.6 knots for the Excess cat (as well as most of the time we had the Diesels running). Landing the catamaran was still exciting but this time we´ve had very insignificant windage and after the exhilarating casting off-manoeuvre of Brest, that had added a great amount of grey hair to my head, I guess confidence in myself in driving the cat had grown. We landed elegant and smooth without any problems.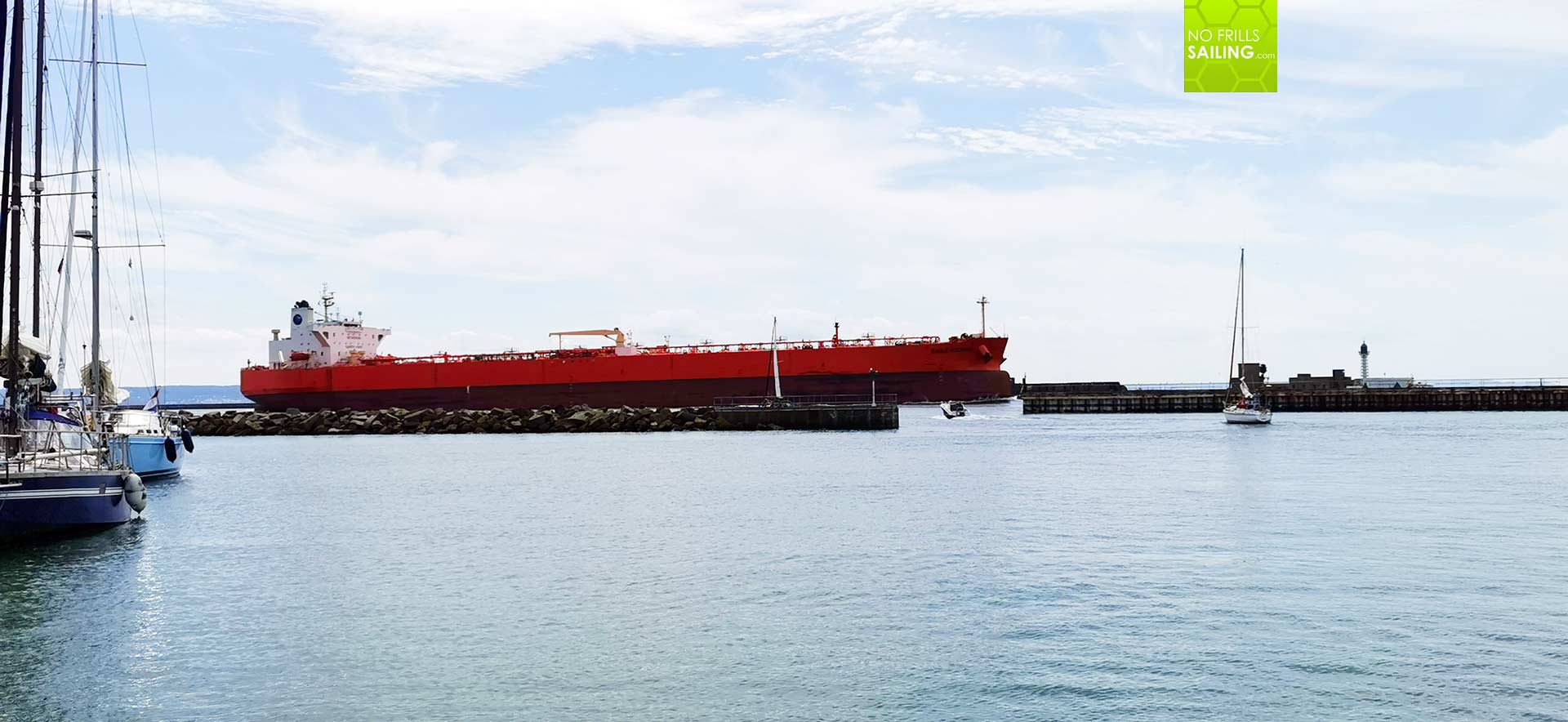 So, in retrospect, what can I say about sailing the English Channel now for my second time? First of all, my first ever crossing one year ago apparently had been a lucky shot. Stable weather, no waves, nice wind, only sunshine, no precipitation and very easy sailing along UK coastline – a "once in one hundred". This year´s crossing might have been the more realistic and more usual crossing in terms of weather events. So I learned that a thorough weather planning and the checking of multiple sources for forecasts (not just solely trust the usual suspects Windy and Windfinder!) is absolutely necessary for a skilled skipper.
Also, when travelling near French coast, I can now join in the chorus of so many keen sailors being specialists in this sailing area: You must be absolutely cautious regarding your position and time within the tides. The currents are absolutely amazing, very, very strong and unless you do not want to burn silly amounts of fuel or being pulled backwards this knowledge may safe you a lot of money and time. Sailing the French coast line may open up perfect views, unlock the secrets of small French towns and great experiences, but if you just like to get past by the Channel as easy and quickly as you can – choose the UK-side.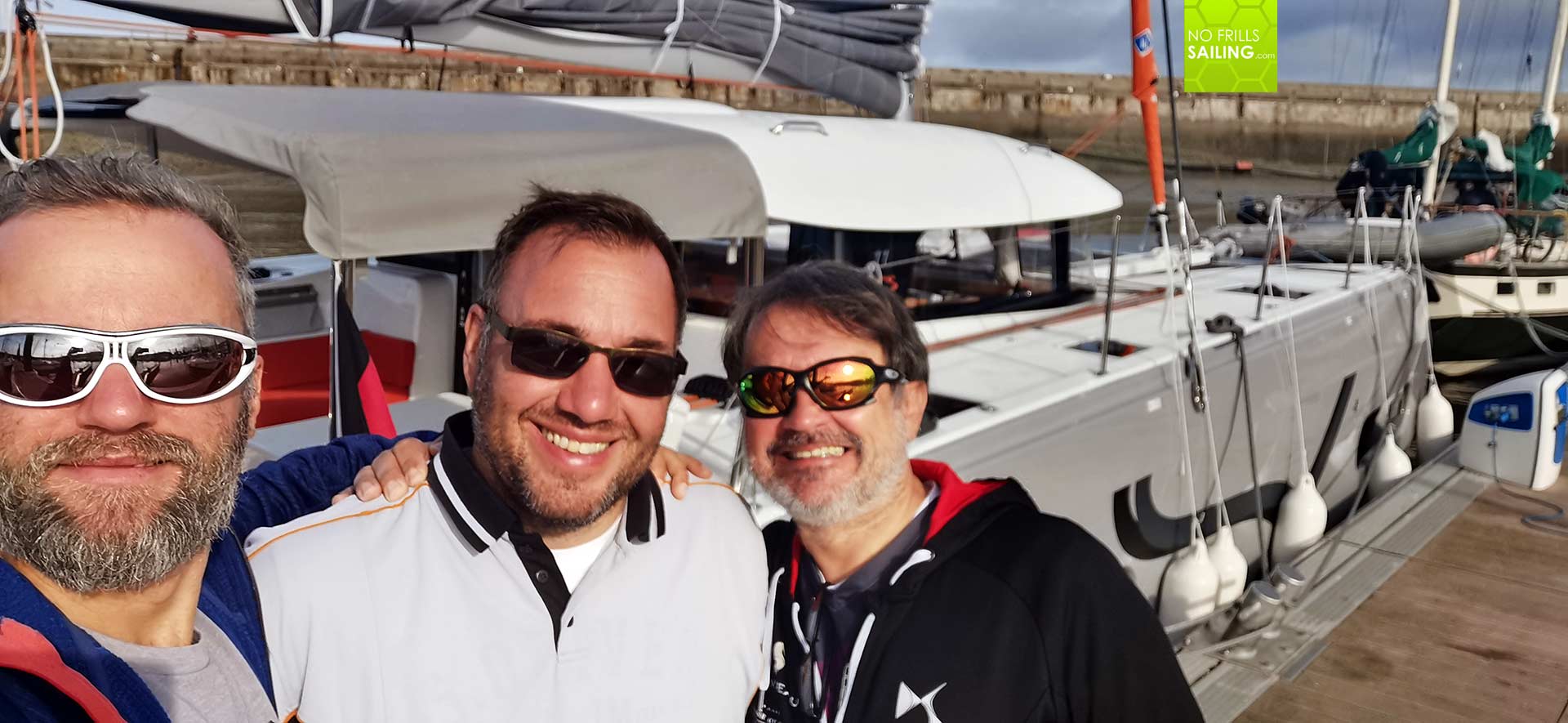 Last not least, I have learned yet another lesson. The role of the crew. I must say that this crew, Martin and Andi, has been the best one I ever sailed with as skipper. Socially, mentally and most important, the style of our humor, was in perfect harmony. Both were so sociable and nice that our teamwork was brilliant. My crew members both are keen sailors bringing a huge amount of sailing competence to the boat. I was always certain that handing over the helm to either of them meant a good night´s sleep for me: I would trust them boat and my own life. It is so important to have a good crew! Thankful for this wonderful experience of 460 miles transfer cruise of the Excess catamaran we cheered and waved Goodbye to each other as we parted back in Germany some 12 hours later. What an amazing trip, thanks Martin, thanks Andi!
The catamaran will now manned with a new crew and resume its voyage very soon – stay tuned!
You might as well be interested in reading these articles:
All articles about catamaran sailing the Excess 11 – hashtag #excesscatamaran
English Channel the easy way: In a Bavaria 37
Trip planning and weather routing like a pro