You may have wondered, reading my last post on the custom made stainless steel arch on our catamaran in Luebeck about the very location where the boat was berthed. Luebeck, a century old city that once used to be one of the central capitals of the Medieval Northern European world – the center of the German Hanse – is my home town and the base where I live. Almost all boats our company sells which are destined to be sailed in the Baltic Sea are commissioned here and I´d like to take the opportunity to invite you, dear reader: If you somehow happen to sail the history-rich waters of the Baltic Sea, come here!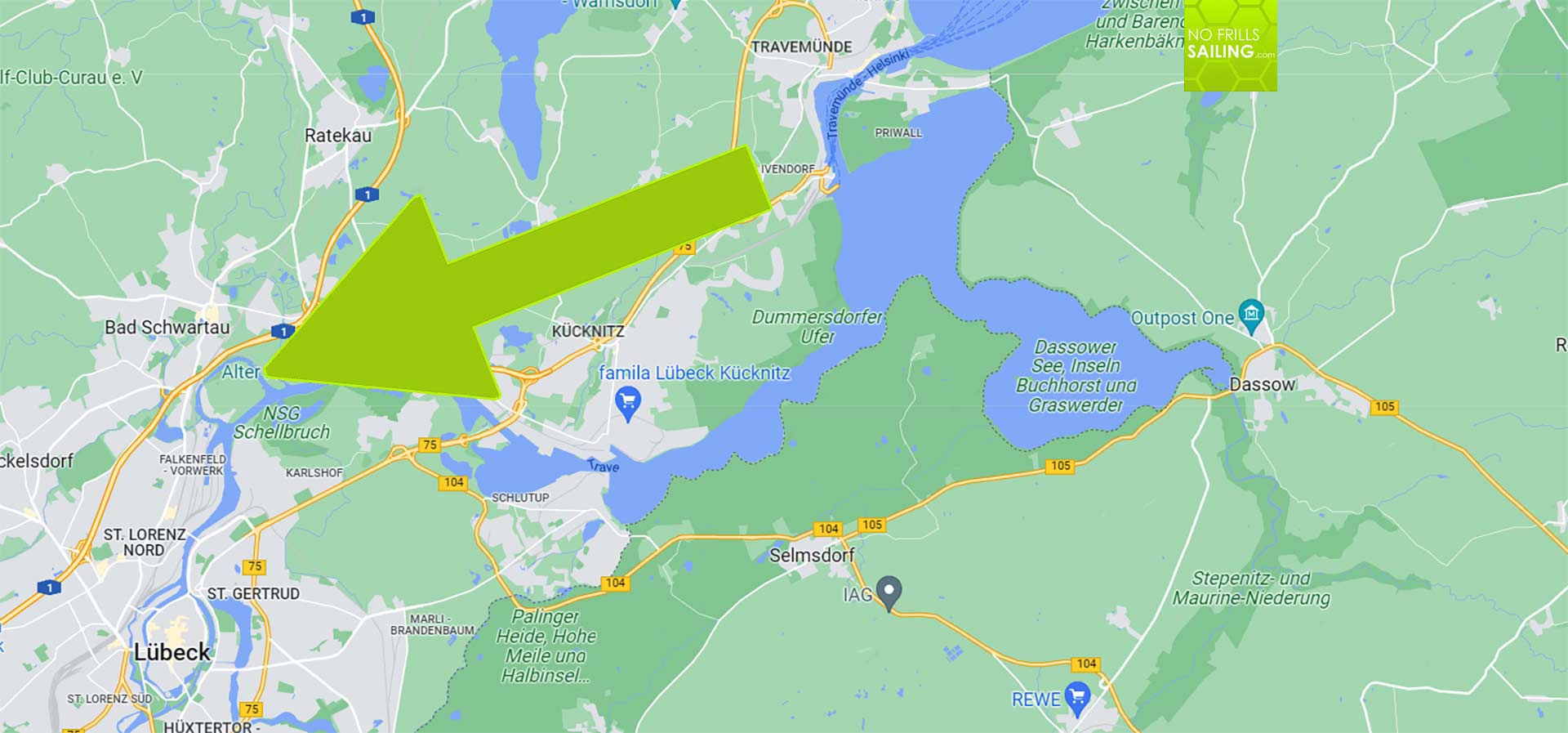 Luebeck, and the marina I am about to invite you to come to, is situated some 5 miles upriver Trave. Luebeck´s old city has been built on an island and it is still to date one of the best preserved Medieval central cities to visit. Steaming upriver Trave (especially by night) down South you will enjoy one, one and a half hours of pristine wildlife, deep forests and a scenic rich natural reserve. It is really beautiful. Shortly before you finally reach Luebeck, you will pass by Teerhof Island. This is where I want you to go.
A trip worth taking
Teerhof Island, or in German "Teerhofsinsel" is an old branch of River Trave. All around the old river bed are marinas and maritime companies, of which one of them – to the Western side of the Island – is called the Nord-Ost-Marina. You may come here to have some maintenance done, repairwork initiated or just get a decent berth for a low price. Many visitors go into Luebeck City where "The Newport" marina offers spectacular guest berths right at the Old City of Luebeck within a stone throw´s distance (and a high price). Nord-Ost-Marina is quite the opposite. I must say, I absolutely love it here!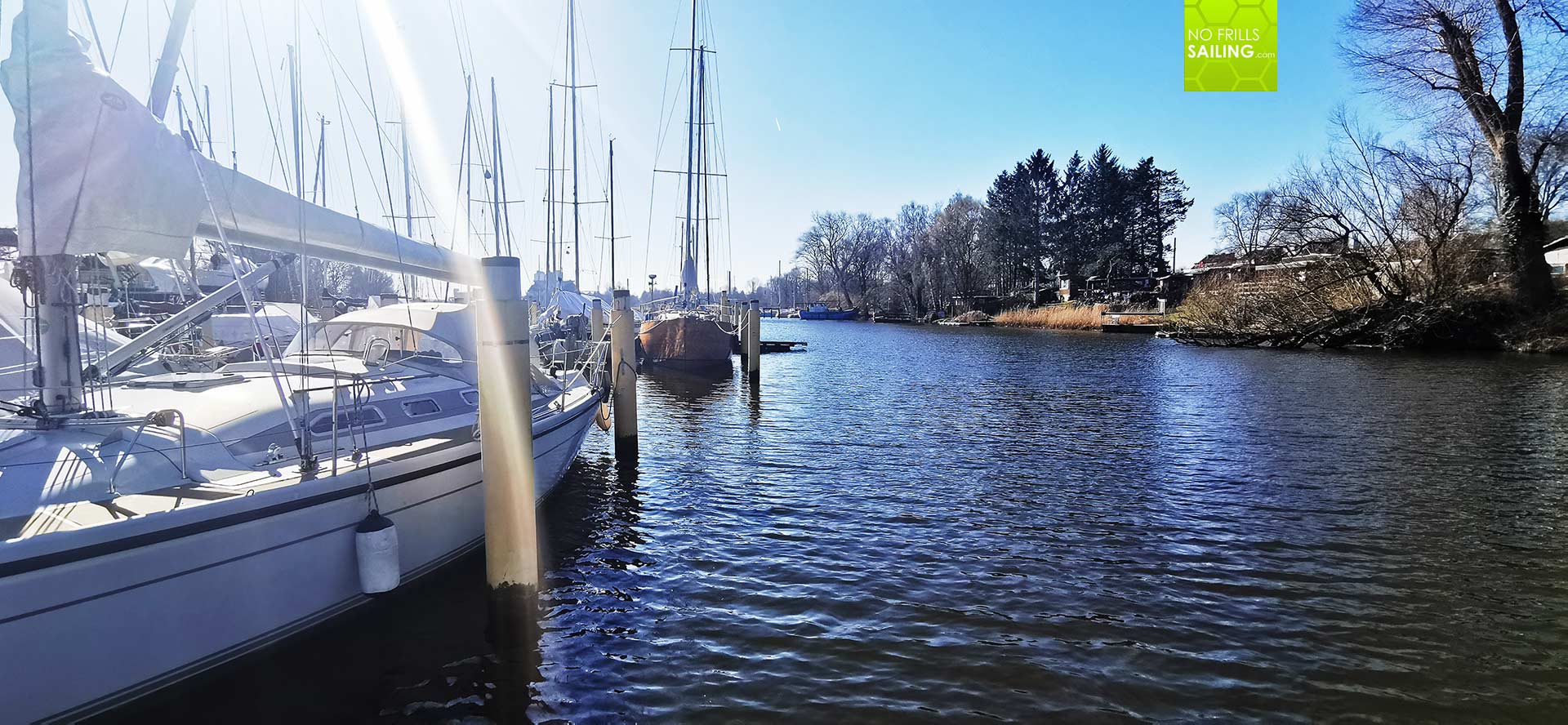 As the headline of this article suggests, it appears to be a crossover, or maybe I shall put it this way: It appears to have been taken out directly from an Astrid Lindgren book. Wild, rough and a bit worn down. Just like Brooklyn in New York City or Porto in Portugal. It bears a certain charme. No bling bling, no rich guys in fancy boats but real sailors in their boats, either preparing for the next long haul sailing trip or just coming home from such an adventure. Right at the end of the river a half sunk wreck is rotting away, hulks of mothballed ferry barges are moored opposite the pontoons.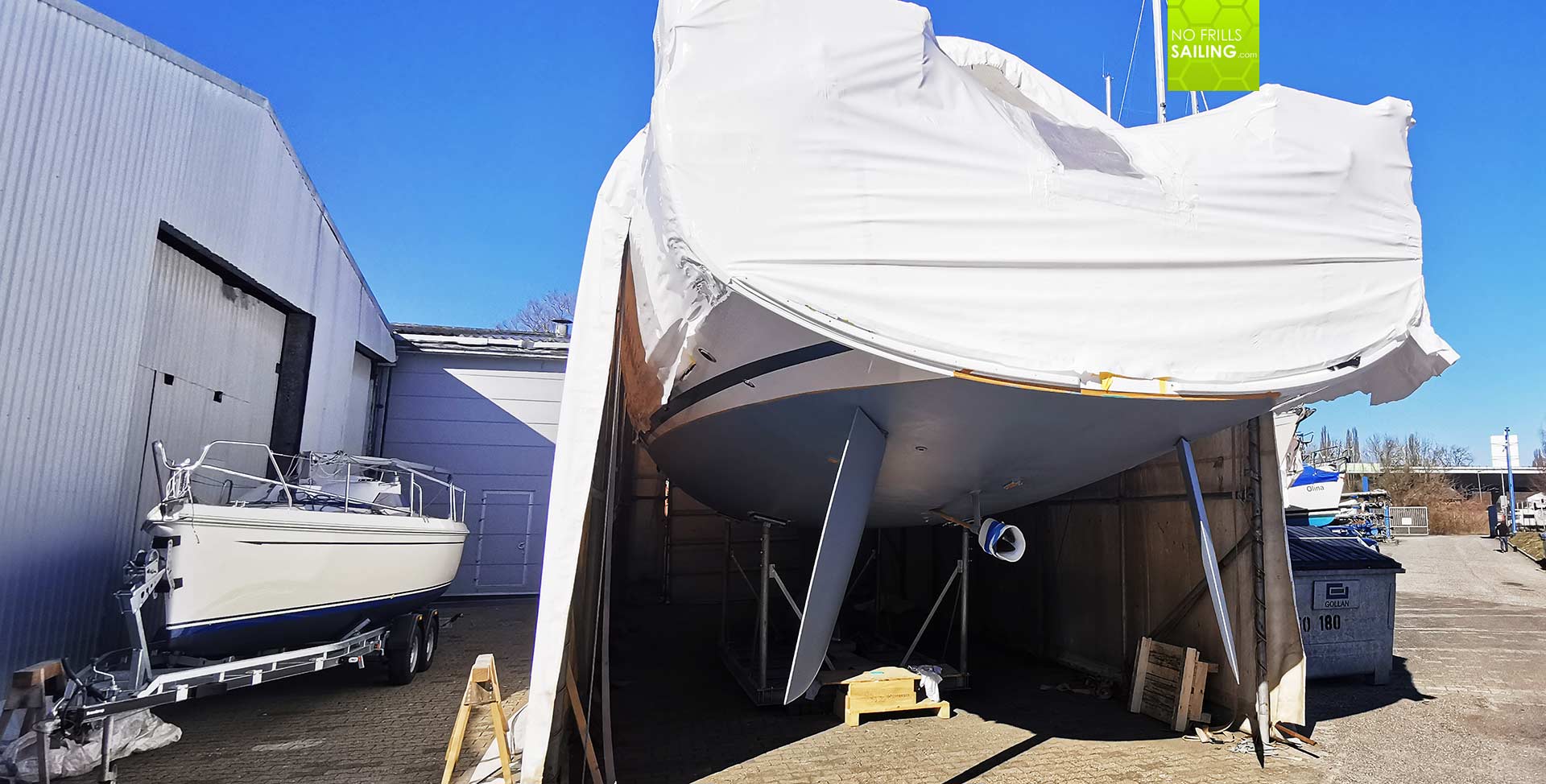 But don´t be fooled by the looks: Teerhof Island is a place most German Baltic Sea skippers know of. The two brothers running Nord-Ost-Marina are skilled and trained boat builders and their order books are full. Their service, be it – like we do – a commissioning of a new boat, engine or hull-repairs, antifouling or bigger maintenance, the crew of this place has the full variety of technical equipment, from a high-duty crane to halls and workshops and machinery to tackle every possible situation. As I mentioned: I do have every single Beneteau launched here, we sell via our company.
Amenities and Demurrage at Teerhof Island Marina
So why should you come here? Well, you will be greeted by a professional and hearty crew. All of them are sailors and they love their jobs. This marina exudes a very special charm, rarely seen these days in those brand new high tech marinas. All of the berth holders I have met during the years I work here are friendly, talky guys who lend a helping hand if needed and are open for a chat on the pontoon. If you come here in summer, you will enjoy a very, very special atmosphere and if you look for a "different" experience, that´s the place you should come to!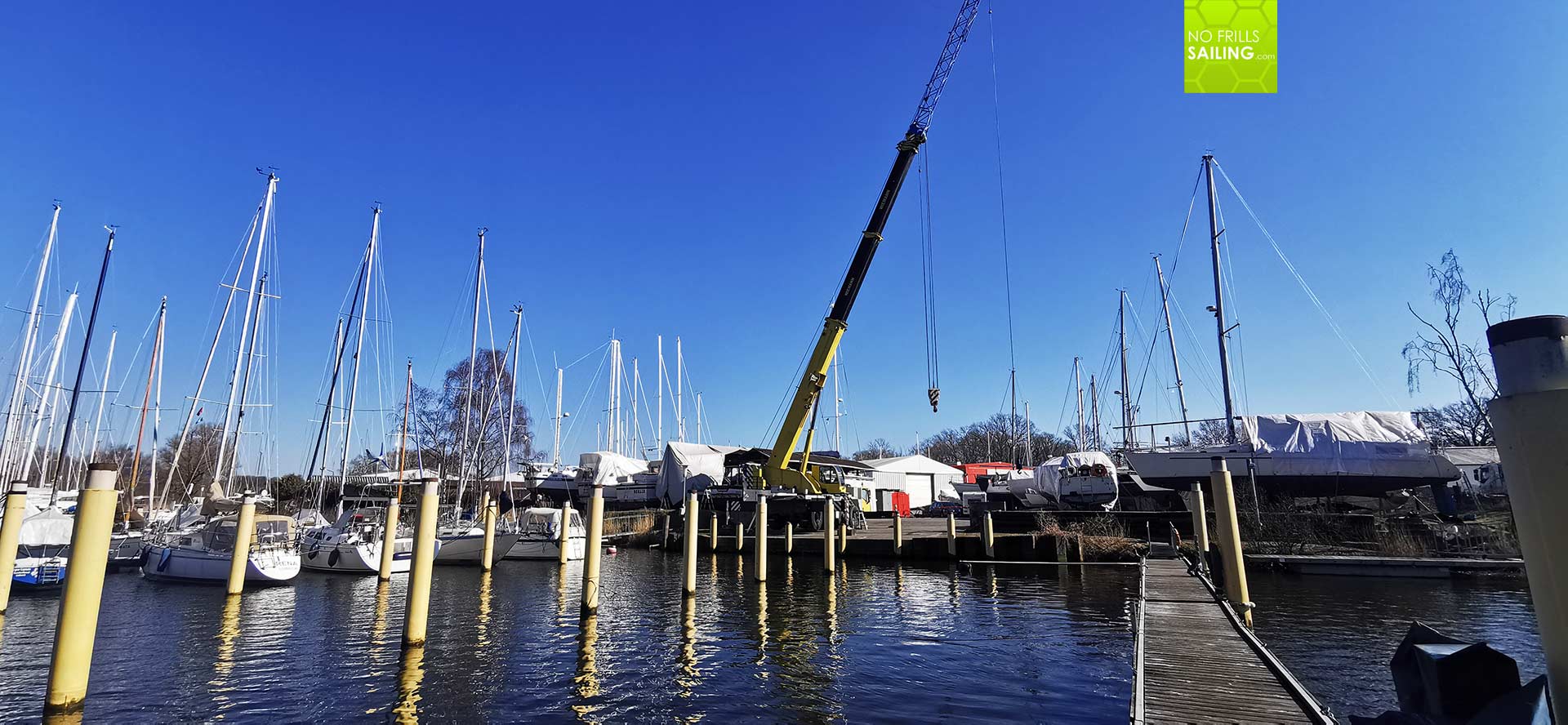 There are showers and WC, of course. They are clean and you don't need to buy tokens or stuff. As I said, it is not "bling" but – as we like to call it – authentic. There is a small terrace where you may get an ice cold beer served and a small snack, but I don´t know if this establishment is still up in service after two years of Covid-craze and restrictions. Demurrage – I don´t know – but it will be much less than in the city center marina of Luebeck.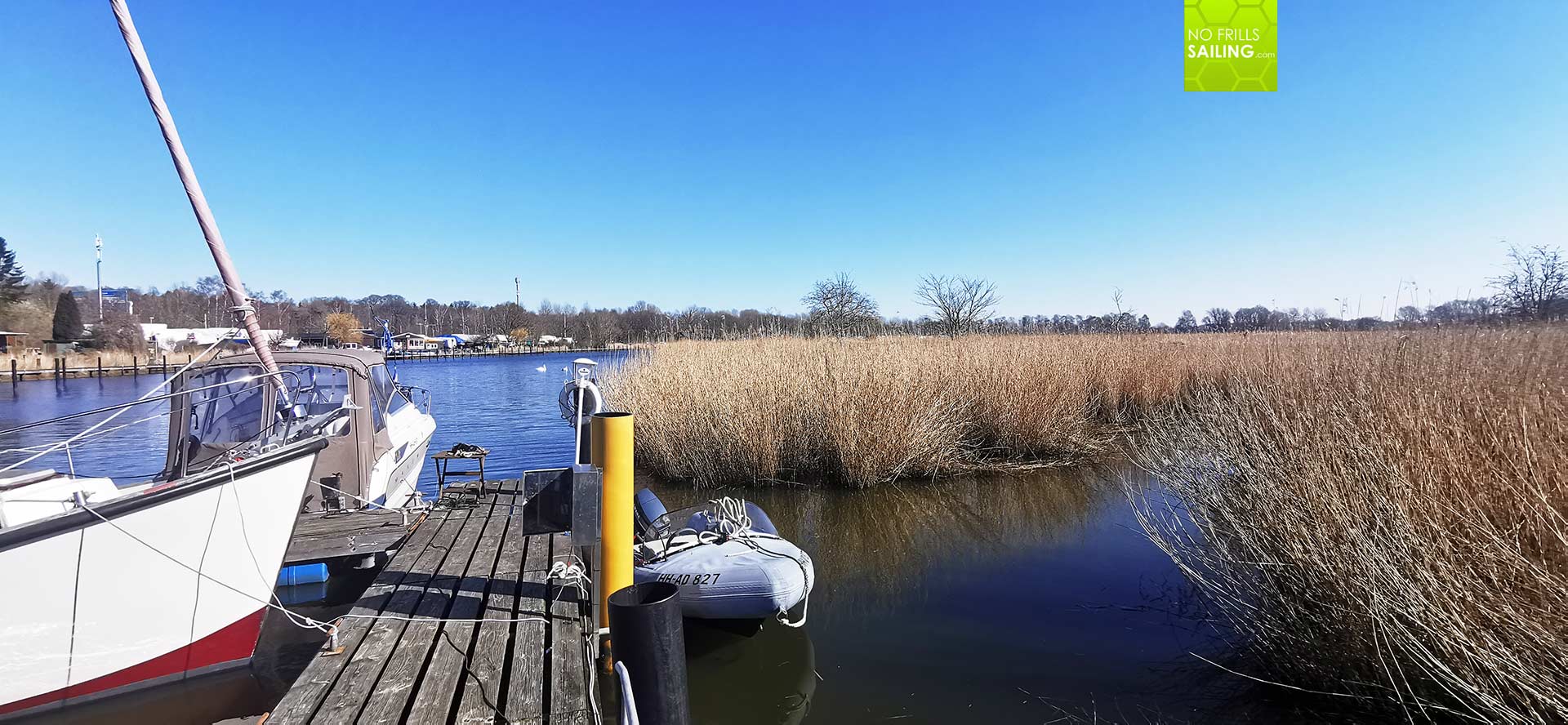 So, this may be a declaration of love to Teerhof Island. I love to come here and enjoy the very special atmosphere. GEKKO will be launched here too in a few weeks time (I hope). Oh, by the way, this island got its name in medieval times. The "Teerhof" – loosely translated into "Tar Ranch" – was a place well outside of the city limits of Luebeck where the tar was cooked for the caulking works of the Hanse cog ships, backbone and reason for the Hanse´s ascension. Nowadays, the whole island on its periphery is larded with yacht services and marinas but the big chunk of the island remains closed off and it is not permitted to enter: German Special Forces, Border Police and Army have their CQC-training area here. Now, isn´t this exciting?
My assessment of Nord-Ost-Marina is 8 of 10 points
You might also love to read these articles:
All marina reviews
The cog ship of Luebeck – sailing history
Living History: Swedish Island of Gotland