What a relief! As the world goes to complete craze right now, at least, a distant reminder of a life how it once used to be had shown through last weekend with an absolutely spectacular clear blue sky over Germany and temperatures well above 10 degrees Celsius. I took my kids and we drove to the nearby Teerhof Island of Luebeck where our commissioning partners currently work on an Excess 11 catamaran, the very one I had delivered last year. We approached the cat on the swimming pontoon and it was an all-familiar look. But not quite so upon coming nearer …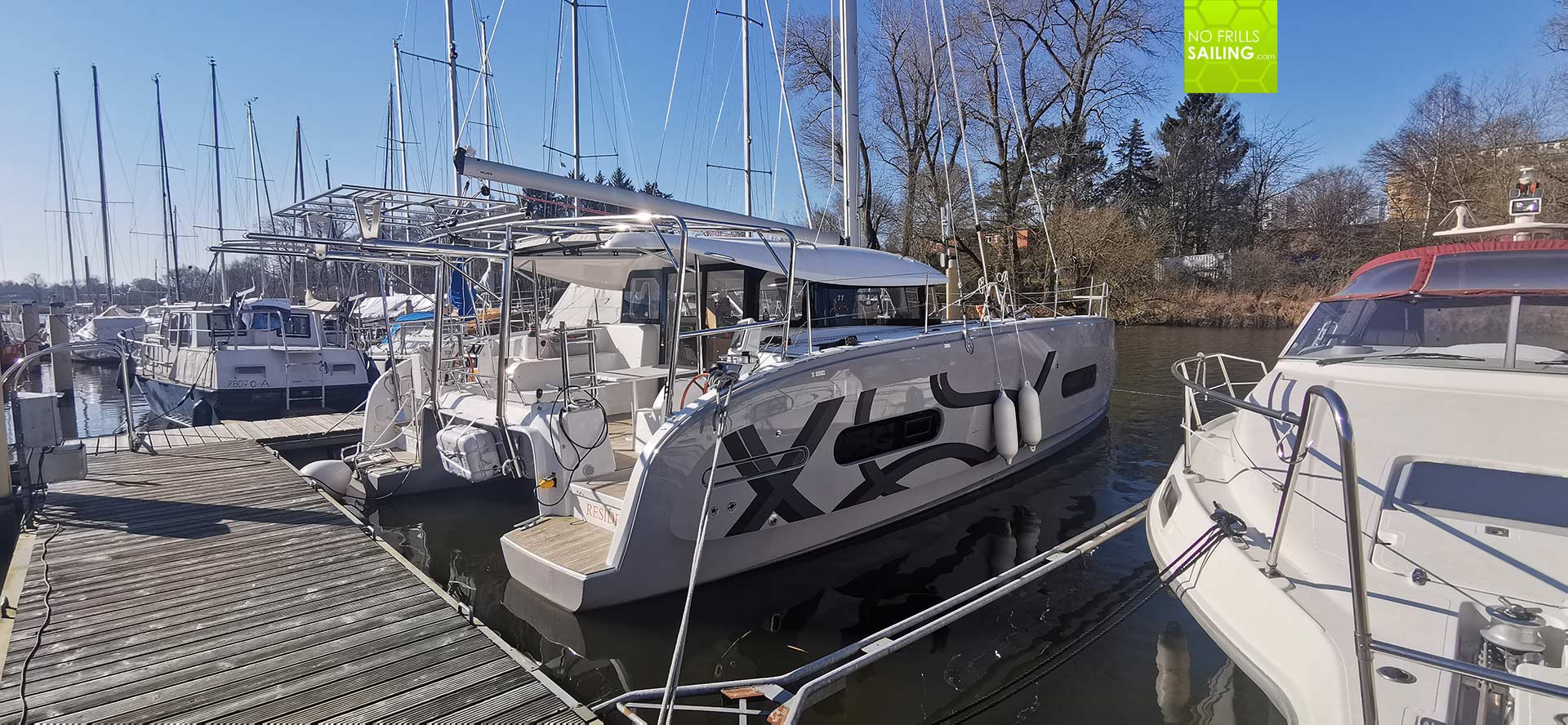 The owner of the catamaran, an ex-Lieutenant Commander of the German Navy, had our company not just gratified with buying a cat from us, but also by ordering a ton of extra jobs and customization efforts. Two of which had been finished the week before and so it was not just a great excursion for my kids but also a useful check of the work done. As I walked up to the catamaran I could see it right there: The brand new mast and rigging, up and standing proud. What has happened?
A completely new rigging by Selden
As it turned out, our client – well in his Sixties – is not quite fond of full-battened sailing cloth. Although I found it absolutely effortless to sail the catamaran and, by standing on the rooftop which is climbed as easy as ABC, it is also possible to re-stack the main very easy from above. Well, not so with our client: As the yard does not offer a furling mainsail, he decided to take down and get rid of the Z-Spars full battened mainsail, mast, boom and standing rigging and have it replaced with a furling instead. Which had now been finished and stepped.
This of course meant that we have now a barely used Pulse Line Z-Spars mast & boom alongside a full battened mainsail up for sale on eBay. But it also meant that we had to have an in-mast furling rigg custom made from scratch. We opted for the Danish brand Selden as we have a good track record in customization and special projects with these guys. Back in the day when the cat had finally arrived to Cuxhaven last year one of the Selden guys met us on the boat to meticulously take measurements for the new rigg. And here we are … it looks gorgeous!
Selden furling peculiarities
Of course, no project without some, let´s say, challenges. As it comes with Selden, they do have a proprietary furling system which I had the pleasure to try out in real life during my first Biscay crossing in a Bavaria Cruiser 37 two years ago. Selden, other than Z-Spars, utilizes an endless reefing line that runs through a proper winch that is mounted at the mast-foot. This system may look a bit dated but it is fail-safe and very practical. But …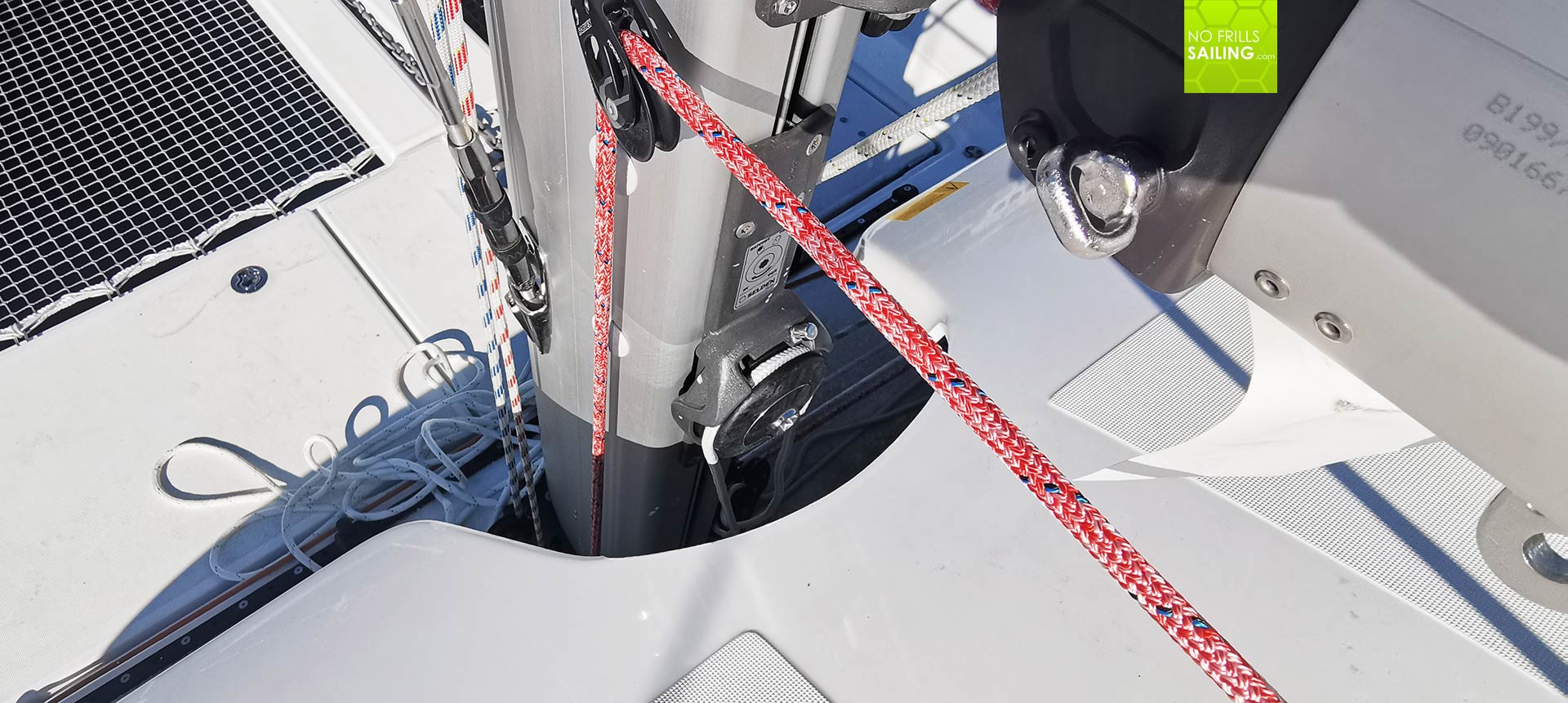 You may notice that somehow the catamaran looks different. Kind of "mean look" like a BMW 5 at night approaching from the back? This is because the reefing winch at the mast foot which could not have been mounted to a different position made us to cut out a significant chunk GRP out of the roof. This is something you never do light heartedly and I can assure you our partners have carefully checked, double checked and triple checked before switching on the padsaw.
I quite like the new looks, especially seen from the bow. Now that the new rigging is mounted and the mast is stepped, we just wait for the new mainsail to arrive to have it attached. But this was just one of the many projects our demanding owner started on his catamaran. Another project was to spice up the energy independence of his boat by adding more solar power. And when I say "more", I mean it …
Energy independence: Solar power!
No other type of boat is better suited to be fitted with solar panels than a cat. There are so many horizontal areas which can be utilized to be covered with PV, many, many more than on a monohull. The yard already offers a large solar array that is mounted on a stainless steel rack that is connected to the dinghy davits. For our client, this was much too less – he sent us a quick sketch asking for two customizations.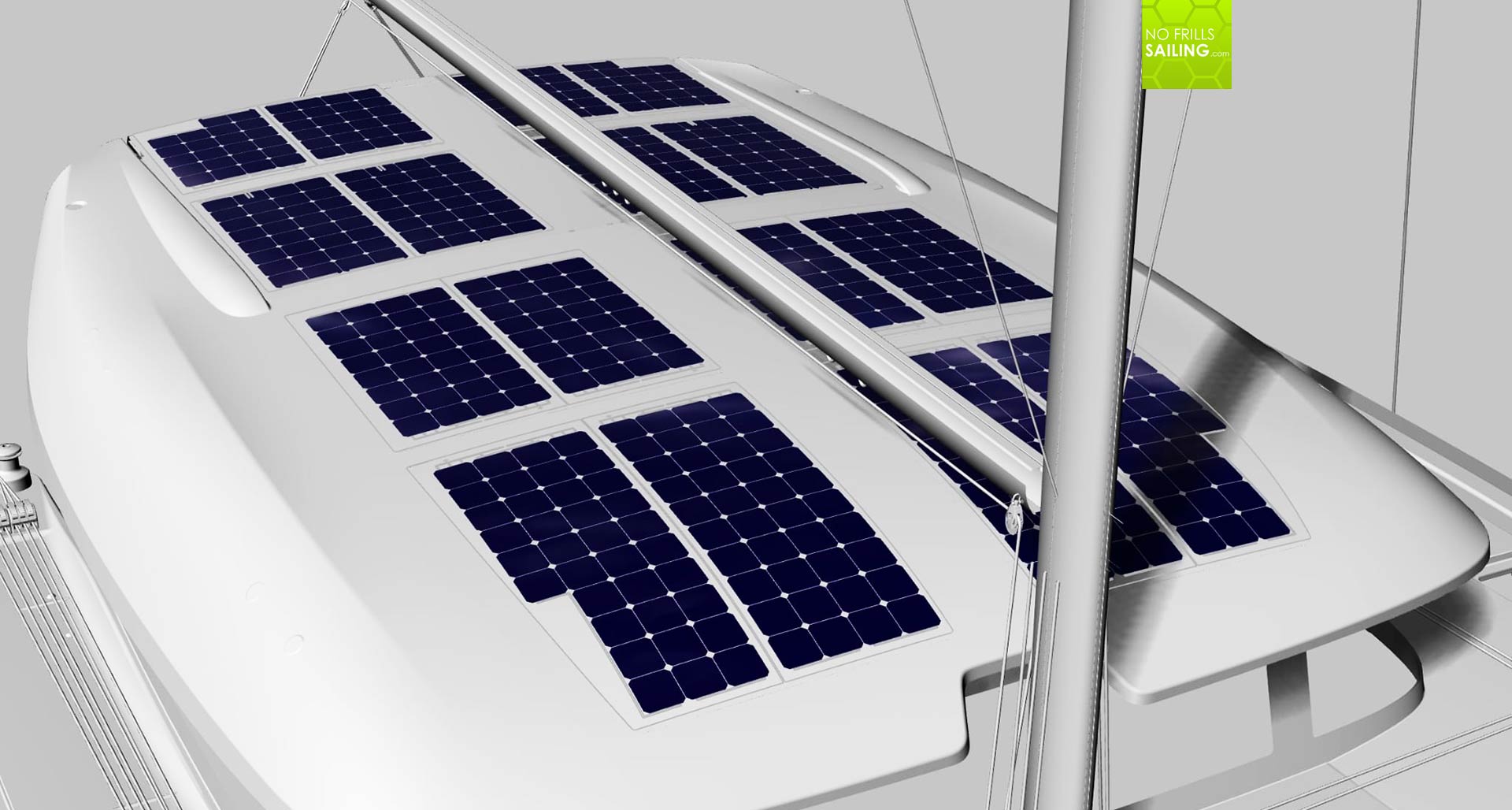 First one was an easy task: He wished that the roof of the catamaran should be plated with solar panels, as many as possible. As you may see in the picture above, Solbian – the very company that is providing the panels for my own boat – projected that a total of sixteen panels with an added amount of 1.6 Kilowatts Peak of energy output are possible to attach. As our very catamaran does feature the sliding roof top, on our boat the total is reduced to eight panels with around half of the wattage.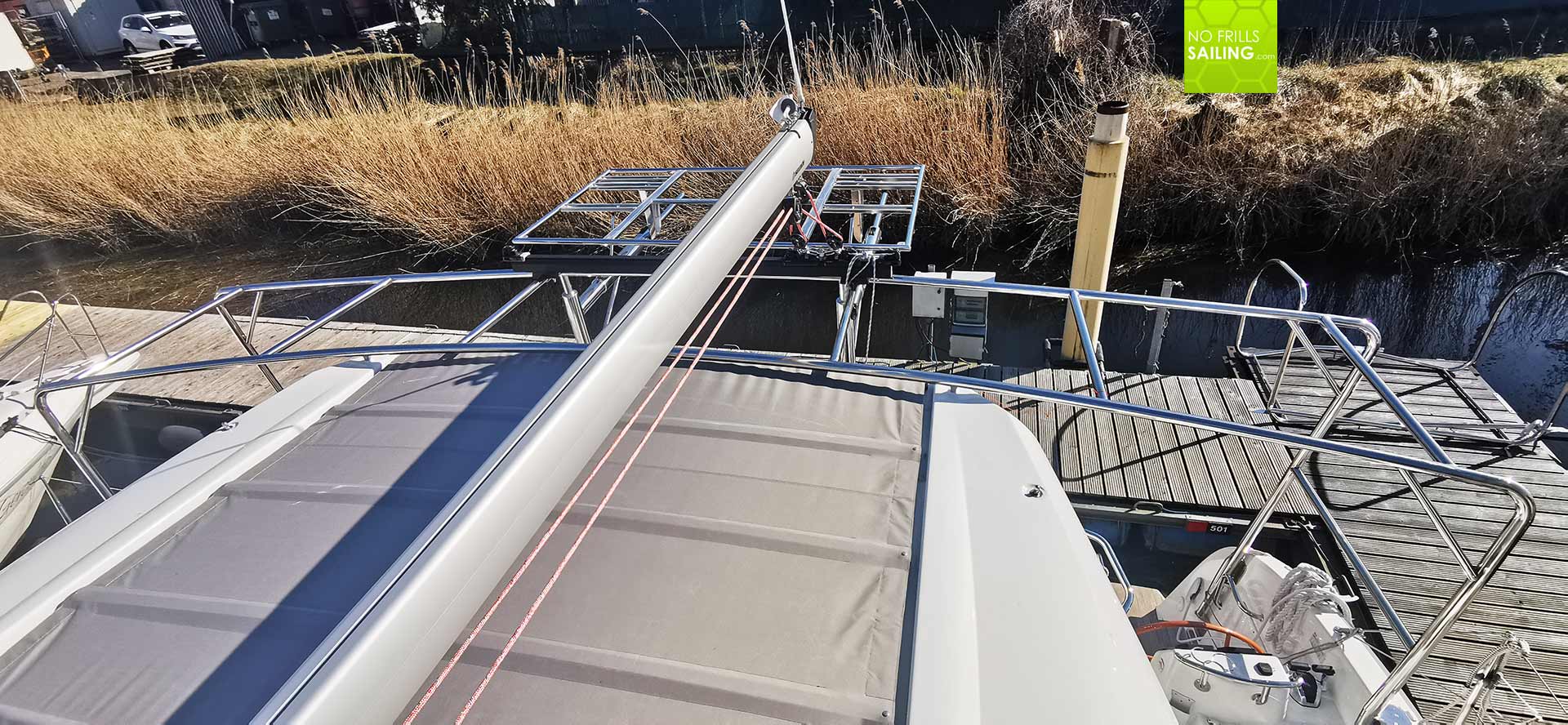 In order to have more power, the sketch of our client suggested we custom make a steel aft arch. Doing some research our partners finally connected us with a truly talented high quality steel-craftsman. It took him no less than three weeks of elaborate work, time and again returning to the boat with mock ups, pre-bent steel tubes, roughly welded tubes and finally the prototype to have the aft rack made to the final delivery quality. When I arrived this weekend, the new rack had already been fitted.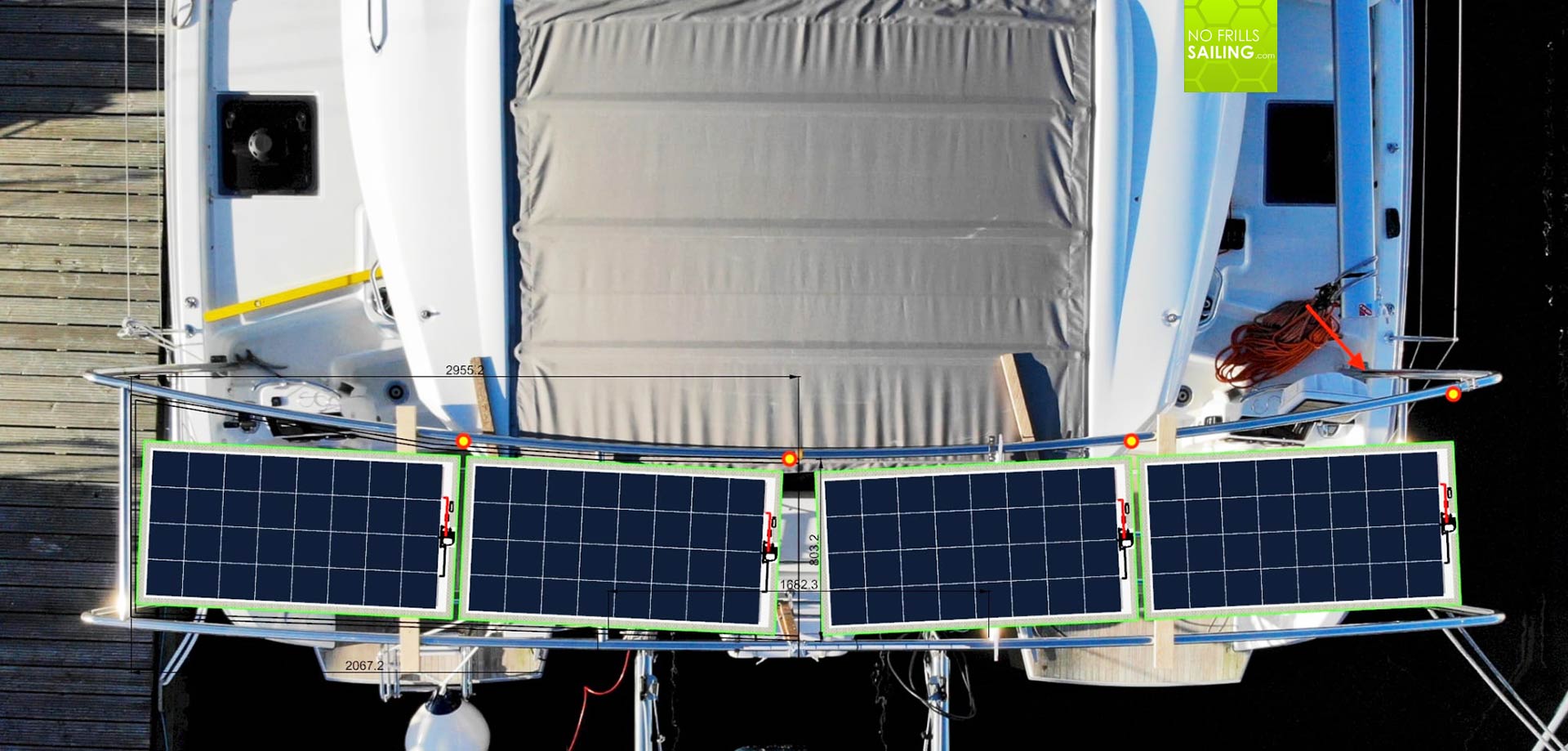 As the plan of Solbian shows, we will have another four panels fitted on top of the rack, adding another good chunk of solar energy to be funneled into the brand new Lithium batteries which already have been installed below decks (read the article here). And as if this wasn´t enough still, the steel-worker also re-attached the old solar-rack to take on the yard-fitted solar panels. I don't know yet the total amount of wattage the whole array may produce but I stand in awe, now that I can see the whole rack finished and mounted.
Aft arch – a work of art
I inspect the steelworks and – although I am not a really skilled craftsman – I can only salute to the craftsmanship of our partner! The welds are barely visible, very homogenous and thin. The bending of the tubes is absolutely symmetrical and, although I personally prefer the original looks of the catamaran, kind of match the swinging lines of the cat´s design. Hats off to perfect manufacture quality!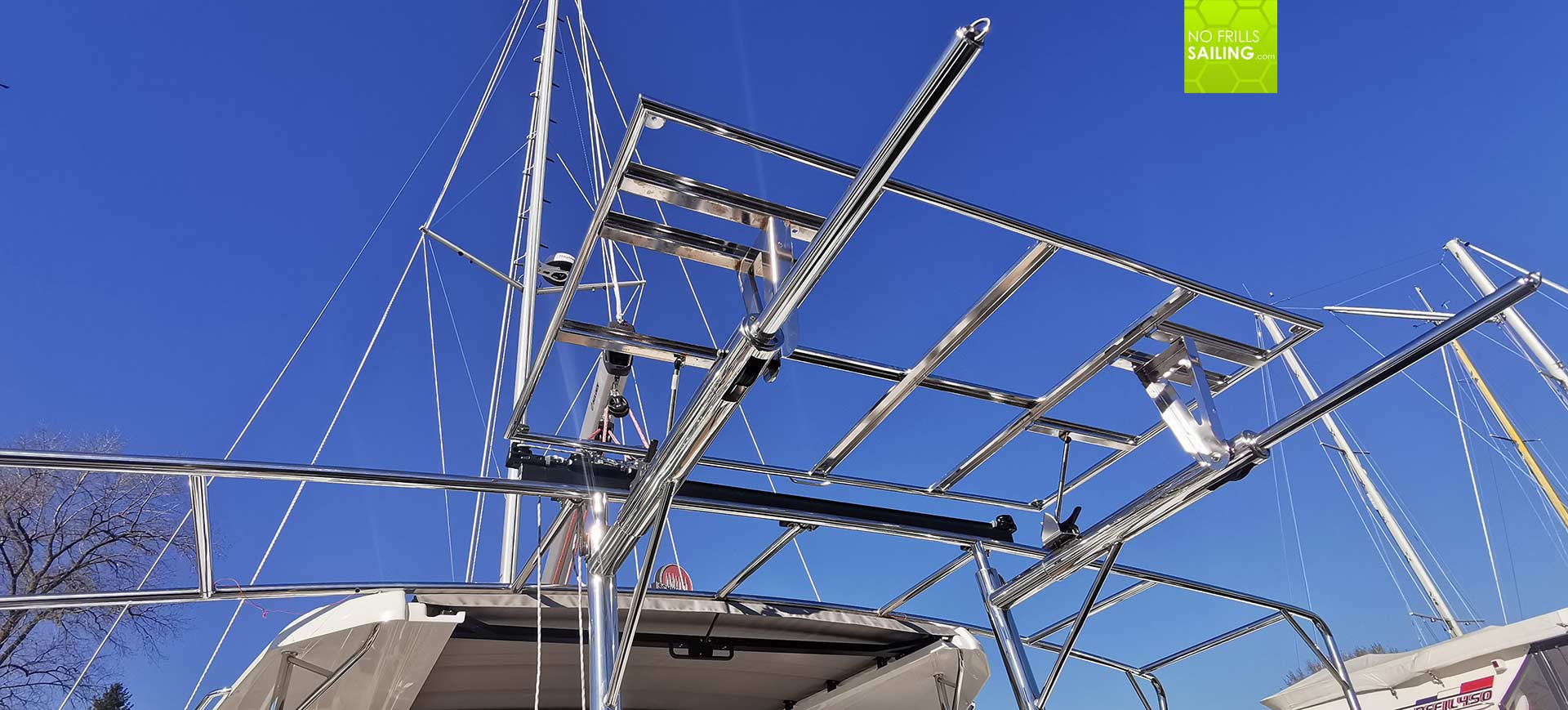 But the aft arch is not just baring nice looks and sporty lines, it is also practical. In this, twice: Next to carrying the solar panels by Solbian, the arch will also be the attachment point for an all-enclosing tarpaulin which will be manufactured in a few weeks. The catamaran will be staying up here in the North so that absolutely makes sense. We already fitted Diesel forced heating to the catamaran – not one, but a total of three burners. One of them is equipped with a switch gate so that either the saloon or the – then completely closed off – cockpit area will be made warm.
Because … we can!
Last not least, practically the Cherry on top, let´s say, because we can, Selden fitted a mainsheet traveler to the arch. Not that a furling mainsail is all too much trimmable, but maybe the vertical battens in our new custom made sail will make it happen. I quite like the original mainsheet-configuration in the Excess 11 catamaran, but now the proper traveler will give the owner the opportunity to squeeze out the very last bit of SOG out of his multihull.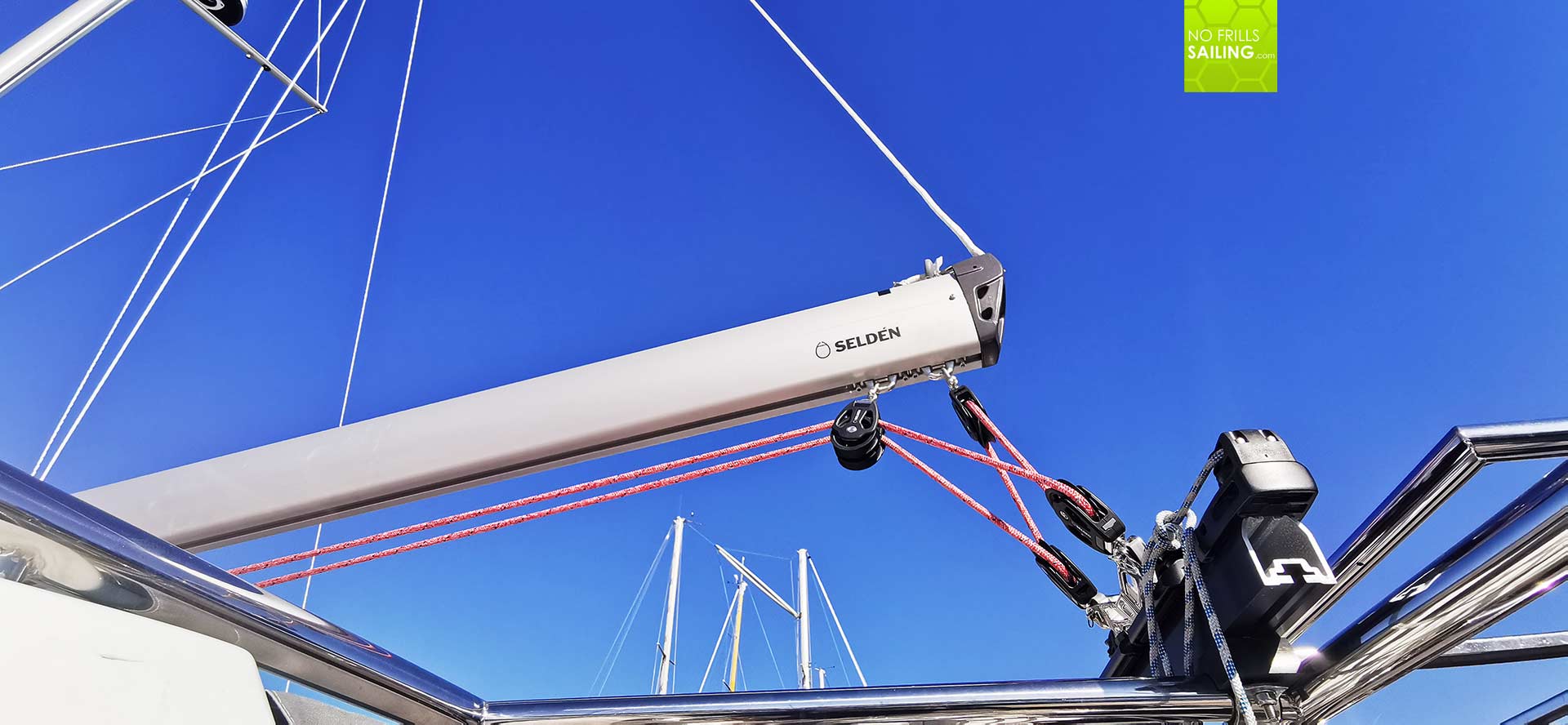 Now, the next steps on this catamaran will be the fitting of the solar panels and have them wired. Lucky for the owner, the pre-work under deck has already been done with all solar-chargers installed so that just the wiring is left to be done. Same as on my GEKKO – and I wonder which boat will be finished first.
My kids enjoyed a nice field trip and learned (hopefully) something new about catamarans. I enjoyed an exclusive look onto the work-in-progress on this catamaran and I must say I look forward to seeing the final end product – hopefully soon.
You might also be interested in these catamaran-related articles:
Catamaran boost! Delivery of an Excess 11.
VPLP´s trick – asymmetric hulls