The lockdown of the world due to the Corona-pandemic is changing all of our daily lives, not for the best of course. Hoping that you, dearest readers, are safe and sound and that the virus is not harming you or your beloved ones, let´s move on and look ahead. In search of stories for NO FRILLS SAILING.com – kind of desperately, because I cannot go out to meet people and see boats – I noticed my collection of Rums and thought it might be a good idea to have a thorough Rum-tasting event to check, which Rum would suit best in a skipper´s secret compartment aboard a sailing yacht.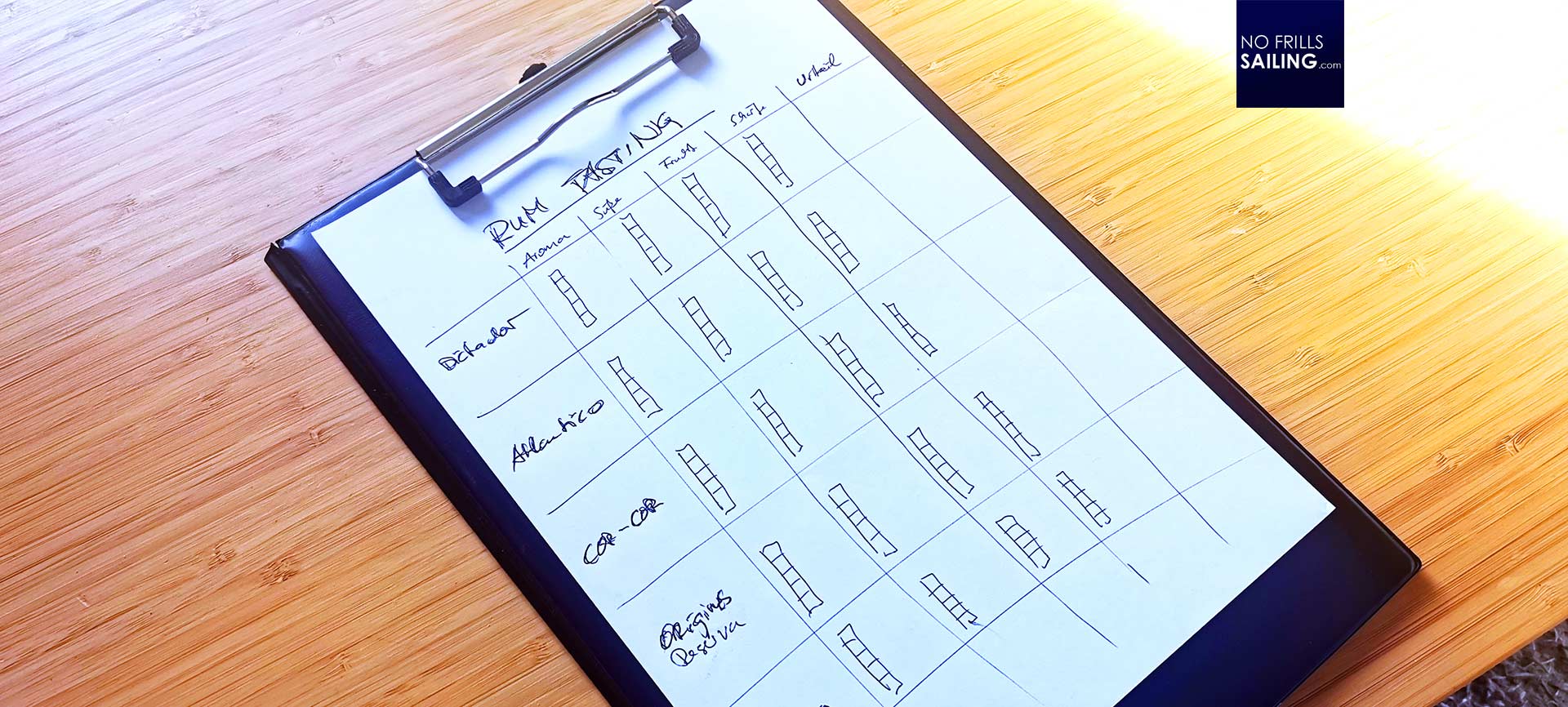 No review without a proper panel, I thought, and quickly scribbled one: Checking the Rums for four aspects. That would be the flavor, the aroma: How are the spirits sweet-talking to our noses? What´s the flavor like when lips are wetted? Secondly, I wanted to check for the sweetness. Rum is made of sugar-cane and thus by definition a sweet spirit, but as it turns out, not ever Rum is trimmed to charm your tongue all too sweet. Third would be the fruit, or let´s say, the richness of different variants and scents of flavors. And last not least, a "manly" indication: Is the Rum sharp, hot, scraping your throat? On a scale of 1 to 5 I checked for the intensity of all of them four factors and had my thoughts noted next to the Rum. Well, lets go, I shall say?
Rum: A sailor´s choice aboard
Spirits aboard have a long-standing tradition in seafaring. Alcohol belongs to sailing like canvas to a boom. In early times, spirits helped to sanitize the fresh water which wasn´t all too fresh anymore – sailors thus invented the Grog. A secondary effect was that alcohol of course helped raising morale and have the hard-working sailors forget the labor, the harsh discipline and officer´s regime aboard, falling asleep soon. Rum was predestined as it was cheap in production and had a decent taste. In this spirit I raised my first glass of Rum for the tasting: A 12 year old Rum Dictador.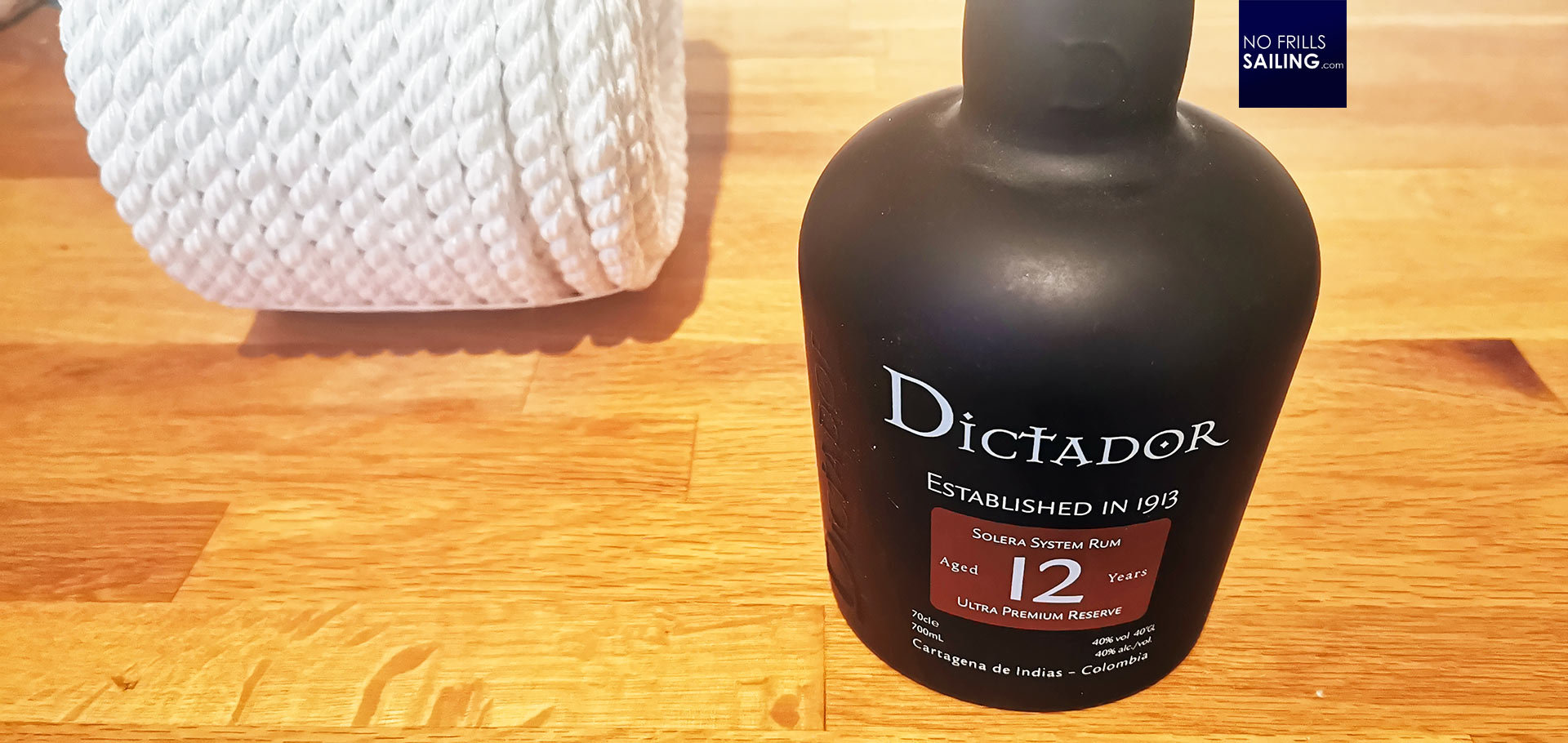 Rum Dictador in the 12 years variant was a well-known friend of mine. I do have a collection of 8 bottles at home (3 of which are cheap Bacardi which I take for quick mixed drinks) and Dictador is the bottle I am taking second-most. Why? I really love that Rum. It has and intensive scent, no sharp in the nose. The taste is aromatic, I can clearly sense a strong tendency towards blackberry here. It´s very mild on the tongue and no sharpness, no scratching in the throat and it has a very pleasant sweetness, but not too strong.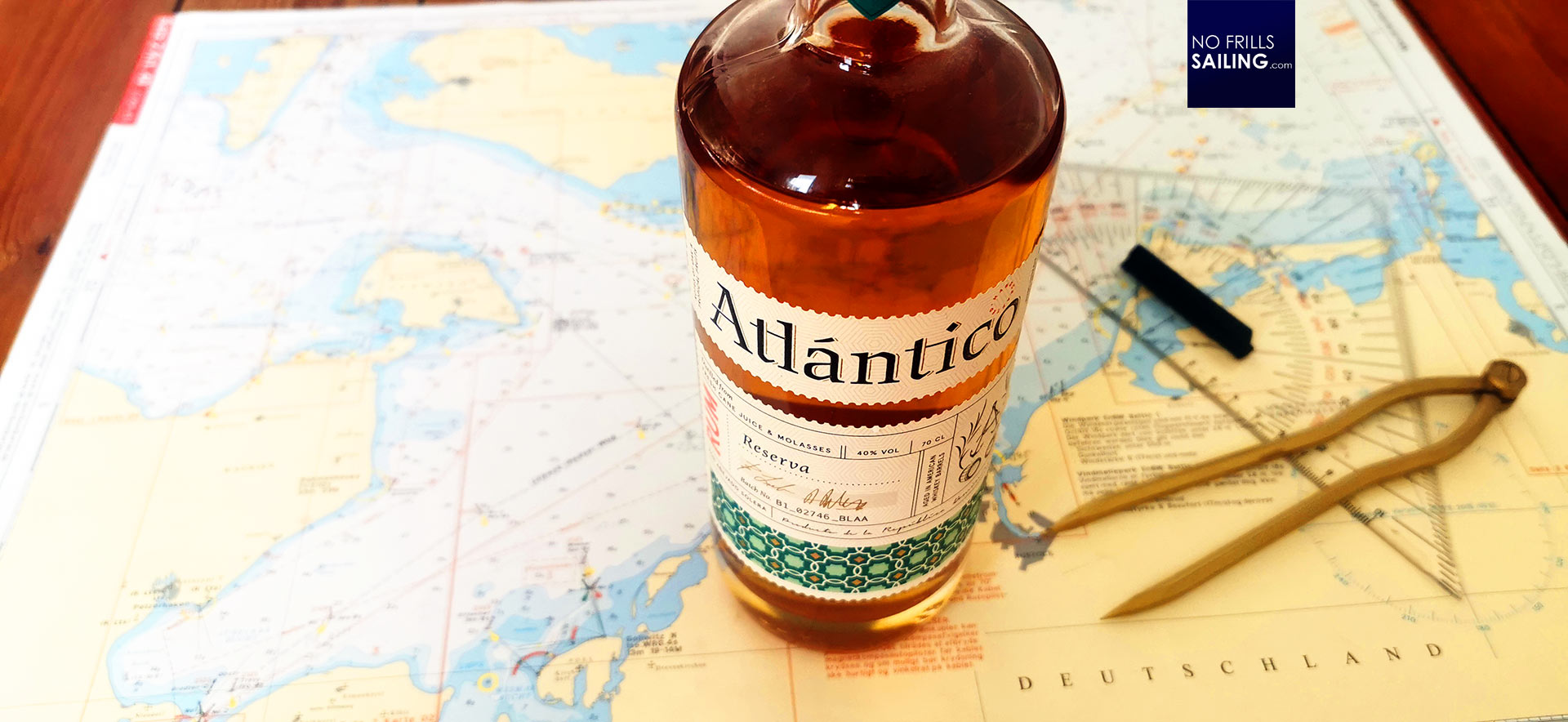 Rum Atlantico Reserva from the Domenican Republic is a blended Rum. Basically, you can have two kinds of Rum regarding their manufacturing process. Most Rums are made of sugar cane molasses which basically is a byproduct of sugar production. It´s a viscous black sweet gooey mass with a high yield of sugar. This is then fermented and distilled. More expensive because much more tedious is Rum made purely of fresh sugar cane juice. In order to achieve a nice aroma often Fresh juice and molasses – also called Black Treacle – are blended. Which is the case in Rum Atlantico Reserva: The outcome is a very balanced Rum. It has a very guarded perfume and is very light in color. But on the tongue, it´s a full-blown explosion of intense aromatic scents. After a gulp, fruitful flavor comes from deep behind paired with a not unpleasant sharpness. A rich Rum, mixing it would be a shame.
Sailing the Route du Rhum (in my dreams)
The sun went down and I started my Rum tasting session right in a beautiful sunset over the old town of Luebeck which once was the origin of the German Hanse, a mighty alliance of seafaring merchants who ruled the Baltic trade from Russia in the far North to Brugge and London in the West. The Hanse once was so powerful that the British Crown was kept as pawn in Luebeck´s town hall. Well, I wished I could have arranged the Rum tasting aboard a sailing yacht, inviting some friends to not only have a much sociable session and being able to come up with a wider range of opninions on the spirits with a more democratic assessment, well – that has to wait, I guess.
Most Rums still come from the Caribbean area as the Domenican Republic, Cuba, Jamaica of course and many other locations. But, same as with Scotches and Single Malts, there are several other locations where you´ll find exquisite Rums, like Mauritius for example. One example of a rather unusual location of production is Japan with its famous Cor-Cor Japanese Rum. One of my clients who is married to a Japanese wife regularly visits Japan and as I am a big fan of Japan´s culture (I have been riding a bike tour from Tokio all the way West to Hiroshima when I was younger) I asked him to get me a small bottle of Japan´s most known Rum. Here we go …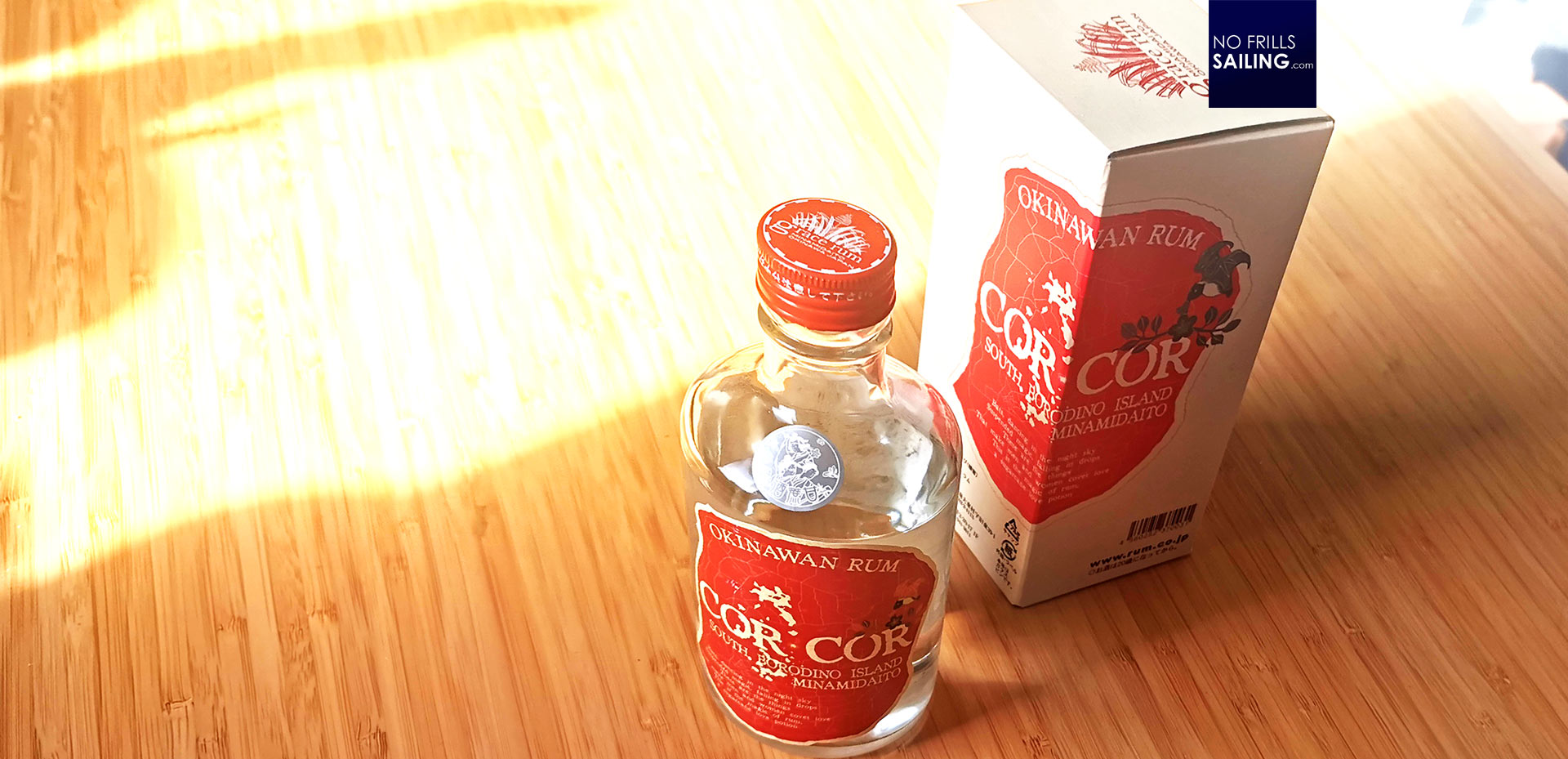 First of all truth be told: Cor-Cor is not a classical Rum. It´s a specialty and very strange, just like Japan. The Japanese Rum spreads a very, very strange aroma, kind of razor´s-edge-sharply scent that is reminding me of a blend of dentist´s practice and a walk in the mangroves. The taste doesn´t even minimally reminds of a Rum. Some seconds after you manage to swallow the spirit, a fine after taste finally arises and – surprise – I am sure that this Rum is a perfect match for a Mojito. Though I couldn´t try it out, but I would love to give it a shoot.
Sailing and drinking?
As a good skipper I do have a very definitive opinion on drinking and sailing. Simply: On "my" sailing trips drinking is strictly forbidden. Simply because I know that when it gets hot on a boat it can get hot very, very fast and escalate quickly. In case an emergency situation arises the full crew is needed at a moment´s notice and I need the crew fully capable of executing all kinds of tasks. So for me it is an absolute no-go of having a shot of spirit after one´s watch. It may help to find a good night´s sleep more quickly but it can cost lives. I won´t allow that. Nevertheless, I love having a glass (or three) when the boat is tied up securely and one can sit together down below or on deck to enjoy a sunset. Which brings me to the fourth Rum of my tasting session.
Rum Origenes from Panama is created by one of the Big Names in Rum-business, Mr. Don Pancho Fernandez. Well, I am not that deep into spirits so I can´t tell more than just this. I´ve bought this 8-year version for a decent price and regard this Rum as a nice Rum to be drunk pure, again, this one is too precious to be utilized for mixing drinks. It has a decent brown color but sprays rarely aroma in your nose. It´s a smoky Rum but without any sharp scratching in your throat but as well rare fruit-aroma and a very restrained but tasty sweetness. I liked this Rum because it´s not "ruling the party", it´s just a nice shot and a great companion whilst reclining and reading a good book.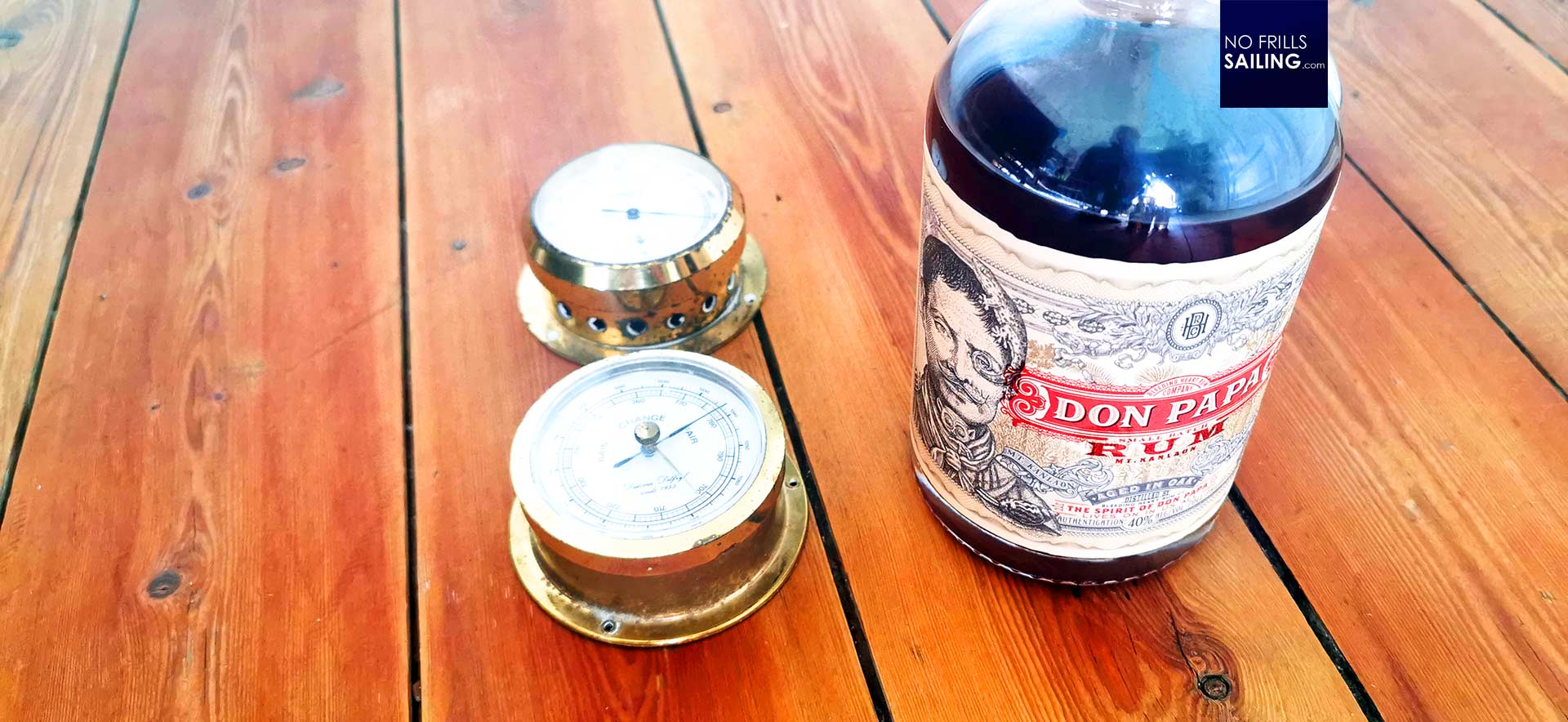 Speaking of companions, it brings me to the clear winner of my Rum-tasting session. It´s a classic and some may find it odd, but I find this Rum is just phenomenal! Opening a bottle of Don Papa Rum is immediately filling your room with a fine, intensive scent of vanilla. It´s gorgeous! This Rum must never be mixed as it is pure joy to have it pure. A very strong, distinct aroma, so much rich flavor and great sweetness, for me Don Papa is the Rum of choice. No wonder that this is the bottle already emptied a lot more than all of the others combined.
And the Winner is …
So, that wass the Rum tasting for me: Clearly, the Rum of choice to be put onto my own boat would be the Don Papa, a wonderfully composed, sweet, aromatic Rum made in the Philippines. I must admit, it was fun to do the "research" for this article and even drinking alone – with all due respect to keep up at least a certain amount of style – was a nice occasion. Well, an occasion that has to be repeated once these awful restrictions of that Corona-Crisis are lifted.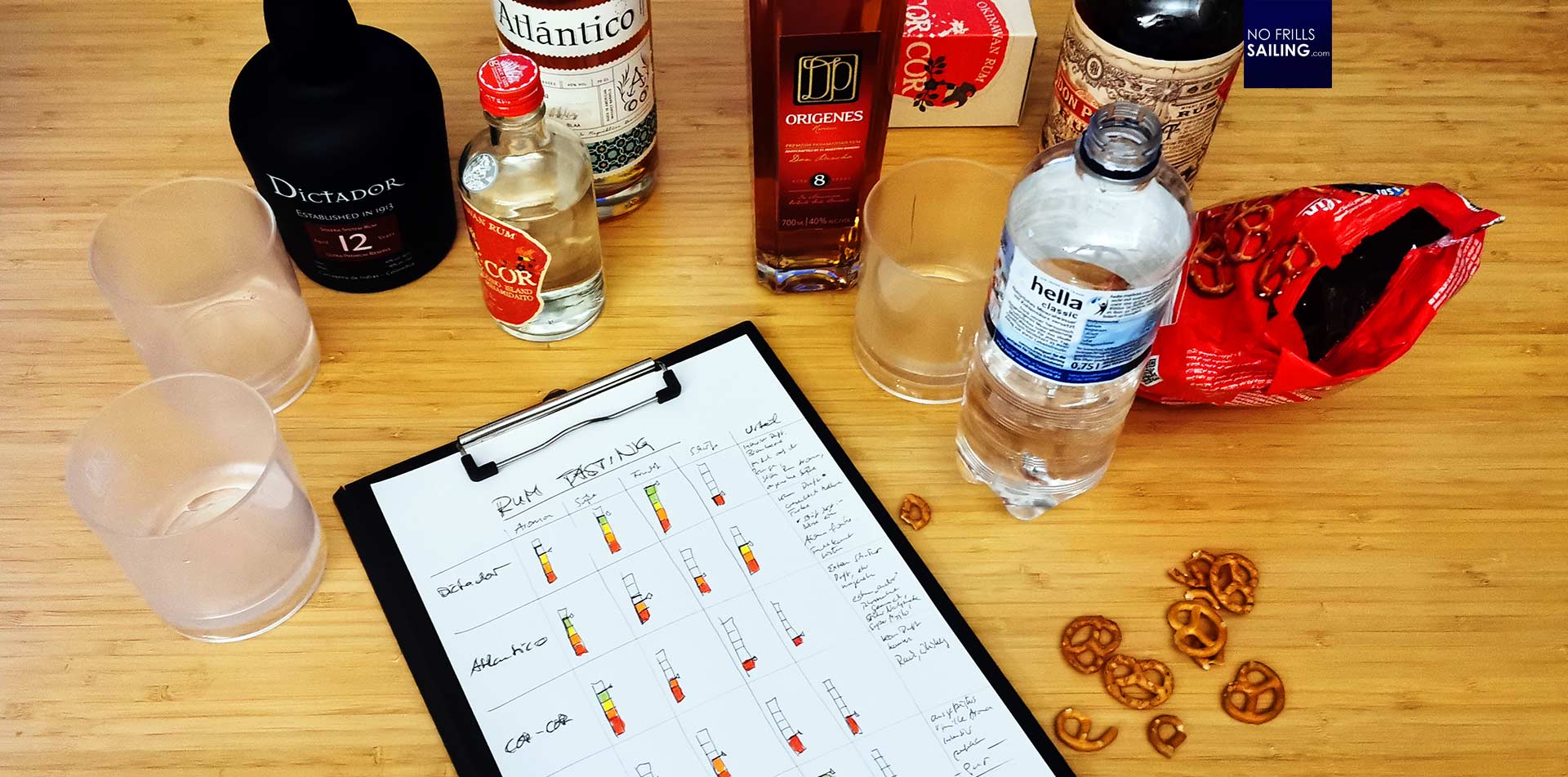 Wishing you all the best, keep yourself and your beloved ones safe and keep up the good faith. They will be coming back, the good times aboard our boats and with them the memories of this crazy Corona-episode will hopefully just be a shiver running down our spines, reminding us how fragile our lives are and how fast things can deteriorate. Be strong – be safe!
You may also like to read:
The best steak on earth on a small Swedish Island
Offshore cooking ballet
A week sailing, skipping meat