You may have read one of my last articles on the handover of a brand new Beneteau First 27 SE, the sister ship of my GEKKO. For me it was just one "normal" thing but one or two of you dearest readers commented on a little detail they´ve noticed seeing the pictures: The was a bouquet of flowers mounted to the forestay.
Well, this detail is indeed not just a nice curtesy to the owner and client who bought his boat from my company, but an old tradition mostly common in the Baltic Sea that I once picked up, really like and try to apply to ever new boat I hand over. In fact, when delivering a new boat I always try to have the day designed to be extraordinarily and unforgettable: Our owners receive their desired boat after long periods of eager waiting and those little details, the attention on their well-being is much appreciated and helps to work through the more boring stuff (which is the paperworks) and stays in their memories instead. So what is this all about?
Sailing off a Bouquet of Flowers
Well, when I started working in the boating business, one of the first boats I handed over to the owner myself was a Dufour Grand Large 350. The owner and his family are still very close to our company and besides, he is truly a skilled seaman. When we talked about how the handover and christening should be done, he insisted on a detail: Not just the Champaign and the baptismal verse (performed by his charming daughter) but also a bouquet of flowers.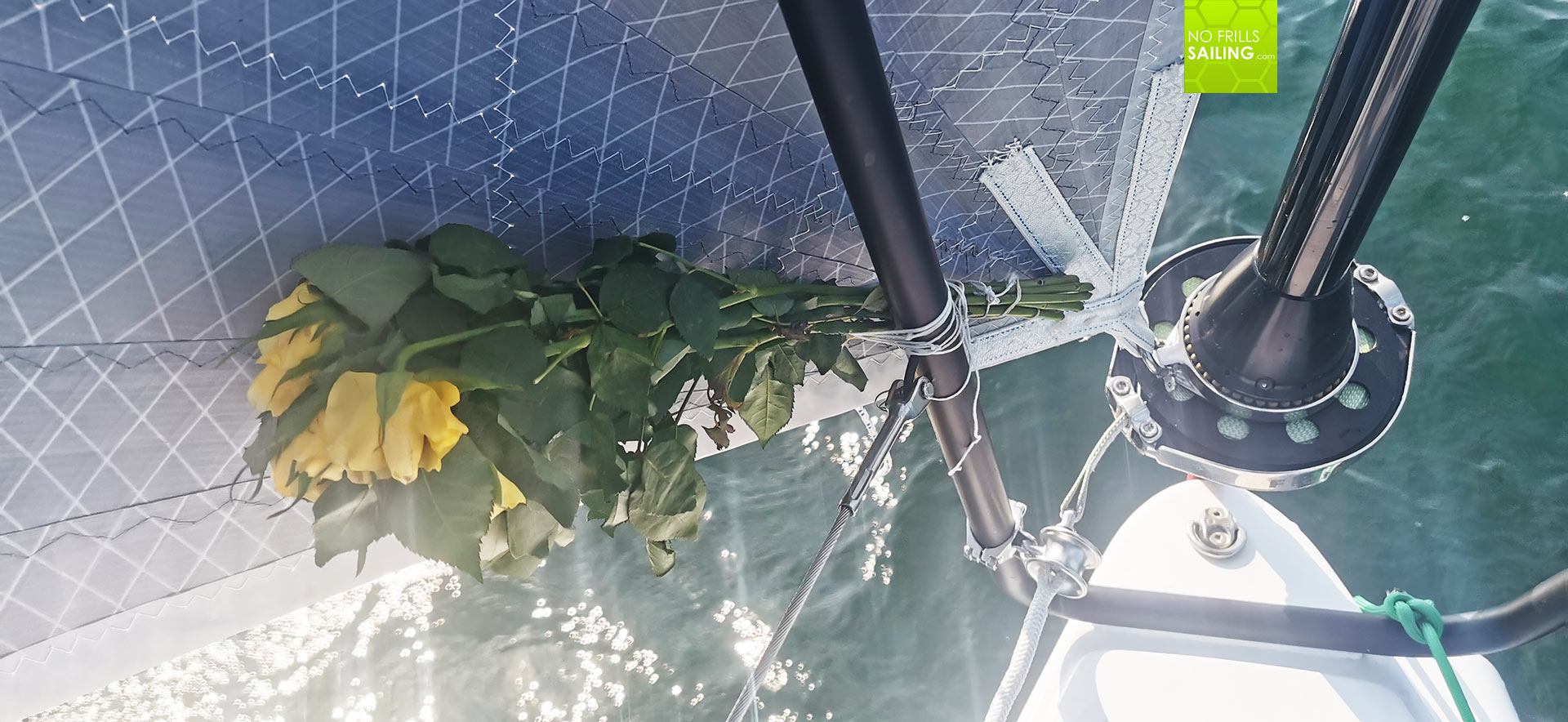 He told me to attached it "tight and firmly" with rigid cord to the pulpit. He said that this bouquet must never be removed by hand – it will cast a spell over the boat and bring bad luck – but it must be "sailed off" by the owners. Each tack, each gybe will eventually remove the blossoms and the cord which will make it finally fall off. I really like this tradition and since this day (which is a shocking 6 years in the past as of now) I try to apply it to new boats I hand over to our clients.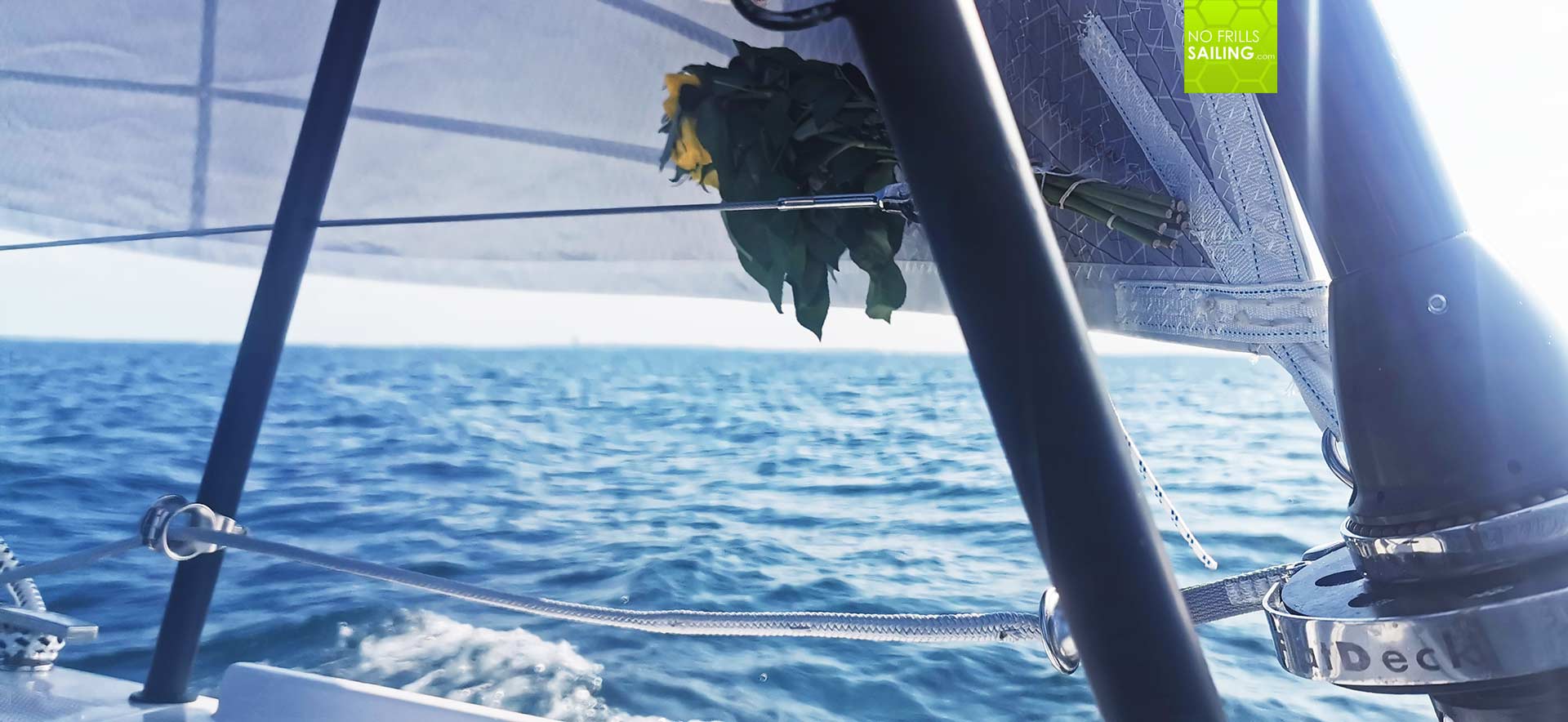 Said and done: When Stefan picked up his brand new First 27 SE which he christened ASTEROIDEA, I drove an extra-mile to a flower show to check for a small but nice bouquet. Usually I try to have the Northern German colors represented, which is Red, White and Blue, but this time – I guess it´s the season – they came up with yellow flowers. Well, it´s nice as well.
One of the two happiest days in an owner´s life
And so, upon being high up on cloud number 7 as I handed over his precious boat, I added this detail which he not only appreciated much but also received well: Taking pictures for his girlfriend and instantly accepting that he had to sail it off, never take it off, he immediately told about this all the guys who called during our 4 hour-handover sailing trip to the home port of ASTEROIDEA.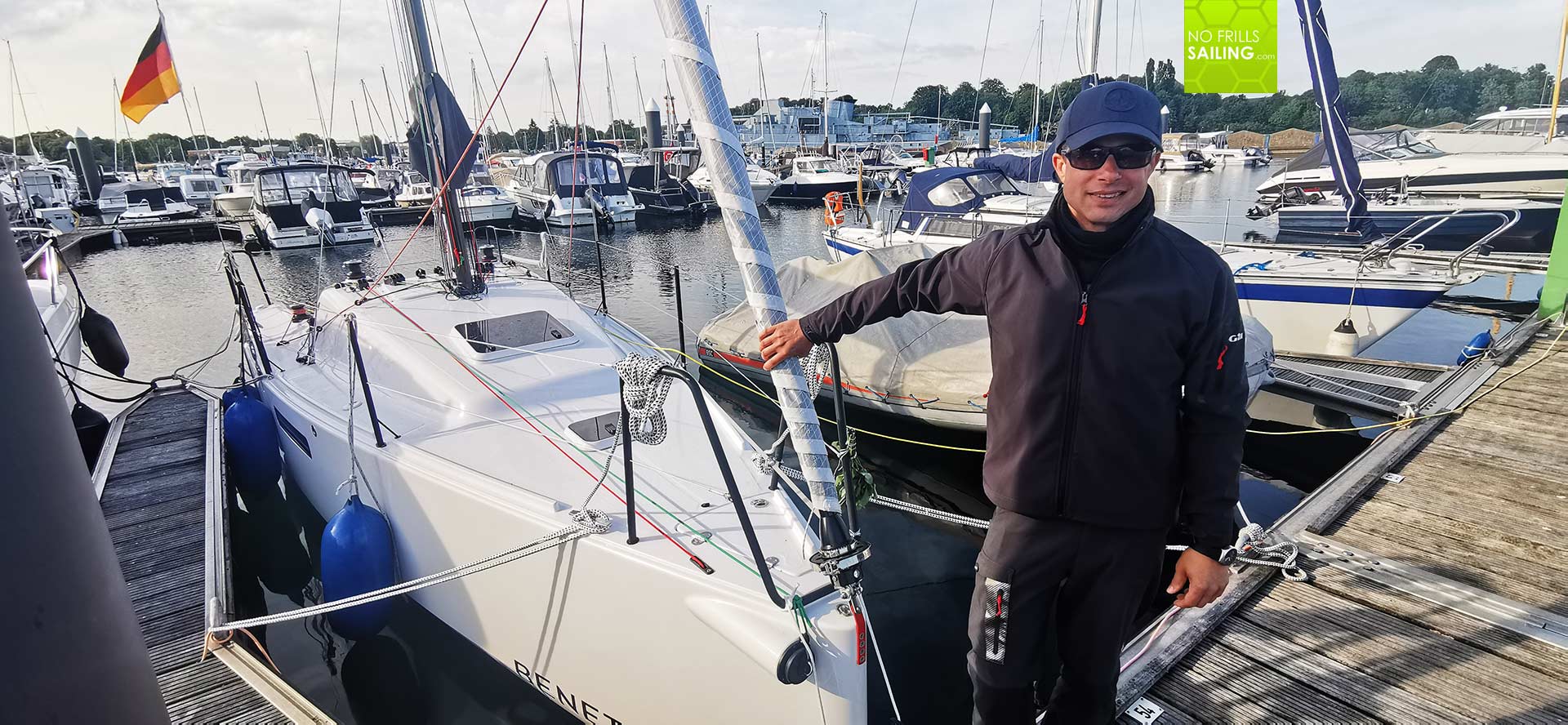 So, with some more handovers coming up soon, I again saw how a small bouquet of flower and the attention t this tiny detail can have such a deep emotional impact and help, to ease pressure and re-focus the owner´s attention from scratches, finding faults and mistakes by the yard to enjoying the boat, live in the moment and coming back to the source of their passion: The desire to joyfully sail the boat the always dreamed about.
You may as well like to read these related articles:
Myths and superstition amongst sailors
Keeping it classy: Bestevaer 55
Ibberson sailing knife with marlin spike: A Classic!