You might have read my "Happy Birthday!"-article celebrating one year of GEKKO, which, by chance, co-incided with the delivery of another brand new First 27 SE for a client of our company. This boat has now received her proper bottom paint-treatment and will be ready for the next item on the to-do-list, which is the fitting of her engine. First boats can be equipped with ordinary internal combustion outboard engines or – which we do in almost 90 per cent in all of our sold boats – with an electric engine. This is also planned for the new 27 in our yard. But instead of copying the engine setup of GEKKO, we decided to do something radical: We skipped Torqeedo.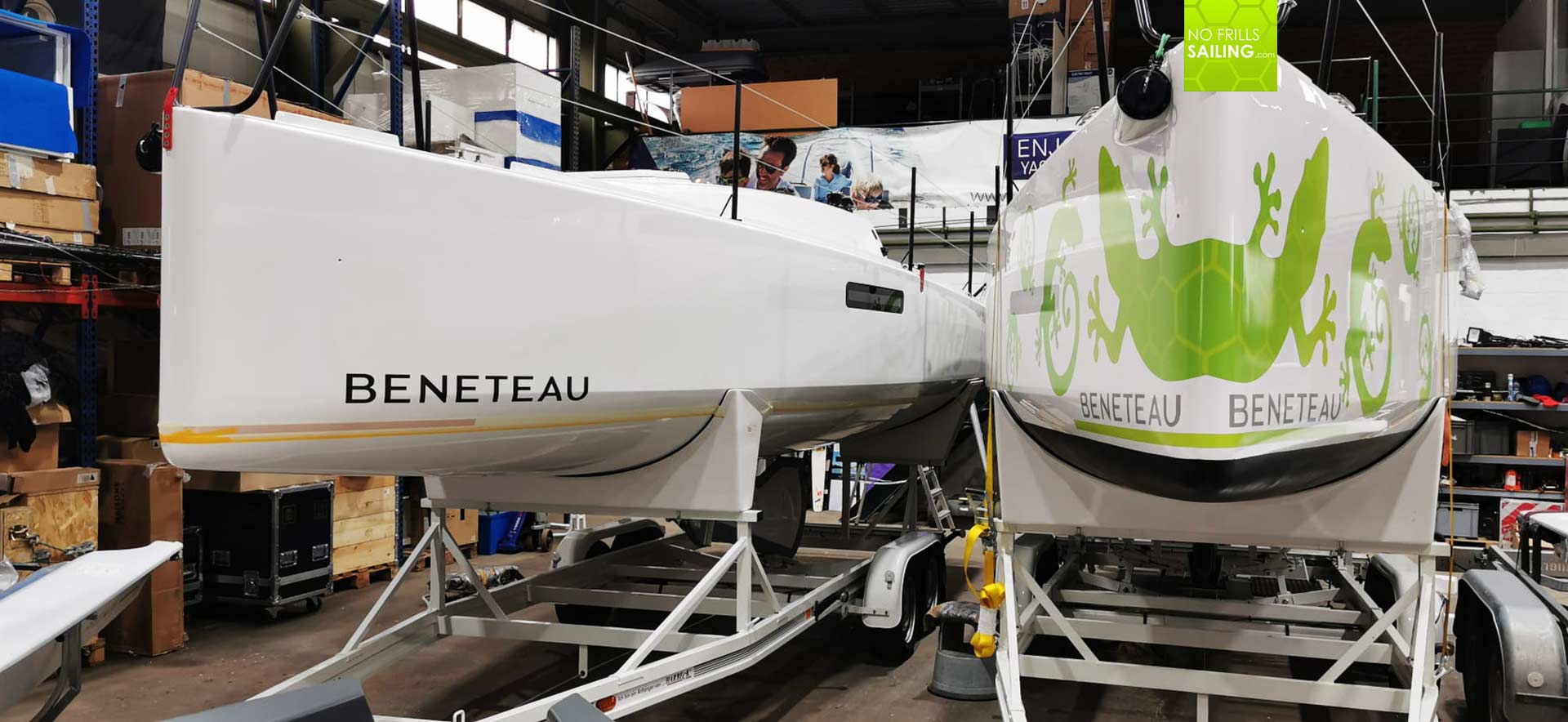 Why is that? Well, first of all delivery issues. Even back in the day when I ordered the parts for my boat over one year ago we did have to wait substantially for the individual parts to arrive. It is even worse now – the issue with my solar chargers for GEKKO is another story. Also, Torqeedo´s service is, let´s say, developable. I do not have any issues with my equipment: The parts work properly, the manufacturing quality is very high and I do not have any complaints whatsoever. But, as the Cruise 4.0 is not available anymore as a new one will replace it, and our experience wasn´t the best, together with the owner of the new boat we decided to skip Torqeedo for now and move to the second big brand in small electric outboard engines: ePropulsion.
ePropulsion Navy 3.0 on First 27 SE
Last week the complete setup arrived on several pallets and I was excited to open the boxes like a small kid on Christmas Eve. ePropulsion only offers a 3 and a 6 Kilowatts engine, not the 4 kW as Torqeedo. The Navy 3.0 weighs in some 22 Kilograms, which is 6 to 8 Kilograms more than the Torqeedo cruise 4.0. Surprisingly enough the smaller engine (6 horsepower equivalent versus 8-10) is heavier. This can be due to more and heavier material built into the the ePropulsion or lighter, more innovative material in Torqeedo. We don´t know.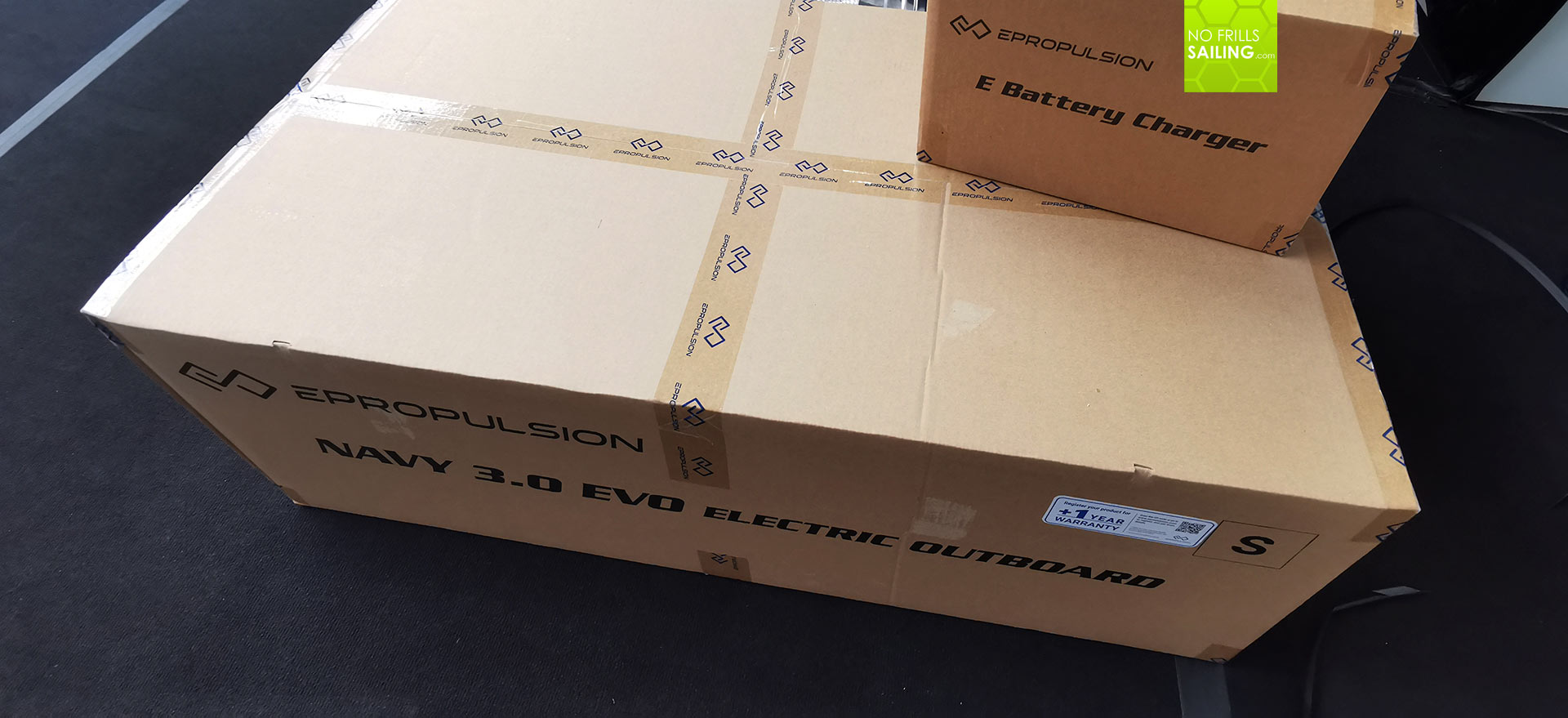 The Navy 3.0, we are sure in this, will do an equally great job in propelling the First 27 SE as this is just an auxiliary engine for mooring and maneuvering, not for travelling long distances. In emergency, string winds and currents, I am sure that the 1 kW less power won´t be much of a disadvantage. Just by looking, touching and examining the product I can say that the Navy 3.0 engine feels great, significant in manufacturing quality and haptics.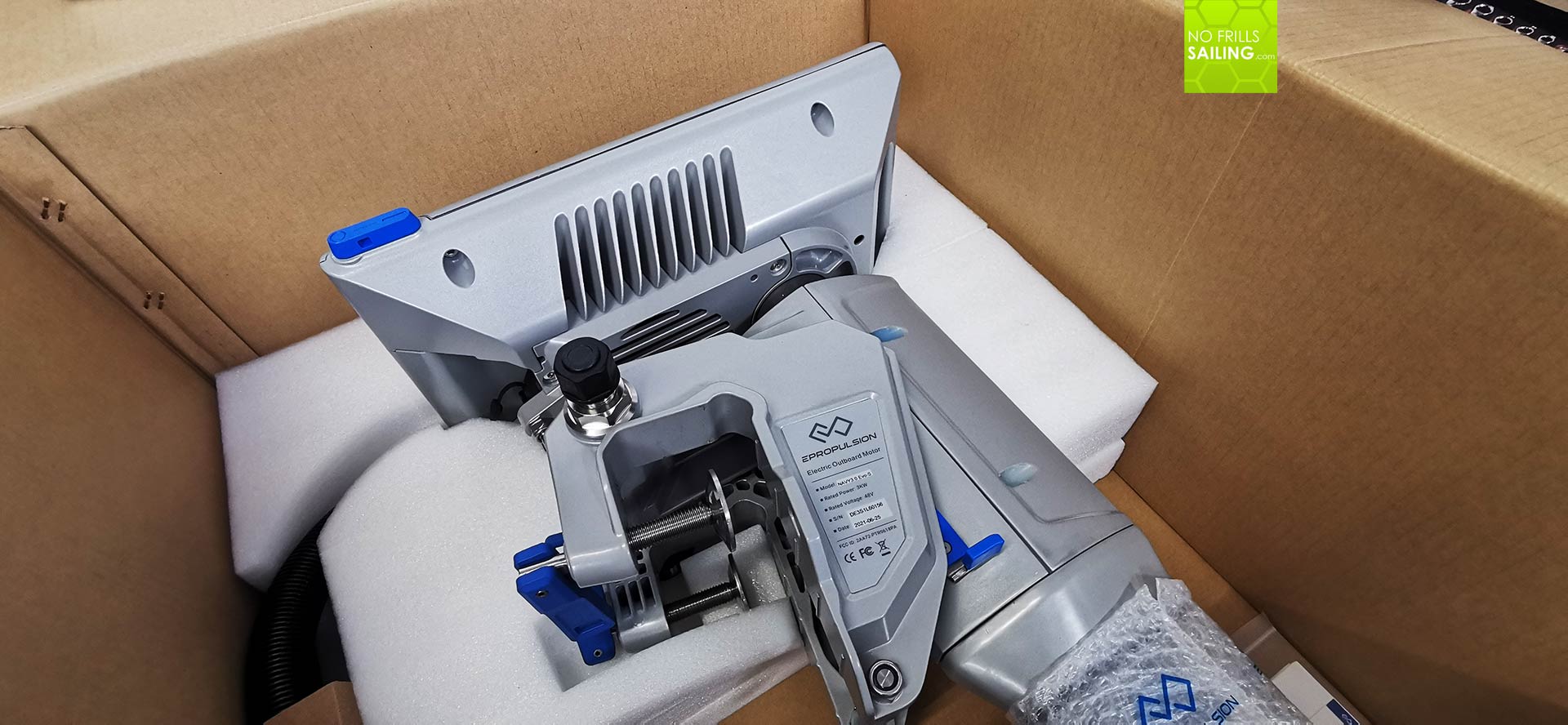 The price is also interesting. "Made in Germany", as Torqeedo claims, has its price. The Cruise 4.0 comes with a price tag of around 3.500 to 4.000 Euros here in Germany, its counterpart by ePropulsion clocks in at just under 3.000 Euros. That´s a significant advantage. I doubt that you nowadays can make a complex electric and electronic product entirely without Asia, so "Made in Germany" may only be valid for the last step of manufacturing, maybe just mounting, so Torqeedo as well will essentially be – like everything we use – a product that is Made in Asia.
The battery: E80 by ePropulsion vs. WH 48-5000 by Torqeedo
The big battery, heart of the engine setup, is a big boy too. ePropulsion offers its E80 Lithium-battery at a price of around slightly over 2.000 Euros, which is far, far less than its Torqeedo counterpart, the WH 48-5000 which clocks in at whopping 5.000 to 5.300 Euros! Well, it certainly looks better and has a fancy design, but power-wise both batteries are equally powerful. That will be around 5.000 Watt-hours for the Torqeedo, slightly over 4.000 Wh for the ePropulsion.
The battery looks massive. Not the sleek Star Trek-style design of the Torqeedo but a more rugged and "mechanic" look and feel. The switched remind me of the MiG 21 fighter jet my father used to fly during the Cold War or the control switches of a nuclear submarine. I quite like it! I can´t help but press the "Power"-switch upon opening the box and the battery instantly sprung to life. Which is another point and maybe the biggest issue we have with Torqeedo: The iOS vs. Android-discussion. Well, Torqeedo can be seen as Apple. Their operating system only allows for Apple-hardware to be connected. Wires, toggles and even digital information are "Torqeedo-coded" and as a Torqeedo-user you cannot connect other devices. (I will dive deeper into this shortly when the next part of the solar panel-series is published). Quite contrary to ePropulsion: They essentially are Android, at least that is how its claimed.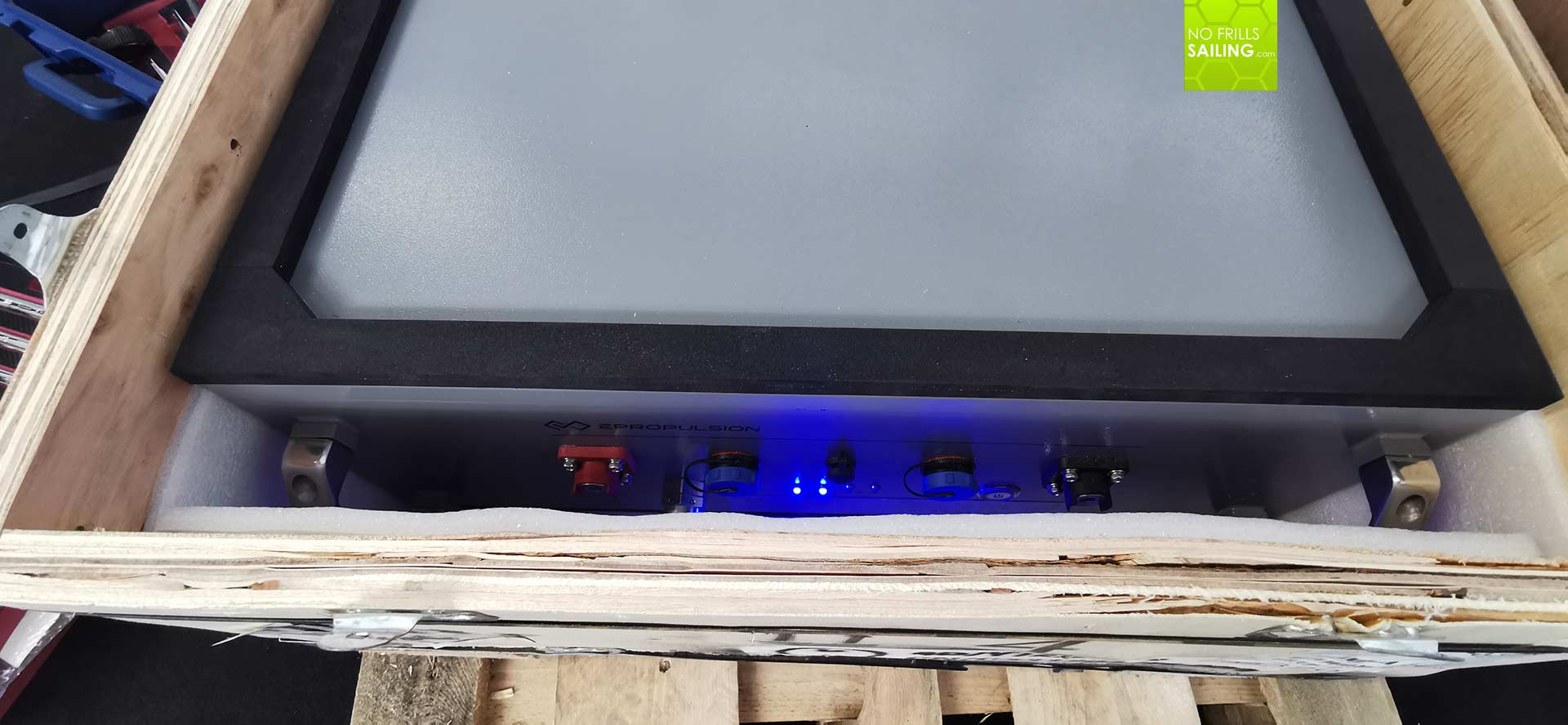 Yes, we are required to use their battery as certain functions – but not the vivid ones – are only working when using the "inhouse" hardware, but we could have used other hardware without problems. On GEKKO I am very limited in choosing surplus hardware now and got into trouble, with ePropulsion we feel that we are somehow more free to choose. This can be good, but also cause other problems in different equipment of different brands having to work together. It´s always a two-sided sword. We will see and I will report.
ePropulsion vs. Torqeedo: Next steps
So, all in all, our client will save some 4.000 Euros (exVAT) for the whole setup on his First 27 SE compared to my all-Torqeedo-equipment. This is a significant bargain as this equals a one year berth demurrage in a 5-star-marina here in Germany or a high-priced furling Gennaker. The new boat will get her antifouling bottom paint finished the coming week and we will start the mounting process of the ePropulsion equipment. I am very excited to get the feedback of our technicians also regarding a comparison to fitting a Torqeedo-setup.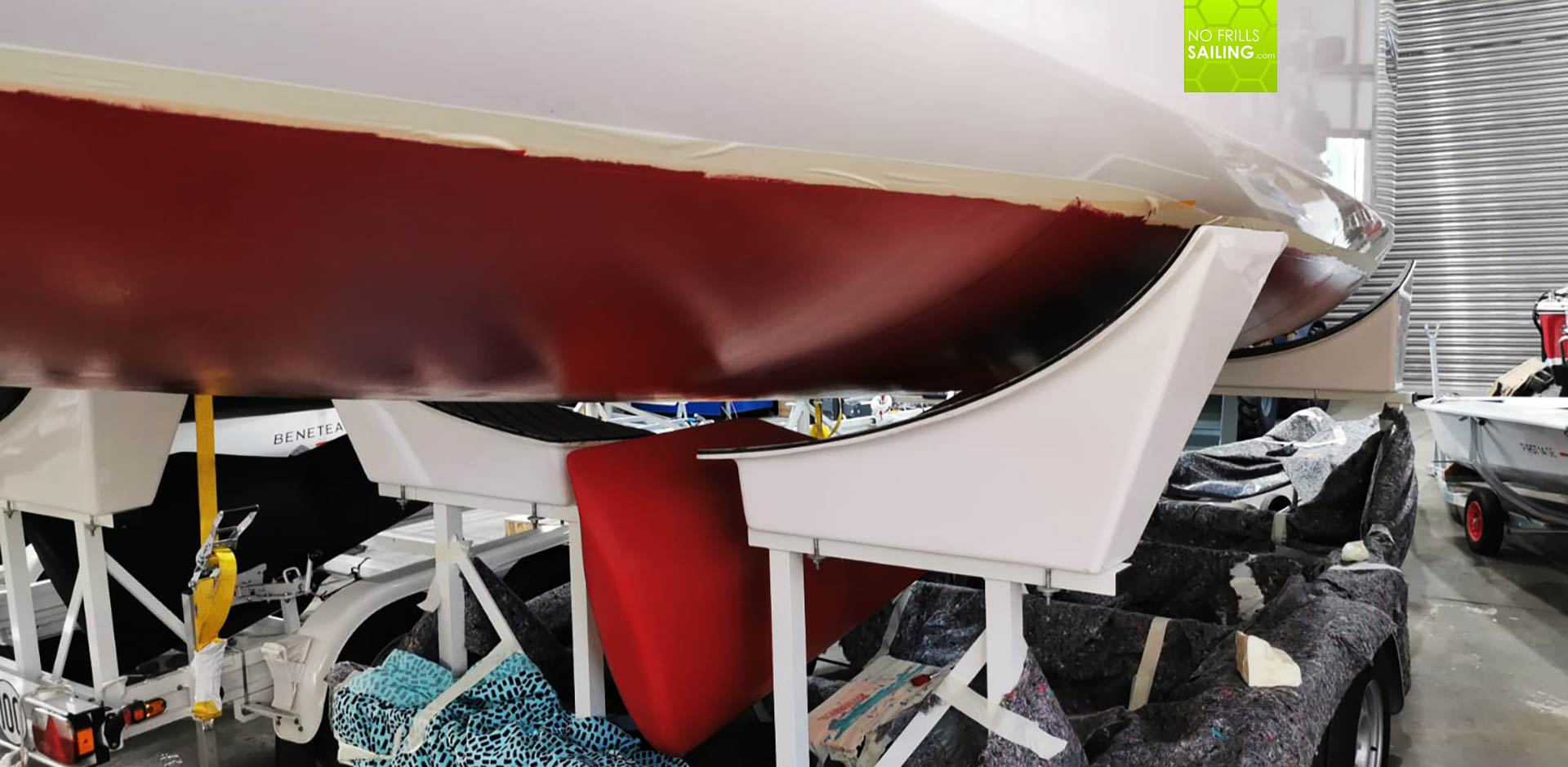 This new boat will also receive a big solar array like my GEKKO currently does. As I do have some very serious challenges to overcome in connecting my photovoltaic panels with the big battery I am very curious how connecting the more "open source"-like ePropulsion technology works out and if this "iOS versus Android"-tale is a real thing. Not to mention a side-by-side comparison of both boats next to each other in the water, as my GEKKO and this new boat will spend their first weeks in the water in the same sailing area. It´s going to be an exciting spring.
All price tags mentioned in this article are valid for February 2022 incl. 19 per cent German VAT, bought and delivered in Germany, so check your local prices for your country/continent
You may also be interested in reading these related articles:
Mounting the Torqeedo Cruise 4.0 parts 1 and 2
First miles in my all-electric sailboat
Energy management on electric sailboats