With deep grief and still shocked I learn that as of last Tuesday Guo Chuan went missing whilst underway on his Trimaran trying to break another speed record. Having spoken to him just a few weeks for this interview, to a vivid and energetic man, makes me very sad. My thoughts are with Mr. Chuans family. May he rest in peace.
There are many curiosities in the world of sailing, records and "firsts", attempts and wins, losses and tragedies. Only a few weeks ago French sailor Francois Gabart did set a new world record in 24 hours nonstop sailing and the wonderful monohull COMANCHE and her crew made another world record for crossing the Atlantic Ocean eastbound crumble. Browsing to Wikipedia or other websites reading through the annals of sailing it´s mostly French sailors who are record holders, some American and a few British skippers too.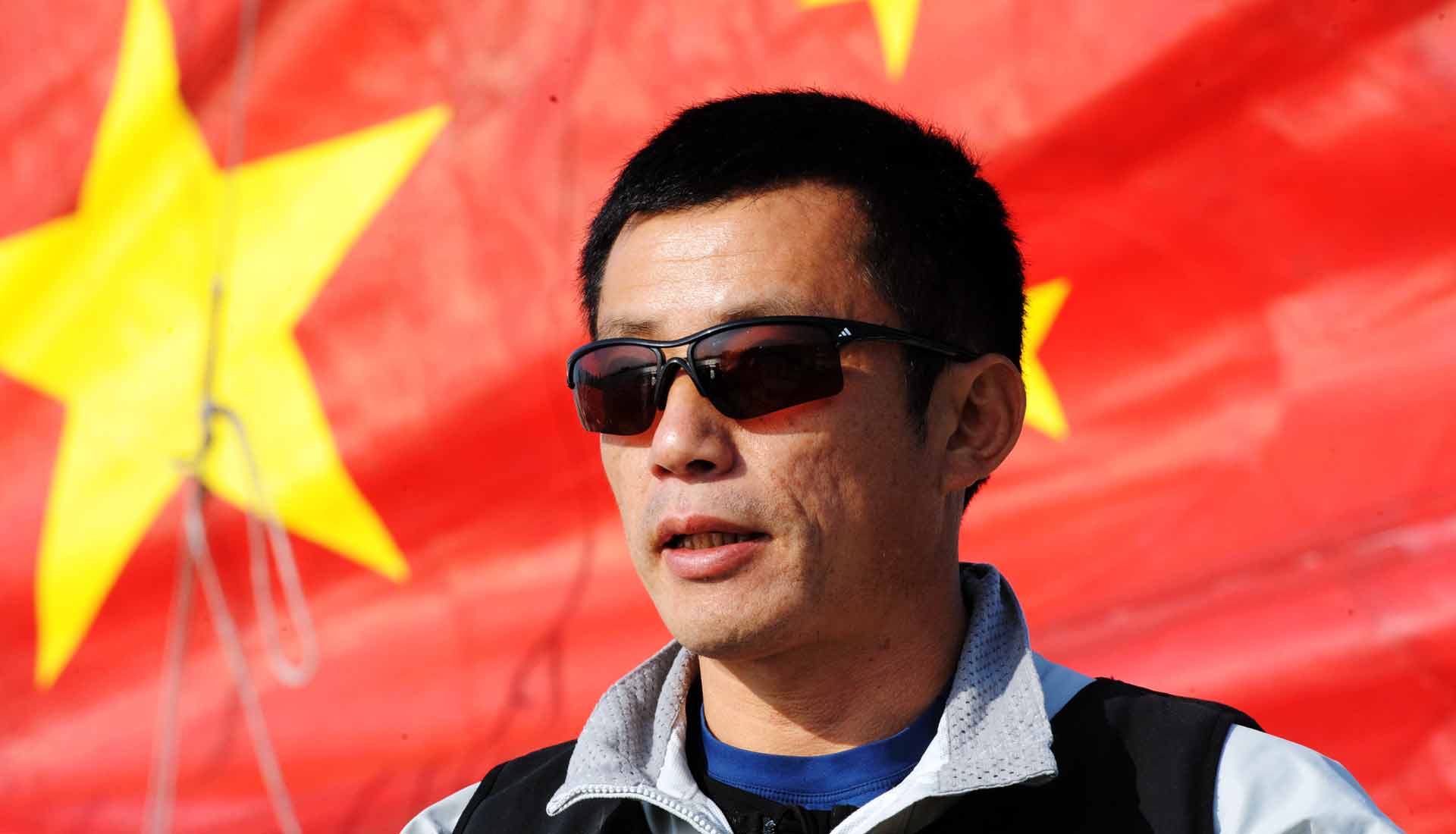 But there´s one name bearing a refreshingly different sound, adding some spice to the world of sailing – Guo Chuan. Apparently, he´s not a Frenchman. The more I´ve read about Guo the more interested and curious I´ve got and I was lucky to catch him shortly after Rio Olympic Games to have some of my questions answered. About his life, his solo circumnavigation record, his career and, of course, sailing.
"Sailing Sport sees a fast Growth in China"
Guo Chuan was born in 1965 and is now in the age of my own parents. But that´s only a figure, a bare number. Apart from that fact, his appearance is overwhelmingly fresh, bristling with energy and optimistic. He owns a degree in aircraft control from Beijing University of Aeronautics and Astronautics and has an MBA too. Before he became China´s most popular sailor he was working on commercial satellite projects. Well, yes, that´s the type of man willing and able to control a boat soaring through the Roaring Forties.
NO FRILLS SAILING.com: "Guo, thanks for taking some time to have my questions answered. Few people in Europe take notice of sailing abroad, sailing in Asia and in China particularly. That´s maybe because we are stuck in the midst of our own sailing stuff taking place here at home. Tell us about sailing in China."
Guo Chuan: "Sailing in China has been developing very fast in the past decade, especially after the Beijing Olympics. The Chinese sports development policy and people's attitude towards sports have undergone a revolutionary change. With the economic development, the living standards of people are rising. They have now more diversified sporting choices than before and they do not think sports is just for Olympic medals any more. I have no doubt that sailing sport will see a fast growth in the years to come."
NFS.com: "I first noticed your name in connection with solo circumnavigation records, later on Guo Chuan appeared from time to time together with a trimaran´s name QINGDAO. How did you make it to the sailing world in the first place? Why sailing?"
Guo Chuan: "I fell in love with sailing back in 1998. A friend of mine and me were sailing his 40 feet yacht for fun. Now looking back, I wonder whether it be destiny that my first world record was set on a 40 feet yacht as well. Before I attempted the solo circumnavigation, I had learned sailing and trained in France for many years. I attended the famous "Clipper Round the World Race" in year 2006, began working in the circus as media crew on VO 70 class GREEN DRAGON in Volvo Ocean Race in the years 2008 and 2009, and finally did race the MiniTransat in 2011 … "
NFS.com: "… where the solo-virus infected you?"
Guo Chuan: "Yes, one can state it this way. I had a dream of the solo circumnavigation. It is still a great achievement for me personally to have completed this voyage and of course having finally set a new world record in Class 40 sailing. It is a milestone in my sailing career, and a new starting point as well."
NFS.com: "In what respect?"
Guo Chuan: "After the solo circumnavigation world record challenge I moved to a bigger boat. It was then back in 2015 when I had the chance to lead an international crew and successfully set another new world record by completing the Arctic Ocean Northeast Passage non-stop voyage. It was for the first time ever in sailing history. We´ve had a crew of 6 in total, besides myself two more French, two Germans and one Russian crewmember."
NFS.com: "I was doing an interview with a young British skipper, Lizzy Foreman, on her MiniTransat race (read it here) and on how this voyaged altered her life. What about your impressions from racing a Classe 650 Mini through the Atlantic?"
Guo Chuan: "MiniTransat is a very tough race indeed. Though being modern and even high-tech, you have very limited resources to use throughout the race. It is really a great test for one´s sailing skills, intelligence and bravery of course. Since it was a solo race, it meant a lot to me. Also, Clipper Round the World is a race for non-professionals, it is a good starting point if you love sailing, want to have a try and maybe turn professional in the future. I learned lots from both these two races and Volvo Ocean Race as well. I do not think I could have finished the solo circumnavigation if I had not trained in France and gained much experience in these races."
"Akilaria is like an old friend for me."
I was originally doing research for my Class 40 article on Owen Clarke Design, Kiwi F40 and Akilaria racing yachts (read it here) when I read Guo Chuan´s name again. He did do his solo circumnavigation on an Akilaria RC2 designed by Marc Lombard, so it was natural for me to as a few things about his experiences with this boat.
NFS.com: "First of all it stands out that you´ve managed your solo circumnavigation in very fast 137 days. Which was a world record in Class 40 boats. Why did you choose a Class 40 racing yacht in the first place?"
Guo Chuan: "Well, first of all because no one had ever tried it in Class 40 boats before and I liked the idea that this kind of challenge has never been done before. Second, my team and I did a lot of research of course before casting off and we found that although Class 40 is a very small boat compared to the task, it´s a pretty stable and tough construction with a particularly strong performance potential."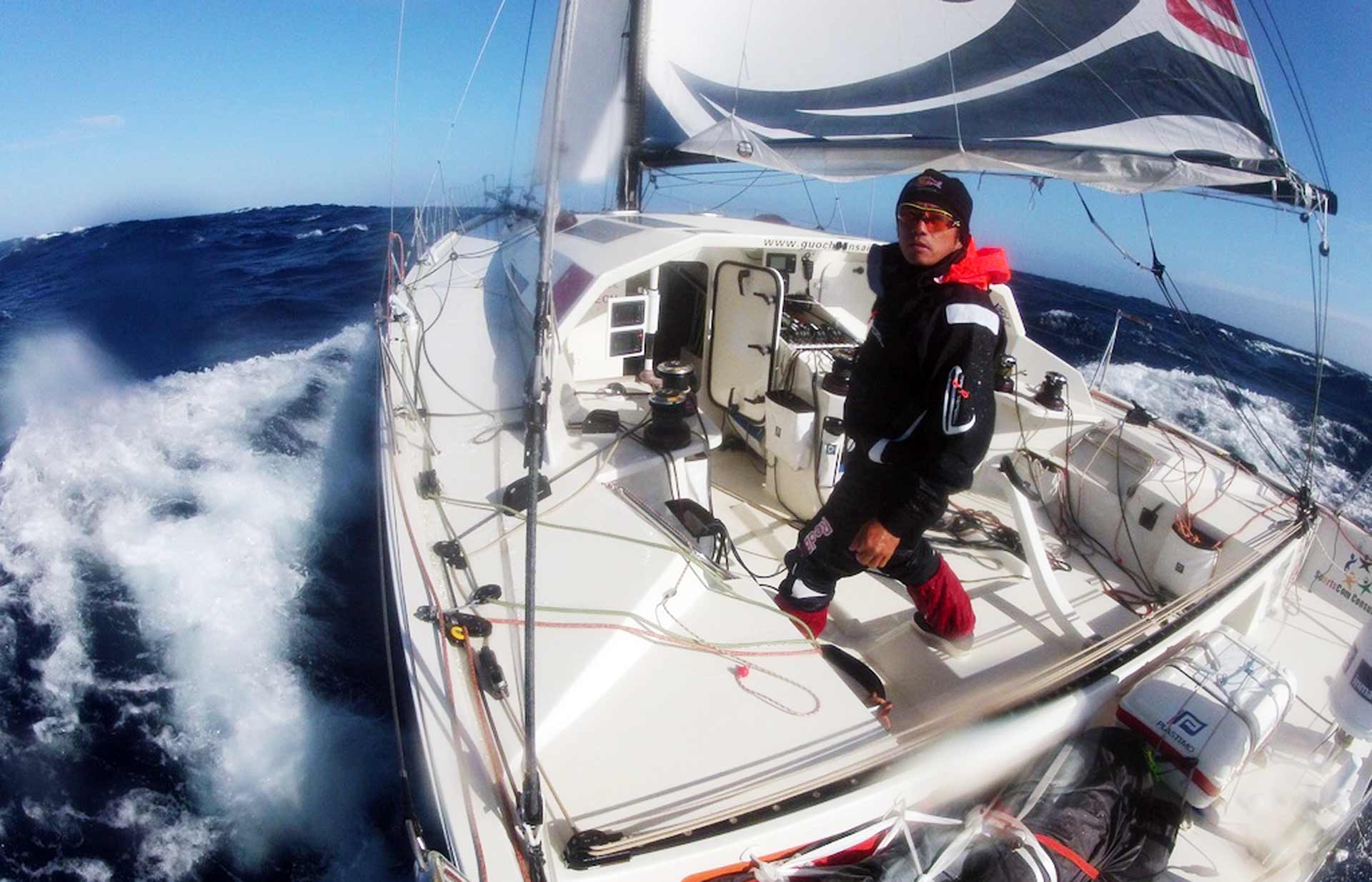 NFS.com: "Your racing yacht, QINGDAO, is a Marc Lombard designed Akilaria RC2. Why this particular boat?"
Guo Chuan: "I would say that Akilaria, Pogo or Owen Clarke are all very good boats. In spite of slightly different designs, they are all top-class racing yachts. But I am more familiar with Akilaria. My technical manager used to work for Akilaria and we got much technical support and quality after-sales service from that brand. For me, Akilaria is like an old friend."
NFS.com: "Speaking of that boat, have there been any special enhancements done to the yacht prior leaving for the circumnavigation trip?"
Guo Chuan: "Yes, of course. You always need to refit your boat ahead of the voyage. Sometimes, this job needs to be done several months before the world record challenge starts, because you also need to make sea trial trips to test and improve her. For the Class 40-yacht that was used for my solo circumnavigation the refit focused more on her strength and stability. On the other hand, for our trimaran that was used for the Arctic Ocean challenge, due to the extreme weather condition, we added some special equipment on the boat. For example, the three hulls were reinforced with Kevlar and she was fitted with ice-detecting sonar and thermal imaging instruments."
"Cape Horn, definitely."
NFS.com: "Guo, describe the most thrilling moments during your circumnavigation on the Class 40."
Guo Chuan: "For me the most thrilling moment was definitely sailing around Cape Horn. When it came into the sight, I just couldn´t hold back my tears. Happiness, loneliness, anxiety, fulfillment and other feelings I dug deep and was hiding since the start of my voyage all of a sudden hit me at the same time. It just came to the boil."
NFS.com: "What has been the toughest part of sailing around the globe alone?"
Guo Chuan: "The loneliness and tiredness I would say. During such a venture, whatever will happen, there´s only one single thing you can rely on: You alone. That puts a lot of pressure on one´s psychology. Apart from that, another very hard thing is getting enough sleep. I never slept more than 20 minutes in a row."
NFS.com: "Tell me more about sleep management, please."
Guo Chuan: "That´s a real tough challenge during the voyage. You have to be extremely vigilant throughout the journey as you are the only one on the boat. That means, even if weather conditions are fairly stable you can only sleep for 20 minutes at most. If conditions worsen, you have to stay awake, however long it may take. I remember when I sailed through the Taiwan Strait, there were too many fishing boats and fishing nets there, I stayed awake for almost three days without sleep."
NFS.com: "So refilling and replenishing your body´s reserves with food and drinks are crucial. Can you give some insights into this topic?"
Guo Chuan: "When it comes to nutrition, most food I ate on the boat was special dehydrated marine food. But I also brought some veggies and fruits with me onboard. As the circumnavigation is a nonstop journey of far more than one hundred days, they obviously won´t last long. So I had some vitamins and energy bars with me as well. And of course … as a special treat, my favorite Chinese spicy sauce."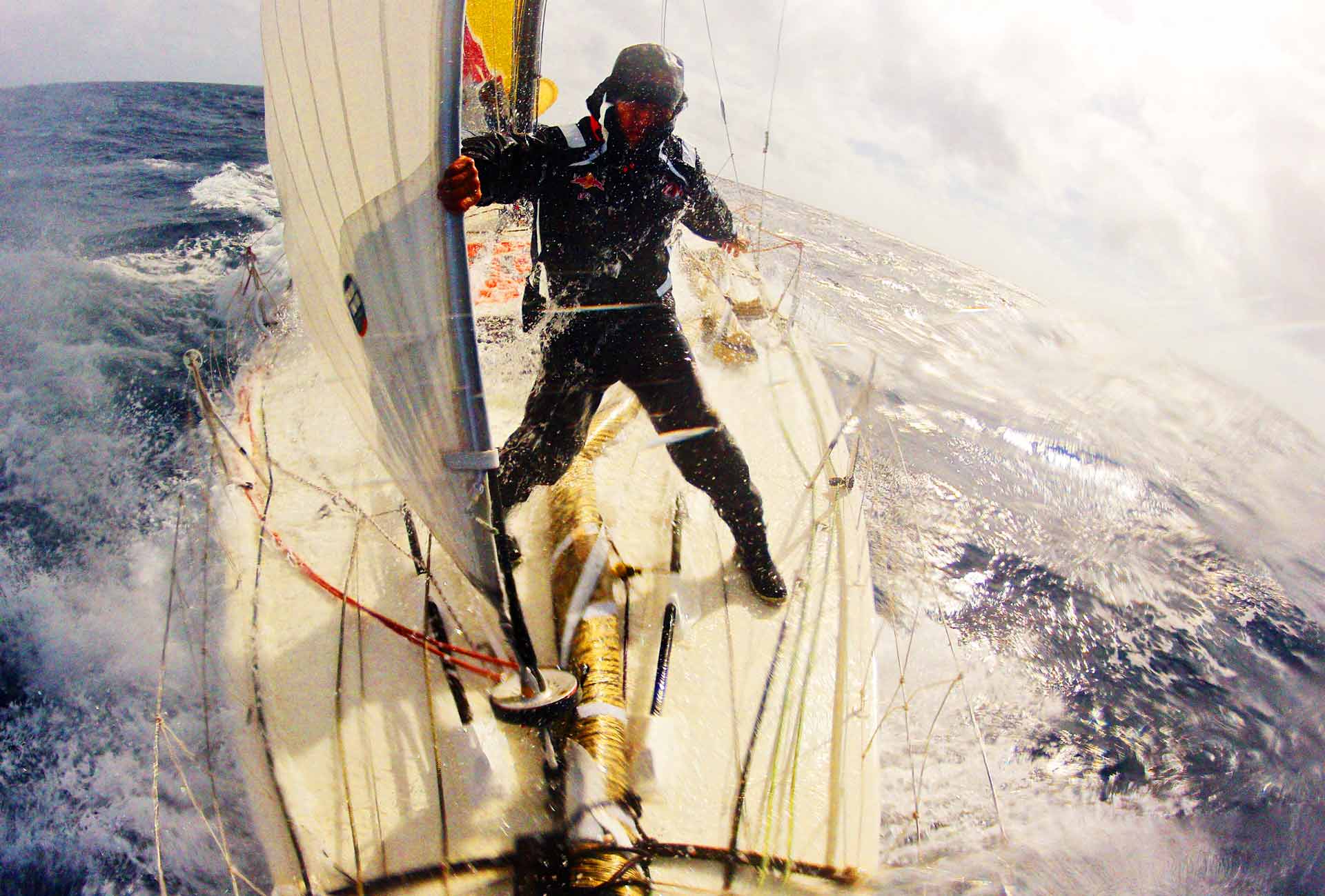 "A Hug from my Family."
NFS.com: "Guo, your trip ended after fast 137 days back home in China. What was the first and most longed for thing you did upon arrival?"
Guo Chuan: "That´s easy: A hug from my family and a long, hot shower …"
NFS.com: "You mentioned German sailors in your crew, like famous Boris Hermann. How are my fellow countrymen performing?"
Guo Chuan: "For the Arctic Ocean voyage, we´ve had two German crew on board. Boris Herrmann, top-class sailor and Tim Bastian Frank, our media crew. Both are very intelligent, friendly and professional. I really enjoy working with them and feel lucky to have them being part of my crew. Besides sailing skills, Boris has much experience in weather analysis and navigation, and he also dedicated a lot for the team. Tim is in charge of filming and recording everything happening throughout the journey, he did a great job as. All other crew appreciate very much working with them."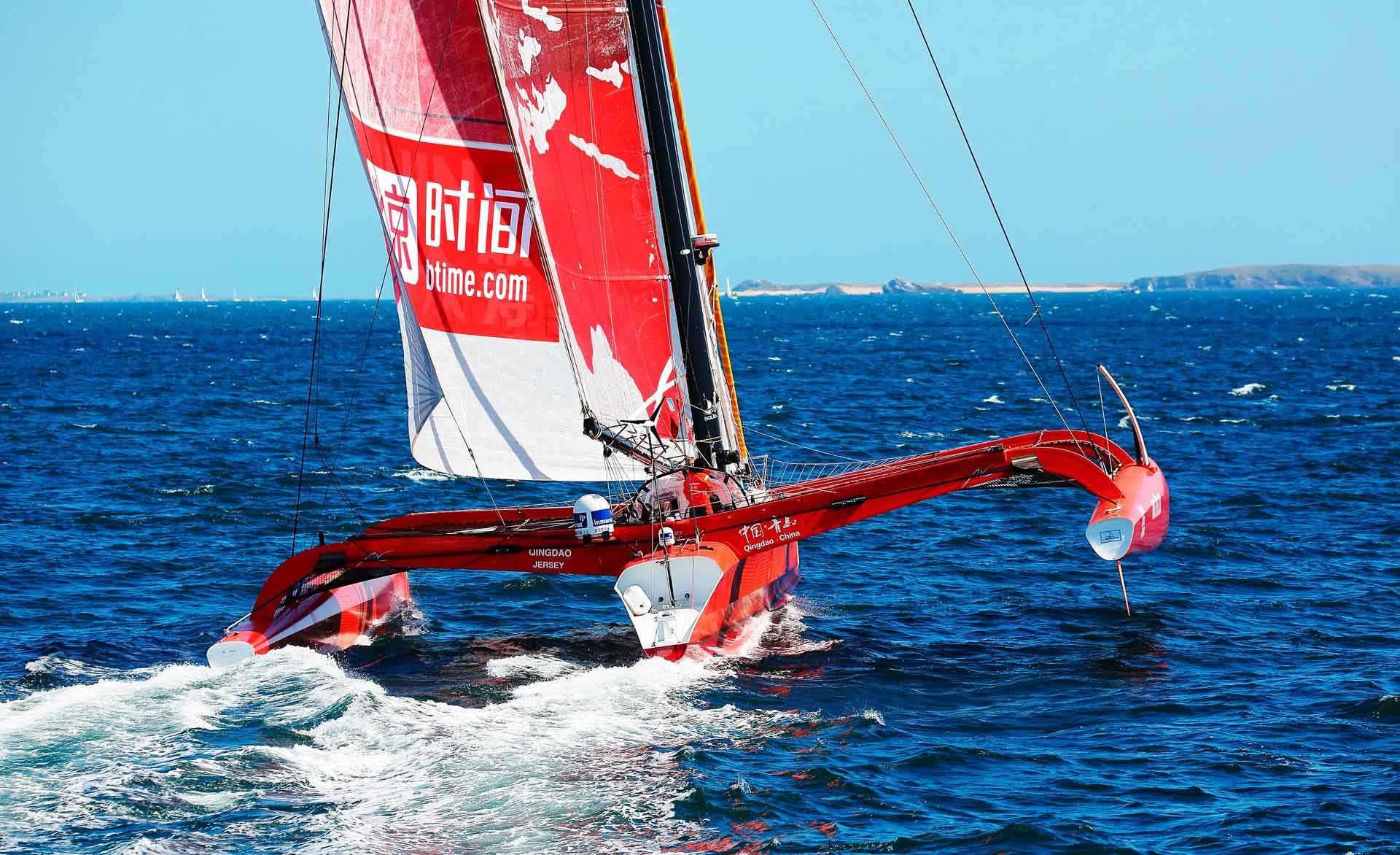 NFS.com: "What are Guo Chuan´s current projects?"
Guo Chuan: "I sailed the trimaran – another QINGDAO – from la Trinite sur Mer to Rio de Janeiro for the Olympic Games back in July this year. We stayed in Rio for about one month for the Olympics. We set sail on 25 August, leaving Rio for San Francisco. So, reading that interview I will now be on the seas sailing. We expect to arrive in San Francisco at the end of September. Further on, I am going to challenge a solo non-stop trans Pacific world record in mid-October. The journey will be from San Francisco to Shanghai onto which I am really looking forward to."
NFS.com: "Guo, thanks so much for answering all these questions and taking us onboard with you. All the best for you personally, your crew and your upcoming projects. Have a save and sound journey."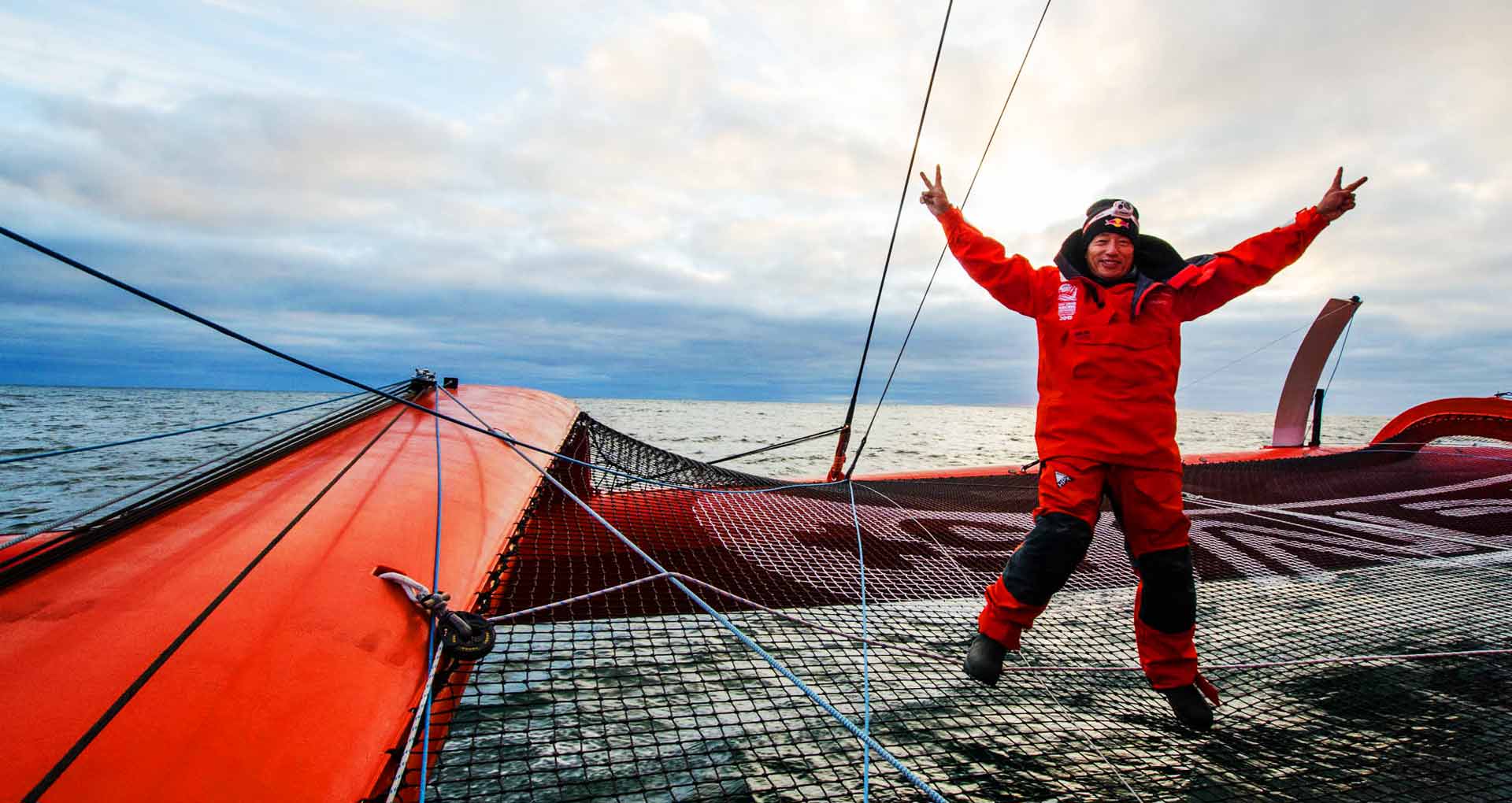 Guo Chuan was and still is the first and only pro sailor in China. During the Olympic Games in Beijing he was one of the official torch bearers. After skipping sailing the Class 40 Akilaria RC2 Guo Chuan currently sails the 99 feet trimaran QINGDAO.
Here´s my own first encounter with a Class 40 sailing yacht
Read an interesting interview with Class 40 yacht designers Marc Lombard, Merfyn Owen & Britton Ward
British Pro-Sailor Sam Goodchild on sailing the Figaro 2-racing yacht in "La Solitaire Bompard"