Yeah, I know: A whole article about a vacuum cleaner may not really seem like a gripping topic. Honestly, I tried to lure you into reading this piece by trying to come up with a nice clickbait-headline but in the end, let´s be honest: It is what it is. An article about vacuum cleaning your boat. But – but! – now that you´ve begun reading, let´s stick to it and stay with me because you may discover, like I did myself, that this "boring" vacuum-thing may really, really improve your boat-life substantially.
As I said, it did so for myself too. A short prologue: Usually when I sail, be it as a guest, as a skipper or on my own boats, I never have used a vacuum. Why? Not because I didn´t cared for a tidy boat but because these boats all had a solid wooden flooring and as such I used a small broom and from time to time a wet mob. Well, that works fine with these boats, but not in mine. That is because of the floor material which in my boat is EVA-foam. You cannot sweep up EVA-floor with a broom and a dustpan.
Useful & so convenient: A handheld vacuum cleaner for your boat
So, upon fitting my boat prior to my first real sailing trip out on the sea I bought a Philips handheld battery-powered vacuum cleaner. Some of my sailing friends had also encouraged me to do so but I must admit I never paid that much attention. But boy have I been happy every time I used it afterwards! There is always something to clean away: After breakfast, after lunch, after a small snack. Even when not eating, there´s always dust and sand entering the saloon. And here we are: The handy vacuum is always ready. I have the impression that the battery at least of my product lasts like forever. It is so easy, so convenient: Turning it on, the suction power is just great.
It cleans away all the leftover cereals fallen from the breakfast table, the breadcrumbs from the German Klappstulle made for underway and the rice and corn-leftovers. Just perfect! When on shore power I plug it in and it is re-loaded after 12 hours when batteries sucked dry, which never happens. It is so great that I regularly vacuum clean the whole boat after finishing breakfast (which is normal) and after landing the boat on a new jetty after a long day out sailing because I like to return home to a tidy and clean atmosphere. I know, this may sound ridiculous to anybody not having owned a handheld vacuum, but believe me, it changes the way you treat your boat and will instantly improve living quality on board.
In the test: Philips FC6149
I bought at amazon. There are many handheld vacuum cleaners available and I must admit I did not choose my Philips for a reason: It just was the first "big brand" that was shown to me for a reasonable price. My handheld clocked in at some 70 Euros, I chose the one with NiMH-batteries. It lasts for 11 minutes continuous operation. There´s also a Li-Ion-battery powered version that is re-charged much faster (8 hours) when sucked dry. As for my vacuum, I love the fact that the system can be demounted as easy as ABC which is great. On one occasion my jar of freeze-dried coffee busted open and the whole mess was spilled all over the place. I vacuumed it away and thought everything was fine. Days later I saw that everything was messed up as the coffee-crumbs had been gone semi-fluid inside the vacuum-cleaner and the filters clogged with a tar-like coffee-stinking sticky slime. So, back home, I dismounted everything and had it cleansed with hot water (making my flat smell like a coffee shop) and everything was like new again. A definitive plus!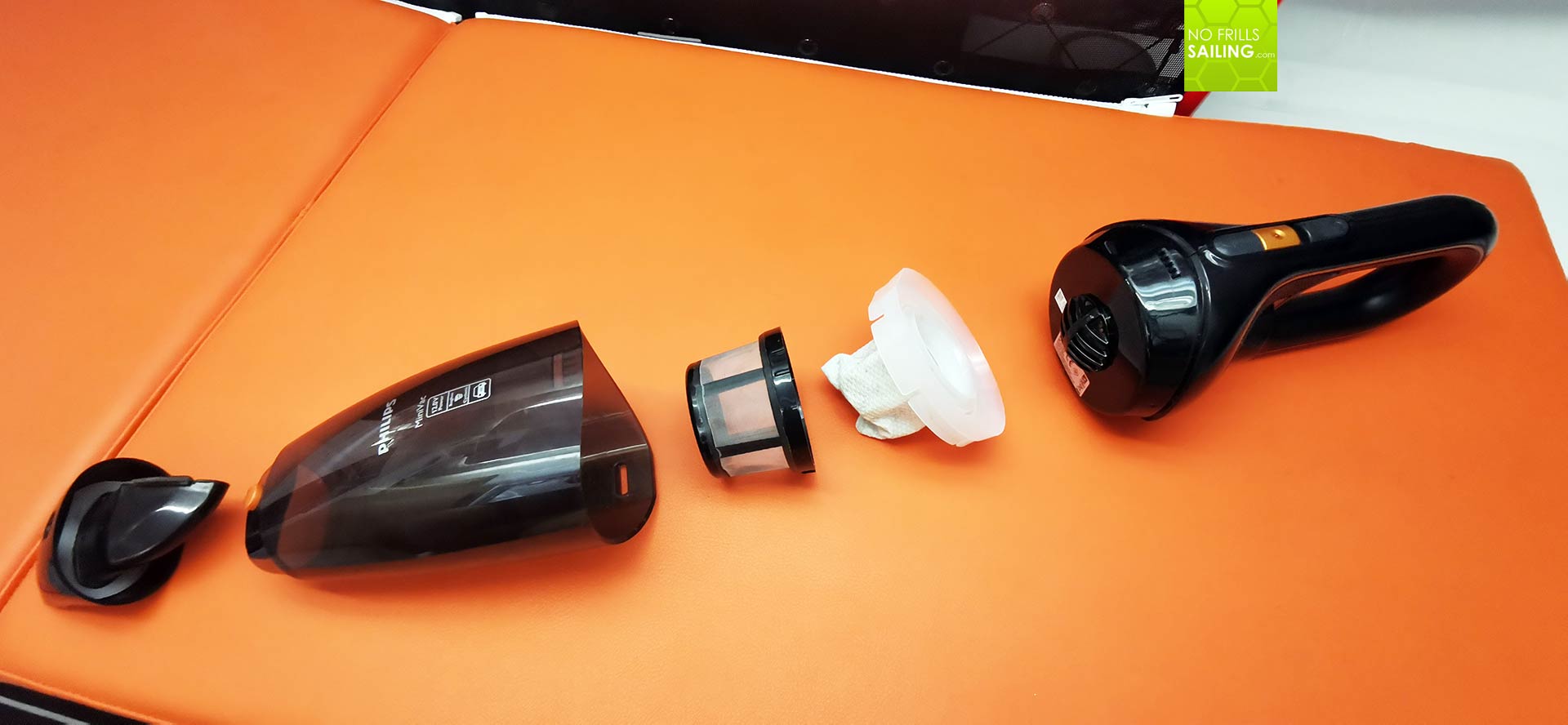 What else do you get? A recharging station, a flexible hose that is really convenient to reach for hidden areas and spaces, some other top caps and such. I love my handheld vacuum and it is definitely a skipper´s essential: Cleaning fast, easy and convenient, taking the stuff away as it happens, always at hand, always ready. Now, tell me: Was reading this article not informative and valuable? Okay, next time more "saily" stuff again, I promise.
You may also be interested in these articles:
Car trunk organizers for boats: Perfect!
The turbo-kitchen: One flame stove Jetboil
Micro Cruising: What is this?