You may already know that I quite like cooking, especially when I am sailing. So, from each sailing trip I am bringing back one recipe that stood out in some way. During my last voyage with the marvellous aluminium cruiser racer by Judel/Vrolijk, the AMAROK, one particular dish was special as well – why? This time, due to some restraints of my job, I couldn´t do the shopping for all the provisions so my sailing mate was responsible for stacking the boat with all kinds of stuff. I was curious what I could do out of this …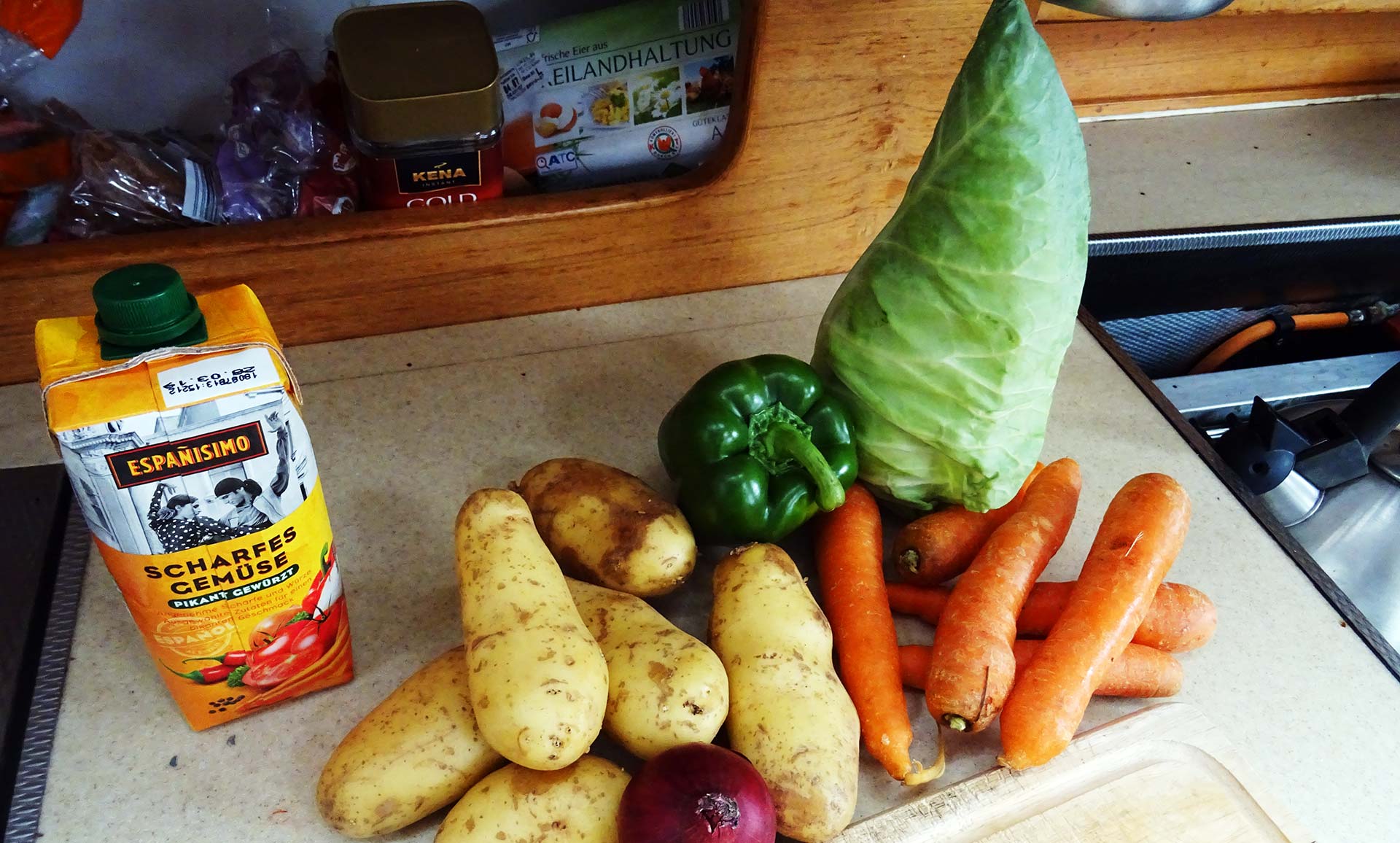 And as it happened, he did it quite well. It was exciting to see what he was buying – quite different stuff from what I would have bought (like some 50 yoghurt cups …) but in the end we were able to eat delicious food on a daily basis and his different attitude in buying things encouraged me to come up with new ideas instead of making the old classics. So, for my Bacon-wrapped beef á la Judel Vrolijk you´ll essentially need beef and Bacon, of course, but also sweetheart cabbage, carrots, potatoes, an onion and one green pepper. And … spicy tomatoe juice. But one step at a time …
Preparing and making the side dishes
First job, as always, is to prepare the raw ingredients. I was happy that the owner of the AMAROK had a really good sharp knife aboard so chopping the veggies wasn´t a problem at all. As cooking aboard is done by means of a gas stove we do not want long cooking times (just to not waste precious energy) so I tend to chop the veggie-cubes a little more smaller than I would do at home. Which comes natural: Smaller surface area and volume of the ingredients the smaller the time needed to cook them the less energy we utilize.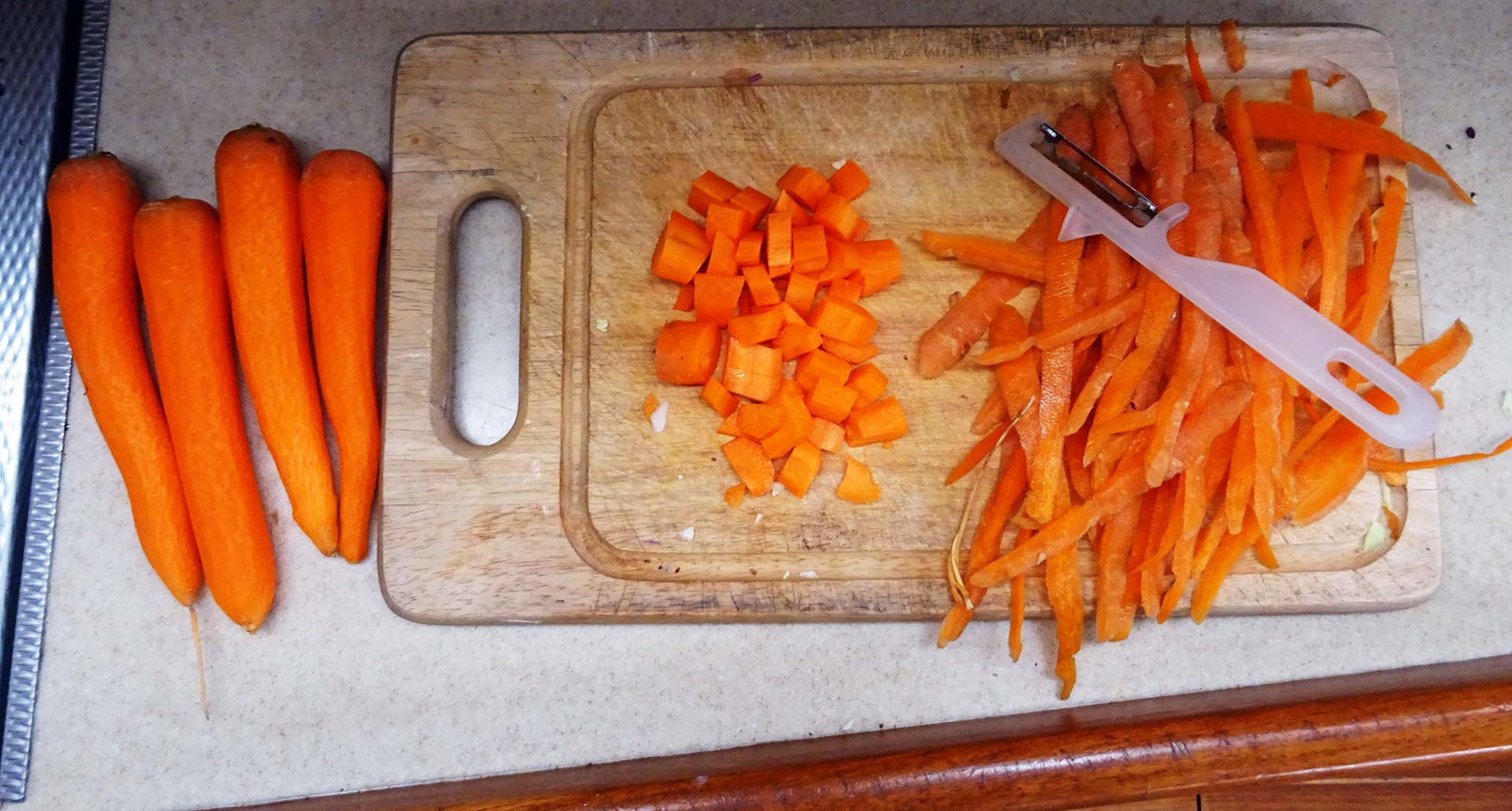 Garlic on a sailing boat. That´s worth another single article, I would say. As a matter of fact, garlic is one of the healthiest ingredients you can choose when it comes to prevention of cardiovascular diseases. It´s just very, very healthy. But it also … well, smells like garlic. So I asked my mate if it would be okay to have it in the dish: And he agreed, yes please, lots of it! So, I would suggest that any ship´s cooks in being of you ask the crew in advance. For my two-person-dish (consisting of two servings each) I chopped no less than five cloves … well, we were lucky: No ladies on board, no need for nice kisses anyway.
I am a bug fan of the "one-pot-cooking-technique". That´s one pot for all the ingredients. At least I try. I do so because first of all we have limited space in a ship´s galley. The more stuff you need, the less space there is for actual working it. Secondly, the boat is moving. So naturally, the more things are cluttering around in the galley (or the ship´s salon) the more of it can fall to the ground and spill the contents all over the boat. Third: The less you use the less you´d have to clean in the end. Put all vegies together and have them simmering until it´s firm to the bite.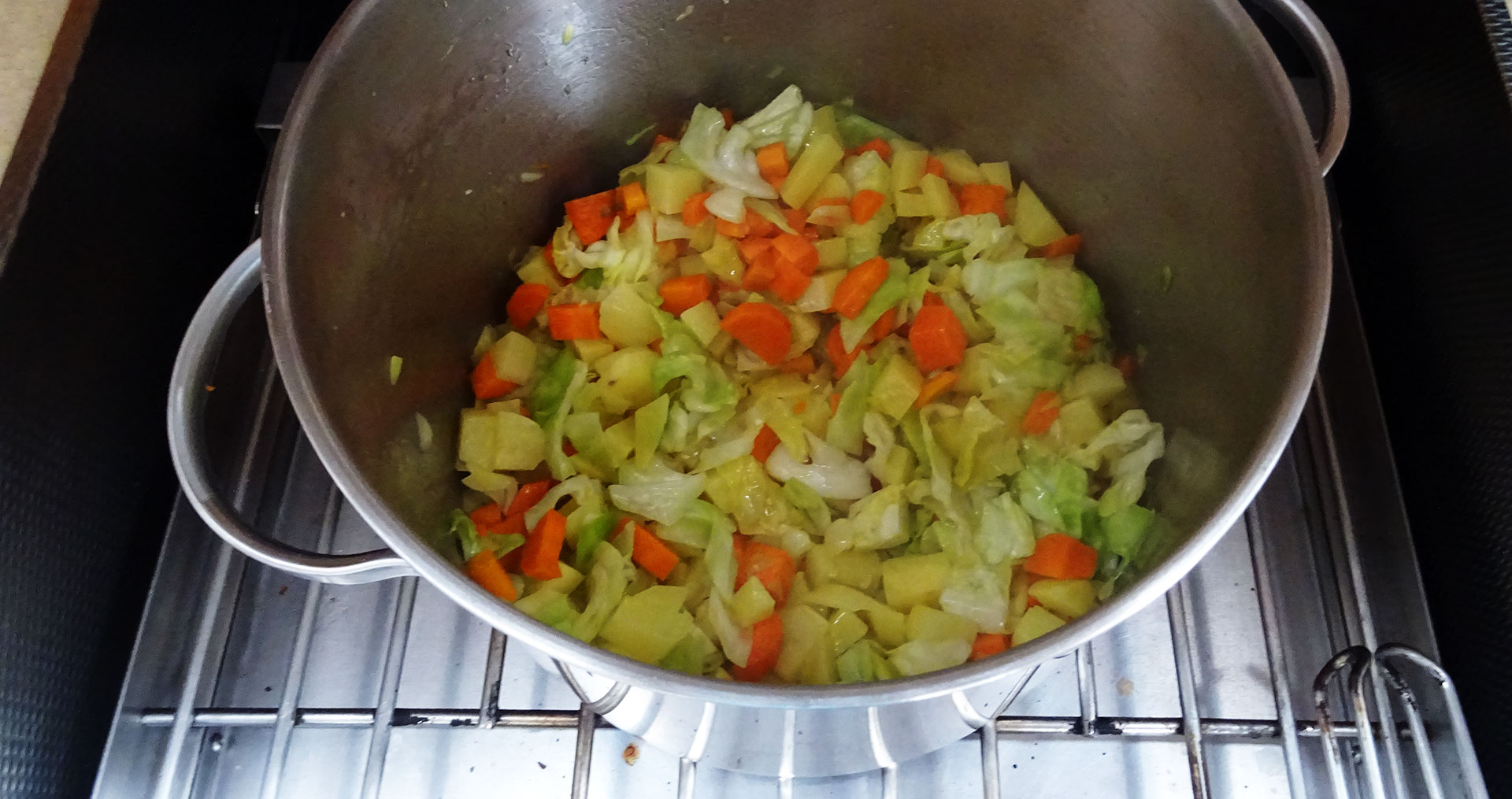 There comes the secret ingredient: Spicy tomato-juice. I don´t know why but my sailing mate bought several of these. Perhaps the supermarket had a "Spanish Week" or something. The tomato-juice had been spiced up. It was sharply hot, lots of pepper in it and some strange – but very nicely tasting – nuance of celery. You couln´t drink it purely (at least not without Vodka), so I thought it might be great to cook with. And guess what, together with the leftover meat-juice from searing the Bacon-wrapped beef it was the perfect base for the sauce of my dish.
Et voilà: Enjoy your meal, seafarer!
I think I don´t have to specially describe how I did the beef. Just one thing: As we were sailing in Danish waters, the beef was the only ingredient I actually bought. Denmark is a big producer of high quality beef and Danish people can be described as the "Argentineans of Europe", at least when it comes to having a decent piece of good meat. So I went for the nearest Dagli Brugsen in of of the harbours we moored and bought four pieces of fines beef-filets. Just have it wrapped with (thick!) Bacon and sear it in an orange gleaming pan on the hot flame (there goes all the saved propane …)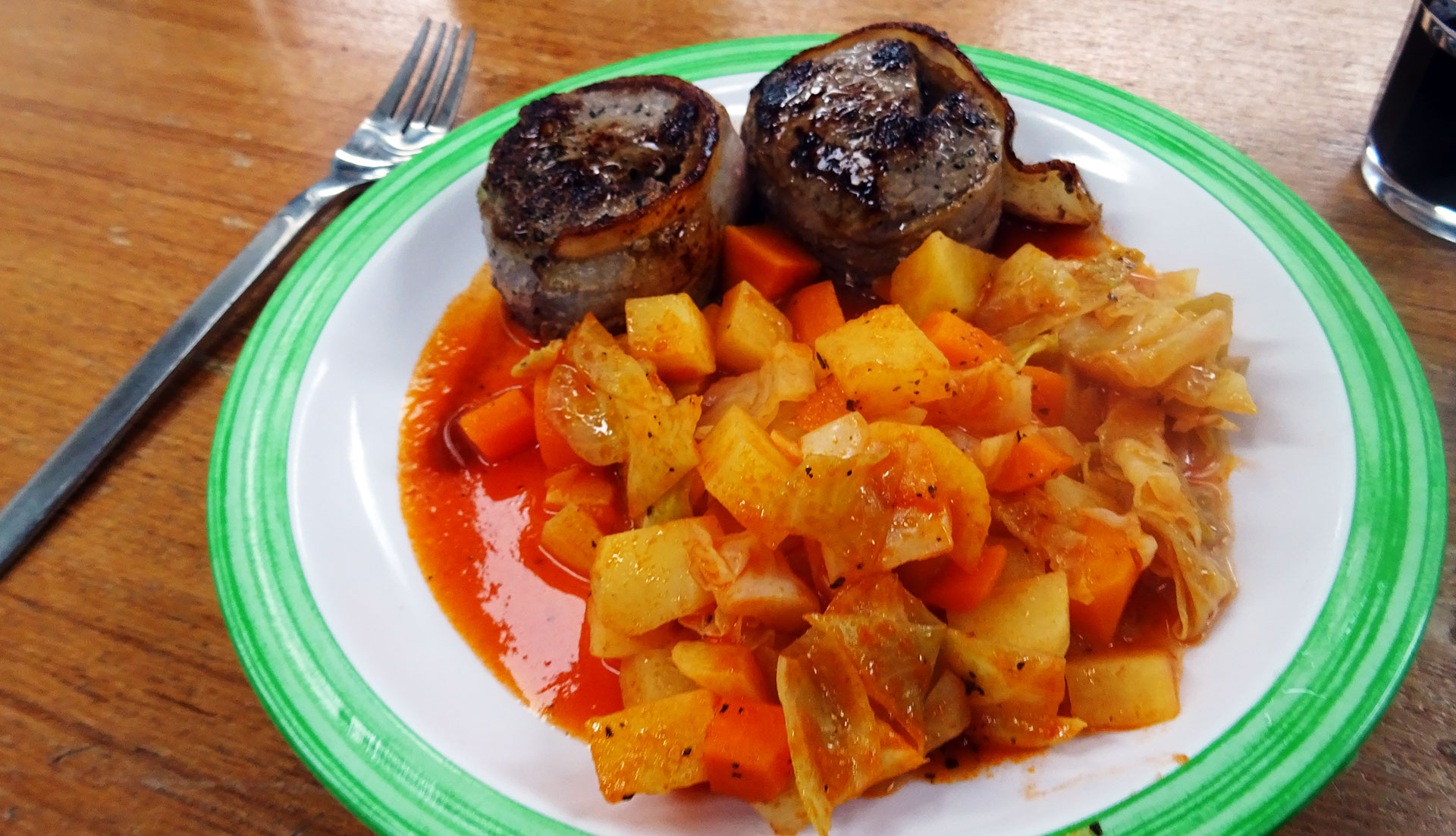 In the end we did enjoy a really saturating, big men´s serving of fine hot beef – cooked perfectly to medium rare-state. This simply dish provides for all you need energy-wise, is really tasty and easy, fast and convenient to make. Preparation time for 2 persons was just under 20 minutes, the actual cooking time is also less than 20 minutes … and if you can serve a nice red wine alongside, you can enjoy this dish for more than one hour. And be lucky afterwards that there was no lady to kiss within reach …
You may also like these articles on cooking on a sailing boat:
One week meatless sailing
Planning the yacht´s new galley