Gedser is a strategic destination in the Southern Baltic Sea and every sailor I know who was and is roaming these waters knows Gedser. As the southernmost tip of Denmark, Gedser harbor first of all links the City of Rostock in Germany via ferry to Denmark as one of the most frequented ferries in the Baltic Sea. Gedser is also one of the very few marinas and safe harbors for sailing yachts in this area.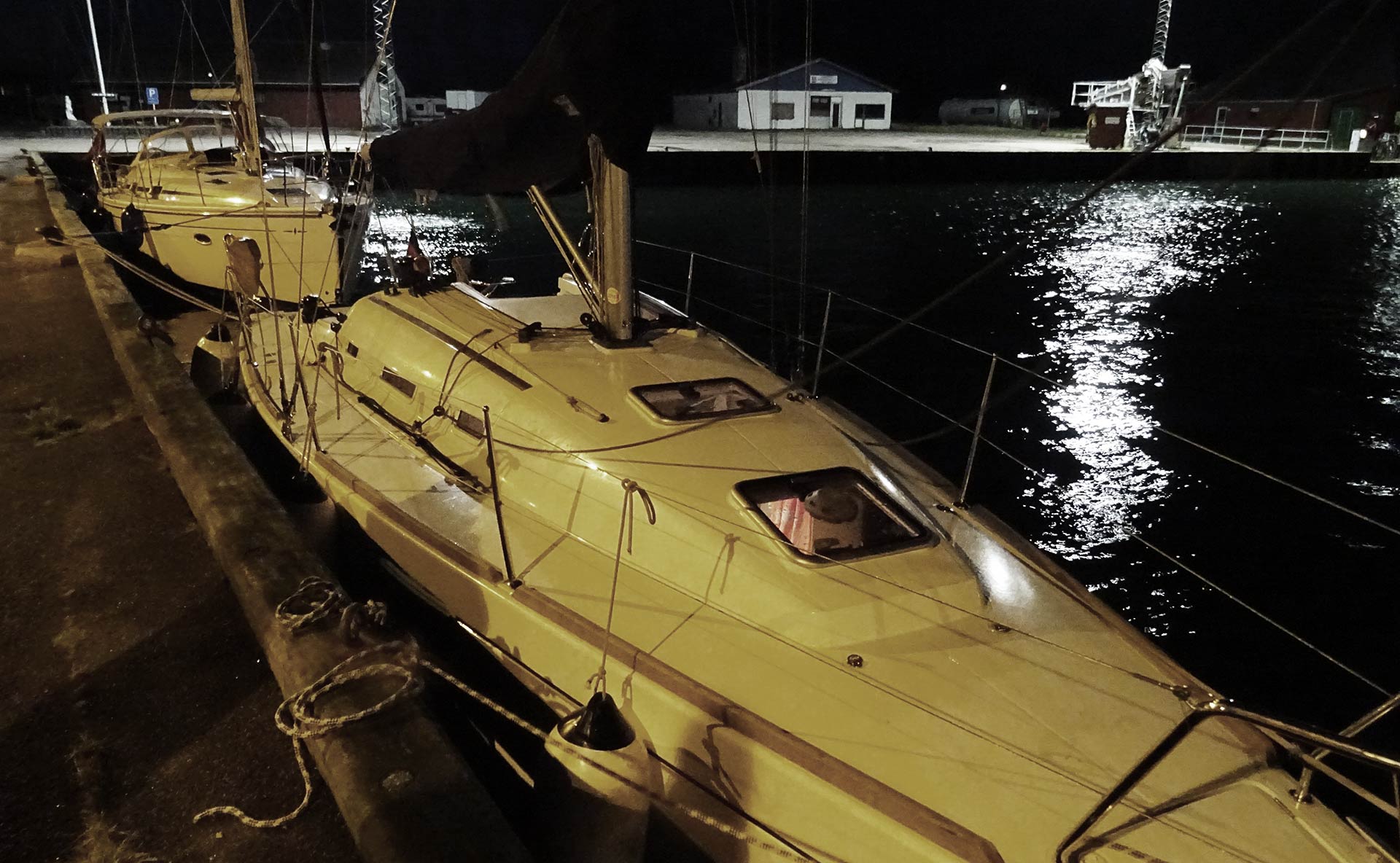 That is the reason why some years ago the Danish built a fully equipped yacht marina half a mile west of the original ferry terminal, called Gedser Lystbadhavn, where I had the pleasure to tie up my sailing yacht some months ago during my first ever sailing trip as skipper as well – read my marina review of Gedser Yacht Marina here. But apart from the yacht-only marina there is still the possibility for sailing yachts to go into the commercial harbor of Gedser: And that´s the story of it.
How to sail to Gedser Marina
I was on my Veggie-Sailing trip on a Beneteau First 30 and on our way back after a quick 7-day dash to the Island of Bornholm in the mid Baltic. On this particular day wind didn´t set in as early as predicted so we did had to use the engine for the first half of the day until we finally got to get our canvas hoisted. We were sailing very, very quickly with the First 30 but we couldn´t make it on time to Gedser. "On time" means in daylight. As the approach to Gedser yacht marina is very, very narrow, the buoys are not lighted and we did had a very strong wind with wave heights of 1.50 to 2 meters I decided that entering Gedser Lystbadhavn at night would be too risky – and we´d go into Gedser fishery harbor instead.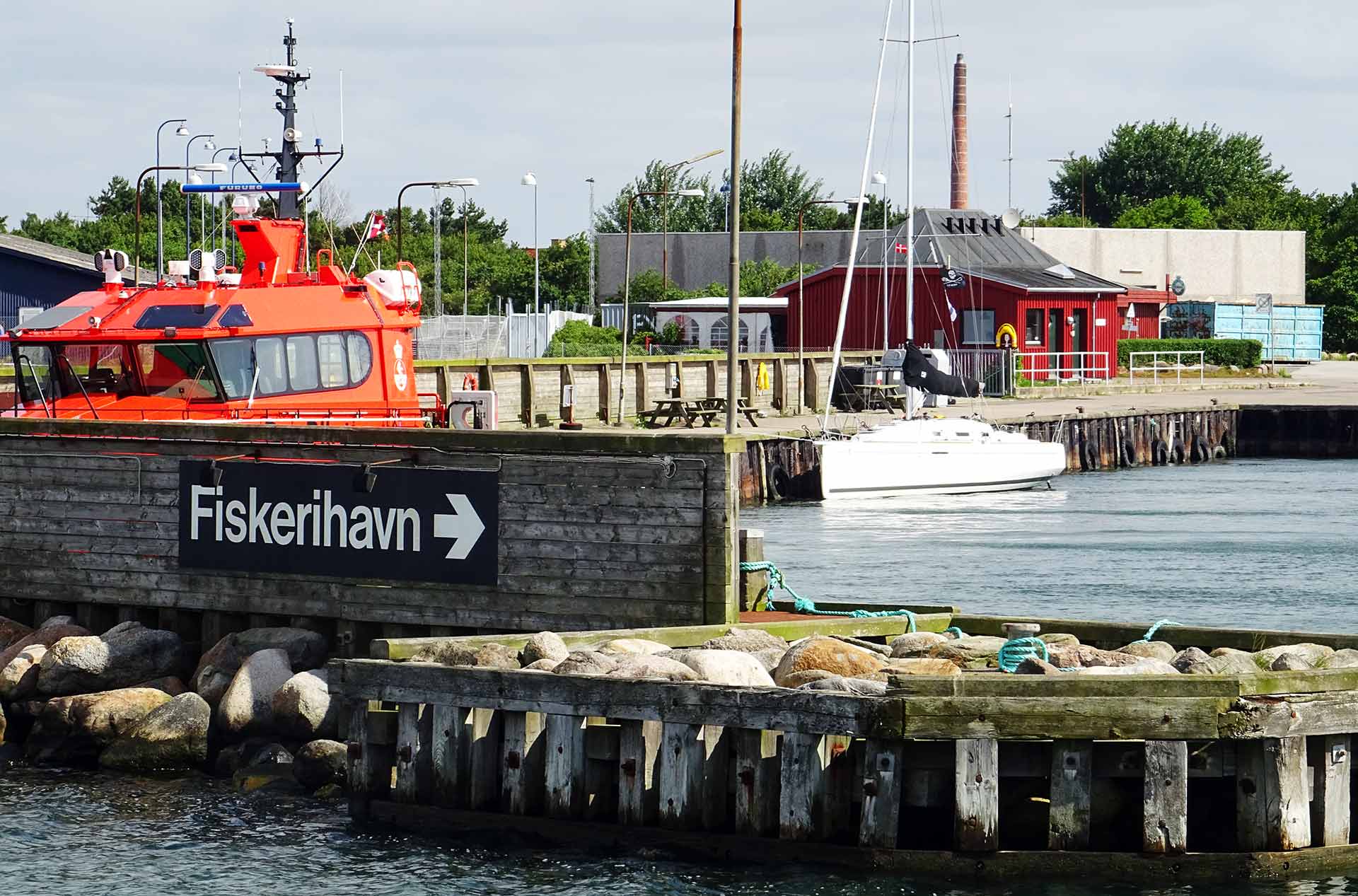 Gedser fishery harbor is usually prohibited for sailing yachts but charts and books state that "in state of emergency or foul weather the fishing harbor may be used as ermergency harbor" as well. And that´s what we did. We were lucky that one of the huge ferries had gone in some 15 minutes before us so that there was no risk of being in the way of these hulks while approaching Gedser in the narrow fairway with literally no maneuvering margin whatsoever. We´ve had very bad weather with a Force 6-7 blowing from port side, constantly pushing the boat to starboard. Although running on full throttle the boat couldn´t barely make 4 knots over ground. It was a heartbeat-situation.
XXXX BILD 03 shallows, marina
Upon entering the basin of the fishery harbor there wasn´t any shadow from the wind so landing the boat was tricky although except one single yacht no other boat was mooring here – I don´t want to think of the harbor being full of other yachts under these circumstances. Mooting though is no problem as the pier side is newly built and a lot of clamps are available here. When we had our yacht safely tied up we fell into the berths for a long good sleep after the tiring approach of Gedser – which is a long, 3 mile narrow fairway with shallow waters to the lift and the right hand sides.
Mooring in Gedser Fishery Harbor
Although deemed "commercial harbor" there wasn´t any traffic whatsoever. Smaller fishing vessels had been tied up at one side of the basin but I couldn´t spot any fisherman whatsoever and no one was leaving nor entering the harbor. There was occasionally a pilot boat coming and leaving again but that was very seldom. In all of the 24 hours we stayed here we saw no more than 5 to 6 boats coming or leaving.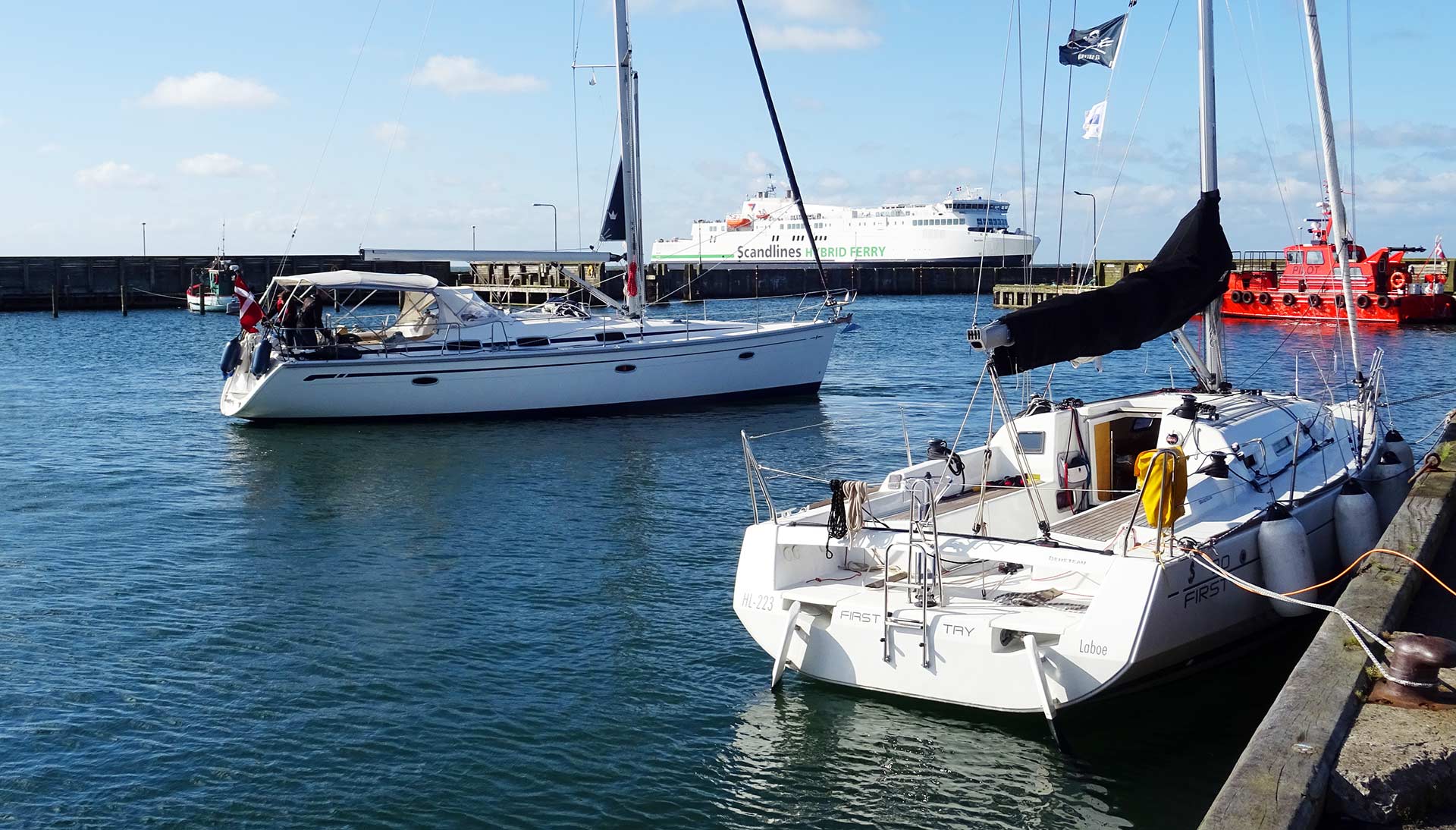 Very much different from the near ferry terminal which is literally the base of existence of Gedser harbor: The huge over 200 meters long ferries arrive and depart in an hourly rhythm. There isn´t much noise nor any swell coming over from the ships, but any sailor entering and leaving Gedser harbor is advised and clever to arrange his arrival and departure in accordance to the ferry schedule. That´s because the huge ferries simply haven´t any room for maneuvers. They won´t change course – because they simply cannot. A leaving ferry will perform a 180 degree turnaround just in front of the harbor´s entrance, needing all the room available. The 3 mile-fairway to the open sea is wide enough for a yacht and the ferry safely passing each other, but with strong winds and high waves this is a rollercoaster-ride for sure!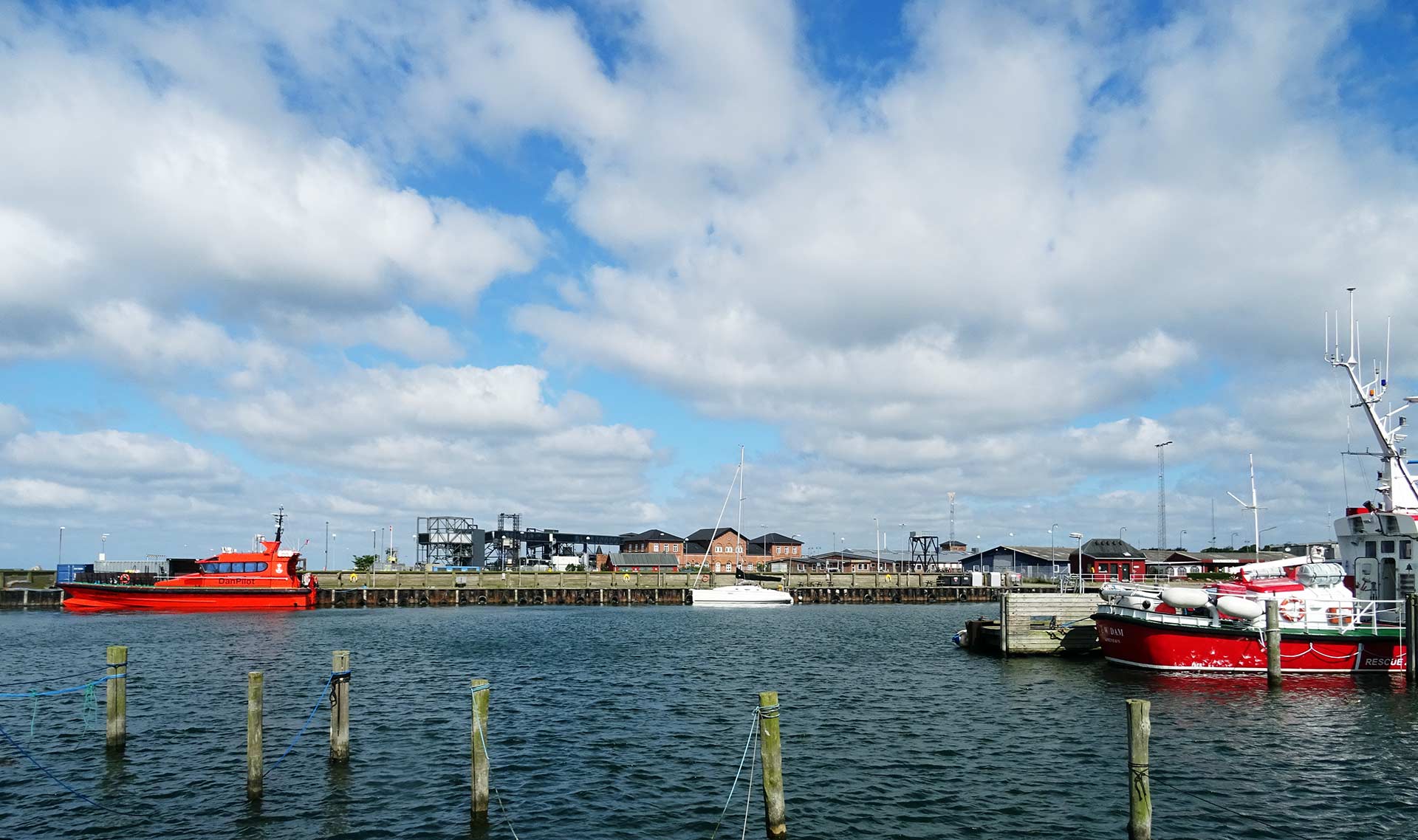 We didn´t find any shore power connection when staying in Gedser fishery harbor. Nor any fresh water supply. Skippers mooring here should be aware of that fact. If staying longer, you should transfer your yacht to the yacht marina some half of a mile east of the fishery harbor when conditions allow a safe passage. Nevertheless: It was calm, nice and very detached in some way from the surrounding and kind of surreal when we stayed here – I´ve never moored so quietly before.
Demurrage in Gedser Fishery Harbor
The same rates apply for the fishery harbor as in the neighboring marina. A harbormaster will knock heavily on your boat – very, very early. Demurrage, as always in Denmark, is a hefty price to pay. The small 30 feet Beneteau we had been sailing on did cost 25 Euros per day, which is clearly over-priced considering the fact that we didn´t had any shore power, fresh water nor WiFi supply here. But anyway – there was a clear advantage to the yacht harbor here as well. The bathroom. We´ve had one for us alone …
Bathroom Facilities
Bathroom facilities of the fishery harbor are plain and simple. It´s the same house where the harbormaster has a small bureau. There is one single toilet and two showers. That´s all. As we have been the only sailing yacht mooring here, the bathroom was always unoccupied and clean as well. That´s luxury I guess.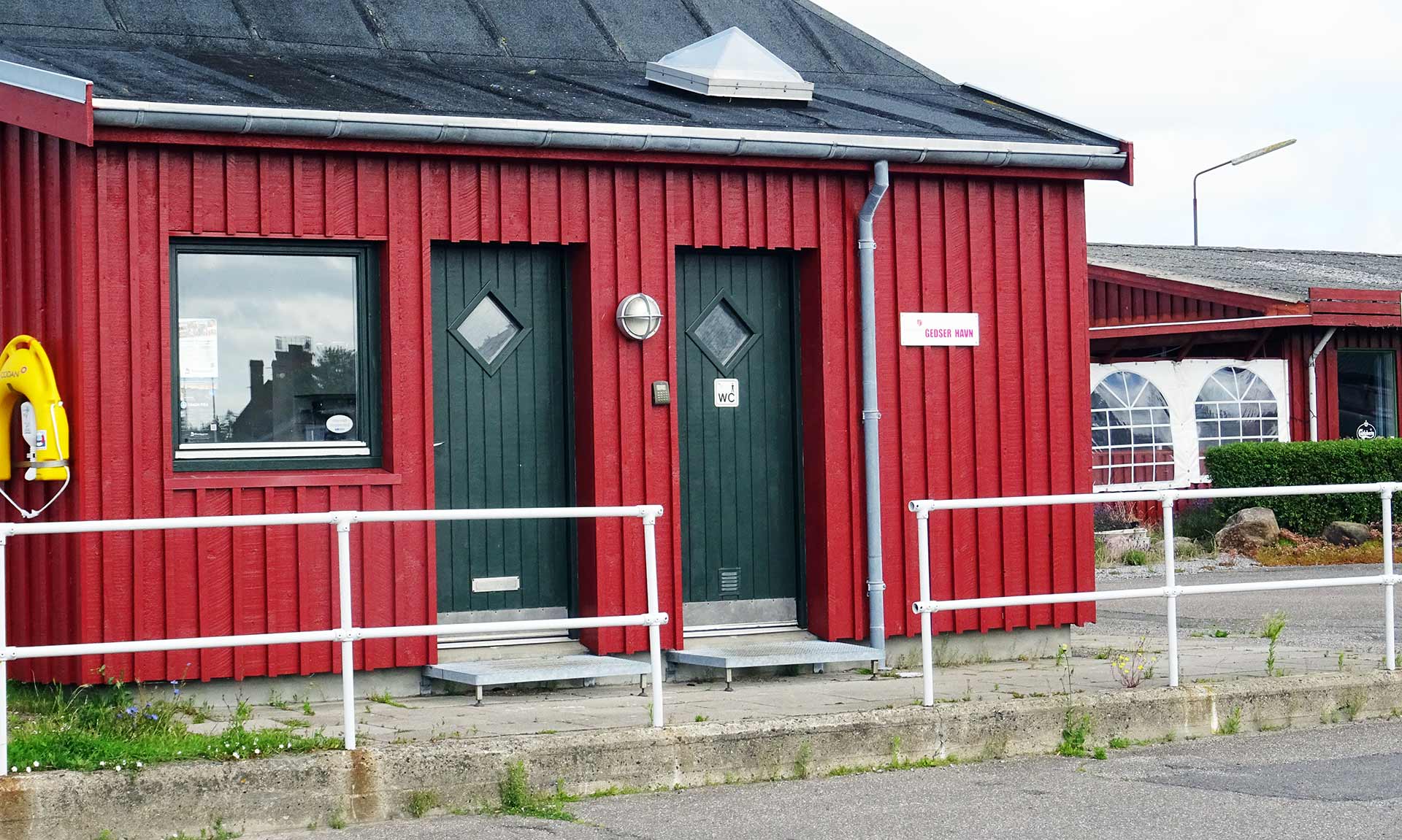 Facilities aren´t that new and don´t expect too much comfort here, but it will do. Unfortunately Gedser harbor´s showers are running on Danish coins. So you need to have some loose change in your pockets in order to acquire a decent hot shower. If not from the harbormaster, the next supermarket is in the nearby village with a 10 minute walk. Too much for me: I got undressed in front of the sink and washed my body old school-time as the tap delivers hot water for free.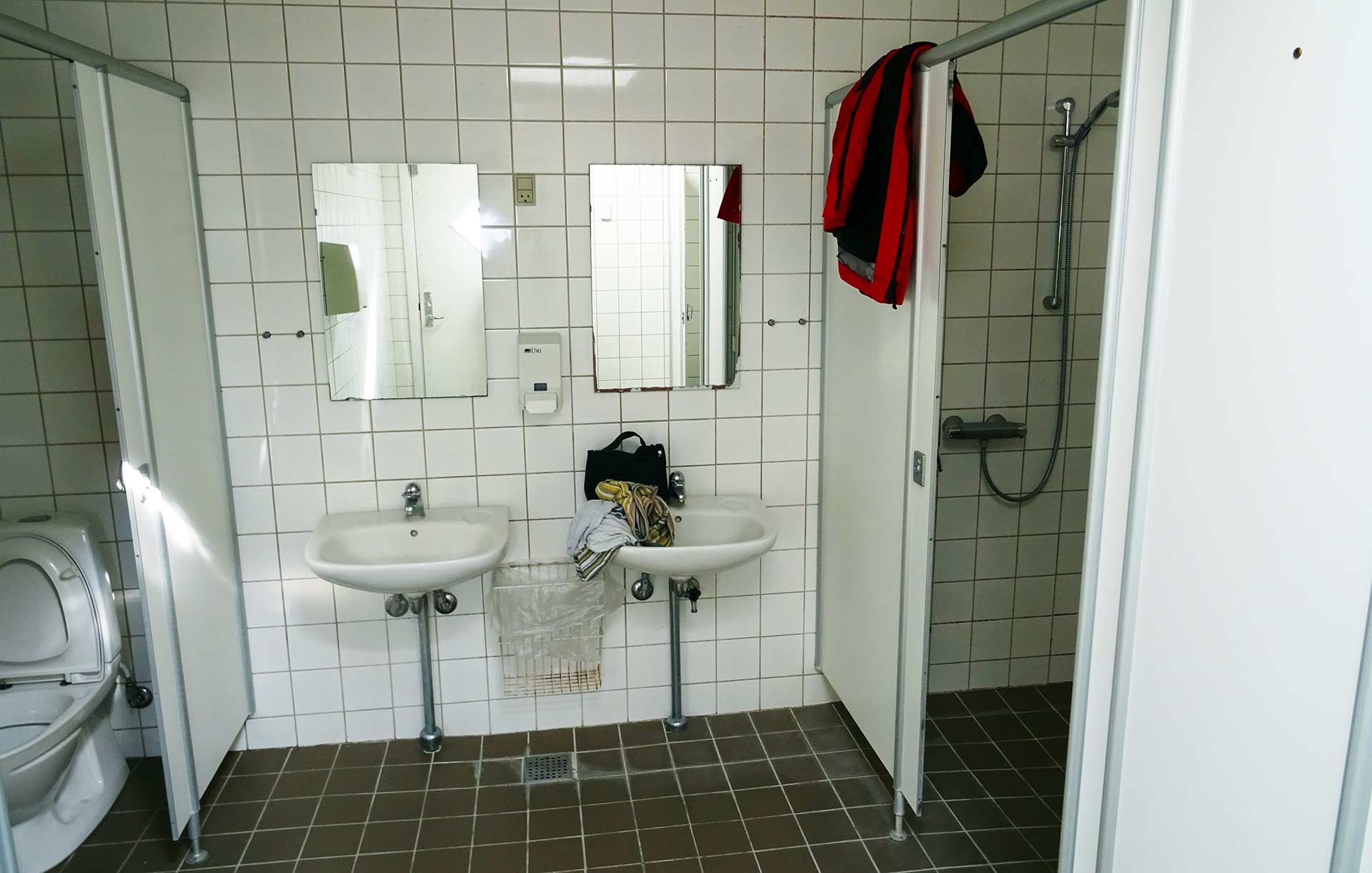 Bathroom facilities will get cleaned once a day and although a bit dated I found no reason whatsoever to criticize a thing here. On the contrary, this small lonely bathroom simply fits the overall appearance of the fishery harbor´s character. I liked it.
Eating and Resting One´s Oars
Well, honestly, there isn´t much here in Gedser: This is a very, very small community literally making a living of the ferry terminal. One or two small restaurants, an even smaller "super"market and that´s basically it. Mooring in Gedser fishery harbor won´t make it better since there is really nothing to see and nothing to go to here.
But that´s also the nice part of Gedser. It is one of the few marinas where no commercialization has set in yet, where no shiny "marina atmosphere" holiday homes nor any Helly Hansen boutiques with hordes of weekend tourists will bother you. You are alone here. Some old salts will pass by, some fishermen repairing their boats and nets and the people of the pilot boats do their crew exchange from time to time. Gedser fishery harbor doesn´t put you and your yacht in a spotlight. I liked that very much.
Gedser Fishery Harbor: My Overall Assessment
All in all, Gedser is a strategic destination for the Baltic Sea sailor and it is reassuring to know that there is a harbor giving shelter in foul weather that can be used in this area. When conditions are too harsh to go to the Gedser marina than the fishery harbor is a very, very good and safe alternative. It´s clean, nice and calm – but there isn´t really much there to make it a desirable sailing holiday destination. Try to be here during daylight and use the marina instead.
My overall assessment of Gedser Fishery Harbor: 5 of 10 points
Other interesting articles on that topic:
Sailing to Gedser during my first time skipper-experience
Sailing to Madeira via Porto Santo
Moitessier reloaded