Sailing in the Mediterranean is a current top trend in Europe. Especially with political situation in Turkey being what it is and with Greece having a big crisis, Croatia has drawn and still draws a big advantage and sees an economic recovery with a dizzying pace. More than 8.000 charter boats are said to be sailing Croatian waters. The Adriatic country has done a lot to attract sailors and to meet expectations: Sailing infrastructure with big marinas, buoy fields and maintenance is exemplary – the sailing area in Croatia is pure bliss. More than 800 islands off the Croatian coast are as inviting as it can be.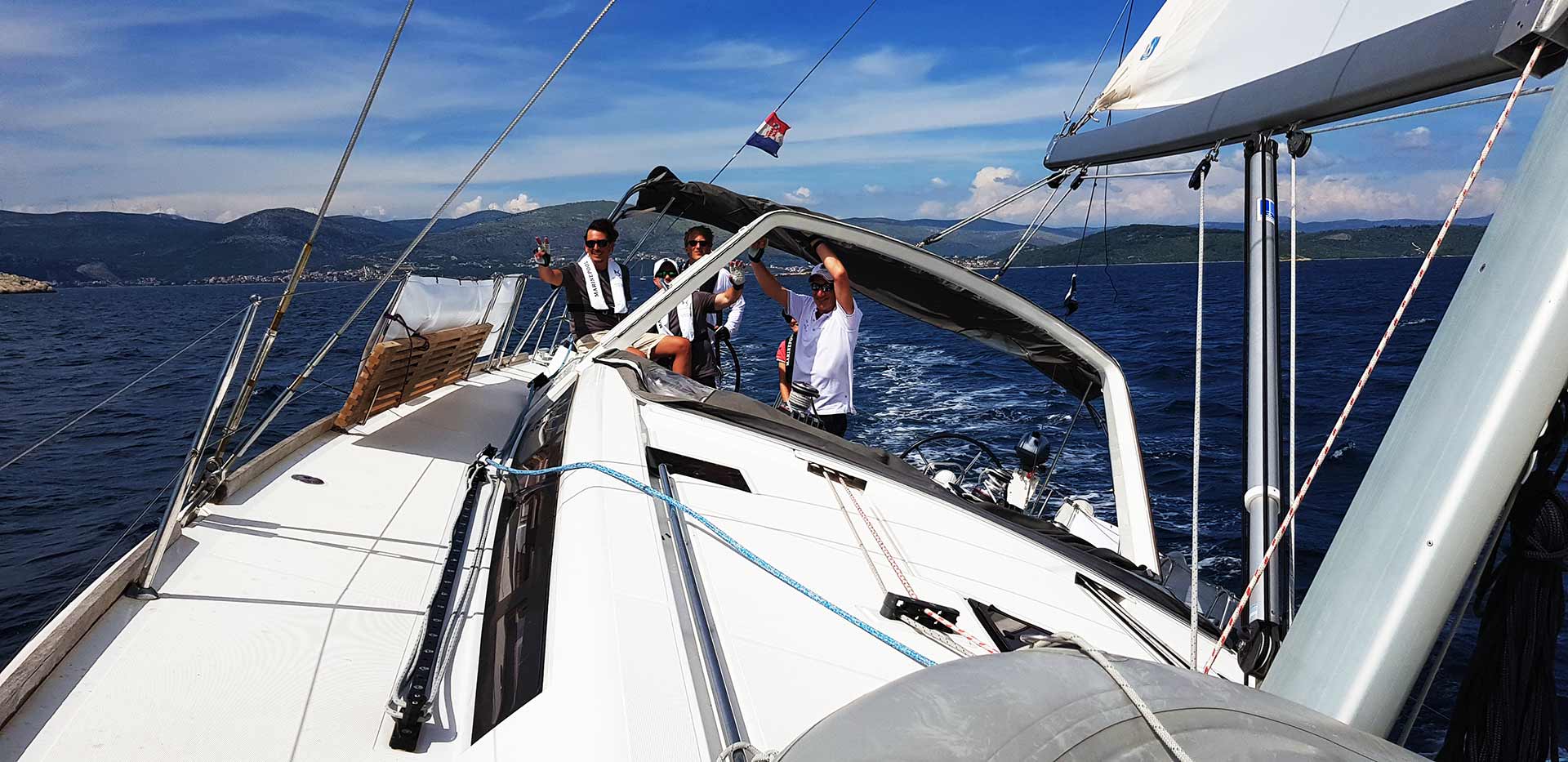 During the "Rose of Charity" regatta we were sailing with 16 Beneteau yachts from 45 to 51 feet in and around the cities of Split and Trogir where I found a small island called Solta where a small, nice bay with an old fishermen´s village called Maslinica was the most beautiful of our mooring places we´ve visited in one week. Here´s why I would suggest a visit to this beautiful place.
How to sail to Maslinica Marina
Maslinica means "little Olive" and I might find this is a good harbinger of things to come: My own yacht is christened OLIVIA. Maslinica is located at the West end of the Island Solta some 15 miles south of Trogir. Trogir is a major location with three marinas full of charter yachts and best reachable by plane. Maslinica is a small harbor with just over 20 berths for yachts, so it is absolutely advisable to have a mooring berth reserved well in advance.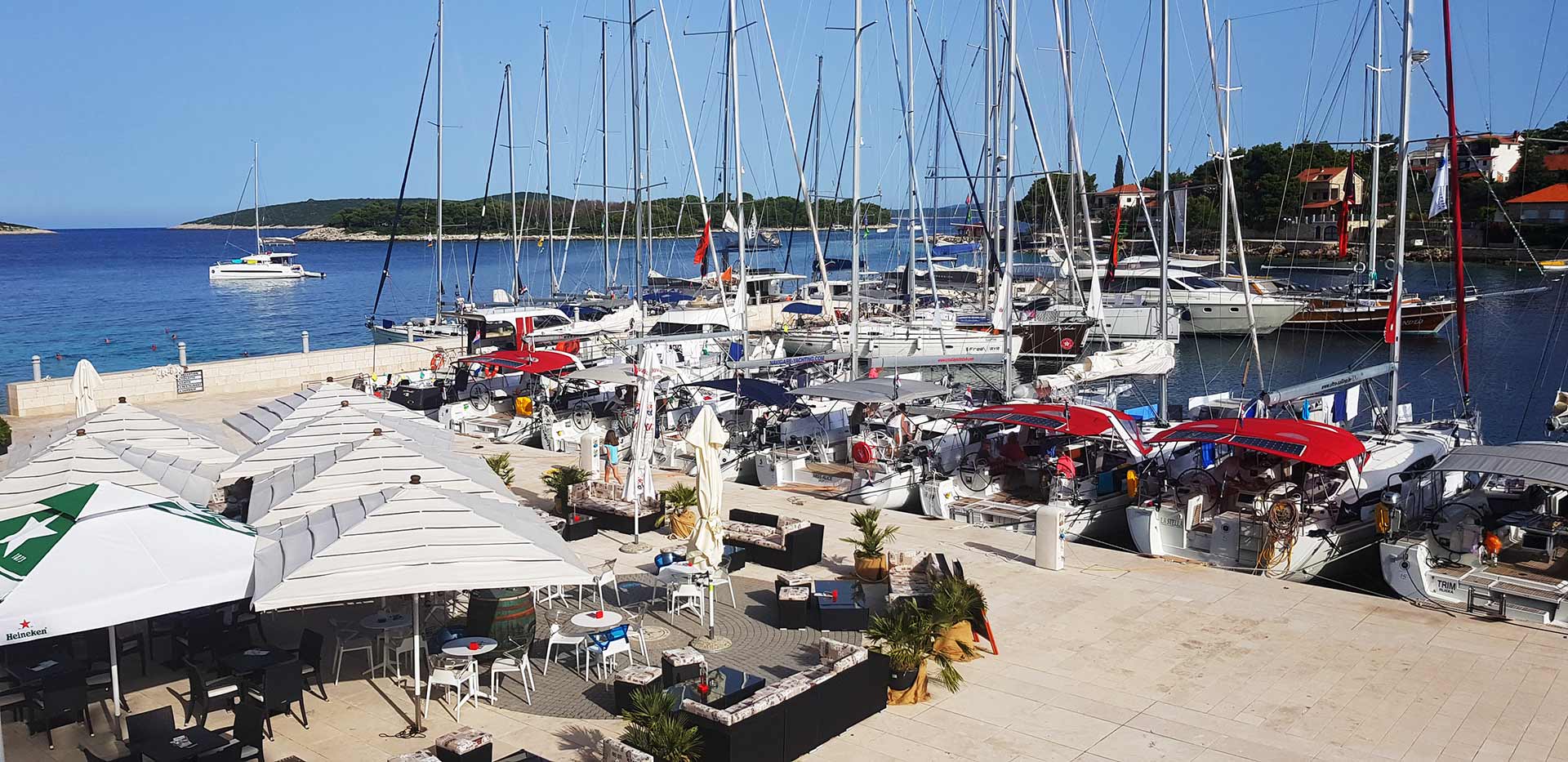 Sailing to Maslinica poses no problem, there are a handful of small uninhabited islands sheltering the entrance to the harbor but if there should be a strong western wind it might get uncomfortable even behind the large breakwater. Nevertheless, the harbor is easily manageable as there is just one concrete jetty with moorings on the righthand side upon entering the small bay area.
Mooring in Maslinica Marina
As with every marina we´ve visited mooring here is no problem at all: When a new yacht enters the harbor there is a big sign at the entrance stating the VHF channel on which the harbormaster might be called. But mostly this isn´t necessary as Marineros will whistle and wave upon entering and show you where to land the boat.
Landing – as usual in the Mediterranean – is done stern first. This is also never a problem, even with winds blowing strong, when you advise your crew to have the windward stern line secured first (at least) and one of the crew members quickly securing the mooring line to the windward bow side. In some 20 mooring manoeuvres I never ever snafued a single landing with my 48 feet Oceanis.
Demurrage in Maslinica
Croatia is a high price country, that´s for sure. I was very astonished seeing prices soar and this is also the one and only really annoying thing about Croatia that everybody seems to be trying to press out as much money as possible. Prices for a 14 to 15 metre yacht in off-season (September to March) is 37 Euros a night, a 15 to 16 metre yacht will be charged 42 Euros a night. During high season (July to August) this will get as high as 112 and 124 Euros daily charge. Well, that´s a lot of wood!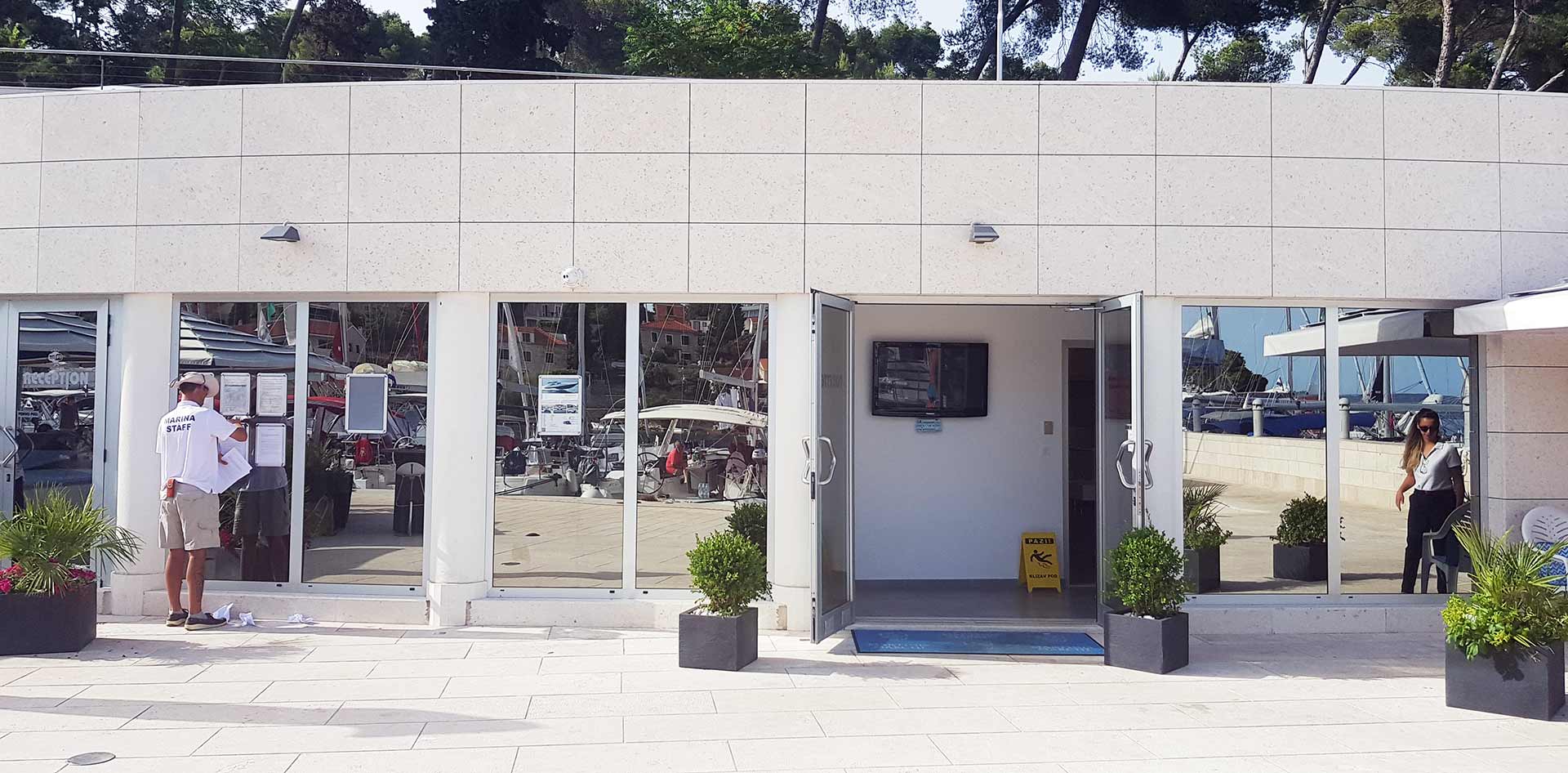 Nevertheless, amenities in Maslinica are just great: Marina staff is very agile, fast acting and friendly. There is WiFi all over the place and fresh water as well as shore power is included in the price. I would suggest, if you plan to do a sailing trip in Croatia, to have last possible marina berthing days, just choose the nicest ones, the rest might be anchoring (which is free of charge mostly) or nights at buoy fields, which is also a great thing to spend a night as mostly dinghy and outboard engine is included in charter boat packages.
Bathroom Facilities
A small minus is the bathroom facilities in Maslinica. You see, I am a bit special in these things. Men´s rooms are … just one single room. So, brushing your teeth and getting a decent shave is done right next to the pissoirs, which themselves are just in front of the four shower cabins which are indeed right next to the toilets. You can imagine the smell, the hassle and the uncomfy feeling everybody has here during morning and evening rush hours.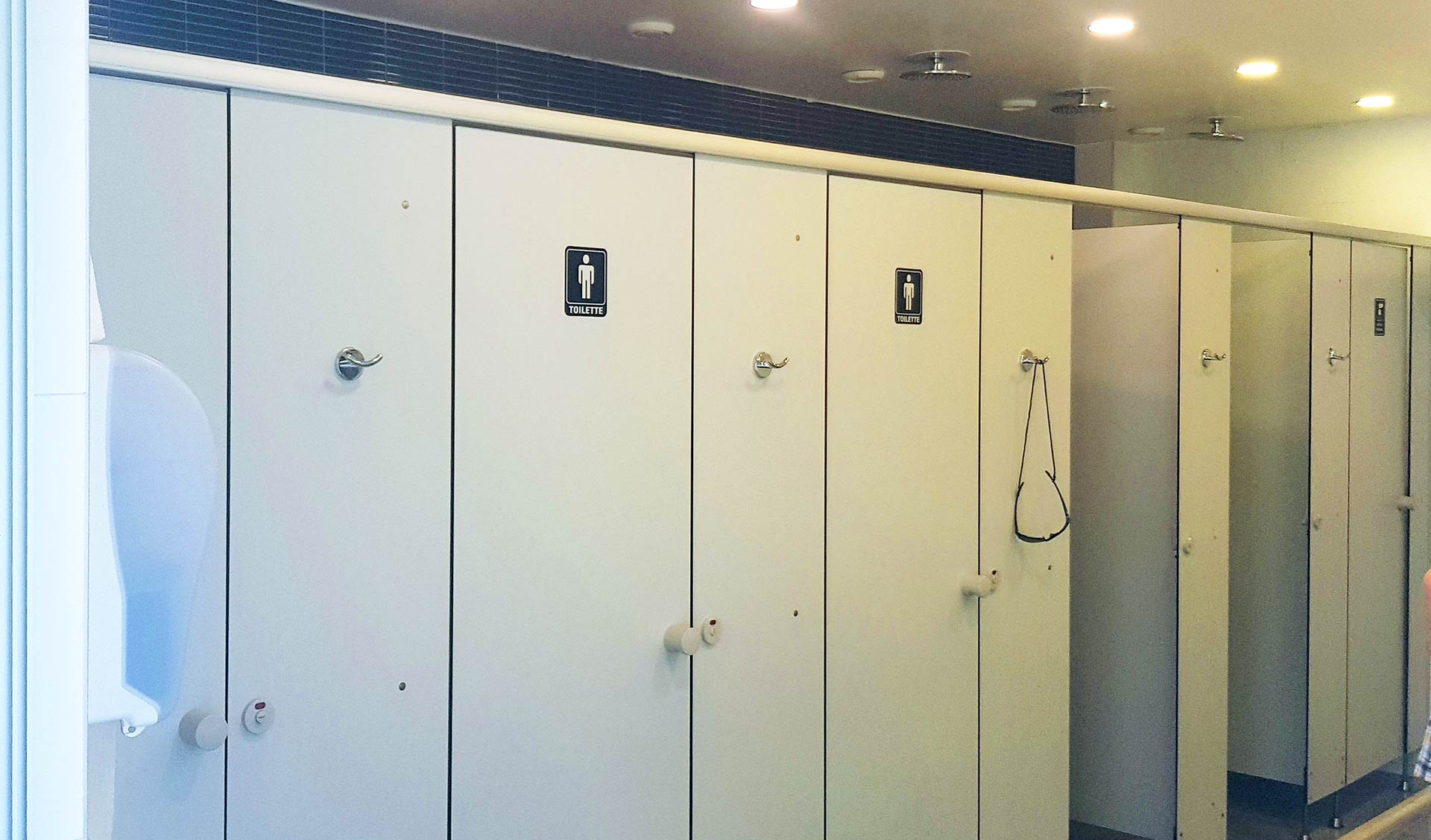 Apart from this the bathrooms are cleaned thoroughly on almost an hourly basis. I would also advice – which applies to all the other marinas and harbors – not to utilize onboard toilets as long as there are no waste water tanks in your boat. Why? Because people do swim in the marina and it would be a shame to have your stuff floating around the boat, wouldn´t it?
Eating and Resting One´s Oars
Maslinica marina offers a small (stony) beach just next to the breakwater which is frequently used by locals as well as boaties in the morning hours for a small refreshing swim. The waters here are clean and nice and it is a pure treat to go 15 metres and jump into the waters here. Eating out is no problem as there are plenty of nice restaurants, some offering grilled stuff prepared in front of your eyes on large roasts.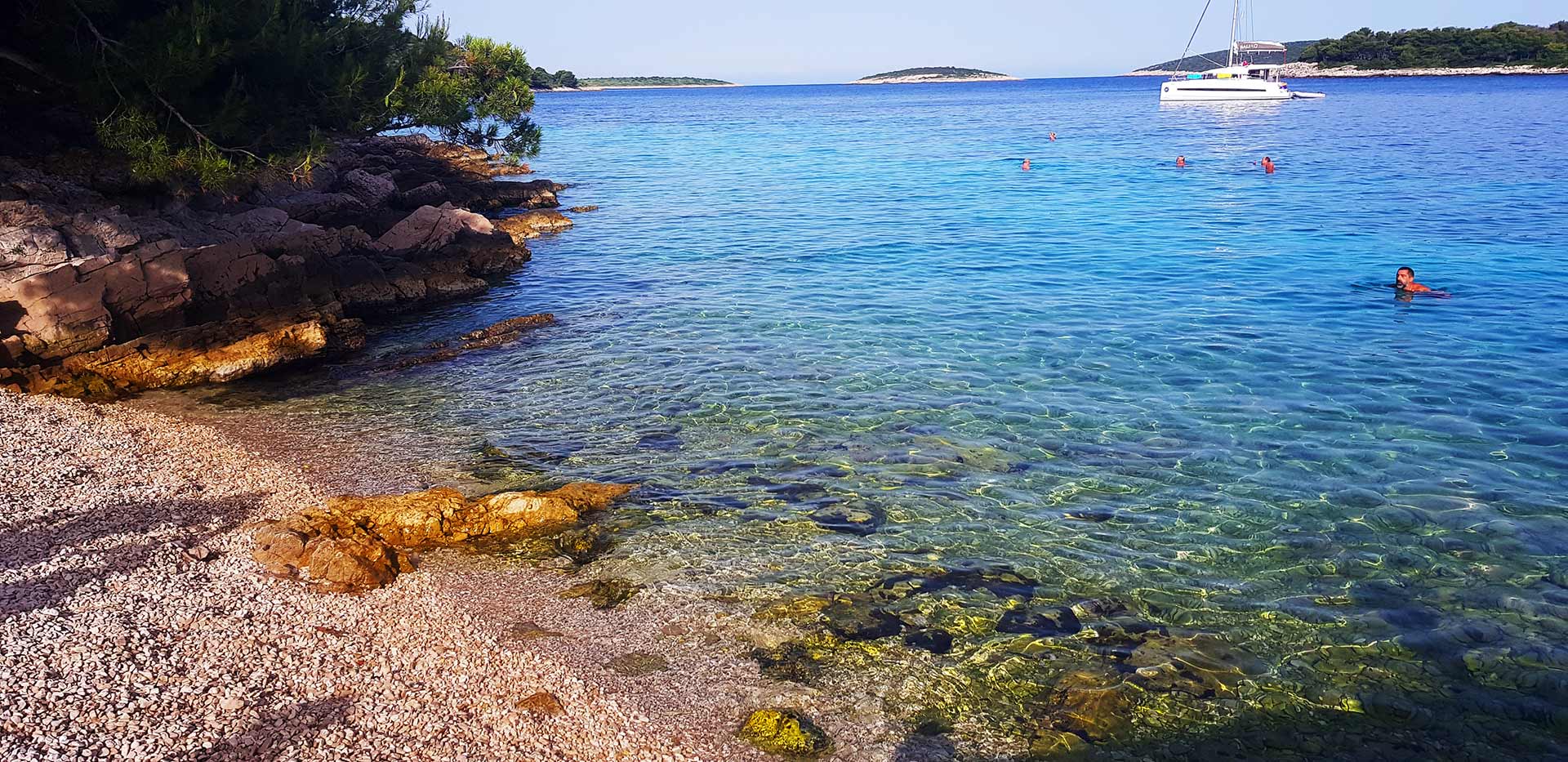 Replenishing your provisions can be done as there are one or two small shops but be prepared to pay an extra amount, better to have provisioning done on a big shopping tour in Trogir or Split. When mooring here, you can go to a small mountain hiking (there are also restaurants in the hills with stunning views over the seas) or hang around among local people and having a Karlovacko, the local Croatian beer.
Maslinica Marina: My Overall Assessment
Of all marinas I´ve visited during my (too short!) one week sailing trip in Croatia, the Island of Solta, especially Maslinica was the most beautiful place we were mooring. I liked the infrastructure, the friendly professional marina staff and the small sized marina with not too many other people around.
 My overall assessment for Marina Maslinica is 8 of 10 points
 Link to the Marina Website here
 You might also like these articles:
All marina reviews here
Visit Porto Santo off Madeira Island
My first trip as a skipper