You may have read my "Adriatic winter sailing"-articles of transferring a Beneteau Oceanis 46.1 from Croatian port of Trogir all the way down to the Greek marina of Preveza and maybe you are interested in getting to know more of this place? Here we are: Especially in crazy times like during this Corona-frenzy it may be a good idea to dram yourself away, make plans for the future and keep yourself heads up, thinking positive!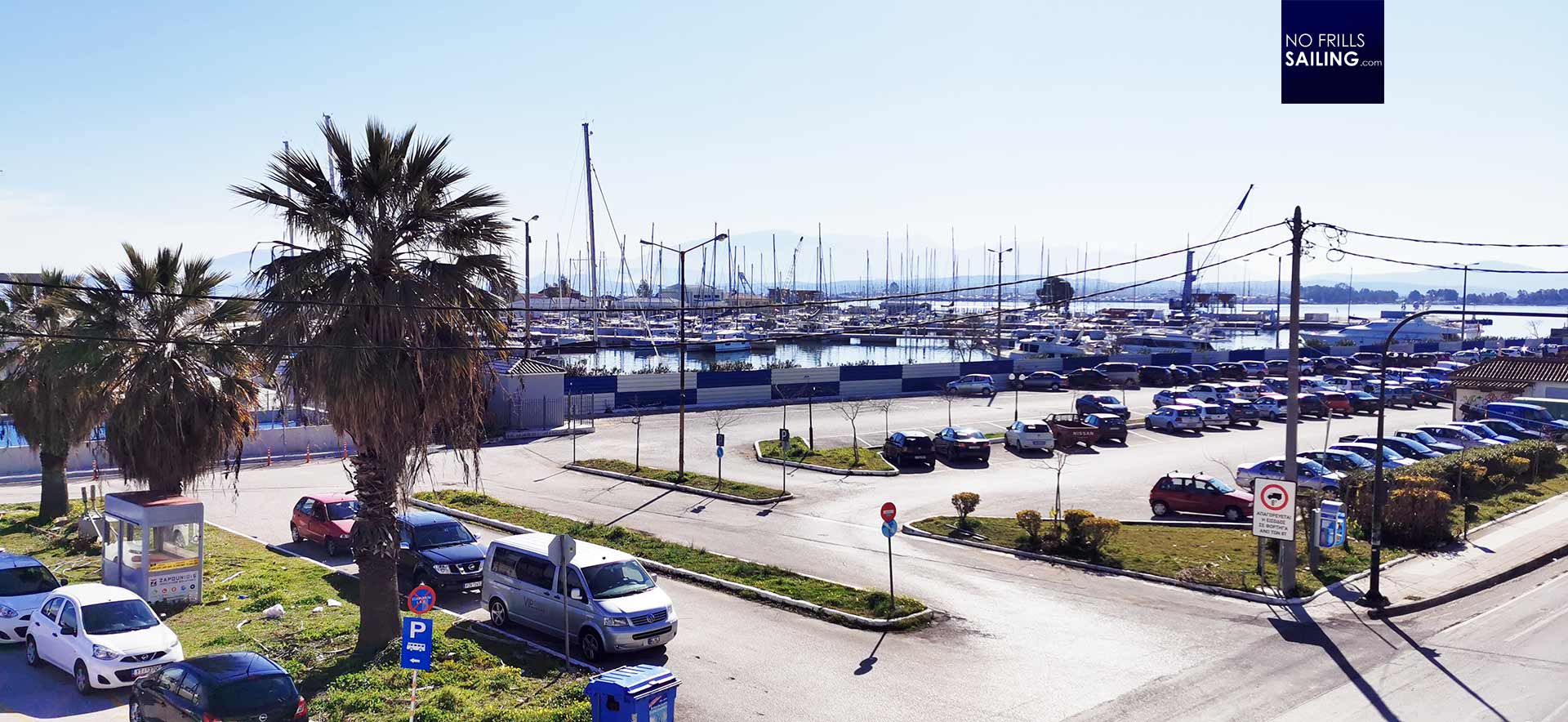 Preveza might be a perfect destination, either for sailors coming here from the East (Athens, Piräus) through Gulf of Patras on their way up to the Island of Corfu or for sailors starting their charter-vacation either here or in the near epicenter of yacht charter, Lefkada. From Preveza, you will have basically three sailing areas to choose from which makes it an ideal start, stopover or finishing destination.
Sailing to Marina Preveza
Preveza is a very small, kind of hidden gem. The small town is ancient with a rich history but has always been in the shadow of nearby Island of Lefkada where over the past years one of the biggest charter-marinas of the Ionian Sea has been established. Which was good for the small town: Now the big charter fleets with their weekly stampede of changing charter crews are flooding Lefkada, Preveza is virtually untouched and thus spared from all the downsides of mass tourism.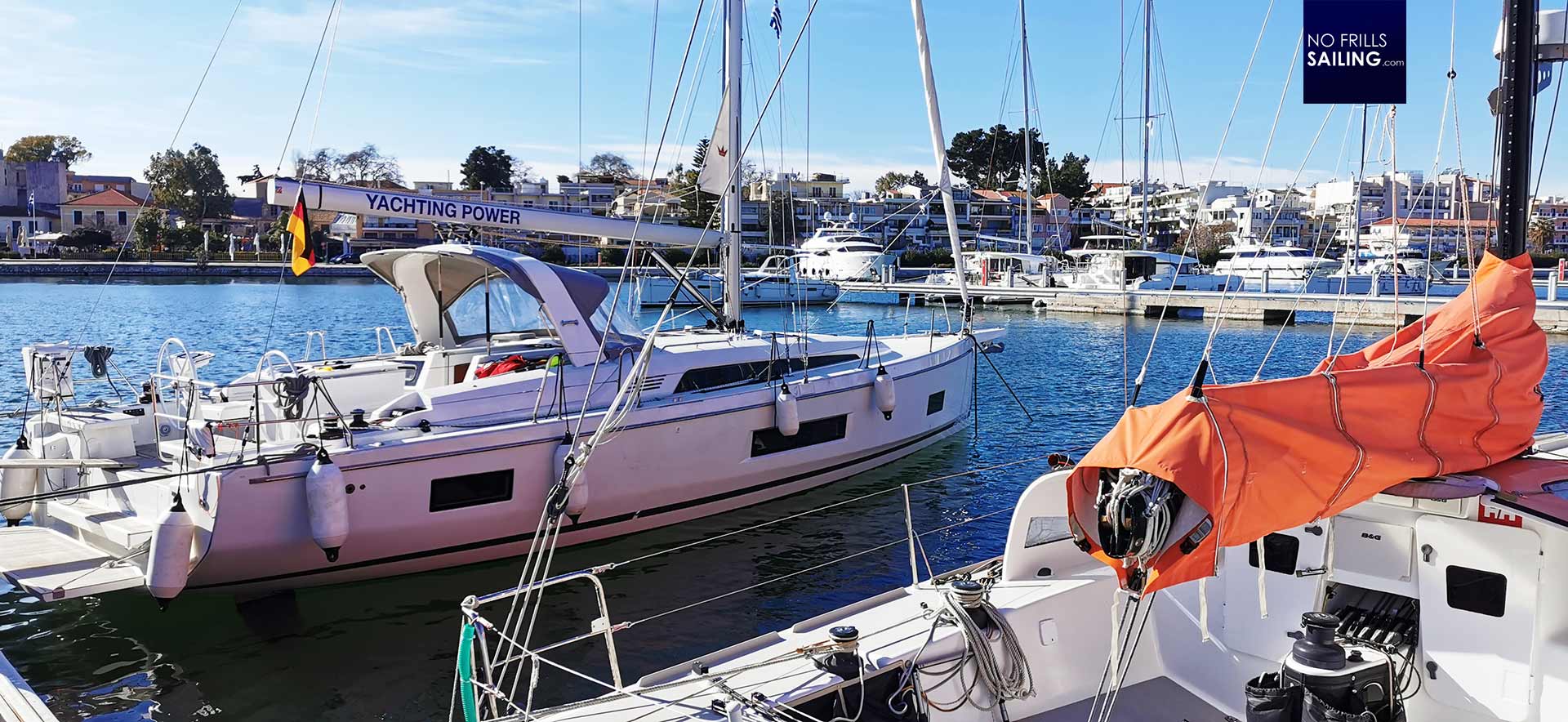 Preveza Marina is situated some 60 nautical miles south of Corfu, 5 miles north of Lefkada at the tip of Greece mainland. The marina itself must be approached following a buoyed waterway, keep clear of some shallows. The marina is directly opposite the old town of Preveza at the waterfront and has been completely rebuilt to a brand new shiny state in the recent months. When I was there, the new buildings haven´t even been moved into by businesses, bars and marina restaurants but that may change quickly. Vis-à-vis of Preveza marina you´ll find Cleopatra Marina, which isn´t a port at all but a giant winter storage for the big charter fleets, don´t go there.
Mooring and demurrage in Preveza marina
Mooring is a no-brainer here. You should call the harbor master on VHF to notify the staff of your arrival. A Marinero will assign your boat to one of the more than 300 berths, mooring is done stern-first, as usual. Boats of up to 45 metres length overall and a max drought of 4.5 metres can enter the harbor. I would suggest to ask for a berth inside the marina at the brand new jetties rather than mooring at the waterfront itself, because here is the social hotspot of the town, one bar and restaurant next to another – it can and will be later and loud here …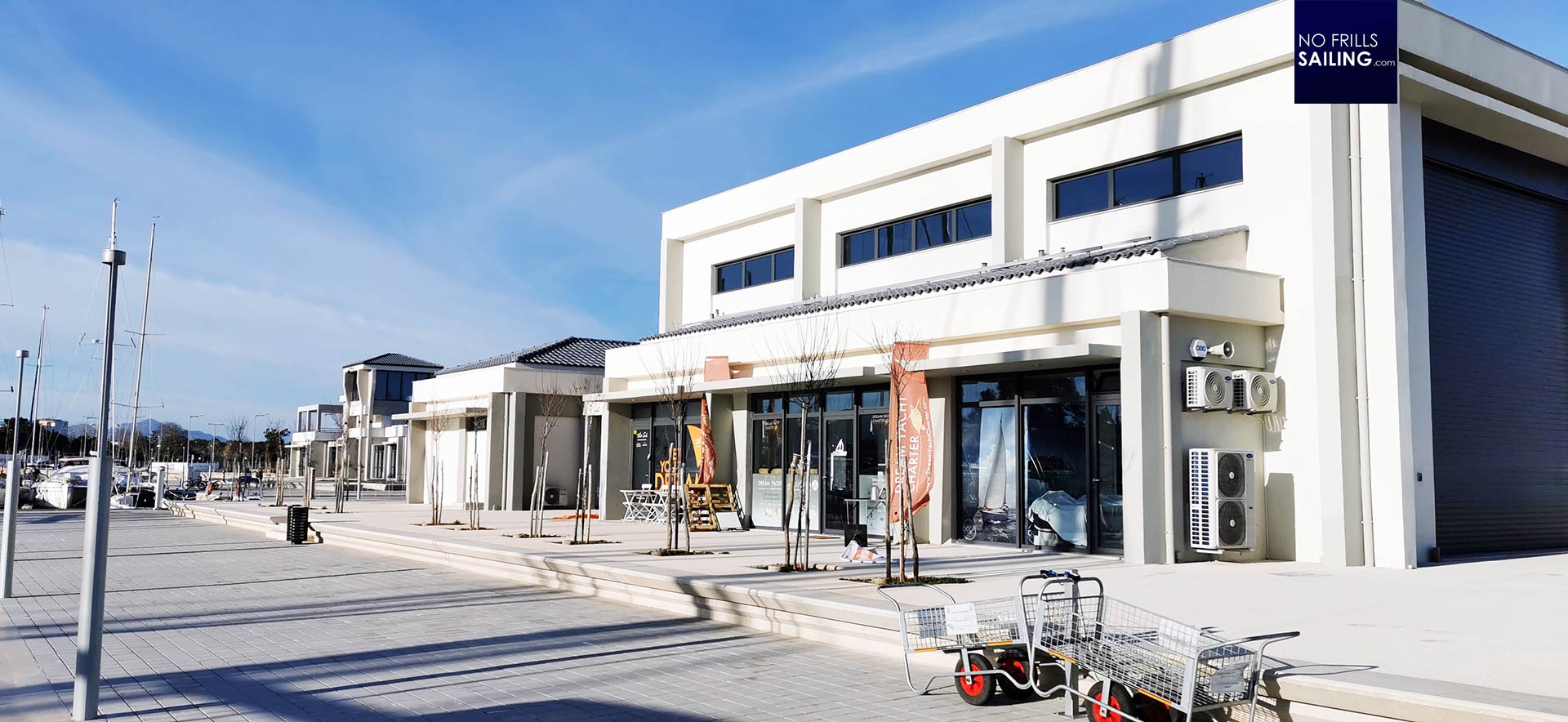 The facilities of Preveza marina are exemplary, brand new and thus absolutely spot-on. The crew running the port is very helpful, friendly and will be at your disposal to help with issues. After arriving you will have to report to the reception to pay for your demurrage: Do not take the entries in various rating-websites too seriously, these have been made before finishing of this marina and are completely dated now. With our 46-footer we paid some 30 Euros per night off season. You may ask for an up-to-date price list prior arrival, unfortunately there is none published on their website. Nevertheless, I would say the prices are within the normal range and worth it.
Be aware that in Preveza (and as far as I know in most of the marinas here in the Adriatic or Ionian region) you should have an adapter for shore power from "big blue" plug to "small blue" plug with you. If you have none, no problem, there is a chandlery shop right over the street directly at the waterfront with a full assortment of marine products, from antifouling to ropes, shekels, outboard engines and whatnot. Preveza is also a port of entry so if you need to check in, have your Yellow Jack flying or report to the Hellenic Coast Guard by yourself which is as well situated directly vis-à-vis of the marina.
Preveza Marina: Amenities and bathroom facilities
As I said before, the marina itself is brand new. So are all amenities and especially the bathrooms. Perfectly clean, showers and toilets are separated. The showers are priced in the demurrage so no extra fee is needed. You can have a shower without any limits of time. Looking at European marinas, especially German, this seems like pure luxury.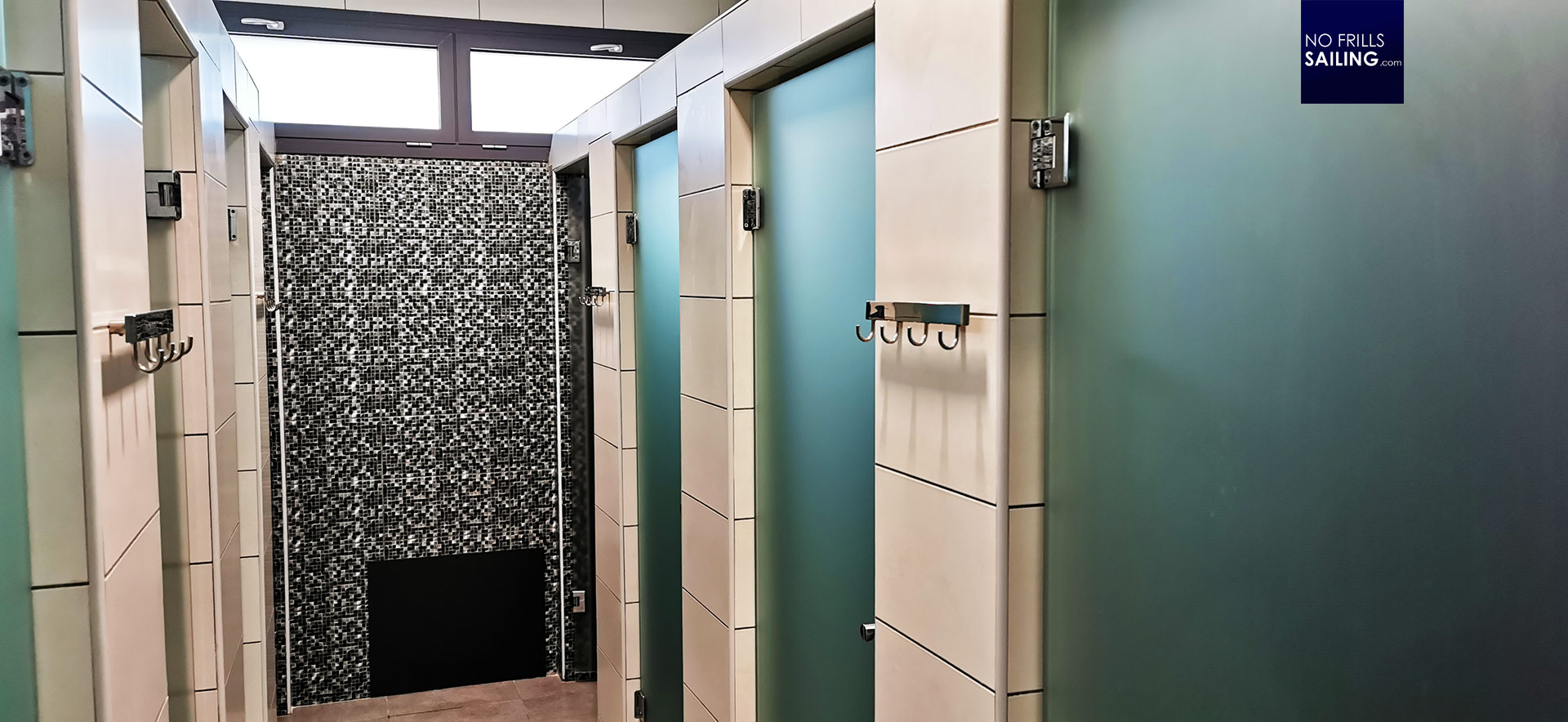 I found everything in perfect order and well cleaned, also during the weekend. The marina has WiFi that is included in the demurrage and I had no problem whatsoever to maintain a stable connection (even watch video streams) in all corners of the marina. This may change in high season when many more devices are connected, for now this was just perfectly well. Fresh water is on the jetty, a fuel station nearby. All in all, the marina has everything you need, a longer stay is no problem.
Eating out and resting one´s oars in Preveza
As I was pointing out, due to the phenomenal rise of the nearby City of Lefkas, Preveza was able to maintain its charm. The old town is lovely, full of small labyrinthine alleys, stuffed with dozens of restaurants, bars and cafés. A small pedestrian area with loads of shops is inviting, people are lush and very friendly. You will love it here!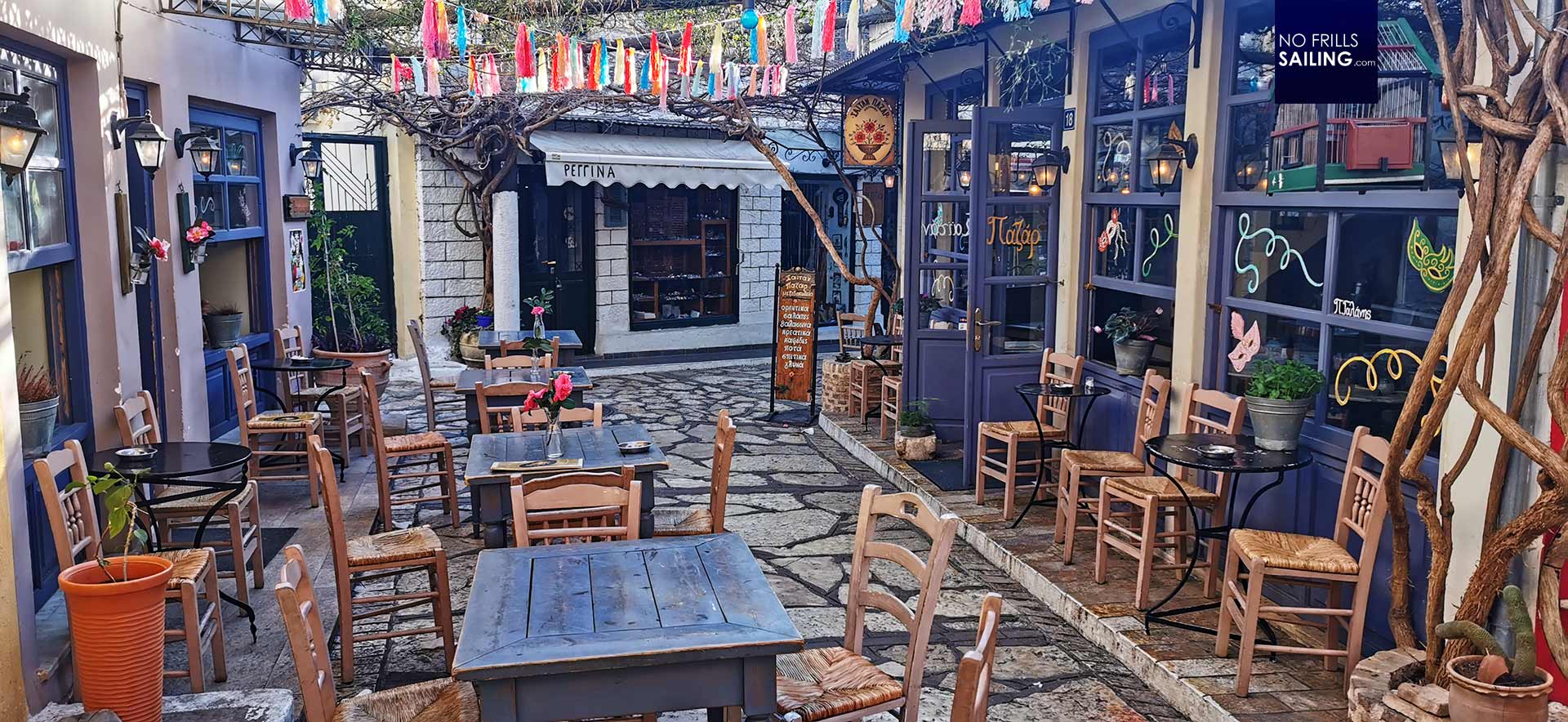 So, in the end, Preveza marina is indeed a place that is synthetical, a modern, state-of-the-art port with all modern amenities. The old town of Preveza was able to maintain its Greek charm and I am sure that within the coming years both, the brand-new marina and the town, will form a nice symbiosis and thus a unique, inviting flair to welcome sailors. It's a great place for making a stopover when traversing the Adriatic Sea northbound or down south to the Ionian Sea, in any case, a fine place!
My overall assessment of Marina Preveza: 8 out of 10 points
Browse to Preveza Marina website: Click here
You may also like to read these articles:
All marina reviews here
How to tie a proper cleat hitch
Single hand mooring stern first a Pogo 36