It´s still a lot of fuzz around the new upcoming Beneteau First 36, which in turn is a First 36. More and more information are released on the boat with some definitive details left. You might have read my previous interview with one of the Seascape founders Andraz Mihelin on the legacy of Beneteau´s First 36.7 and how this boat and the whole fleet of legendary First-predecessors may have influenced the development of the new boat. Here´s my next take with Andraz, this time we talk about the brand new 36 that is coming up to celebrate her world premiere in January 2022 in Duesseldorf.
Andraz Mihelin on the first real First 36
NO FRILLS SAILING.com | Lars Reisberg: "Andraz, thanks for taking some time off your tight schedule. A few weeks ago you´ve posted a picture on facebook showing the first First 36 being pulled from the mould. Can you describe your feelings watching that moment?"
Seascape | Andraz Mihelin: "Well, Lars, as you may imagine, the whole process surrounding the the new boat is quite emotional for me. It is a beginning of something very new – for Seascape, for Beneteau and I hope also for the world of sailing in general."
Lars Reisberg: "What does the First 36 mean to your very personal dream you´ve had when you and Kristian started Seascape back in the years?"
Andraz Mihelin: "Well the mission, the "why" if you like, of Seascape always was to create best possible connections between humans and the nature. We also believe that sailing boats are the best tools for that since they can safely take you out of your comfort zone and intimately connect you with two of the classical elements – the air and the water. Therefore I see the First 36 as the new gateway for sailors who want to explore further than our existing boats can take you. Also, I have to add that after a few years of tweaking, our partnership with Beneteau became what was our goal from the beginning. Namely that 1 plus 1 becomes more than 2. The First 36 and the process behind her creation forged a strong link between our teams, which is an exciting platform to build on."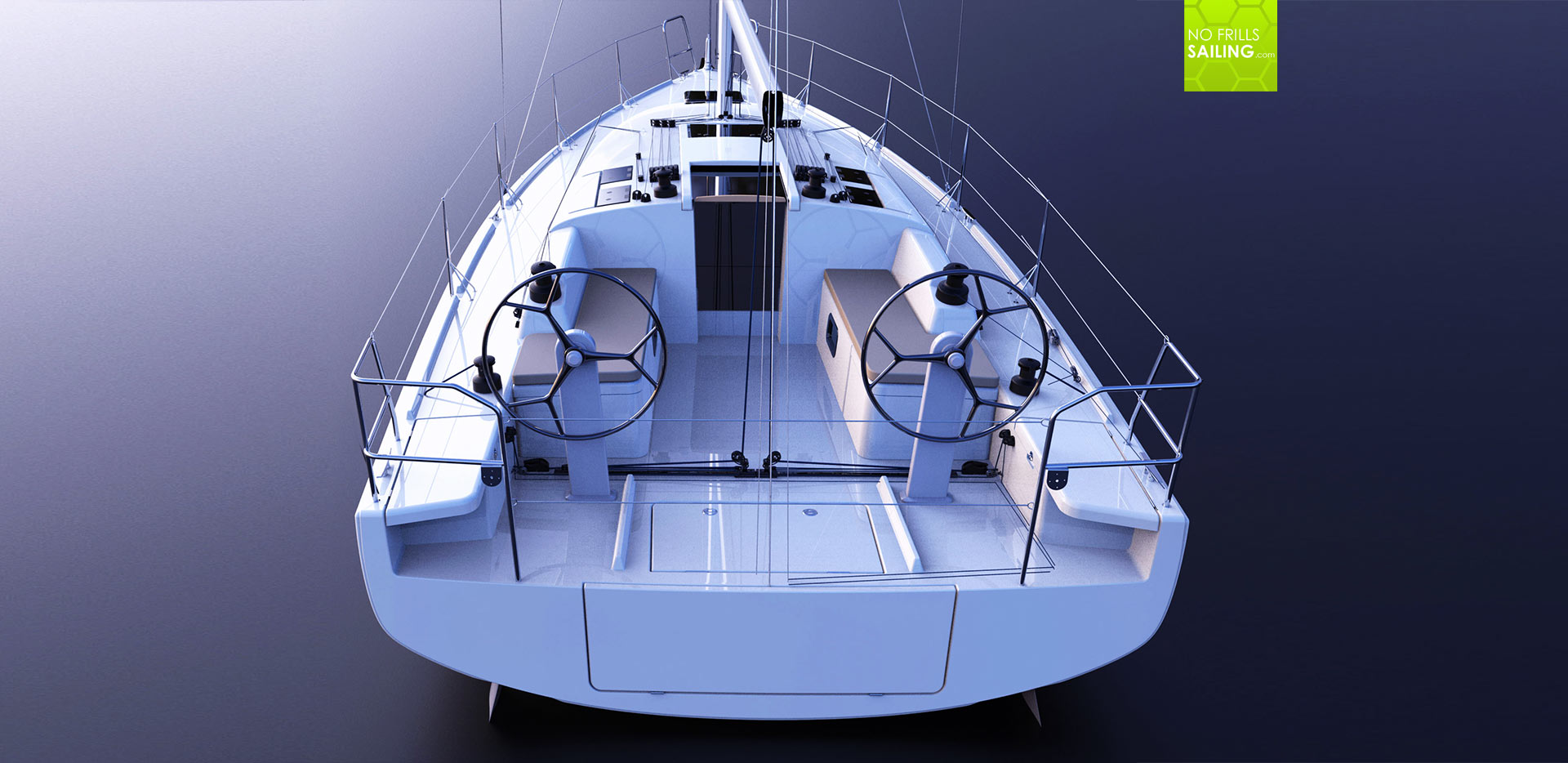 Lars Reisberg: " We have recently spoken about her predecessor, the First 36.7: What can a sailor on the new First 36 expect to get out of the boat in 2022? Will it be more an "updated" First 36 or will it be a "Super-Seascape"?"
Andraz Mihelin: "The .7 series, especially 36.7 and 40.7, were great benchmarks. When we sat together with the teams of Beneteau and Seascape it was clear that utilizing the sum of our resources from we have huge opportunities to improve the performance and ergonomics of the .7 series boats. To answer your question, she is of course a new Beneteau First – a best possible balance of opposing needs, but with performance and handling I would be happy to put our beloved Seascape-brand on."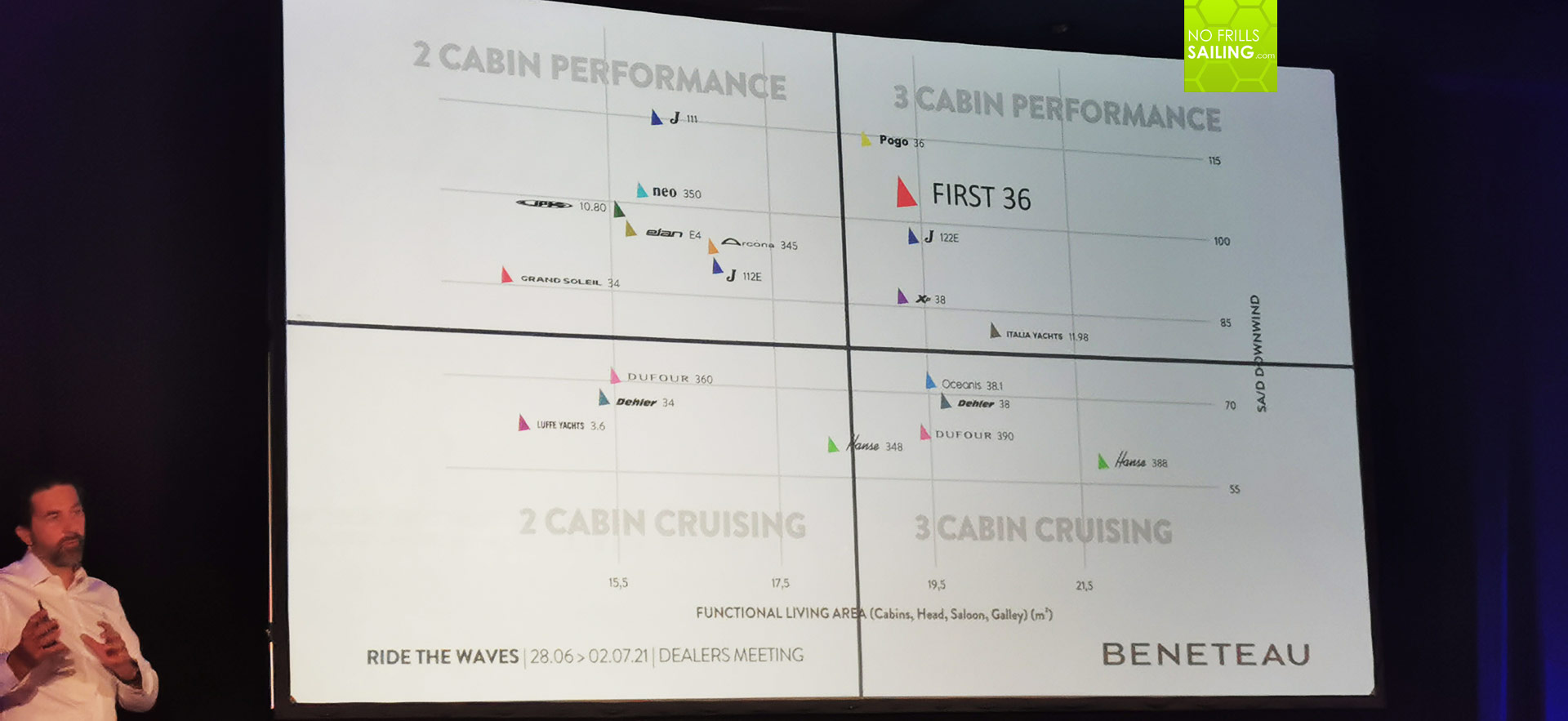 Lars Reisberg: "Talking numbers: During Beneteau dealer meeting in Barcelona some months ago you have been talking about target values and threshold of the new First 36 in relation to other boats, like Pogo 36 or J 122 … can you go to more details here?"
Andraz Mihelin: "Well the picture tells it all, I´d say. Apart of a completely new level of sailing experience that our First 36 brings to the sailors, the smart use of interior space puts her in the size range above the classic 36-footer."
Lars Reisberg: "What will be the core characteristics of the new First 36 in terms of sailing performance?"
Andraz Mihelin: "Well, the first boat is hitting water in a few months so we'll have exact answers then. For now, the target is for sure to be getting a well-mannered boat that can jump on a plane already in moderate wind conditions. She is also not an extreme beast made to excel just in one point of sailing. Ultimately, she is a club racer which means she will be mostly racing on various handicaps. That means the designers and the team worked hard to make the sweet-spot where she is sailing close to 100 per cent of her polars as large as possible. To sum it up, the new 36 is designed to be simple, fun, exciting and reliable."
Lars Reisberg: "Racing boat "wunderkind" Sam Manuard again designed the hull of the new 36: What do you think makes his boats so special? He has designed the Seascape 24 and Seascape 27 as well and there must be a reason for your preference of Manuard for Seascape-Projects."
Andraz Mihelin: "I believe in long relationships. The one with Sam started in 2004 when me and Kristian started building two Mini Transat-prototypes of his design. There is nothing more rewarding than taking on a path with someone and grow together. I guess part of this will be felt in the First 36 as well – not only we have incredibly talented people behind her, but most of them also have a long standing relationships that connects them. What I love with Sam is that he is by far the most talented designer in the professional sailing community and by far the best sailor in the ranks of top designers. That makes his designs not just contemporary, innovative and high performance but also grounded in practice and common sense."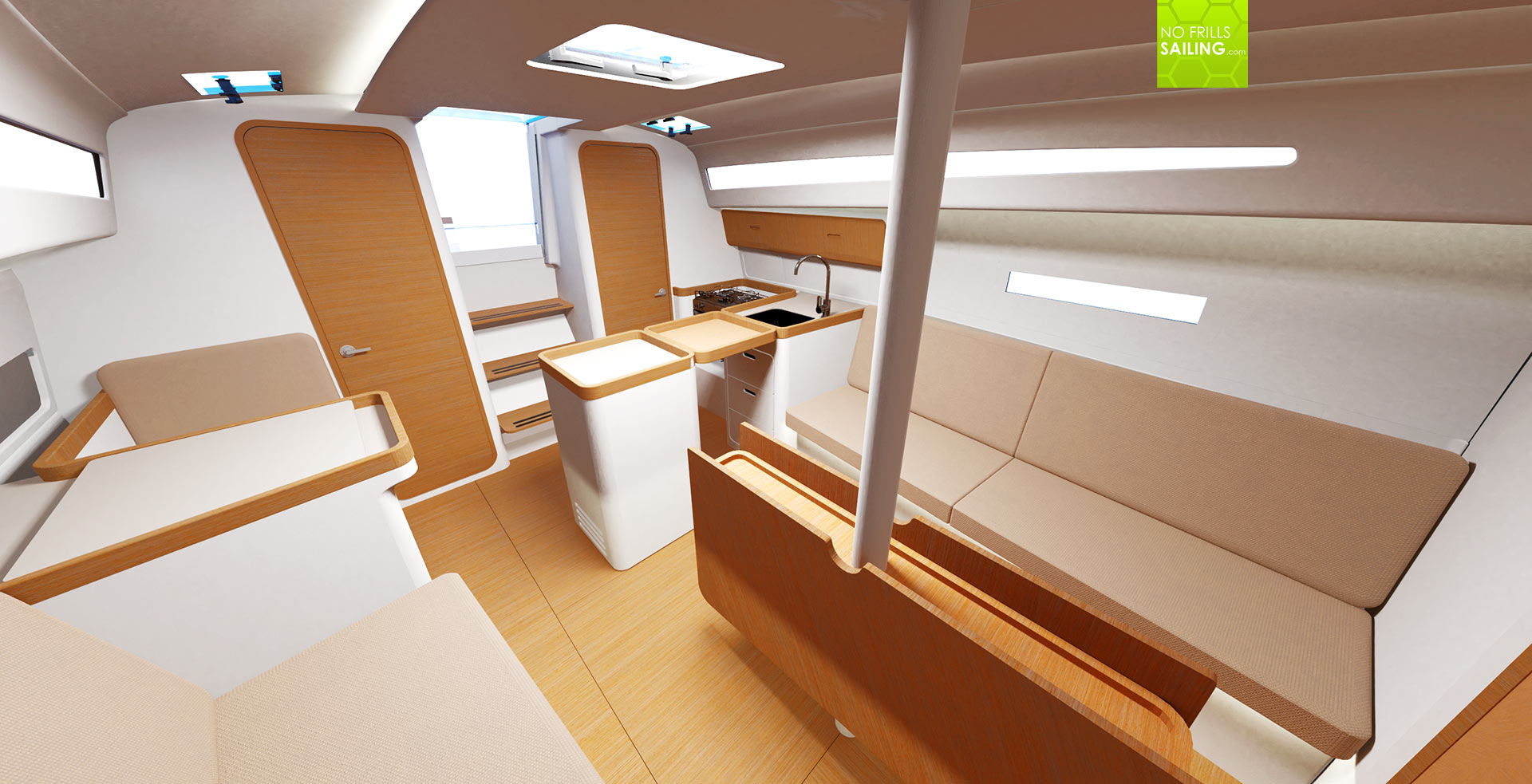 Lars Reisberg: "As an owner of an First 27 SE I know that the "Seascape experience" was always also a kind of providing special comforts and treats and making the boat a base for a – very pure but nevertheless – family-oriented vacation. What can we expect comfort-wise from the new First 36?"
Andraz Mihelin: "This was actually one of the more demanding parts of the project. Unlike most of the other high performance boats we want the 36 to be a sailing boat that needs no excuses in interior for her sailing ability. What I mean is that we are working hard that her interior will be comfortable enough to convince a cruiser on that feature alone. "
Lars Reisberg: "The First 36 will be available with an aluminium mast and pretty common rigging – will there as well be a more "radical" Seascape Edition as well? Where will be the differences between First 36 and F36 SC?"
Andraz Mihelin: "First let me just add that we deliberately put technology where we believe the ration between Euro and sailing fun will make most effect. With SA/D-ratio of the standard boat putting her in the corner with JPK or racing J's we want to show that you can have incredible fun sailing already with simple technology like alu-rig and cast iron keel. Regarding an upcoming First 36 SE – Seascape edition, well, at the moment the only project on our table is the First 36. With orders already filling the next year we see our main responsibility to build them on time and quality and provide the necessary support to our clients. After that … who knows?" (Smiles)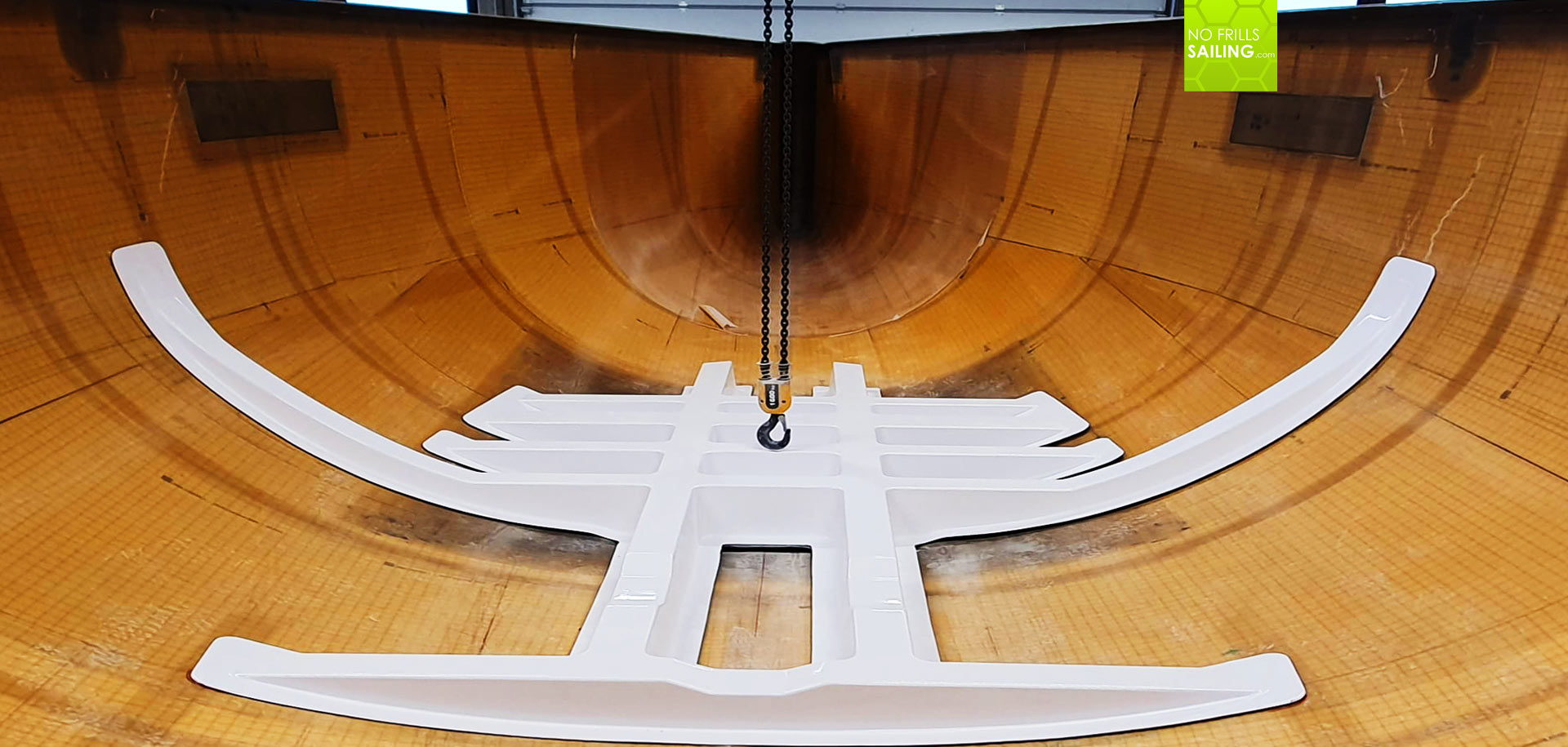 Lars Reisberg: "We can expect to see the first First 36 live in Duesseldorf in January 2022, I guess – what are the further plans with the boats productions-wise?"
Andraz Mihelin: "Yes affirmative, Lars, her world premiere is the upcoming Boot boat show Duesseldorf 2022 and after that the production will be ramping up to three boats per month."
Thanks Andraz, again, for providing this intimate insight into status quo of First 36 production.
You may also like to read:
Designing the new Lift 40 Class 40 racing boat, speaking with Marc Lombard
Gianguido Girotti shows the Figaro 3 production