Bornholm Island: What a name? What a unique sound to that name: Bornholm, Danish Island in the Baltic Sea. This Island is definitely one of the prime destinations in the Baltic Sea and the first of many, many more to come when sailing the Baltic from West to East. Since this Sea is comparatively small, it bears one of the richest cultural heritages of the world: Thousands of years of human history comprised in this small area. There´s so much space for the sailor to explore, so many countries, so many different cultures, languages, influences.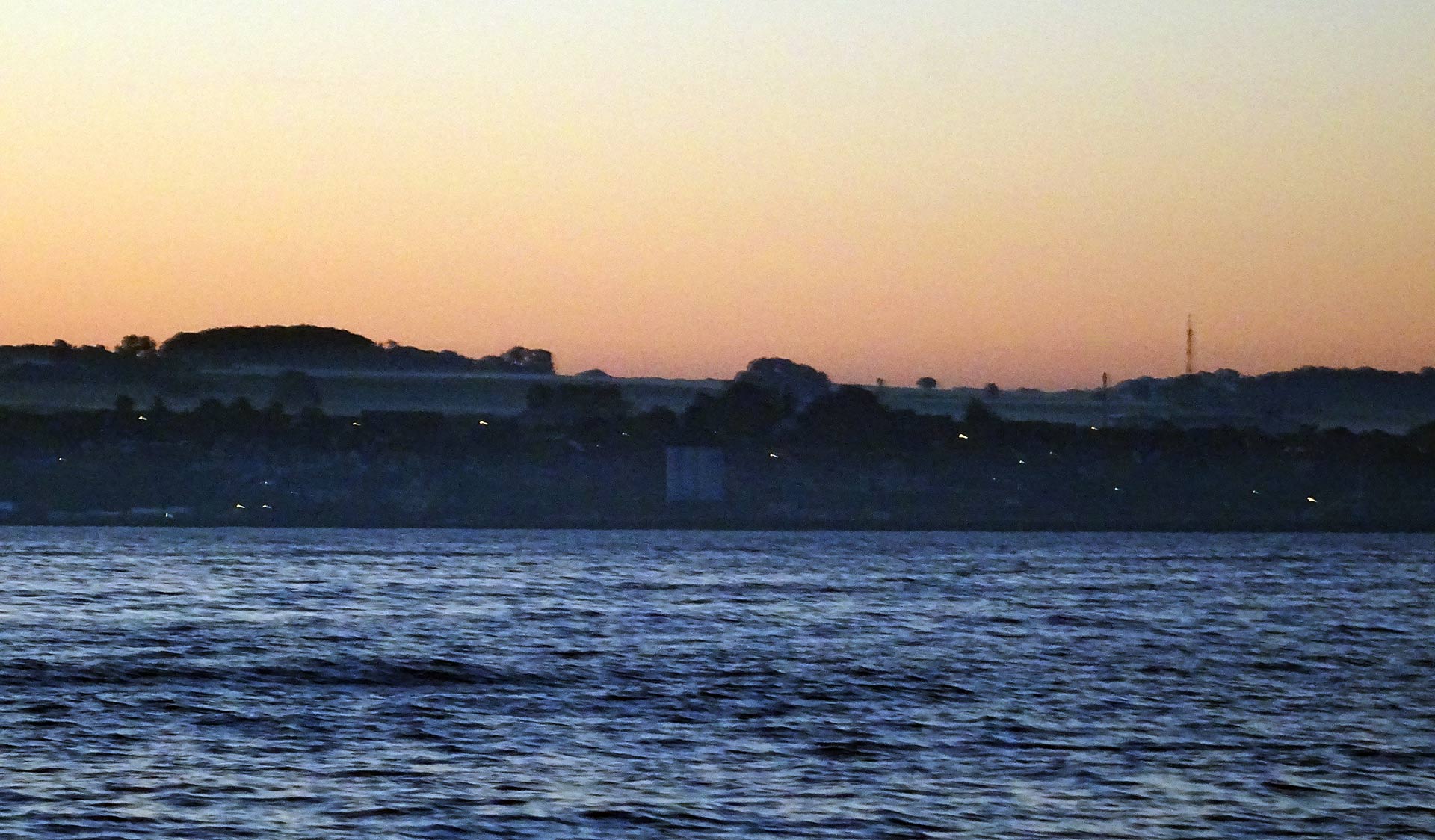 Bornholm is no exception: It was one of the most important islands in the Baltic Sea up until the decline of the German Hanse, dating back more than 500 years. For me it was one of the highlights in my sailing career to come here by boat: After some 200 miles of sailing the Beneteau First 30 from Kiel, we arrived on Bornholm in the morning. And I instantly felt this unique vibration, breathed the air of that has been breathed by Vikings, Germanics, Traders from the Hanse and many, many conquerers. Bornholm is a truly special, if to say: Magic place indeed.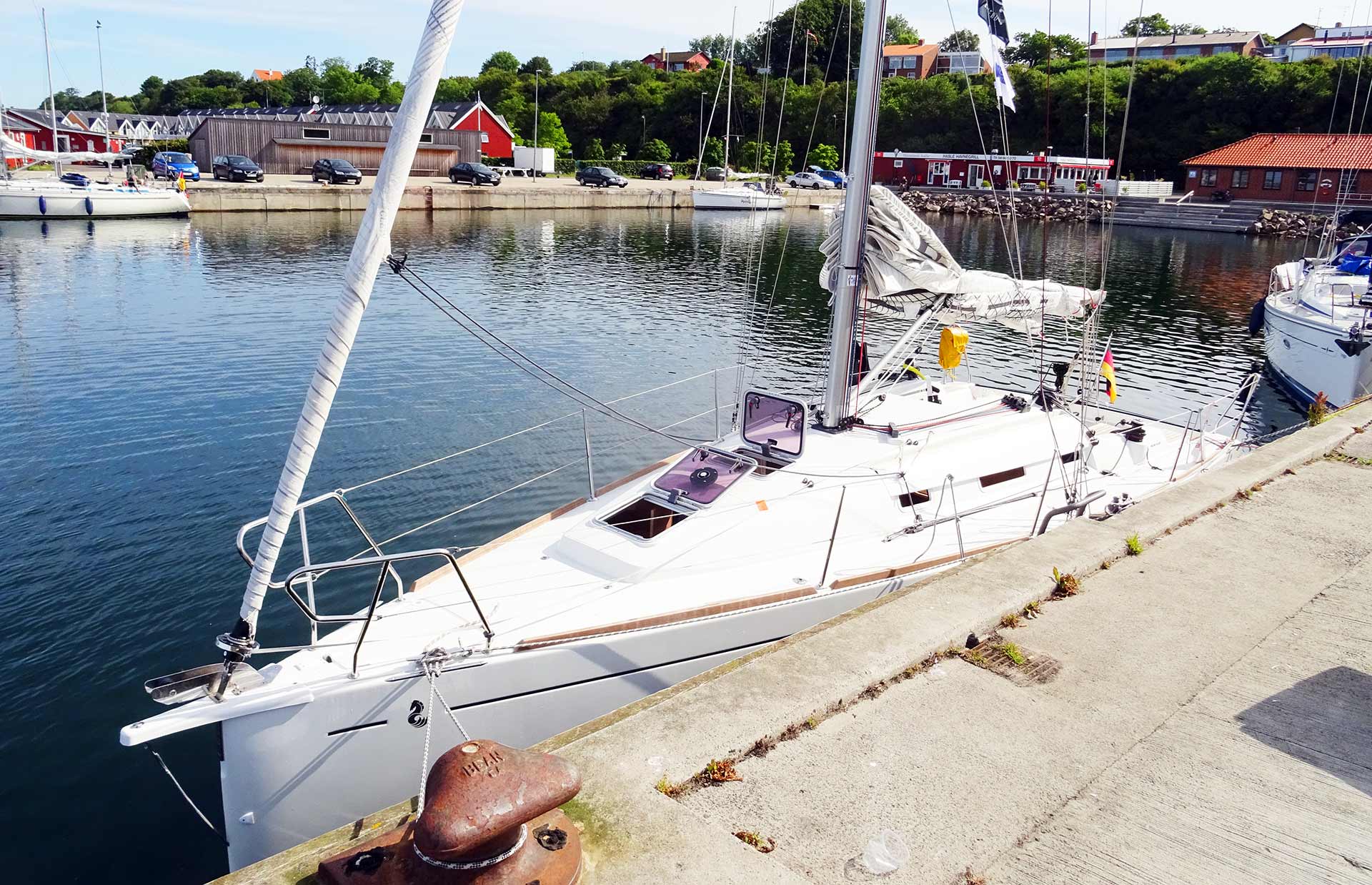 This island covers some 600 square kilometers and currently inhabits just under 40.000 people. Manyfold more arrived during the high season to rent a lovely holiday home in summer. Most of the people make their living – as it is normal in Denmark, to which this Island belongs – in the tourism sector, in agriculture or cattle farming. There isn´t much more here, no big industry, no big money. Which makes Bornholm very, very pleasant. Nevertheless, the island is densely populated. The capital city is called Rönne and is the most populated place here with 11.000 people. There are a dozen harbors for sailing yachts either on the West or on the East side of the islands available. When I sailed to Bornholm, I knew we´d only had one or two days here, so I wanted to choose a nice place to land. I identified Hasle Harbor as our destination which is some 10 miles north of Rönne. And what should I say: We were pleased. Very, very pleased indeed.
How to sail to Bornholm´s Hasle Marina
Sailing to Hasle on Bornholm is as easy as ABC: It is situated on the eastern side of the Island and some 10 kilometers north of the capital Rönne. When we sailed to Bornholm we steered towards the main eastern lighthouse of Bornholm, the so-called Hammerodde lighthouse, a tower of some 12 meters height with a light of 21 meters above ground. This light is easily visible from 18 miles afar.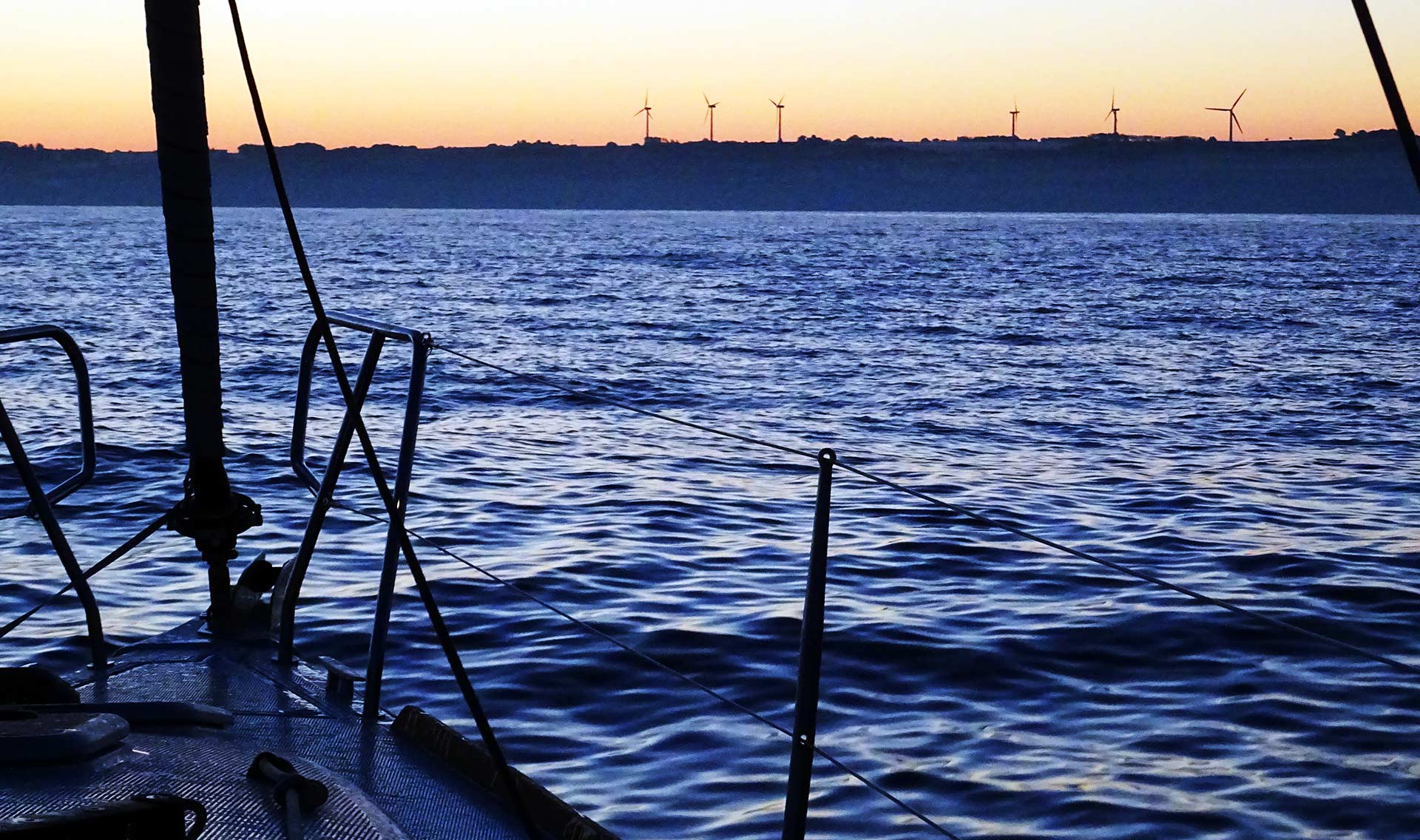 The rest is a no-brainer: If you´ve got a good chart plotter. We found it very hard to recognize Hasle harbor in the rising sun. There is a sector light of which the white sector is the right one but as I mentioned, we´ve had some radiation fog and we were happy to do to negotiation by chart plotter mainly. Skippers must avoid a non-marked shallowness north of the harbor and should not come nearer to the shore than the 10-meter isobath. Navigational charts warn of a strong current directly at the harbor´s entrance in case of stronger Northern or Southern winds – which we didn´t had (it was calm and flat, which is also a mess).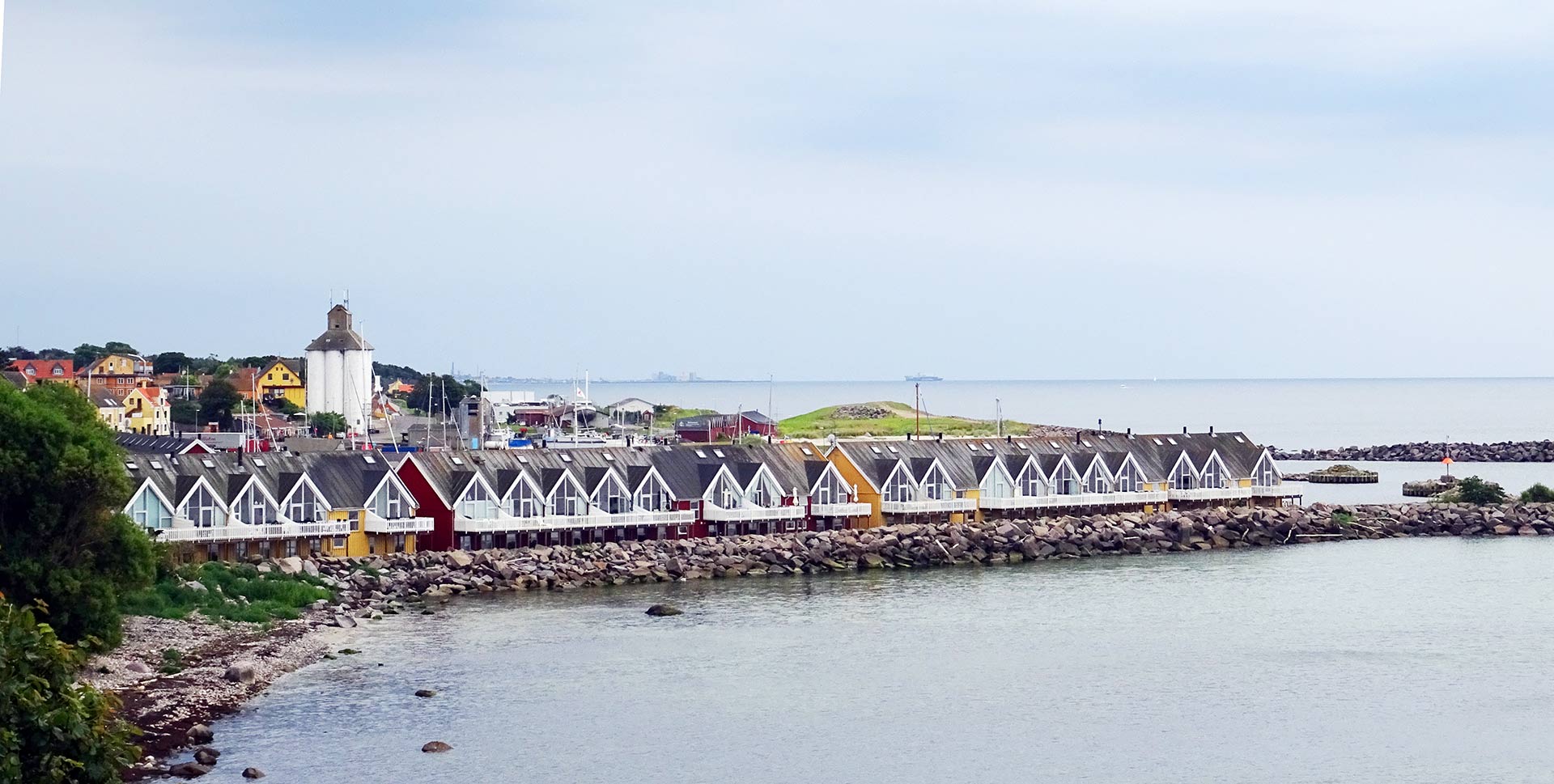 The harbor itself has two main basins of which the northernmost is exclusively reserved for smaller local craft, a middle basin where guests and larger yachts might find a berth alongside the moles, the two adjoining southern basins are reserved for local fishermen and commercial traffic (which consists of small vessels only as well). We stayed for two nights and the largest vessel we´ve seen has been a 50 feet sailing yacht so don´t expect too much swell and commercial traffic: Perfect for calm nights and mooring.
Mooring in Hasle Marina & Exploring Bornholm
As it is always the case in Denmark, live is a treat here: No hassle, no bustle and always friendly, sometimes a bit grumpy but always amiable people who want to lend a helping hand if they can and give advice and hints if asked by a friendly visitor. Upon mooring (very early at 4 o´clock) we did sleep for hours and normally the harbormaster would give the sleeping crew a hard knock to collect the demurrage: Not so in Hasle. I went to pay at the automatic vending machine around noon and nobody was even taking notice of our yacht. Very nice.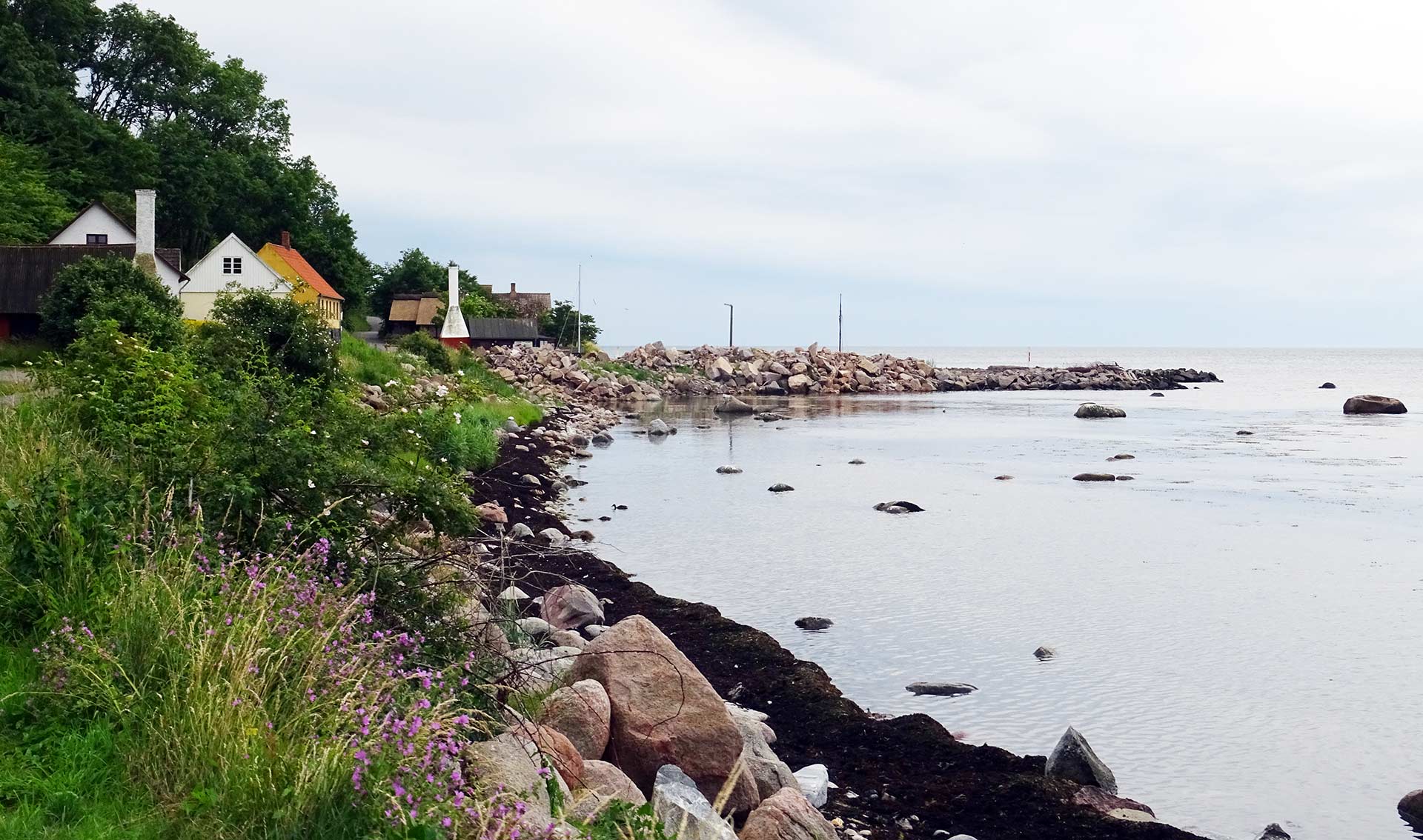 So, Bornholm offers a lot to be seen: Small, dozy and picturesque Baltic villages, a lot of cultivated landscape, some forests (left over by the deforestation of the past centuries) and lots of history to be explored. Best thing to do is by renting a bike, which can be done almost everywhere to very fair fares. Also a big plus of Denmark is the exemplary network of perfect bike lanes next to the roads where even a big family can roam the island on a lush tour.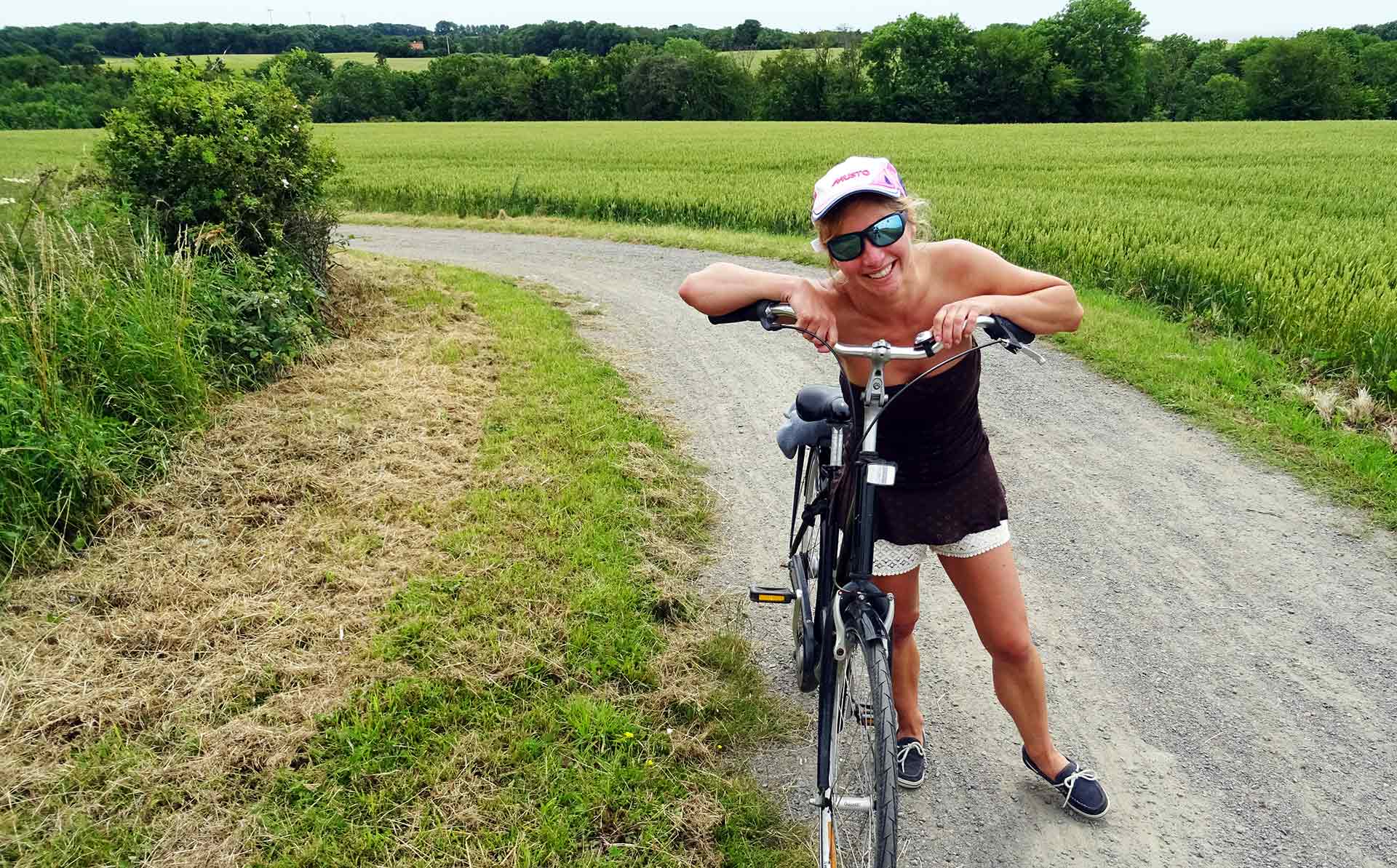 Did I say lush? Well, not so much. Bornholm is a very wavy island and that means a constant up and down. So pick your destinations wildly as I must admit we´ve tightly avoided a mutiny of our sailing mate girl Lena who was complaining a lot about the hills, the bike, the strain of pedaling. On the other hand, there is no better way to explore the island more intense than on a saddle of a bicycle. Since we did only have one single full day, the choice where to go was a tough one: We opted for a historical sight – the Hammershus.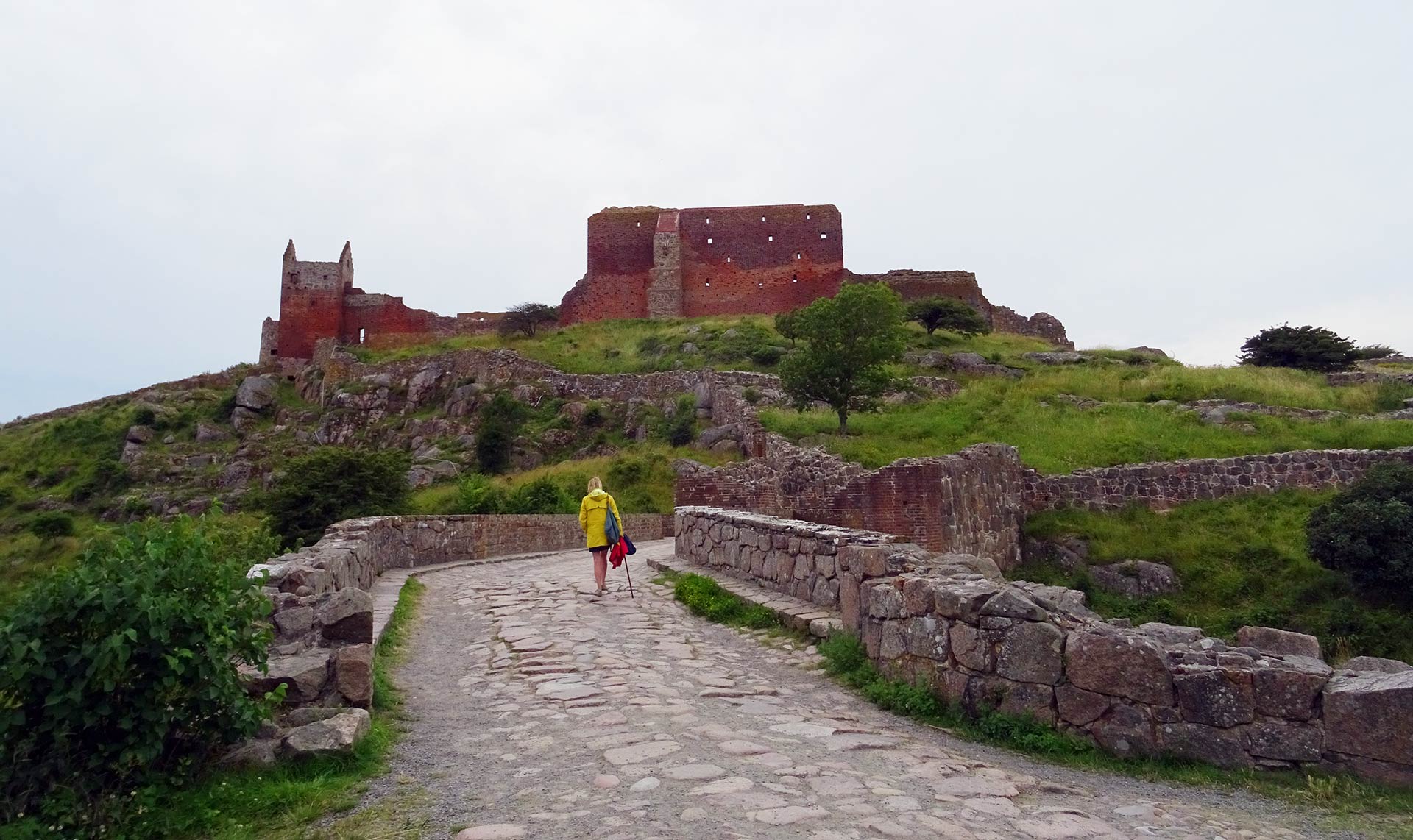 The Hammershus is legend. It is no less than the biggest ruin of a castle in Northern Europe. The burg itself is situated at the Northern tip of Bornholm, some 1.5 hours of cycling from Hasle marina. 70 meters high are the cliffs on which the castle once enthroned. The castle´s thick wall alone has a total length of nearly a kilometer. Even being a ruin, the Hammershus is still conveying a a daunting image. Entrance is free and one can spend a good hour exploring the castle. Little signs and tables with explanatory notes here and there moderate the rich history of the Hammershus. We all found it a very, very rewarding thing to have been cycled here.
What was impressing me most was – among the delicious fresh cake and hot coffee in the restaurant not far from the castle – was the fact, that even a two-day sailing trip from Germany away, the Island of Bornholm was a direct subject of taxation to the City of Luebeck, the very town I am now living in. Some 500 years ago at a time when the Hanseatic Leagure ruled the Baltic Sea. What a cross-linked the world has been even half a Century ago! Besides, I will and I have to return to Bornholm since there are so many things I didn´t see: There is a large, wild and deep canyon on the Southern part of the Island, I didn´t taste the famous Bornholm kipper and haven´t seen the most beautiful villages and harbor of them all: Svaneke.
Demurrage in Hasle Havn
As I was mentioning, there is a vending machine to pay for demurrage in Hasle harbor. Also, during some hours of the day, a harbormaster in person is available in the nicely decorated harbor office. The demurrage was as high as ever in Denmark, which can be unpleasant at first sight: Our 30 feet Beneteau First 30 did cost some 30 Euros demurrage per day. This is very, very expensive!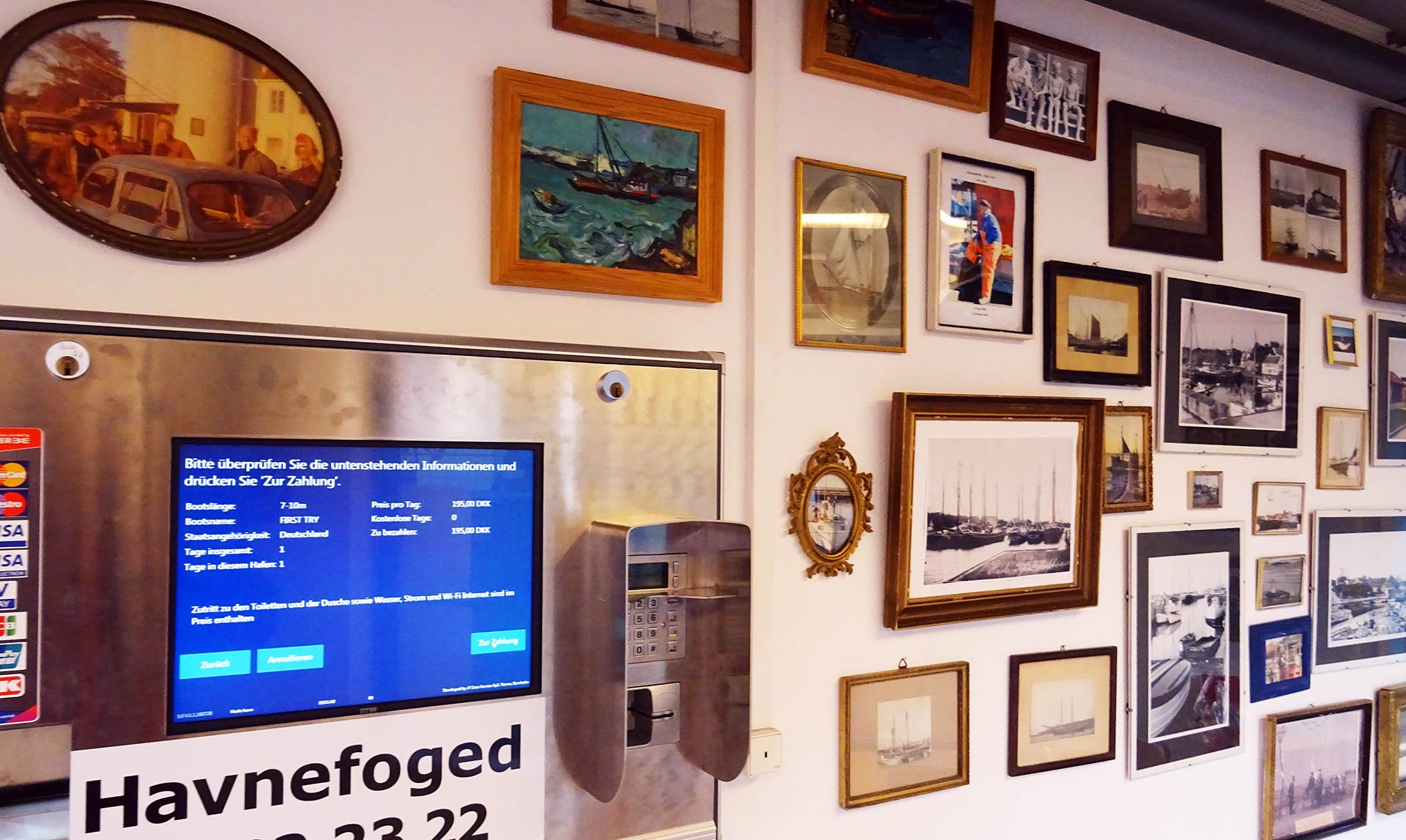 Nevertheless, included in the demurrage is shore power (normally extra paid), fresh water and excellent WiFi throughout the whole basin (I´ve tested it!). What I also liked very much and which is otherwise in other, cheaper, marinas a source of constant trouble, is that unlimited (!) showers are also included in the demurrage, which is very, very nice and relativises the high price for sure.
Bathroom Facilities
There is one bathroom with a shared room for toilets and showers. This might save space and might be convenient for the cleaning staff, but I personally do not like to have my shower and refresh myself after a long sailing trip whilst a cabinet next to me somebody takes a nice long dump. That´s simply disgusting. Anyway, I try to go to the bathroom anticyclic when nobody else is there to minimize this risk.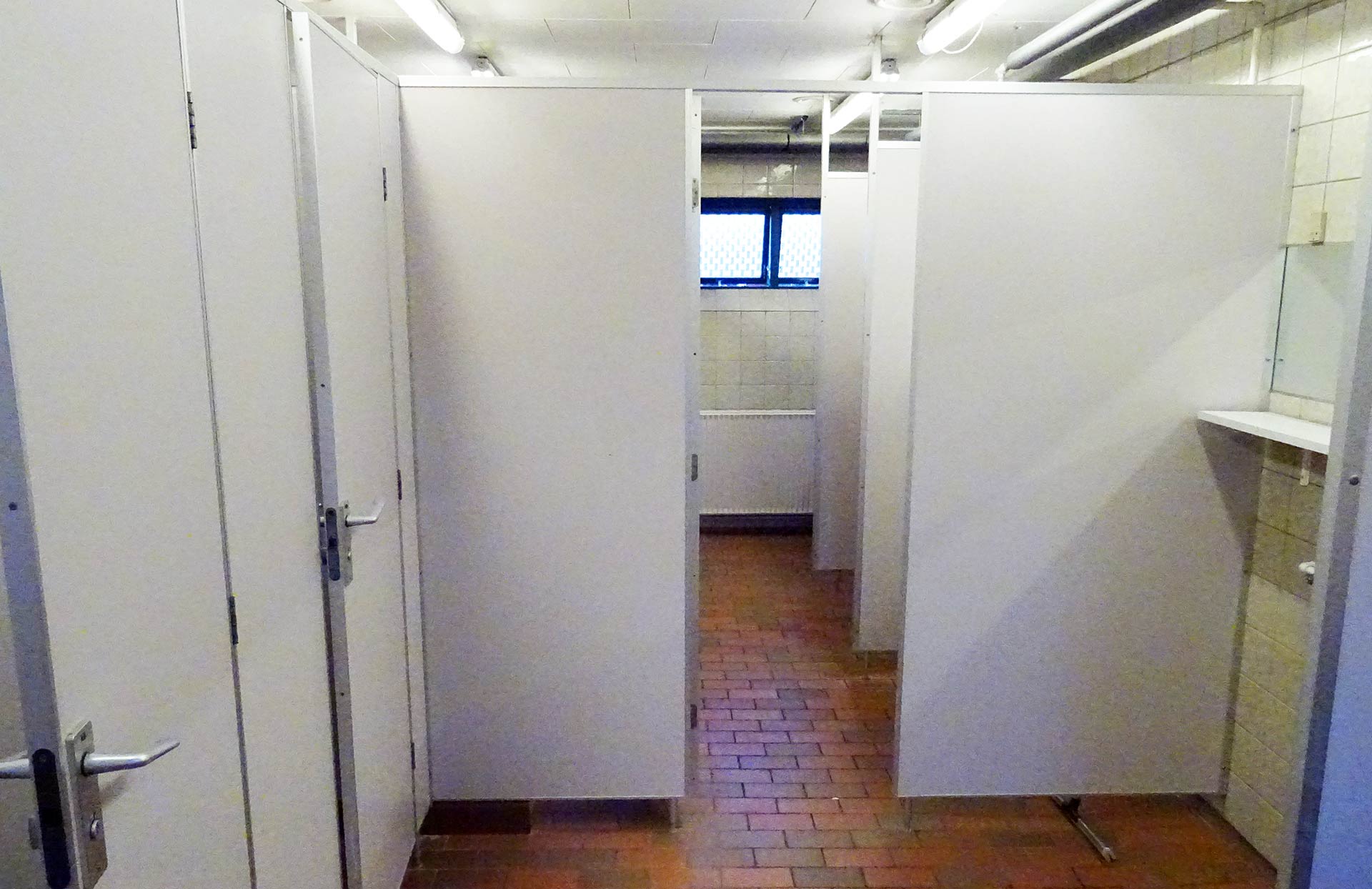 Otherwise, Hasle marina´s bathroom facilities are well sized, even the showering chambers where there´s enough room to get undressed and dried up after showering. The facilities are cleaned at least once a day even during weekend and although the design and the fittings are not of latest fancy quality, there is nothing to complain about.
A real highlight of Hasle marina is the free public sauna with a very nice and large seawater pool. It´s open daily and frequented by both local people, tourists living in the nearby holiday homes and sailing crews of course. Since temperatures rose to sweaty highs, we didn´t enjoyed the even higher temperatures of the sauna, but we loved this idea!
Eating and Resting One´s Oars
No comment about this: As you may have read in one of my last articles, we had a meat-less week aboard as we lived solely vegetarian during this sailing trip (and I resume being vegetarian ever since) so that we prepared our meals in the own ship´s galley. But believe me: There are plenty of bars and restaurants. As mentioned as well before: You should try the kipper for which Bornholm´s local fishery is famous for.
Hasle Marina on Bornholm: My Overall Assessment
When we sailed to Bornholm I had a decision to make: Find this one marina! I knew that there wasn´t enough time to try one or two more harbors so it had to be the "best" for one trial. And I chose Hasle for many reasons and preferred it over Rönne and the other (smaller and farther) harbors. I wasn't disappointed at all. Hasle was the best possible pick! It is large enough to find a nice mooring place, quiet, lush and relaxed. Hasle town is small but offers all amenities including larger supermarkets to revive provisioning.
The atmosphere was unique and even if we were in Denmark, there was something special to Hasle that I previously did not get in other Danish harbor I´ve visited so far. It must have been this "Bornholmian vibration" I guess. So, if you ever sail to Bornholm, pay a tribute to Hasle, you will find a nice cozy place to land your yachts and spend some nice hours and days mooring here for sure.
My overall assessment of Hasle Marina on Bornholm 8/10 points 
Link to the Marina Website here
Other interesting articles on this topic:
Read all Marina Reviews here 
Sailing from Bornholm back to Kiel-Laboe
Sailing around Fyn in a Pogo 40 Racing Yacht